Yesterday, a miracle happened.  For the first time since June, it didn't rain at all the whole day.  At least not where I was.  I mean I know New Zealand can be wet in the winter, but the relentless rain was just getting really tiresome.  I remember at the start of the year during summer how much I was looking forward to doing the trail – back when it was warm and all the days were fine and you actually wanted to be outside.  With all the rain recently I have very much enjoyed late sleep-ins and just generally staying indoors.  Yesterday I actually started to feel again like I was looking forward to some long-distance walking.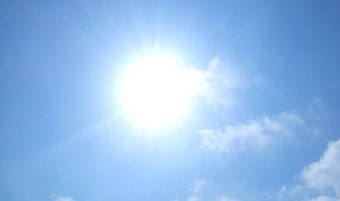 There was also this weird bright round thing in the sky, quite an intense white, something that's not usually there. I didn't know what it was.  When you looked at it you felt warm.  I don't remember seeing it before, and actually it was quite unsettling.
My workmates told me today that it was just this thing called "the sun".  I think I could get used to this "sun".  I hope it continues to grace us with its presence.
On a serious note, I tried out my Optimus Crux cooking system on Sunday.  I don't do much cooking on a normal day so I need to use it a few times before I start the trail so that I know what I'm doing.  This time I just used it to boil water.  We were all worried about how windy it was outside but when I turned the gas on and lit it with a match it was so easy.  The flame was much more powerful than I imagined and it felt like the small amount of water I had boiled in only one minute.  It was much easier than I expected!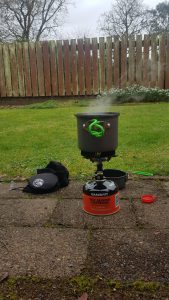 I did expect to boil the water in the main pot and then put the instant coffee in the smaller pot and drink out of there.  However this didn't work so well because both pots got hot quite quickly.  And the coffee seemed to cool down quite fast when I did that.  So I think I'm going to have to take some kind of lightweight mug and plate on the trail.
Tonight I'm going to use it to make my first dehydrated meal dinner.  Thai Chicken Curry by Back Country Cuisine.  Despite the fact that these get relatively good reviews from salespeople I have spoken to in the stores, I'm apprehensive.  But I need to get over any fears I have of dehydrated food otherwise I fear I will be living on nothing but couscous and nuts on the trail!
It seems the one fine day is going to be the exception.  Checking out the weather forecast for the next 10 days shows that we're back to the usual rain, rain and more rain.  Although not every single day has rain forecast, which is nice.  And it seems MetService have also noticed the unusual round glowing thing in the sky too, it's scheduled to make another appearance in a few days.