Here I hope to review each piece of gear I took on the trail.

If you want to see everything I'm taking in a list format, and the exact weight of everything… see the Cost and Weight page which has a spreadsheet at the end of the page with the actual weight and cost of every single thing I'm taking.
Pack (Osprey Levity 60l)
A great lightweight pack weighing in at less than 900g. Others I met were concerned at its durability but I met three or four others with this pack and like me they all reported only minor problems.  Click here for my full review of the pack.
Rating:

8

/ 10
Tent (Naturehike Cloud Up 2 Upgrade Model)
A great two person tent that is a good combination of price, size and weight. Click here for my full review of the tent.
Rating:

8

/ 10
Sleeping bag (Western Summerlite)
Expensive but totally worth it. Click here for my full review of the sleeping bag.
Rating: 10 / 10
Sleeping mat (Nemo Tensor Sleeping Pad)
I went with the Nemo Tensor Sleeping Pad after reading about it on BikeHikeSafari. I got a lot of inspiration for my gear list from that site, and I was following Brad's blog with interest as he was doing Te Araroa at the start of this year.
It holds its air well which is good, and the valve is easy to open and close. It took exactly 24 full breaths to blow up, which isn't too bad (except if I'd had a very hard day, then it takes more).
When I'm just sitting in the tent on top of this mat, it's comfortable and it never at any time felt like it was going to burst. I could move around on it, roll from side to side, press down on it with my elbow while lying down and reading, and I felt fully comfortable that it would remain inflated and never worried about it popping.
It comes with a few patches to fix air leaks. I never had to use any of them – very impressive. I loved my Nemo Tensor sleeping pad!
Rating: 10 / 10
Click here to see posts where I mention it.
Pillow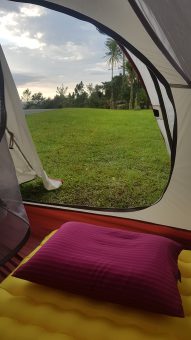 I got the NEMO Fillo Elite Ultralight Inflatable Backpacking Pillow – quite expensive for a pillow but I want to have a good sleep so I bought it anyway.
It took a few days to get used to but ultimately I like it better than sleeping in my spare clothes shoved into a stuff sack, which is what some people do.
It only takes two breaths to blow up fully. It comes with its own stuff stack but I find this fiddly so I just put it in my dry sack with my clothes. The valve took a bit to get used to but it didn't take long, and it's the same good valve as on the Nemo sleeping pad.
Rating: 10 / 10
Cooking system
I toyed with the idea of not taking any cooking stuff, and just living off food that doesn't require cooking.  I'm not much of a foodie and can survive on eating the same thing every day for long periods of time.
But I decided I couldn't live without a coffee in the morning.  And even if I did get used to not having coffee, I feel like I need at least one hot meal each day.  It would be too much of a shock to the system otherwise.  And one of the main reasons for doing the trail is to get me out of my comfort zone.
So… while I was in Melbourne, I got the Optimus Crux Weekend Cook System after nothing more than a recommendation by the salesman.  Interestingly, it says on the box "Weight: 270g" but when I got it home and weighed it, it was bang on 400g.  Apparently the 270g is only the pots, and not the stove nor the bag it comes in.  I can handle the weight not including the bag but excluding the stove is not on in my opinion.  It ought to make that clearer on the box.
It's easy to set up, quick to get water boiling, and easy to clean the oats off the pot every morning. I'm very glad I have it. On cold evenings it is so easy to set it up and make a quick hot chocolate.
It wasn't actually long before I stopped having my daily coffee. However I still used this cooking system every day to cook dinner – most days I looked forward to actually having a hot dinner.
I just sometimes wished it was a little bit bigger, especially when cooking pasta. It was only just big enough to cook enough pasta for one person.
Rating: 9 / 10
---
The following reviews have not been updated since Day 12… these are a work in progress.
Clothes
I got one shirt which is a "Cool-lite" merino blend shirt from Icebreaker. I also got a second pure merino Macpac brand t-shirt.
I got a cheap merino thermal long sleeve shirt and long thermal trousers from The Warehouse.
The rain jacket was the Outdoor Research Helium II which is very light. Feels kind of like a rubbish bag with a zip on it.
I got a down jacket from Uniqlo while I was in Melbourne in the weekend. It's quite light as well. I got one without a hood and I think maybe I should have got a hooded one, but it's a nice jacket that I could wear around town after the trail.
Brad from BikeHikeSafari mentions that he only took one pair of underwear.  I mention this idea to my friends, and they are horrified.  Maybe I'll take two pairs in that case.  I can always ditch one pair if I decide that one is enough!
Shoes
I wanted to get trail runners instead of hiking boots. I like the fact that they're light and they dry faster after getting wet – I hate being wet.
When I was in Kathmandu I tried all sorts of different shoes and by far the most comfortable were the Salomon Speedcross 4.  All the other trail runners I tried on in the store were an immediate "no" as soon as I put them on.
I'd read good things about them on this site.  I feel bad but to save $80 I bought them from trekkinn.com.  Had no problems with that site although I got an error when I tried to leave a review on their site about the shoes.
I've worn them a couple of times around town now and they're really comfortable.  I'm a tiny bit worried I got a half a size smaller than I should have but I've got them now so I'll see how they go once I start walking.
Personal Locator Beacon (PLB)
I chose which is apparently the lightest one, the Ocean Signal RescueMe PLB1.  Bought from PB Tech in Auckland, which had it for the best price that I could see.  I also looked at second hand ones, but there wasn't a lot of money to be saved by buying second hand it seemed.  Which I guess is good for its resale value if I decide to sell it after the trail.  At $458.85 it wasn't cheap, and of course I hope I never have to use it.
It's very small.  Here you can see it on my desk next to my coffee mug for size comparison.  I wonder if it being so small would make it harder to use in an emergency?
It comes attached to a holder which makes it buoyant.  Apparently to meet New Zealand standards it must float in water, even though the instructions clearly say that you can't activate it while it's in water.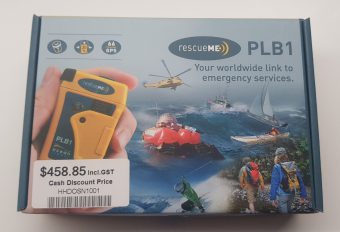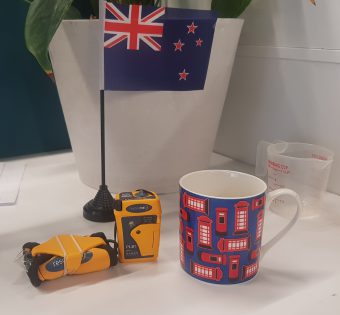 With this type of PLB, to activate it, you slide the aerial out fully (which is the little black piece in the top left corner), then lift up the yellow flap on the front and push the button underneath for one second.  Then a green light starts flashing.  Apparently it won't send a signal out until 50 seconds after being activated, to give you time to deactivate it if you set it off by mistake.  It doesn't seem like it would be too easy to set it off by mistake, but in saying that, in 2017 I did manage to accidentally dial 111 (the emergency number here in New Zealand) on my mobile phone while it was in my pocket.  So these things definitely do happen.
It's quite weird having a device in my hand that would summon a helicopter to my location if I pressed it.  Kinda scary!  But very reassuring when you read stories on the news about people who are rescued because of having one of these, and the sadder stories of people who aren't rescued (who maybe didn't have one).
Remember to register your beacon at beacons.org.nz – it's a legal requirement.
Water filter
A lot of people say that water in New Zealand doesn't need to be filtered but I'm paranoid about drinking water without filtering ever since I went swimming in the Waikato River when I was 21 and got horribly sick from it.  So I got the Sawyer Squeeze Water Filter System with 3 Pouches.
I just brought the 32oz pouch and back washing syringe, but it also came with a 16oz and a 64oz pouch. The filter is easy to use. It takes six or seven minutes to filter three litres worth of water, which is the capacity of the two plastic bottles that I've brought with me.
I think I made the right choice with the pouch, the 16oz wouldn't hold much water and the 64oz would be awkward to manoeuver when it was full of water.
It's also easy to drink straight from the filter. Somebody I walked with had a water bladder and hose, and had cut the hose and attached the filter directly to it so that they can just put river water straight into the water bladder. I thought that was an interesting idea but it seemed to leak after a while, so I'm glad I didn't do that.
Everybody that I met on the trail seemed to have some type of Sawyer water filter.
Bluetooth Wireless Keyboard (tech.inc from The Warehouse)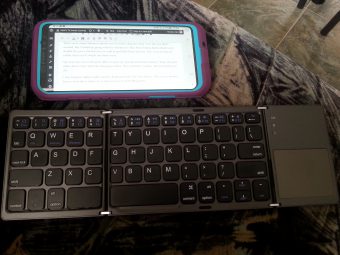 Very much a luxury item, I really enjoy typing up my blog posts but it is a real pain on a phone keyboard when you want to write a lot.  So after two weeks I invested in the relatively light-weight Bluetooth wireless folding keyboard from The Warehouse.  For $49 it wasn't too expensive and it works well, but the T and V keys are smaller because they're on the fold and therefore harder to type than other keys.
I haven't been able to weigh this item yet but it weighs less than my phone so I'm guessing between 150 and 200 grams.
J5Create USB charger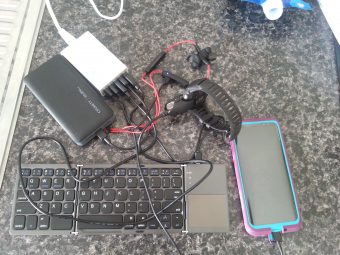 I know most people would be fine with just a single USB adapter or maybe a double, but I wanted this one. I have seven devices that need charging and when you're in backpackers, there aren't a lot of power outlets. In the Kaitaia dorm room I stayed in on Day 6, there were only two plugs for six people.
There was one occasion where I had all five USB outlets in use, as you can see.  Charging my keyboard, my battery pack, my phone, my earbuds and my watch all at the same time.  And despite all five things charging at once, my phone was still able to "fast charge". (If you're interested, the other two things I have that need charging are my backup phone and my iPod)