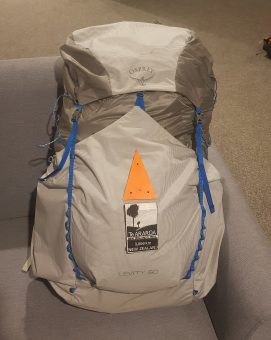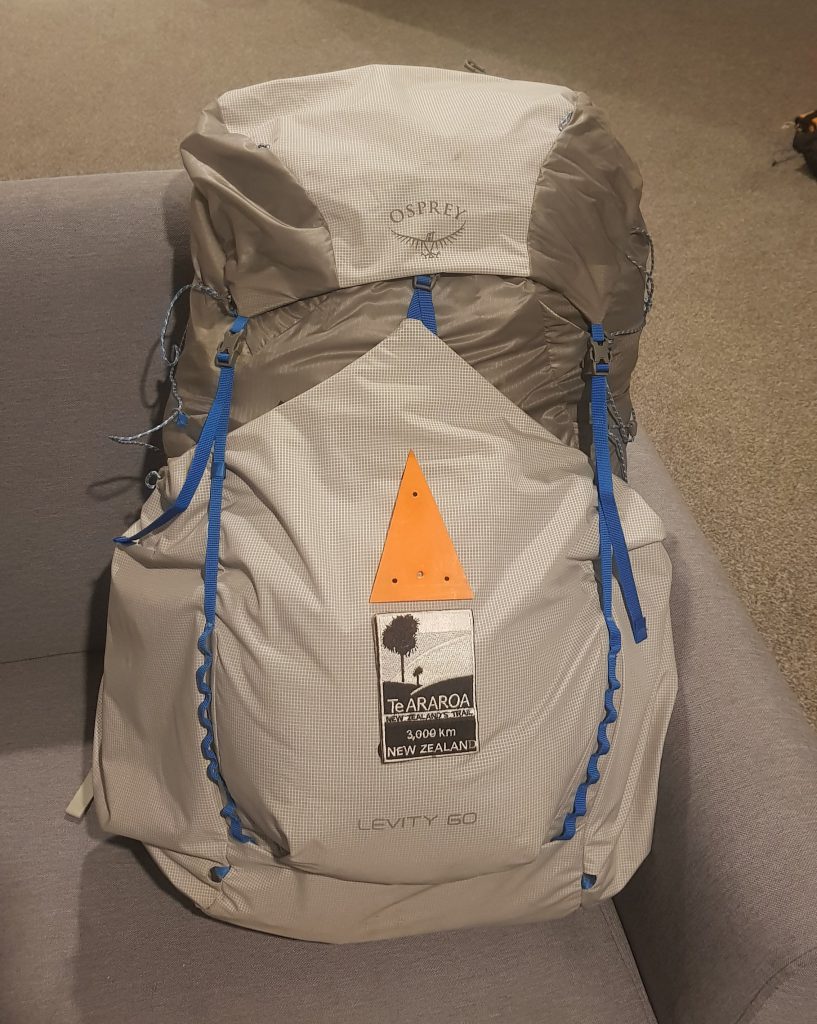 I went with the Osprey Levity 60l pack. It's really really light, which was a priority for me. I'd read some people complain about its durability but that's to be expected with real lightweight stuff. I have noticed that the inner layer of nylon is quite thin so I was careful not to have sharp things sticking out inside it.  I kept all small things inside a rubbish bag or dry sack so this wasn't a problem.
Plus I was making an effort to travel as light as I can (within a budget) so the load was not too great on it. From my time on the trail, it seemed that the 12kg base weight I had was about average compared to other hikers.
At first it was weird walking with a pack that it kept away from my back. But then time and time again on long, hot days having the pack kept away from my back made it a lot more comfortable.
The only access is via the top of the pack so there were multiple occasions where I wanted to get things out of the pack (usually warm weather gear when it suddenly got cold) but I didn't bother because it was too much effort. After the first week or two I became good at packing things in a particular order so this became less of a problem over time.
I wasn't able to attach a drink bottle to the pack in such a way that I could access it while I was walking, however I got used to taking the pack off my back in order to access water.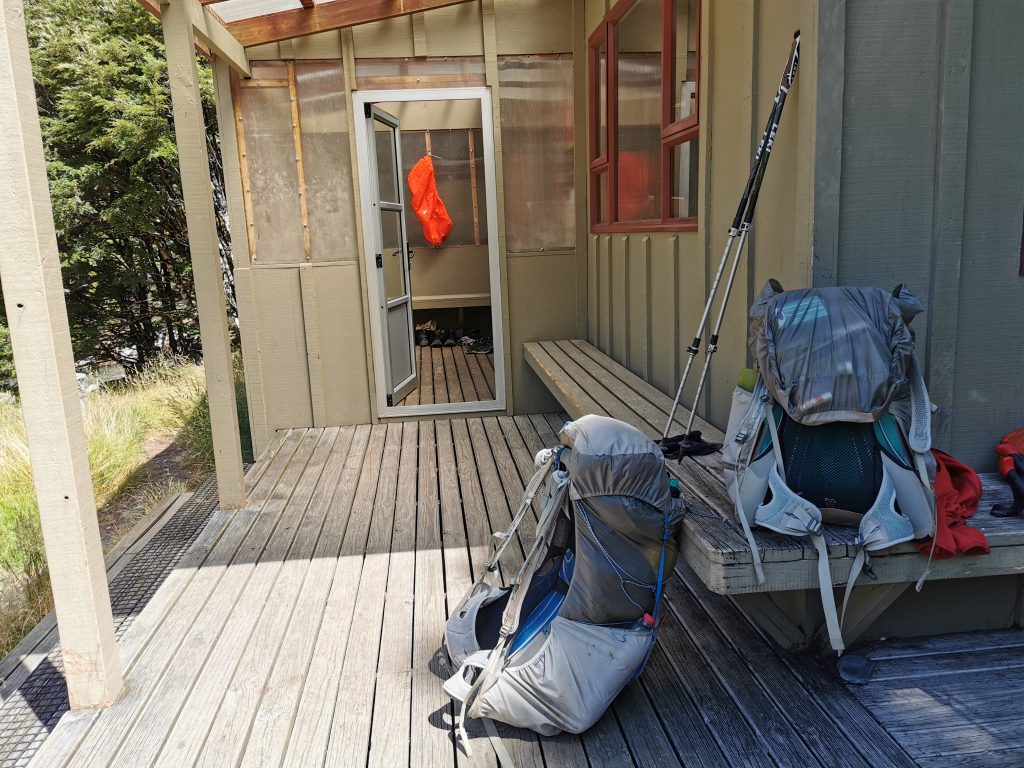 Even during the Richmond Ranges where the pack carried 9 days worth of food, I never felt like I was short of space. At the start of this section I had to keep some food in the outside pockets of the pack but I didn't mind that.
On the first day it did develop small holes on an inside piece where the nylon rubs against the slanted back of the pack. This didn't affect anything though and the main outside part of the pack never developed any holes. At first I was being very careful not to drag the pack through anything spiky but once I got to the South Island I stopped caring and just pulled the pack through Matagouri, gorse and all sorts of spiky stuff and it didn't matter.
On days where it rained a lot, I put a pack cover on but stuff in the bottom of the pack still got a little bit wet. However this was only on the few days where it rained all day, and it wasn't too much of a problem.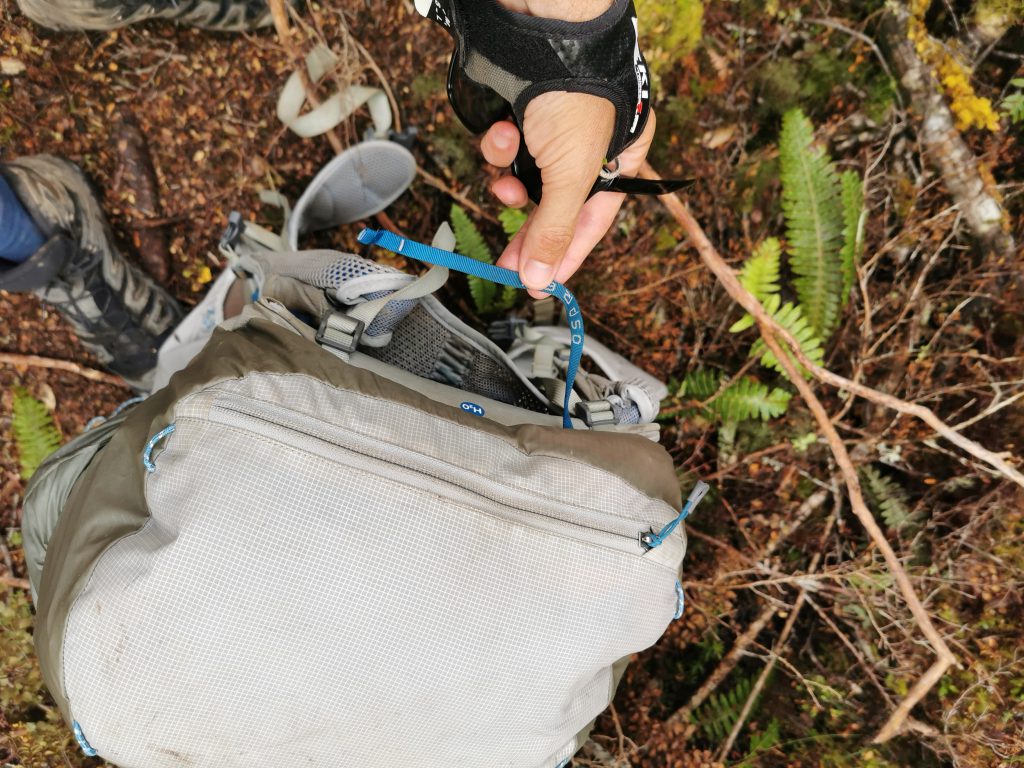 As you can see, the little blue bit at the top of the pack broke off on day 88 – the bit that you hold onto to lift it. This was a pain as after this happened I had to lift it on its side via the straps. However I was really impressed that nothing else broke on the pack, and it didn't develop any holes or otherwise deteriorate in any functional way.
There's not a lot of shoulder padding on this pack. I wondered if a pack with more shoulder padding would hurt less at the end of a long day. I wished I could have had the chance to walk with a more chunky pack for a few days to find out.
Rating: 8 / 10
Click here to see posts where I mention the pack.