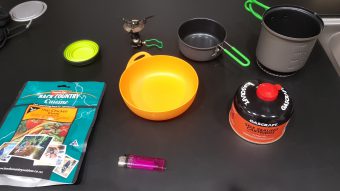 Last night I thought I'd have my second go using the Optimus Crux gas stove and I cooked a Back Country Cuisine dehydrated meal that I bought a couple of weeks ago from Bivouac in Albany.  I wanted to try the dehydrated meals at least once before I started Te Araroa so I knew if I liked them or not – I'd never tried one before.  Here's what it says on the packet:
"Thai Chicken Curry (Gluten Free) – The distinctive Thai taste of coconut milk & curry with chicken, green beans and roasted cashews".
Well they sure make it sound appealing.  But I didn't have high expectations.  I expected it to be bland and chewy and have a kind of "mystery meat" taste that you often get with cheap cuts of chicken.
Boiled some water on the stove (easy just like last time, despite the fact I had the pot quite off-centre as you can see) and poured it into the bag, stirred it, sealed it up and left it for 10 minutes.  Then, apparently you can rip off the bag at its midway point where the notches are and eat it directly out of the bag.  But I wanted to put it into my plate so I could see it.
As you can see it doesn't look too bad, and I'm pleased to say that it tasted good too!  Spicier than I expected.  Quite a lot of flavour.  Although if I'm honest, I couldn't identify the chicken.  Is it the square pieces?  That's what I assumed, however the ingredients list contained "Soy Protein" as well as chicken, and this looked a bit like soy protein.  I don't really know if I'm honest.  Although the rest of the ingredients were there and identifiable and tasted nice.
I'm not a foodie, so I don't know good food when I find it.  In fact, I'm quite fussy with food, I often won't eat something if I don't know what meat it is or if there are ingredients listed that I haven't heard of or if I simply don't know the ingredients.  So the fact that I found this nice must be a good sign!
It was a small meal serve though.  The 1 serve was only 392 calories and I imagine after a day of hiking that is going to be very unsatisfying, and I think it was $8.99.  So I'd definitely be buying the 2 serve which was $12.99 for the amount of food I feel I'd need.  And I feel like I used the amount of water it said and left it for the length of time I was told to but it ended up just a little bit too watery.
I've just looked up their website and realised that one of their Frequently Asked Questions is "why is the meat rectangular?", so that answers that question.  The square bits are the meat.  Interesting.  By the way, the answer is that it re-hydrates better and isn't crunchy.  They're also made in Invercargill too, here in New Zealand.
Definitely next I'll try one of the dessert range… and also there's a Butter Chicken meal too, but another company make that one.