Date: 15 October
Distance walked: 24.9km
Trail covered: kms 223.1 to 246.8
Weather: light rain all day
Chances of taking a kayak out tomorrow: Slim to bupkis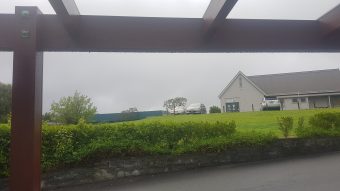 Woke up this morning, and this was the view from where I was staying. I had to decide if I was going to start walking again today, or wait until the weather cleared and maybe go tomorrow.  After yesterday's storm today had the potential to go the same way.  It looks gloomy outside, however I don't want to be stuck inside all day for another day – I just had 7 rest days!  So I was gonna be out of there – only another day of storms would keep me inside.  And right now it was just a light rain.
I spent some time talking to my friend Nick who was sharing the room last night.  He was reading me the weather forecast, I don't know exactly which forecast it was, but it had some interesting predictions.  Apparently the "allergy index" is moderate, the "mosquito index" is "not biting" and the "sweat index" is comfortable.  I found that last one very hard to believe, given how wet and humid it has been and still seems to be.  No doubt I'll find out very soon.
Once I had walked back to The Stone Store to rejoin the trail, the first part of the walk was quite nice.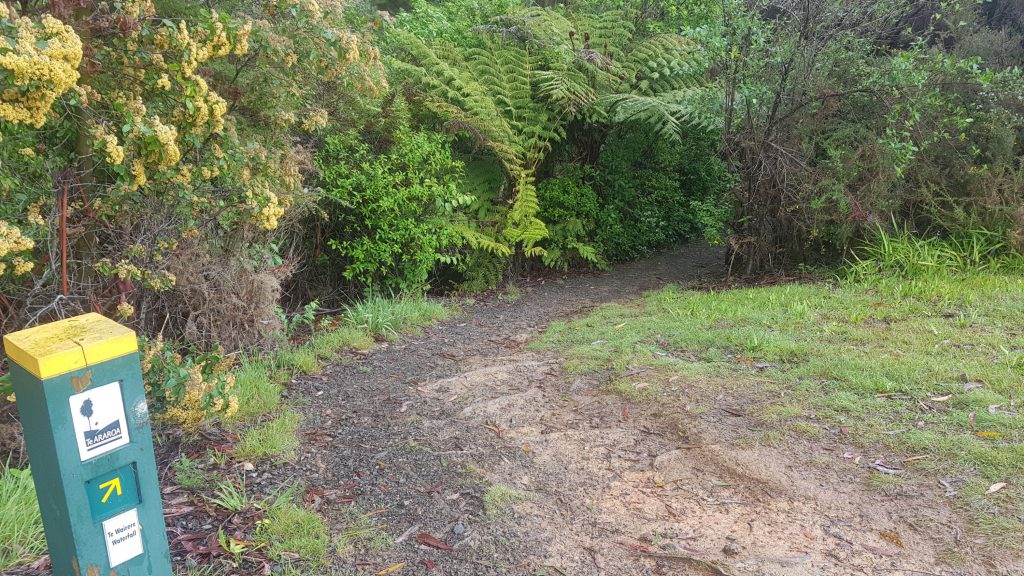 Then this was followed by a short walk through a little forest.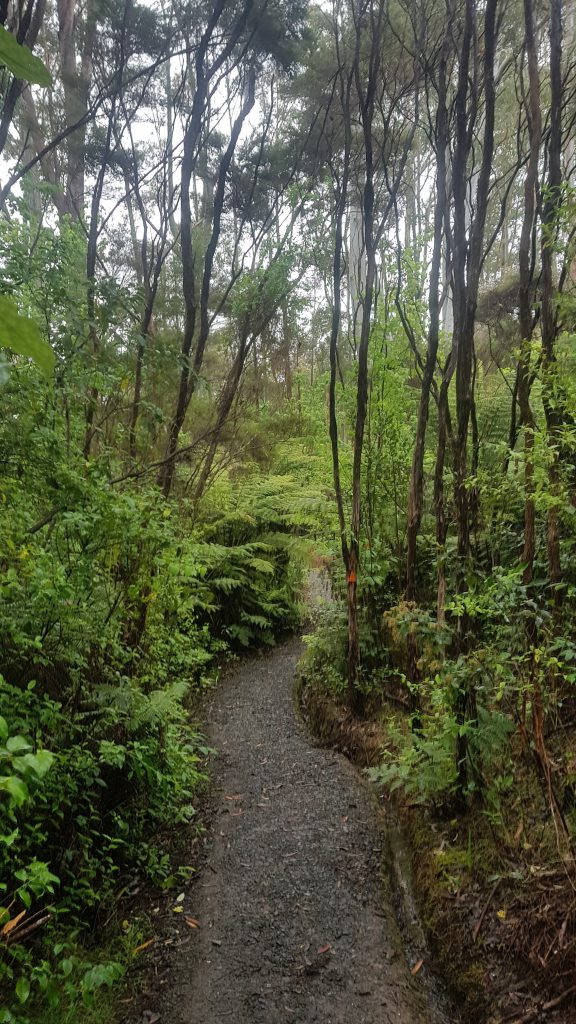 This didn't last long. It soon turned into road walking which would become the theme of the day.
As it got to 11am, I started to feel very warm, because I was wearing my rain clothes and it was very humid.  I had to stop here and take off my rain jacket.  It was at this point where I got undeniable proof that the "sweat index" was not at all comfortable.  In fact I was far more wet than I would have been if I didn't wear the rain jacket at all.  Maybe Nick was accidentally reading the forecast for Kerikeri, New Mexico instead.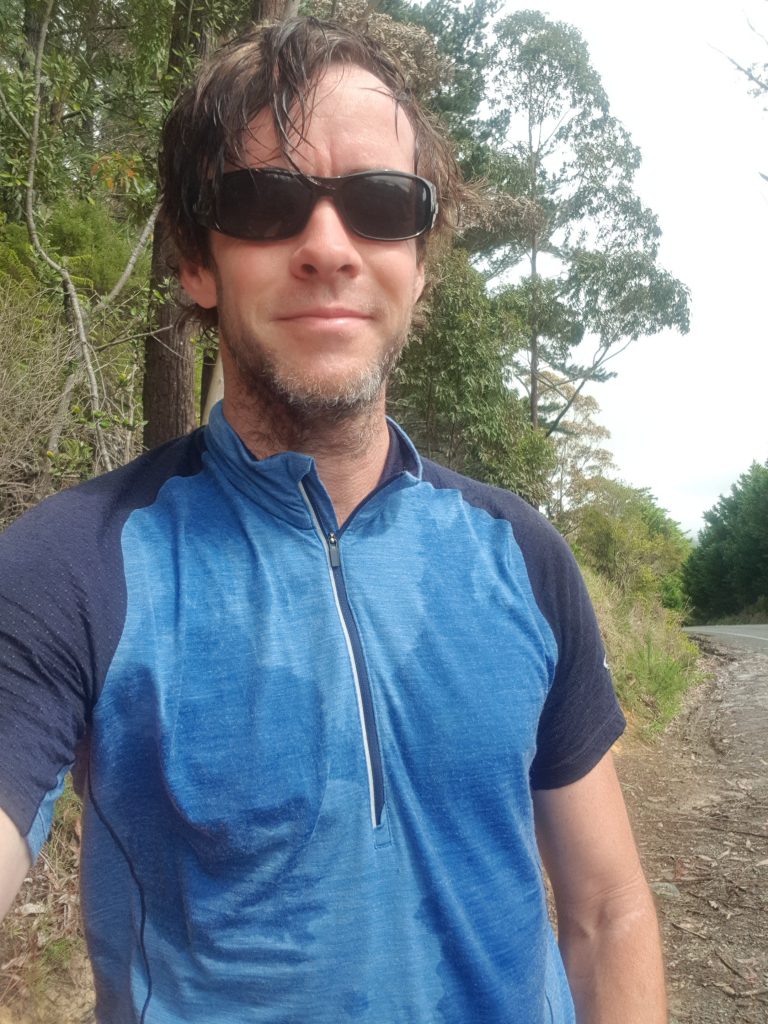 Not long after this it was 11am, which coincided with where the road walk turned onto a forestry road: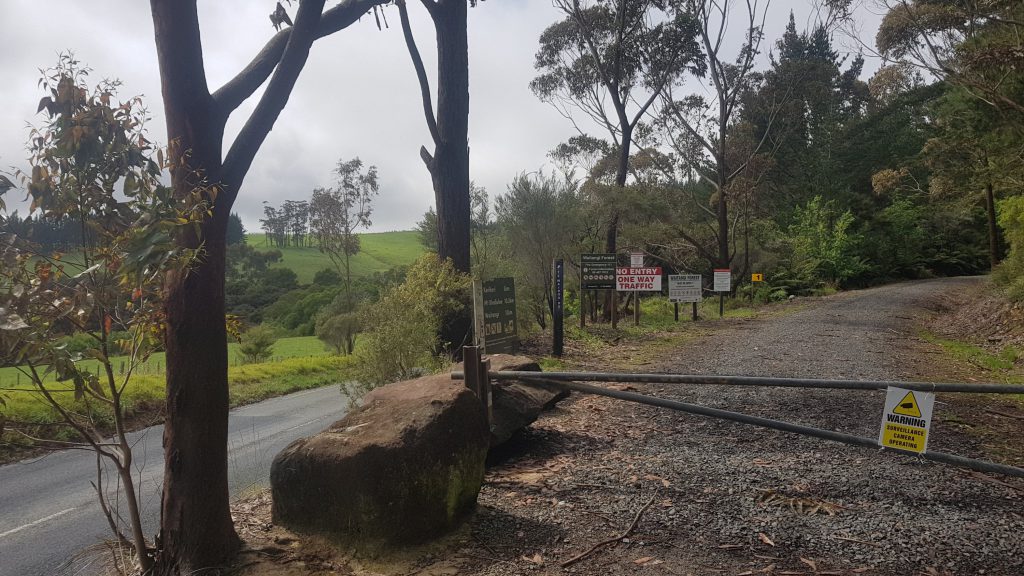 It was all road walking still but at least it was forestry roads for most of the rest of the day with no cars.  Here was my view for most of the walk: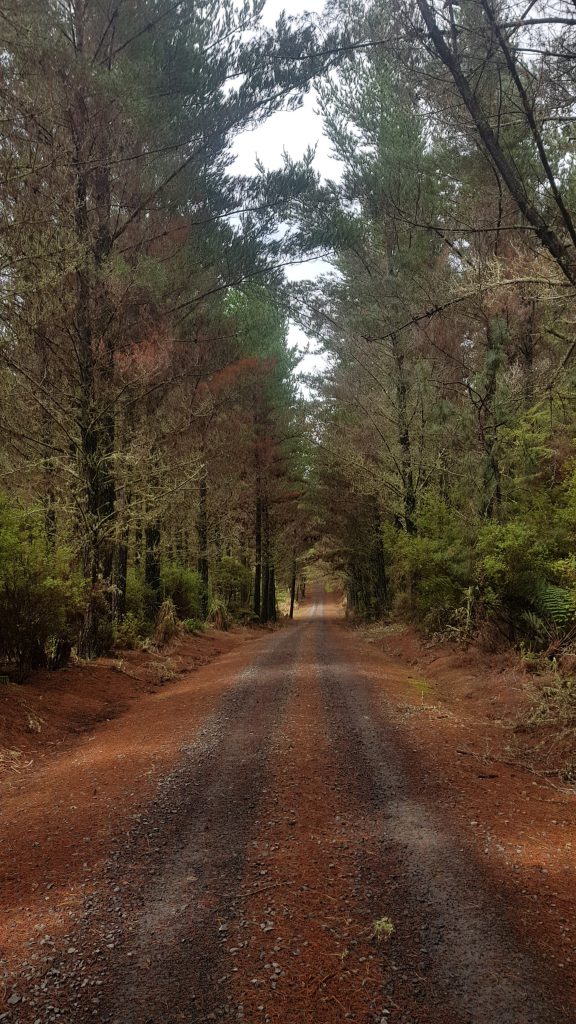 There was lots of signage in here, it would be hard to get lost.  It seems the TA has been diverted from its original route as these signs suggest.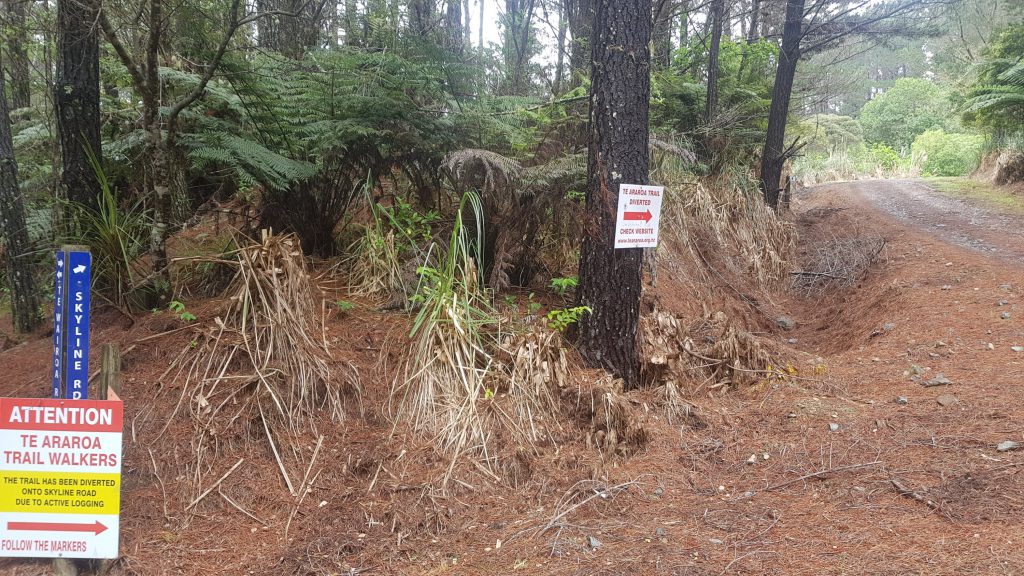 There were also lots of mountain bike trails, although I didn't see any bikes.  They all had interesting names, like this one – "Nigel's Nostril".  I felt like I was in a ski field where all the runs have a difficulty posted and a funny name.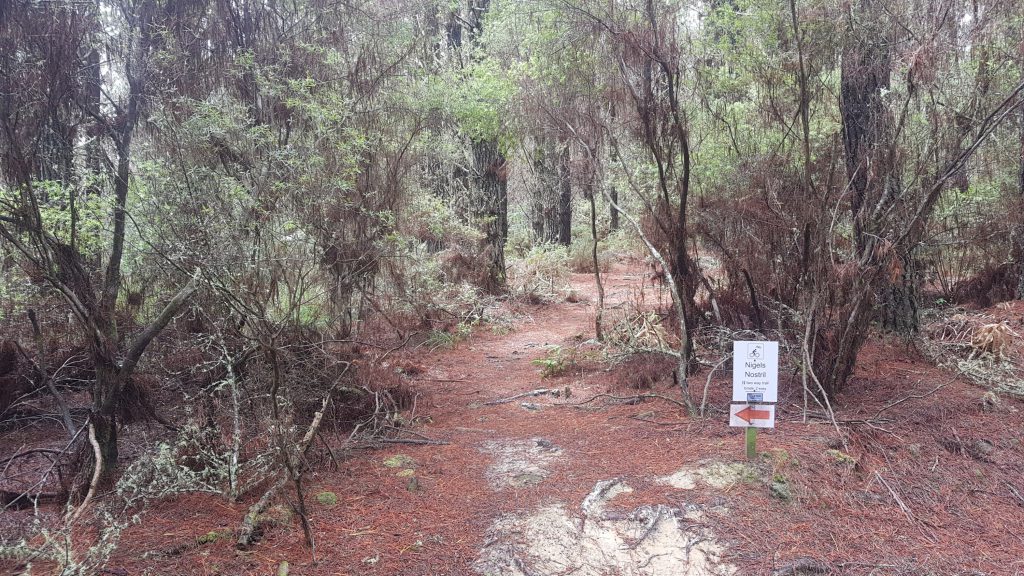 There was also a track I passed called "Wasn't Me".  This of course paved the way for "It Wasn't Me" by Shaggy to be stuck in my head all day.
I also at one point passed a sign for a "Water Supply". I was going to let the picture speak for itself, but I thought this water supply was worthy of being converted into a meme.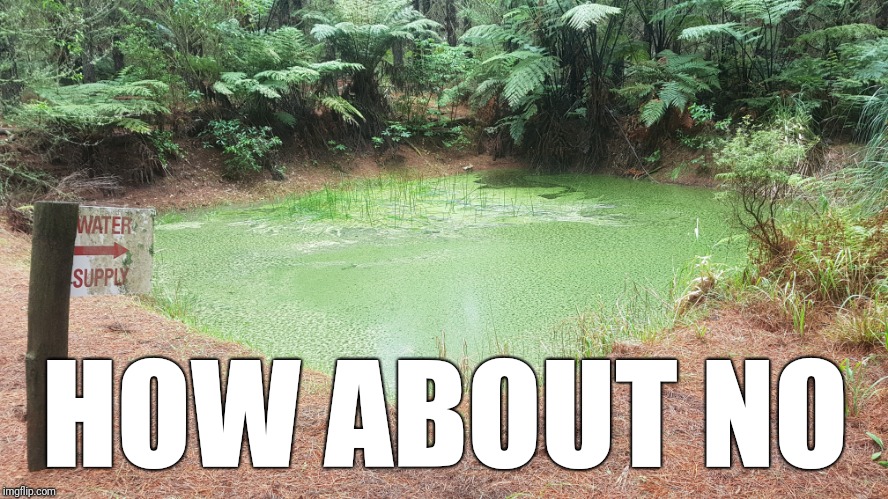 I posted the picture above on instagram and to my surprise there is somebody out there who did drink from this.  I wonder if they now have superpowers.
There had been light rain all day today, ever since I left the house.  At one point when it got slightly heavier, I did stop with the thought of putting my rain jacket back on, but the light rain didn't seem to be really getting me wet. Certainly nowhere near as wet as the sweat from the humidity when I had my jacket on earlier.  So I left it off.  I'm not really sure when I will use the rain jacket.  It feels like something I need to have but when it's humid it just seems pointless.
I passed this interesting thing, and couldn't work out at first what it was.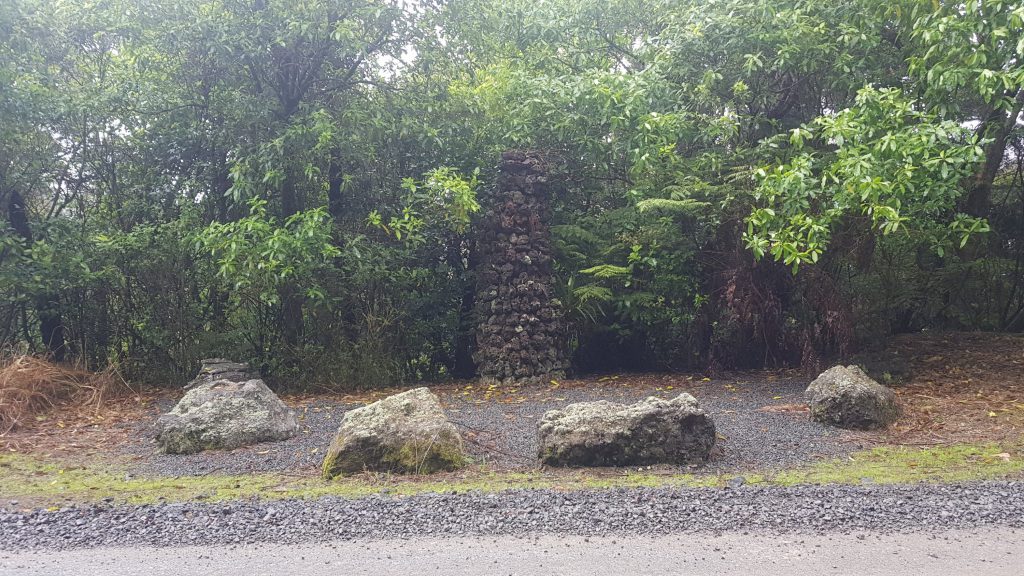 On closer inspection it is apparently where Jim Bolger, former prime minister opened the first section of Te Araroa track in 1995.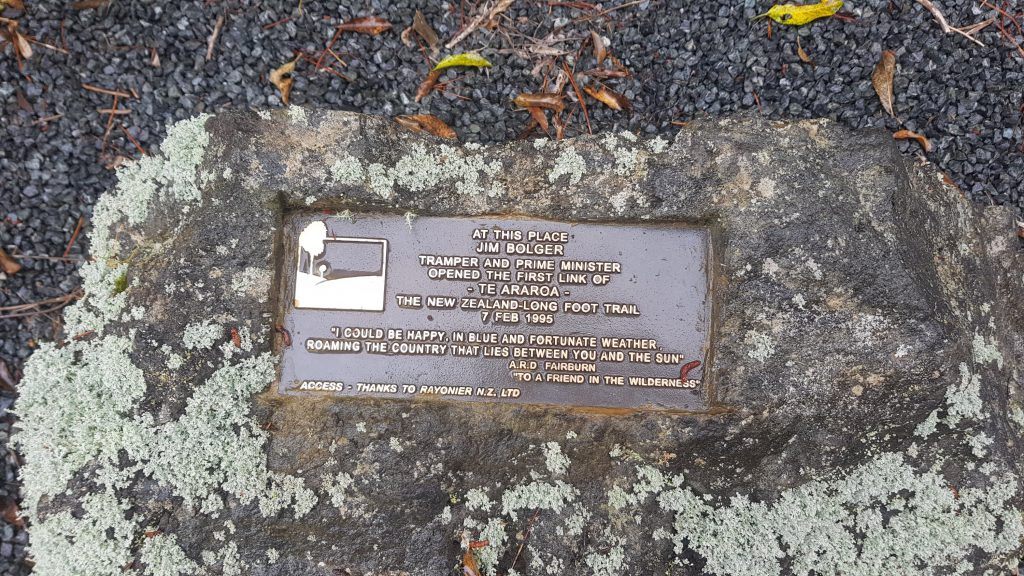 From here you could do a short diversion up a hill to the top of Mt. Bledisoe, which apparently had a great view of Paihia and the harbours.  I wasn't optimistic about the view because of the weather but I hadn't had lunch yet and also there was a geocache up here, so I didn't mind the detour which was posted as 5 minutes up this path.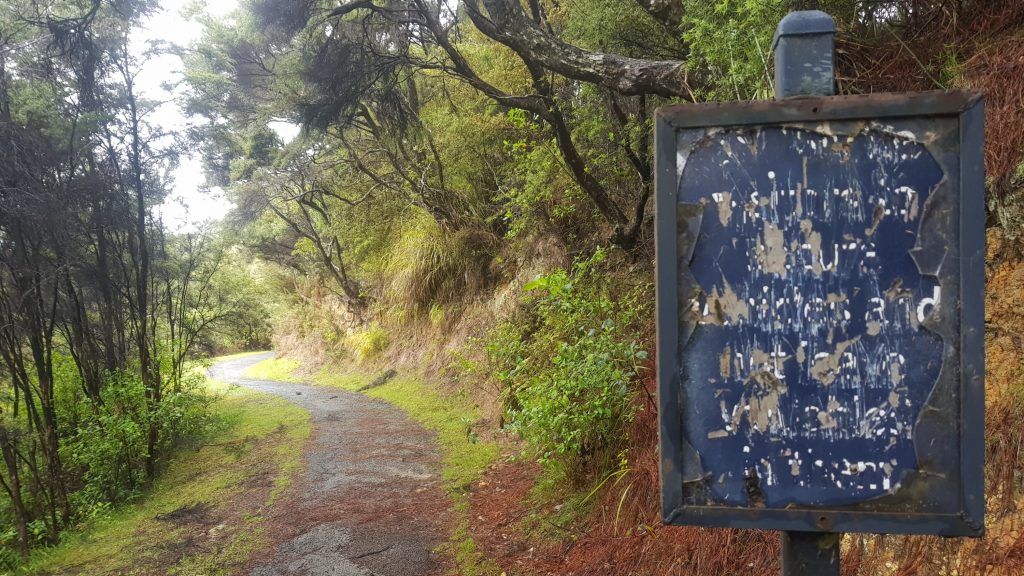 It was quite nice up here.  No table but at least there was a seat to sit on and admire the view.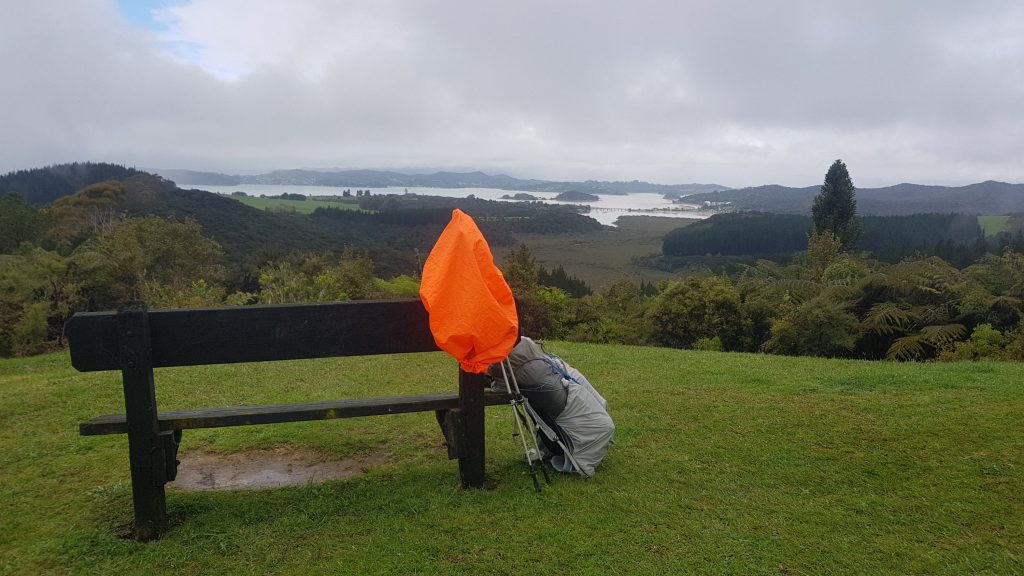 And also time for a selfie.  I've never seen my hair like this, must be the rain and the sunglasses.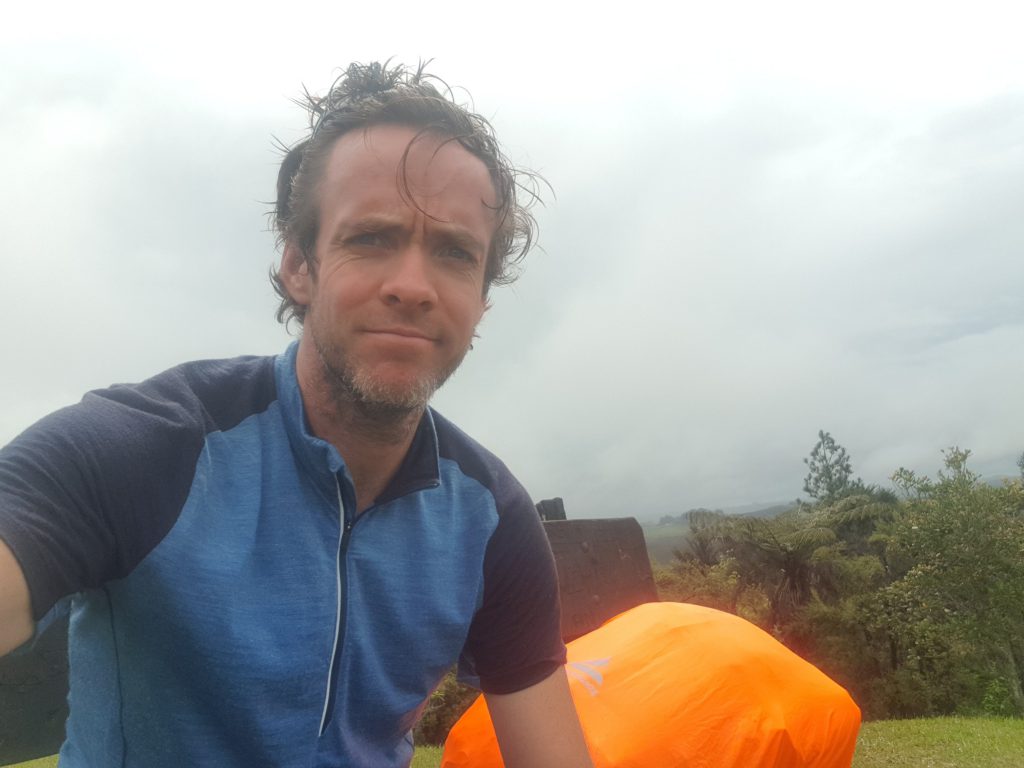 The geocache took a few minutes to find but I managed it. I also found this thing (I forget what it is called).  Mount Eden in Auckland where I live has one too.  Apparently Bluff is only 840 miles from here.  Is that all!  Seems positively nearby!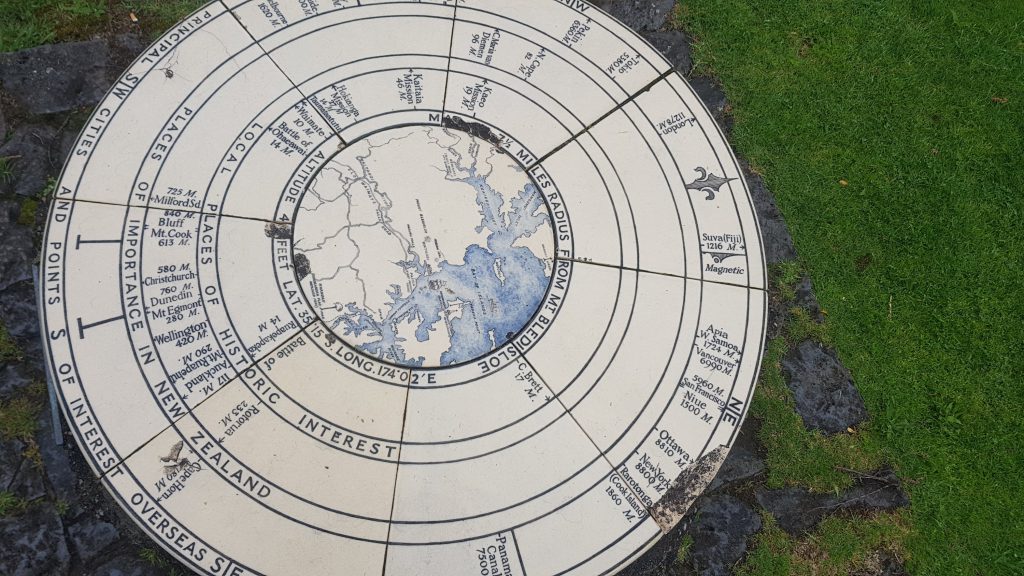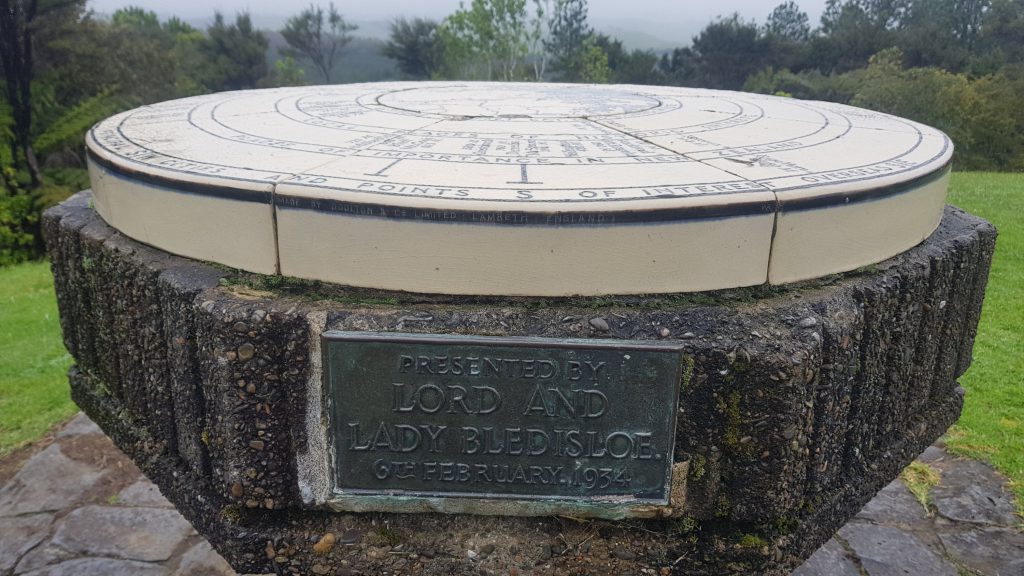 The view from here was actually quite reasonable gven all the rain.  Actually the rain stopped while I was up here eating lunch, which helped.

Past here there were a lot of closed roads.  I'm glad there were the little TA signs as well to reassure me that I was in fact allowed down here.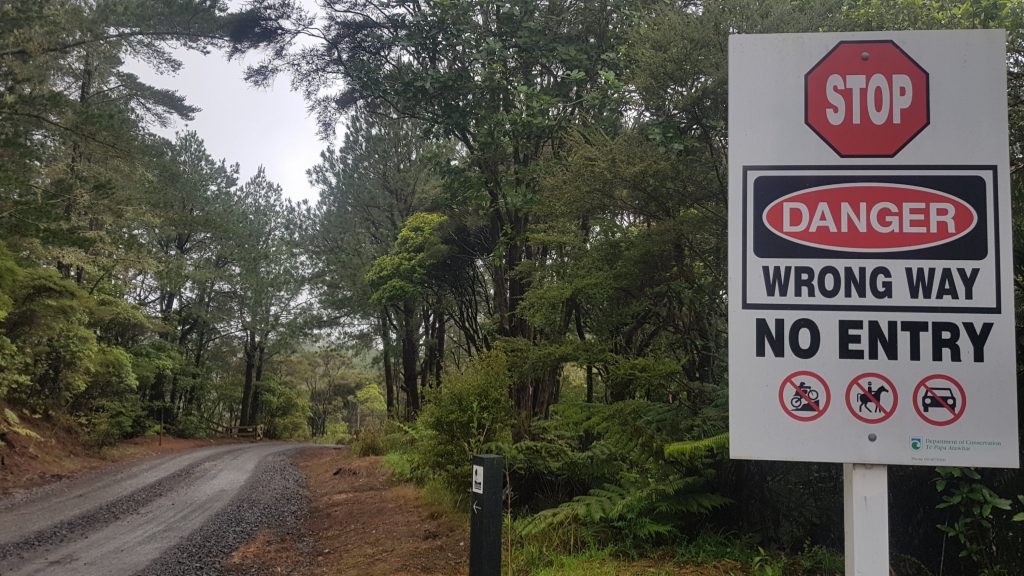 I also saw this in the forest.  Most people would probably think nothing of it, but the nerd in me knows that you never ever see a speed limit sign that ends in a 5.  They just don't exist.  So this was very exciting!  But I'm not sure what use it is.  People seem to have been using it for target practice.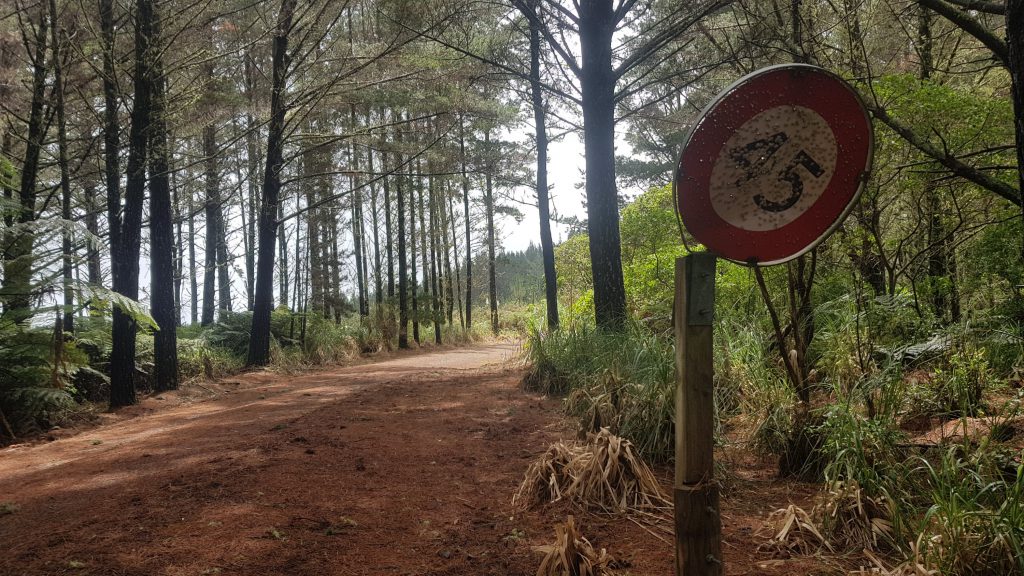 I also saw this car.  Normally I would see this and think "gee I better be careful on this road" but because I'm hiking my first thought was "can I sleep in this tonight?"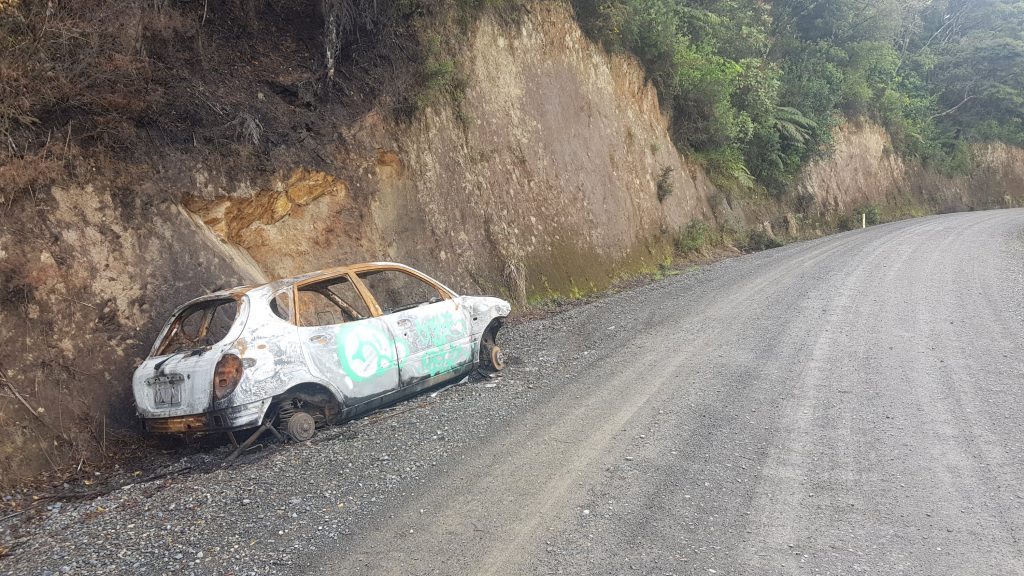 Wasn't long before I was out of the forest and walking through Waitangi, which had great views towards Russell.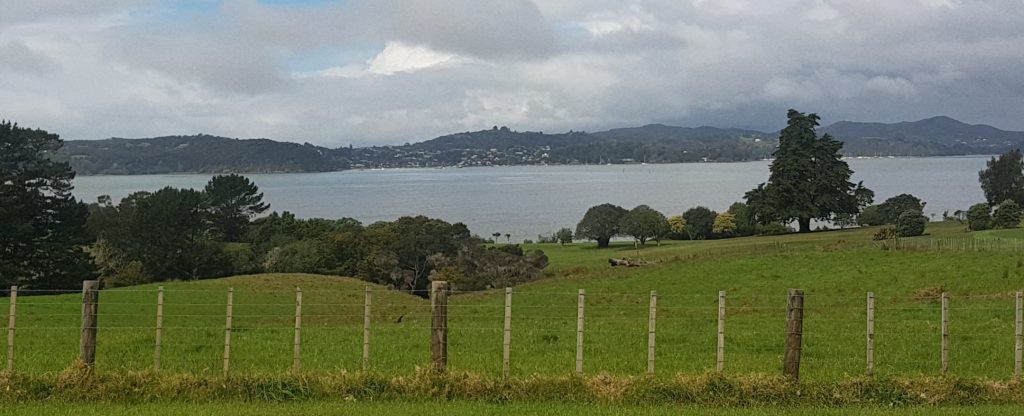 Not long after this I was in Paihia. Like I often am as I arrive into a town I was craving a milkshake. I went into the Rainbow Dairy and while I did get a milkshake, I wasn't allowed to pay by card which I thought was strange given that there was an EFTPOS machine right there and the guy before me paid with card. And I will admit, I also got a real fruit icecream just down the road.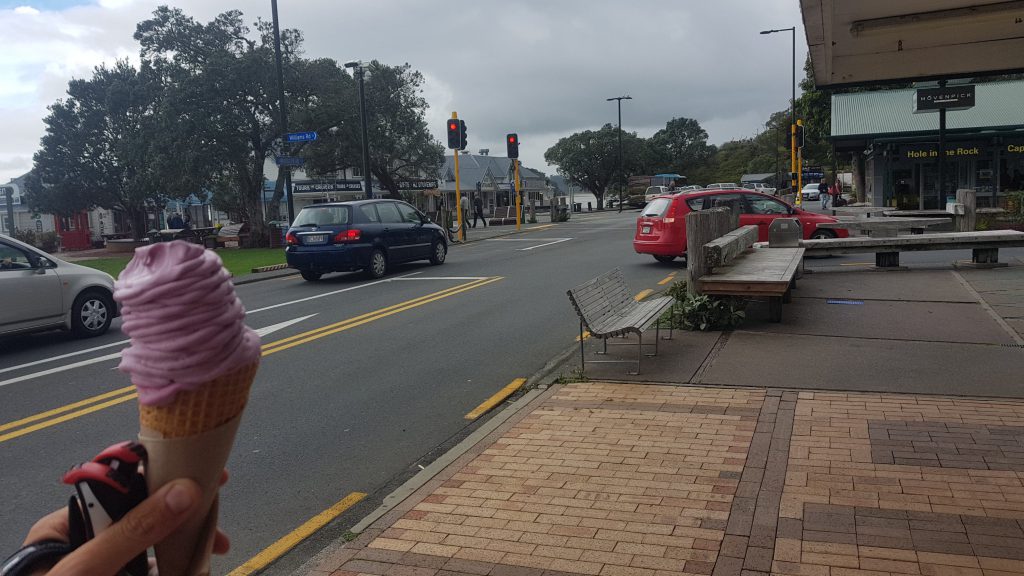 And shortly after…. here's bay beach hire. This is where the majority of people hire a kayak and kayak to Waikare next. But… oh no! No kayaks will be going out in the next few days because the tides aren't favourable. Apparently you have to arrive at Waikare at high tide which would mean a 4.30am start tomorrow.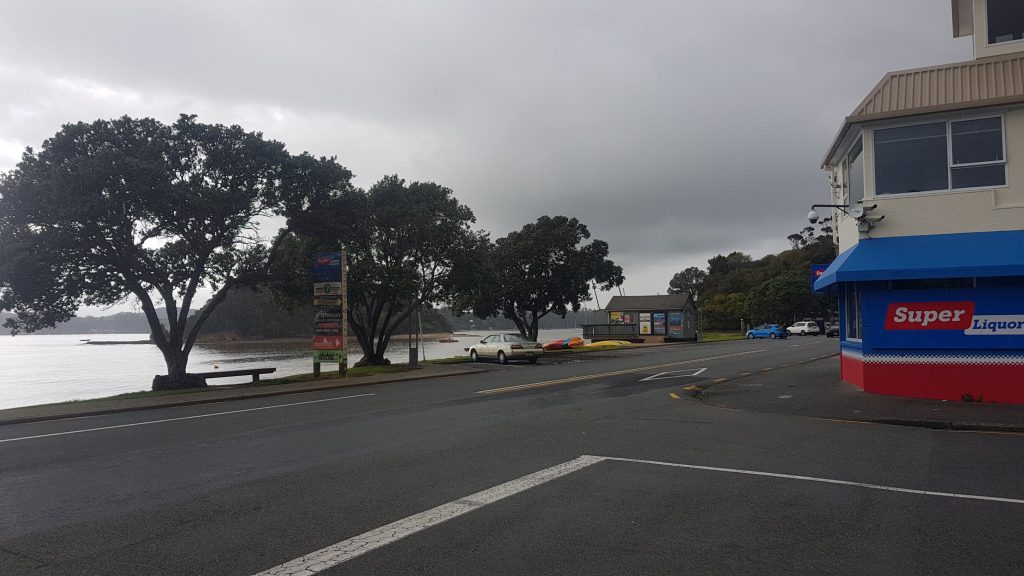 I knew the tides were not ideal but I wasn't sure how big of a deal that was. Turns out very. Dan who runs the place said that there are a few people with the same predicament and he is going to drive them to Waikare tomorrow. I didn't take him up on that offer because to me it feels like cheating. I said I'd never skip a section. So I'll walk the road detour.
I could wait a few days for favourable tides but I've just come out of 7 rest days and the last thing I feel like doing is taking more rest days. There is a kayak section from Puhoi to Wenderholm in a week or so, so I have that to look forward to. So because of that, I will live with not being able to do the kayak from Paihia.
As I was walking down the main street of Paihia I met Ralf. He introduced himself as one of my followers and I felt like a minor celebrity! He is apparently joining the others tomorrow for the ride to Waikare, as he was hoping to kayak tomorrow also but can't.
This morning I booked a private room with shared bathroom at Bay Adventurer Backpackers, and I arrived just mere seconds before the rain poured down. I know it doesn't look like it here but it started raining hard. Again, I feel generally I have been very lucky with the weather.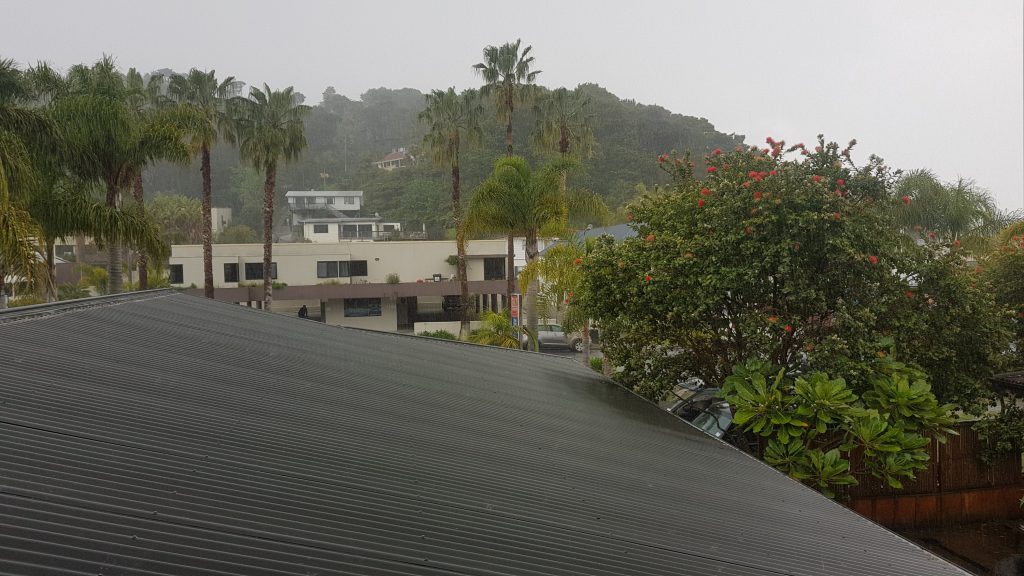 And one thing I discovered about my new Salomon hiking boots… I was walking in light rain almost the whole day but when I took my boots off, my socks and feet were bone dry. Incredible. That was a very unexpected and happy surprise.
The backpackers is alright. Not a bad room for $50.  The dorm rooms were $24.  There was a spa which was still excellent, despite not being very warm.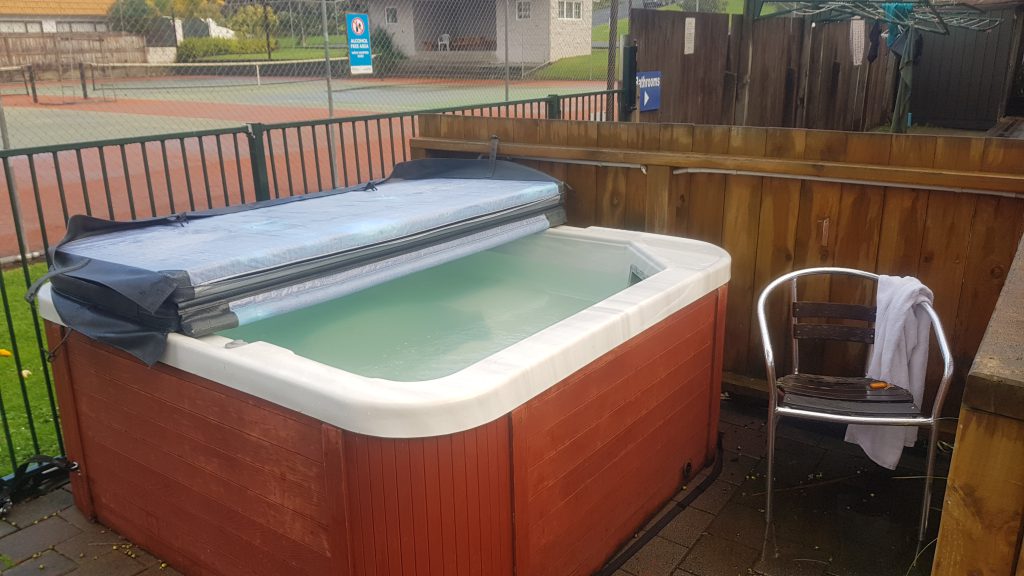 That's about it for my first day back walking. I don't really have any pain at all which is very nice.  I'm very optimistic now about at least making it back to Auckland. I miss having my walking mate Rhydian, he will be far ahead now. Walking by myself it seems harder to think of interesting things to write about.  Hopefully I will meet up with other people at the campsites in upcoming Russell Forest.
Today's walk on the map (blue = Te Araroa, red = today's walk):