Dates: 31 October – 3 November
It was nice to spend four days at home. I did mundane things like chores, mowed the lawns, and more exciting things like visiting my friends and driving my car around randomly.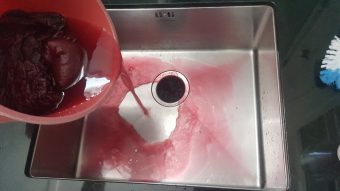 I got a chance to wash everything on a hot wash. It felt very good. But I did remember one tip that Rhydian gave me back on Day 9 or 10. He said that even after washing his silk sleeping bag liner over and over again, years later the colour still runs. And I'm glad he said that because it made me handwash my silk liner instead of throwing it in with the rest of the wash. And sure enough, the water turned into a deep red wine colour. I'm very glad I don't now have a laundry full of pink stuff. That has to have been one of the best pieces of advice I've received on this trip so far.
The first night was halloween. Driving around the "nicer" part of Mount Eden I saw kids in very elaborate costumes everywhere. Every year I put out a few small Halloween decorations but no kids ever show up. However this time, three kids did! Two young girls in elaborate witch costumes and then five minutes later a young boy in a Captain America costume. He looked very very pleased with himself, it was so cute. I had a bunch of chocolate but I only gave the three kids one piece each. I should have given them more because they were the only three kids that turned up all night.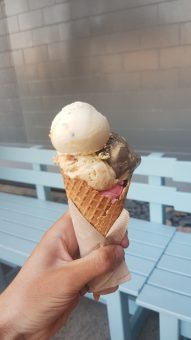 It was nice to drive my car around again. I found myself driving more slowly than usual because I couldn't get out of my head the fact that around any corner could be a bunch of hikers walking around the middle of the road.
I chatted with other hikers that are in Auckland. I wish I had some grass at my place so that people could pitch their tents. Next year I might have to get some bunk beds so that people can stay at my place and I can be a Trail Angel.
I saw a lot of my friends and family. And I got a fantastic ice cream from Duck Island on Ponsonby Road.
Tomorrow though it's time to continue on. I won't get to Wellington by Christmas if I sit around.