Date: 11 November
Distance walked: 31.2km
Trail covered: kms 773.8 to 805.8
Weather: Poured with rain in the morning. Once I started it was cloud cover all day with a beautiful wind
Number of times I backtracked today: 5
After I was dropped back at the Village Cafe and Eatery and after having a coffee, I was on my way. Well, I made it two seconds out the door of the cafe and it started pouring with rain. So I ran back inside – the first of four times today that I backtracked. Waited out the rain for a few minutes and then once the coast was clear, I went outside, surveyed the sky, decided that the weather looked like it was going to behave itself from now on and so off I went.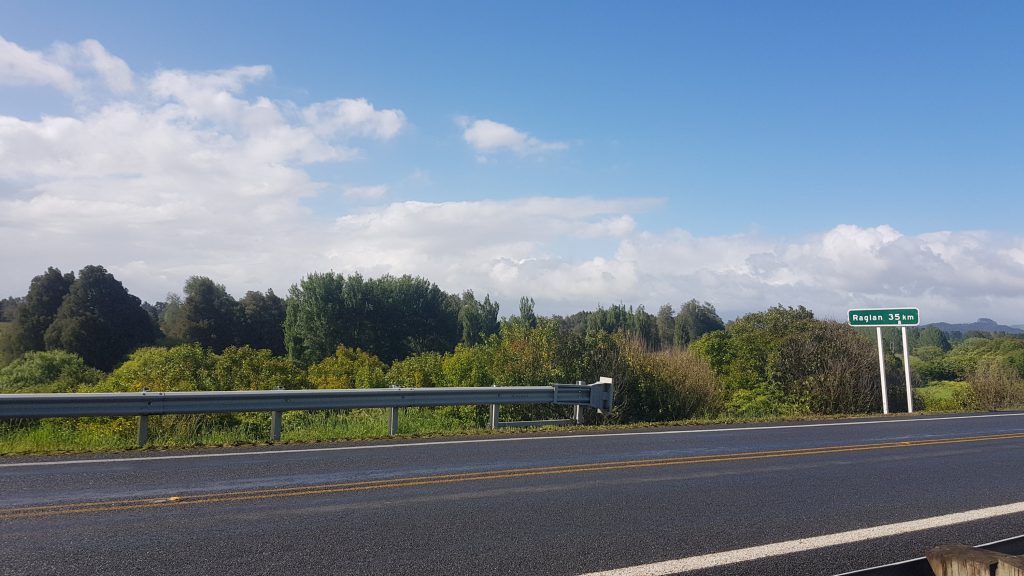 I wanted to make it to the summit of Mt. Pirongia today – 32km – and it was 9:15am once I left the cafe. It should be possible, I decided. I don't know what is just out of Whatawhata but I know later there is a 300 metre elevation through a farm, and then Pirongia itself is about 930m in height. So that is a lot of elevation today.
It is also the first time I'll be staying in a DOC hut – the Pahautea Hut. So I don't want to get in after dark, because that would be rude (and I also want to cook in the hut and just generally enjoy the hut before the sun goes down).
When you turn into Te Pahu road from State Highway 23, you need to immediately then turn left and walk behind the church on the corner. I nearly missed this turn – there is no marker for it. It feels like you are walking through people's backyards, and you are, but that is the way.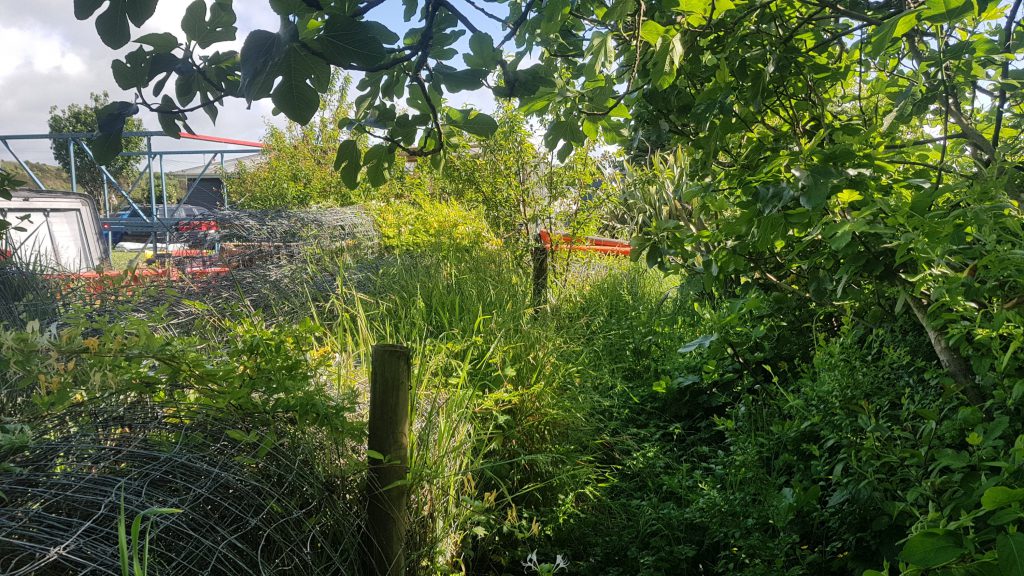 And then, good luck finding the path at all.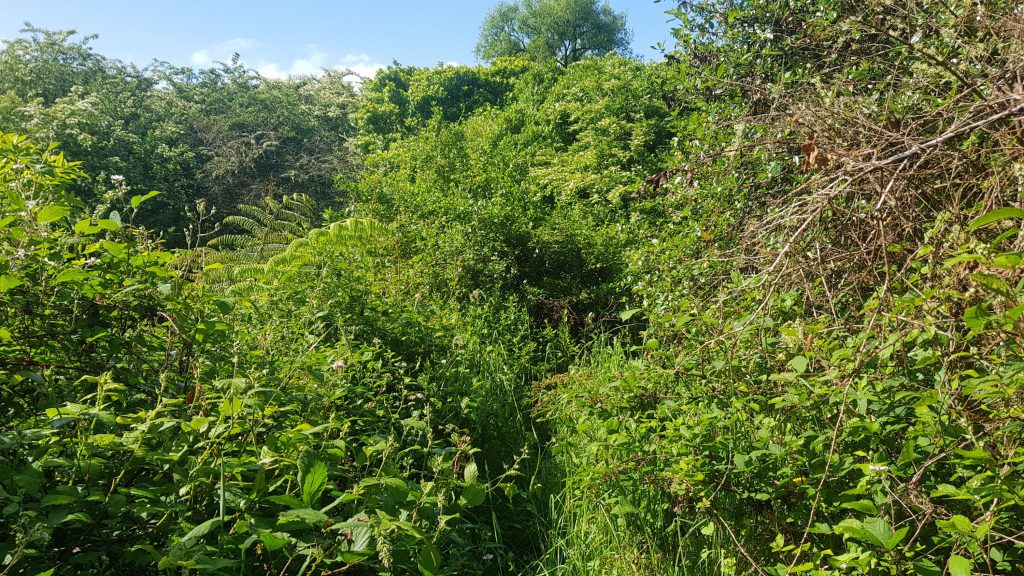 This part of the track looks like it's been overgrown and not maintained for quite a long time.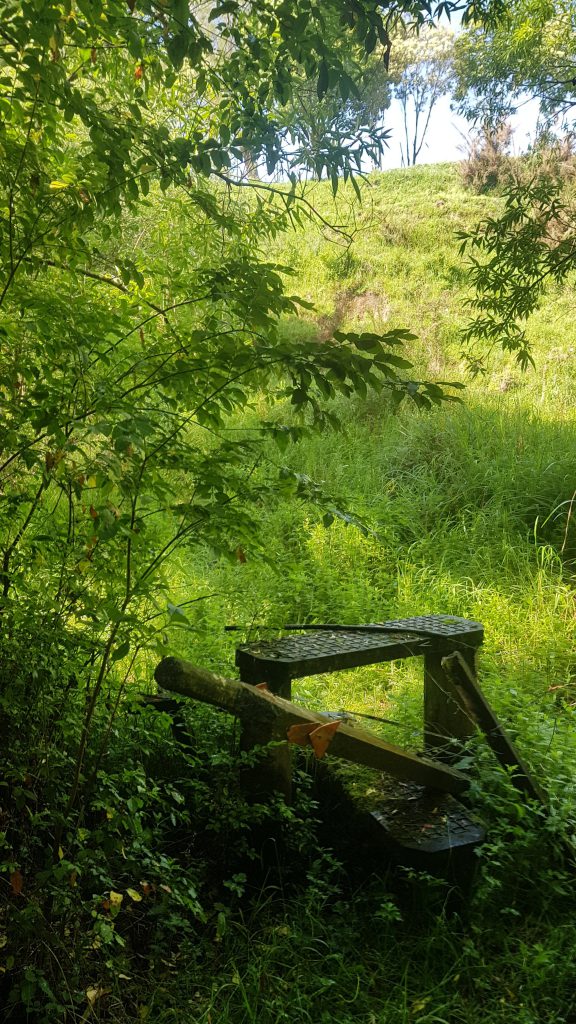 And if you find yourself climbing over this big piece of tree, then you've gone too far. I did – and so this was my second backtrack for the day. Just behind where this photo is taken is a stile that you're supposed to walk over.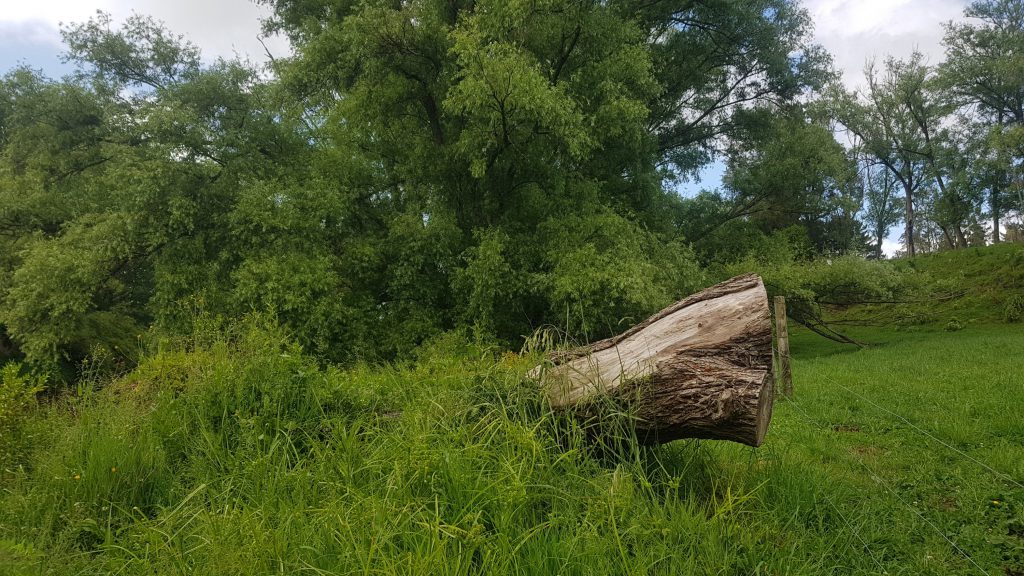 A walk through a farm and you come out on the road, and there is a narrow bridge to walk over. The road isn't too busy though so it's not hard. And you pass a boundary.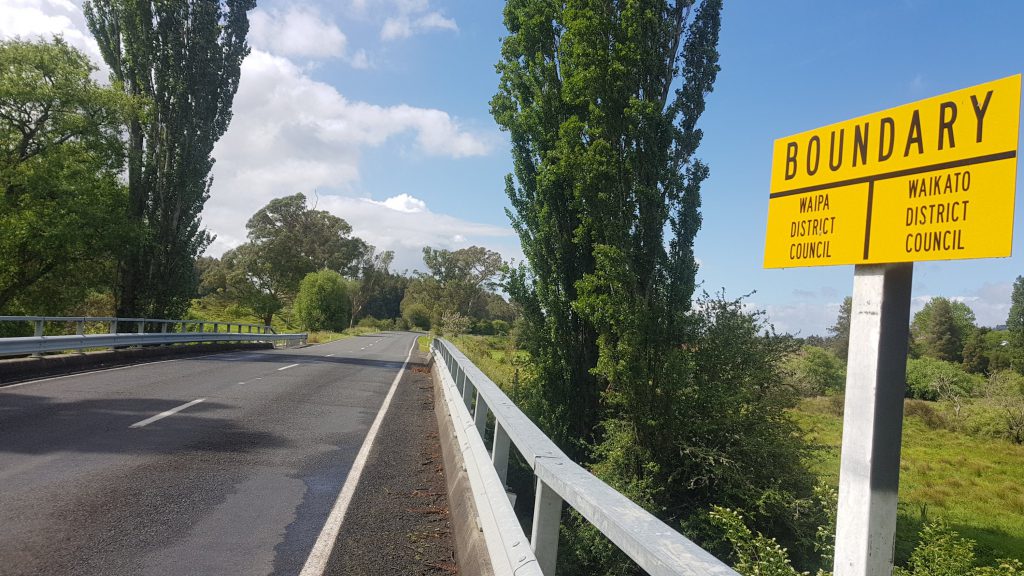 Waipa District contains Te Awamutu which is where I grew up. So I feel like I should know it well, however all the places I'm walking today are new to me.
Immediately after this bridge you need to turn left – it's a hard turn left and again easily missed. And here, this stile wins the dubious award of most difficult to access stile of the trail so far.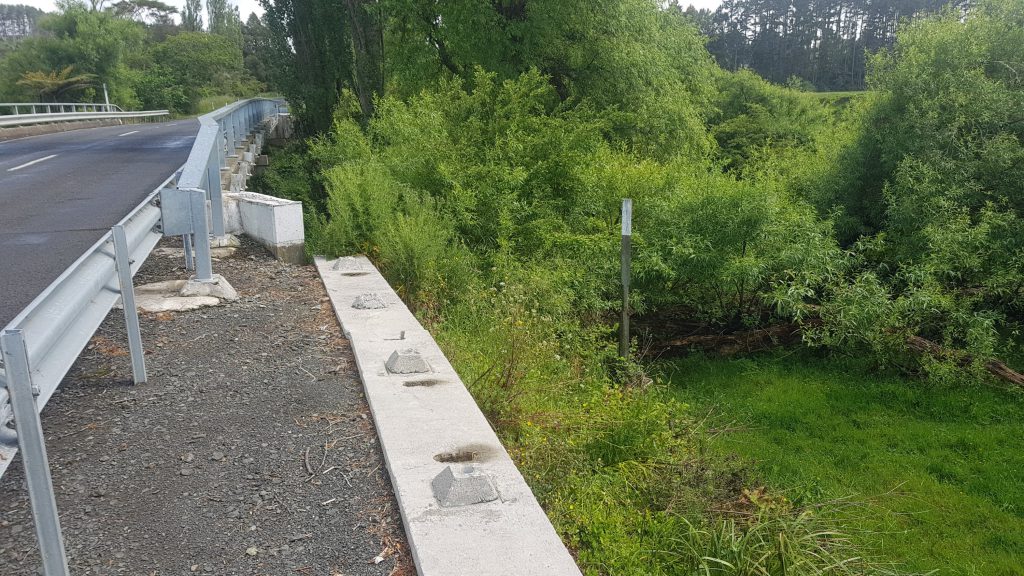 Then you walk alongside some crops. In fact sometimes you have to walk through the crops because there's no margin. I tried as hard as I could not to stand on the plants.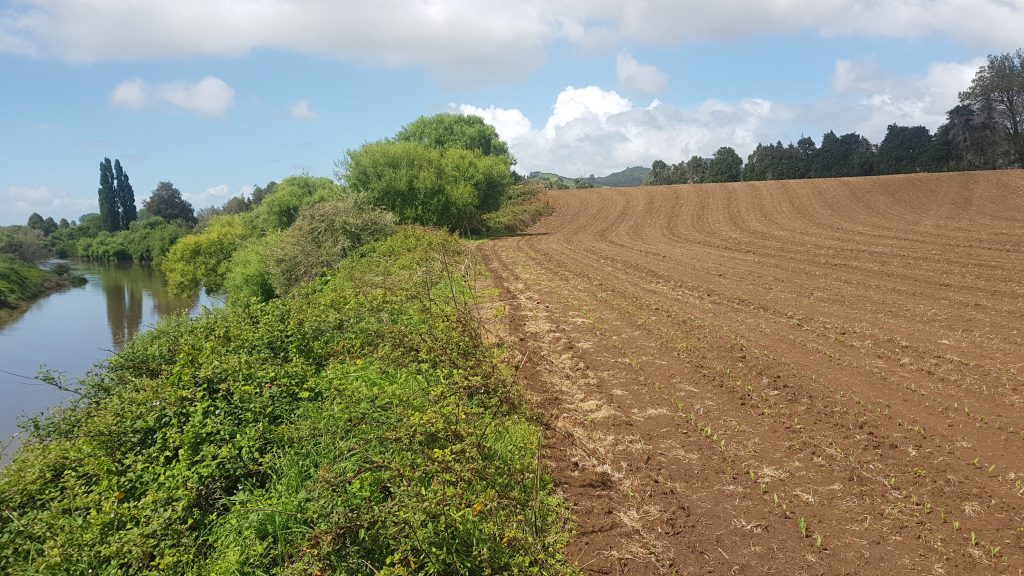 And then at one point, you get directed down a massive overgrown hill towards the river.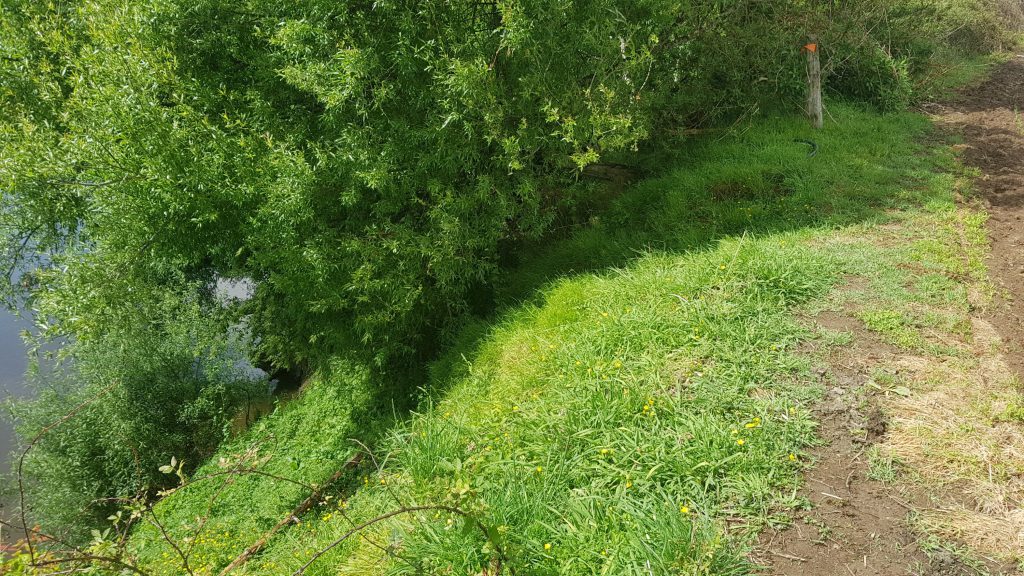 It was like a more extreme version of what I encountered before. This time there was also no marked path, but the terrain was really challenging. It was so overgrown you couldn't see the ground, and there were hidden tree trunks and hidden mud and all sorts of things.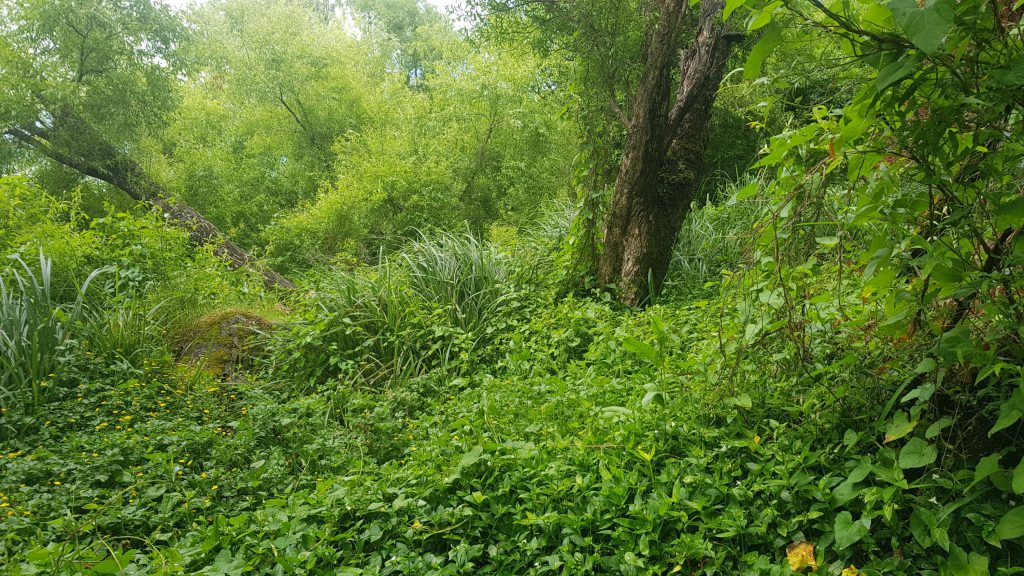 I didn't really like it at first because it was so frustrating but ultimately it was a cool little challenge that took less than an hour. It was good to have some variety. I did get very wet though, all the rain this morning had made all the undergrowth very wet.
From here you go back up to the crops and then out through the back yard of someone's house, which was weird. It was 11am at this point.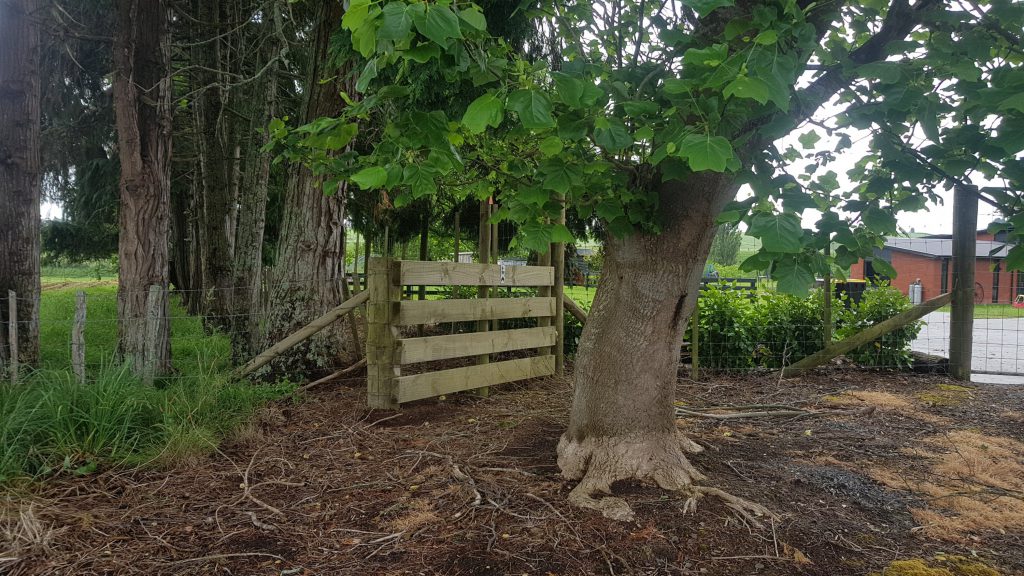 A bit of road walking, which took me out of Waipa and back into Waikato. Note that Waikato Region covers a big area from Mercer all the way south to Taupo and possibly Taumarunui, but Waikato District is a much smaller area that is around here and doesn't include Hamilton.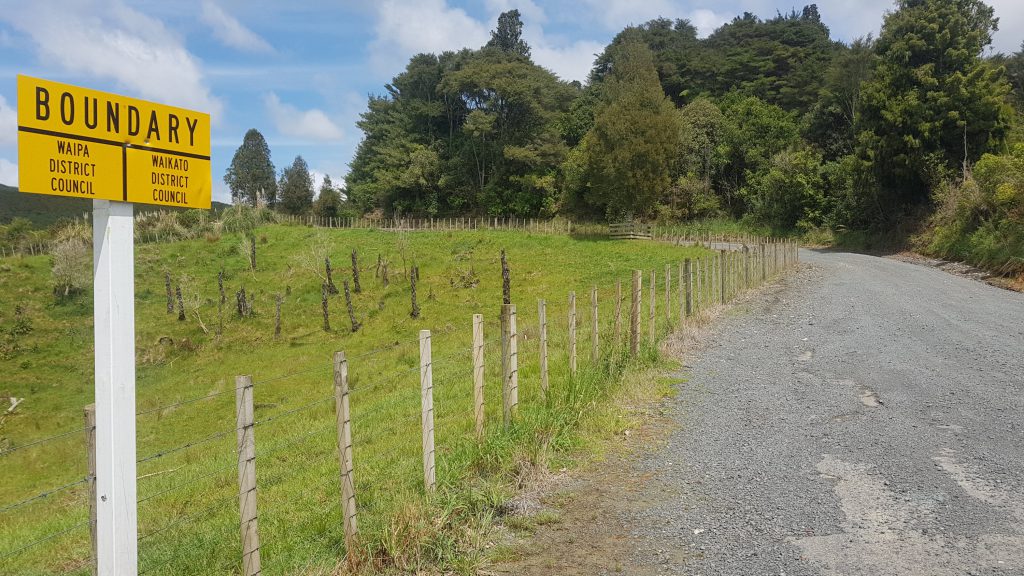 The walk is now down Old Mountain Road for nearly an hour. The trail notes say that the entrance to the Kapamahunga Walkway from this road is obscure, and it is indeed.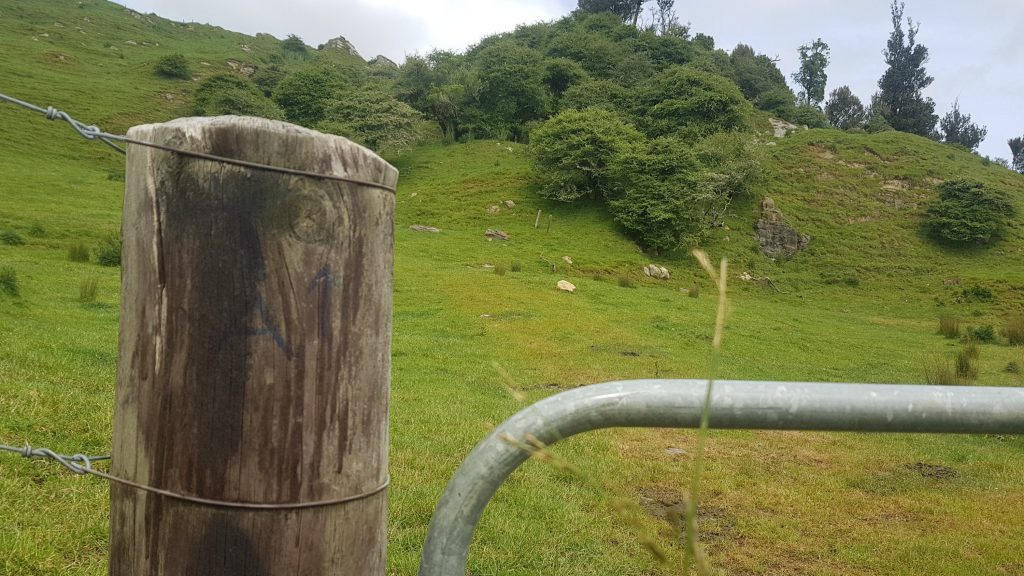 What I don't get is if the trust know that the entrance is obscure, then why don't they fix it? Just nail a sign on! Maybe the owners of the farm reluctantly allowed access across the farm and they don't want to make it obvious to every Tom, Dick and Harry. But in saying that, once you were in the farm, there were markers everywhere. I just don't get it.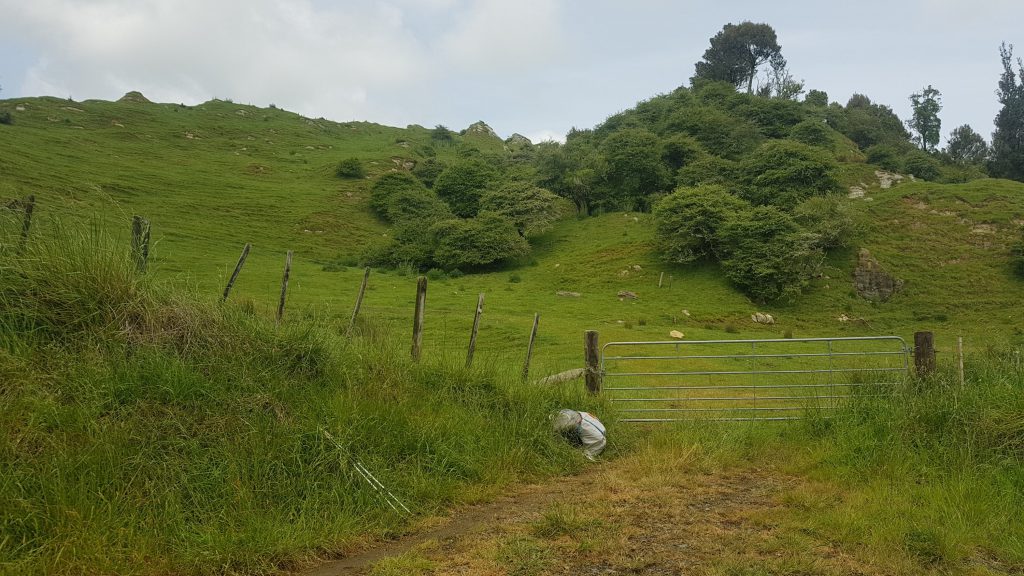 It was here that I made my next error. You're supposed to follow the little farm road. However, there is an orange marker early on which points up a steep hill. DON'T FOLLOW IT. It leads down a different trail.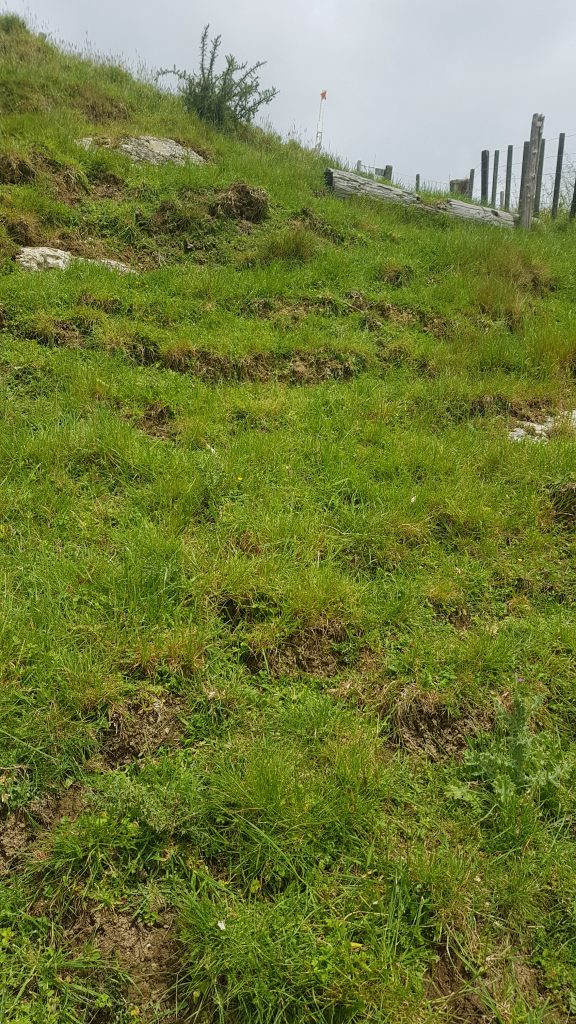 I went for quite a while in the wrong direction. Once I realised, it became my third backtrack of the day.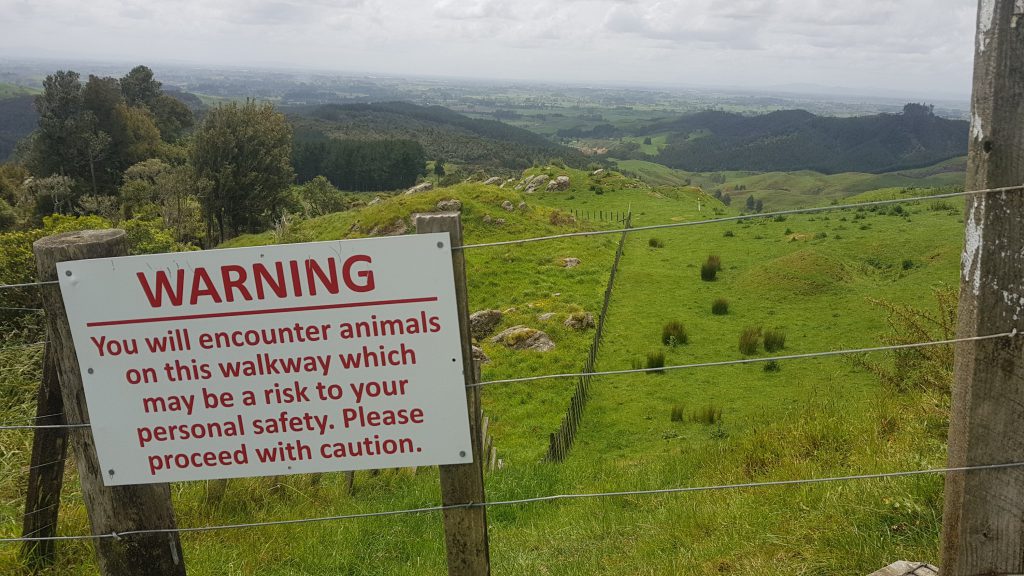 Well, quite a while is about 300 metres or so. But on that sort of steep ground, that's quite a mistake! The actual track is nowhere near that steep, and actually it's quite a pleasant walk through this farm.
The photo above, which you won't see if you go the correct way from the start, says that there are "animals which may be a risk to your personal safety". Oh fun, more bulls. But actually, I think the sign referred to mother cows with their calves nearby. They weren't a problem, they mooed a bit but I gave them a wide berth and all was fine.
I had read that this farm was at a 300m elevation, however nearly all of that was the road leading up to the farm. There were a couple of steep hills, but mostly it was along gravel roads and farm tracks. I really enjoyed this part of the walk.
At this point, there were a lot of sheepies. And they were all bleating like mad. The sound was deafening.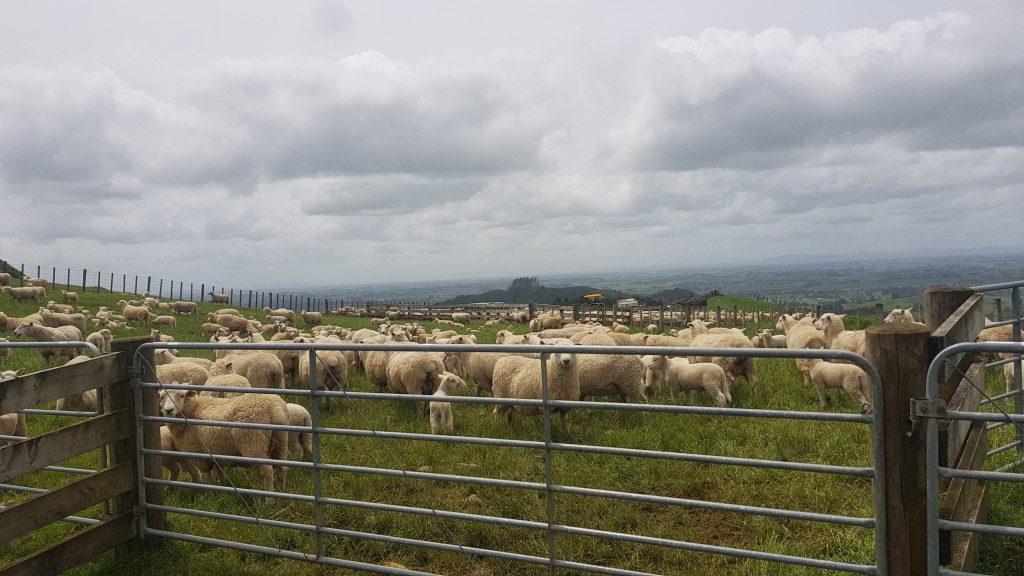 And then nearby was a second paddock of them, and this one I had to walk through.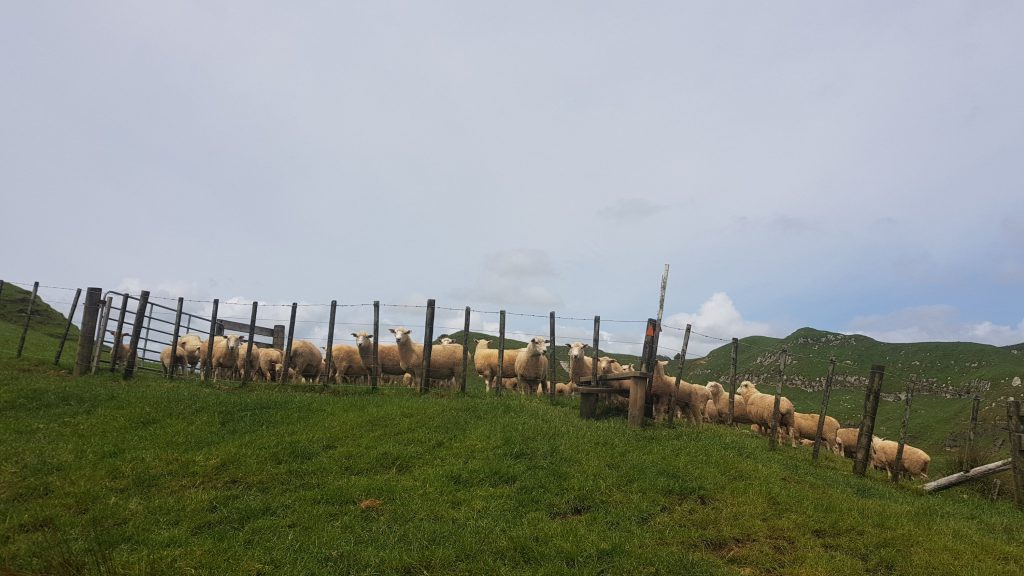 It's alright though, sheep don't cause you any problems.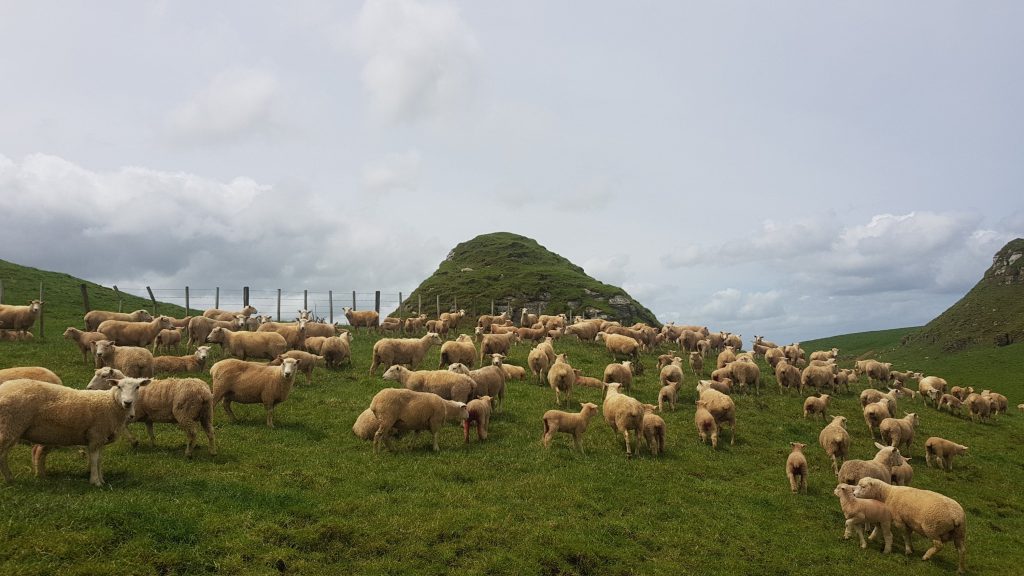 The track changed to a bush walk for a while, which was also nice.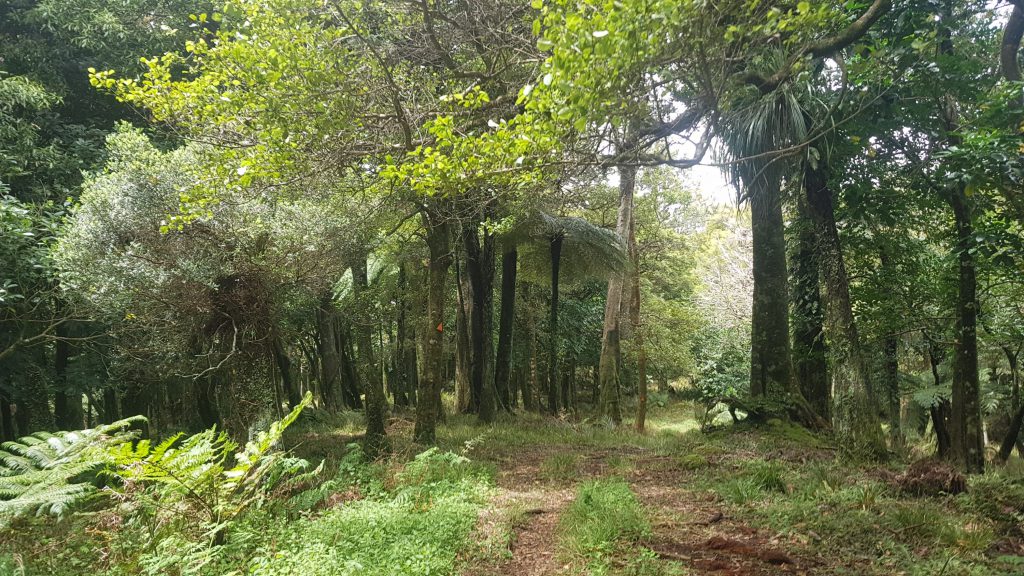 I actually placed a geocache along here. I had been carrying a little geocache with me which is about the size of a large keyring. I wanted to place it at the Raetea Summit back on Day 6 because there were no geocaches up there. However, I didn't, because when you place a geocache you're supposed to also maintain it and I vowed never to go up Raetea again in my life. So I placed it here instead. It can take a week to get published so once it does, I will provide a link to it here. I wonder who will be first to find it?
EDIT 4 January 2020: Here's the link to the geocache I placed, finally!
Once you come out of the forest, there's a bit more farm walking, and you can see Pirongia Mountain clearly.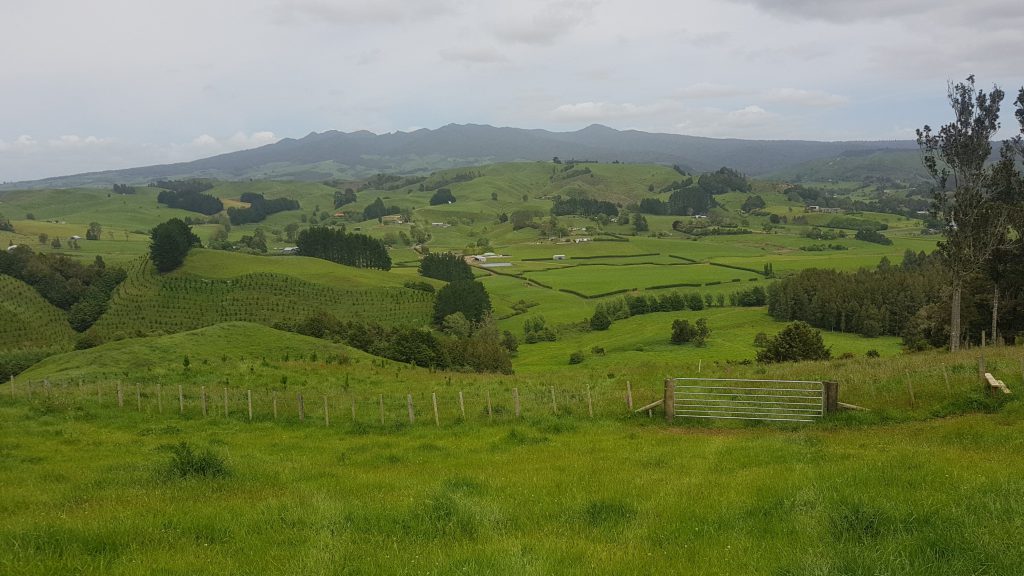 And uh, oh – more bulls. And these ones were not castrated bulls… I looked. Fortunately, they weren't angry. They didn't move out of the way, but they let me pass without incident. My personal safety was not threatened.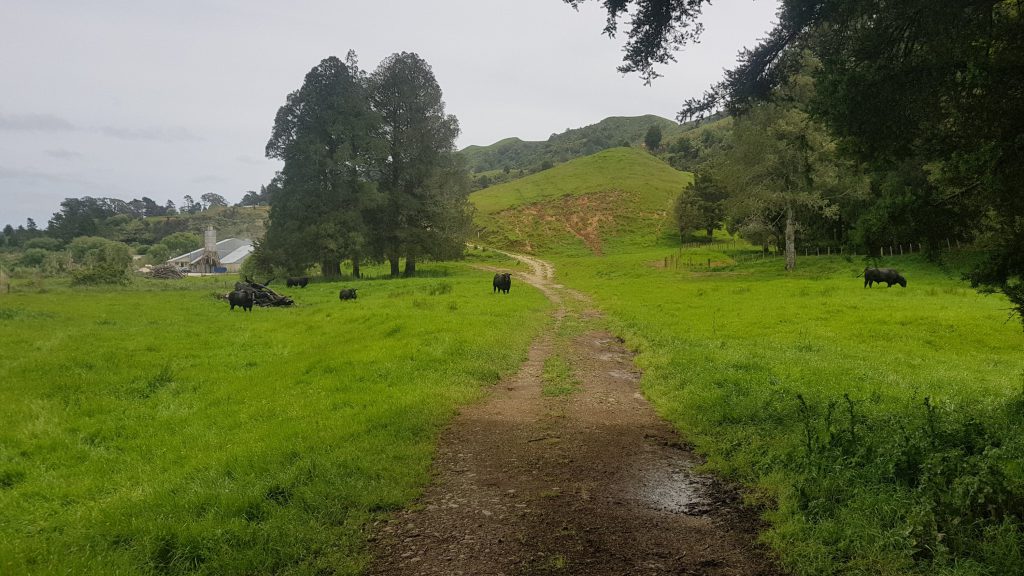 Some more road walking on Limeworks Loop Road, and here's the entry to the Nikau Walk which is the start of the way up Mt. Pirongia.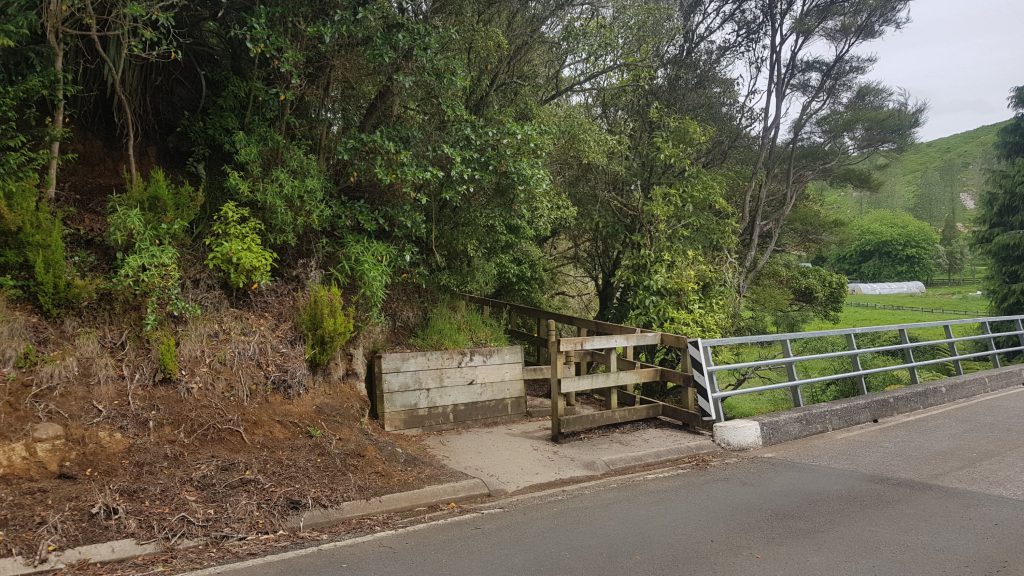 Oooh, a sign – sweet. Let's see if I'm on track. It was now 2:30pm and I want to get to the hut just past the summit by 8pm. And apparently it only takes 4.5 hours – excellent. That means a 7pm arrival, and so I can stop at the picnic area and have some proper lunch, and still be on time.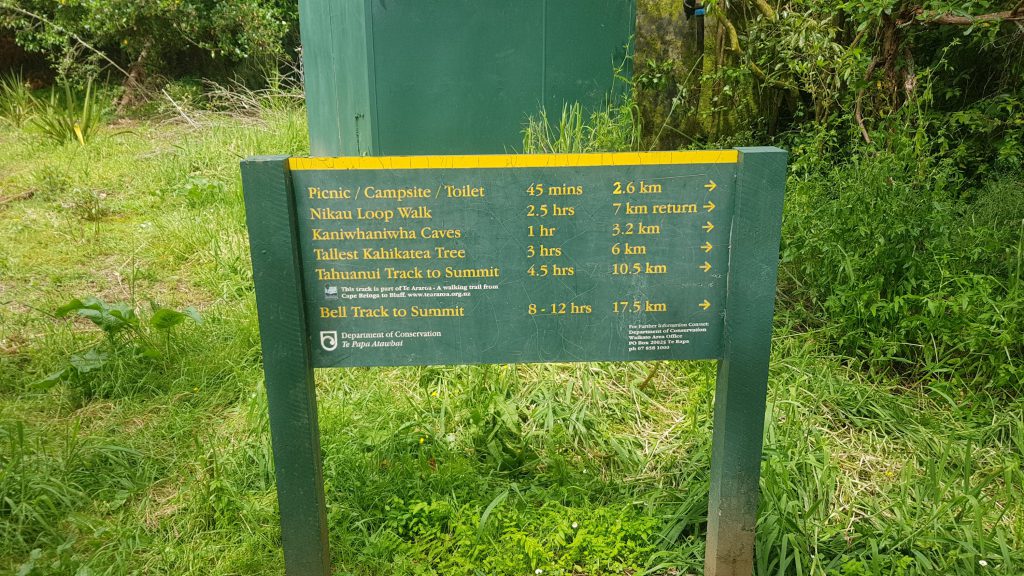 The first part of the walk was called the Nikau Walk and was very easy.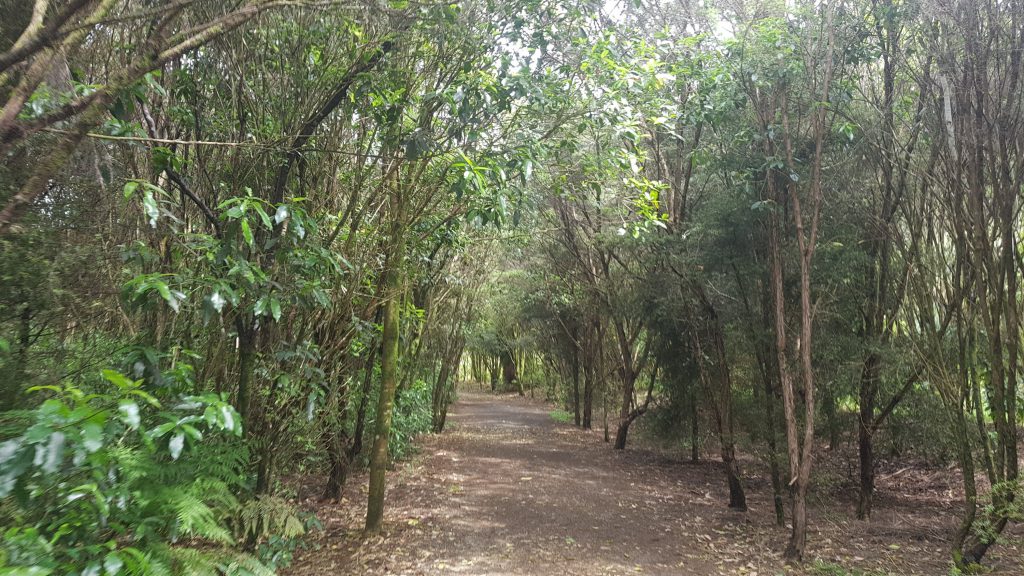 And the picnic area and Kaniwhaniwha Campsite was a huge grassy area. A lot of people, including Rhydian, camped here and make their way up the mountain the next day. Not me though, I had a quick late lunch and continued up.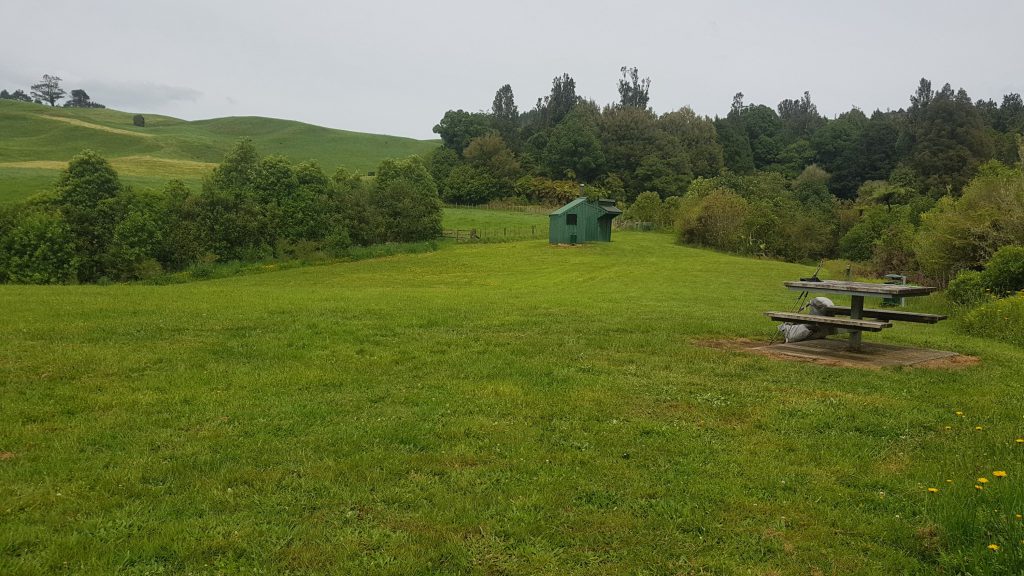 Since I bought some cheese yesterday, the daily "cheese check" can return. I bet you're all super excited about that.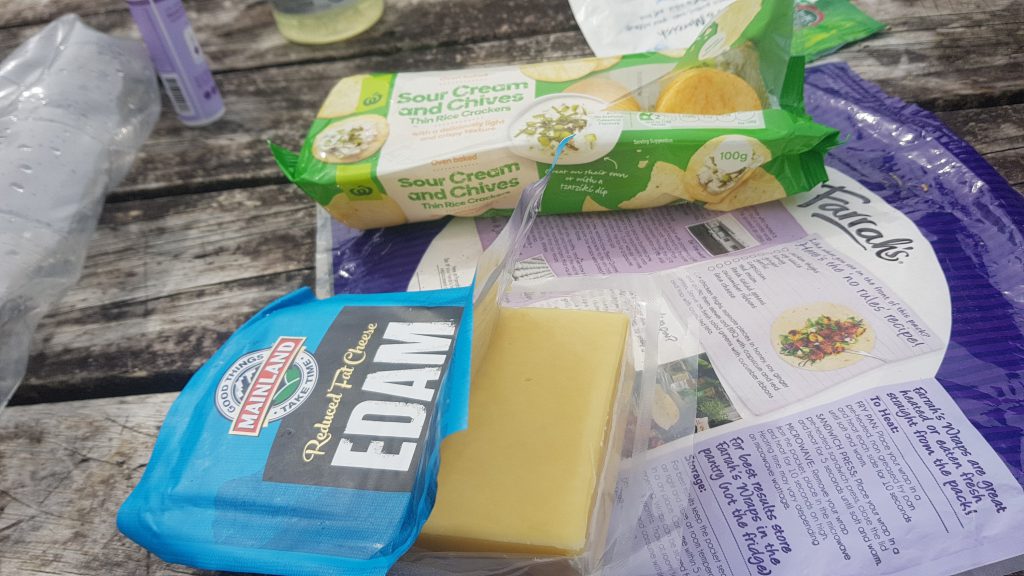 I knew that the 800km mark was around somewhere. When I looked at Guthook and saw I was at 800.1, I was shocked. I must have been making better progress than I thought. Or, the GPS watch was under-reading again. Whatever it was, it required a fourth backtrack to get from 800.1 back to 800. I arranged some sticks to form an 800.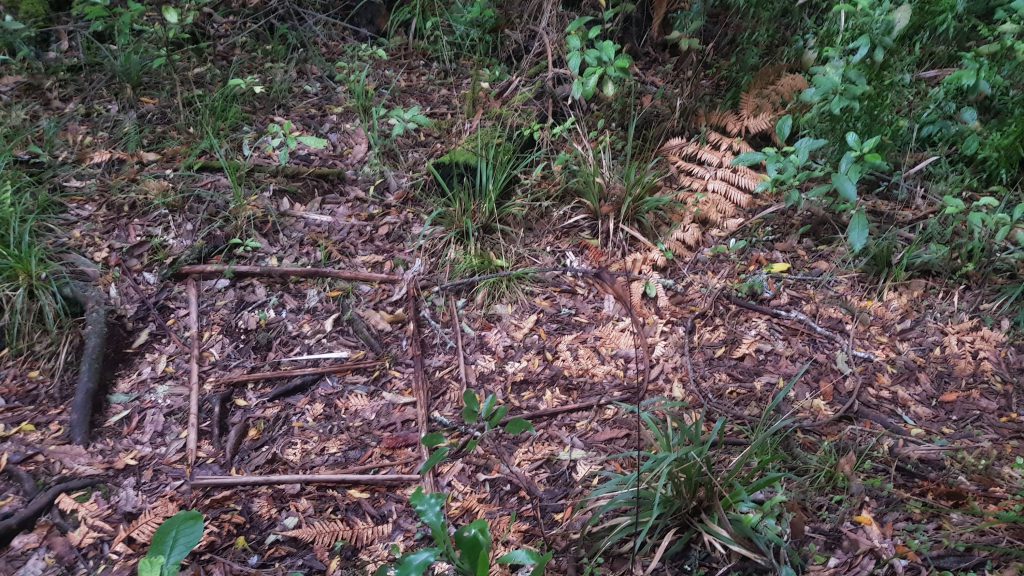 Then, I continued on a few minutes, and realised I had left my walking poles back at the 800 mark. So my fifth backtrack of the day was to go back and get them.
And since 800km is about 500 miles, when anybody asks me from now on "would you walk 500 miles?" I can definitely say "yes, and I would walk 500 more".
Right up until 2km from the summit, it was a standard forest walk. Nothing too hard, the odd steep spot, a little bit of mud and some bush bashing to get around fallen trees, but it was nice. It was just 8km of slight uphill basically. Well, it was at first. Each kilometer was taking me about 20-24 minutes, so I was easily on track for the 2km/hr required to reach the hut by 7pm.
2km from the summit it started to get muddy.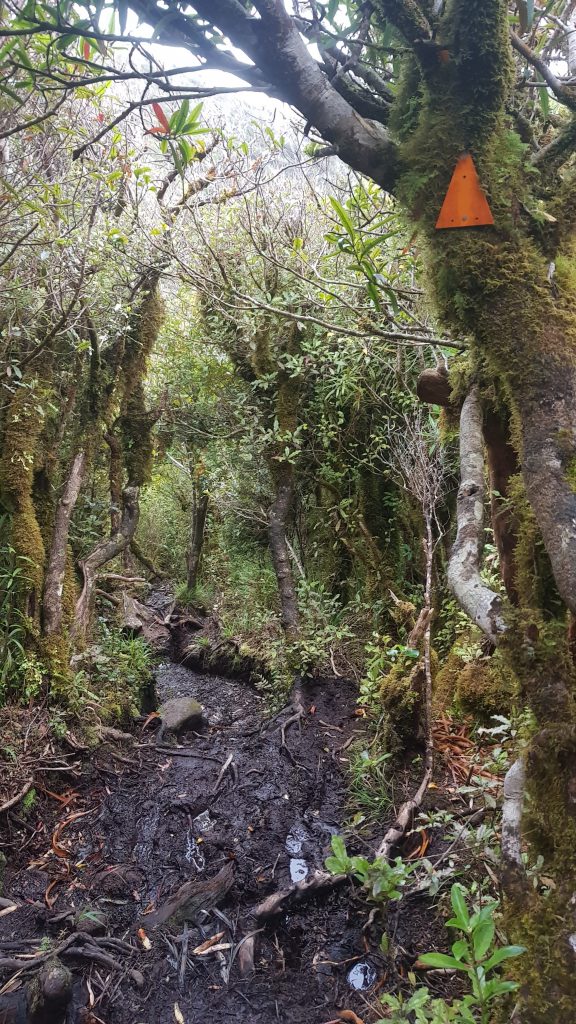 And rocky. And steep.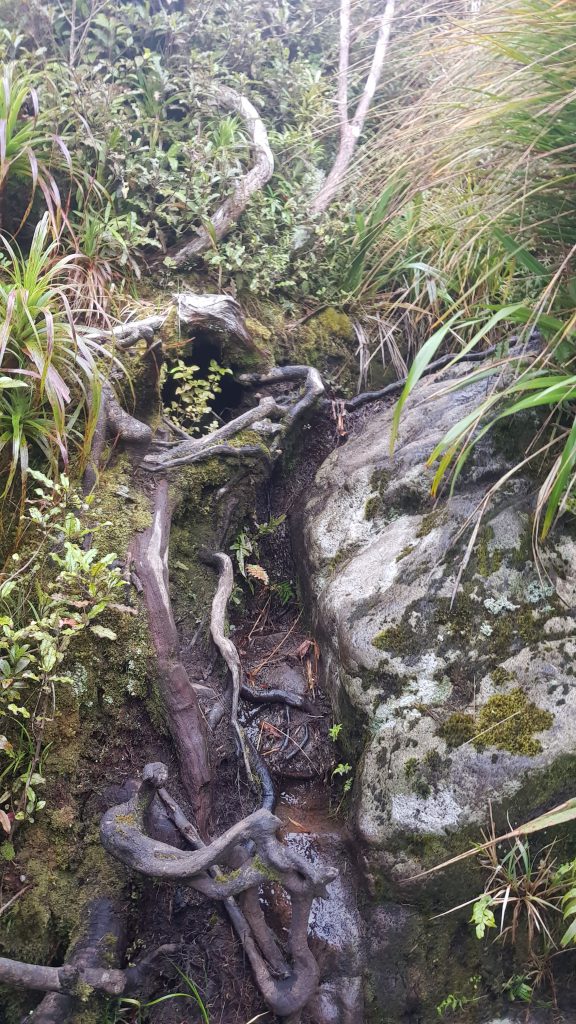 I slipped over on one of the muddy bits. I was starting to get a bit over it by this point. And not long after, I was hoisting myself up a big rocky bit, and I didn't see there was a low hanging branch and I hit my head on it. I was definitely over this section by now. I just wanted to get to the top.
I was also surprised at the lack of power in my left leg. Whenever I needed to push myself up a big step with my left leg, I just didn't have any power. It was very weak. I guess it has been a long day, and a big climb, and I shouldn't be surprised.
And then, like other paths I've been on… suddenly perfectly manicured boardwalks. Why, I wonder? I don't think there are any Kauri in this forest, which is the usual reason for having boardwalks (so people don't stand on their roots). Who knows.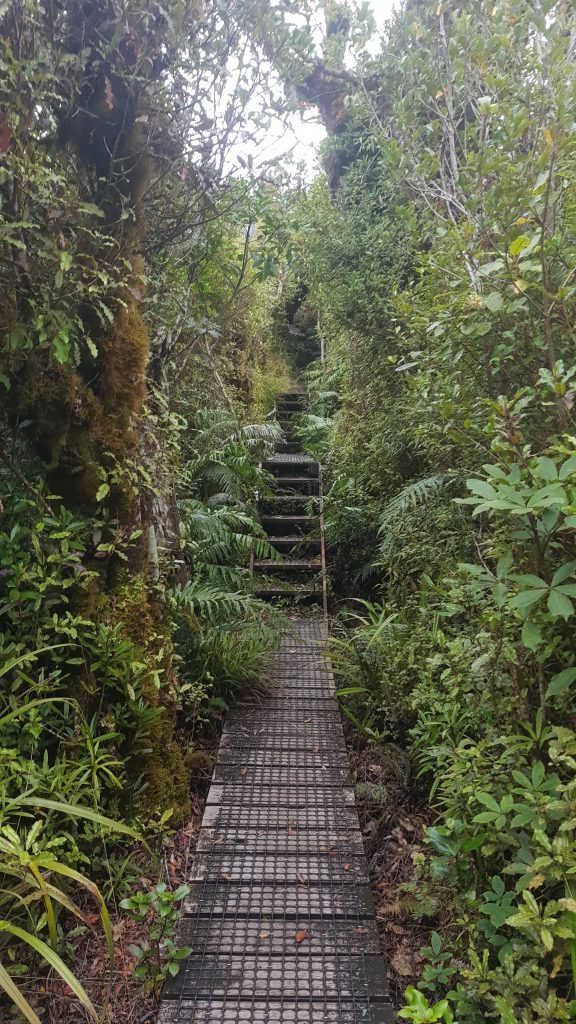 The thirtieth kilometer today (once it started getting tough) took me 47 minutes. That's a long time. And the thirty-first kilometer took 39 minutes. That shows how tough the final two kilometers were.
But finally, here's the summit. You can go up here to see the view.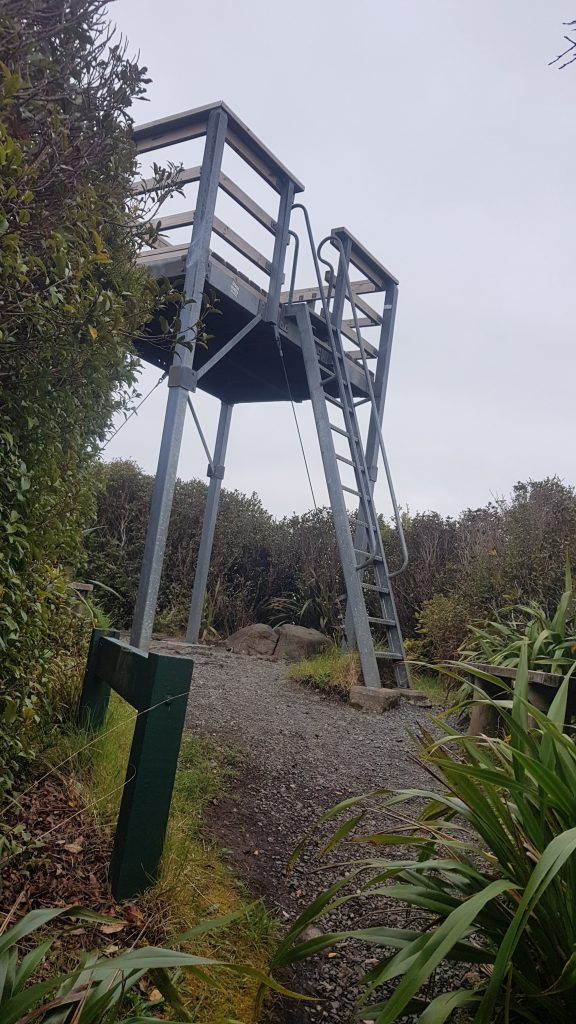 It was a bit hazy.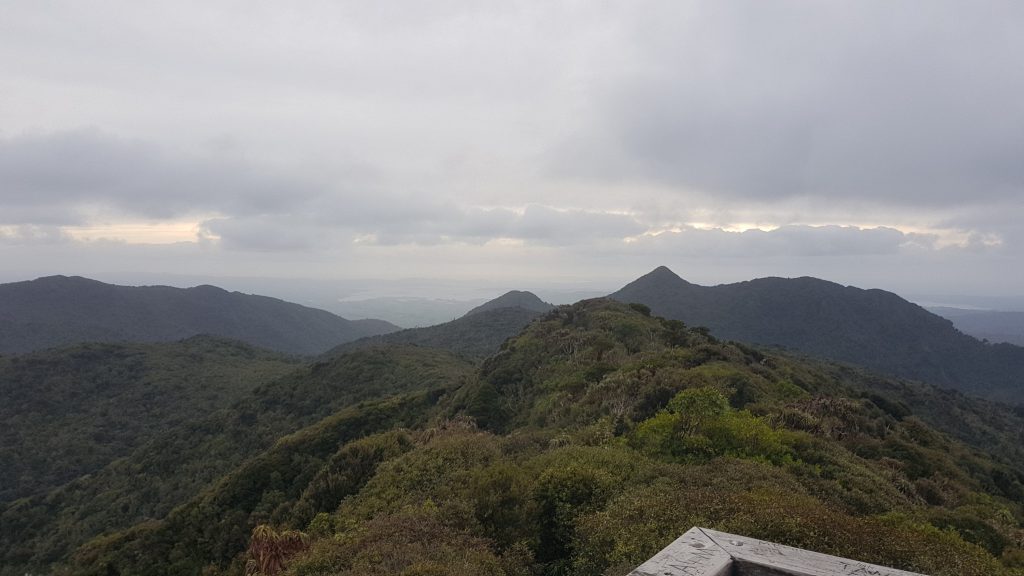 I was trying to see Te Awamutu, but I couldn't spot it. I was fairly sure I was looking in the right direction.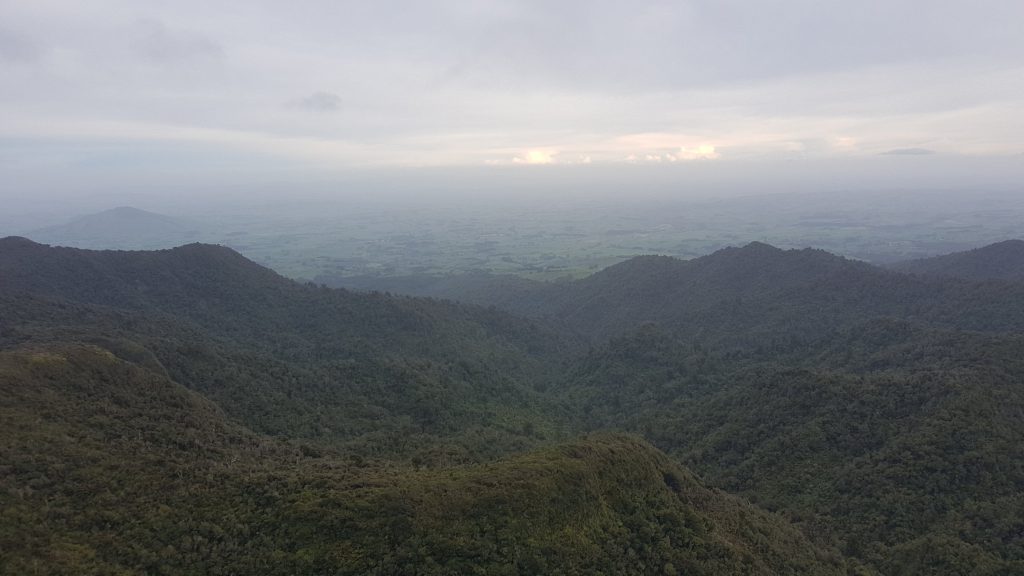 Here's some information about the summit. It's even higher than I thought.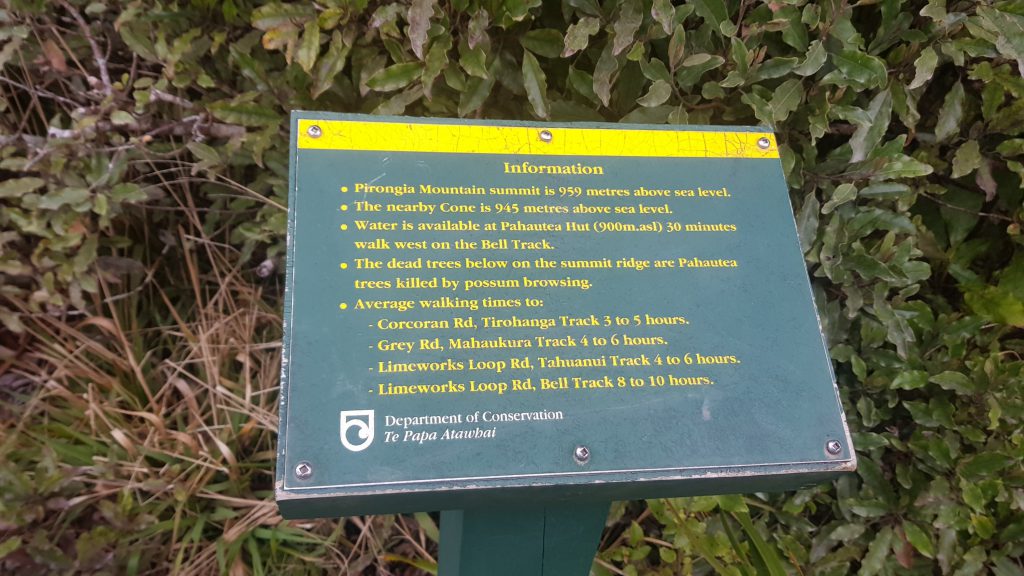 And you could see the roof of the hut from here.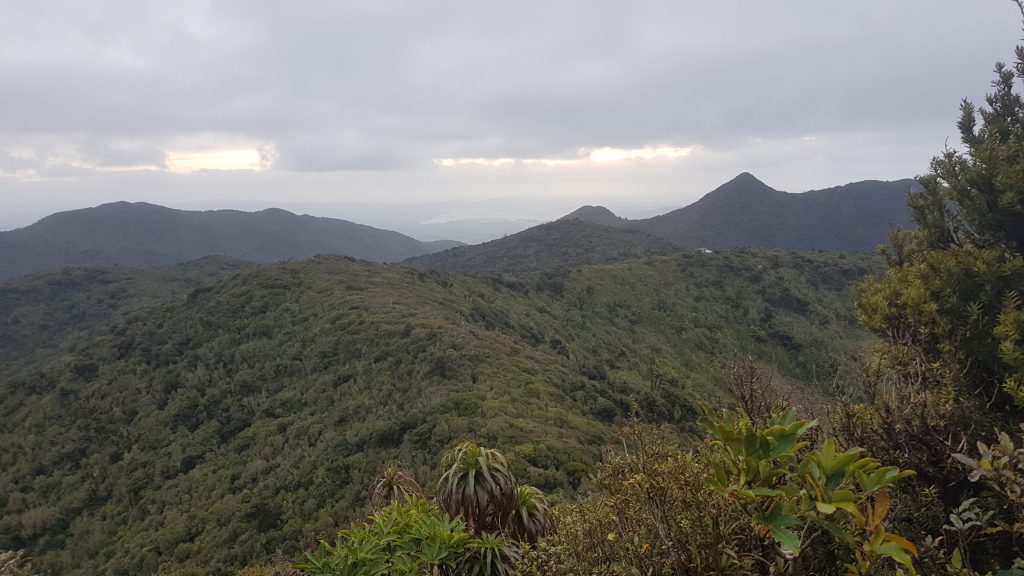 Thirty minutes to go and I'm at the hut. On the way I saw some dog kennels, which apparently DOC use to control goats and possums.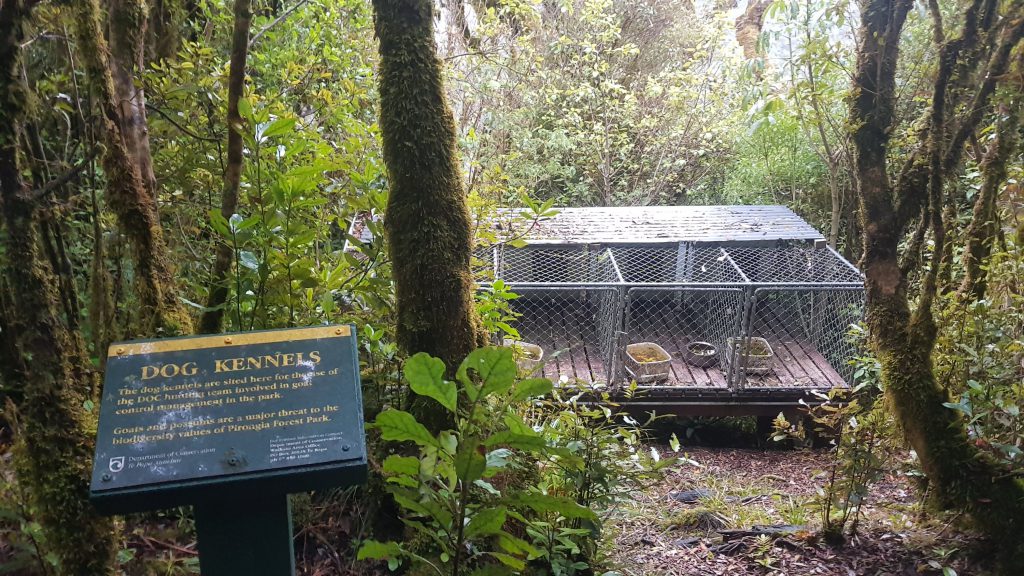 I wonder if they walk the dogs up here, or if they bring them in by helicopter using the nearby helicopter pad.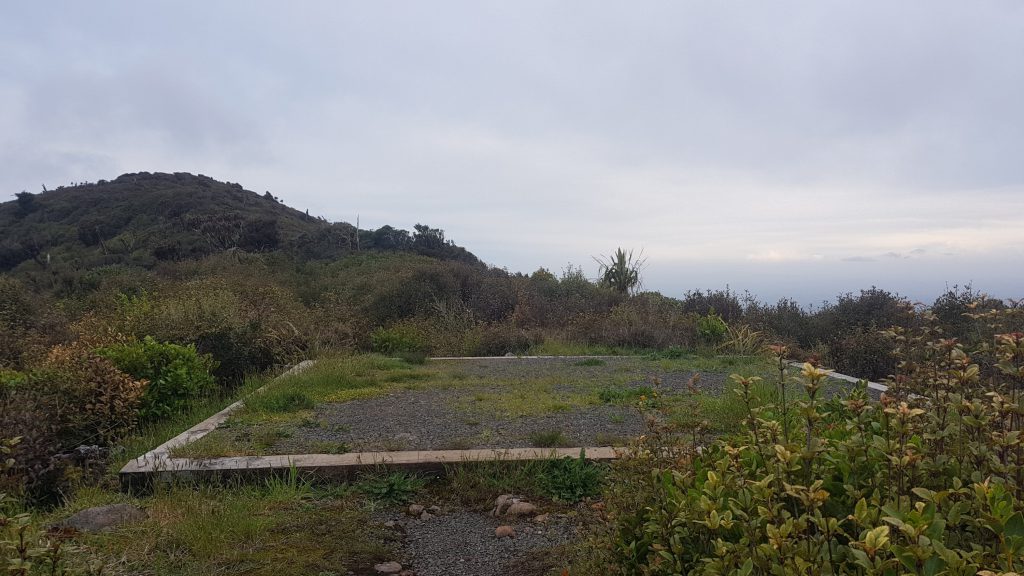 Just before the hut, a guy with long blond dreadlocks went running in the other direction. He didn't stop and talk for long, he was clearly on a mission, and a crazy one at that. But he did say that three other people were at the hut. I knew one of them would be Rhydian. I wonder who the other two would be?
Finally, there's the hut! I was so happy to see it.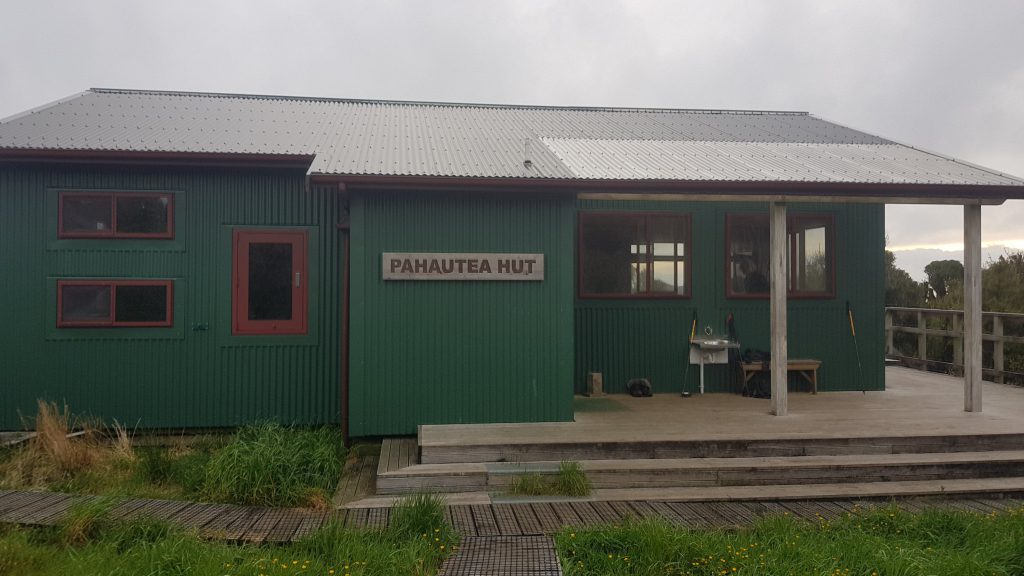 Rhydian was there, and the other two guys introduced themselves as Henry and George. Henry had seen my blog and he had previously asked me for information about how to cross the inlet to Marsden Point a few weeks back.
It was good to see a familiar face. I hadn't seen Rhydian since Day 14, the first of my seven rest days once I got to Kerikeri.
I read a text message I got from Mum and she said luckily I wasn't up here a day earlier because they found a dead body up here at the summit just yesterday. None of the three others in the hut had heard about that. I looked on the news websites and saw that it was a guy who had been missing for four or five months whose body had just been discovered at the summit. I'm surprised that the local Maori haven't closed the mountain with a "rahui". That's what they did when a tourist died on the Tongariro Crossing a couple of weeks back. I believe it is to honour the recently deceased person.
The hut is quite a nice hut, and I'm glad I finally got to stay in a DOC hut. It sleeps 20 people.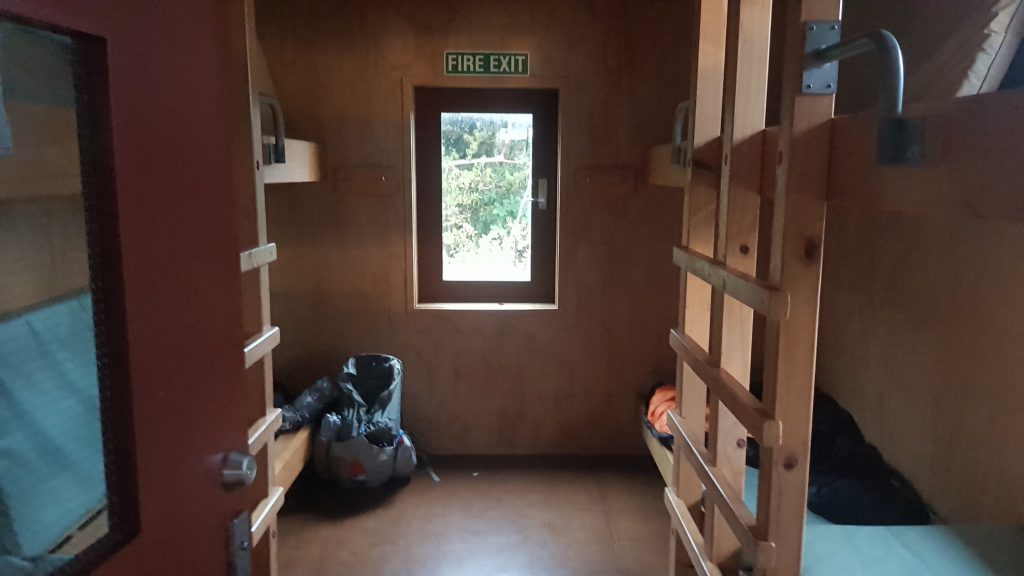 It was windy and cold on top of the mountain, so it was great to be inside. I was thinking about it, and it has been a few weeks since I actually felt cold. The weather has been so hot recently – I really hope it's turning a bit cooler.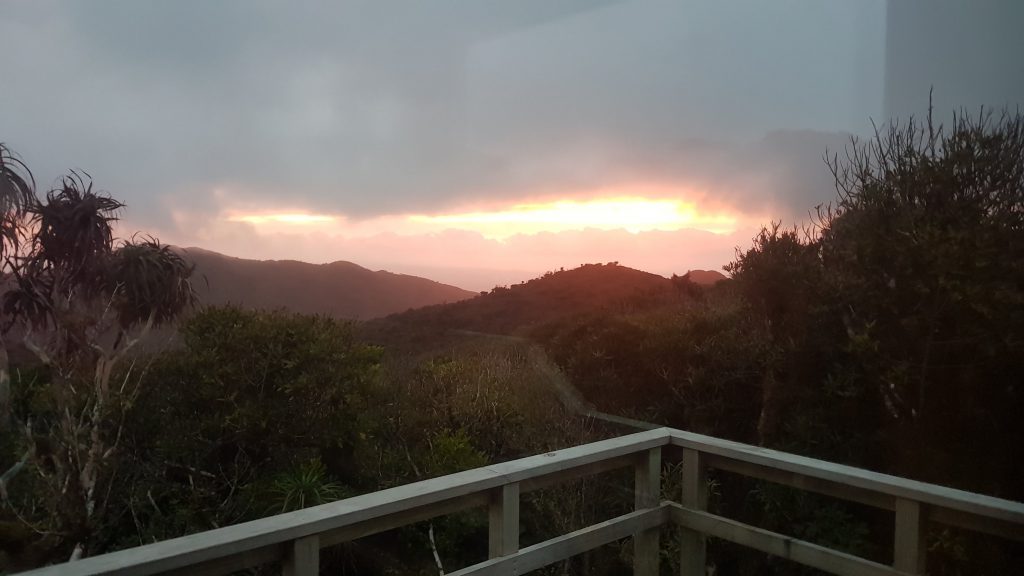 Today's walk on the map (blue = Te Araroa, red = today's walk):