Date: 22 November
Trail covered: 35.6km (kms 1061.0 to 1096.6)
Weather: hot
This morning we woke up to some of the worst condensation that has hit us so far. We all had tent flys that were completely saturated. I guess given the cold night and the crystal clear skies we shouldn't be surprised! Luckily the sun came up and then they dried quite fast.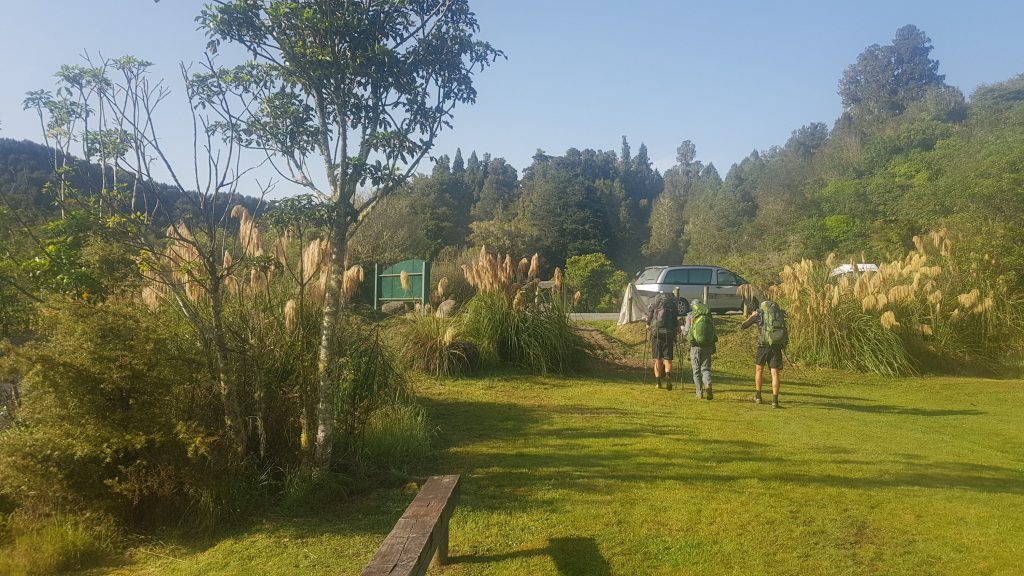 For various reasons which aren't trail related I stayed back at camp about 45 minutes later than everyone else. So I got to watch them depart without me.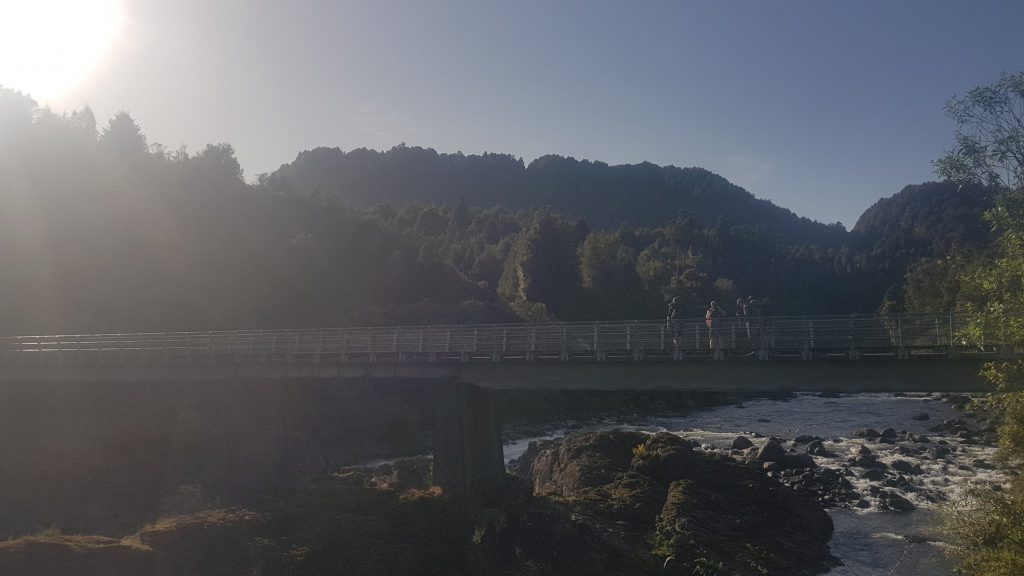 I saw Ellen from yesterday also go past. We had a quick chat but then she was on her way.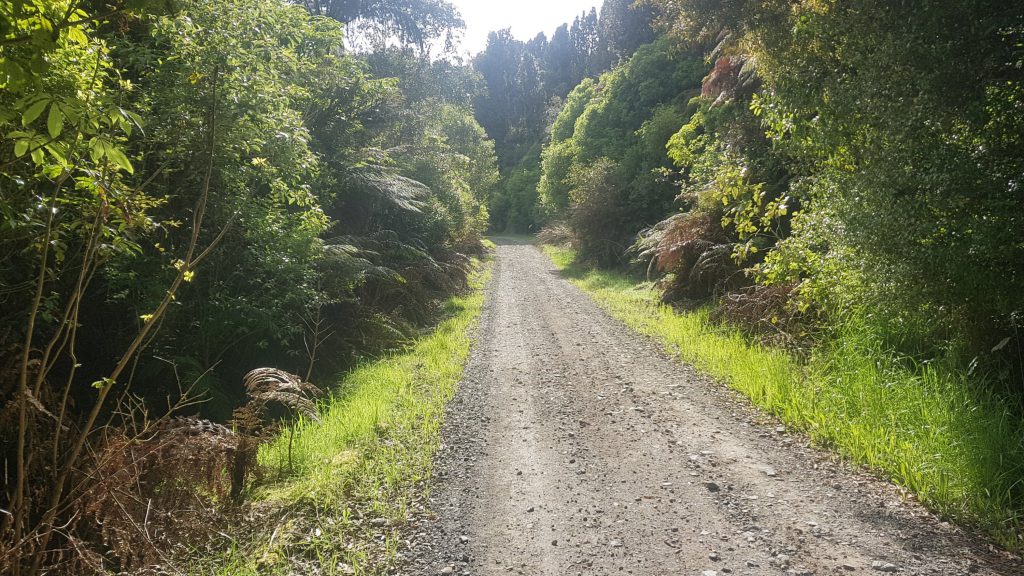 Today we were following something called the 42 Traverse. It's a cycleway, kind of like the Timber Trail, but much hillier and paved with gravel instead of dirt. I saw the elevation profile yesterday at the start but here it was from a few kilometers in.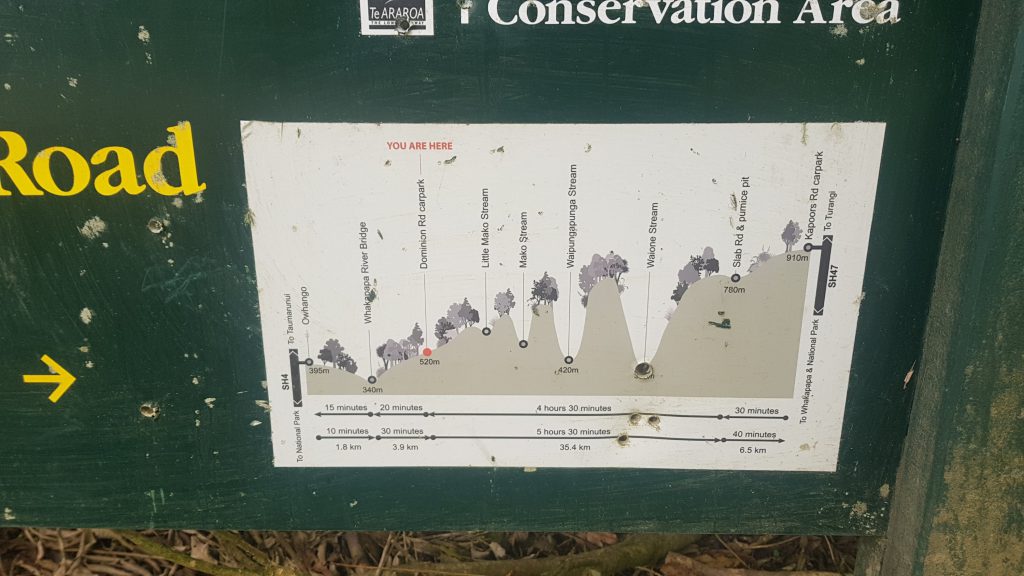 I was surprised by this, I thought we were following the whole 42 Traverse, but Guthook says that we only get up to 790m whereas the sign there says the high point is 910m. And I also don't think we come out at State Highway 47 where it says. Oh well, time will tell I'm sure.
The scenery on this trail was less exciting than the Timber Trail, although there were a couple of nice points.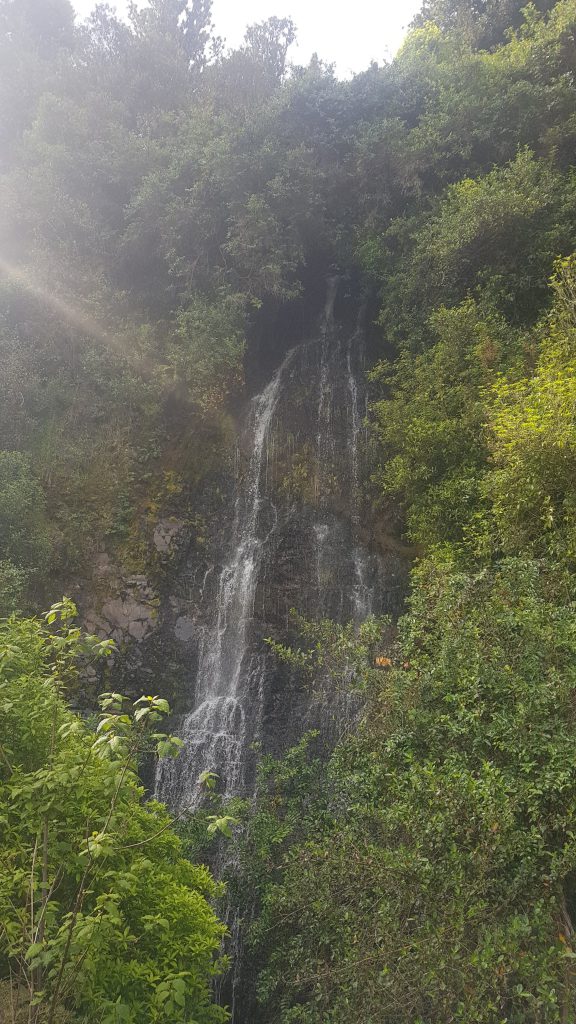 I also noticed this sign – "2500 kg maximum weight". If you got to this point, and your vehicle was 2501kg, what would you do? There's nowhere to turn around! I guess you'd be reversing all the way back up the 42 Traverse!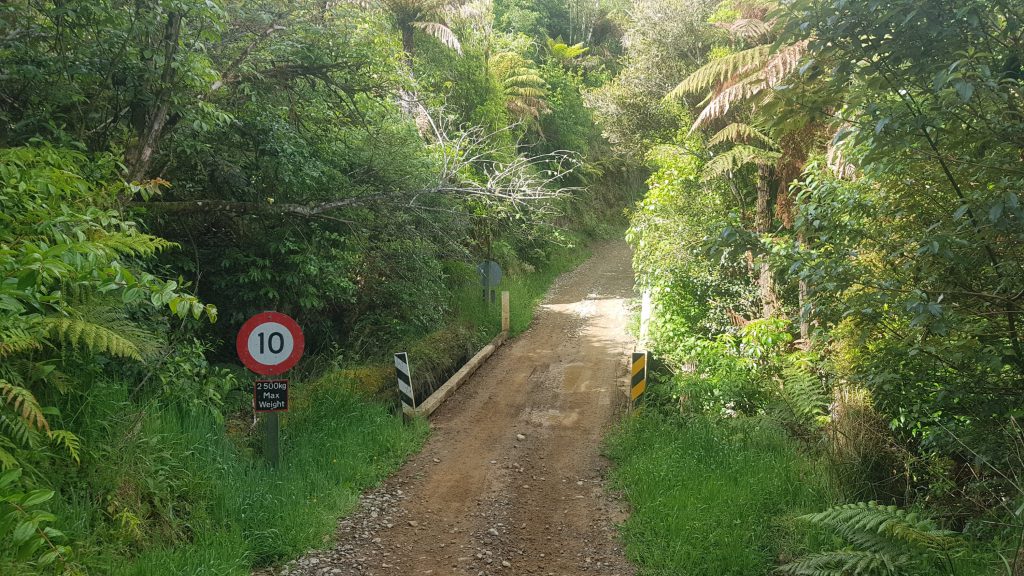 I passed Ellen quite early on as she is taking two days to do this section, so I probably won't see her again. I also caught up to Charlie and Ethan surprisingly fast given that I didn't leave until 8:45am and they left just before 8. They had a very early "lunch 1" apparently (or was it "breakfast 2"?) I found them negotiating the first water crossing.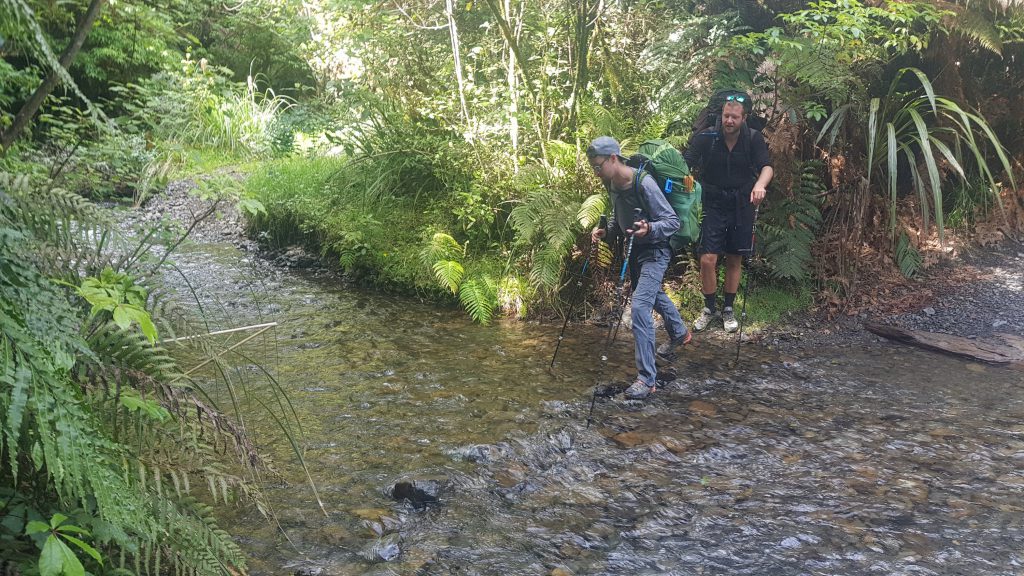 We stopped at this intersection and had a bit of lunch.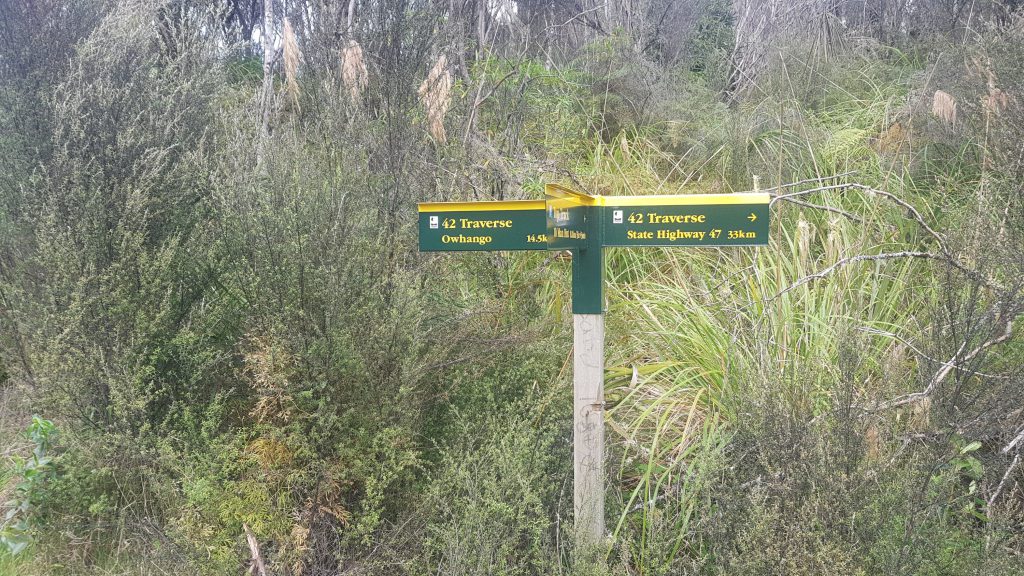 It was 11am and I just felt like something a bit different. What do you think of my lunch concoction?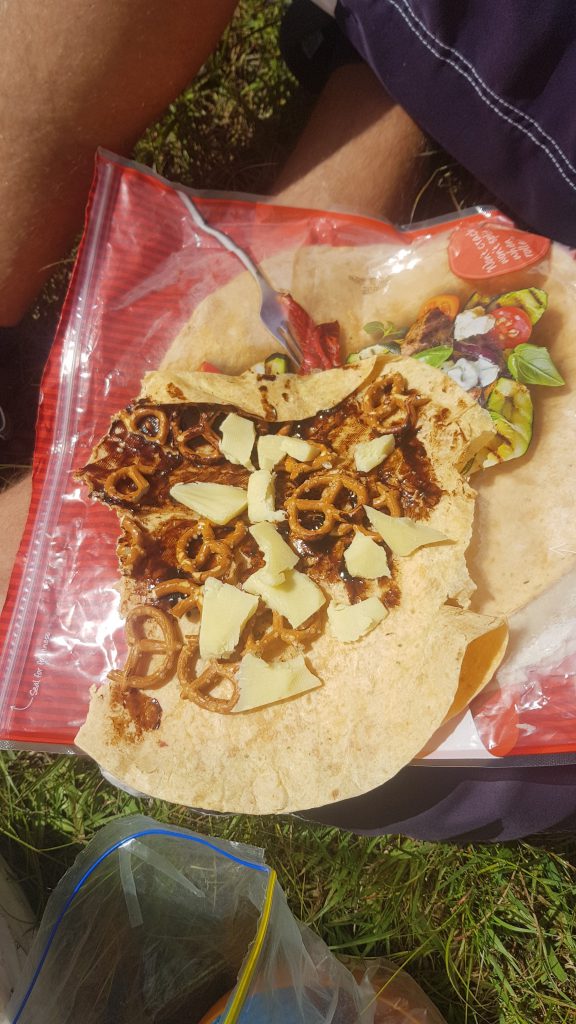 Off walking again…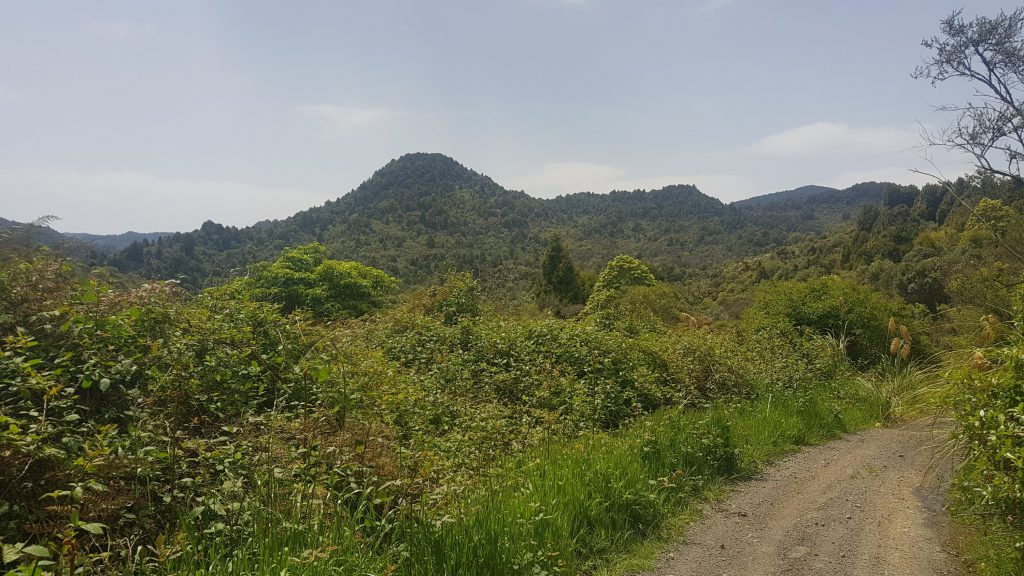 And Alex spied a river. We thought maybe it was the Whakapapa River which was the river we camped beside last night but after looking at the map we noticed it was in fact the Whanganui River. I thought yesterday was the last time we would see it.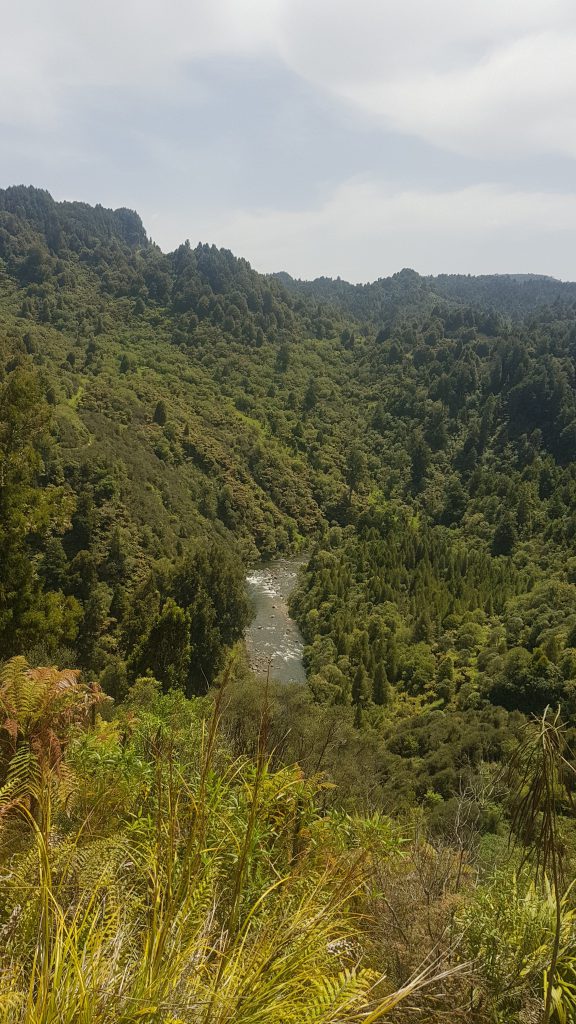 The hills on this trail weren't too bad, but they do get worse the longer the trail goes. At the second-to-last of the big hills, suddenly these beauties came into view again: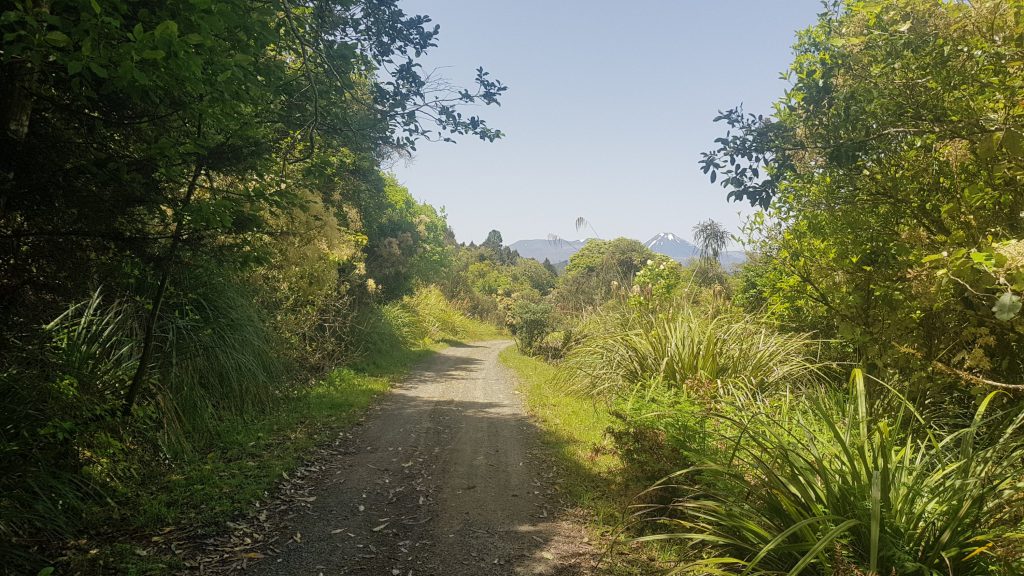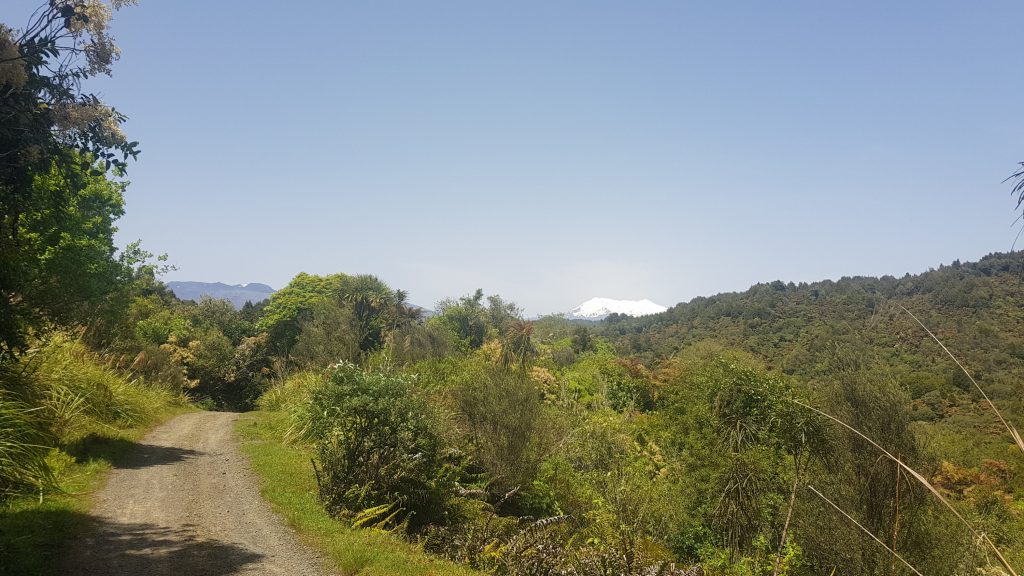 I even looked for a geocache at this spot… but came up empty-handed. I'm not sure but I think that's the first time this whole trip I have looked for a geocache and not found it.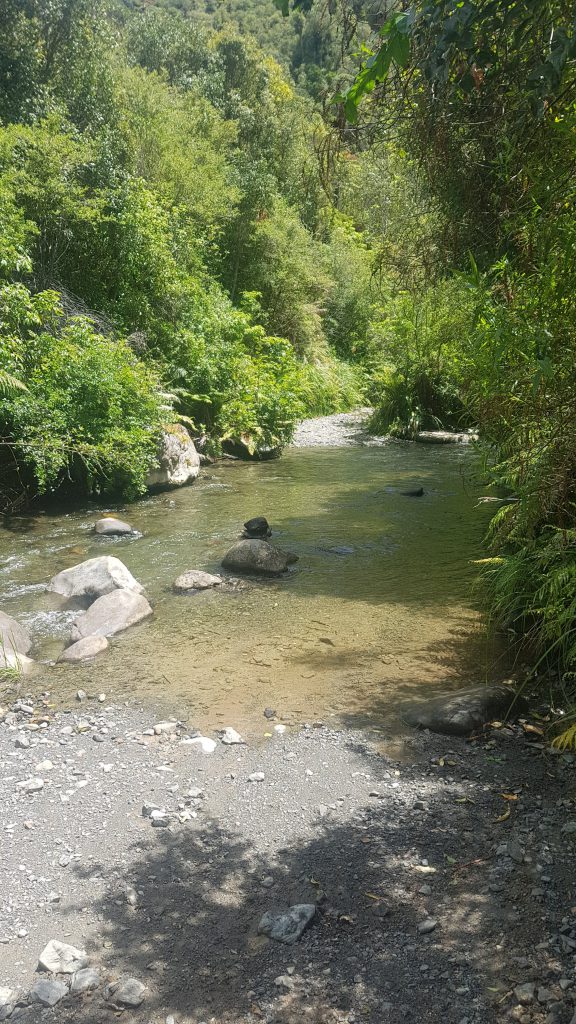 Then we saw this sign.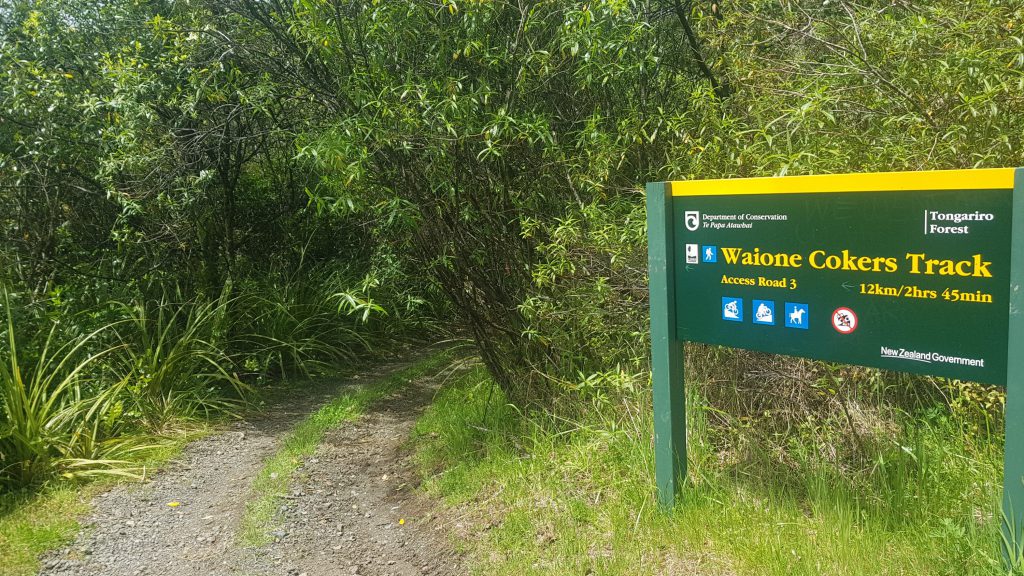 Ah, that explains the elevation and destination mismatches with the end of the 42 Traverse. We actually take this side trail – the "Waione Cokers Track". I was enjoying the fact that the 42 Traverse was so well groomed but a bit of variety might be nice.
But 2 hours and 45 minutes for 12km? Up a steep hill? Is that right? Is that for cyclists or walkers? Let's time it and find out. I got here at 1:45pm.
It started off okay…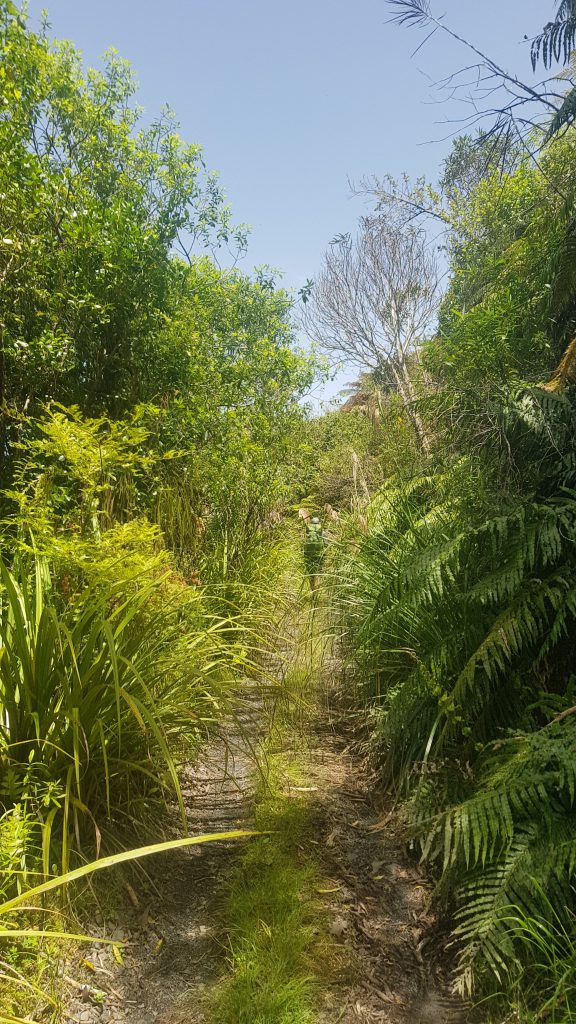 But there were a couple of big water crossings. At this point here we weren't even sure we were going the right way.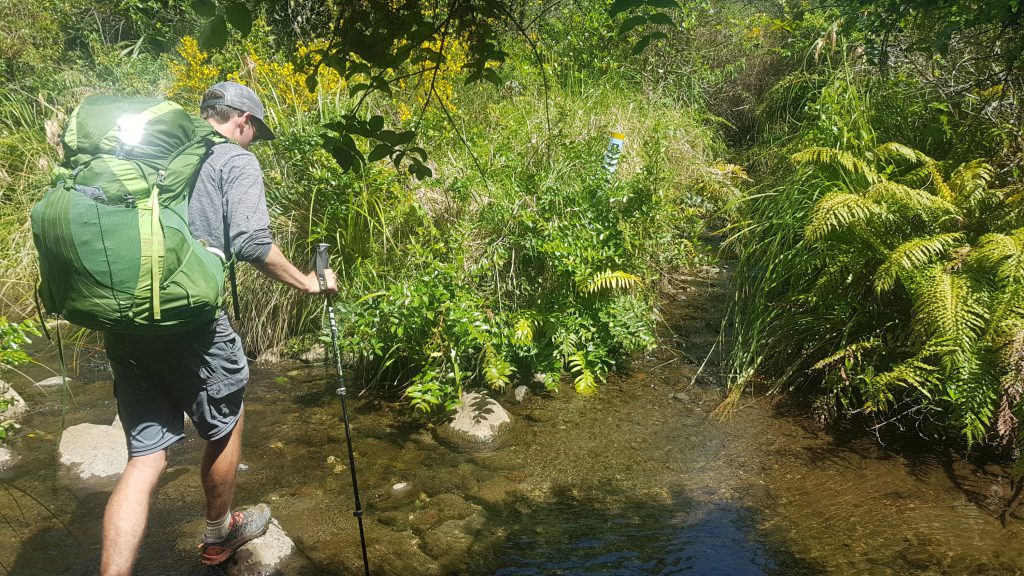 Until we saw Charlie just hanging out in the middle of the river.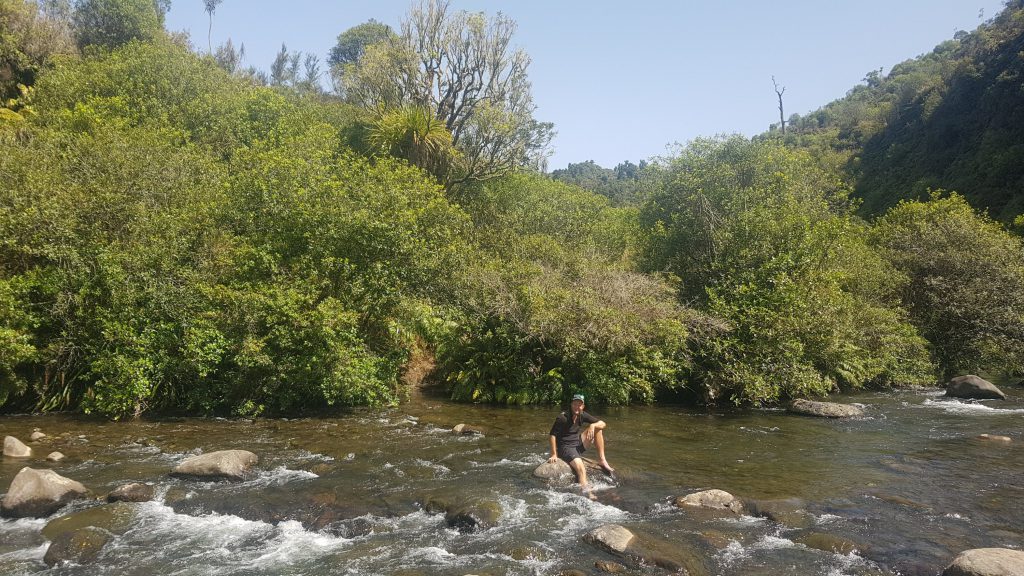 Then there were some big rutted 4WD tracks. This side trail is also supposed to be a cycleway. How any cycles get up here I've got no idea.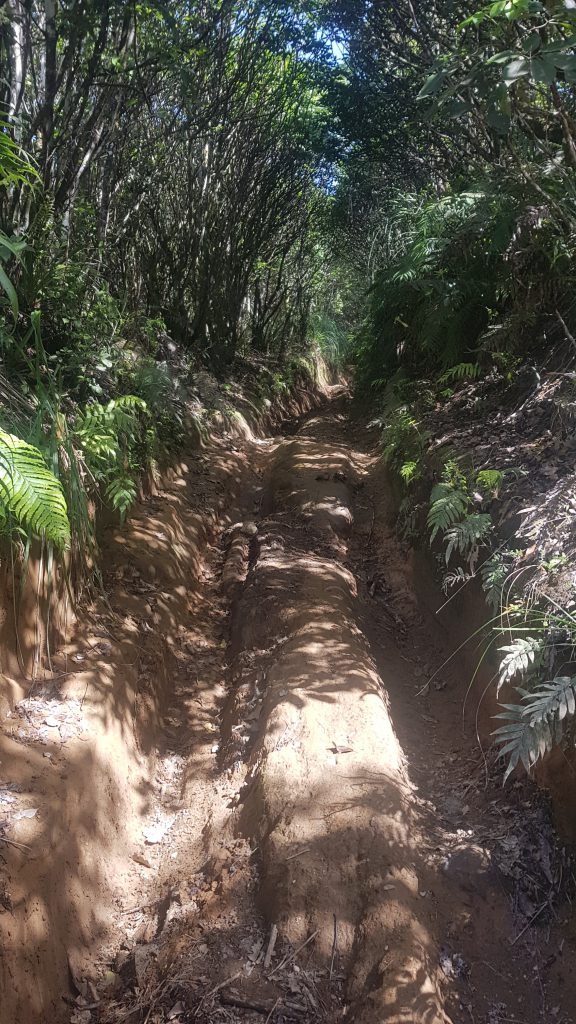 And some big muddy pools. Lots of big muddy pools.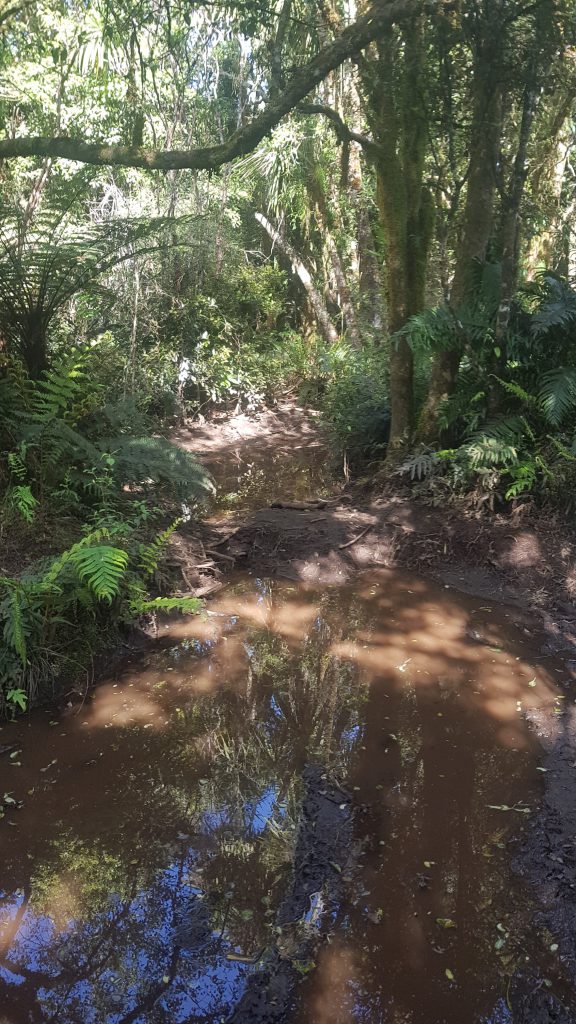 And this whole time the track was going up – up and up and up. It was quite exhausting and when I was nearing the top where the majority of the big muddy pools were, I was getting a bit over the day again. And when I finally thought I was out on the road, there was one more giant muddy pool to contend with.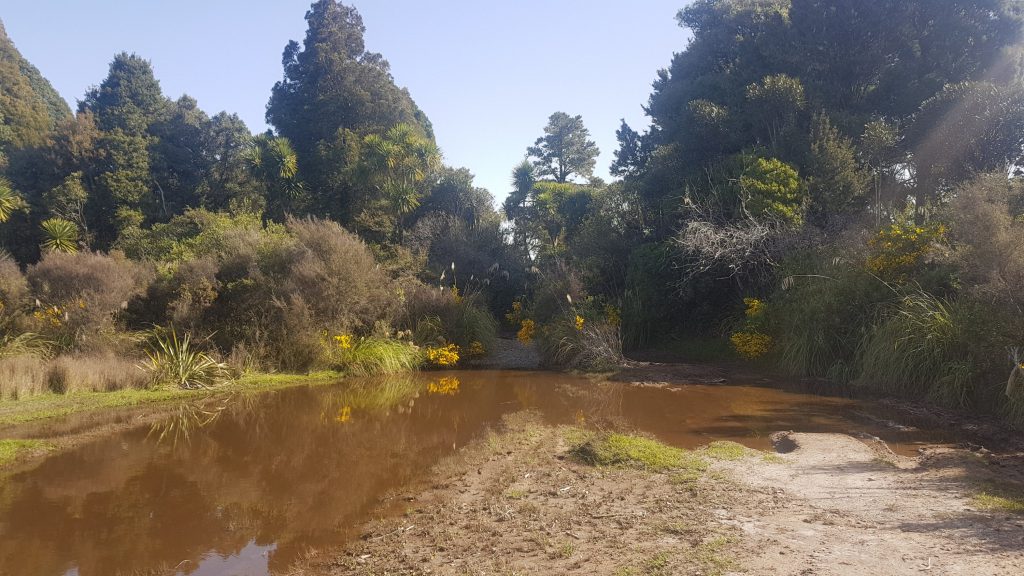 Some of the muddy pools were not passable without going in them, or at least not without some clever acrobatics which I wasn't willing to perform, so there were a couple of times I switched my hiking boots for my crocs and back again. I was in my crocs for the big water crossings and also the big muddy pools that didn't have an available detour. Since my boots and socks are dry I really don't want to get them wet again right now. Changing shoes regularly did take a bit of time, but I had plenty.
Ethan received a text at one point saying that the holiday park we were staying at had a store. Ooh I really hope I can get an icecream there. Surely I can. That gave me the drive to keep going.
We came out onto a road called "Access Road No. 3". Imaginative. At this point it was 4:48pm. It had taken just over 3 hours from the 2 hours 45 sign. Damn you sign, you beat us.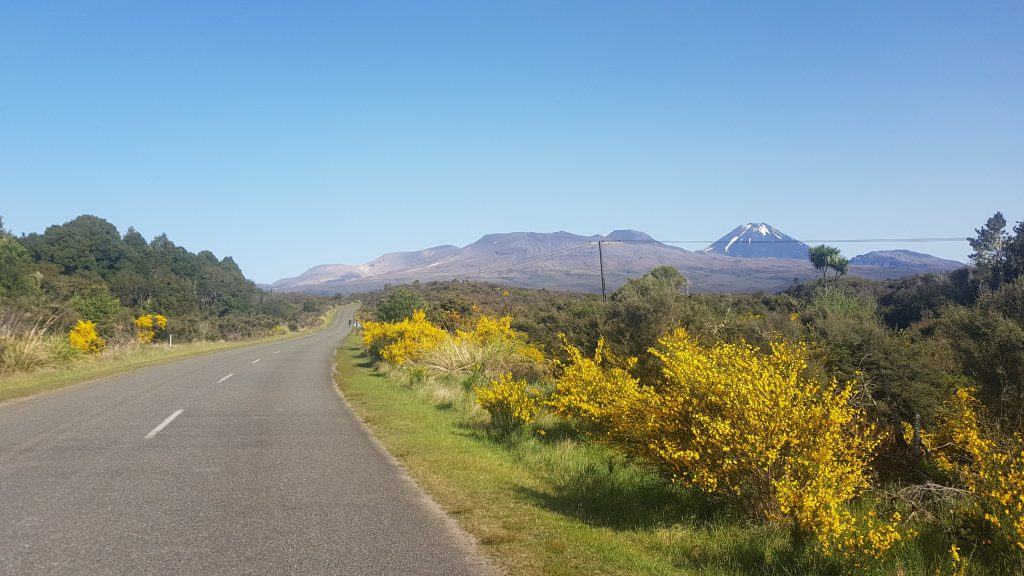 And then a little side track to the left, which Ethan and Charlie both overshot and I just blindly followed them. You're looking for a kind of a driveway with all these yellow flowers.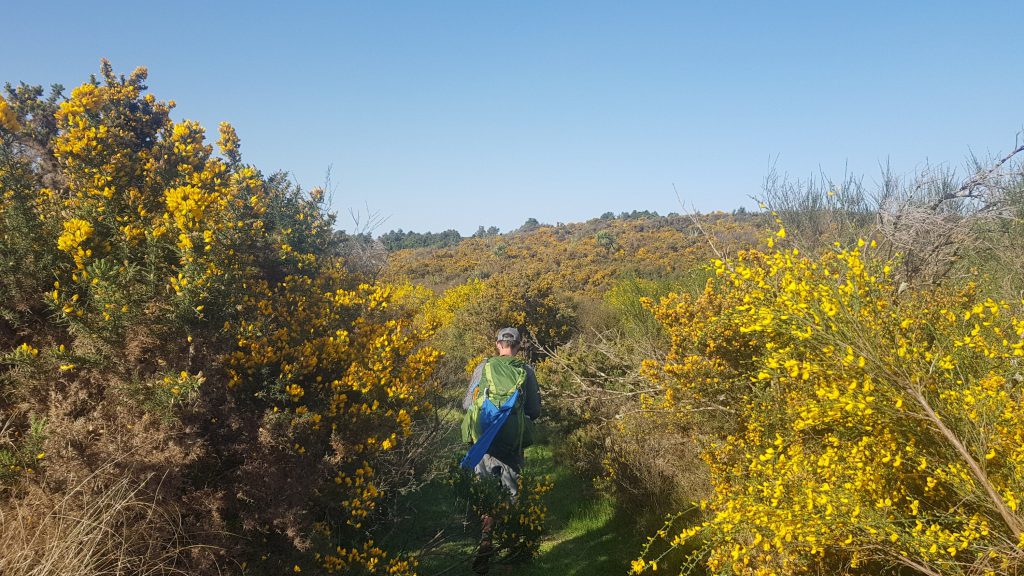 The mountains were getting closer. That was getting me excited for tomorrow when we are all doing the Tongariro Crossing.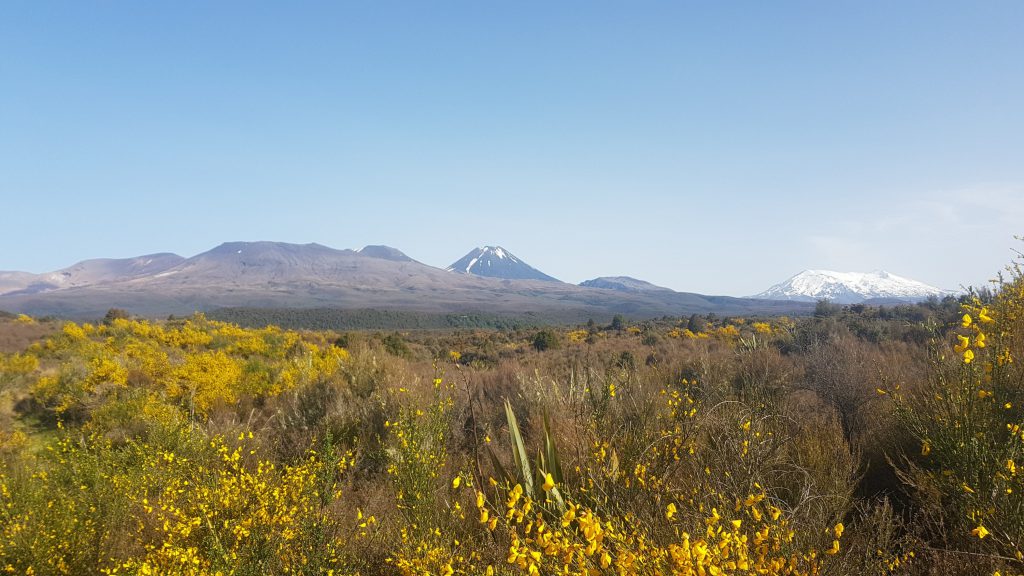 We got to something called "Mahaukura – the upper redoubt". I thought it was funny that the main subject of the story here was "Te Kooti", just a few days after I noticed how Ethan kept calling Te Kuiti "takooty" and then there is actually a Maori guy called Te Kooti.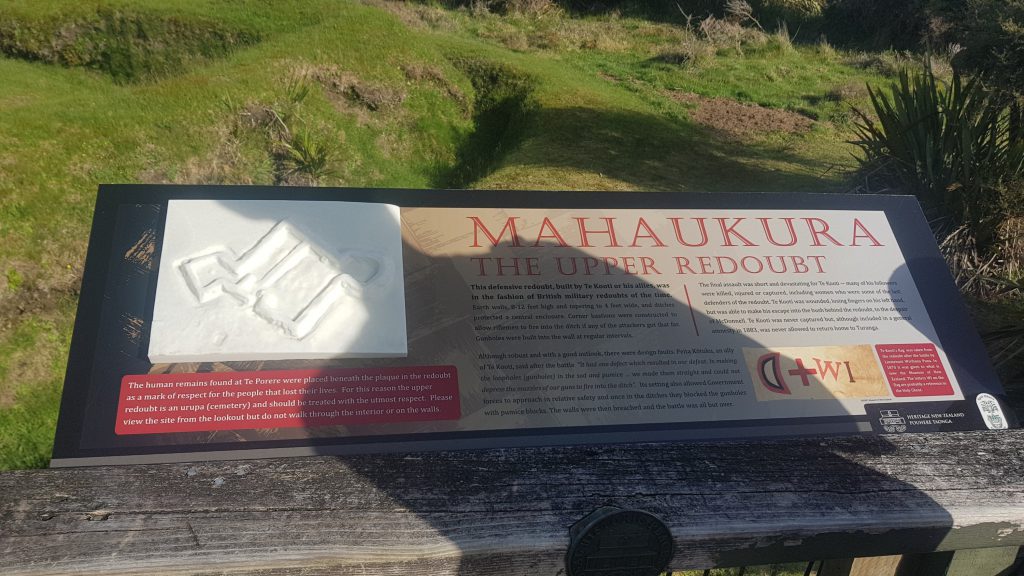 At least the last bit of the walkway today is through the easy grass of the redoubt.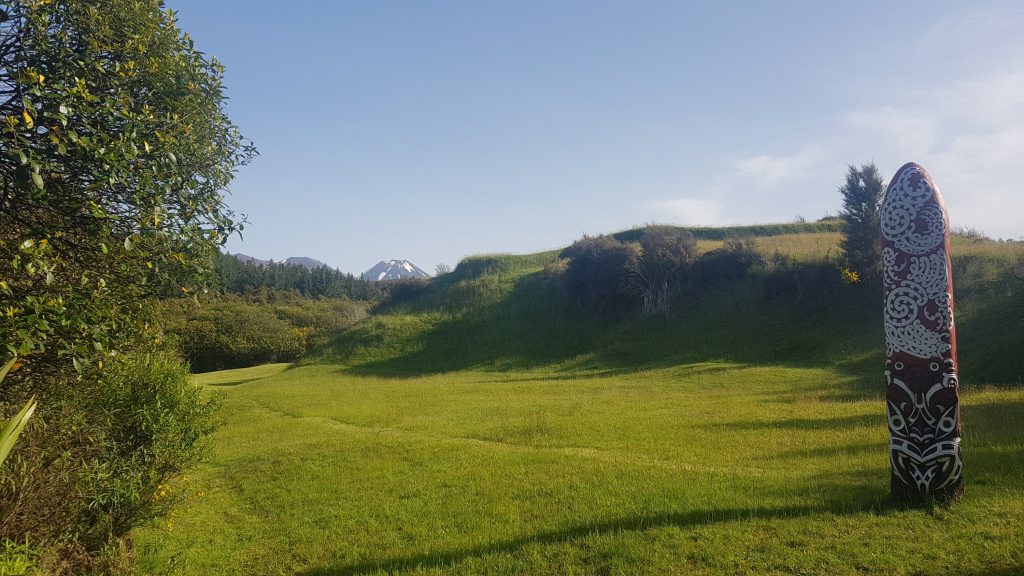 Then a left turn onto State Highway 47 and a short walk down it, and I could see the Tongariro Holiday Park coming up on the right. Finally… at last.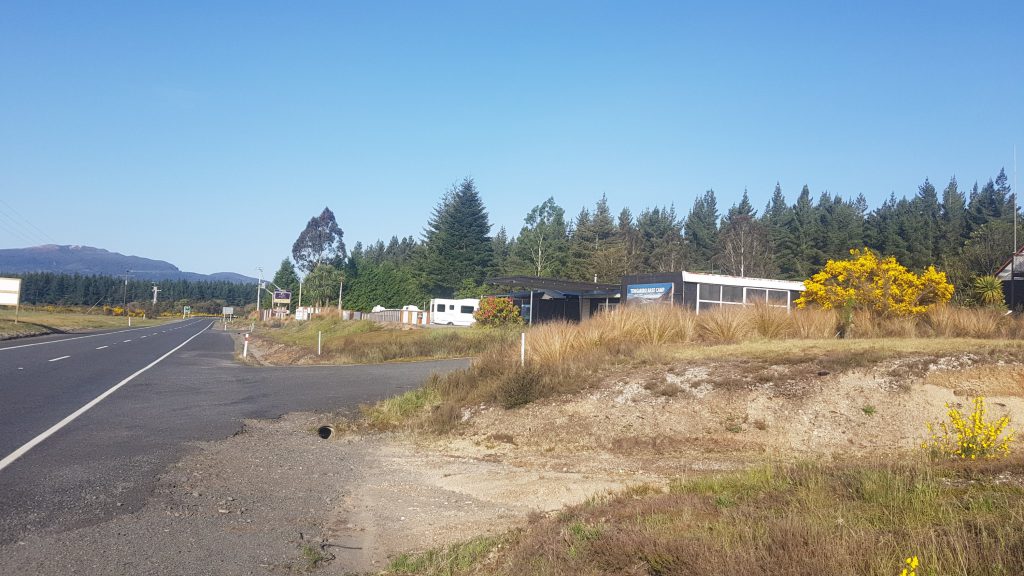 I struggled to find the office to this place, I'm not sure why, as it was right by the entrance as you'd expect it to be. Must have just been a day of exhaustion. There were a lot of hills and a fair few challenging sections of track so I was definitely feeling it when I arrived.
I didn't get an ice cream from the store – they had an incredibly small selection of stuff – but I did get a Bundaburg Lemon, Lime & Bitters and a Mars Bar. They were pretty good, as you'd expect.
Alex and Peter had oranised a cabin in the holiday park because with 5 of us it was only slightly more expensive than a campsite and not having to pack up a tent in the morning would assist with starting early.
Charlie had taken a wrong turn late in the day and Peter had gone looking for him. Here they are, finally making their way into camp, and they had picked up Henry along the way as well.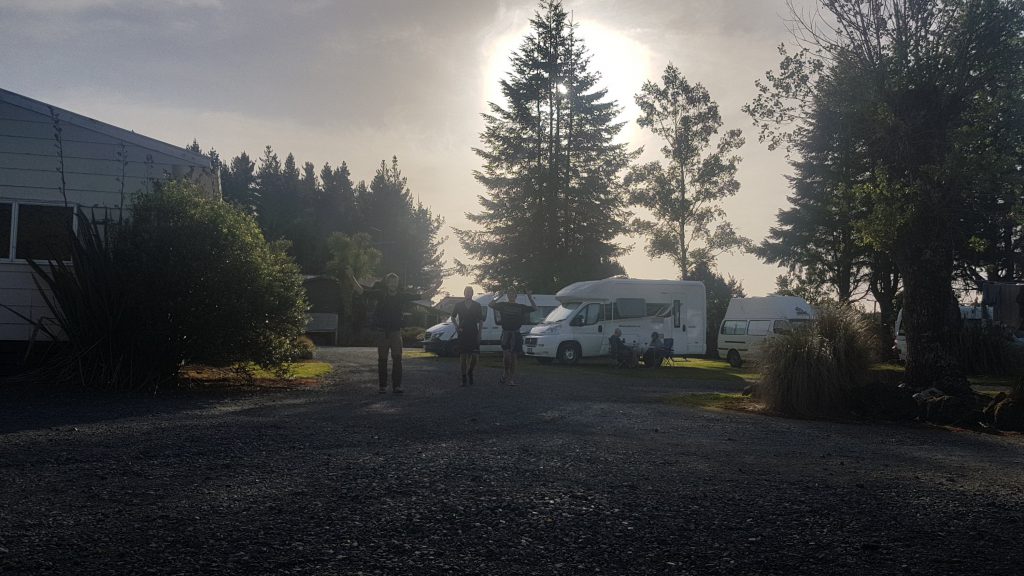 There was only time for a quick chat and a quick meal of Back Country Cuisine freeze dried vegetarian pasta and then we were all in bed by 8:30pm. We have a long day tomorrow – getting up at 6am and leaving by 6:30am for the Tongariro Crossing. Let's see how keen everyone is to get out of bed when the alarm goes off.
And finally, we were all wondering where the 42 Traverse gets its name. I just looked it up, and apparently it is named after the forest, which was originally called State Forest 42. So there you go.
Today's walk on the map (blue = Te Araroa, red = today's walk):