Date: 30 November
Trail covered: 20km via kayak (kms 1334.8 to 1354.8)
Weather: overcast at first then hot again
Whanganui River Journey – Day 5
This morning my internal alarm clock went off at 5:30am like it always does – which was inconvenient since we have to leave Hipango Park late because of the tides. I would liked to have slept in a bit longer! But my internal alarm clock goes off at the same time every single morning without fail.
It was misty when I woke up. If the boys left at 1am for the holiday park like they said they were going to, they wouldn't be able to see the stars like they said they wanted to. So did they go? Looks like they did – their tents have gone. Wow. I didn't even hear them go, they must have been quiet.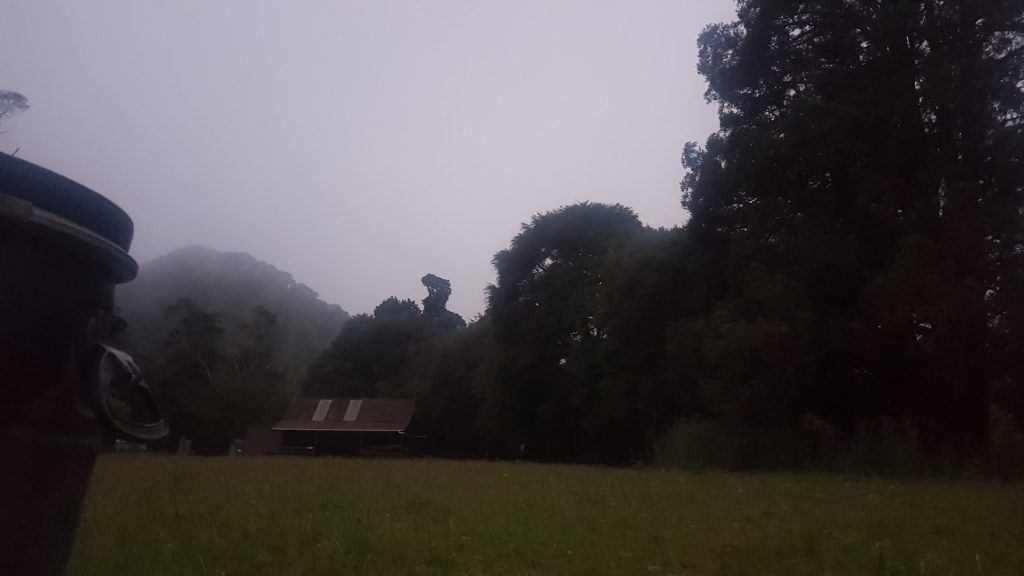 Everyone else that didn't leave at 1am was still asleep when I woke up. I went for a walk down to the boat ramp to make sure my kayak was still there.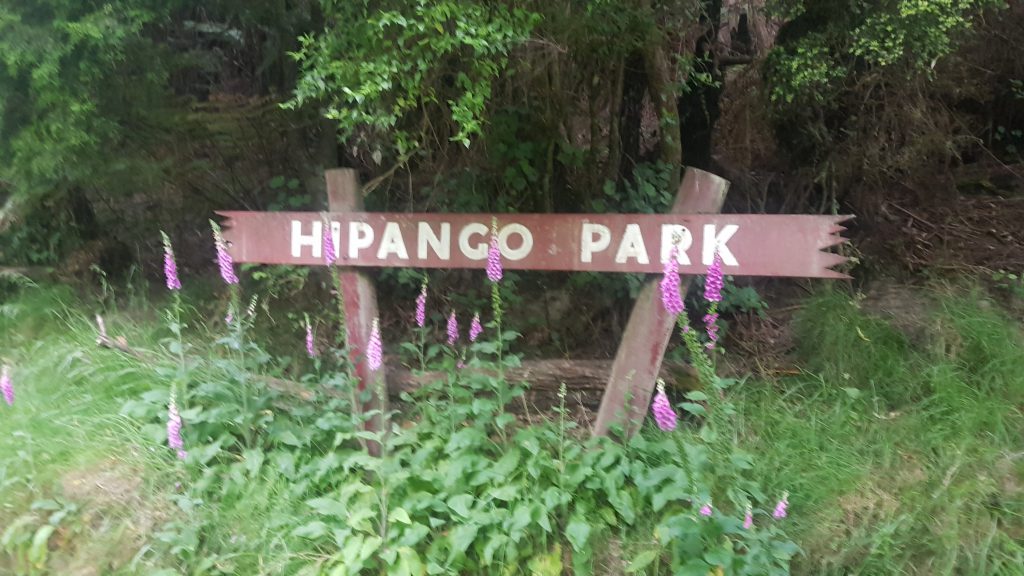 It seems that the others had not realised that the river is tidal from this point. It's hard to see here, but one of the canoes here is a metre off the ground and wedged in between two big pieces of tree. Seems the river level has dropped a lot since the canoes were left here.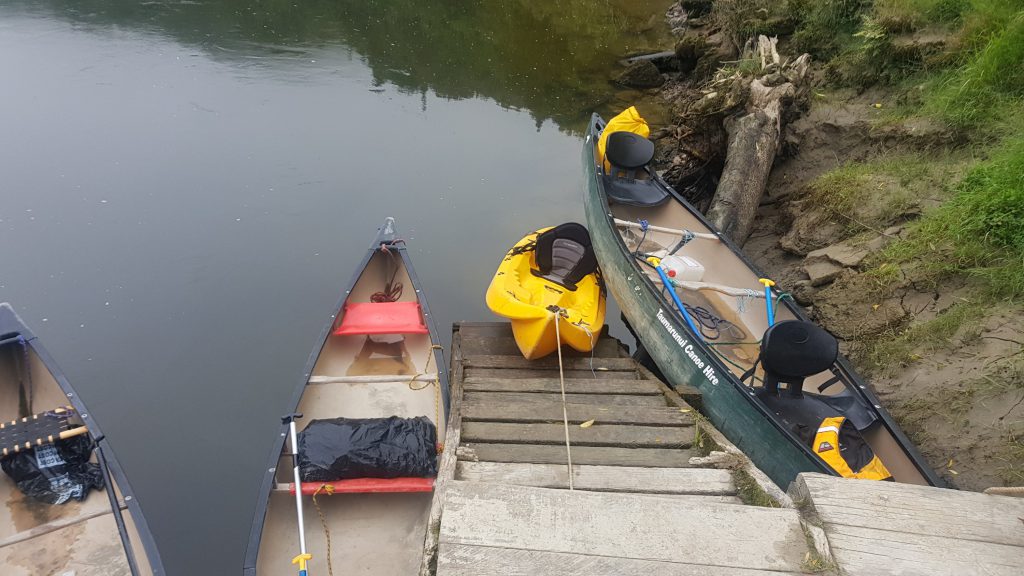 I hung out with the other people in the campground for breakfast once they woke up since I had a lot of time to kill. They had previously agreed that I could kayak alongside them. And I finally learned their names. They were Mickey and Michelle, a couple who are doing Te Araroa but also stopping as they go to do concerts since they're both musicians. The other six were Rita, Fabian, Luigi, Kerstin, Elodie and Katherine.
I heard a story from the girls, and how the canoe belonging to Kerstin and one of the other girls hit a rock and they couldn't recover. The canoe was fully submerged in the water and the girls were just floating down the river holding onto it for about 20 minutes. Kerstin had hit both her knees and they were blue.
They said they soon realised that it was unsafe to hold onto the canoe in the rapids and they had to let it go. They walked down the riverbank following the canoe – that in itself is surprising because 80% of the time the riverbank is not passable because of cliffs or trees – and eventually two others downstream managed to stop the canoe.
Then, while they were bailing the water out of the canoe, Kerstin got bitten by a big eel and let out a big scream. This became the story of the week and nobody let her live it down. But I really felt sorry for the girls. That was the thing I was scared about the most – if my canoe or kayak got away and I couldn't get it back.
One of the popular games played a lot by this group was "would you rather". For example – would you rather do Crossfit with Donald Trump or cooking class with Hitler. Would you rather be able to fly by flapping your arms, or you could fly easily like Superman but you have to consistently make a noise like a police siren. Would you rather have a single pebble in your boot for the entire Te Araroa or would you rather walk in the knowledge that at some random point on the trail your boots would turn into roller blades for an hour.
These would then prompt further questions like "could I just sit down for the hour during the roller blades" and the proposer would answer with something like "no, you have to remain standing for the hour". "What happens if I stop flapping my arms?" "You immediately plummet to the earth and die."
We played a lot of this game since we were up early and high tide is 1:20pm. We couldn't really even consider leaving until 11am – firstly because the current would be going against us and secondly because we can barely even get into the canoes like they are so far down in the water.
Not only are the tides are all wrong for today, there is a low tide river crossing along the beach tomorrow after a 35km day from Whanganui, and low tide is either 8am or 8pm. Neither of those are really ideal.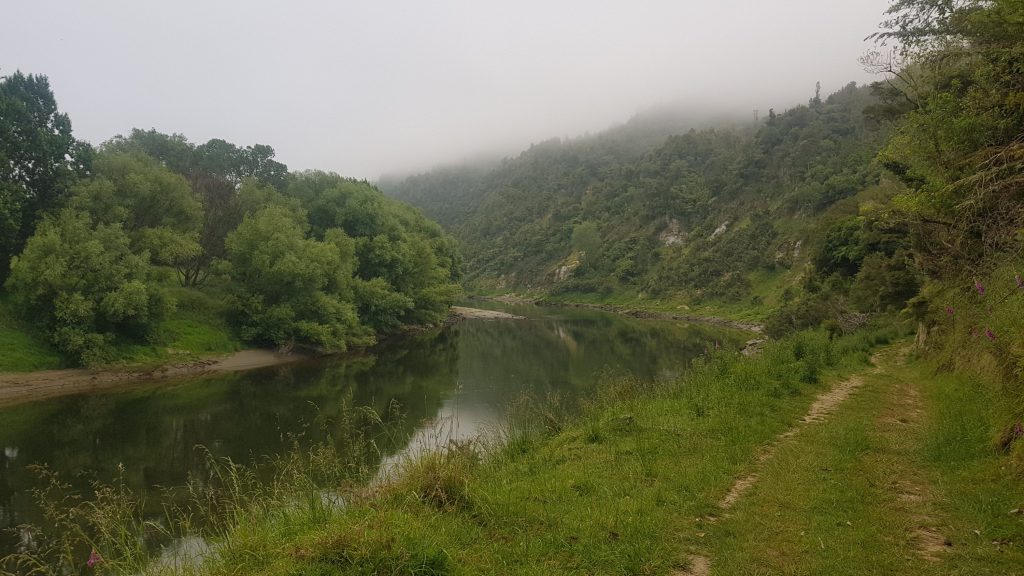 11am rolls around. We all go down to start loading the canoes. It's a slow process because the tide doesn't seem to have risen much so it's quite challenging to get into the canoes. The destination is Whanganui Top 10 Holiday Park – precisely 20 kilometers downstream. The official trail goes a bit further downstream by river, to a public park in Whanganui, but the canoe hire company asks people to leave its canoes at the holiday park, which is much more convenient.
I took a few photos but then packed my camera away and put my barrel on the back of the kayak. And as soon as I did that, we noticed the biggest spider I have ever seen in one of the other canoes. It was absolutely gigantic, I swear it was as big as my entire hand. And it was running fast around and around the canoe. Lucky Fabian was in the canoe loading barrels and he didn't seem afraid of it. He grabbed it with his hands and just put it into the water. I wished I could have taken a picture of it.
We all had departed Hipango Park by about 11:30. We stayed together as a group for the first 5km but then the opposing current really became apparent and the other group started taking their time, so I went ahead on my own. It was so tough to paddle against the current that it took 22 minutes to complete the seventh kilometer of the journey – that is really slow. That's less than 3km per hour. There were times I thought I'd never actually make it to the holiday park.
But I kept at it. And 45 minutes after high tide at 1.20pm the current slowly started to turn the other way which made it a fair bit easier.
There were some Maori kids playing in the water, with their speaker pumping and a big log they were jumping off into the river. They were really cool and wanted to know everything about what I was doing. They asked if there was food in my barrel and when they asked if they could have some, I said "no" and they said "stink".
There were also a lot of people further downstream sitting on a bank – about 30 or so people. I think they were watching the water skiiers and people in sea biscuits and the other recreational rivergoers that were around. When I went past, they yelled out "do a skid!" – I get asked by bystanders to do that in my car all the time, but I've never been asked to do a skid in a kayak! I don't even know how I would do that!
As I got within 5km of the holiday park the wind picked up and the water got choppy. And also the many jet boats and other recreational boats on the water were constantly creating wakes. There was nothing that made me think I would tip out but I did have to remain focused. There were so many other boats on the water, no doubt because it was a stunning Saturday afternoon.
I was watching my GPS watch so I knew when to expect the holiday park sign. And suddenly – there it was! HOORAY IM ON DRY LAND!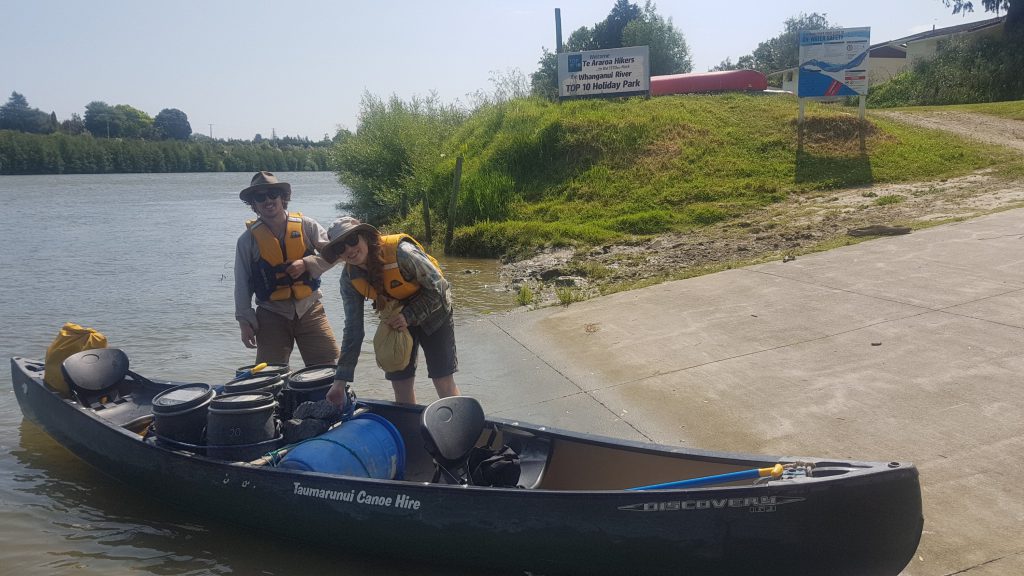 I put my kayak beside the canoes belonging to the other four guys who left early – they obviously made it. But my stuff that the guys had brought on their canoes wasn't there. Hmm…. where is it. I turned on my phone, which by now only had a tiny bit of battery left, and Ethan had sent me a message saying that they had got a private cabin and my stuff was outside the door. Check – yes, there it is, all there. I wonder why they decided to stay in the holiday park since they originally said they weren't going to.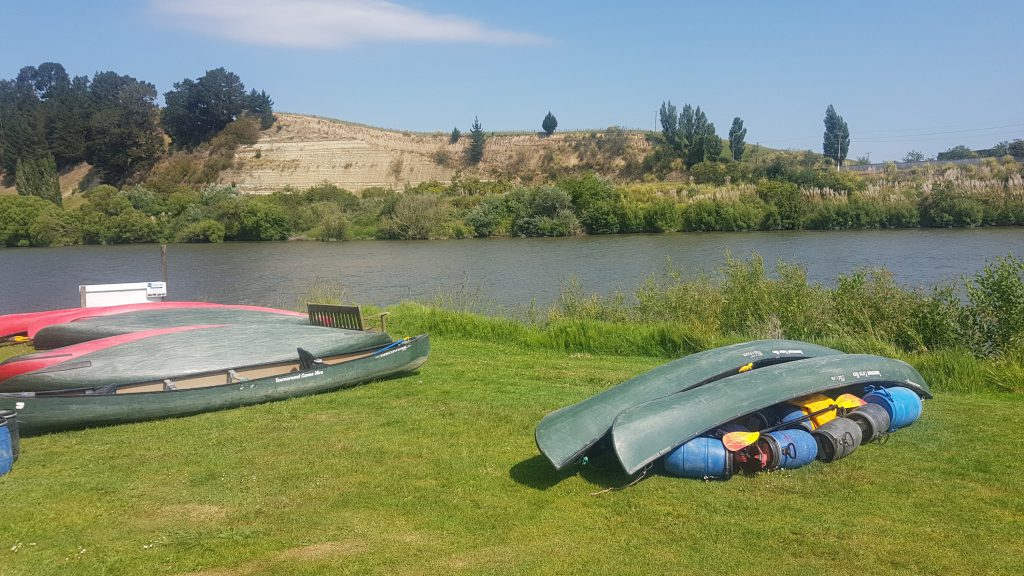 The cabin they got only had four beds so there was no room for me. I didn't mind – I previously told the guys that I have no problem sleeping in my tent. But it meant I had to go to reception and pay.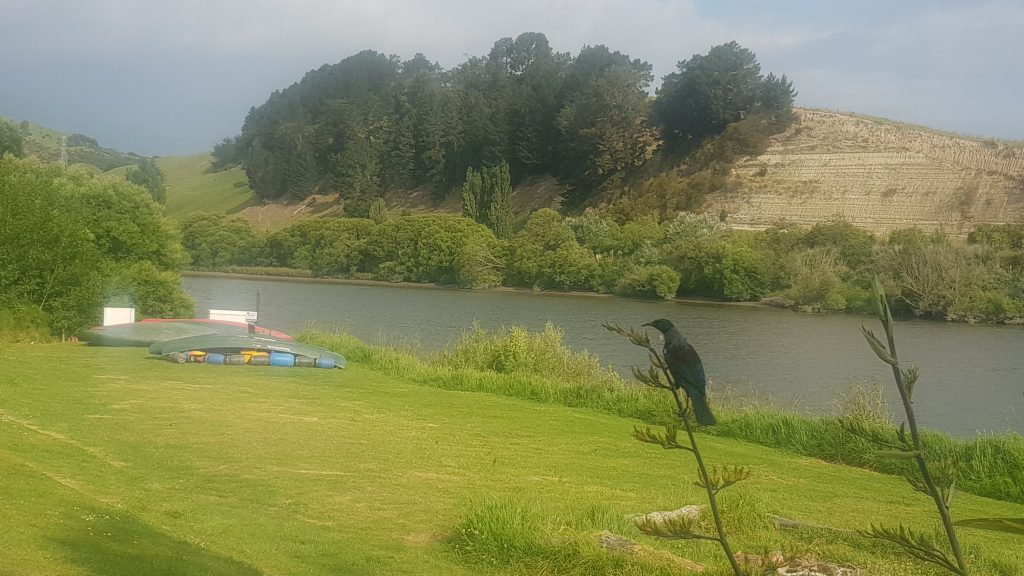 The holiday park owner saw me standing in the queue to pay and immediately asked if I was a TA hiker and if I needed to go into town for anything (the holiday park is 6km from Whanganui City Centre). I said yes, I urgently needed a charging cable. By chance he was just leaving to pick up the other four who he had previously dropped in town. I would be able to rush into The Warehouse and grab a cable in two minutes.
During the drive I talked to him – his name is Ben and he is an awesome guy. He takes hikers into town, holds packages for them and is just generally super helpful. I bought a charging cable and also some chocolate – finally I can charge my phone! I didn't get any other food though. I really must finish what I have – the stuff that I bought in Taumarunui that I didn't eat on the river journey. That means my dinner tonight is spaghetti with cheese and crackers mixed in, and there will be several lunches of pasta for a few days.
The holiday park was overrun with hikers. The thirteen of us from last night plus Abby and Jason, the Swiss Family from the Timber Trail and even two people who I knew from Hamilton who just happened to be there – Kevin and Angelica.
Originally when I started out for the day I considered the idea of continuing walking straight away from the holiday park after arriving – mainly because I thought I'd need to walk to buy a charging cable in town but also because I was looking forward to walking again. I decided not to though – even though the kayak was only 20km, it was a very tough 20km and I didn't have a lot of energy left. Plus Ben was so cool, and because of all the other hikers in the holiday park, it was a very cool place to hang out and so I'm glad I stayed put.
Seems like I'm the only one planning on leaving in the morning though. It seems everybody else is taking a rest day here. It means I'll be walking by myself again tomorrow for the first time in a while.
While cooking dinner I talked to the others. Apparently they enjoyed the challenge of paddling in the dark for four hours but every time they had their headlights on they got swamped with bugs. So they could only have the headlights on in short bursts. They had arrived around 5am. Having just done the river I knew that it was mostly calm all the way and there were very few exposed obstacles, and so there was nothing really to watch out for. And they had the advantage of the outgoing tide. When other people in the holiday park heard what they had done though, most thought they were crazy. Even Ben the owner said that he had not heard of anyone paddling through the night before.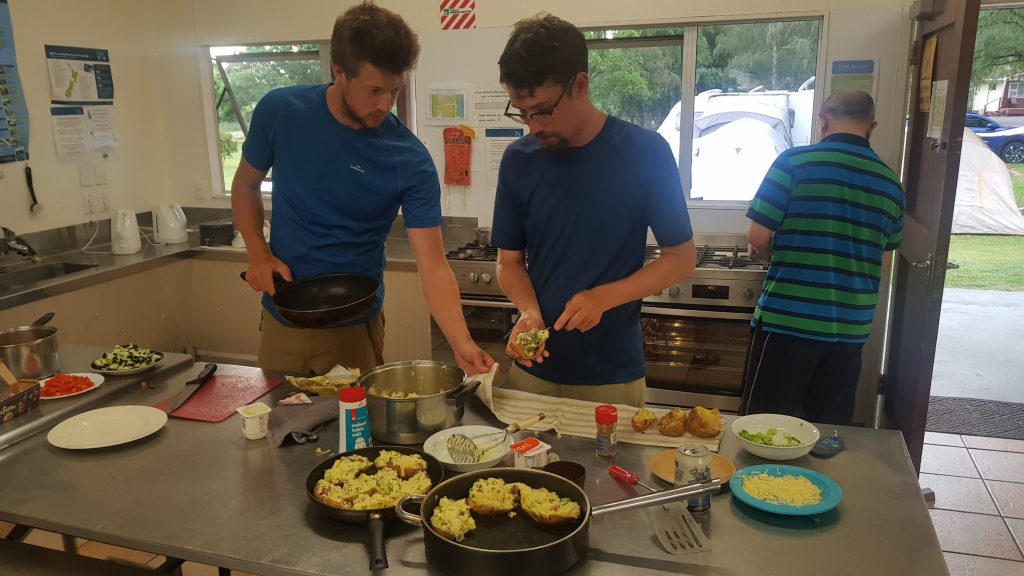 I had my spaghetti on crackers with cheese. The others had spent $200 on food and wine for tonight, including four massive pieces of steak. I had to double check – $200 on food and wine just for tonight? Yes, I had heard correctly. Crikey.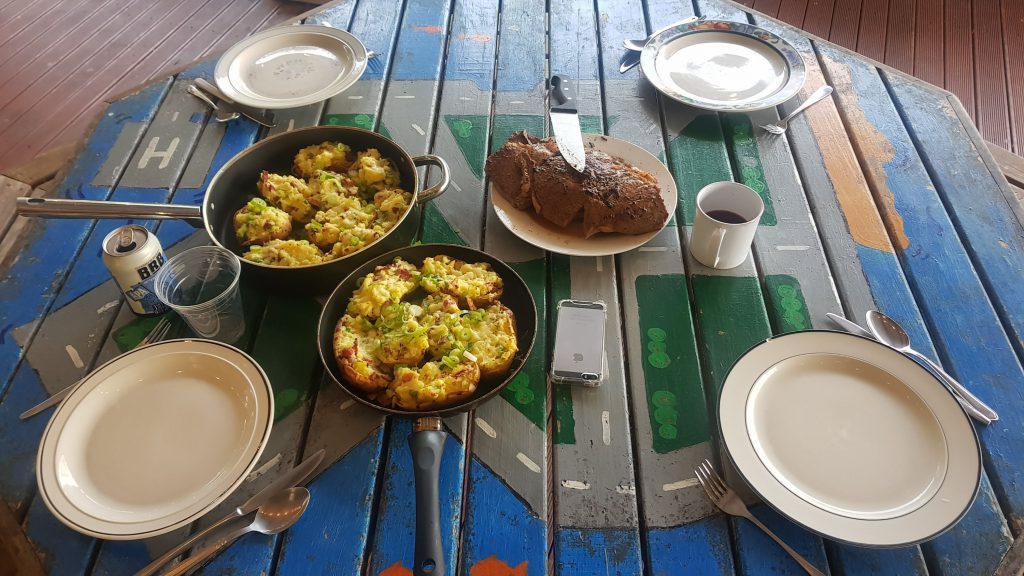 Afterwards there were a few games of air hockey in the games room.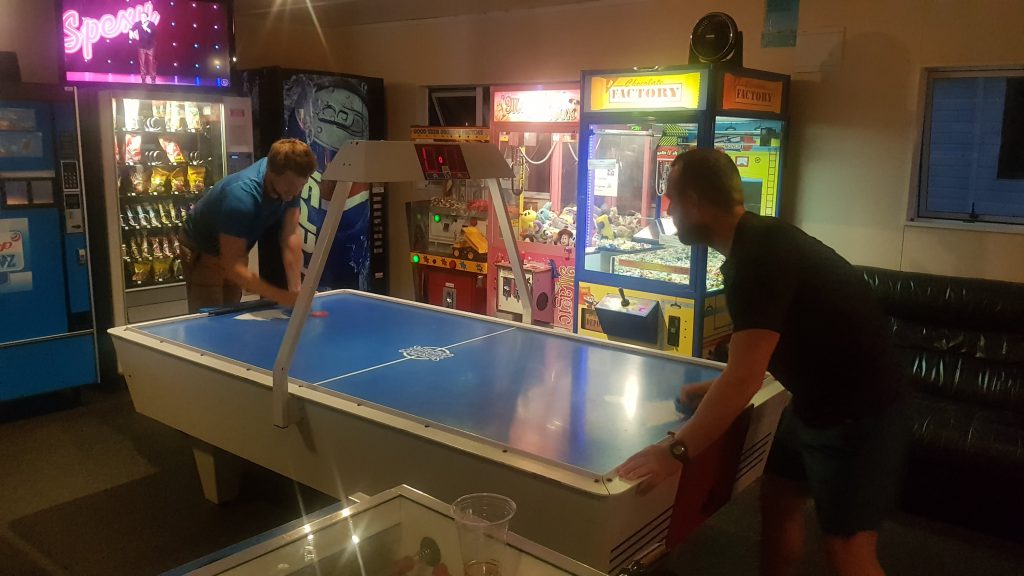 I spent a lot of time talking to the other hikers I hadn't seen for a while. And before going to sleep, I caught up on emails and social media, and also booked two nights in a Palmerston North motel for three nights from now – so I'll definitely be having a rest day there. I'm looking forward to it.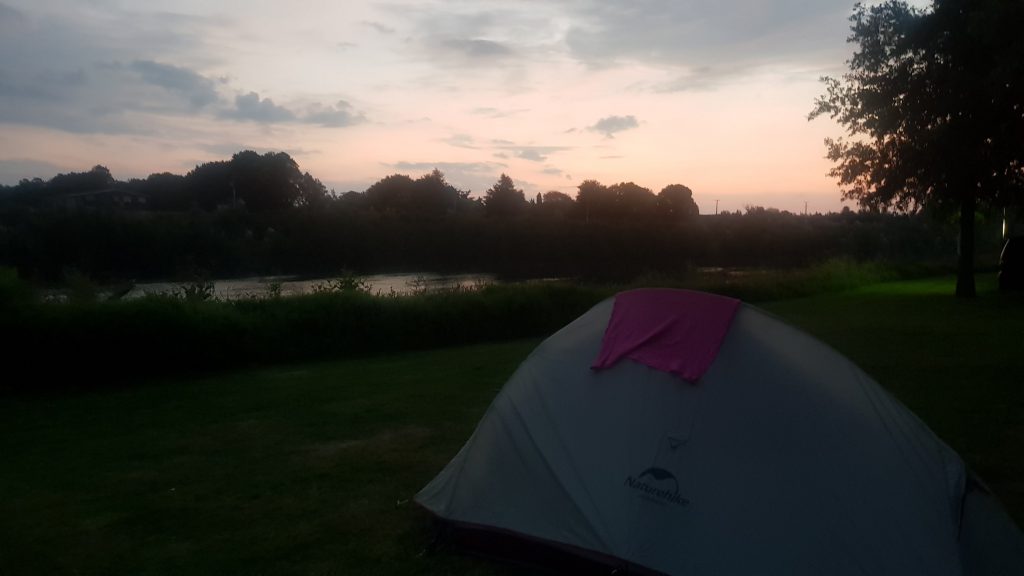 Today's walk on the map (blue = Te Araroa, red = today's walk):