Date: 9 December
Trail covered: 13.5km plus 3.4km of walking to get to the trail start (kms 1536.3 to 1549.8)
Weather: sunny and no rain but rained as soon as we got to the hut
Today is the day we start up the Tararua Ranges. We're gonna be up here three or four days… it's gonna be great!!
Our first stop is Te Matawai Hut, which is only 13km down the trail and is at about 900m above sea level. Apparently it has cellphone service and is not above the treeline, so it shouldn't be too cold.
First we all have to get from Levin to where we were last on the trail at Poads Road. We didn't know of anybody that would be able to drop us off there, so we all planned on hitchhiking to the start. But nobody is going to, or would even be able to, pick up a group of five guys and all their hiking gear. So we left the holiday park separately. I went first at 7:50am.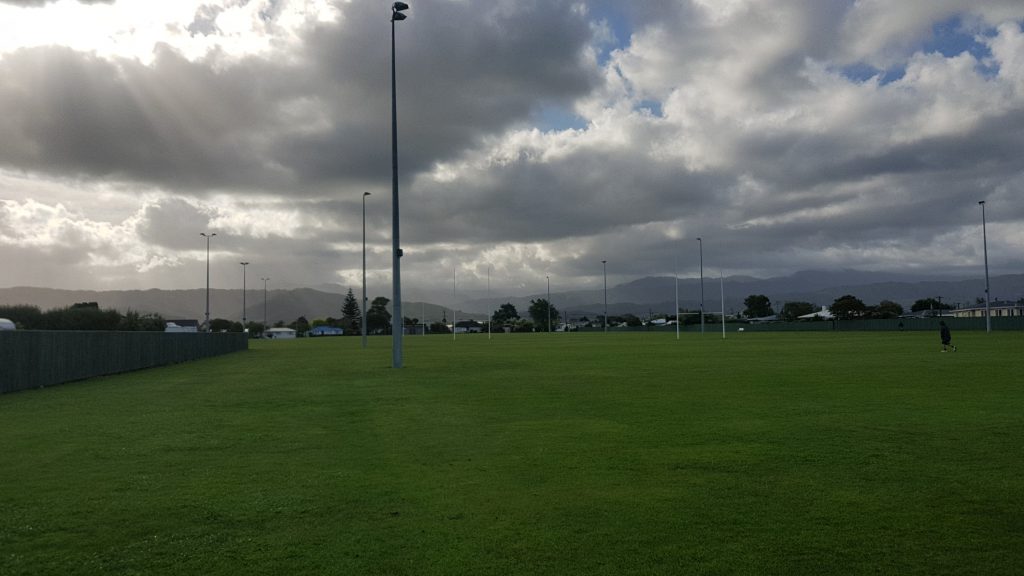 This is going to be my first hitchhiking experience… exciting! There are two main bits of road you have to walk down to get to the trail. One is State Highway 57. It would be hard for people to stop there so I didn't expect to get a ride from there.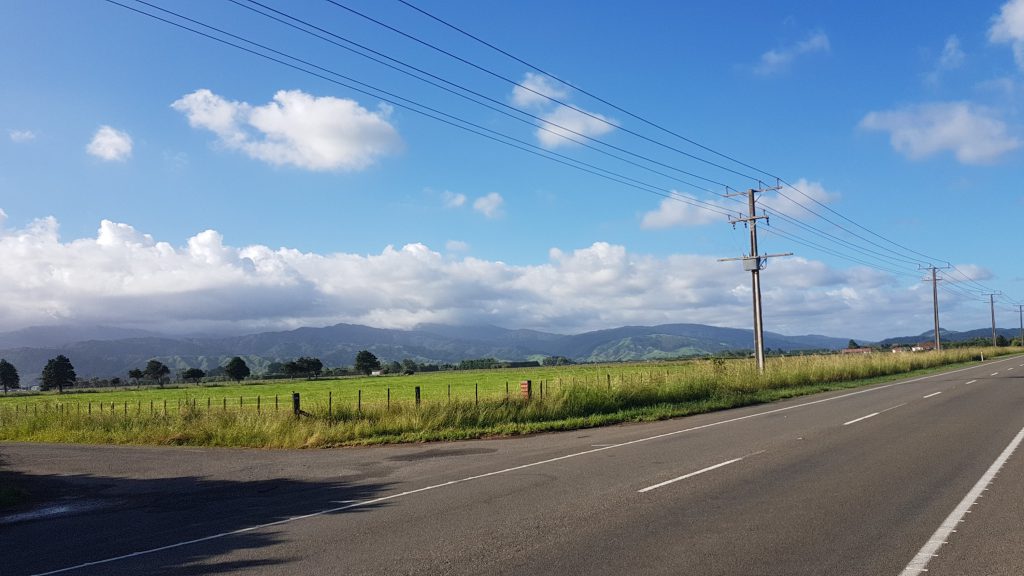 Then you turn left into Tararua Road. This is a quiet road and where I hoped I would actually be able to hitchhike from. It can be hard for the front person in a group to hitchhike though, mainly because anybody that's willing to pick up a hitchhiker will likely pick up the person at the back of the line first, and have no space left in the car by the time they catch up to me. So I was fully prepared to have to walk the 10km to the trail.
But the third car that drove past picked me up! It was Leonie, a lady I talked to who worked at the Outdoor Pursuits Centre where we stayed on Friday night. She recognised me once she stopped and she took me to the Poads Road intersection. I asked her if she sees a lot of people looking for rides along here and she said no.
You can see on the map below where I got picked up from and how much walking it saved me.
When I got dropped off at the intersection, a guy walking his two dogs asked if I wanted a walking companion for the first bit of the walk down the road. I said sure, and we walked together for about 60 seconds, but then another car turned up carrying Ethan and Alex. They had managed to get a ride with a family who were also walking up into the ranges today. So I left the guy and started walking with Ethan and Alex. Luckily too, because the guy with the dogs walked really really slowly.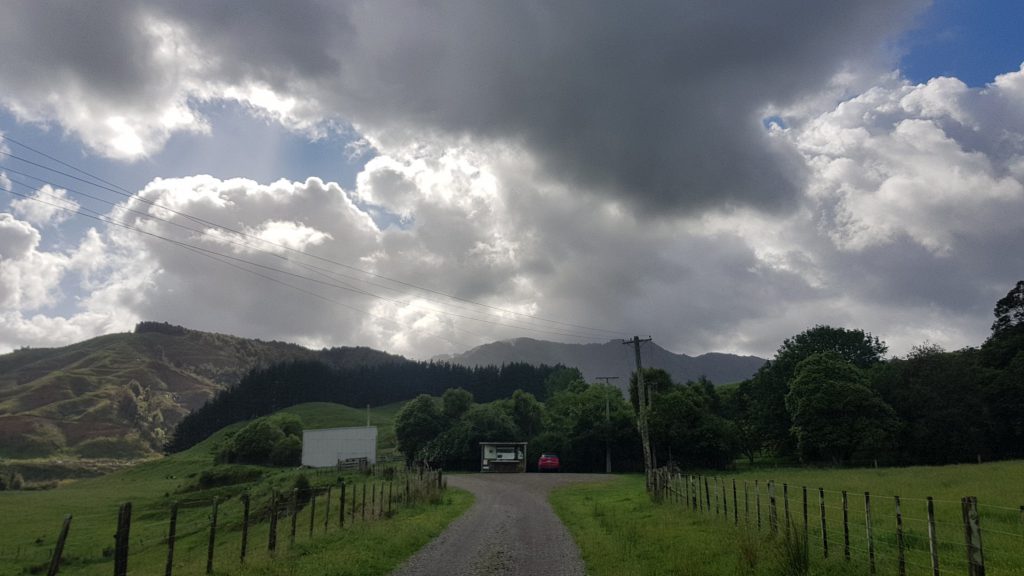 The three of us started on the path, after looking at the information board.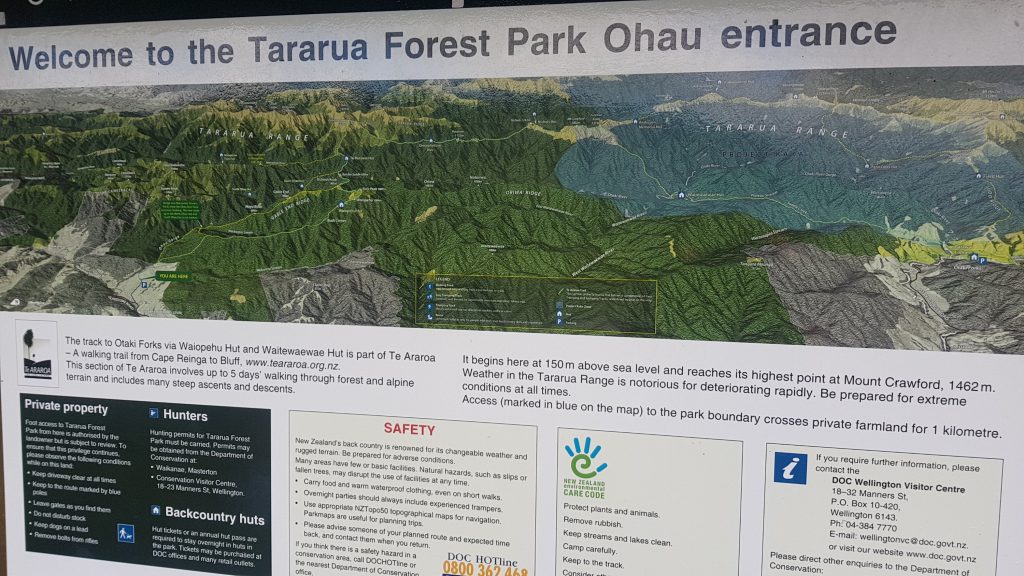 We didn't know where Charlie and Peter were, or how successful they would be at getting a ride.
We wanted to make sure we started off going the right way. Like often the case, the trail notes were a bit confusing and said that the DOC signage refers to the told trail route, and the path has been updated since then. But the signage seemed right to me.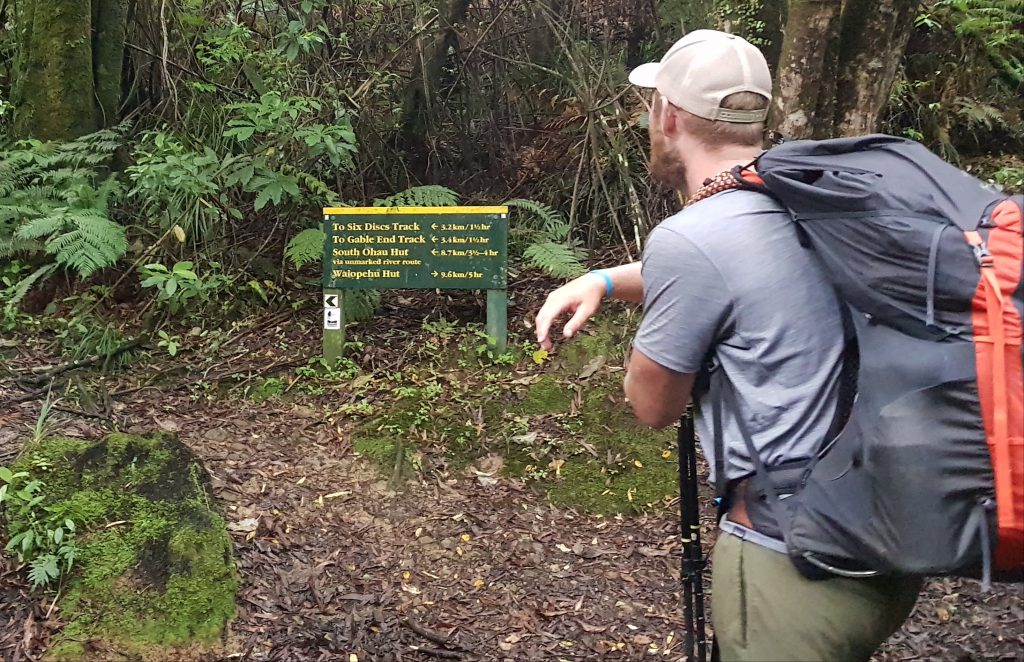 The path was mostly flat at first, and there was a swingbridge.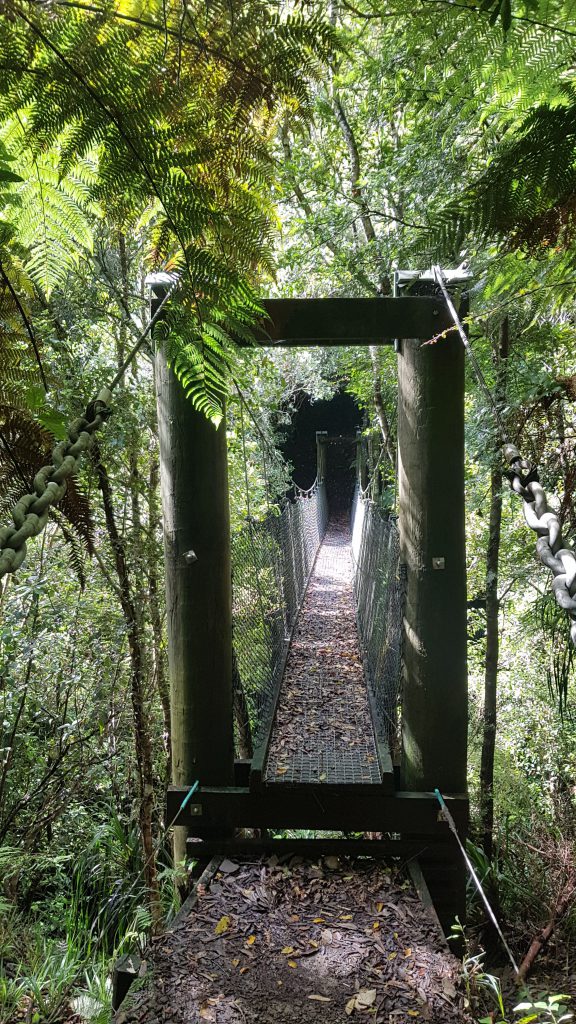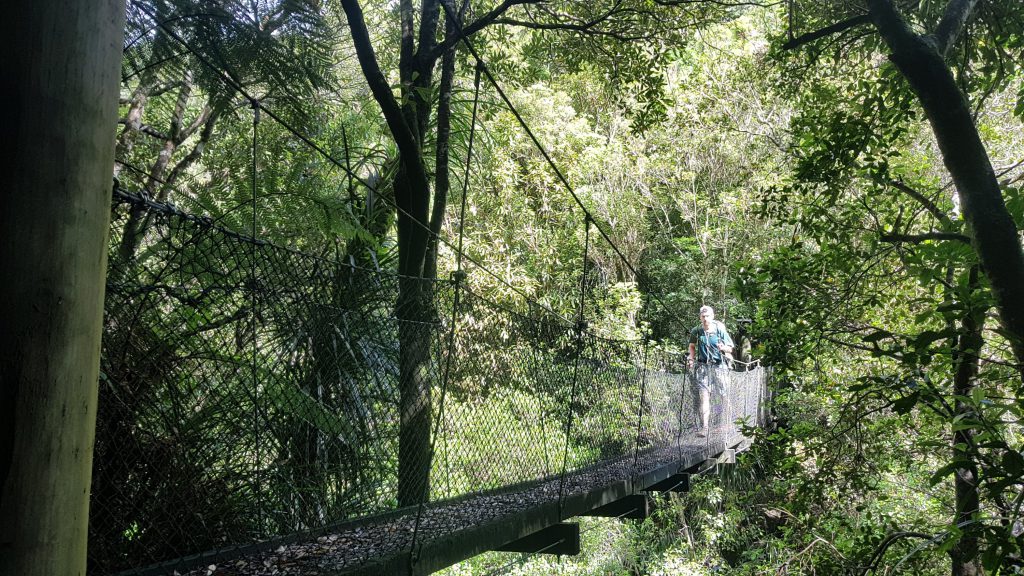 The easy, flat ground lasted until this point.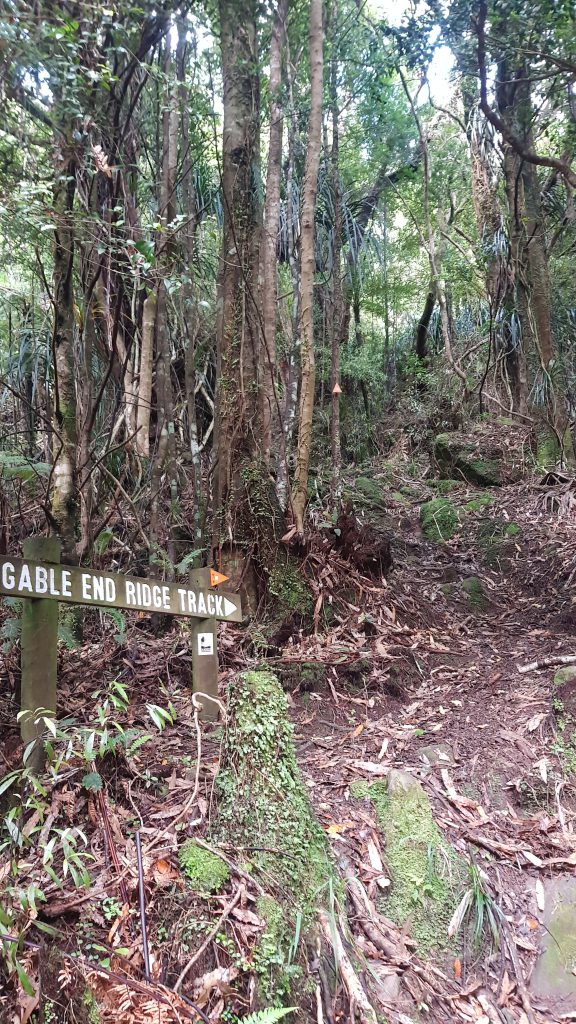 From here it just goes up and up and up, and there was also a lot of mud. My 11am picture is one such section of muddy track.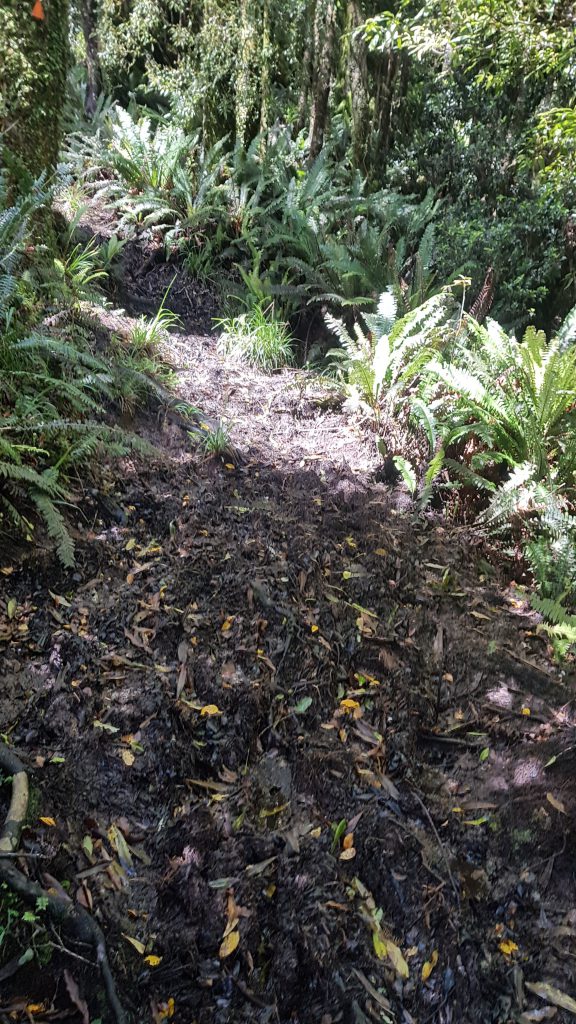 Having two rest days definitely helped though, my back wasn't hurting at all and it felt like a lot less effort than it was getting up the Tongariro Crossing, despite the path being rougher here.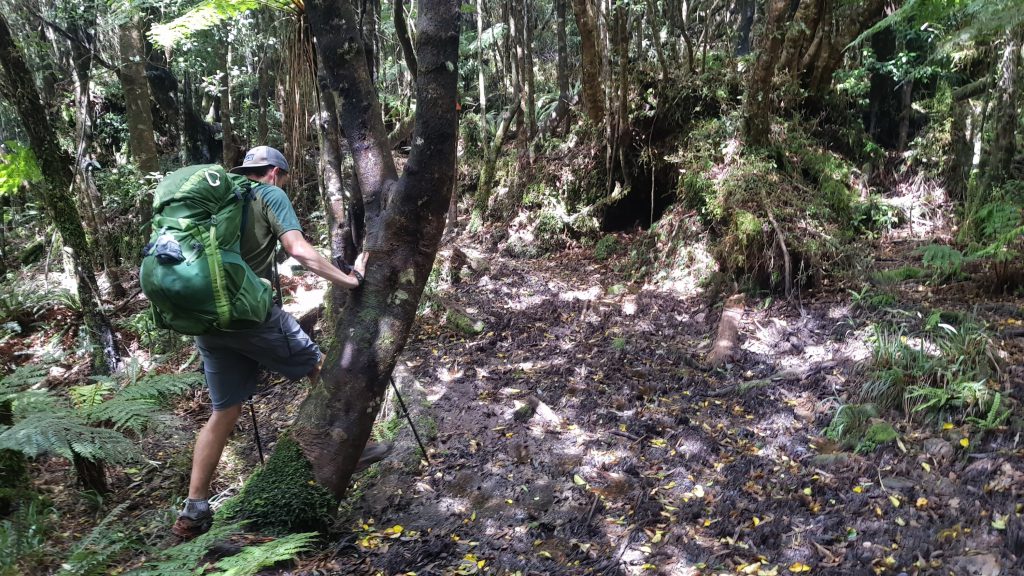 It wasn't long before there were good views on both sides. More of the ranges on the east side: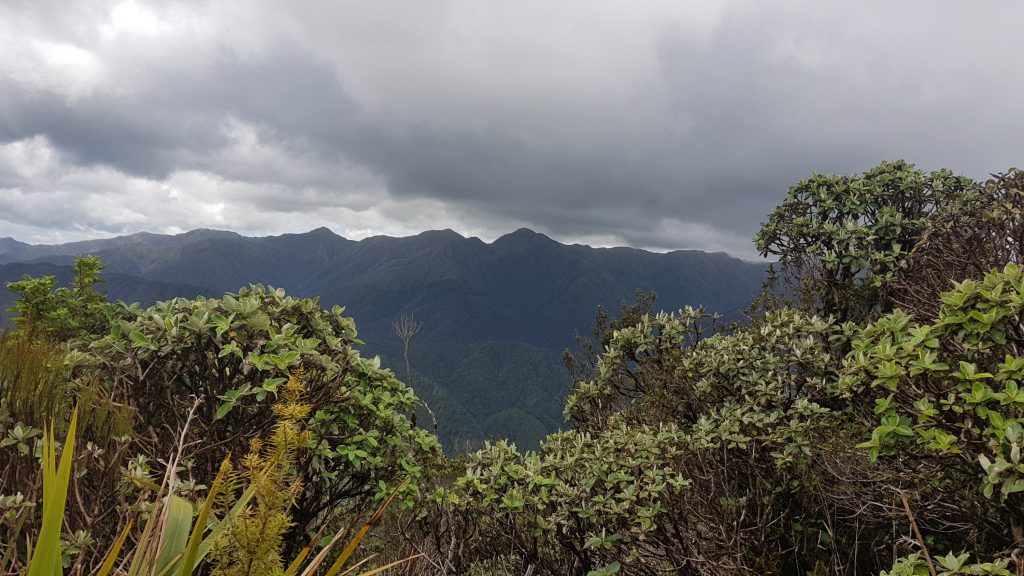 And Levin and the Tasman Sea on the west side:

At one point you could see a hut off in the distance. I don't think this hut is on the trail, though – there are a lot of huts in the Tararuas that the trail doesn't go past.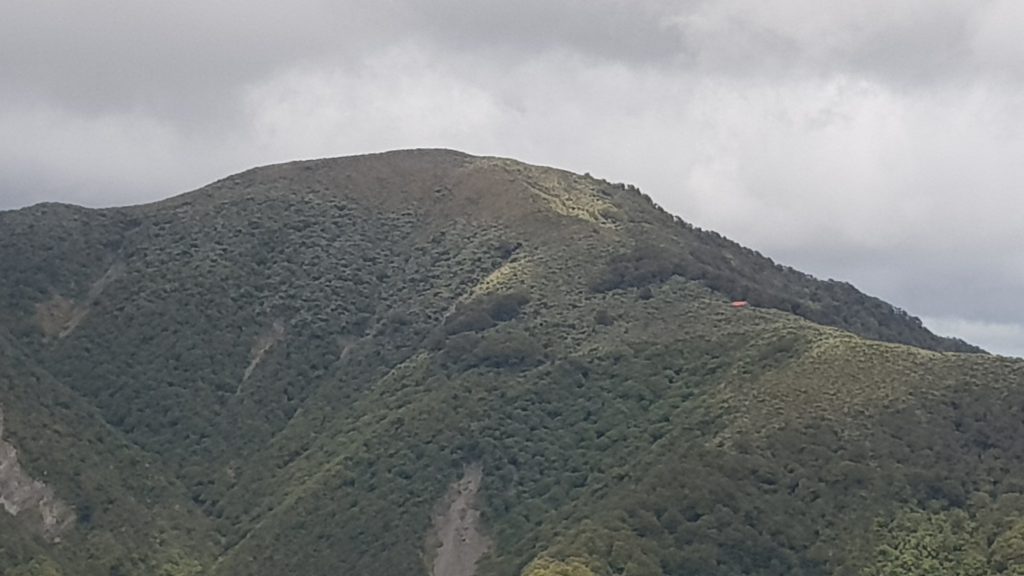 The highest point on the trail today was a spot called Richard's Knob.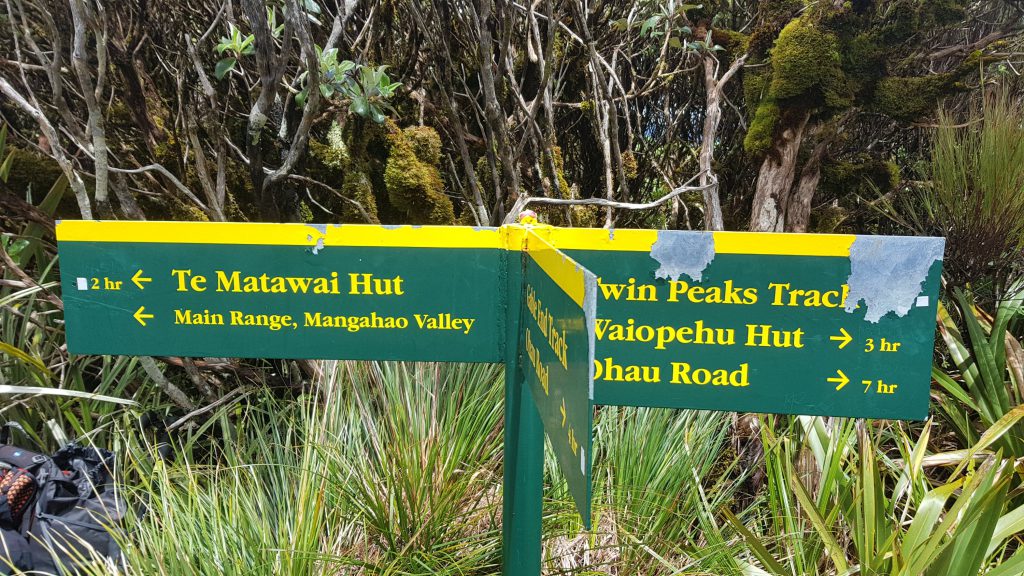 Just before here we passed two other TA hikers called Joshua and Nina, from Germany.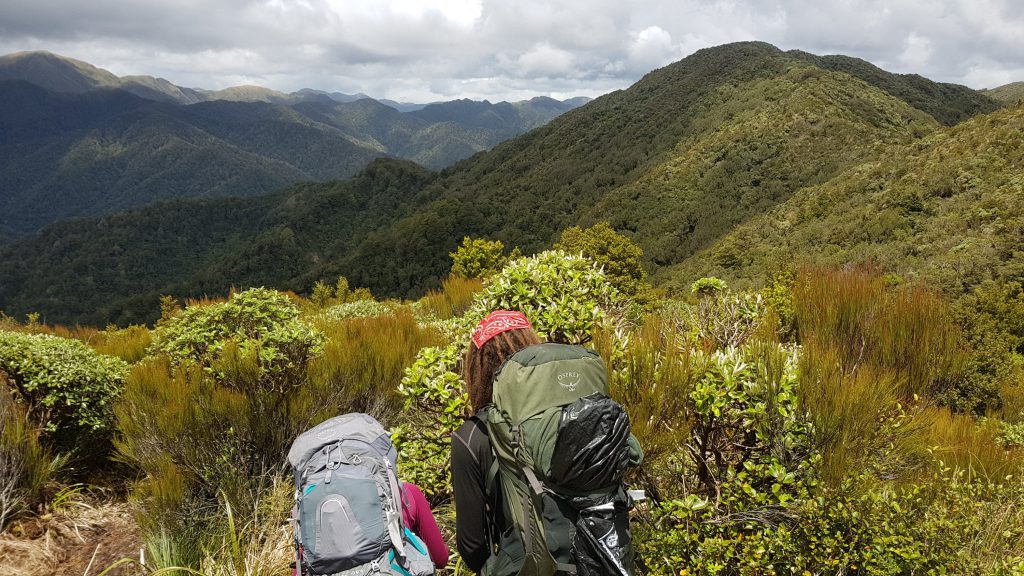 They started even before me, on the 18th of September, so they must be taking things quite slowly.
After a bit of lunch at Richard's Knob, and locating a geocache there, we carried on. The view of the Tararuas from here was amazing. This is the sort of view I expected, because when you drive south into Wellington down State Highway 2, this is the sort of landscape you see about an hour or so before you get there.

It got even steeper still after this though – thankfully just for a short time.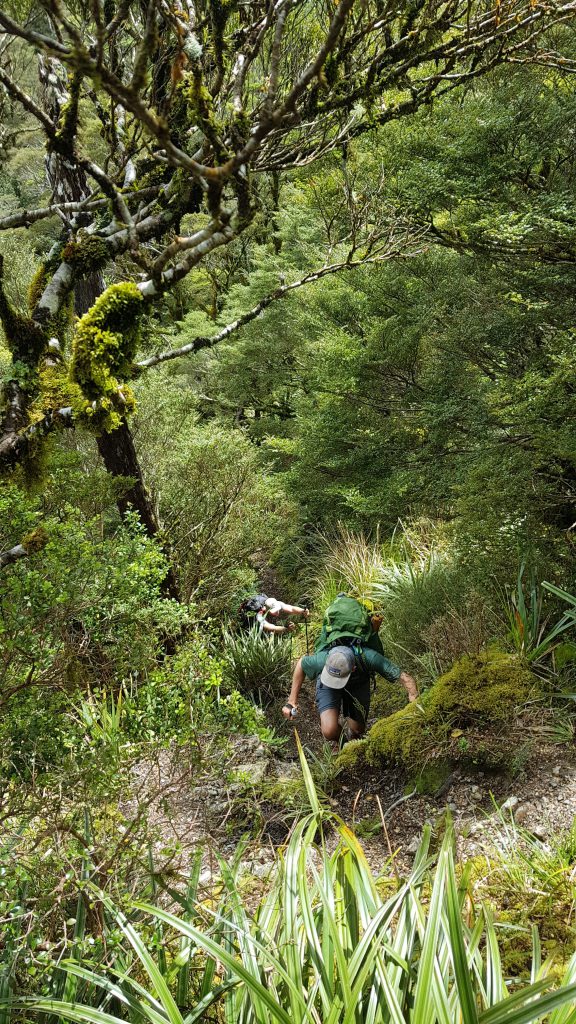 There were the same mossy trees that I encountered on the Timber Trail. They weren't quite as spooky up here though, with the sun shining down on us.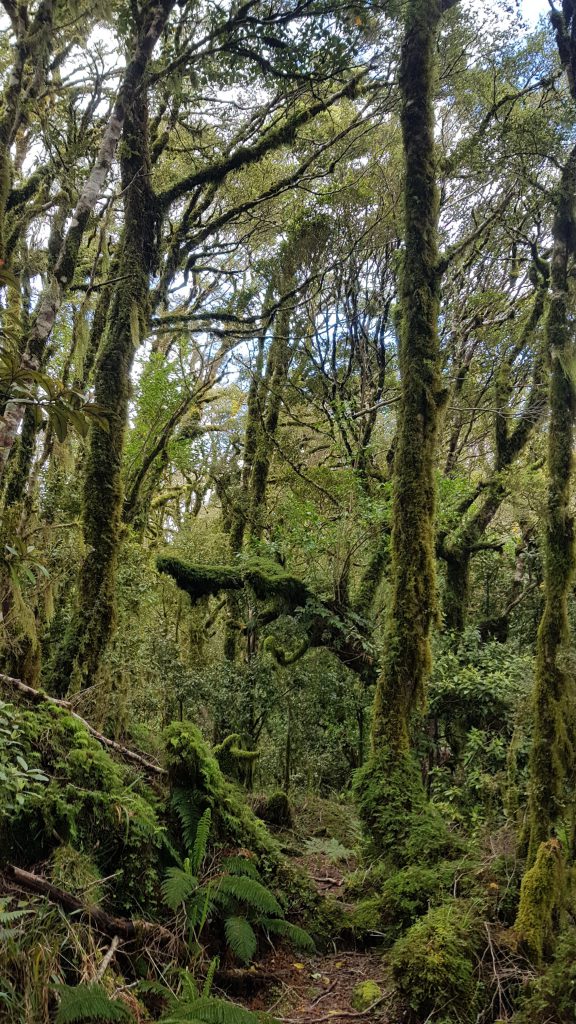 But with only 13.5km to walk today, it wasn't long before we got to the hut. It's quite an old hut, and a bit dark and dreary. It's been around a while.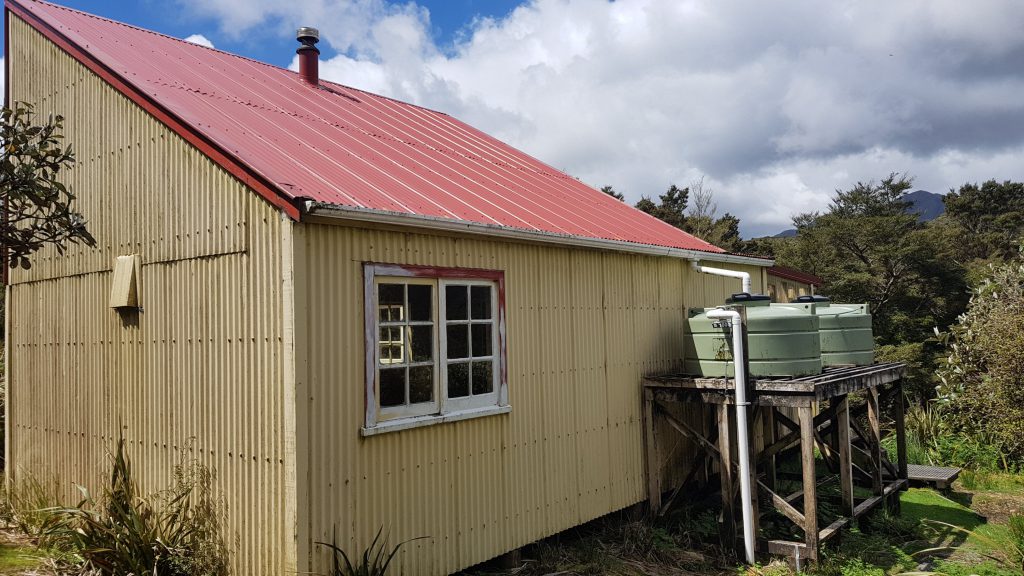 Surprisingly, it rained not long after we got to the hut. The weather hadn't given a lot of indication that it would rain, although the forecast had said it might. Luckily we got here before that happened. Peter and Charlie turned up and just missed the rain, but Joshua and Nina arrived thirty minutes later, and were not so lucky with the rain as they were a bit wet.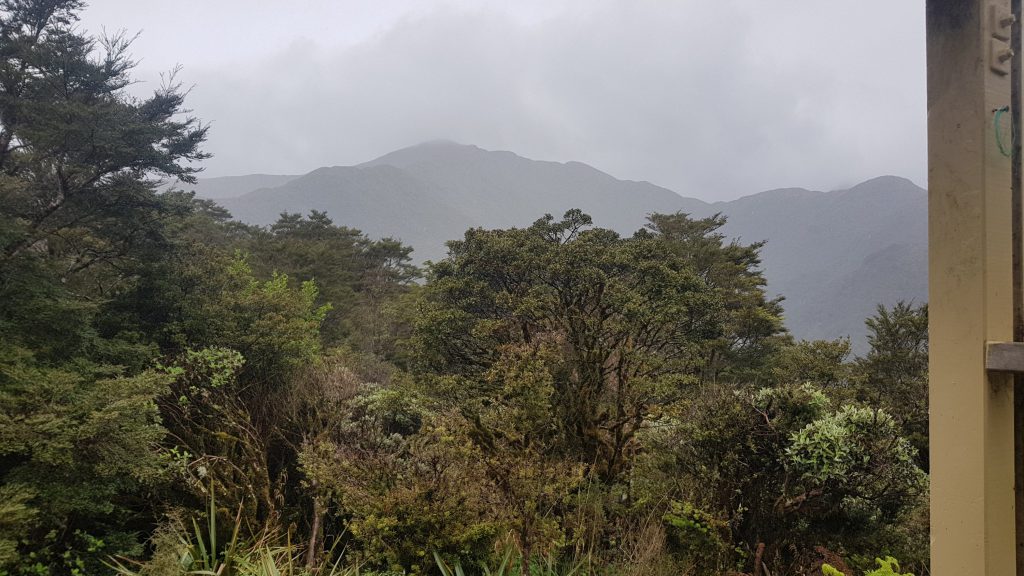 Peter and Charlie apparently took an hour to get a ride this morning. Maybe the rest of us just got lucky.
We learned from the DOC Intentions Book that since the 1st of December, only three people have passed through here – one of them being Rhydian. That definitely shows how bad the weather has been up here the last week.
And it was cold too. The freezing level is only 2000m tonight, so we know it's going to get cold. Peter lit a fire – it took a long time to get going, but he did a lot better than I would do at lighting a fire. Apparently he was given the nickname Pyro Peter before I met him, because he loves to start fires.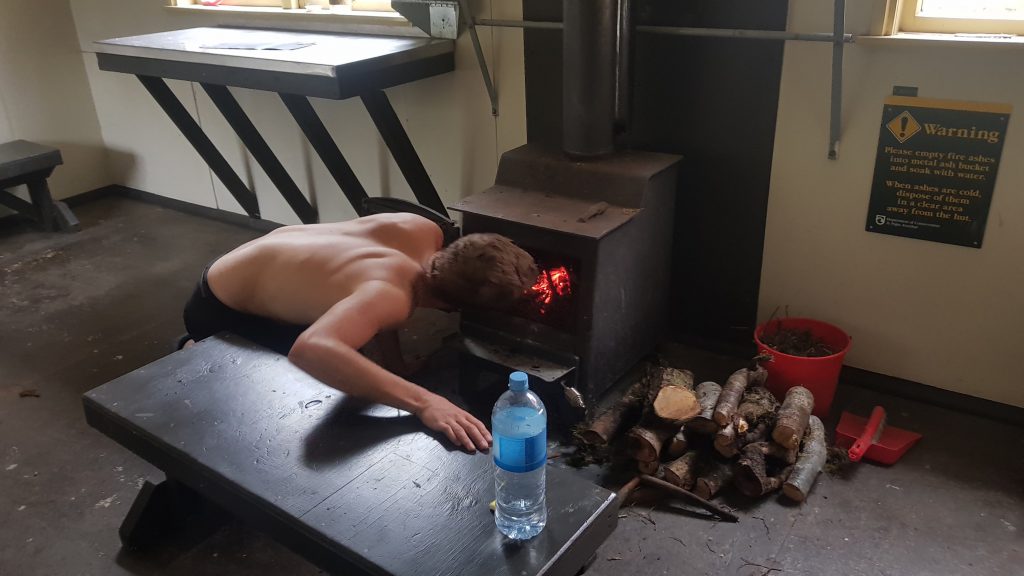 Everyone else had a nap and so it was left to me to keep the fire going. I don't think I did a bad job.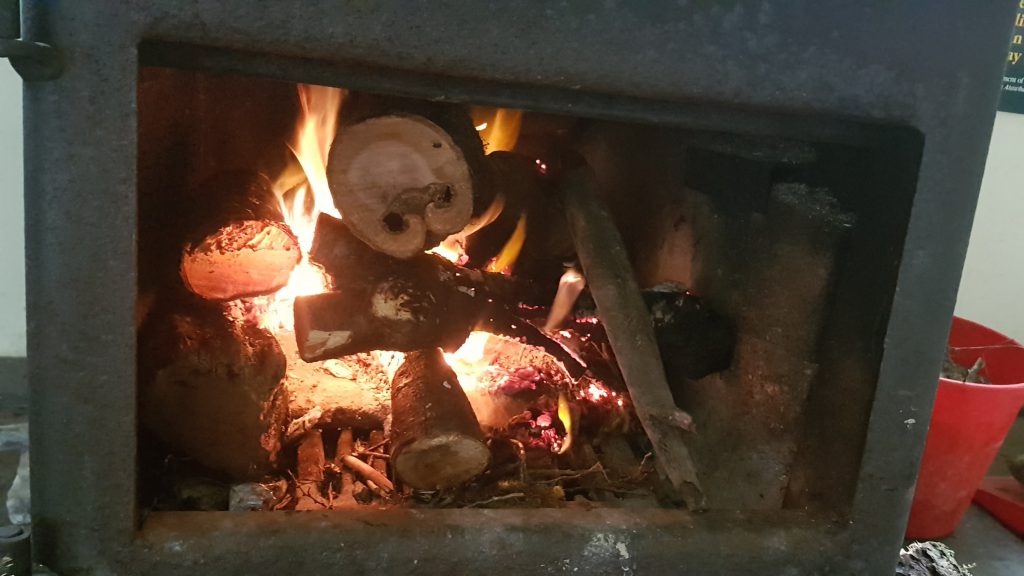 I got a photo of everyone cooking dinner. Makes a difference from all the scenery photos!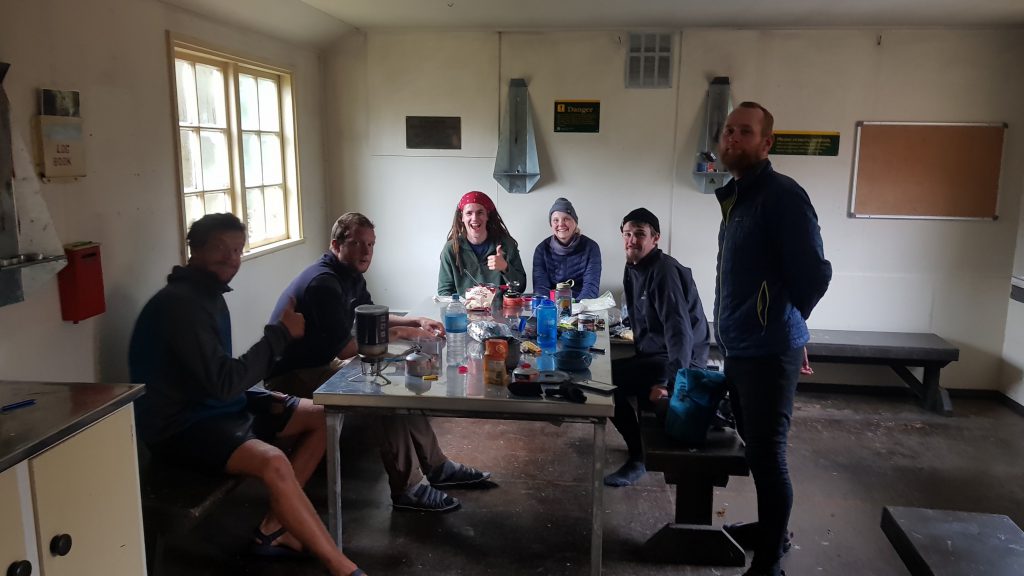 Went out to use the toilet and got a photo of the hut on the way out.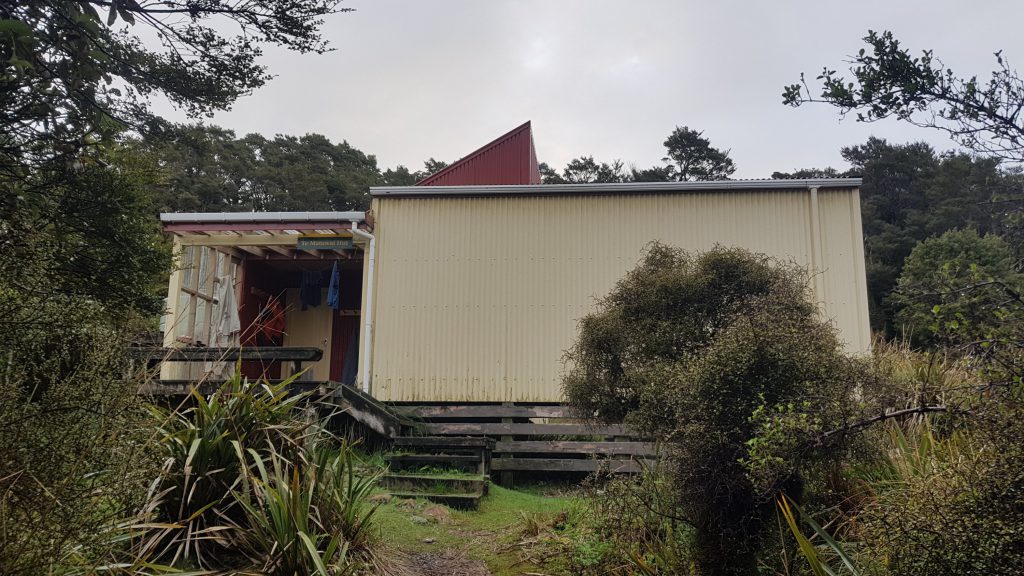 The rain seems to have gone and since I seem to get a tiny bit of reception on the front porch, I learned that the forecast for the next two days is perfect.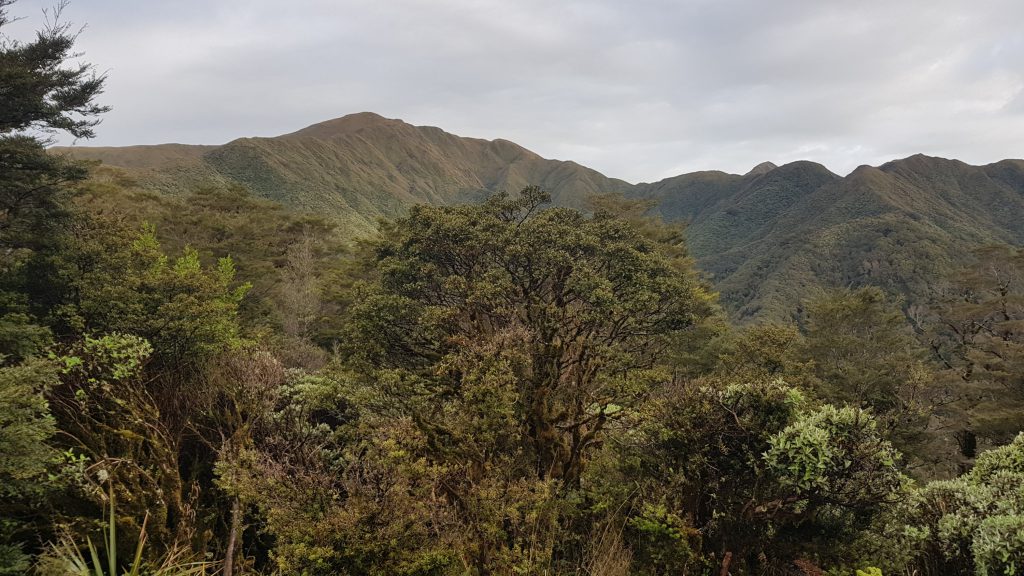 The seven of us were in our sleeping bags at 8pm, but we heard noises and then a new person turned up in the hut. It was still light outside, and I've always said that turning up at a hut late is fine, as long as it is still light outside.
Tomorrow we really push into the hard stuff. We're planning on getting up at 6am to start early tomorrow, and doing both of the upcoming two summits in one day. Ethan wants to finish the North Island before Monday and I'd like to be in Wellington for the weekend so hopefully we can do this.
Today's walk on the map (blue = Te Araroa, red = today's walk):