Date: 12 December
Trail covered: 35.8km (kms 1590.0 to 1625.8)
Weather: stunning… again
This morning I woke up at 2am to hear the familiar sound of a possum. It didn't sound like it was near the tent… but it was definitely nearby somewhere. Fast forward to 6am – there are two possums now so of course they're hissing at each other and fighting. Ok, looks like I'm up now.
The Reikorangi cafe doesn't open until 10am, and it's only just over two hours from here so maybe if I don't rush I can still visit it. It's often nice to take time to go slowly and stop and smell the roses but I'm now out of water so I'm looking forward to finally getting back to civilisation. I had another wrap with peanut butter for breakfast (as it's all I had left) and I was on my way by 7am.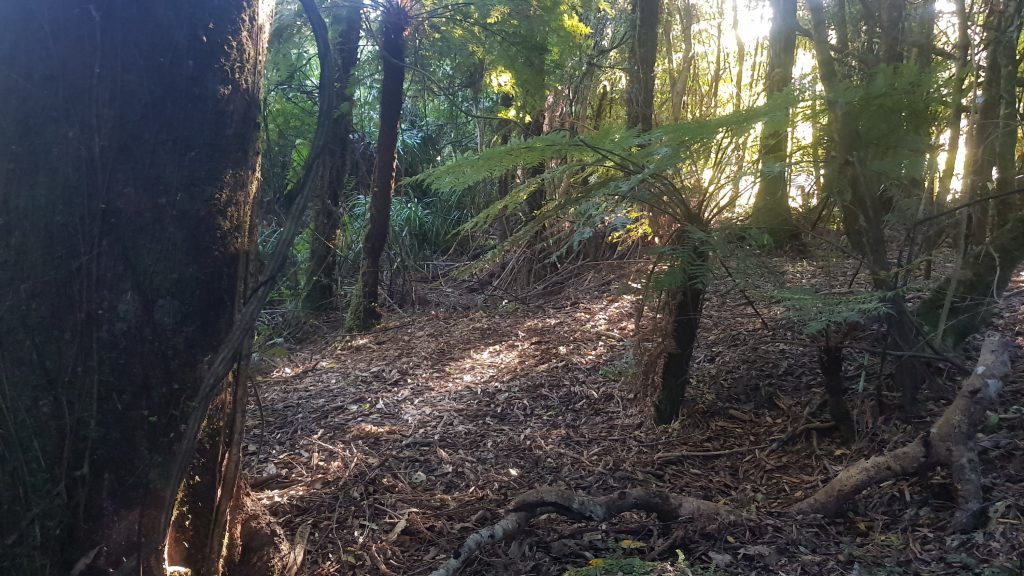 Once inside the private property area the view didn't change at first…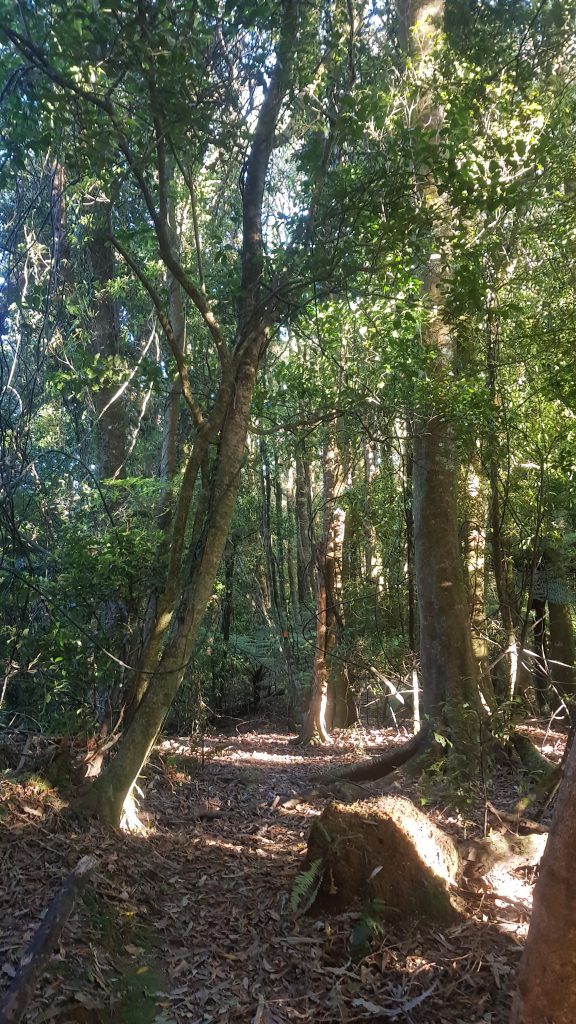 But then suddenly you come out of the forest and it's clear you're in a logging area.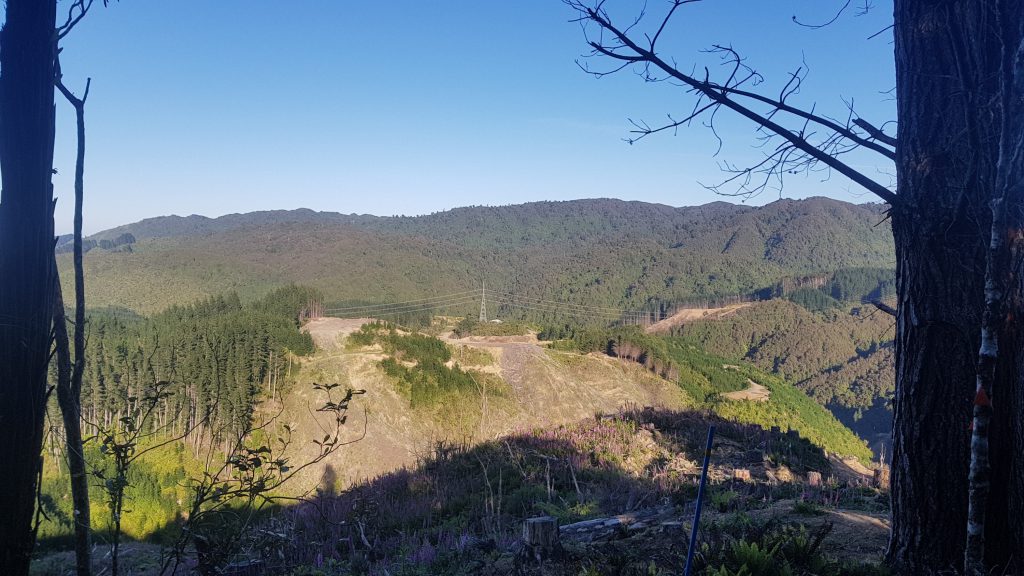 The "road" down was a lot of stones, some were really steep. It must take a really chunky vehicle to navigate these pathways.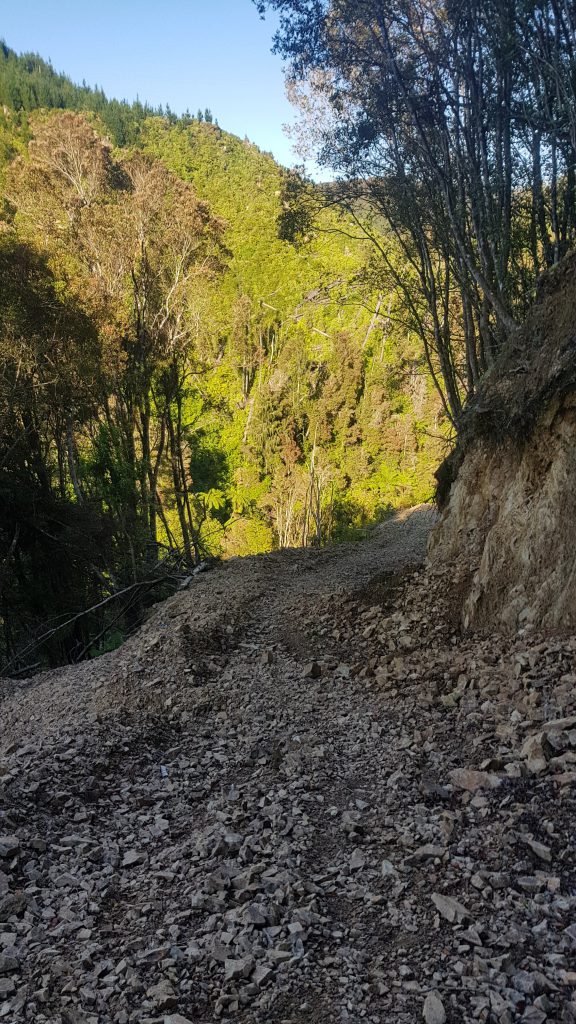 Not long after there was a stream where I could finally refill my water supplies. And I managed to get across without getting wet boots and without having to take them off.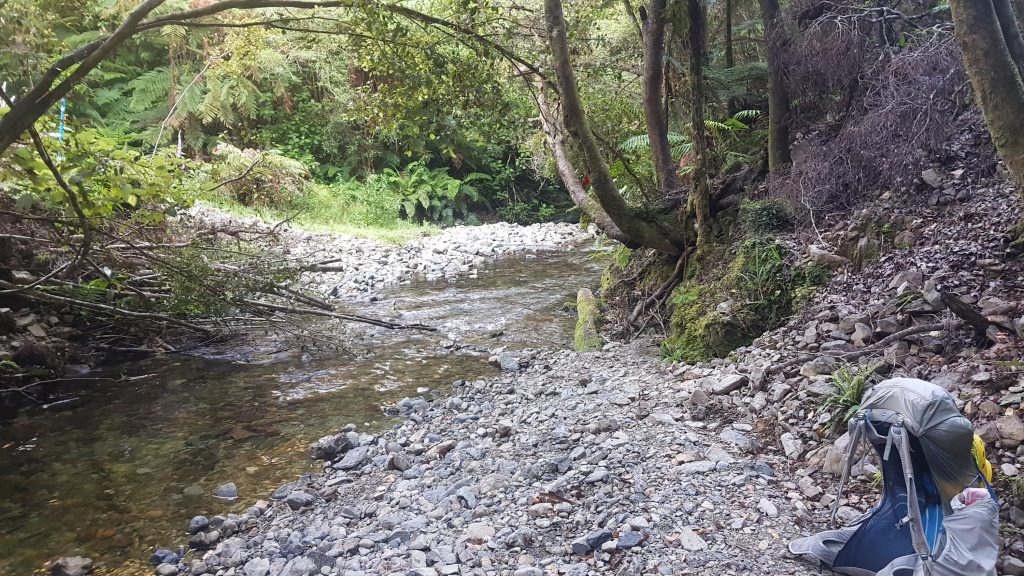 Still more walking down the forestry road. But I never slipped. Hooray for the new boots!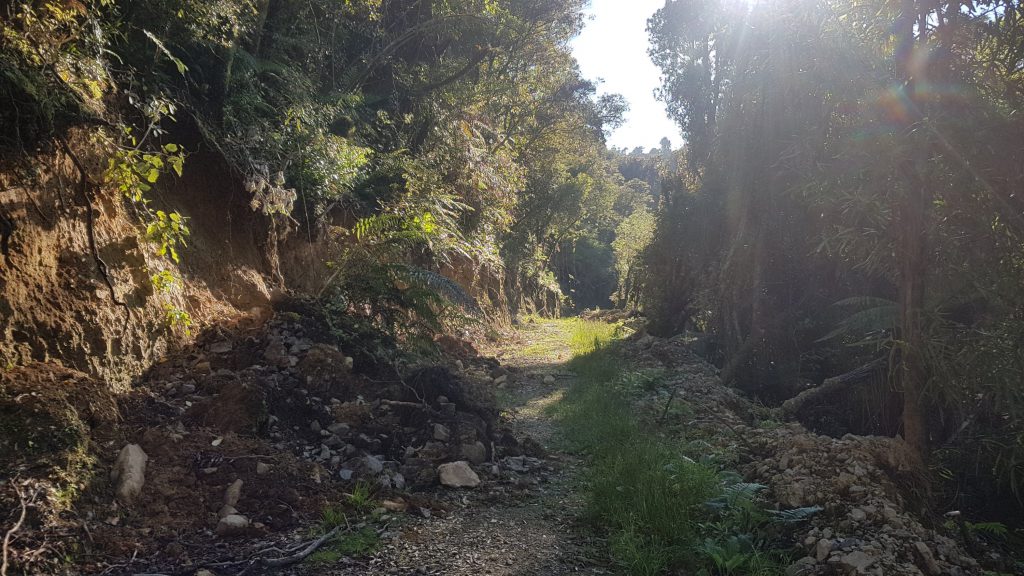 Out on the road I took a moment to look at the sign. The sign at the other end said 6-7 hours, which was much longer than it actually took… but this one says 7-8 hours! I'm really surprised at the variance in the signs, and how some of them underestimate a lot (like the ones from yesterday) and some overestimate a lot.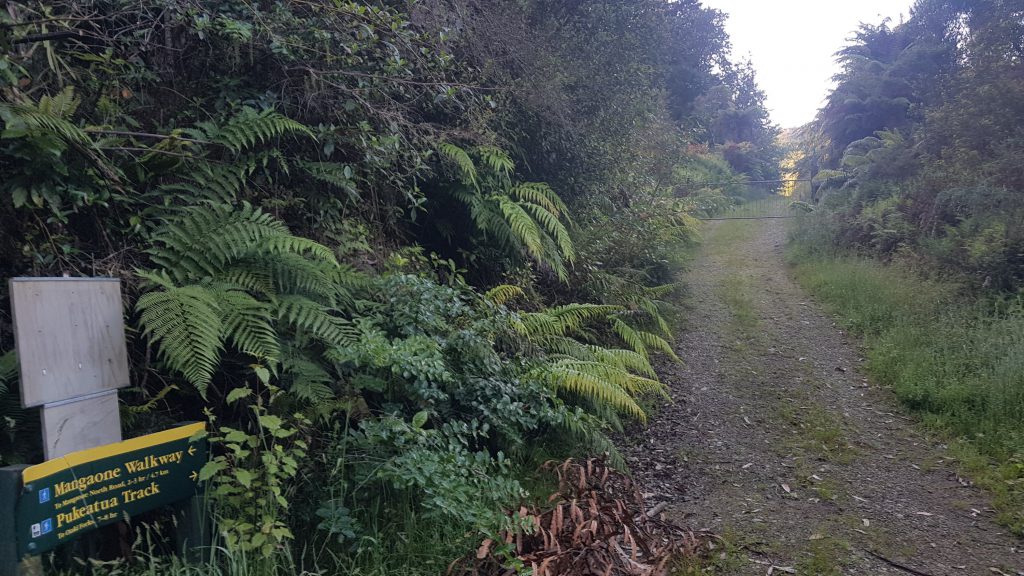 After one more swingbridge…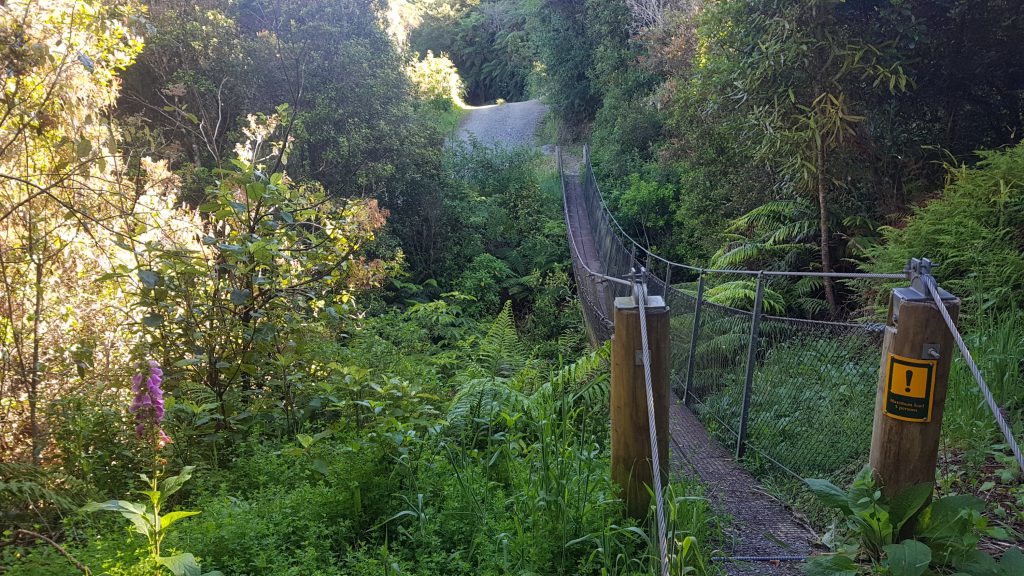 And one more information board…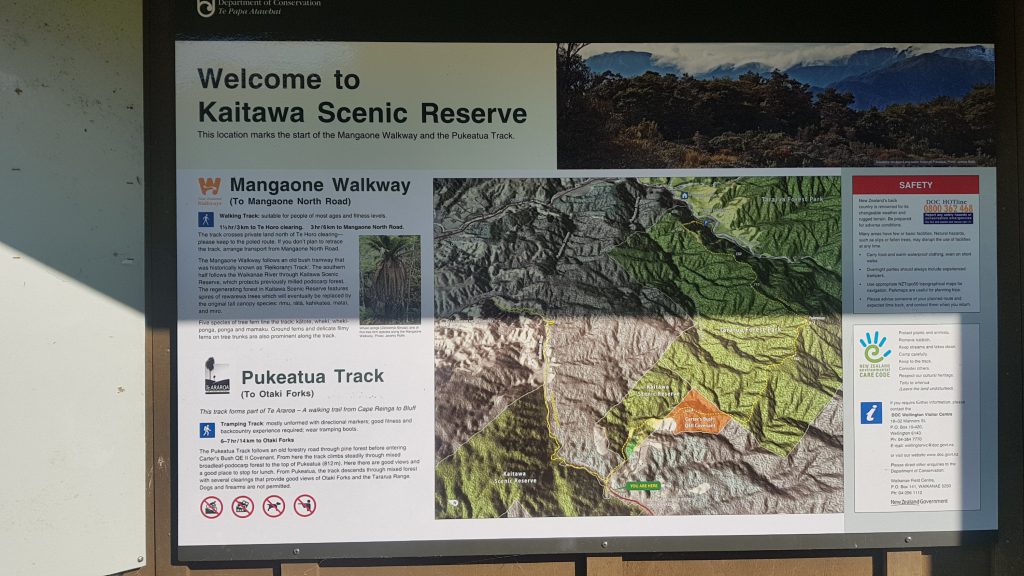 I was on my way for the road-walking section. There was still a good couple of hours of road walking into Waikanae. The gravel road was fairly uneventful although at one point this truck came hurtling down the road. I bet it would be difficult if anyone was coming the other way.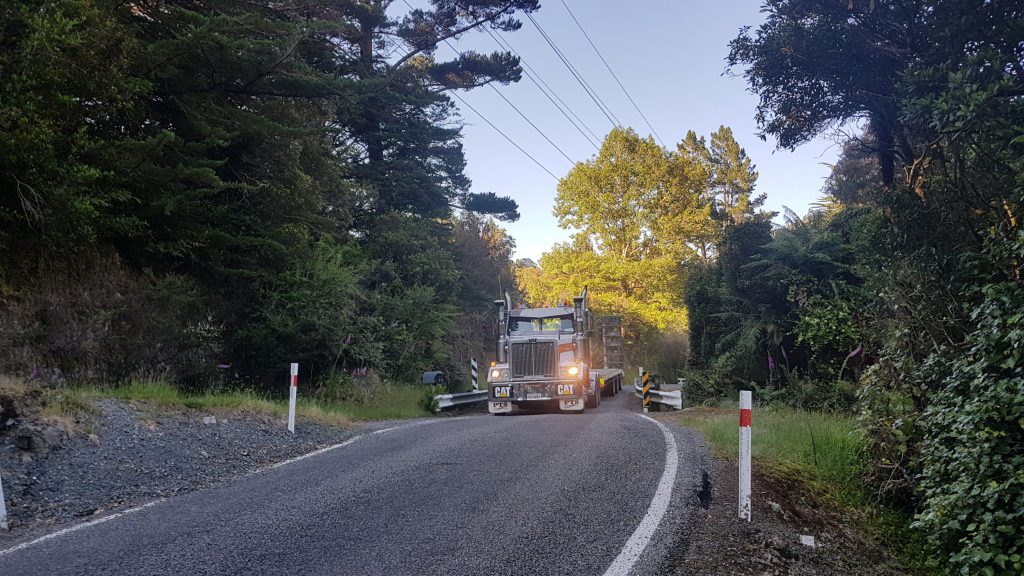 I wondered what this truck was doing down this dead-end road, and I figured it must be something to do with the logging operation. But then five minutes later, here it is coming back the other way.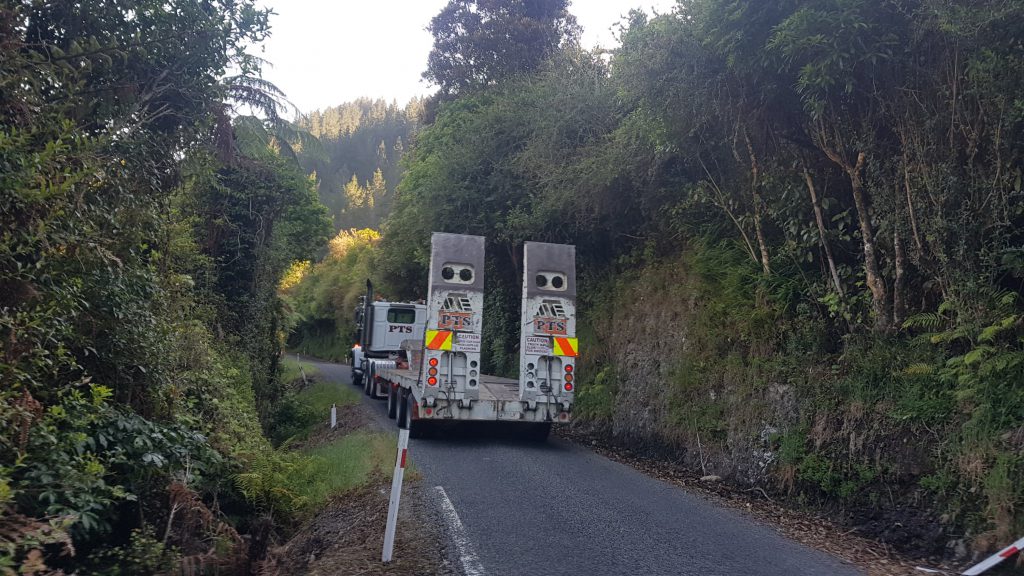 I feel like it was going to be a very hot day today once I get to Waikanae and have to do a beach walk. There wasn't a cloud in the sky.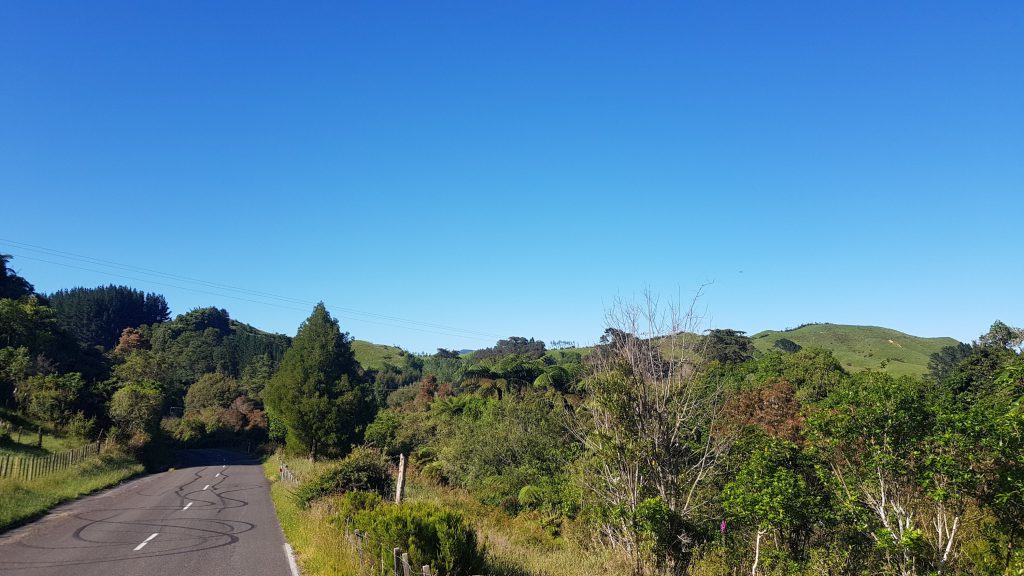 I used this time to see what accommodation was around. Paekakariki seemed like a good distance to walk – it would be 35km from where I camped and then from there just two more days and I would be at the end of the North Island – exciting. The only accommodation other than the holiday park was an AirBNB – I had a brief look and the ad mentioned homemade bread and Swiss muesli, and for an extra $20 I could have a home-cooked vegetarian dinner. Without even looking at any of the pictures, I was sold, and I booked it.
Walking a bit further, I had a brief bit of excitement when I thought I saw a building in the distance – it must be the cafe.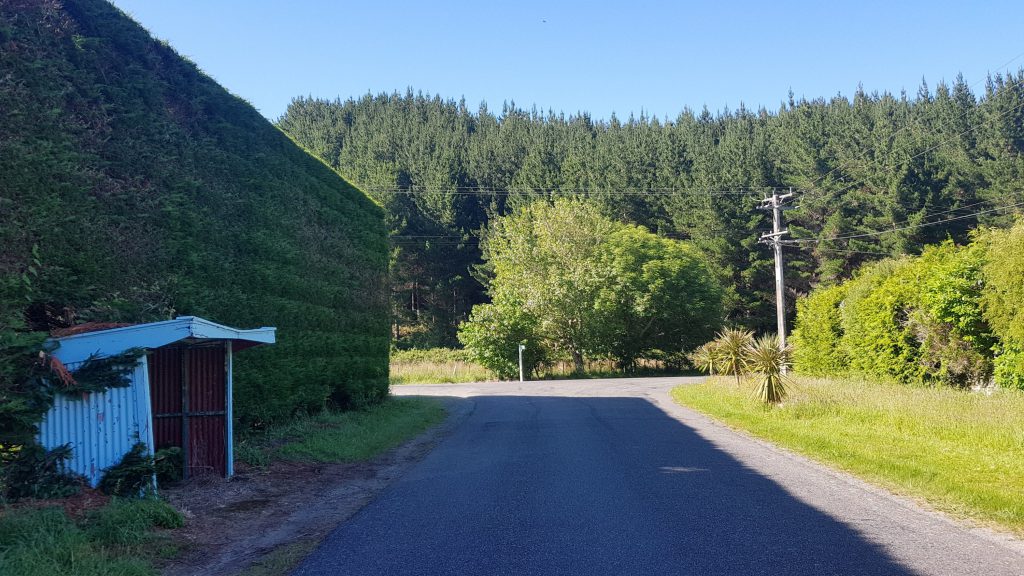 Oops… it clearly wasn't the cafe, it was just a little shelter. Never mind, it's only 9:15am and the cafe is unlikely to be open anyway, so I turned right at the intersection above and kept going for a bit. But after a short distance further I looked at Guthook, and after a brief panic I'd taken a wrong road because the GPS hadn't settled, I realised that I had somehow gone right past the cafe. I didn't even see it. I'll just have to assume that it was closed anyway.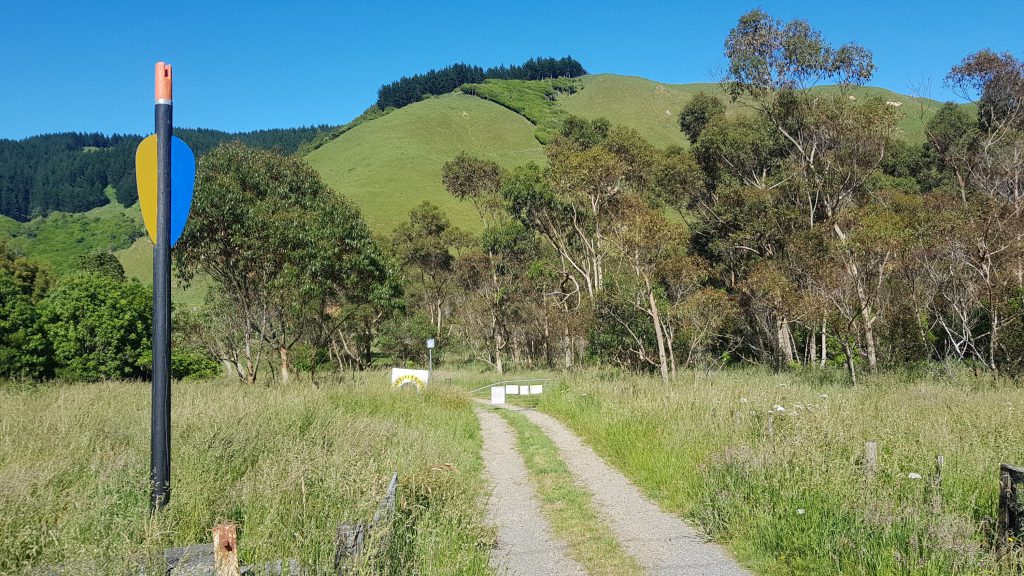 It was around this time that I got a text from Jason (of Jason and Abby – the Walk for non-violence couple). It said: "When you're past Otaki Forks and past the Pukeatua summit, text me as soon as you get coverage and I'll meet you with some beers". That sounded so good… problem was, I was already past that point! The problem with going too fast, eh? Then he offered for me to join an event he has on in Waikanae later that day but the problem there was I had already booked my AirBNB in Paekakariki. It was a shame that we just weren't able to meet up.
My friend Paul had been wanting to walk with me and last night I tried to see if he could meet me tomorrow to do the Escarpment Track which is coming up. It would have been perfect because I will be staying just before the track and there was public transport for Paul to get home. But it didn't work because by some chance he was away on the day that I was doing that track. I was quite disappointed!
Also I've had other people wanting to meet up with me as well and it just is too hard. The biggest problem is that people who want to walk with you have to get back to their car somehow, whereas I don't have to. The next biggest problem is that people want you to give them some kind of date or time that you will be in a particular spot and that just isn't possible – it depends on the weather, unexpected injury, the plans of other people that you're travelling with, the unknown terrain coming up, and just the mood in general. So far my Mum has managed to walk with me for about 2km and my sister for about 1km, and I'm grateful that it happened. If you want to walk with a TA hiker then all the planets really do have to align!
I made it into Waikanae just after 10am, and the train station was surprisingly busy for that time.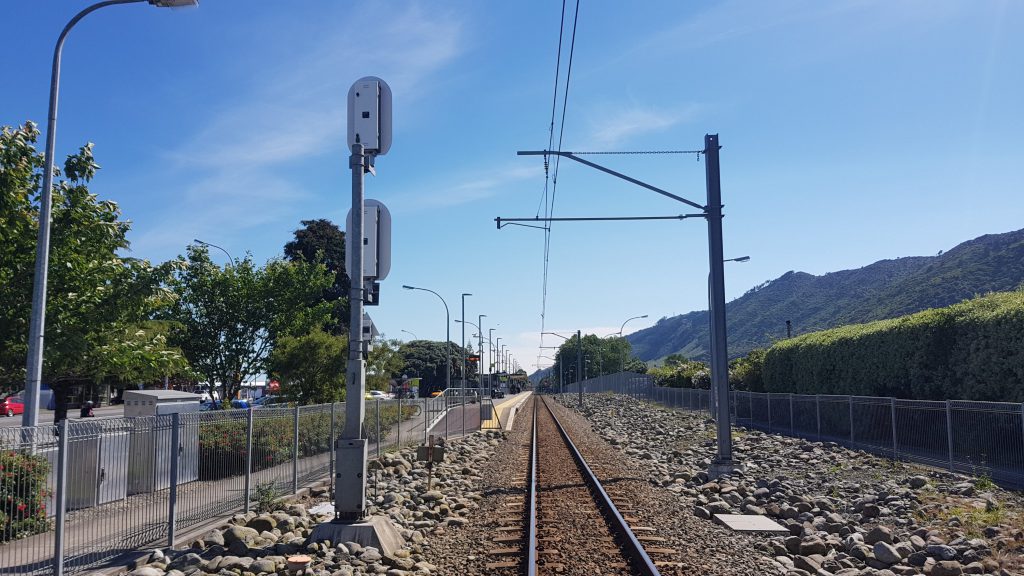 I found a "raw food" place. The food looked nice, but as soon as I found out they only had filter coffee, I had to go somewhere else. I wanted a big strong mochaccino and so I would have to look a bit further for it. I went to the Olive Grove Cafe around the corner, and this is what they gave me.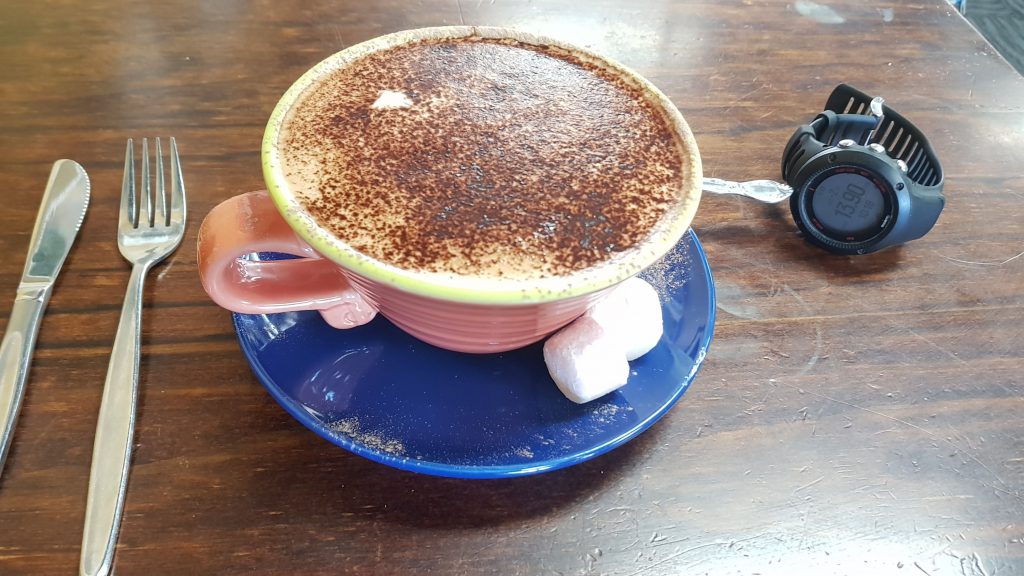 I tried to put other objects in the picture for some perspective, but it was hard to show the size of the coffee – until the food came out.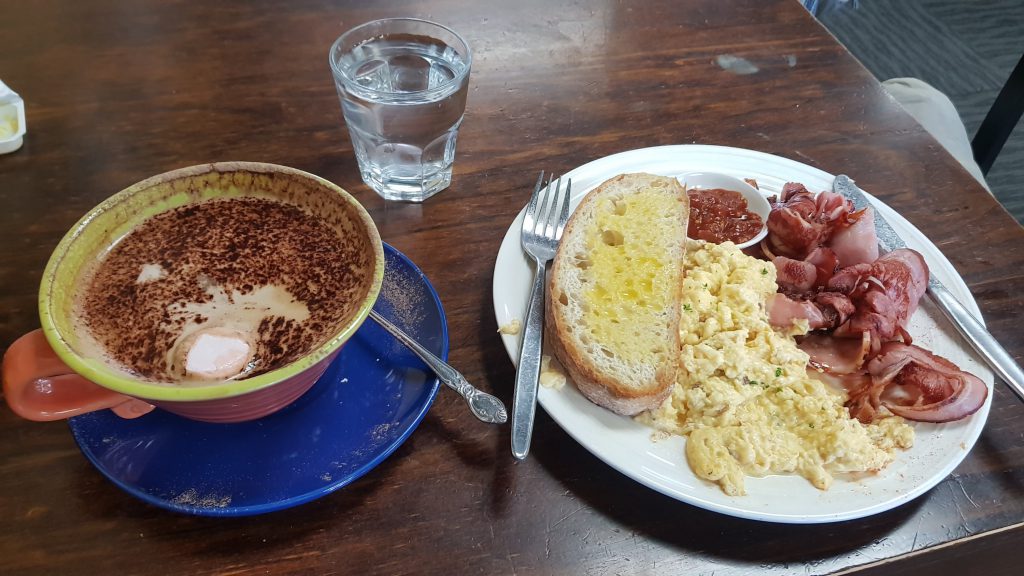 The coffee was almost the size of the plate. It was amazing.
I went to Countdown afterwards and the checkout lady said that "two American hikers" (I'm assuming Ethan and Alex) were there an hour before. Ethan messaged me to say they were staying at Pukerua Bay tonight so they are definitely ahead of me (but that was no surprise).
As I walked down the old State Highway 1 (before they built the Kapiti Expressway) it turned 11am.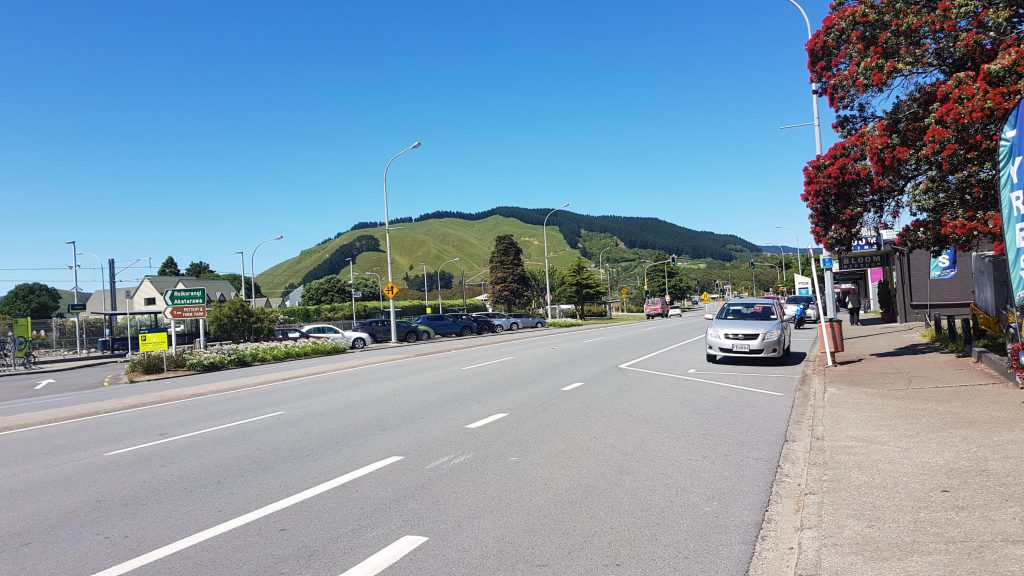 The sign on the left says "Reikorangi" which was interesting, I was sure I'd never heard of the place before but I should have seen this sign before when I used to live in Wellington and drive this way. It also says "Akatarawa". This is the road from Waikanae to Upper Hutt and is one of the few roads across the Tararua Forest Park. I drove it once when I was 19 – it was possibly the scariest road I have ever driven on. Massive hills on one side, massive drops on the other side, and it's only a small one-lane road for a lot of the time.
It was getting hot and so before continuing on I decided to get an iced coffee (despite the huge coffee I'd just recently had). I went to the GAS petrol station and they advertised iced coffee but the girl at the counter was new and didn't know how to make it. So I walked a bit further down to a place called Maison 8. They don't normally sell iced coffee but she was prepared to make coffee with milk and stick it in a glass with some ice. It was perfect.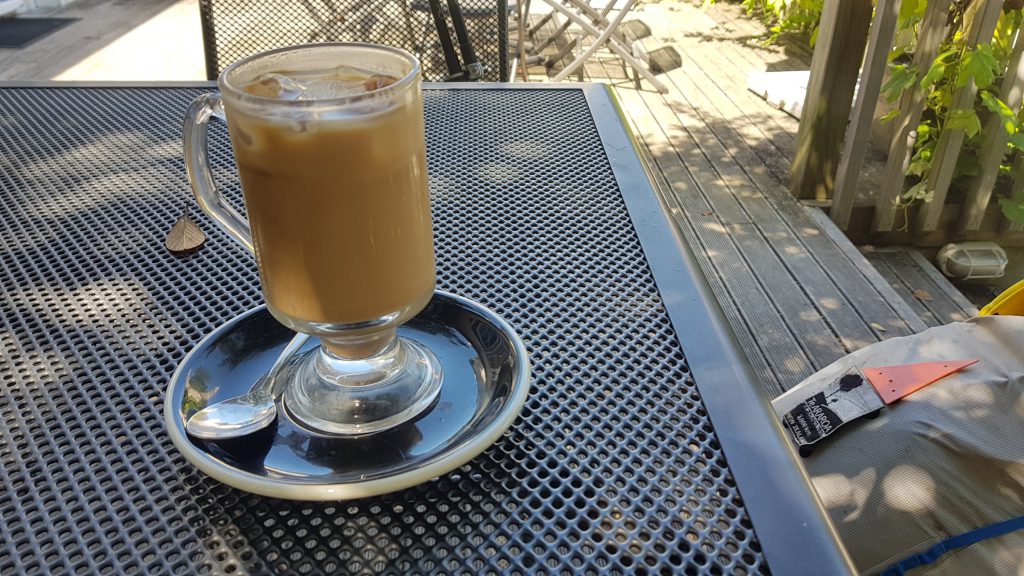 Then it was onto the Waikanae river path. For a "river path", it didn't spend a lot of time by the river.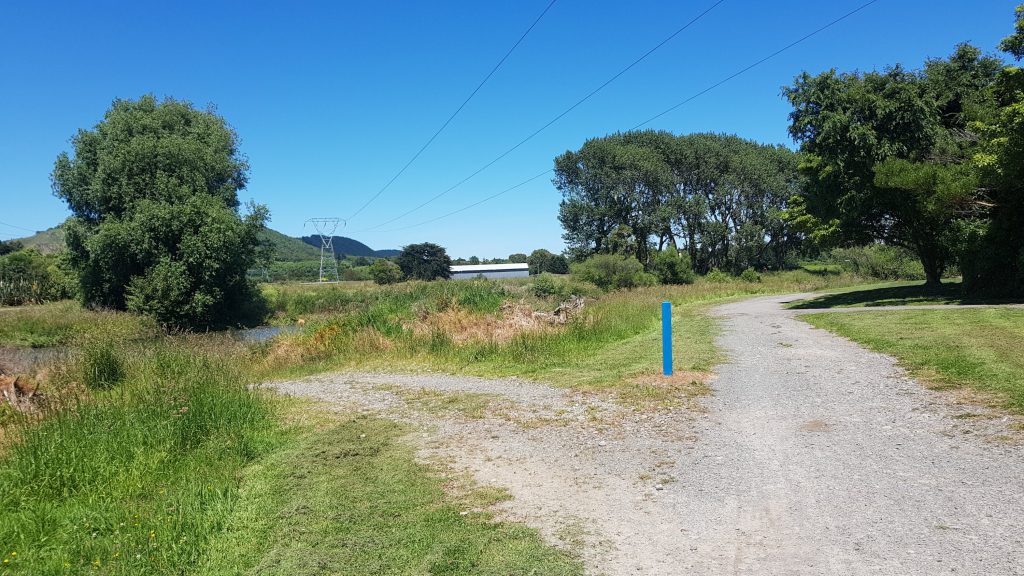 It did go past an equestrian centre…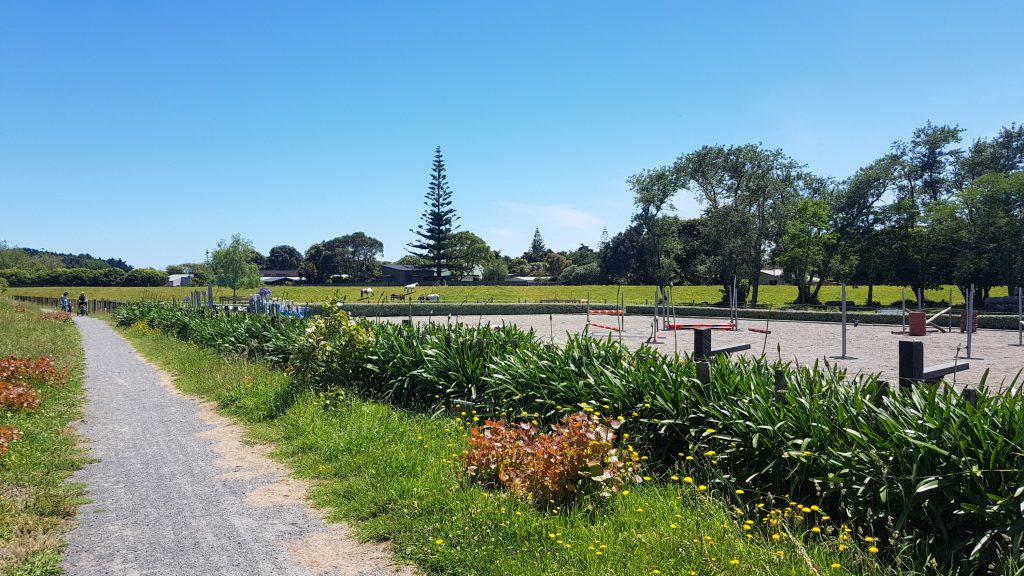 And under the new expressway which went over the river…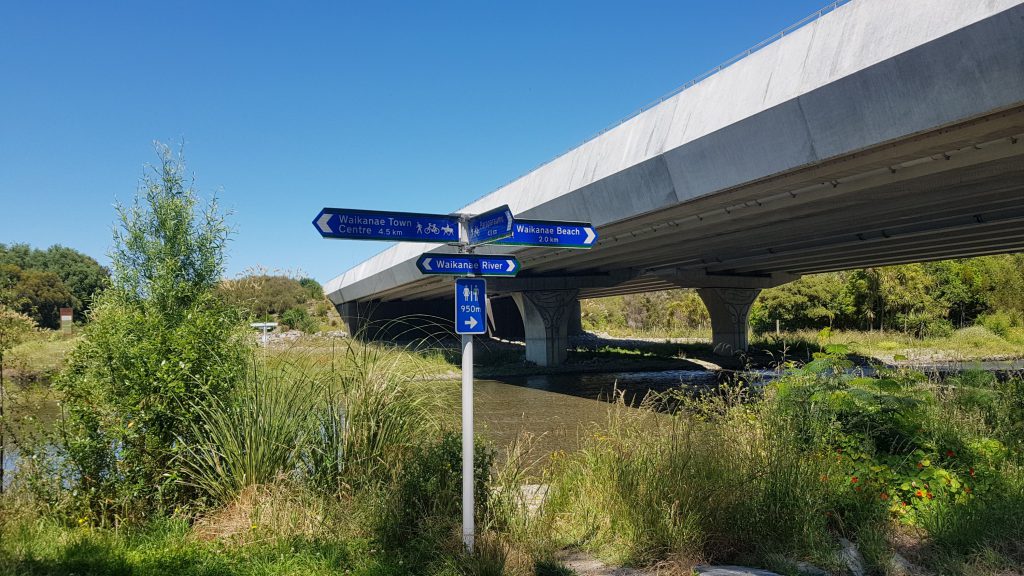 And up over this bridge.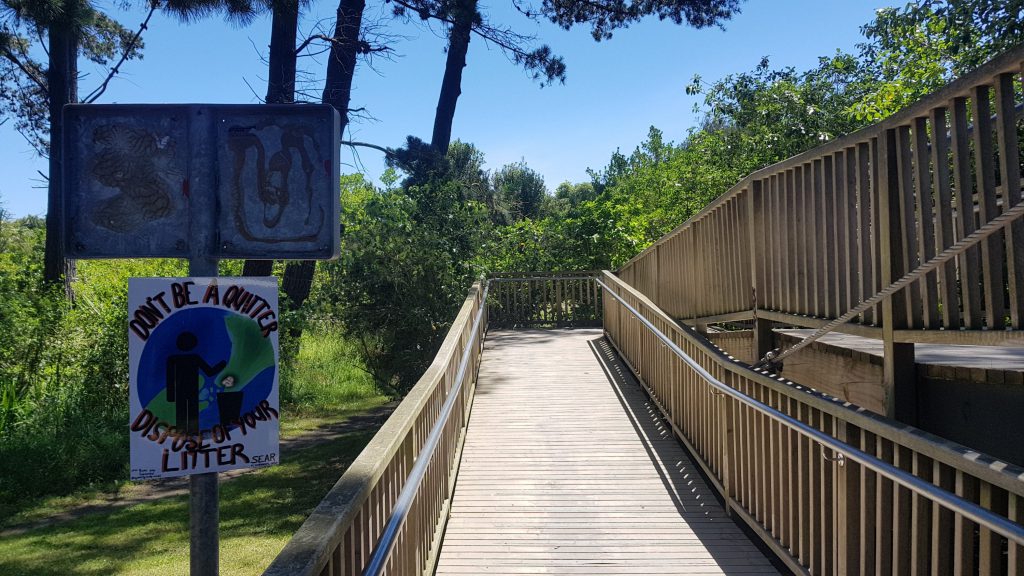 This part of the river really seemed like the place to be – there were kids everywhere.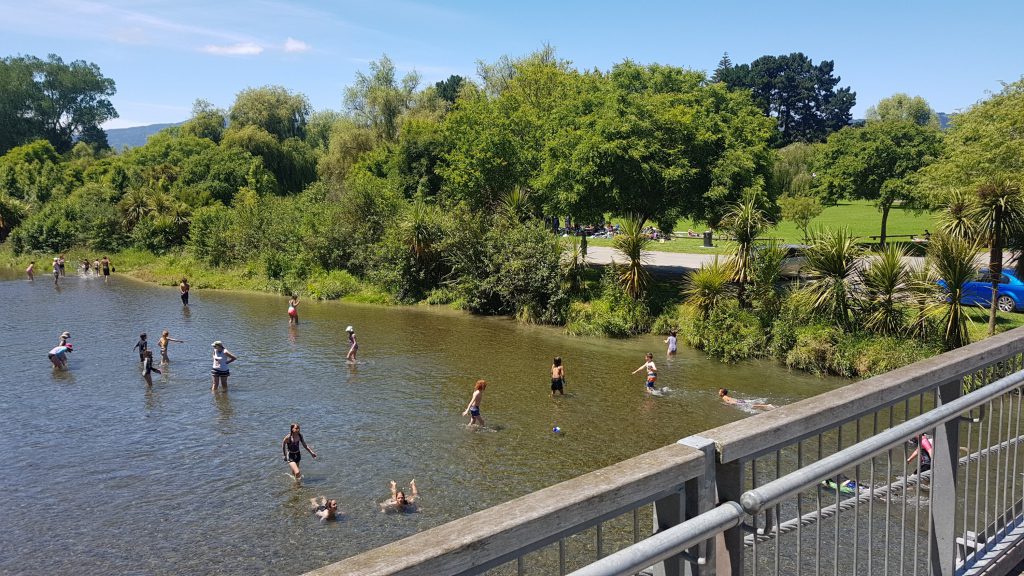 Not just here but at the Otaihanga Domain right next to it.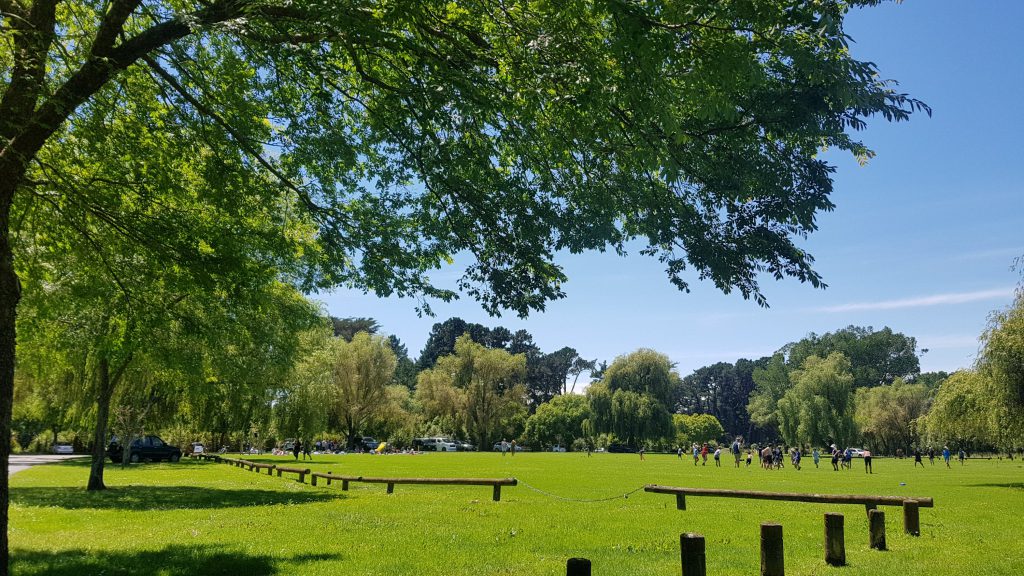 For the last 15 minutes or so it had been an uncomfortable walk, due to all the coffee I had consumed. So I took an hour or so here to find a geocache, and catch up on blog posts (with all the big days we've been having, I've been doing a lot of playing catch-up). It was nice to have a rest, and besides at my current pace I'd be at the AirBNB quite a bit earlier than I told the host I would. The kids in the domain were playing rugby the whole time I was there, it was fun to watch them and listen to the teacher get angry when they made mistakes.
This is what I bought from the Countdown earlier: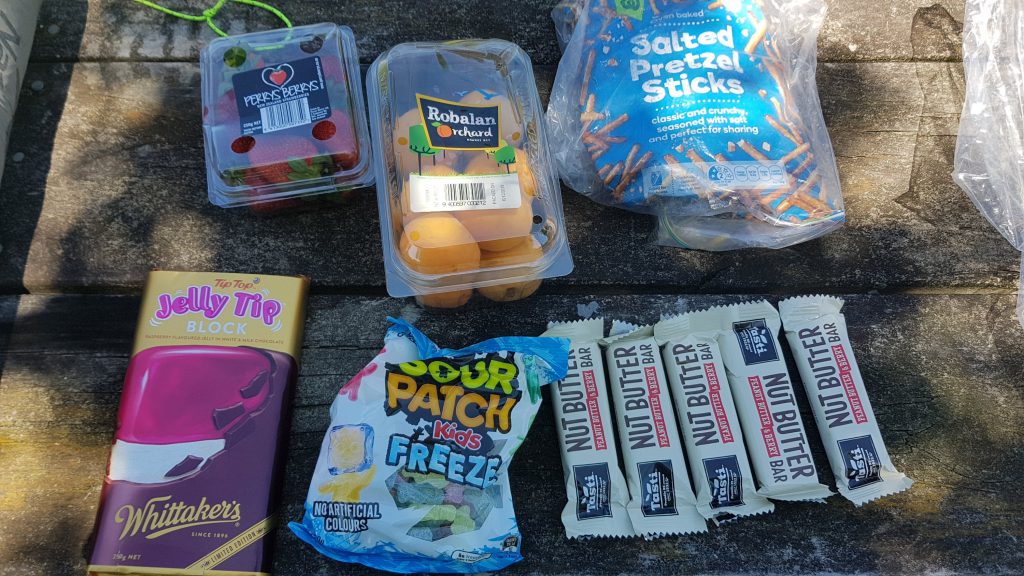 Just enough food for the parts between here and Wellington where there aren't any towns. There are a lot of little towns on the way so it's mostly just snack foods. I've had bad luck with buying fresh fruit from Countdown in Auckland but these strawberries and apricots were juicy and ripe and tasted like heaven.
Ethan pointed out on Messenger that where I had stopped was the 1000 mile mark so I thought that was worth a selfie.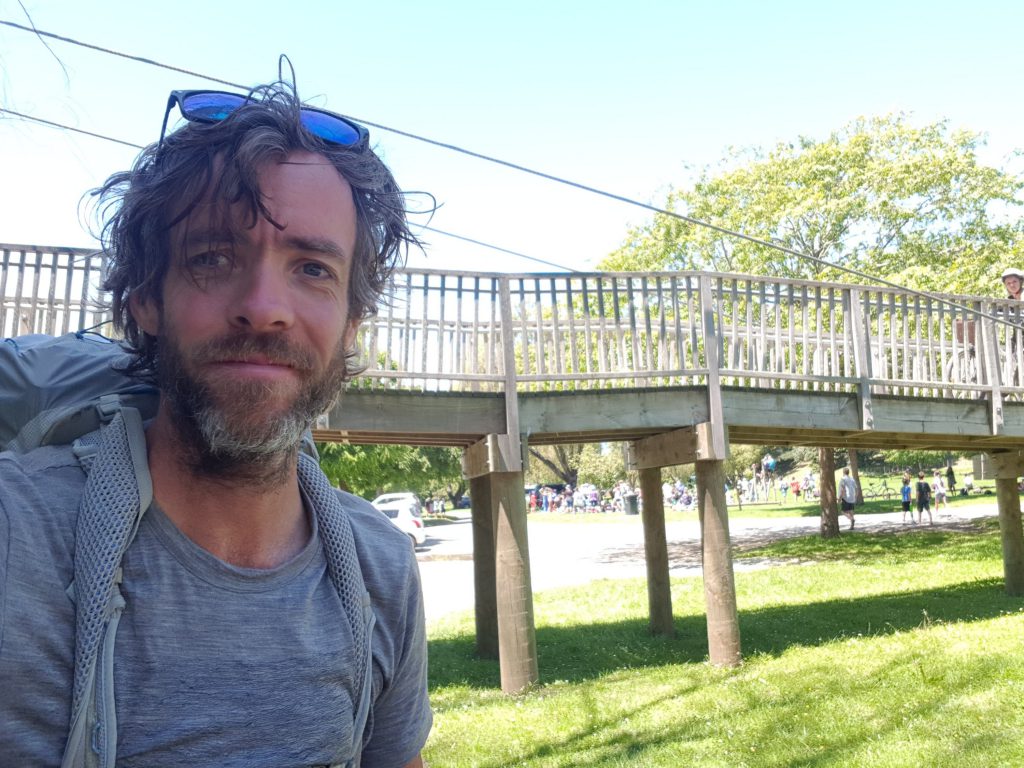 Once I felt better and all the coffee had settled down, I continued on, after a quick visit to the nicely painted bathroom.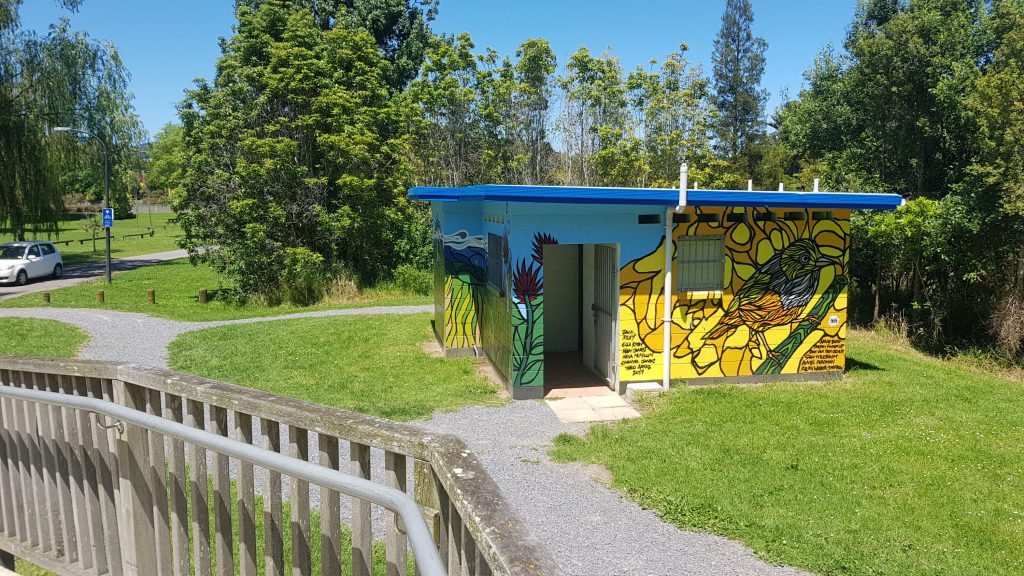 There was first a short bit of walkway connecting this area to the beach.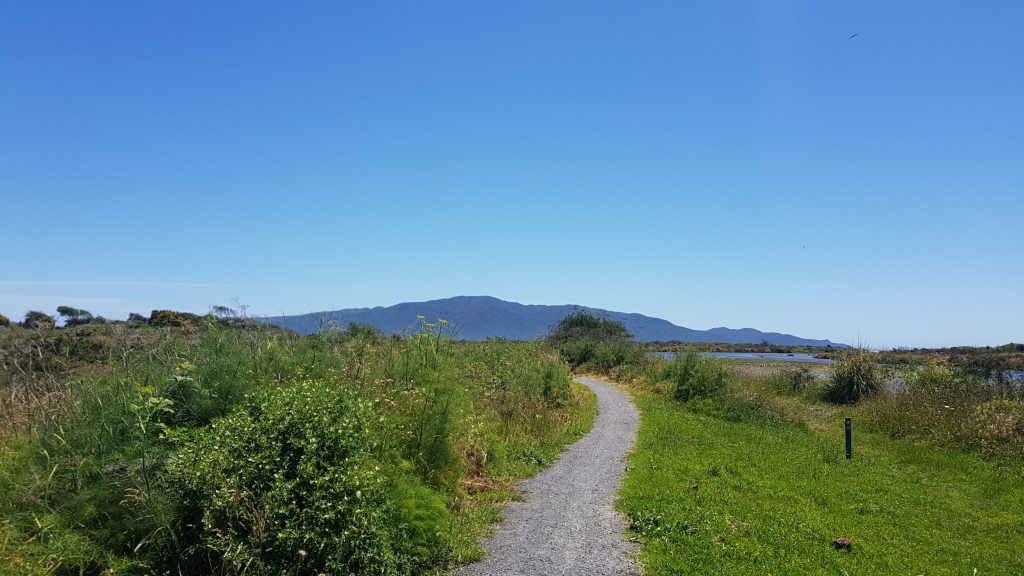 This is the "Waikanae Estuary Scientific Reserve".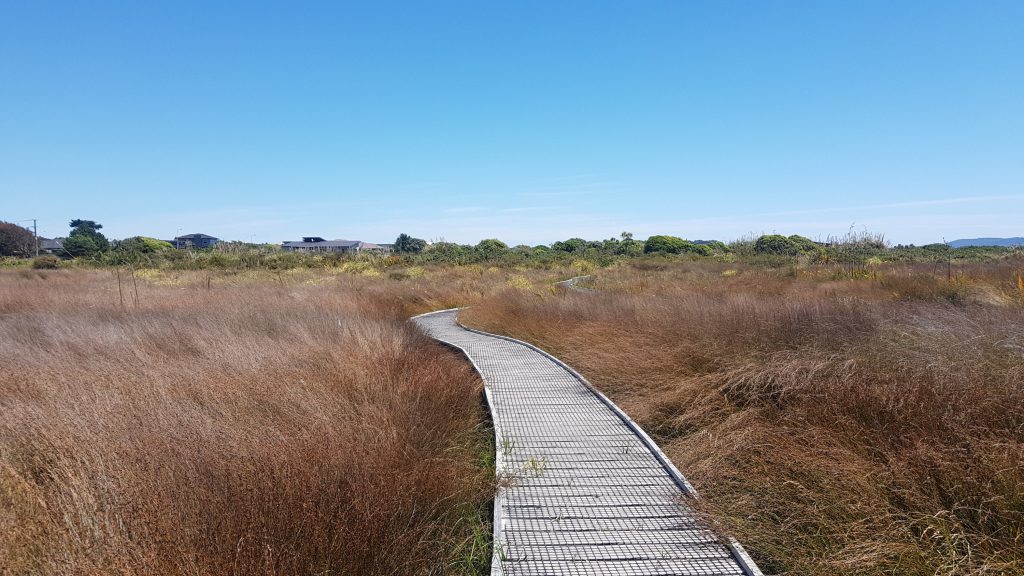 The rest of the day was all beach walk, as far as I was aware.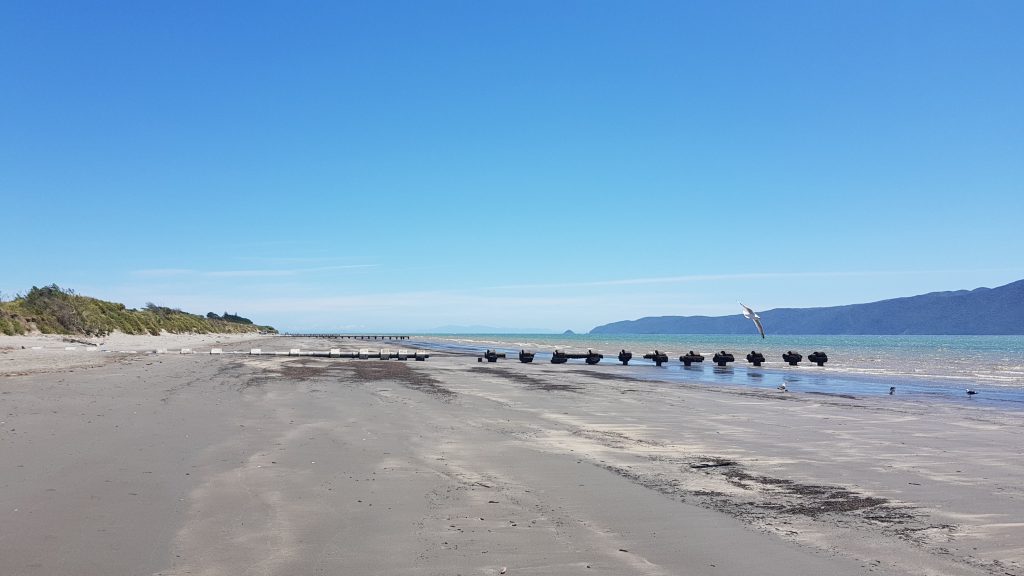 There was a headwind for the whole way. Normally I would say that was a bad thing but this time it was actually quite beneficial as I could tell that without this headwind it would have been boiling hot. The wind was just enough to take the edge off the heat.
You could tell when Paraparaumu Beach was coming up, because you could see all the cars at the boat ramp with their trailers.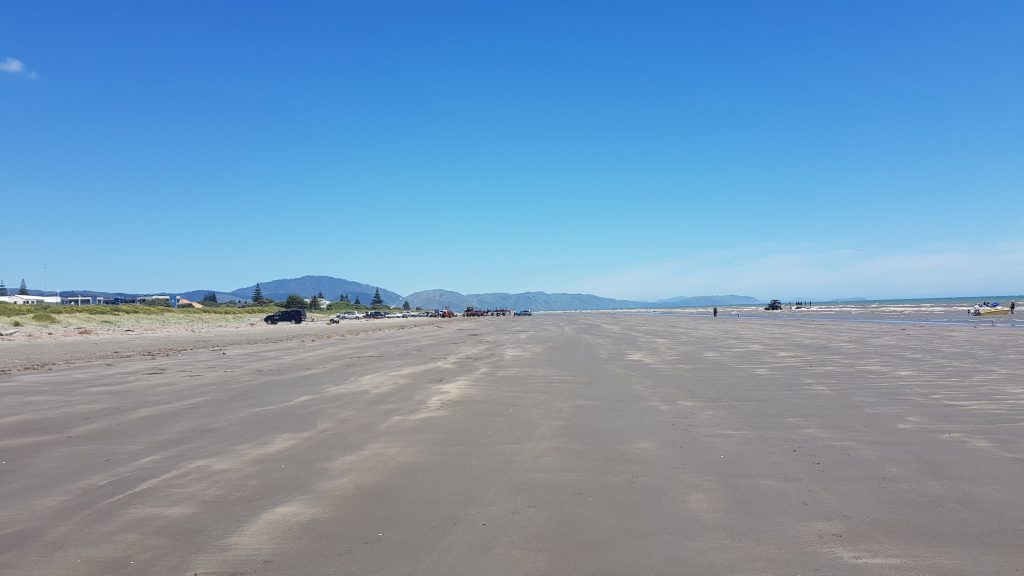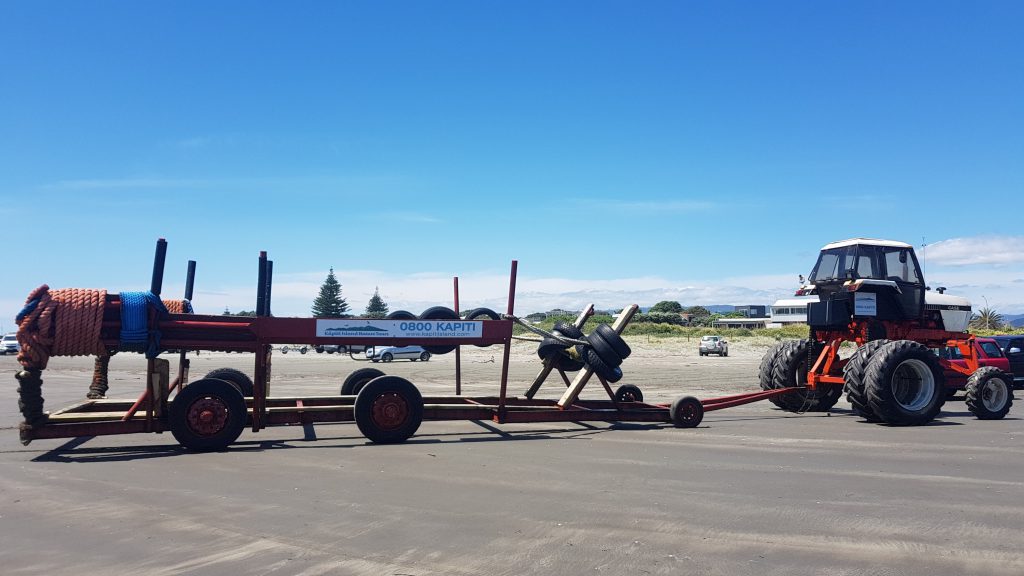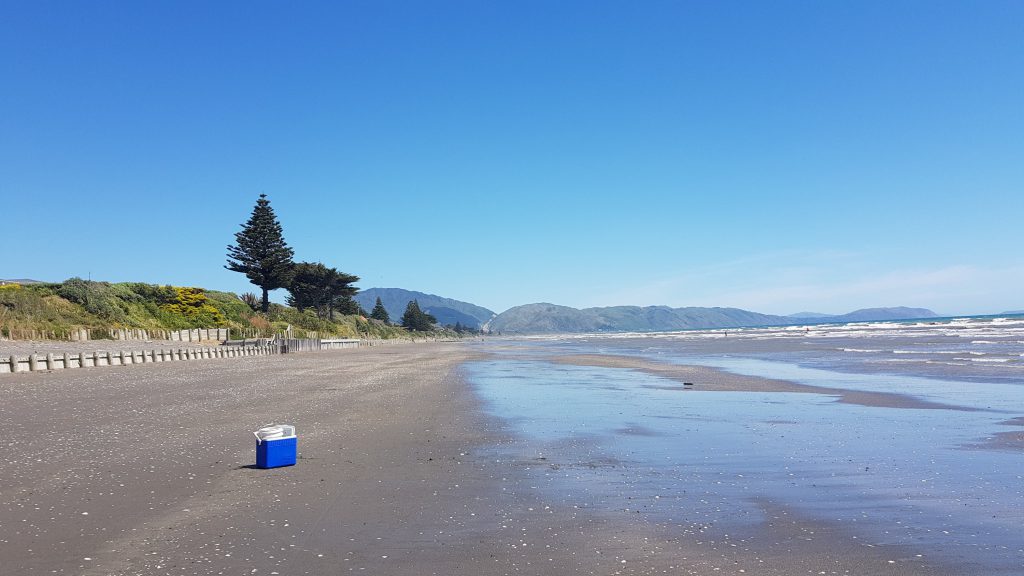 Some of the real estate along here was nice.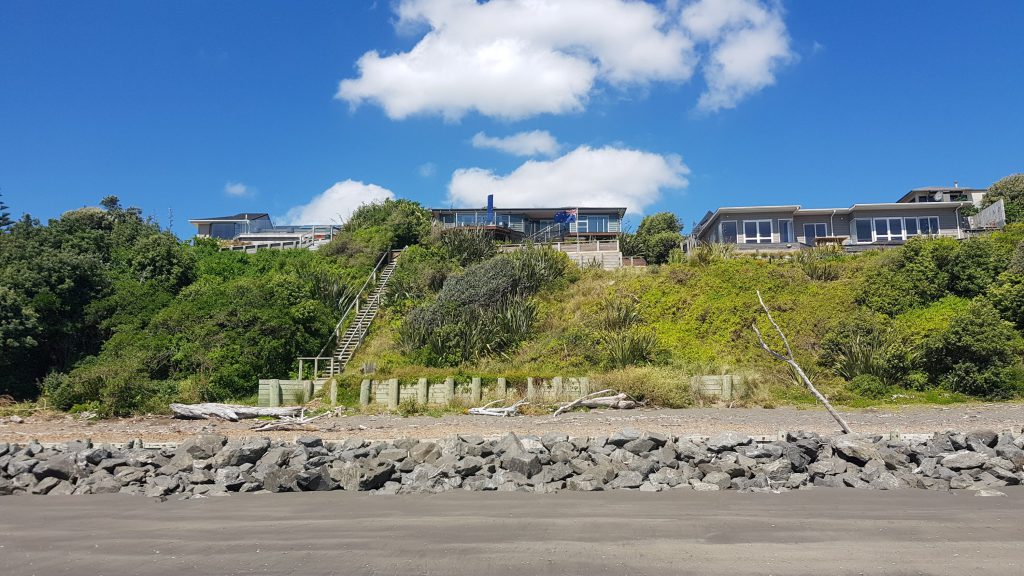 And some of it was "interesting".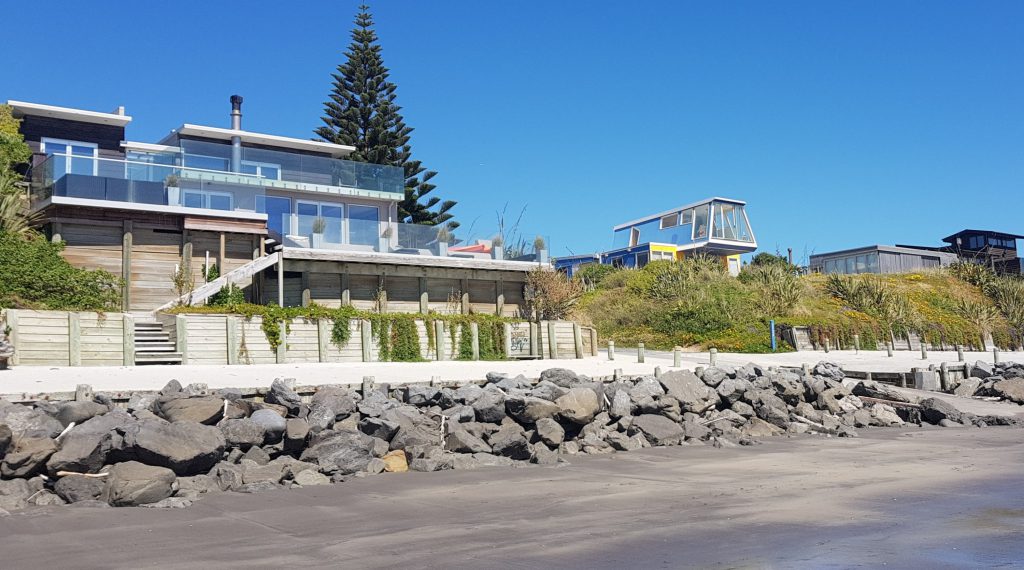 The map showed that a bit past here, you are supposed to exit the beach and follow the Coastal Track. However, that proved difficult.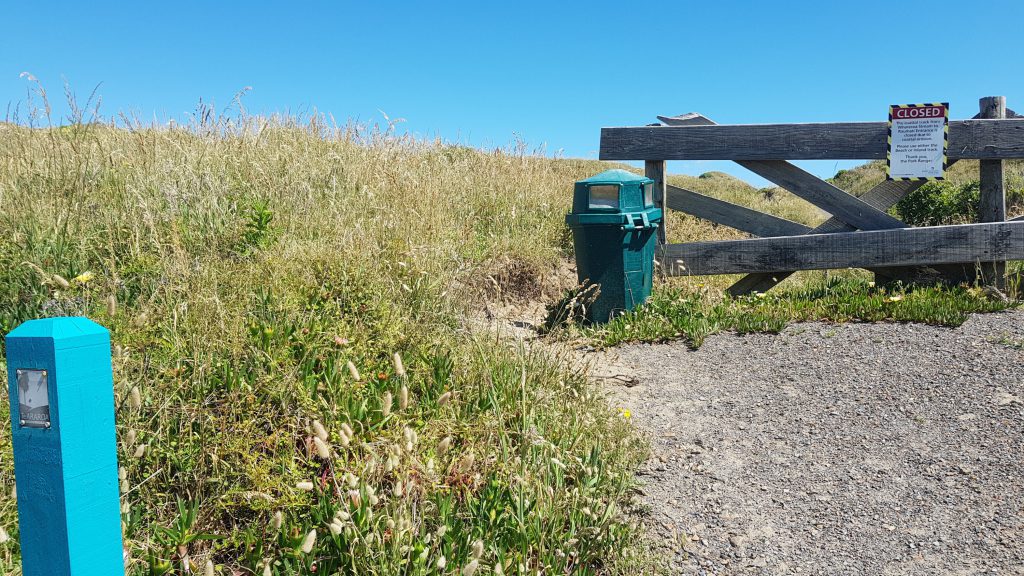 This photo proved that I at least tried to follow the official route, but was blocked due to "erosion". So I did what the sign said and continued down the beach. It was low tide, so there shouldn't be any problems with water crossings.
There was one stream I came across and rather than get my feet wet I walked up to the bridge that crossed it. I realised that this was the southern point where the Coastal Track was closed and so I could actually rejoin the trail here. As I suspected, it was hot out of the wind – the Coastal Track was quite sheltered and so suddenly I felt the heat really bad.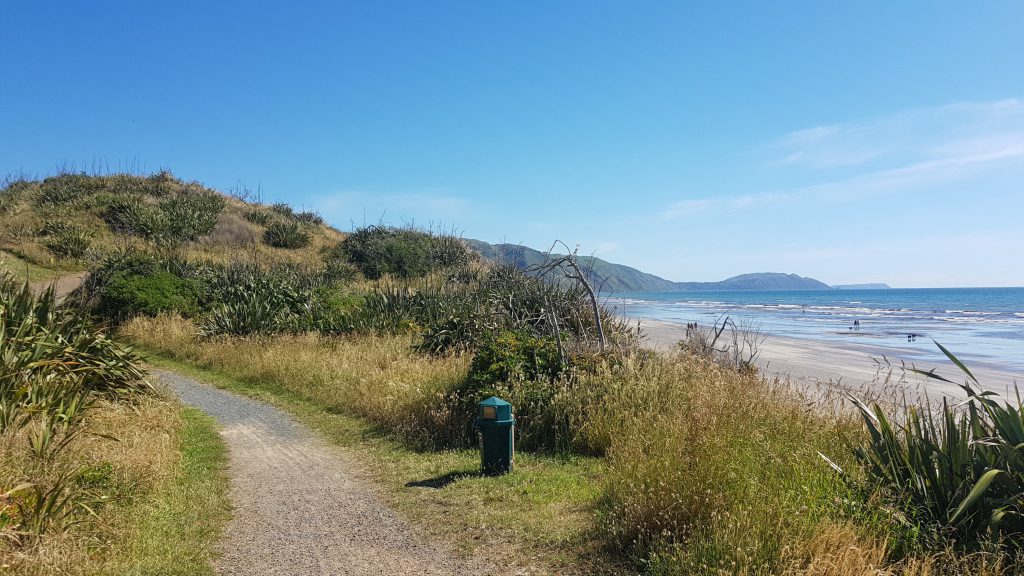 The total walk down the beach was about 15km. It was a nice walk but once I got into Paekakariki I realised just how sweaty and hot I was. At least when you turn up at a campsite, hut or even a motel looking ragged and stinky, it's okay. But because this is somebody's house, it feels inappropriate. And I had gotten quite sunburnt, especially my nose. But what can I do – not much!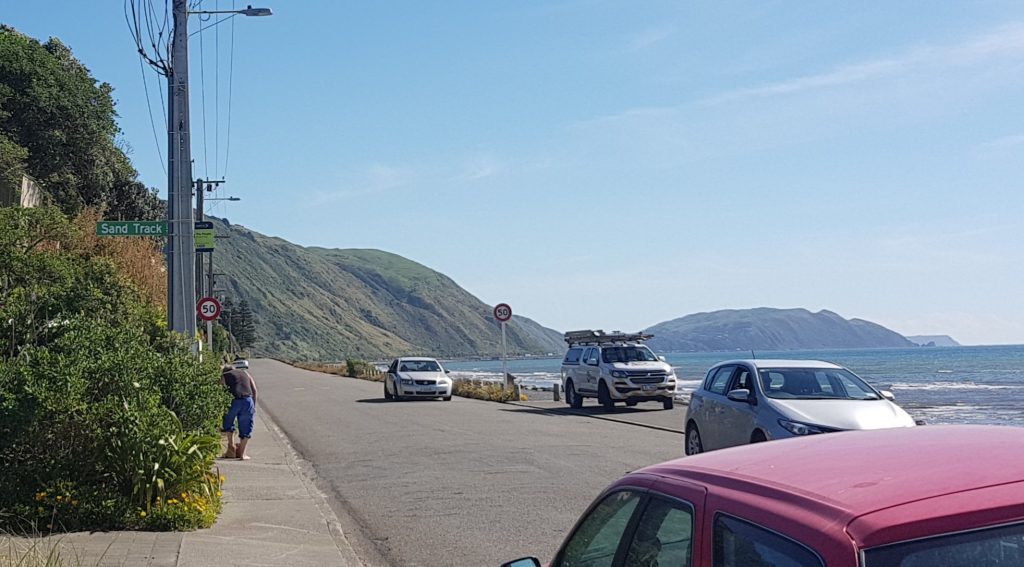 The AirBNB was a really nice place to stay, and Doris the host had heard of Te Araroa and so we spent a bit of time talking about it. The dinner she made was frittata with carrots, salad, toasted seeds and of course the homemade bread, and it was fantastic. She and her family are big into hiking themselves and know the Tararua Ranges inside and out.
I'd highly recommend staying here if you want more than just a tent site at the holiday park but don't want to pay too much. Here's the listing. Remember, if you are new to AirBNB and sign up with this link you apparently get between $19 and $69 off your first booking. This AirBNB was different to the one I stayed at in Kerikeri, this one was sharing a house with the host whereas in Kerikeri I had the place to myself. It was nice to have a home-cooked meal and some company for a couple of hours, and then we each had our own space in the big house after that.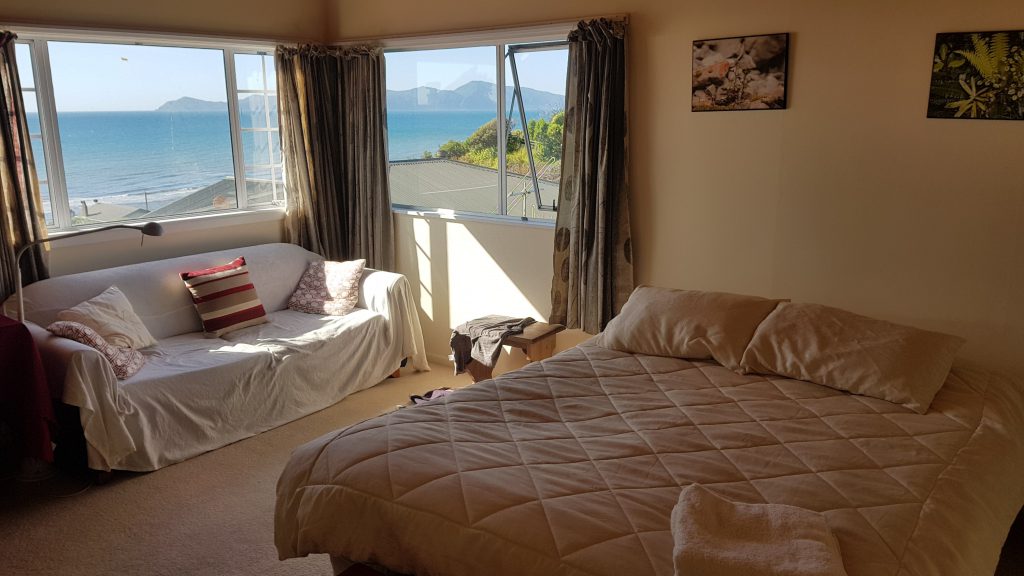 The only disappointment was that the room was upstairs and was roasting hot, and there was no fan in the house. It probably didn't help that I was so sunburnt – most people that stay would not have turned up so red and hot. I must have consumed about 10 litres of water today.
The plan is to do a 50km walk to Ngaio in Wellington tomorrow, as I have a friend that lives there. Then the next day I can leave my pack behind at her house and walk the last 21km or so with only essentials. The Escarpment track which is the next track I'll be on has a bit of elevation gain and then there are two 400 metre climbs, one in Porirua and one in Wellington. So if I want to get to Ngaio at a reasonable time with this kind of terrain, I'm going to have to get up at 5am and leave by 5:30am. Fun!
Sadly that means I wont get to try the homemade Swiss muesli because the host doesn't want to get up at 5am to serve it… but I'll forgive her for that one.
On the plus side, leaving that early I'm likely to pass or at least catch up to Alex and Ethan who are about 10km ahead of me right now!
Today's walk on the map (blue = Te Araroa, red = today's walk):