Date: 13 January
Trail covered: 17.3km (kms 1895.1 to 1912.4)
Weather: warm at first but then it rained
During the night we were again kept awake by mice. I swear that I heard one of them in my food bag despite the fact that I hung it on the back of the door and I also swear I heard another one in the bucket of water that's in the hut. Surely not.
When I woke up though, I inspected each item of food and couldn't find any evidence of nibblage. Although the mouse in the water turned out to be true.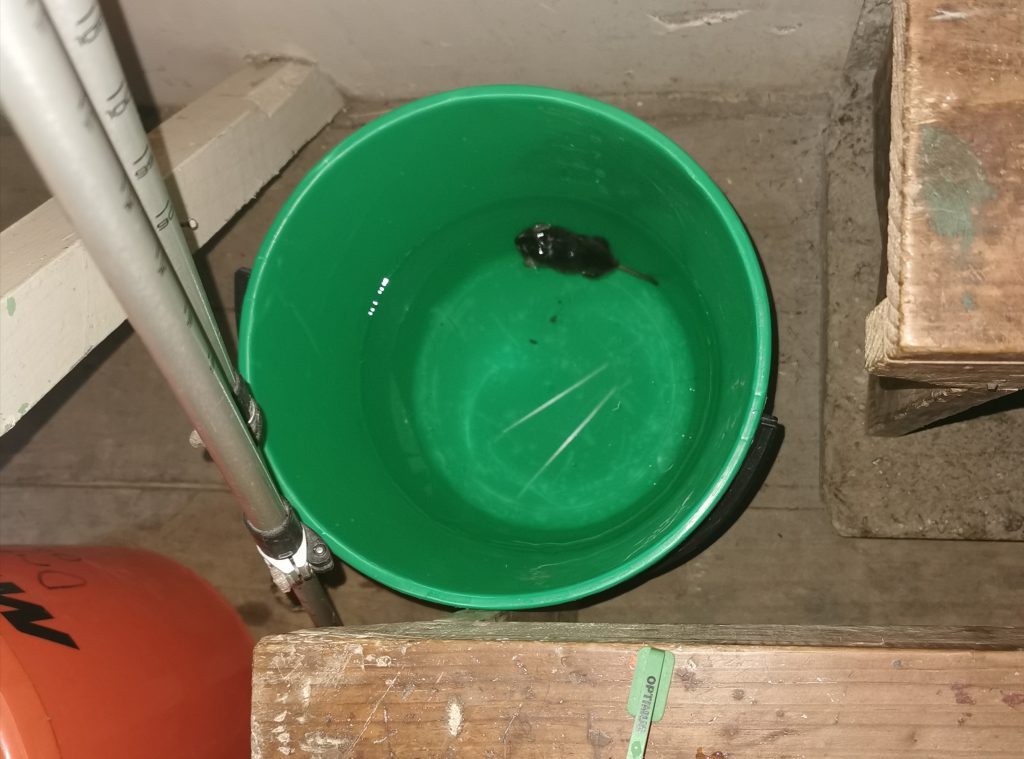 I think maybe it was on my pack which was beside the bucket and then something startled the mouse which caused it to drop. One of the others suggested we hid our food so well that the mouse committed suicide when it couldn't find any food.
We disposed of the mouse and then I did my usual thing where I head out to the loo and while outside try to determine where I'd be walking today. As usual it's another day of a large peak immediately after the hut. I think that's it there, in the distance near the top right corner of this photo.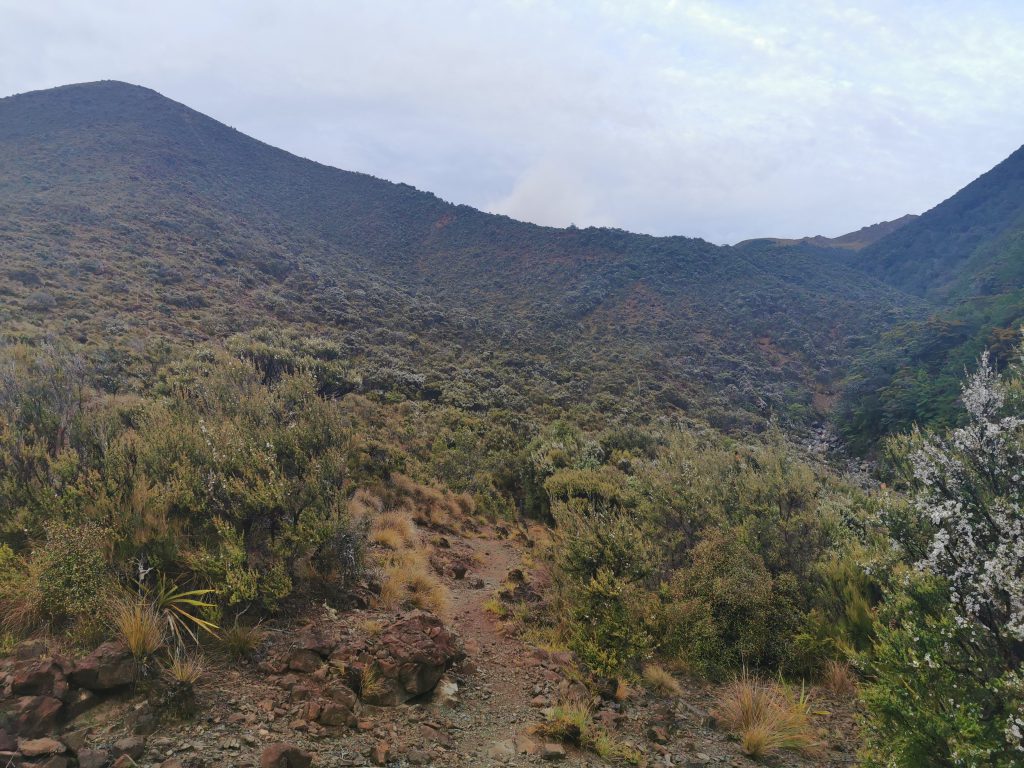 And I made sure I got a photo of the hut.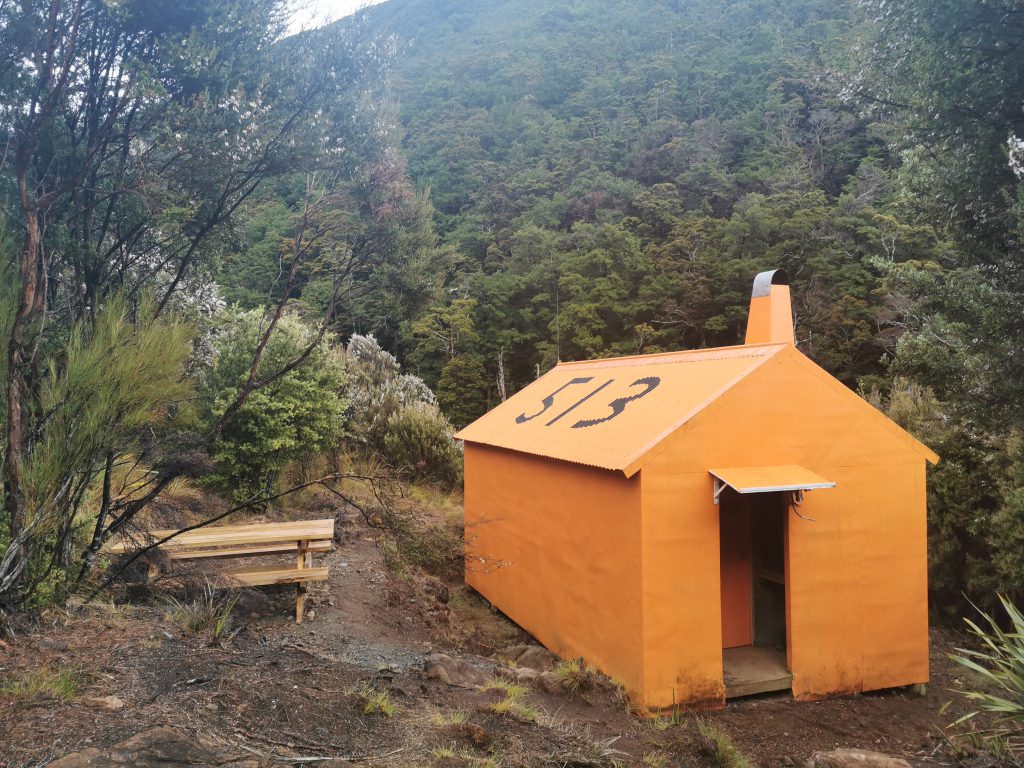 Looking at hut options today – Hunters Hut is the first hut but its estimate is five hours away so probably too close. Looks like the destination will be Porters Creek Hut, estimated at four hours past Hunters Hut. In saying that though, the first big peak is Mt Ellis – I'm about to head from the hut at elevation 840m up to a 1590m peak and back down to 730m. I might not feel like walking any more after that workout.
I didn't set out until 9:15am today, long after everyone else had already left. In a way it was nice to laze around a bit after everyone else had gone but in another way it felt like an inefficient use of time. I made porridge for breakfast since I had a bit of time and didn't have much cereal left.
Like expected the trail wasted no time going straight up the hill from the hut. Although this time the terrain is different. It's big rocks. Not the little rocks of Rintoul, these are big big chunky rocks.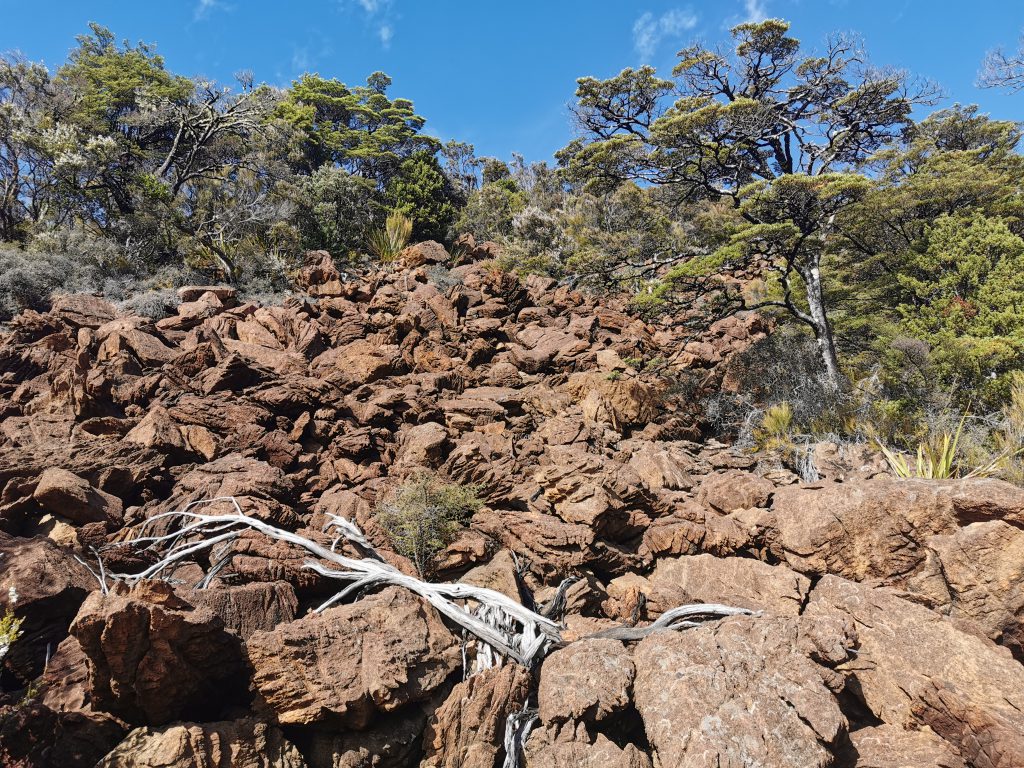 It's also not very well marked. It's the first section of the whole Richmond Ranges so far that I'd say needs more markers. I walked up to the top of the rocks in the photo above and then backtracked once I learned you're supposed to go to the right hand side once you're halfway up them. They're steep too. Making your way across them takes it out of you.
It may be only 9:30 but it's scorching hot. The sun is shining right on this side of the hill. There were a few clouds coming over but they were few and far between at this point.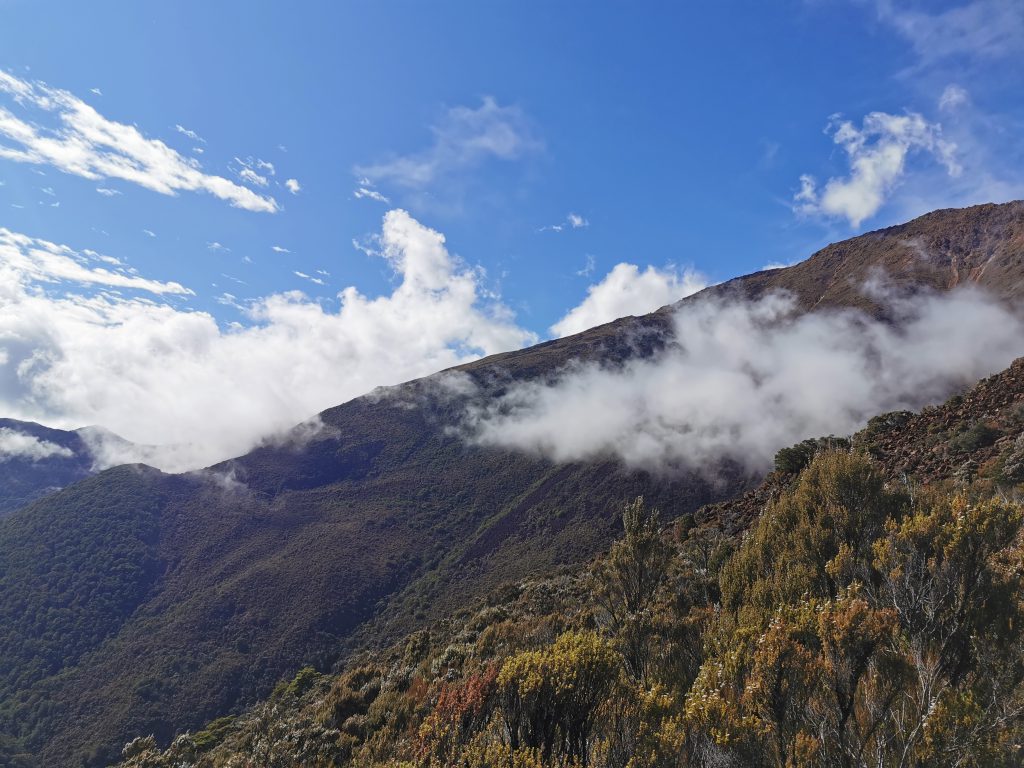 It's at this point I'd like to have a little gripe.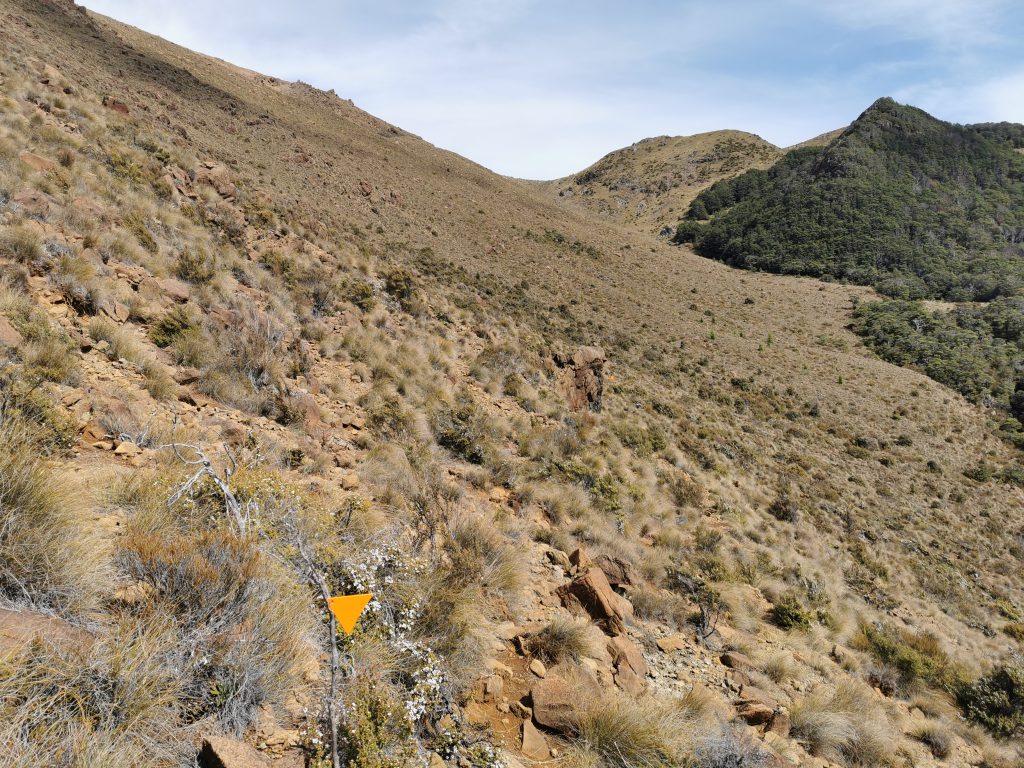 Who's idea was it to use equilateral triangles as markers? You can't tell which way they point because each side is the same. Take the photo above for instance. Which way is the triangle pointing? Who knows!
Most DOC tracks use the isosceles triangles which have two sides longer than the third and those ones are much easier to tell which way they're pointing. The track here though uses the stupid triangles (well, they're still better than no triangles at all).
It wasn't too long before I heard my stomach rumbling. It's not a sound I hear often – on every other part of the trail I have snacks which I would eat whenever I felt hungry. Here of course I forgot my snacks… and I'm often hungry soon after when I have porridge for breakfast. Even two sachets of oats doesn't keep me full for long.
Also unfortunately I felt the familiar twinge of my usual back pain and so I really had to stop for a bit.
So I stopped at this point and tried to look for what food I could eat and still have enough left over for tomorrow. I decided I could spare a protein bar and one piece of chocolate, and a bit of peanut butter from the jar.
This was my view while I was having breakfast #2: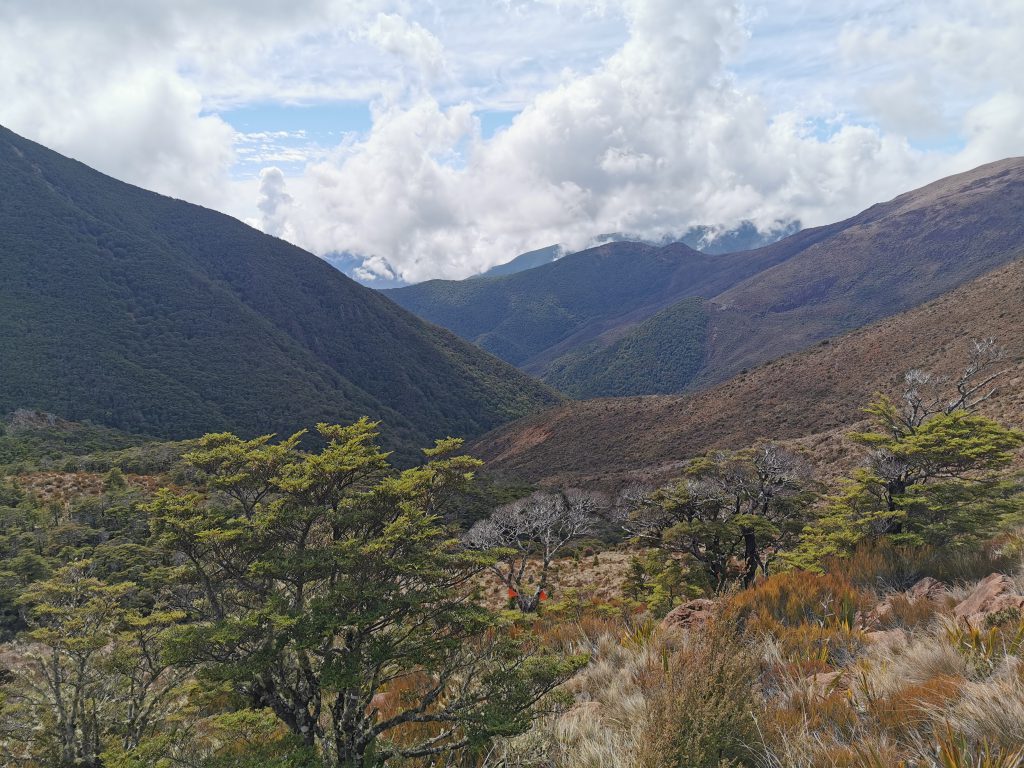 The flies were annoying up this side of the hill. While I was eating especially but also on the way up the hill.
While I was here I had a thought, I think the "infected wound" smell that I have smelled like the last two days is my socks. I noticed it more today because my nose is closer to my feet on steep hills… And also in the evenings when I'm not wearing my socks and boots I don't smell it. In the intentions books people in the "comments" sections are beginning to write how bad everything smells. One guy in the book yesterday wrote how he smells like a goat – lovely.
The rest of the way up the hill is tussock and small rocks. It's easier going and you can step largely anywhere, but there is a river running down here between the rocks and so you have to be careful not to step in a big hole that is hard to see.
At 10:55 I was nearly at the top of this section. I could see an orange pole at the top: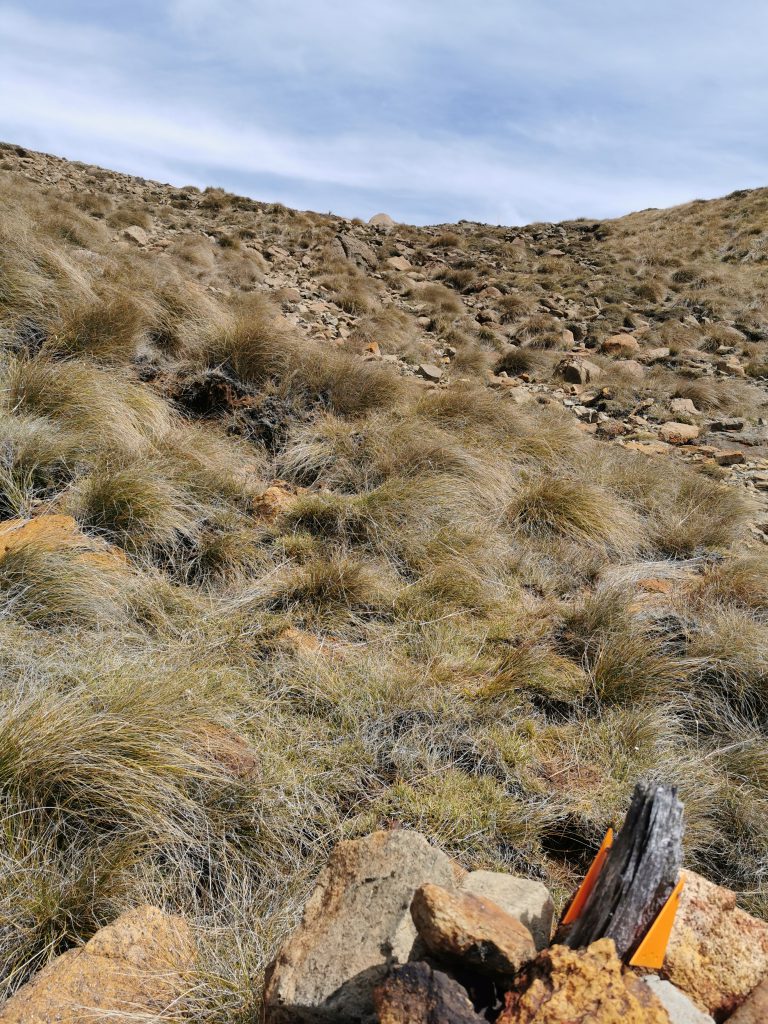 I thought to myself, can I make it to the top of this hill in 5 minutes? If so, my 11am picture will be whatever's on the other side. Of course… let's go. I raced up the hill and took this photo as my 11am picture from the top: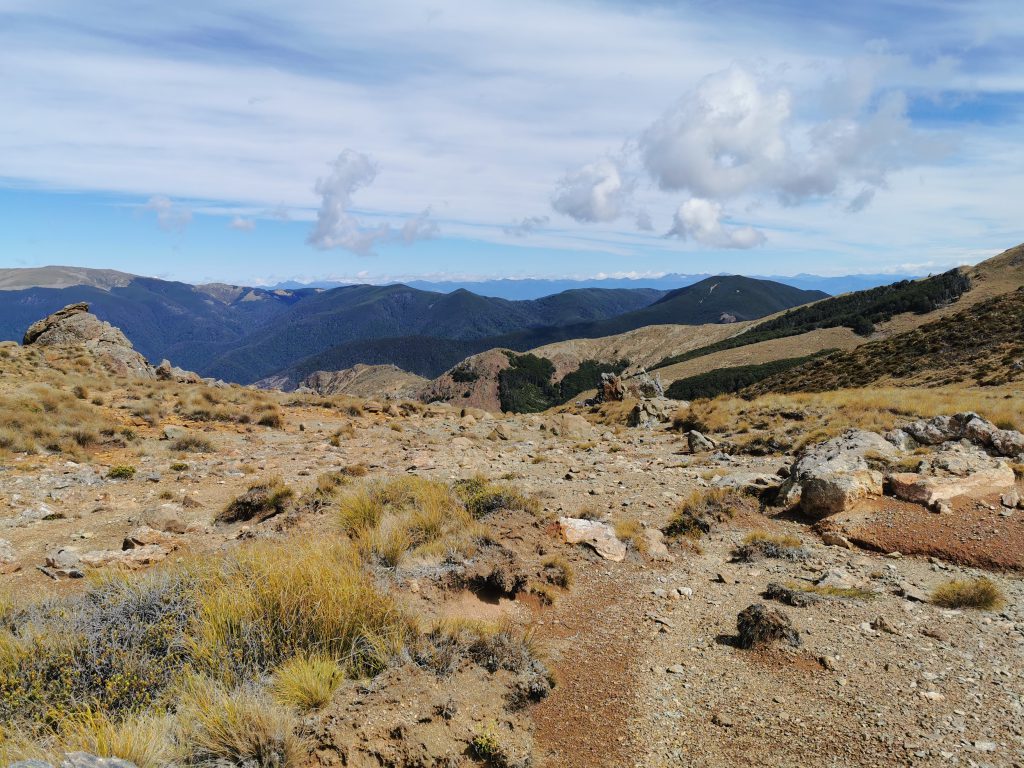 At this point there is phone reception so I got to call my car insurance company and see what they wanted to talk to me about three days ago. Apparently when I gave them the keys to the car last week they noticed it had an immobiliser and so they sent my case to review, and were asking me all sorts of questions to try to determine how a car with an immobiliser can be stolen. They seemed to accept my story because they said the claim is definitely accepted now. Good, I can stop worrying about that.
I also checked the weather forecast. "Fine except with periods of rain this afternoon in inland areas, possibly heavy" it said. Hmm, this is pretty inland I'd say. But no dark clouds yet.
There was still more up to go yet.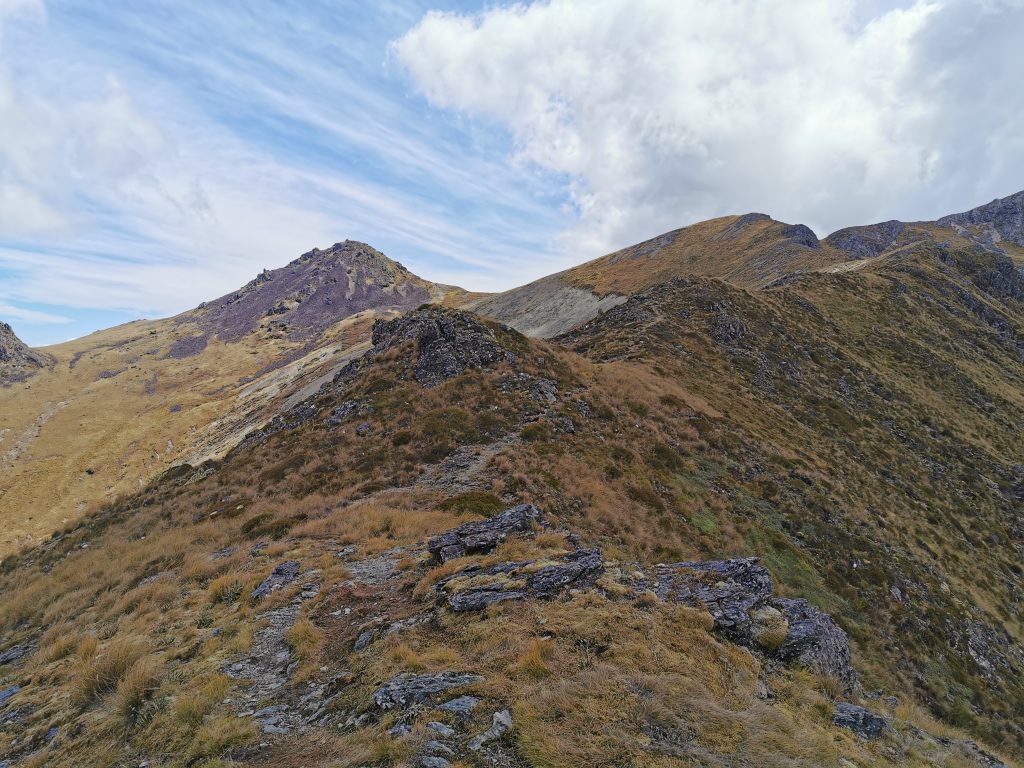 It definitely wasn't as steep as earlier though. In the picture above is Mt Ellis which I have to go right over the top of, and then it's all downhill after that to the next Hut.
To my surprise though, the track didn't go over Mt Ellis at all – it sidled alongside it.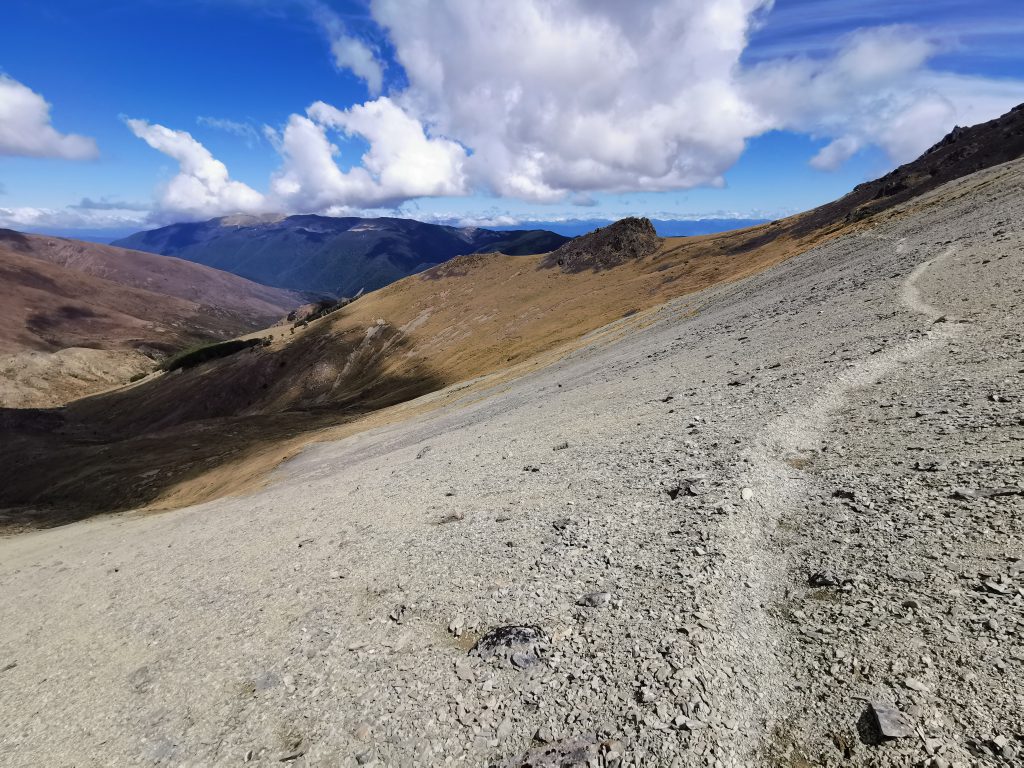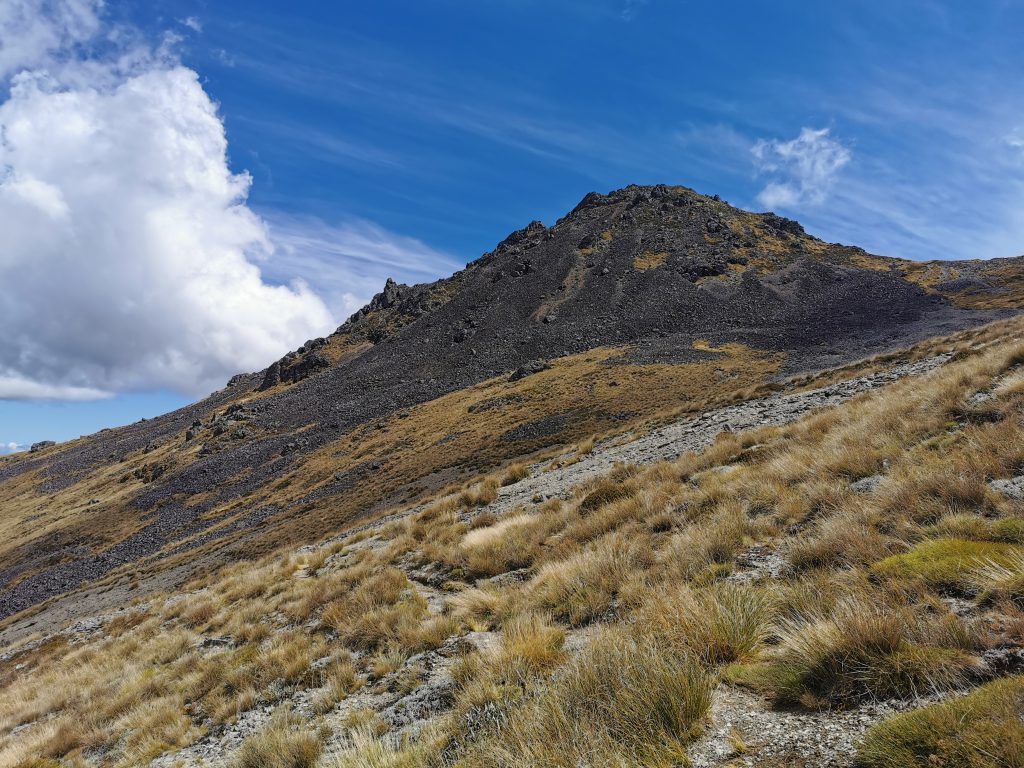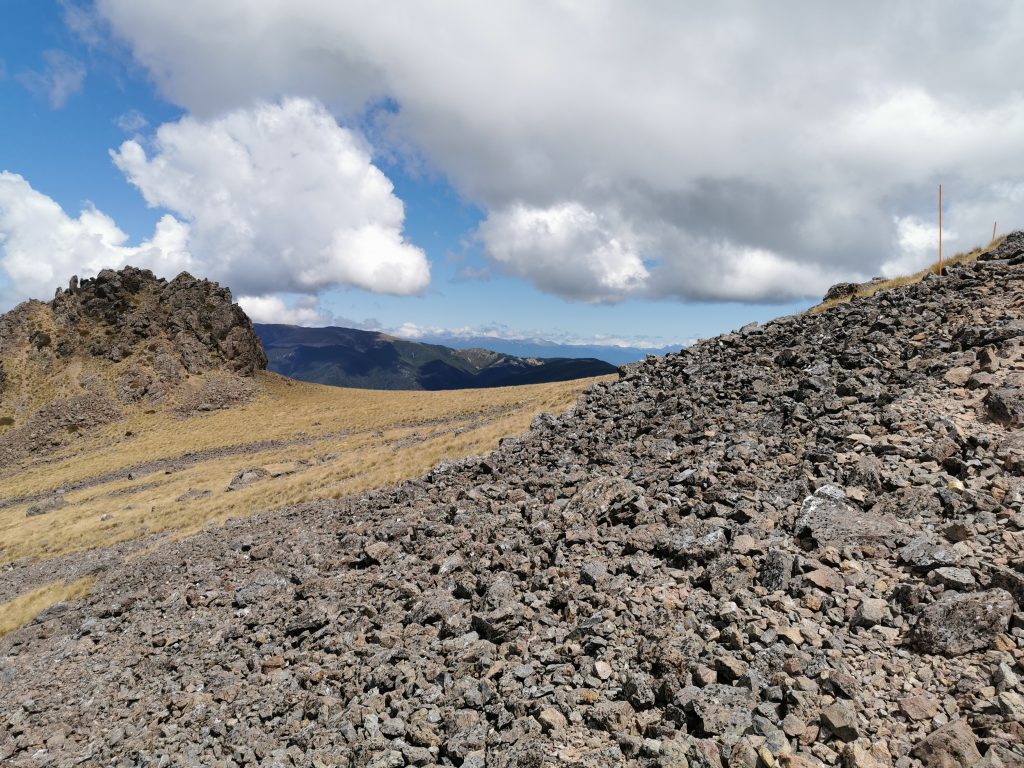 I had a look at the Guthook app. It showed me quite far off course.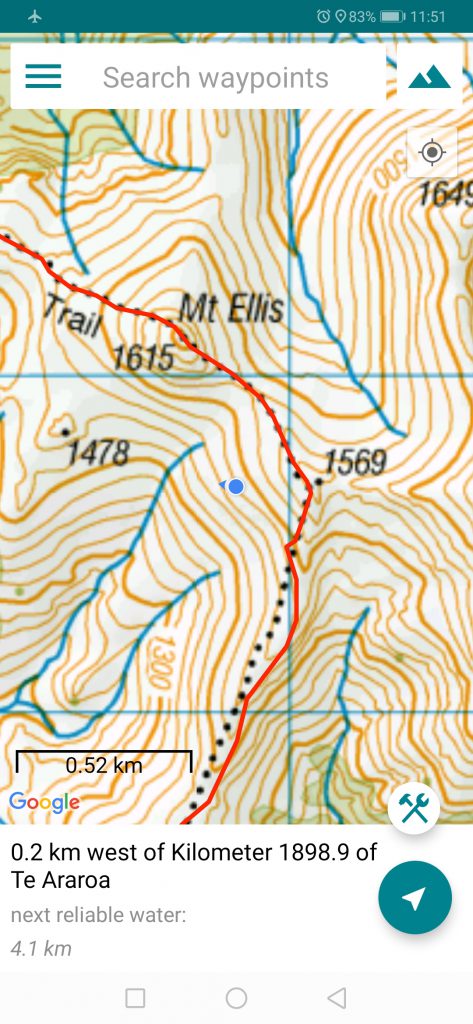 I had a quick look at the trail notes and it clearly states sidle alongside the west side of Mt Ellis – nothing about going over the top of it. Cool, that's exactly what I'm doing. This is one of the rare times that Guthook shows the wrong path. And I'll be honest, it was a nice surprise to realise that I was now at the highest point and I don't have to go the extra 100m up to the summit.
The 4G was even better a bit further on. And the view was absolutely stunning. So I took some time to upload all my photos for the blog. I didn't mind that it took a while, I wasn't getting sick of just taking in everything and admiring where I am.

While I was here someone came up the hill from the other direction looking very exhausted and weary. Another northbound hiker perhaps? Once he arrived he introduced himself as Franz from Germany. We had a talk about each other's upcoming sections but then the clouds came over and it started to get quite cold, so I continued on. I never got to publish any blog entries because it's kinda rude to sit there on your phone while there is someone there with you.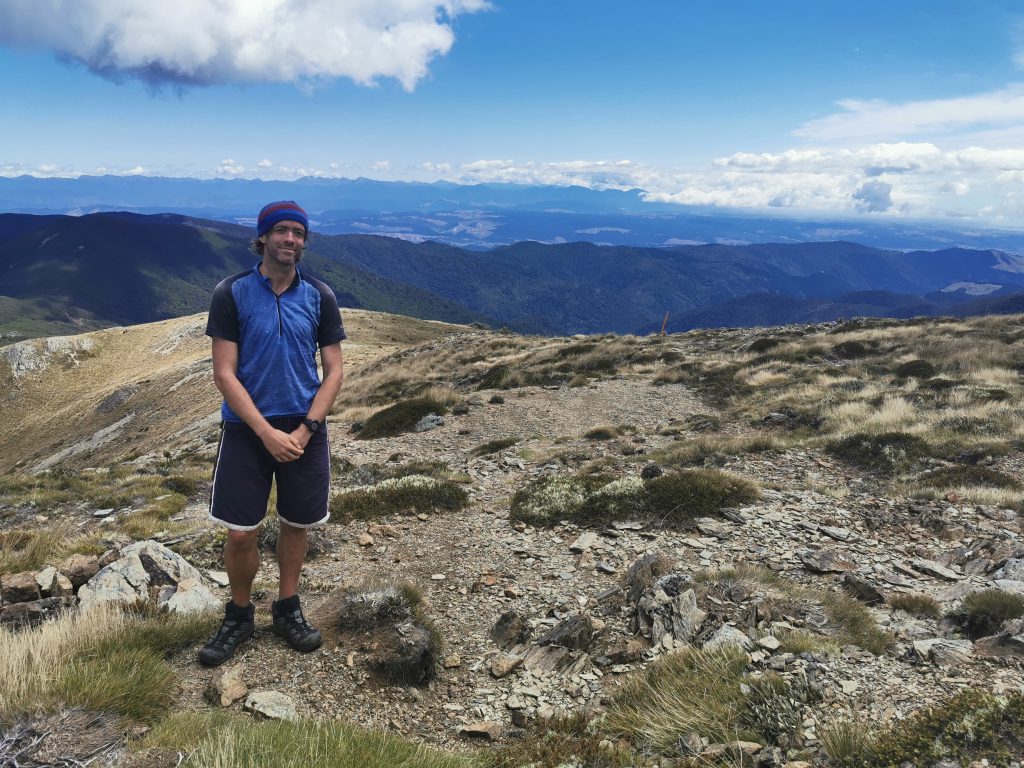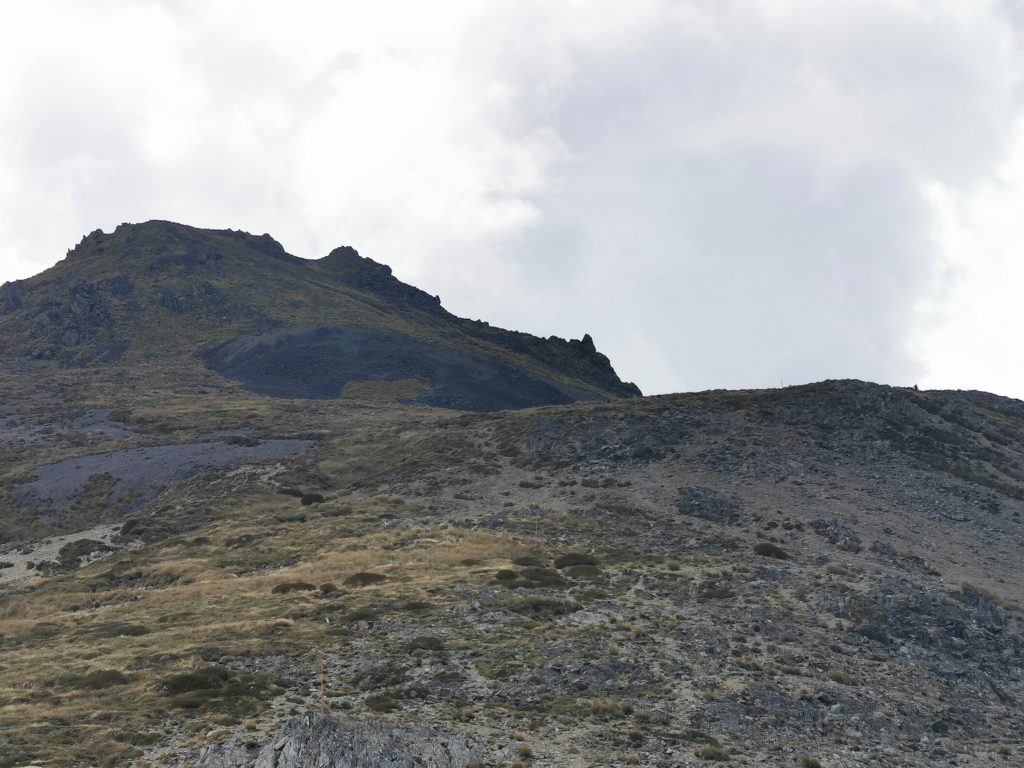 It's amazing how out here there seems to be just days and days of nothing. No 4wd tracks, no fences, no signs of civilization at all. It's quite breathtaking to think about it. So when I come across something as simple as a discarded sign, I had to stop and think.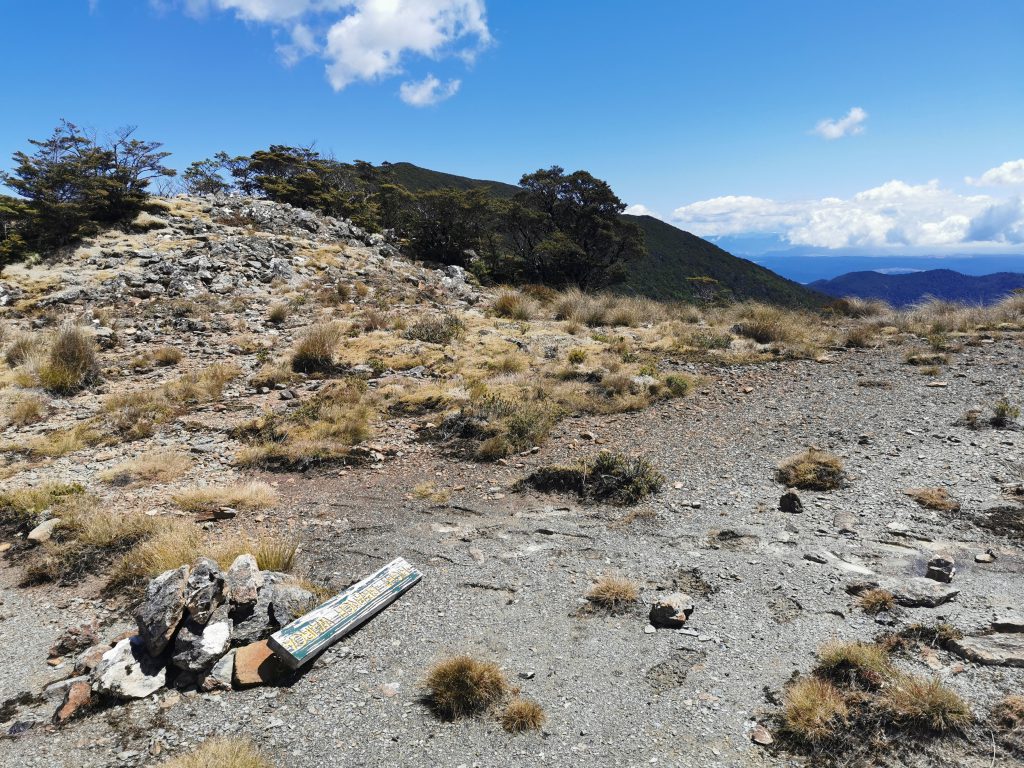 I read in the previous hut that the "Right Branch Wairoa Hut" has been removed because the landowners have rescinded access from the road to the hut. So I assumed that this was the hut's original location. But it's quite close to the upcoming Hunters Hut, and I learned later that the hut that got removed was nowhere near here. So why is the sign here? What a mystery!
It was a nice view going down here but very slippery because of all the little rocks.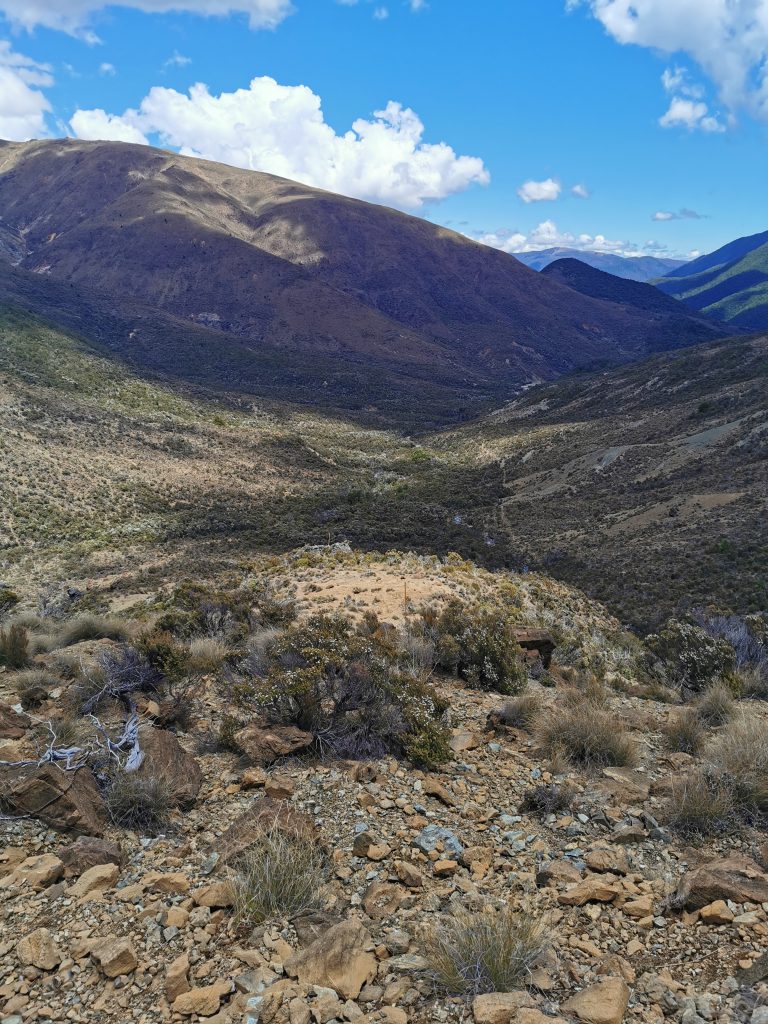 There were also different layers of rocks. They were clearly different separate colours.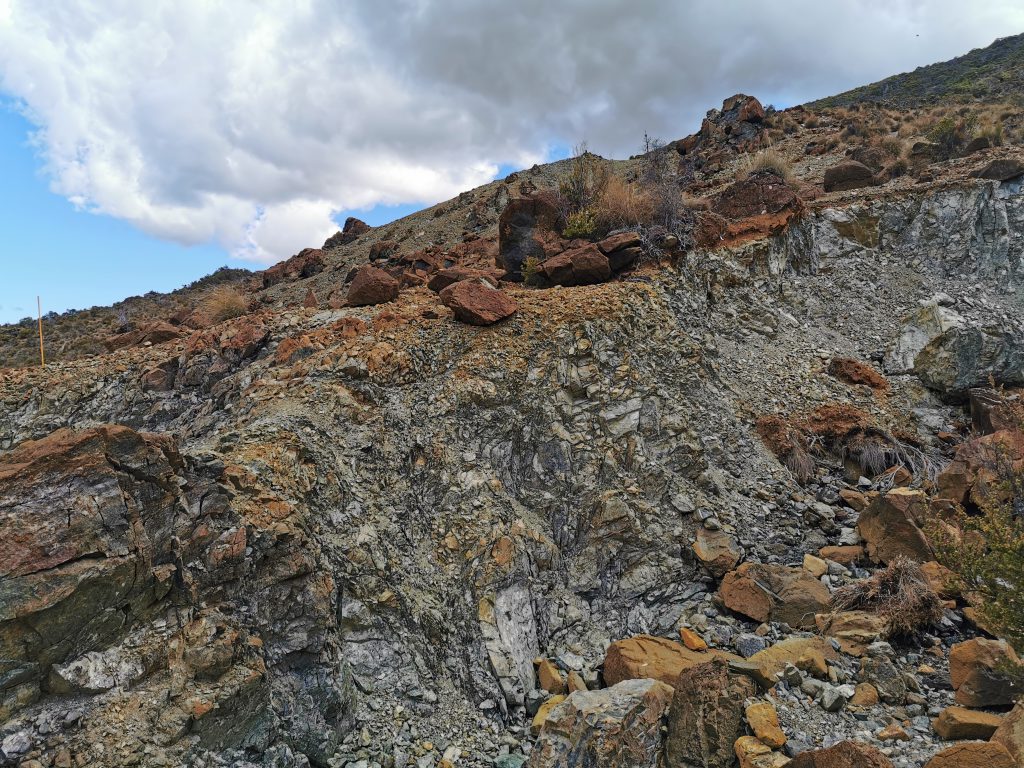 I think this information board is interesting that explain the different types of rocks.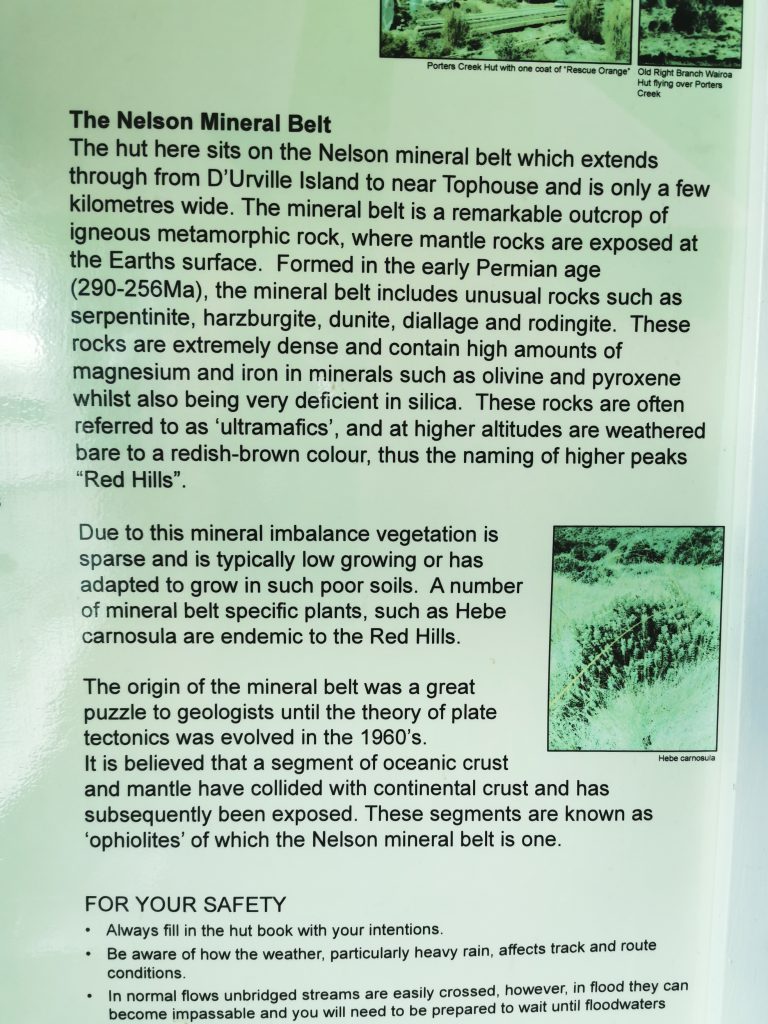 There was one river crossing which required the crocs…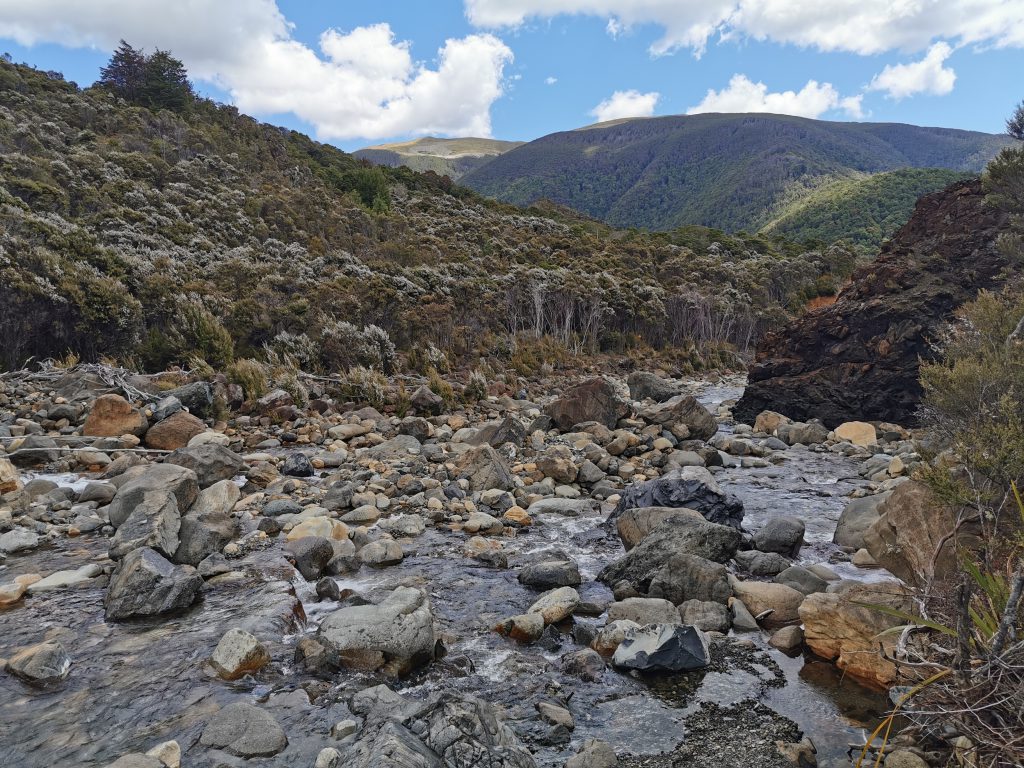 And one fairly large uphill: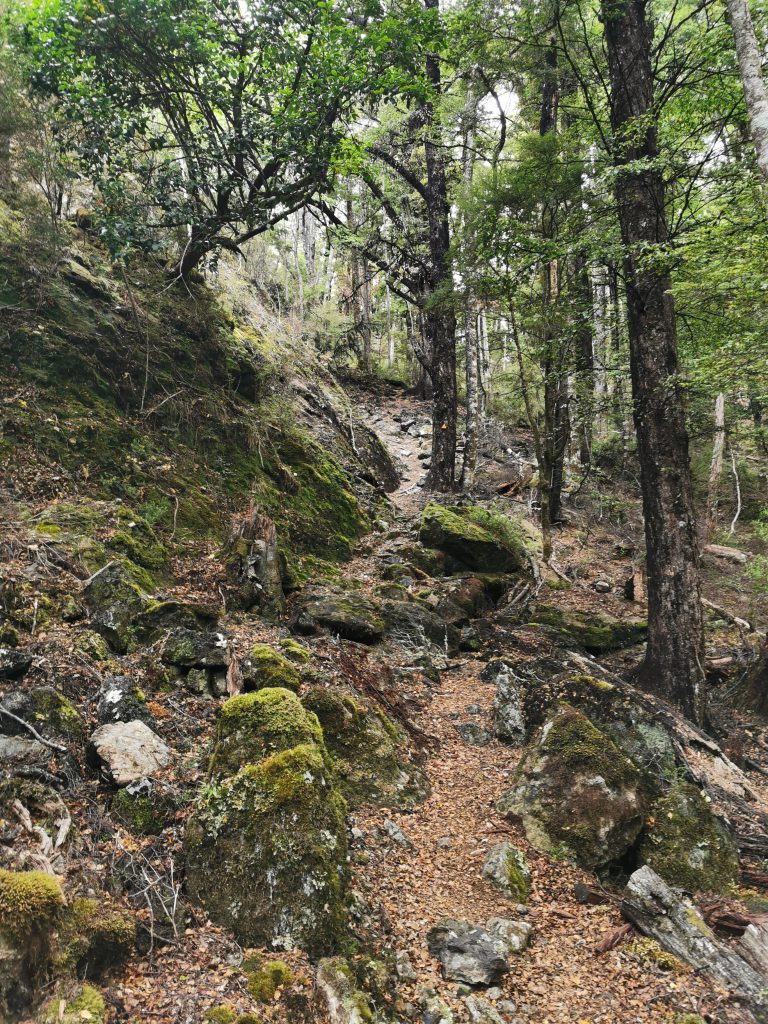 And then I was at Hunters Hut. Inside the hut is the story of two guys who got swept away and died when the original hut got destroyed in a flash flood. Very sad.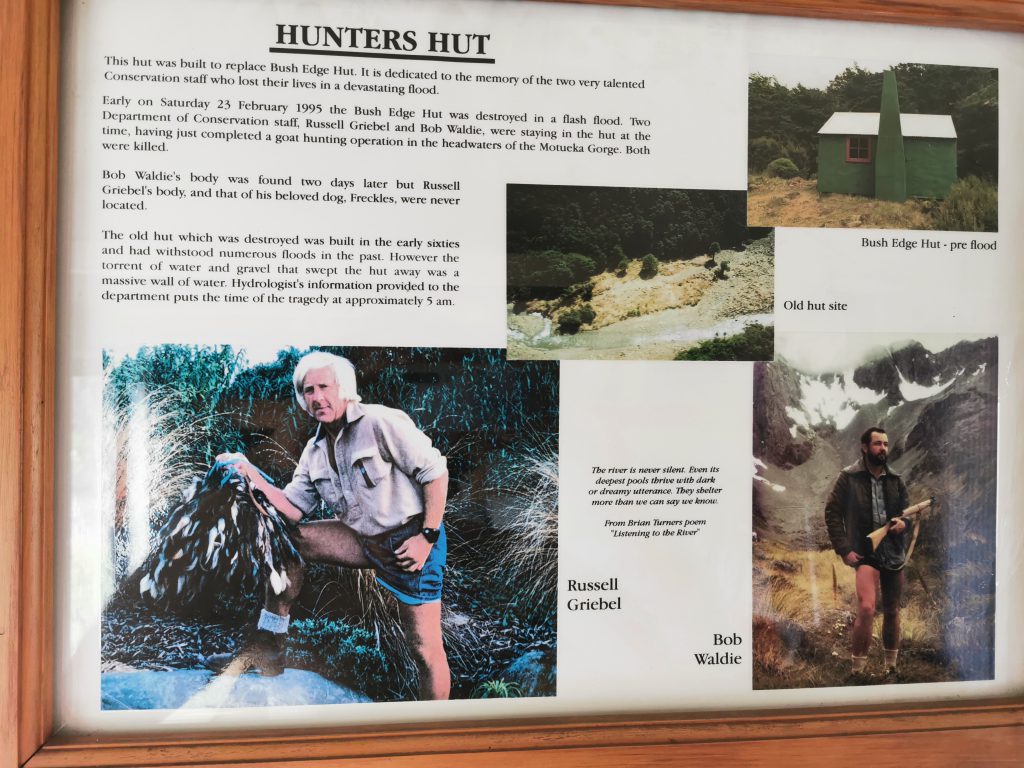 I can't imagine how 25 years later nobody has found the body of one of the guys. That must mean it's still there somewhere.
It took me five hours and fifteen minutes to get here, which isn't bad given that the estimate was five hours and I spent so much time just hanging around at the summit and having snacks.
I didn't photograph this hut for some reason… but I can tell you it's an 8 bed hut instead of a 6 bed like most of the others along here. It also has a nice view from the little balcony: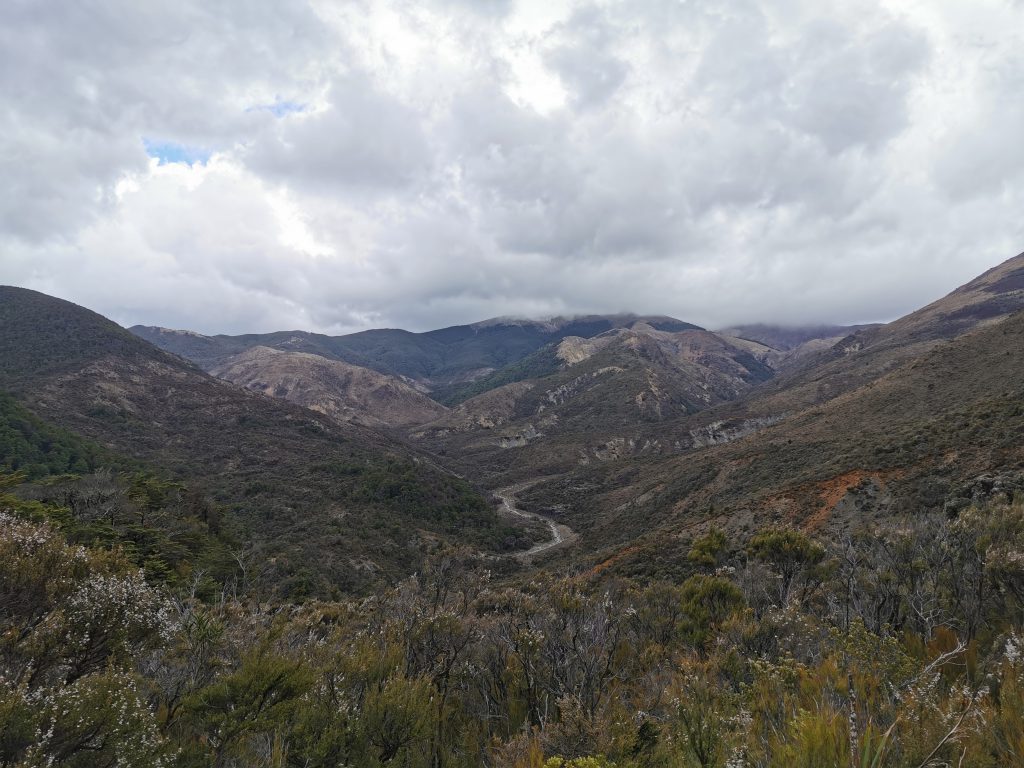 As you can see the clouds were starting to come in now, but they still didn't look too bad. I remembered the potential heavy rain mentioned in the weather forecast and that made me just about stay here the night but after some deliberating I decided to keep going to the next hut – Porters Creek Hut, advertised as four hours away. It's now 3:30pm but hopefully it won't actually take four hours. I'm going to walk fast to try and beat the potential rain anyway.
It was more of the same landscapes between here and the next hut, but everything was just a bit easier. More following orange poles through tussock and rocks: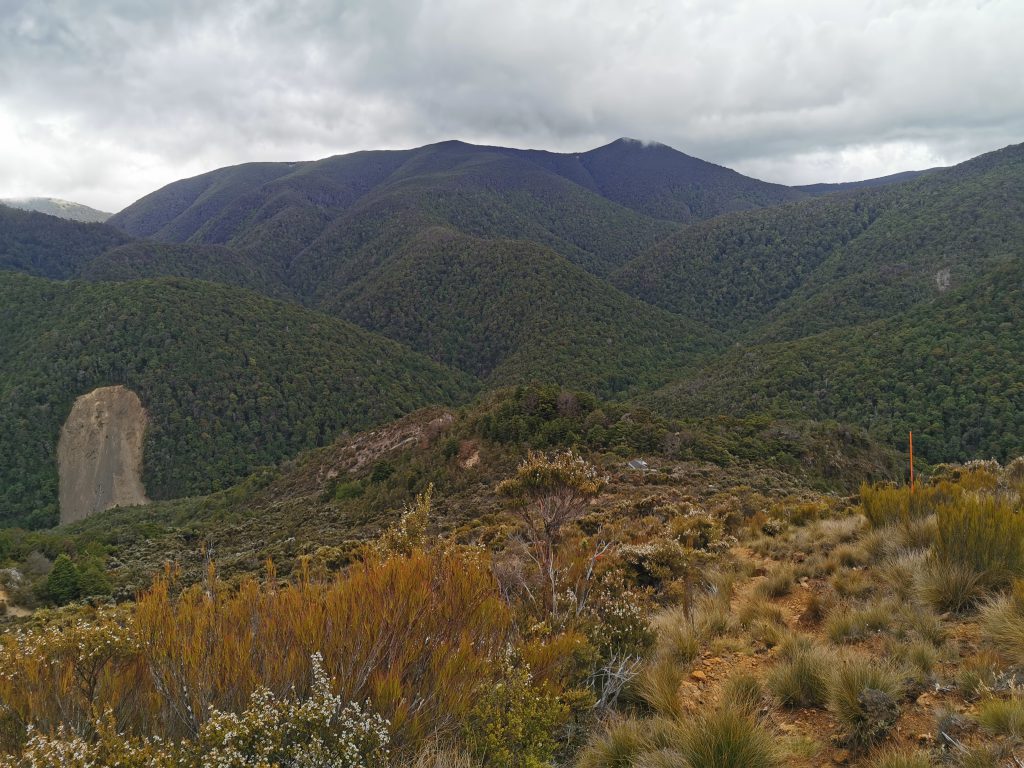 More big brown rocks to clamber over: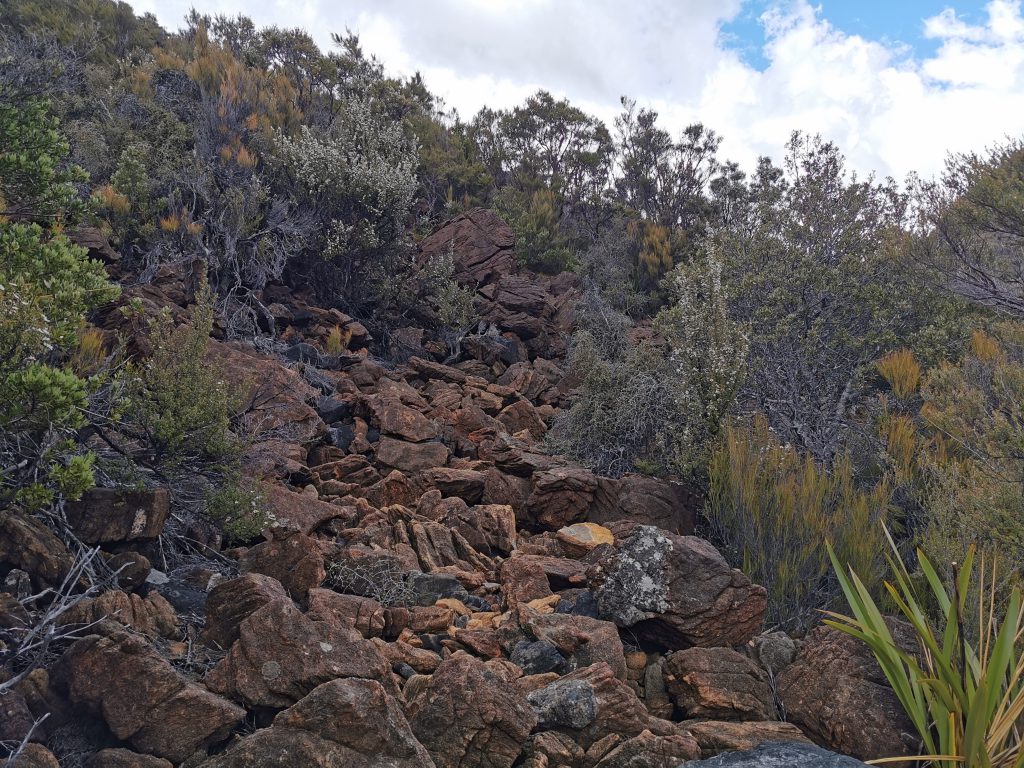 And more sidling across scree and dirt: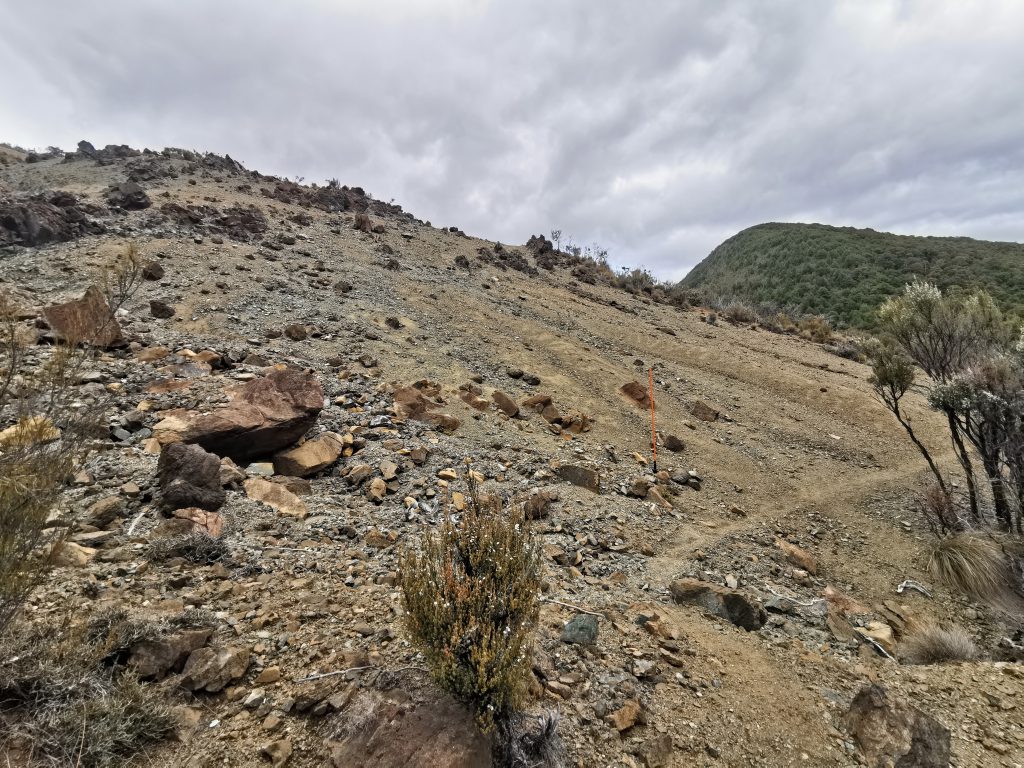 There was also a not insignificant 300m elevation hill which was fairly steep. I was still trying to beat the rain which looked like it was getting closer so at the bottom of the hill I put some "chase music" on my iPod and hauled myself up there as fast as I could. If it was going to rain I wanted to at least get to the top of the big hill first so I don't get too sweaty and gross.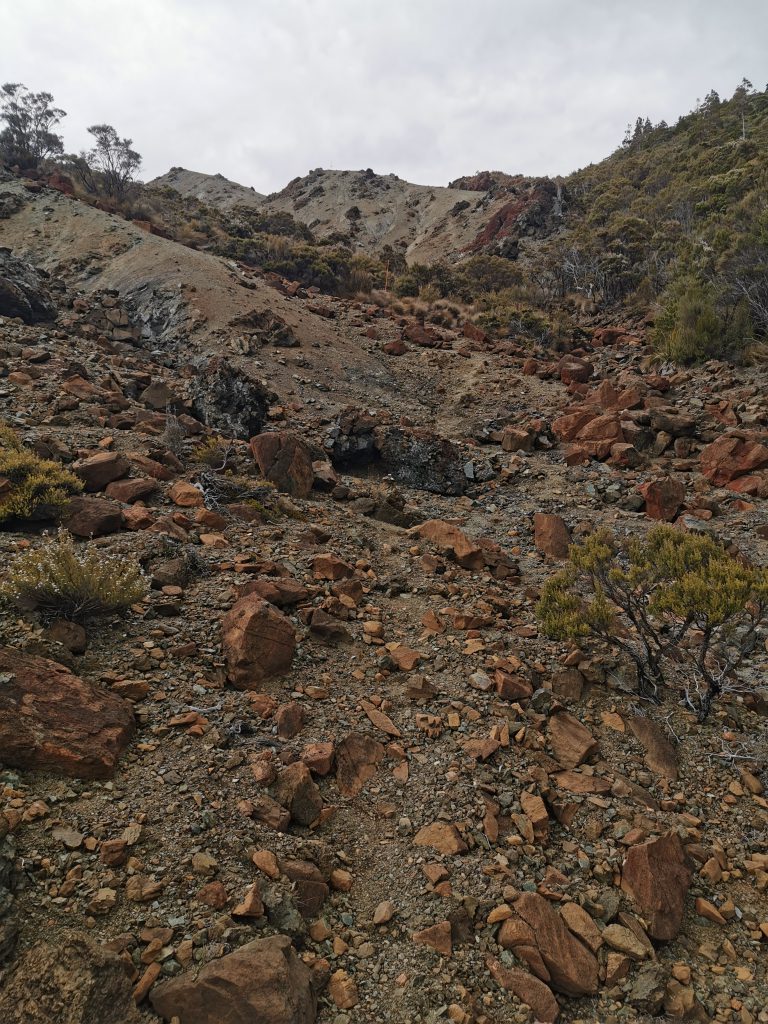 There is the top of the hill, the highest point in the photo above. There had been a few spits of rain ever since I left Hunters Hut but it was at this point where there was enough rain to put on the rain jacket. At least I got most of the way up the hill first.
From the top of the big hill to Porters Creek Hut is an easy and gradual descent. The hut is orange and you can see it a mile away. In this photo, it is still 1.7km away: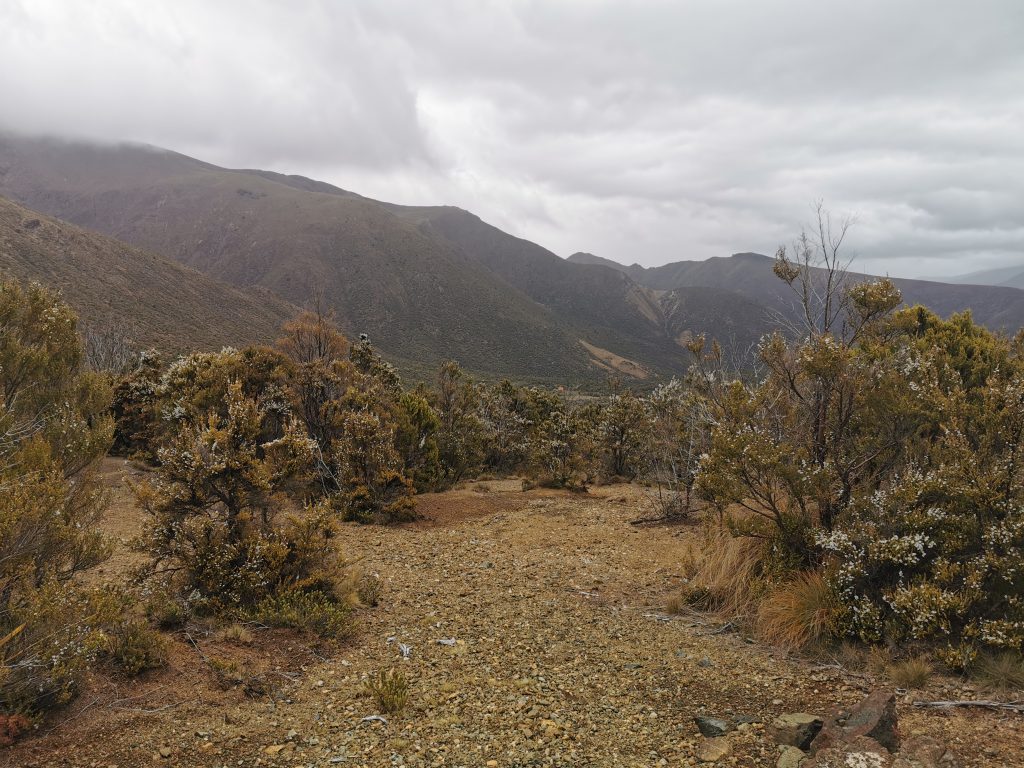 Can you see it? No? Let's try out the 10x zoom mode again.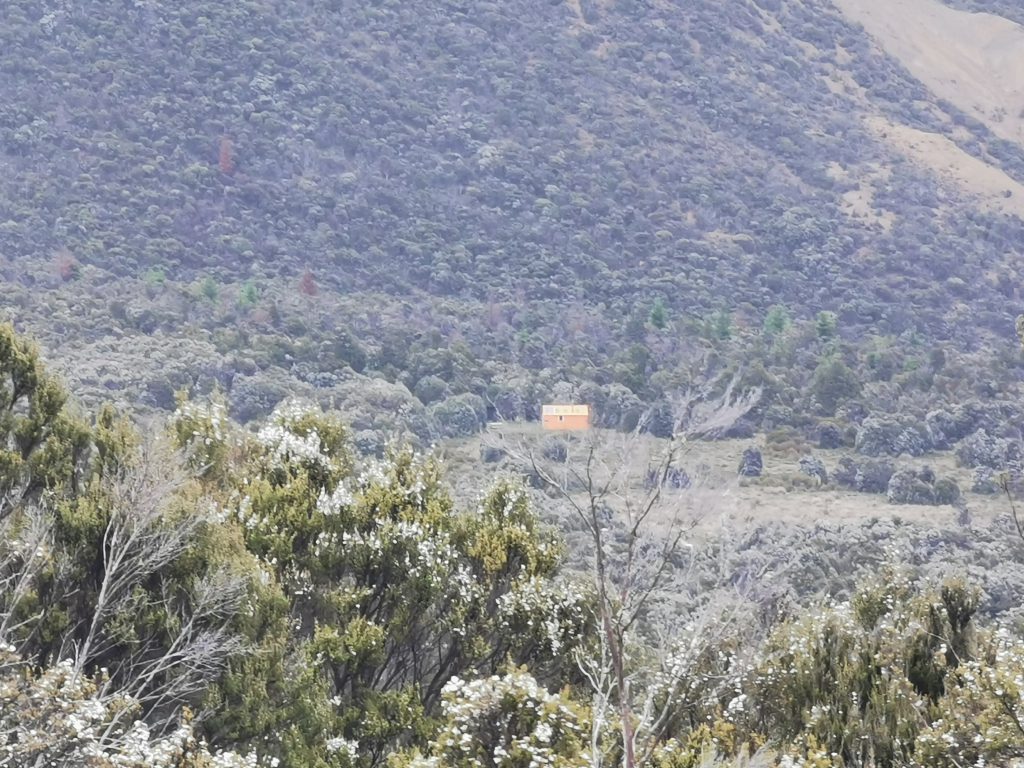 As I got closer I saw a big ravine in the way.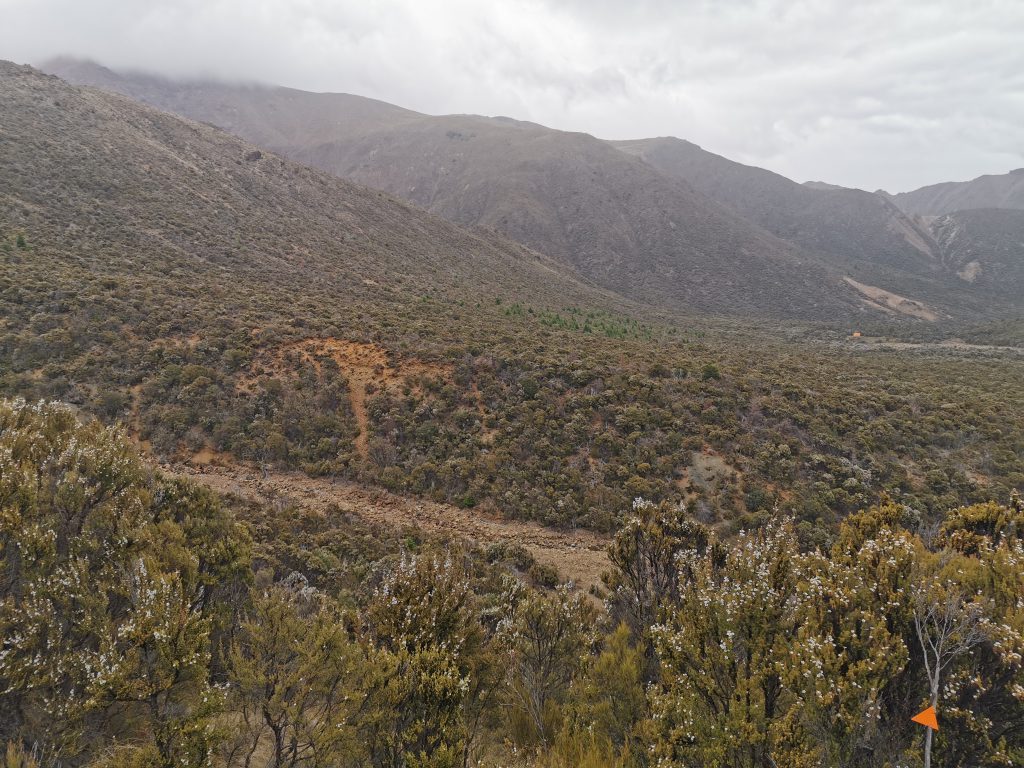 I assume the triangle is pointing me around to a place where I can actually get across and don't have to scramble up a giant bank. Yes, that's exactly what it was doing.
Then, just follow the big long straight path to the hut.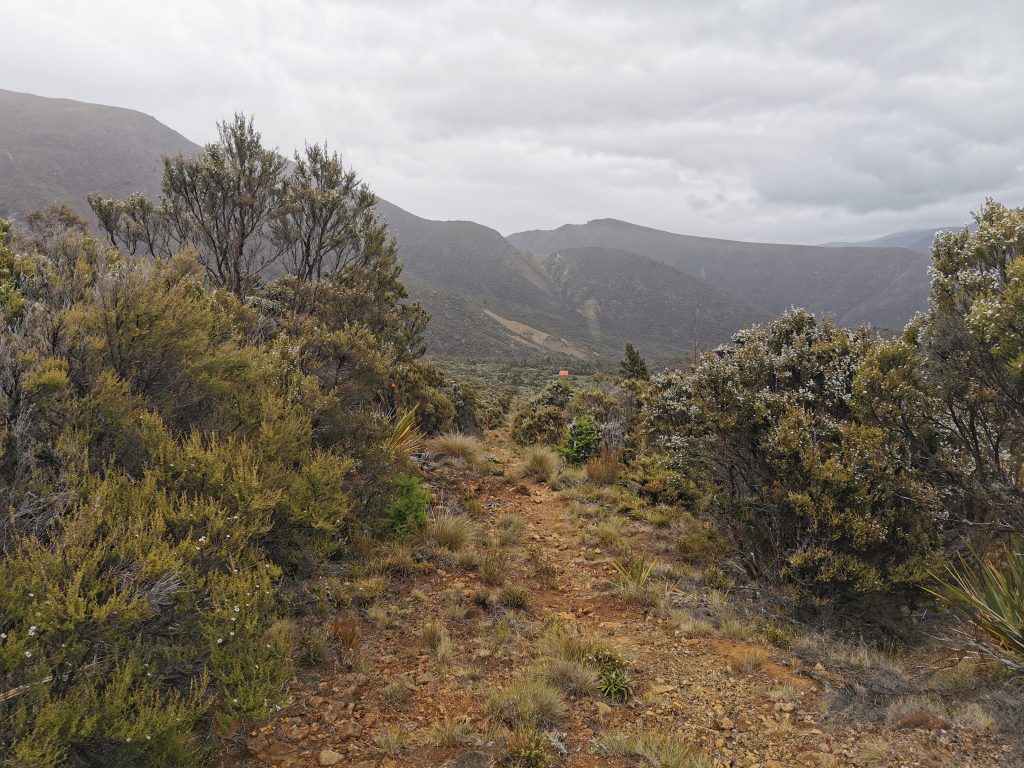 I was walking really fast down here because the end was in sight and the rain had picked up. At one point I pulled out my phone and on the display it said "Fingerprint unlock disabled. Enter password". And then when rain fell on the screen it said "Password incorrect. You have 2 more attempts, after which your phone will be locked for 30 minutes". Umm, what? I don't want that! Don't you dare lock my phone for that length of time! I wonder if I can turn that behaviour off somehow. I bet I can't. I'll Google it next time I'm able but if I can't turn that off then Huawei will be getting a strongly worded complaint. If I'm stuck in the wilderness somewhere and can't unlock my phone to look at the map for 30 minutes, that could be the difference between life and death in an emergency situation. Very not cool.
Fortunately I dried the phone screen and managed to unlock it to take one last picture: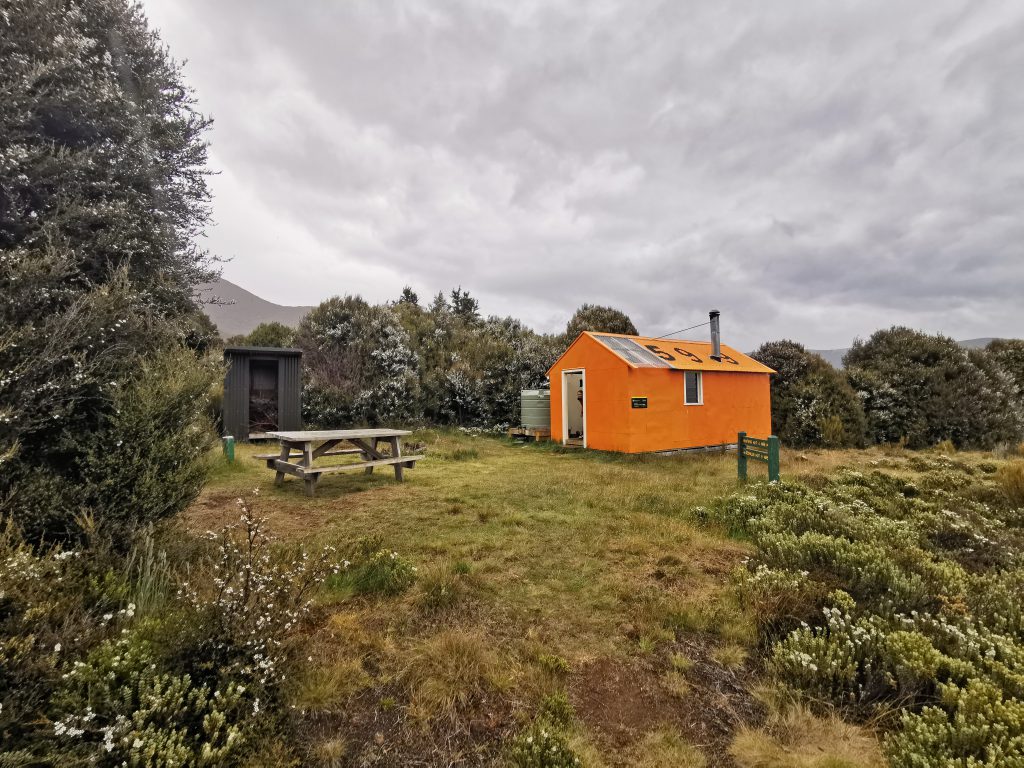 This hut is a very standard 6 bed hut, and I was pleased to see the same four people as last night. We had a good chat but the rain never really let up so we were all in our sleeping bags by 8pm. I commented that the rain is the universe punishing me for taking my time and having a late start. Even though I was quite wet I felt really good because it had been a great day with great walks and views and I had dry clothes to change into.
There's no ladder up to the top bunks in this hut either which is weird. If you are stuck with a top bunk here I hope you're tall or good at hoisting yourself up!
When I went outside it felt so cold in the rain, even though there wasn't that much wind. Jumping into my sleeping bag after that felt like heaven.
There is a mousetrap in the hut, and I can see mouse poo on the windowsill so there are obviously mice. We tried to set the mousetrap before going to sleep but none of us knew how – it looked broken. Let's see if the mice bother us tonight.
Tomorrow there is only one more hut (Red Hills Hut, five hours from here) before a 4hr final track and then 8km of road walking into St Arnaud. I'm booked at Alpine Lodge in St Arnaud in two days' time. That means the next two days are either going to be two easy days or one big day and one rest day. I wonder which it will turn out to be. I might try and walk with this group tomorrow and do whatever they do because they seem pretty cool.
Today's walk on the map (blue = Te Araroa, red = today's walk):