Date: 19 January
Trail covered: 36.3km (kms 2010.9 to 2047.2)
Weather: blistering hot all day and no tree cover
All through the night I could sense something was different than usual. I couldn't stay warm unless I pulled the sleeping bag right over my head. I woke up fully enclosed in the sleeping bag. When I opened it after waking up, I realised it was more of a fart cocoon than a sleeping bag.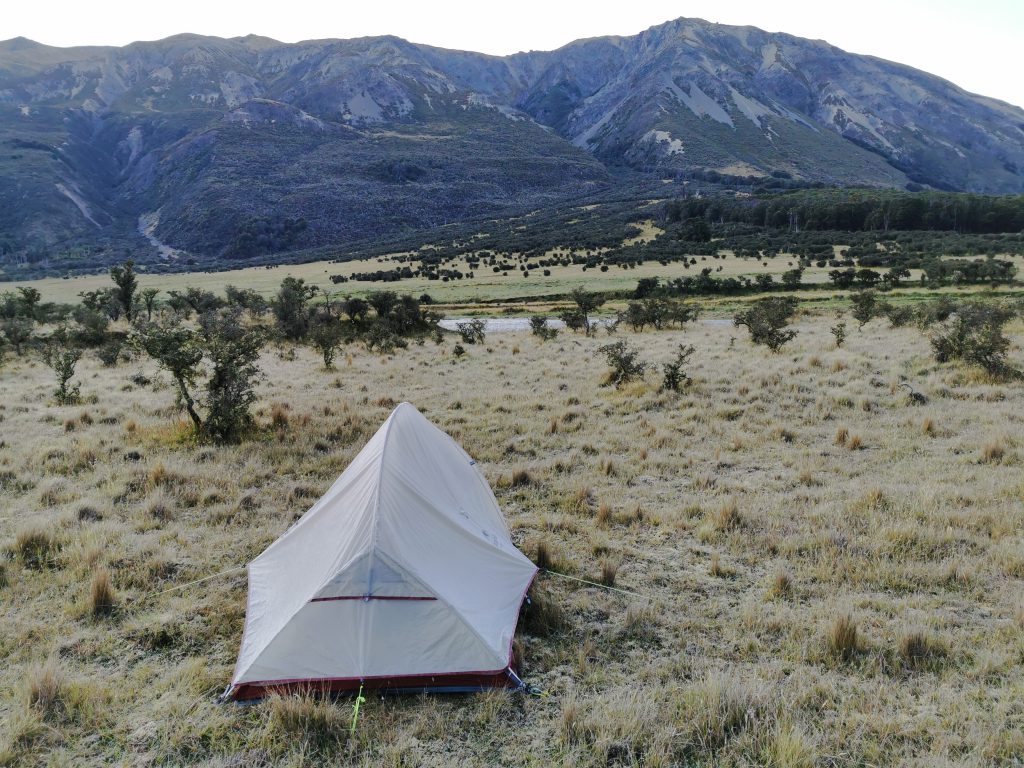 After emerging from the tent it was clear what was different. The tent had actually frozen overnight. No wonder it was so cold. And to think, last night I had considered sleeping without the tent fly. Luckily I didn't because I would have been an icicle right about now.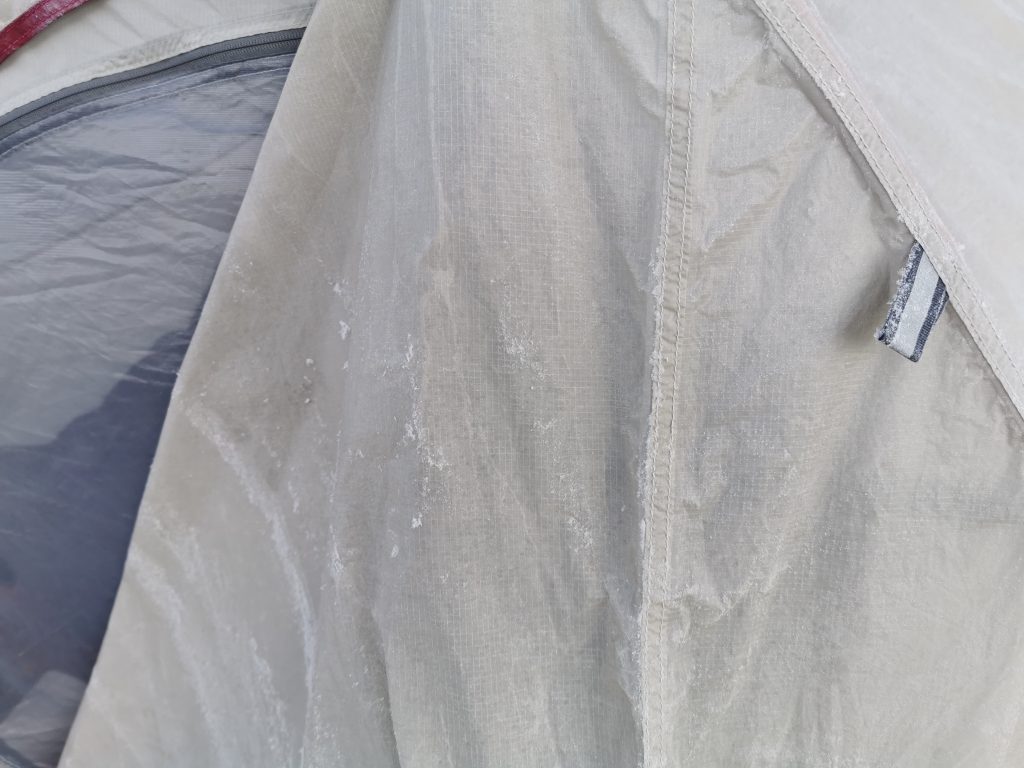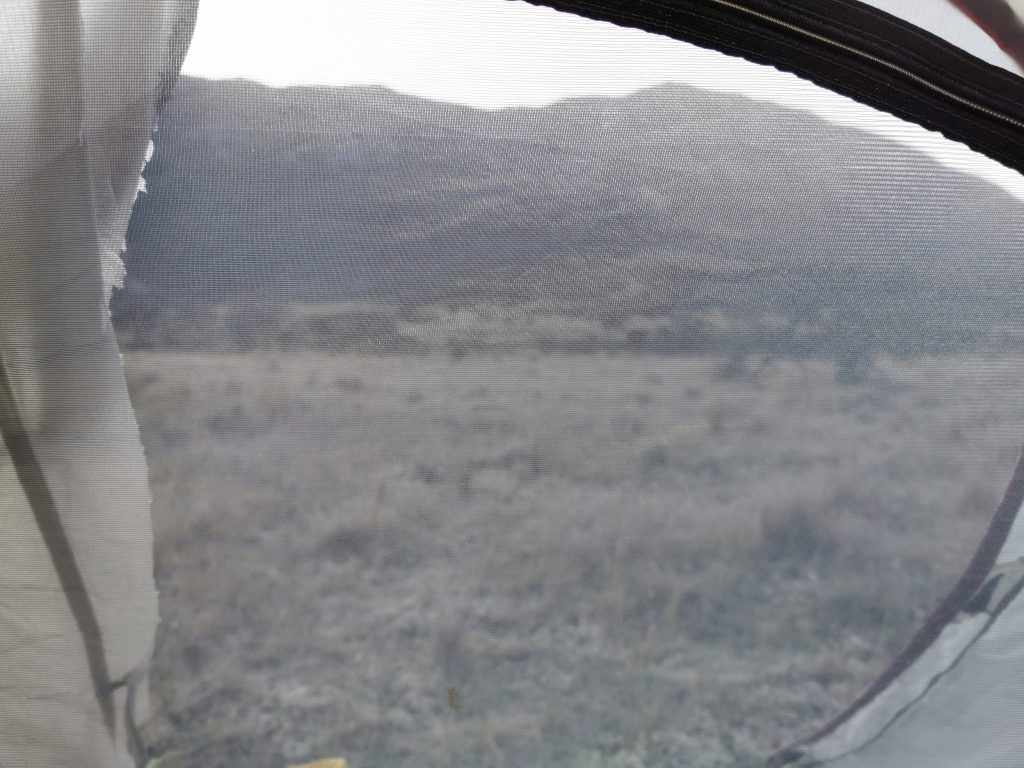 Well at least it was only the tent fly that froze, so I could laugh about it. Yesterday evening I didn't want to sleep in Waiau Hut because it was a sauna and so instead I ended up with an igloo. One extreme to the other!
It wasn't too long before the sun started appearing over the hills. It felt amazing.
There were just as many sandflies this morning but I was fully covered, so they weren't too much of a pain. The sandflies are definitely bigger and more resilient in the South Island. In the North you could almost just look at them and they died. Here, they seem to survive being slapped against a wall. And they're impervious to the "Goodbye Sandfly" product I have. Looks like I'm getting some more Deet when I'm in Christchurch.
While I was packing up, Clem came past. He told me he had the same problem, his tent froze too. But because he has a tiny one-man single layer tent, a lot of his stuff froze too. His shoes looked like they'd just been through a washing machine. At that point I was very glad I was carrying additional weight in the form of a bigger tent.
Clem walked ahead and I finished packing up. I put the little skull I found on top of a nearby marker in the hopes that it would ward off the sandflies for future hikers.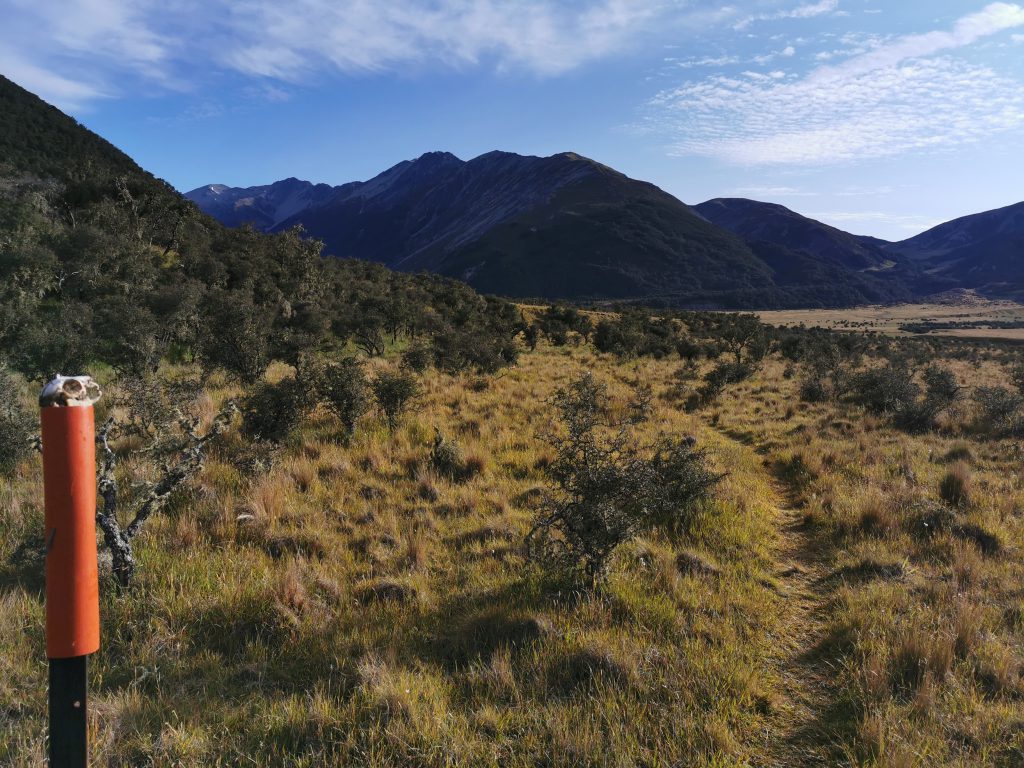 There were still cars and campers doing something across the river. I still didn't know what they were doing.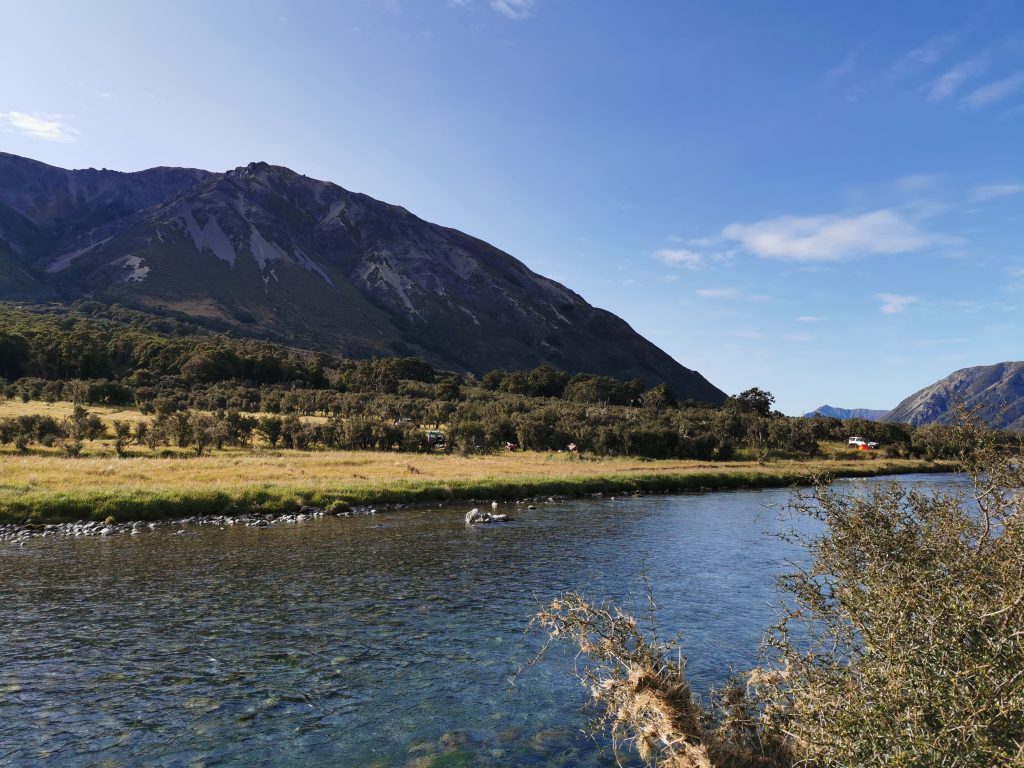 Today my plan was to get to Anne Hut which was 20km from where I set up camp, and then a further 17km to Boyle Flat Hut. A long day in what was forecast to again be bright shining sunlight, but that way it will be a shorter day tomorrow. At least I'd walked 6km from Waiau Hut last night, so today would be a 37km day instead of a 43km day.
There were just as many river and stream crossings as yesterday.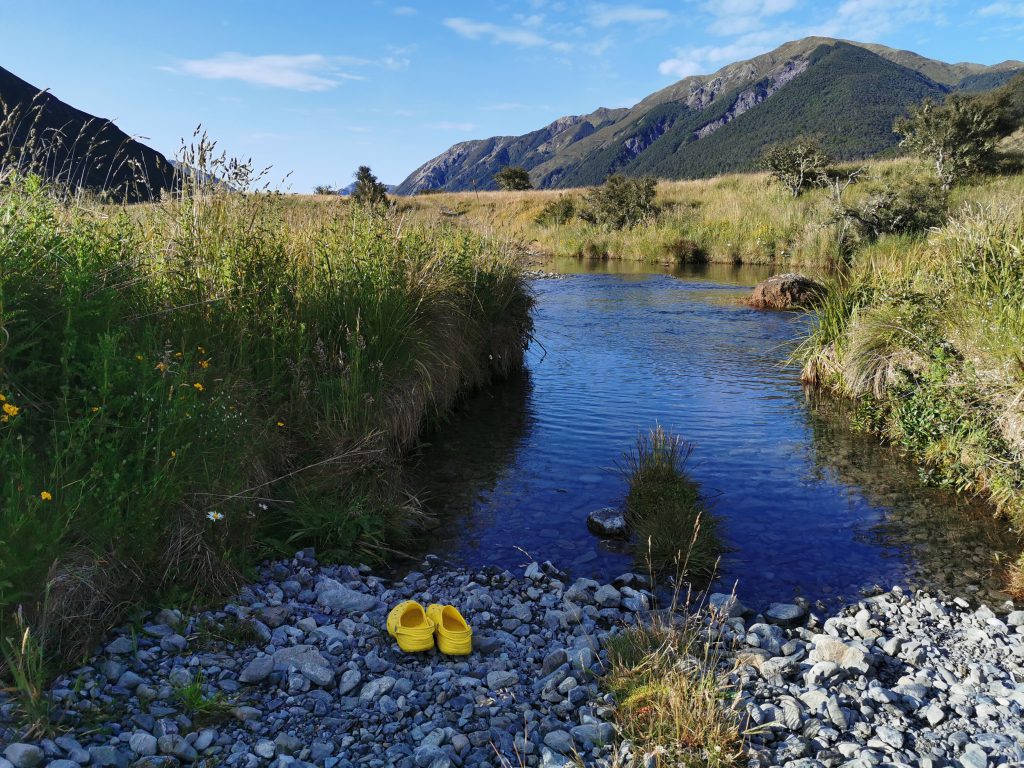 As expected the water was ice cold. At least Clem would be able to walk right through them with his saturated shoes.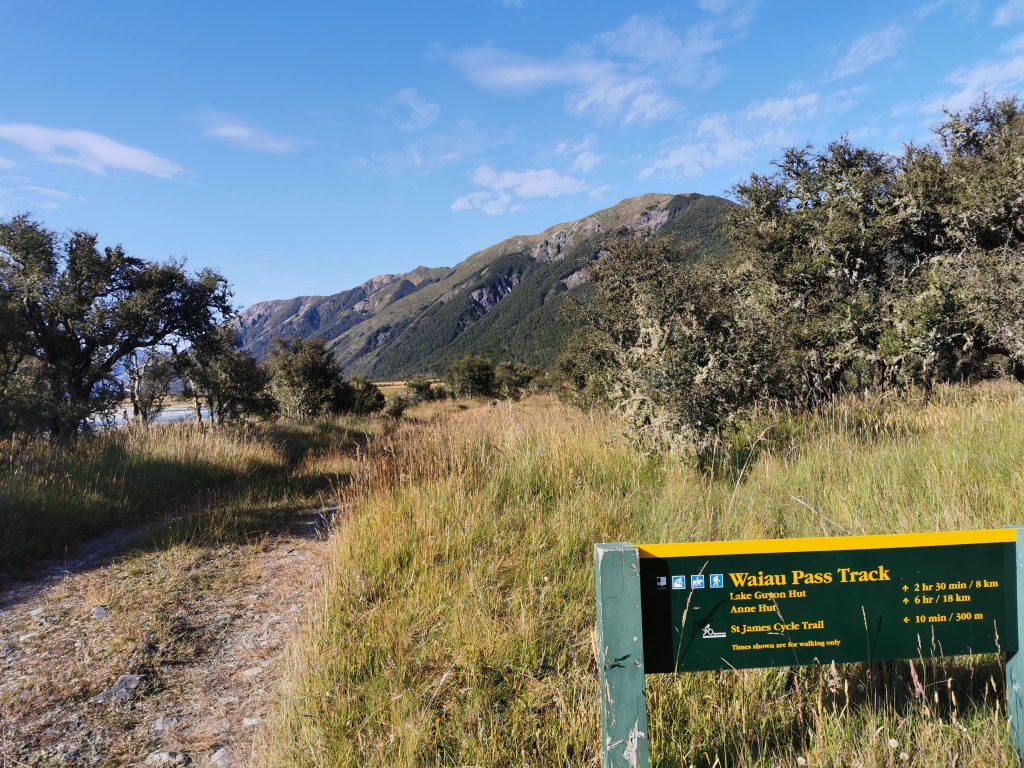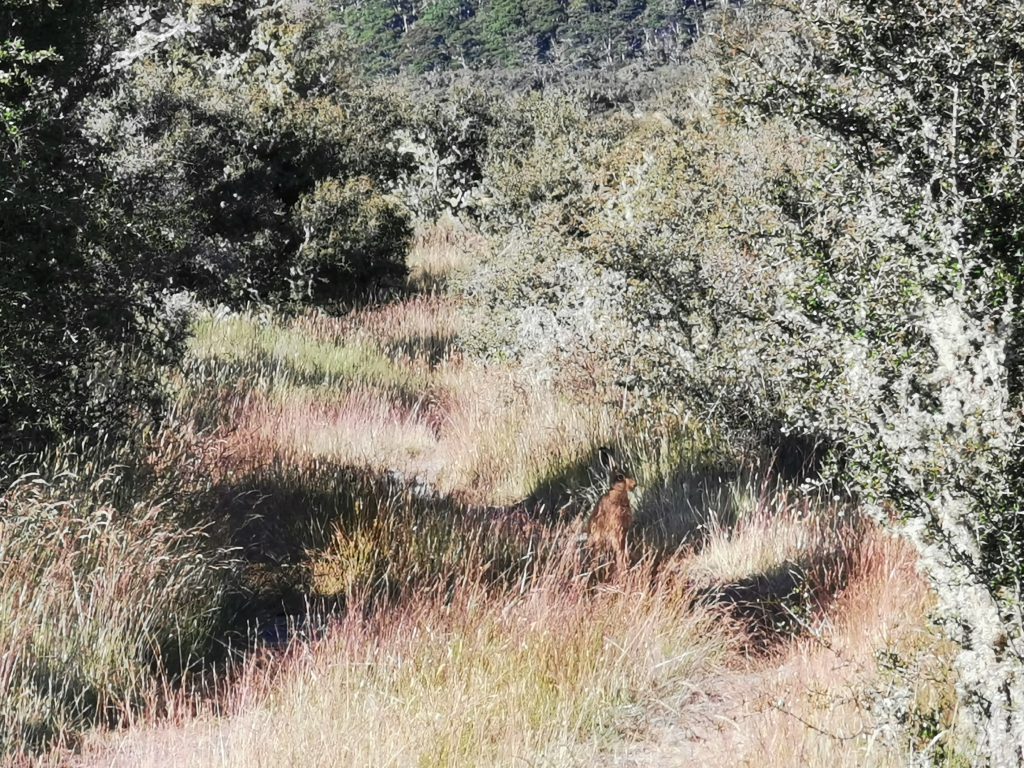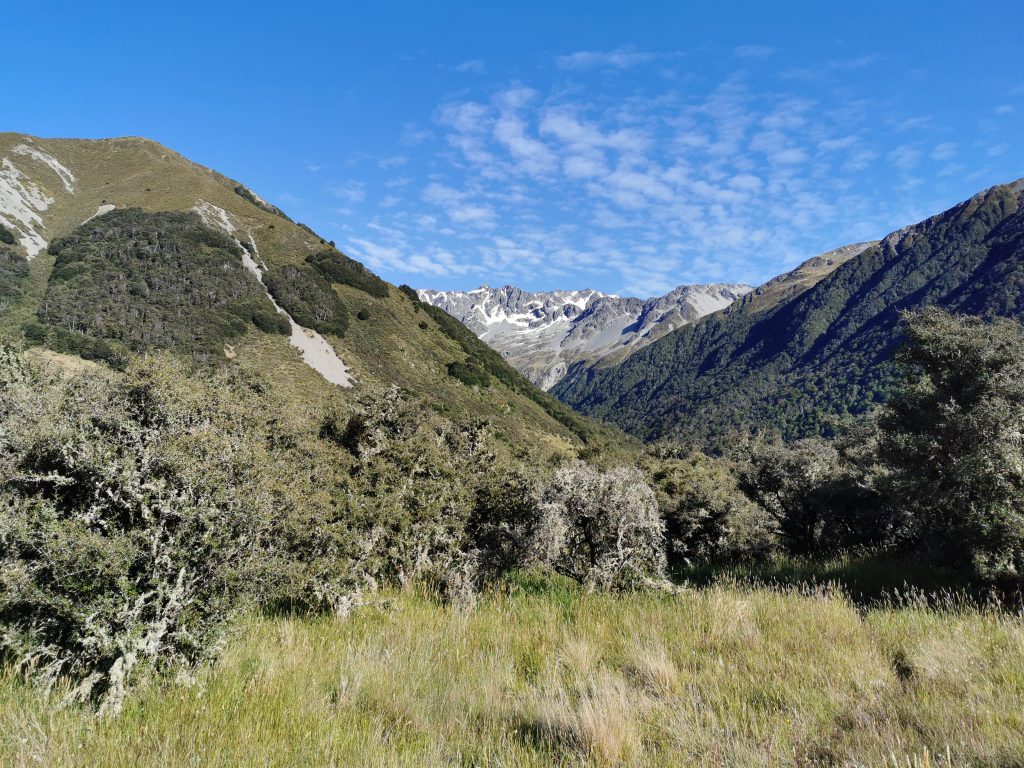 The first past of the walk was easy. It felt like a 4WD track. But parts of it just disappeared when the rivers appeared. Surely vehicles can't get across here.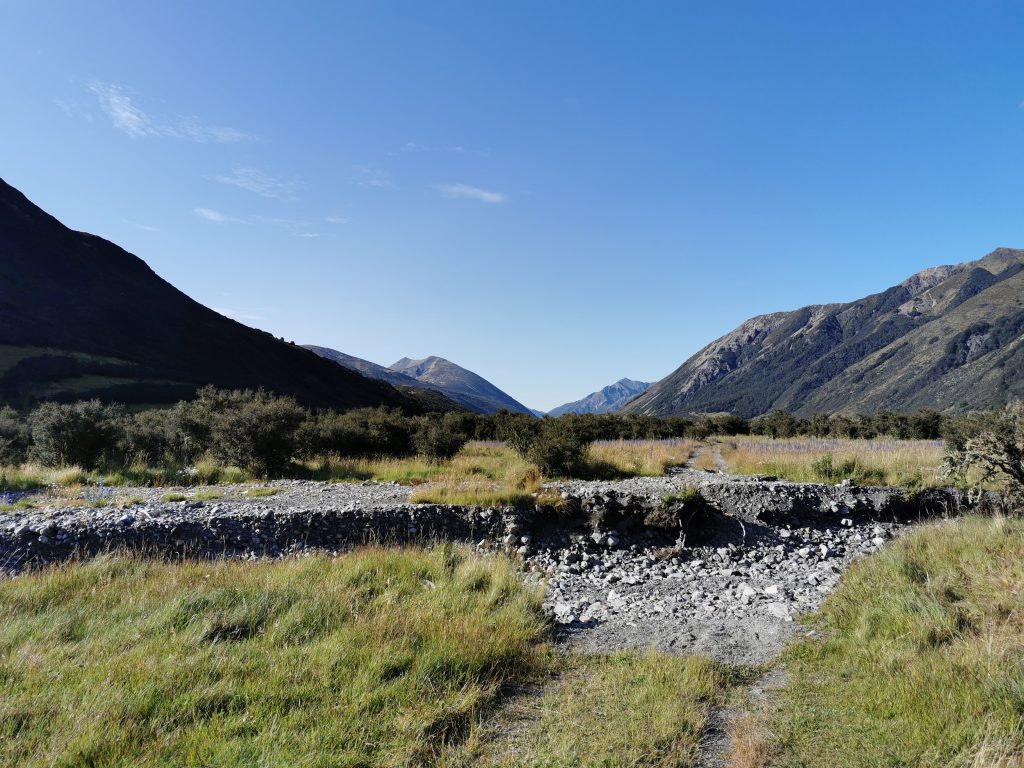 I was just thinking about Guthook comments I had read saying that it's swampy and muddy before Anne Hut. Maybe that was in December when there was more rain, as the track seemed okay to me. And then of course this happened.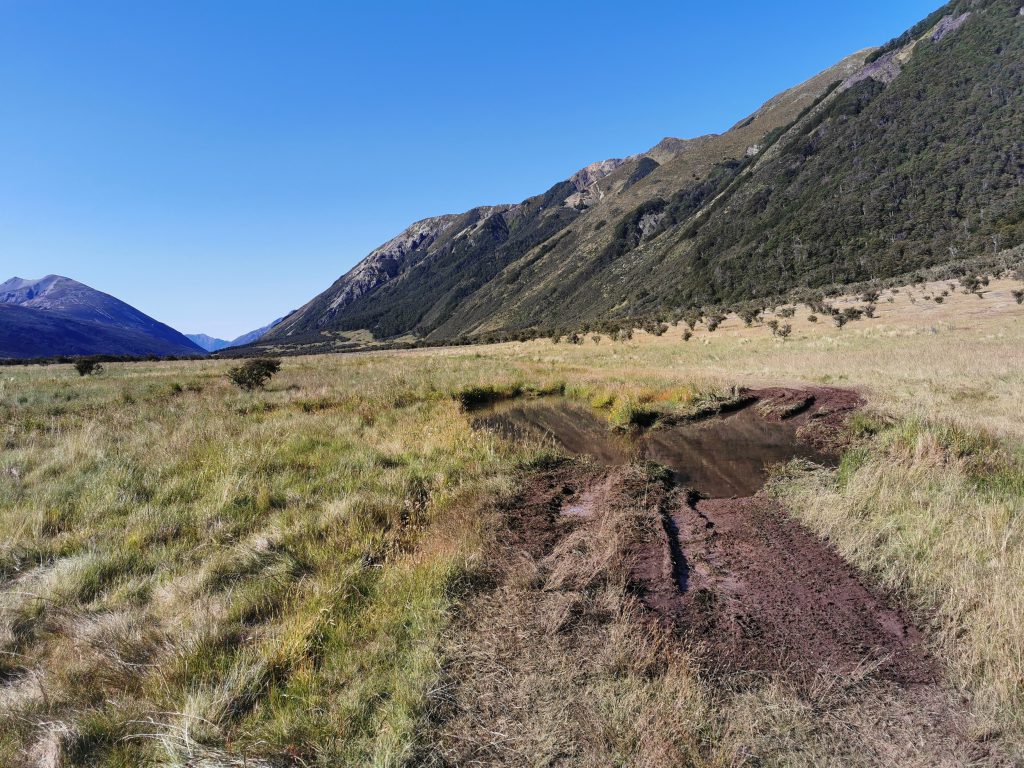 Although I do see vehicle tracks. Some vehicles are definitely coming through here.
And another thing is my legs feel good today. No pain – hooray.
Slowly, signs of civilization started to reappear, like fences and animals.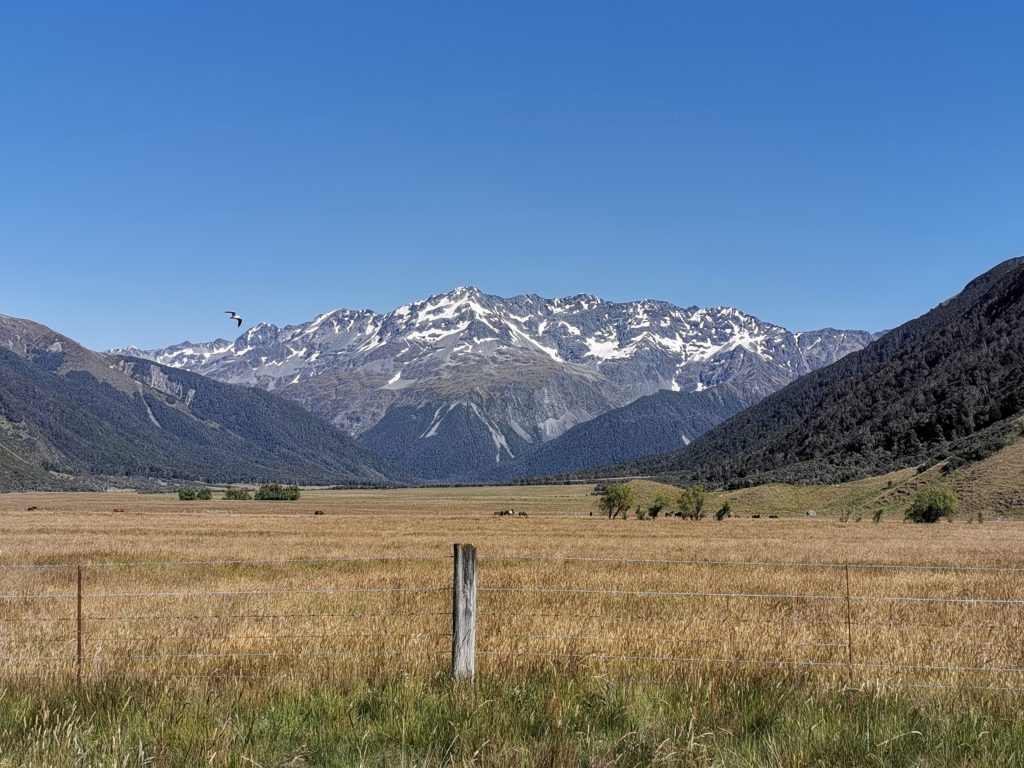 And then I got a shock as a runner came up behind me. He said there was a big race yesterday in this area. There were running and cycling options and various distances between 55km and 160km. He also said he's never seen this number of people walking through here before. The TA is clearly getting more popular.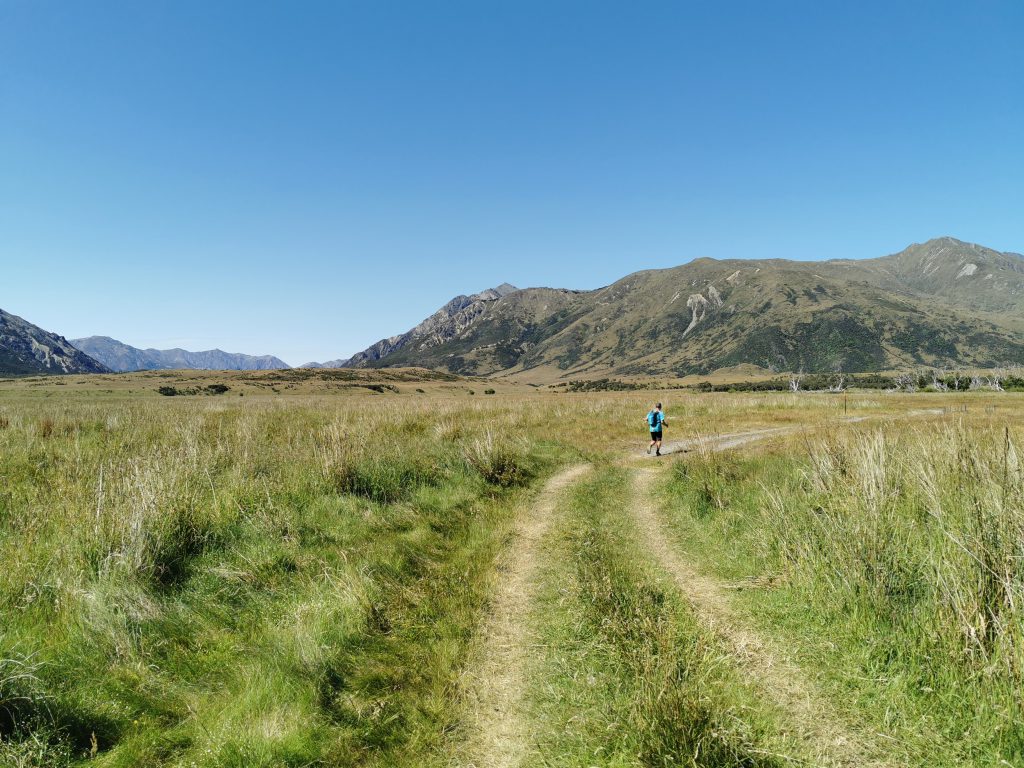 My 11am picture is a fairly uninteresting section of this track.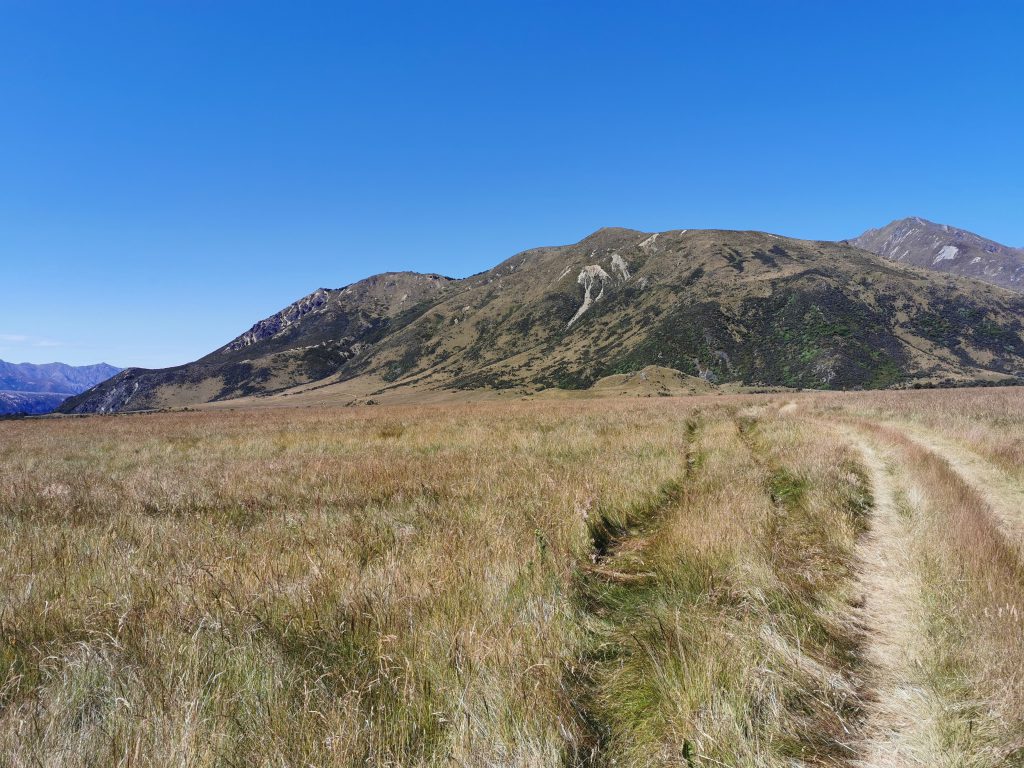 I could see Clem in the distance for a lot of the morning, but I lost sight of him after a while. I also passed a Polish girl going northbound, but she didn't say much. I think the northbound hikers are getting sick of talking to the droves of southbound hikers – they see so many of us but we hardly see any of them.
The second half of today follows the southern half of what is called the St James Walkway. At first it was a regular, well groomed 4WD-ish kind of path. But there are a few points where it isn't clear where to go – make sure you look for the markers and follow the map.
This swingbridge is quite hard to find and I nearly missed the turn to it.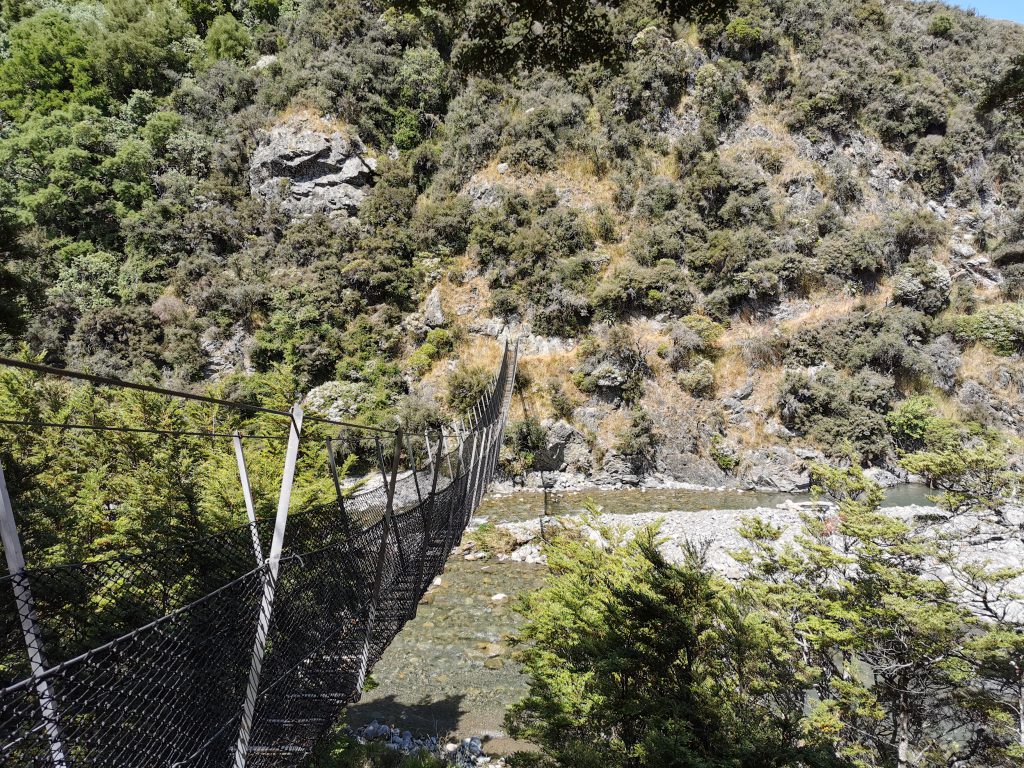 Then after that you walk along here.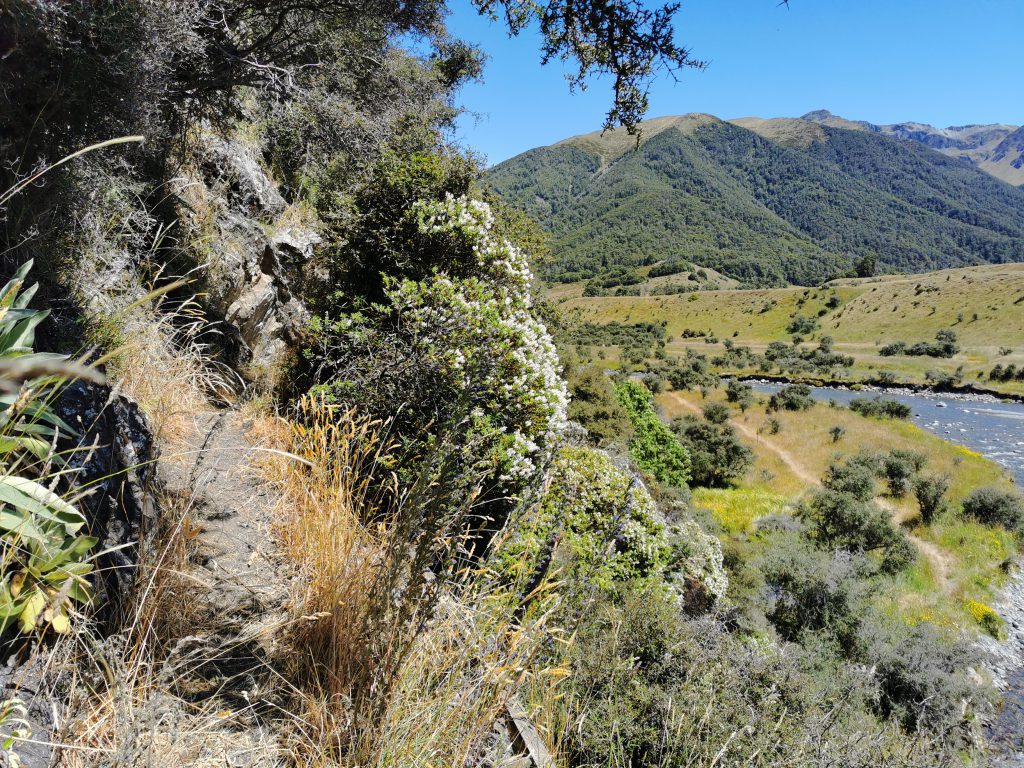 But then again it's easy going to Anne Hut.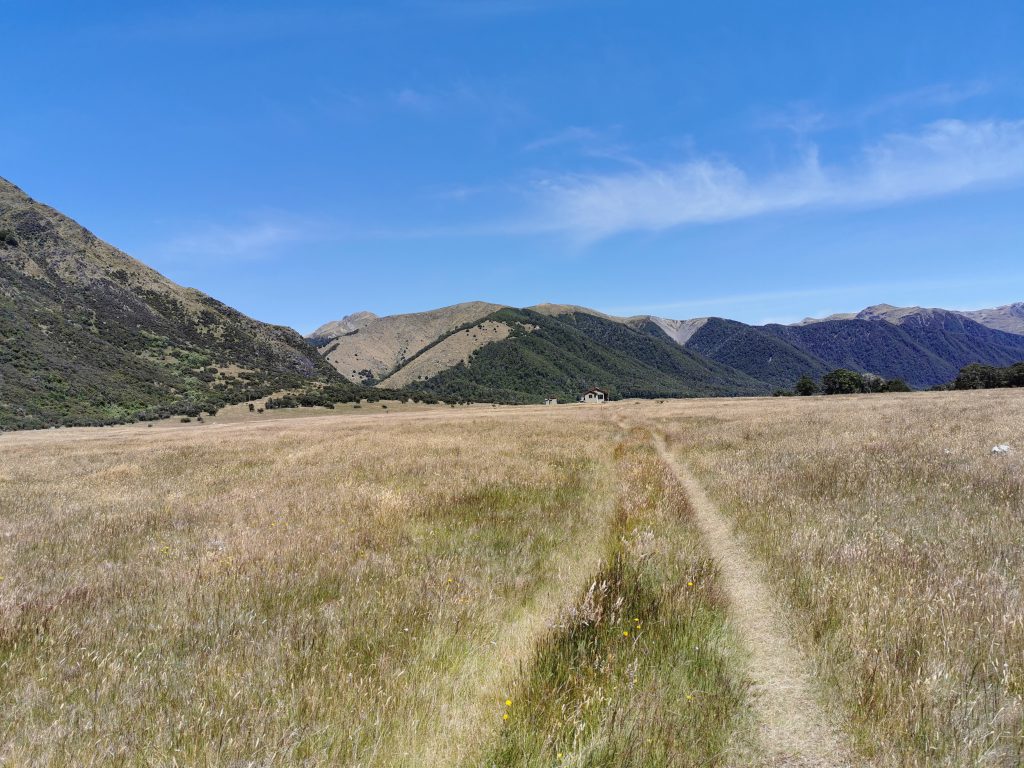 There were a couple of people here already, including a couple who were doing a few days' walk.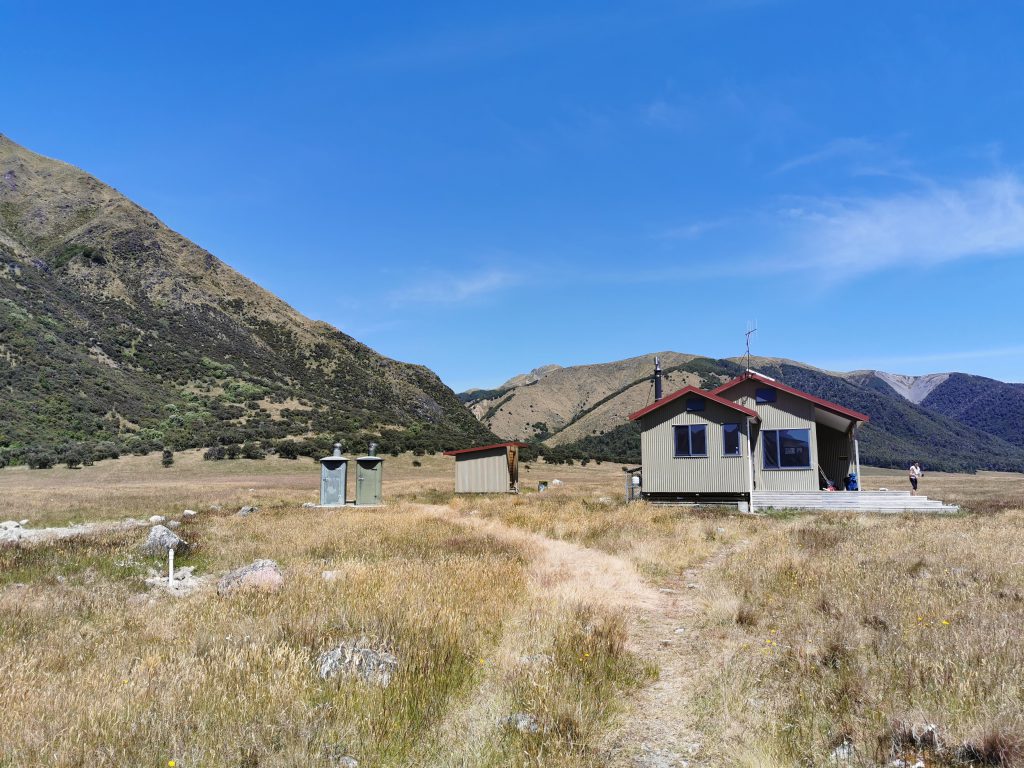 Also Clem was here and he was making a gigantic bowl of pasta complete with vegetables and all sorts of nice looking things. I was a bit jealous. He was nice enough to share some of his Cadbury Crunchie chocolate with me though, which was nice since I had no chocolate left.
There was a nice sheltered side to this hut and not a lot of sandflies, so I spent an hour and a half here having lunch and just relaxing and drying out my tent from this morning.
Clem was taking a nap before moving on, and I don't blame him because man was it getting hot out there. I almost decided it was too hot to go on, but all I had to do was think of the ice cream I'd be buying from the Boyle Village shop and again that was the motivation to keep going. Not before replenishing the sunscreen though. And not before having a quick squizz at the intentions book. Seems there weren't many people staying here last night. That's good – Boyle Flat Hut should be quiet tonight.
Okay, time to keep walking. From here it's a 400m climb over five or six kilometers over Anne Saddle. That's a nice and gentle gradient. The sun was beating down though, and sunscreen kept mixing with sweat and going in my eyes. Luckily I had my facecloth handy so that I could wipe off the sweat before it got into my eyes.
I also passed Clem after not too long. He was just lying in the shade and he told me that he'd eaten far too much lunch and was too uncomfortable to continue. I definitely know that feeling.
As expected it wasn't too difficult to get to the top of Anne Saddle.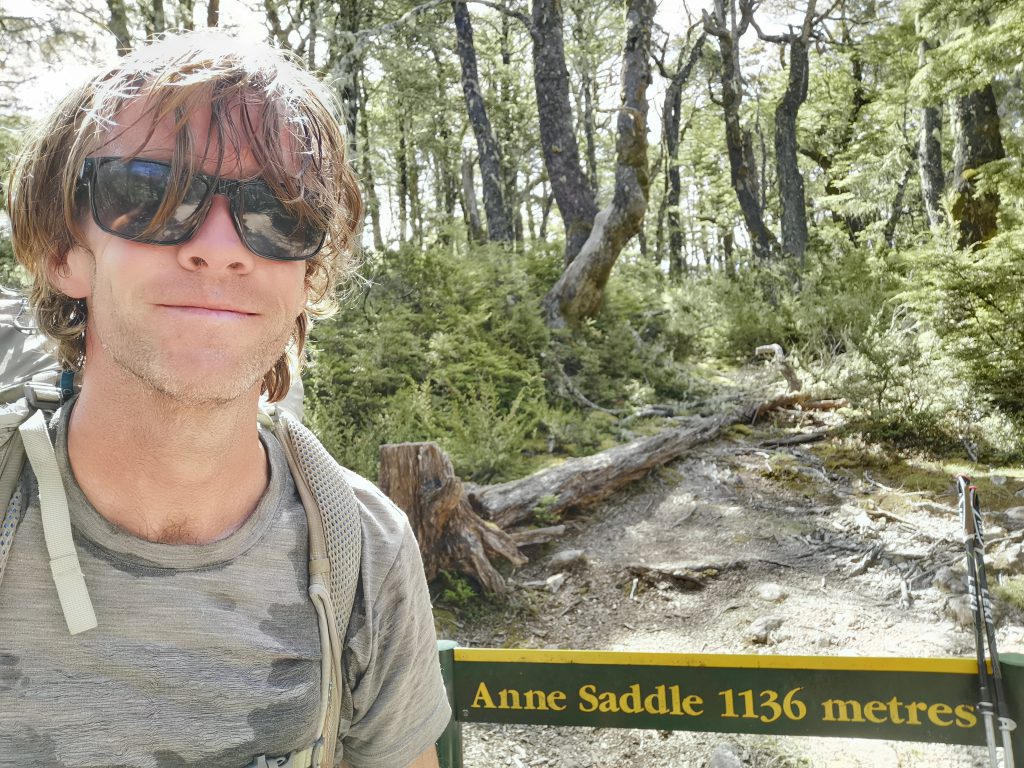 I was in trees at the top of the saddle which meant no nice view but it meant protection from the sun which was more important.
The descent from here was more eventful. At first was a little bit rocky, but then quite pleasant. It was "average" steepness. I could feel a little bit of pain in my knees like yesterday but not much.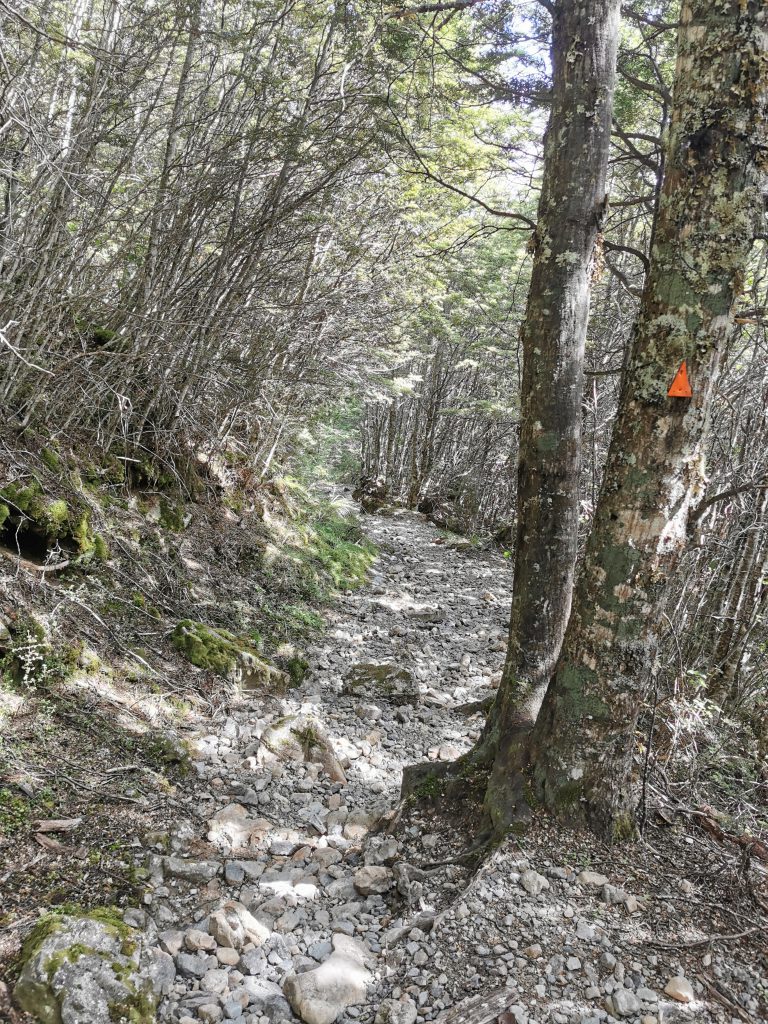 But this is where I got very confused. I came to a junction where there were orange triangles and yellow/lime-green triangles. We have been trained to flow orange markers as they are the "public walkway" markers and to avoid pink and blue markers as they are "trap lines" for predator control. But nobody has said anything about lime green triangles. I needed to look at the Guthook map.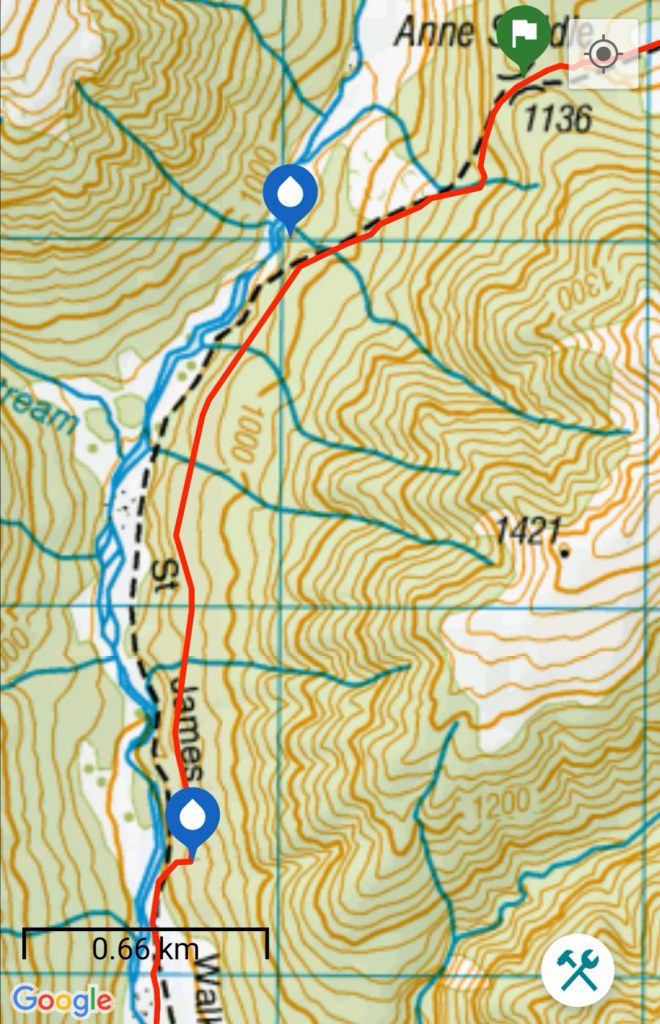 Okay, so it appears orange triangles are the red line on the map and the lime green triangles are the dotted line marked "St James Walkway" on the map. That doesn't help. I walked on the orange triangle path for a minute or two but it became very dicey very fast, with massive fallen trees and this washout: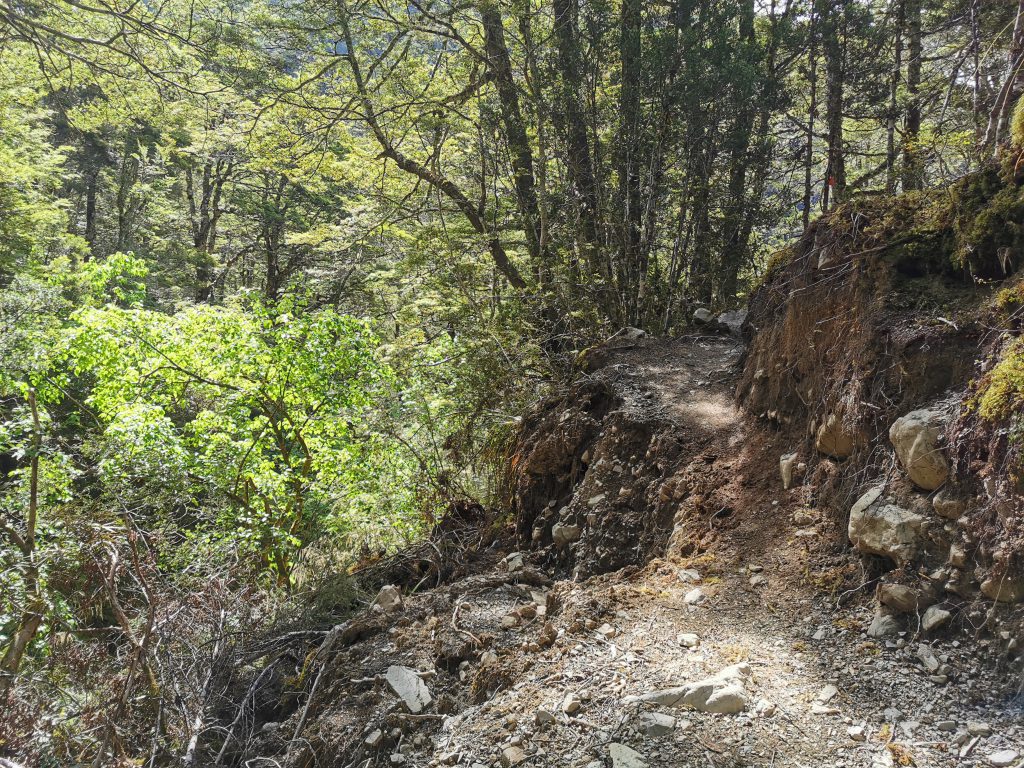 So I went back to the intersection of the markers and had a proper look. On the Guthook map there is a water waypoint off the trail down at the river where the lime green triangles point saying "continue south down the Boyle River". So the green triangles are definitely some kind of known path. But Guthook is not known for its clarity. There's a waypoint there but am I supposed to follow it or not? There's a comment on the Anne Saddle waypoint on Guthook saying "thanks for the nice new track cut through here, DOC!" so maybe the green triangles are the new track. Or maybe that comment refers to the Northbound track I took to get here. Who knows.
Not wanting to walk on the dicey orange path I took the green path.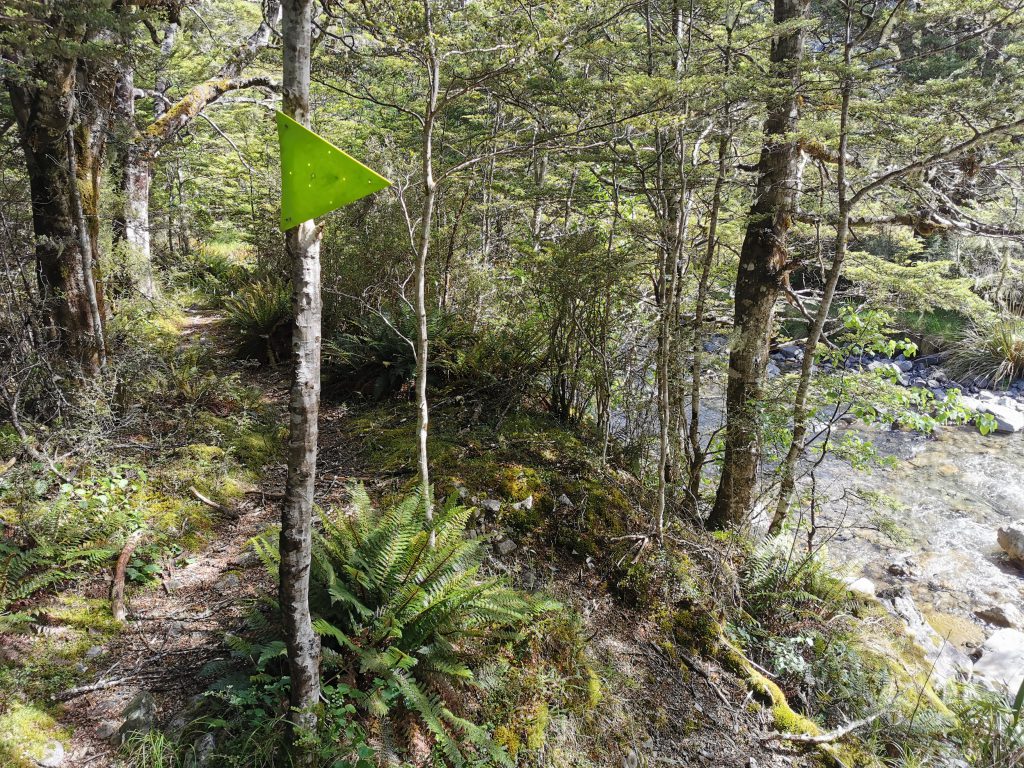 This involved walking down to the river and then actually following the riverbed for a kilometer or two. It involved multiple crossings of the river, but because the river level was so low that wasn't a problem. There were hardly any markers so I was relying on the topographic map which indicated that I simply needed to follow the river downstream. There was a very faint track through the grass beside the river but I kept losing it.
To make things more confusing, there were one or two orange triangles on this side path.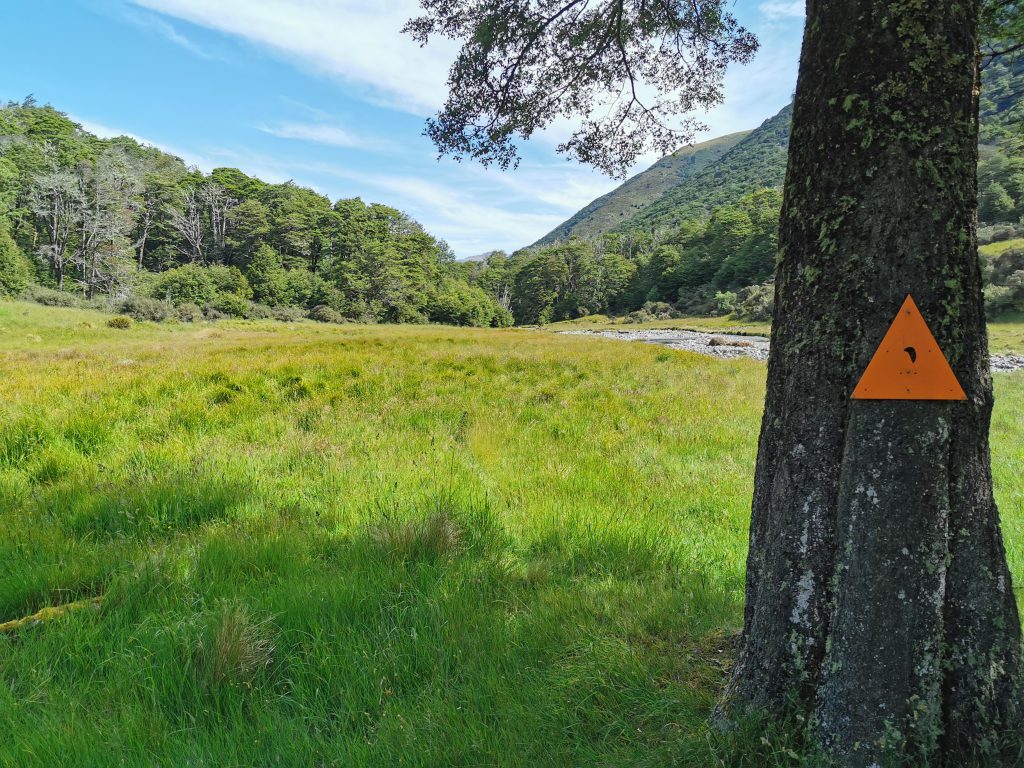 When I rejoined the orange path I was still none the wiser if I'd gone the right way or not. This didn't help: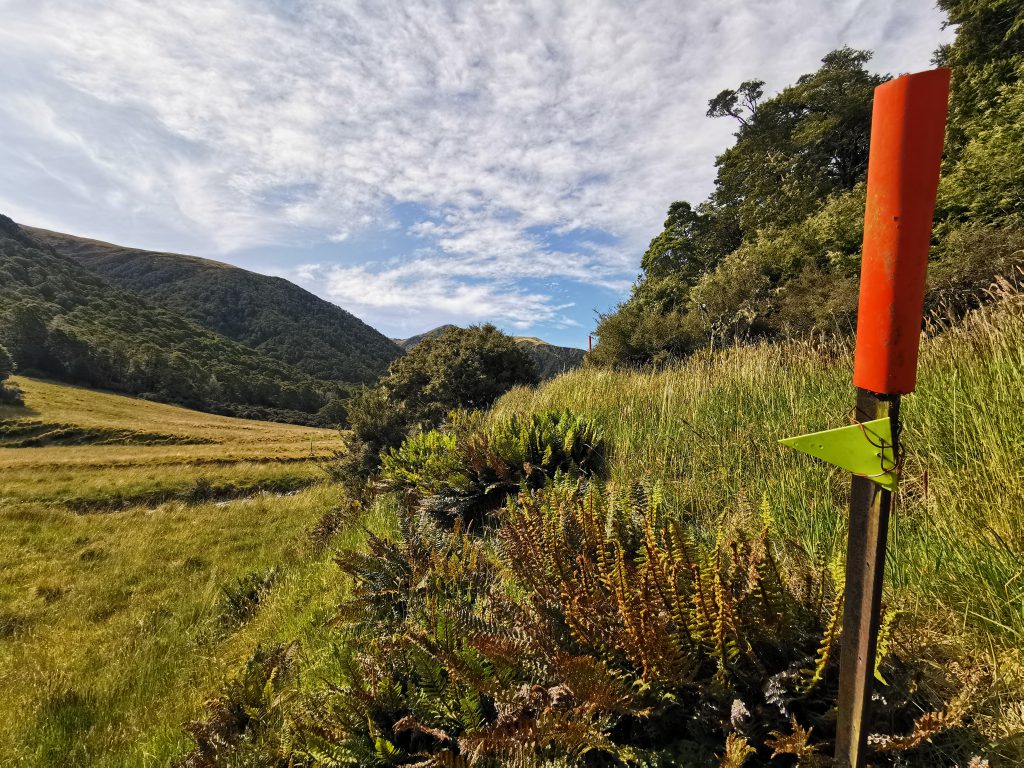 Either way I was back on trail. I'll talk to others at the hut tonight and see what they did.
One annoyance about the green path is that I seem to have lost my facecloth somewhere along it. I don't know exactly how that happened and I don't like the spate of losing things recently that I seem to be going through. On such a hot day I like having my facecloth. Another thing I'll have to buy again in Christchurch.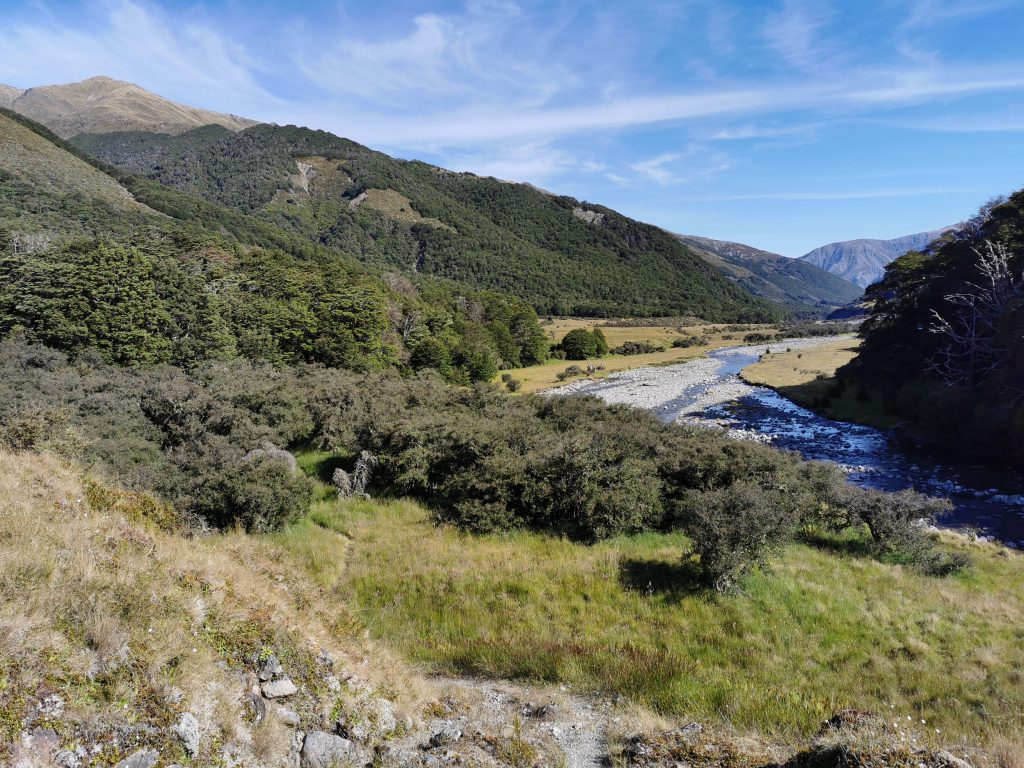 A notable landmark on the way is the small two-bunk Rokeby Hut.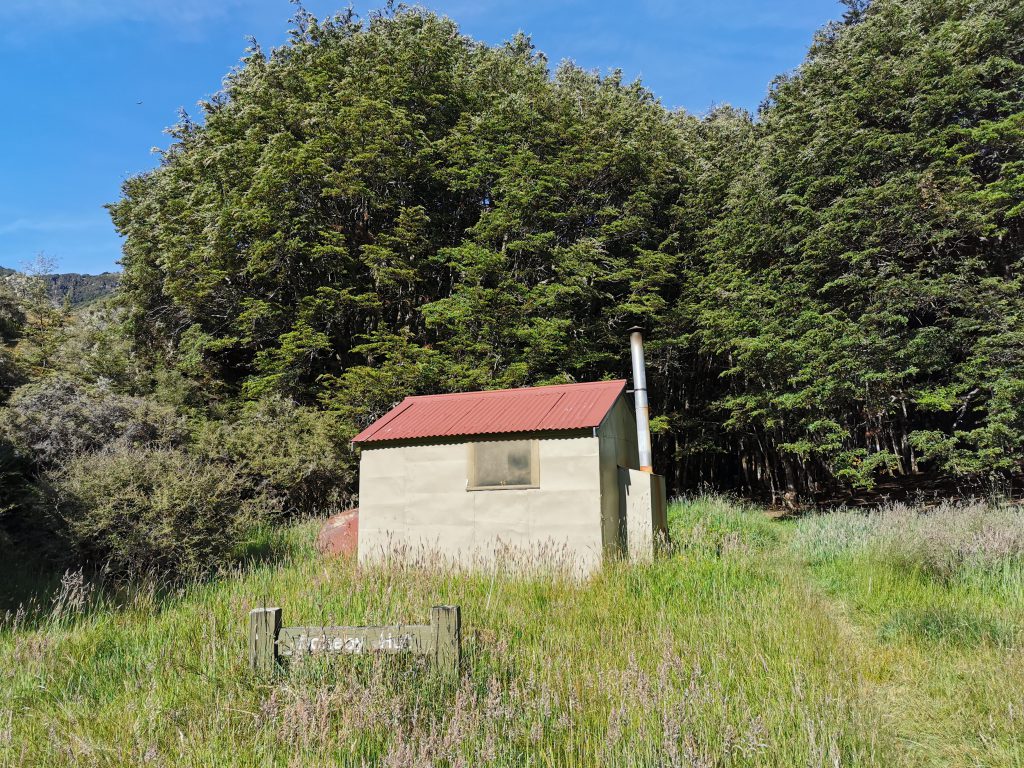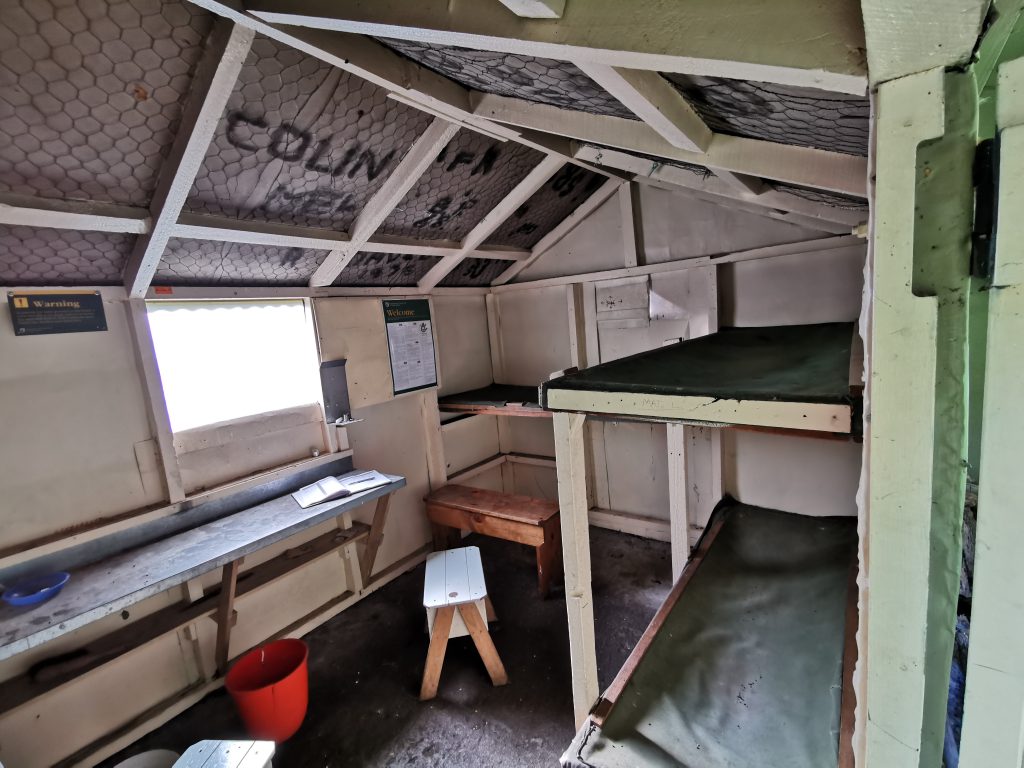 It's classed as a "basic" hut (as opposed to the "standard" huts which are most of them and the "serviced" huts which are supposed to be the popular ones). This is the lowest of the three rankings which means it's free to stay in. I think I would only stay here in some kind of emergency – I mean it's a free hut, you get what you pay for. Boyle Flat Hut is not far from here.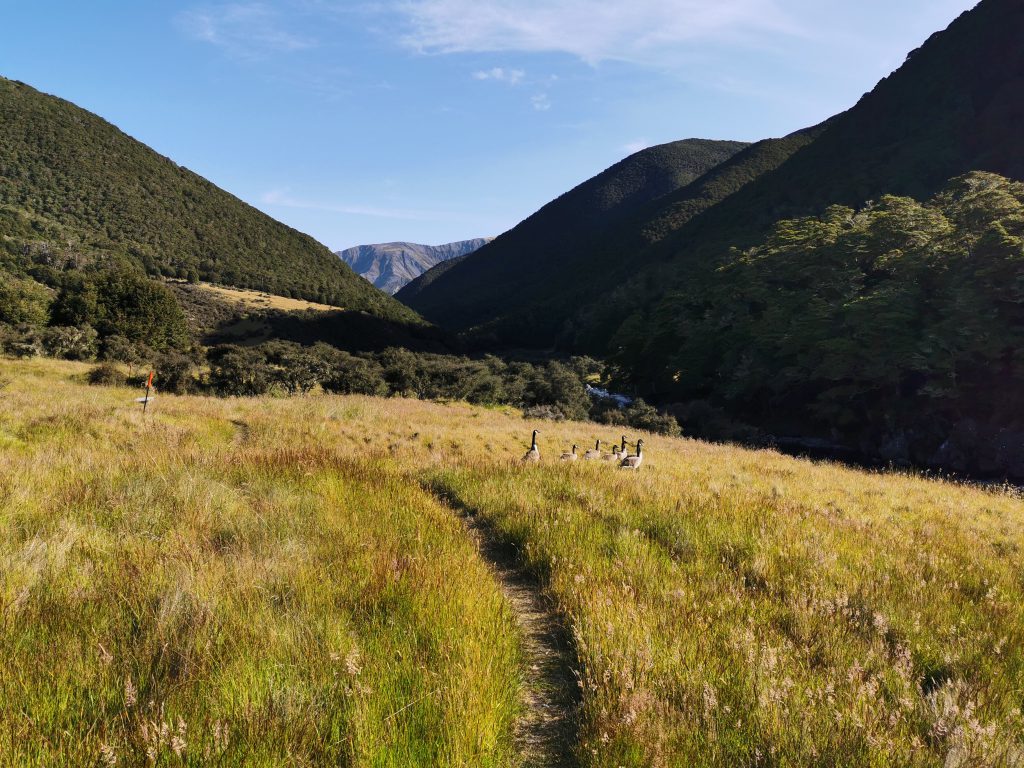 There were a few spots after here that again were confusing. The straightforward parts of the trail were clearly marked but as soon as anything out of the ordinary happened, the markers just vanished. I have a feeling that the St James Walkway was shiny and new once upon a time, but that was a long time ago and it's falling into disrepair and nobody cares. Nobody replaces the markers when parts of the trail are washed away.
Getting to Boyle Flat Hut requires a diversion from the main trail across this swingbridge.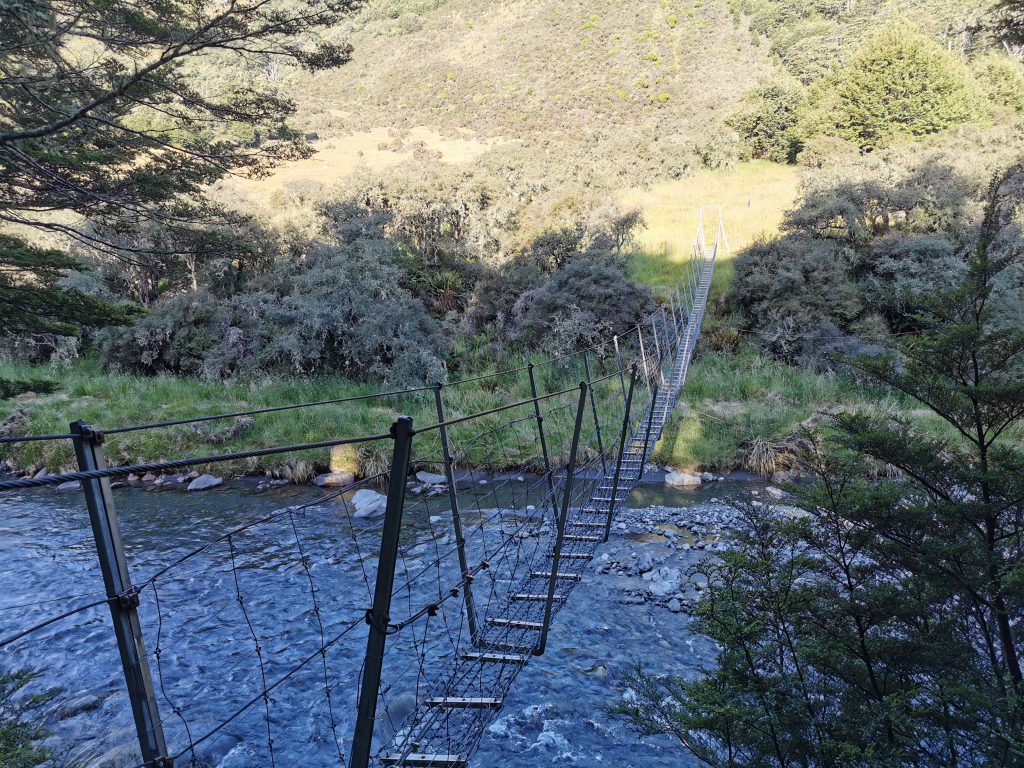 As I approached the hut I saw a lot of gear outside.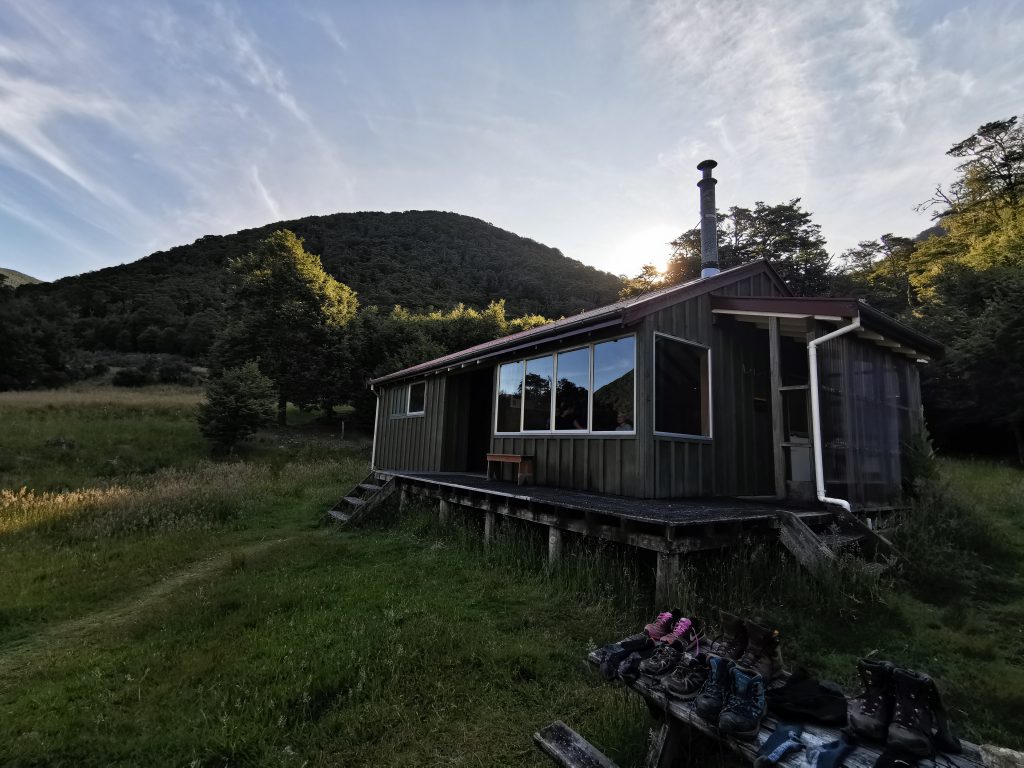 I also saw the same couple outside that were at Anne Hut. They said there was a family staying here. Oh no, I thought. They're gonna be loud. Sure enough, there were three kids in the family and not only did they not have an inside voice, they simply didn't stop talking. Yikes. There is zero chance of getting any blog writing done tonight.
The couple also mentioned there was one other TA hiker, so at least I'd have someone to talk to. I wondered who it was… And who it was was a nice surprise.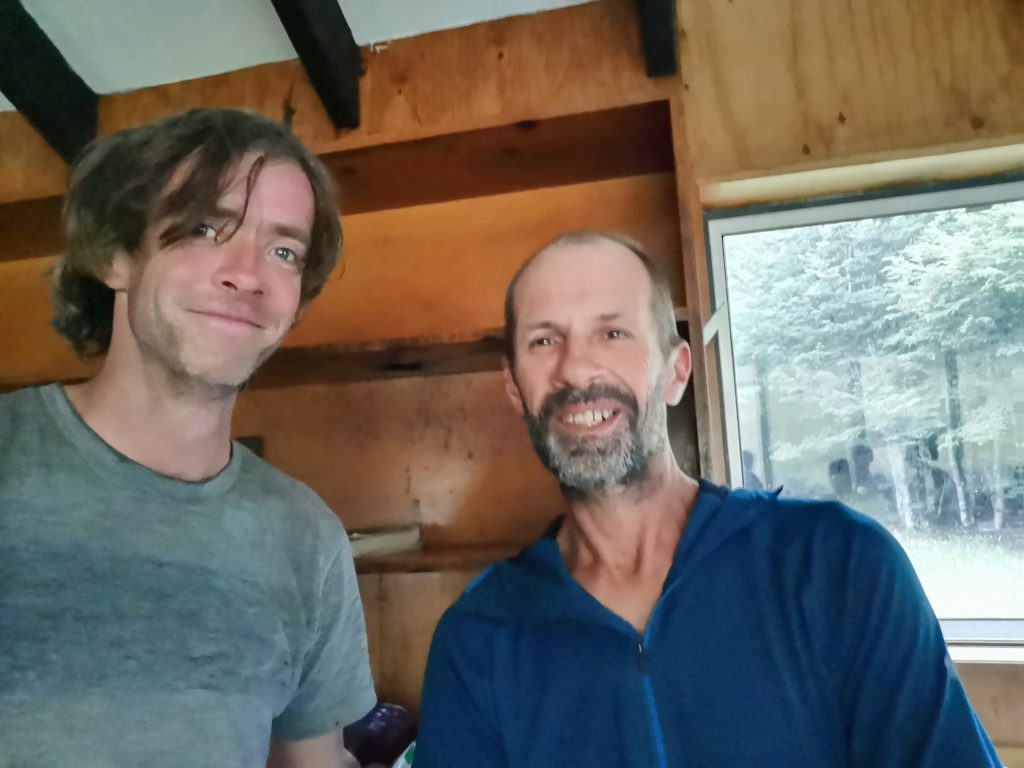 I figured Rhydian was at least a day ahead, but I forgot he likes to take rest days in huts. It was good to see him again and we caught up on all the latest developments. Plus I was happy I'd have a walking partner for the easy day into Boyle Village tomorrow.
Rhydian mentioned that there's no water here since the tap was leaking, so a trip down to the river is required. He also said the intentions book is full. Gee, this is supposed to be a "serviced" hut! I said the same thing about Blue Lake Hut two days ago, didn't I… Maybe my expectations are too high. At least there are bunks still available.
One thing I did learn from the father of the family that was staying is that the green triangles are for horses. You're not supposed to follow those. At least now I know. Horses are able to walk up the river path even when the river is flowing higher, apparently. The dicey track with the big washout and the fallen trees was indeed the right path.
Clem arrived a bit after me, but he spent a lot of time outside before coming into the hut. He said he also took the orange path and that there were ways around the fallen trees if you looked.
Like many of the previous huts, this hut was also a sauna. I thought at the time that it is such a shame I was stuck in the hut with the heat and the incessant noise, and I can't just go and sit outside in the wonderful temperature with the lovely view… because the sandflies will just immediately swarm me. Rhydian and Clem braved them though. Maybe they will succumb to the sandflies and won't come back in the morning.
Today's walk on the map (blue = Te Araroa, red = today's walk):