Date: 11 March
Trail covered: 15.6km (kms 2322.8 to 2338.4)
Weather: in the clouds until midday then fine
I went to the loo at 6:45am. While I was out I saw how cloudy and misty it was. No long day today, I've decided already. I went straight back to sleep.
Fast forward to 9am. I'm still in bed. Christie and Michael left at that time and then finally I hauled myself out of my sleeping bag. Since making it over Stag Saddle today definitely isn't going to happen now, there's no rush to leave as Royal Hut is the other option and that's signed as only 7 hours away.
I took my time having breakfast and packing up just in case the cloud cleared, but it didn't. When I left at 10am it was still cloudy and misty.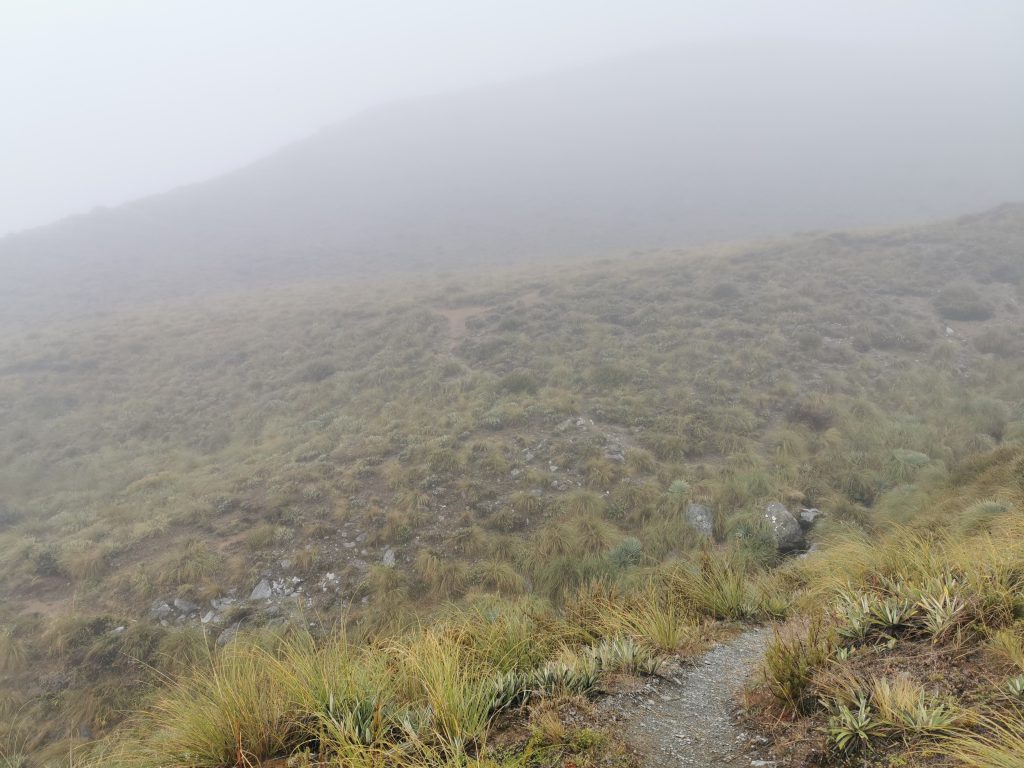 It made it a little hard to find the marker poles. I took a wrong turn immediately, following the path across the stream. That is the path to go and get water, but it isn't where the trail goes.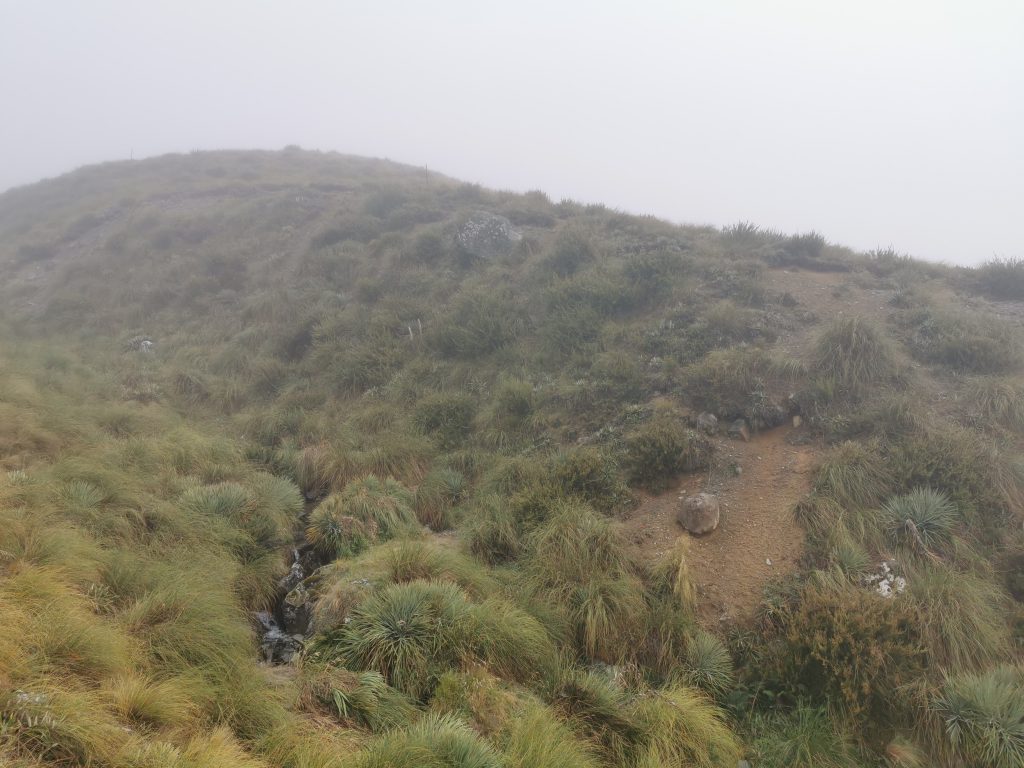 I had to walk through thick tussock all day and it was of course very wet. My shoes and socks were drenched after only 2km in. I tried to use the poles to push through the grass and to knock the beads of water off the grass but of course that didn't work.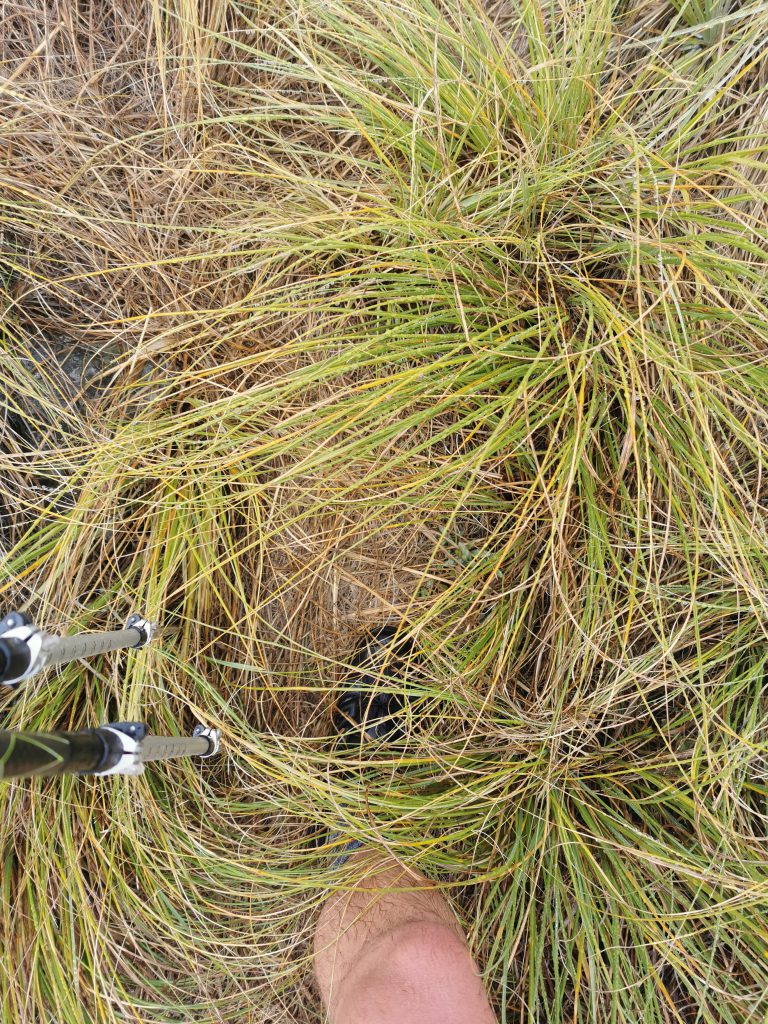 Like often happens, the first part of the day is up and over a saddle. It was a climb from the hut at 1024m to the saddle at 1551m. It wasn't a particularly difficult climb though, it was just hard to see anything. At 11am I was, like many other days recently, approaching the top of the saddle.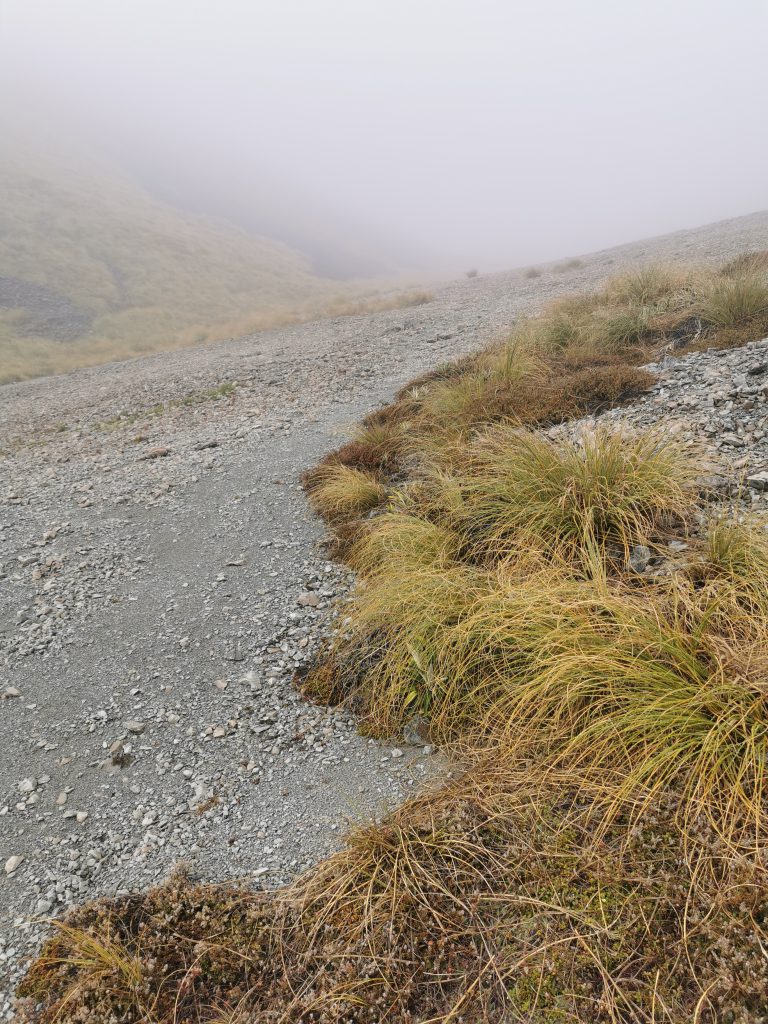 I had left the hut with my jacket on but despite the conditions and altitude I took off the jacket fairly soon after leaving the hut. It was surprisingly not too cold as the sun was trying to peek through, it was just having a hard time.
Not too much later I saw the marker pointing out the top of the saddle.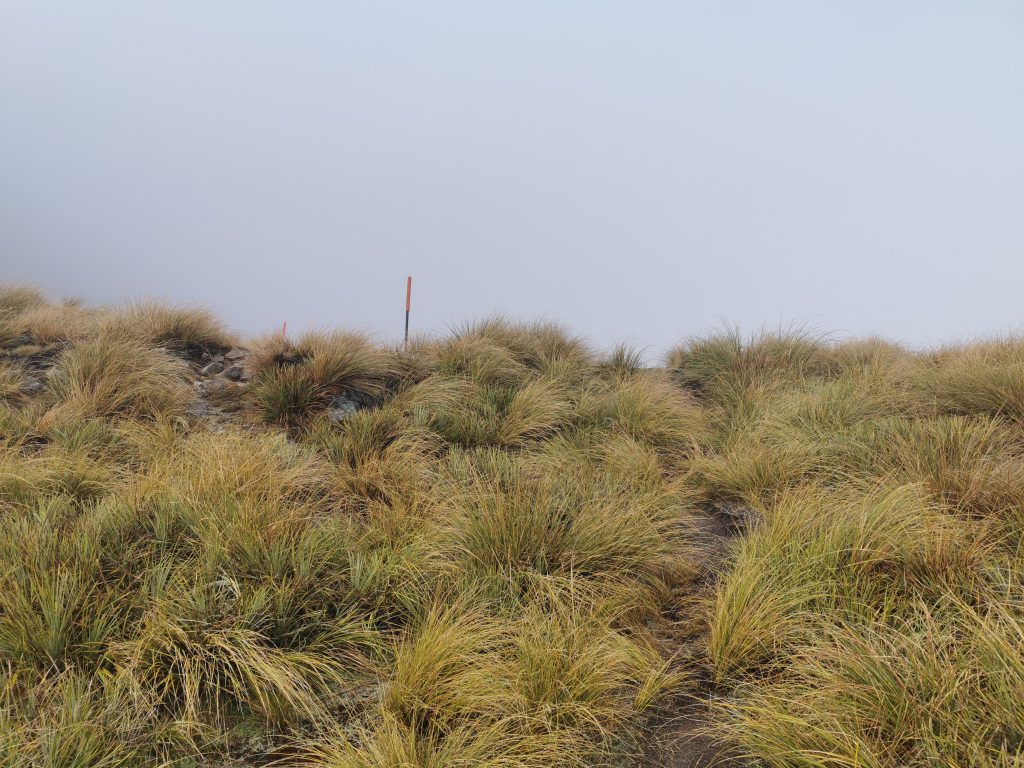 I was full of anticipation… what amazing view would I see over the top? Dun dun dunnnnnnn…..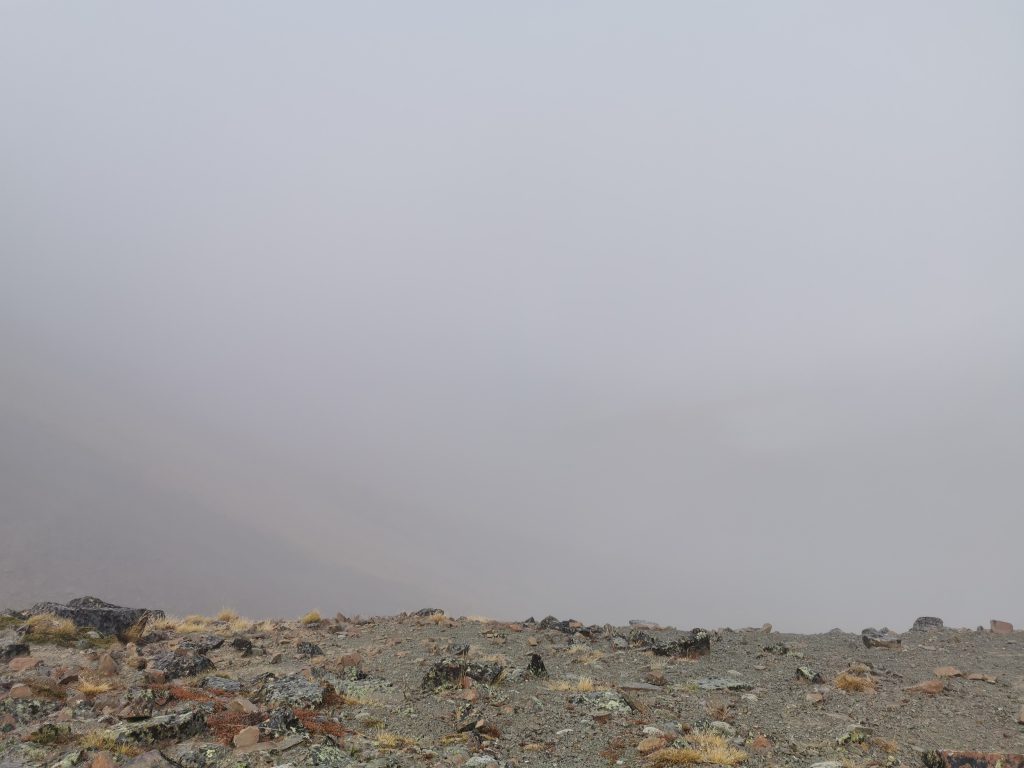 It was about what I expected, given the conditions.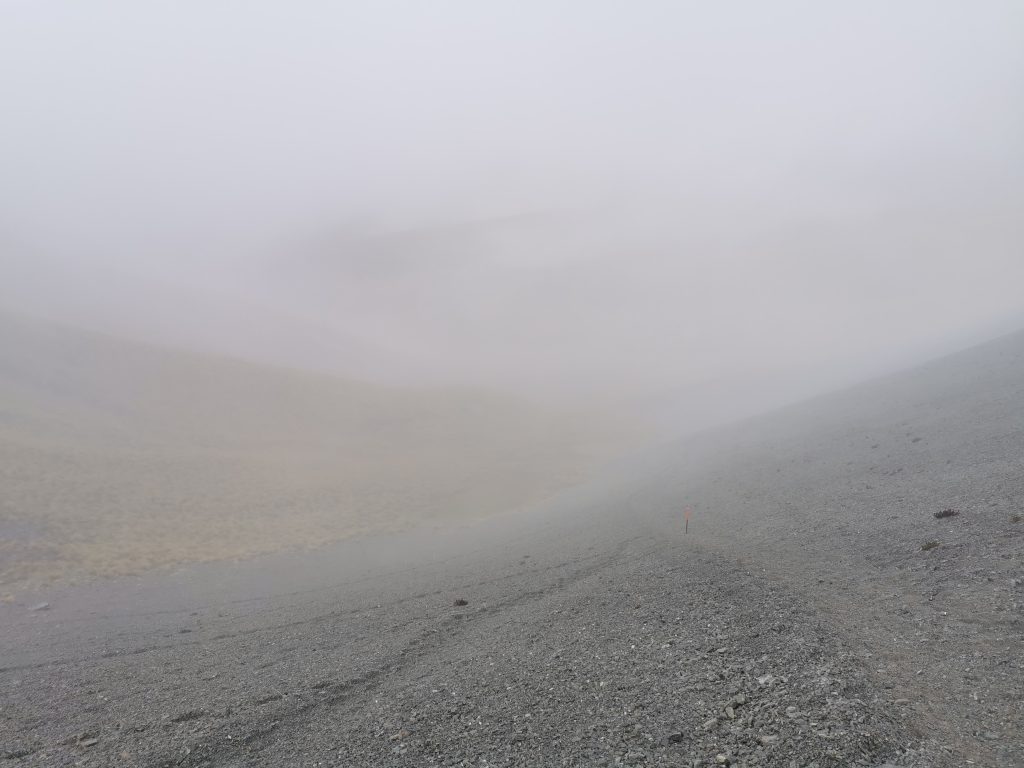 But not long after going over the saddle, the clouds did start to disappear. I looked back and saw what I'd just crossed over.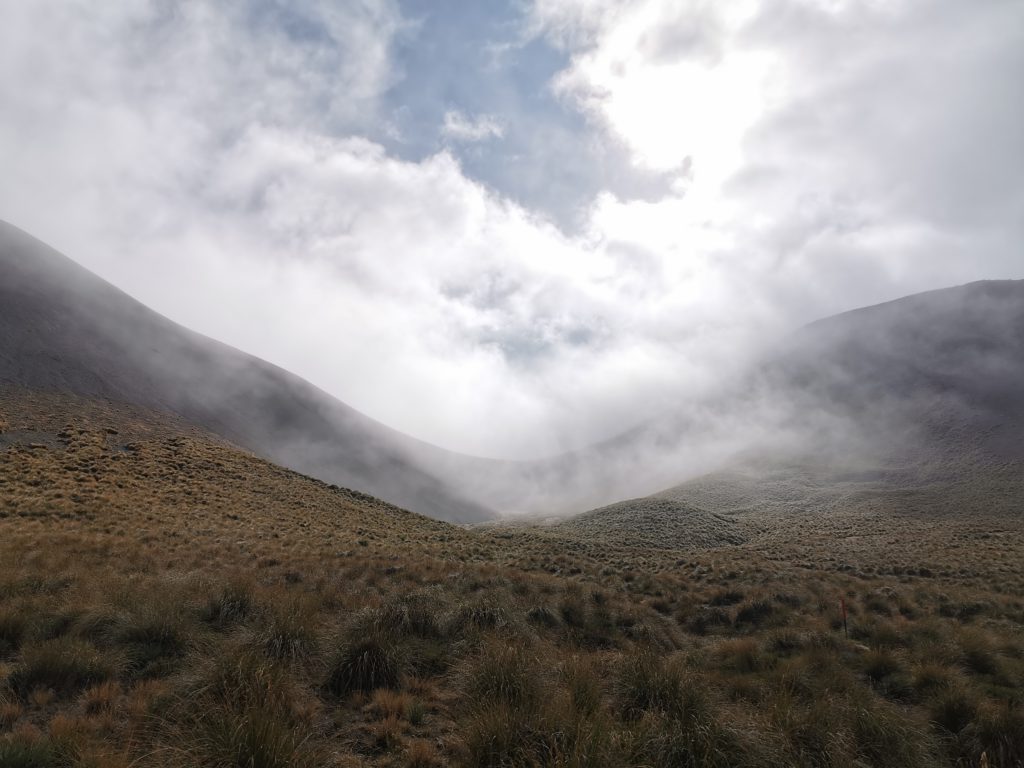 I can see clearly now the rain has gone. I can see all obstacles in my way. There was a rainbow I'd been praying for (yesterday). It's gonna be a bright bright sun shining day.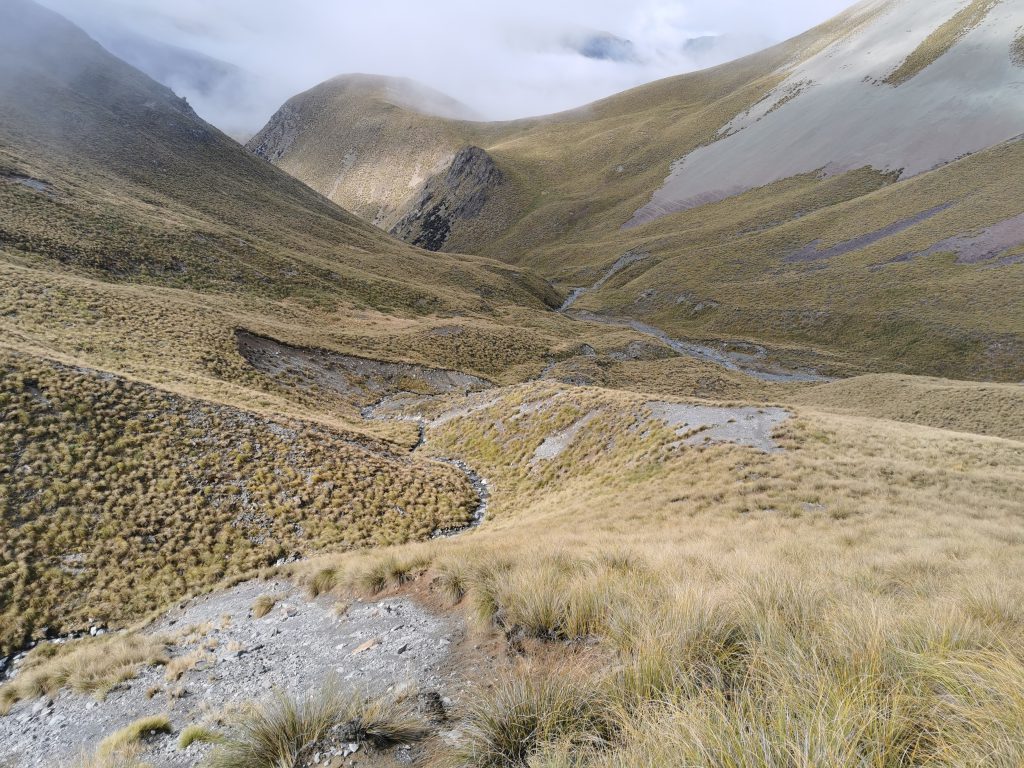 As you can see it was tussock in all directions. It's okay to walk through if you can find the established path, but if you can't, it's just annoying. I regularly stood on the long tussock grass with one foot and then tripped over it with the other foot. It helped to try to take big steps.
I saw the others in the distance going over a hill.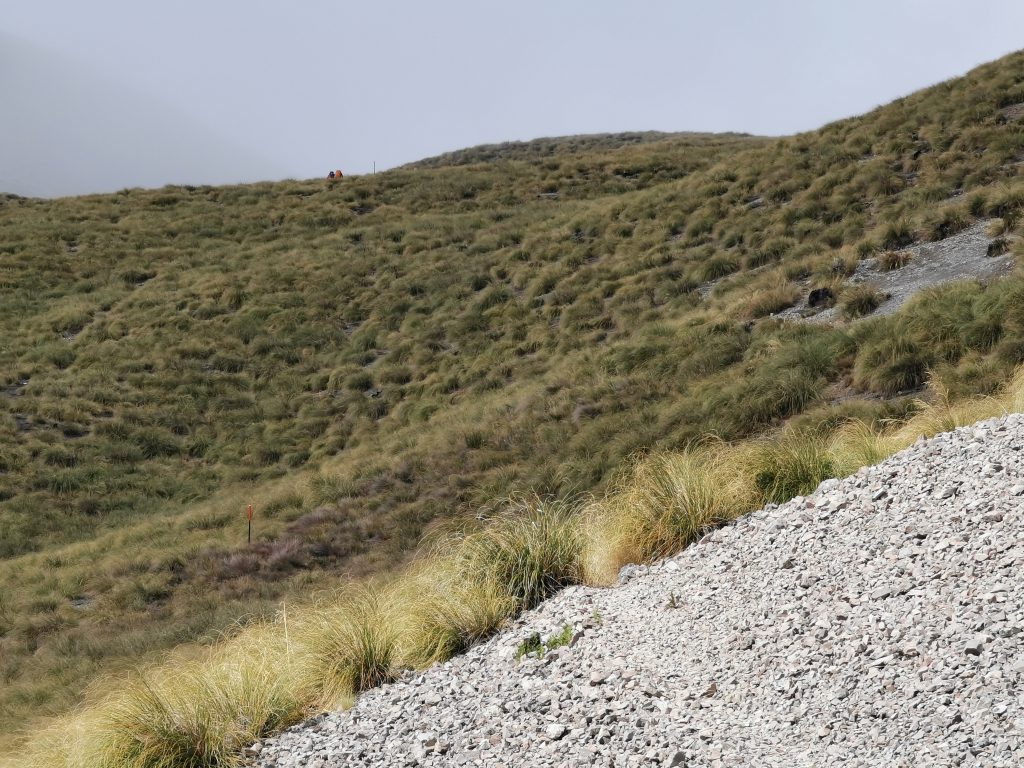 We all stopped for lunch at the next hill. It was a really pleasant temperature. Warm enough to have just t-shirt and shorts but no so warm that it made me sweat.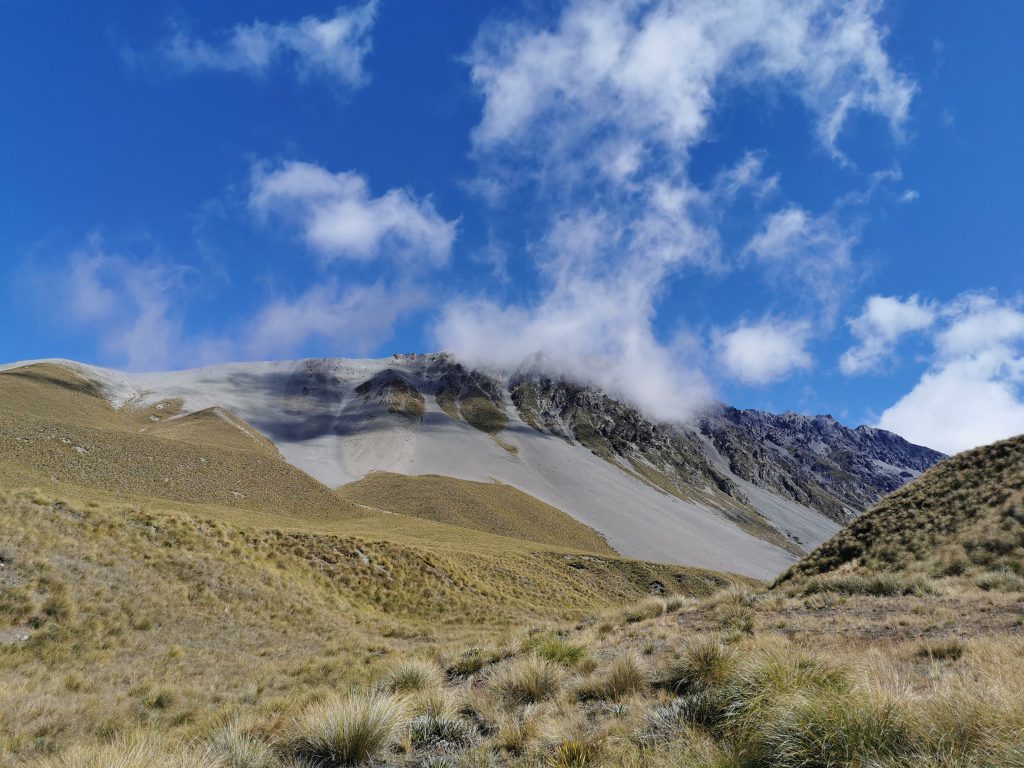 During lunch, Christie said that there won't be any accommodation in Twizel this weekend because of a rowing regatta. That's a bit annoying – in a day or two I have to do the Tekapo to Twizel section which is well known for being the section where there is nowhere to camp or stay for 60km. It would be annoying to walk that far and then have nowhere to stay.
The current Guthook map ends at Tekapo and so to see past Tekapo I have to switch maps. I wanted to look at the map to see what camping spots there are in Twizel. However Guthook wouldn't let me change maps – it just gives me "unknown error". Very helpful. Maybe the app needs phone reception to change maps, although I don't see why it should. Yet another reason to hate the Guthook app.
There's reception at the top of Stag Saddle tomorrow so maybe I can research my options up there. Hopefully it won't be too cold and windy while I do that.
We all left the lunch spot together but I headed out in front fairly quickly. I saw what I thought were deer over the next hill… but when I looked closer they looked like goats, I mean they had horns. We'd seen hunters writing about hunting tahr in the hut. I don't know what that is. Is this them, perhaps?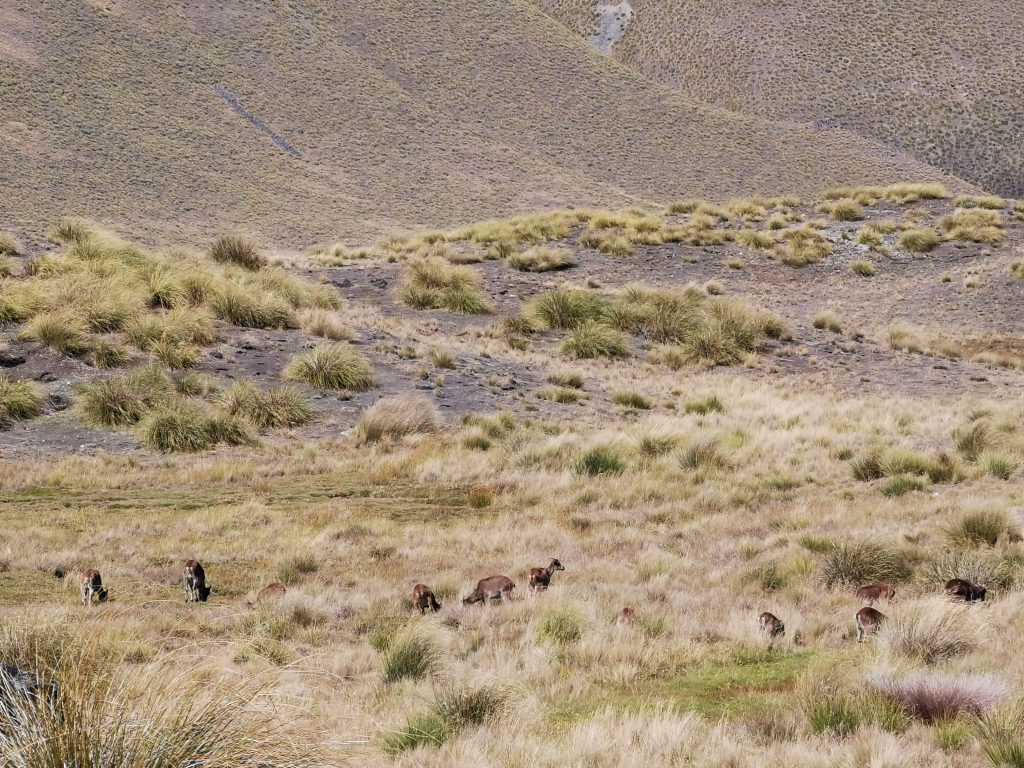 Uh oh, I've been spotted.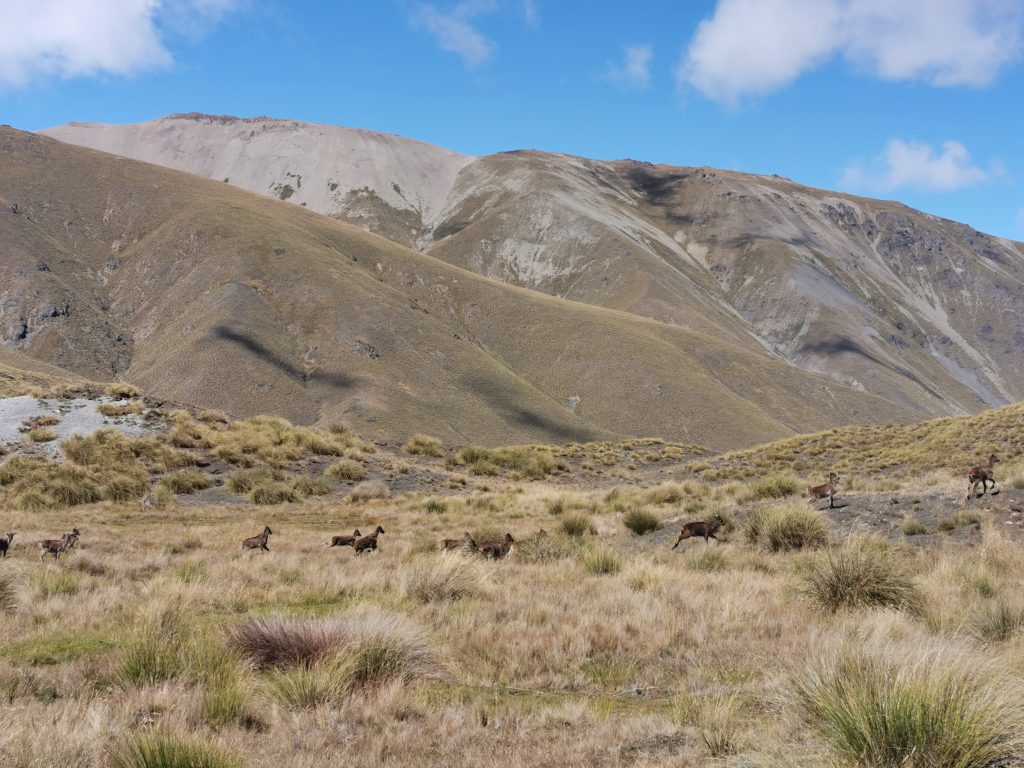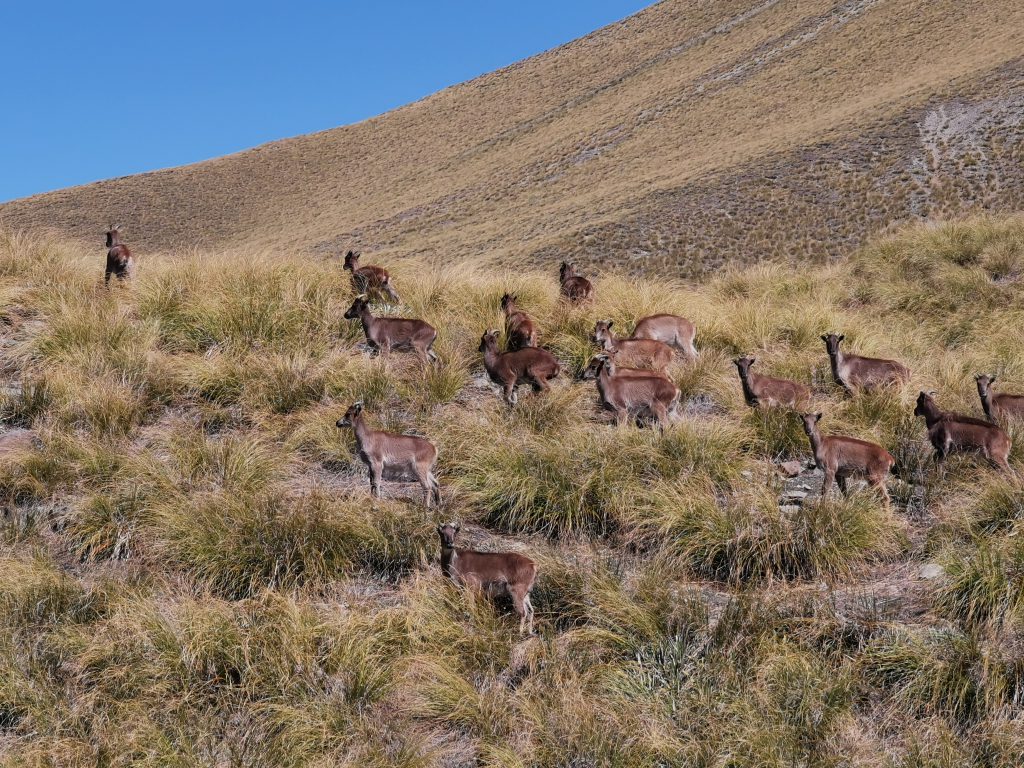 The next hut is Stone Hut. The path to it was interesting, there is an orange marker on the right but then a bridge over the river in the bottom left and then a walk to the hut. I couldn't work out why there is such a fancy bridge there when the river looks easily crossable.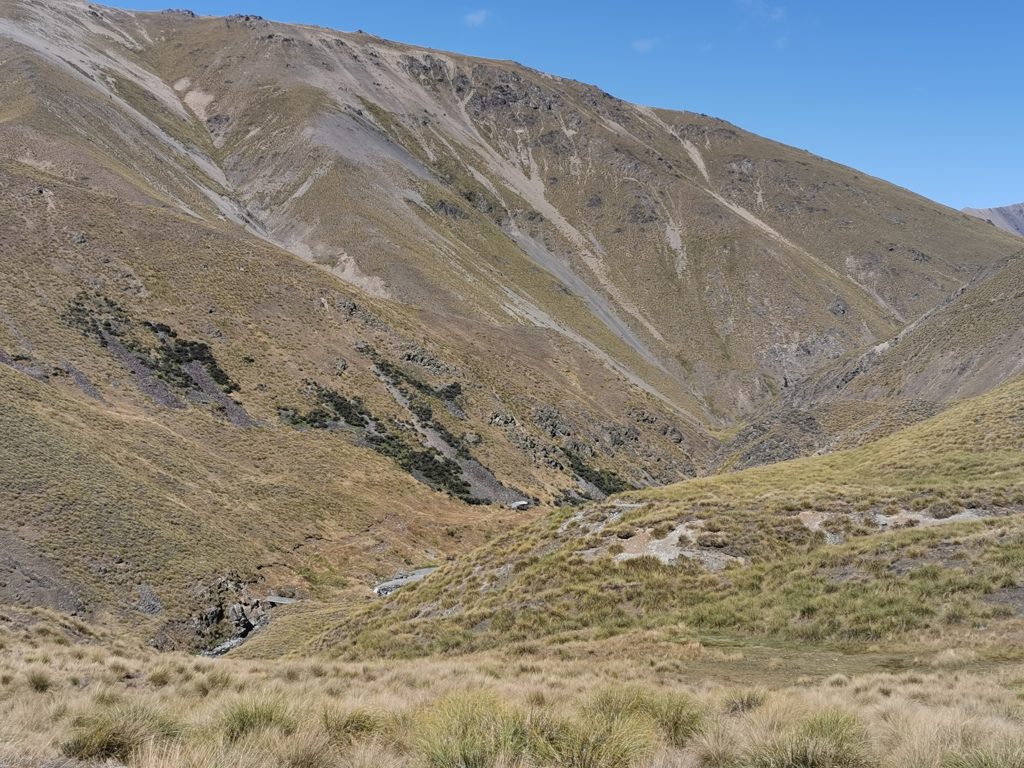 Its not even a swingbridge like we've all been used to. It's a proper bridge.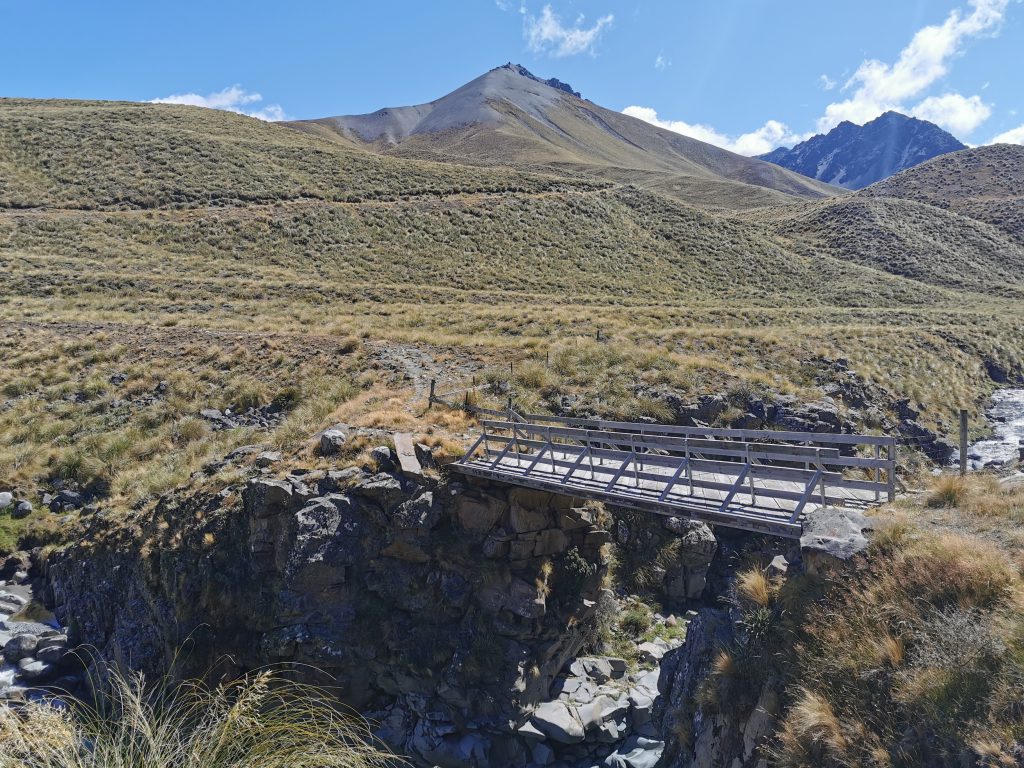 Stone Hut was nothing special. At least it was partly made of stone as would be expected from the name.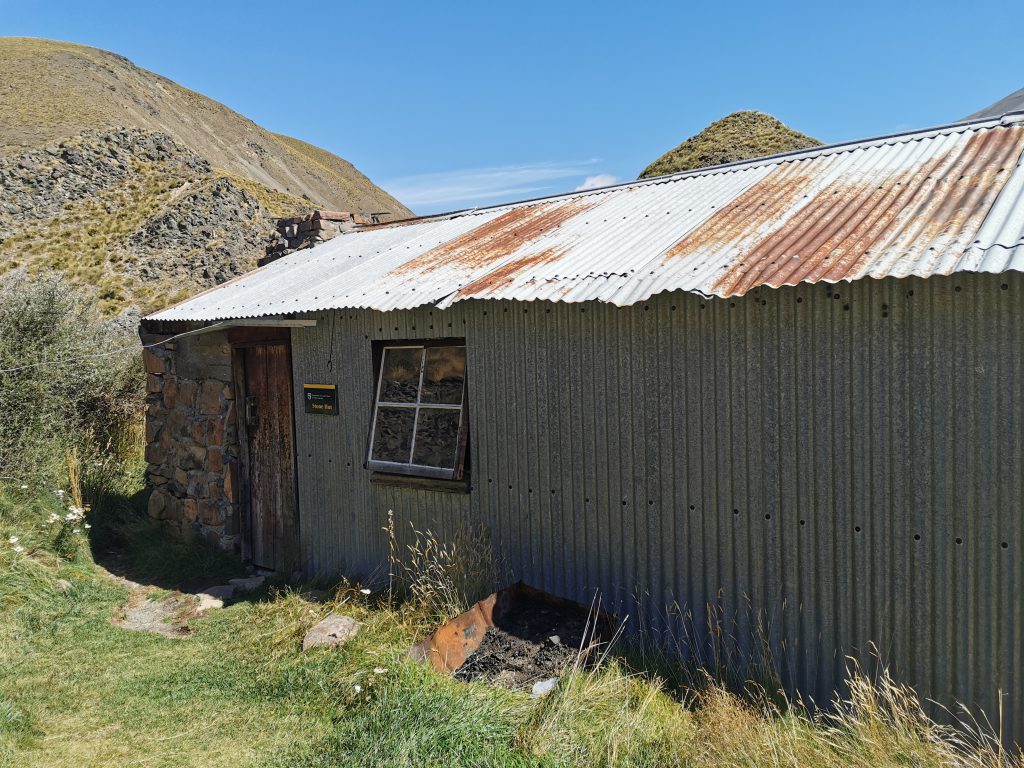 One thing you could see as you approached the hut is that the toilet faces a great view, but it appeared to have no door on it. Would they build a toilet without a door just because of the view, I wondered? Surely not. When I got closer it became clear.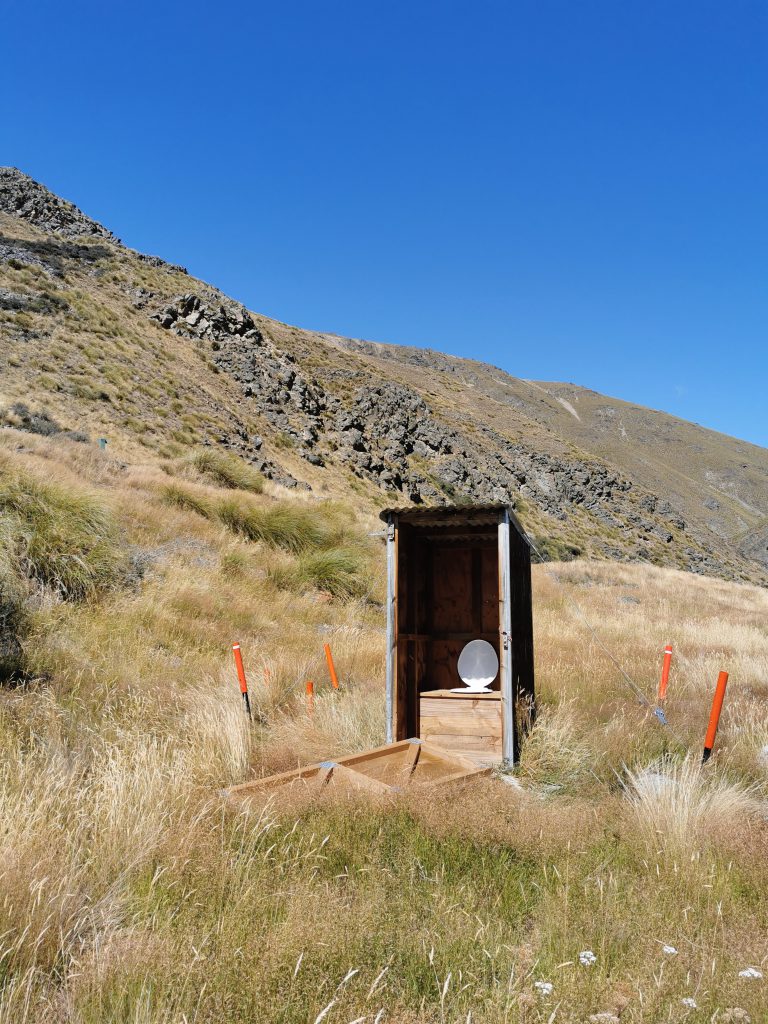 It does have a door, it's just been ripped off. I hope the wind did it and not some dickhead thinking that he's doing the world a favour.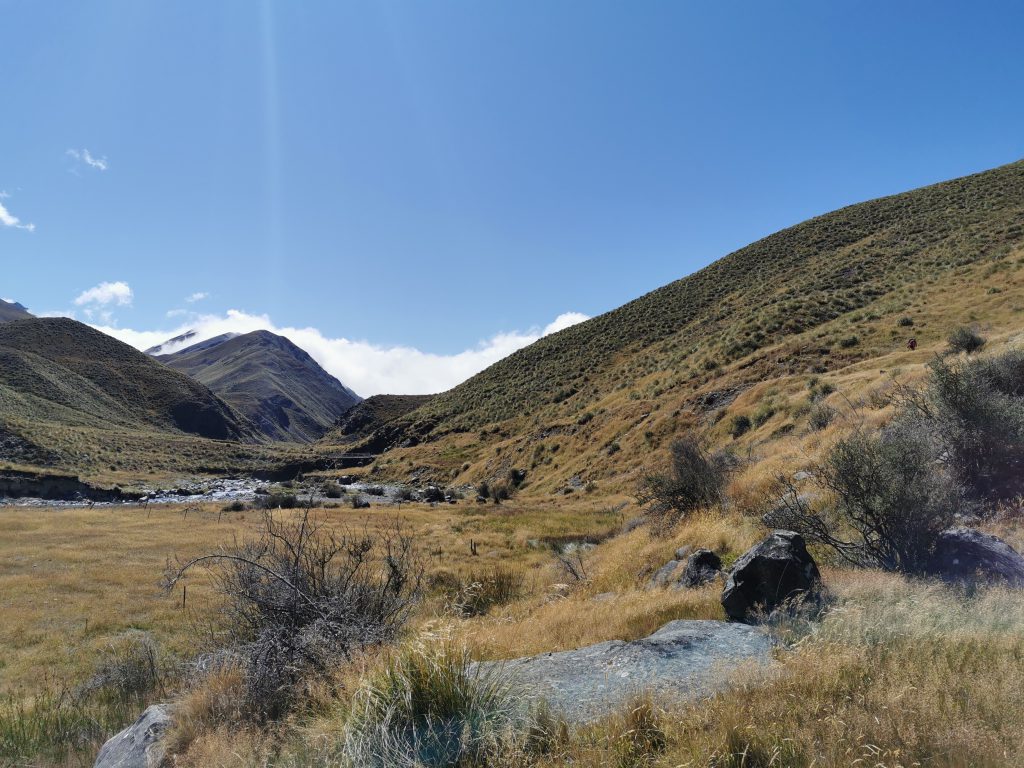 I didn't spend long at the hut, I continued on. What I found weird was that despite the fancy bridge, you have to then cross the same river on foot just metres from the hut.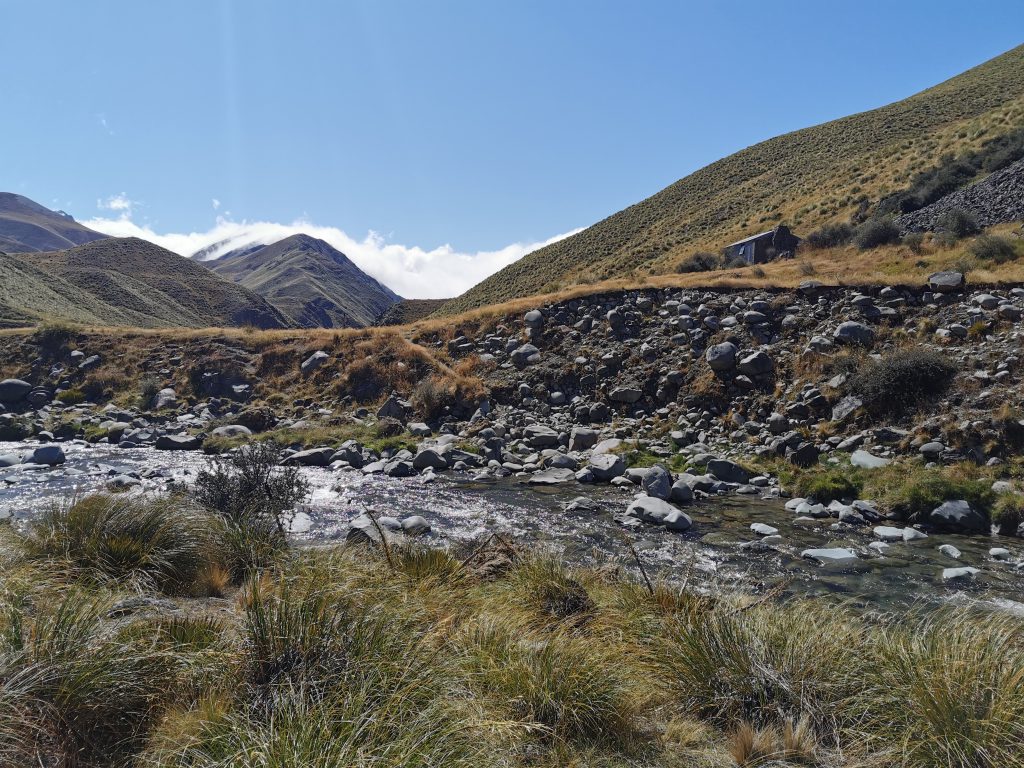 Then you ascend slightly through a gorge towards Royal Hut.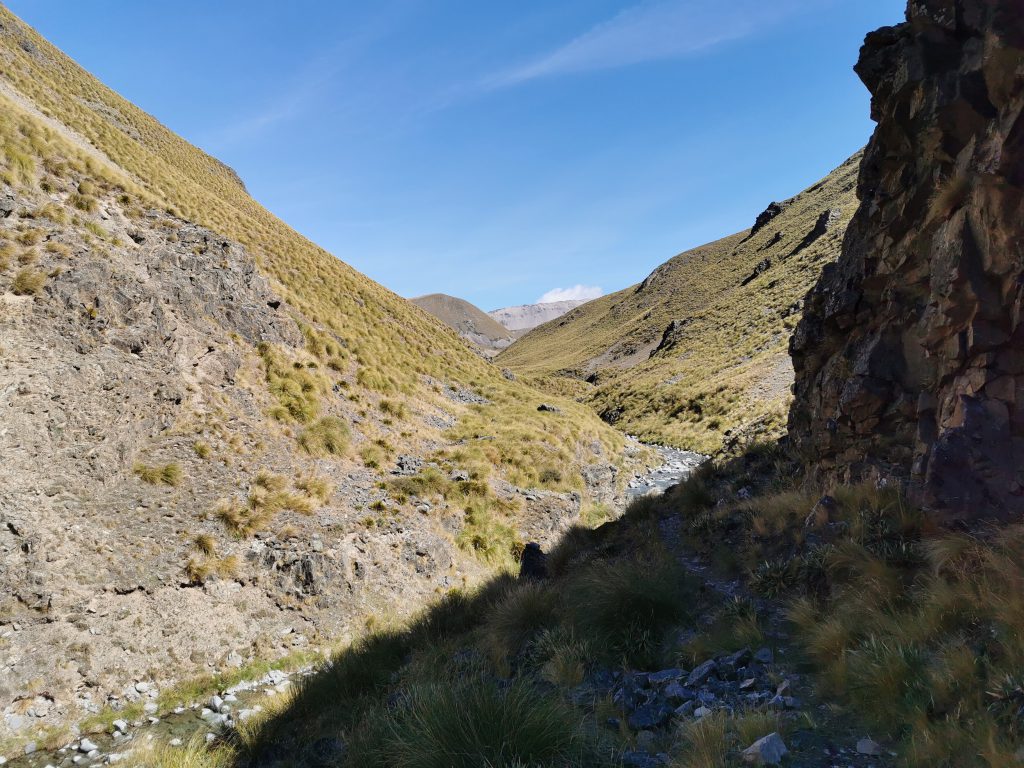 Next is 5.5km of walking through tussock. Well it's not just tussock, it's also Wild Spaniard – lots of it. And it is not always easy to see. I mean, it's obvious when it looks like this: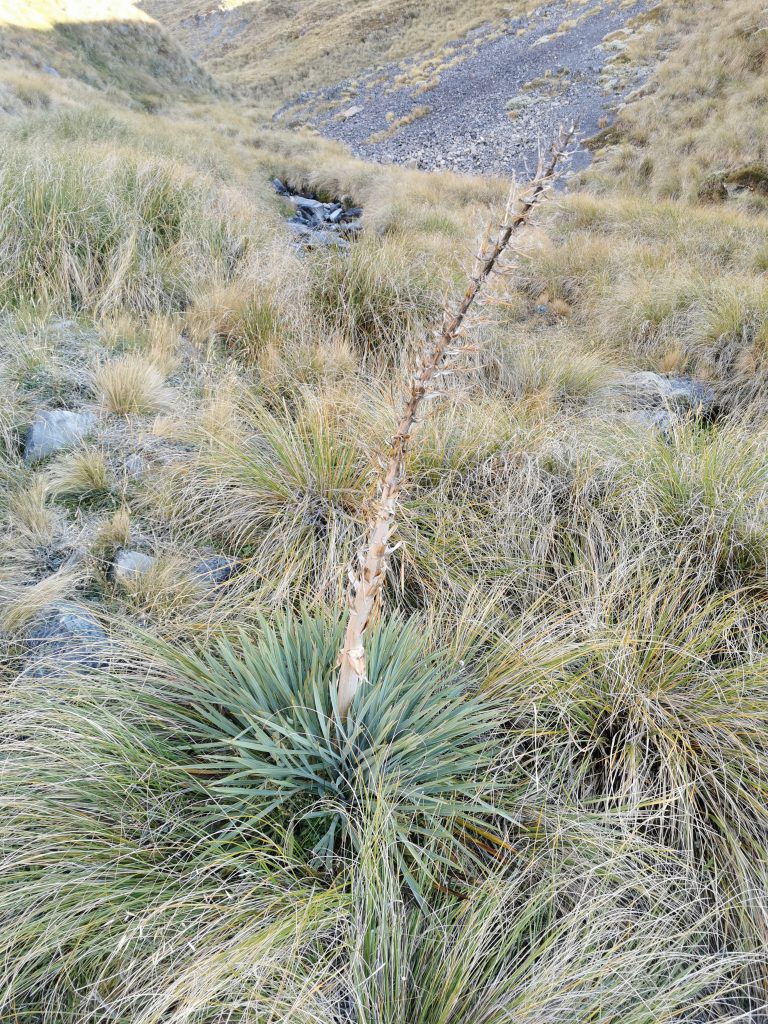 But when the central stalk is missing, it's much easier to accidentally walk into, and the leaves still hurt a surprising amount.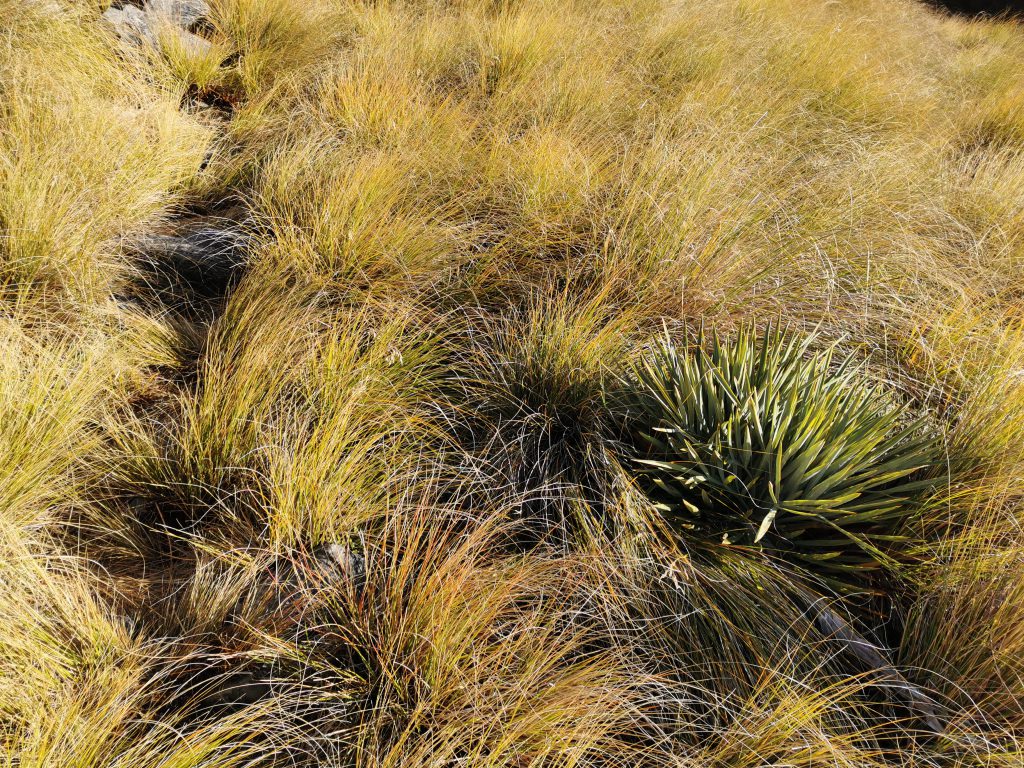 After this you encounter Royal Hut. There it is in the distance.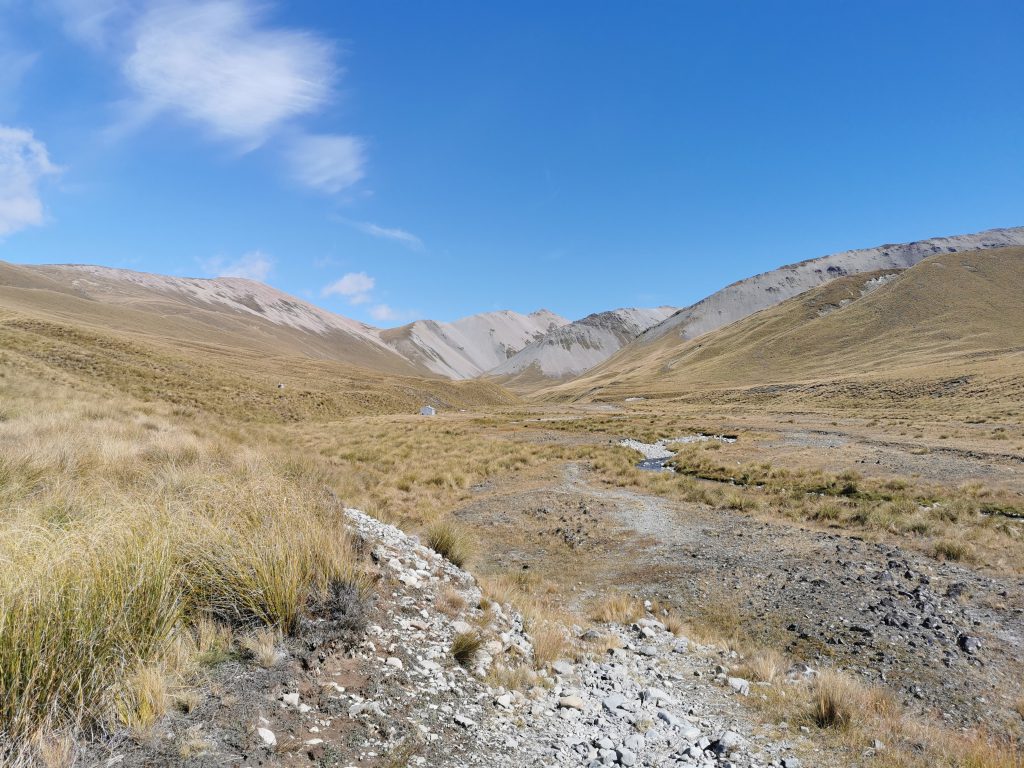 Don't believe the Guthook comments for this hut. It's not where Lorde wrote the first draft of her hit song Royals on a girl guides trip in 2012. According to the trail notes, Prince Charles and Princess Anne reputedly visited as children, hence the hut's name.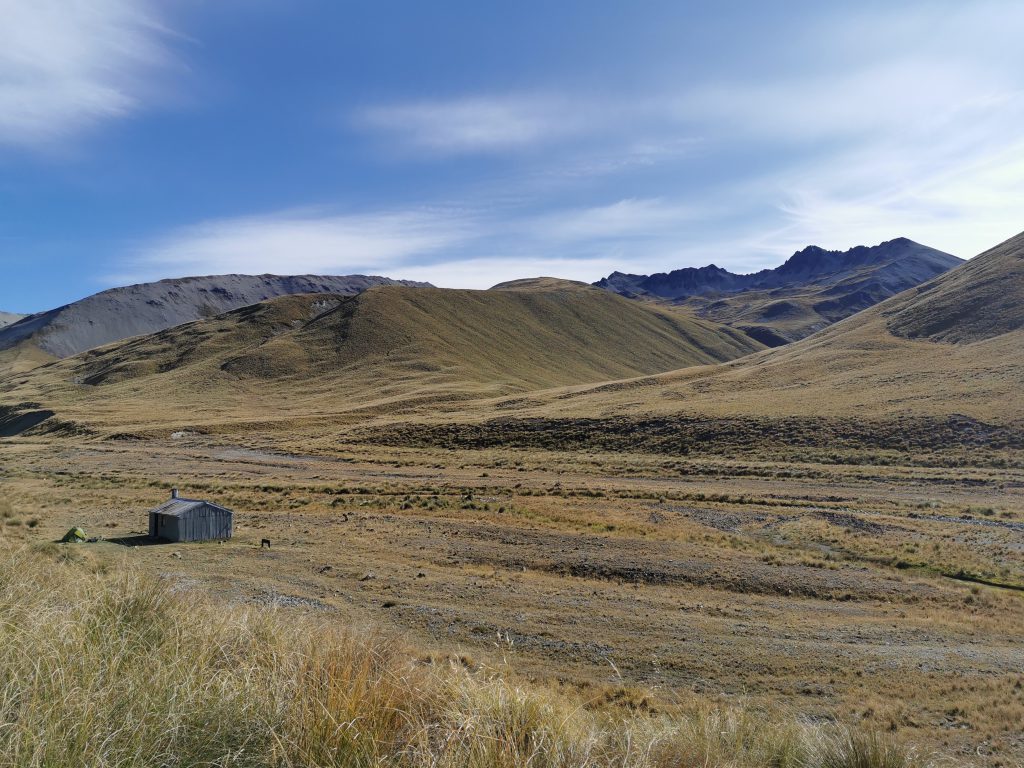 This hut at least seems secure and doesn't have holes in it, so that's nice. There is even graffiti on the hut from as far back as 1945, and it's the same families that appear then as that appear in the 1990s. There is also mouse poo to be found around the hut.
Arriving at the hut I met Meg who was just leaving northbound and not long after I arrived Timo from Germany turned up, also going north. He set up his tent outside the hut as he said he had a bad experience with rats at Martins Hut in the Longwood Forest near the southern end of the trail and now always sleeps in a tent. He said rats ran across his mattress and across his head. I've now crossed that hut off the list of huts I plan to stay at.
When I had dinner I noticed that it seemed that I left my knife behind back where we had lunch. Annoying. I'll have to buy a new one in Tekapo or Twizel.
It was a beautiful day once the clouds cleared, but it got real cold once the sun went down. I guess we are at 1325m elevation. I tried to work out if this is the hut with the highest elevation that I've stayed at so far. I think it is but I'm not sure.
That will make the climb to 1929m tomorrow less daunting. I'm really looking forward to it, and also seeing how far I end up walking tomorrow as it's likely I'll be camping somewhere.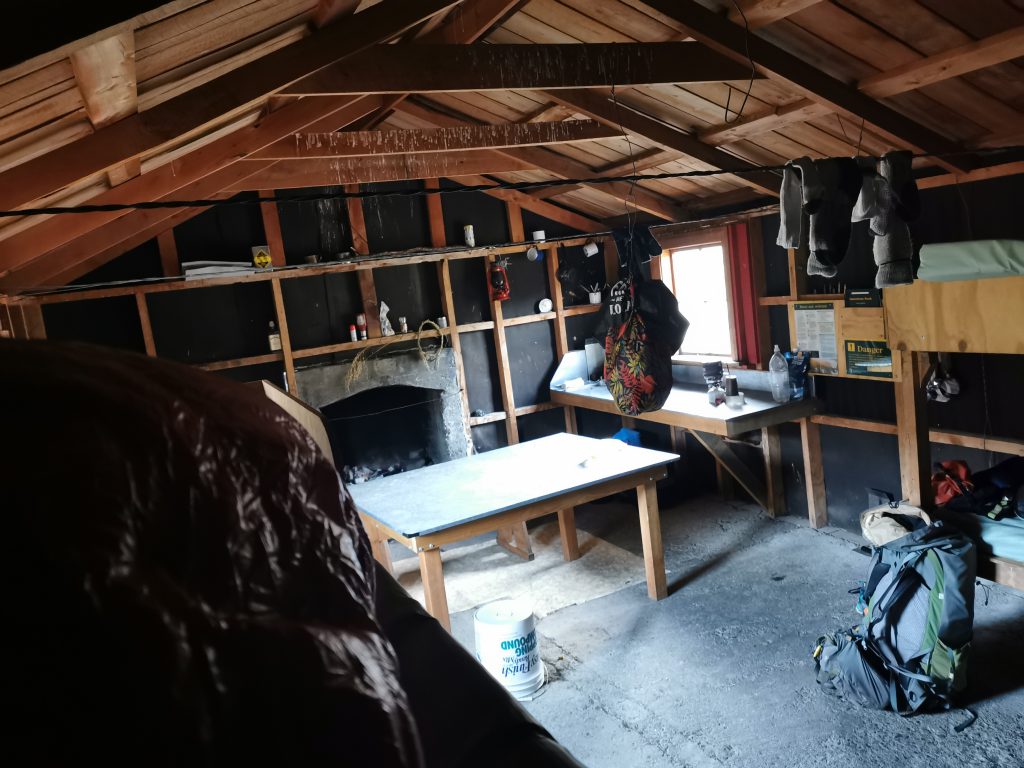 Today's walk on the map (blue = Te Araroa, red = today's walk):