Date: 21 March
Trail covered: 30.6km (kms 2583.3 to 2613.9)
Weather: wet in the afternoon
I could've stayed in bed all day because the bed in the motel was really big and comfortable. But I did drag myself out of bed at 7:30 when the alarm went off. I had my rest day yesterday and today it's time to keep walking.
Last night, when I looked at the forecast for today, there was a lot of rain.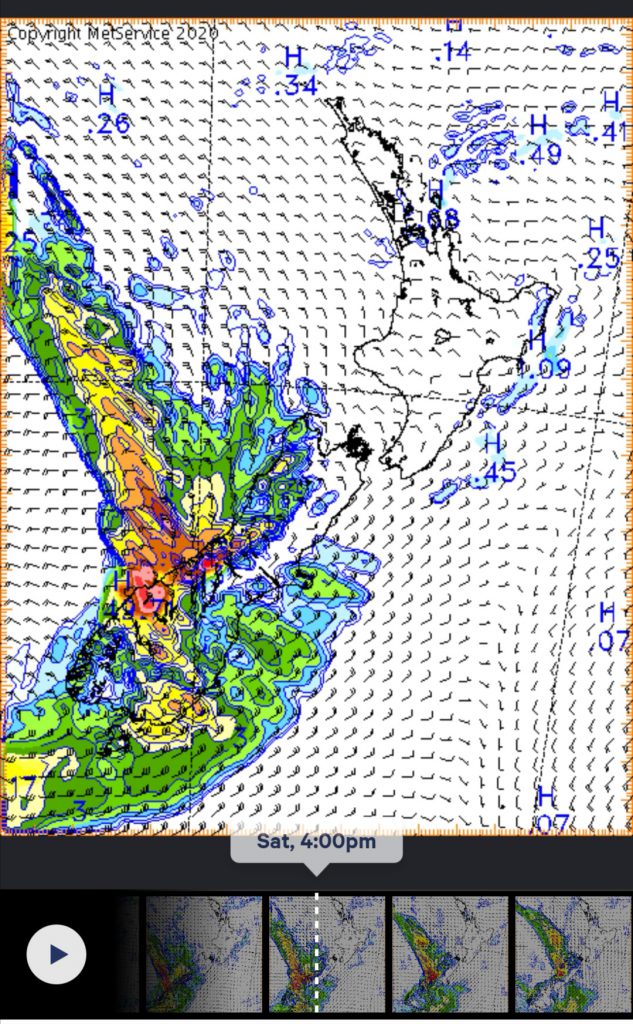 Looking outside, it appeared it had been raining overnight, but the weather right now seems okay.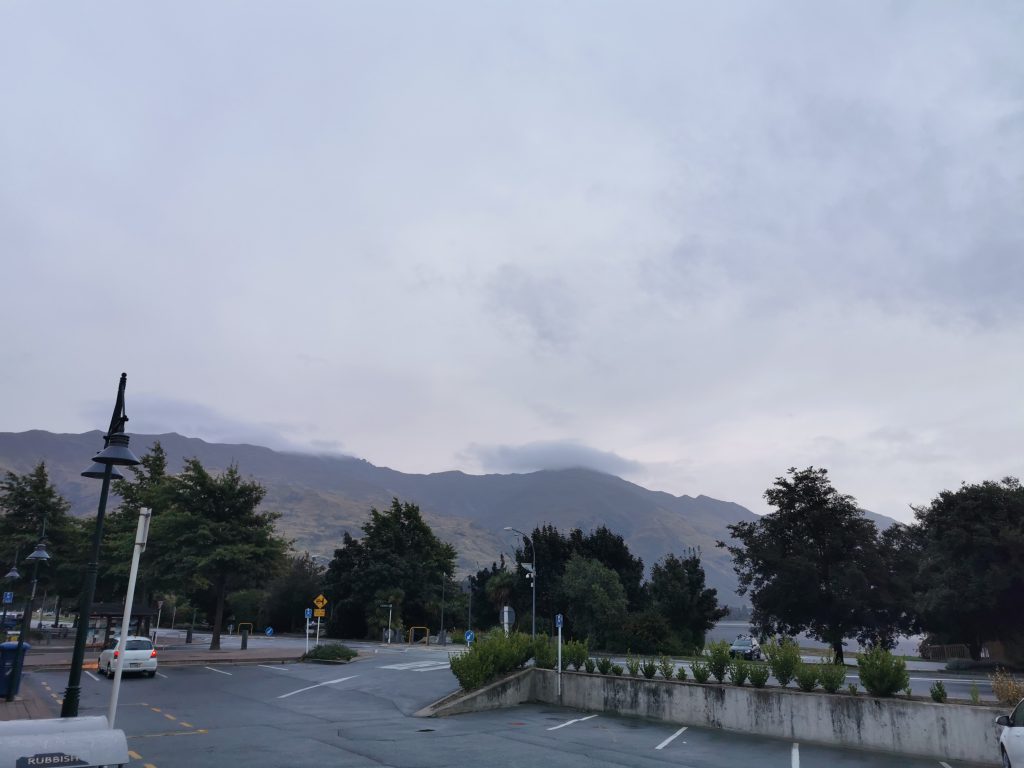 I went out and had bacon and eggs for breakfast at a nearby café and then went back to the motel room to get my stuff. I had left by 9am.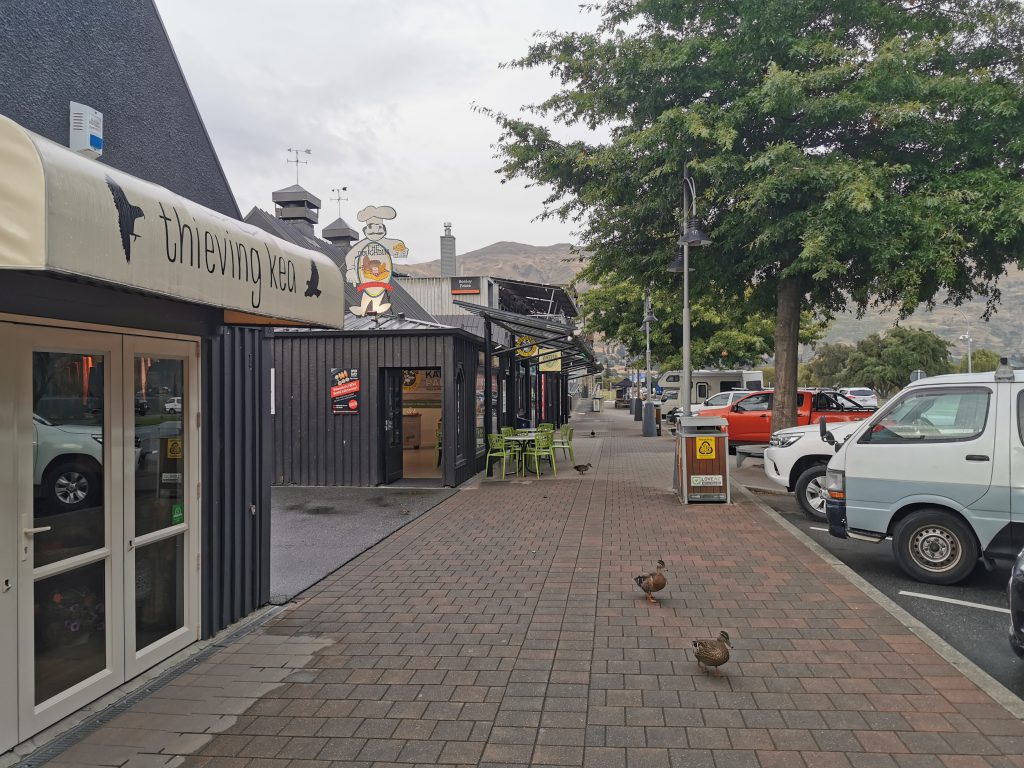 The first thing I did since I saw the Lotto shop open was buy a Lotto Strike ticket for tonight's draw. That's another Lotto game, like Powerball, but the prizes aren't as big. However this is another "must be won" draw and the prize is $1million, so why not have a go.
I also called in at the bakery and bought a chicken and avocado roll, a Belgian slice and an apricot danish for lunch later. I probably shouldn't have, since I already resupplied for at least three days from New World yesterday, but I couldn't resist.
In town yesterday I saw Mickey and Michelle. They said that they aren't leaving Wanaka until Monday – two days from today. So I know I won't be walking with them and probably won't see them again.
The weather stayed good for most of the morning, although there were a few spits of rain. I had accepted as soon as I left the motel that I will get wet today. That's okay, most of the walk is an easy walk, and I understand there are no river crossings for a change. I put on my rain gear from the start today – including my rain pants that I don't wear often. It's a shame that when I arrived in Wanaka I bought these snazzy new shorts and now I don't even get to wear them on the first day of hiking afterwards.
The first thing I was looking out for on the walk was "That Wanaka Tree". It's a fairly famous tree in NZ. People claim it is the most photographed tree in the world. It was coming up soon.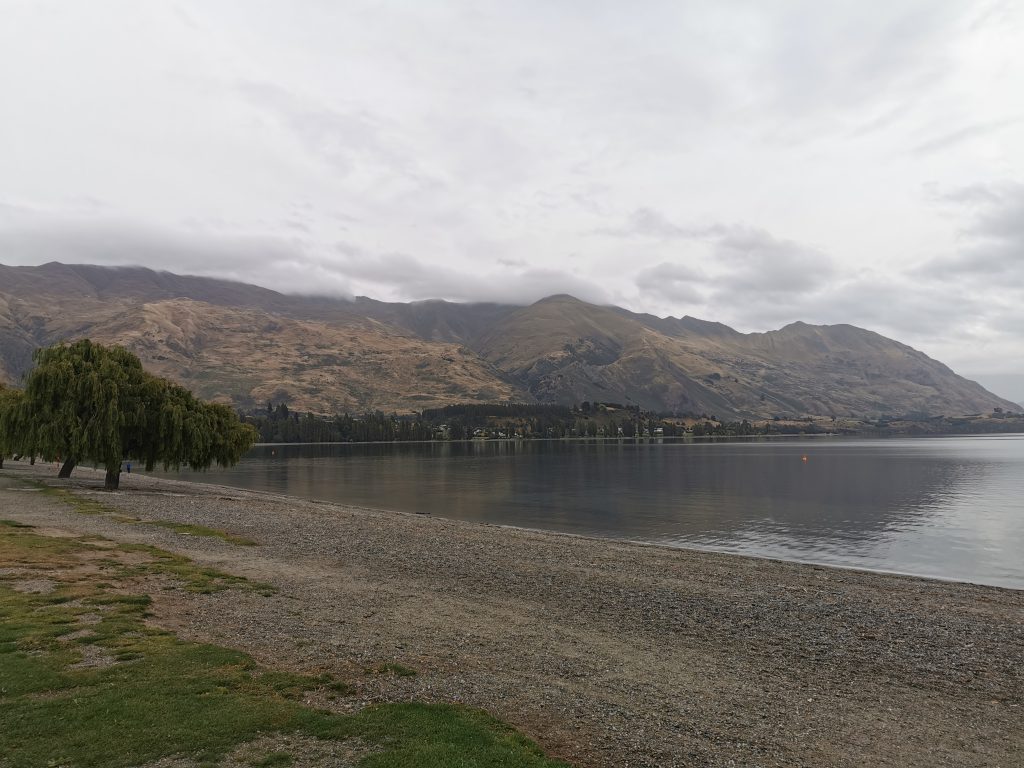 There it is.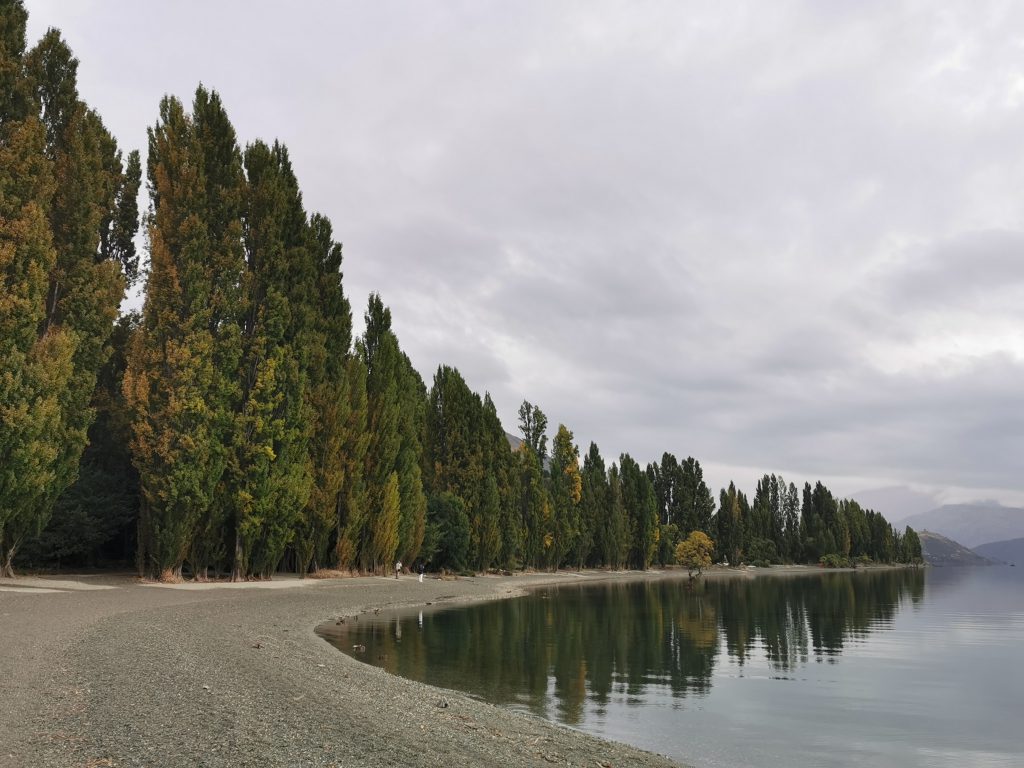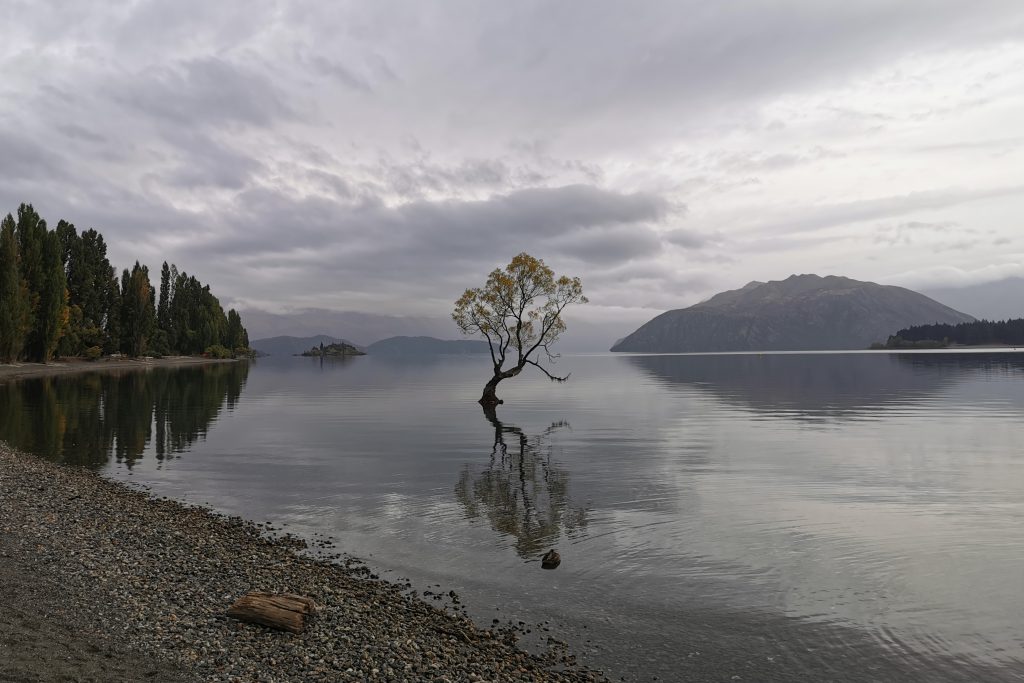 It was in the news two days ago that somebody had attacked it with a saw and cut its lower limb off. It was quite sad to see.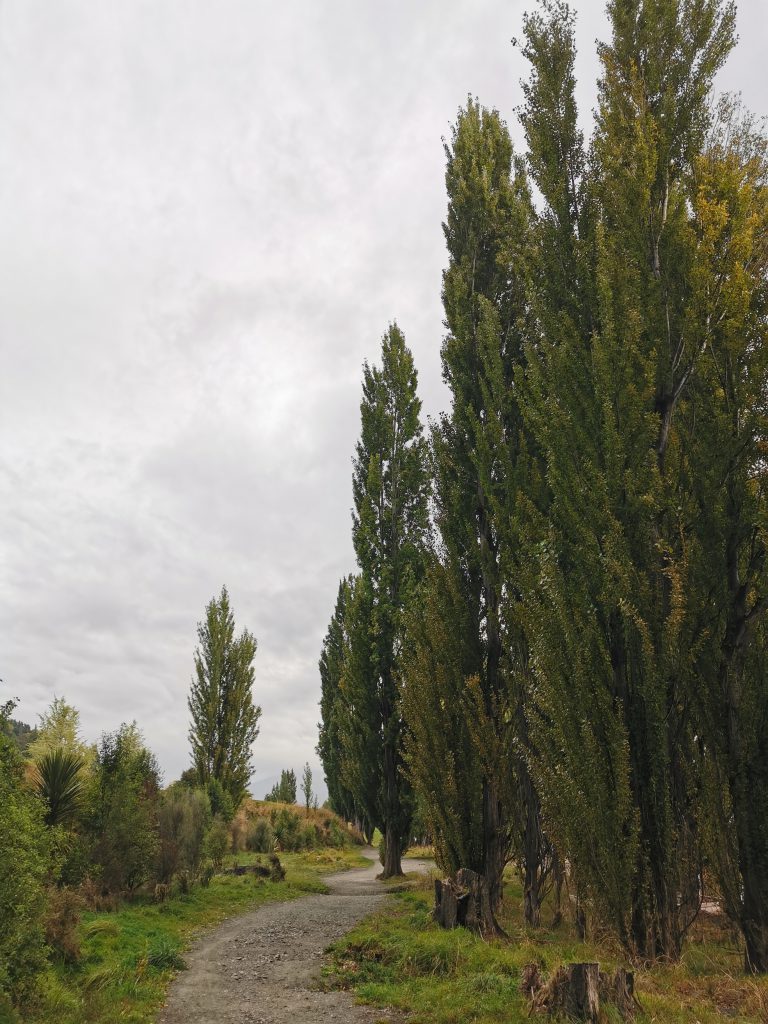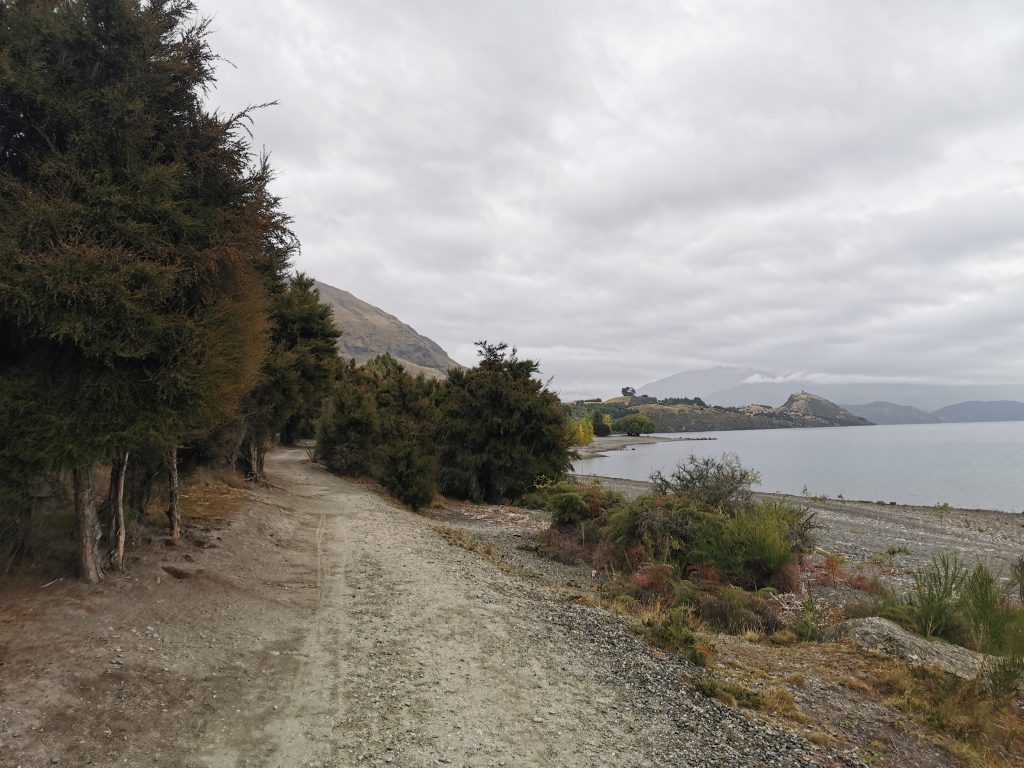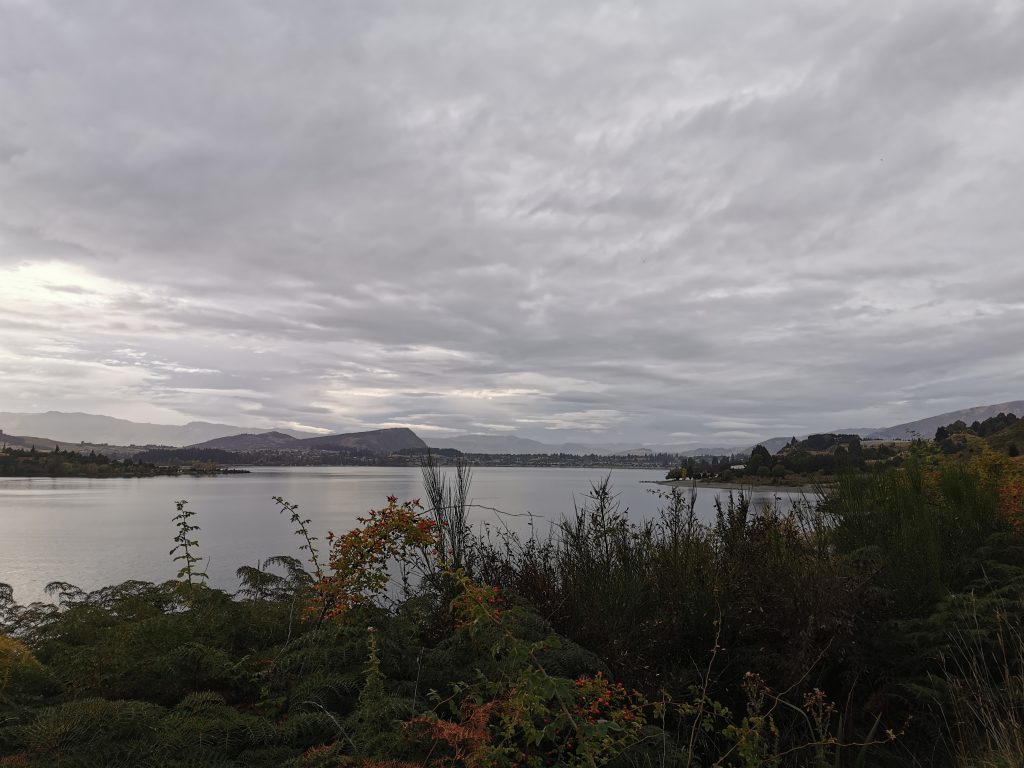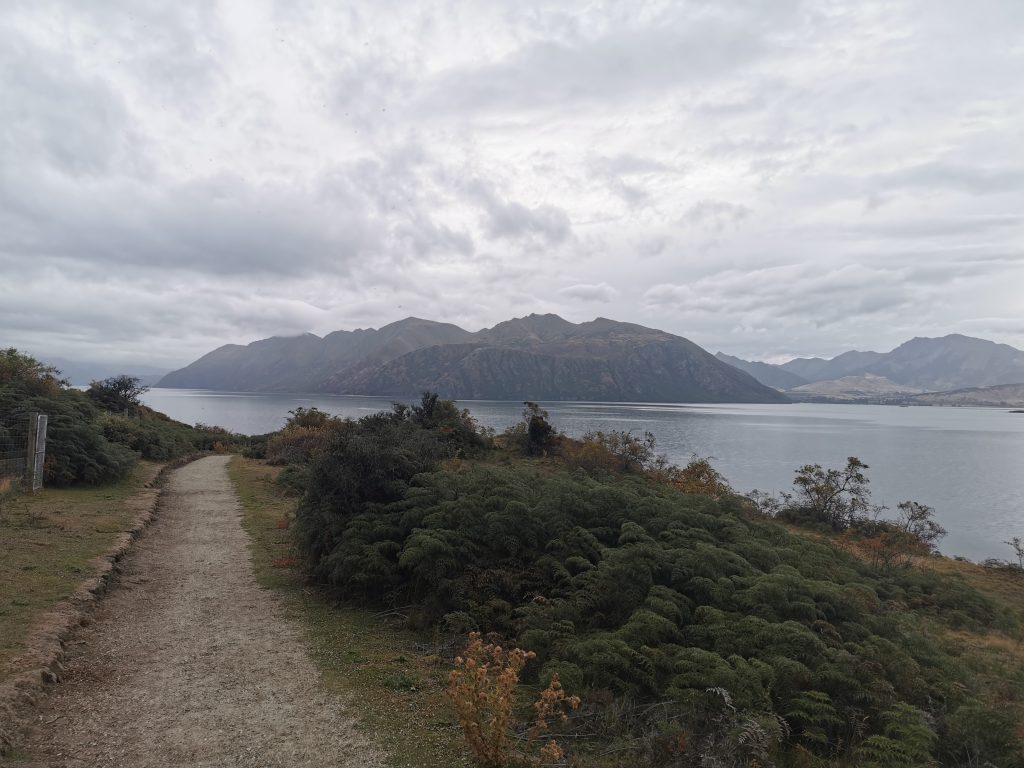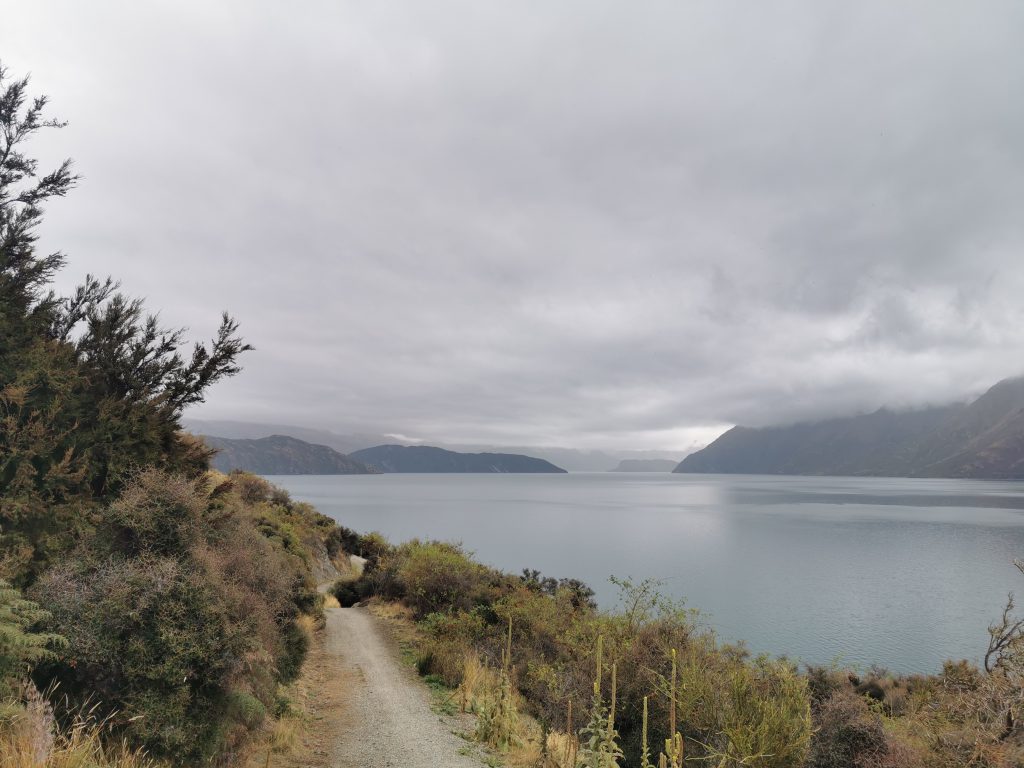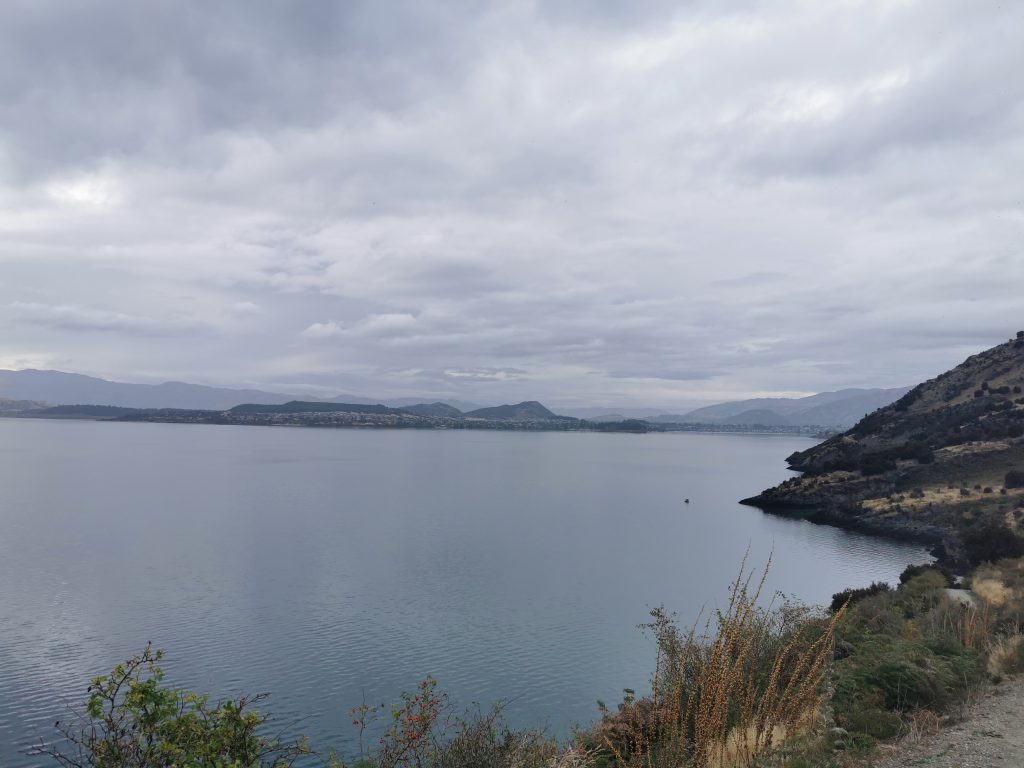 It was a nice walk from Wanaka to Glendhu Bay. Largely flat, with just a few small hills. There were lots of people running and walking dogs. At one point, two women had a Rottweiler and when I walked past it started walking with me, for quite a distance. Uh oh, what do I do? I was walking quite fast – do I wait for the owners to catch up and get it? In the end I tried to reach out and pat it, but it got suspicious and ran off back to its owners. Phew.
At one point the walkway went around a point. It was at this spot that I realised there hasn't been any rain, if anything, it seems to be clearing. I'm getting hot and sweaty too, so I removed the rain jacket. While I did that I realised how still it was. It was really nice.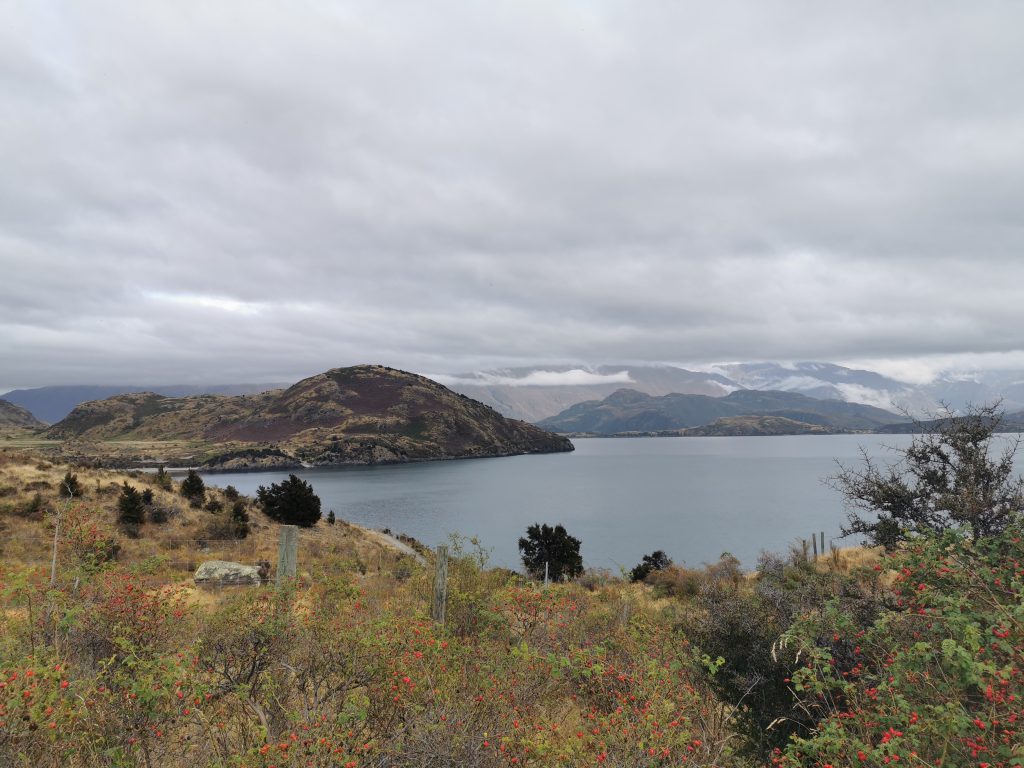 My 11am picture is what appear to be big spikes in the path. Turned out to just be driftwood. There was a lot of that around here.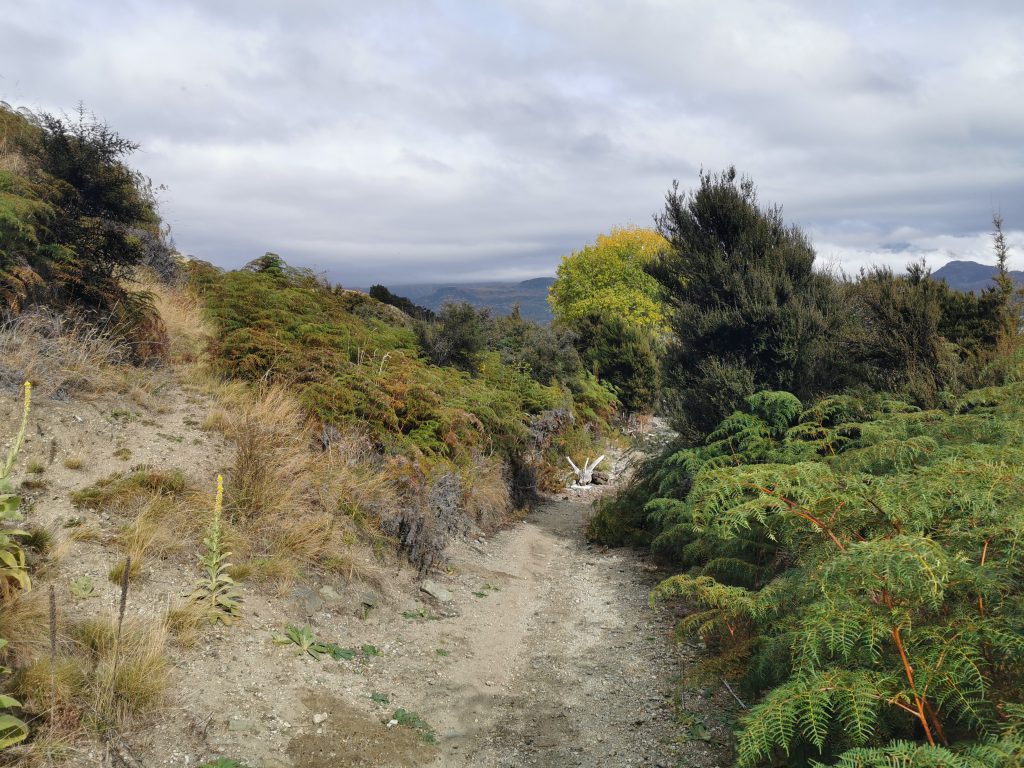 Up next is the Glendhu Bay campground.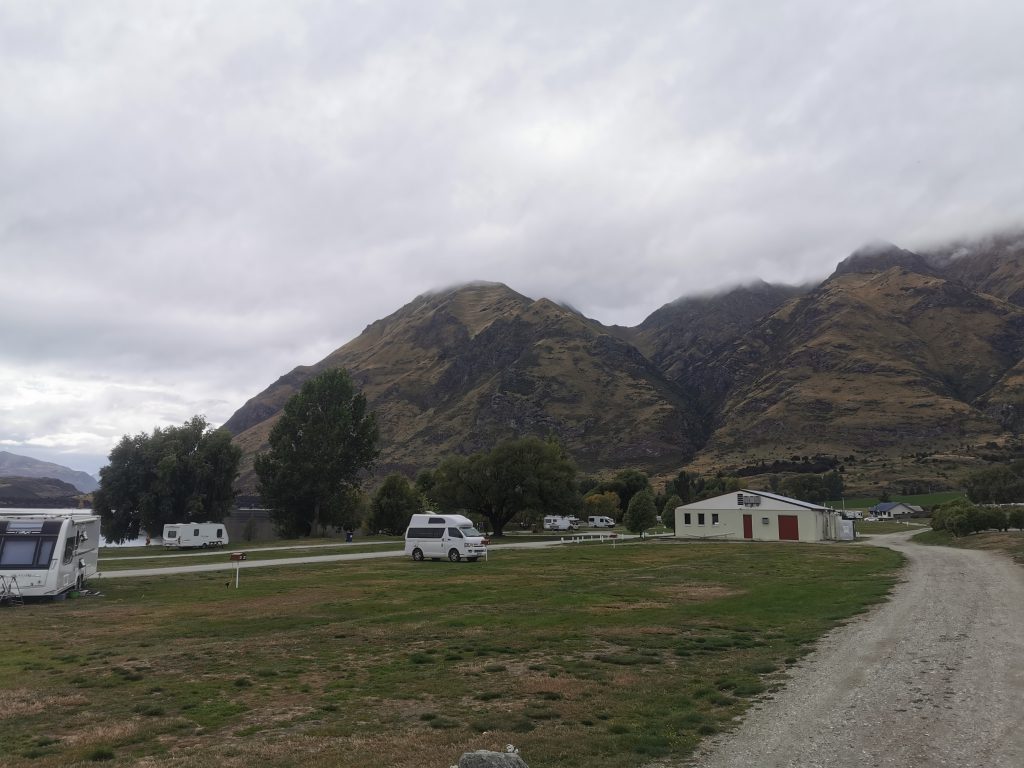 The best thing about this place is it's huge and almost every spot is close to the lake, although that photo doesn't make it appear that way. One thing that was interesting was a "self-isolation only" notice on the door of the kitchen.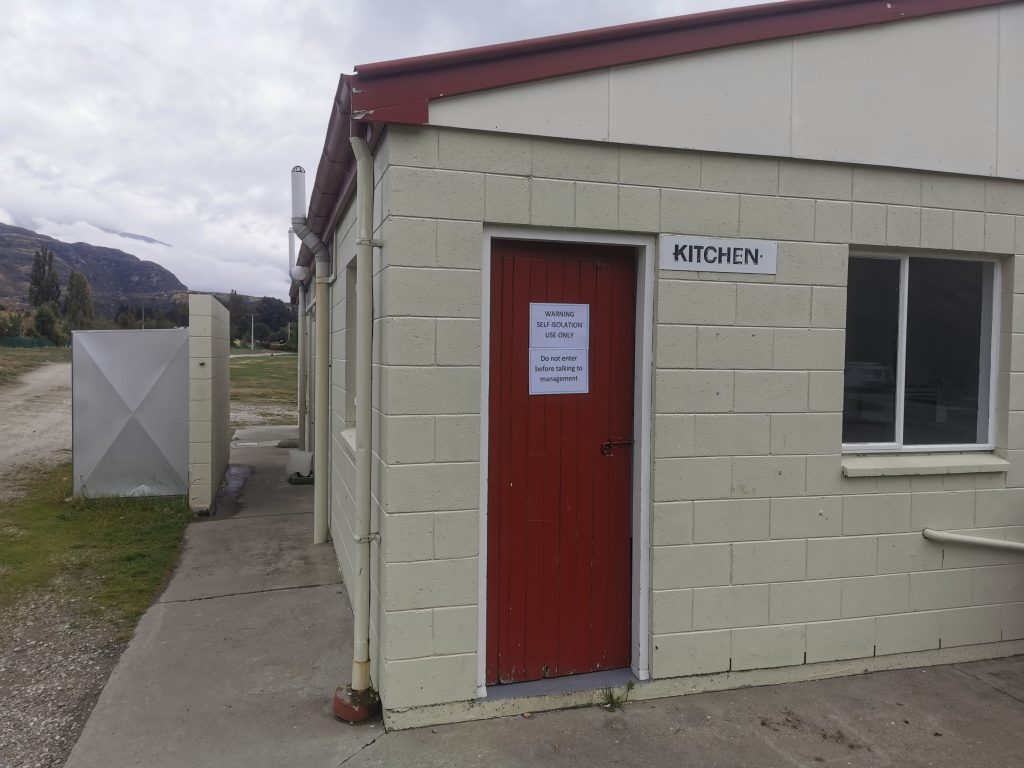 The trail goes through the campground and then out down a road, however the gate joining these two bits was locked and I had to climb over the gate.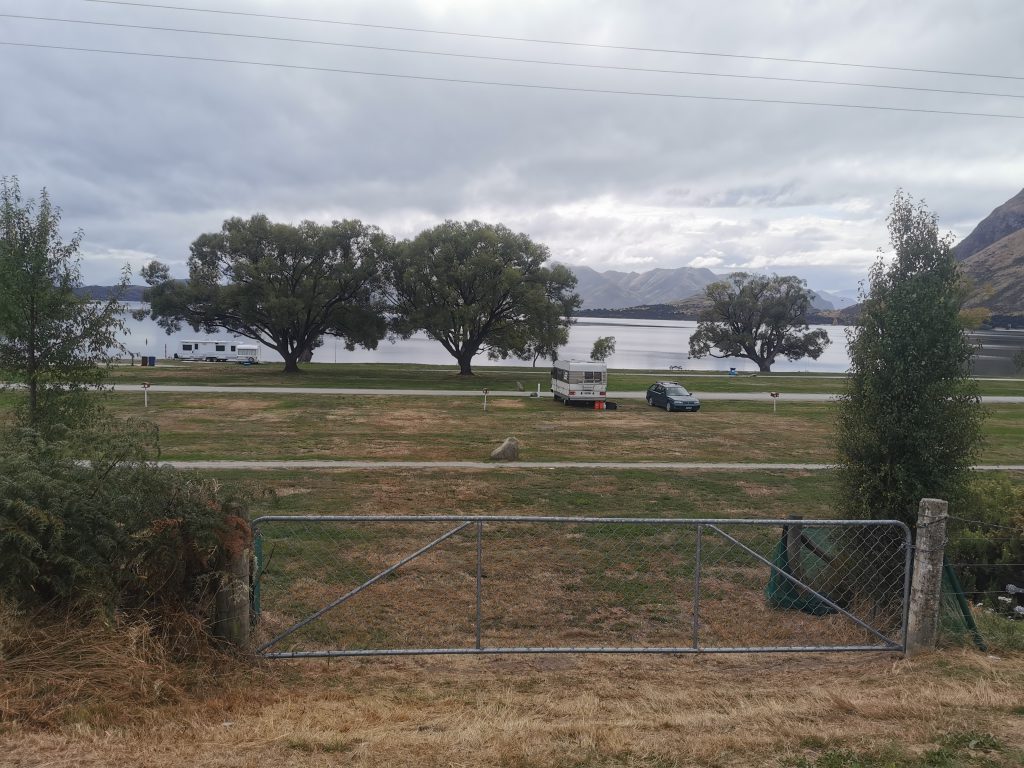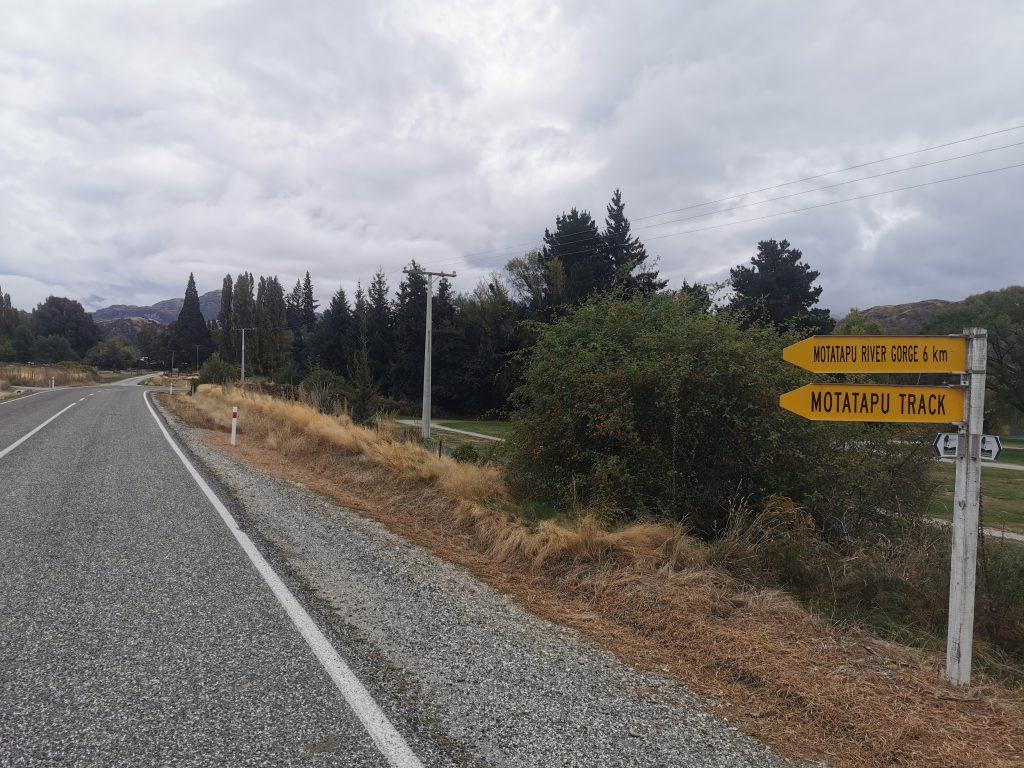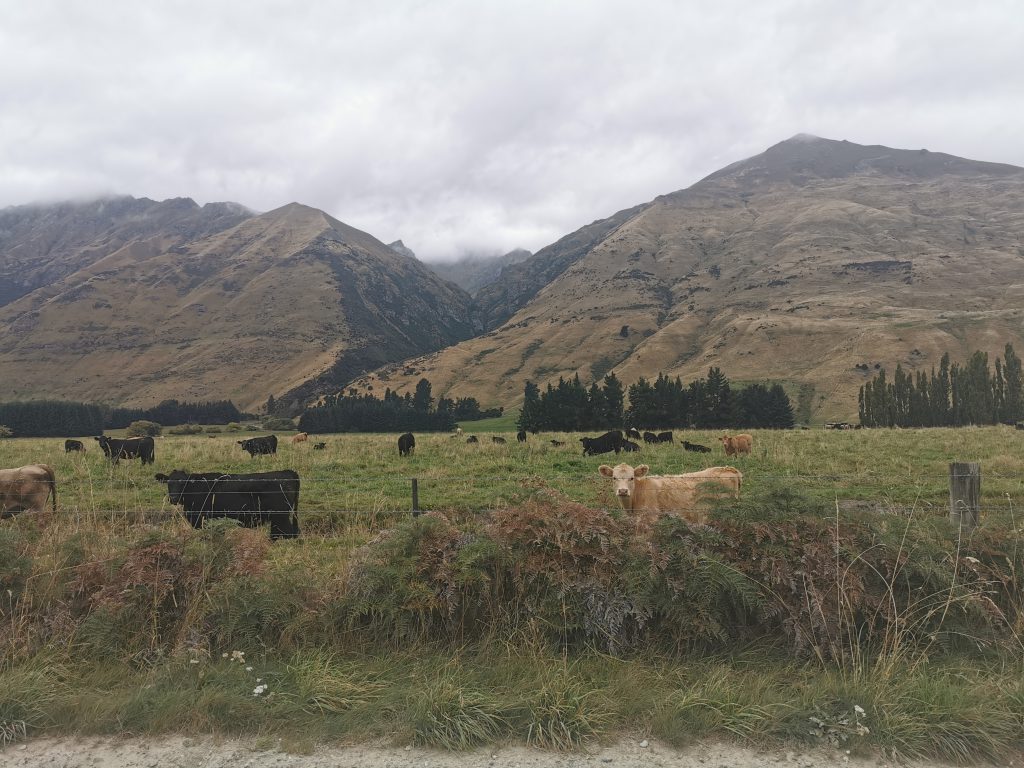 When I got to the start of the Motatapu Track at 12:30 I'd already walked 17km and was feeling good. I had my bakery lunch here.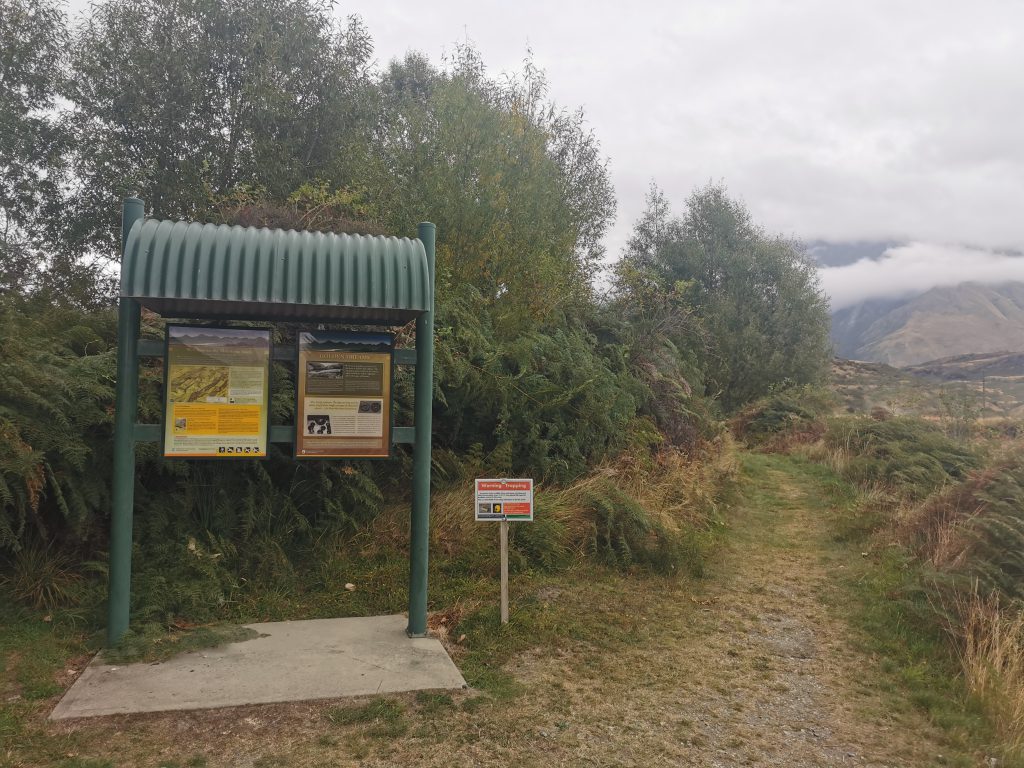 While I was doing that, a girl named Aiko walked past and said she was heading to Fern Burn Hut, the first hut. She said I'd catch her because she's slow. A German couple passed me as well. They said their destination was Highland Creek Hut, the second hut, which is where I was hoping to get to today too.
I think it's worth having a look at the elevation profile for the Motatapu Track between here and Arrowtown, near Queenstown.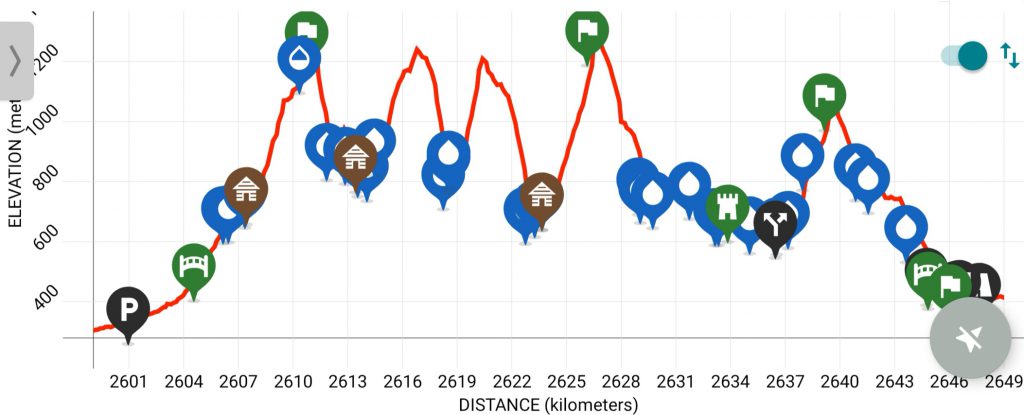 The P at the start is where I was having lunch. There are four big hills and one medium hill in the next 45km. I'd like to make it to the second hut at the bottom of the far side of the the first hill, so I can at least get one hill (the biggest hill) out of the way today. The clear weather has helped.
The start of the track contained a small boardwalk over a small river. That's always promising.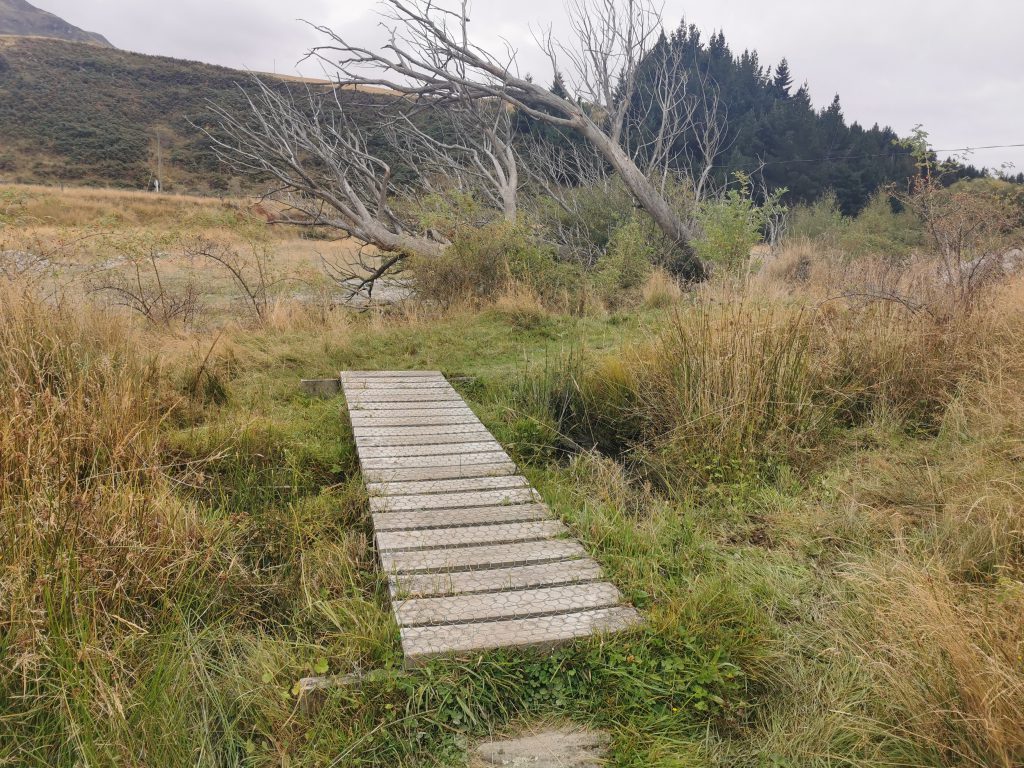 Initially I had to walk through private farmland.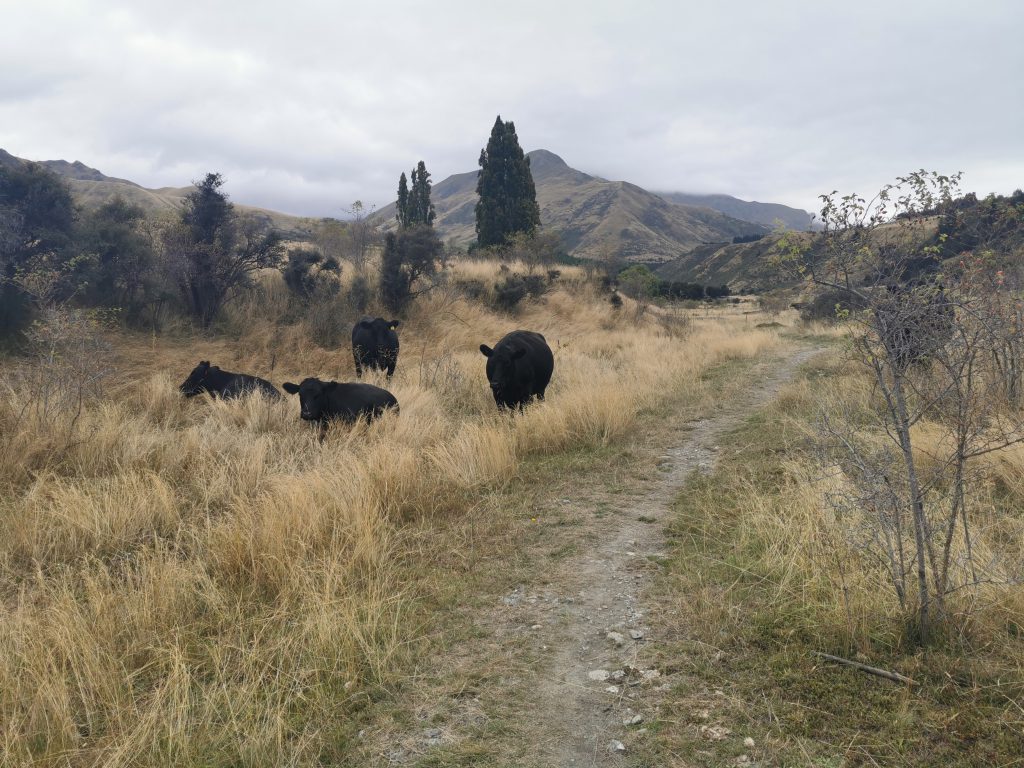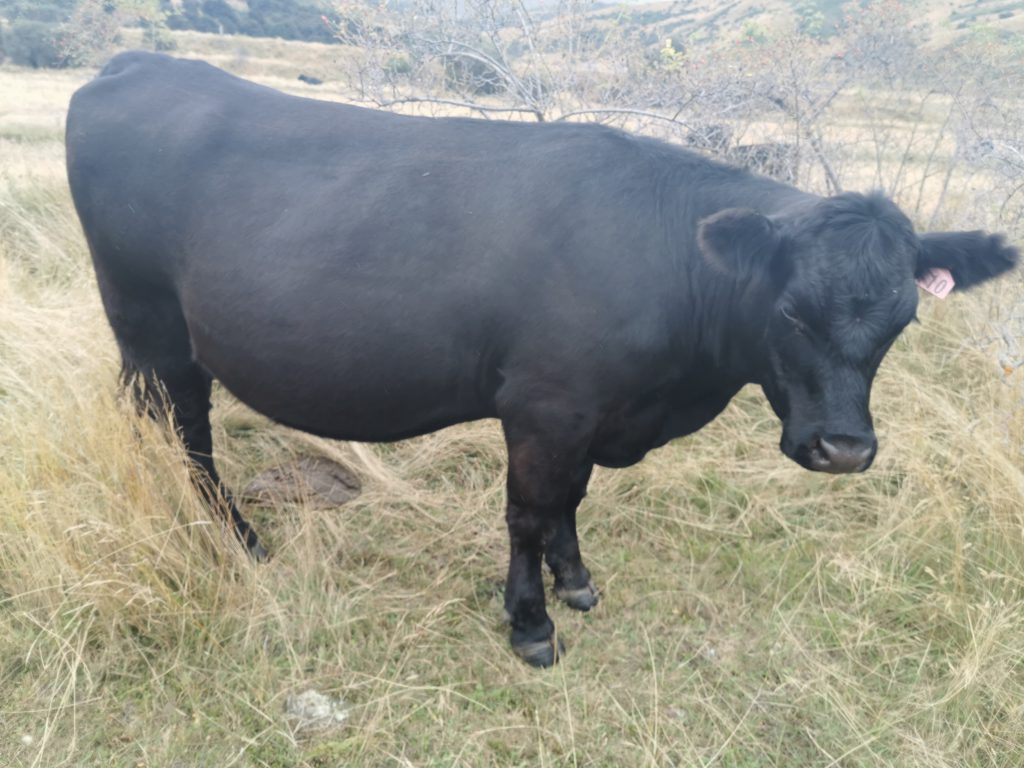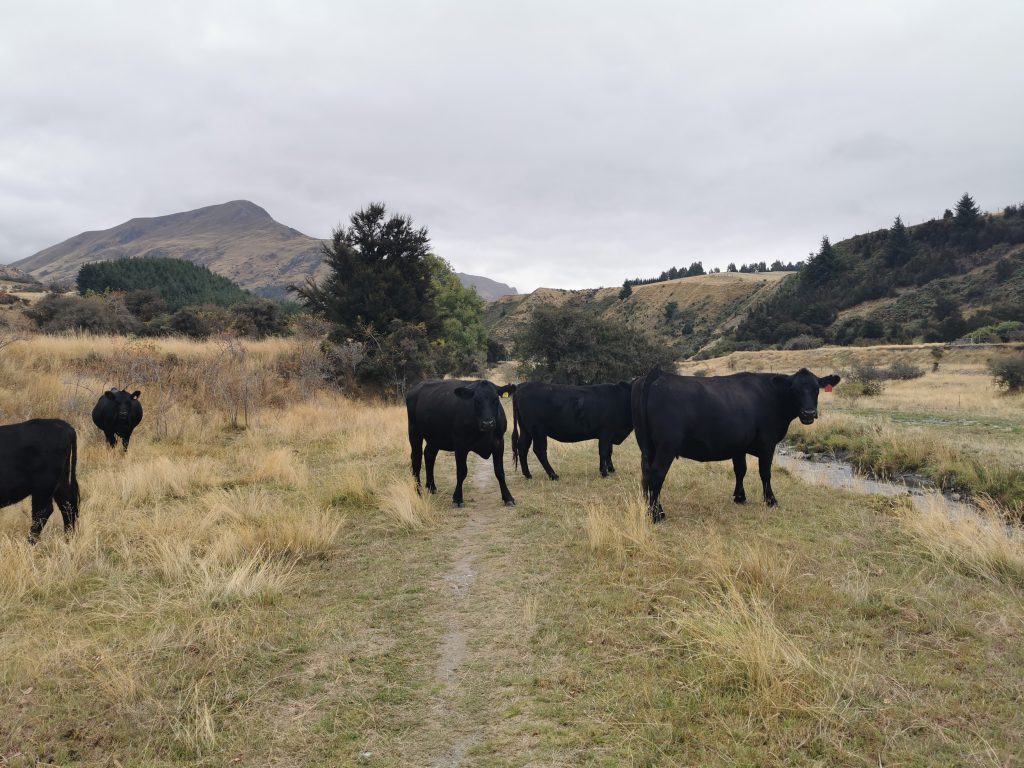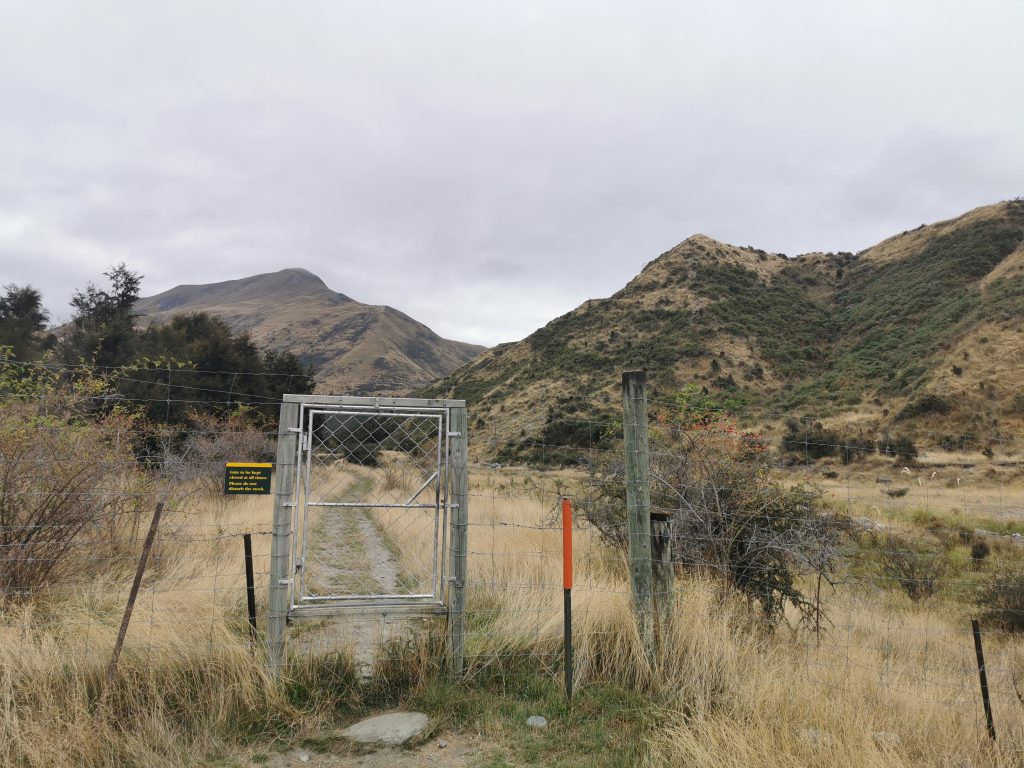 Then, briefly through "The Stack Conservation Area" which was quite a nice forest. I passed the other three here who passed me while I was having lunch.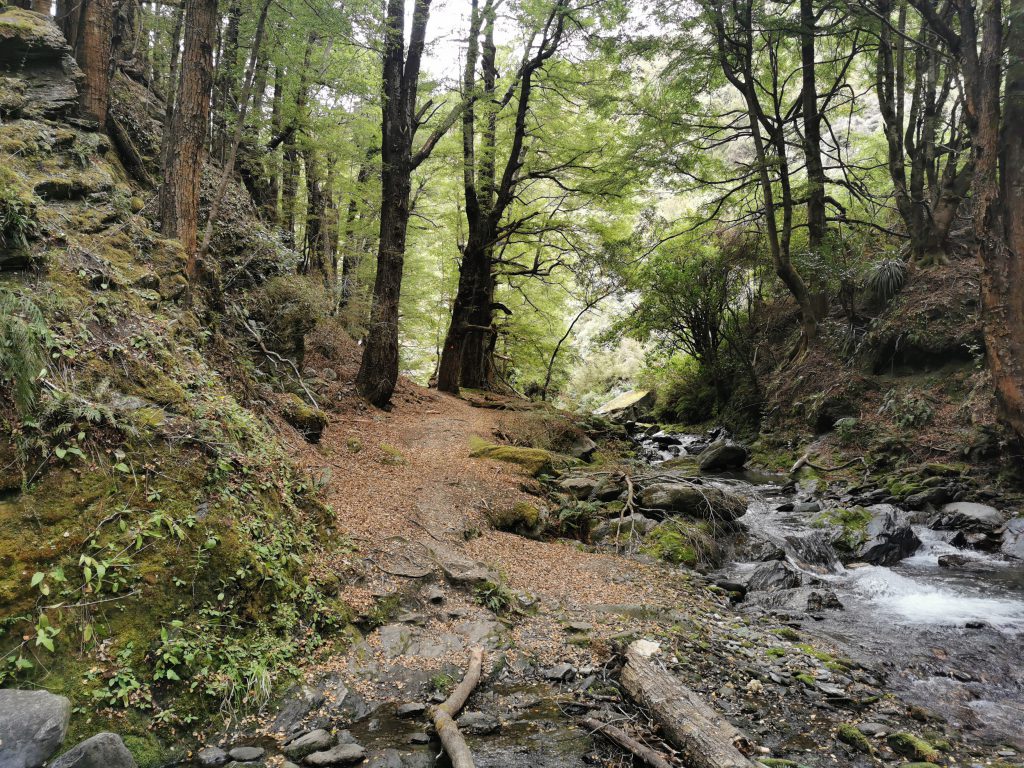 Through this area a hunter came the other way. On his shoulders he was holding the skinned head and antlers of a deer. Gross. Apparently the meat of the deer was in his backpack.
The all-to-familiar tussock started after leaving the forest.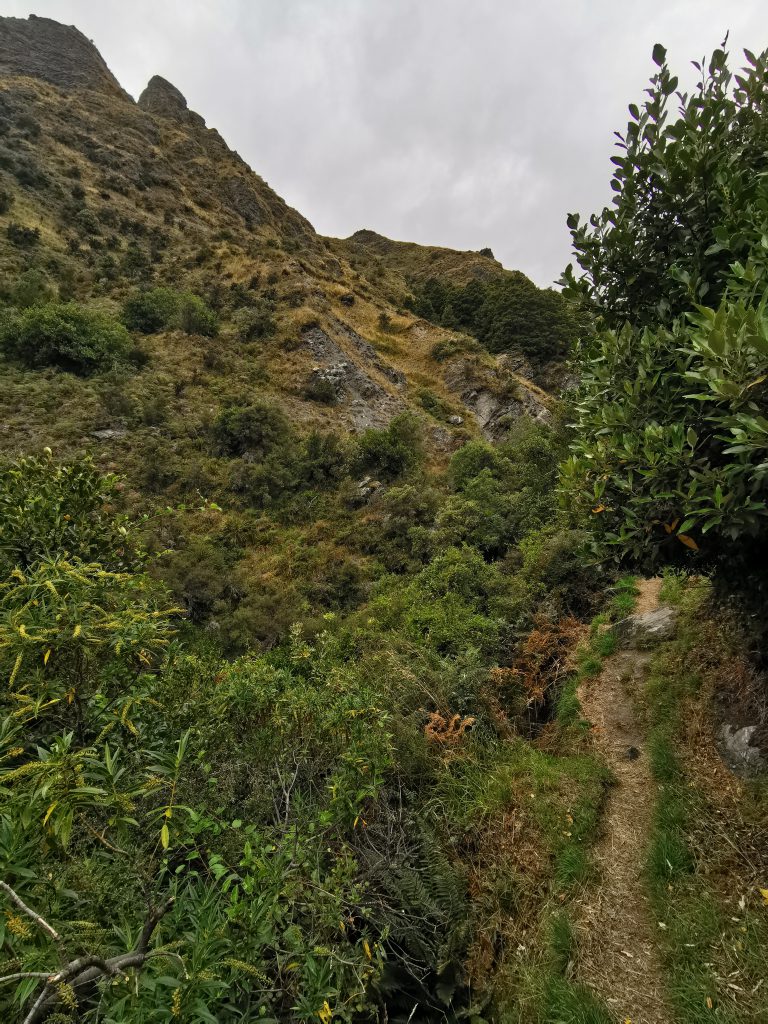 And the muddy bits.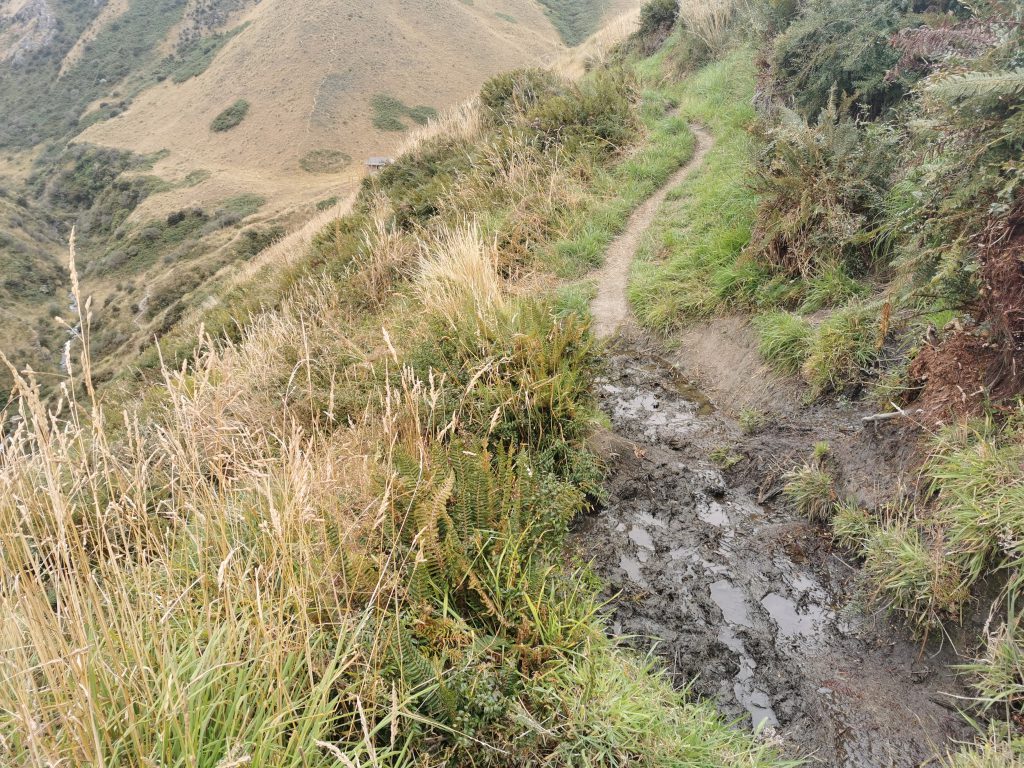 It was getting steeper and steeper as the afternoon went on, however I knew that the real steep bit was after Fern Burn Hut, which came into view after a while.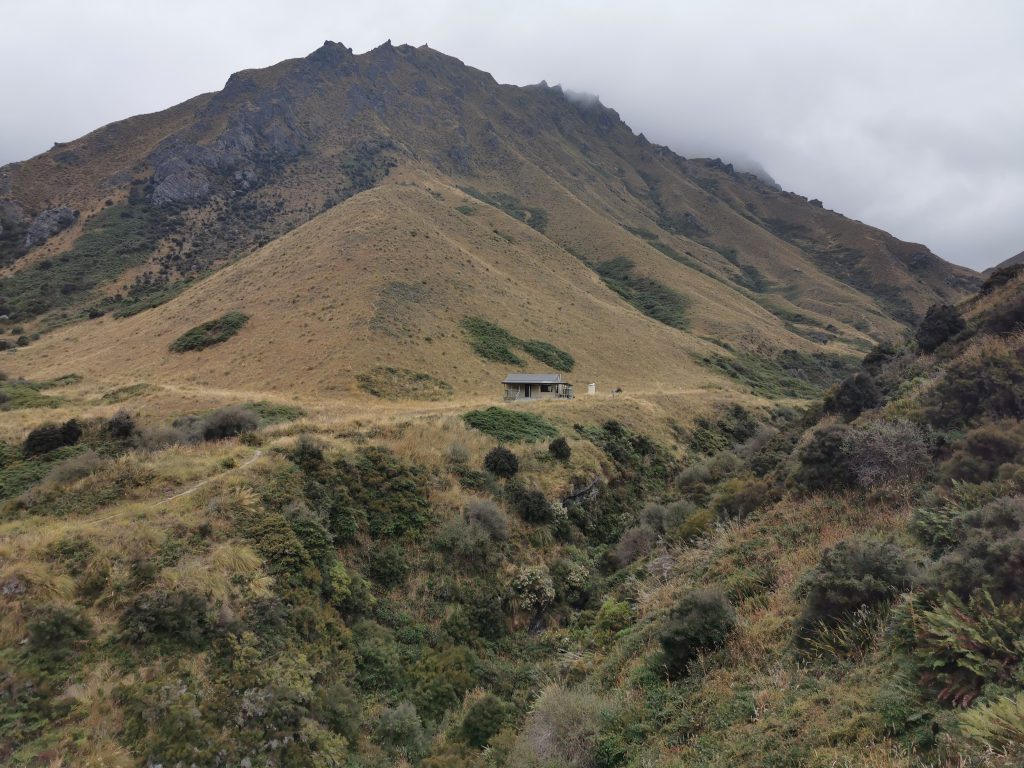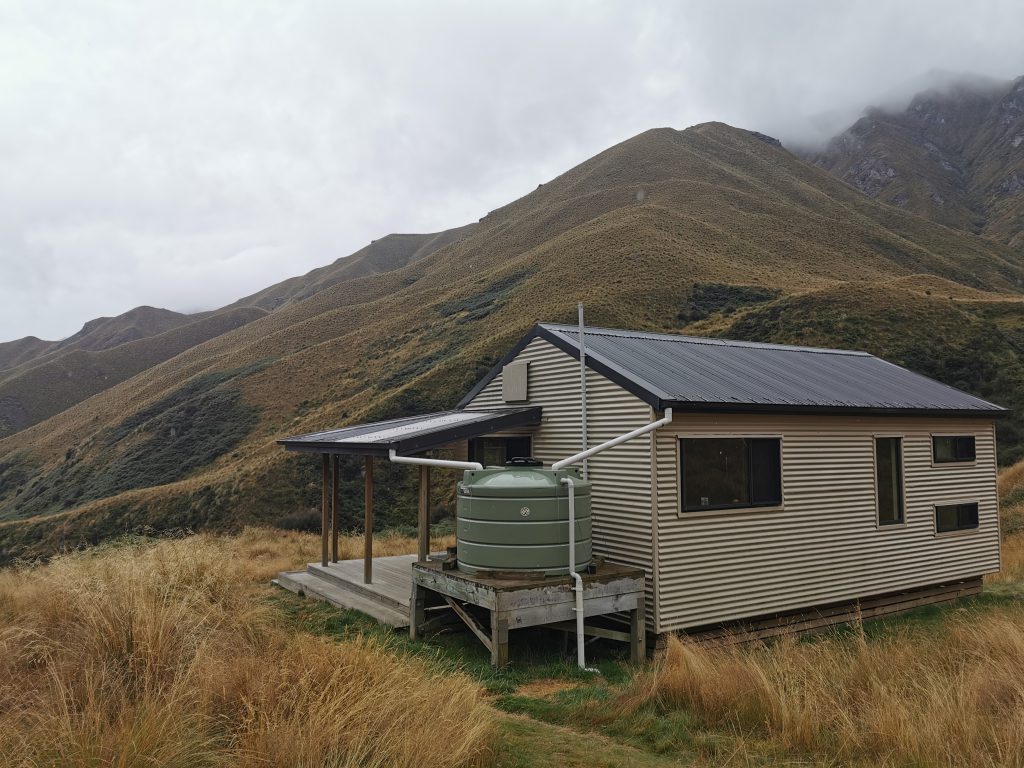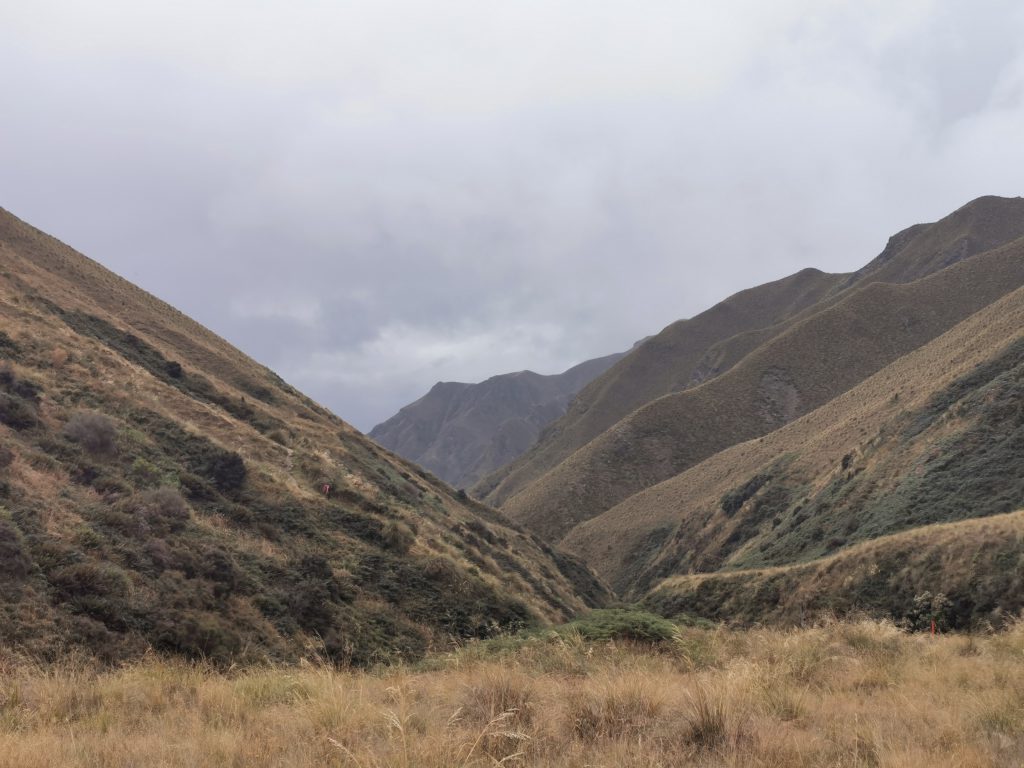 When I got to the hut, there was one woman there whose name was Maraid from Ireland. She had spent all day in the hut because she had seen the bad weather forecast for today, and she said she likes taking rest days in huts because it's cheaper and usually has a nice view. Then within the next ten minutes the other three I passed earlier also turned up.
It was at this point the rain started. It wasn't heavy, but I seriously thought about not continuing today because of it. I decided to give it an hour and then if it was still raining I'd stay here.
I waited for the hour but then I realised that within that hour there was barely even one chance to get a word into the conversation – this was a talkative group. I didn't mind, I just wasn't in the mood for a loud hut full of talking today. Plus it was such a muggy day I was already wet just from sweating. So I decided I would keep going even though the rain was still falling. Maybe it would be quieter at the next hut.
The people there seemed surprised that I was continuing on in the rain. The German couple had decided to stop here. I think people were worried I wouldn't get there by dark, and I was slightly worried too since it was now 4pm and the notes say four hours for this section. It gets dark around 8:15.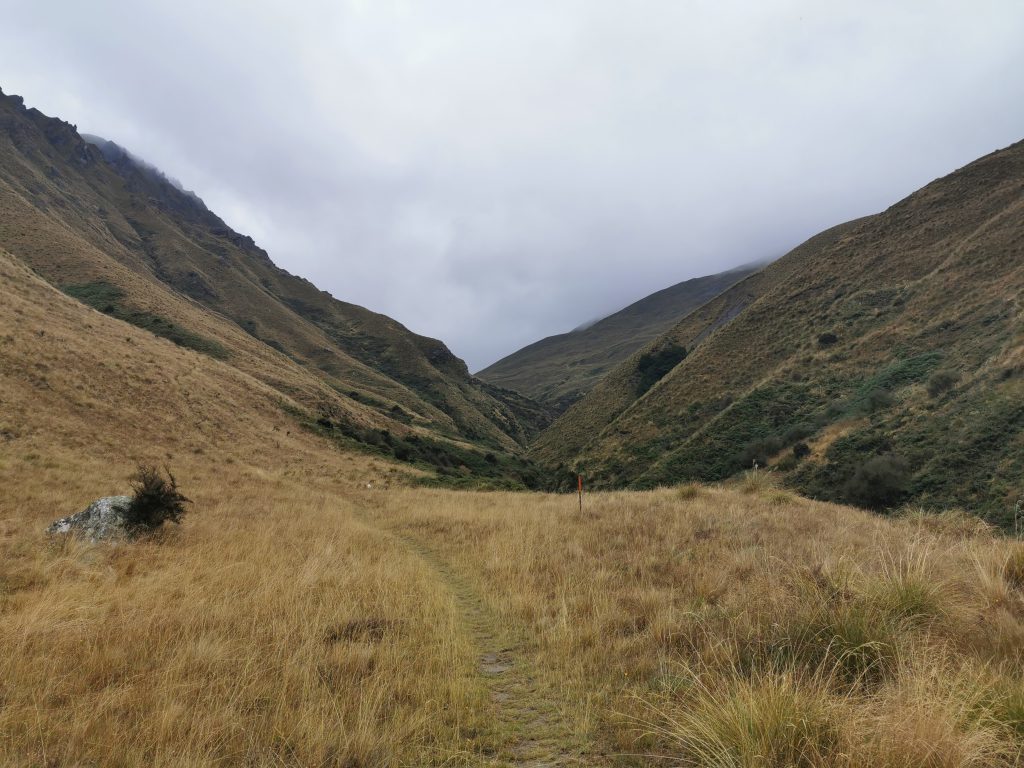 Because it was raining and I was wearing my rain pants with no pockets, I didn't take many photos between the two huts, although there were usually too many clouds to see much anyway.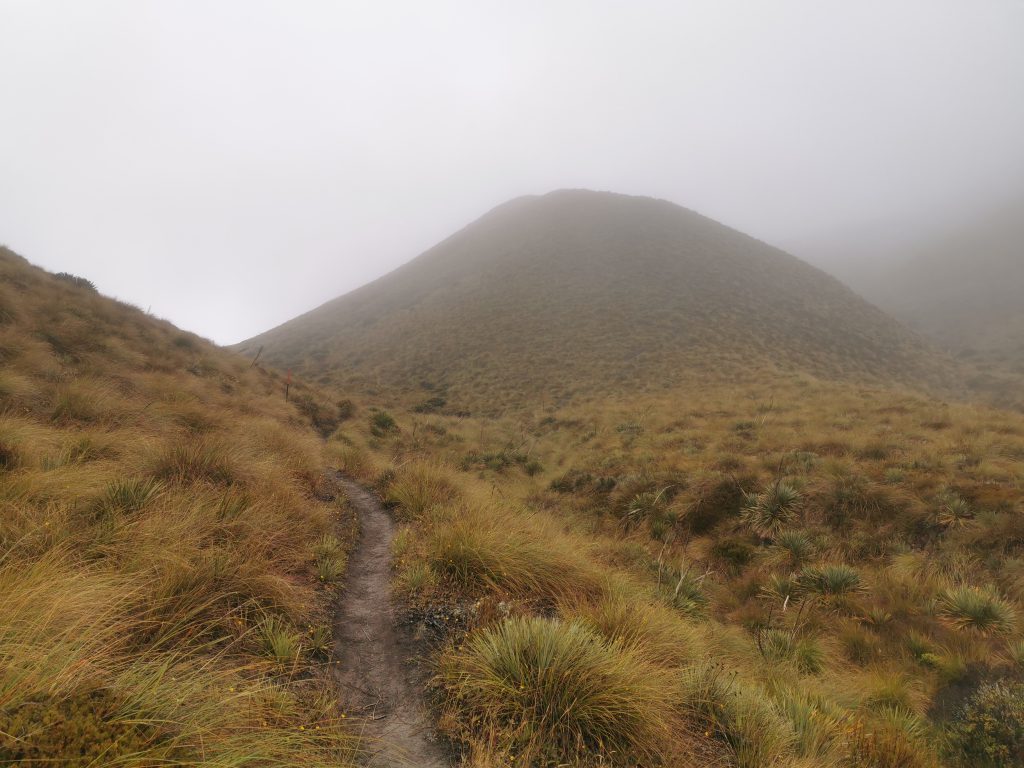 It didn't seem that steep going up this section, at least not as steep as I expected, but I found myself forever out of breath for some reason. Maybe it was all the food in the pack or maybe the rain didn't help. I was very glad to get to the saddle.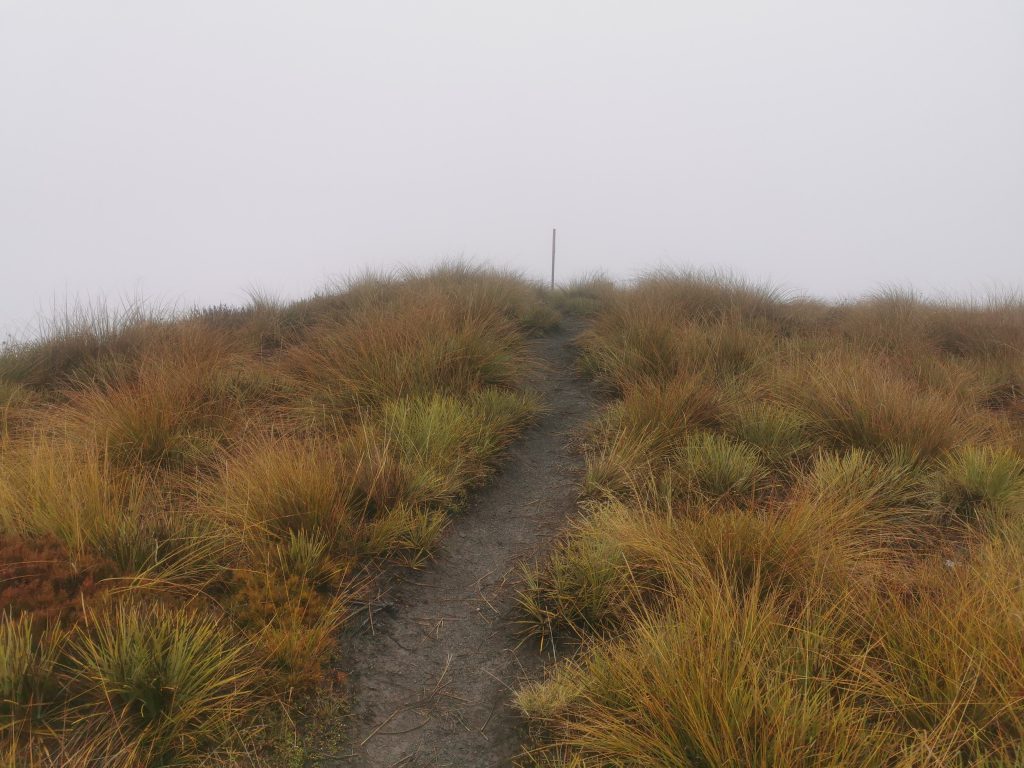 As expected this time, there was no view at all.
Just a sign.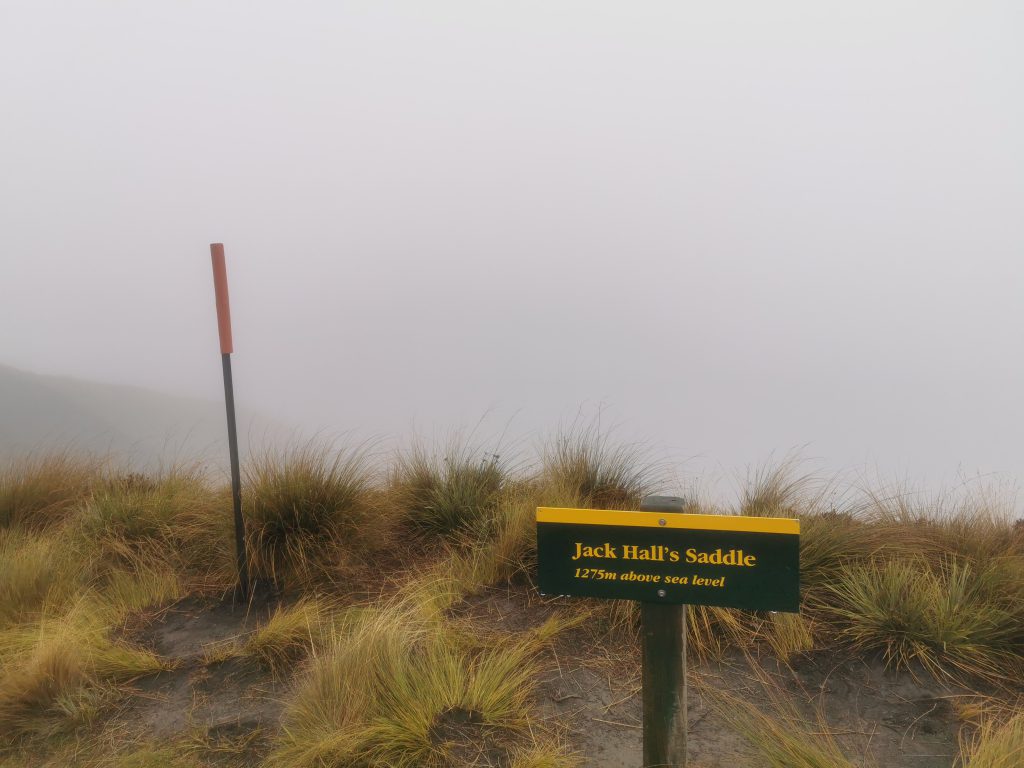 Now, time for the descent.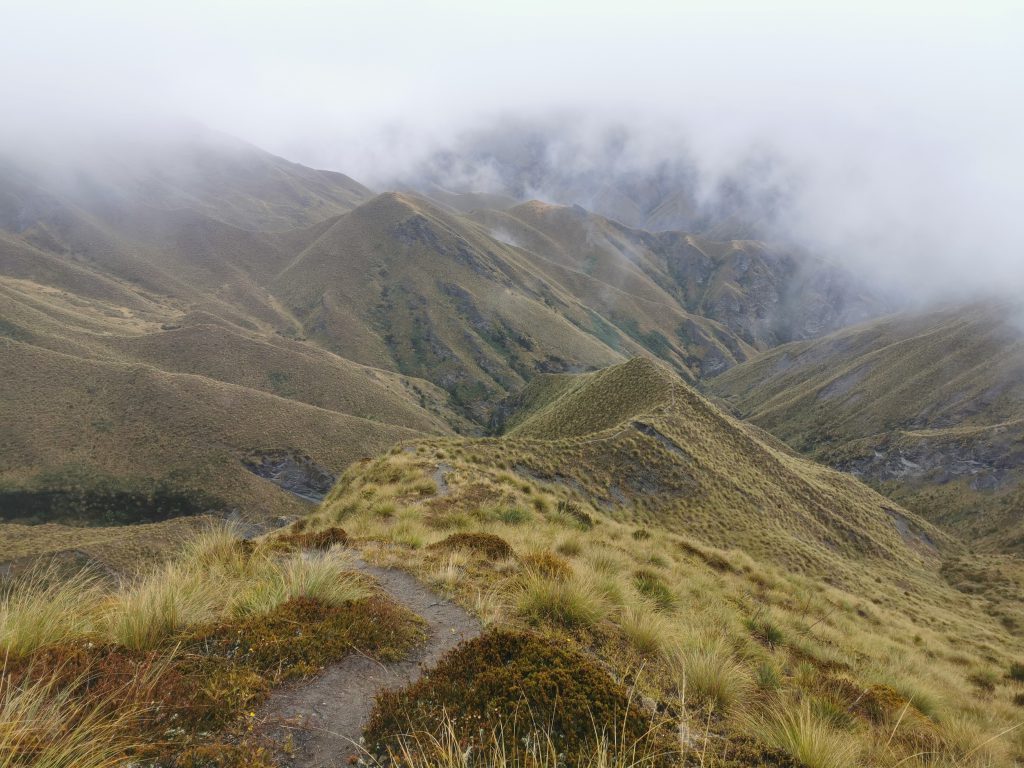 The descent was surprisingly easy. It was like the creators of this trail have designed it so that you should walk southbound. When you're going up hills, there are kind of steps in the dirt to help you up, and when you're going down hills, the trail is continuous with no breaks. It's just what you want. Well, it's just what I want.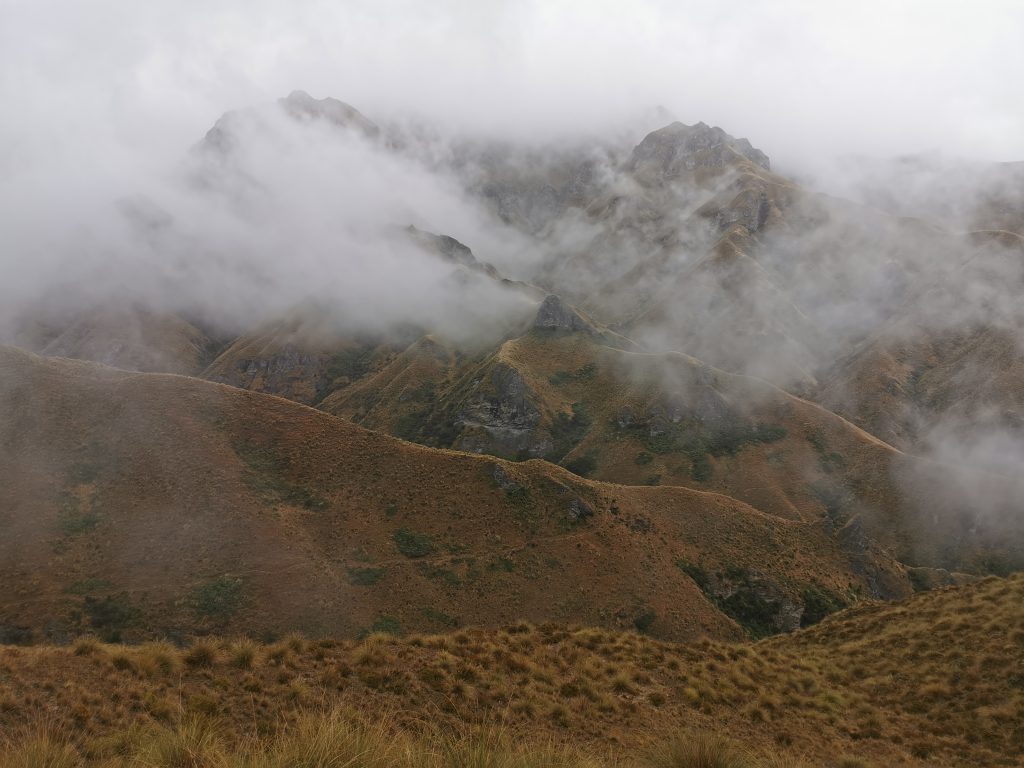 In saying that, there were a couple of times that I looked behind me while going down and thought that I'm glad I don't have to go back up there. And there was one other short but steep uphill to contend with as well, which doesn't show in the elevation profile above because the waypoints are blocking it.
The sign at the beginning said you're only allowed to camp on this trail in the vicinity of the huts, and nowhere else. And honestly everything is so hilly I doubt you even could set up a tent anywhere, except for maybe in the forest back at the start.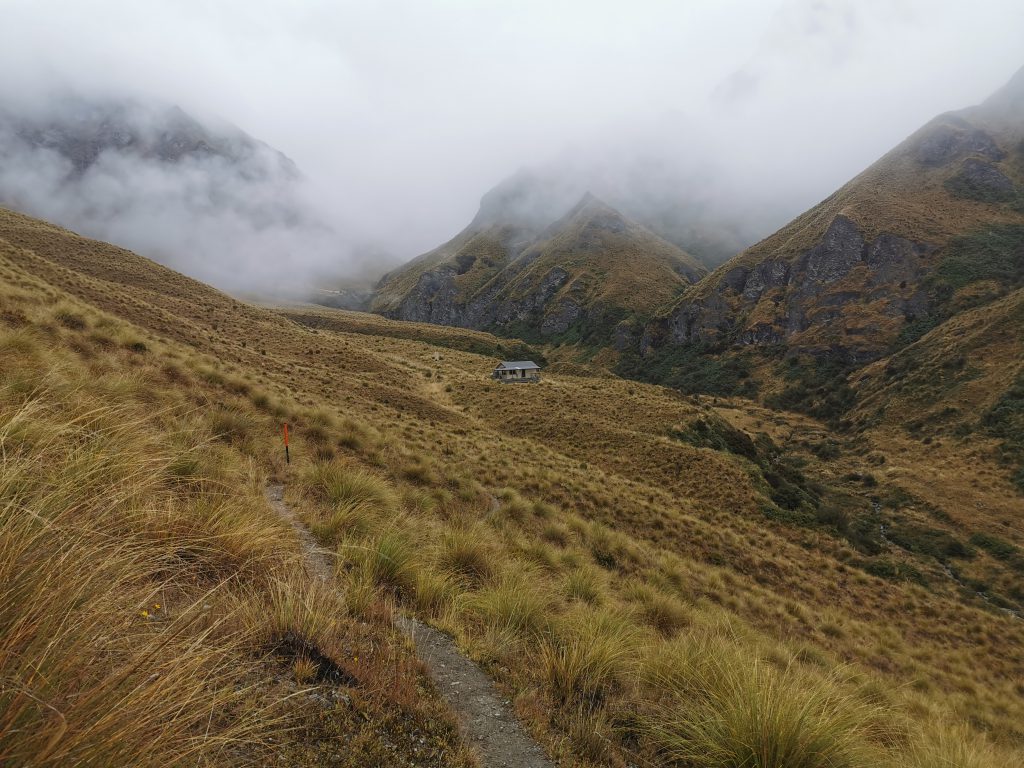 It didn't take long before I arrived at Highland Creek Hut. It only took two hours to get to this hut from Fern Burn Hut, which was a surprise given the time in the notes was four hours. Maybe that's why I was so out of breath, maybe I was expected to go a lot slower. The rain must have pushed me to go faster than normal.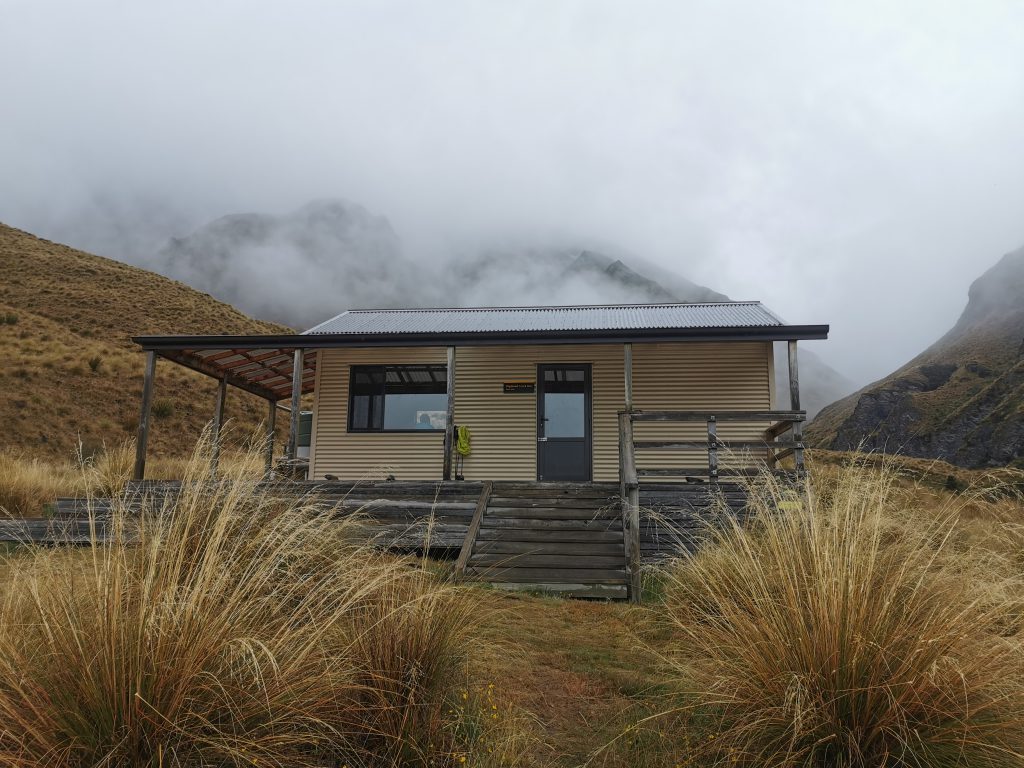 The people already at this hut made the people at the last hut seem super quiet. This hut had three people who did not stop talking loudly from the second I arrived until the second we all went to sleep. At least they all knew each other so I wasn't expected to join them and make conversation. They're not TA hikers, they are just walking this section since a major 100km running race got cancelled, so I figured that meant they will probably be up talking until late I'm guessing, just like the last hut!
I also presume that they are new to staying out overnight. I had to show them how to use their little gas cooker, and they didn't even bring something to light it with.
There was one other person in the hut, she was a TA hiker. But it was hard to talk to her because she had a very quiet voice and the other three were so loud, so I didn't get her name. However she did make it clear she thinks the huts are too crowded and she loves having huts to herself, which for her has only happened twice on the TA. She says that having huts to yourself on the non-TA walks is standard.
It always feels good changing out of wet clothes and into dry clothes after a day of walking in the rain. The added bonus this time is that because it wasn't raining too hard, I actually still enjoyed the walk.
I was told that Chris is at the next hut, Roses Hut. I'm surprised since he had a deadline of 1 April to catch a flight, although I guess a lot of European flights are being cancelled so maybe he's not in a hurry anymore.
You might've seen from yesterday's post that I bought a new bag to replace my water filter bag that broke. I tried it in the shop and it did have the same thread as the filter, however it isn't watertight because trying to filter with it results in water all spraying everywhere, just like it did with the original bag with the hole in it. I wonder if I can buy a new, original Sawyer bag in Queenstown which is a bigger place than Wanaka. Otherwise I'm going to have to "wing it", I guess.
The rain did stop, and even the clouds started clearing in the evening.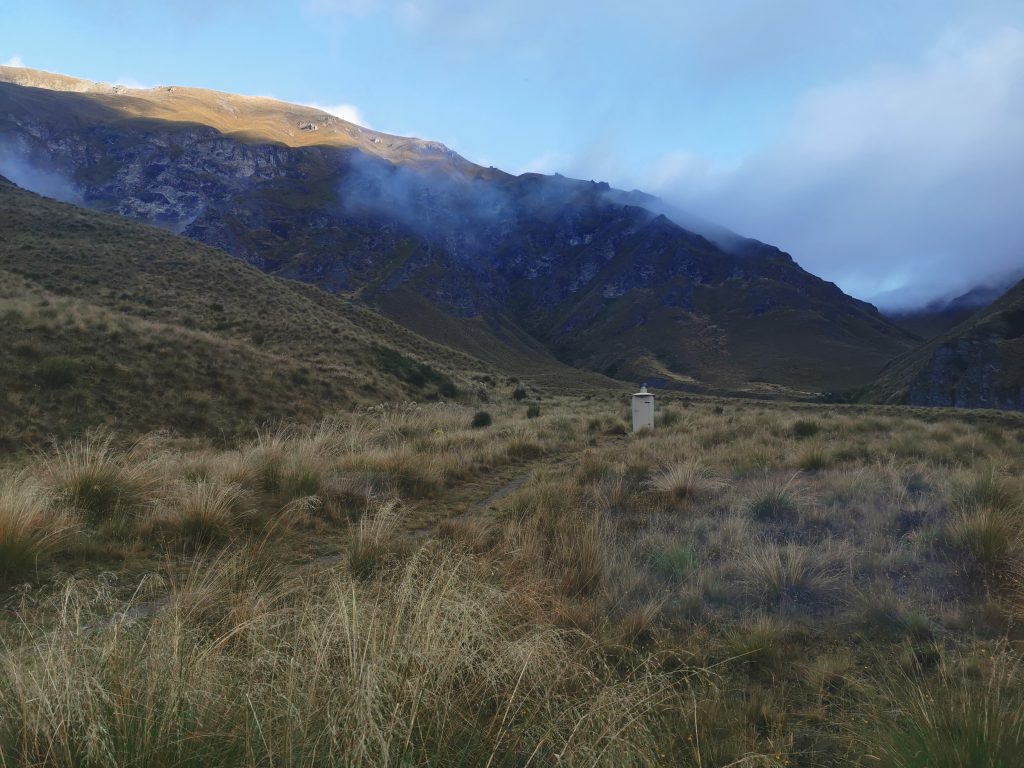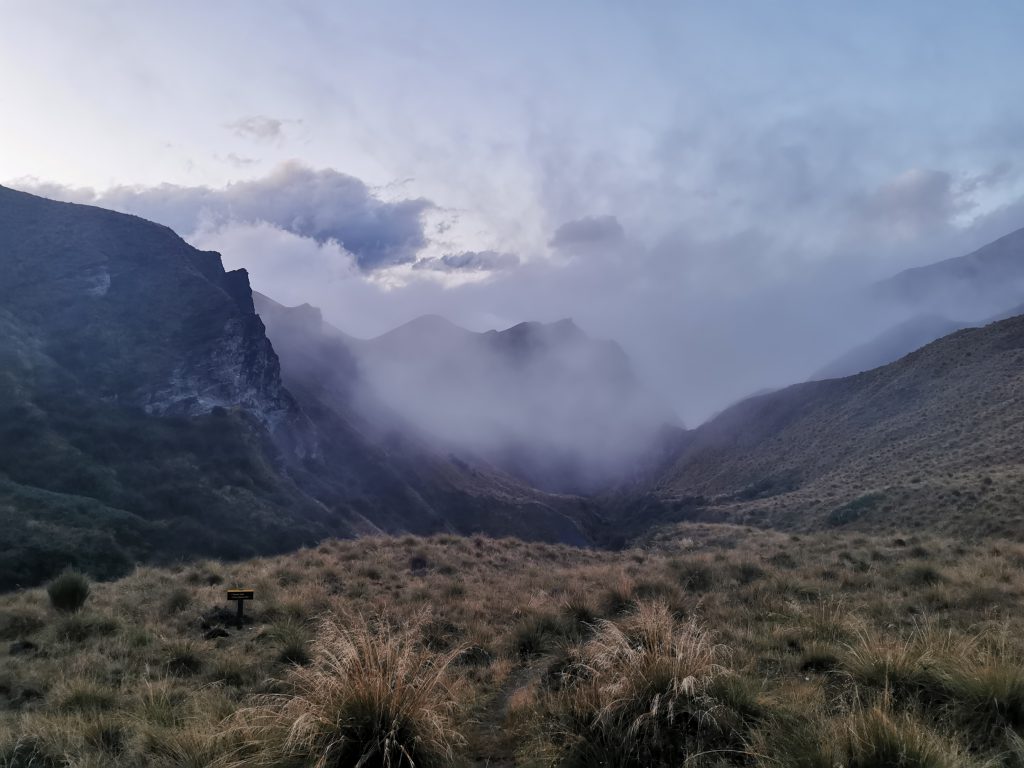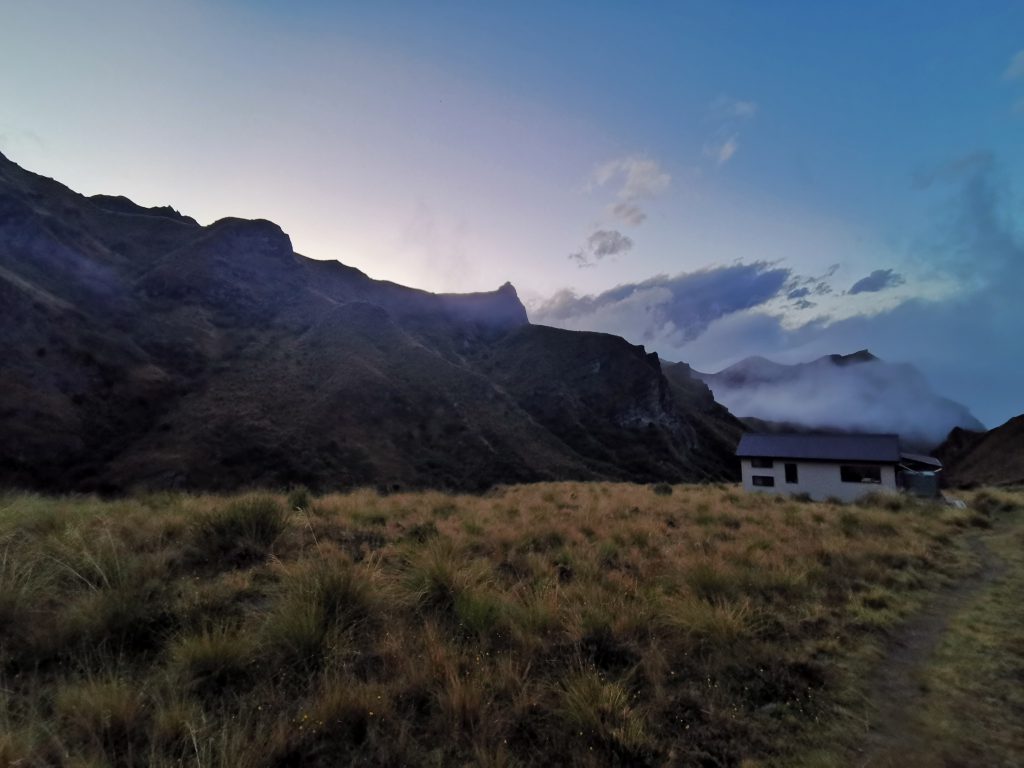 Because of how quickly I got to the second hut today, I'm feeling good about tomorrow. I plan to do the next three hills in one day. Three big ascents and descents suddenly don't seem so daunting after today. And everyone was in bed and asleep by 8:45pm which was nice. And no whispering or kissy noises this time. Hooray.
Today's walk on the map (blue = Te Araroa, red = today's walk):