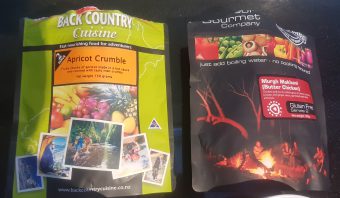 I tried a couple more of the Back Country Cuisine meals last night, in preparation for starting Te Araroa. This time it was:
Murgh Makhani (Butter Chicken) – chicken and rice in a thick gravy of cream, coriander, tomato and ginger sauce, garnished with dried almonds
Apricot Crumble – Fruity chunks of apricot made in a hot sauce and covered with tasty malt crumbs
I thought that the Butter Chicken one was made by a different company (namely The Outdoor Gourmet Company), and the packet suggests it is, but reading the back of the packet I notice that they have the same Invercargill address as Back Country Cuisine so they must be related in some way!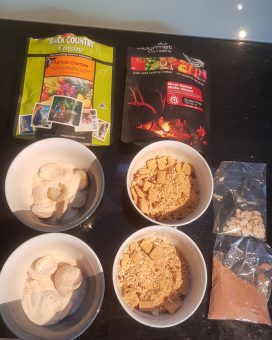 Each was two servings so at first I divided each one into two. While hiking I'm sure I would want to eat the whole two serves each time but since I'm not hiking yet I thought I'd stick to one serve. The Butter Chicken looked a lot like the Thai Chicken Curry I tried the other night, so I was optimistic that it would taste good. The Apricot Crumble on the other hand, just looked like apricots and sugar. There was a distinct lack of "crumble", and the biscuit crumbs that it came with were very fine so I was surprised.
It's so easy to make these – boil water, put the water in the bag, and leave for 10 minutes. This time though I made them in the bowls and put Glad Wrap over the top.
The Butter Chicken was quite nice. It's not as thick and creamy as I'd hoped and as the label promised but I wasn't expecting it to be – there's only so creamy you can get when adding water. It didn't look like a lot of food but actually I was surprisingly full afterwards. A little bit more spice would have been nice, but I know a lot of people like their Butter Chickens mild. It was no replacement for a real Butter Chicken from an Indian Restaurant but it will definitely do when you're out in the middle of nowhere. It did make me crave a real Butter Chicken though. If I was hiking through Kaitaia right now I'd be having Indian food for dinner that's for sure!
The Apricot Crumble on the other hand I didn't understand, it seemed more like "apricots in a thick paste". I feel like I would have got the same result if I took a can of apricots in syrup, crushed up a packet of malt biscuits as finely as I could and mixed them together – I'd have the same result for about 20% of the price. I didn't really like the taste either, I mean the apricots were nice but the rest of it was a bit weird. Kind of a tangy sugary gloopy mess.
I'd definitely buy the Butter Chicken again but the Apricot Crumble I think I'd pass – for dessert I think I'll just take a block of chocolate.
This is the last time I'll be trying the dehydrated food before I start the trail, it's pretty clear that I like the savoury ones and will be taking a bunch of them but I'll probably pass on the sweet ones.