Up until recently, starting Te Araroa in September/October seemed ages away.
But now it's almost mid-August, and I've started buying gear (some of it expensive), so there's no going back now.  Once you pass the "no going back" point, it's actually quite scary.  On a sunny day, I look outside and can't wait to be on the trail.  But when I'm curled up in bed on a rainy morning (and there have been a lot of those recently), I really question why I'm doing this.
I haven't told many people at this point that I'm doing the walk.  But now that there's no going back I have started to tell a few people.  I am keeping it a surprise from most of people though, and only telling family, close workmates and friends that I see regularly.
It's funny to see that other people's concerns are totally different to my concerns.  Like my concerns are how I'm going to feel about crossing rivers and how I will cope when it rains for 24 hours in a row… whereas my family's main concern seems to be the safety of people on the trail.  And I don't mean safety as in being stuck in the hills far from anywhere, I mean safety as in people walking past and assulting you or stealing your stuff.  What's funny is that I never gave my safety in that regard any thought at all.  I mean, have you ever passed someone who looked like a homeless person in a tent and had any desire at all to steal their stuff?  No, didn't think so!  I mean, Kaitaia is a bit of a rough place but still, it never crossed my mind!
This is the view from my workplace right now.  This is Albany Lakes in North Auckland.  The trail passes close to here but not actually right past here.  Still though, I wish I was outside right now.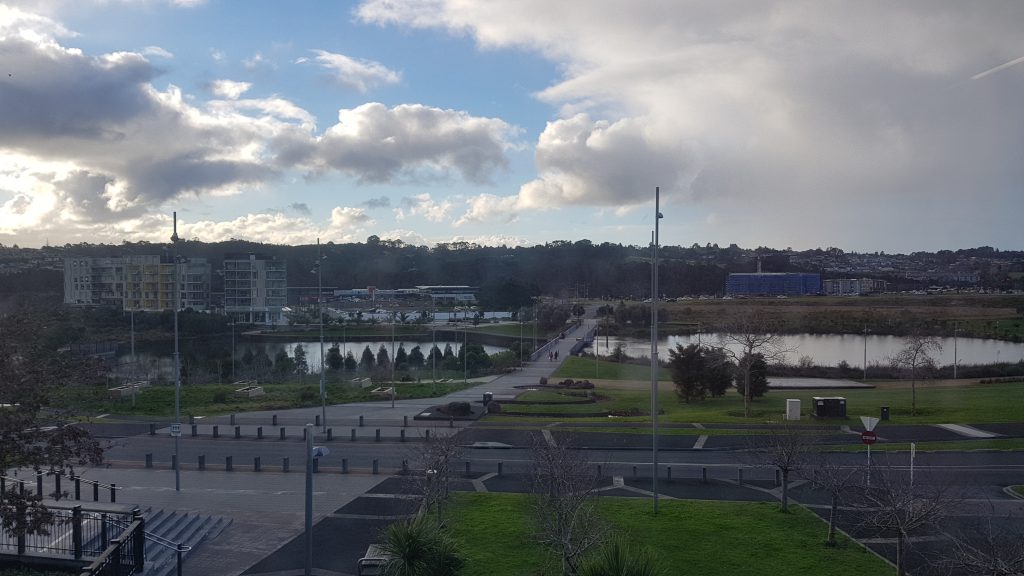 Annnnnnnnnnnnndddd… in very typical New Zealand fashion… two minutes after I took this picture, it started raining!!!