I want to be realistic when I am preparing for all this because while I know I can walk a long way and have done a lot of running, I haven't done a lot of camping and I really don't like getting wet. I've also never walked with a heavy backpack, well not for any great length of time anyway.
So while I'd love to say that my goal is to walk from Cape Reinga to Bluff, my first goal is actually to get myself up to Cape Reinga on 26 September and just walk back to my place in Auckland. And then, hopefully I will feel wonderful and want to continue. But Cape Reinga to Auckland (Mount Eden) is only about 20% of the whole trail and is a much more realistic and achievable goal for someone like me who is a long-distance-hiking newbie.
I'm lucky to be free to go as fast as I want or as slow as I want, and also to walk as far as I want or to abandon the walk at any time. So my second goal is just to walk however I want and not stress about anything.
But in saying that, my third goal is not to deviate from the trail unless absolutely necessary and not to skip any of it, not even one step. I understand lots of people skip the road-walking sections by hitchhiking them – I'm not going to do that. Short trips away from the trail are okay as long as I return to the exact same point to continue. River crossings are excepted. River crossings are apparently one of the biggest causes of death for long distance hikers and so I will not feel like I cheated if I use any alternative means to get across any river, or any body of water for that matter.
I've got most of my gear now – most importantly backpack, tent, sleeping bag, cooker and clothing. My NatureHike tent turned up from AliExpress a few days ago and so I set it up for the first time to make sure there weren't any holes in it and that I could actually do it. There weren't any holes, and it's quite a nice looking tent and wasn't hard to set up after I overcame the fear of snapping the poles while bending them. It's supposed to be a 2-person tent but if two people were sleeping in there then there would be absolutely no space for any gear!
Here it is (with my Dad in the picture who helped me set it up)…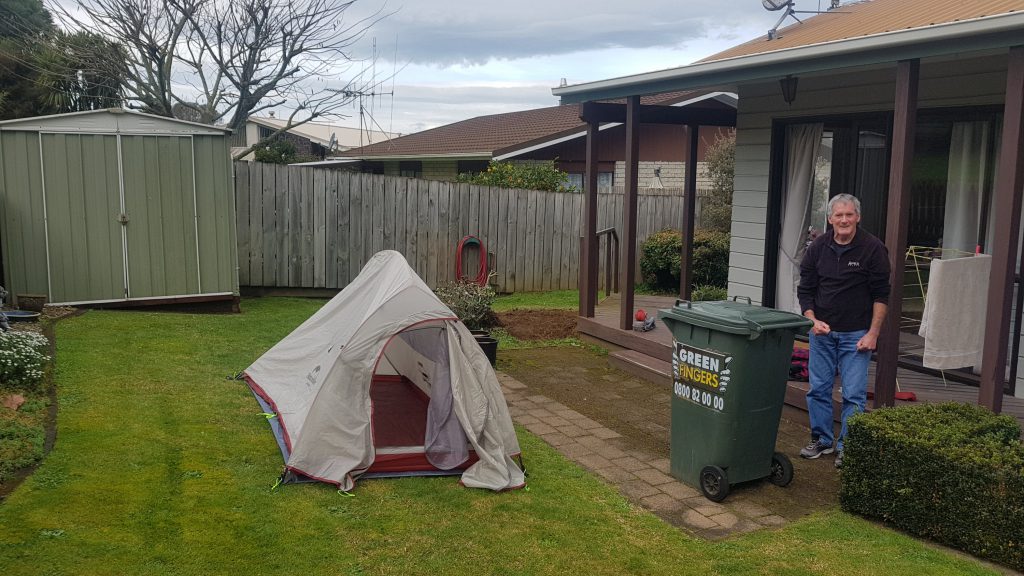 Unfortunately we couldn't set it up fully because just as we got it to the point in the photo you could tell it was about to start pouring with rain (like it has every day for the last 6 weeks). We didn't get a chance to put the stakes in so it looks a bit floppy in the picture above. But I got to lie in it and I fit in it okay which I was a bit worried about because I'm 6ft1.
I spent time deciding whether to take the groundsheet that goes under the tent on the trail because it's an extra 300g or so and some YouTube videos say that it's not necessary. But at this stage I think I will take it because I'm really worried about gear breaking on the trail and so anything to keep the tent in great shape has to be good.
Sadly I can't spend a night in the tent yet because I don't have my sleeping mat. AliExpress said that the tent came with a "mat" but what it actually meant was it came with a "groundsheet". So I had to order an actual sleeping mat online (because I wasn't happy with the ones I saw in any of the outdoor shops in Auckland). I'm looking forward to spending an actual night in the tent.
I also have my Osprey Levity 60L lightweight backpack so now I have to start doing some walks with it fully loaded. I live very close to Mount Eden, so my plan is to walk up and down there with ever-increasing amount of weight in the pack.
Anyway that's enough writing for now. 39 days to go before I start!