I'm a freelancer and my contract that I have been working on since January finished yesterday. At 5pm when I left work for the last time I joked with my friends that my mid-life crisis officially started at that point. I turn 40 next year and so I'm due for a mid-life crisis. However, I've decided to embrace it rather than fear it. Instead of buying some kind of ridiculous sports car or another typical mid-life crisis thing I've decided to walk Te Araroa instead 😁 😁 😁 and besides, I already have a ridiculous sports car.
After work I went to have a few drinks with some friends and like someone who is nearly 40, I was home and tired by 9.30pm.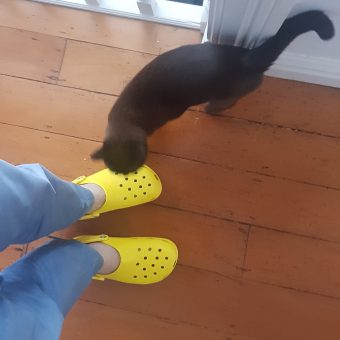 I celebrated my final day at my contract by buying some Crocs, because once on the trail, after a long day of walking and getting wet feet and shoes the last thing I will want to do is walk around camp or wherever with wet shoes. I was going to just take jandals for this purpose but I like the idea of having another pair of shoes that can be used for river crossings. Maybe I might be prepared to take my trail shoes off and put the crocs on to cross rivers, but I understand there are so many river crossings that people get sick of changing their shoes too often.
I never owned a pair of crocs before and I think they look alright, but it seems the general consensus is that they are definitely not fashionable. You can see the cat liked them (the neighbour's cat), or was intrigued by them at least, but the reactions from my friends who saw them yesterday were not positive. Oh well, I don't care. I have a bright yellow car and am often teased for it and so since I won't be driving my car for a long time, I felt like I needed a bit of yellow to take on the walk (although these are officially called "lemon").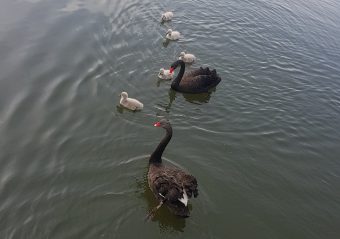 It is definitely spring, I could tell because in the last week I saw the local Albany Lakes geese with their young. And I could also tell because it is still raining all the time, despite the sun shining.
Today was a beautiful day so I went for a walk again with my pack. I loaded up my pack to a weight of 14.5kg which I would say will be the heaviest my pack is likely to get, at least in the North Island where there are lots of towns so I don't have to carry too much food. The pack actually didn't feel too heavy when I first put it on, but after 5km or so I could feel the pain in my back a bit. It never hurt a lot though, but I only walked about 9km this time because I had a bit of a cold last week.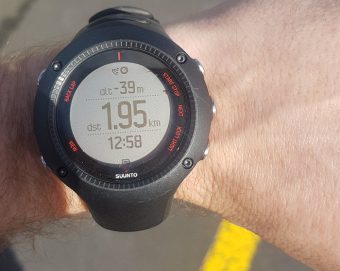 I also wanted to try out my GPS Watch (Suunto Ambit 3 Run) on the "low accuracy" setting, which uses a lot less battery, but I wasn't sure how accurate the GPS is on this setting. You can see the map below. The watch showed 8km, but when I measured out the course on Google Maps, it came up at 9.7km – quite a difference. I'm a bit of a stats geek so
this discrepancy bothers me a little bit. I was walking around and around the city streets not in a straight line so that might explain the discrepancy, lots of twists and turns which the low accuracy setting doesn't capture correctly – you can see it cuts right across some of the roads. Maybe it won't be such a big deal when I'm generally walking in a straight line. But I know when you have it on the high accuracy setting, the battery on the watch only lasts about 6 hours or so. With the low accuracy it is reported to last 100 hours.
Also, if you believe the watch, I was 39 metres below sea level at one point, as you can see from the photo!
Today's walk on the map: