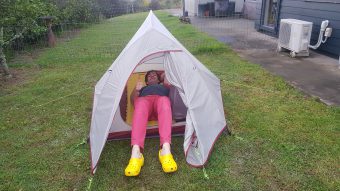 Since my inflatable mat finally arrived in the mail from amazon.com, I finally was able to spend a night in the tent with the gear I'll be using on the trail!  Last night I took it out to my Mum's place, because there's nowhere to set it up at my house. I thought I'd report on how it went.  Now keep in mind I'm definitely no expert here.  I have spent very little time camping before, so I don't know what things are supposed to do and what they aren't supposed to do.  But here's my opinion after one night!
I'll be honest, I didn't get a good sleep… but that was primarily because earlier on that morning I had slept in quite late, and I wasn't tired at all by the time it actually came to sleeping.  It was mostly that, but also because it was a new experience sleeping on this new stuff.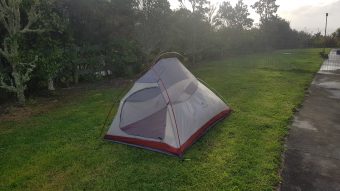 Between two of us we managed to get the tent (Naturehike Cloud Up 2 Upgrade model) put up, although the instructions provided were not particularly clear.  We had to watch a Youtube video about the tent to work out where the last few ropes and pegs went.  I'm still not completely sure we got it right.  But despite there being an average amount of wind and a small amount of rain during the night, the tent held up fine, although the rain on the roof of the tent was quite loud and that didn't help me sleep.  The stakes looked small and lightweight but didn't come out of the ground at all during the night.  I am interested to see how this tent will handle really high winds. And the most important thing – the inside of the tent got no water at all inside (except a little bit I trekked in myself) and there was no condensation at all on the walls of the tent.
You have to sleep with your head by the door because the tent tapers down too much at the other end and if you're 6ft1 like me then your head will be hitting the roof if you sleep with your head at the back.  I think that's bad Feng Shui, but I'll live with it.  I was glad to see I could lie down stretched right out and I didn't touch either end of the tent… but only just.  There was enough place to lie down and also have my pack and clothes next to me.  It felt like heaps of space, and I could sit upright in the tent, but when it came to try and undress in the tent to get into my sleeping bag, I struggled a bit with the low roof (but not too much).  I have no idea how two people would sleep in this "2-man tent" if they have any stuff at all.
After lying in the dark for just 15 minutes, a little slug started crawling up the mesh door right by my head, so I flicked it off. Then, another 15 minutes later, I spied a snail on the roof of the tent, between the tent and the fly.  I made a mental note in my head to check for snails and slugs before I pack the tent away in the morning.
The tent has a handy little vestibule to store things outside the tent but inside the rain fly.  I kept my Crocs out there, and they stayed dry despite the fact it rained.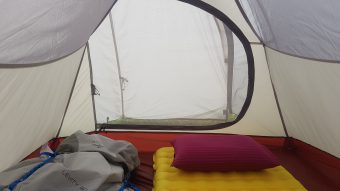 The inflatable mat was the Nemo Tensor 20L – 20 being the width and L meaning "long".  It fit well in the tent and it seemed sturdy.  It was quite "slippery", every time I tried to turn over during the night, I felt like I was sliding around.  It felt quite hard, I think maybe I inflated it too much.  Next time I might deflate it ever so slightly.  The good thing was is that it didn't deflate at all by itself during the night.  It wasn't as hard as I thought it would be (and as people on the Internet had mentioned) to blow all the required air into the mat, and the valve seemed to hold well and was easy to close.  I didn't get the "insulated" version which is a bit warmer because I'm already worried that my sleeping bag and liner are going to be too hot.
On reflection the mat did its job quite well, I think I'm just going to have to not expect too much when I'm used to sleeping in a big king size bed every night.
I felt the same about the inflatable pillow, the Nemo Fillo Elite, quite hard, but I think that might be the nature of an inflatable pillow.  Might try deflating that slightly next time too.  The pillow has the same valve on it as the mat which meant it didn't deflate during the night but this one seemed quite difficult to close.  I'm sure I'll get the hang of it.  I think if I could bring just one luxury item it would be my big feather pillow.  It would have felt so nice last night.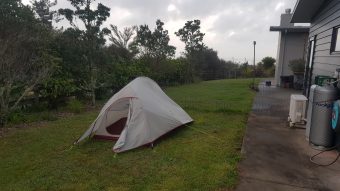 The temperature got as low as 10 degrees Celsius last night if you believe the forecast (and I do).  However with five layers between me and the ground (sleeping bag, sleeping bag liner, mat, tent floor and tent groundsheet), I was never cold.  Some people say that a sleeping bag can be quite constricting, but I didn't find this – I think mainly because I am used to sleeping in the fetal position curled up on my side, rather than spreading out.
I think the biggest thing to get used to will be packing everything away when it's wet, or even when it was raining throughout the night.  Hopefully it will be fine and it will just take practice.  This morning the tent fly was wet and the tent itself was dry, as it's supposed to be…. however as I took the fly off the tent, I realised it was still connected to the tent with two clips, so I had to put the fly down to undo the two clips.  This of course got the tent wet, oops.  Also the groundsheet was very wet and dirty (and covered with slugs).  I am going to have to watch Youtube videos before I go on how to pack away a wet tent.
Also I have to get used to getting in and out of the tent properly.  When I put my hands on the muddy ground while getting out of the tent they get dirty, and then that dirt gets inside the tent when I get back in.  But I guess after several months things are going to get dirty.  Or maybe it just won't rain at all the whole time.  Let's call that Plan B.
So overall it was an interesting night.  I am looking forward to doing it again though.  However I will make sure I don't sleep in the morning before, so when it comes time to actually sleep, I will actually be tired.
And I am looking forward to the varied views I will have from my tent door while on the trail.  Here's the view this morning, down my Mum's driveway.  At least it was sunny in the morning.