Date: 27 September
Distance walked: 31km
Trail covered: kms 12.2 to 40.1
Weather: mostly perfect
Tour buses that passed me: 2
From 1-10, how soul-destroying is 90 Mile Beach: over 9000
It's harsh having the second place you stop at called The Bluff. It sounds so much like Bluff… which of course is where people ultimately end up if they're crazy enough to walk the whole thing. But today I made it to the second recommended campsite – The Bluff. Maunganui Bluff to use its full name.
I didn't get a lot of sleep last night. There was a fair bit of rain banging on the tent and the wind really picked up as well. At 1am the tent was flapping around so much I was worried about it… So I went outside and checked all the stakes. Fortunately they were all exactly where they were when I left them so that was reassuring. While I was outside I had a look at the stars. They were very beautiful, and there was no moon. It was a very quick look, the wind was blowing so hard I was freezing standing outside in just my shirt and undies.
I slept through until 6am. My view in the morning was right out into the sunrise. Although I hoped it was… or was everything on fire?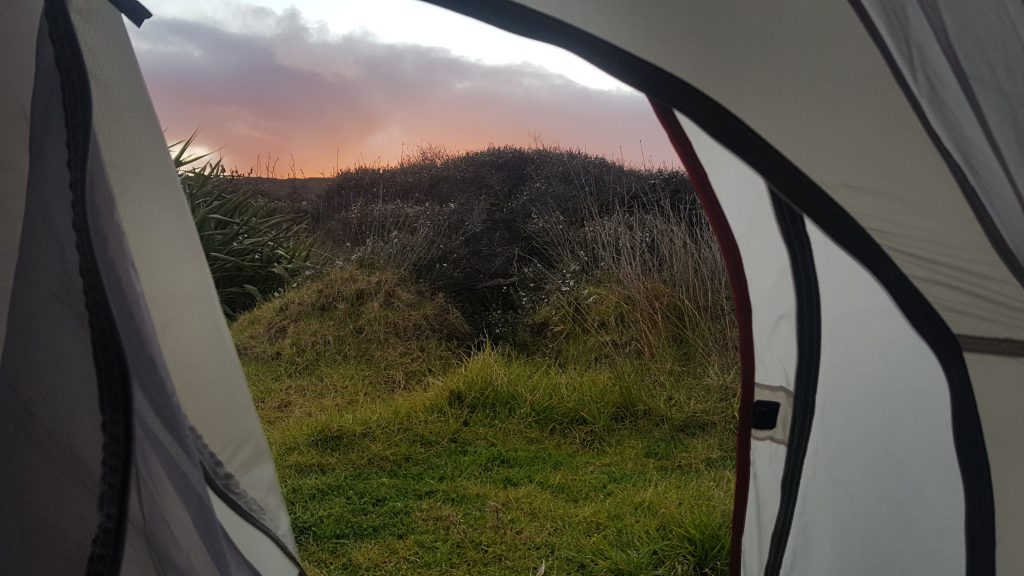 When I used the loo boy there were a lot of bugs… they took me by surprise. I thought they didn't look like flies… more like mosquitoes, but it's hard to say. Then I had breakfast (porridge which I burnt despite only cooking it 1 minute) and went to pack up the tent. One advantage of a real windy night is that despite all the rain, the tent was dry in the morning. Hooray! But one thing I wasn't happy about… Holes in the mesh of my tent! On the first night! Come on… I expected things to go wrong but not on the first night. I put some duct tape over them but that's not gonna hold. I hope it holds until I get to Kaitaia and and fix it properly (can it be fixed? I hope so!)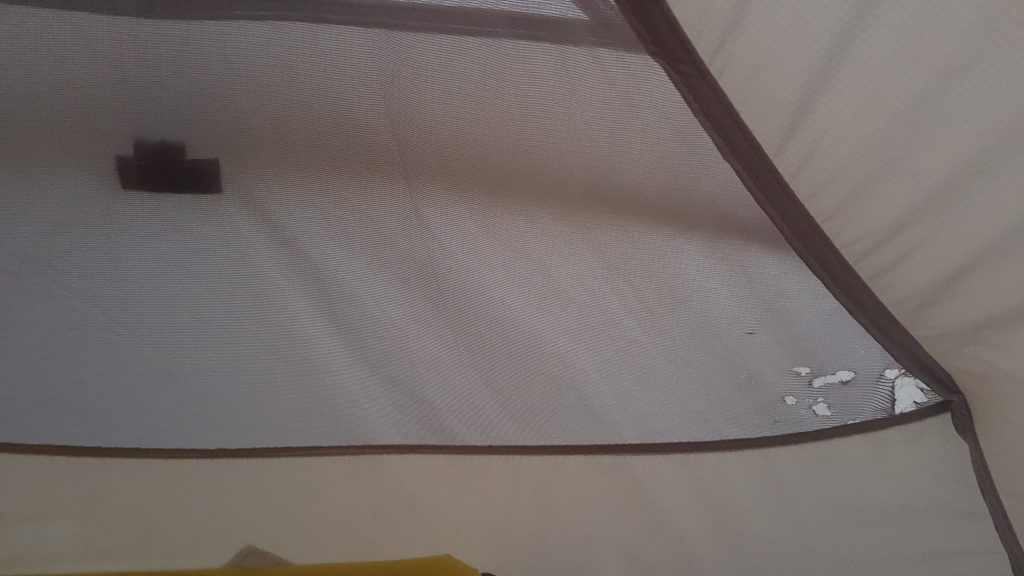 I packed up and said one last goodbye to Twilight Campsite. It was a bit emotional since as well as being the first stop on this journey it was the first place I've ever camped away from my car and really out of my comfort zone, and by myself nonetheless.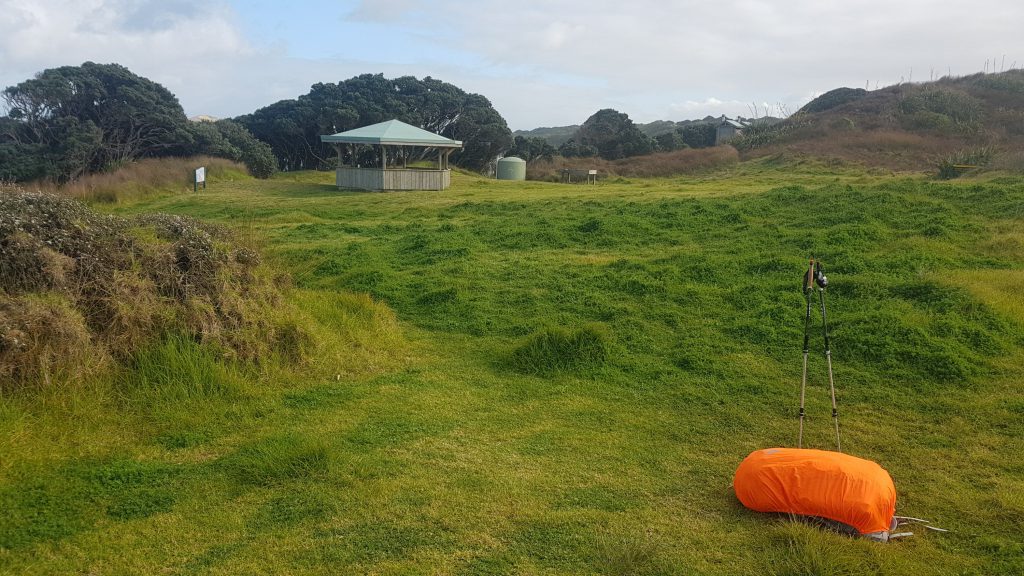 I knew that today was 5ks over a hill and then about 25km of walking down 90 mile beach to the next campsite. I wasn't really looking forward to that. The hill was not too challenging, although there were lots of stairs going down. I even stopped to look for a geocache which was apparently hidden somewhere on the stairs, but I couldn't find it. There were so many places it could be and I didn't have the patience. And while I was looking, it dawned on me how long it actually would take to walk 30km. So after a quick snack at the actual start of 90 mile beach, I set off walking.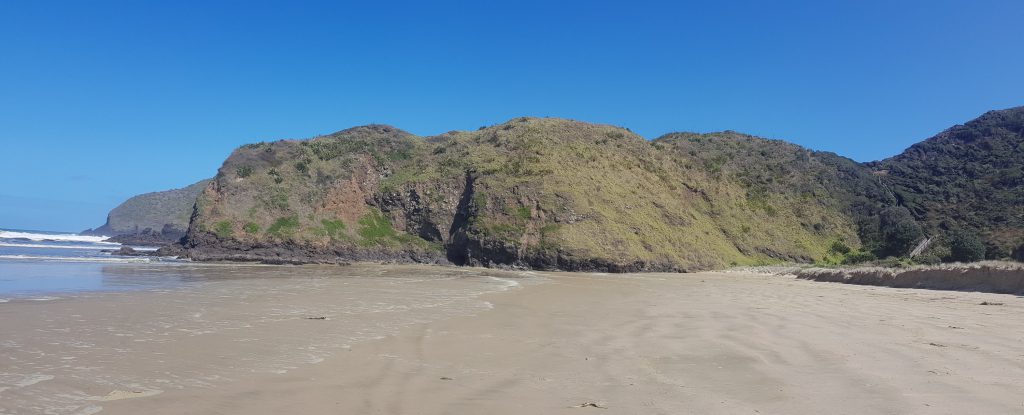 It was pretty tedious. Not a lot happens on the beach. Here's my 11am picture: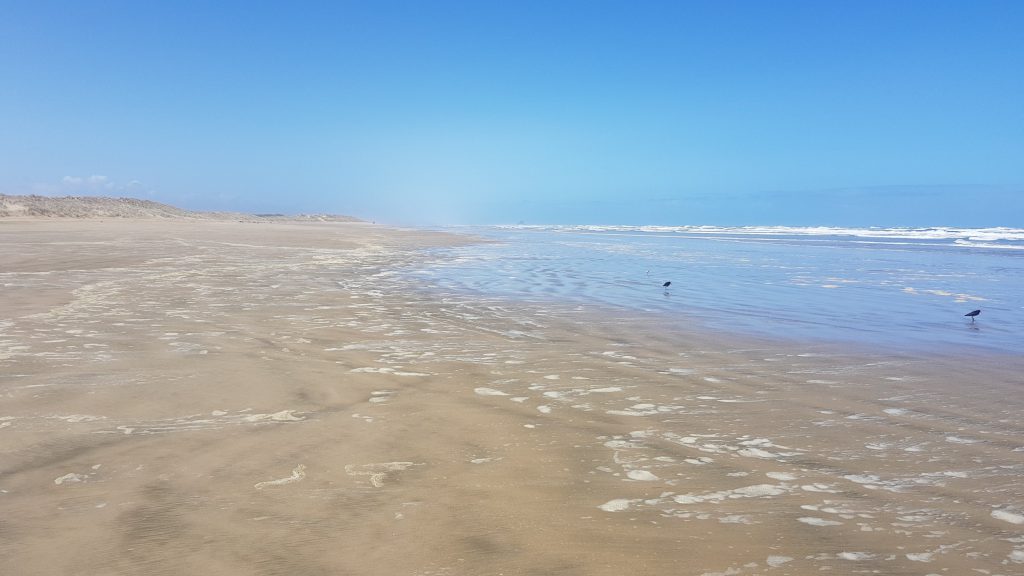 Even after all 30km, I still hadn't seen anyone else. Well, a few cars went past down the beach (it's an official highway) and two tour buses, but they don't count.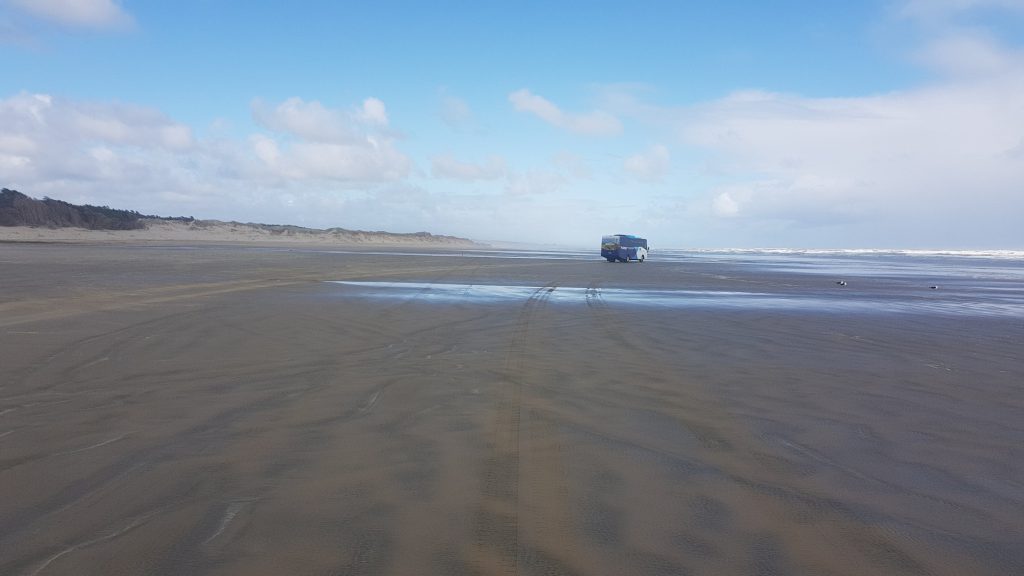 The view doesn't even really change much, as you can see: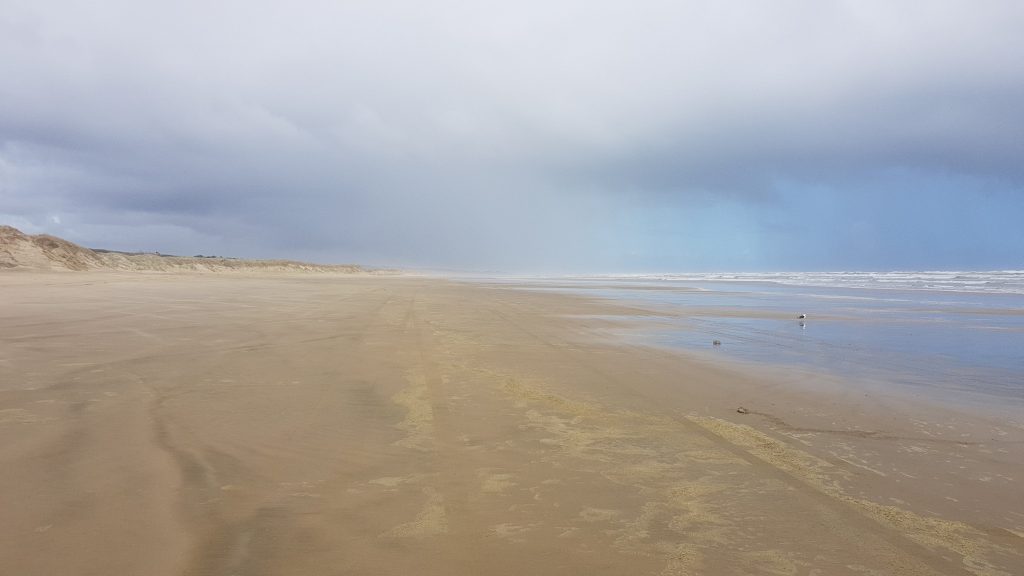 I had originally set myself specific break times so that I would get to the campsite at a reasonable time. However, after a while i learned which things on my pack to tighten and which to loosen when various parts of my body started hurting. So I thought to myself that as long as nothing hurt, I would just keep walking. So I only actually stopped at 10km to look for another geocache (again unsuccessfully), 18km when I felt a blister coming on and 23km when there was a bit of rain coming and I put my jacket on.
I could see The Bluff from about the 15km point, and it was in my vision the whole time from then on. It very very slowly got closer. It reminded me of the Auckland Marathon, where once you reach the 31km mark, you can see the city centre in the distance where it finishes, but it never seems to get any closer.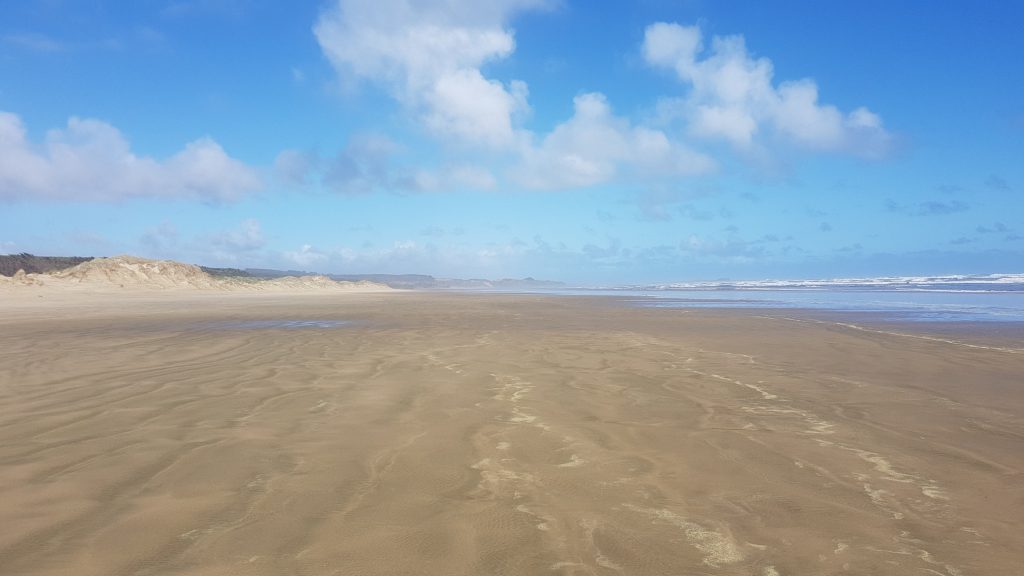 Despite having just walked 30km, I detoured off the trail a bit and walked out onto The Bluff itself which can only be reached at low tide, so I might not have another chance to go out there. I'm glad I did, the water there was really rough and there was this weird foamy stuff that looked like it was bubbling, like some kind of alien goo.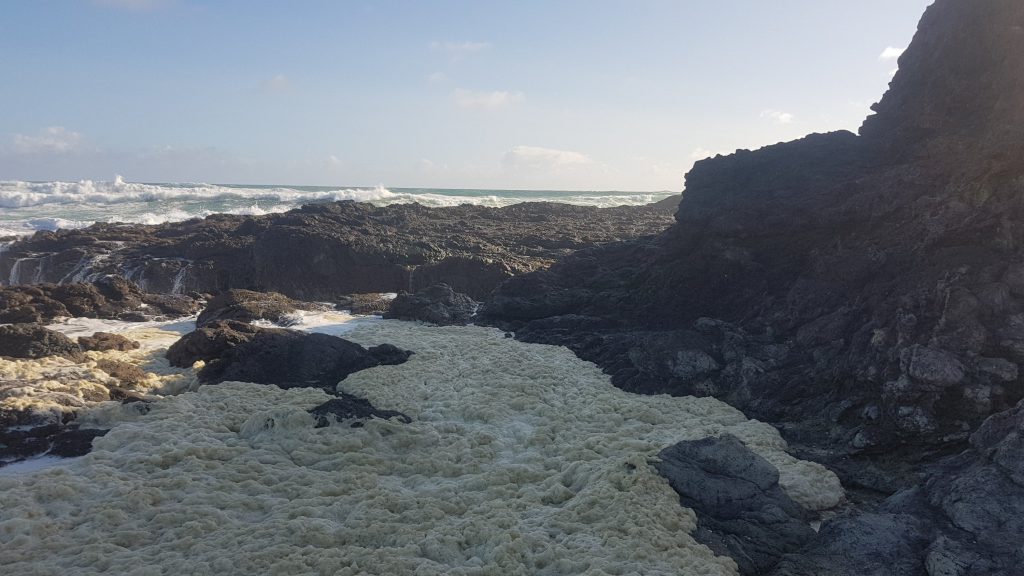 As the tide came in, you could see the water coming in from both sides across a thin bit of sand (a tombolo I believe it is called – thanks again, geocaching).  There are three geocaches in this area and I found all three.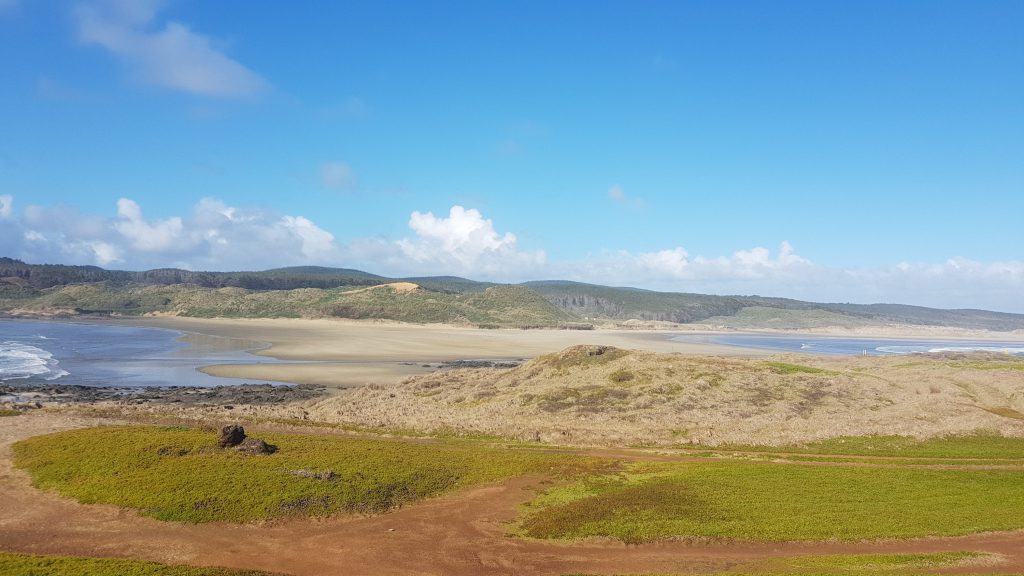 Onto the campsite, and there were lots of people on motorcycles – a big group of them who had a caravan set up. I went over to talk to them because I hadn't seen anyone since I left the Cape, but on the way over I saw two guys who looked like hikers, so I talked to them instead. Finally, I get to see and talk to someone else! There was Ernest, who said he had seen me on the bus, but I hadn't seen him, and there was Rhydian who recognised me from Facebook. Small community, isn't it!
Ernest is the guy that I mentioned in the last post who was walking north up the beach from Ahipara to Cape Reinga because then the wind would be behind him. Not a bad idea yesterday, but today the weather was perfect except for just a small bit of rain. There was a little wind but not too much, a bit of cloud so the sun wasn't too strong, and not too hot. Once Ernest gets to Cape Reinga he plans to hitchhike back to Ahipara and go south from there. Rhydian is walking south like me, he started a day before me but he took his time getting to The Bluff, so I caught up to him. So I am sure I will run into both these hikers again.
This campsite is quite nice, there is horse poo everywhere and apparently wild horses usually roam the campground but I didn't see any tonight. I think all the motorcycles scared them off. There are 5 or 6 of these motorcycles and they are so loud, going round and round and round the campsite. I hope they don't go all night.
I set up my tent as far away as possible from the big group of people with motorcycles and then the three of us made dinner together and had a good chat. I had a Back Country Cuisine Mexican Chicken which was pretty good. Nice not to have couscous three nights in a row.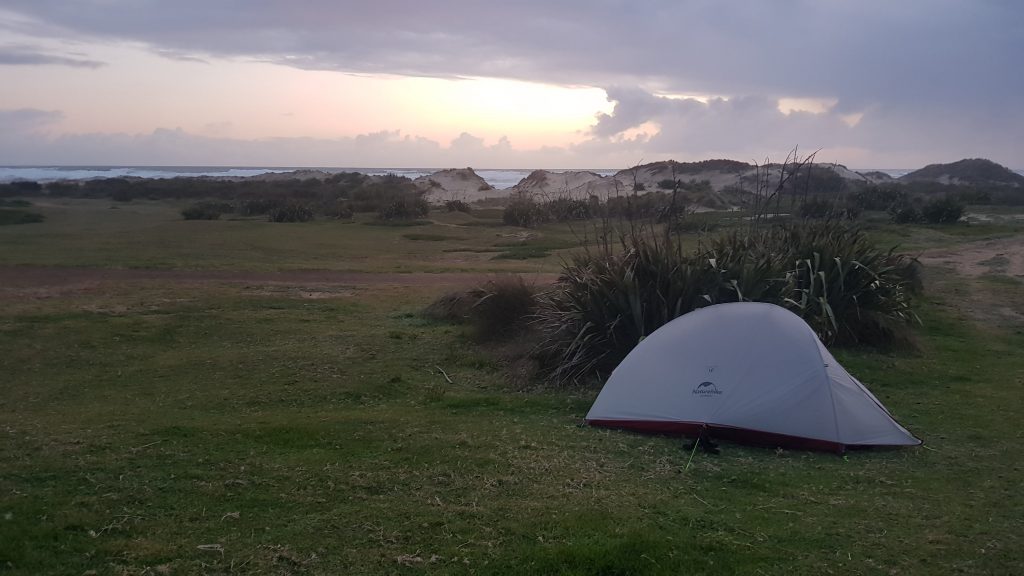 And then when it got too dark to see and the wind picked up a bit and it became freezing cold, we all went to our tents, where I'm writing this now. Less wind should mean a better sleep but boy the bits between my shoulders and neck are sore. I don't know how I'm going to carry that pack another 30km down the beach tomorrow. Hopefully some sleep will help with the pain.
At least I will have Tania's famous blueberry smoothie waiting for me at Utea Park! And actually they also have a hot shower. Lying in the tent I am really starting to think I need a shower – it doesn't smell nice.
Today's walk on the map (blue = Te Araroa, red = today's walk):