Date: 28 September
Distance walked: 30.2km
Trail covered: kms 40.1 to 69.4
Weather: Perfect
Number of geocaches found: 1
Number of irritating campers with motorbikes at 7am: 6
I'm not entirely surprised this morning that all the people with the motorbikes started riding them around and around the campsite starting 7am.  They have all of 90 mile beach, but no, around and around the campsite they went.  And this was after they were playing hide and seek at 9:30pm last night with a torch which they kept shining into the tent so that didn't help with sleep.  Not a brilliant start to the morning.  I'm going to have my breakfast and pack up and go even if it is high tide.
Rhydian left just after 7am, so I figured he was going to beat me to Utea Park campground today.  I didn't end up leaving until about 9am, which was only half an hour after high tide.  It's noticably more uncomfortable walking at high tide.  The sand is softer, the waves keep coming up to you forcing you to run away or get wet, and when idiots drive down the beach they're much more of a menace when they and I are both sharing a very small bit of wet sand.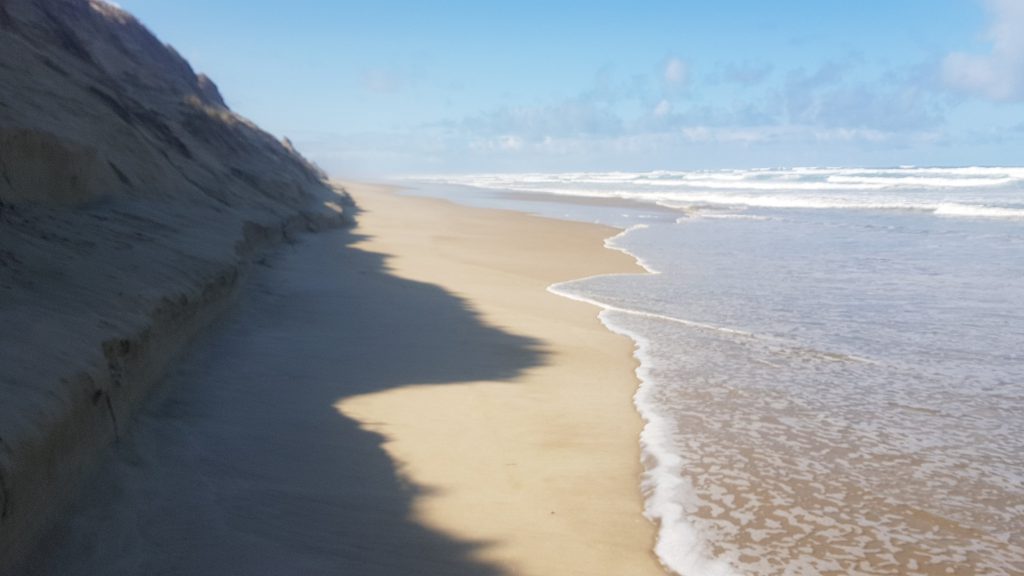 It was only an hour or so before I spotted a person in the distance.  It had to be Rhydian, nobody else could have been walking that way without me knowing.  He seemed to be walking slowly – I caught up to him fast.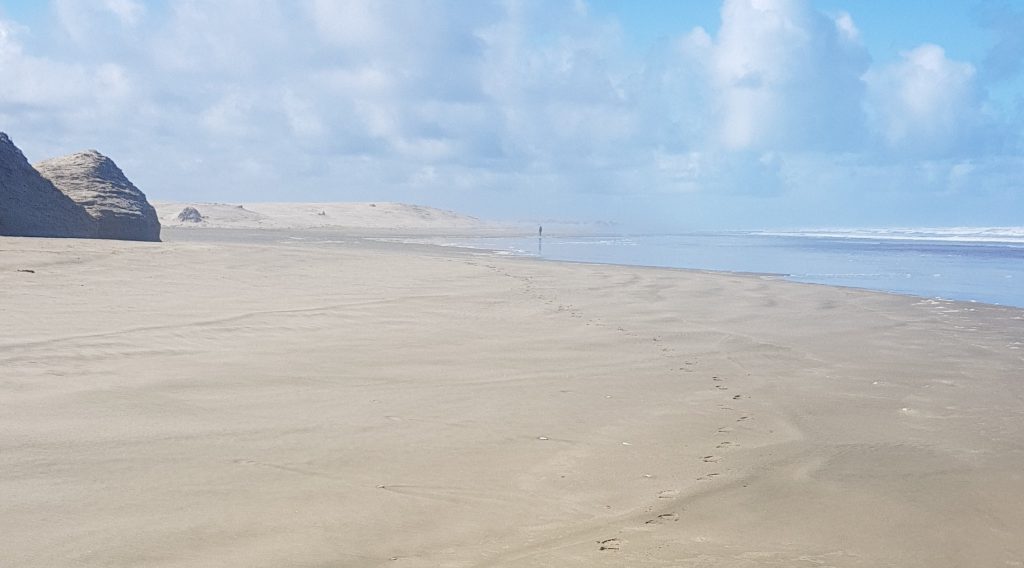 Despite that, once the tide fell away, I felt a lot better today while walking.  Much better than yesterday for some reason, even though it is my second 30km+ day of hiking in a row. Maybe because it's not raining, or knowing that there actually are other hikers out there?
I went to get my phone for the 11am picture and literally just as I did, this plane flew down the beach, flying really low.  I wish I got my phone out a bit quicker to catch the front of the plane, but I still got a picture of the back.  I chose the shorts I'm wearing because from past experience wearing these shorts while running I knew my phone wouldn't fall out of my pocket while I am walking on any future rough terrain, however that has the added drawback of it taking a few seconds to get my phone out of my pocket when I need it.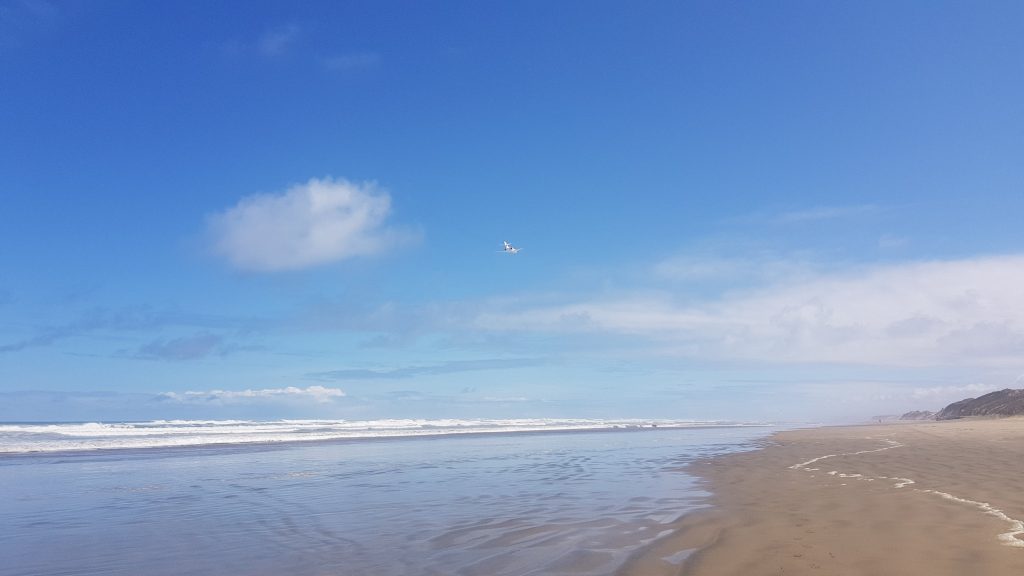 I stopped and found a geocache only 100m or so inland from the beach at the 12km mark.  It was my only break today because I was feeling so good and not hurting at all.  I spent about 45 minutes resting and eating lunch.  When I went back out onto the beach to continue my journey… was Rhydian behind me or in front for me?  I had no idea!  There were no footprints in front of me again, so I assumed he was behind me.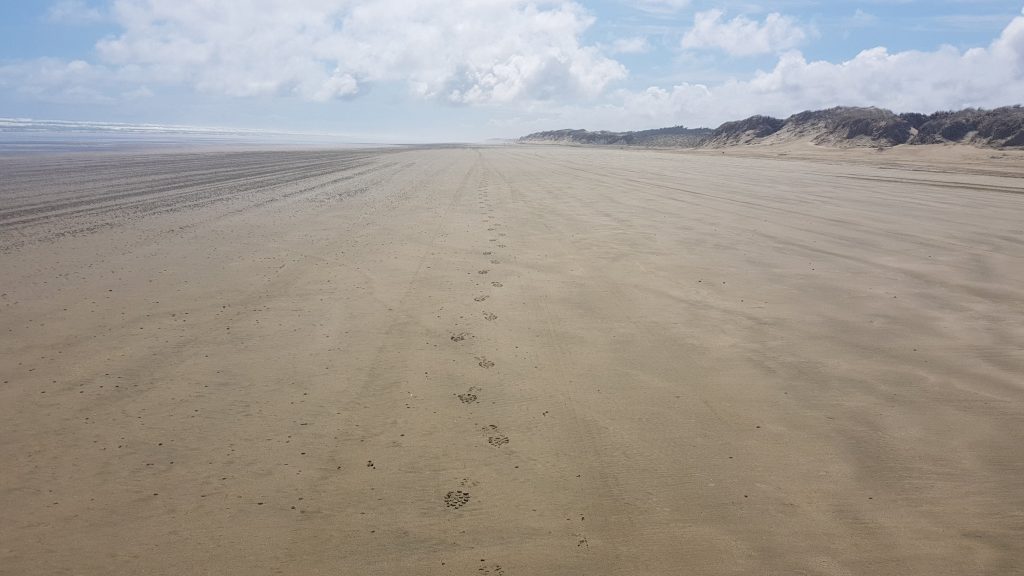 I knew I had another 18km of beach walking today, for a total of 30km, and I feared it would be highly monotonous. But at 13km I passed a lot of people parked around a couple of little lifeguard boats.  I thought maybe somebody was in trouble as there were more people here than I had seen on all the rest of the beach put together.  But no, there was some kind of lifeguard training on today.  The commotion here was that one particular lifeguard boat had a bung motor and everyone was trying to fix it.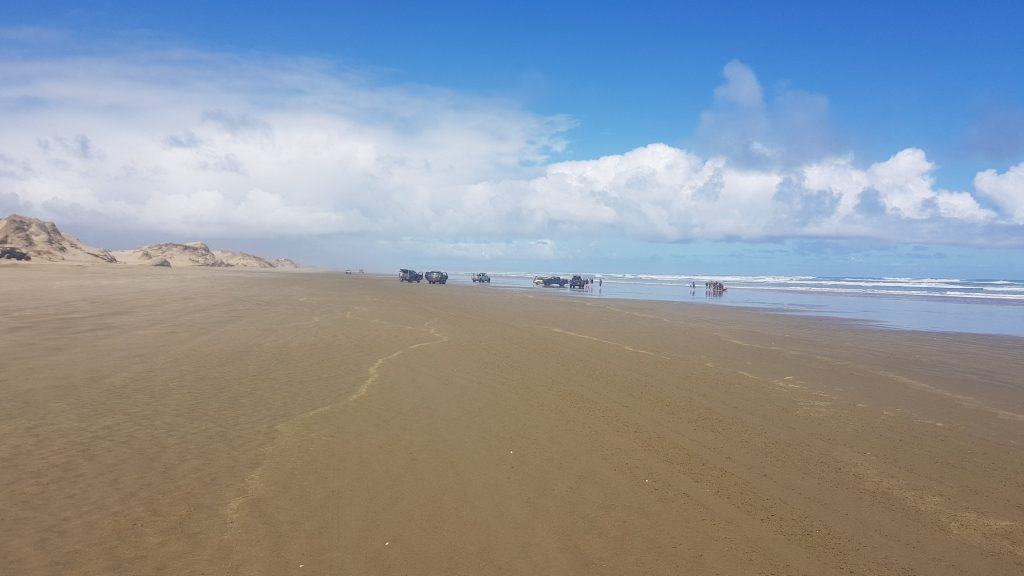 I talked to one of the women there as I walked past.  She asked if I had just started the Te Araroa trail.  Obviously some of the locals have heard of it and know that it goes down here.
At the 15km mark I could finally see the Ahipara hills. I wasn't sure exactly how far away these were, but I knew that they were at least another 30km walk tomorrow, or possibly even further.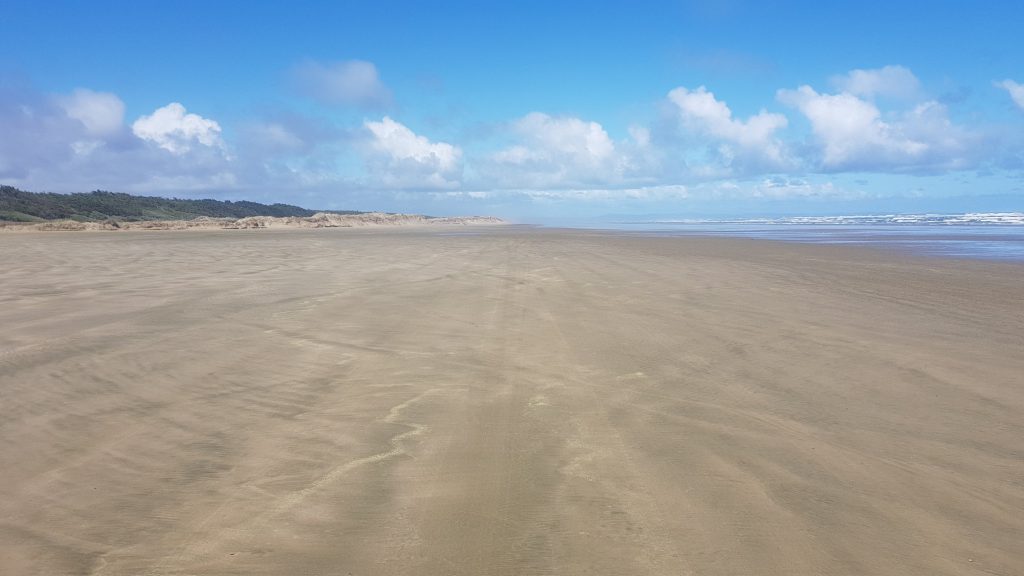 I also started seeing this weird formation all along the beach, which I hadn't seen further north.  Lots and lots of these little sand holes.  They looked like big Honey Puffs (a breakfast cereal you can get here).  When I put my walking stick into them, water squirted out of the holes.  They were everywhere.  I meant to ask someone local what they were, but I forgot.  I may now never know.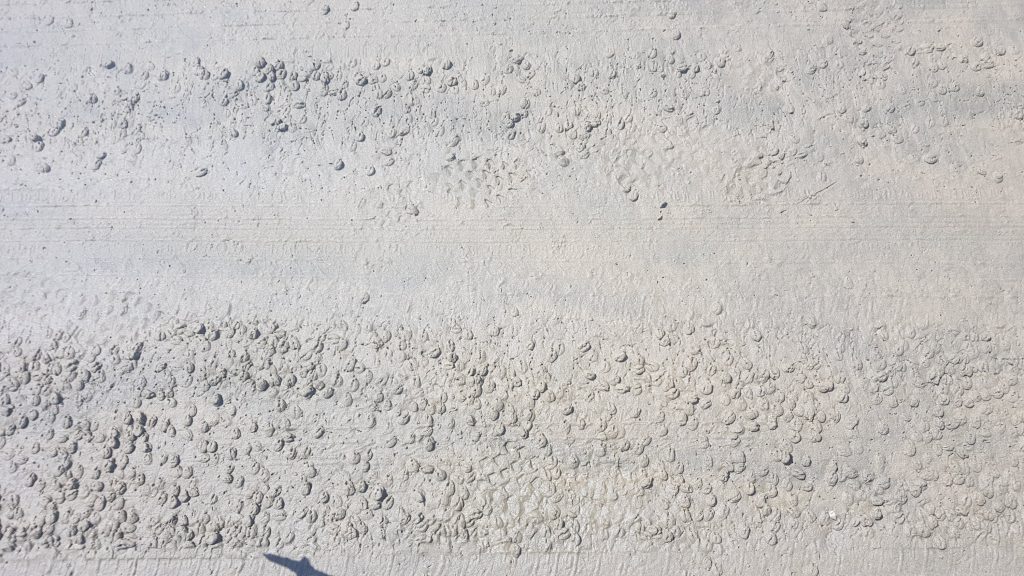 Reliable cellphone reception started at about 20km.  I heard at this point from my friend Kelly that she was no longer coming up from Wellington to Auckland to go to the Metallica concert because they had cancelled.  That was sad – she was almost certainly going to be in Auckland while I would be passing through so I could have seen her.
While we were chatting she also asked if I was walking to Bluff. "I might be!" was my reply – I hadn't told many people by this point that I was doing the walk.  I sent her this selfie from where I happened to be at that time.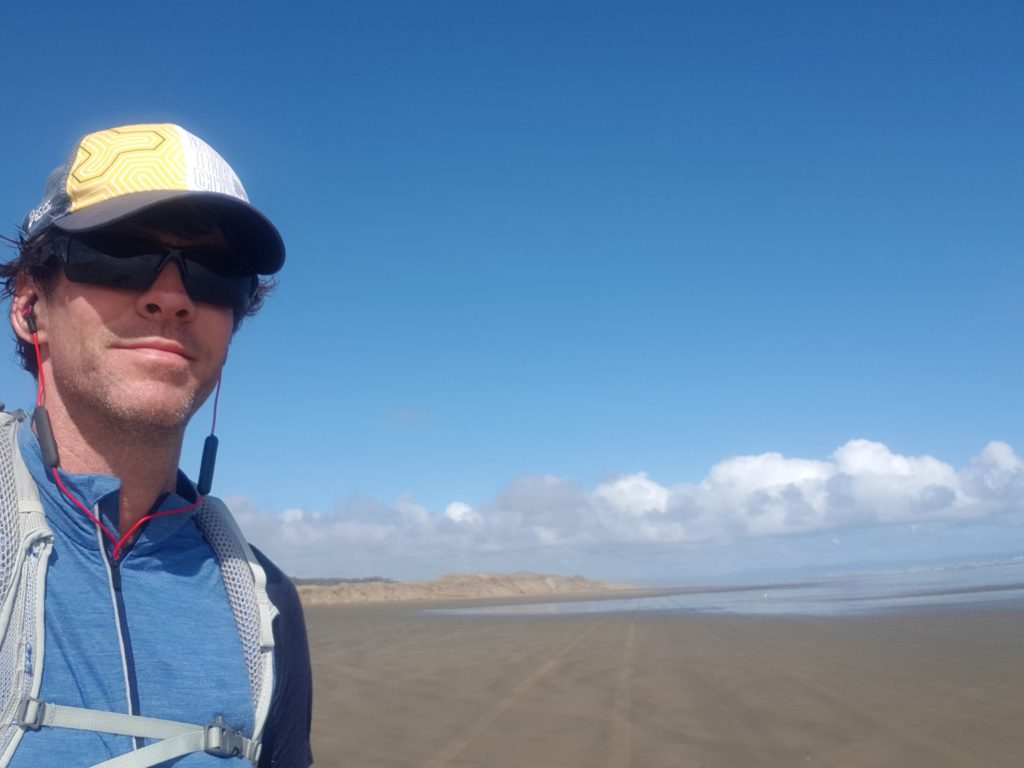 I saw a seal on the sand at 21km.  I thought it looked healthy until I approached closer and couldn't see it moving.  Even walking right up to it and away down the beach I never saw it move.  I hope it wasn't dead.
At the 27.5km mark I could finally see the green flag of Utea Park.  Tania said that she would put it back up just for me – it had blown down in the heavy wind on Wednesday night. According to the Utea Park visitors book, a lot of people like seeing this flag because it's the first thing a lot of people see after a long day of beach walking.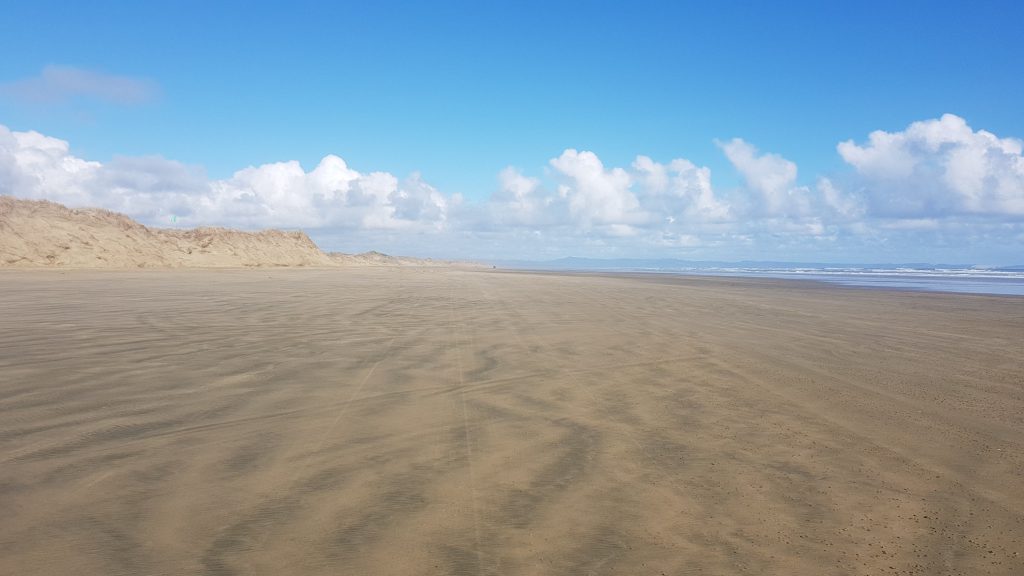 It wasn't much longer until I got back to Utea Park, where this journey all began the day before my first day.  It was good to be back.  Although, I was advised, no smoothie would be forthcoming!  Oh no, I had been looking for this since the first time I stayed here!  This was because they had sold the fridge-freezer, as well as almost everything else.  They had even sold the beds from all the units, in fact, the guy came to pick up the bed while I was sitting on it!  Tania brought out a mattress for me and put it in the unit.  Still much better than sleeping on a tiny inflatable airbed in a tent.  I didn't mind at all.
I felt really good when I walked into Utea Park at today's 30km mark, however it was only 15 minutes or so before everything started hurting, literally everything.  Much worse than yesterday.  OUCH.  At least it was all just aching.  There were no stabbing pains or any sort of indication that any of my old running injuries were resurfacing.
I checked the trail notes, and it is another 32km to Ahipara.  I don't know if I can do it tomorrow with how much everything aches now.  There is an intermediate campground at 17km tomorrow, however I really really have a craving for an icecream.  A BIG craving, especially since I didn't get my smoothie.  Hopefully they have at least 8 flavours in Ahipara, and they can get a cone and put one scoop of each flavour on top of it.  That would be sweet (literally).
Apparently they had just enough gas left at the campground to cook dinner but the showers had run out of their gas so they were going to be cold. However Tania, being the great host that she is, invited me into her house which is adjacent to the main camping area and allowed me to use her hot shower.  That was very nice of her.
When I was coming back from the shower, I saw this adorable little puppy.  I couldn't get a good picture because it was so hyperactive.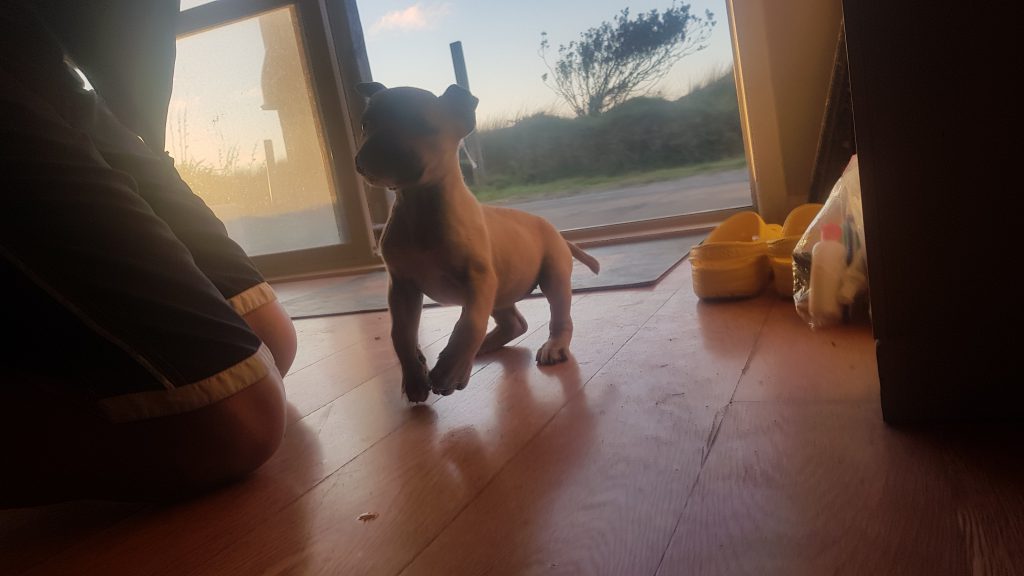 It was about 3:30pm when I arrived at Utea Park.  After chilling out for a few hours, I cooked my dinner and went and ate it on the beach at sunset by myself.  It was fantastic.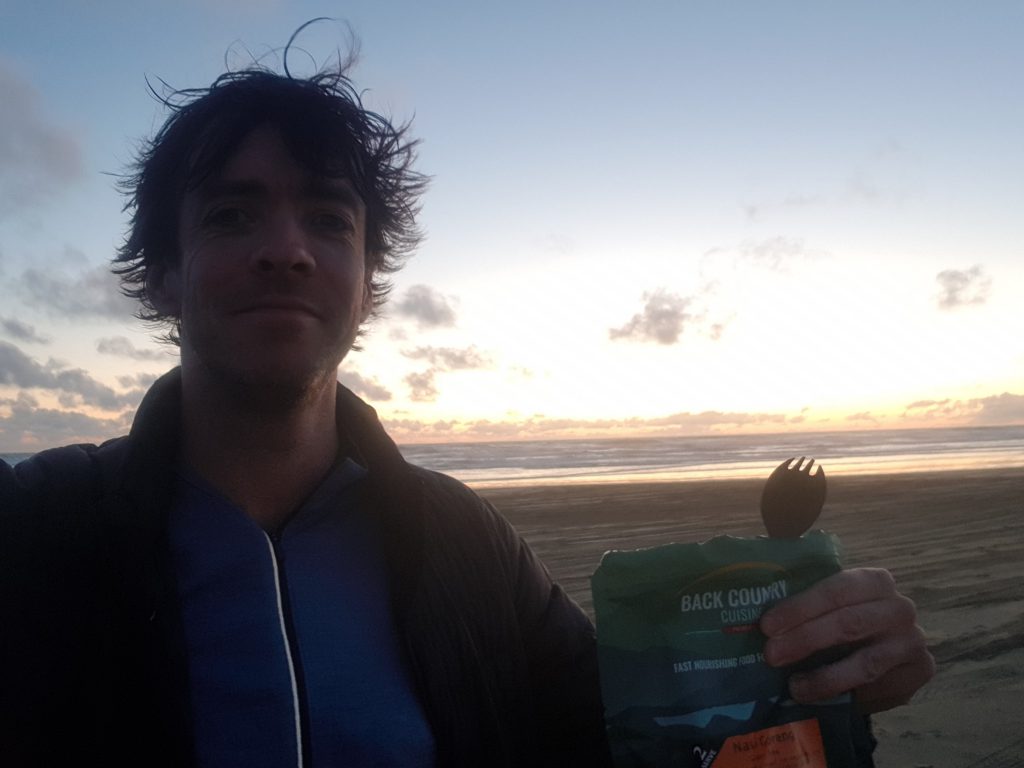 7:15pm came around, well dark by now, and who walks into the campground… Rhydian!  He had taken 12 hours to get here.  I can't believe he had walked for that long, I really thought he was going to have to camp at some intermediate place once I saw the sun go down.  But it was nice to have someone else there to talk to.  There were a few Germans there who were staying in a campervan but they were all quite young and all preoccupied on their phones so I didn't really talk to them initially.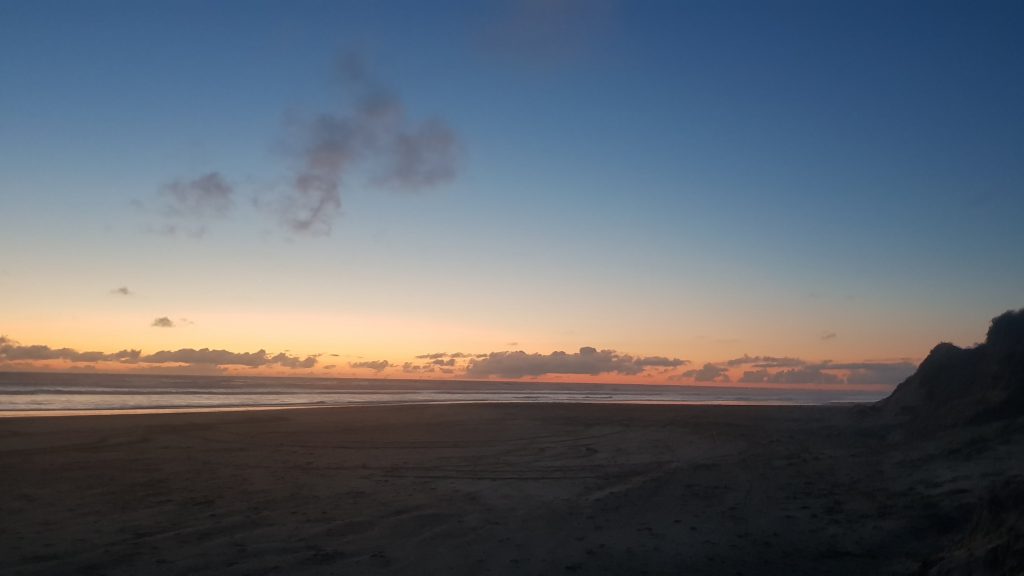 It's supposed to be Utea Park's last night of operation tonight.  Pauly D (the owner, no relation to Pauly D from Jersey Shore) was taking the signs down while I was there, as well as random people coming in and out all afternoon and taking the fixtures and fittings and decorations and anything they could get their hands on.  It was sad to see all the signs come down, but I got to see Pauly's cool number plate 9TM1LE (I also saw 9TMYLE elsewhere on the beach).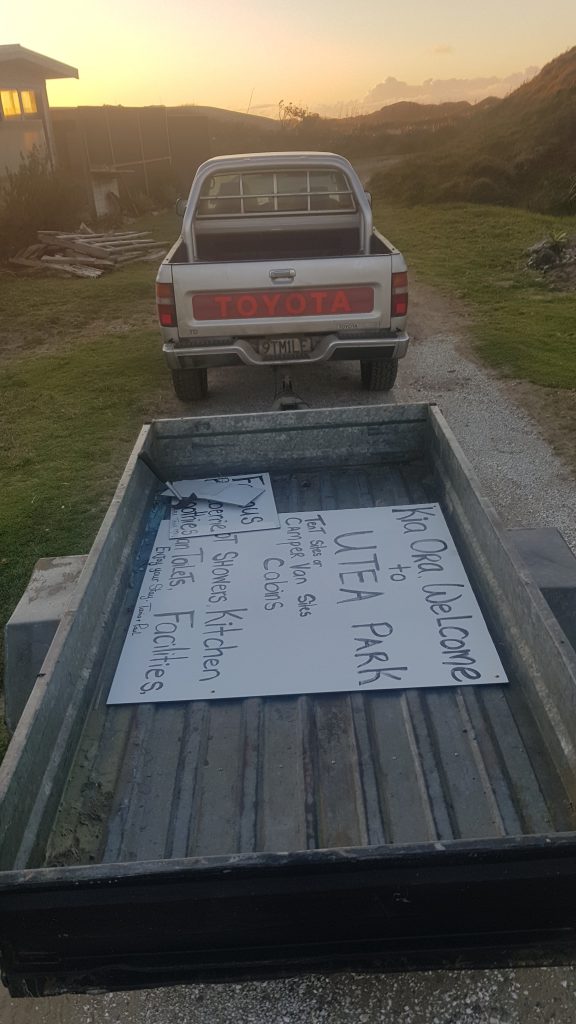 To celebrate us being the final guests of the campground, two of the German boys lit a fire and they also had some wine which they offered to Rhydian and me.  I accepted a little bit but didn't want a hangover so it was at most 75ml.  They were no longer on their phones so we sat around the fire with Pauly and had a chat about all sorts of things.  It was really nice and a really raging fire.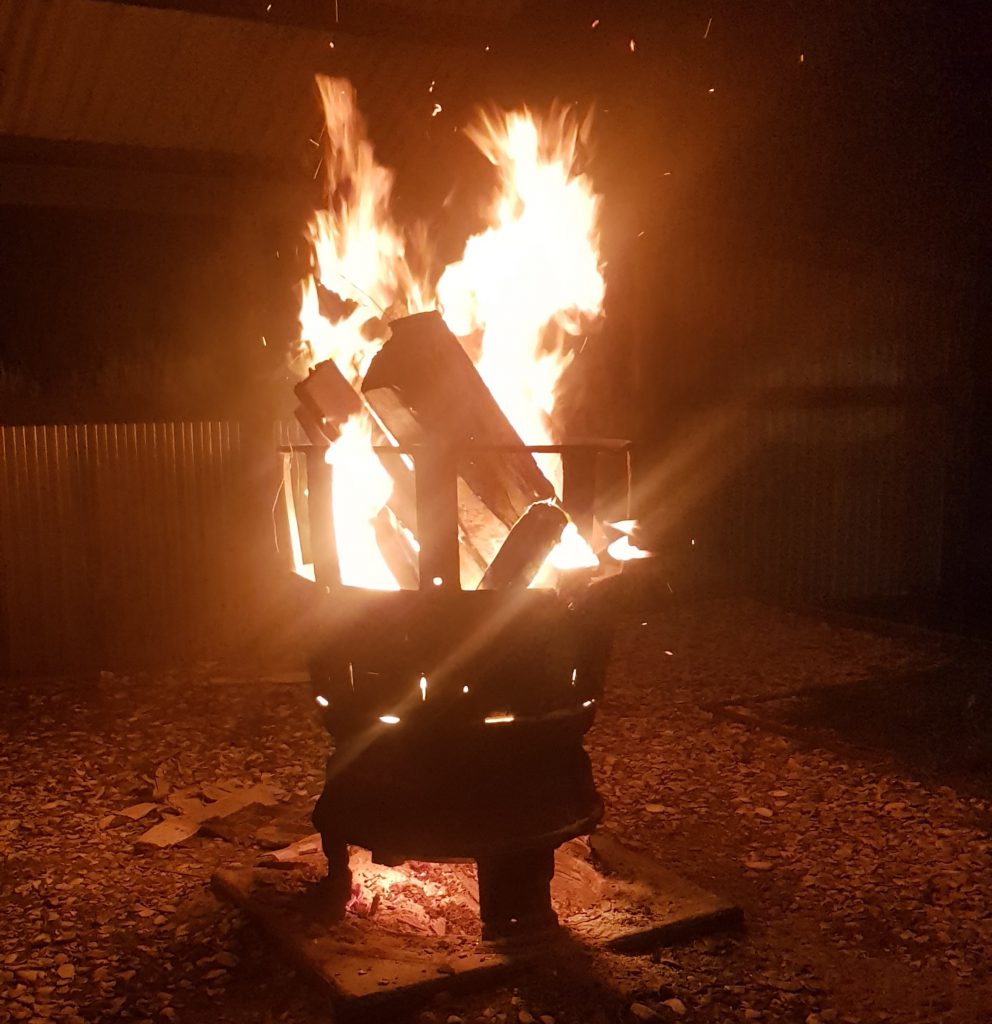 After a while though, I was sore, and I went to bed.  The cabin I was sleeping in had no curtains, so I could clearly see the stars outside.  They were beautiful.
Today's walk on the map (blue = Te Araroa, red = today's walk):