Despite walking around Kaitaia yesterday afternoon pain-free for 5km, the next few days of the trail are through forest with a 750m elevation so I think it's best I take a day off and hopefully the swelling on my left foot will go down and I can actually fit into my shoes again.
I slept pretty well last night, although at 11:40pm the Civil Defence siren went off which set off all the neighbourhood dogs.
In the morning I had the biggest breakfast put on for me by my AirBNB host. Porridge, toast, coffee and 6 different fruits. While I was eating I was treated to his opinions on all sorts of topics from deer hunting to AirBNB hosting and more conspiracy theories like how 5G cellphone technology shortens your lifespan by 30 years and he doesn't want it in Kaitaia.
Thunderstorms are forecast for today and so that's another reason to stay put in Kaitaia for a day. However I can't handle another day at this AirBNB, truthfully the host is just a bit too chatty so I moved down the road to the Beachcomber Backpackers. It used to be Kaitaia Main Street Lodge but after the owner of that was convicted of sex crimes after drugging young male guests, it's had a rebrand. The woman at reception was really nice and let me store my bag there as I arrived at 10am.
There was this interesting sign on the reverse of the backpackers entrance. It seems to say "Te Araroa trail starts here". The trail runs close to here but not actually right past here – weird. In fact there wasn't any sort of "trail starts here" sign at Cape Reinga, I feel like there should be. Or maybe I just missed it.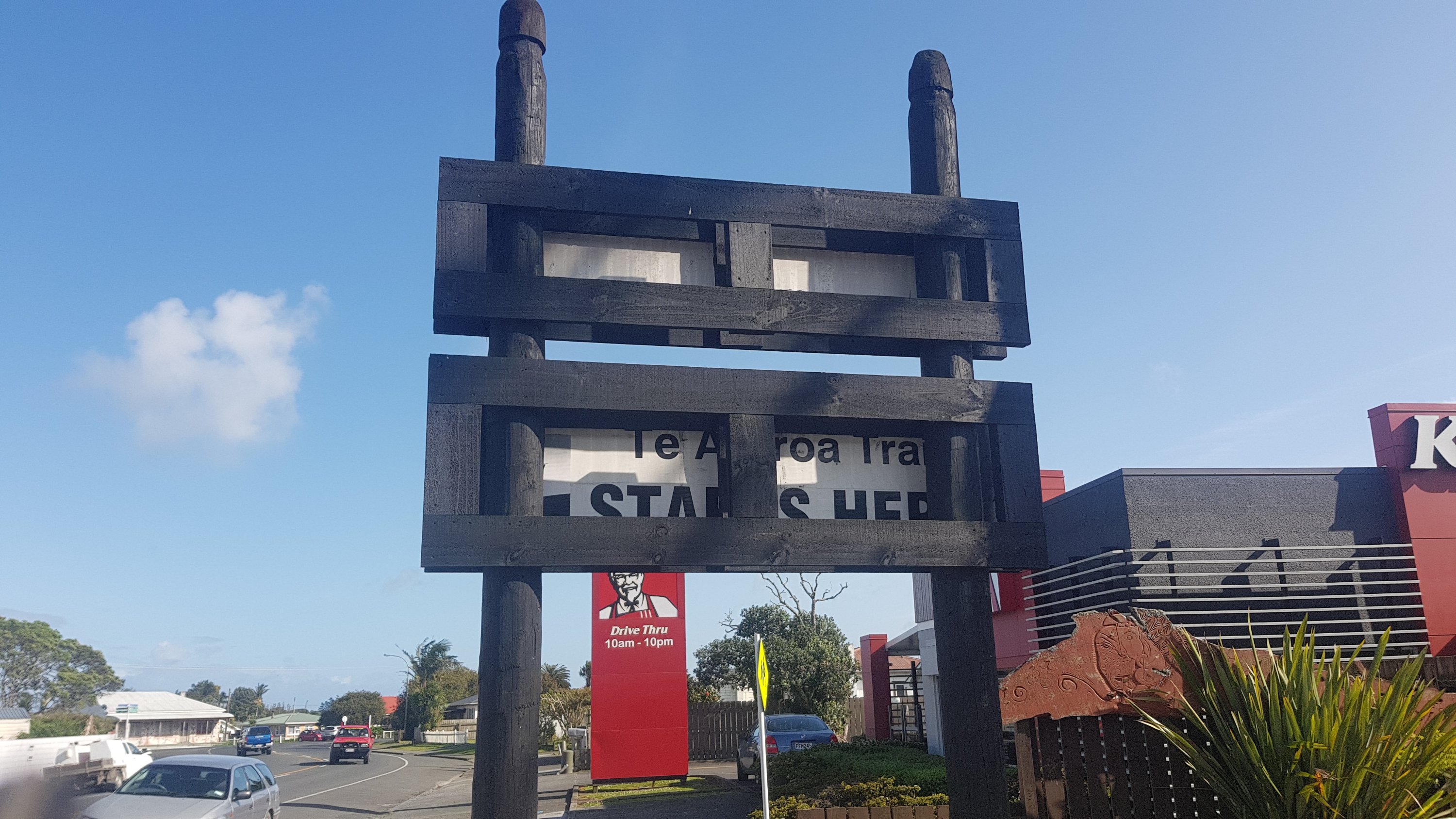 I also bought a new pair of Ray Ban sunglasses from Coin Save to replace the ones that broke on Day 4. Oh no wait, they're Roy Bom.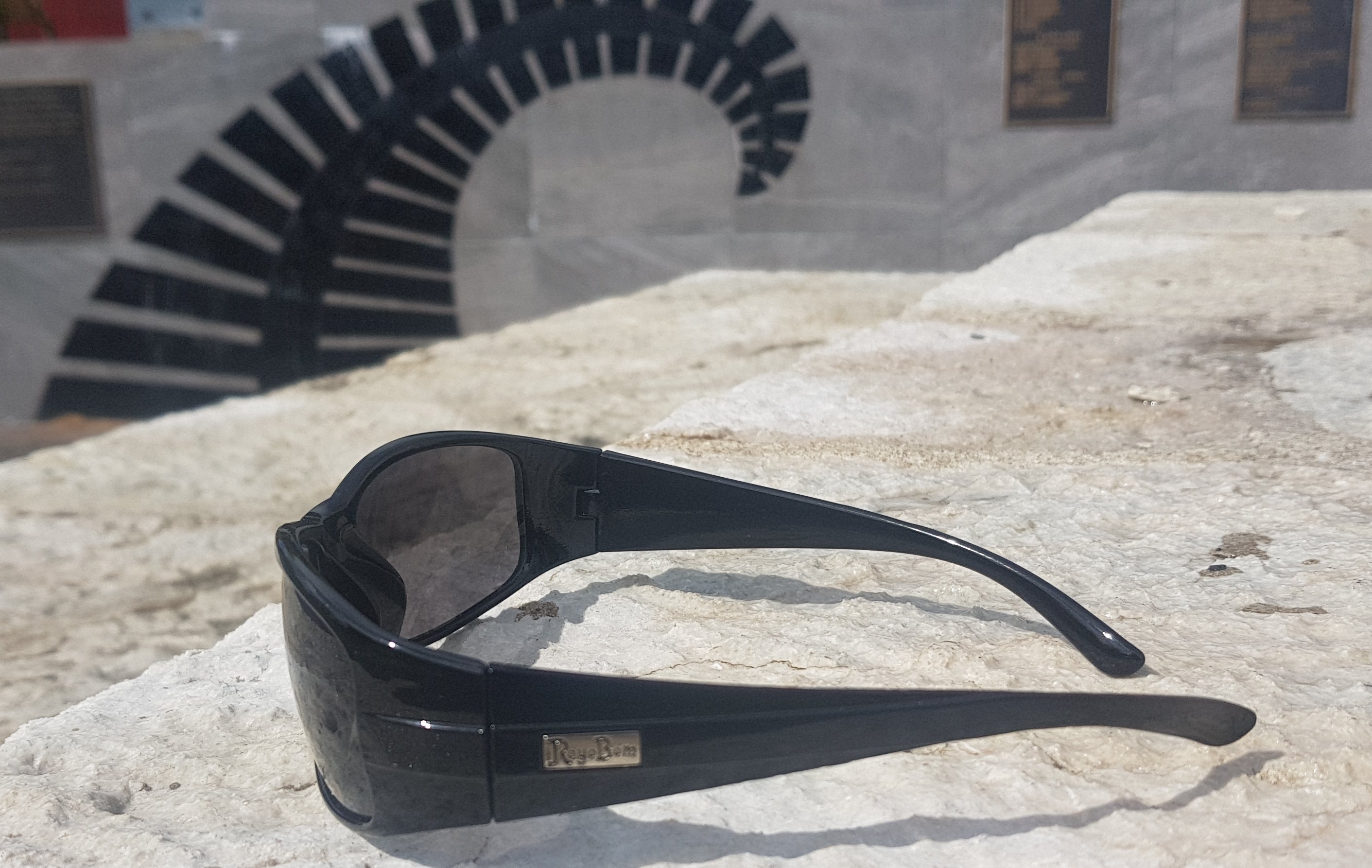 The rain started pretty early so my 11am picture is in the Bakehouse Cafe while I wait out the rain. Apparently I can check in to my room at midday.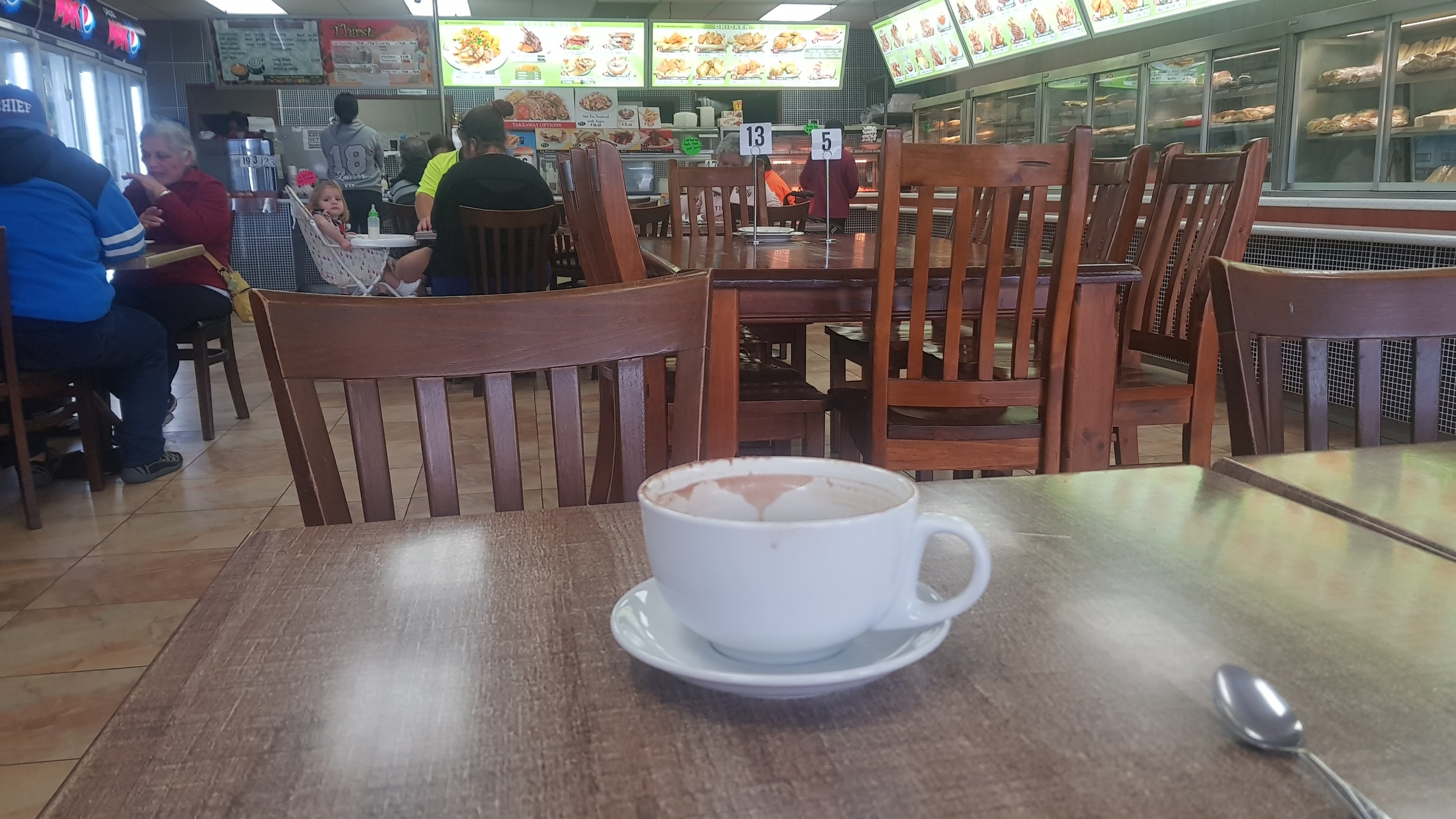 I'm 80% sure I saw Kelvin Davis filling up his red ute at the BP. That was mildly exciting. So was this microwave mailbox I saw: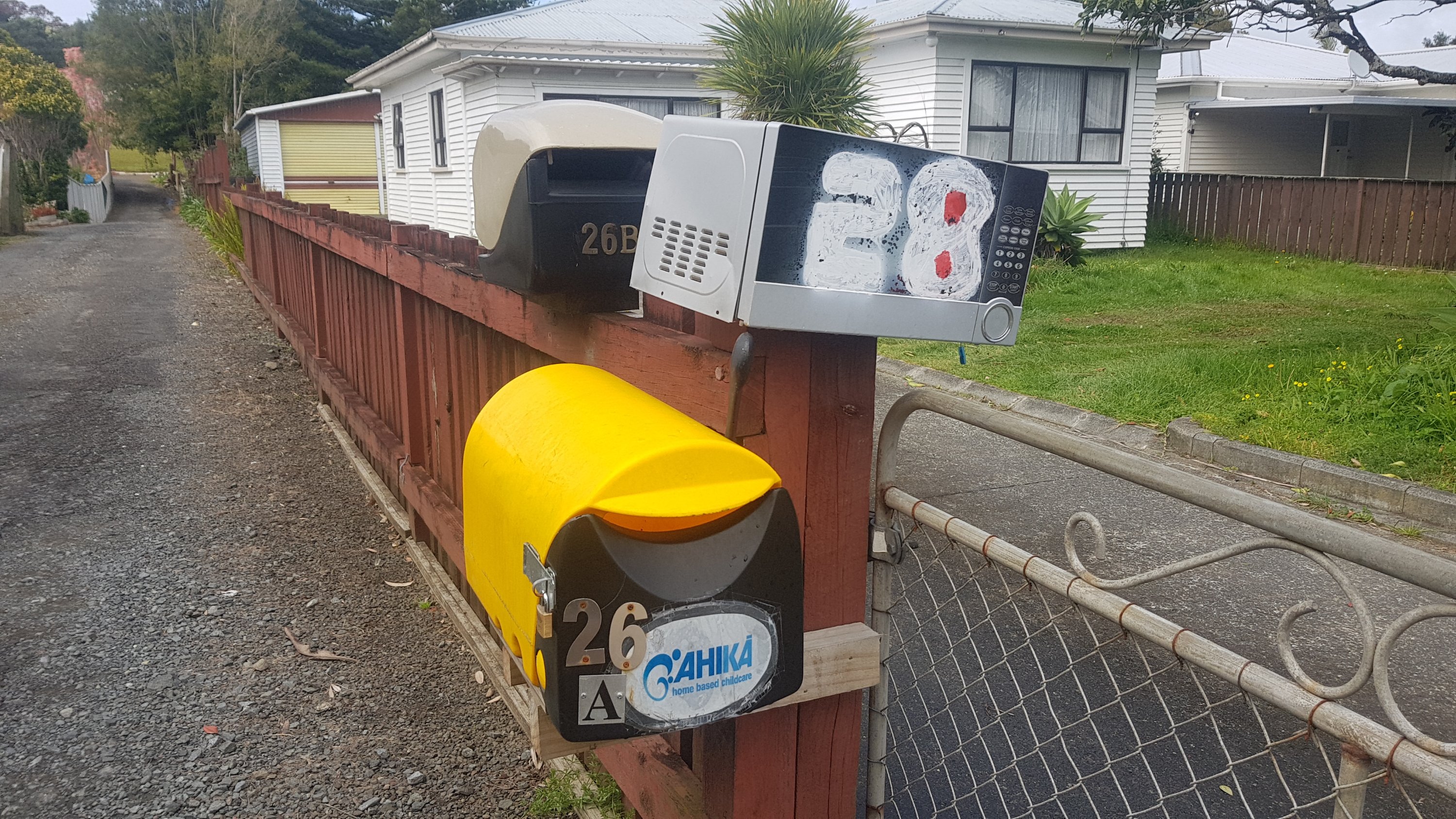 Even though I was supposed to be resting I managed to walk 9km around town just exploring. Then I just sat around all day in the hammock when it was sunny, and inside when it rained, and chilled. It was good.
I had my dorm room at the backpackers to myself initially but after a while I was joined by Karl from Germany (seriously, everyone is from Germany). He is cycling the length of New Zealand and showed me the path he is taking. Apparently he was going to do a unicycling tour of New Zealand but thought he'd start off small. He does "unicycle hockey" back in Germany. You definitely do meet some interesting people on these sorts of expeditions.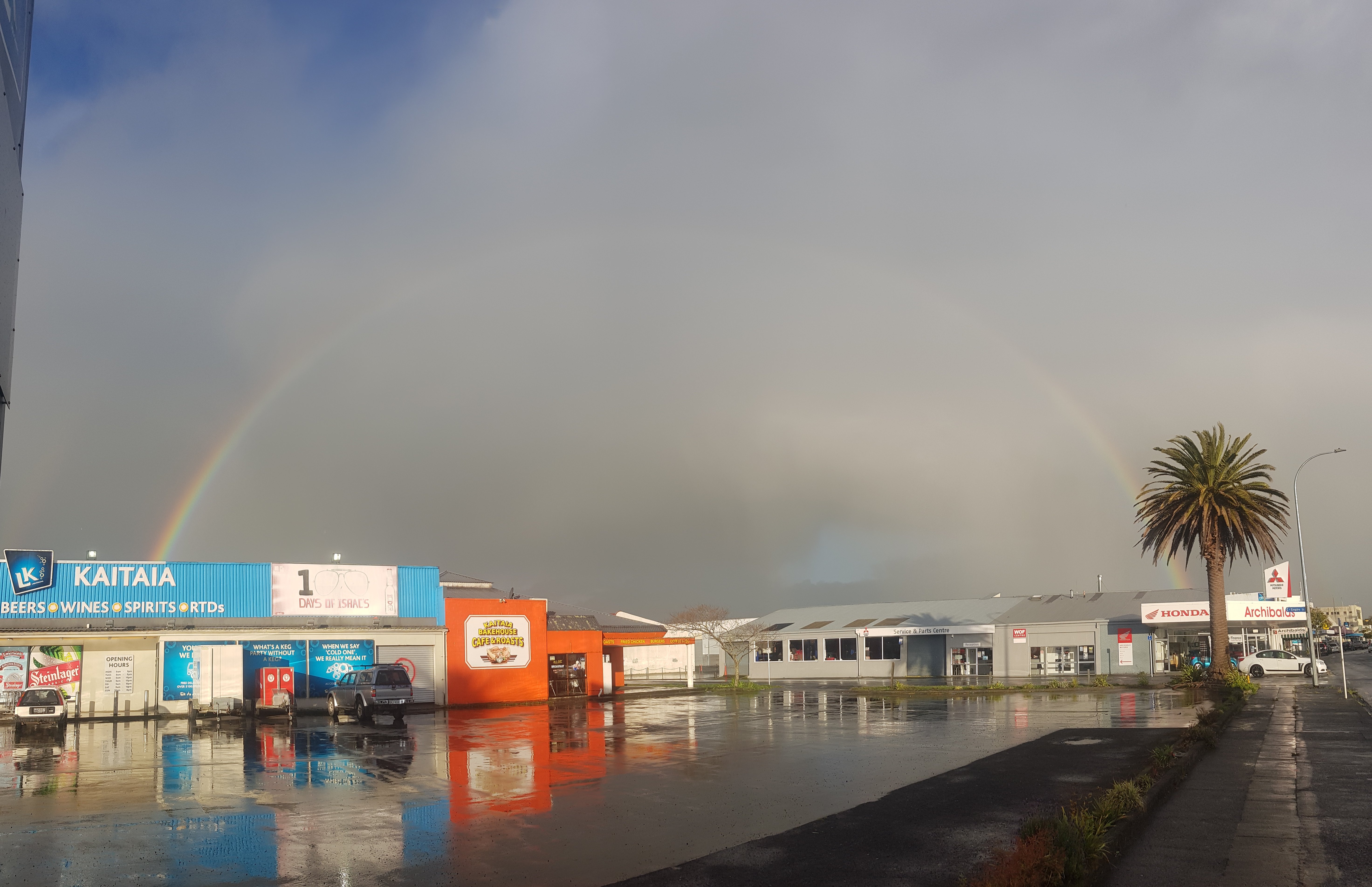 Today's walk on the map (blue = Te Araroa, red = today's walk):