Date: 2 October
Distance walked: 27.6km
Trail covered: kms 115.6 to 142.9
Weather: the rain won't make up its bloody mind, is it coming or not??
Highest altitude: 744m
Litres of mud in the Raetea Forest: 744,000,000,000,000,000
This morning as I left the backpackers, my roommate Karl told me "try something new". I thought that was odd at first but given that he is a unicycle-hockey-playing saxophonist who is cycling the length of NZ and is also a dancer, it's okay to hear that from him.
Originally I had the dorm to myself but Karl was perfect roommate. He was very chatty as well but it was ok because we had stuff in common, unlike me and yesterday's AirBNB host.
He said that he came to nz for a holiday and when he got here he didn't know what to do so he just decided to go cycle the whole country. But it did mean he had a *lot* of stuff with him.
I had breakfast at a cafe and set off on another road walk. This is listed in the notes as dangerous but it seems 8:30am in Kaitaia is not rush hour.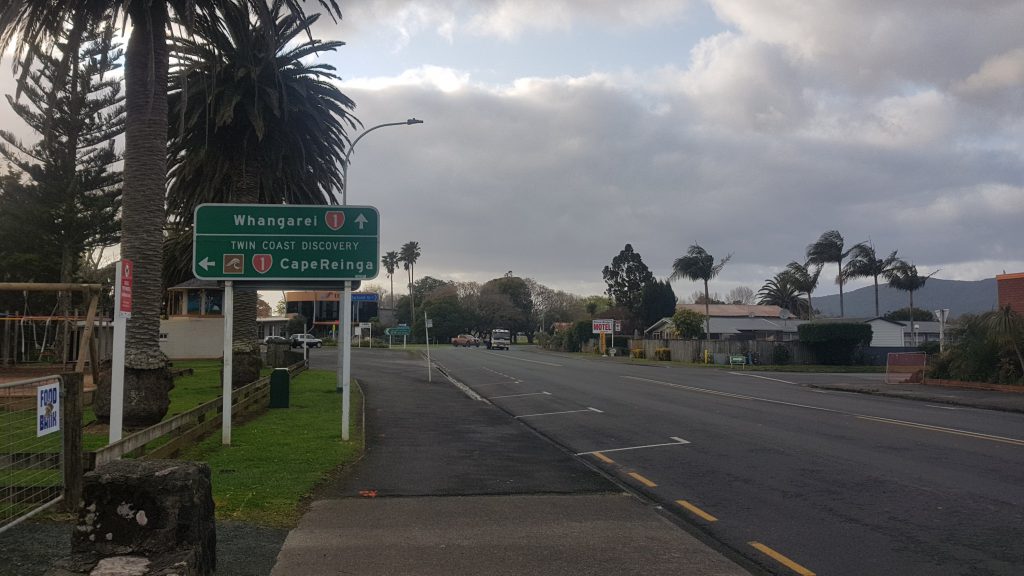 Saw this outside one house: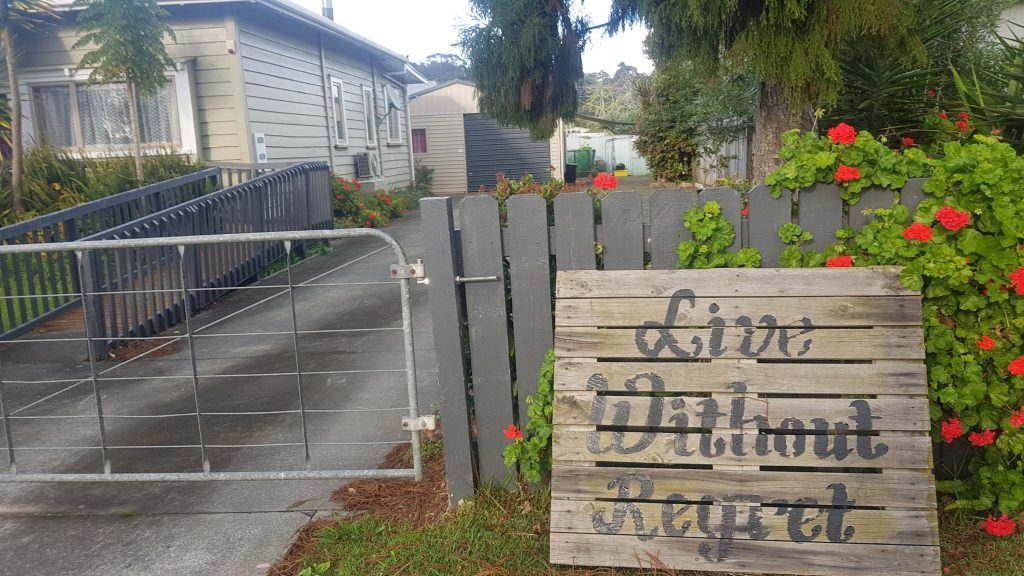 Wasn't long before I had deja vu after seeing a 100k sign that I was about to walk past.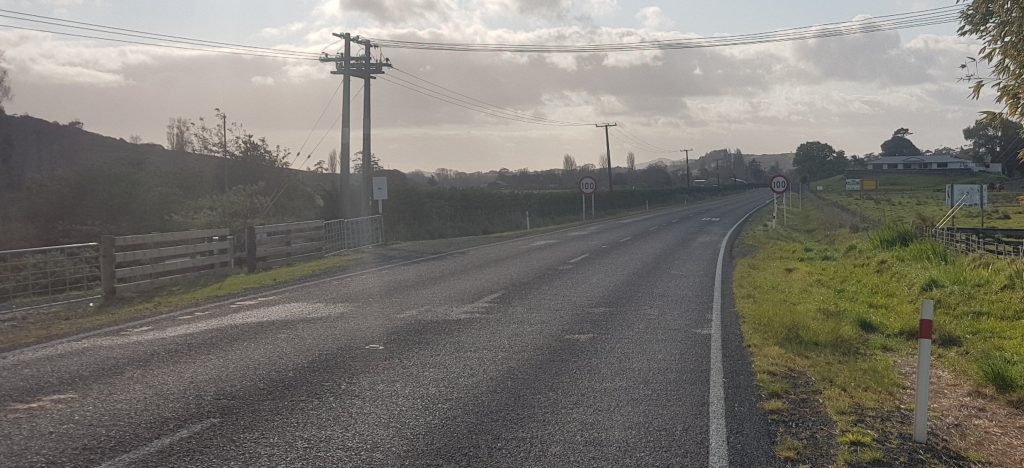 This wasn't as bad as the road from Ahipara to Kaitaia.  This had a bigger shoulder and a less steep bank to move into when the cars came. And there were fewer cars, but that's probably because I was earlier.
I wasn't on this road for long. After 5km I turned into Ruaroa Rd which is a gravel road. Sadly the 11am picture today is a rather uninteresting section of that road.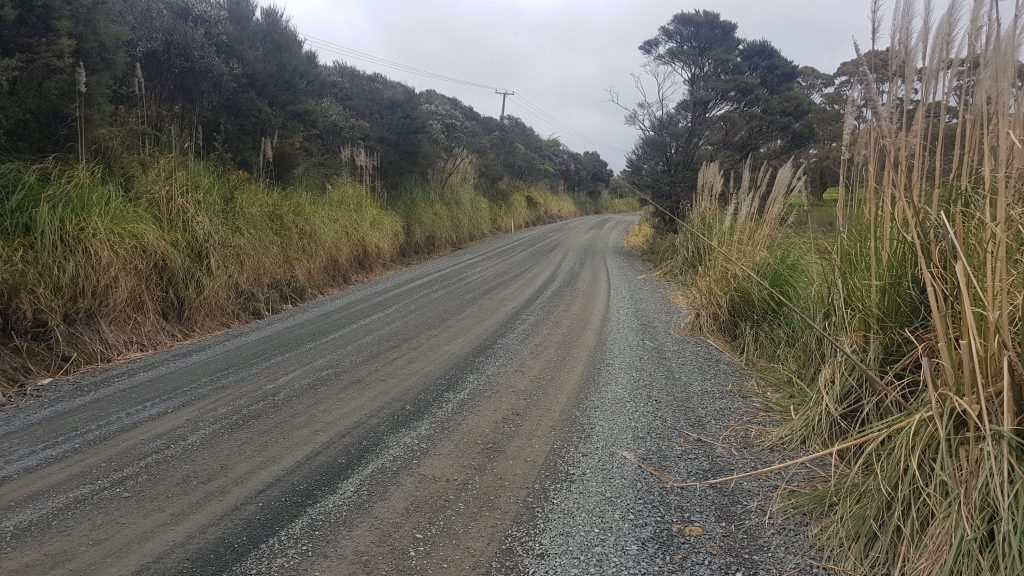 I had been road walking so didn't have music on. I had Robbie Williams' Millennium in my head all morning. I hate that song, but just couldn't get it out of my head.
When I passed some silage that didn't smell nice, this clip from The Simpsons started playing in my head (to the tune of Jingle Bells):
Sherri smells, Terri smells
Stinky all the way
Stink stink stink, st-stink stink stink
One horse open sleigh
Here's the youtube clip if you don't know it. I couldn't have that in my head so I did end up putting music on. But I just played it through the phone quietly so I could still listen out for cars.
I said hi to some cows…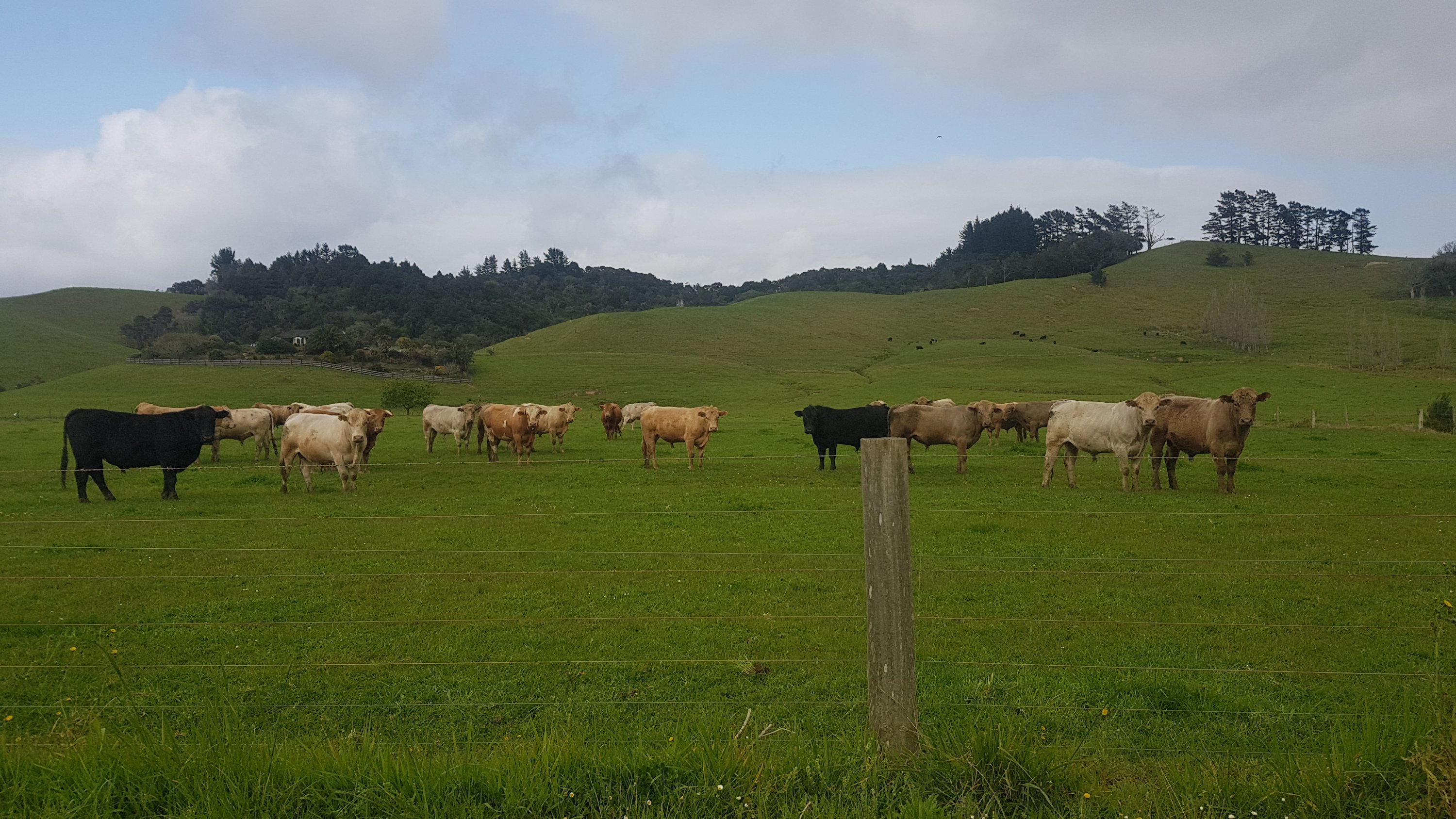 And a special hi to this cow…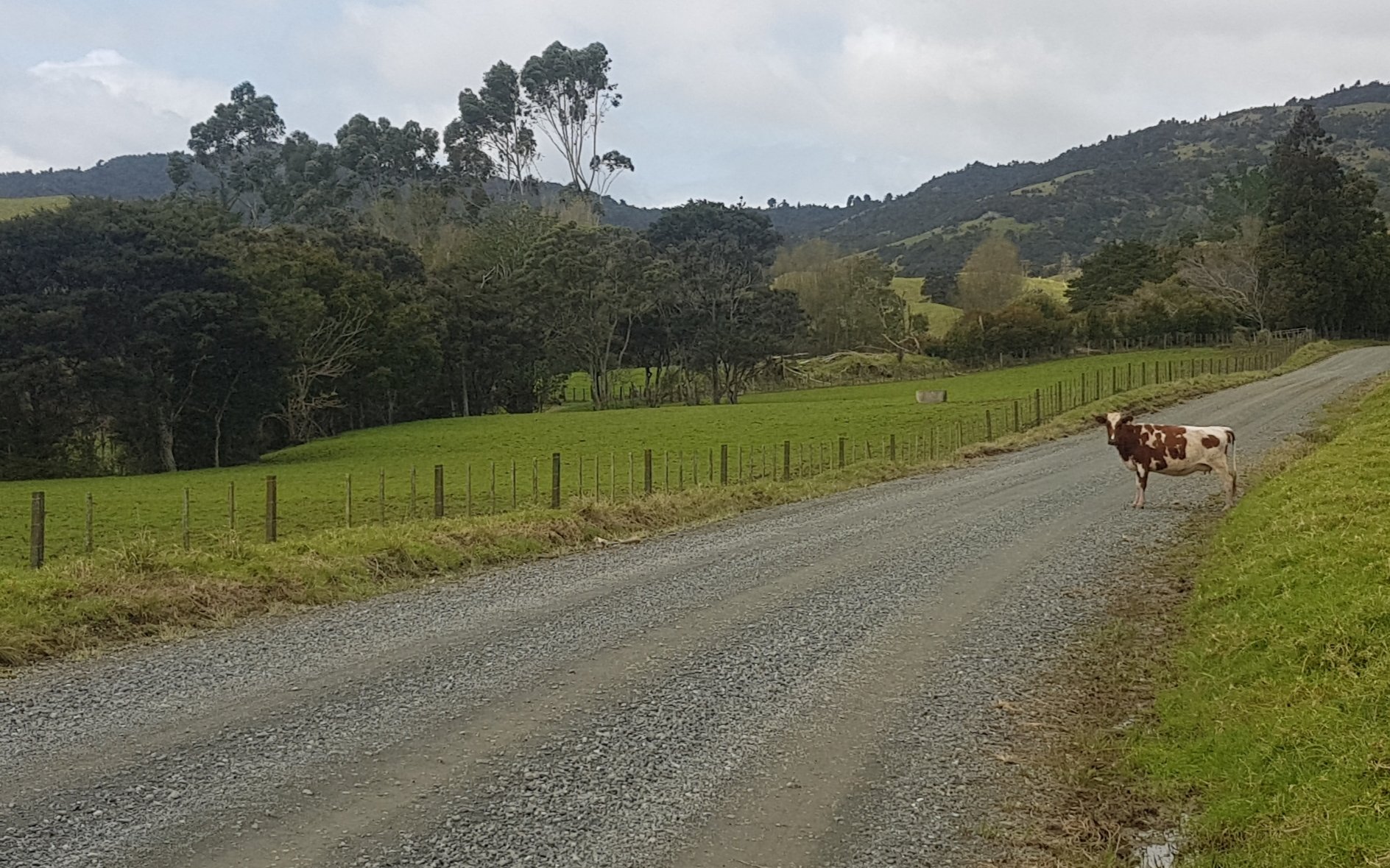 It really was 20km of uninteresting road walk, although I spotted Yan going the other way by Takahue hall. He said that he realised he had a very sore throat when he had already started his ascent into the upcoming Raetea Forest and so was walking back to Kaitaia. I hope he hitched and got a ride.
I soon saw this sign which I knew was coming because I had seen it on facebook: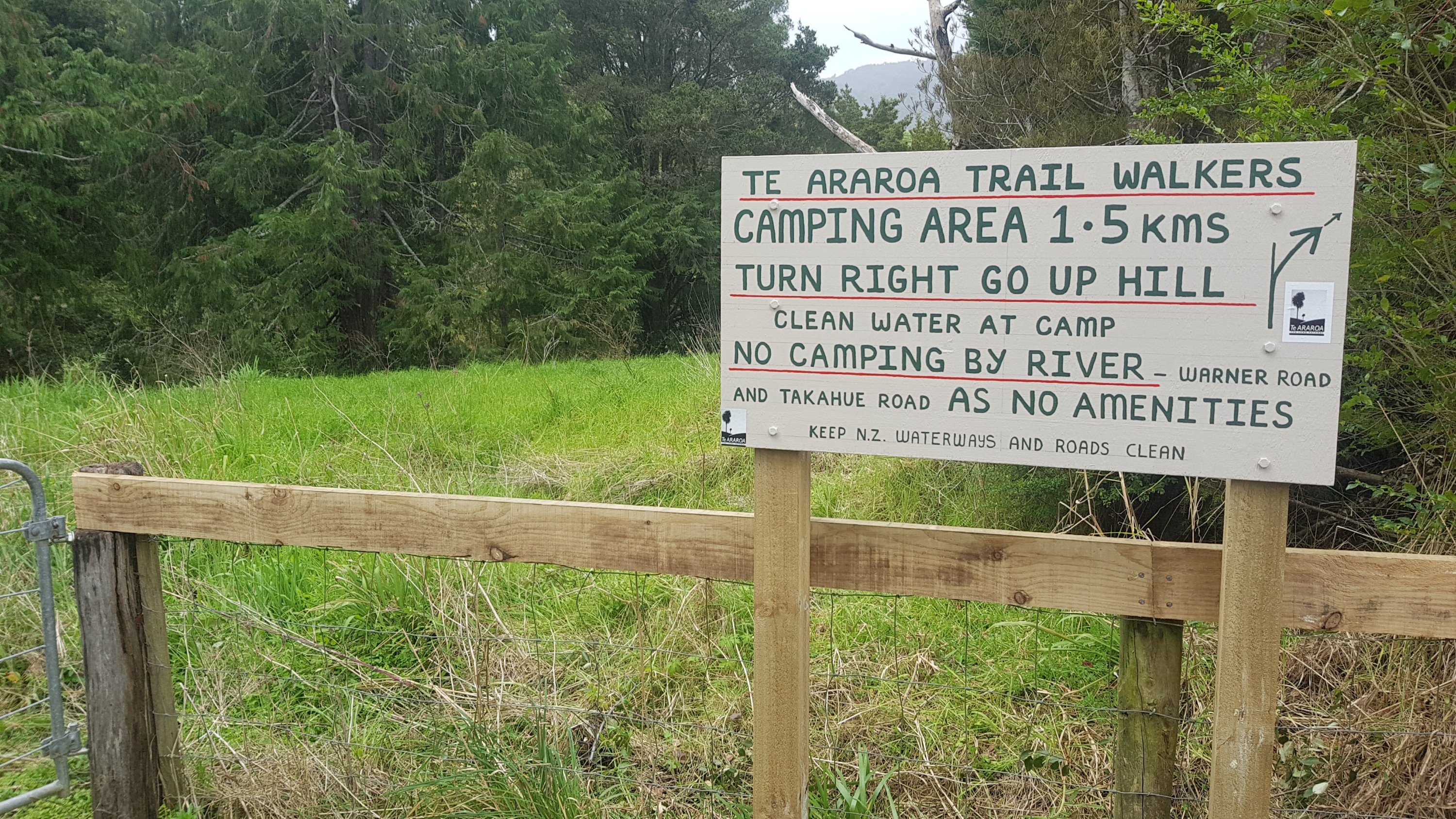 So I went on the 1.5km like it said. Here's the campground: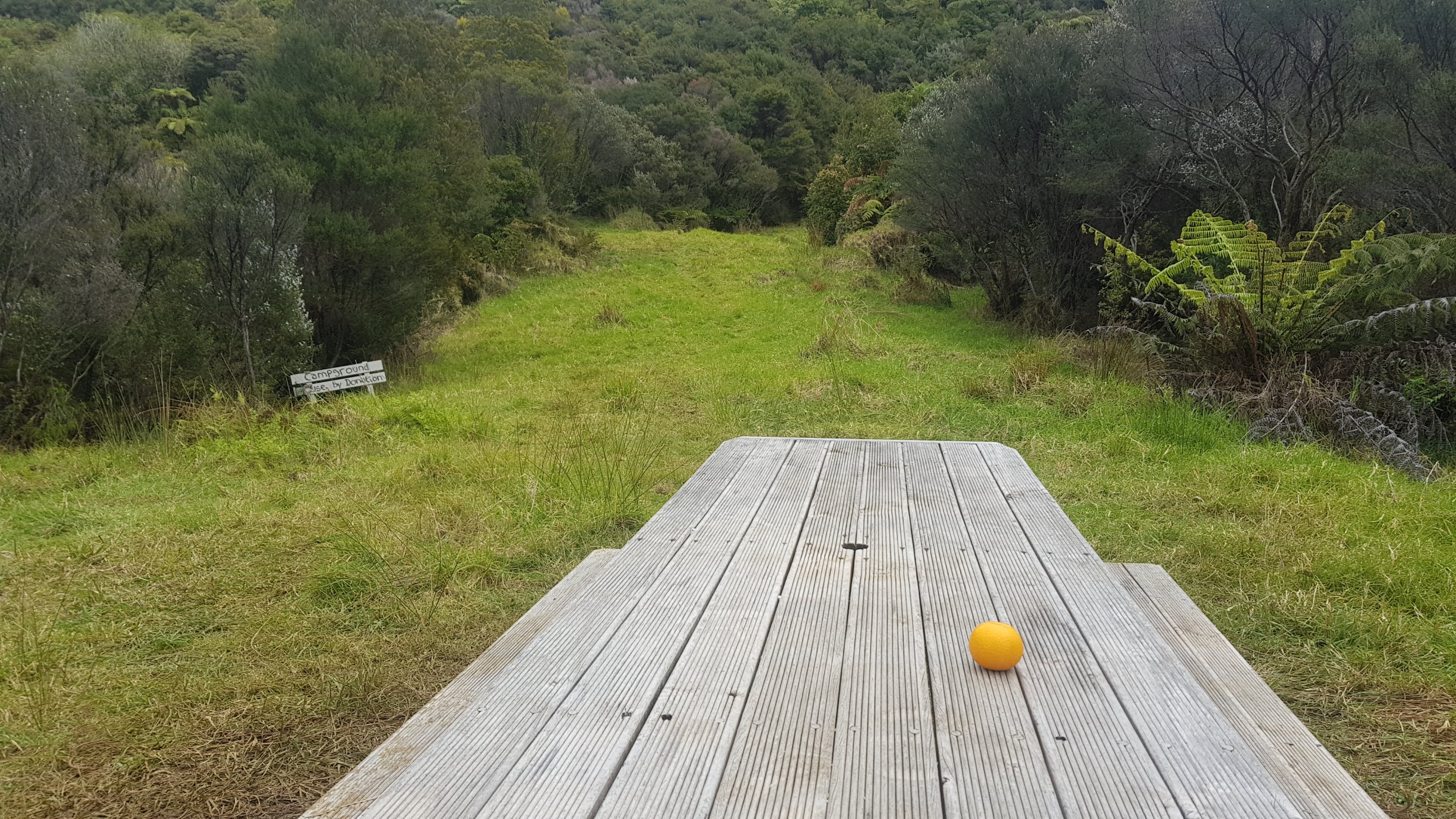 I saw a spade and wondered what it was for. It had "toilet" written on it. Nice.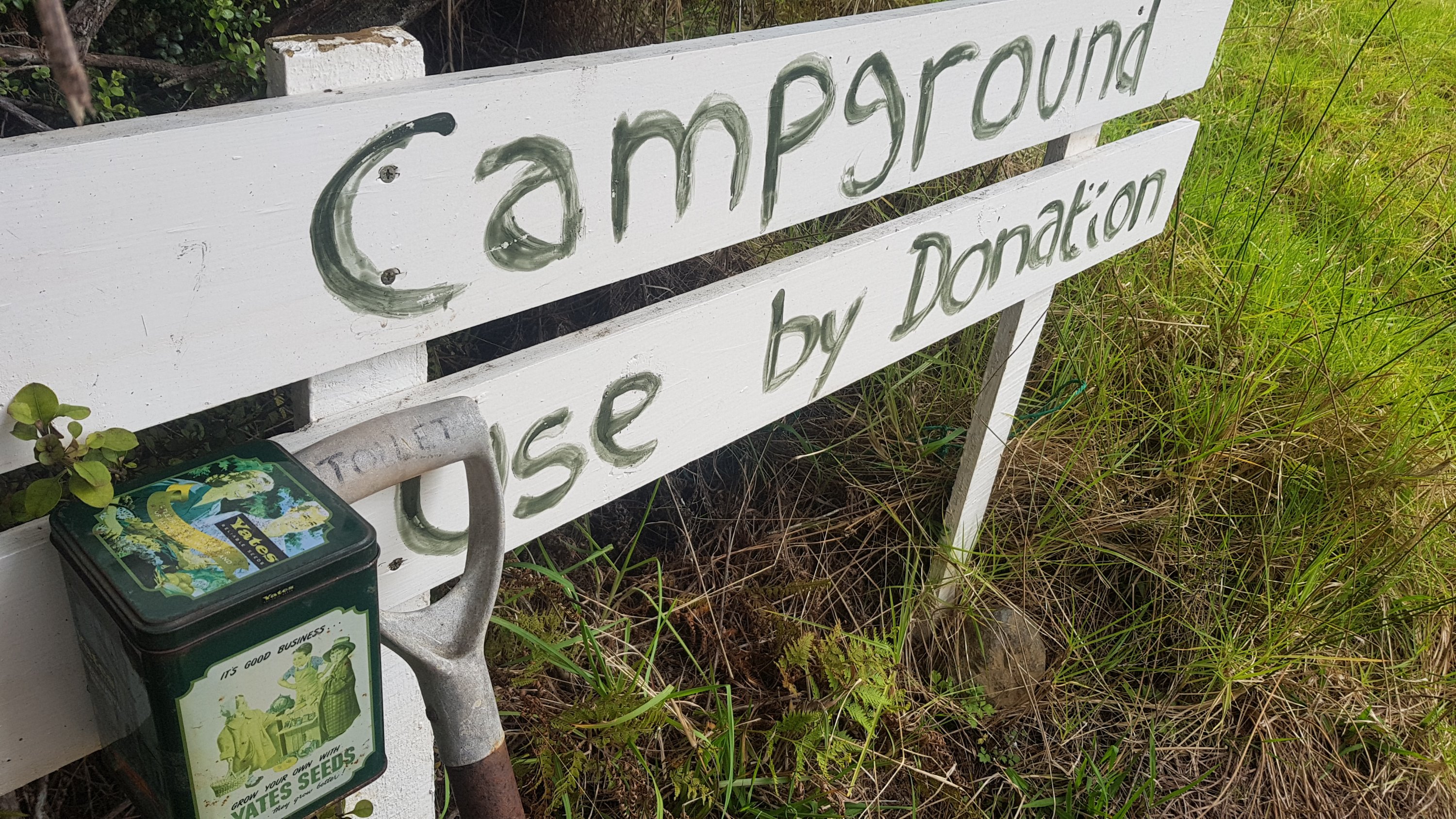 At least it had a nice table with a nice view. However, the rain came and went while I was eating my lunch here every few minutes, which was so annoying after it had been sunny all morning.
I was originally planning to camp here but since i already got wet and since it was only 1.30pm I decided that I'd just stay for a break and continue on. I paid only a $2.50 donation since I only used their table and a little of their water (they had set up a tap).
I knew there was another campground at the summit. I knew that the summit was 6 km away but it was also up 744m in altitude. I also knew of the mud and the steepness. I hoped 4 hours would be enough time. But i had a light and full charge on my battery pack so no worries.
The path started out easy enough. I'm fairly sure it doubled as a road.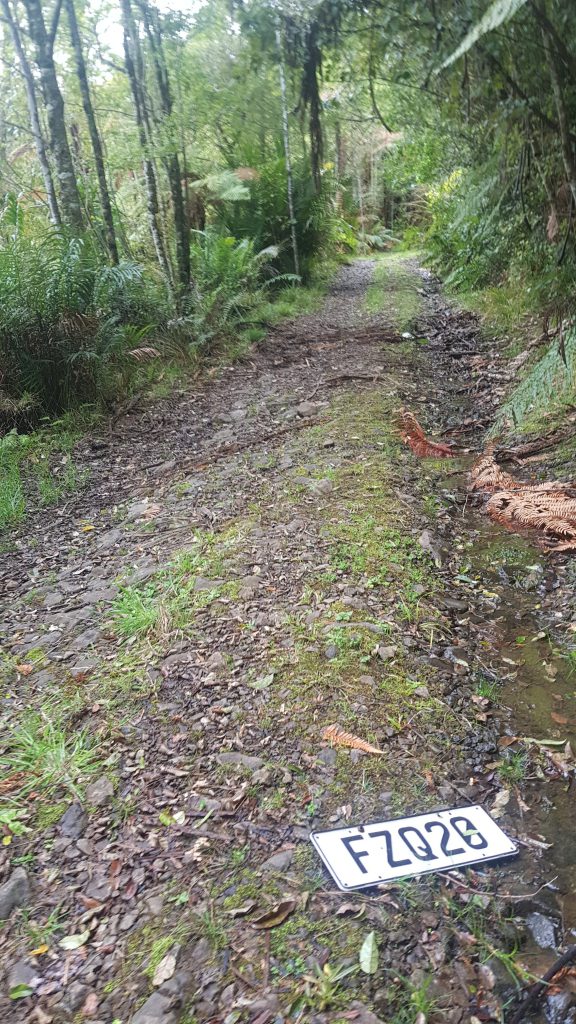 There was an eco-village up there, whatever that is!
There was a stream at one point. I'm happy I was in my crocs. No socks to get wet! I had been in my crocs all the way from Kaitaia because my feet had been hurting in the morning. I had walked 20km in them and they were awesome. In the last few days there were a few times where I wished I had brought jandals instead, but today I know the crocs were the right decision.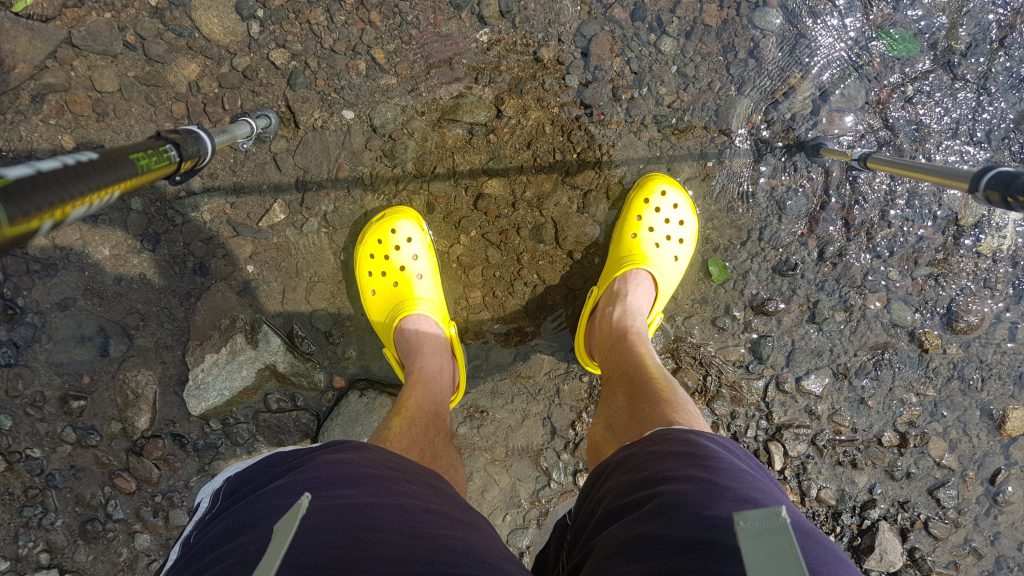 Soon there was a big orange triangle at a junction, so i went that way.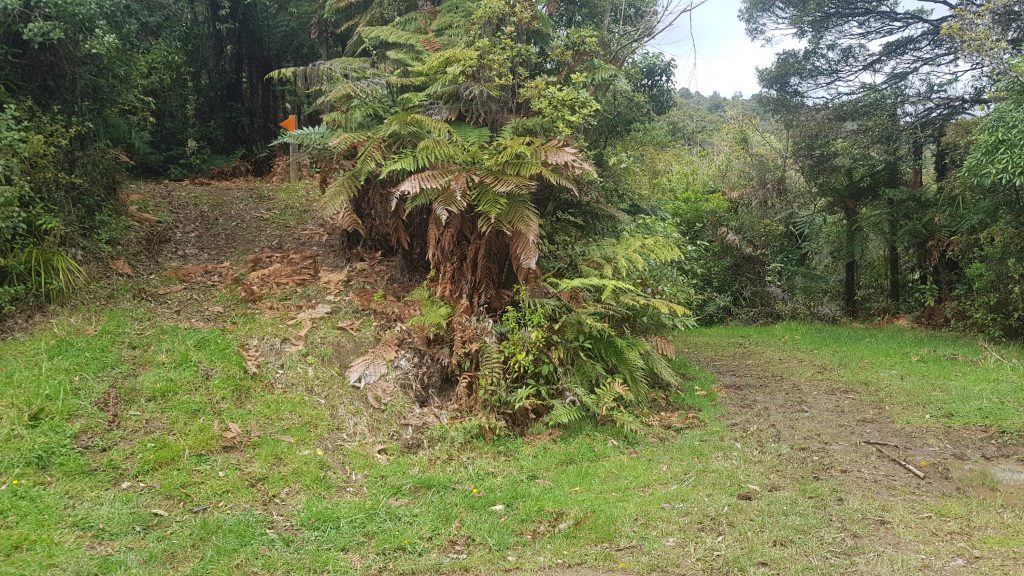 Well that is when the fun started. Did I say fun? I meant mud. Lots of mud! I had to take the crocs off here and switch to my trail runners.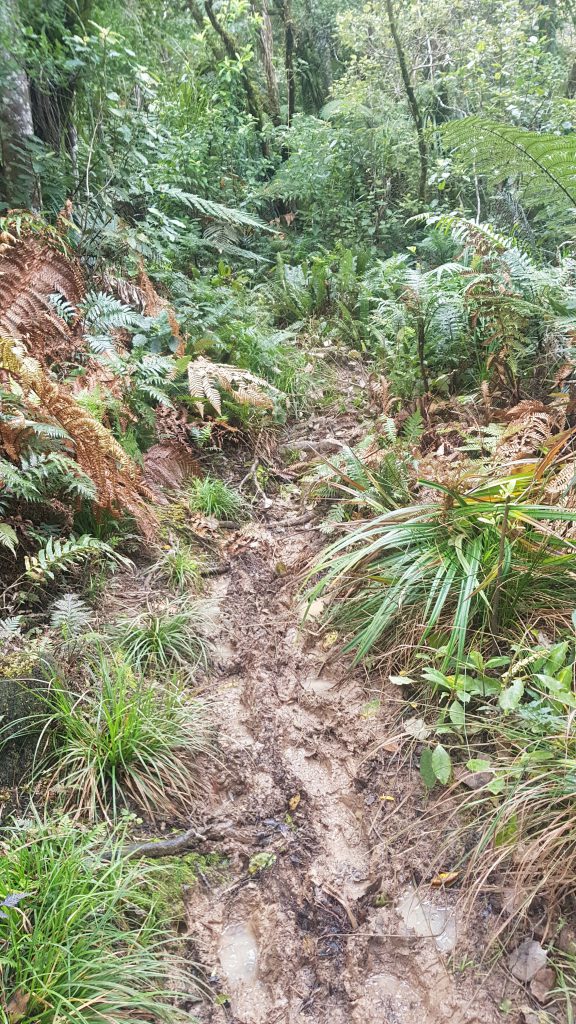 I had heard the mud was knee deep in places, but I didn't encounter that today. I felt lucky.
It was a very hard slog up the hill though. There were little orange triangles relatively frequently but near summit they became very hard to find and path was not clear.
I started to get a bit delirious. I went around a corner and thought this was someone waiting for me.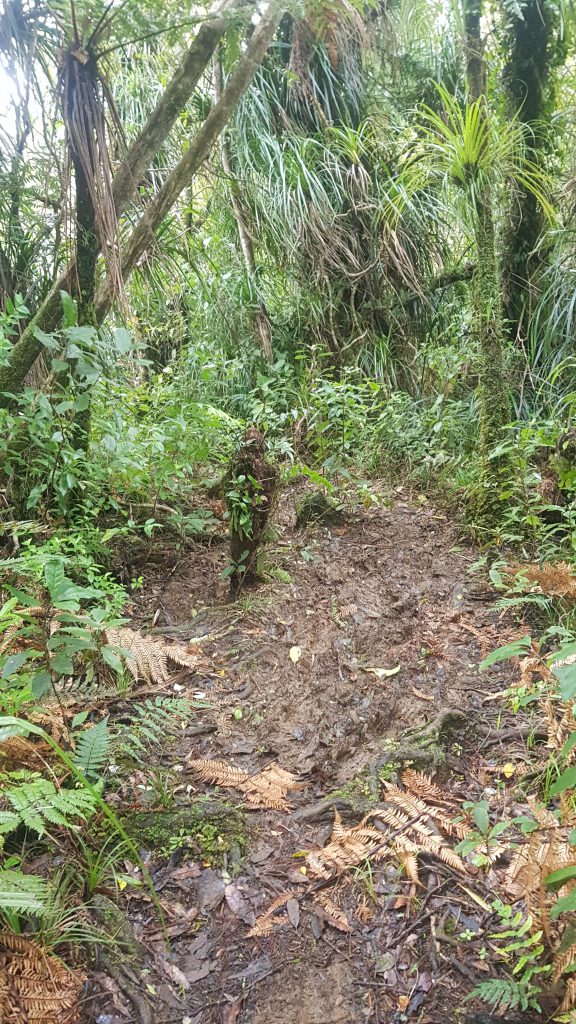 Here is me trying to put on a happy face.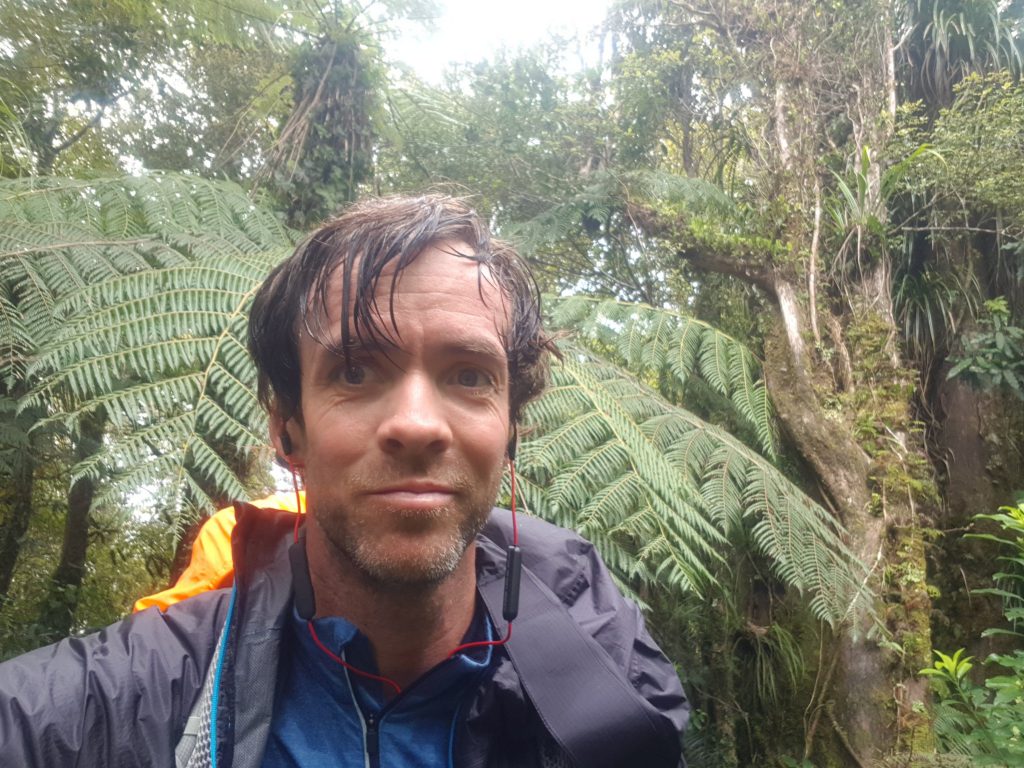 This was the track at one point. Not very well maintained. And still super muddy.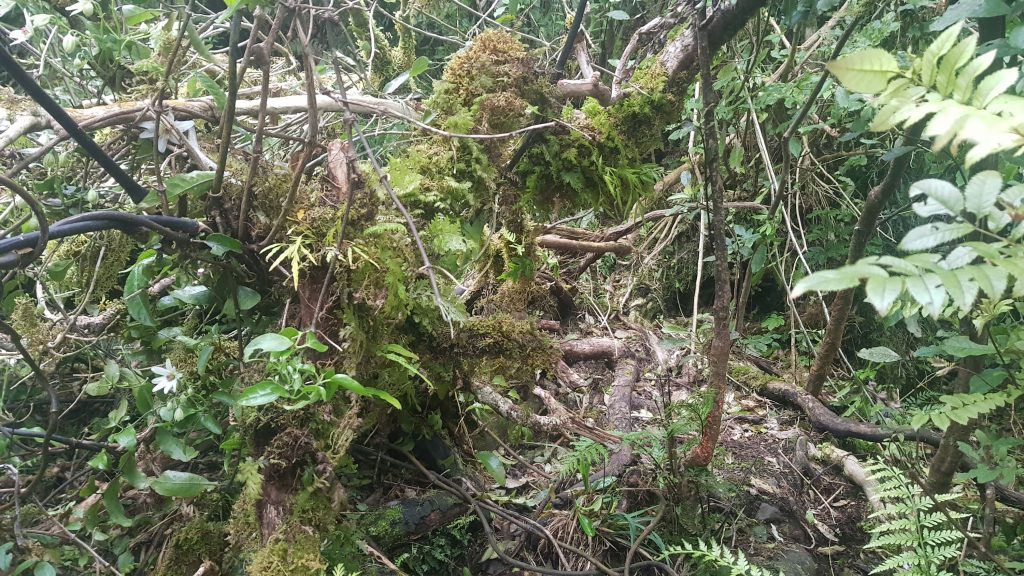 By 6.30pm It was getting quite late and I considered setting up camp in the middle of the forest. You could see a few little spots along the way where people had done that – there were a few flat patches just big enough for a tent. But soon I came to an intersection where a sign had been knocked down so I didn't know what it said, but luckily the map showed that the "Raetea Peak Camp Site" was right there. Good thing too as it was almost 7pm and slowly getting dark.
Truthfully I may have overdone it. 9 hrs total of walking with such an ascent. For my Waikato friends that is like walking from Te Awamutu to Hamilton and then climbing Mt. Pirongia after a storm. The rest day helped yesterday though.
I found a radio transmitter at the summit, by the camp site, at least that's what I think it is.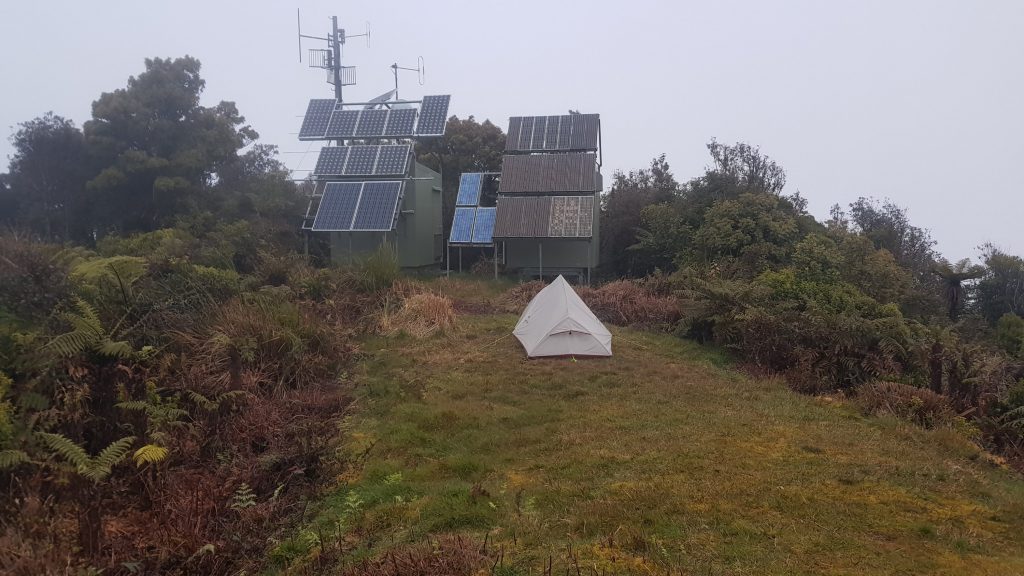 Someone had been nice enough to leave its door unlocked so I had a nice place to put my stuff out of the rain, and to not track dirt into my tent. Not big enough to sleep in, sadly. And besides I was worried the door might close and then lock and I'd be stuck inside.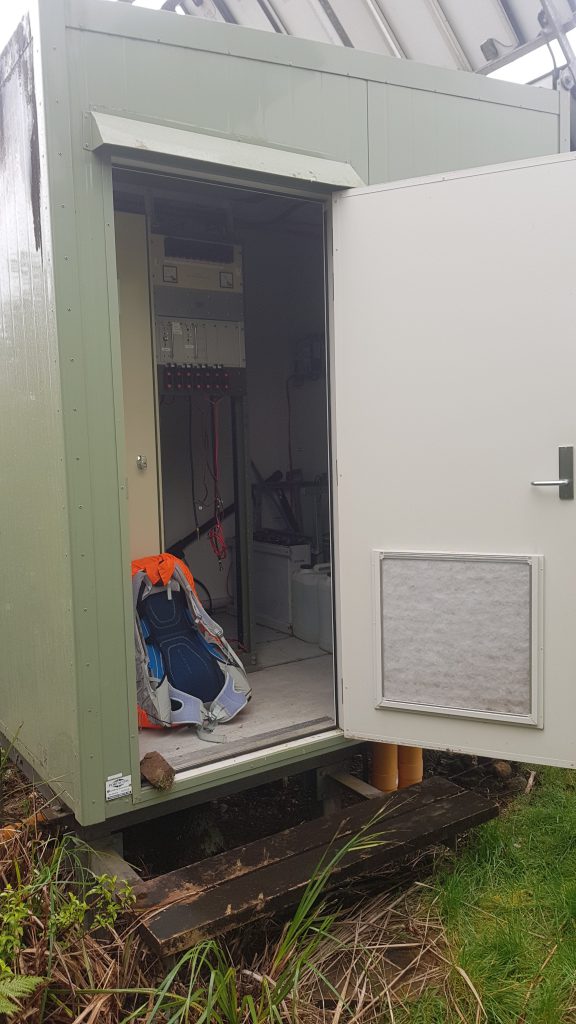 You couldn't see a lot because it was so misty, but I took this photo earlier.

Because it was such a long day of walking, all I did was just walk, set up the tent, eat, and sleep. But that's good in a way. I covered a lot of distance. I'm not sure I'd recommend walking all the way from Kaitaia to here though like I did, unless you leave early and are at least a bit fit.  It's a long day.
Because it was late and cold and windy, I cooked from inside the tent for the first time.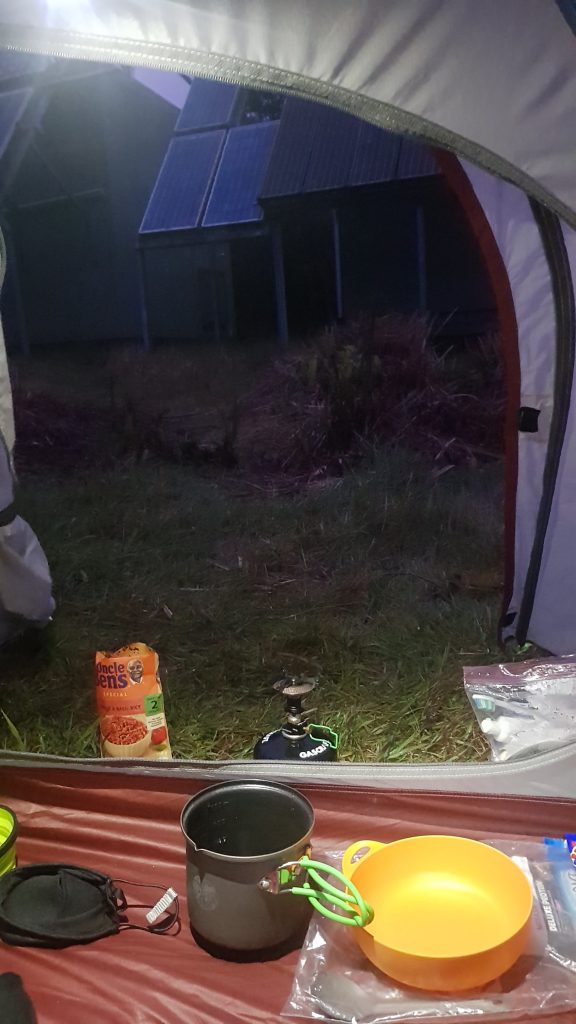 As well as being grateful for my crocs earlier, I was also grateful for my trail runners and walking poles in the mud. How anybody can get up here without walking poles I've got no idea.
I was feeling surprisingly good… but I'm gonna be sore tomorrow. It was steep. I hope I can do the remaining 11km to get out tomorrow. I'm not looking forward to it.
I am surprised nobody else was here. Rhydian is nearby, we were communicating by Facebook messenger, but don't know where exactly. The Germans must be ahead a bit but I hope to catch them.
As I was lying in bed, the wind was howling which kept me awake. Luckily only over the trees and not through the tent. Another thing that kept me awake is how much i stank. I wish I could have a shower.
Today's walk on the map (blue = Te Araroa, red = today's walk):