Date: 4 October
Distance walked: 18.4km
Trail covered: kms 154.1 to 172.4
Weather: Stunning
Number of green things I had at the Mangamuka Dairy: 2
Number of the State Highway I don't have to walk down again: 1
Woke up this morning to a sunny morning. Only an 18km road walk to Apple Dam Campsite today, so I could take my time in the morning. That meant everything could dry out that was wet from the forest… except the shoes of course. They're never going to be dry again, I'm fairly sure.
The crocs went on because it was road walking. Another win for the crocs, they were so comfortable! The destination was Apple Dam campsite because it is one of only two "allowed" campsites in the Omahuta and Puketi forests. So unless we were prepared to walk 43km to Puketi campsite (not bloody likely), Apple Dam it was.
I was looking forward to a milkshake from the Mangamuka Bridge dairy, which I thought was just around the corner from where we were staying. I had also heard from the New Zealand Herald that their bacon and egg burger was famous. So I was very excited about that.
Rhydian and I walked together almost all day. Here's my 11am picture. I thought would be at by dairy by now but read the map wrong. Turns out I had completely the wrong idea where the dairy was, it was 5km away from camp, an hour's walk.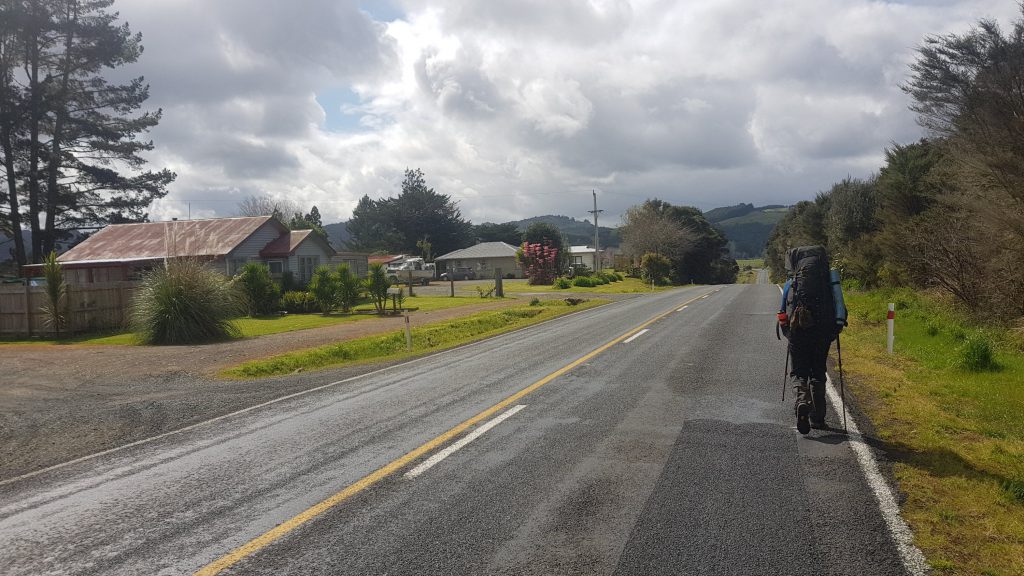 When we got to the dairy, turns out it is closed on Saturdays except in summer. As it was Friday today… luckily I did go fast through Raetea Forest! If I had've taken an extra day to get through the forest like I originally expected to, I would have missed it. Not to worry. Got my burger and milkshake and they were both excellent, and then I got an ice cream too. 1 scoop for $2! It is so good to know you can still get an icecream for that price in small town New Zealand. And it wasn't small.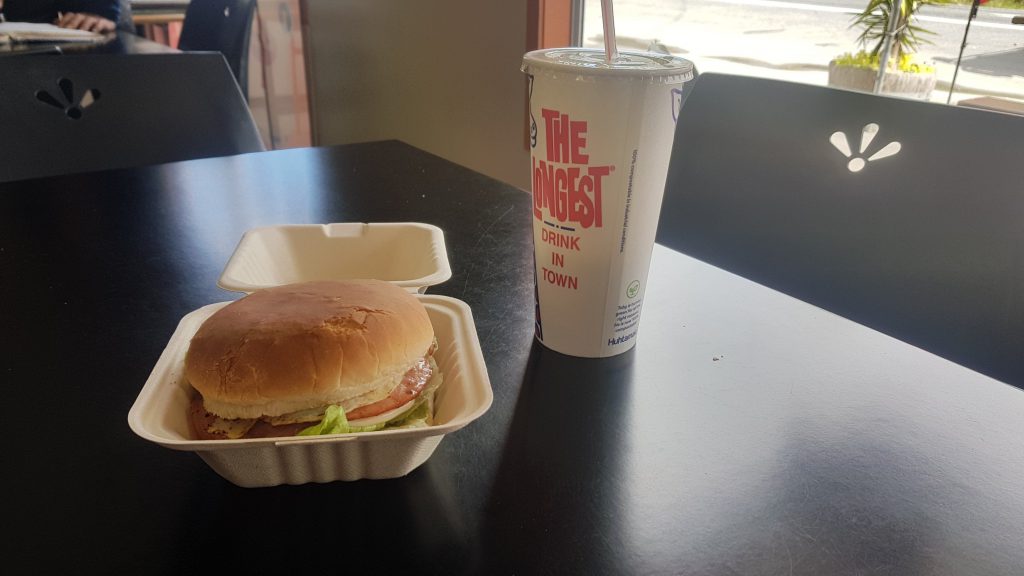 I don't see my own face much due to spending so much time outside. When I do see myself, I get a shock. I am almost always clean shaven so I don't even recognise myself at first.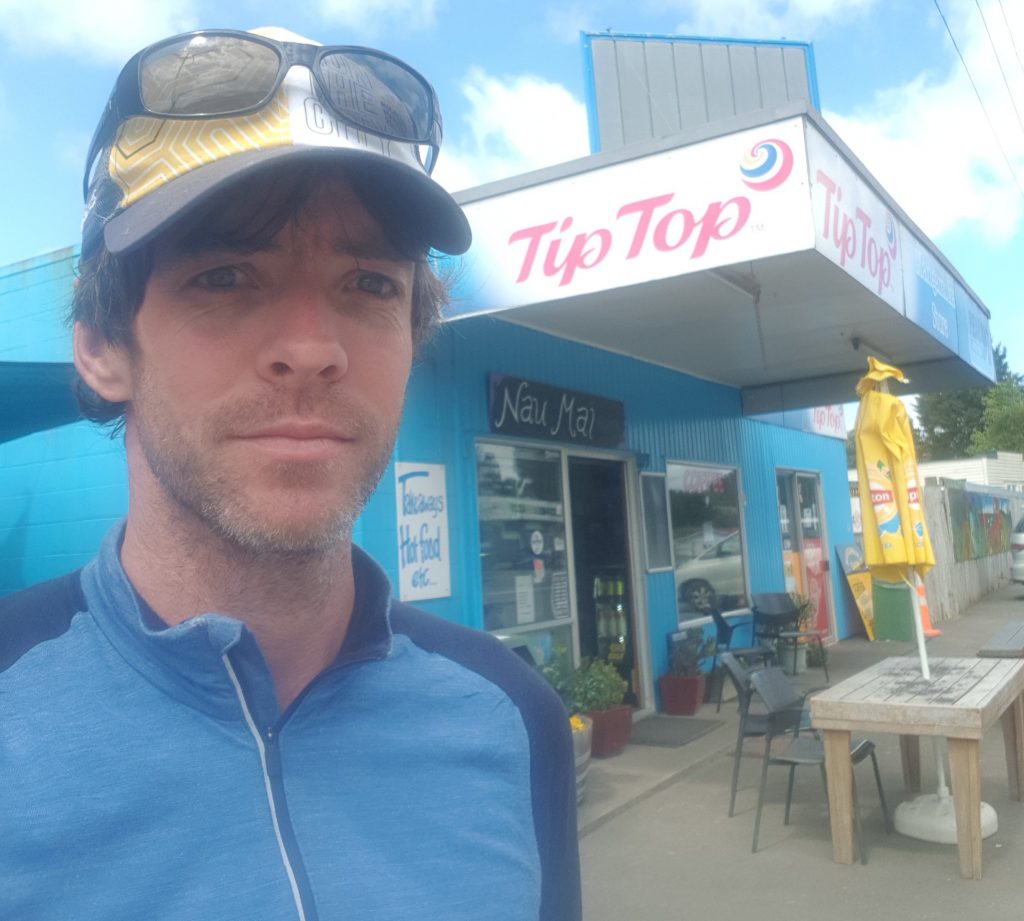 It was also a shock to see that we were actually closer to Whangarei now than to Cape Reinga where we started. I actually felt like I was making some progress when I saw this.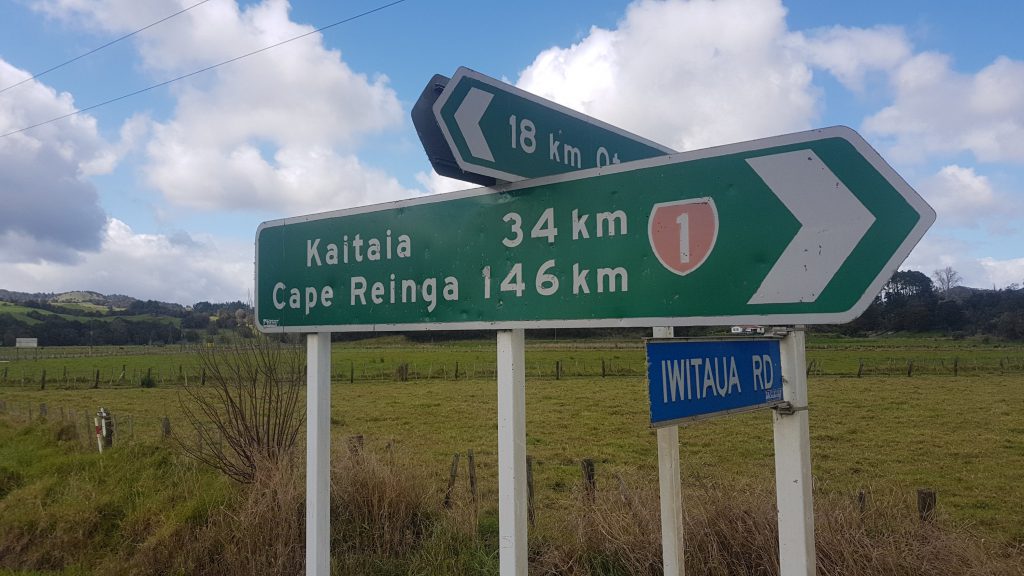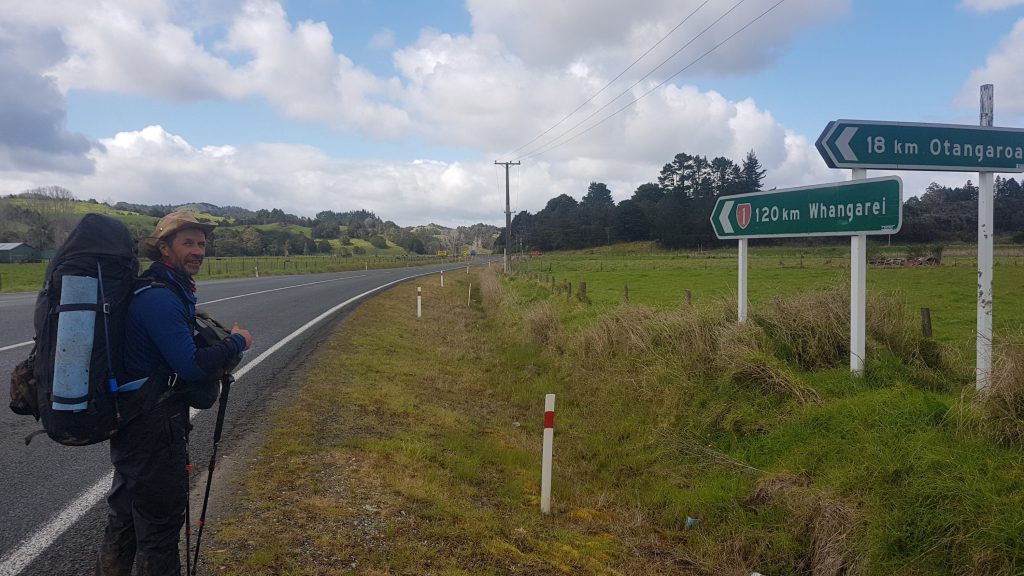 Just after the dairy we turned off SH1 onto Omahuta Rd. I believe this is the last road walk down State Highway 1 until Wellington (maybe a bit near Huntly and maybe a bit near Puhoi I'm not sure). Goodbye, I won't miss you!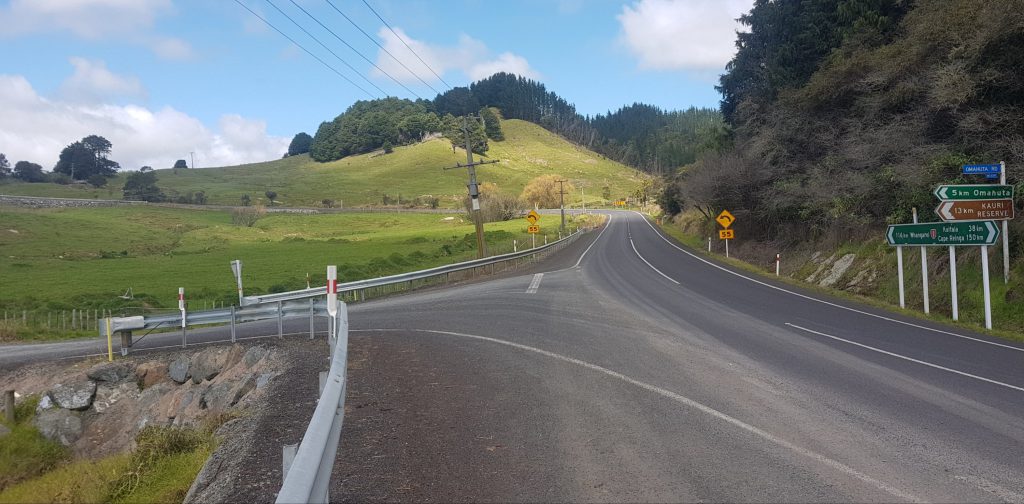 We walked almost 4km down this dusty gravel road. We got covered in dust whenever a vehicle drove past, and there were a surprising number of these. It made me cough.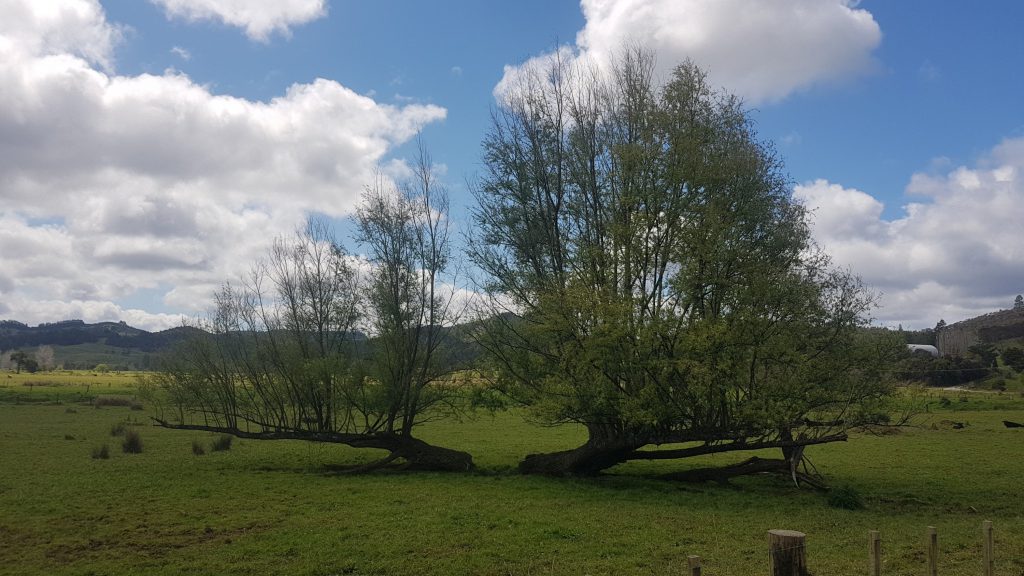 At this junction, we saw cows. I left Rhydian here when he had a break.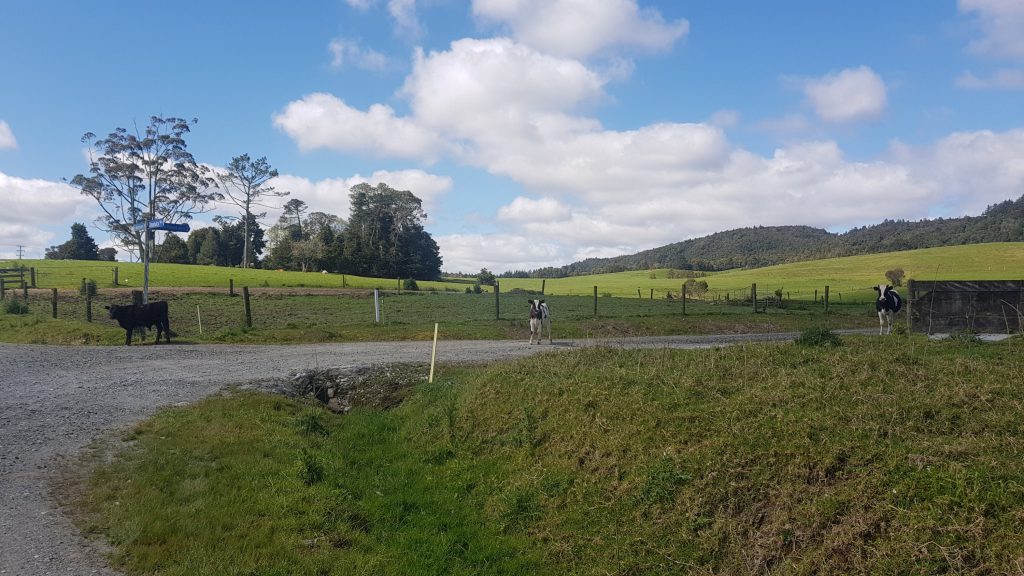 From here, another 6km down Omahuta Forest Road, which was all uphill like this: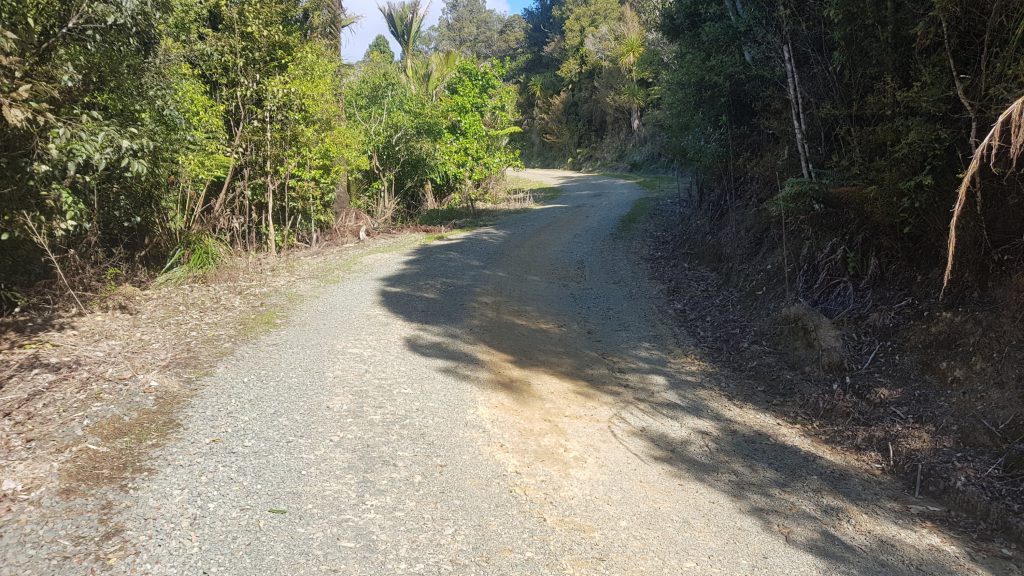 It was a gravel road like before but on this section I never saw a single car.
Just before the campsite was a sign for a Giant Stump.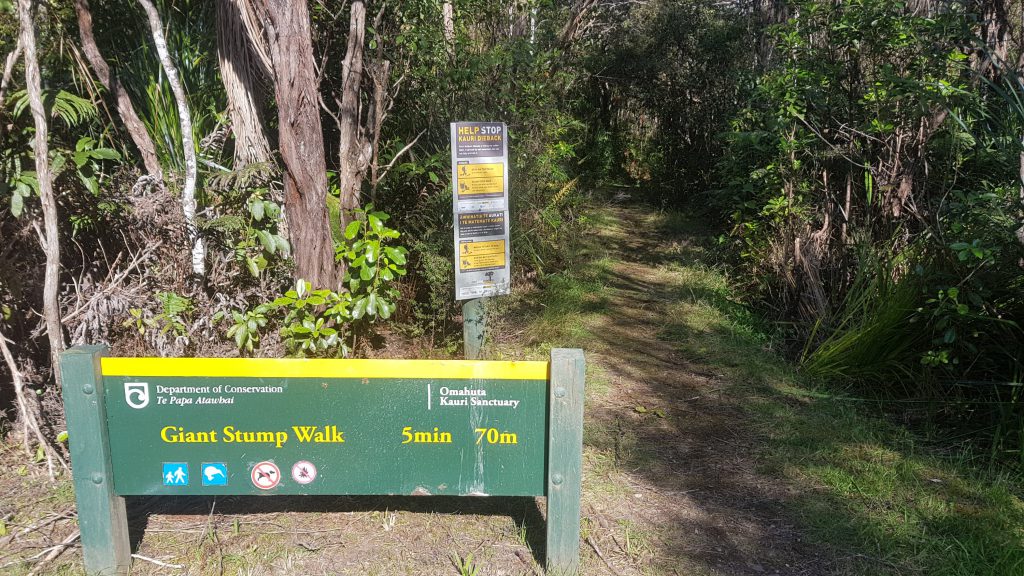 Yep, that's exactly what it was.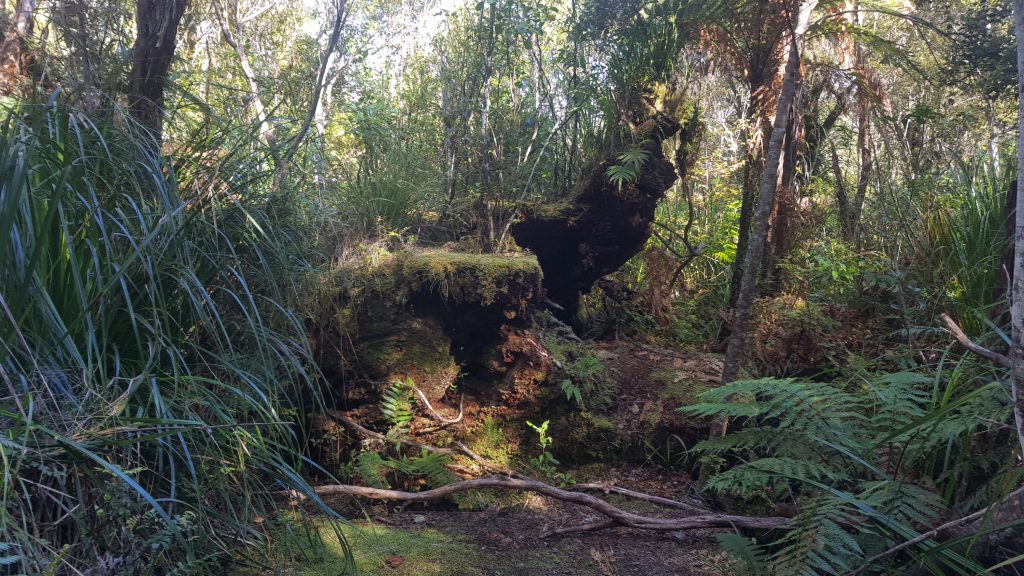 I found out later there is a geocache very near the stump but I didnt notice until I was too far past it to go back. Oh well.
Turned right here to get to the campsite. This was technically off-trail since Te Araroa goes left. But that's fine.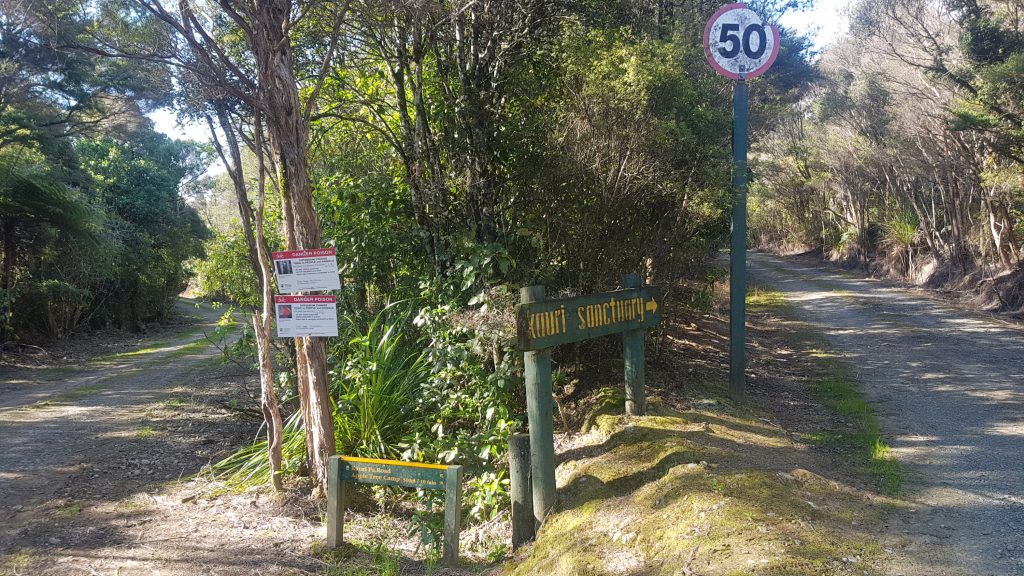 Eventually got to Apple Tree campsite (or is it Apple Dam? I've seen it referred to as both). It was the most basic of all campsites so far, it appeared to be just a piece of grass.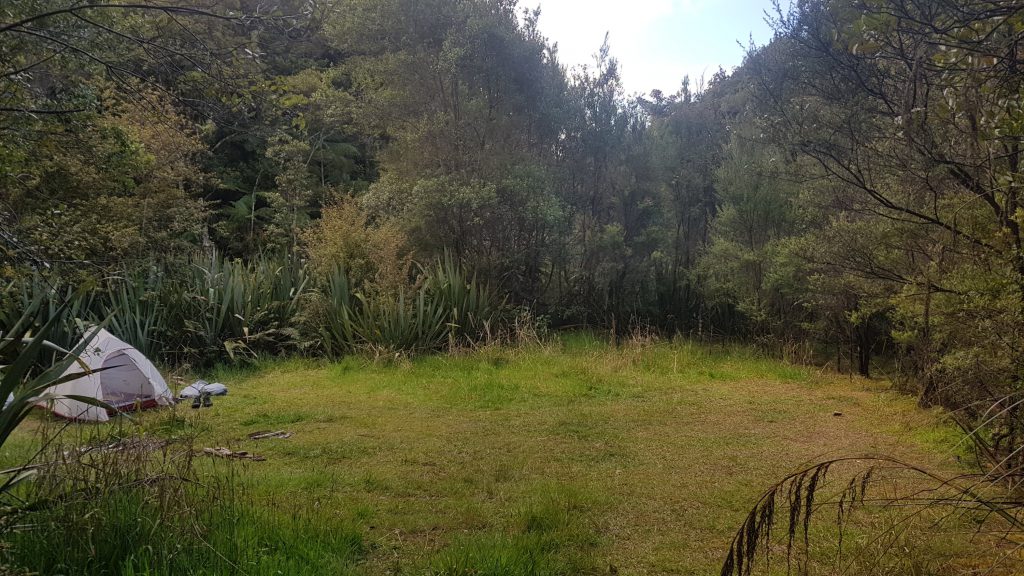 Set up my tent, wrote a blog post, got some water, and started cooking. Night was falling, and Rhydian hadn't turned up. I got a bit worried but I know he can handle himself. I did hear some shouting soon though so I shouted back. Then he showed up angry because had come almost all the way to the campsite but at the last minute assumed he was going the wrong way and turned back. He said that cost him an hour.
Then we worked out there is a long drop here at least, back further up the trail. Just don't look into it. It's a few visits short of overflowing.
And right now its 10pm and I can't sleep because there is something moving around right outside my tent. This is the first time I had heard anything like that. I wonder what is. It's eating the discarded apple core that I saw earlier I think. I was gonna shine my light on it to see what it was but I think I'd rather not know. Oh god it's just made a loud screaming noise. Even Rhydian got startled. But he went and had a look and it was just a small possum. It must have tripped over the tent rope. Then it started making different and louder angry sounds so there must have been more than one.
Wow then later on in the night the possum tried to climb up Rhydian's tent. He swore at it. I'm glad that didn't happen to me. I bet I'm not gonna get much sleep tonight…
Today's walk on the map (blue = Te Araroa, red = today's walk):