Date: 3 October
Distance walked: 11.6km
Trail covered: kms 142.9 to 154.1
Weather: no idea, was stuck in the thick forest all day
Number of times I plan to go back to Raetea Forest again: 0
Amount of money I would need to be paid to do that again: 100 billion dollars
Woke up this morning at about 7am and was pleasantly surprised that I wasn't sore after the big day yesterday. And the mist had largely cleared, so I got to see the view for the first time.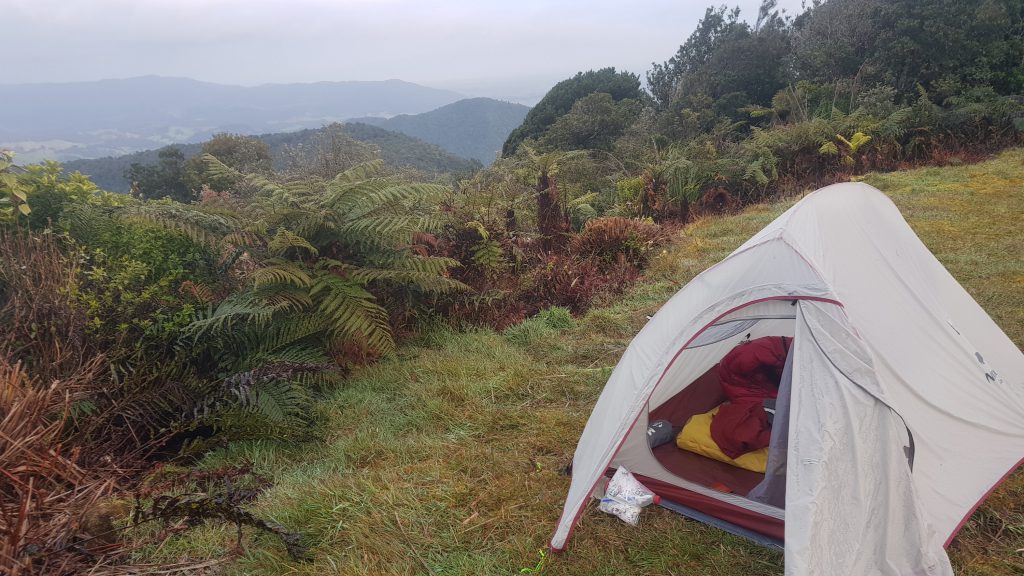 I noticed that the tape that I used to cover up the hole in the tent mesh was holding well. This was the hole that formed in the mesh during Day 1 at Twilight Campsite.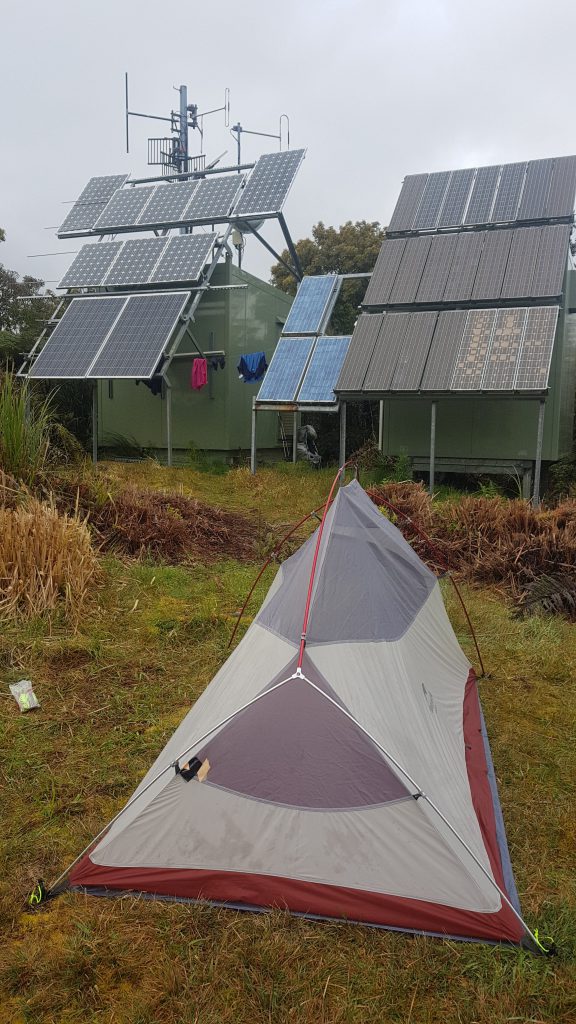 However because of all the mist my tent fly was very wet. At least the tent itself stayed dry. But it meant putting away a wet tent for the first time as I wanted an early start and didn't have time to attempt to dry it. I put the wet tent fly in the front of the pack with the intention of drying it out once I got to the next campsite out of the forest.
I packed up and continued on in the mud. I wondered if there would be more or less mud on the way down? Surely it is not physically possible to be more mud! Although I still hadn't seen any "knee deep mud" that others had talled about. Maybe it does get worse.
At 10:55am I stepped in a particularly deep piece of mud: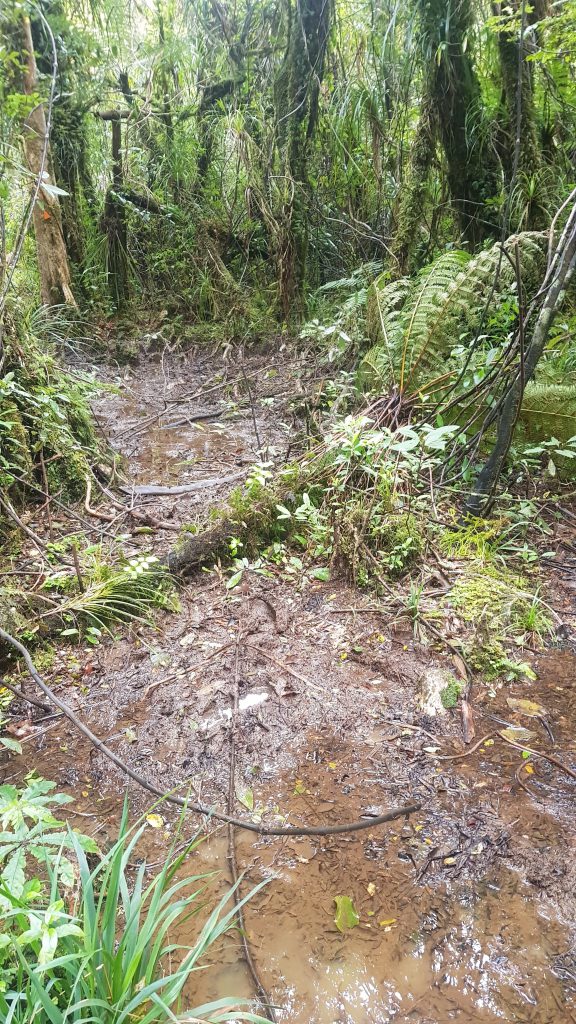 So my 11am picture is my muddy shoes.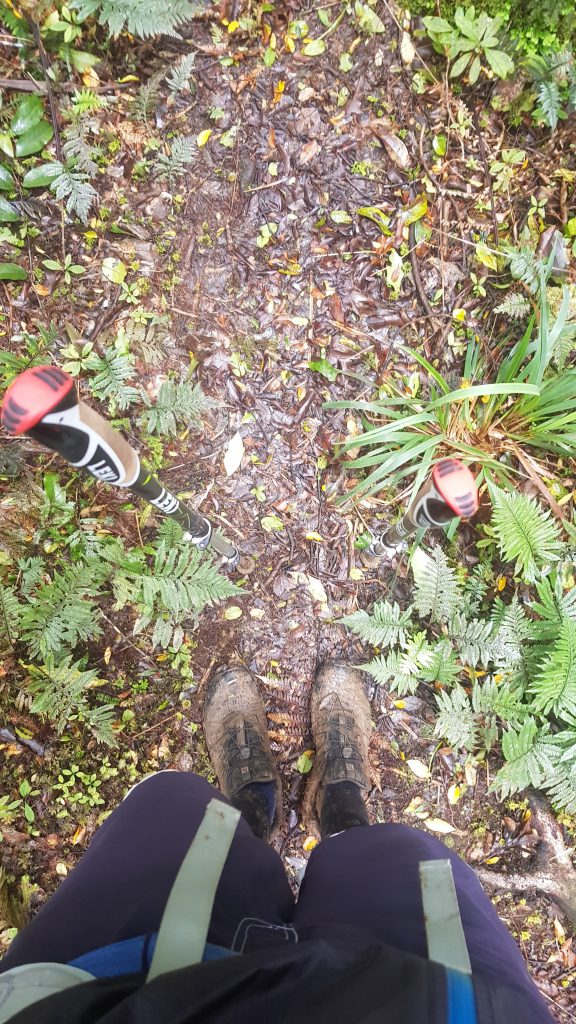 The downhill was about the same as the uphill from yesterday, but in reverse of course. Everything started to hurt after a while, unlike yesterday where I generally felt pretty good. At first it was just mud, but then there was this section where it was lots of annoying trees which were blocking the path. I kept getting caught in them and so did the walking poles.
I met up with Rhydian after a couple of hours at this junction. The sign says 3 hours and 30 minutes out. Often DOC signs such as this one are conservative but the 5hr30 time posted for the way we had already gone was very accurate. So that meant I had to endure another nearly 4 hours of this forest. Oh no.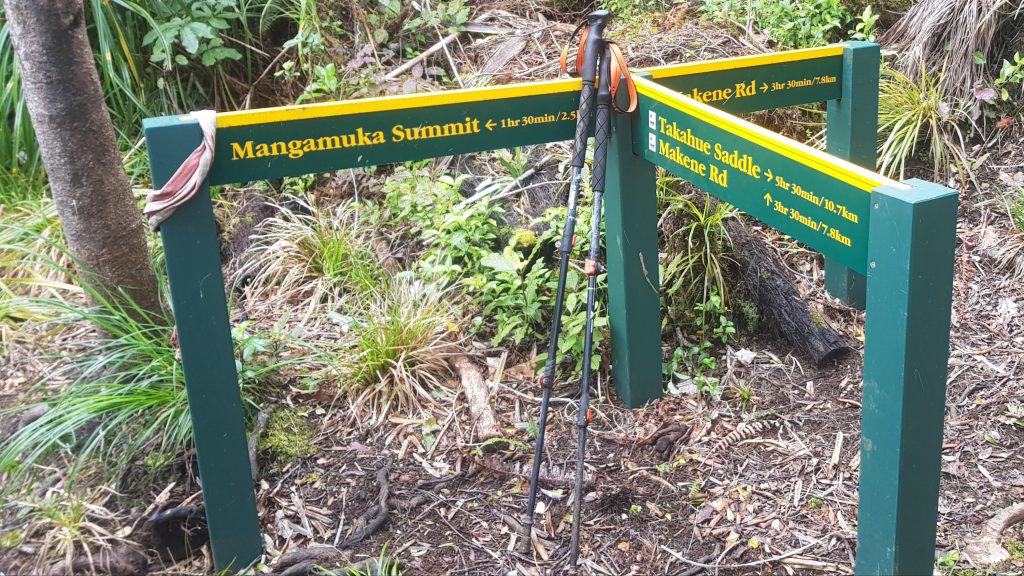 Rhydian walked faster than me through this section. I think his big hiking boots made it easier to walk through the mud. Whereas me with my trail runners had to be careful each step because if the mud was deep enough, which it often was, I might lose my shoe to the mud, never to be seen again.
I passed Rhydian when he stopped for a break, because I just wanted out of the forest. The track didn't get better. It just kept finding new ways to make me hurt. And somehow, the mud still got deeper in places!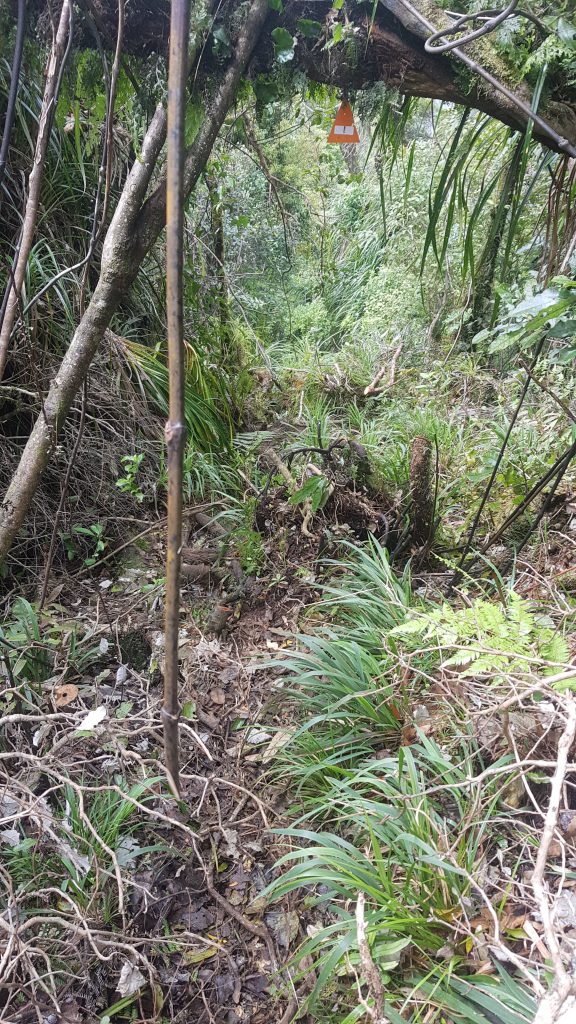 Eventually it came out onto farmland. What a sight for sore eyes!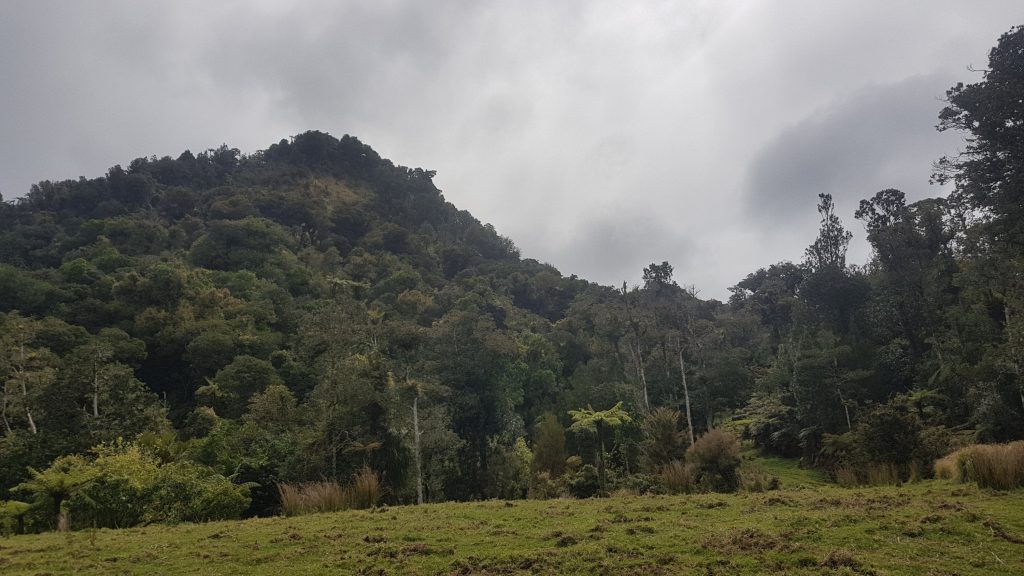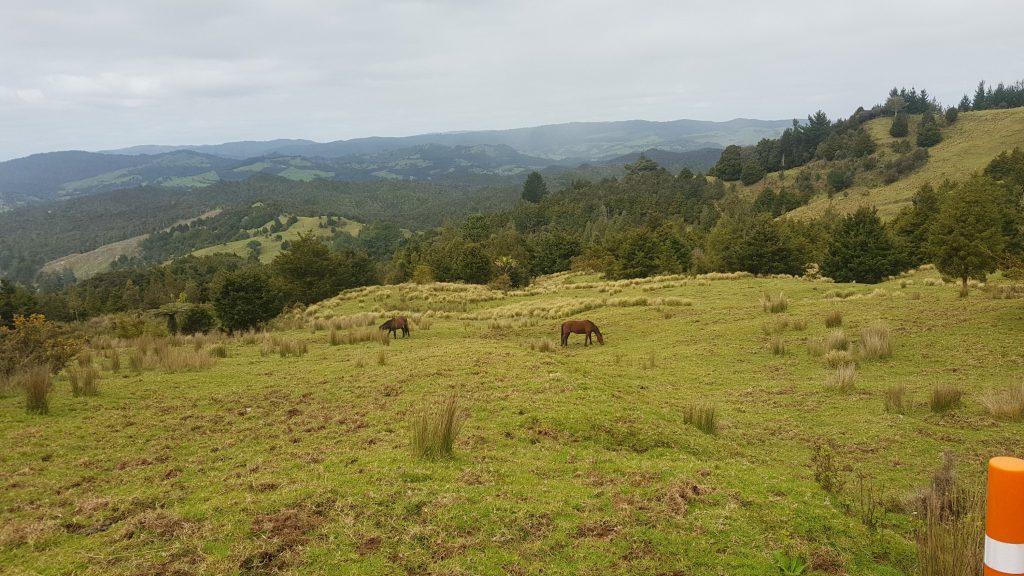 To go out you had to walk right past the farmhouse, and down the driveway otherwise known as Barking Dog Boulevard.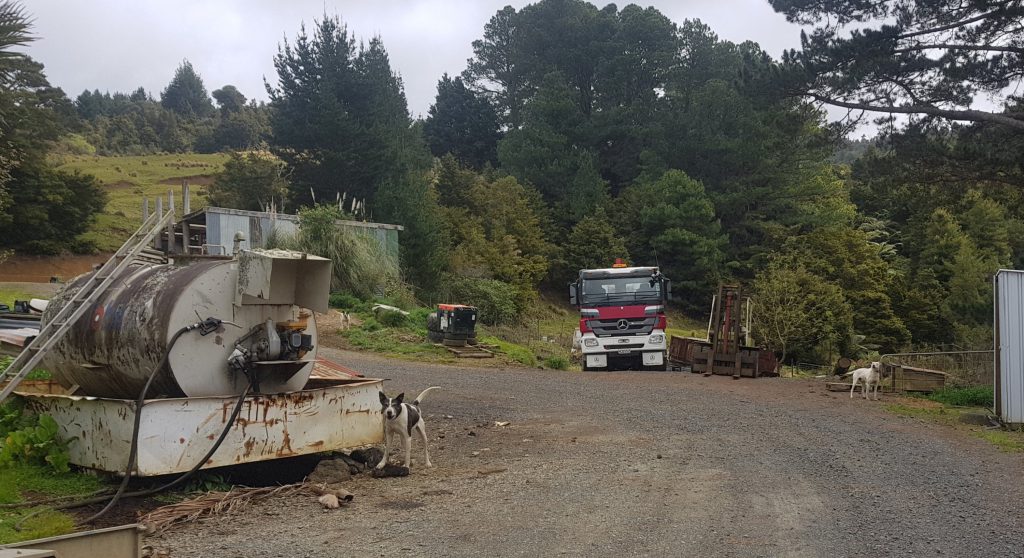 At least the trail notes warned us about the farmland and the dogs. Not much later, I encountered another campsite that I assume the locals put together. This was nicer than the one I found yesterday. This one had a clothes line, long drop and small shelter.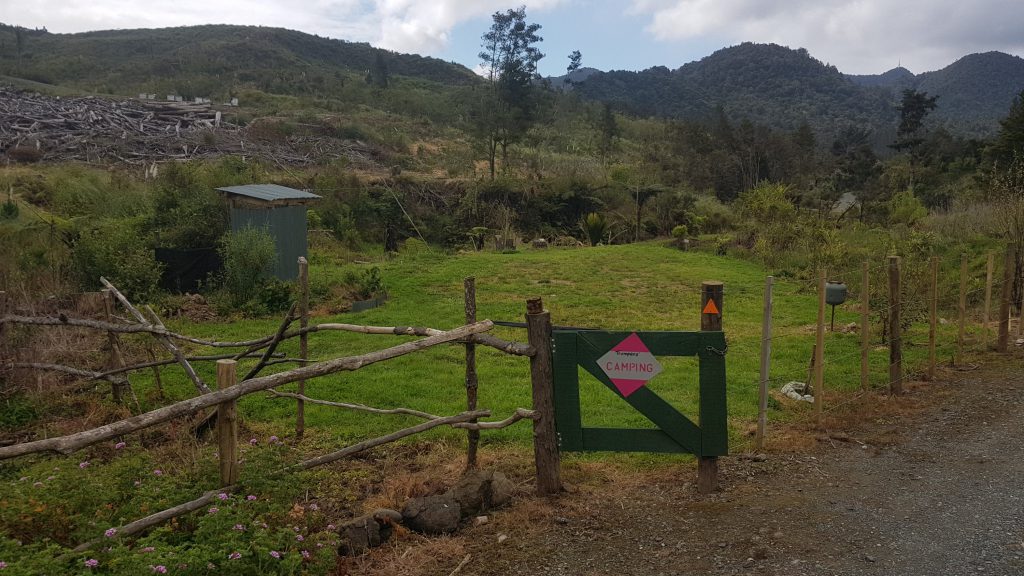 Maybe I overdid it today. It was about this time that I noticed my left knee hurting. I wasn't very happy because I have had knee injuries before from running and I know how annoying they are and how long they take to heal. I'll have to keep an eye on it.
I set up my tent in a light rain but after that it was a sunny evening and pleasant to just sit and have a chat once Rhydian turned up an hour or two later. The fact that the tent fly was wet wasn't a problem, it soon dried. And boy was it good to get my wet shoes off. I tried to clean the mud off in the stream but the tough mud wouldn't move. Now they're soaking wet and still muddy. I'll wear my crocs tomorrow for a road walk and then the day after there is a stream to walk down. Maybe that will clean them and maybe even dry them.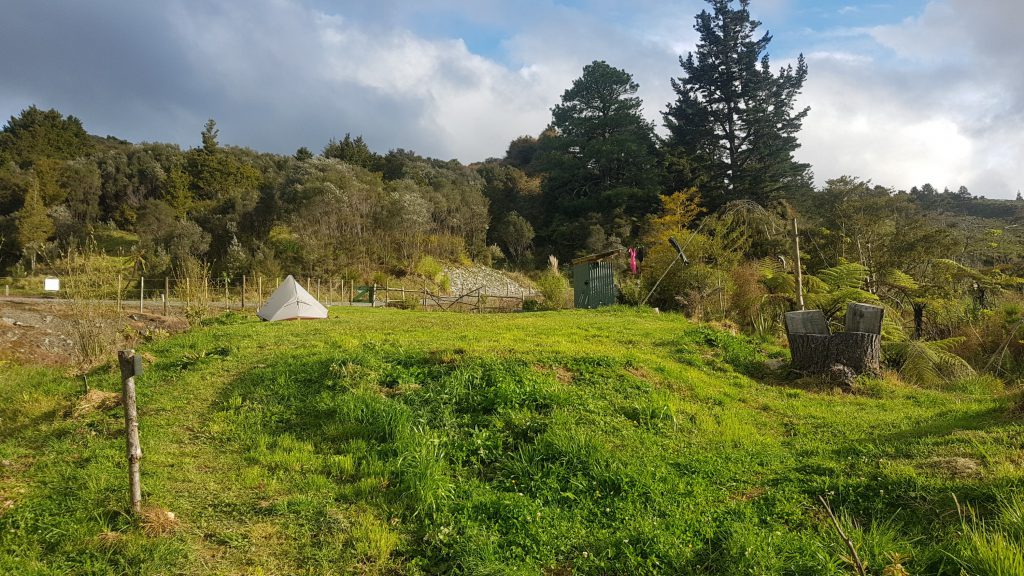 I had to replace the plaster on my blister yet again. The plasters I got from Kaitaia were supposed to be "heavy duty". Heavy duty, my sweet patootie.
There were sandflies here. The first time I really had encountered sandflies. So I got out my Bushman "deet based" insect repellent and they didn't bother me again.
I know today was hard because my little airbed took 35 breaths to blow up. Every other day it takes exactly 24.
I haven't seen any of the Germans for a while. Rhydian knows the names of 5 or 6 people ahead of us, but I can't catch up. That's okay because I started a day after everyone else. And I'm not going to try to catch up because I need to go easy on my knee. I don't any more injuries.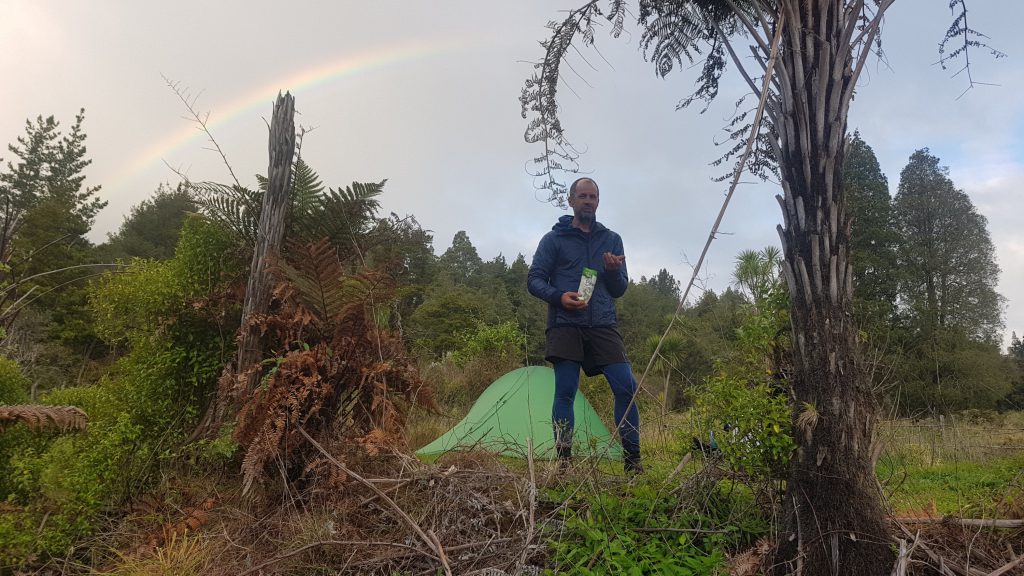 Injuries, or just feeling sore in general, are a real pain. Some days (today was not one of them) you just really want to keep going but you're too sore. It sucks. But hopefully soreness will go away and I will get more conditioned and can go further in the future.
But more than once today I said "I'm not cut out for this" – this being nature and outdoors in the rain.
Today's walk on the map (blue = Te Araroa, red = today's walk):