Date: 21 October
Distance walked: 19.7km
Trail covered: kms 381.6 to 399.1
Weather: perfect again
Cost of a very expensive lamington: $4.90
Was it worth it: damn right
First thing that had to be done today before anything else was call the owners of the AirBNB I was currently in and ask them why there was no hot water. This was as soon as I woke up at 6:30am. She said she had just read the email I sent her last night and her husband was on the way to change the gas bottle for one that actually has some gas in it. So 10 minutes later I did have hot water. It was good that it was fixed so fast but annoying because it was an entirely preventable problem. I spent much of the day deciding whether to give a 4 or 5 star review, because she was very nice and apologetic, and the food last night was awesome but I really feel like hot water is a necessity. But in these days of the internet, anything less than a 5-star review is basically a scathing indictment. I once left a 3-star review for an Uber driver in London and I got a phone call from Uber themselves apologizing profusely and telling me that the driver had been "dealt with".
Anyway, the time was approaching to continue on. I had a shower finally and some breakfast and left at 8am to get the 9am boat across to Marsden Point. The boat leaves from Reotahi Bay at the end of Beach Road which according to Guthook was 3km away. However it ended up taking a fair bit longer than that, because the line on the map is a straight line but it didn't accurately represent the path which went in and out from the coastline.
On the way I did see some more cool views in-between houses.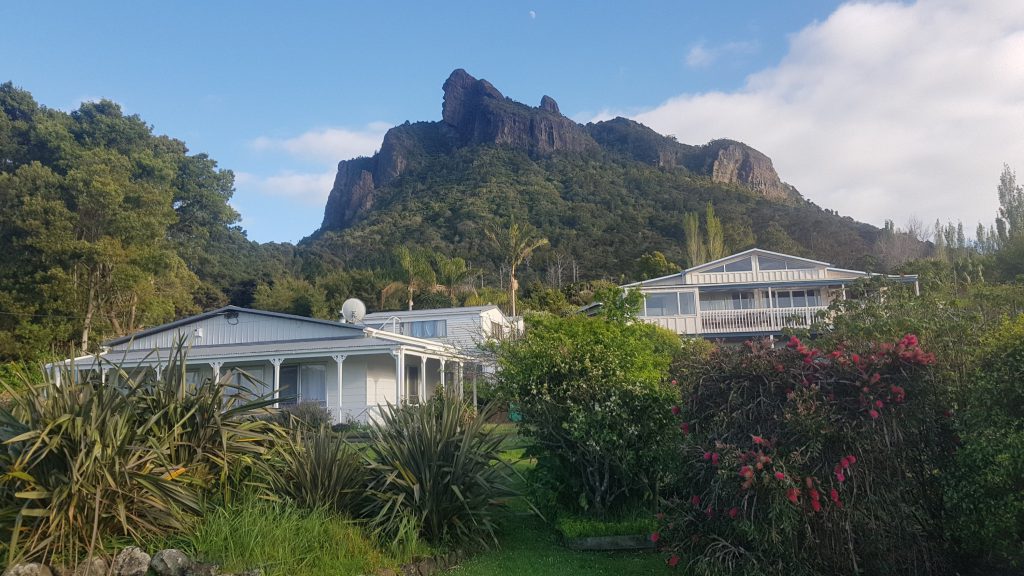 I also saw the name of the town on a street sign. So even though Google said it doesn't exist, this was proof enough for me that this is the name I should be using in the title of my blog post today.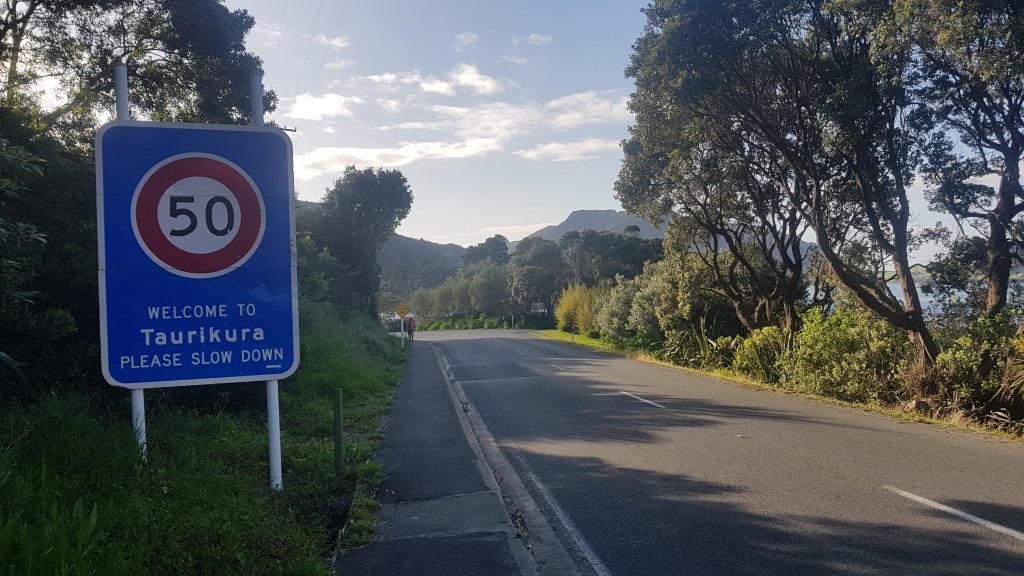 I also saw this. People dumping rubbish does indeed suck but I really loved the detective work going on here.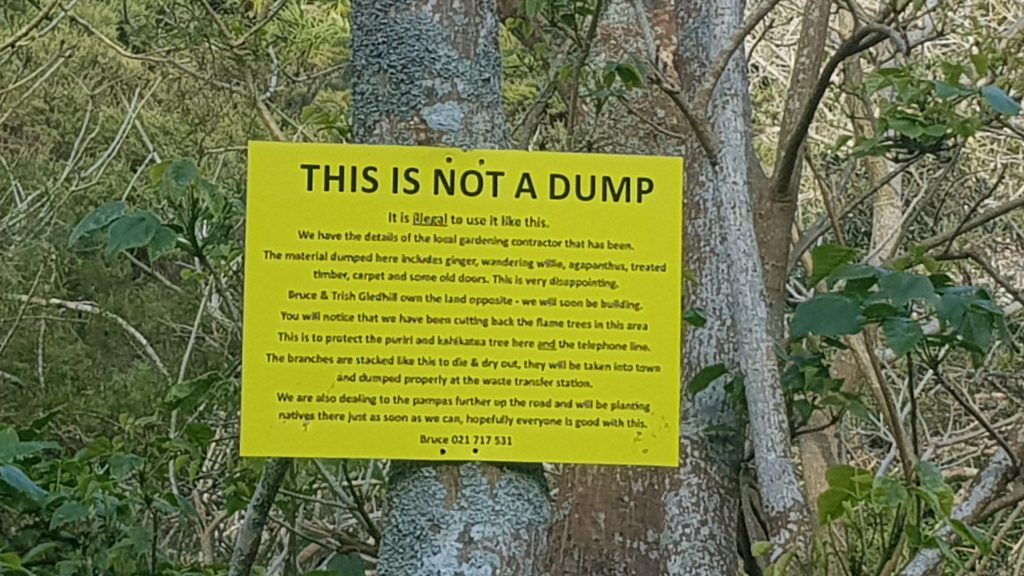 Here's the bit of water we would be crossing on the boat shortly. Unfortunately I don't know anything about the installation that is right in front of me. I was worried I wasn't going to make the 9am boat so I didn't stop to read any information.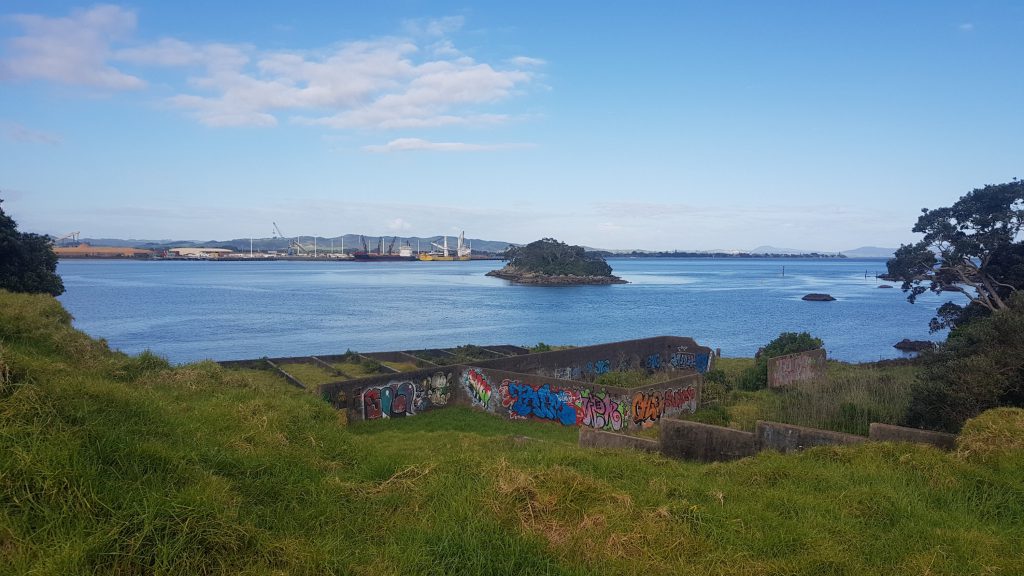 I got to the spot marked on the map to see Tina already waiting there… hooray at least I have the right spot. She and Kay and Agneta had stayed in their tents the front yard of the people who live right across from the boat ramp. The name of the owner of this yard was Graham. He, like Kay was also from the small town of Putaruru. Small world.
At 8:45 Kay received a text message from Ralf who said that he and Olivia had already met up with Peter, who was the owner of the boat. Oh no, does that mean they left without us? Surely not! Peter wouldn't take two across when he knew that six wanted to go.
But soon enough we looked down the other end of the bay and saw a hand waving. And not long after the boat came around the corner. Olivia and Ralf were in the front seats of the boat. I hope they're not driving!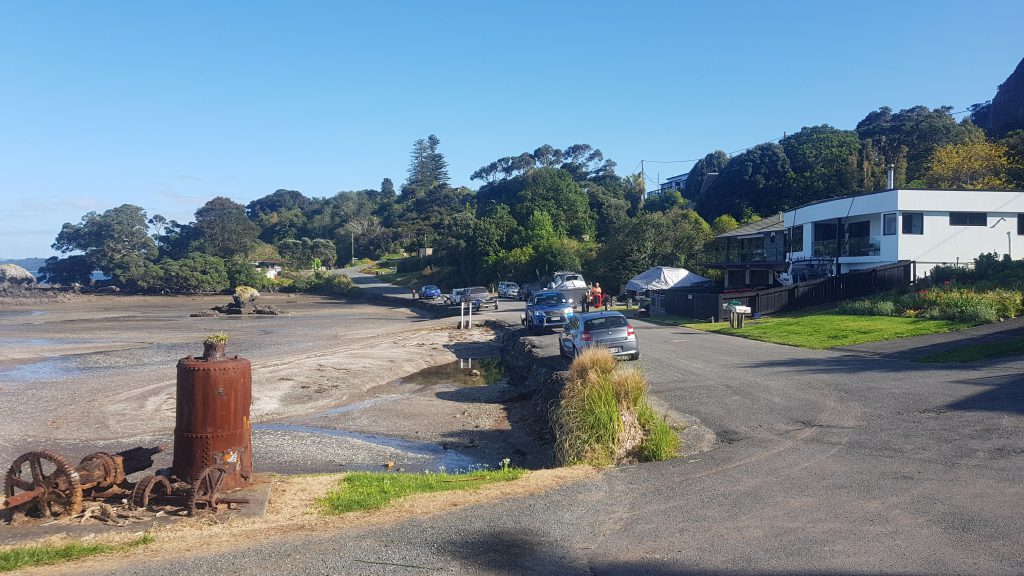 We all got on the boat. We did notice the lack of life jackets. But all part of the fun, right?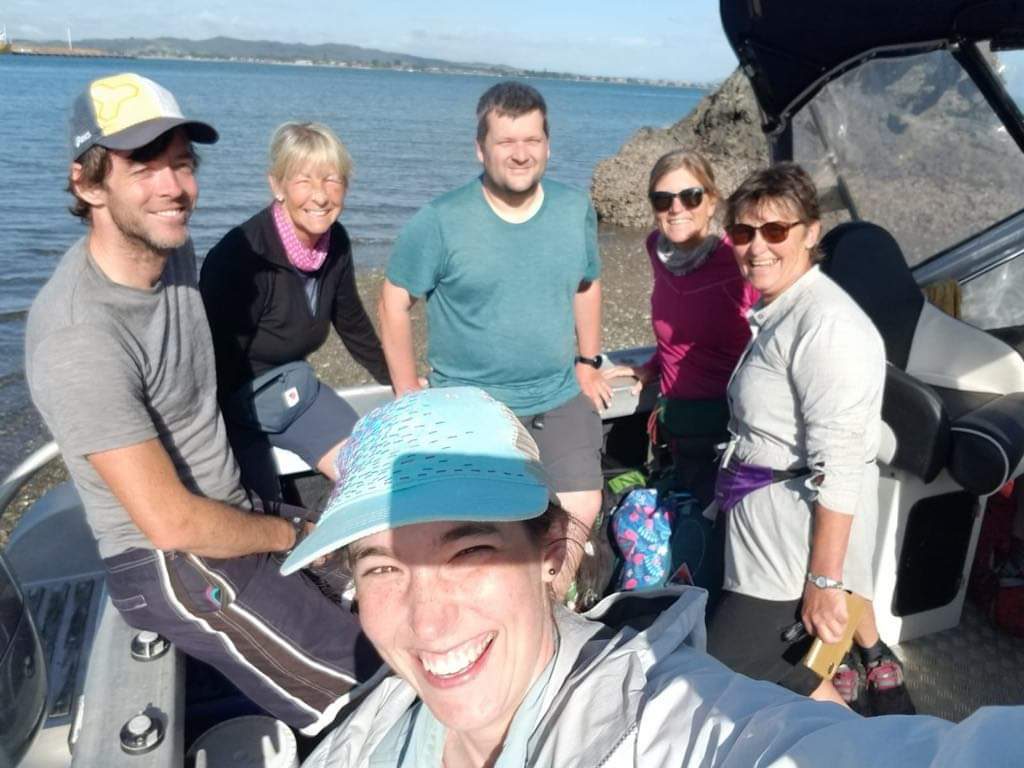 I did learn later that there were life jackets there if you asked. I probably should have.
On the way over, Peter told us all about the area and detailed the various options for how to progress from Marsden Point. He is clearly used to taking people who are section walking – I didn't pay any attention because the trail is the trail, and I don't deviate from it. I was also a bit concerned at the amount of time he spent talking to us as opposed to the amount of time not watching where he was going.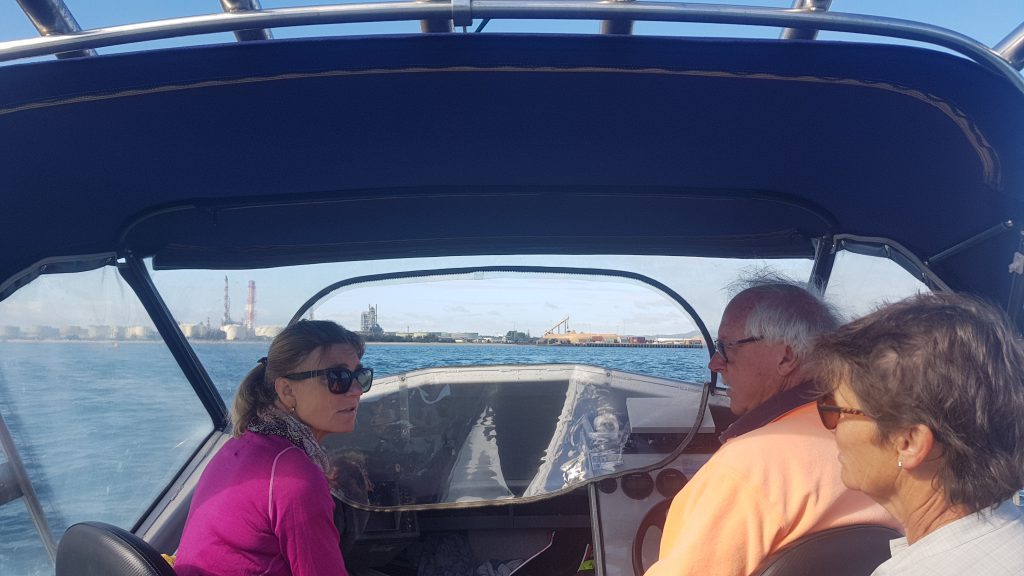 Unloading from the boat was an interesting chance to see who has the heaviest pack. Surprisingly, it seemed to be me. But I did have 3 totally unnecessary litres of water and some food in there.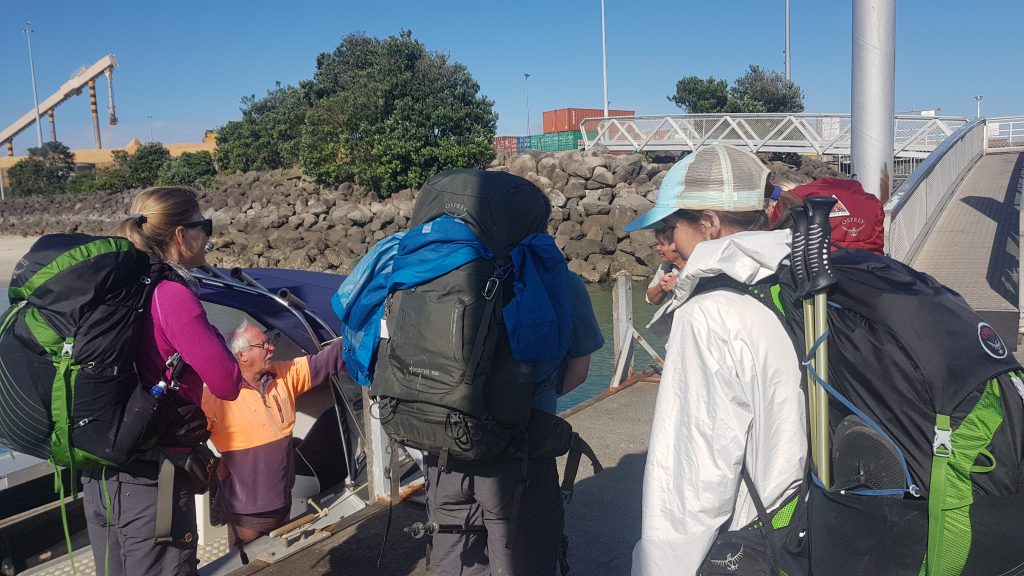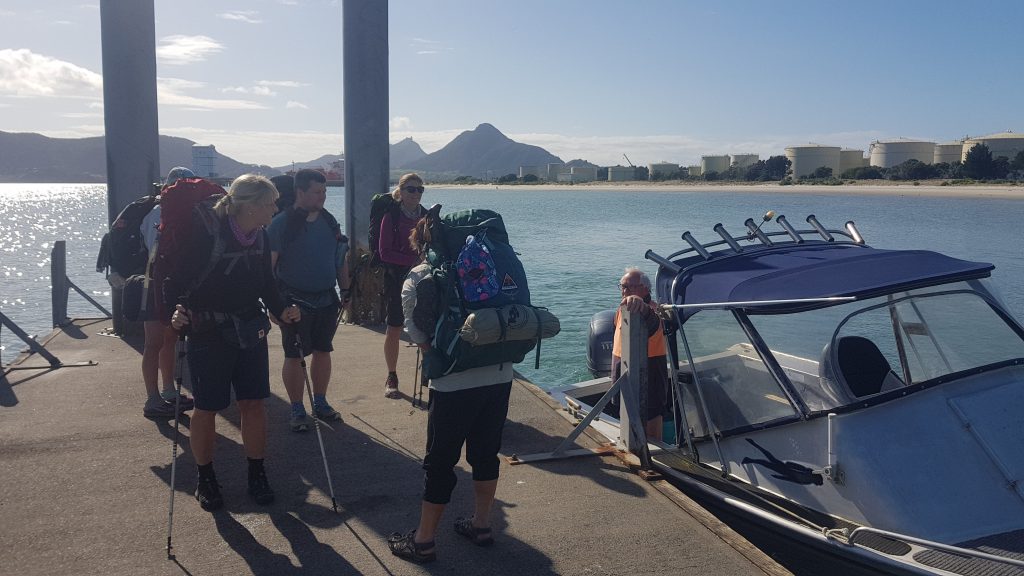 The boat left us…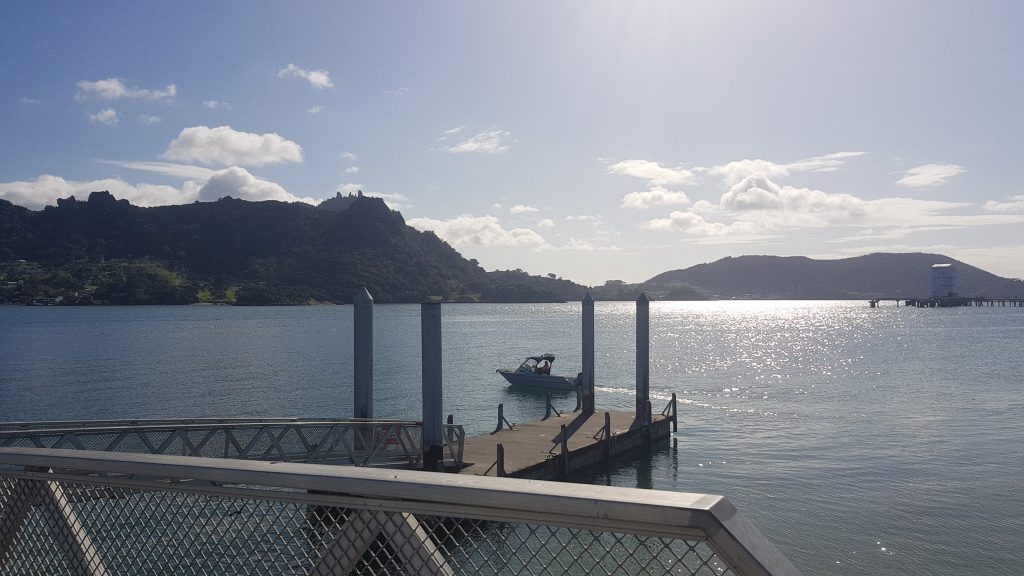 … and not long after we got accosted by some guy. He claimed to be from some ministry, the Ministry for Primary Industries or Fisheries or Silly Walks or something like that. He wasn't even in uniform. But he demanded to know who brought the six of us across the water and his number because whoever it was was operating illegally. We all exercised our right to remain silent.
From here, even though there were six of us I was the only one that started walking down the beach, everyone else went down the road. Tina was hobbling so I think she was going to hitchhike somewhere and the others were going with her to make sure she got a ride, or perhaps they were going to the cafe in the Oil Refinery.
There were a lot of quite vicious seagulls at the start of the beach. They were flying at me and squawking at me. Luckily I could wave my walking poles at them and that kept them away a bit from me.
I wanted to go down the beach because there was another unfound geocache about 2km down the beach. It had been placed five days before and nobody had found it yet, which would be unheard of in Auckland. I dropped my bag off where the Internet said the geocache was and headed up into the dunes. After 15 minutes or so, I found it.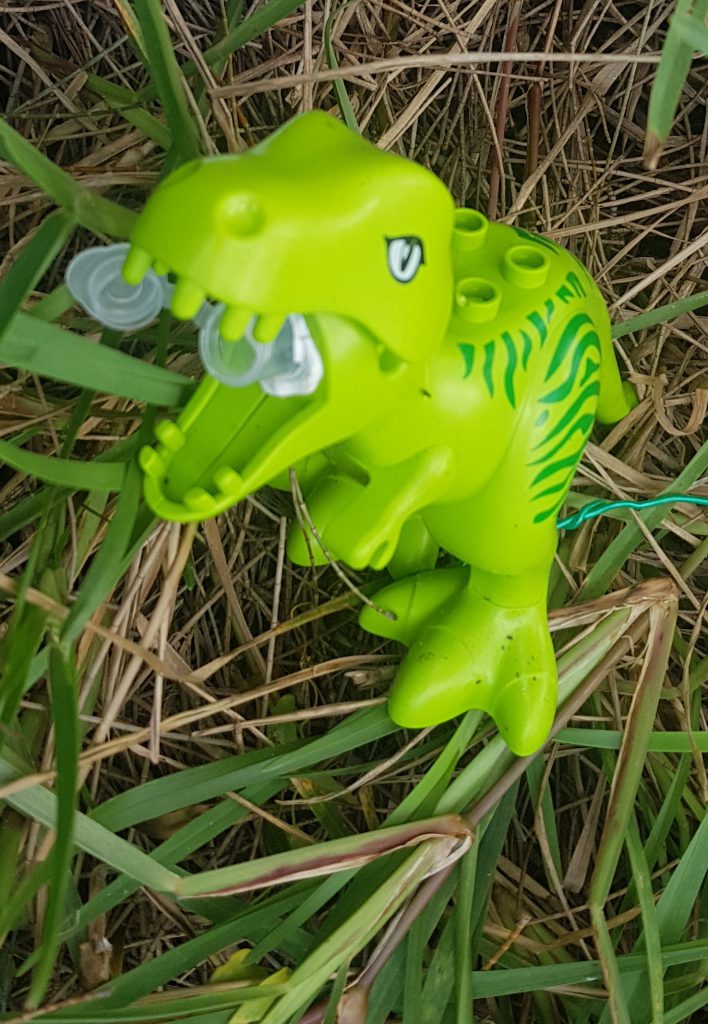 And the little logbook inside was blank so again, I was the first one to find it! I signed my name and the date and time, and replaced it where I found it. Interestingly, there is another dinosaur-themed geocache just a bit back up the beach which I was also the first one to find a few months back, which meant that I had already walked this bit of the beach before. So that meant this was the first section of the whole Te Araroa that I had already walked before.
I later found out that two people visiting from Wales were also hoping to be first to find on this geocache, but I beat them to it by an hour.
While I was walking I had a look back behind where there was a clear view of the mountains that I walked across yesterday evening.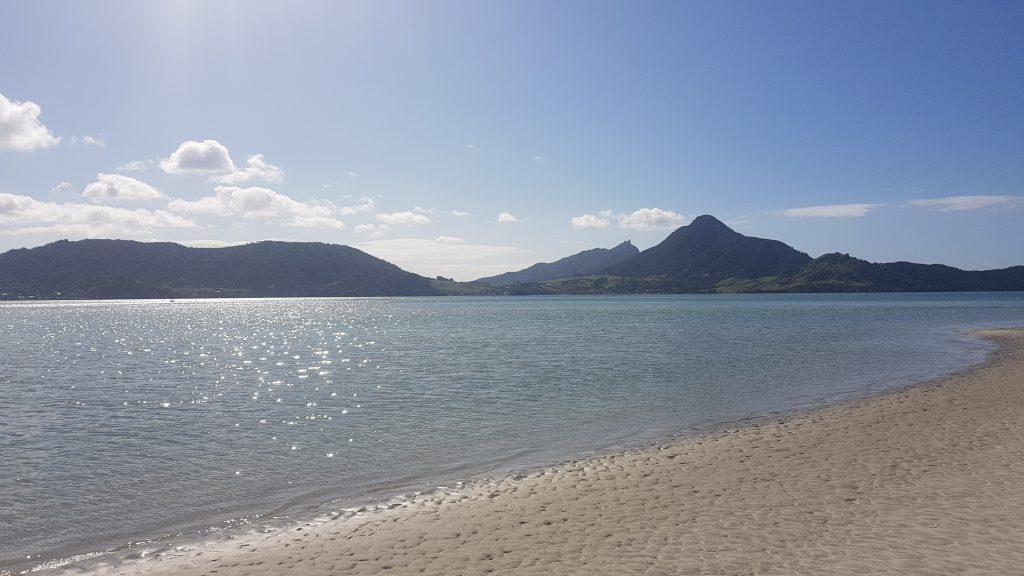 There was also a stream to get water from, if you were desperate. I wasn't desperate, in fact I was carrying far more water than I should have been.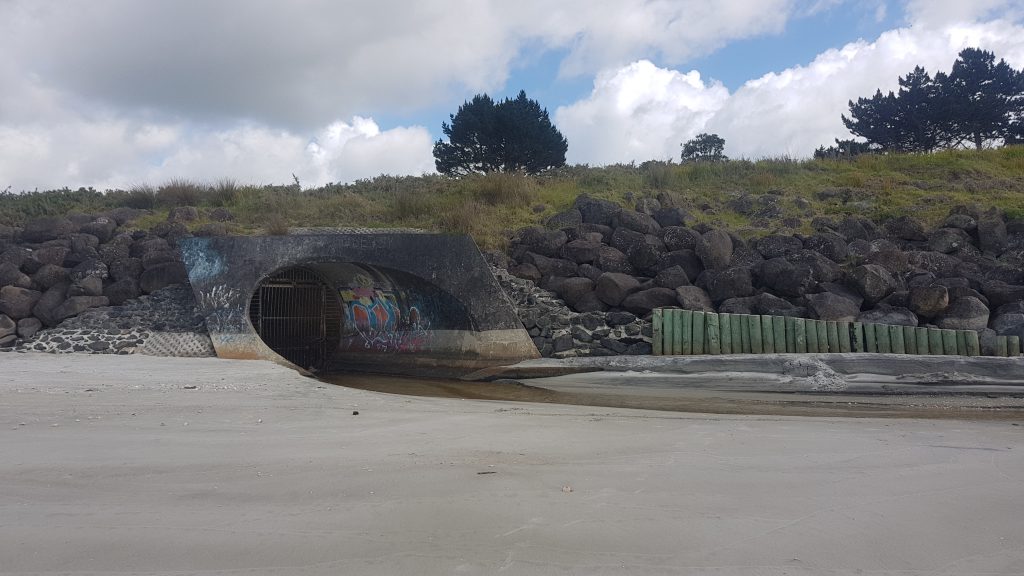 Not long after it was 11am so time for my 11am picture. This girl had just gone past me. She is the only person I'd seen so far who had brighter shoes than my yellow crocs.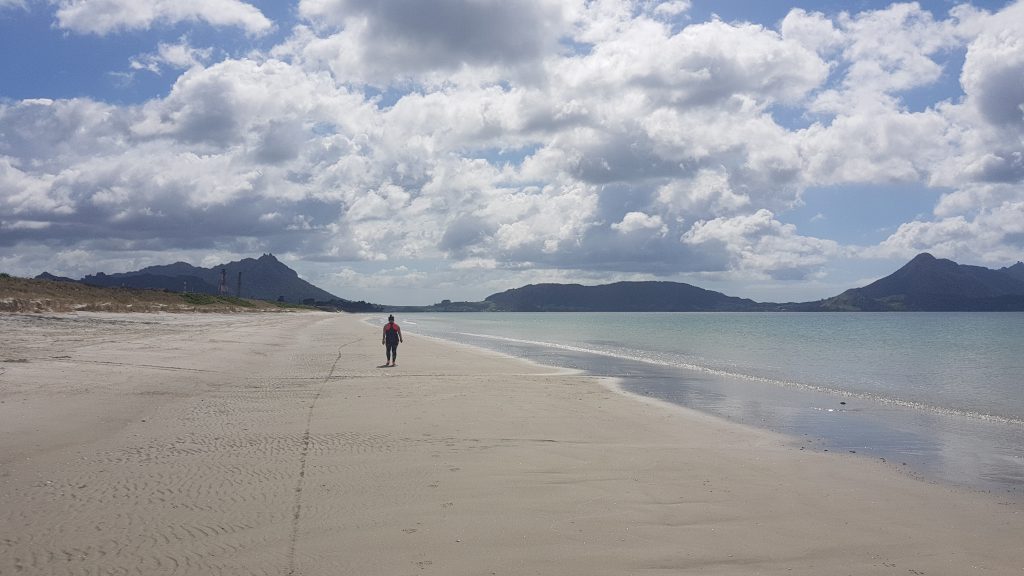 Soon there was a river crossing coming up that was only crossable at low tide. Since it was almost right on high tide, I had to detour off the beach and walk through Ruakaka. That suited me fine as again I wanted a coffee and a good lunch. I looked at the map and exited the beach at what looked like a path, but I ended up at the back entrance to the "NIWA Northland Marine Research Centre", and whatever that is was clearly top secret as there was a huge fence right around it. Obviously I wasn't the first one to make this mistake as the workers who were inside pointed out that I could walk around the perimeter of the fence to get back to the road. Just go around the big rusty gate, apparently.
Not long after I spied a cafe – the Country Bake bakery in Ruakaka. I was very hungry and ended up getting a coffee, bacon and eggs, a lamington, a Blue V and a caramel tart.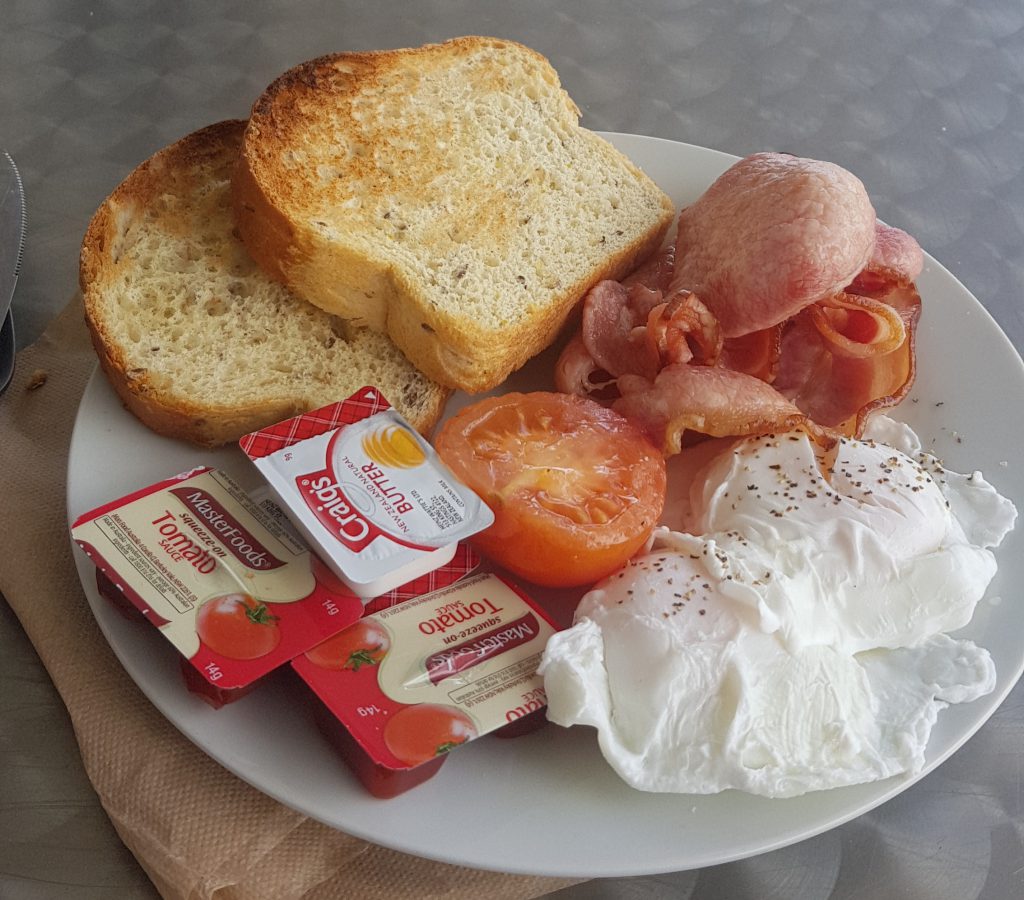 The coffee was large and good, and the bacon was high quality but the lamington was $4.90 which I thought was pricey. While I was eating, Kay and Agneta turned up. We all had a bit of food together and then they spent some time deciding what to do next.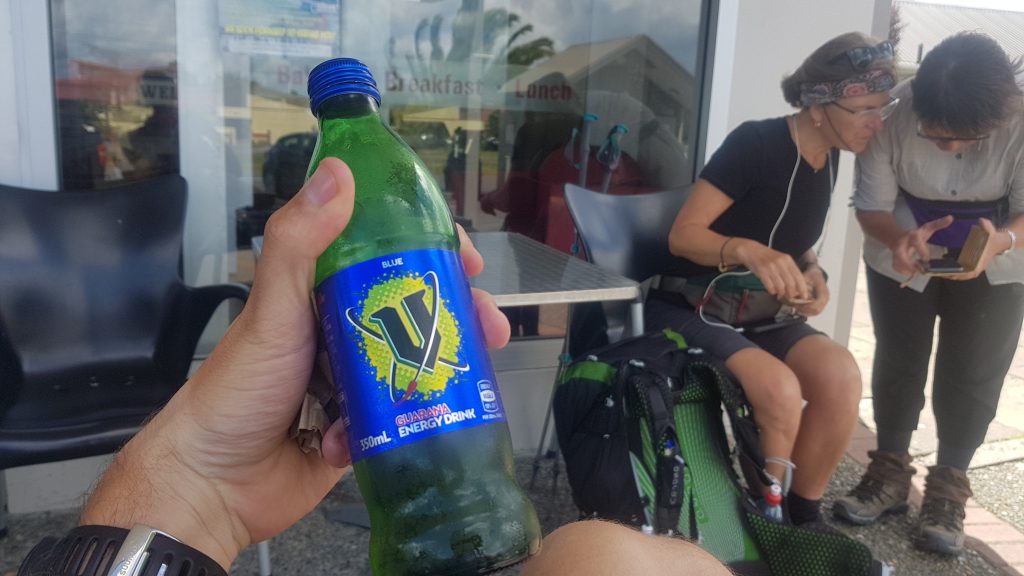 The other two were going to hitchhike to Waipu because I think they were meeting someone. That meant I couldn't walk with them because I would cramp their hitchhiking style, apparently. I think that's fair. I wouldn't pick me up either!! So I left them, and walked down the road a bit to cross the river and rejoin the beach.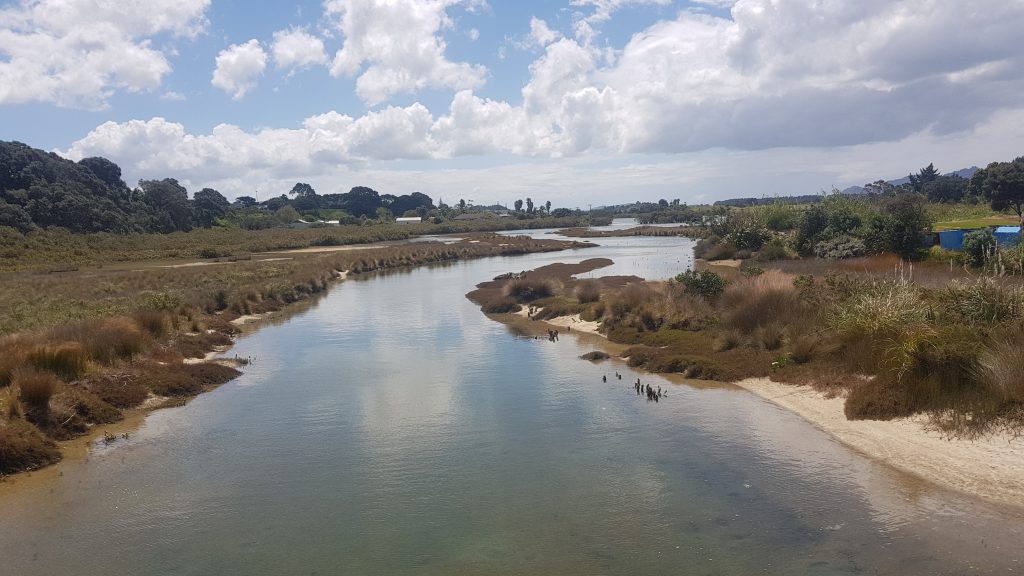 There were lots of fish bones in the water. Another reason I am glad I am not walking through here.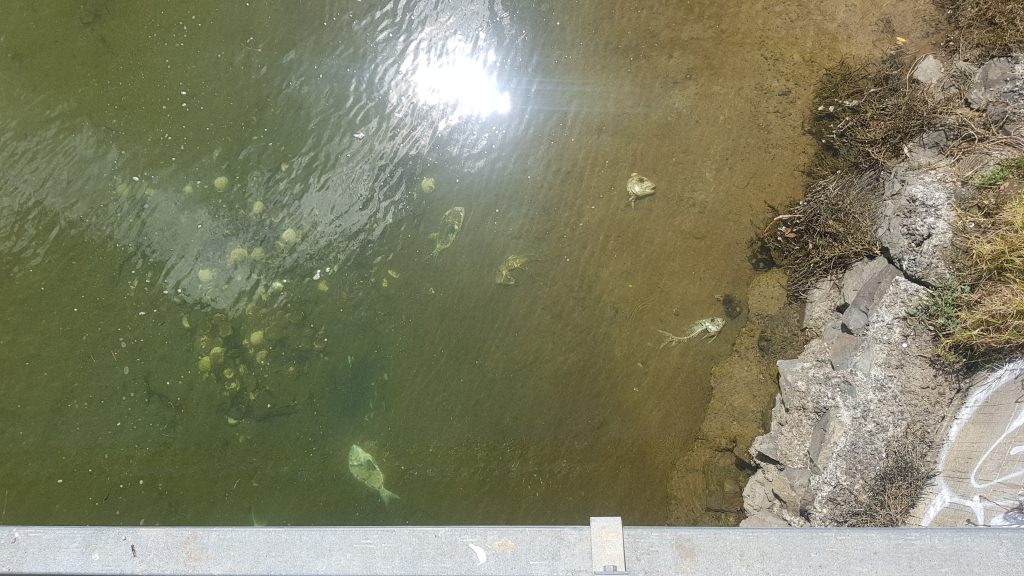 I thought this house in Ruakaka was worth taking a picture of. I can't decide if I like it or not.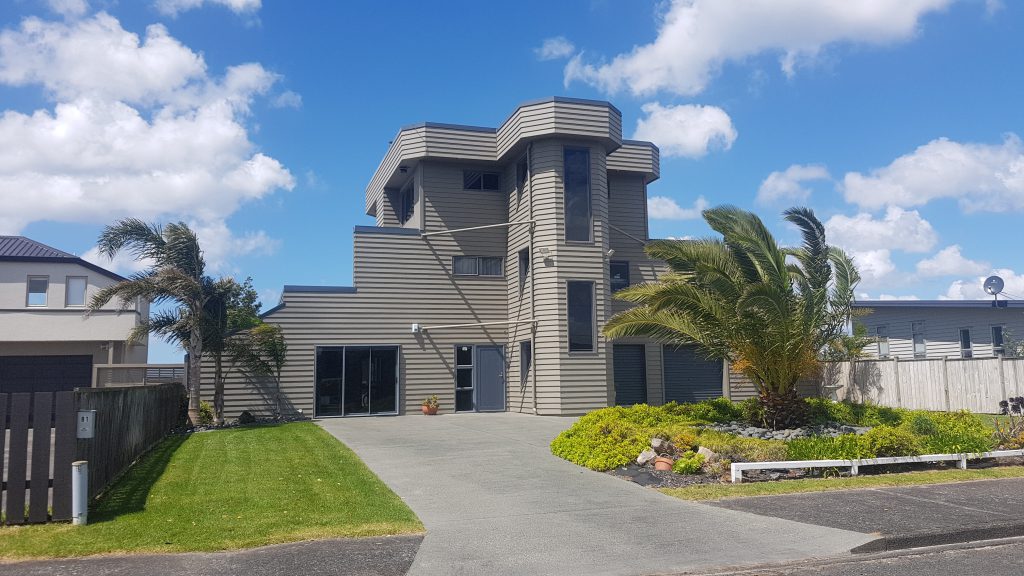 And as soon as I got onto the beach, I saw this girl who I thought was taking a selfie. But she was actually doing a video chat with someone. Of course I walked right through the middle of it, and waved.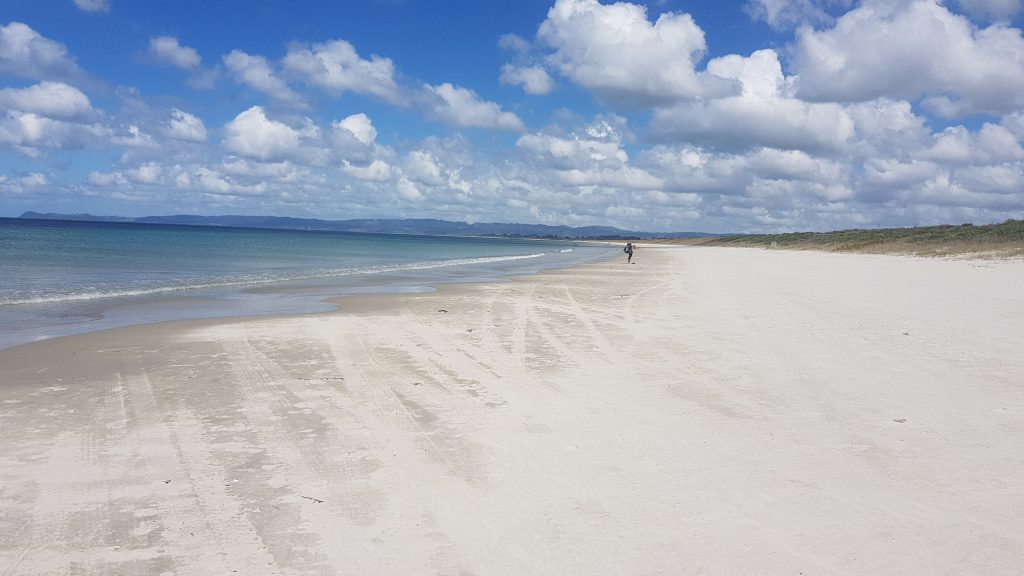 And there were more oystercatchers.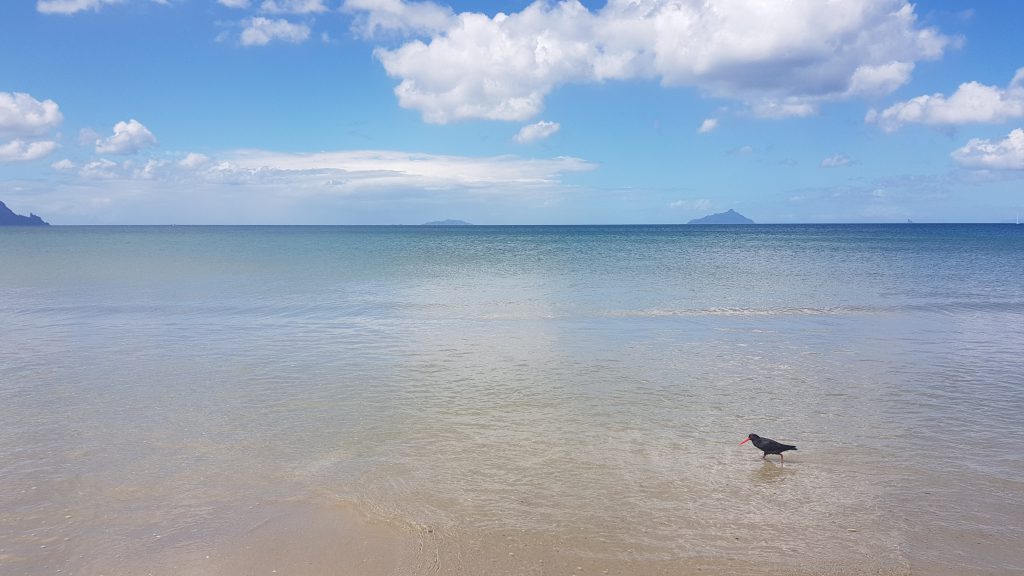 And these birds which I don't know the name of.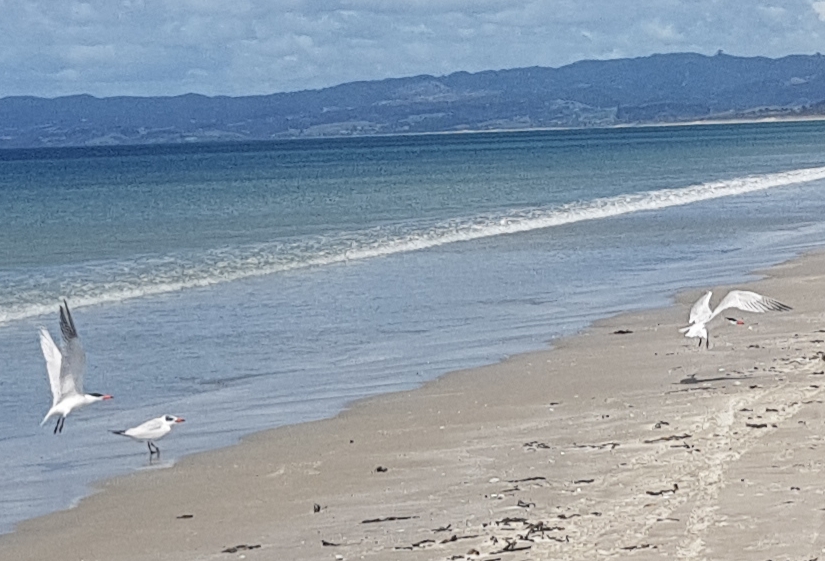 Down the beach I saw vans with dogs running alongside. I figure this was just a very Kiwi way to get your dogs their daily exercise. I saw the same thing on 90 Mile Beach a few times.
Eventually I got to Uretiti campsite. I was going to try and make it to Waipu but my foot was hurting a bit after yesterday, so I decided to end the walk here for today. I was less than one kilometer short of the 400 mark. Too bad, that will be something to look forward to tomorrow.
I didn't actually stay at Uretiti. Someone I used to work with has in-laws who live not too far from Waipu and they kindly offered to pick me up from there and host me for the night. I'm glad I took them up on their offer because they were very kind and welcoming people who took me in and showed off their wonderful hospitality. They had a party in the weekend and so had lots of great food in the fridge also. And from their house I got another view of Bream Head.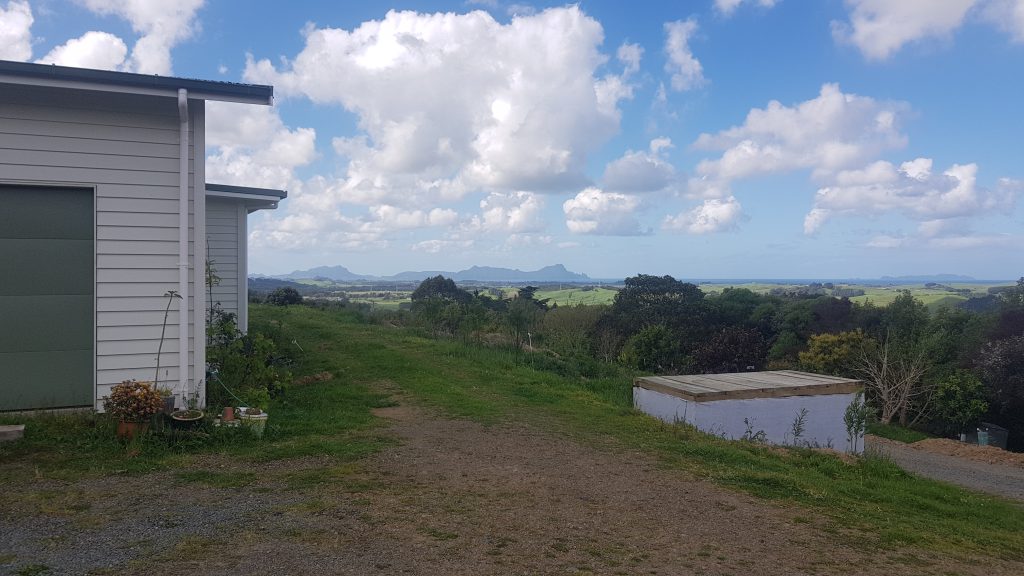 It was nice to be able to rest my foot a bit and enjoy a wonderful meal and some nice chat. Thank you very much Ginny and Brian.
Today's walk on the map (blue = Te Araroa, red = today's walk):