Date: 22 October
Distance walked: 16.2km
Trail covered: kms 399.1 to 412.2
Weather: variable
Milliliters of beer consumed: 328
Got dropped off by Brian back at Uretiti this morning. It was raining hard while we were driving there but literally as he stopped the ute the rain stopped also. Yet again, the weather gods are being nice to me. I feel like I owe them a sacrifice. When I got dropped off, I turned and saw Brian driving away. It felt like Day 1 where Tania dropped me off and suddenly I was in the middle of nowhere on my own. At least I'm used to that feeling now.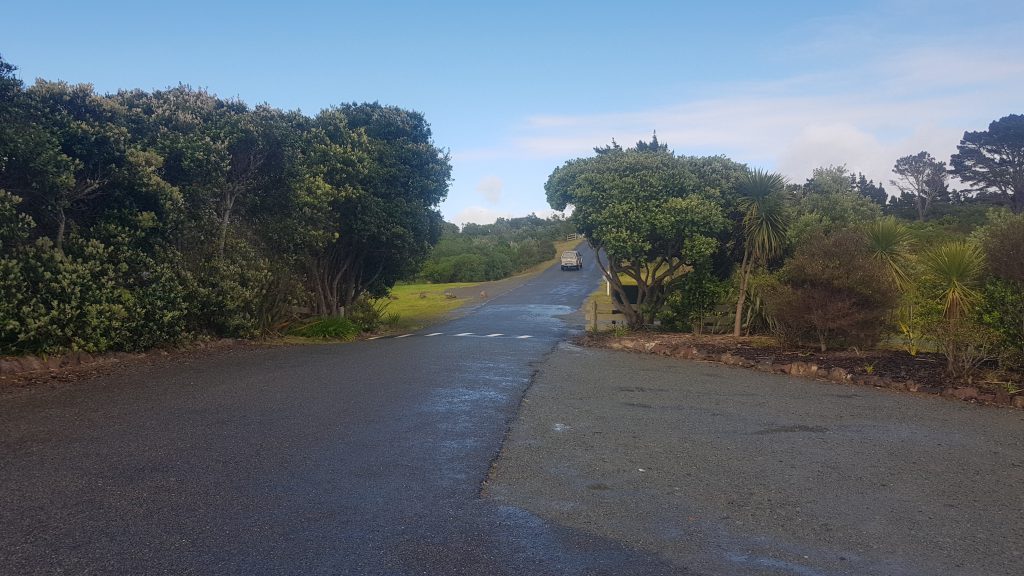 I crossed through Uretiti campground to get to the beach. The ranger asked me if I was camping because she wanted to make sure I paid my $15 if I was. But I told her I was just cutting through as a shortcut and she smiled and pointed the way to the beach. And as soon as I was on the sand, I saw Jeremy walking down the beach who I walked with a couple of days ago just before the two river crossings. That day he had gone ahead with the river crossings while I waited until the next day… so I was very surprised to see him behind me. He'd done a short day because he too had foot pain. I'm hearing so many stories about foot pain.
And less than 1km down the beach was the 400km mark. Since I had somebody else with me this time, I could be in the photo!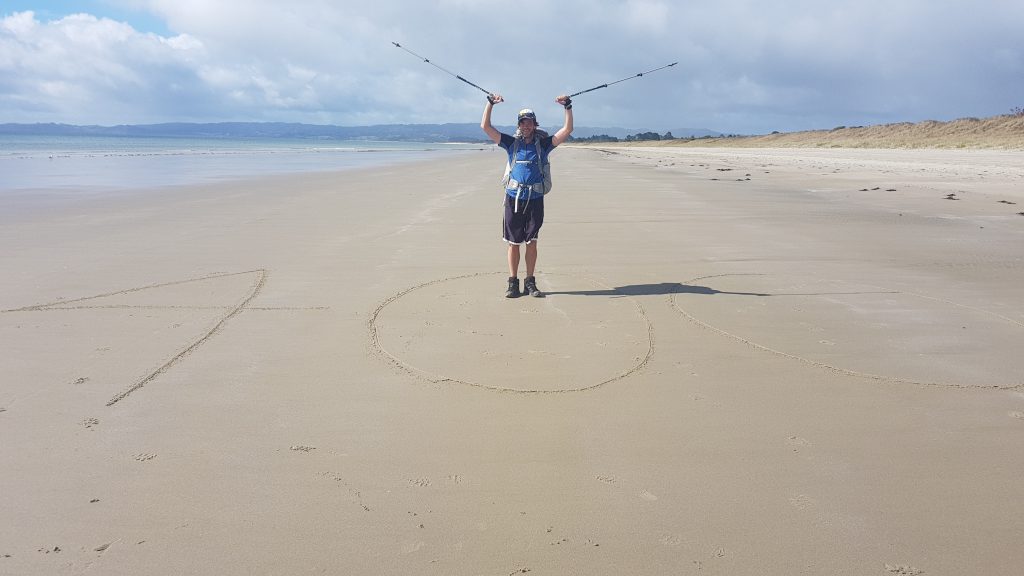 Jeremy said that he got the boat across the water a few hours after we did yesterday, along with Nick and Robert. And he also got accosted by the guy from the Ministry of Silly Walks.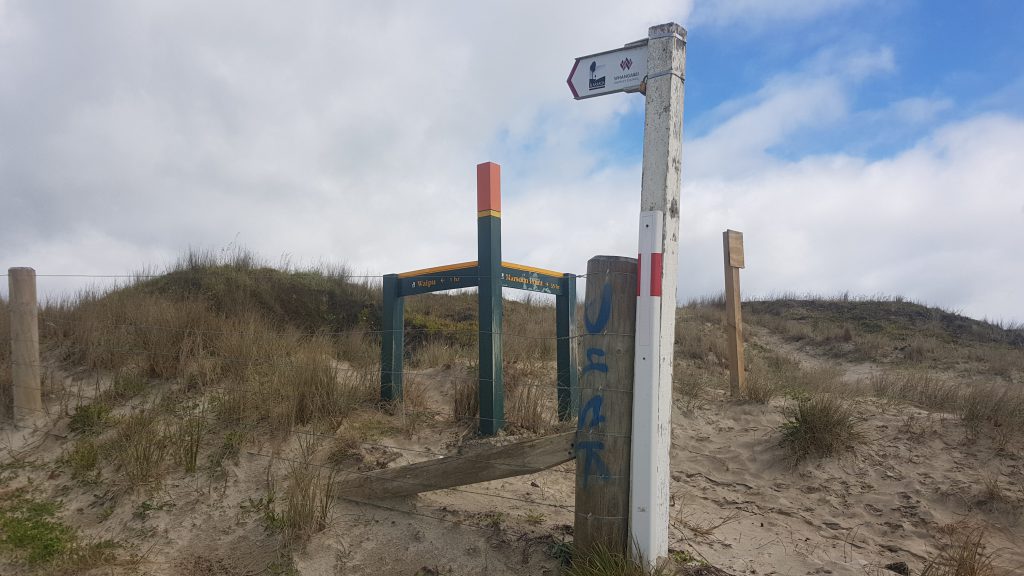 It was nice to talk with Jeremy again but I left him at the main road into Waipu where he started hitchhiking.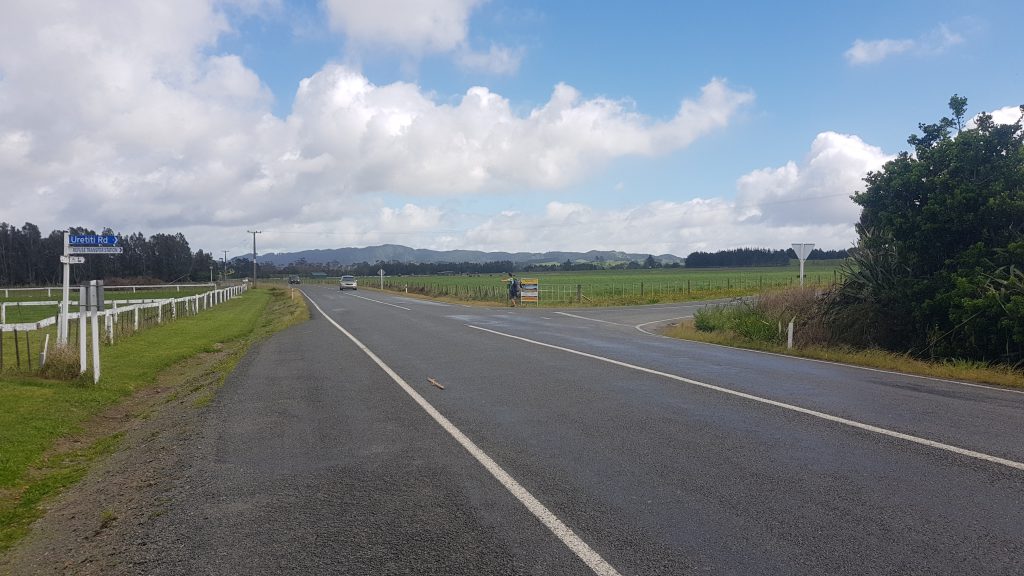 And soon it was 11am. At that point I was at this narrow bridge that I had read about. It's a typical "built for cars with absolutely no consideration given to pedestrians" bridge. So at 11am I was here at the start of it, waiting for a break in the traffic so I could race across and not die.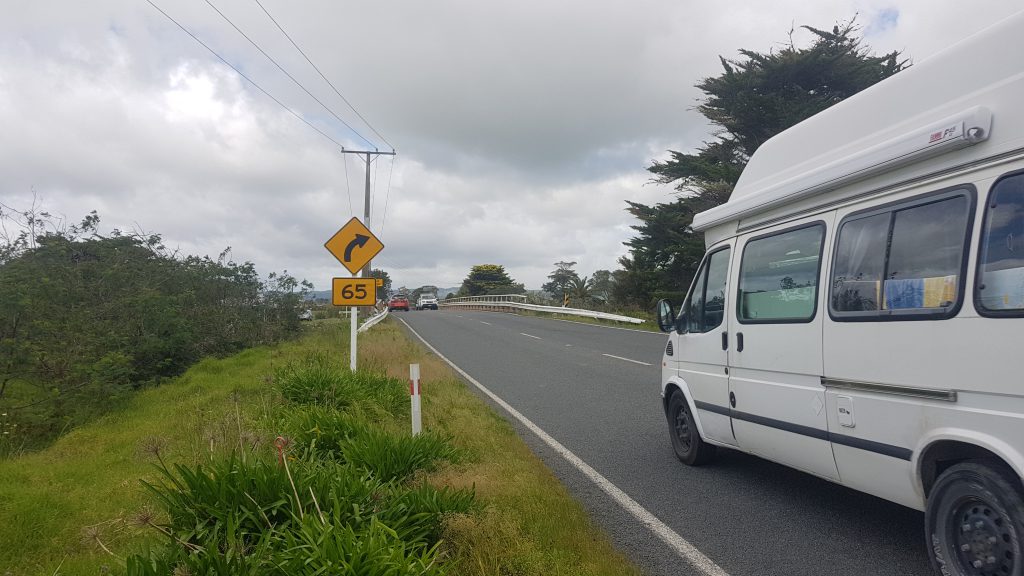 The strategy was to move to whichever side you could see cars coming from better, wait until no cars were coming on that side, then run for your life across the bridge. It wasn't actually too bad today, a Tuesday morning. If it had've been a long weekend, it would have been scary. This is the main road into Waipu and a lot of the upcoming beaches from the north, so it can be very busy. At least after this there was a footpath, which was nice.
It wasn't much longer before I got to Waipu. There is a big Scottish influence here.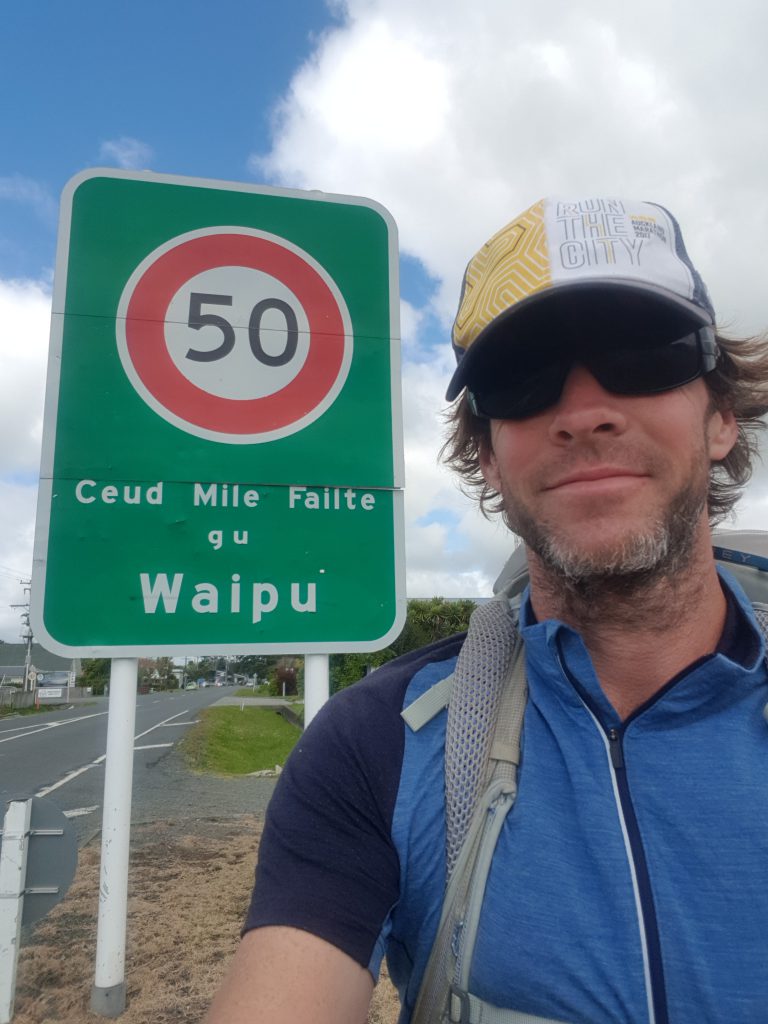 Not long after the entrance to the town, the footpath magically stopped.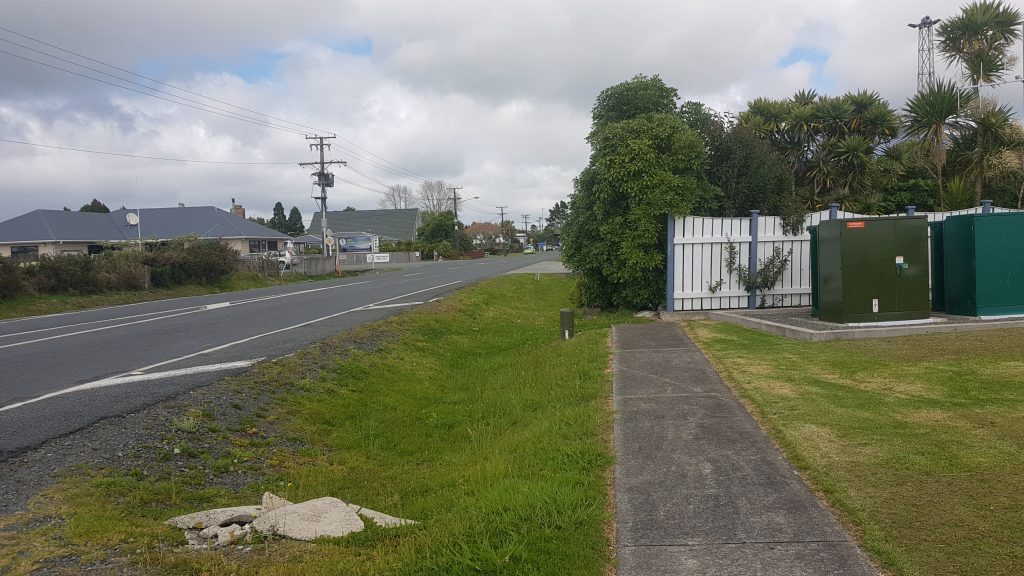 I've been really surprised at the haphazard footpaths in New Zealand. They seem completely arbitrary and start and stop for no reason. If I were mayor, a footpath on all roads would be compulsory. At least within and near towns.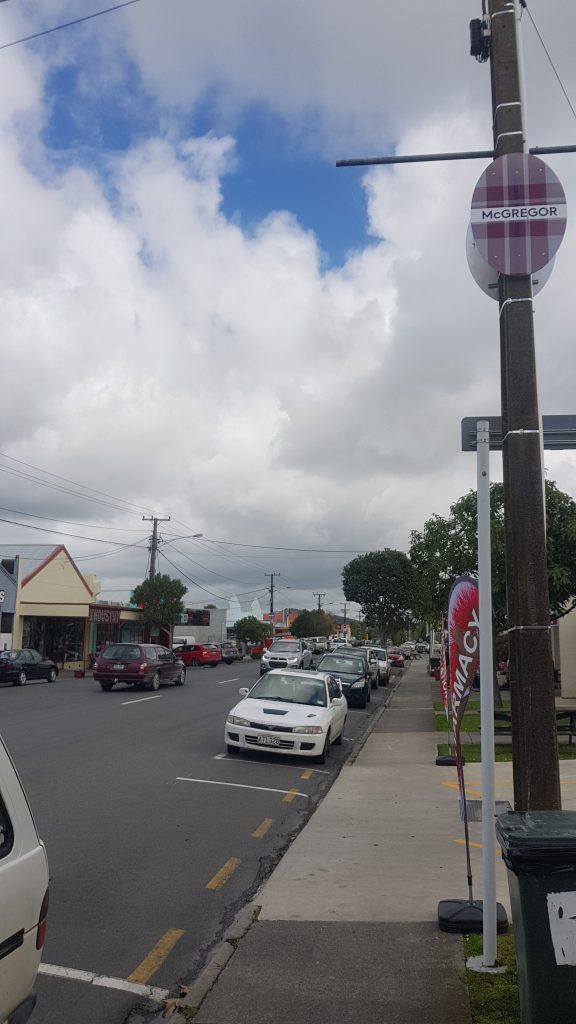 I stopped at the nearby bakery and stuffed my face. And as I was eating, the rain started pouring. Looks like I've avoided getting wet again. I am so lucky. I don't know how I keep doing it.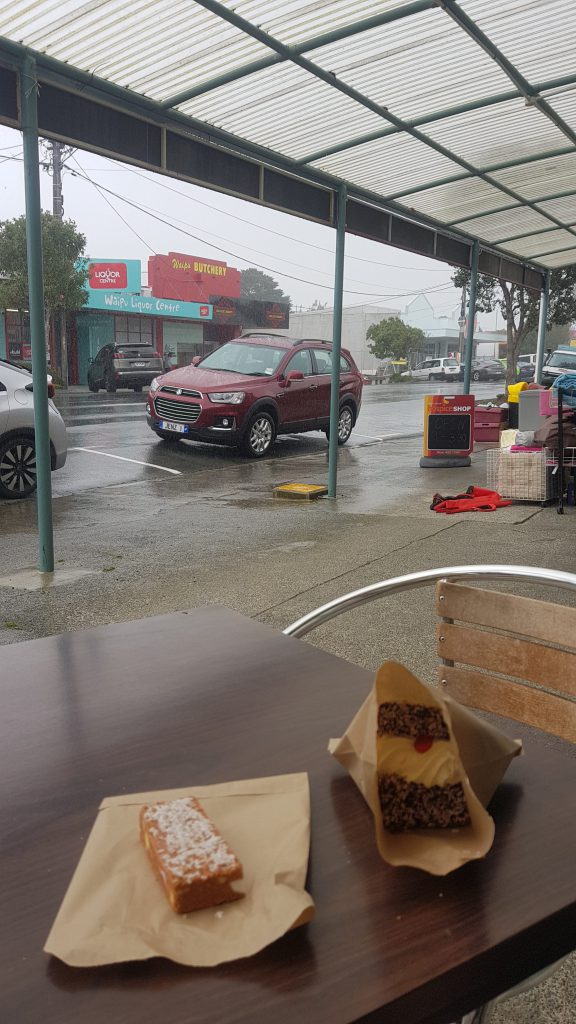 The Waipu birds here don't mind getting up close and personal when they think you're going to give them something.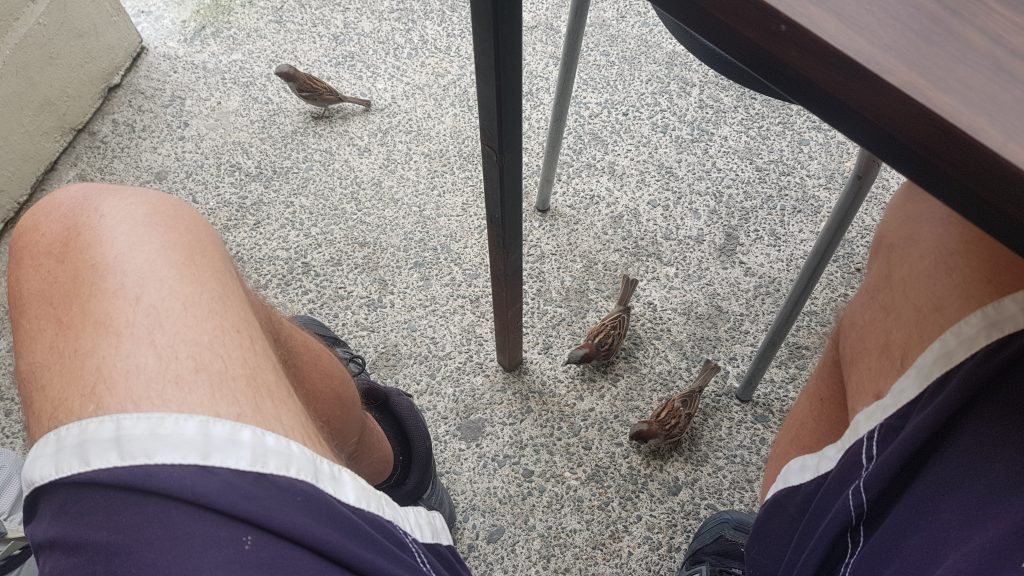 After lunch I spent over two hours writing up blog posts while waiting out the rain. Next stop is Waipu Cove, 8km away, and I bet I'm going to get wet at least some point on the 8km. The rain is really start-stop-start-stop today, but when it starts it rains hard.
But right now the rain has cleared. QUICK MAKE A RUN FOR IT!!!!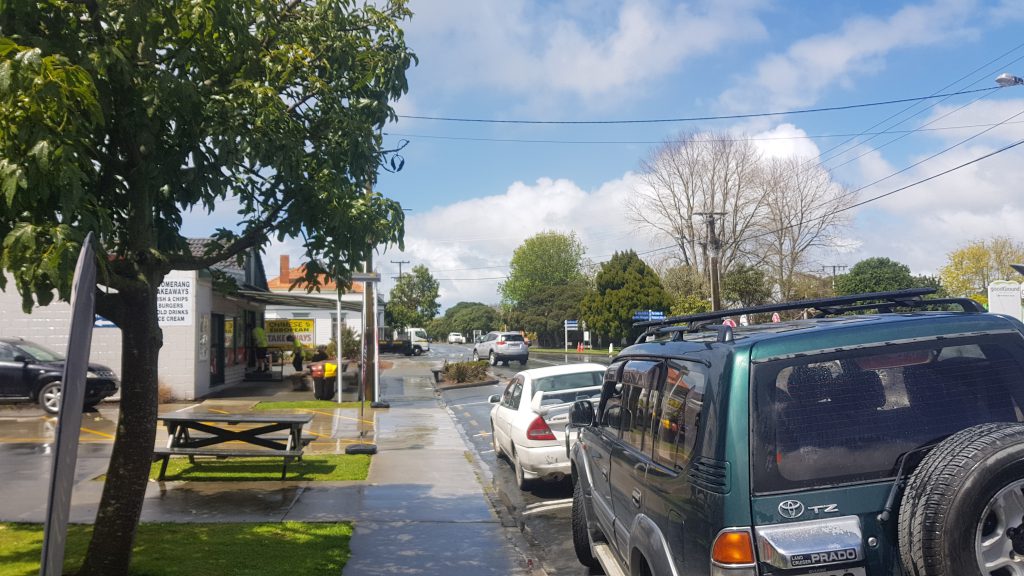 I quickly grabbed my stuff and said goodbye to the Scottish bagpipe player and headed out of town.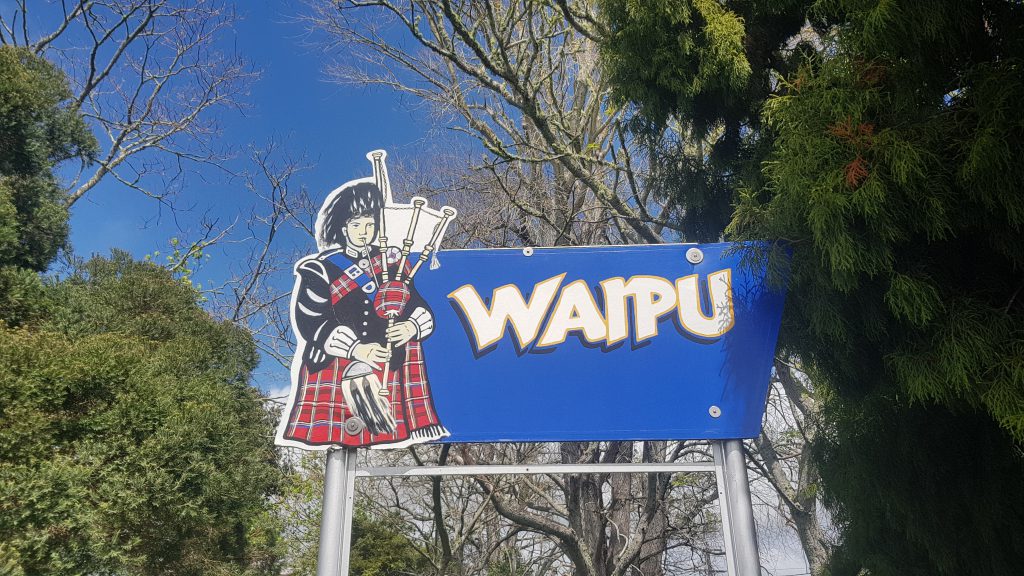 I wasn't looking forward to walking on the road. From memory having driven on this road, it's narrow and fairly windy like other roads I've walked on, but quite a but busier. So I was pleasantly surprised there was a pedestrian walkway to the left of this narrow bridge just east of Waipu.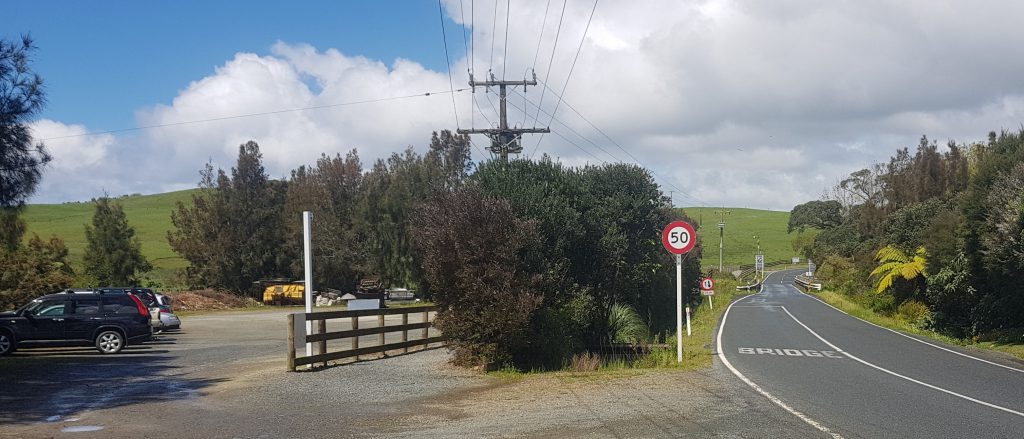 And then that turned into a fully-fledged cycle trail.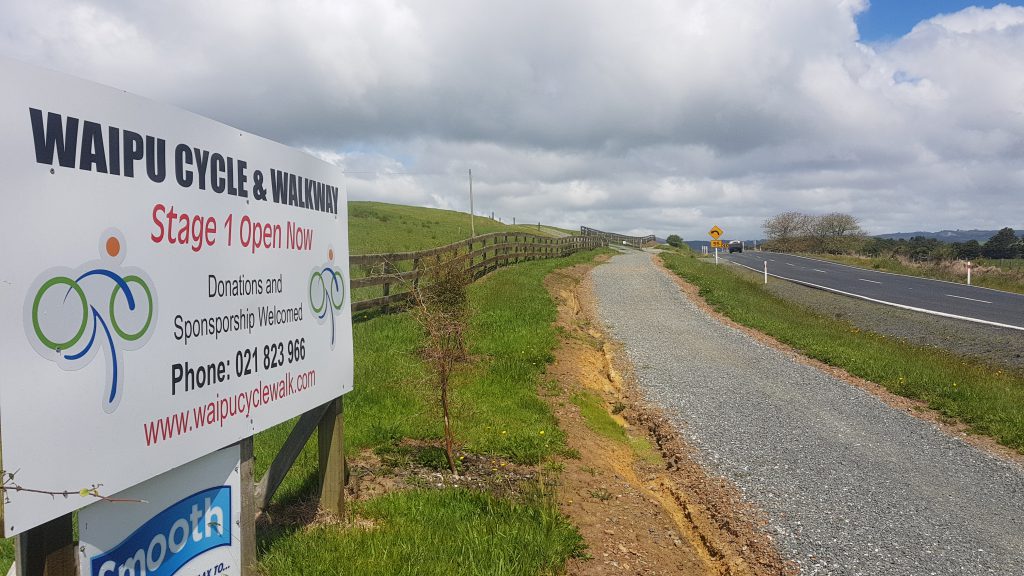 However of course, the nice cycle trail lasted only 20 minutes or so, then it was back to narrow road walking and moving to the side and waiting for cars to pass.
And, more silly footpaths that go nowhere.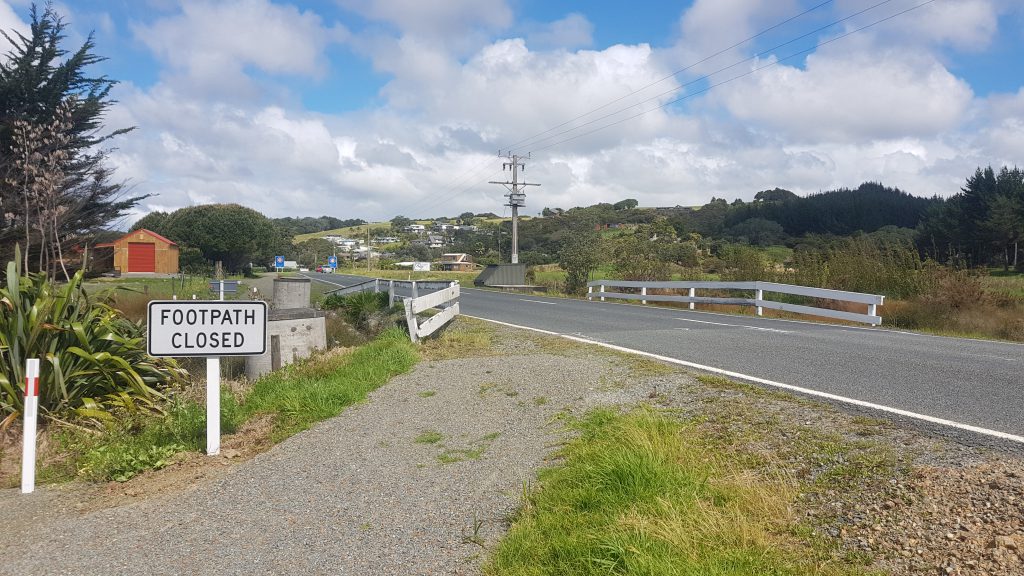 I didn't stay completely dry. There was a little bit of rain, enough to make me stop and put my rain jacket and pack cover on, but not enough to get too wet. Given how much it actually rained in total today, I consider that a success.
Got to Camp Waipu Cove eventually. It's a bit off the trail but my foot is hurting a fair bit now.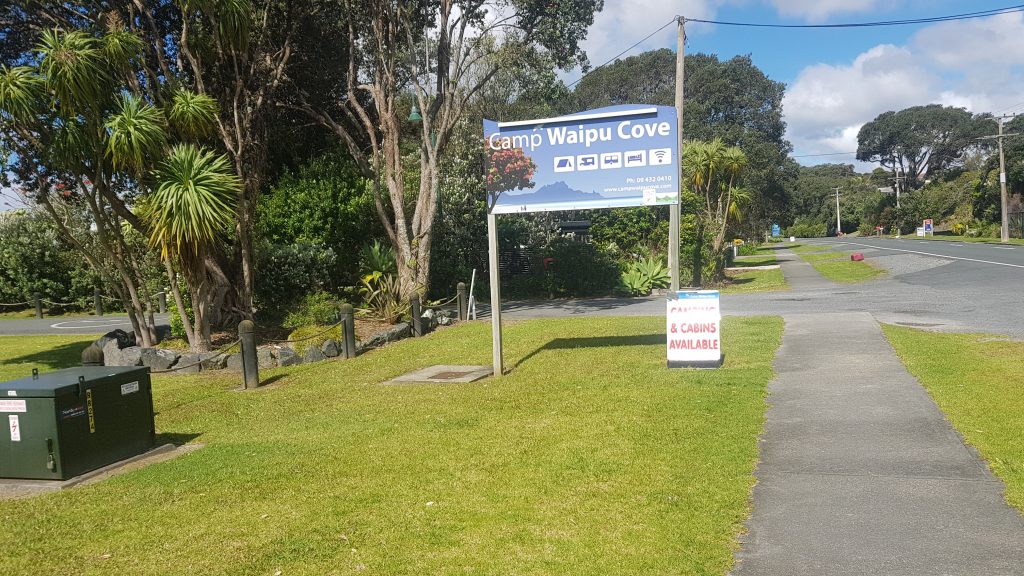 I checked into something called the "surf club bunk house". It's a little building which has four rooms, and each room has one or two bunk beds (two or four beds). Given that the actual surf club is right next door, I guess that this is where the off-duty lifeguards stay in the summer when the club is manned. The room is very basic, but I have it to myself and I should be protected from the high winds and stormy weather scheduled for tomorrow.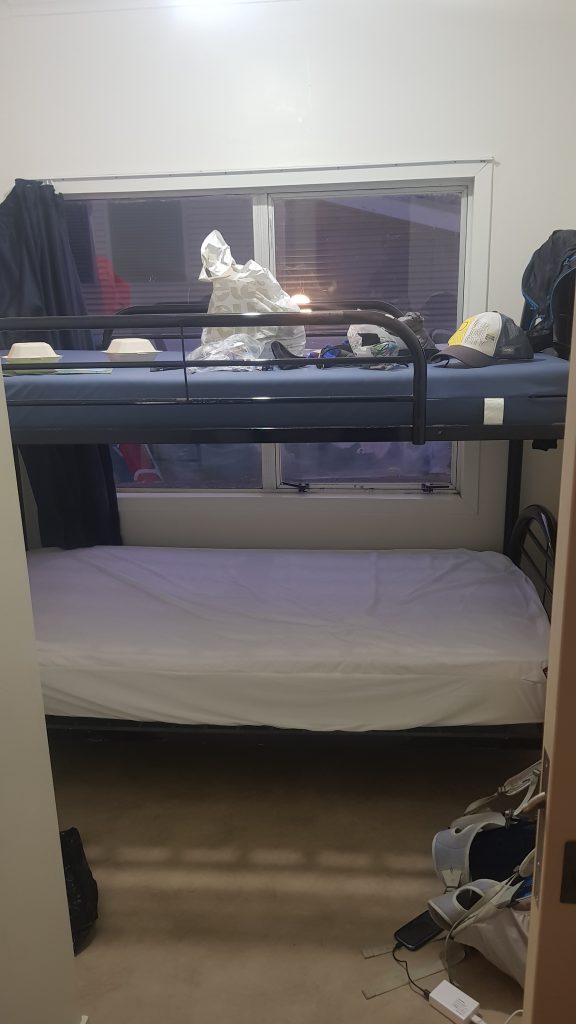 As well as the four rooms it has this miniscule common area. A two-seater couch for a building sleeping 10 or 12. Not very luxurious.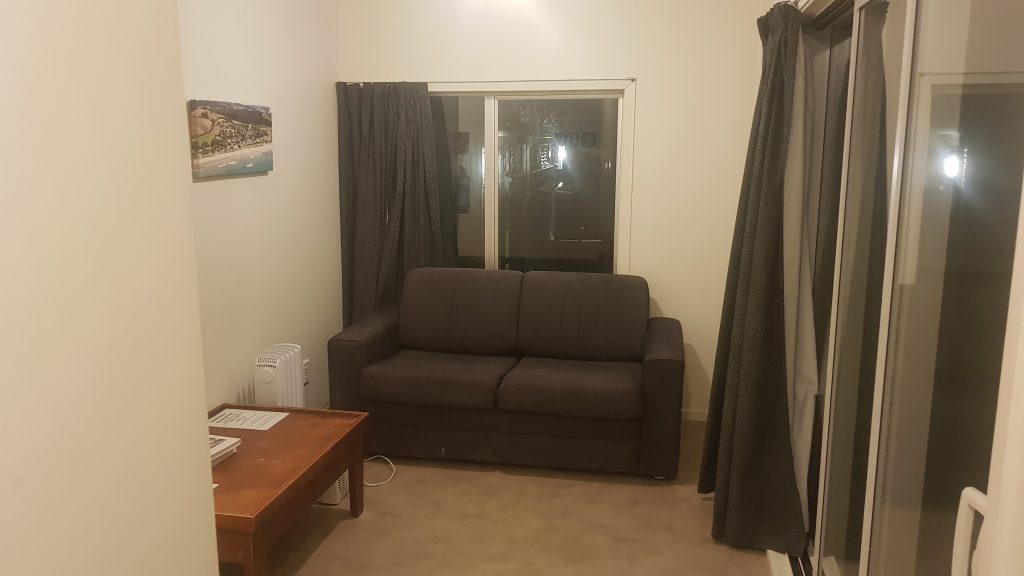 And wouldn't you know it… Nick and Robert were here too! And Ralf nearby in a private cabin, and Frederick in his tent. Now we have all the crocs together.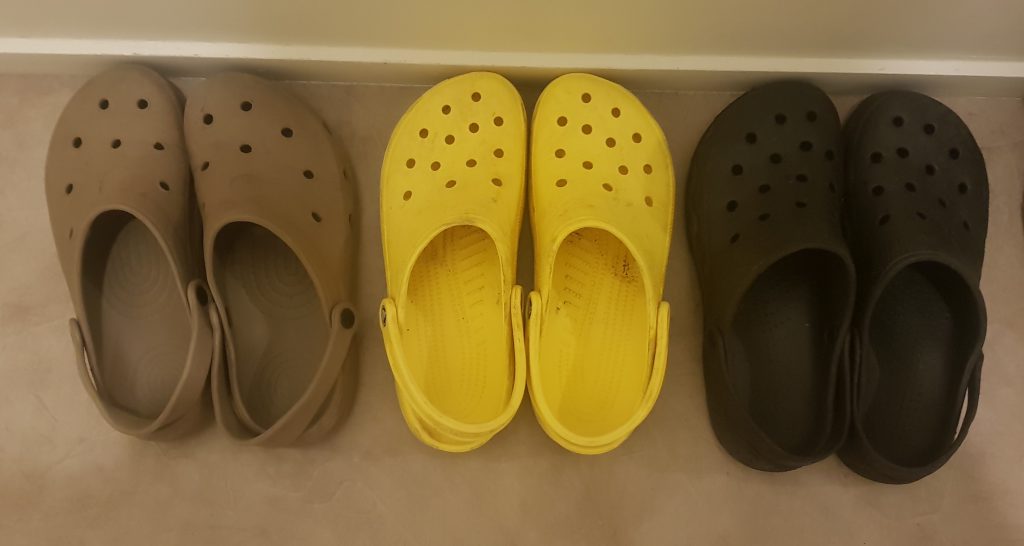 But, shock horror, Nick's and Robert's crocs arent genuine crocs! I only just worked that out! Theirs are cheap knockoffs, they said. Although they work just as well apparently, and in fact they're lighter than my genuine crocs, so I can't really blame them for choosing those.
Ralf and I went to have dinner at The Cove Cafe, and a drink as well. I love my stout beer and they had two to choose from which is rare.
Then I grabbed a cronut for dessert, as they were recommended to me by someone on Facebook.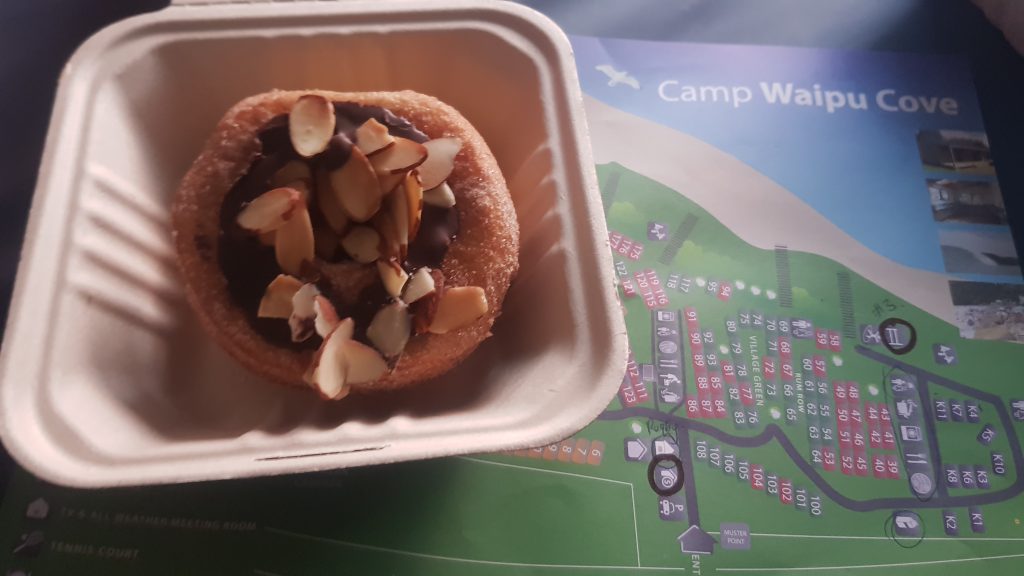 Now for bad news again. My foot hurts again, quite a bit. I've booked in for two days at this campground so I will have a least one rest day. It hurts quite a bit less than last time when I had a week off, and a different part of the foot hurts this time, so hopefully these are good things. But it means I need to take it easy for a bit. You would think I would have learned the first time.
All the others are moving on tomorrow. Maybe some other hikers will show up. If not, then with the bad weather and the crappy phone reception, I could be in for a boring day…
Today's walk on the map (blue = Te Araroa, red = today's walk):