Date: 28 October
Distance walked: 17.8km
Trail covered: kms 498.1 to 516.1
Weather: hot again
New card games learned: 2
How bad did I suck at both of them: immensely
Last night the barking dogs or the partying people weren't a problem… but this morning I did wake up to "nature". Cock a doodle doo! Squawk squawk squawk! Bllebekldldrbghj! Nature is nice but it sure is loud.
On the plus side I did have a dry tent. It's weird, when I camped in the gorse the other night the weather conditions seemed exactly the same but my tent was saturdated. This time it was dry. Maybe it rained during the night the other night and I just didn't realise.
I really wanted coffee even though I haven't had any coffee for a while and most days now I don't feel like I need it. I woke up feeling a bit under the weather today.  Maybe I'm getting scurvy from eating no fruit or vegetables. The coffee helped though.
I had my breakfast next to this bunch of goats.
I sat there eating my porridge and I did get a fright when I heard a noise above my head. It was a goat trying to eat a bamboo stick which was up high. And when each goat had finished its turn, the next goat would have a try. And the goats all had scary looks on their faces.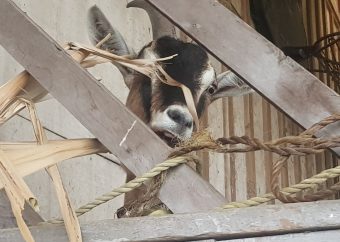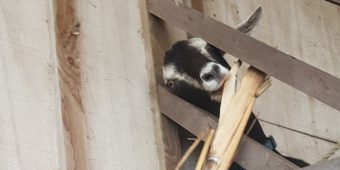 Even though I've had a shower, my blue shirt is getting to the stage where it looks wet before I've even put it on, and it smells disgusting. Each day I sweat so much because of the heat, and my shirt ends up completely drenched because of it. Over a week this adds up to a really disgusting shirt. I am really looking forward to washing my stuff, but that won't be for a few days yet until I get to Auckland.
Very soon after we left the farmstay, it was the 500km mark. It was on a gravel road that seemed uninteresting at first, but it had a very cool name.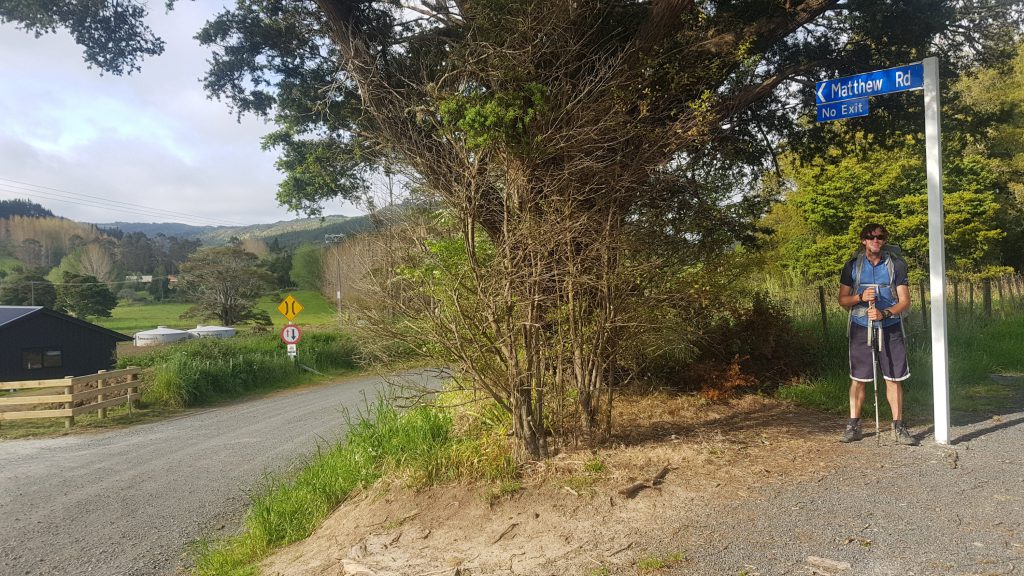 We marked the occasion by arranging our hiking poles creatively. Louise has cool yellow ones which fold into three parts like some tent poles, so those made great zeros. Luckily no cars came while we were doing this.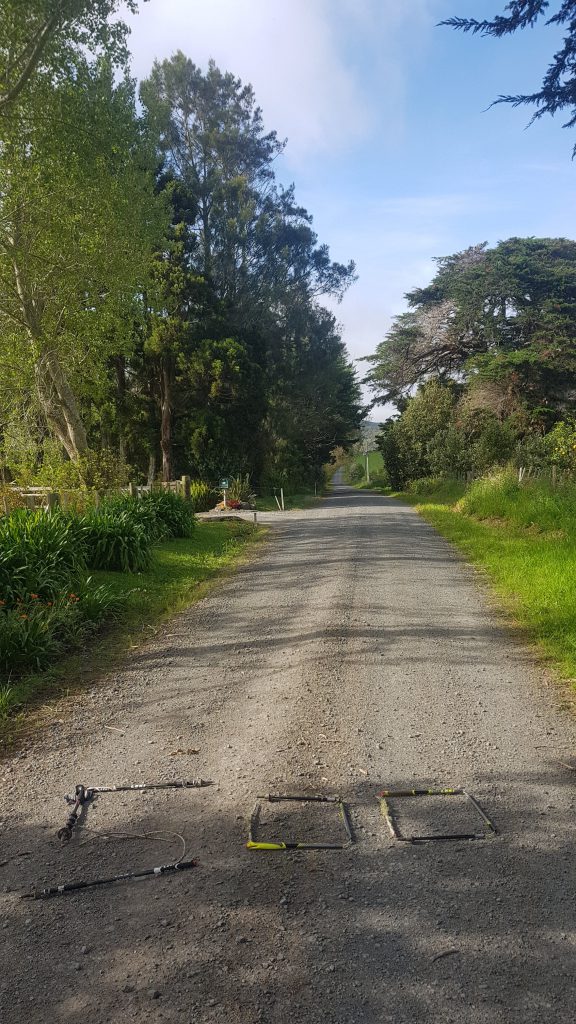 We thought today was going to be relatively straightforward, but as has been the theme recently, there was quite a steep uphill forestry road at the start.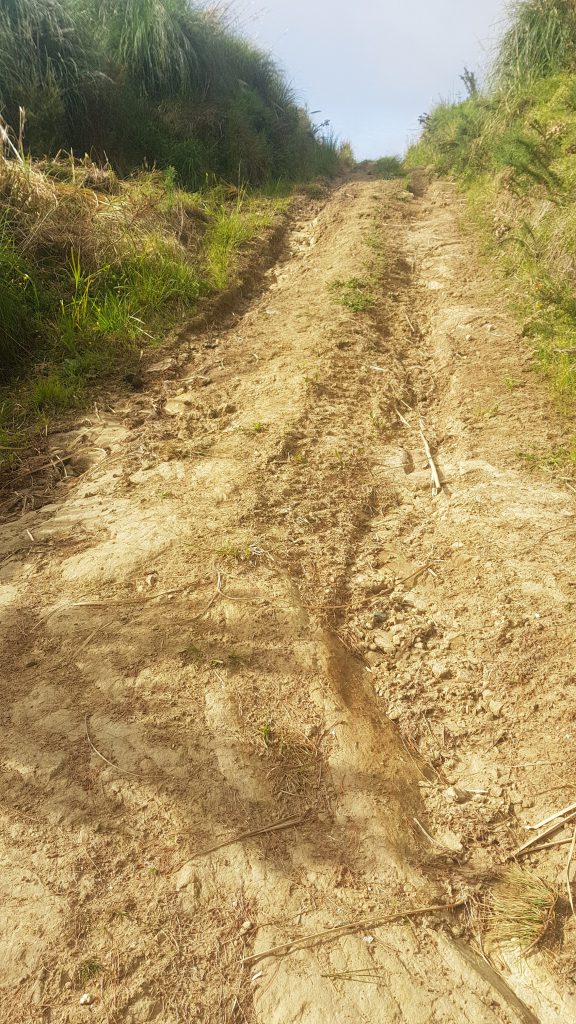 At the top we stopped to admire the view.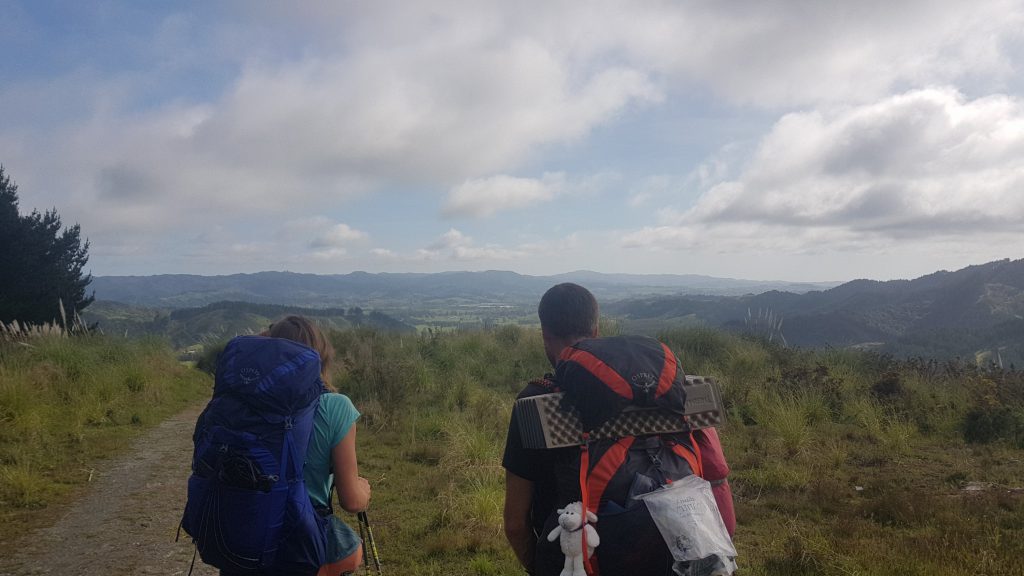 And shortly after we came across a little horse with the coolest haircut I have ever seen in my entire life. I wish I had my hair like this.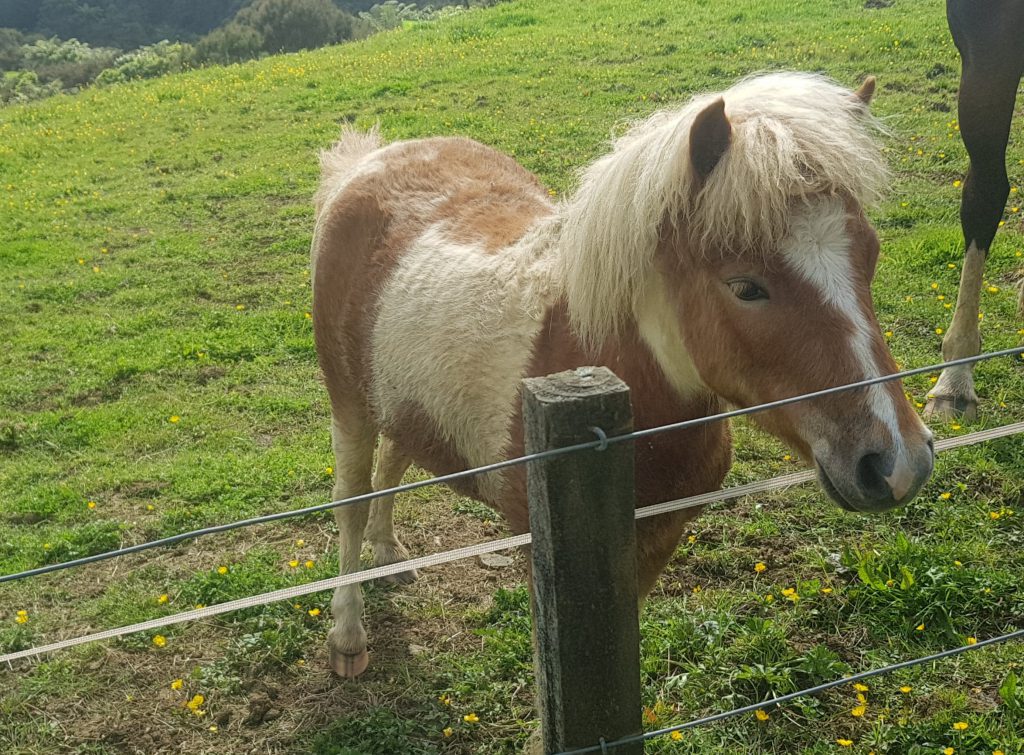 This point marks the actual top. Once you're here it's easy going.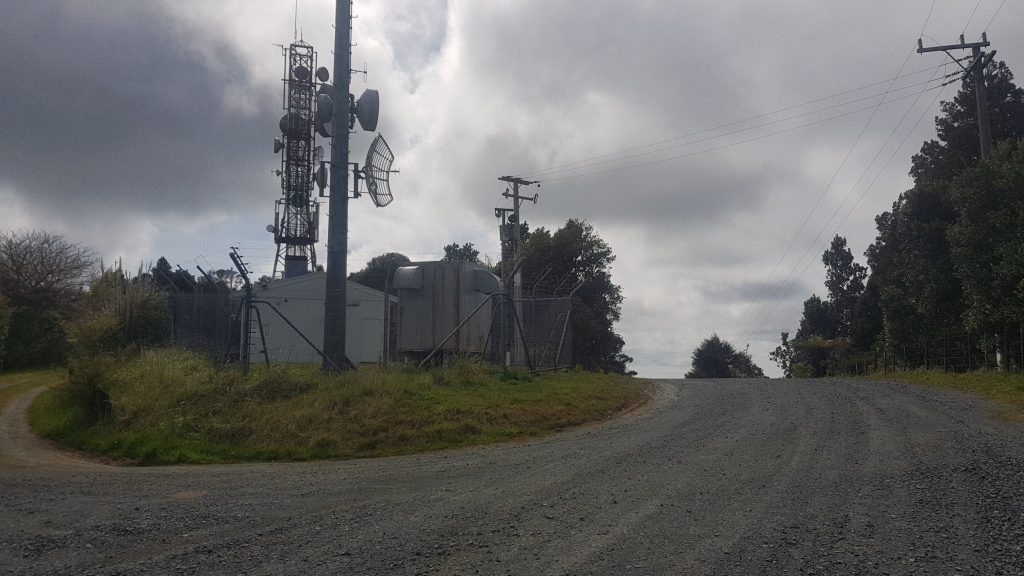 We stopped here for some lunch. Time for the final cheese check. Day 5 and the cheese is starting to sweat a bit but there's no sign of mould and it still tasted great.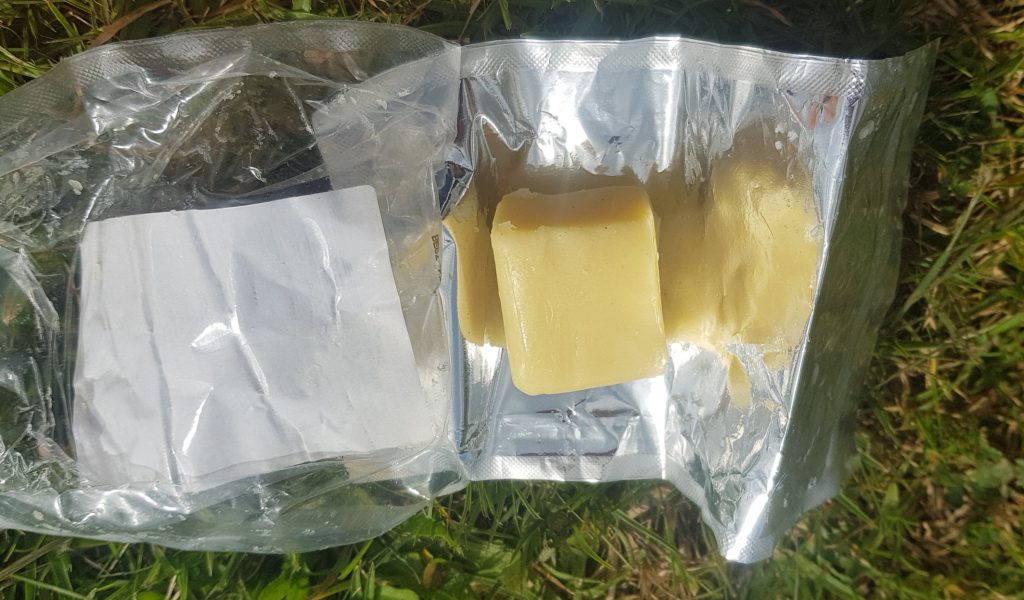 Also the chocolate report. They were fine too, but something has been eating them. Must be possums.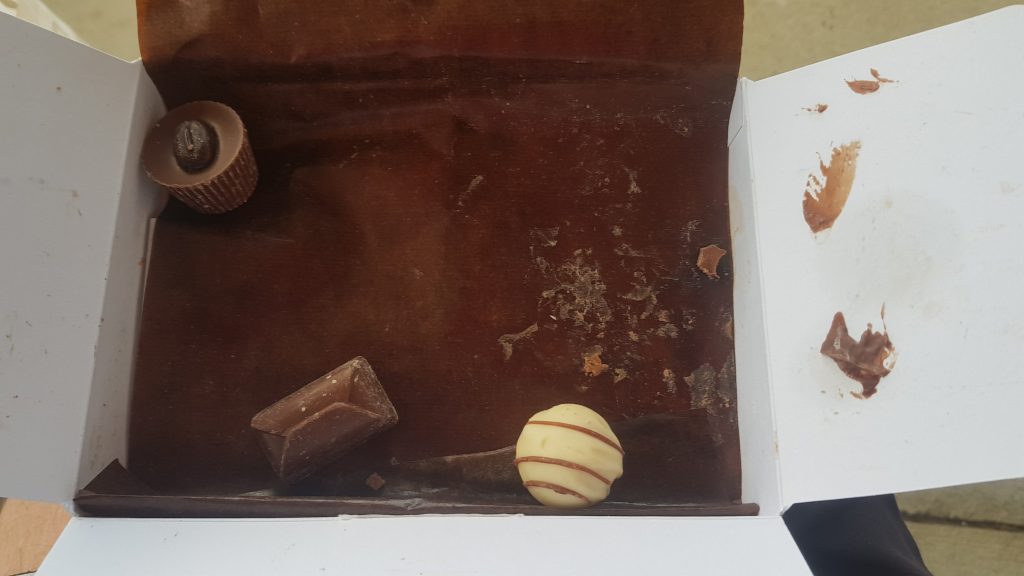 My 11am picture was walking up this bit of farm track which I would have missed the turnoff to as I wasn't paying attention. Paulina is looking at me wondering what on earth I'm doing taking a photo of such an uninteresting piece of the trail.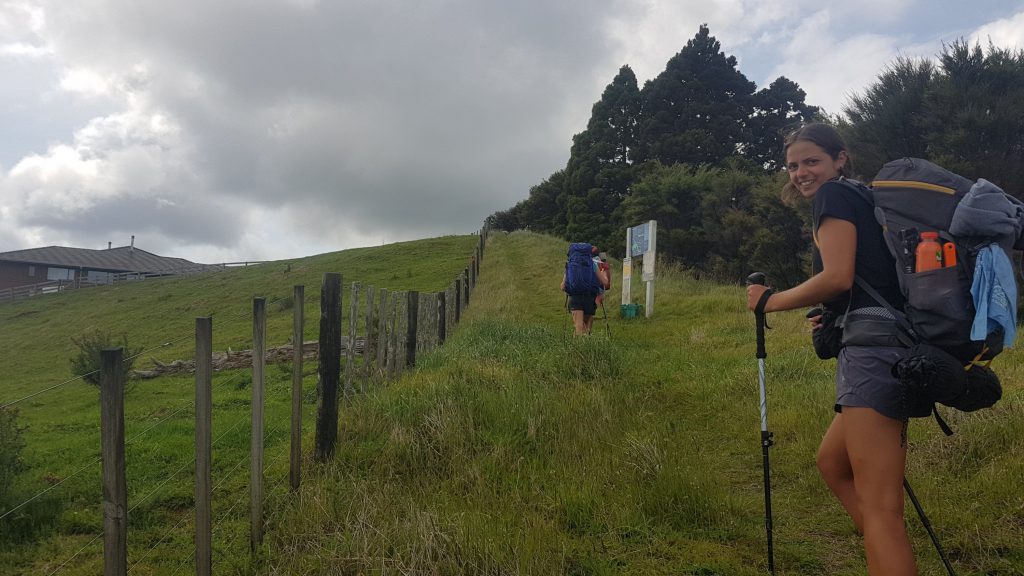 This farm had some big bulls. Some of the group were a bit nervous of them, but I went forward and pushed past them.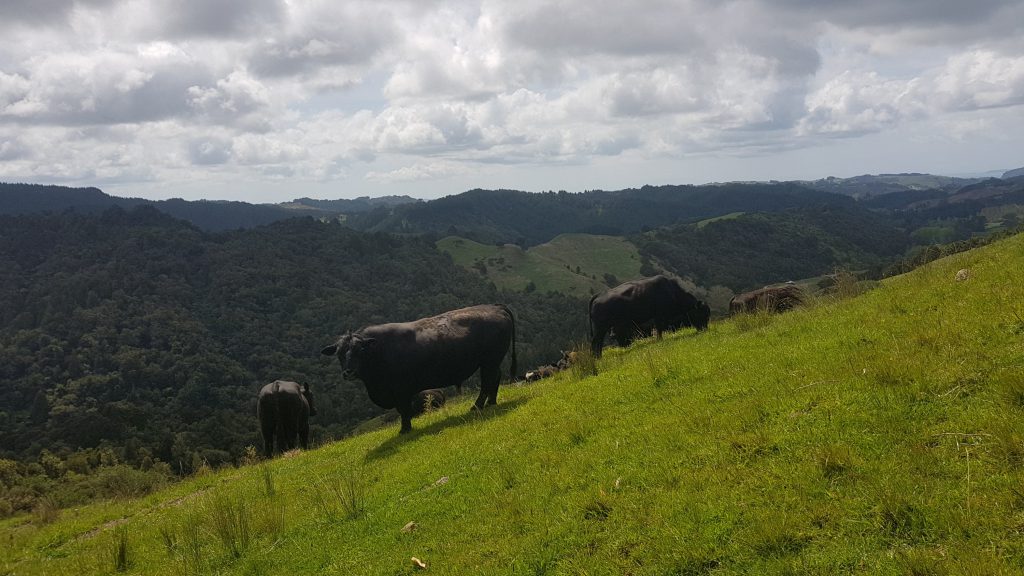 However in my efforts to lead the group away from the bulls, I did accidentally lead us over a stile which didn't have an orange marker on it. This meant that a bit further on we had to climb back over the fence which had barbed wire on the top of it. I nearly ripped open my pants on this wire. Don't climb the stiles if they don't have orange markers!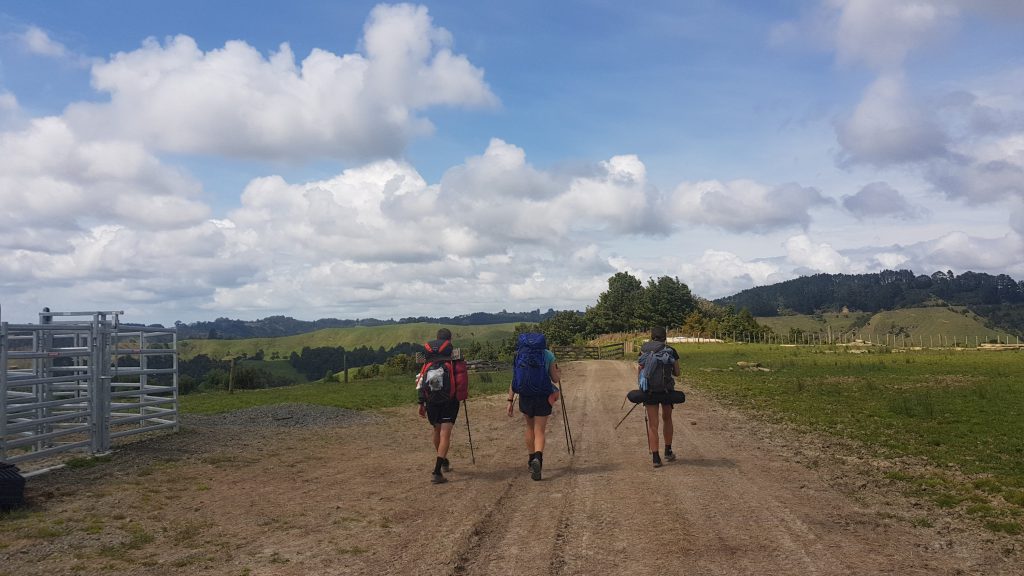 This farm had some of the most chilled out cows I've ever seen.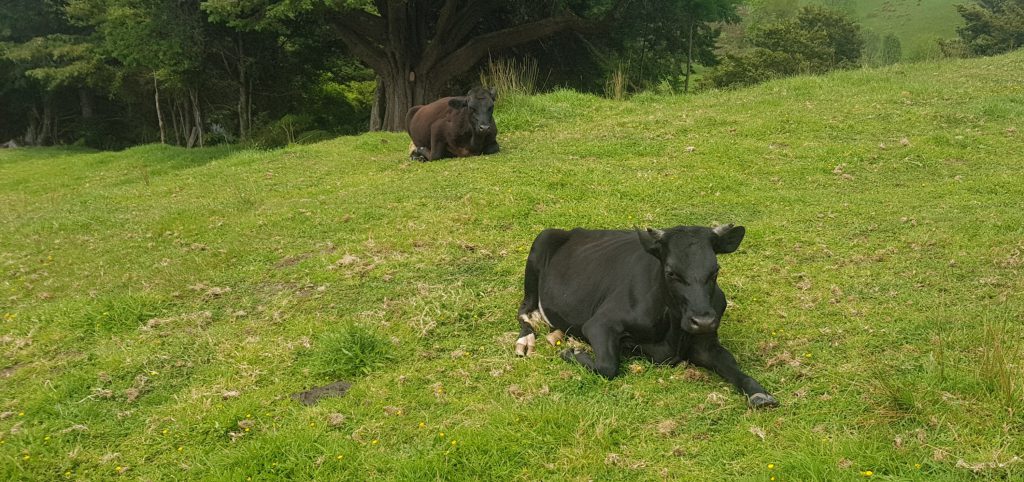 Just past this farm was this campground – the "Remiger Road" Conservation Area. This was a full DOC campsite complete with a toilet and a great bit of flat grass to camp. This didn't appear on any of the apps, and I don't believe it was on the trail notes. I really wish I had've known this was here.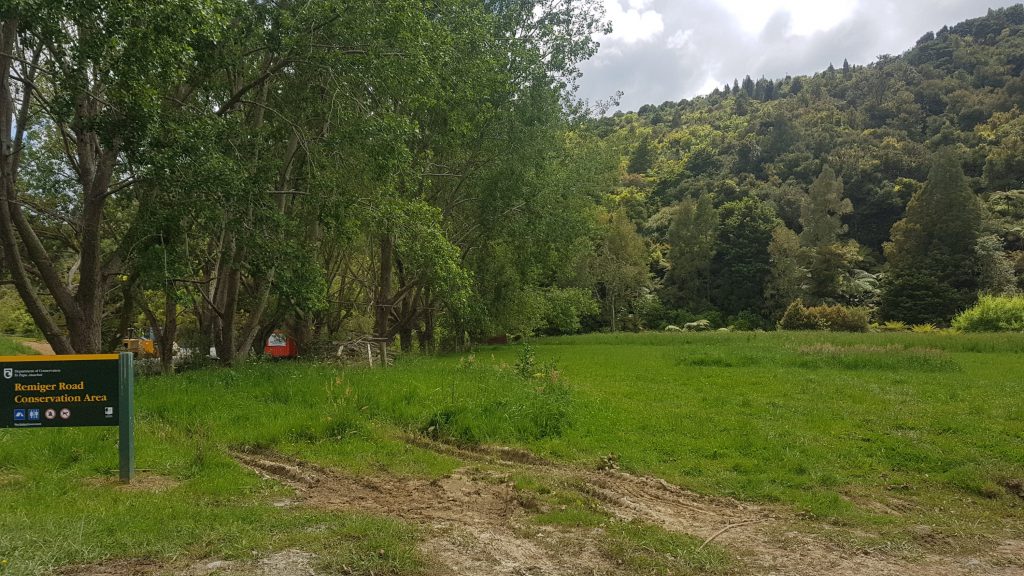 There was also this sign. Word must be getting around that I have a fetish for strange speed limit signs… because this is just taking the piss.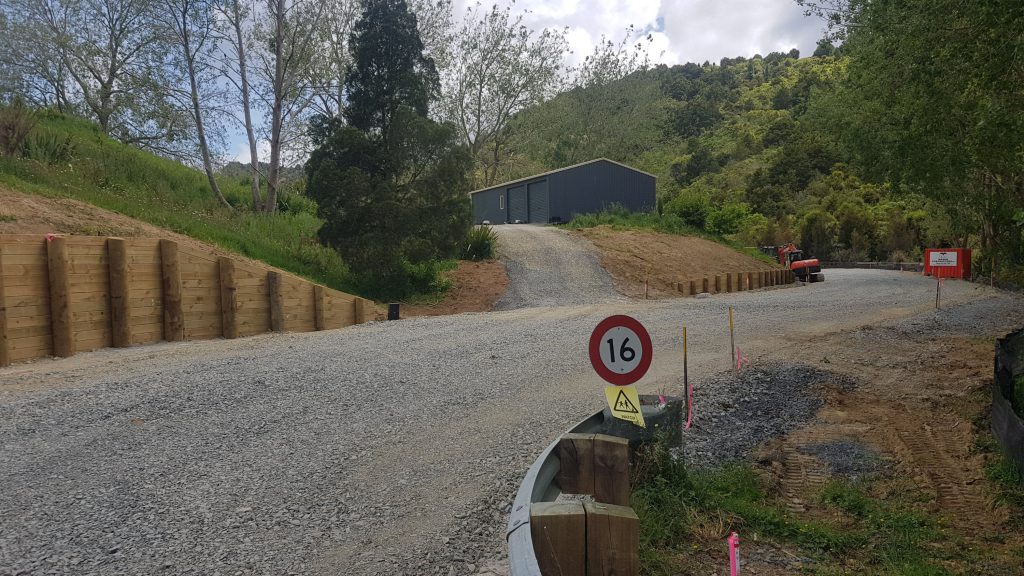 And we saw this sheep which looked like it had escaped mid-shearing.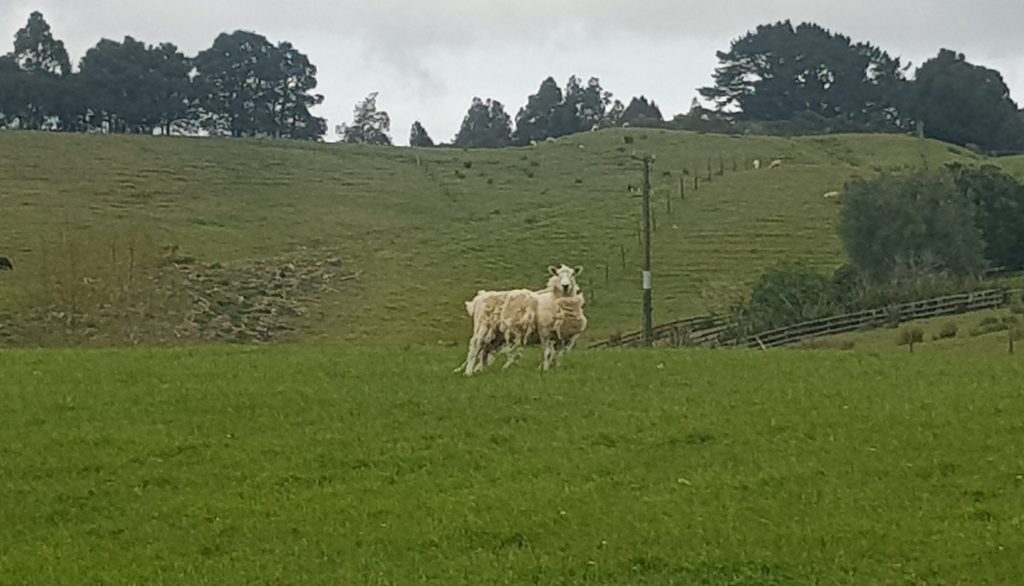 There was a swingbridge soon after which took us into the Puhoi Track. I think the French couple hadn't seen this type of bridge before, judging by their reaction and their excitement walking over the bridge.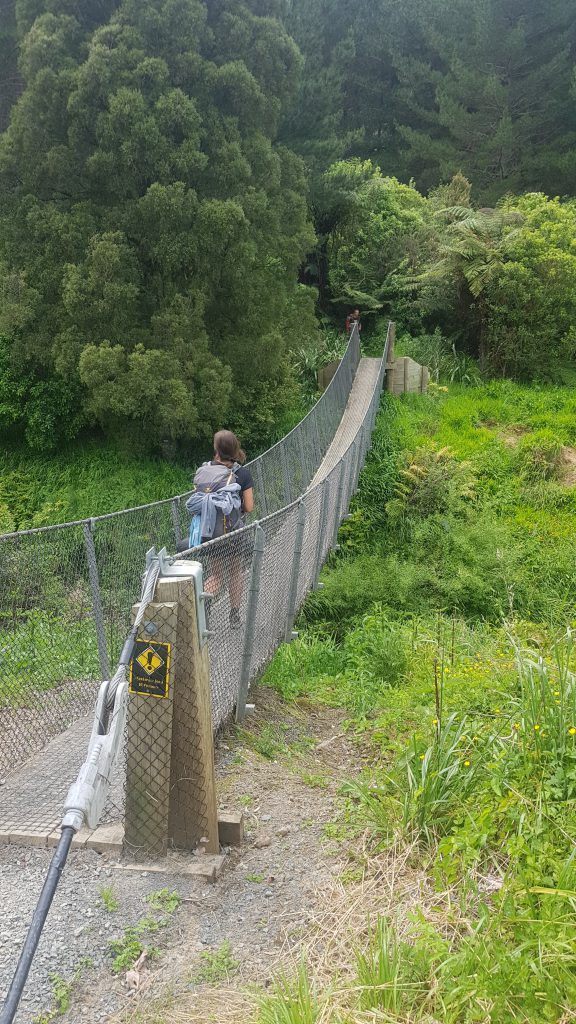 There were a few other people on this track, which you don't see a lot of. There were a lot of stairs here, and it was quite a long track. It was generally a well formed track but there was the usual gorse section at the Puhoi end.
I didn't know what sort of town Puhoi was, but I definitely thought it was bigger than this: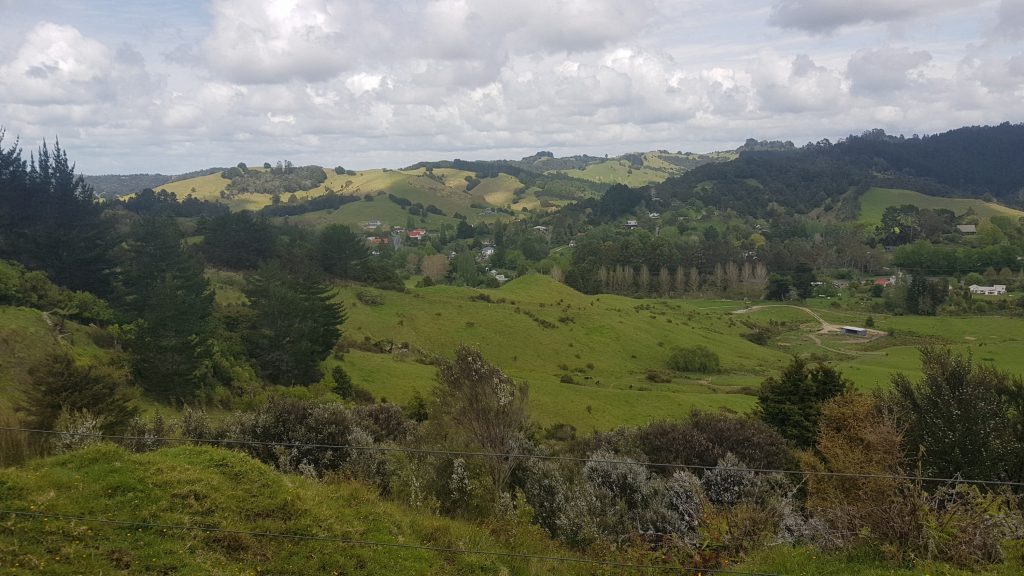 Coming into the village it was straight to the village store. I seem to have forgotten my time at Matapouri Dairy a week or so ago, where I said I would always get fresh fruit and one treat. This is what I got instead: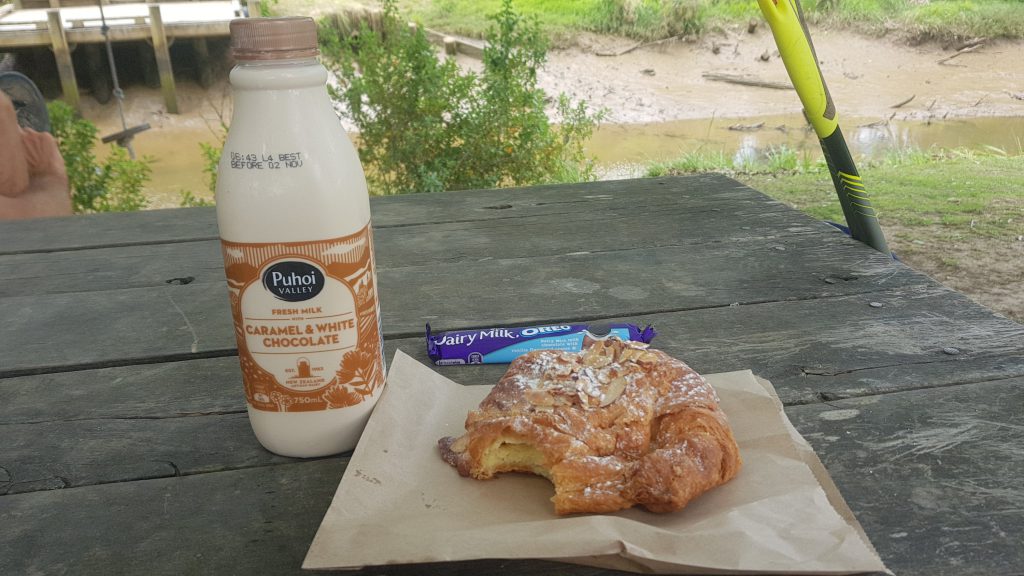 It tasted so good.  We all sat down and ate some food, next to the Puhoi River which is what we would be kayaking tomorrow. Although at low tide, it looked quite unimpressive.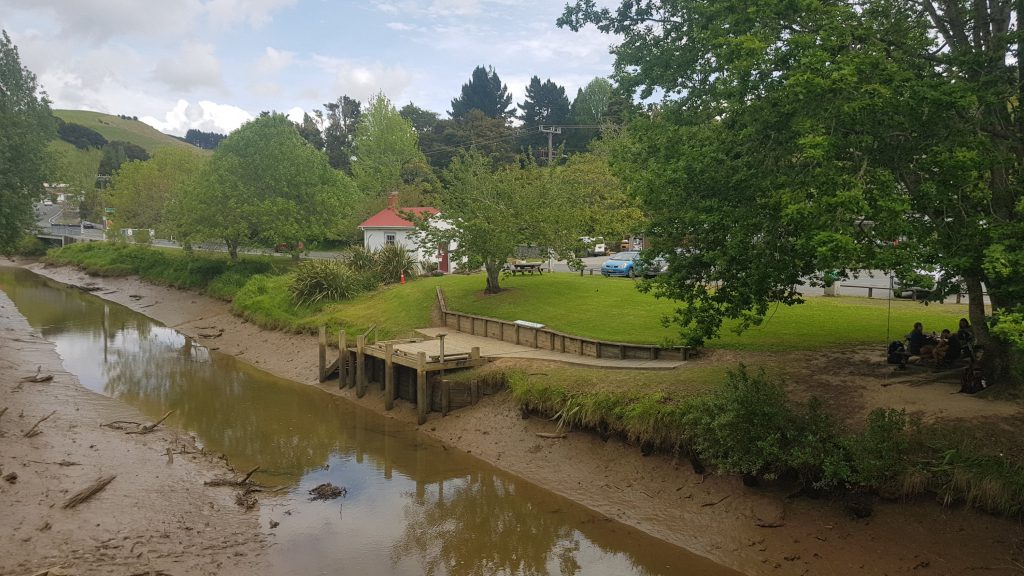 We were looking forward to going to the pub across the road, but it was only 2:30pm at this time and we were worried that if we arrived at the pub this early, we would be drunk and broke by the end of the day.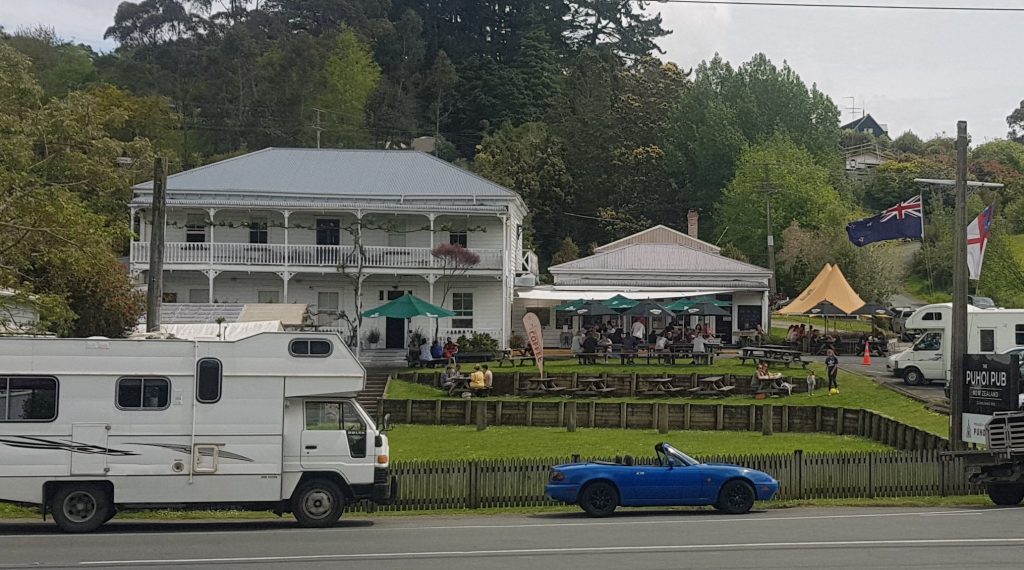 It was very busy at the pub today because it was Labour Day, and a beautiful sunny day again.  We waited until about 5pm before making our way over, and at that time most of the crowds had left. But not before I changed my shirt – no way was I going to wear my stinky and gross blue shirt into this place. I introduced the group to Monteith's Black, which is one of my go-to beers if there are no stouts.  Unlike my Auckland friends, they were all willing to give it a go!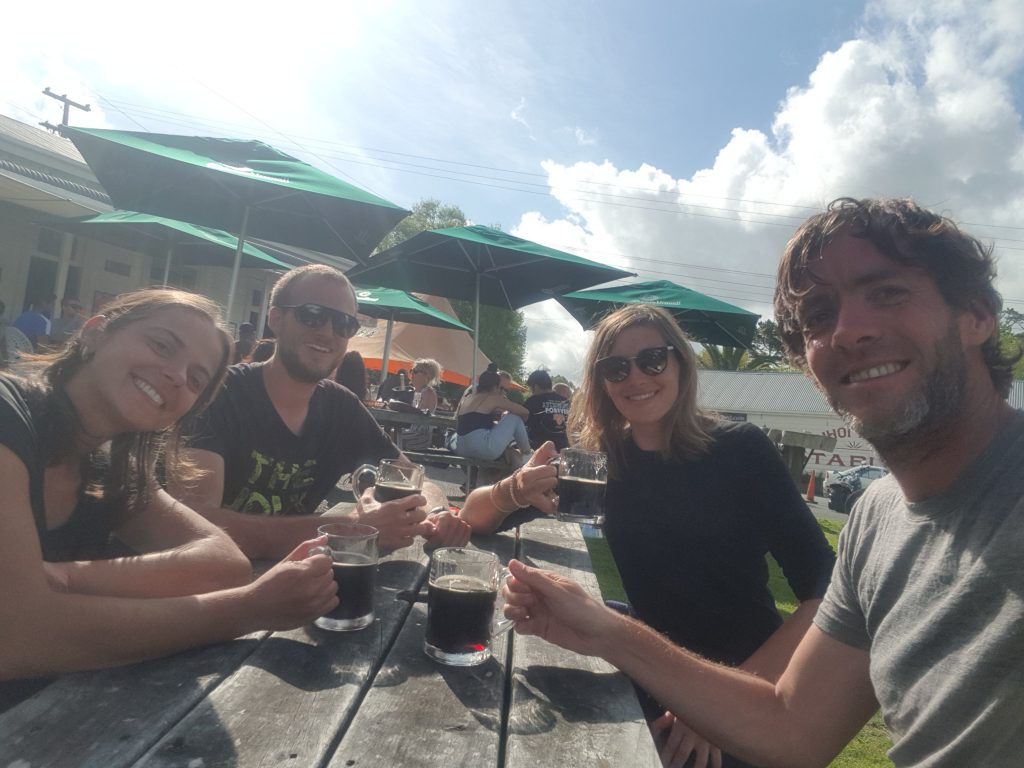 We had three beers in total, and we each had a burger. We also got wedges and a bowl of fries to share. And then the people at the next table also gave us the remainder of their fries, which it looked like they had barely touched. So this was definitely one of those days where I consumed more calories than I used up walking.
To fill in some time Benjamin taught us all two card games. I thought I was good at card games but I sucked badly at these two games, even though I enjoyed them.
The pub was almost empty by 7:30pm and despite saying that it opened until 10, the manager (who was very friendly by the way) said he was closing up at 8:30.
In the evening, I went back to the river which was now at high tide. It looked a lot more impressive. I couldn't wait to get in the kayak tomorrow morning to do the 7km kayak to Wenderholm. We were due at 9am at Puhoi Canoe Hire which was just a few minutes' walk from here.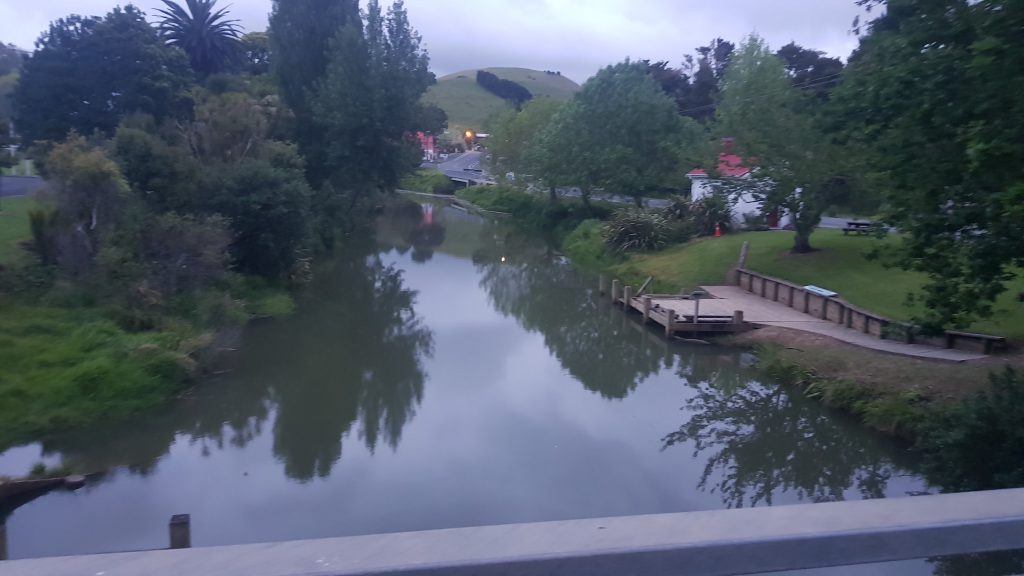 Although I did hear that my Mum and my sister were going to meet me tomorrow after the kayaking. How embarrassing, am I right!!!  😂😂
Today's walk on the map (blue = Te Araroa, red = today's walk):