Date: 29 October
Distance walked: 12.5km and distance kayaked: 7.1km
Trail covered: kms 516.1 to 534.7
Weather: short periods of rain
Number of family members that came to visit me: 2
We only had three beers each yesterday but it must have been a while since I had that much to drink because things were a bit strange this morning.
During the night I had three really unusual dreams. In the first, I found myself in my tent and when I looked to the side there was a huge gaping hole in the side of it. In the second, I was on a plane on the airport taxiway waiting to take off. I was with my friend and my other friend was the cabin crew. But the large plane taking off on the runway in front of us took off and crashed into the ground seconds later in a massive ball of flames. In the third dream, I was in a bar and everybody wanted lemons for their Coronas. I had to fight for the remaining two lemons with Tag from Friends and the office lady with the crazy haircut and dress sense from the movie Liar Liar. The office lady seemed popular in the bar so everyone seemed to be on her side and so I ended up with no lemons.
I don't normally remember dreams so vividly but last night they were really vivid dreams.
Then once I actually woke up I realised I had left my little bag of toiletries outside, so it got drenched from the overnight rain. All except my toothbrush which I found under my sleeping mat. How it got there I have no idea. I knew I could feel that I was sleeping on something hard during the night but I figured it was just a stick.
Anyway because of all this I woke up at 6am and was packed up by 7am. I went and relaxed outside the Puhoi General Store which had just opened. I got my coffee, just in time it seemed because after the very busy long weekend just gone they only had one litre of milk left. Lucky I got in early, I guess!
The Puhoi General Store is also the pickup point for all the region's school buses so a lot of schoolkids started hanging around. One kid in particular, a 12 year old boy named Dylan was very chatty and wanted to sit next to me and tell me all about his experiences hiking the Tongariro Crossing. Then other subjects he wanted to talk to me about included how beneficial the new motorway being built will be for Puhoi, details of the new Waiwera motorway interchange, and which music was currently number one on The Edge radio station. He also said that the schools in the area were several schools in Orewa and Mahurangi College in Warkworth which is where he was going.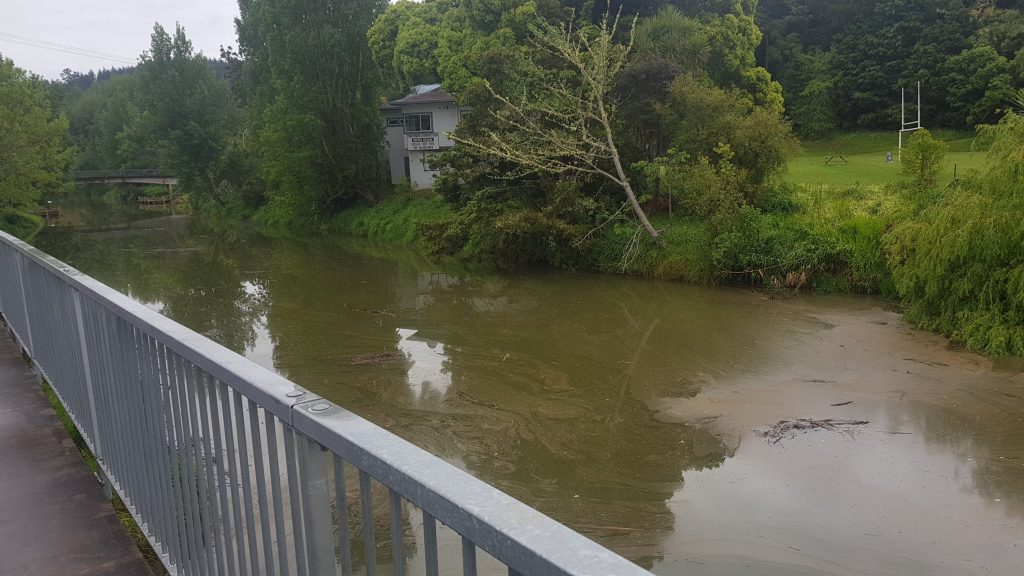 Eventually Louise, Benjamin and Paulina came to join me and just before 9am we wandered just down the road to Puhoi Canoe Hire. Despite the fact the town is tiny, we were told that the canoe hire is opposite the church and so it didn't take long to find.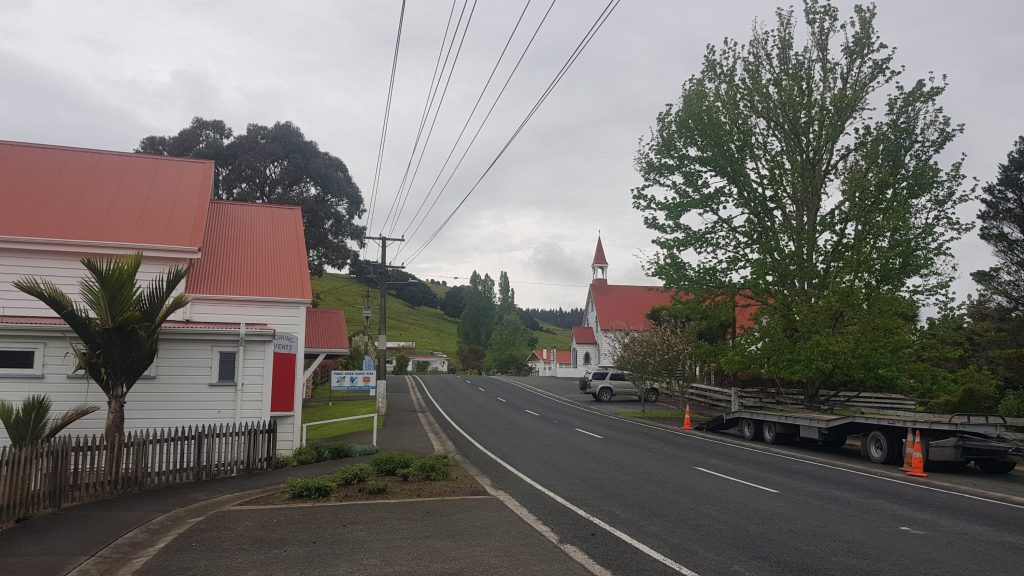 There is also a big kayak right above the entrance so you can't miss that either.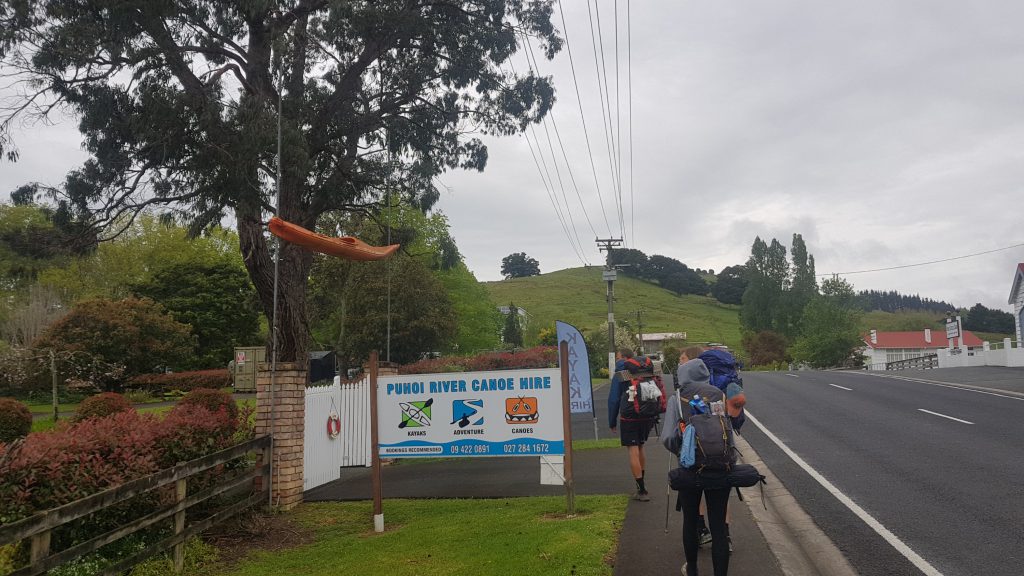 First we had to do the necessary safety briefing and sign the piece of paper saying that if we get eaten by piranhas then the Canoe Hire company is not responsible. The owner had pre-written Paulina's name as Paulini so we had a laugh and tried to decide if Paulini sounded more like a type of salami or a type of pizza.
Then we had to pay our money.  The two single kayaks were $55 each and the double kayak was $100. We wondered if the two other canoe hire companies in the area would have been any cheaper.
It started to rain just as the kayaks were being launched. But once we were in the water, the weather gods did their thing again and it didn't rain for the entire trip.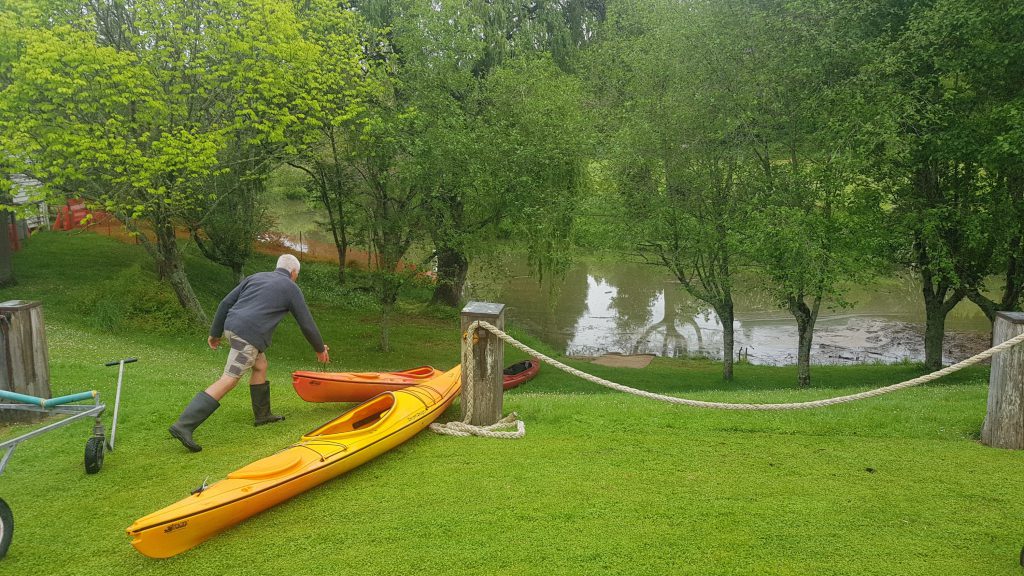 It was very nice being on a kayak. We launched at high tide and so the tide was going out, which made for an easy ride (in fact an outgoing tide is necessary to do the kayak in the first place). In the few days before, people weren't able to hire kayaks because high tide was too early. I missed the kayak from Paihia a couple of weeks ago so I'm glad I didn't miss this one too.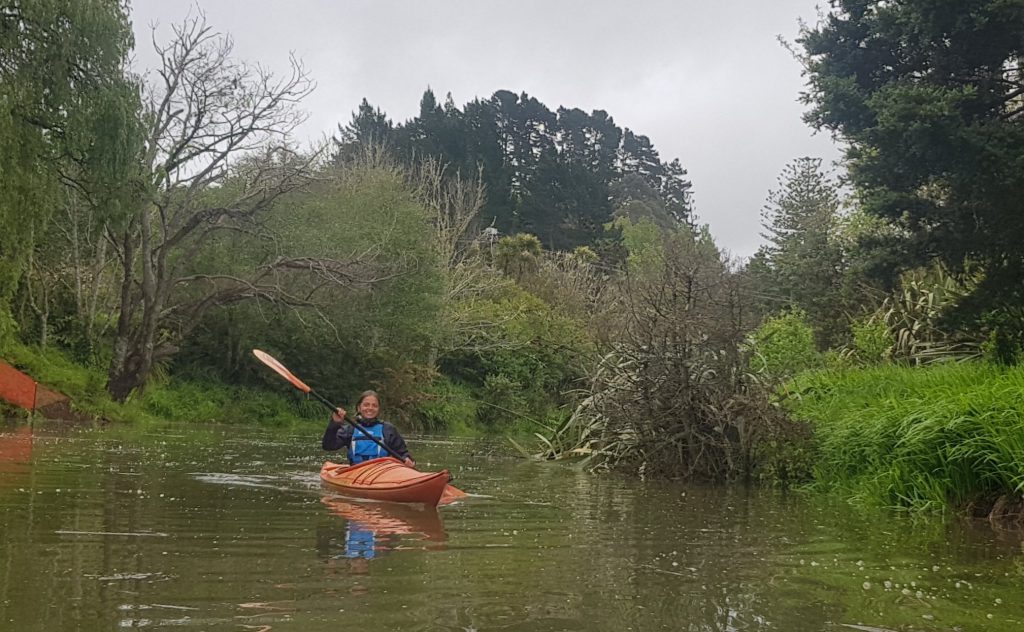 The river started off fairly narrow but it was so calm there was never any point where we felt like we could get into trouble.
The first part went under State Highway 1 and you could see where they were building the new motorway.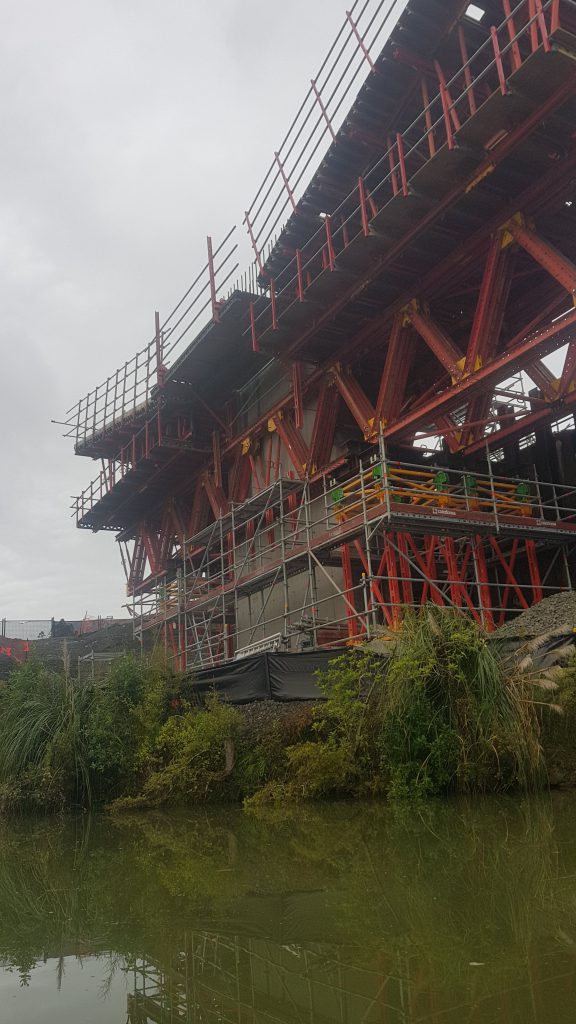 Then the trip went along State Highway 1 for quite a while, and you could hear the roar of traffic the whole time, which wasn't too pleasant.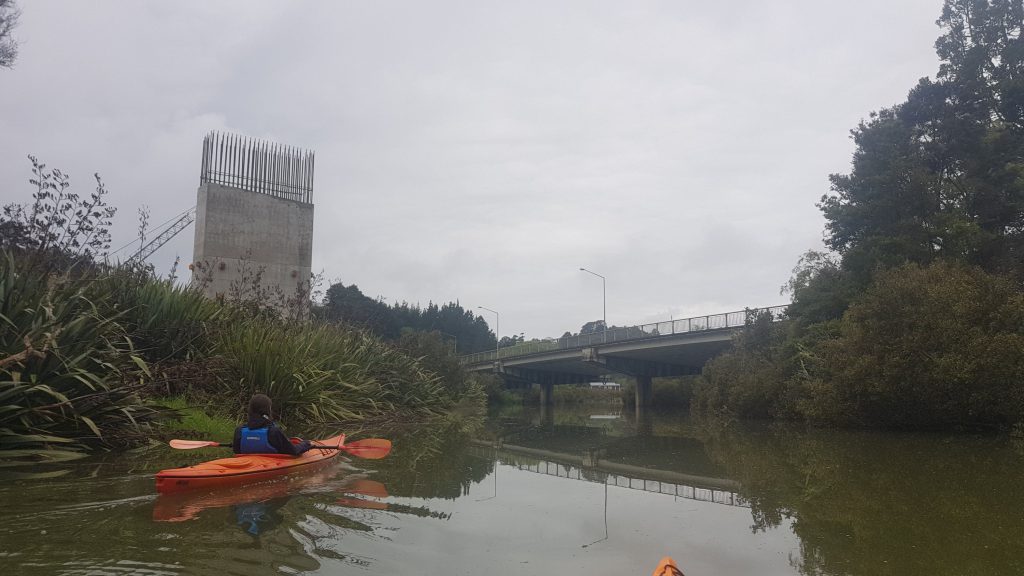 We passed some cows, like every other day…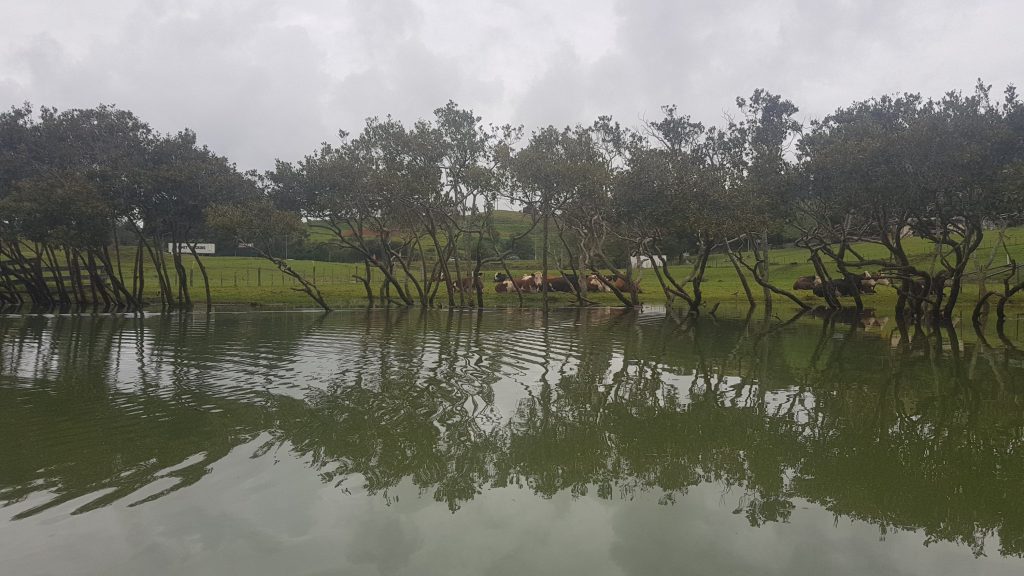 And there was even time for a selfie.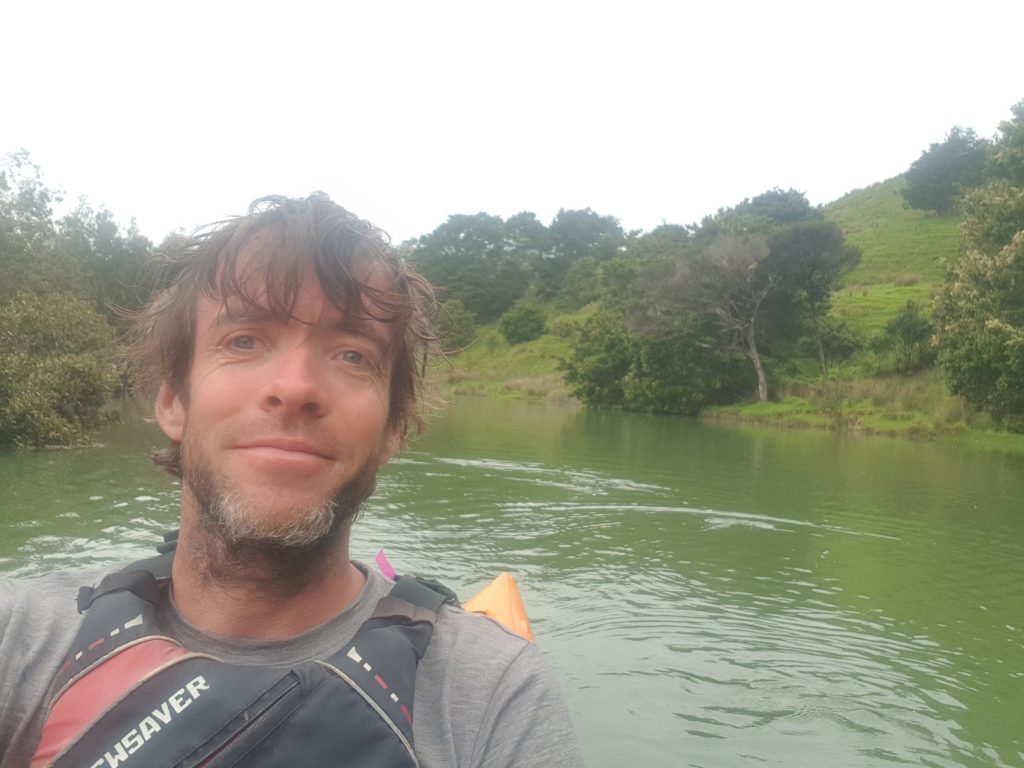 Anybody that can't do the kayak has to walk down the side of State Highway 1. That was bearable when it was way up in Northland but I can't imagine doing it here just before the motorway. Then you have to walk down the road to Waiwera which was the old State Highway 1 and is still the route to Auckland if you don't want to pay the $2.20 toll for the Johnstone Hill Tunnels. So glad we didn't have to do that.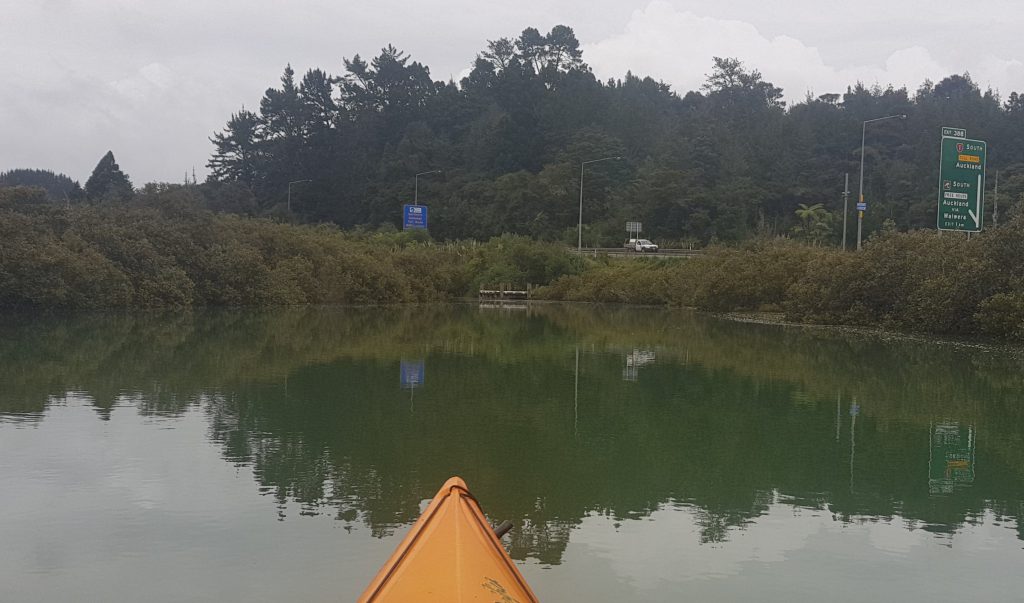 Once we were away from roads the journey was a lot more pleasant. It was very relaxing and a chance just to chill out. The river got a lot wider too so you didn't have to be so careful about running into anything. We saw this little building, which turned out to contain nothing but gym equipment.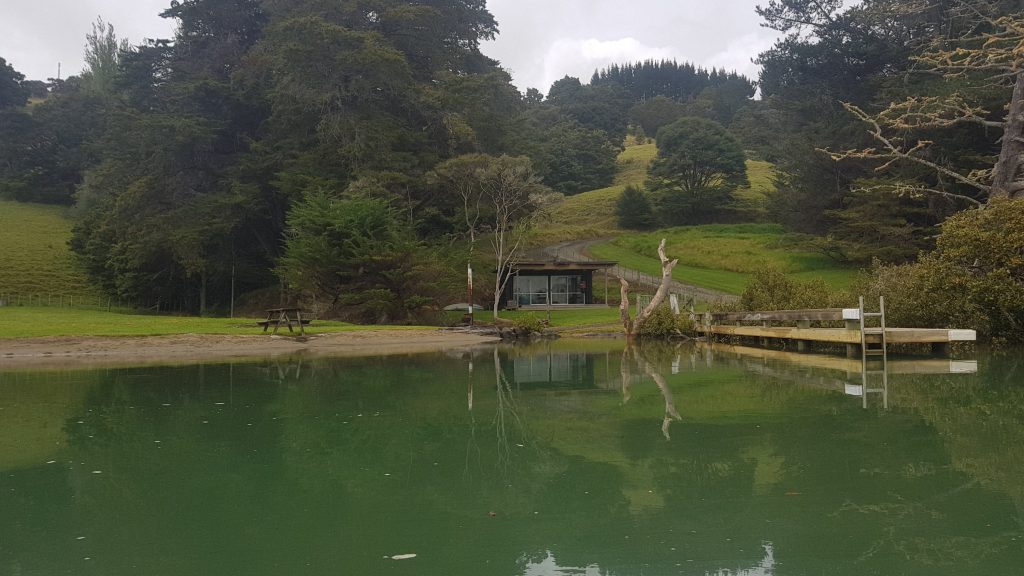 Louise took these next three photos. Thanks Louise!
We were told to look out for a big Norfolk Pine tree. This was where we were to aim for. I thought "how on earth will we be able to find one particular tree" but it was pretty obvious once you saw it.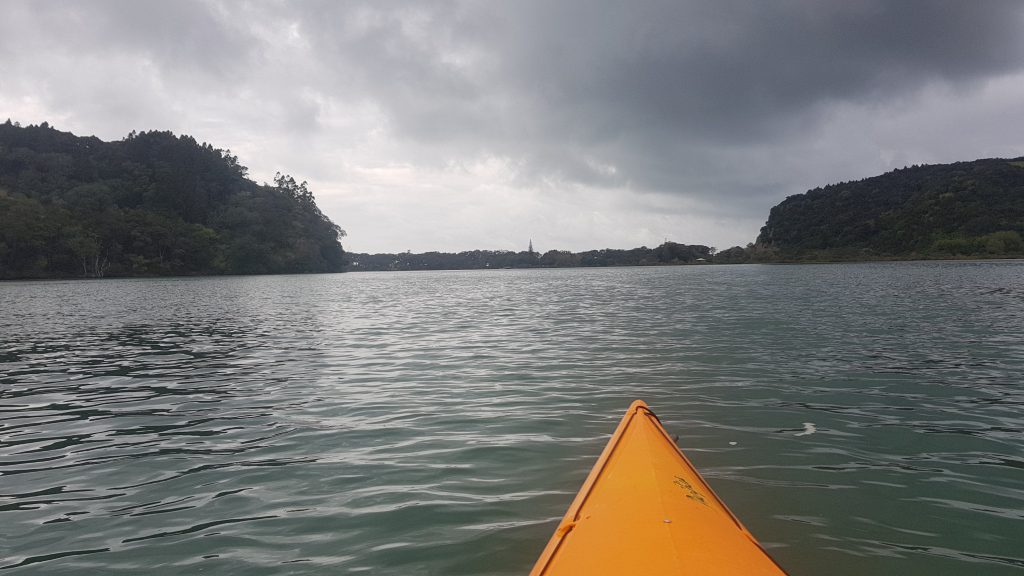 And soon after, there it was.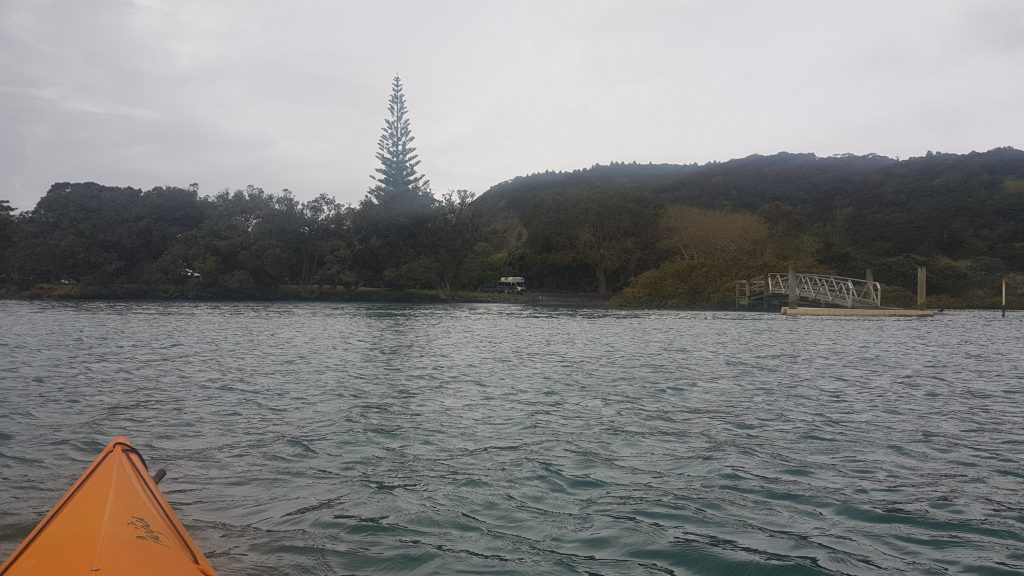 We arrived at Wenderholm Regional Park at 10:30am which meant the ride was only 90 minutes. I was disappointed, I wished it could have been a lot longer. Could I kayak all the way to Auckland?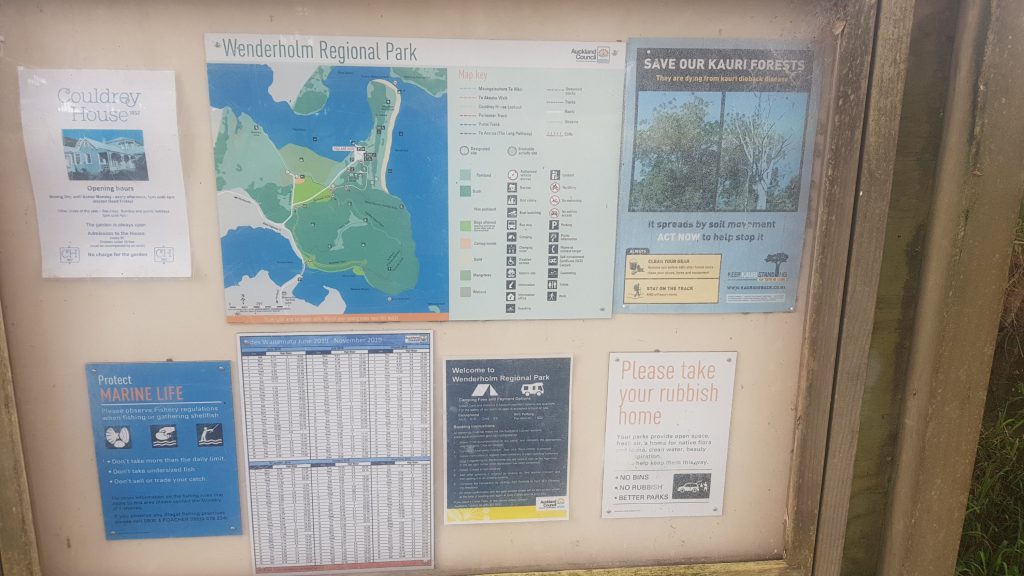 We spent a bit of time getting our stuff together at Wenderholm and just hanging out. Ben left his water bottle on the kayak so he had to wait while they brought it back to him. I even snuck back over to the boat ramp and found a geocache there during this time.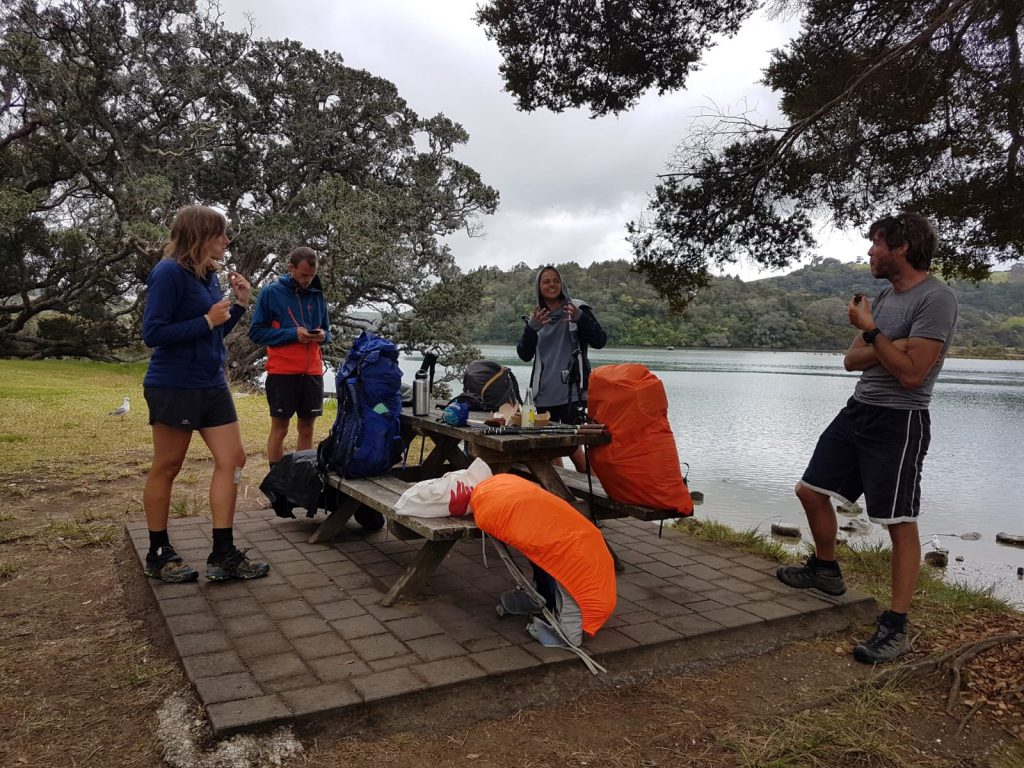 Just before 11am my Mum turned up like she said she was going to yesterday. It was the first time I'd seen anyone from my "old life" since I saw my friend Nick on Day 19 in Kerikeri. Hi Mum!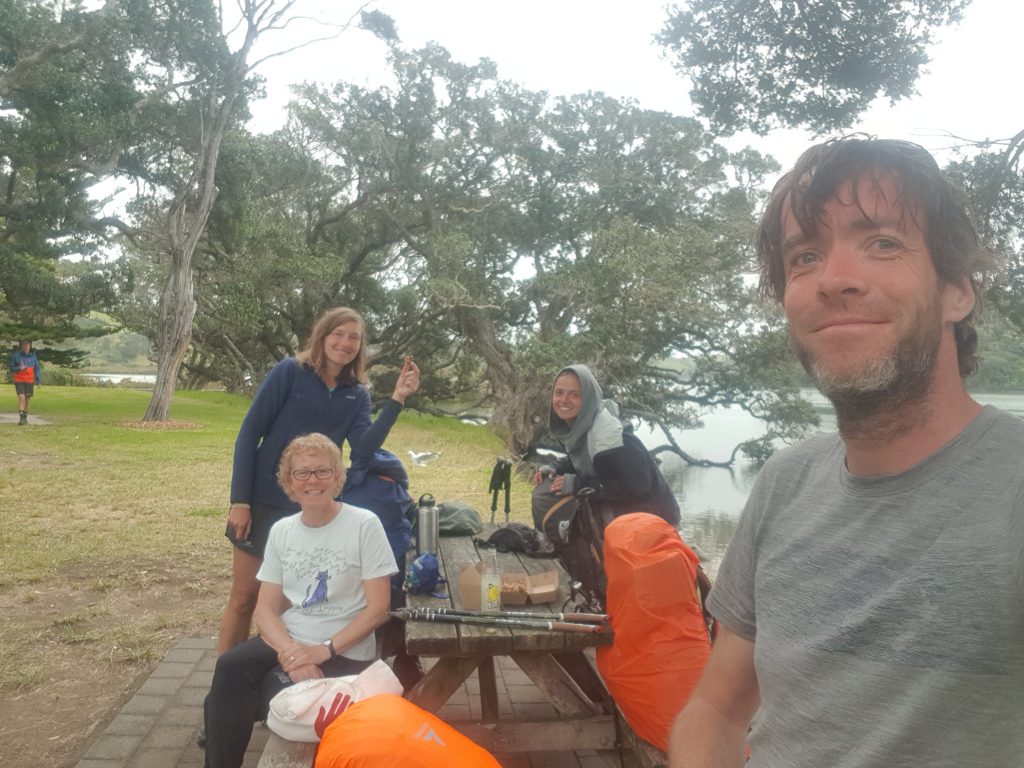 Next step was over this hill at Wenderholm.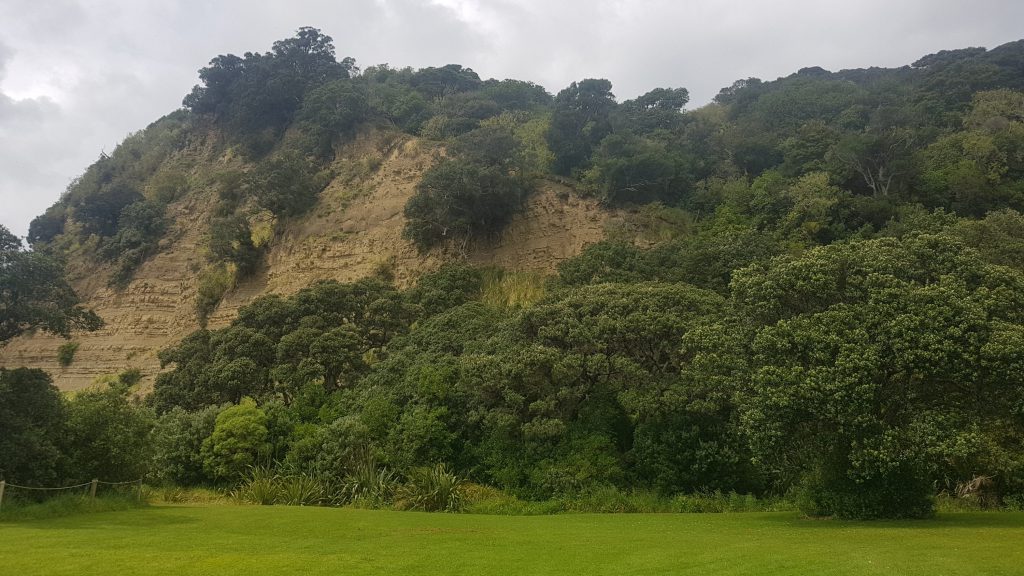 The red line of the GPX file showed us just going straight up the side of it, which wasn't the case – it took us a while to locate the correct path up the hill, even though I had walked this path before.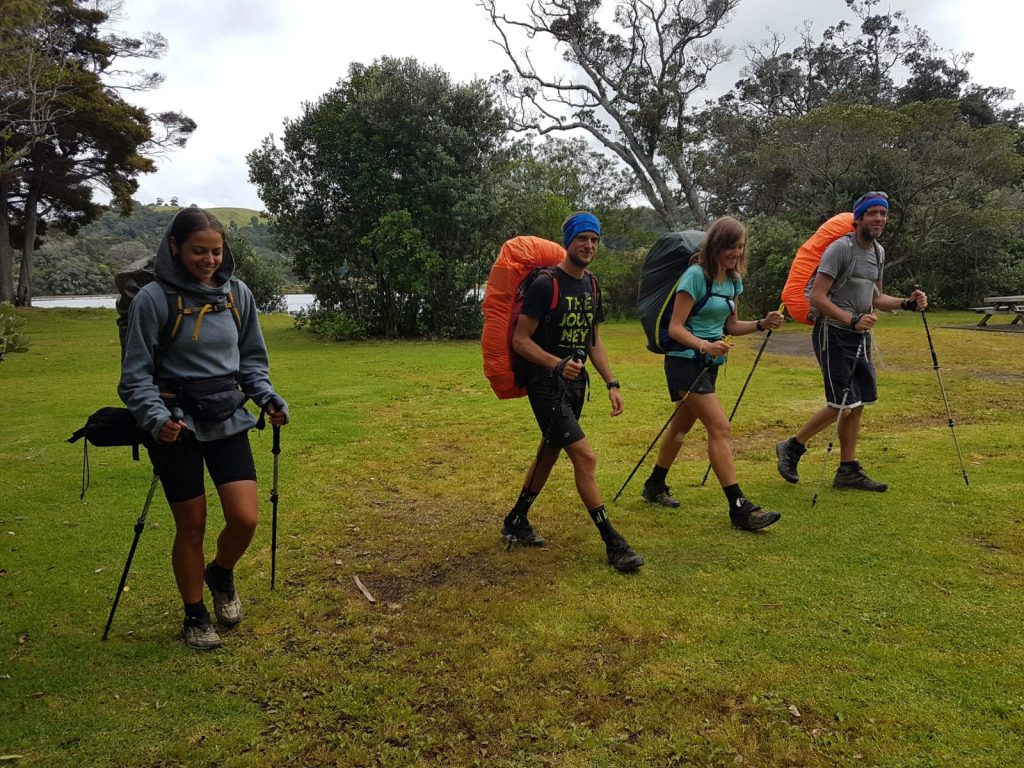 We could see the river we had just kayaked down. I still wished I was still on it!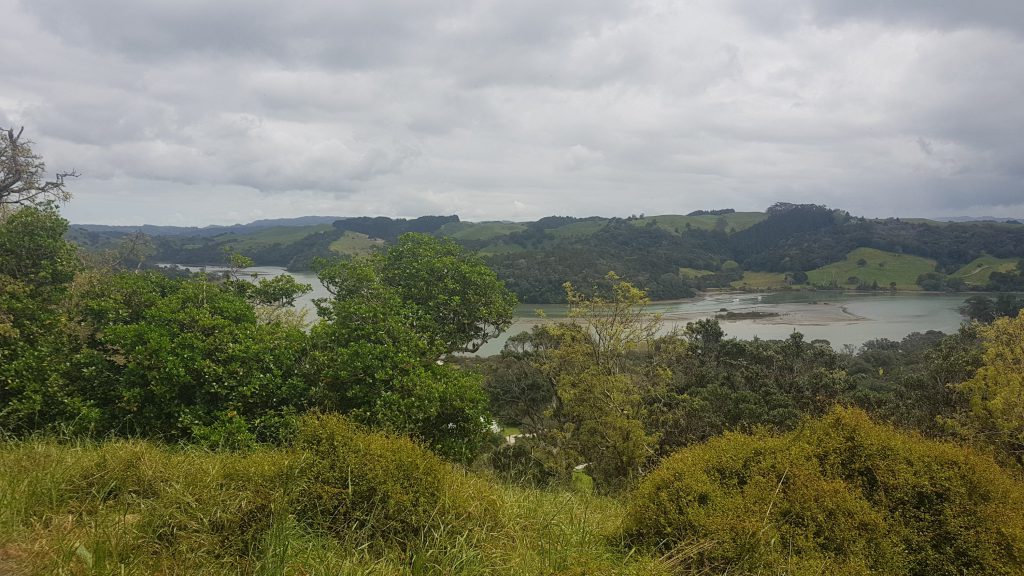 Then it was out of the forest and time to cross the bridge into Waiwera.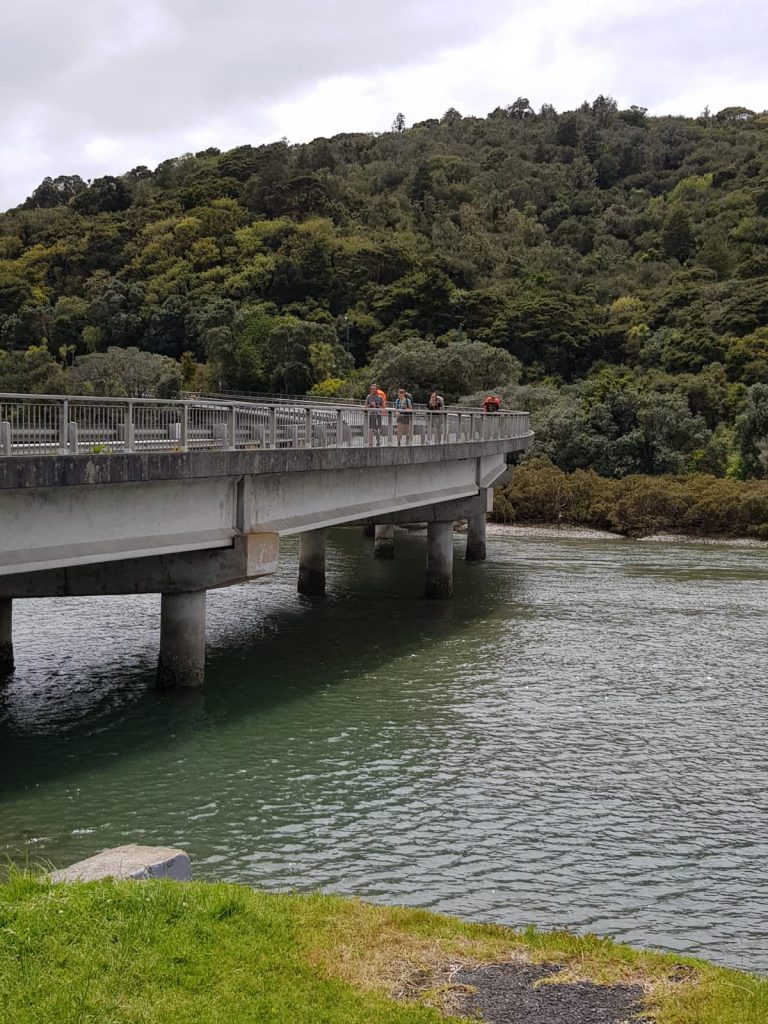 Two exciting things happened at Waiwera. The first is that I managed to offload my pack onto Mum – because she was going to meet me again tomorrow and could bring me my pack back then. That was awesome because it meant that I could walk the next 24 hours or so with only a very small amount of things in a plastic bag. The second thing is that my sister arrived to greet me with her dog Alice.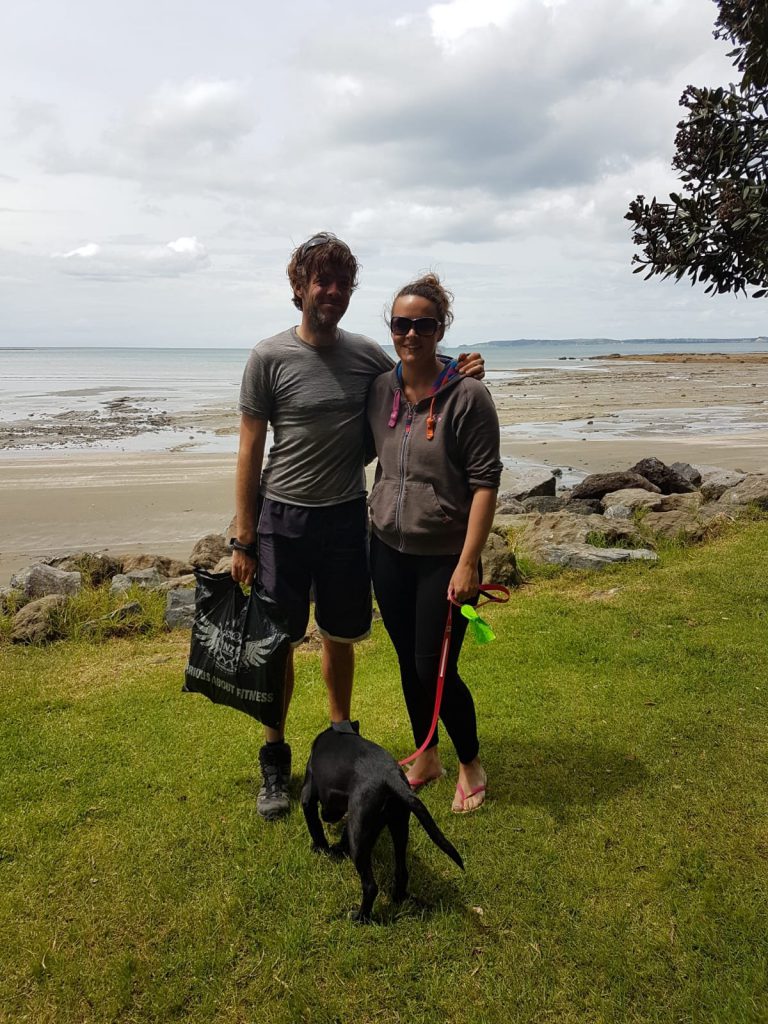 Mum said that if I could walk this far with the pack on, she didn't mind carrying it 100 metres to her car.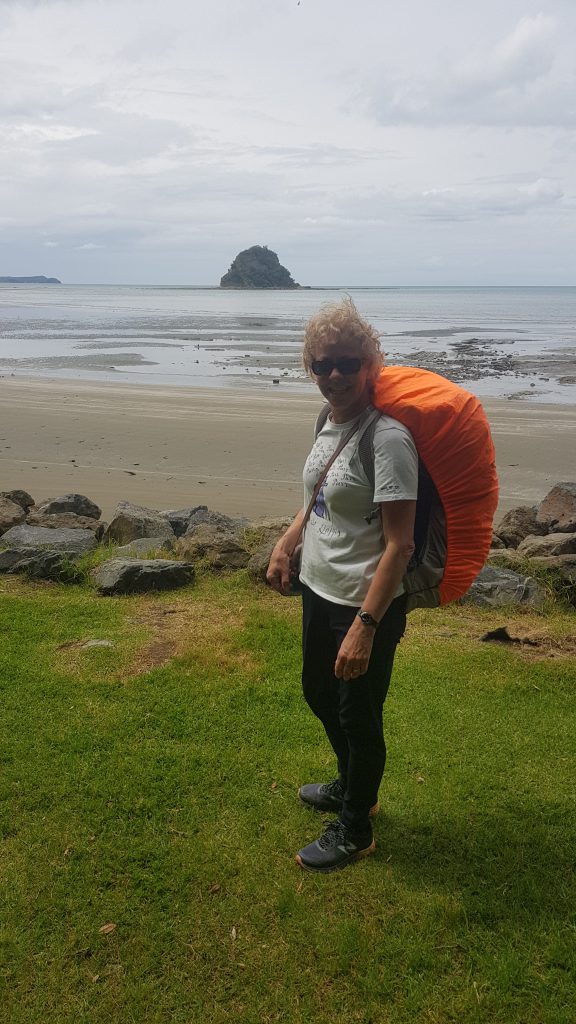 After that the next stage was walking around the rocks from Waiwera to Hatfields Beach and Orewa. This can only be done at low-ish tide. It was high tide when we started the kayak but because we messed around a while at the end of the kayak trip, the tide had gone out a fair bit by the time we started this bit.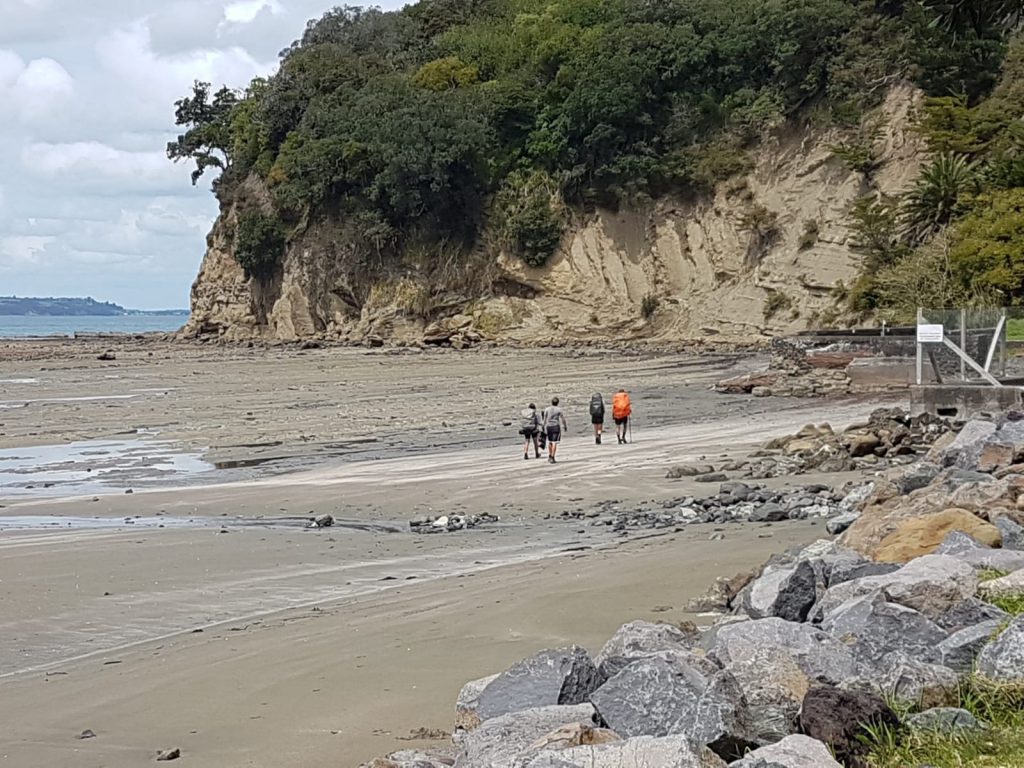 Having a plastic bag was a bit annoying because it was hard to hold my hiking poles and the plastic bag at the same time. Although it was still really great to walk without my pack for a while.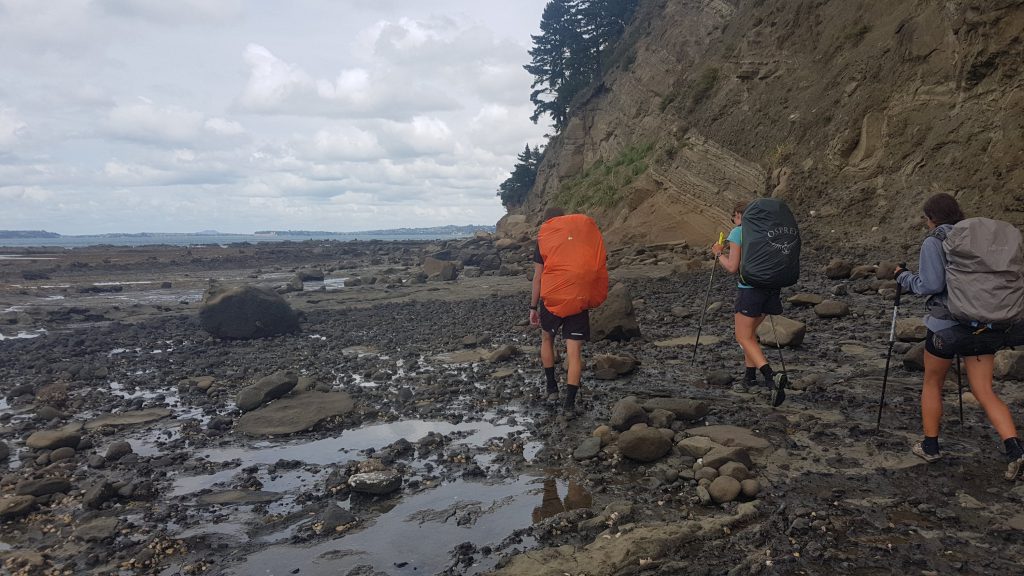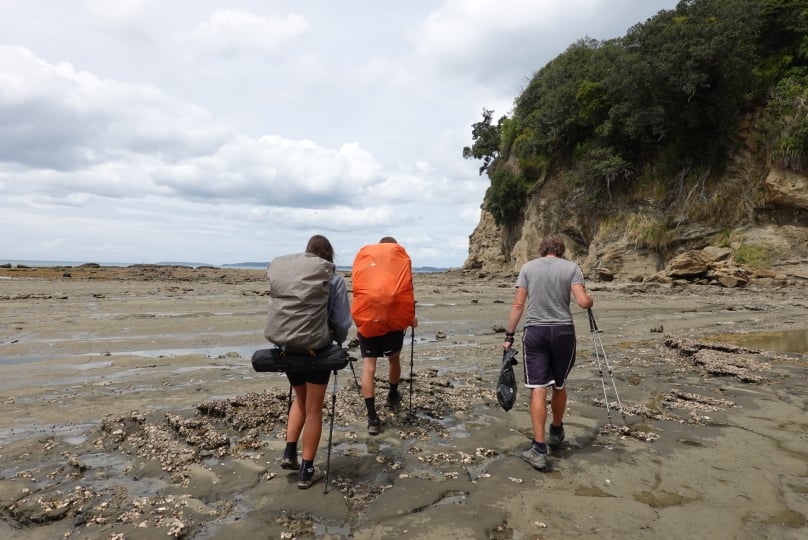 The rocks were fairly jagged in places and you did have to watch what you were doing.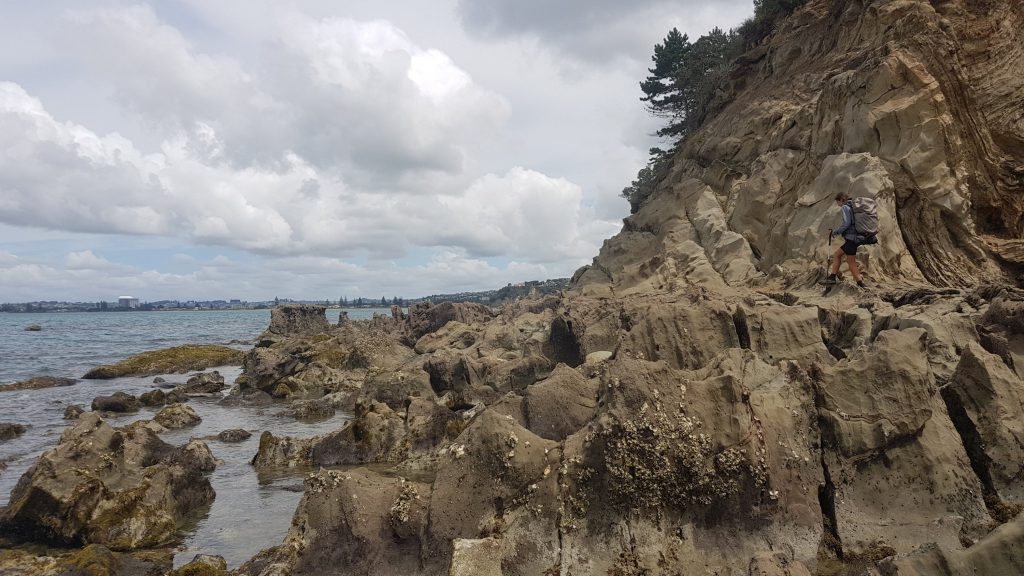 Then onto Hatfields Beach, which to be honest didn't look very beautiful at low tide.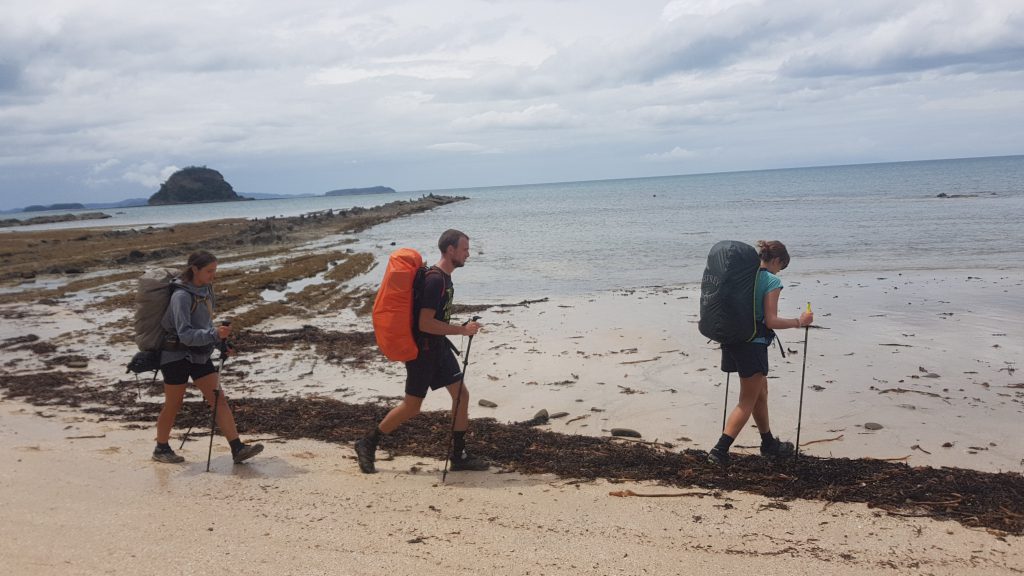 Then a big walk down Orewa Beach. We stopped in for a bit of food at McDonalds. It was just going to be Paulina and I getting McDonalds but of course the whole group decided to get it once we were there. How can you resist?
I had organised to stay with my sister tonight. She was going to pick me up from wherever I was at 4pm and take me back to her place in nearby Whangaparaoa. I hoped I would have made it to Silverdale by then or at least to Millwater but it turned out that I'd only made it to the south end of Orewa Beach by then.  So that was as far as I went today.
Tomorrow I plan to make it all the way to Auckland City and starting from Orewa Beach is going to mean a 50km day. But I'll be without my pack for the first half and I can start early so I wasn't daunted. The only two time factors tomorrow are the Okura River crossing which needs to be done at or very near low tide (which was 3:47pm tomorrow) and the last ferry from Devonport to Auckland which was at 11:45pm.  Yep, I decided it was all doable.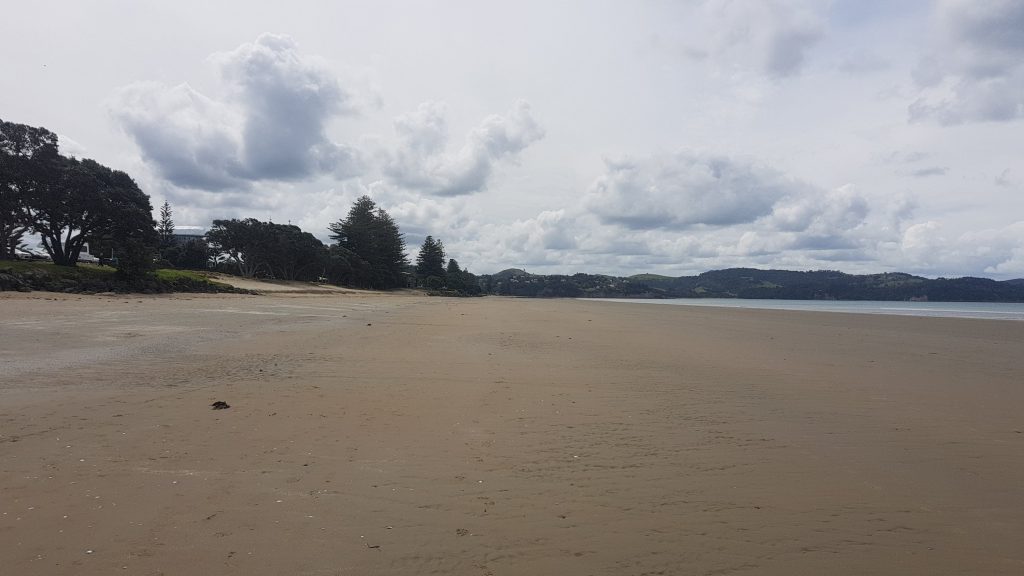 My sister drove me out to her place and I got to see my niece. We also saw Mario on the side of the road, and another odd character that I didn't recognise (clearly it's not Luigi).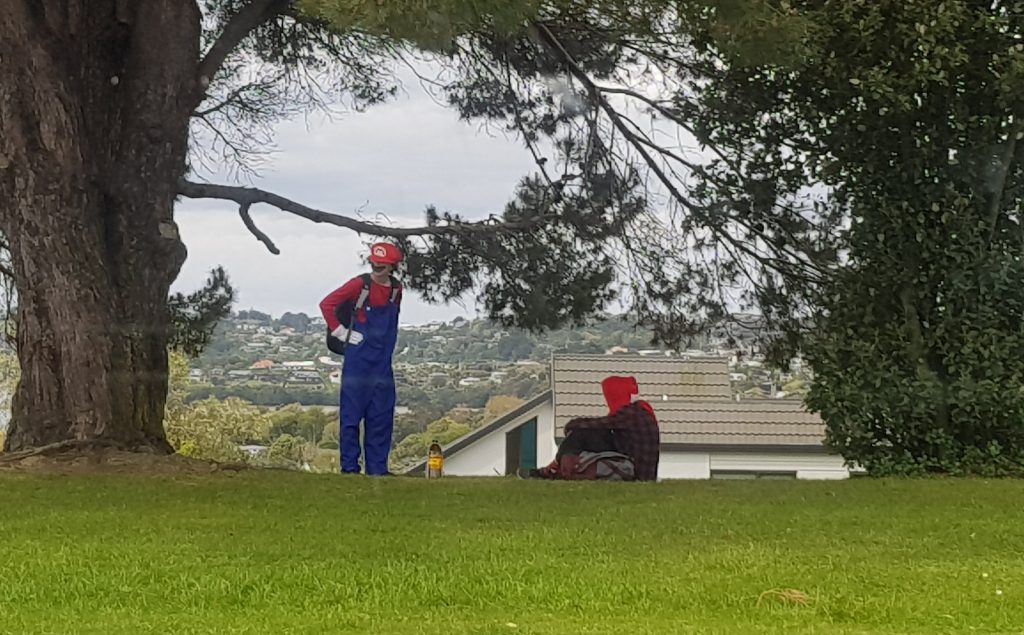 I got a wonderful home-cooked chicken dinner and then we went for a drive to get some dessert at a fancy restaurant in Manly. It was a great day today, quite relaxing with no feeling of exhaustion, and despite the huge day planned for tomorrow I'm really looking forward to getting back to Auckland and finally back to my house – where my first goal (get from Cape Reinga back to my house in Auckland) will be complete.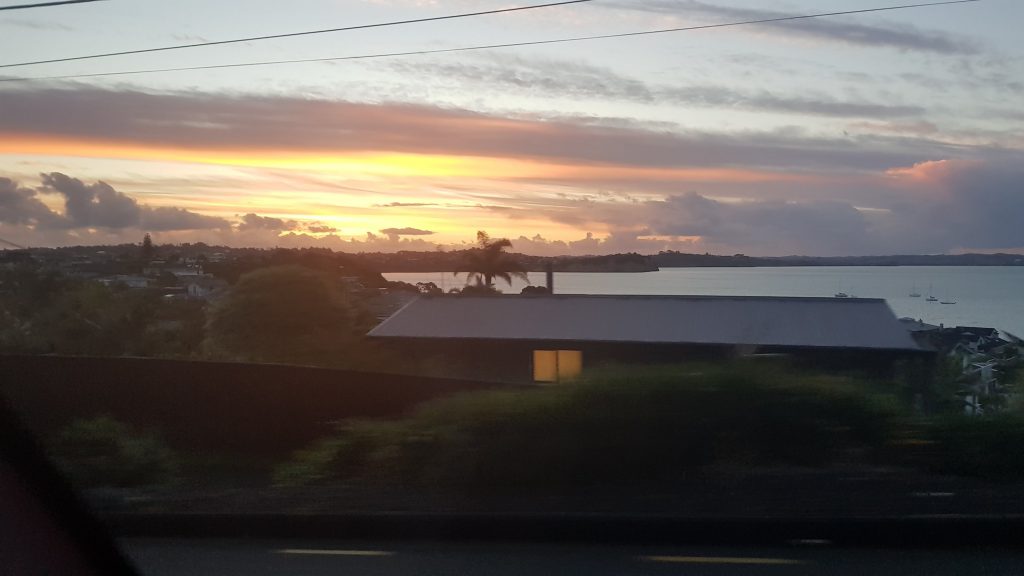 Today's walk on the map (blue = Te Araroa, red = today's walk):