Date: 9 November
Distance walked: 26.8km
Trail covered: kms 737.9 to 763.1
Weather: hot again but at least with some cloud
Games of Mexican Train I won: 1 out of 2
I got up early and went to McDonalds on Queen Street in Auckland City to get some breakfast before the bus. What a depressing place – mess everywhere and people sprawled out everywhere sleeping, both inside and outside the restaurant. And the self service machine let me place my order but then told me that the card machine wasn't working and I had to go to the counter. Couldn't you have told me that in the first place, before I spent several minutes placing my order??? I'm a software developer and if my staff designed a system that worked that way they would need to provide me with a very serious explanation.
Walked over to the Intercity bus station and walked the whole length of the platforms looking for the Rotorua bus and it appeared to be none of them. New Plymouth, Tauranga, Wellington, Hobbiton. Nope, not going to any of those places. I had to ask someone, who pointed out that the New Plymouth sign was wrong and it was in fact going to Rotorua. At least he actually cared, because he changed the sign. I figured that the bus with the longest queue would be the Rotorua bus. Surely that many people don't want to go to New Plymouth.
Then it was quite a few minutes before the driver turned on the air-con, so I spent a few minutes roasting on the top deck. But once we got on the motorway it was a comfortable trip.
At the first stop, I wondered "when did Manukau get such a fancy bus interchange"? Didn't look like this when I went through last – last time you just got dumped at the entrance to the shopping mall.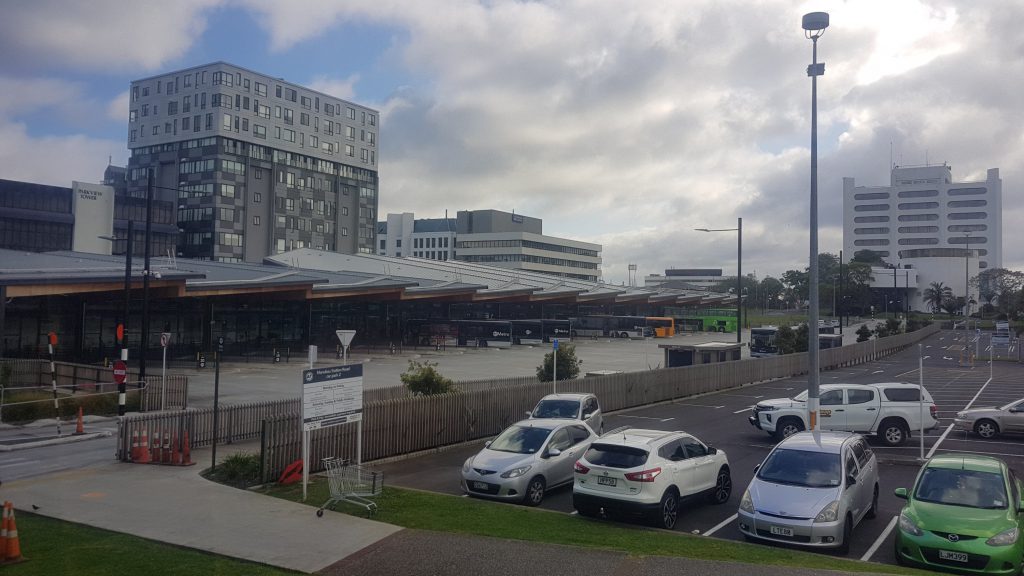 I would be looking out for Eirik today, who I had dinner with at Waipu Cove on a previous rest day (Day 28). He messaged me and said that he was departing Ngaruawahia at 7:30am today. I wouldn't be departing until 9:30, but he also mentioned he had a lot of blisters so there would be a good chance I'd catch him.
I got off the bus and made my way to the start of the Te Awa river path. There were a lot of cyclists on this path and quite a few stopped and talked to me to ask if I was walking the trail. I learned quickly that this wide river pathway would take me all the way to central Hamilton. Easy day today, it seems!
I'm actually originally from Te Awamutu which is just south of Hamilton and spent five years living in Hamilton… however I'd just never done the river walk before so I didn't know what to expect. I wasn't so into walking or exercise when I was a university student.
The path started out like the one in Auckland, where it was designed by a drunk guy during Friday after work drinks: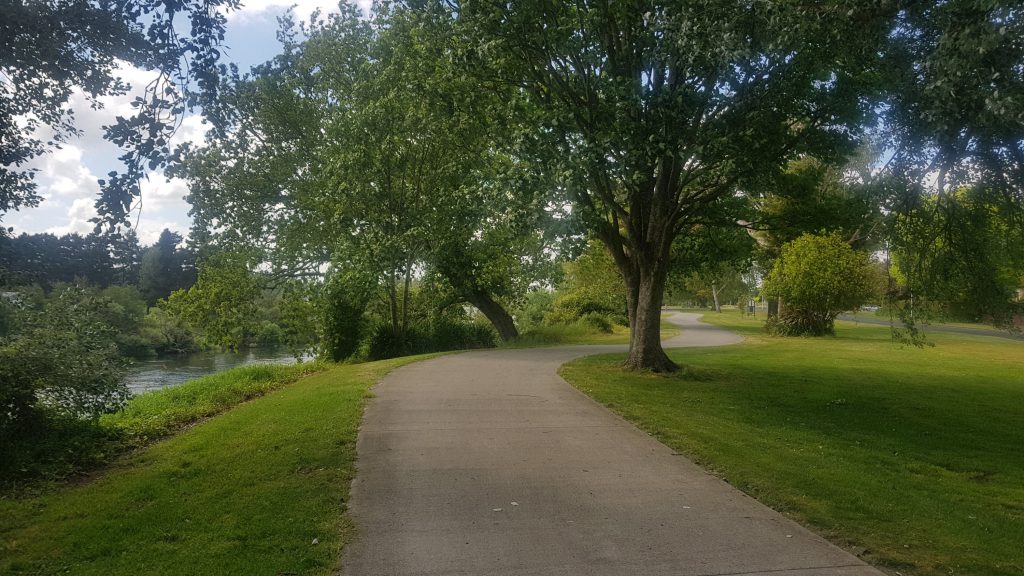 People talked about storms coming up today, or soon. Certainly no storm now.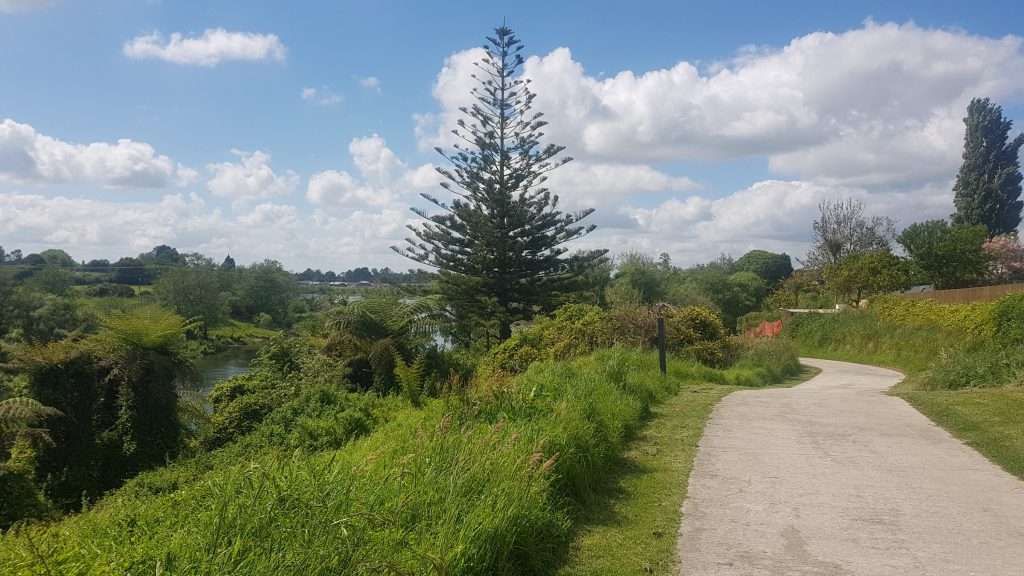 And there were a few times where you need to cross over the Waikato River. Here's the first bridge: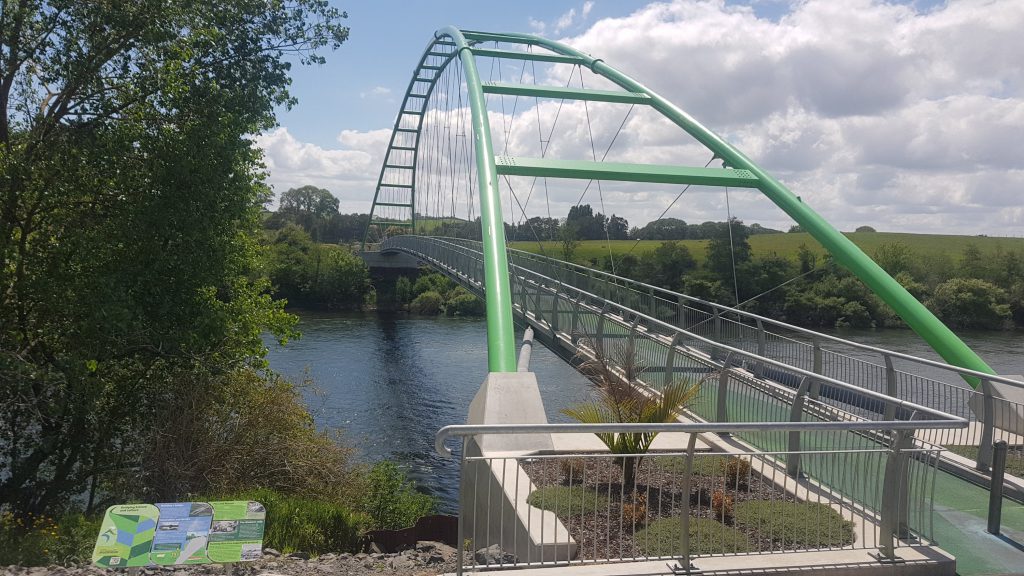 Today was the "Bridge 2 Bridge" race. I'm not exactly sure what the details are, but all day there were speedboats pulling behind waterskiers. They were very loud and fast and impressive. It was also quite hard to get a decent picture.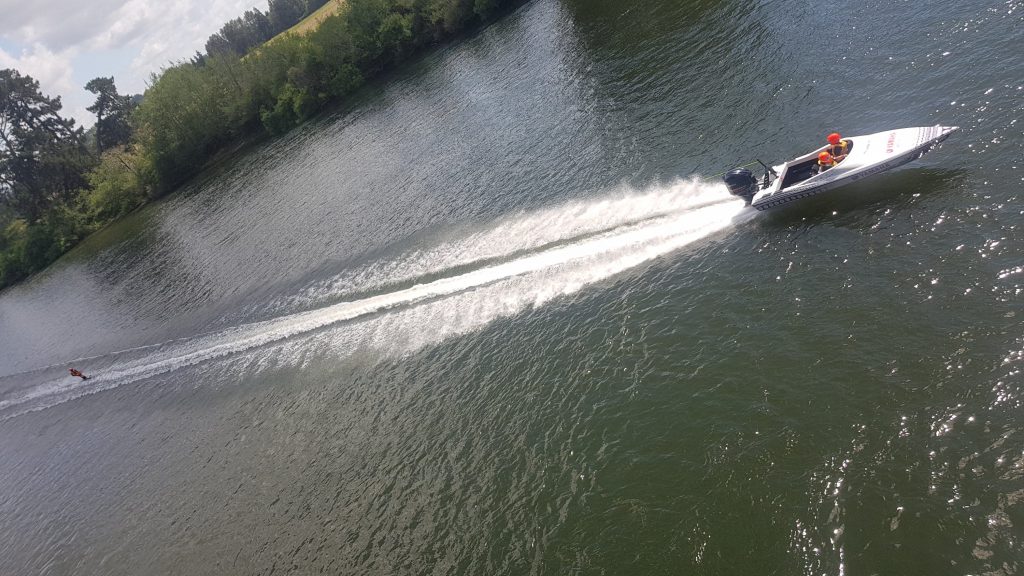 Here's my 11am picture… it turned 11am just before I left the bridge.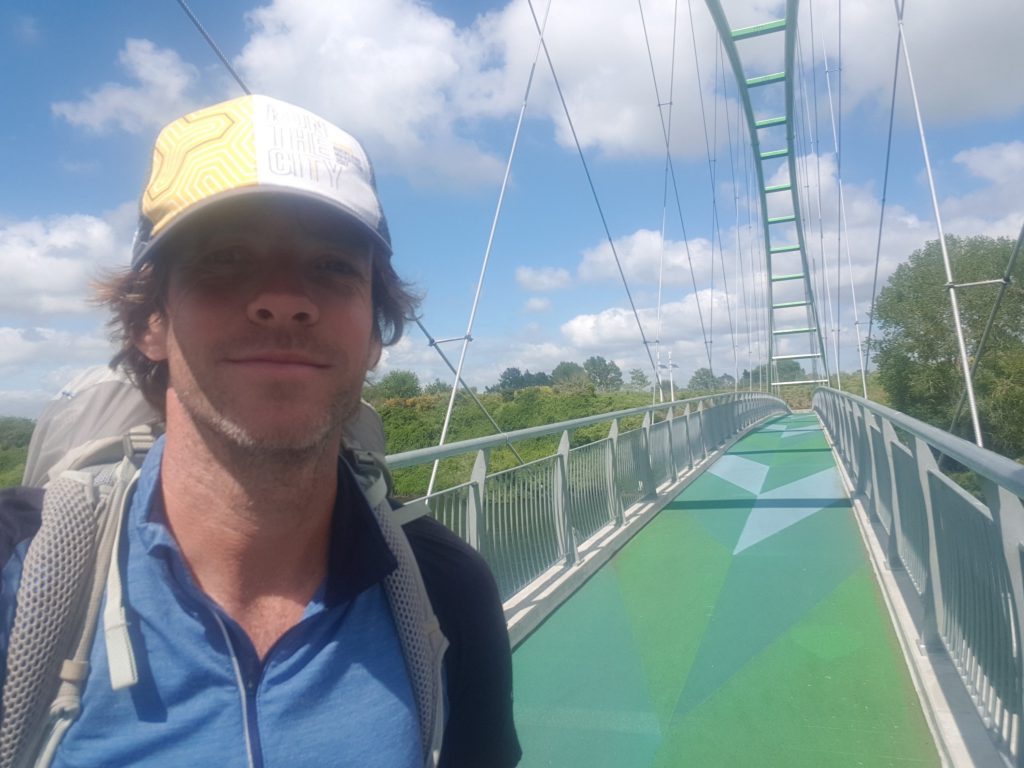 Here is the second bridge. It is a standard road bridge – Horotiu Bridge Road, Horotiu being the small town on the other side of the bridge. This bridge is certainly a lot less glamorous, and cyclists are supposed to dismount – so I think this is officially a "gap" in the cycle path which they're looking at fixing.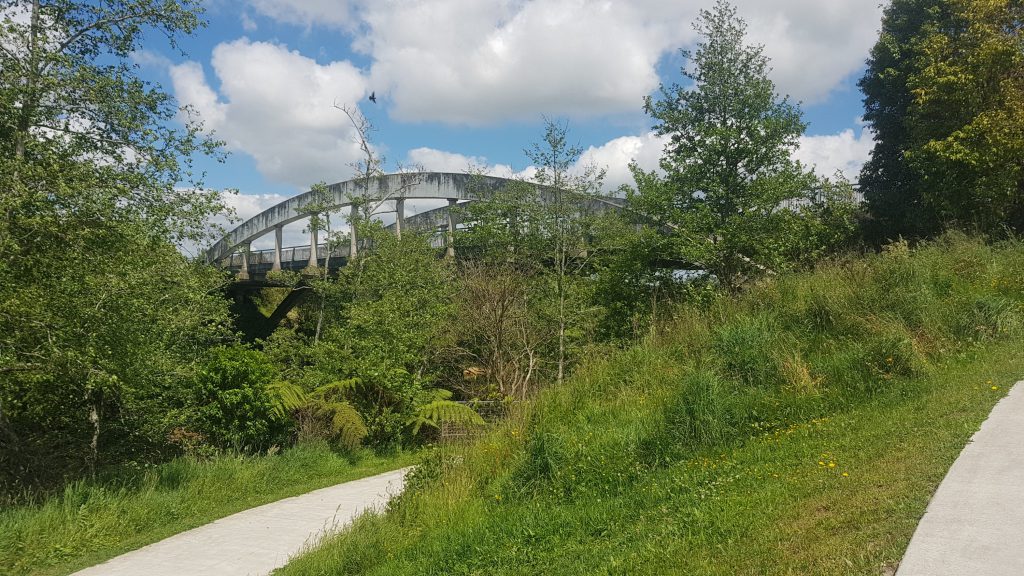 From here I got my first glimpse of Mt. Pirongia. All going well I should be up the top of there two days from now.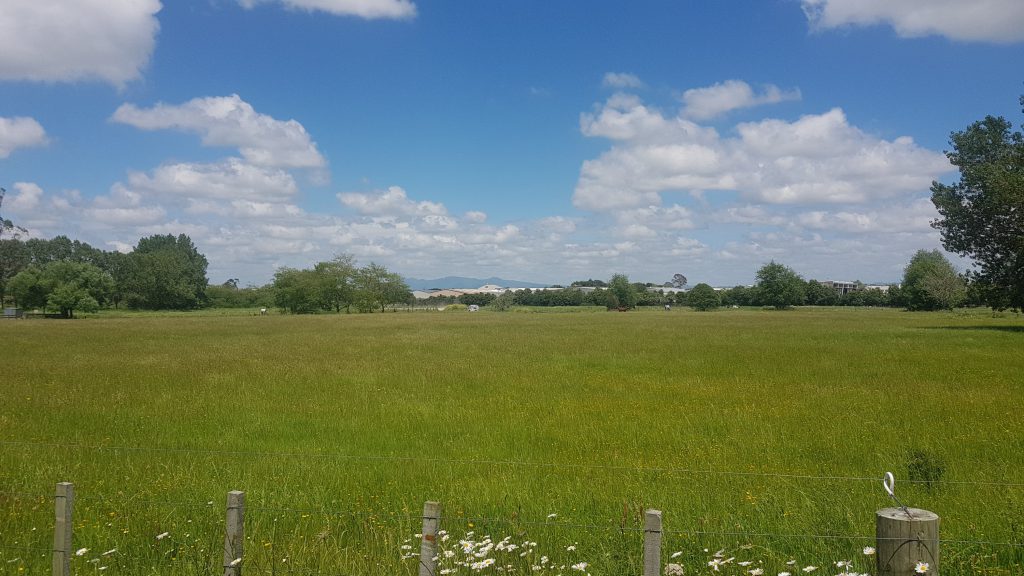 I used this time to look up the elevation of Pirongia. For nearly 24 years I lived in the shadow of this mountain. I always had it in my head that Pirongia Summit was 750m above sea level. I checked, and nope… 930m is the actual number! Crikey! Even higher than Raetea!
Enough about that for now. Here is a friendly horse that wanted some attention – it came bounding over when I walked past with three of its buddies.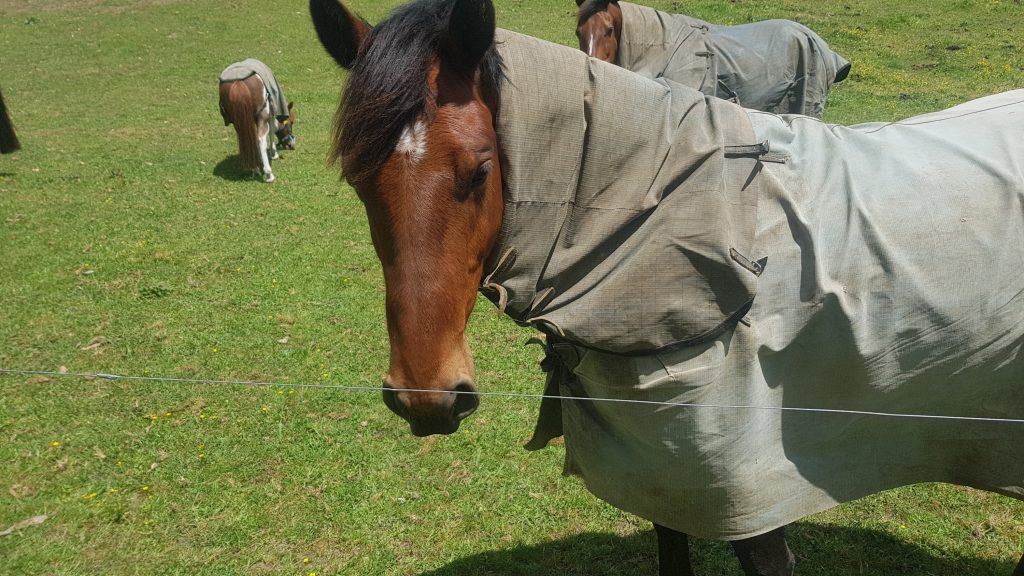 I also walked very near the wastewater treatment plant. I didn't plan to mention that, however when I saw this in the river, I could only assume the worst as to what the brown stuff flowing into the river is.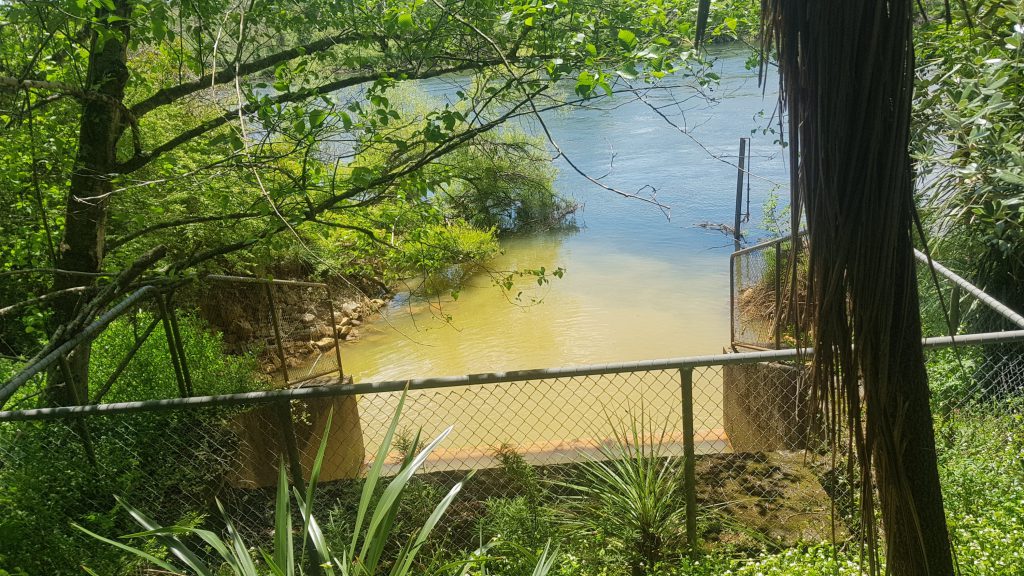 Somebody along here went past on an electric scooter and yelled out "you're almost there!". I've run the Auckland Marathon a few times and that is a favourite thing for people to yell in the first few kilometers, when you're obviously not almost there. He then disappeared on his scooter quickly before I could think of a comeback. "Yeah, I'm almost at your Mum's place!!". That would have been a sweet comeback. I'll respond with that the next time someone yells that at me.
It's not completely clear at what point you actually enter Hamilton but I know that when you reach this footbridge you're definitely in. The suburb on the other side of the bridge is Flagstaff, which has some of Hamilton's most expensive houses.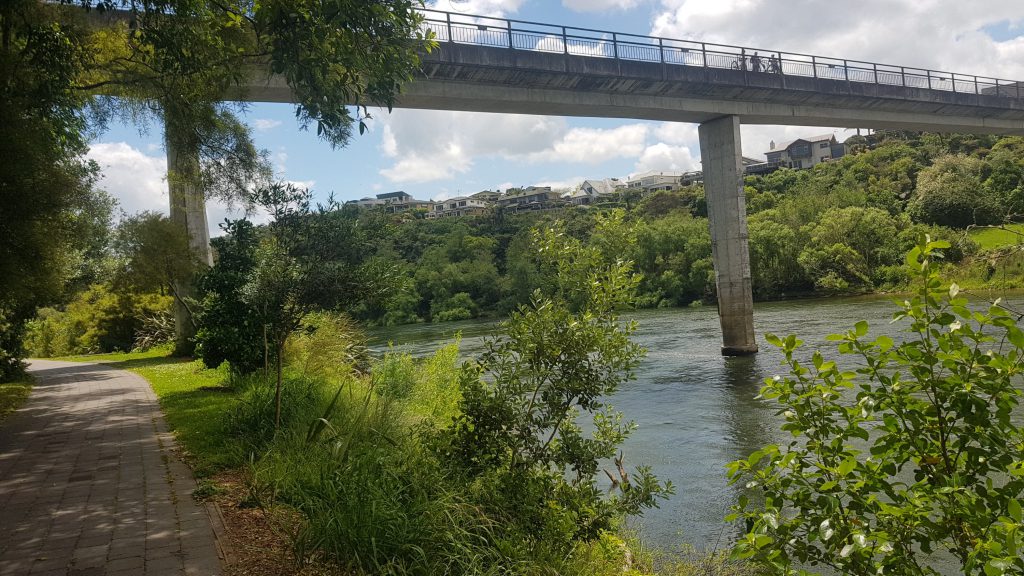 I think the boats I saw earlier were just training. Around here I got told by someone that the actual race starts at 2pm. Probably explains this makeshift little party going on by the side of the river.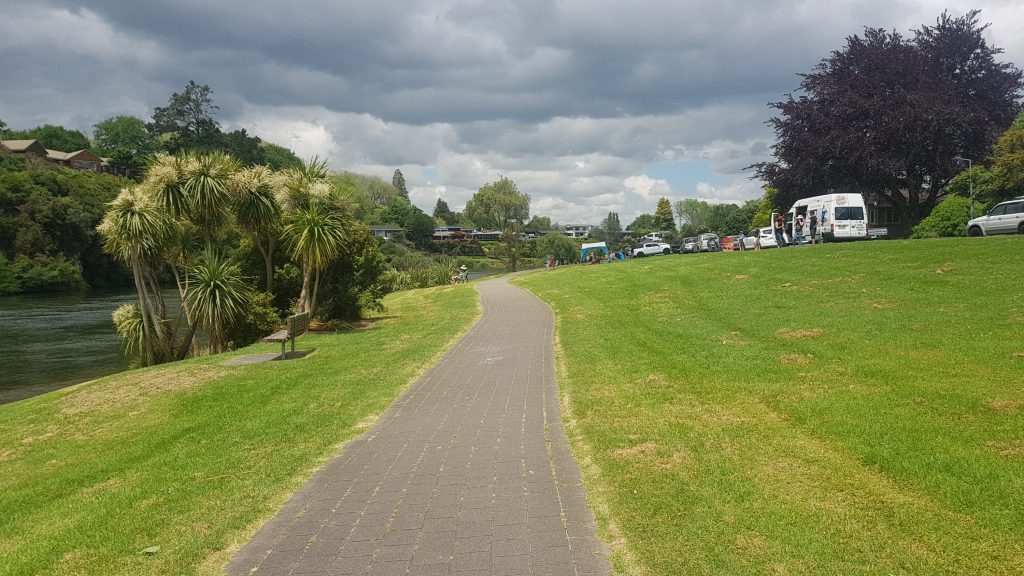 And please tell me this isn't somebody's boat ramp. It is *so* steep. I want to be there when a boat is reversed down this thing.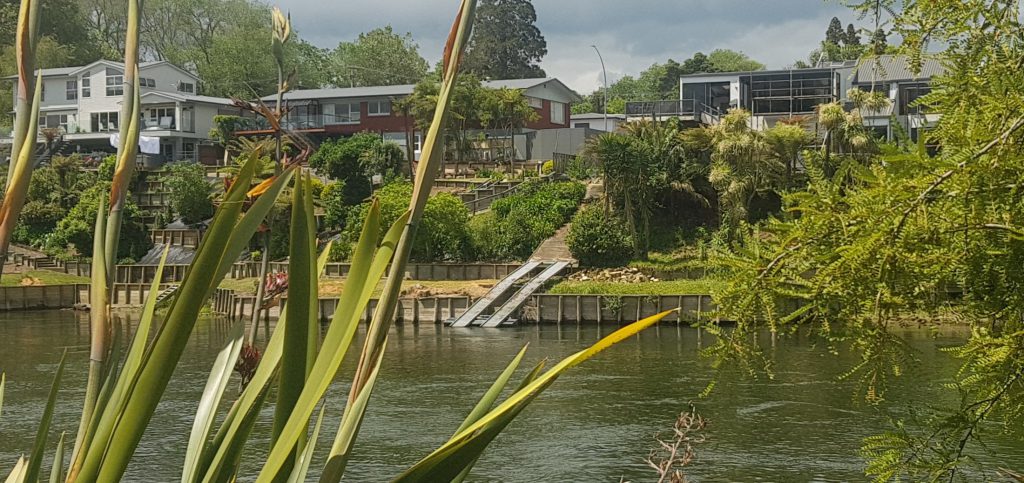 When you get to Fairfield Bridge then you're very close to central Hamilton. It is one of the city's icons, the other three being Hamilton Gardens, Chlamydia and The Outback. Yes, that shows how boring this city is.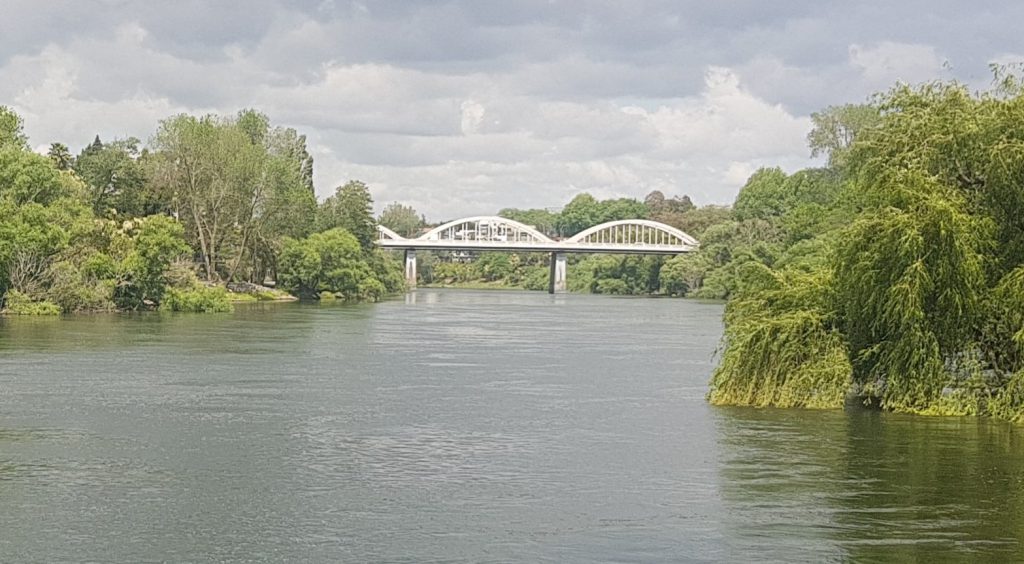 And not long after is this river closure.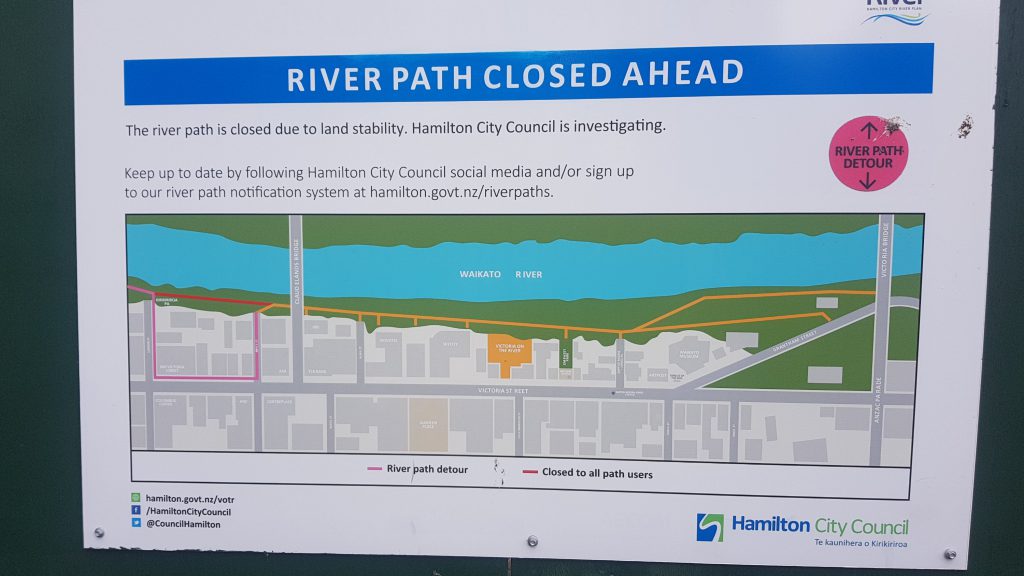 You have to detour onto Victoria St for one block, then rejoin the river path, and then come straight off the path again at Alma St because that's where the trail goes. That's if you're following the trail purely, which I am. The detour was a bit annoying and weird, but I did it.
At this point I took a detour to Trek N Travel on Victoria St, as I knew they had 6 monthly hut passes for sale. This enables the owner to stay in most of the DOC huts around New Zealand, including all the ones on the TA except I think one near the upcoming Tongariro Crossing and also not the one at Puketi Forest back in Northland. I hadn't bought the pass yet and the Pahautea Hut is at the top of Pirongia so I needed it now. There are no huts before Hamilton so there is no point buying it in Auckland like some people do.
In the shop I felt like a bit of a celebrity, because all the other customers wanted to talk about Te Araroa. One family are apparently Trail Angels who offer their place at the bottom of the Hakarimata Ranges. Wish I had got their name, but thanks to you anyway!
It rained a bit while I was in the shop. Yet again the weather gods have shined upon me, waiting until I'm undercover before unleashing the rain. I feel very honoured and feel like I'm not worthy.
If you go into Trek N Travel, remember to sign the Te Araroa visitors book. I was the first one today. I saw Eric and Zoe passed through yesterday, which was no surprise. Not everyone is in there because it is about 500m off trail.
I also bought a magnet that I saw because I just couldn't resist. My sister had sent me a message on Whatsapp earlier saying that I was on my way to the City of the Future, which is what Hamilton was called at one point. It is also sometimes called Hamiltron or just The Tron. Hence this magnet needed to be purchased: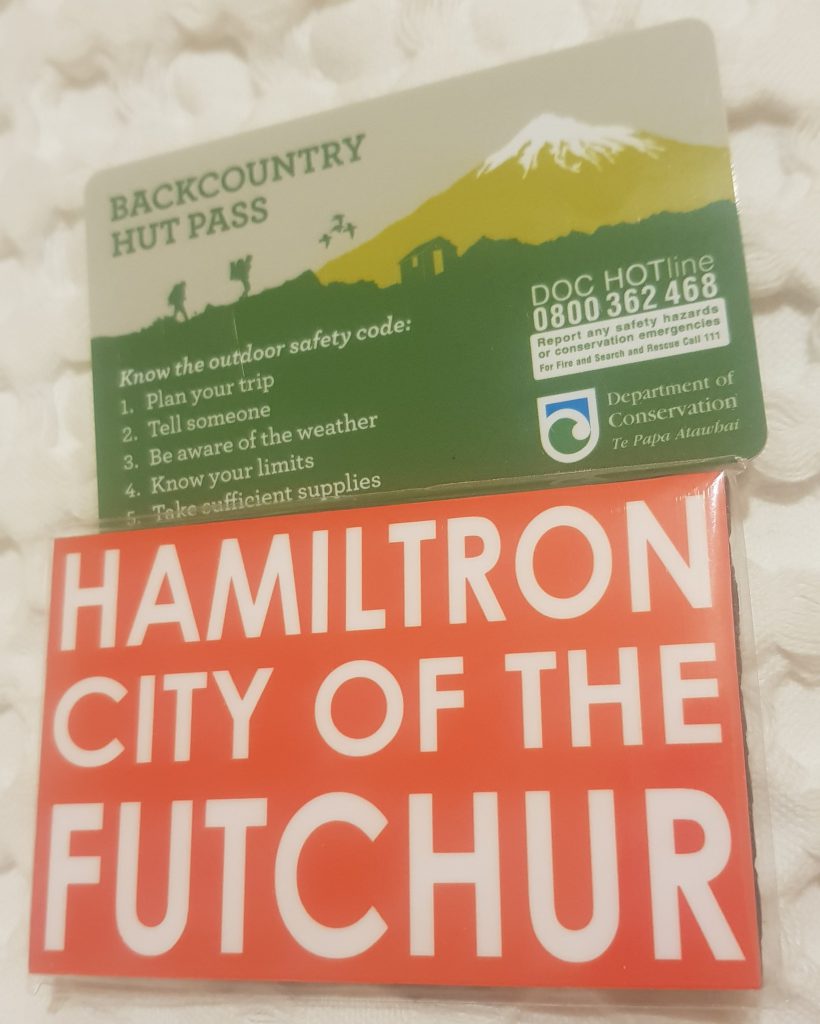 I'd never seen "future" spelt like that before. People who have been to NZ may have heard the word "chur" which means "okay", "cheers", etc. Hence the spelling. I'm sad they didn't say "shitty of the future" which is what my friends and I always used to say.
I wanted to get a salad ever since I left Ngaruawahia, but the trail just didn't go past any shops today, and now it is nearly 4pm so I'd spoil my dinner. I just have a craving for a healthy salad… I hope these cravings for healthy things keep up! Sadly, no salad for me today though 😭
Walked past the Sky City casino – a much smaller and low-key version of the one at the base of the Sky Tower in Auckland.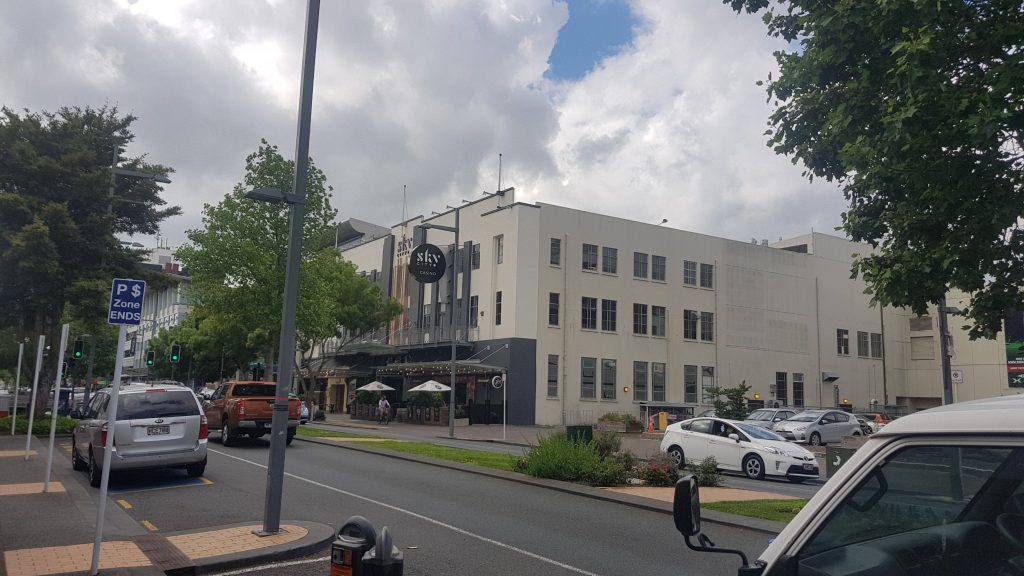 And then a walk through Garden Place. This has memories for me as the place where I got my first job out of high school – at Telecom, which is what Spark used to be called until recently, which was located at the far end of the square. Then after three years I left it to go to the University of Waikato in the outer suburbs of Hamilton.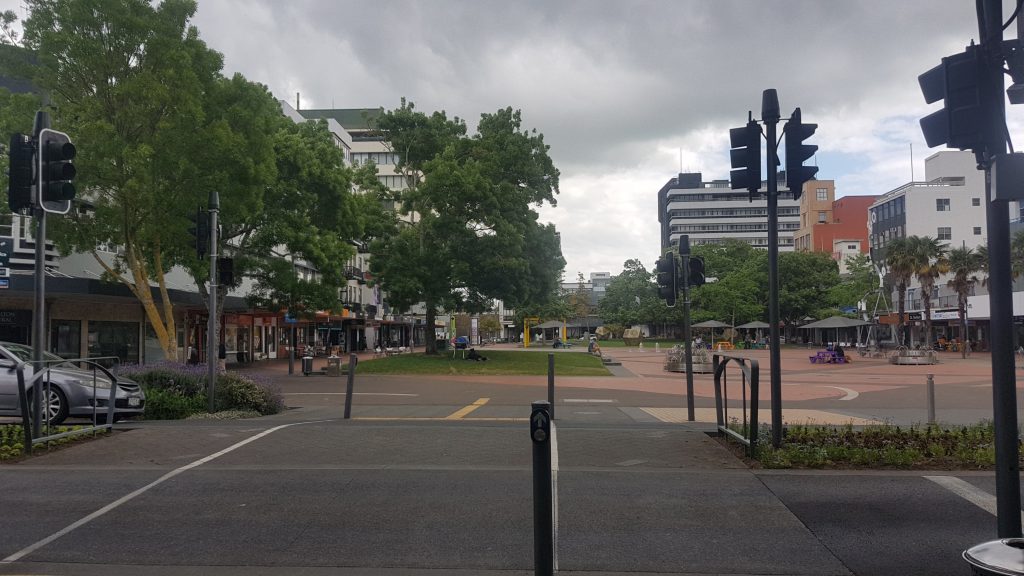 Then after walking through the middle of the Centre Place shopping mall, it was onto the Western Rail Trail.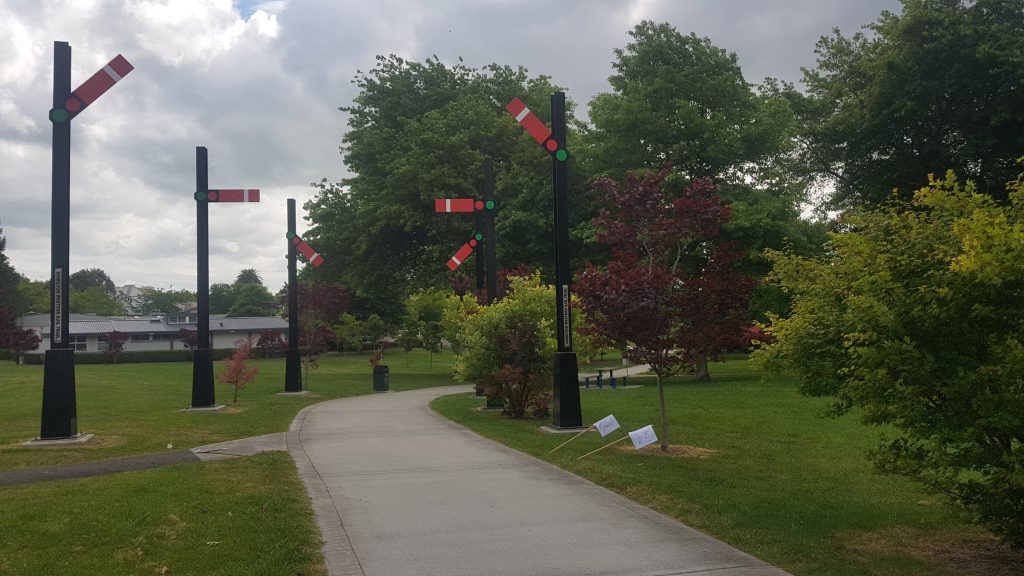 I liked this walk. I'm almost certain that this didn't exist when I lived here. I moved away from Hamilton in 2003 so that's entirely possible. It runs alongside the railway lines for a few km. I like the design of it a lot.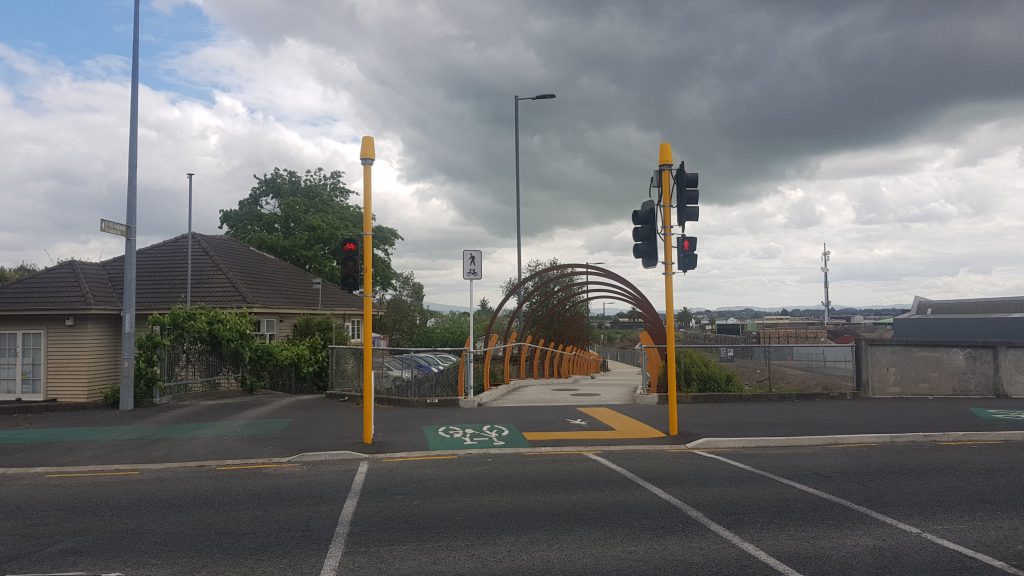 And another ever so slightly closer view of Pirongia: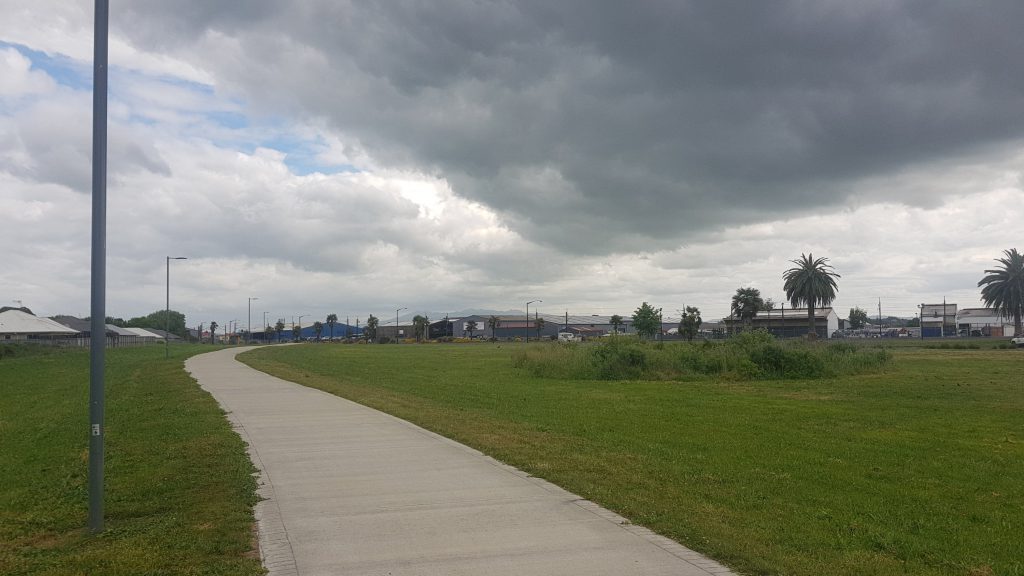 And past what I'm fairly sure is the ugliest house I've ever seen.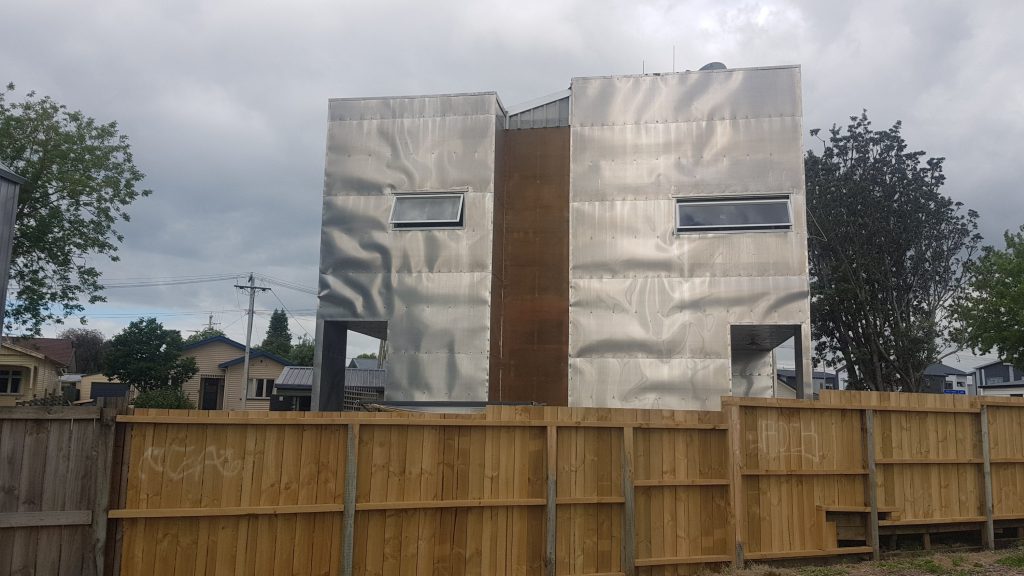 Wouldn't you agree?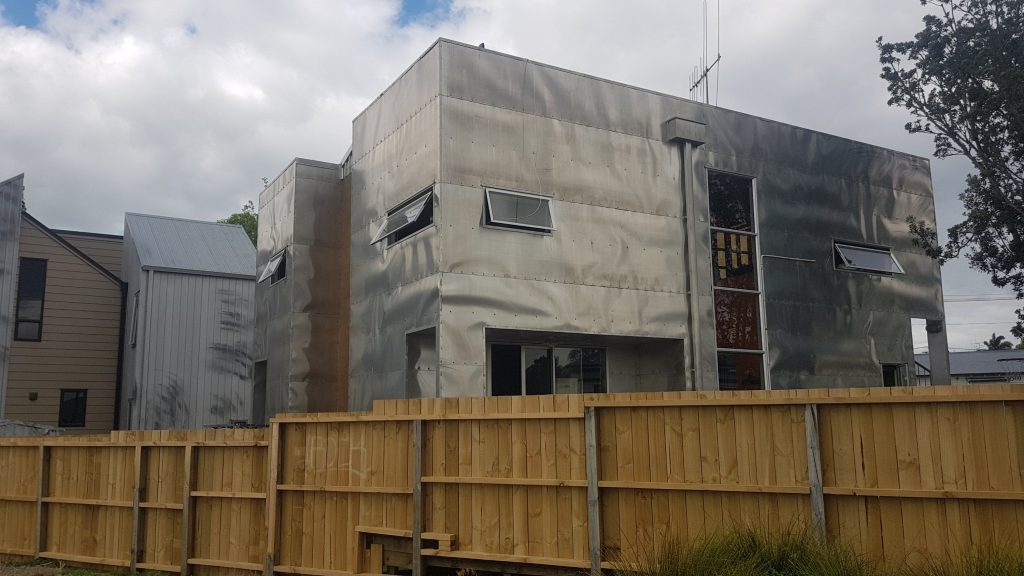 Then you come to the State Highway 23 roundabout. You have to cross one road only. I was worried that the traffic would be bad, but this is Hamilton, it was easy. You have to walk from where the photo is taken to the road in the distance.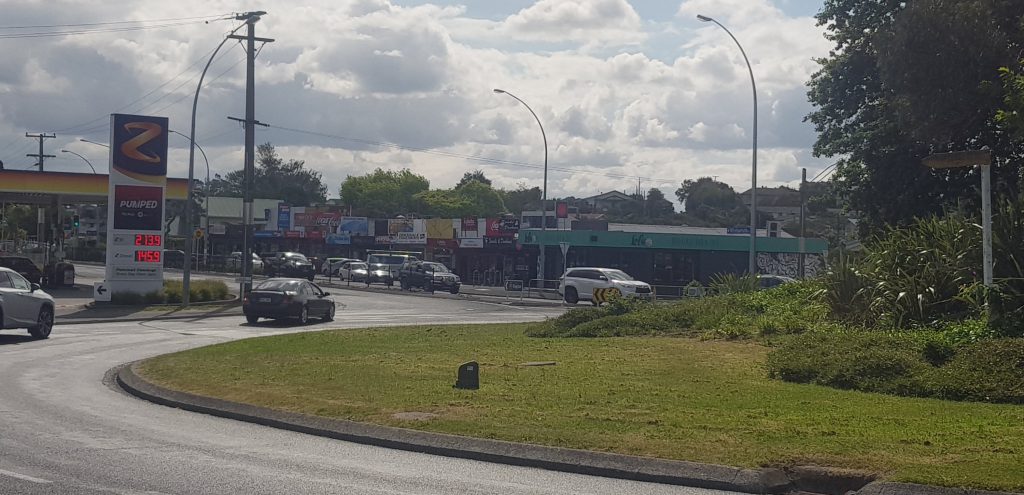 It was here that a car tooted, and pulled up beside me. It was some of my family, including my cousin Lynda.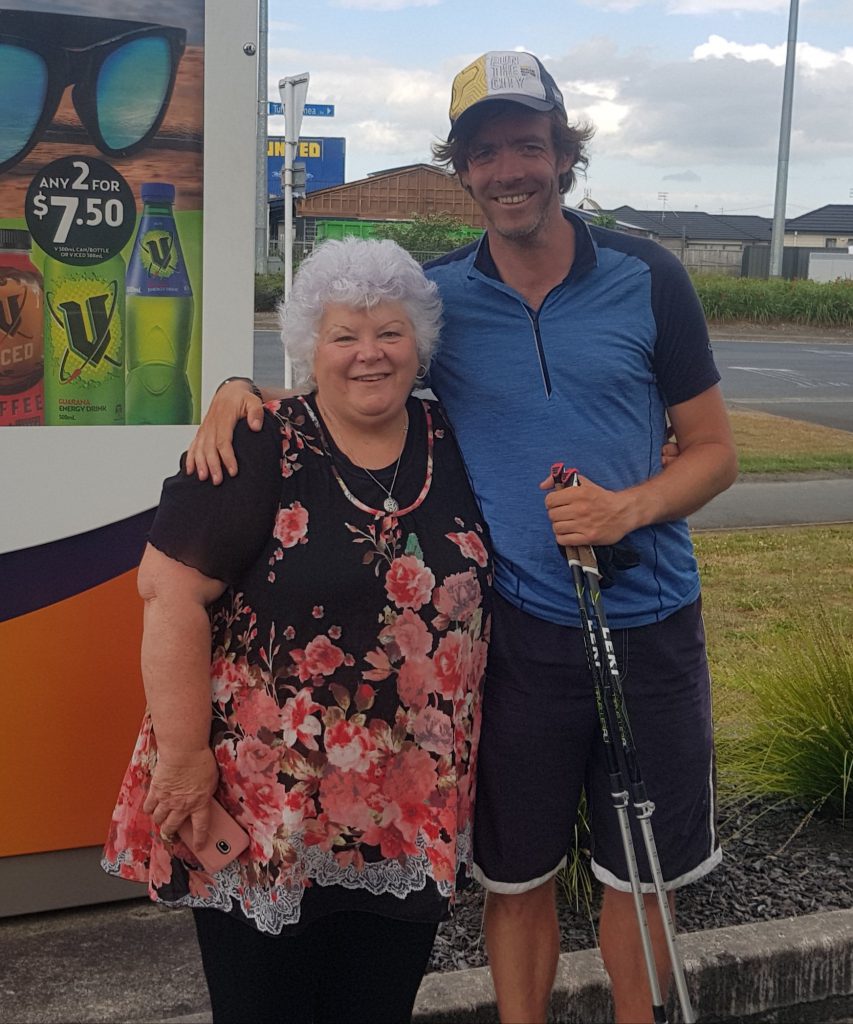 Lynda was one of the many people I know who offered me a room for the night but sadly because I'm only in Hamilton for one night I can't see everyone. So I'm really got to meet like this and say hi.
I never saw Eirik though. I walked fairly slowly, mainly because I didn't have a huge amount of energy but also because I was enjoying taking my time for once.
I stayed with my friends Michelle and Jason tonight who live just a bit further down the trail before you leave Hamilton. They used to live in Auckland but moved to Hamilton a while ago now and this was the first time I got to see their house. They made me a wonderful homemade pizza for dinner and we played an excellent game called Mexican Train Dominoes. Thanks guys, I definitely owe you one 😁
Today's walk on the map (blue = Te Araroa, red = today's walk):