Date: 14 November
Distance walked: 16.6km
Trail covered: kms 853.5 to 870.6
Weather: Rained hard in the morning but we missed it
Am I running out of things to say in these factoids: yes, yes I am.
I woke up at 7:30am and the rain was quite light. It wouldn't be pleasant to walk in but it wasn't the great storm that the Metservice made it out to be. So I got out of bed, had breakfast, packed up my stuff and left at 8:30am. I didn't mind a bit of rain if it meant that I would actually get to Te Kuiti at a reasonable time. I also convinced Henry to leave too and walk with me, so I had company today while walking.
And actually, the rain stopped pretty much as soon as we walked out the door. Excellent luck!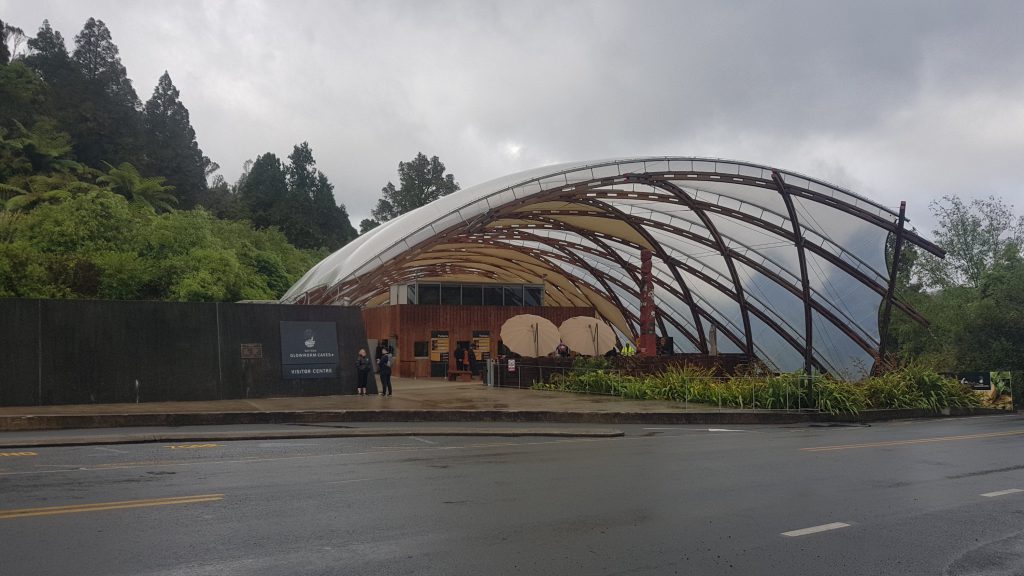 I felt very lucky that yet again I had avoided the bad weather. The dark clouds were still around but at no point today did we get wet – well not wet from the rain!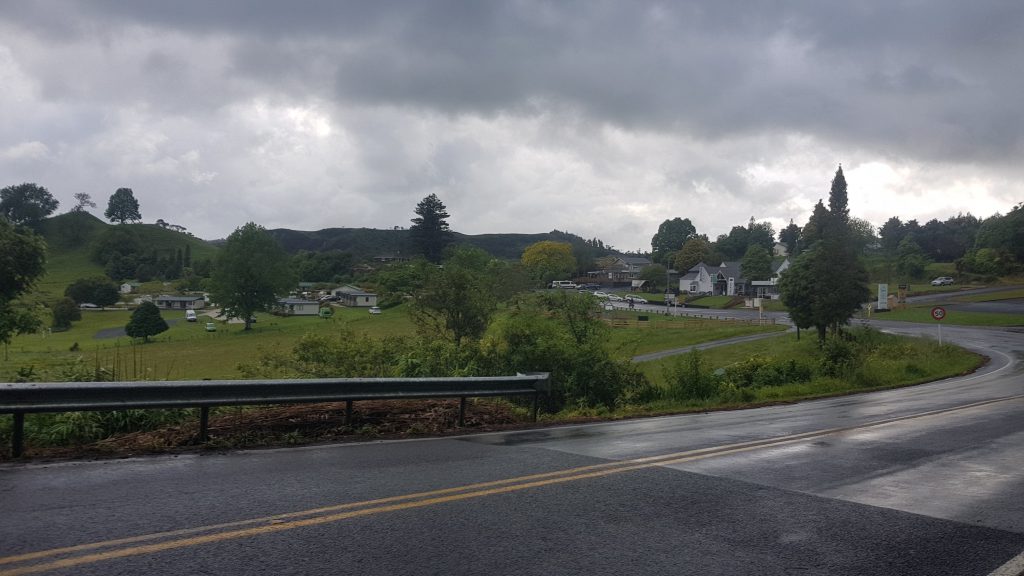 Lots more farm walking today. Today really felt like simply a shorter version of yesterday. While writing up the blog for this day I really struggled to think of what to write, because it was so similar to yesterday and there were not a lot of things that happened that haven't happened every other day.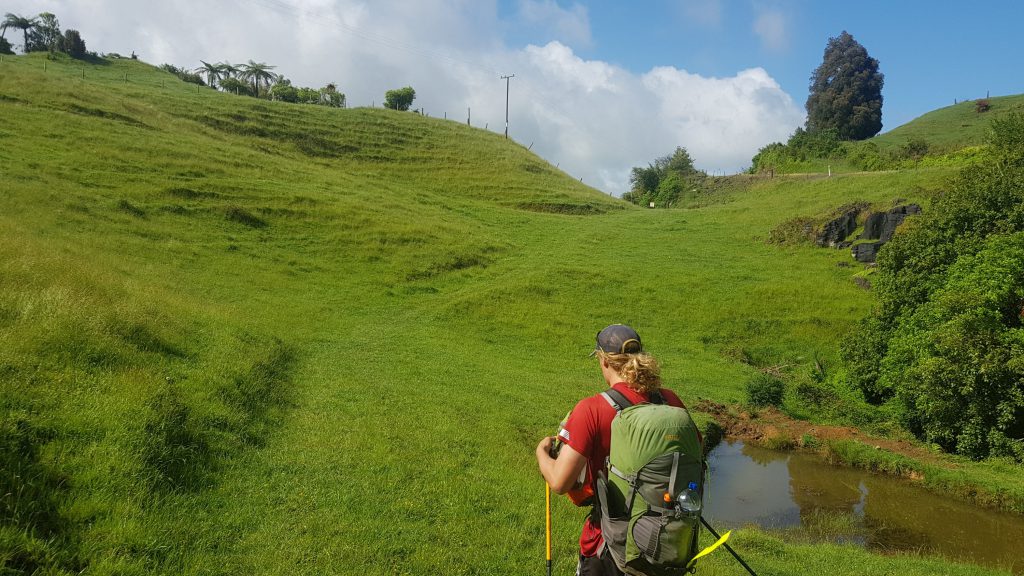 And also more bush walking.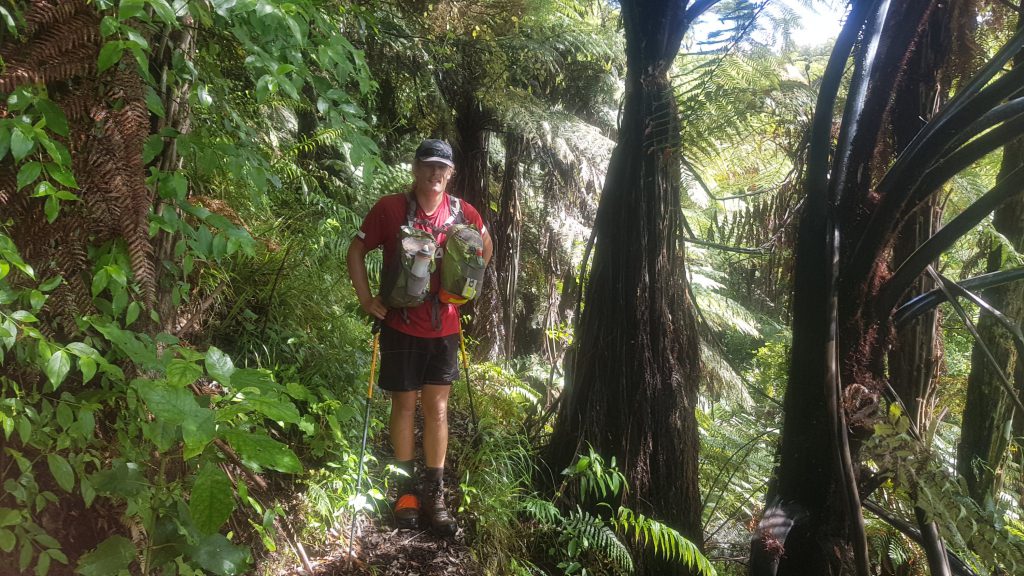 Henry is a tall guy, 6ft4, and so it was interesting to see how he negotiated some of the lower tree branches and obstacles. Although he said he didn't remember the very low vines that I crawled under yesterday. Maybe there was a real obvious way around them that I just didn't notice.
The grass was long and because of all the rain, today my feet and shoes got the wettest they've ever been – after not too long I felt like I'd walked through a stream.
Guthook said that there were three major "up 'n' downs" today, and that was the first of them – up through the farm and down through the bush. The second of them was very similar – up a fenceline…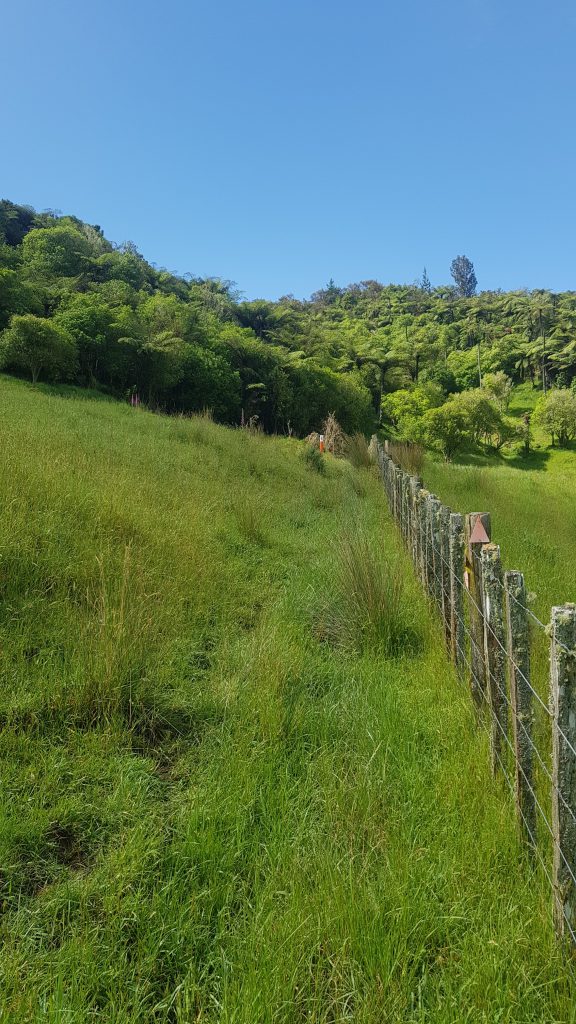 Along a bush track…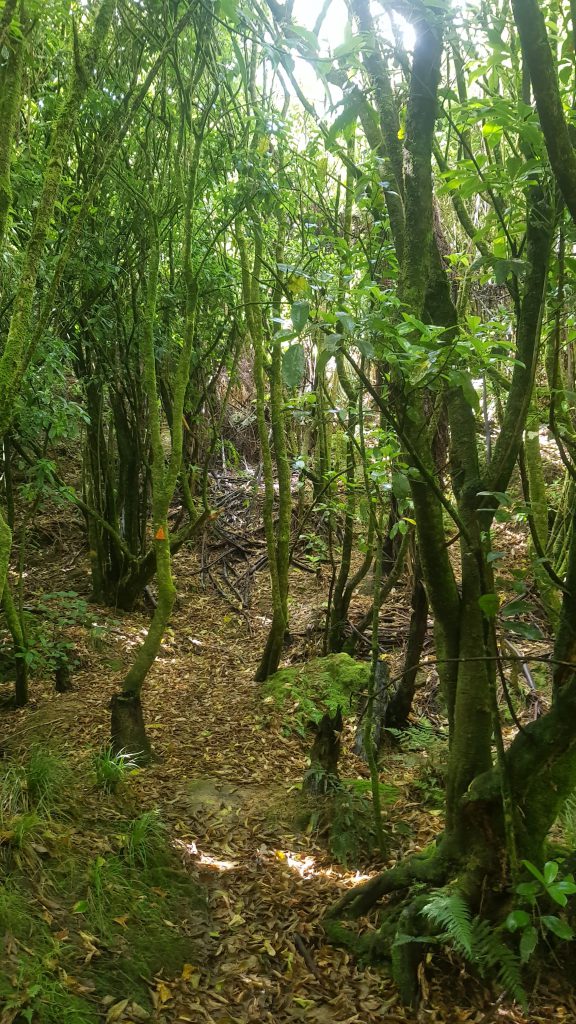 And down through a paddock which I assume was being prepared for crops.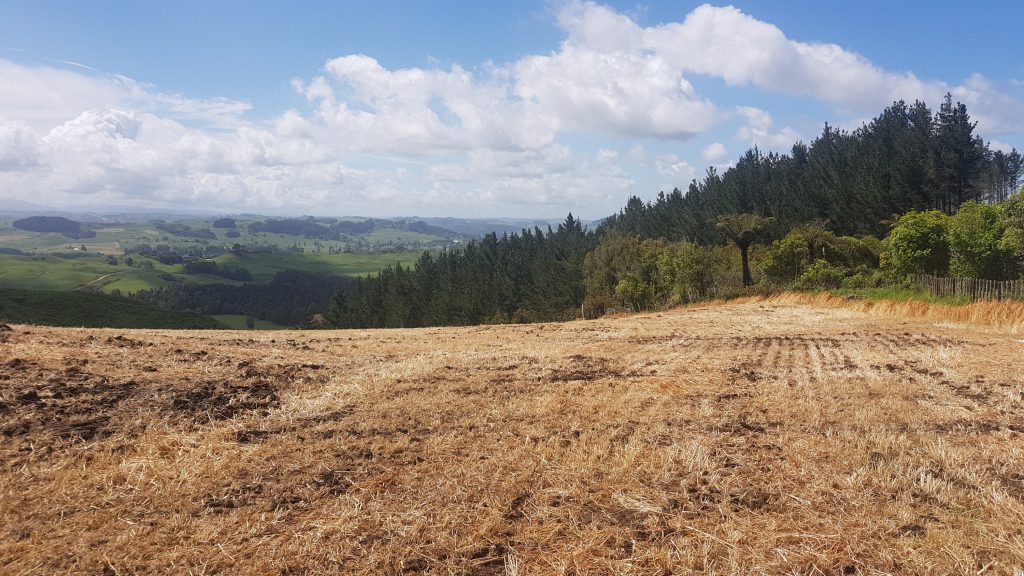 The view while we were going down the hill was again a great view of the surrounding area, although we're far enough south now that I don't recognise any of the hills or surrounding landmarks.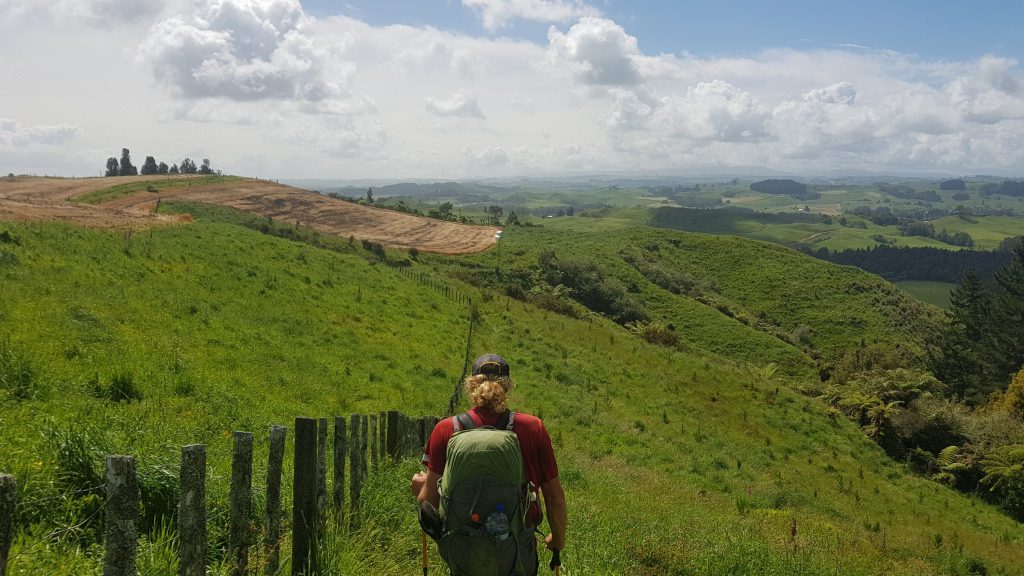 At 11am we were still following markers down the hill.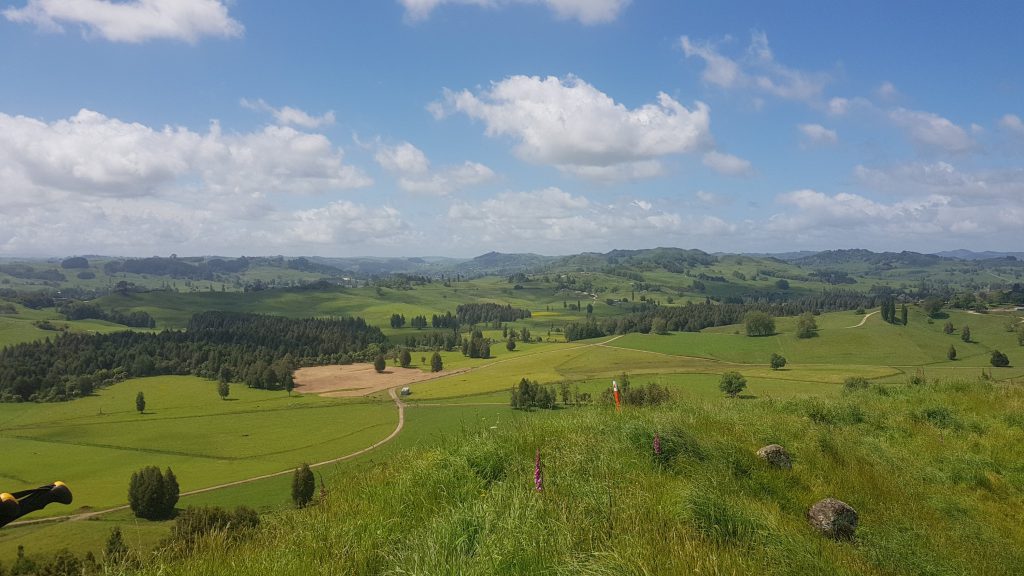 The suspension bridge was a cool thing to walk across.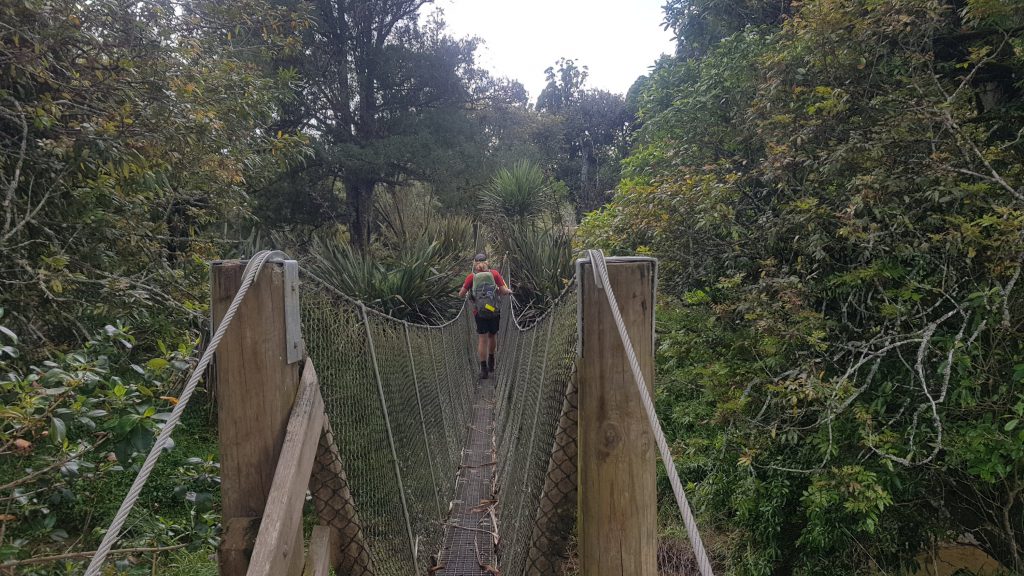 And straight after this was a reserve which was populated almost entirely with Kahikatea Trees. I didn't know that, I learned it from the trail notes.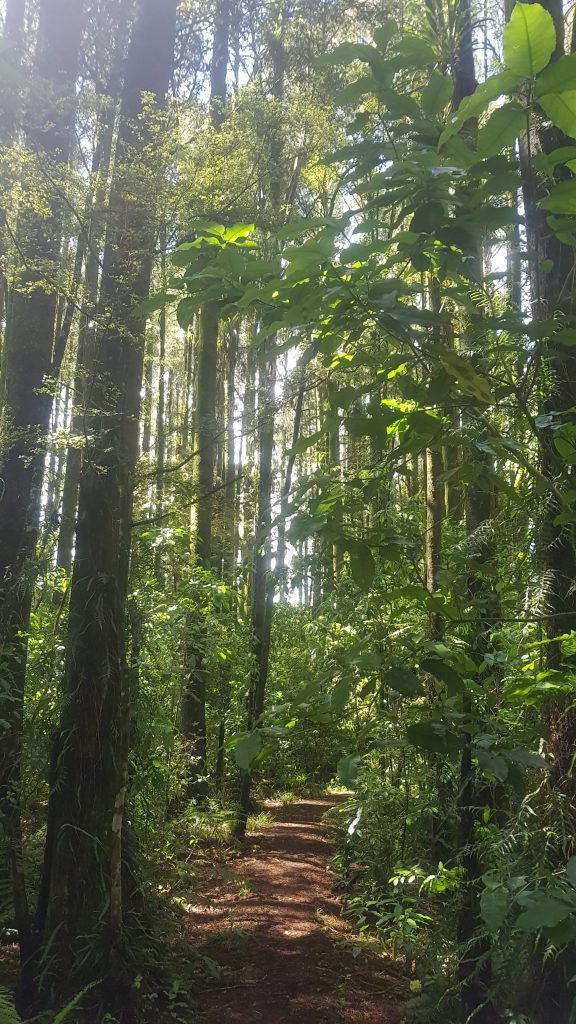 There were more animals.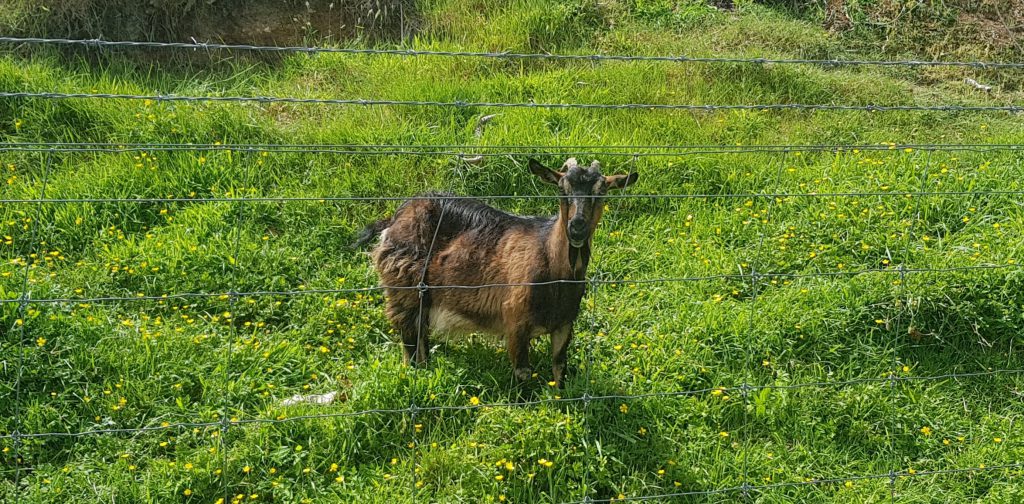 The two of us had a bit of lunch just before midday in the middle of the farm.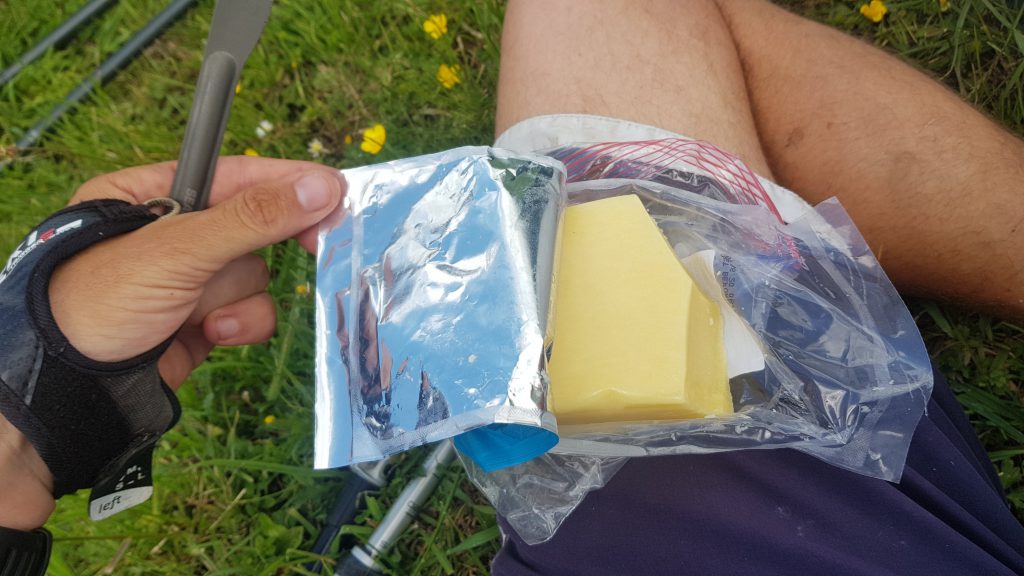 And another airstrip.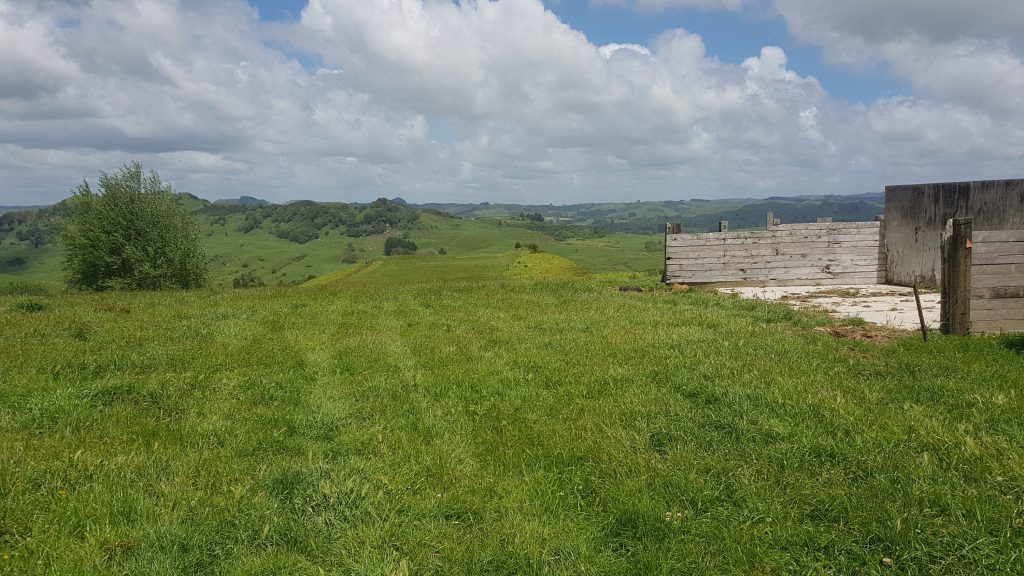 From this point we got quite lost. The line on the map just didn't match where the markers pointed. And the guthook waypoints said things like "go uphill" when the markers pointed around hills. Where the actual line crossed a road there was no stile or gate or anything. So we did a lot of climbing fences, which was an interesting bit of added exercise.
We looked on the Guthook topographic map, and the red line went right past a "mast". We could see it in the distance. So basically we just walked in a straight line up the side of a massive hill climbing any fences we encountered until we found some markers that were actually clear. You can see the detour in the map below just before Te Kuiti.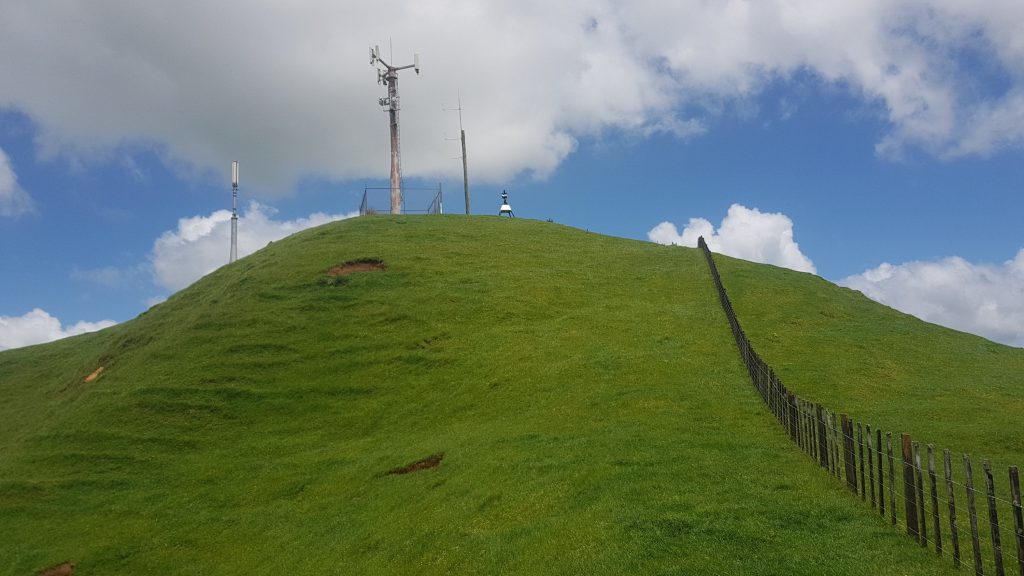 At least once you were past here, you could finally see Te Kuiti. I could even spot the New World, which was the agreed spot to meet my Dad, which was just past the bright red shed that is The Warehouse.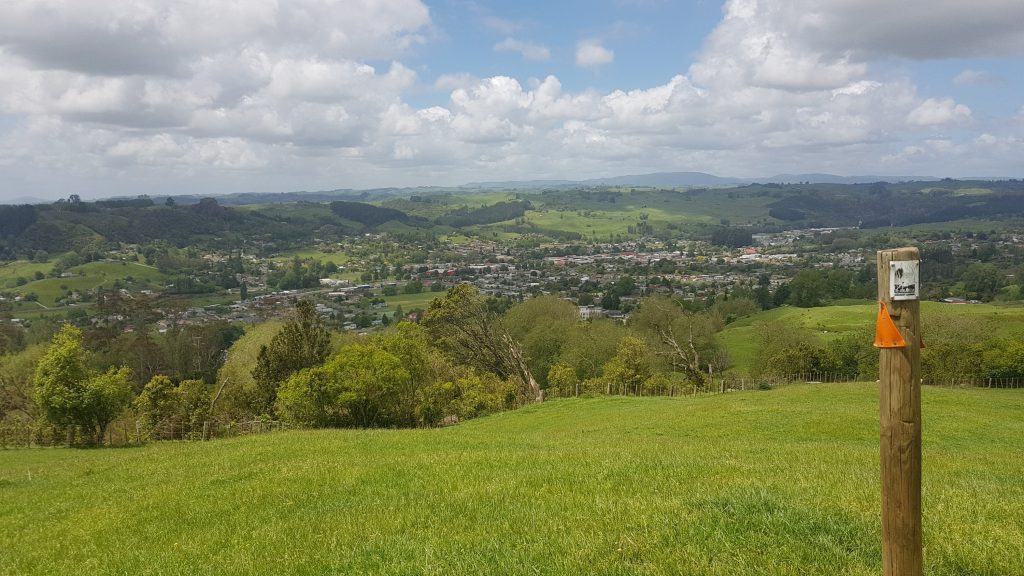 There was one last bit through a tree graveyard: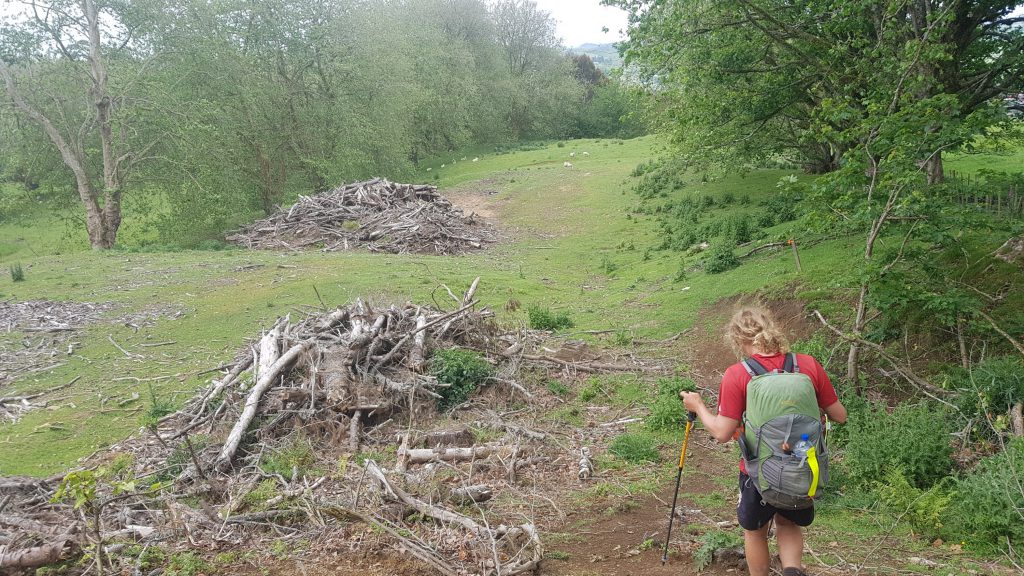 And a bunch of pallets: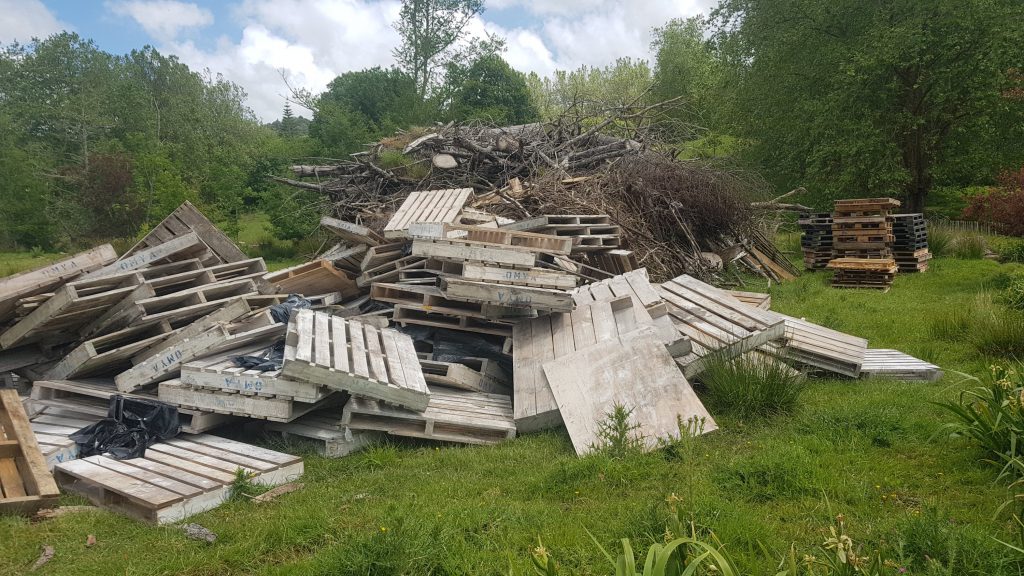 And we were in something called "Brook Park". Here, there was something called a "disc golf" course. My understanding is that you have to throw frisbees from tees like this: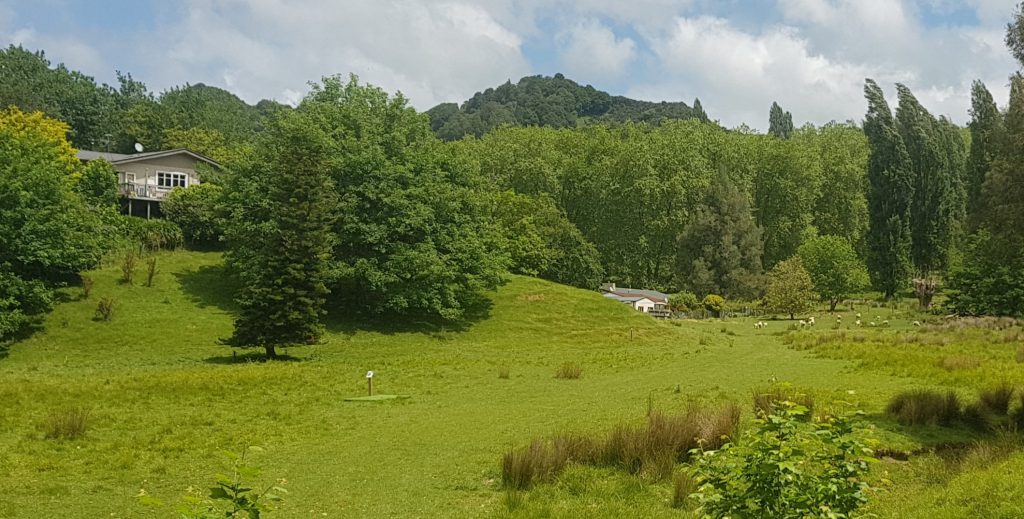 Into baskets like this: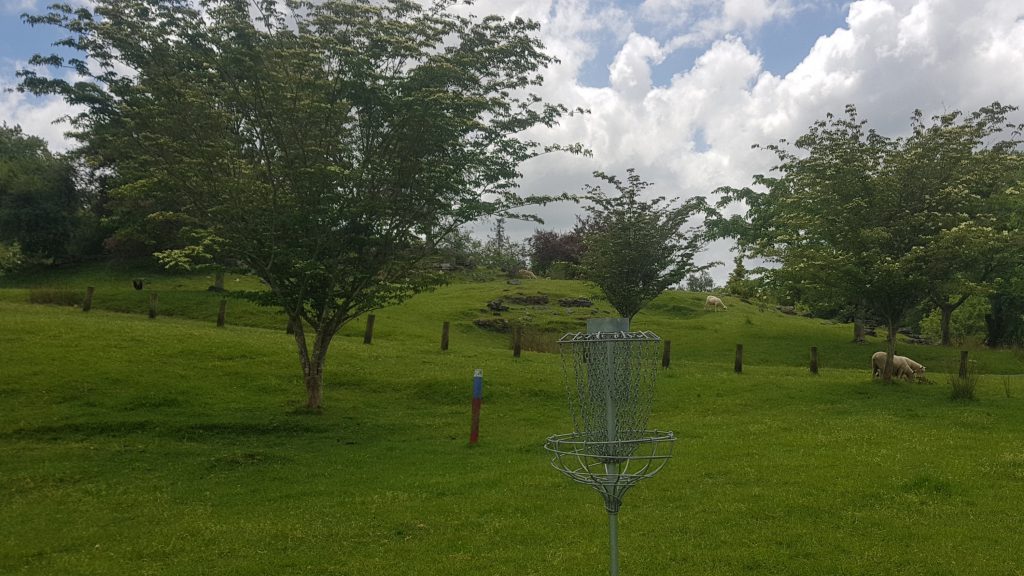 I bet it could be fun if you had any kind of coordination at all.
I left Henry at the Bosco Cafe which you pass just before you come out onto State Highway 3. I walked down SH3 into town (on footpaths, thankfully) and made it to the New World.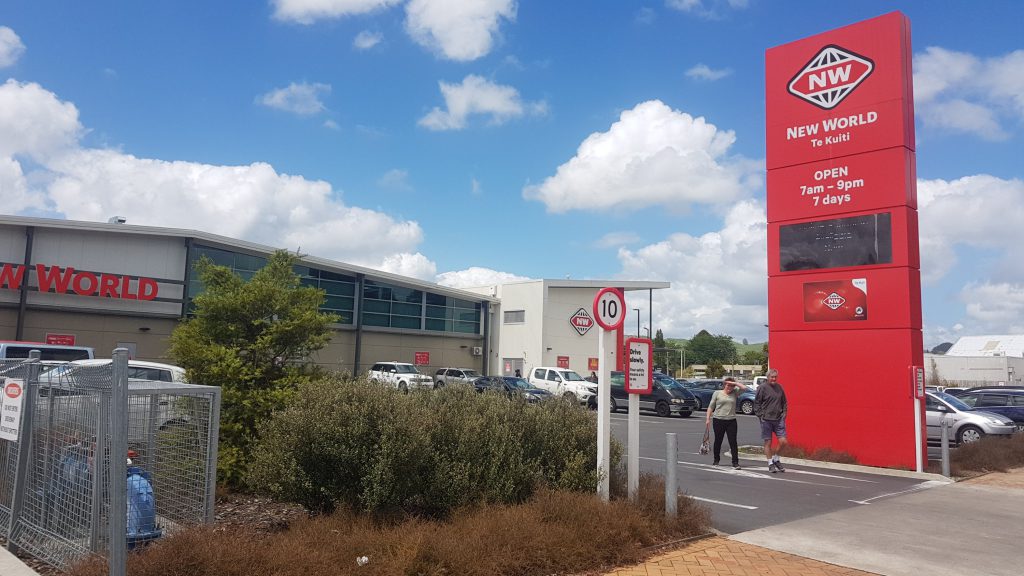 We ended up driving back to the Bosco Cafe and having a bit of food with Henry before heading back to Te Awamutu where I spent the night.
Originally when I started this walk, Te Kuiti was kind of a "mini goal" in my head. The three main goals were getting back to my place in Auckland, then getting to Wellington, and then completing the whole trail down to Bluff. However, in my mind, Te Kuiti was a significant point because once past here, I don't know any people until I arrive in Wellington, and also it gets a lot more remote. I have been relying a lot in the last week or two on my house and my friends and family in Auckland and Waikato. That will be ending tomorrow, and it will be back to simply walking when I feel like it, not walking when I don't feel like it, and camping at a bunch of campsites. It's been nice having a lot of people supporting me but in a way I'm looking forward to getting back to the "real trail".
I have a feeling the next 50 days are going to be a lot different to the last 50 days.
Today's walk on the map (blue = Te Araroa, red = today's walk):