Date: 15 November
Distance walked: 21.5km
Trail covered: kms 870.6 to 891.9
Weather: good temperature and breeze
I woke up this morning feeling like a new era was starting. The first day of the second part of the north island. Mainly because I didn't know what was coming and I dont have friends and family to call on now.
First I wanted to head to the doctor to see about my big toe.
It has looked a bit puffy for a week now and the nail has always looked a bit weird but it was getting darker. The doctor had a look and said likely I've just bruised the toe, and the nail has been dead a long time. And to prepare for the nail to fall out. That 2 minute consultation cost me $75, but that's what you pay in NZ as a casual patient. In Auckland it would have been $95.
And I had to talk to the doctor in a common area, with a family seeing another doctor mere inches from me, and two construction guys chatting loudly on the other side. When I pay $75 to see the doctor, I expect a private and quiet room. What I was provided at the Te Awamutu Medical Centre was unacceptable. I won't be going there again.
So shortly after that it was off to Te Kuiti. Dad drove me there in his car since I stayed with him last night.
The first thing we noticed was a horse walking down the main street.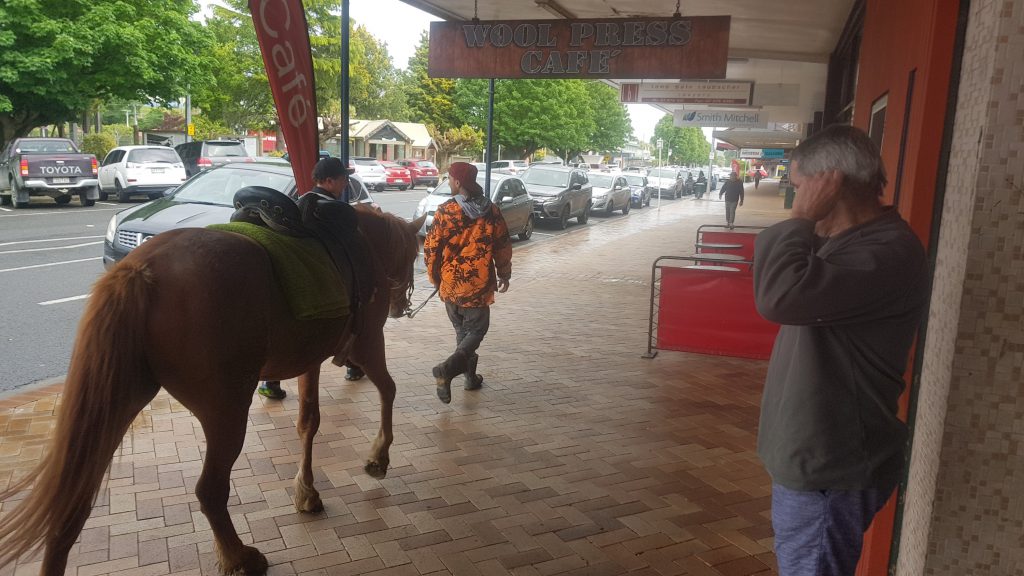 We also noticed a guy in the cafe wearing a big pink dressing gown with the playboy bunny on the back. Sadly I couldn't take a photo of that one.
I bought a bunch of food since it is about 160km to the next major town, Taumarunui. It barely fit in my pack, but with a bit of shuffling things around, I made it work. It was 11am when my purchases were going through the checkout.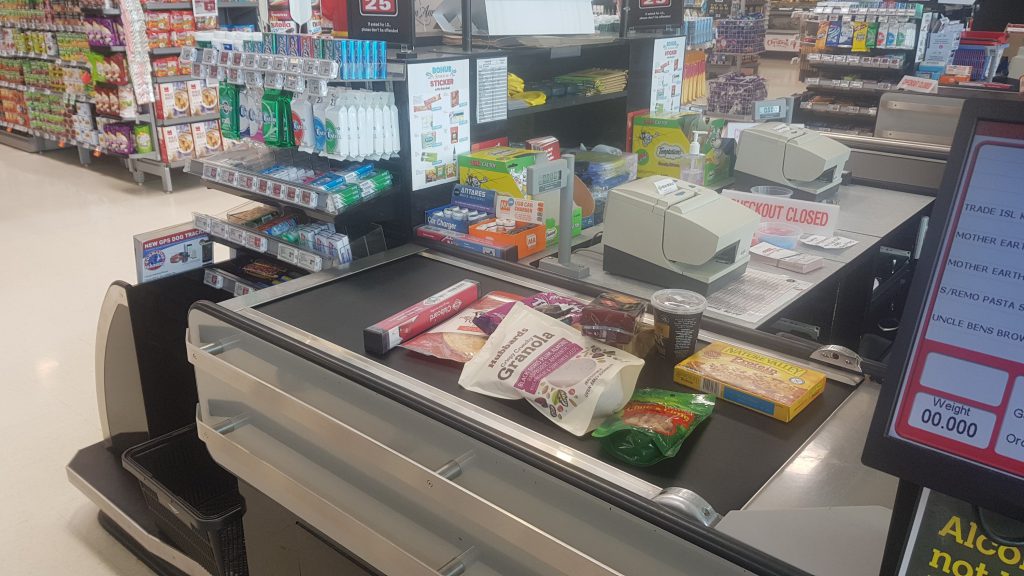 The woman at the checkout asked if I was walking to Bluff and did I know that I could just take a plane or a car. I didn't have my pack or poles with me (they were still in the car) so I wasn't sure how she knew I was walking. Maybe it was the ragged look, or the hiking boots. Or maybe it was the fact that four other hikers have just turned up and have also been buying food.
Two of them were Ethan and Alex, whose blog I have read and have been following Instagram, so I recognised them. The other two were Charlie and Peter, two brothers from Belgium. We all walked a short distance together but then one of the brothers had his Camelbak leak all through his pack and so the two Belgians went back to the accommodation to dry everything out.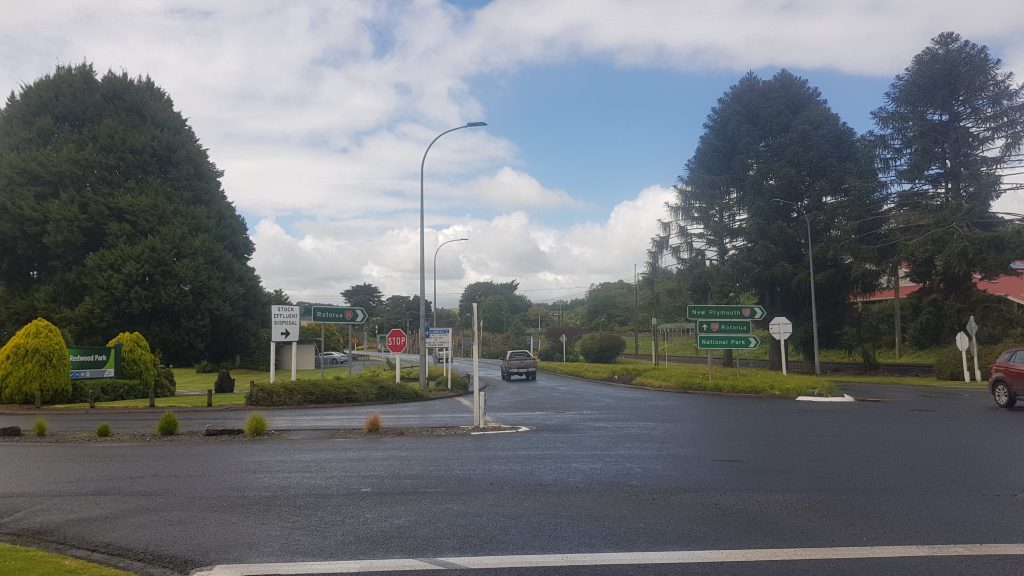 We were walking towards the Timber Trail – a long cycleway.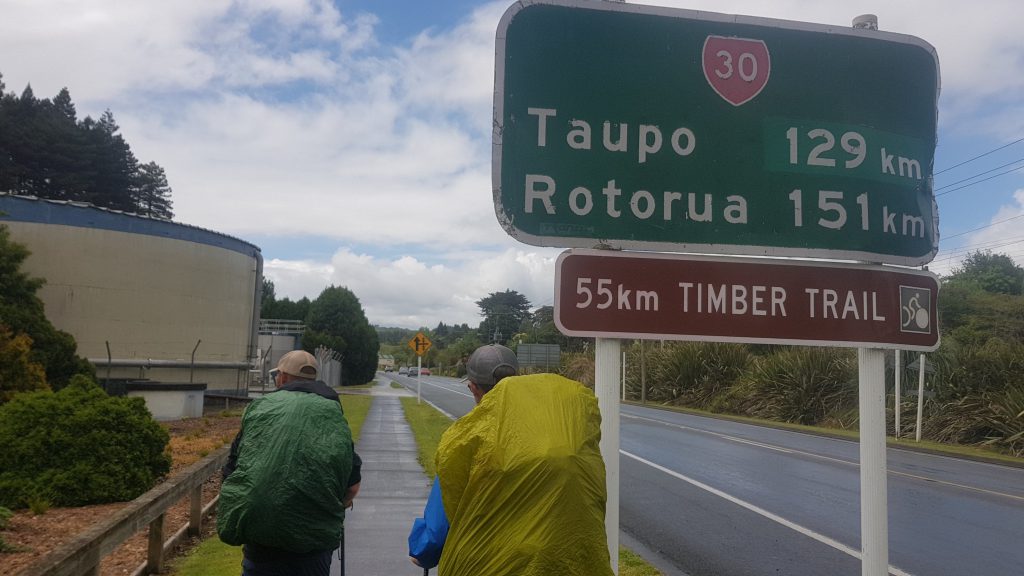 But first it was a riverside path. It went past one nice waterfall…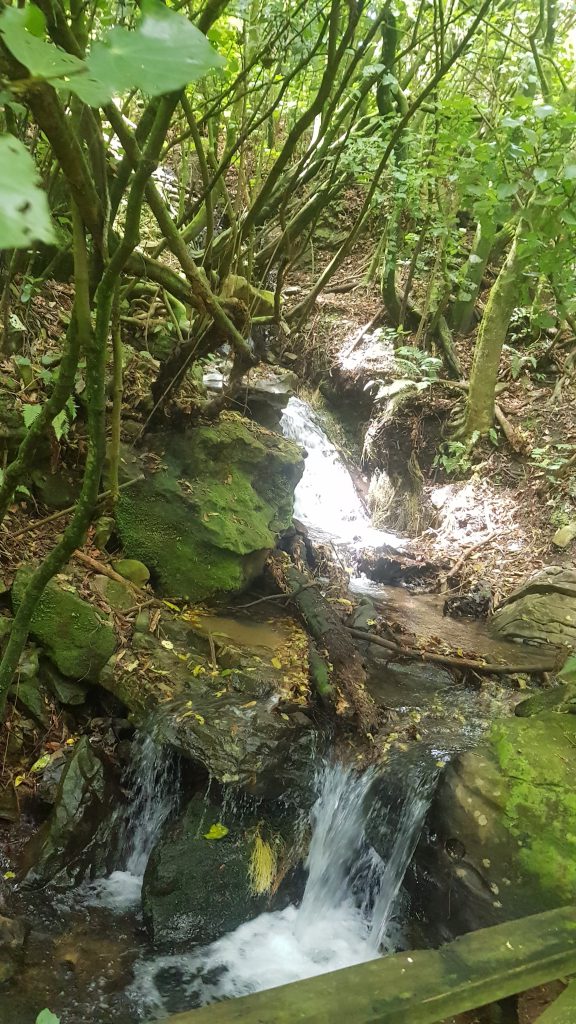 …and another nice waterfall…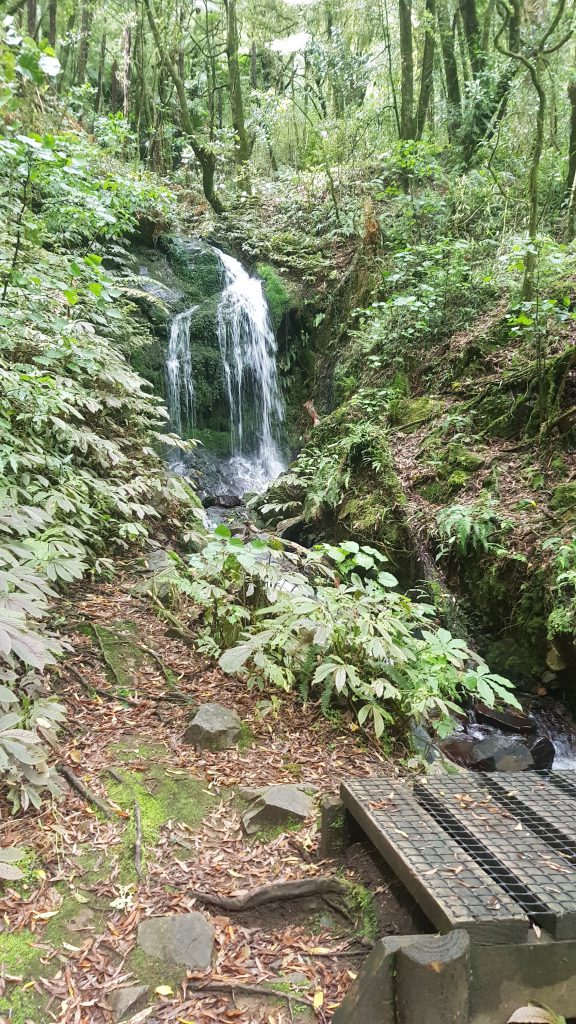 And then across a suspension bridge. Maximum one person at a time!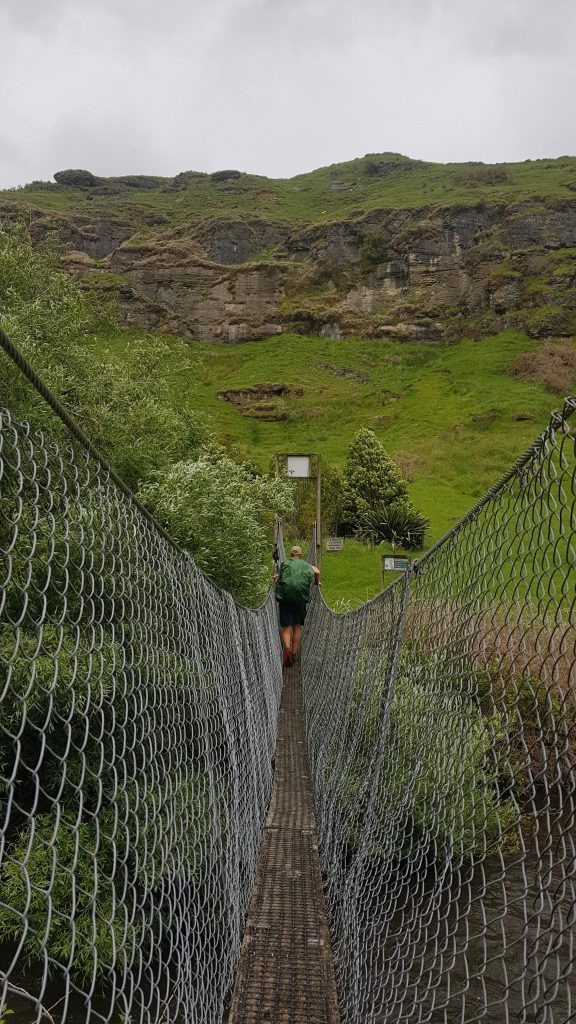 We had had an easy walk up to this point but now we were walking into something called the Mangaokewa Scenic Reserve.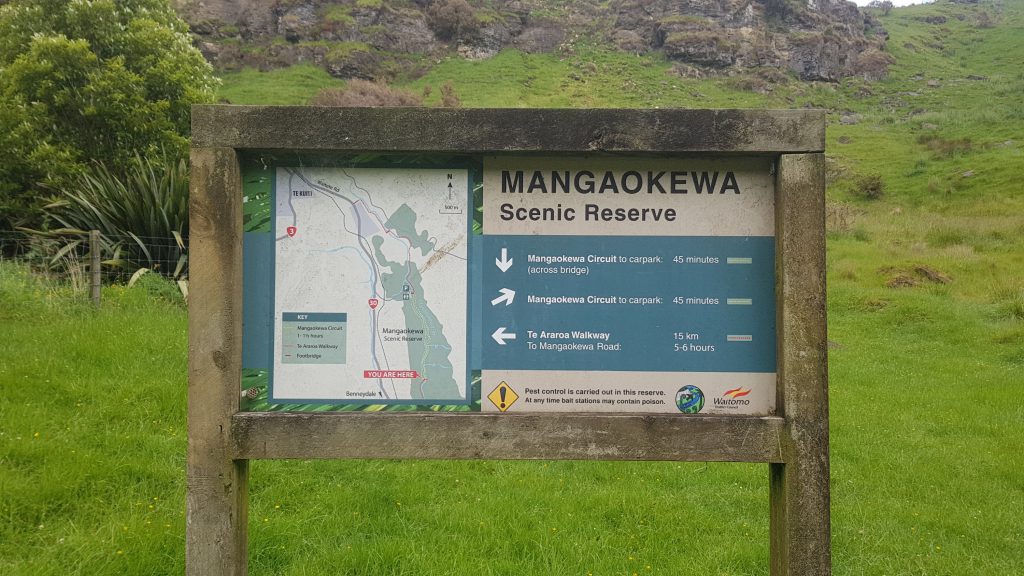 And apparently it is 15km. To what exactly I don't know. At this point I laughed at the 5 hour estimate. I boasted to Alex that I always do it in less time than it says.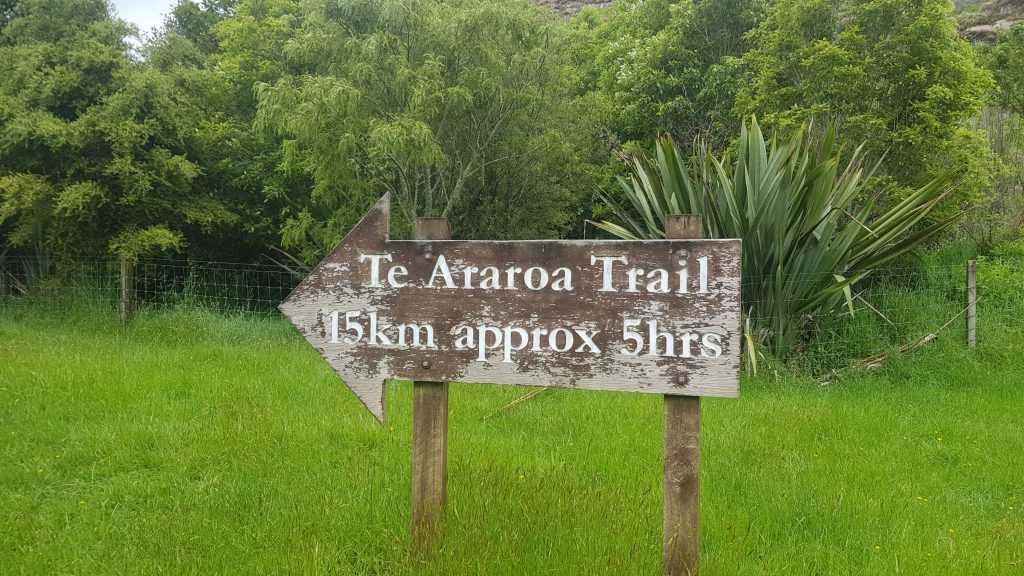 There was a picnic table here, so it was a good spot to have some lunch first. I have a feeling this is also the point that Henry walked to yesterday to camp at. Looked like a good camping spot.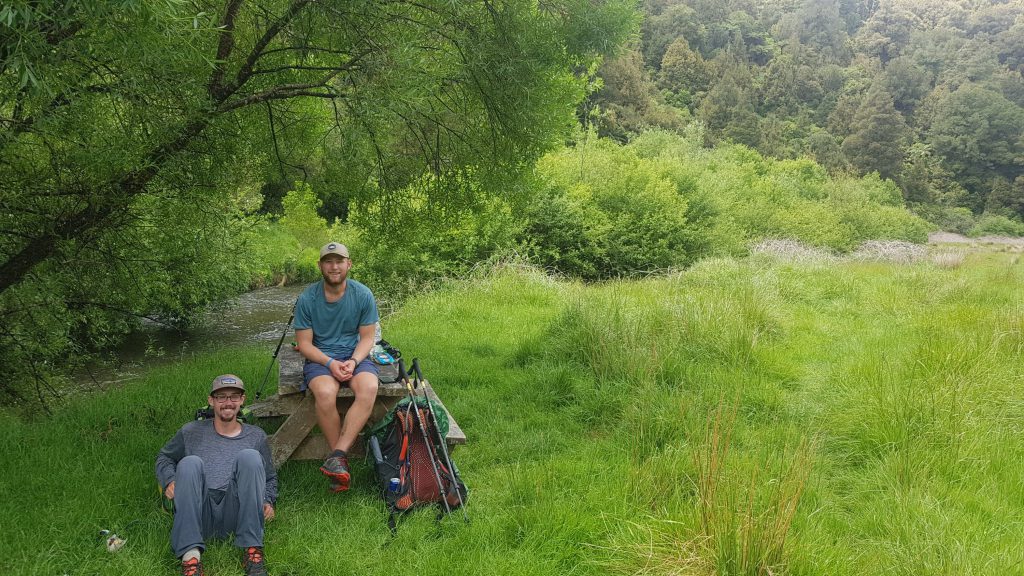 The path started out okay…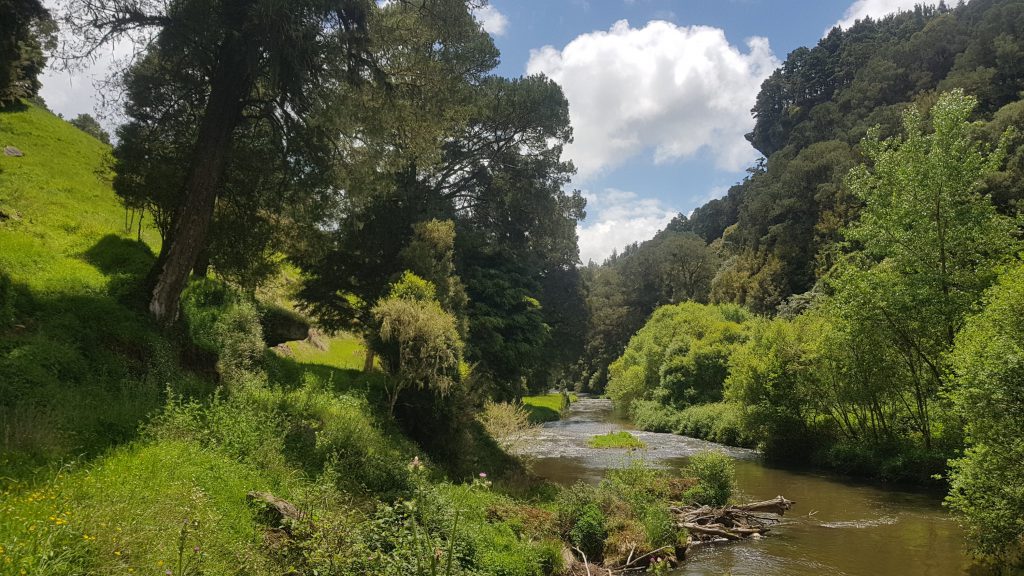 And had nice views…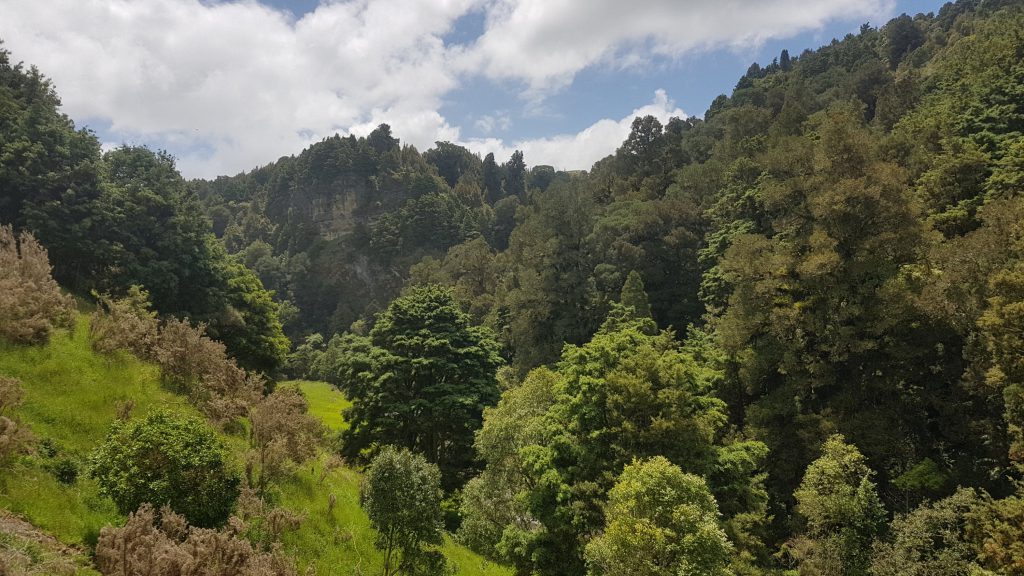 There was no phone reception most of the day though. Up a hill at this rock was some coverage and so I took a few minutes to finish off a blog post and send some messages.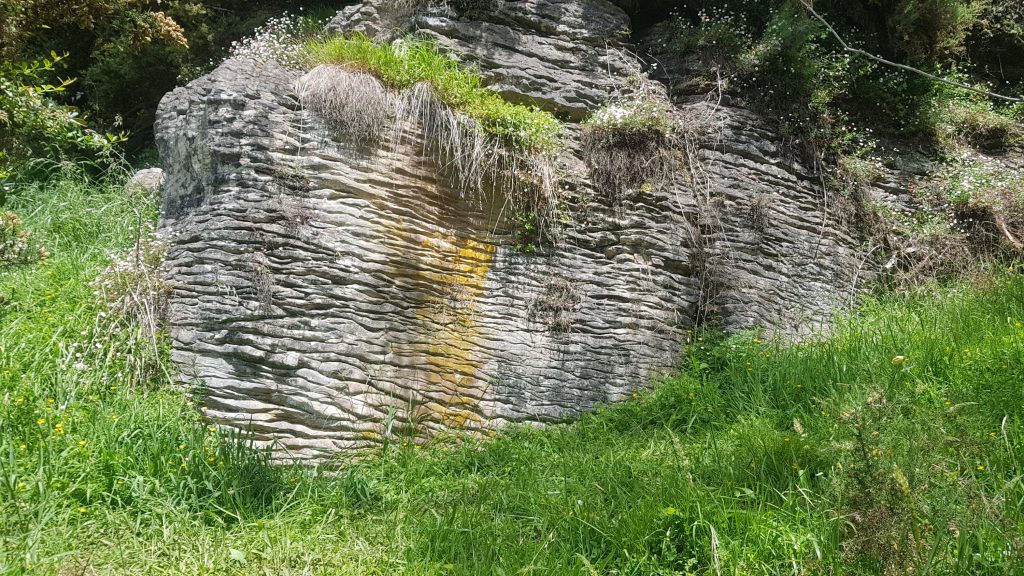 From here though the path began to get a little obscure. It was also quite hilly and a little rough. I lost Ethan and Alex here – they seemed to be mountain goats who could walk along any terrain with ease. Ease that I seemed to be in short supply of.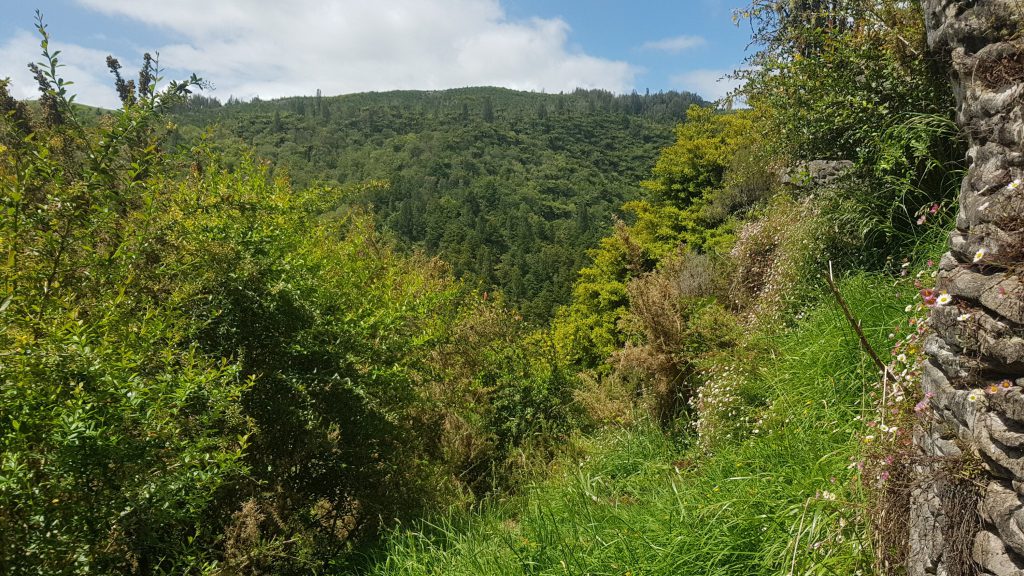 After emerging from the bush, I saw Rhydian taking a break. I stopped for a bit and joined him. While we were resting, Charlie and Peter walked past and went ahead.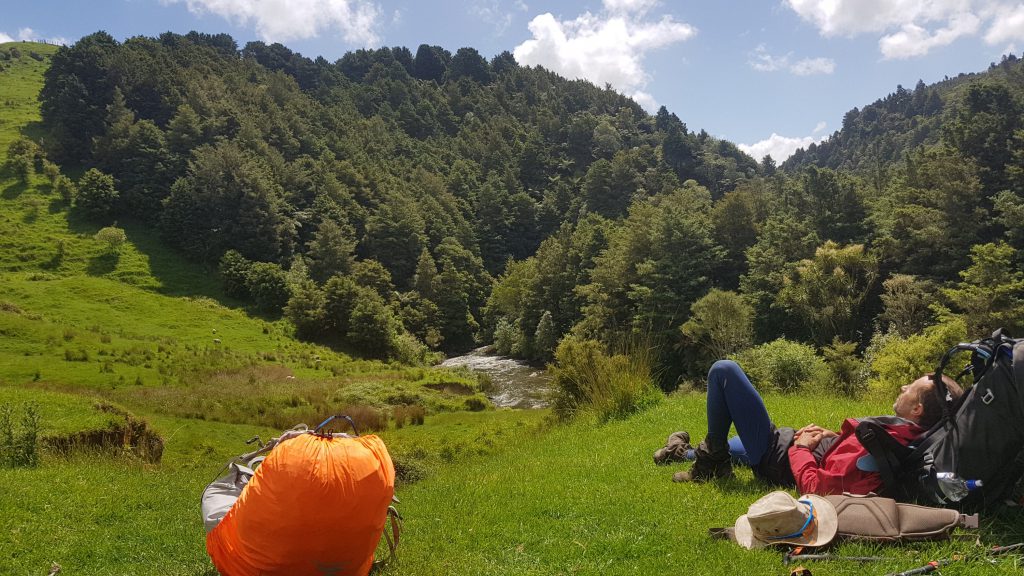 Not long after was a couple of unexpected tables and chairs.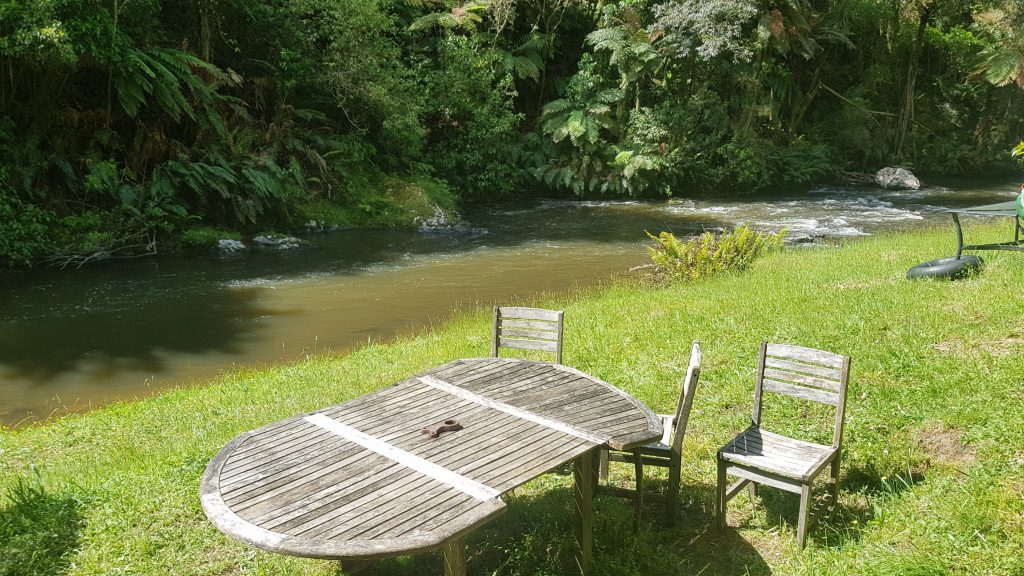 And some awesome trees.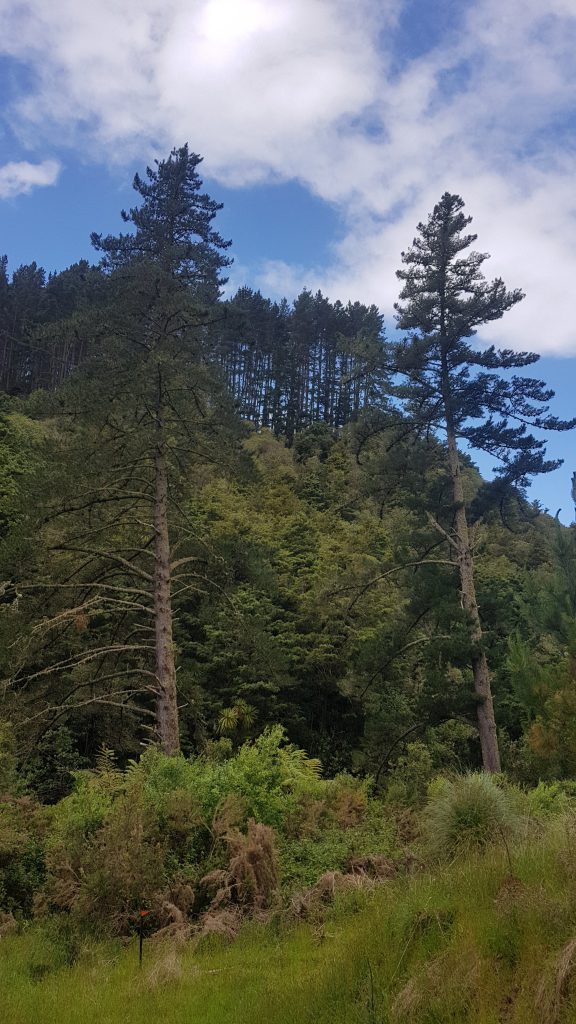 However again the path got a bit obscure.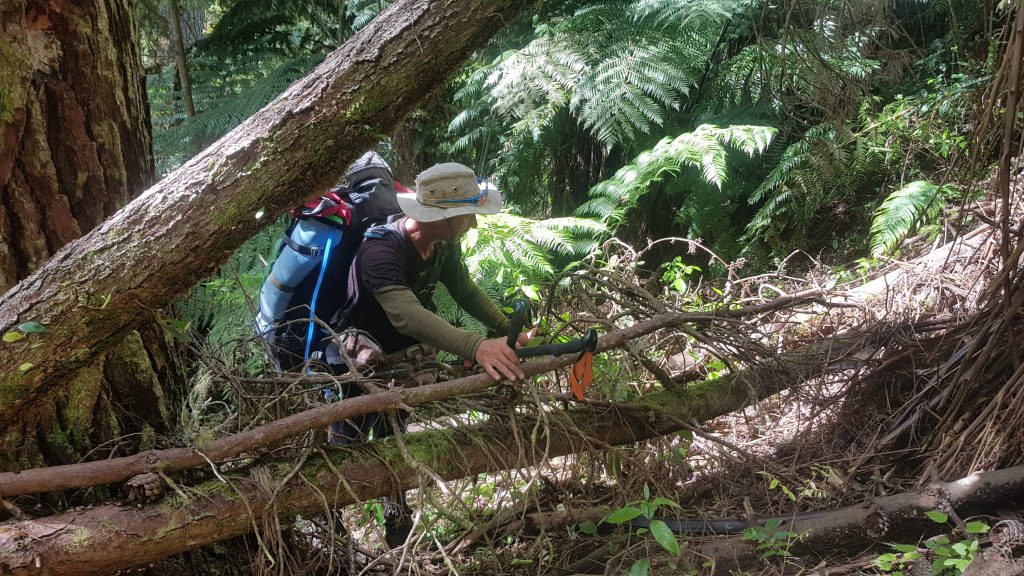 And in some places, it was downright dangerous I thought. It went along the edge of quite a hill and some places, like here, was almost completely subsiding.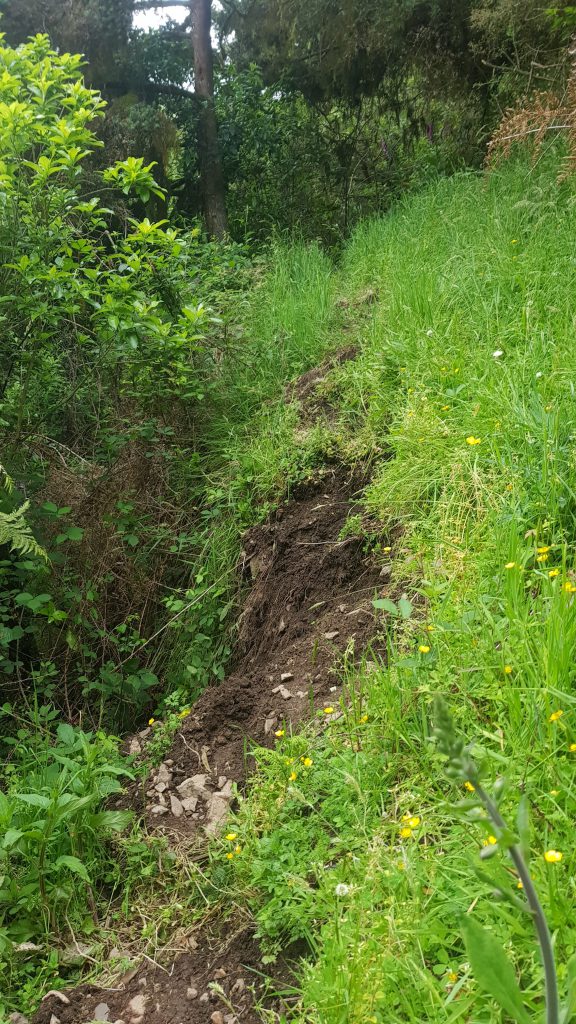 Coming up to this bit, the advice was to walk up the stream – but the sign there says that you can walk along the log across the river, up the grass on the other side and then across a bridge upstream.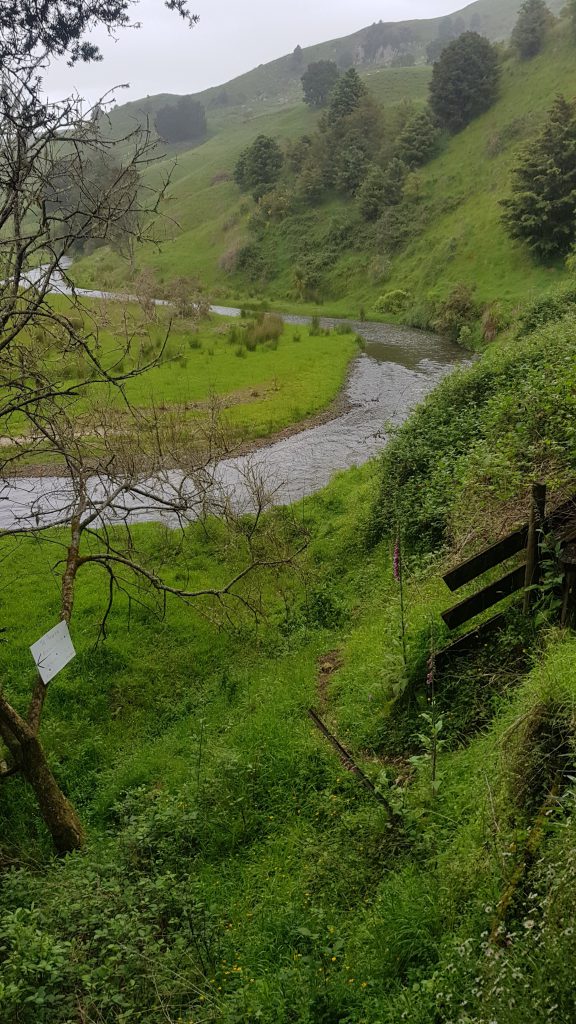 So that's what Rhydian and I did.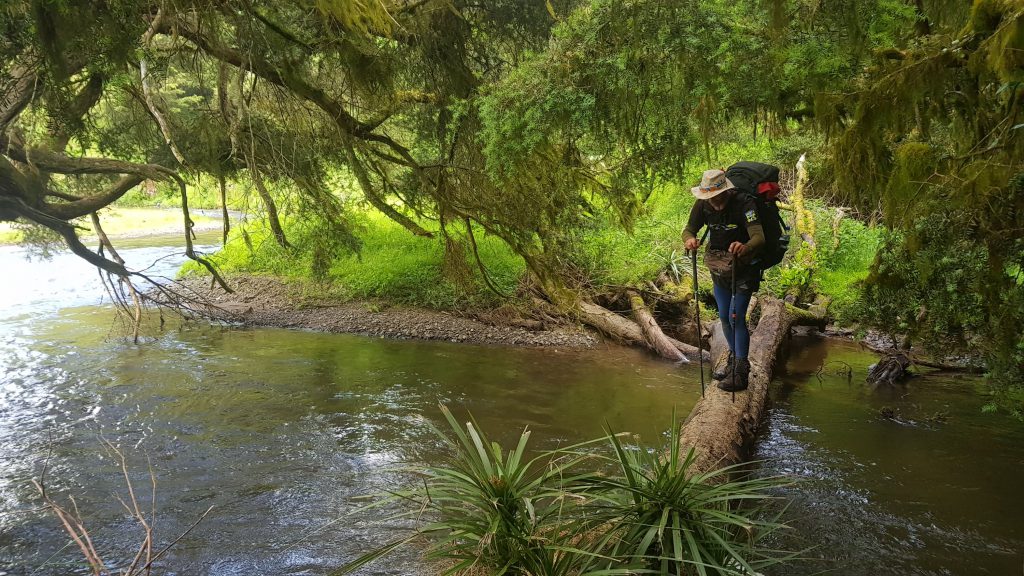 The bridge back across seemed to be made from an old container.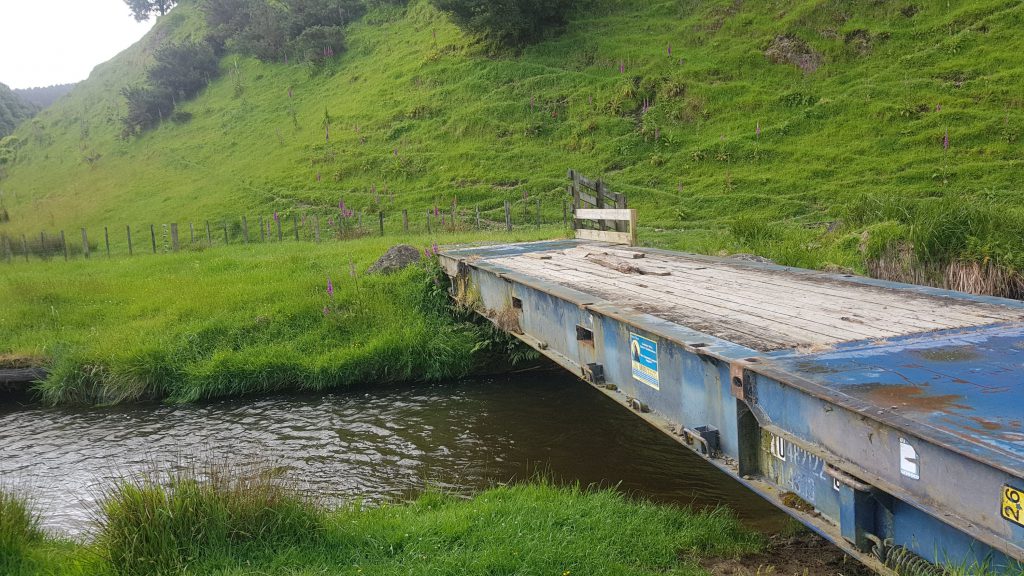 These two trees were interesting, they seem to have grown together.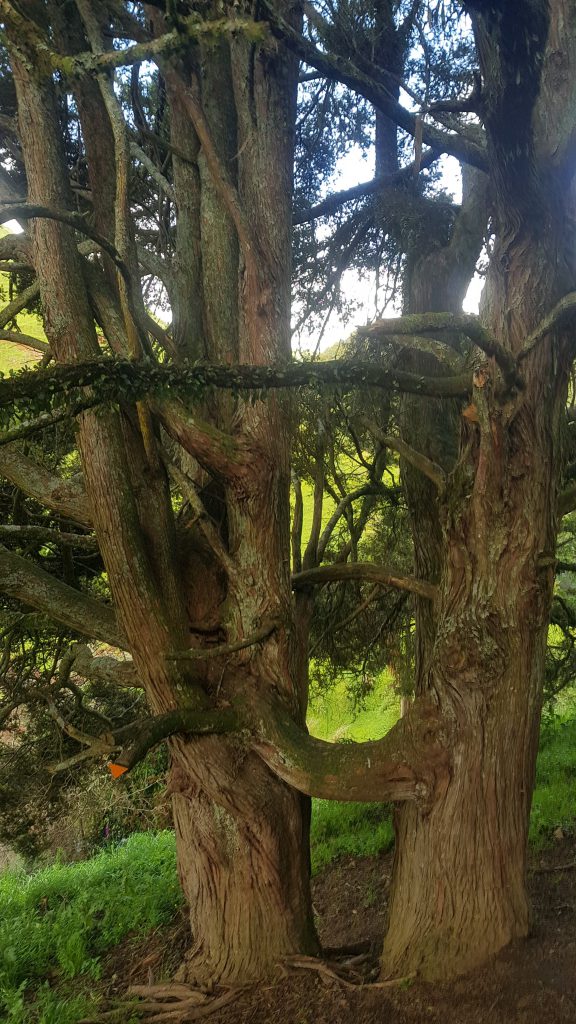 The track became more varied. One minute it was blackberry junction…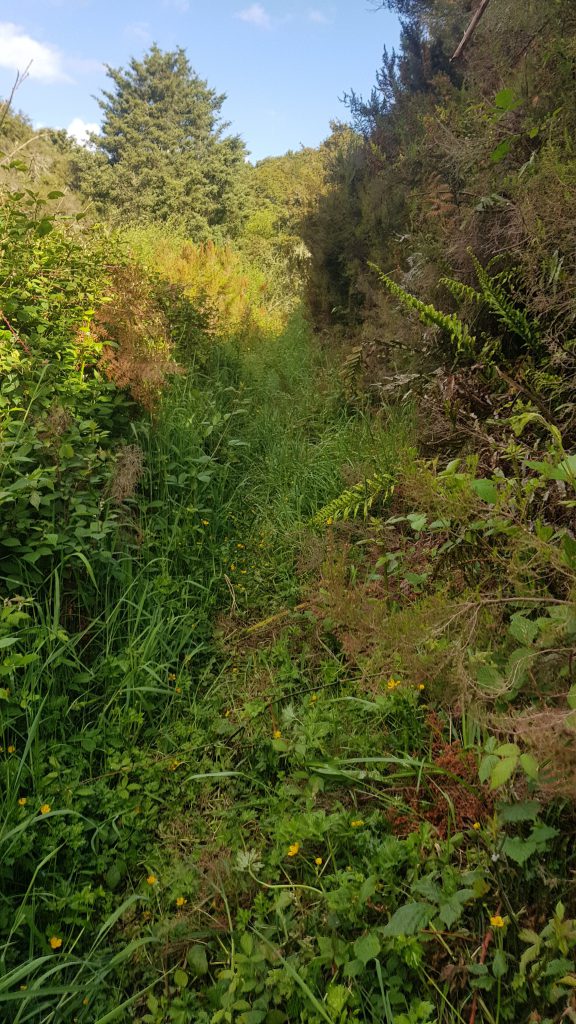 Then it was easy walking through farmland…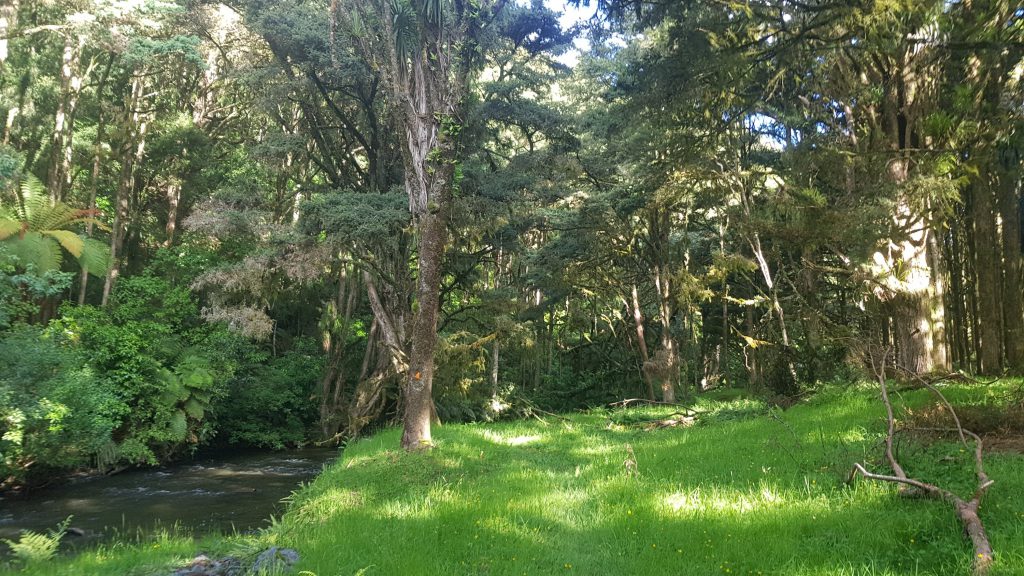 And then up the side of a great big hill.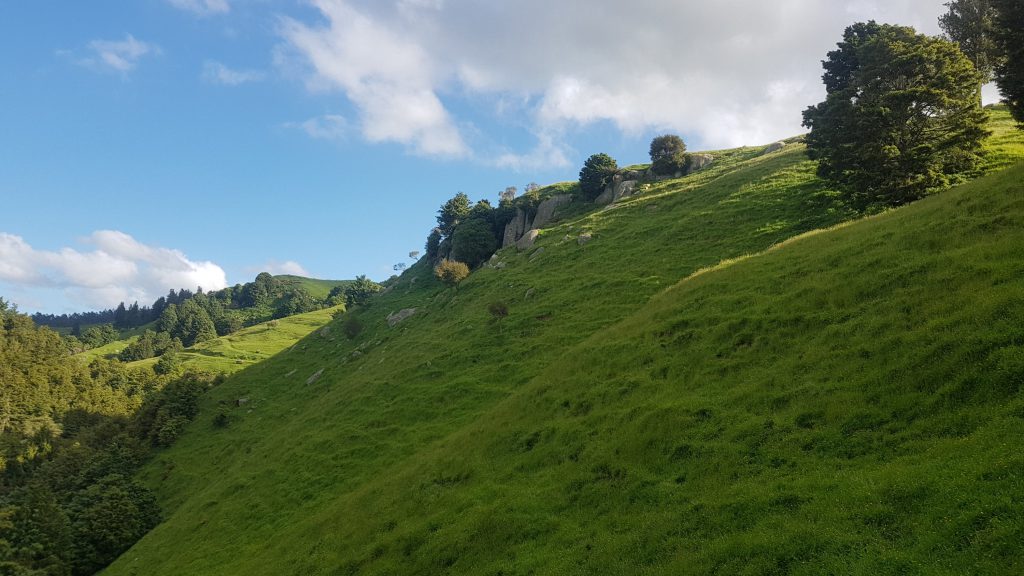 Thanks to whoever built a new fence and didn't incorporate the stile. That's really helpful, thanks.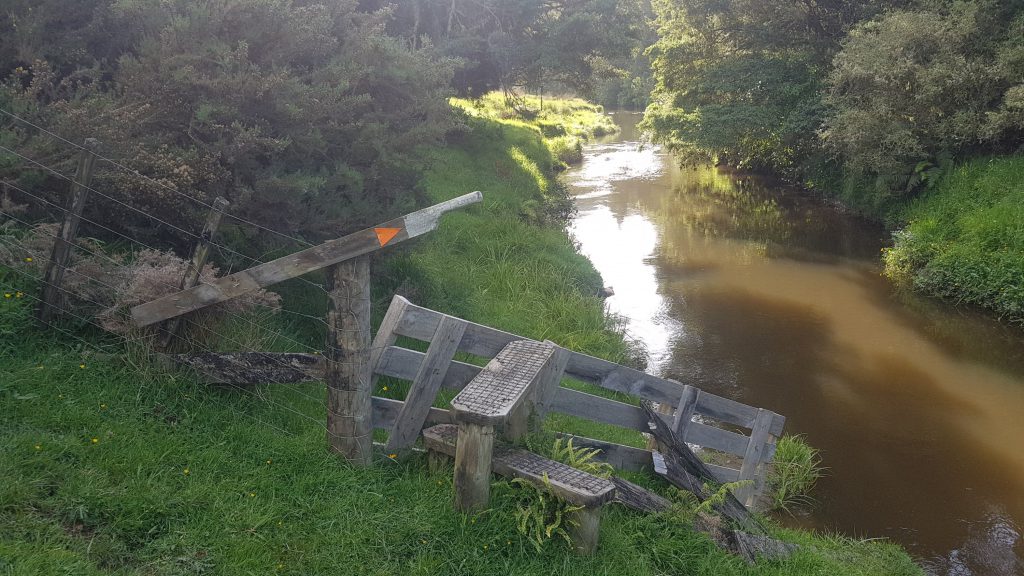 The trail today was a lot tougher than everybody thought. The sun started to get low as the day went on.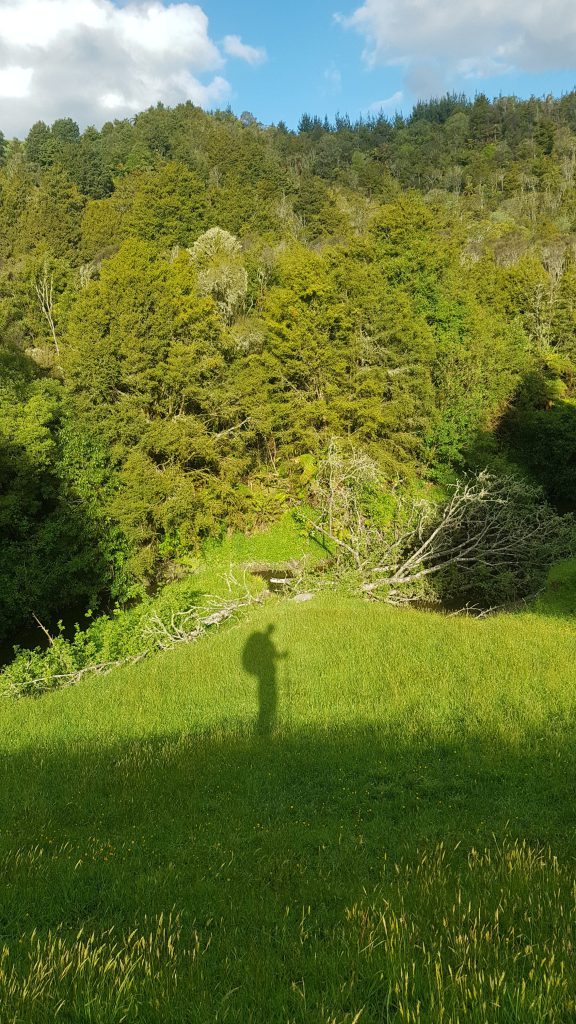 But finally, at least there was a sign. The end was in sight… well it wasn't in sight yet but at least I knew it existed.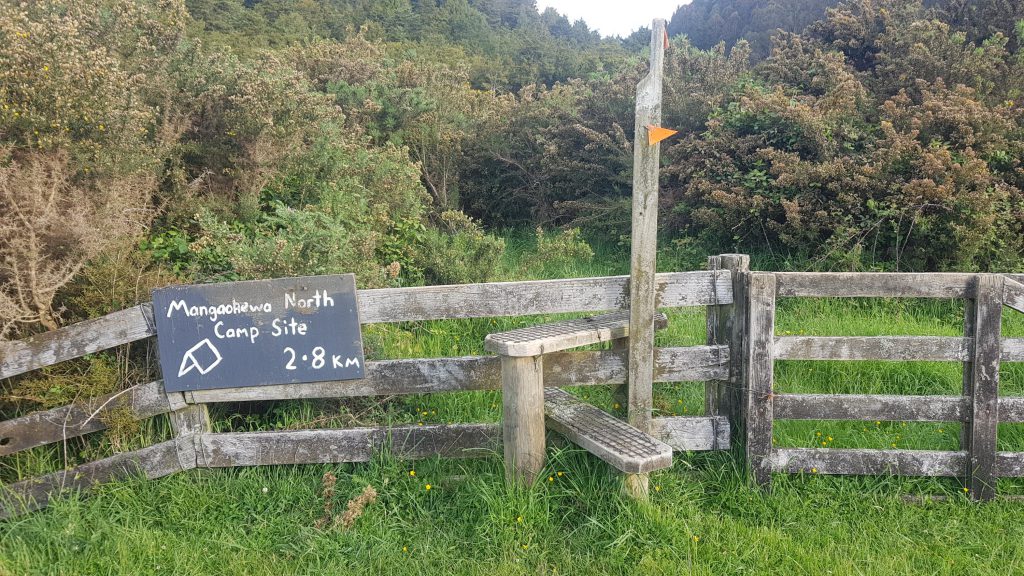 The last bit was walking along the side of the forest in the background of this photo (avoiding the gorse in the foreground).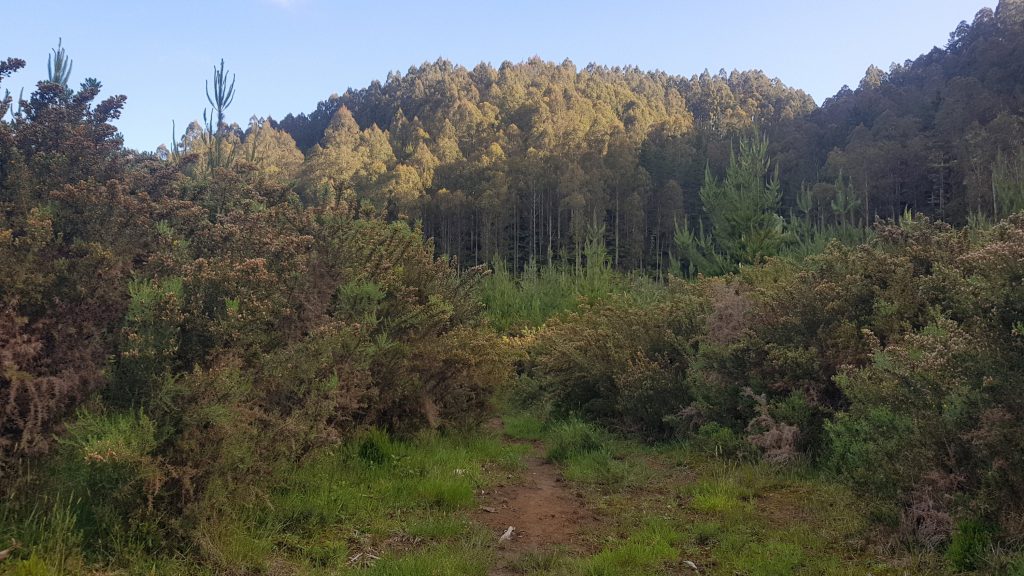 It was nice easy walking. And surprisingly, I caught up to Charlie and Peter. The reason soon became obvious, Charlie was limping quite badly and looked to be in a bit of pain. The three of us walked together until we found the campsite.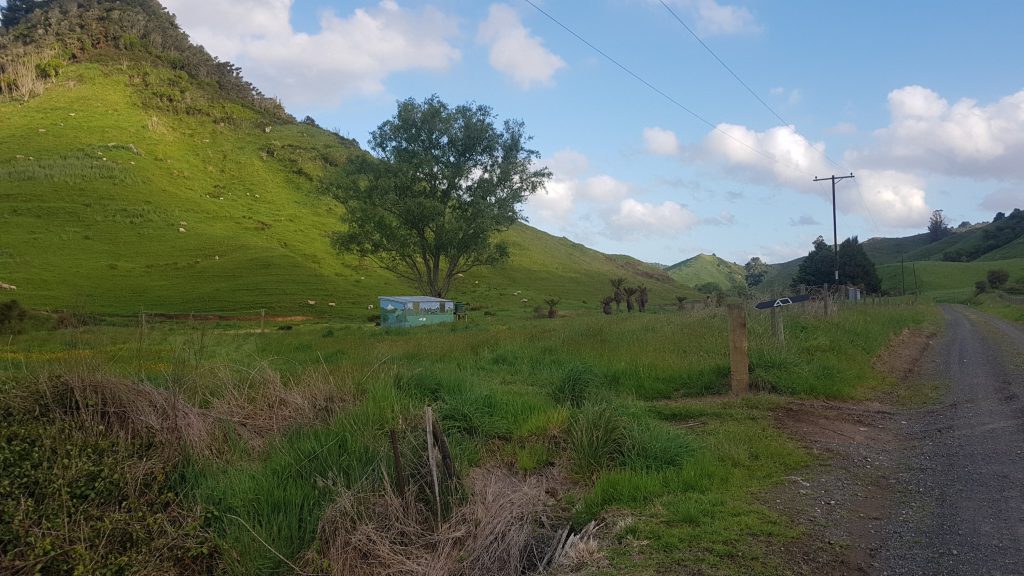 However what happened next is that Guthook showed another campsite 2.7km beyond this one, and Alex and Ethan were not here so the three of us kept walking. About halfway down the road Alex and Ethan came walking back towards us, and did not look happy. They said that the other campsite did not exist, so they had walked quite a fair bit unnecessarily, So we all turned around and headed back to the first campsite we saw.
On the way, the farmer from the house up on the hill saw us and asked us if we were okay. We told him what happened and he gave us a lift on the back of his ute down to the campsite. And he also brought us a Speights beer each. That made the evening a bit nicer.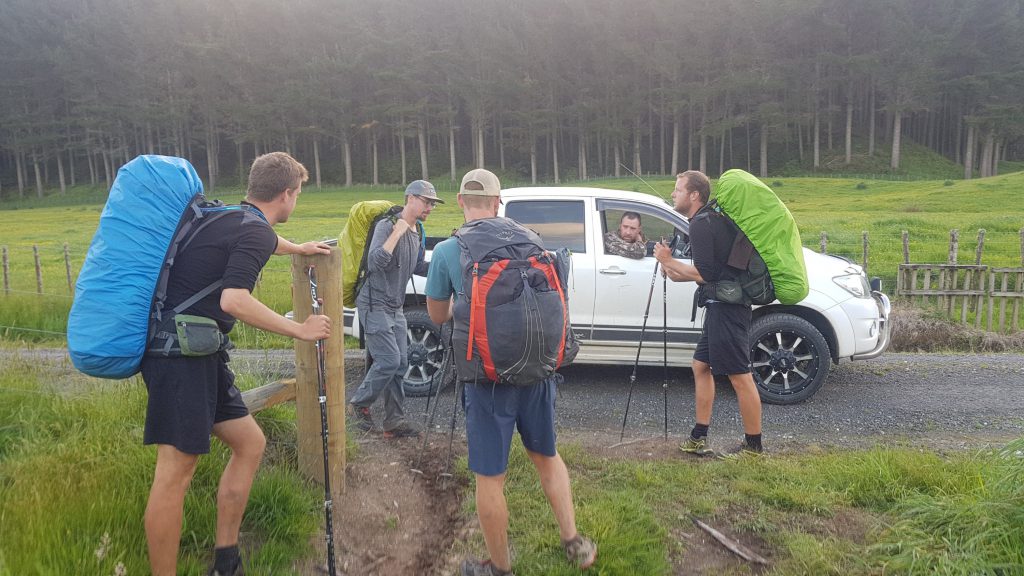 I laughed earlier on in the day about it taking 5 hours to do 15 kilometers but I think it ended up taking longer than the 5 hours. The terrain today was more difficult than any of us thought.
I set up my tent. This was the first time that I'd set up my tent since Puhoi about two weeks ago. I dried it at my house in Auckland so I figured it should be okay. And it was… except my sleeping mat had a bit of mould growing on the inside of it. I must have forgotten to dry it out while I was at home – how annoying. Hopefully the mould just looked ugly and it won't affect the integrity of the sleeping mat.
And it seems my spare phone is dead too, which is annoying. Some people take paper maps as a backup in case their primary phone dies, I instead have two phones. So if my main phone dies as well before I can do something about it, then I'm going to be in a bit of trouble.
The other guys spent quite a bit of time cooking up quite an elaborate dinner of chicken, coconut milk and Thai spices. I was a little bit jealous as I only had my Uncle Ben's rice and quinoa, but that tasted good too and I was ultimately glad I didn't have to help with any preparation or do any dishes.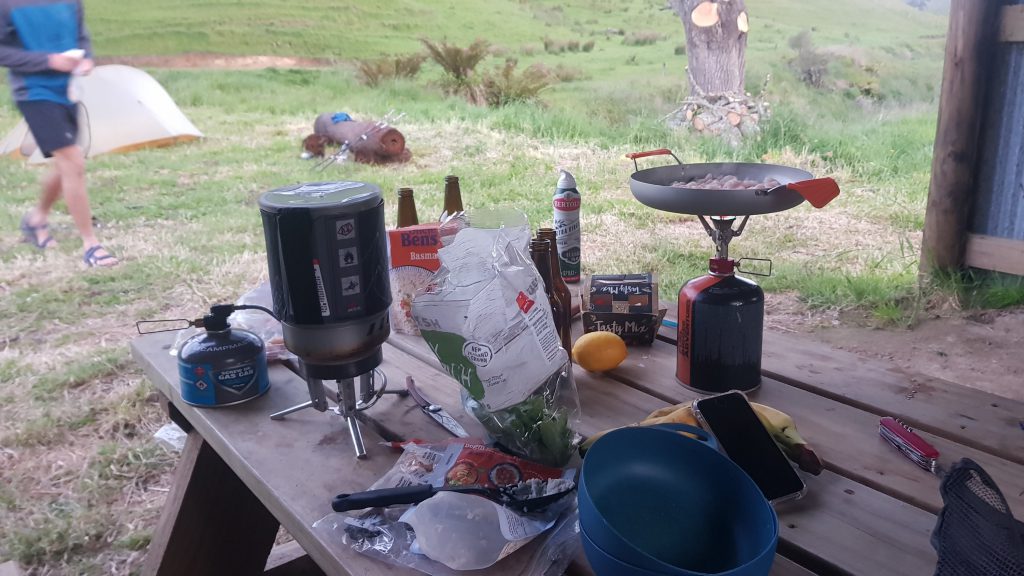 I looked at the visitors book and saw Henry's name in there. He had called in for lunch, which must have meant he had a long and early day. I wonder where he stayed tonight – there's no official campsite for quite a while and a lot of road walking coming up. Shame I can't ask him – there's no phone reception here.
It was cold tonight, and there were sheep bleating across the river from the campsite. They seemed unhappy about us being there and they didn't stop letting us know it. Hopefully I will get a good sleep tomorrow because of the long road walk tomorrow – it is roughly 37km. At least there's no rain forecast.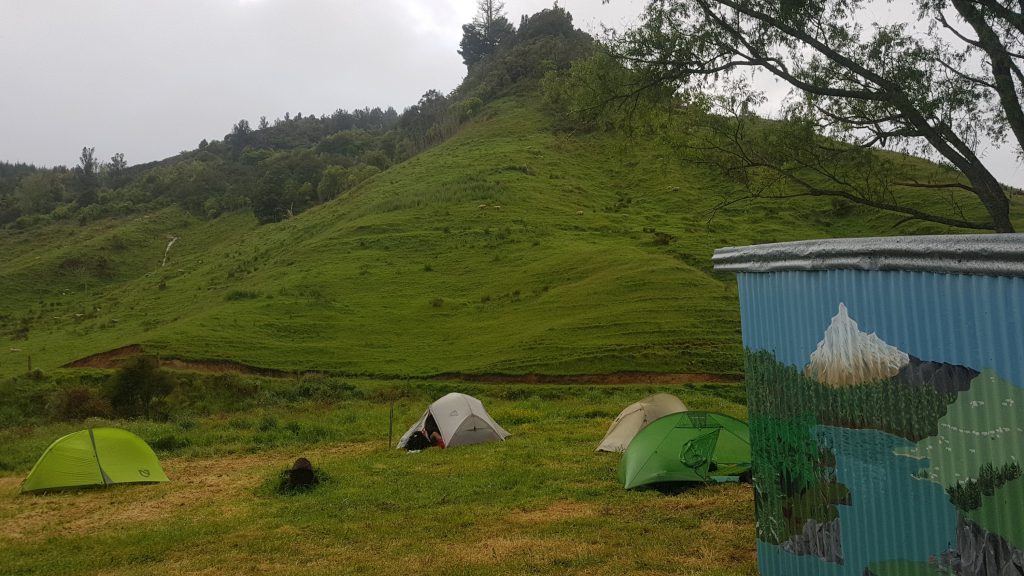 Today's walk on the map (blue = Te Araroa, red = today's walk):