Date: 19 November
Trail covered: 26.8km (kms 1006.3 to 1033.1)
Weather: overcast, but no rain
Here's the campsite this morning.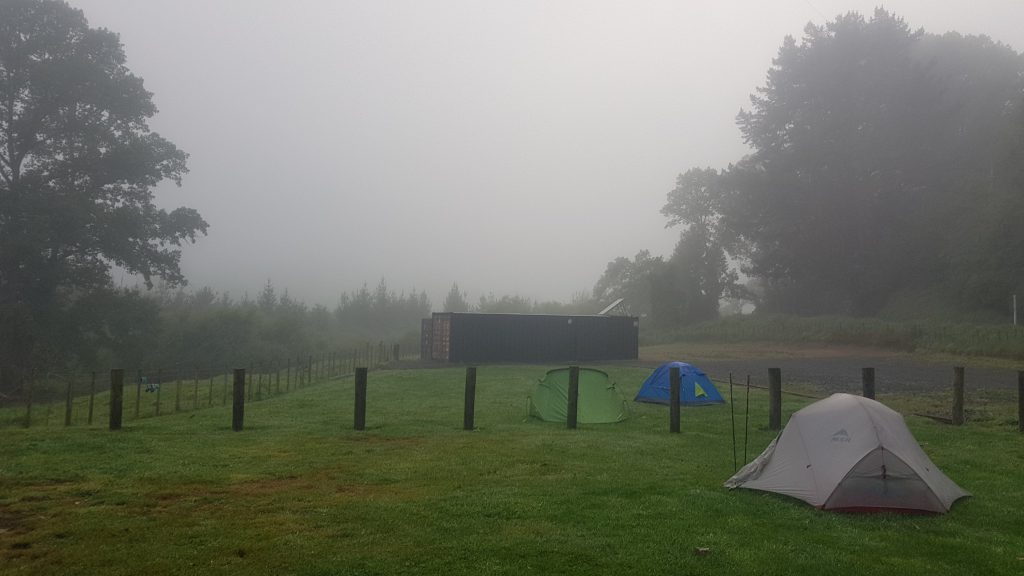 It was so cold. It was cold during the night too. I was wearing my thermals in the sleeping bag. I had set up my tent under a big tree too, which was a mistake. Big raindrops were hitting the tent overnight and they were quite loud.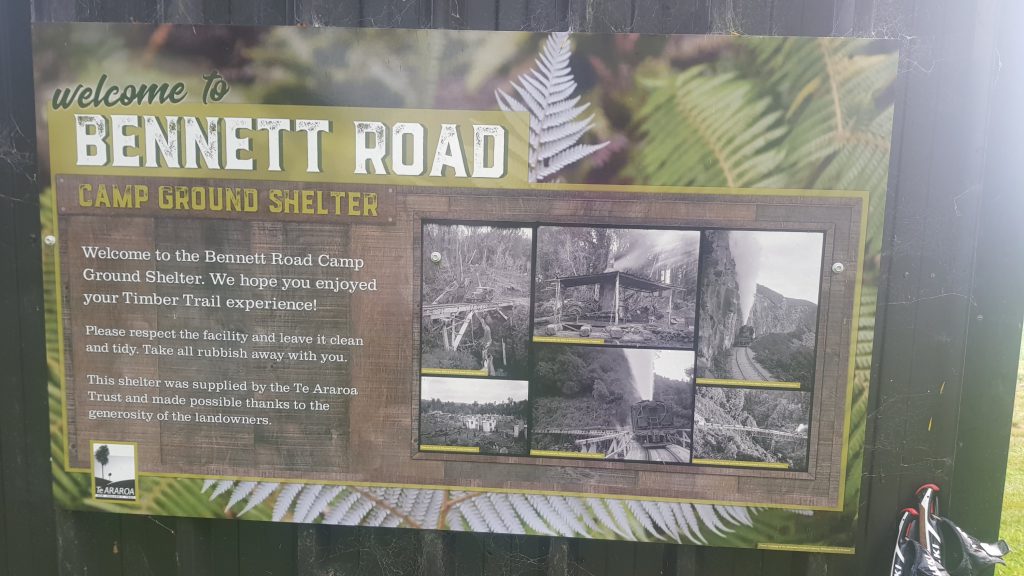 After a breakfast of porridge, I set off. I'd never set off wearing my jacket and thermals before. Everything I have is cold and wet from yesterday and nothing dried overnight despite everyone hanging their clothes up in the shelter. I still had one last pair of dry socks, and that was about it. Of course the boots were wet so they didn't make any difference.
As I was walking, I thought to myself "do I really want to do this? Subject myself to this for another 3 months?"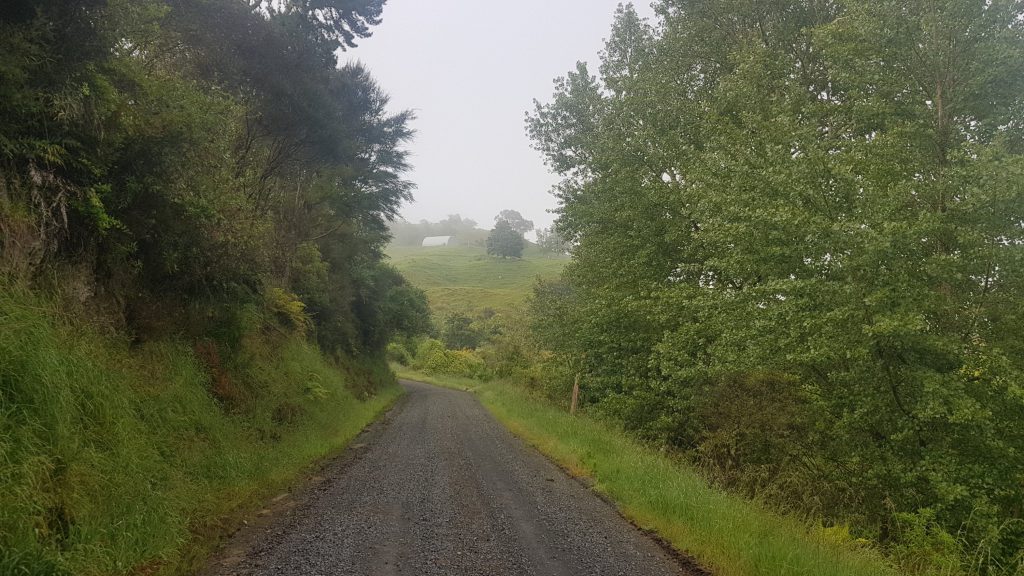 Yes, I do want to keep going. Not every day is this bad, and tonight I will have a motel room with a bed and washing machine and hopefully dryer. That will be sweet.
Ok now that that thought is out of the way, I can focus on trying to get accommodation. After 1km or so, there was a good enough phone signal to search for a place to stay. There was nothing around on AirBNB, and not a lot of motels showed up when I searched for 2 nights, but searching for just tonight I found a room at the Alexander Spa Motel which sounds fancy but didn't have great reviews. It was right in the middle of town though and it had a laundry so how bad could it be?
Great, now that's done I can look at the scenery. Walking along here, I noticed bulls on the left and a train coming through on the right.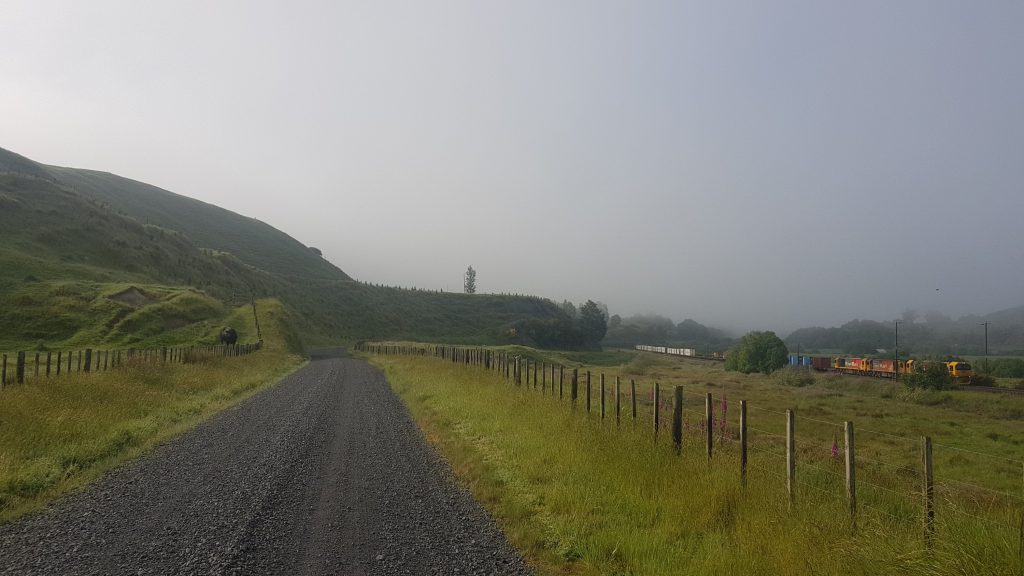 When I got closer to the bull, it had a real look on its face, like "I'm the boss here, and you know it, and so I dont need to show any expression".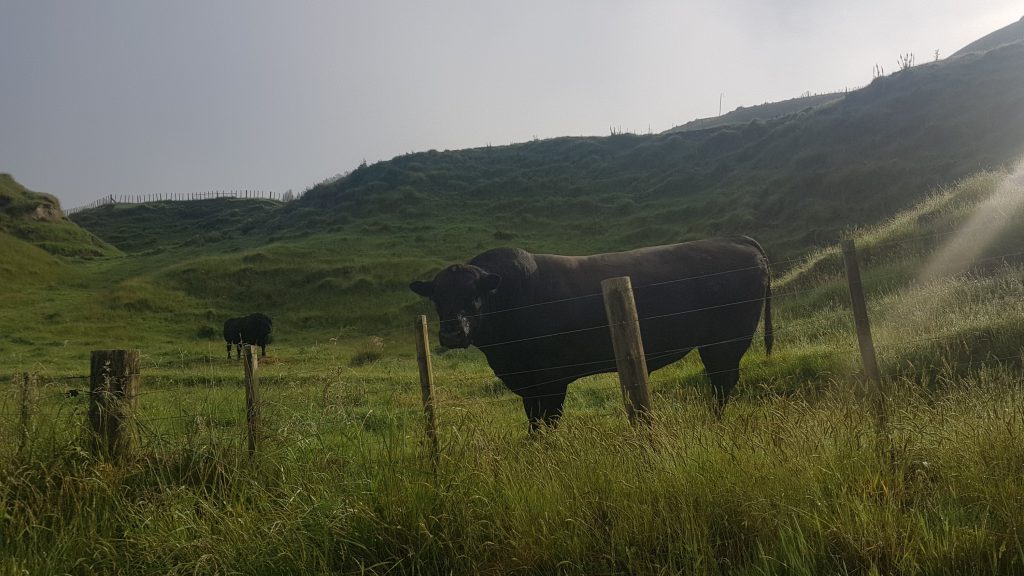 There were calves along with the cows in this paddock.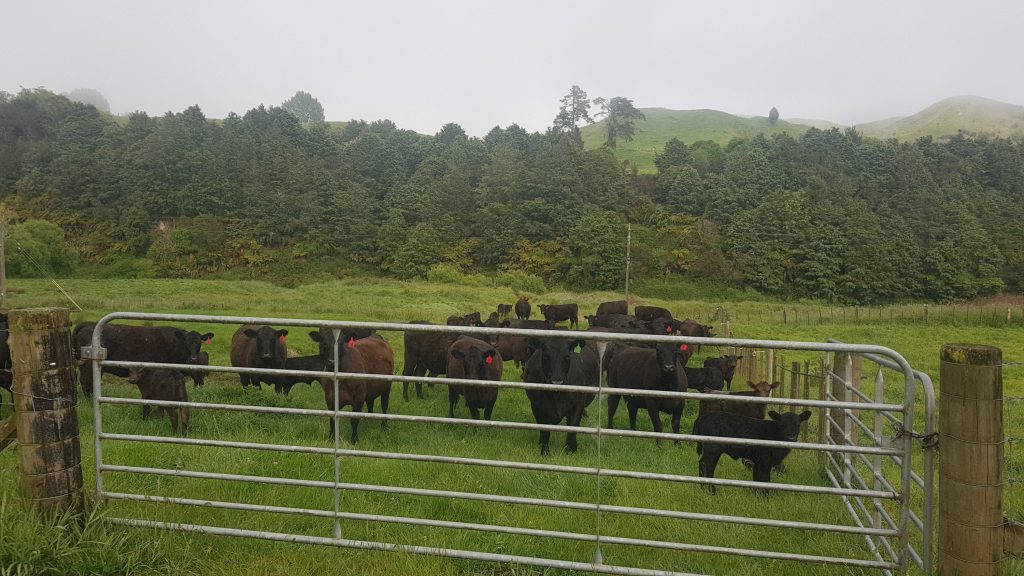 And I thought this calf peeking out from under its mother was very cute.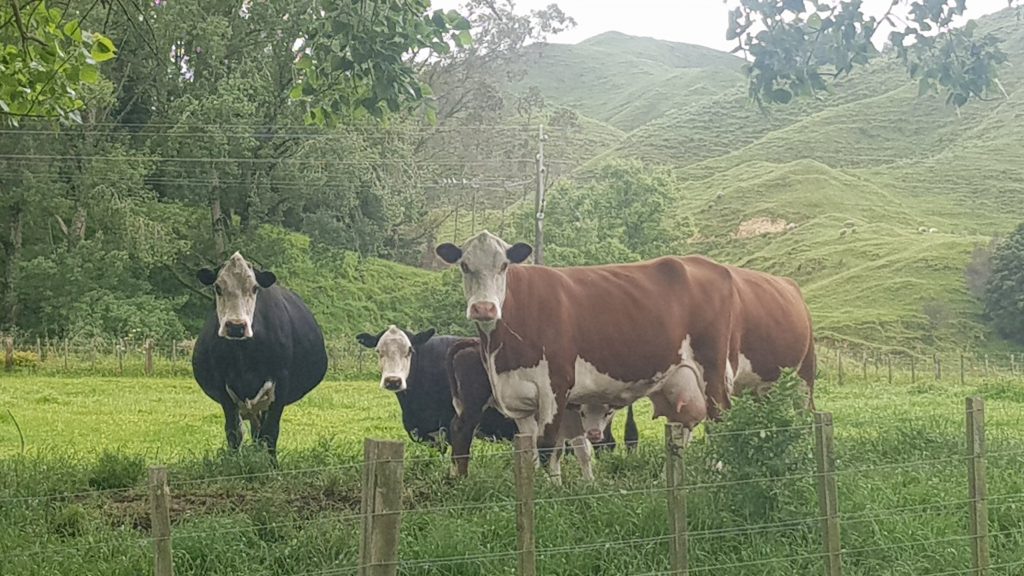 And this cute little sheep, who didn't seem to care about me.

Despite all the cute animals, I was tiring quite fast. There was a comment on Guthook that suggested that after 15km of walking today, I would be at a cafe. The cafe is apparently only open on Tuesdays and Thursdays – lucky for me today is Tuesday. But does it exist? On this gravel road, I simply can't imagine there being any shop here.
At 14km, there was a road over the river that joined with the nearby State Highway 4, and the road became sealed. There were still very few houses… but there was indeed a cafe!
It had some cute outside tables – at least one table for everyone that must live in this small settlement.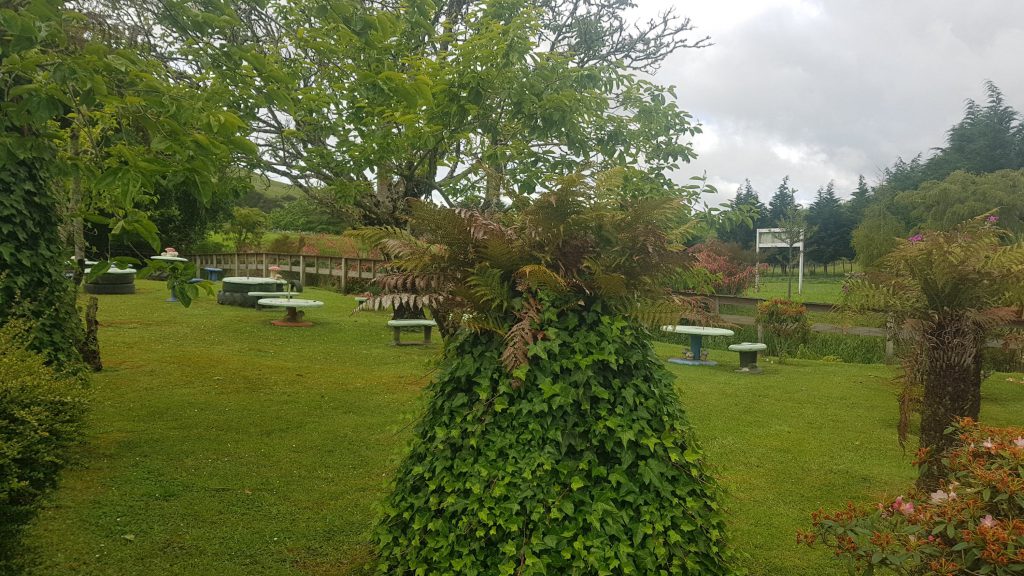 The place is called Taane's Manor.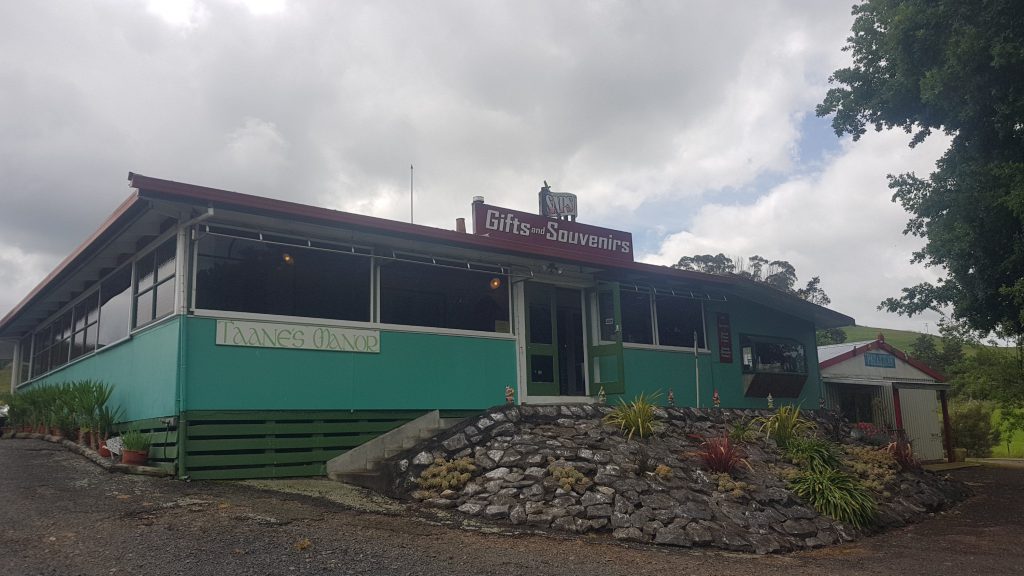 They have a very small menu, and the coffee comes from a push-button machine. But it was okay for a machine coffee. And their toasted sandwiches were pretty good.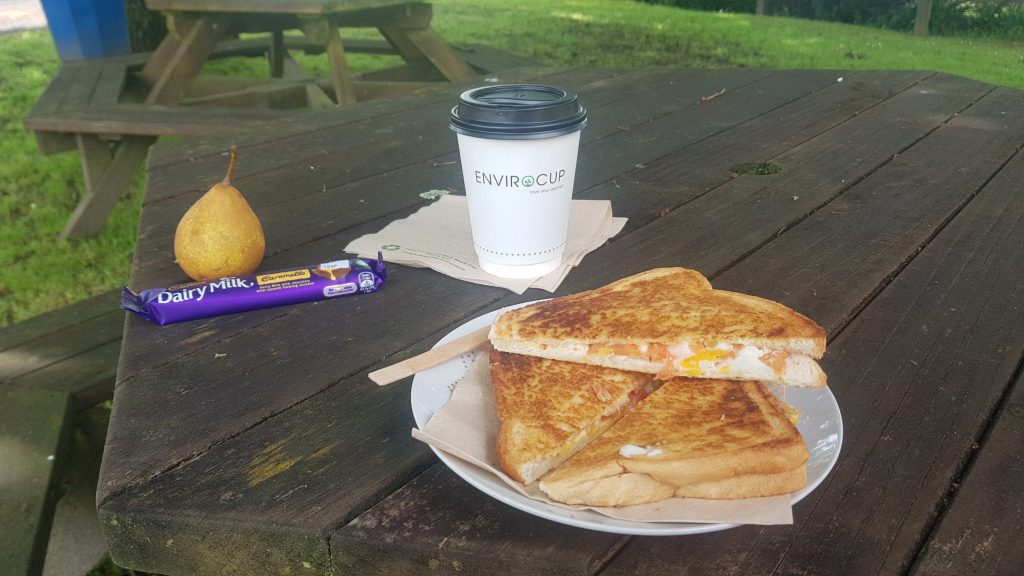 At 11am I had just left the cafe and was walking through the small settlement of Okahukura where the cafe was.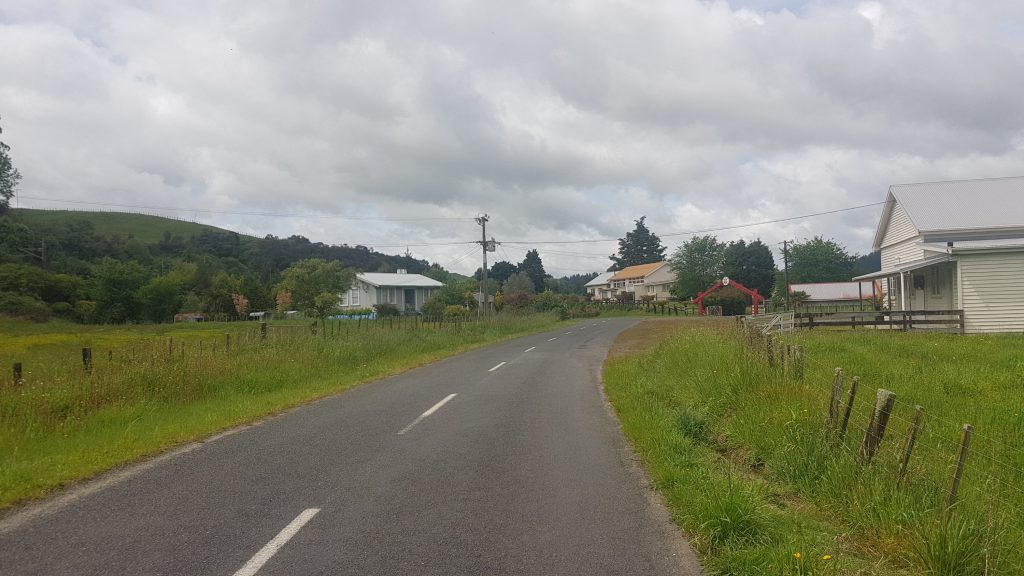 I still couldn't work out why such a tiny place had a cafe. But I'm glad it did.
This tiny place also had a loud barking dog run out onto the road at me. I stopped and waited, because I saw the owner running out of the house coming to get it. I was annoyed at first, but once the dog came right up to me it actually turned really friendly, thankfully.
The rest of the trip was still more road walking. In fact it was road walking all day. I passed one field of sheep making a hell of a noise. I tried to record it on video – I wonder if you can hear them on this YouTube clip.
There was cotton all over the road and when a car drove through it it would all blow up in the air and cover me.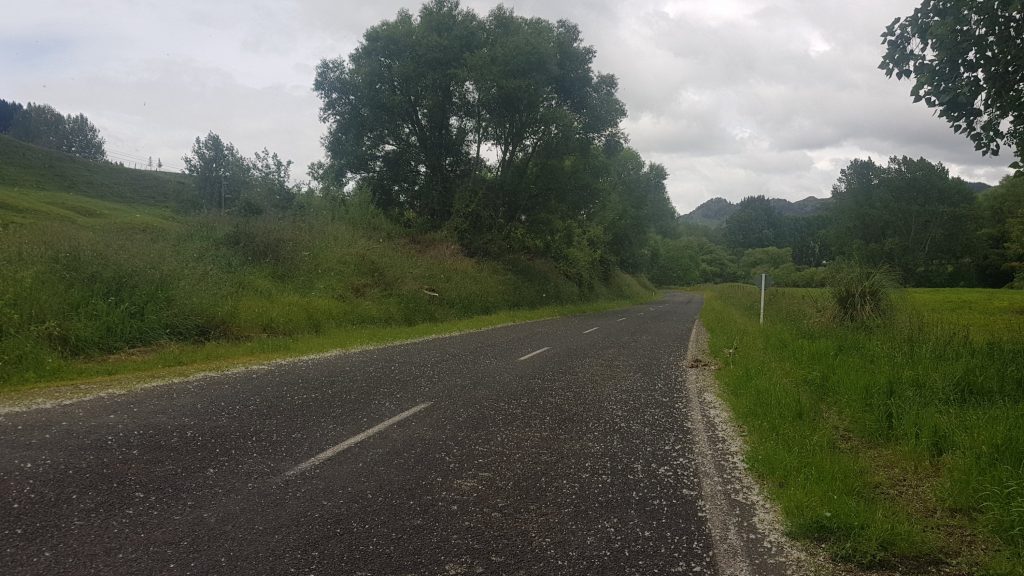 And here is a digger driving down the railway lines. It has wheels attached to the bottom. Does that mean this is an example of a "jigger" that I learned about yesterday on the Timber Trail?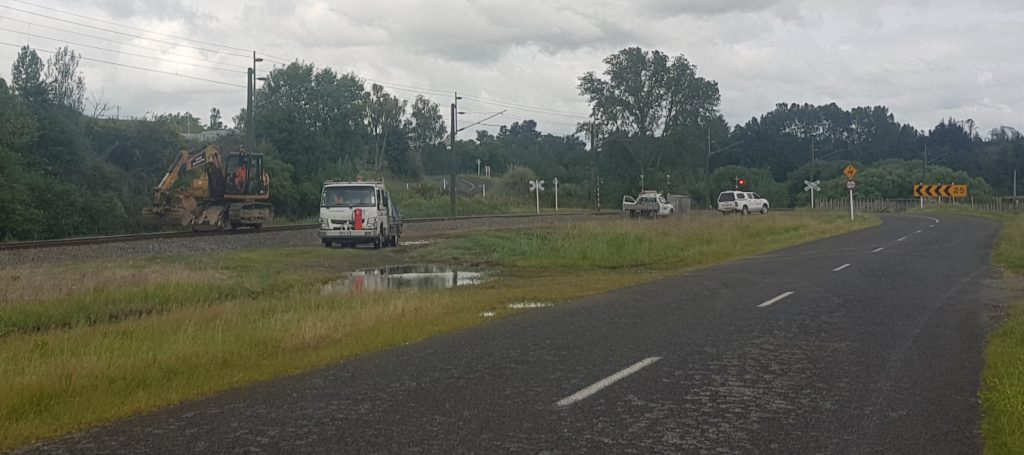 Coming into Taumarunui, I found this fairly badly drawn piece of kiwiana.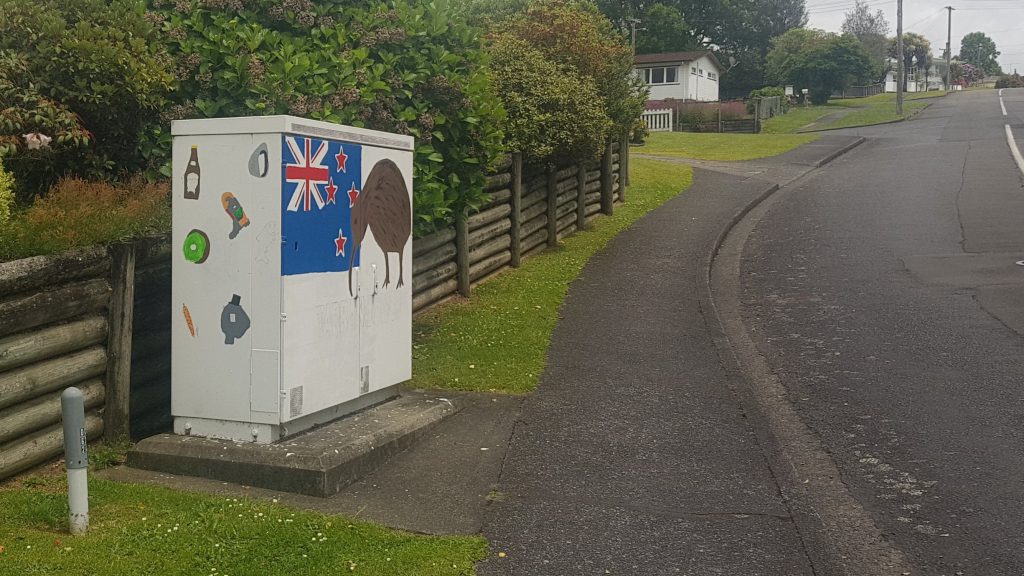 Oooh and now a dairy. Time for a milkshake. I thought about walking three more kilometers to go McDonalds instead, but nope, milkshake time.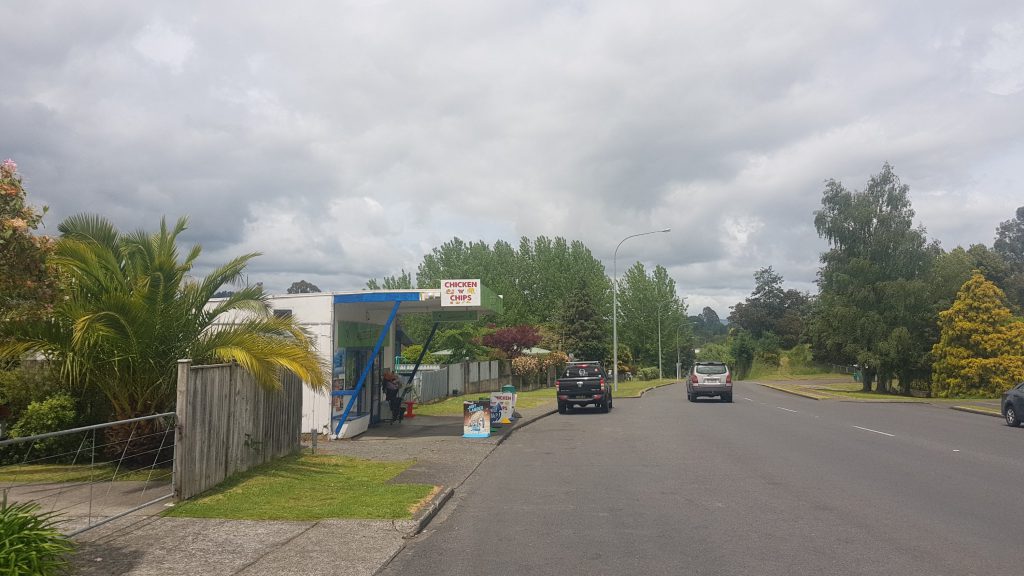 It was one of the best milkshakes I'd had for a while. Lots of icecream, cold, and the right amount of flavour.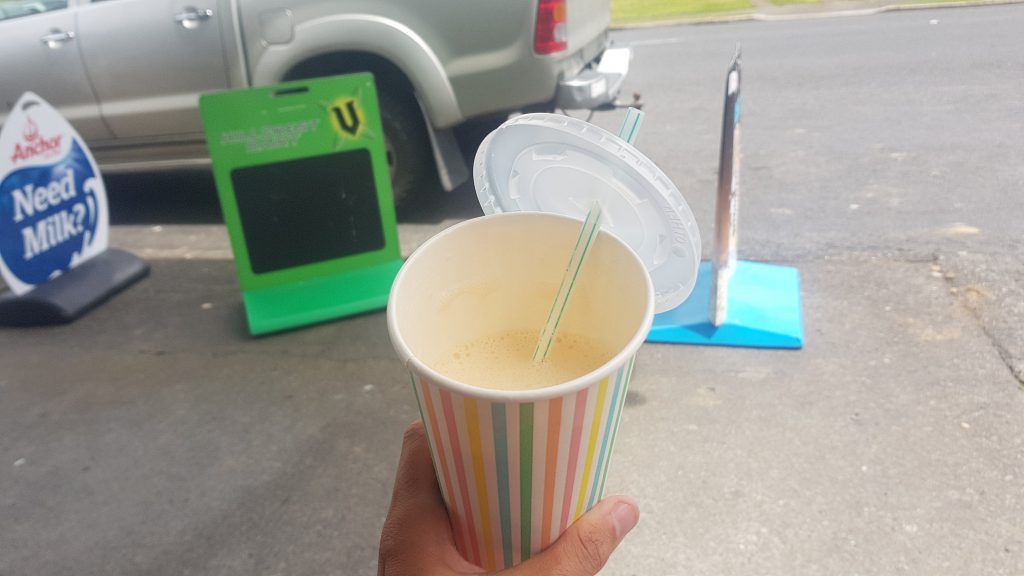 A bit longer and I was in Taumarunui. I saw that the state highways now have 4 at the beginning of the number. People may notice that the initial digit of the state highway numbers in NZ increases as you go down the country. When I get to the "5" highways I'll know I'm just out of Palmerston North and when I see the "6" highways, I'll know I'm in the South Island.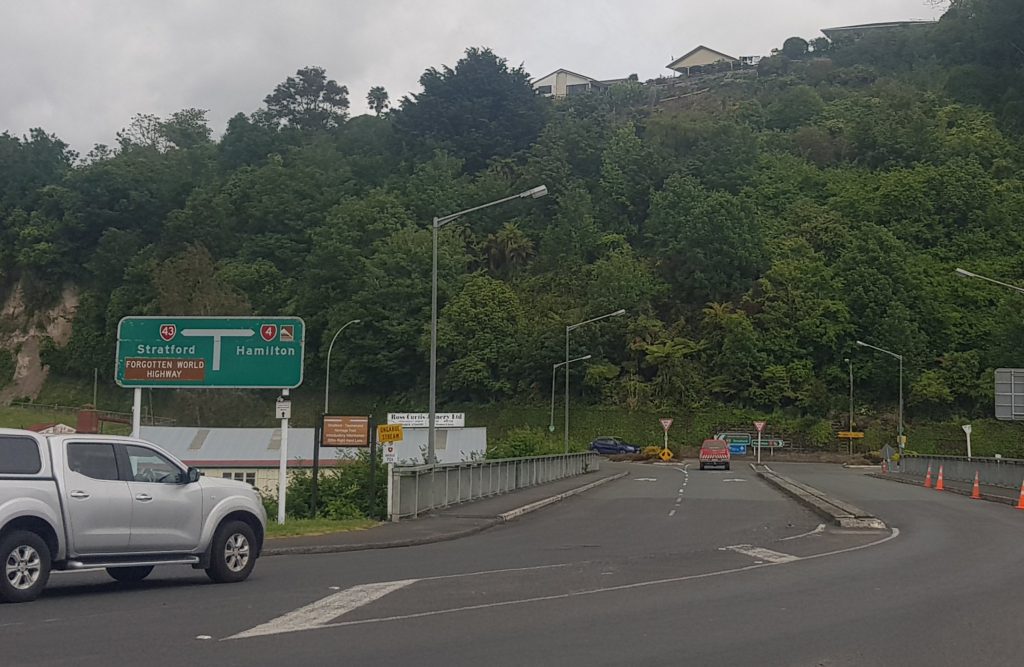 While I was walking, I had a think about the river section coming up, and I decided it would be cool to join Alex and Ethan even though they might go a bit faster than I'd like. Problem is, I didn't know how to get hold of them. My plan was to go to their hotel and see if I could find them…. but one slight problem. The milkshake from before had made me need the bathroom – quite desperately!
So I continued through the town to the public toilet (no dramas there luckily). And after that, nearby I saw two unshaven people with all their wet clothes draped across a park bench. They had to be hikers, so I went over and talked to them. They were indeed – their names were Dmitry and Antoine. Rhydian had talked about them and I had seen their names in the various visitors books, but never met them before now.
And after talking to them for a few minutes, two more hikers turned up. They were Pascal, who I last saw on Day 5 at Ahipara, and Olivia, who I last saw on Day 26 at Marsden Point. I felt bad because I didn't recognize either of them at first… it had been a long time, and Pascal's hair had grown a fair bit.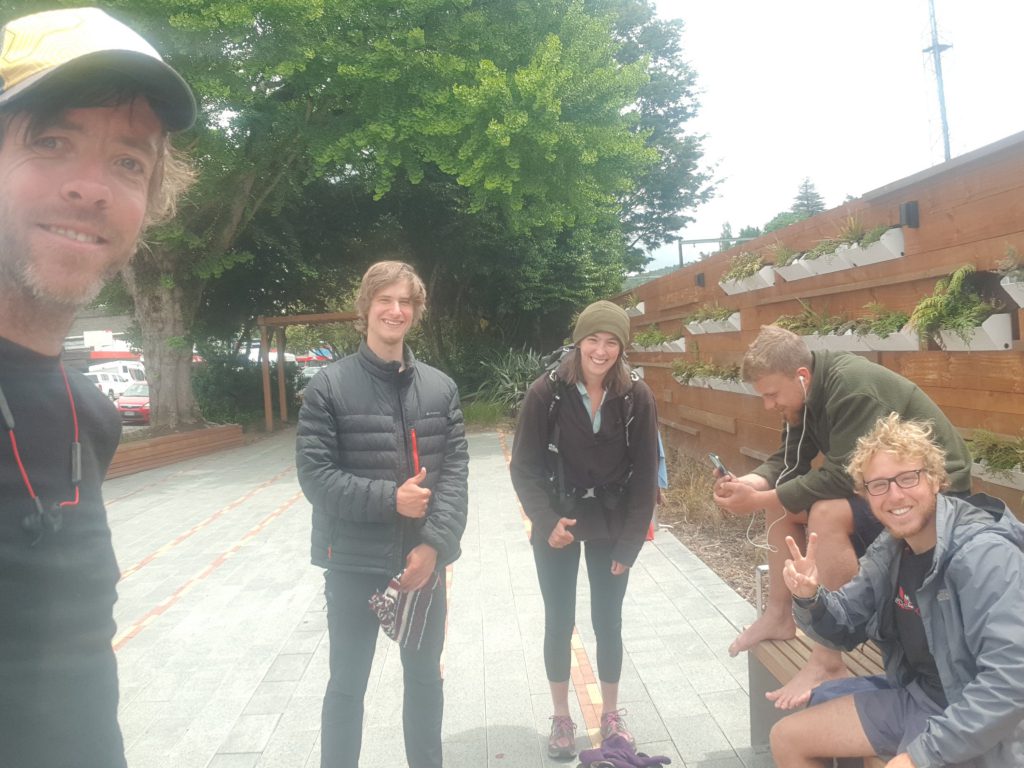 Pascal and Olivia are far ahead but had to come back to do the Tongariro Crossing because of bad weather, and the other two are starting the river journey from here, so I won't see them again for a while, most likely.
Interestingly Pascal said that he has already done the Whanganui River section and he said that he thought 5 days on the river was unnecessary. He said he wished he did it in 3 or 4 days because he was often bored in the campsites at the end of the day.
So now I know of at least 11 hikers in this town today. The four I met in the main street, plus Alex and Ethan, Peter and Charlie, Henry, me, and a Swiss lady who was also staying at my motel, but who was taking extended rest because of a suspected stress fracture. I didn't talk to her but the manager told me about her. I hope she recovers!
After this I decided to go and check in to my motel room before trying to find Ethan and Alex. I put everything into the wash… but one problem – all I had to wear while my stuff was in the washing machine was my down jacket and my rain pants. I can't be wearing those around all day. So I raced down to the SPCA opportunity shop to find a cheap second-hand shirt.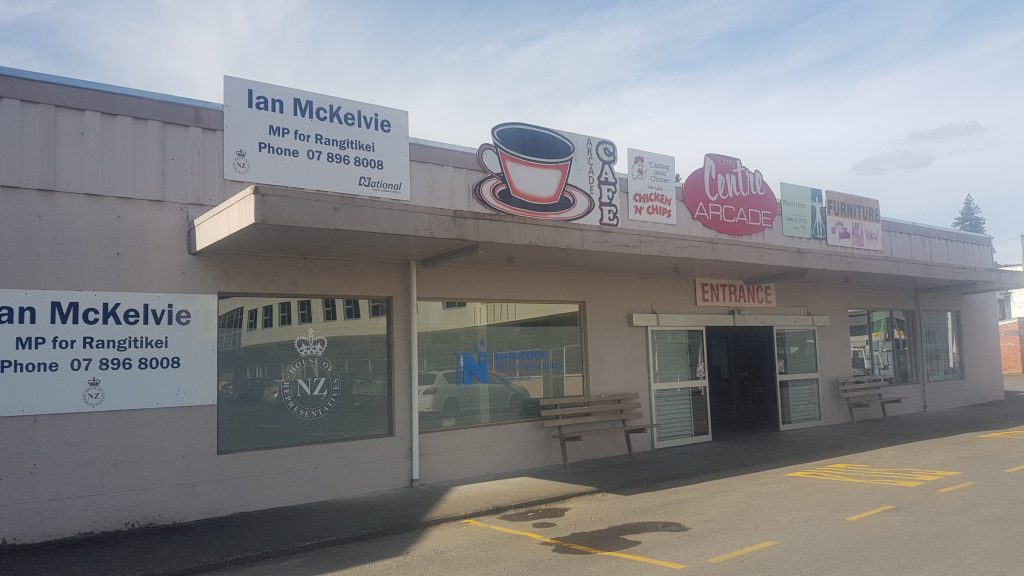 The shop closed at 2pm and it was 2:04pm. Oh no! The door was locked, but people were inside and they let me in to buy a shirt.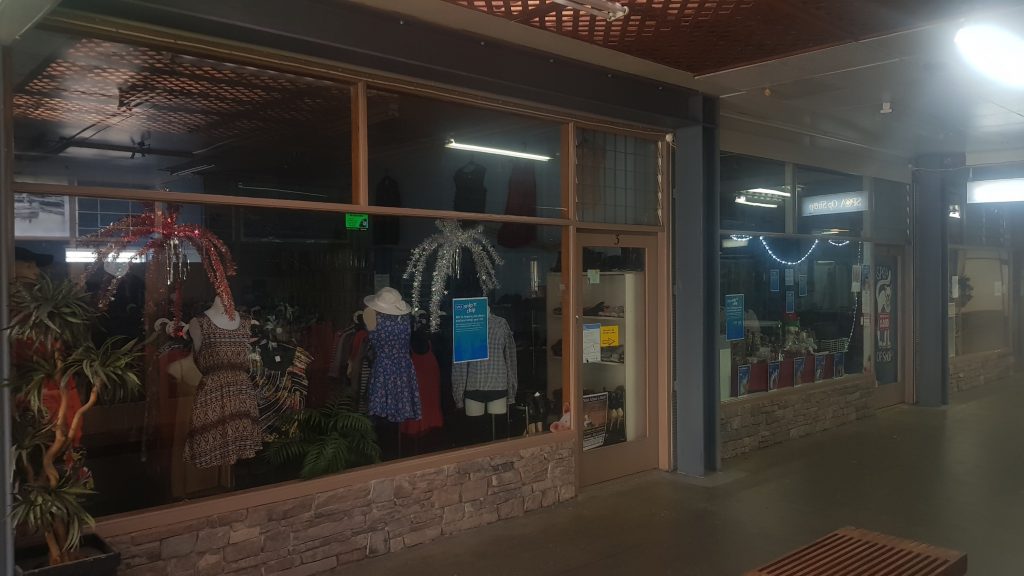 I went back to the motel room to try on the shirt. Snug – but for only $2 I like it!!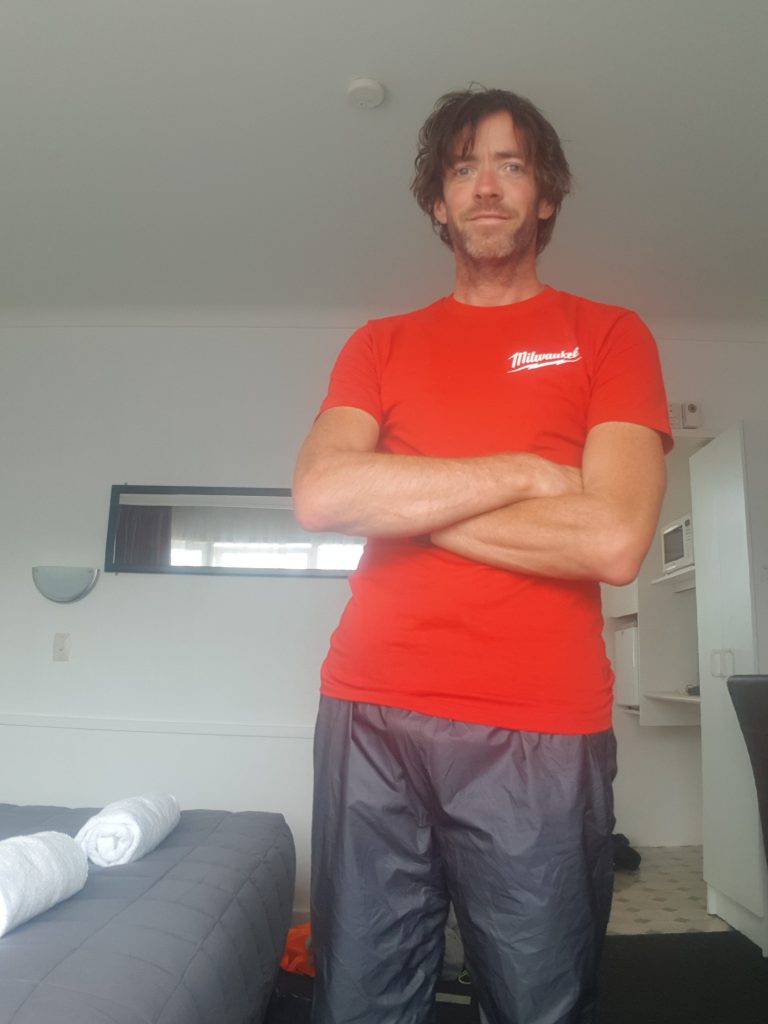 I'm going to keep this shirt until at least the end of the Whanganui River. All the rain recently has shown me that having one extra dry shirt is not a bad thing.
Ethan actually got hold of me on Instagram shortly after getting my shirt, so that was good – I didn't have to go and find him. I told him I wanted to join his group and he said he'd do some orgaising and get in touch soon.
To kill some time I went out and walked a bit more of the trail, starting with the public toilets which is as far as I got before. I saw this large bird.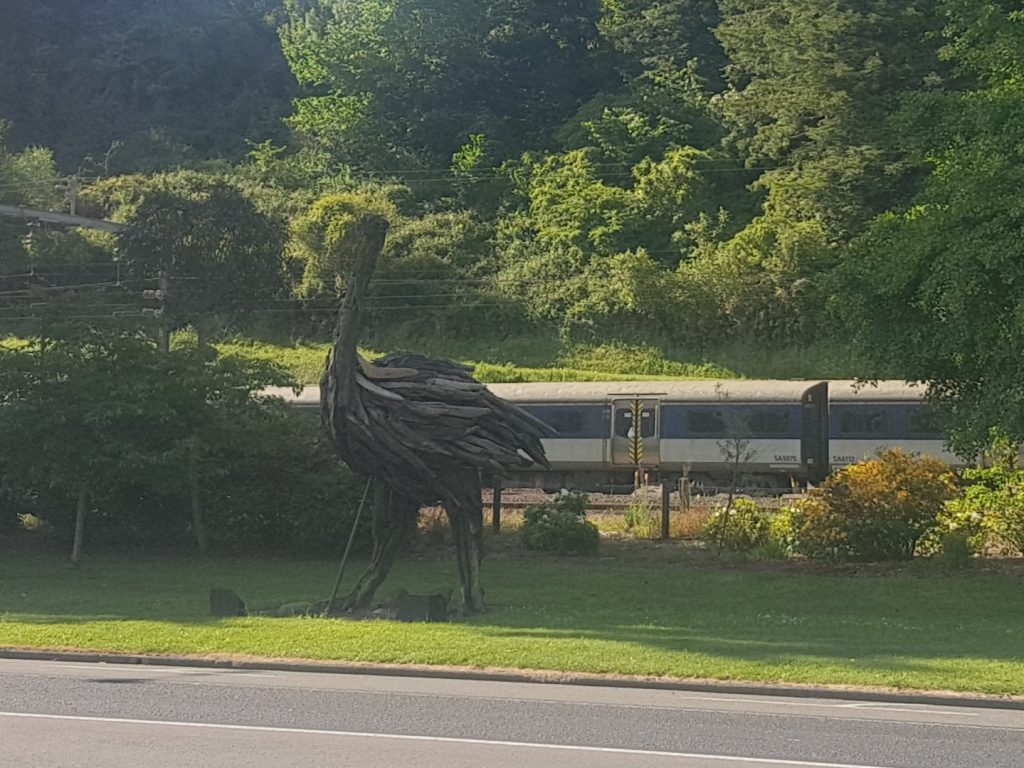 This part of the trail goes down the main street, but then turns right and then does a dogleg and heads back in the direction it came from. Just before I got to this bit, I saw a bunch of high school students who obviously saw me – how could you not, I was wearing a bright red shirt, rain pants, and yellow crocs. When I did the dogleg turn, I ended up seeing the students again. So that they didn't think I was stalking them, I spent some time looking at this memorial to people who died in World War I.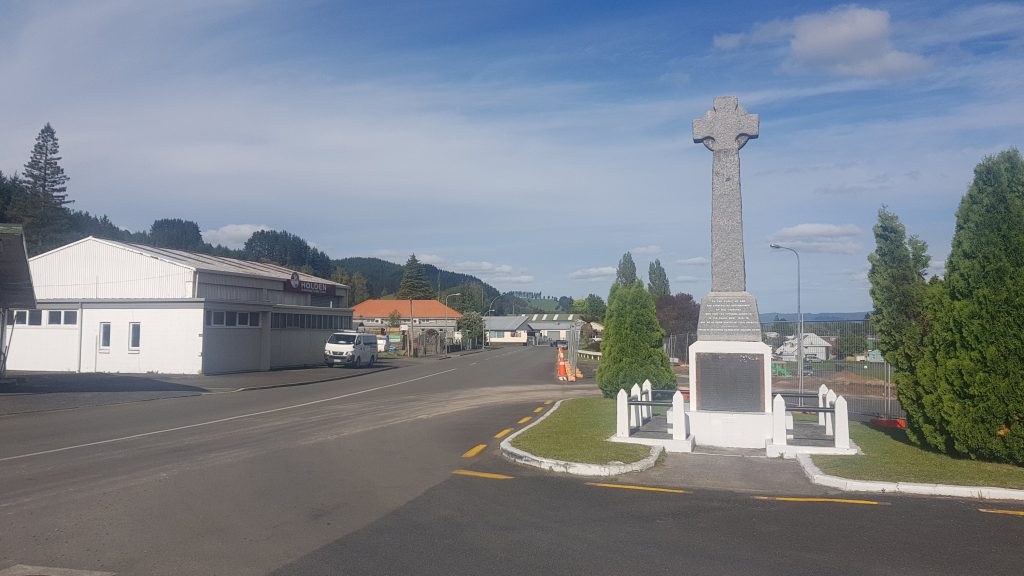 I saw the students go down a side street, so I continued on. But once I'd walked as far as I could without crossing the river, I had to walk back to my hotel, and I saw them again! I bet they definitely thought I was weird.
On the way back, I saw this ambulance display: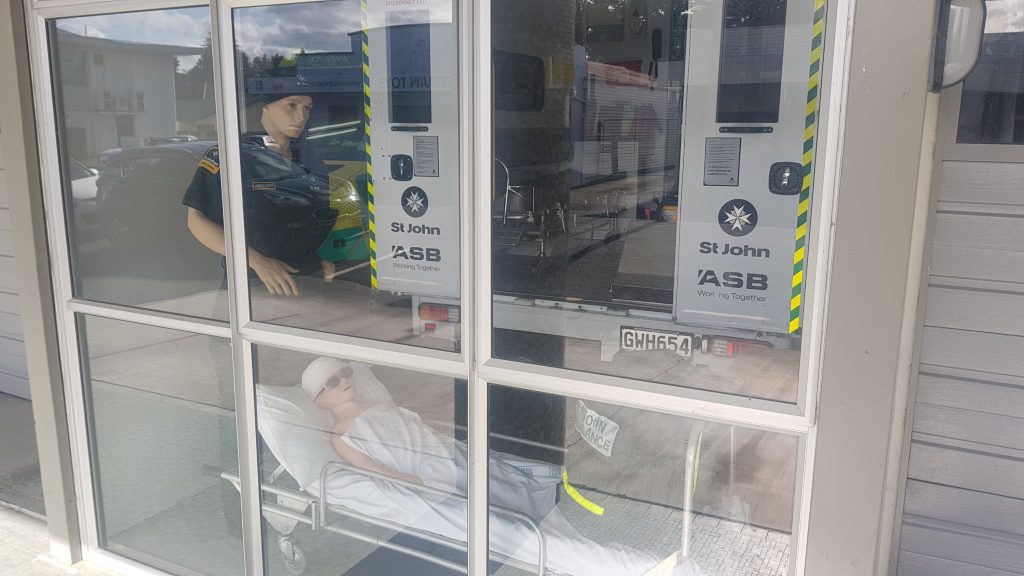 And I also really liked these barriers. It looks like the barriers are really enjoying each other.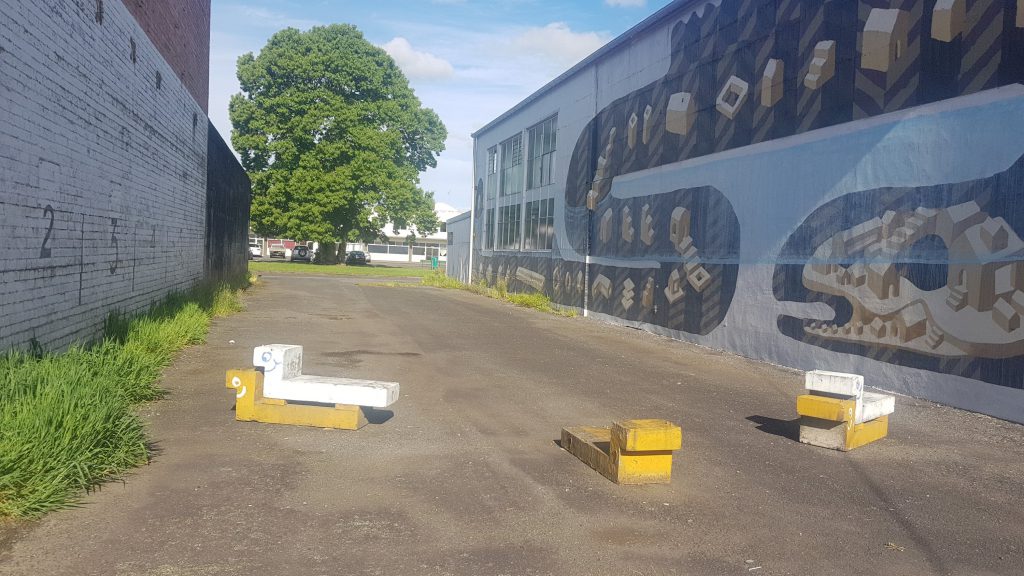 I grabbed myself a Thai takeaway – spicy noodles with Chicken – and went back to the motel to eat it.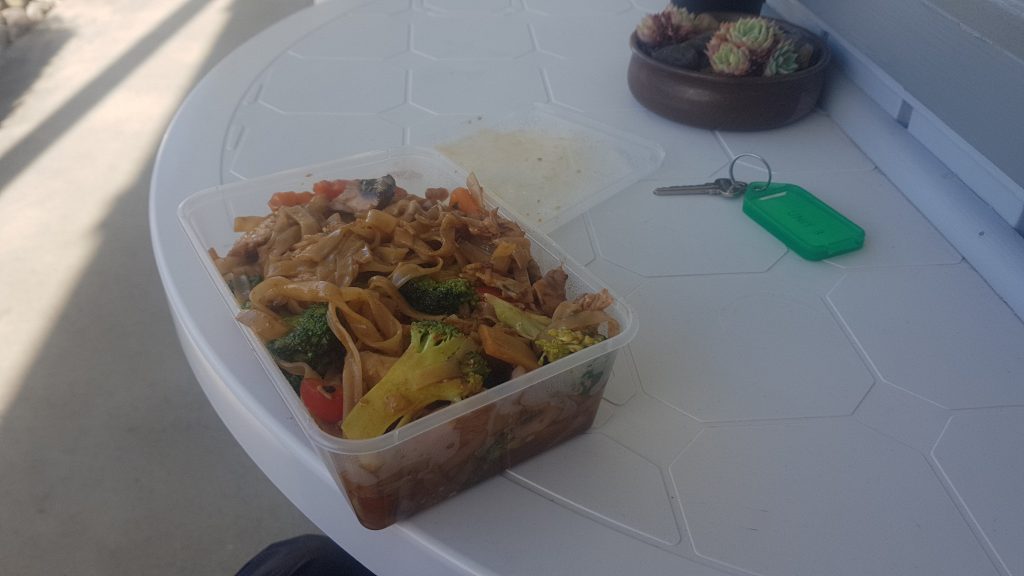 So far I really can't fault the motel. The manager was very helpful when I turned up, showed me around where everything was and even gave me free laundry detergent. The Wi-Fi was really fast, but unfortunately it stopped working at about 8pm and I had to switch back to my mobile data. That happens in a lot of motels though.
I never heard back from Ethan, but I know he was really tired and I know he's spending another day in Taumarunui so I'll talk to him tomorrow. I don't have accommodation booked after today so I'm not sure what I'm going to do yet. I'd like a rest day, to be honest.
Today's walk on the map (blue = Te Araroa, red = today's walk):