Date: 20 November
I realised soon that today would be a rest day in Taumarunui. I knew that today we had to organise the Whanganui River section of the trail today. Well, I say "we" – actually, Alex and Ethan have done all the organising. I've just tagged along, as have Charlie and Peter. For that I'm eternally grateful!
I woke to a message from Ethan about the river journey. He'd originally said that they wanted to take their time to allow for a bit of leeway in case of bad weather. But this was the message: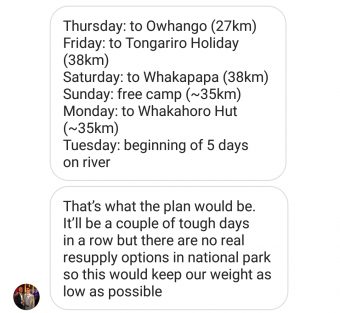 Ooh, not only is that a punishing schedule, but there's no leeway at all – today being Wednesday and all! However, I've liked travelling with this group because they go at a good pace and so far I've been able to keep up with them. And so I checked the weather forecast – this is what I saw: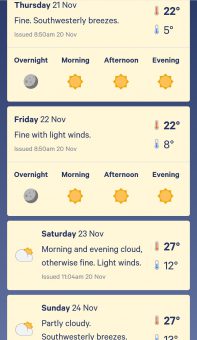 Wow, that's a fantastic forecast. And they convinced me that 38km days are actually possible on those sections. Okay, I'm in. We have the canoe hire company coming to pick up our food at 3:30pm and they will take us to their office to do a safety briefing. I hope I feel less nervous after the safety briefing. Apparently I have a kayak and not a canoe, which I'm less nervous about, because I've kayaked before but never been in a canoe.
We can take heavier food on the river journey because it goes in the waterproof barrels in the canoes, and doesn't have to be carried. The boys are already talking about many cases of beer. For some reason I just feel like taking pies and Bayleys. Not sure where that craving comes from.
I packed up my stuff in preparation for checking out of the motel, and Taco Terry watched on.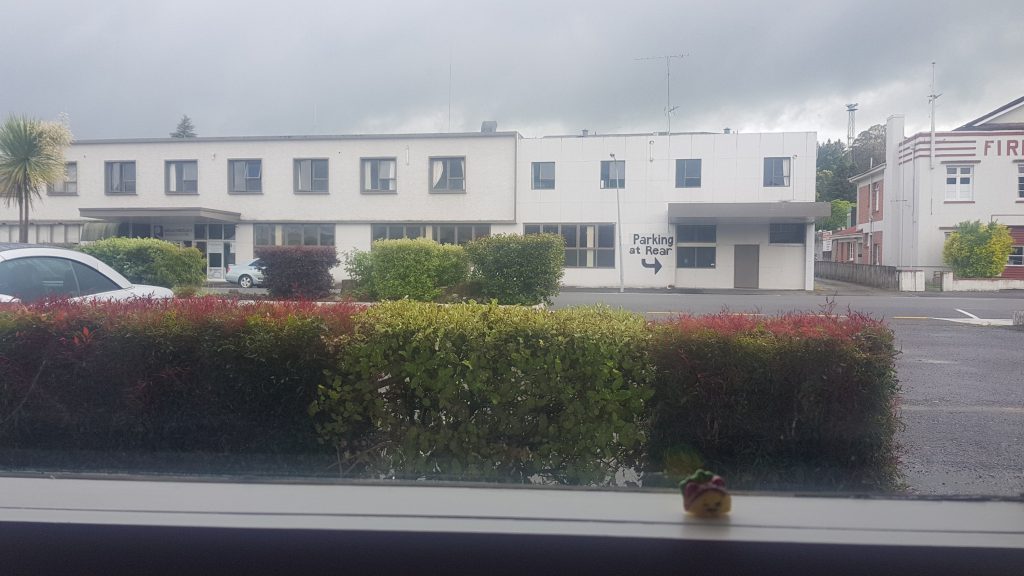 While I was packing up, I had "Steamy Windows" by Tina Turner in my head. I have no idea how that song got in my head. And I only know those two words of the song. "Steamy Windows Brrrrrrrrgh! Something something something something". I put it on Spotify to play it then had other music on while I finished packing up.
If I wanted to spend another day in this motel I'd have to change rooms which would be annoying, and the Forgotten World Motel is right opposite the New World and was $30 cheaper so I moved to there. And amazingly, they had my room ready at 10:15am when I arrived. Excellent!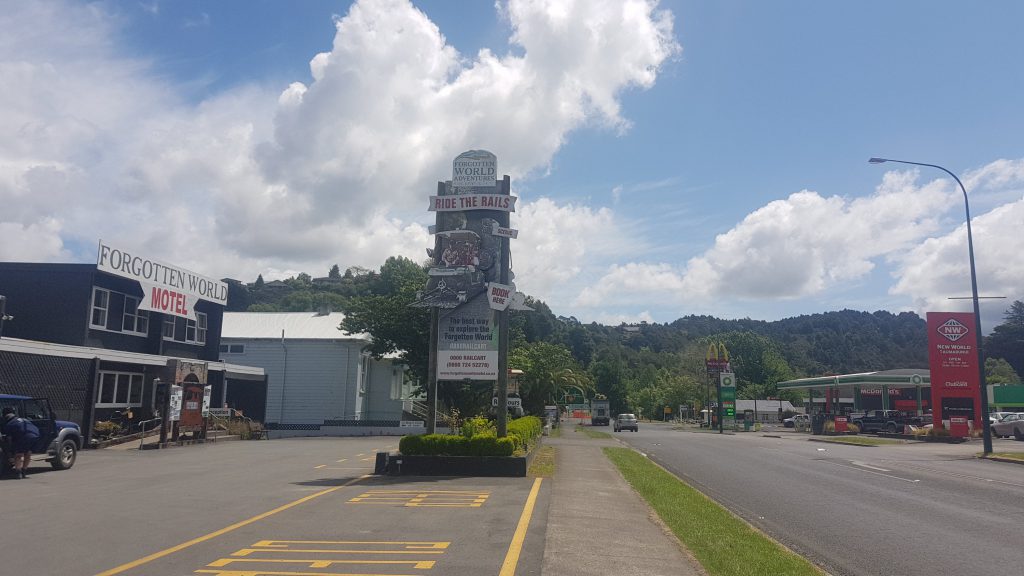 I did one quick journey to New World to get my food for the next 5 days walking, and I'll go back again in the afternoon to get the river journey food separately. I don't normally take an 11am picture on a rest day but the alarm on my phone went to remind me and I thought "why the hell not".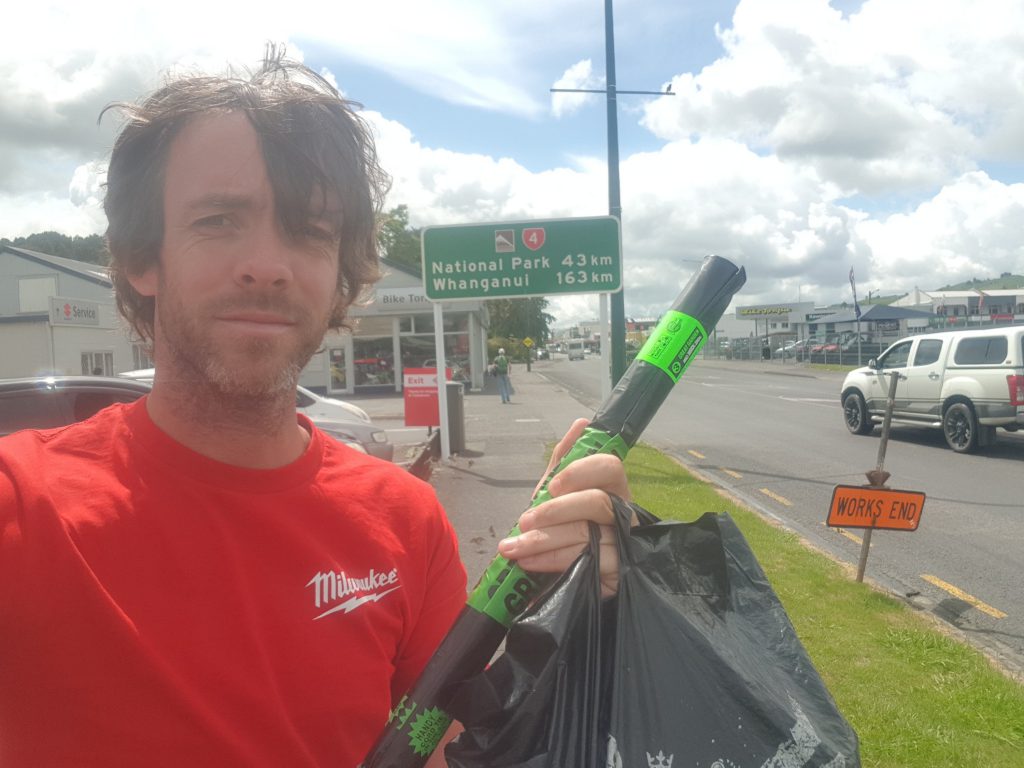 Then I had an early lunch at The Bakehouse Cafe. I always love The Bakehouse, their simple food appeals to my simple nature.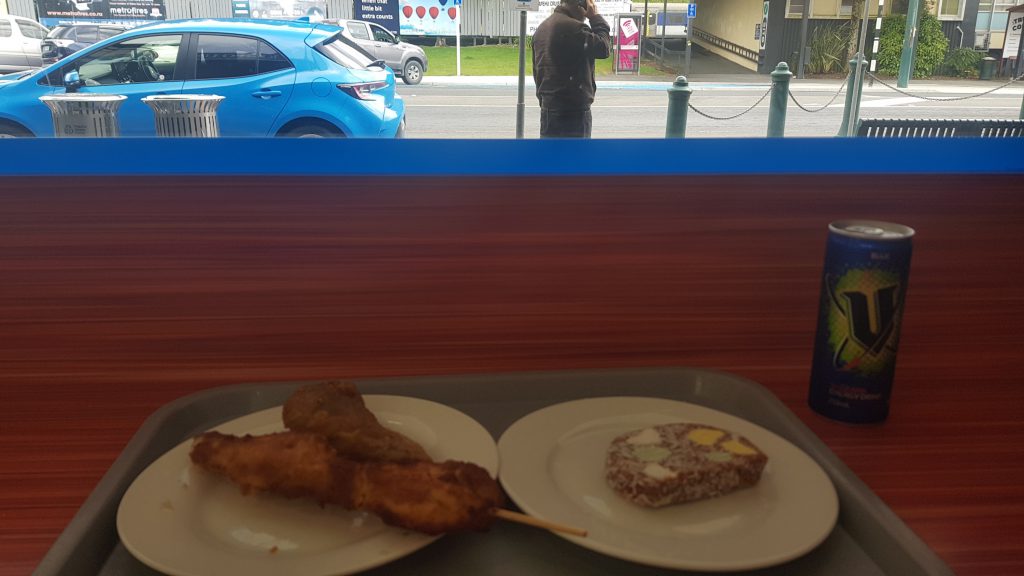 Saw this guy on the way back to the motel. Do you think that the owner got the rights to use Sideshow Bob's likeness on the side of his van?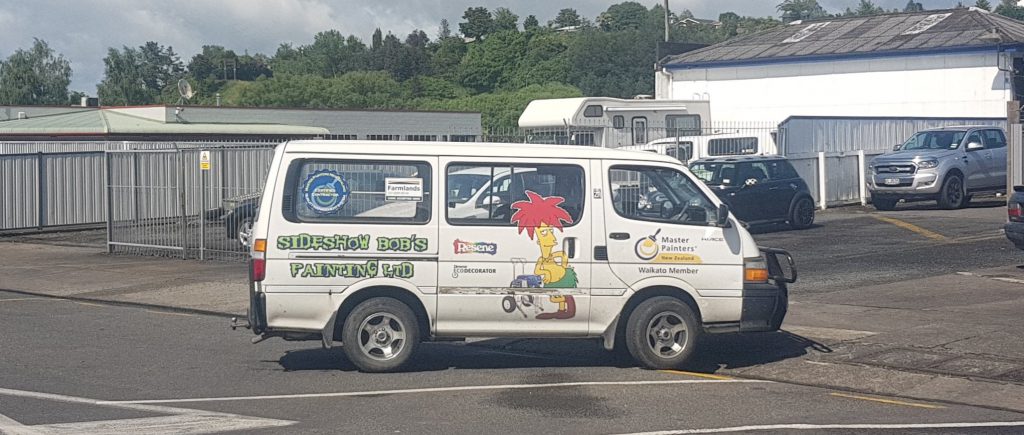 I've worked out that what must be stinking out my tent are a combination of my sleeping mat, which has all number of fluids on it and also inside it, and my stinky feet which got quite cut up after walking in all the rain. I don't think there's much I can do about the sleeping mat – I should have taken better care of it from the start. Hopefully some dry weather will take care of my feet. And just as I was typing this, an ad for some kind of foot care device came on TV. Gee, it's not only Facebook that knows everything about you these days, it's also regular TV!

I went to do some shopping in the afternoon. The weather is beautiful now and it's supposed to stay this way.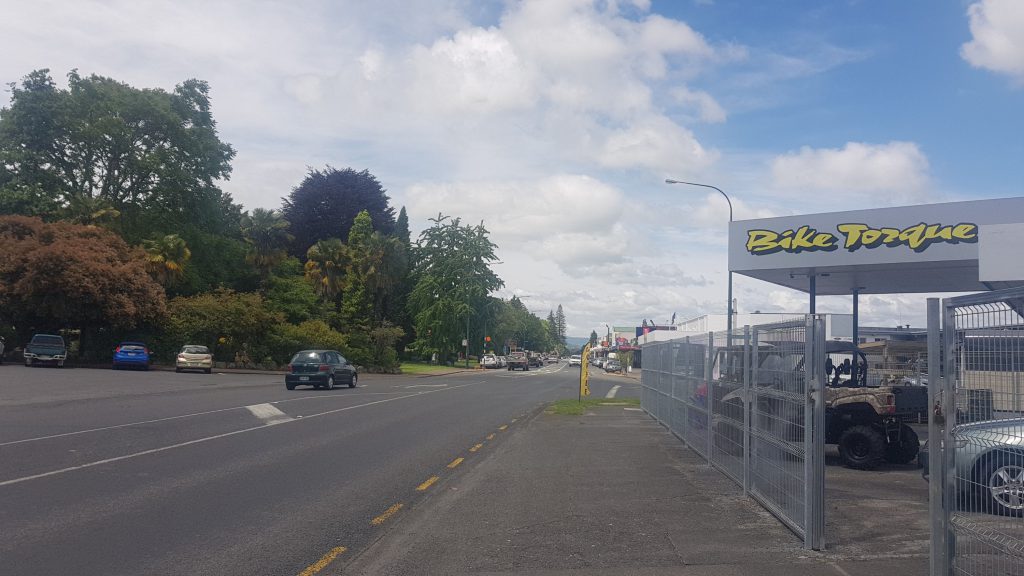 Here are my purchases. Firstly, alcohol for the river ride. The canoe trip is a great chance to take alcohol since it doesn't have to be carried. I have Jack Daniels and Coke, and I was going to get Baileys, until I saw that was $45 and this Irish cream was only $16, so that won out.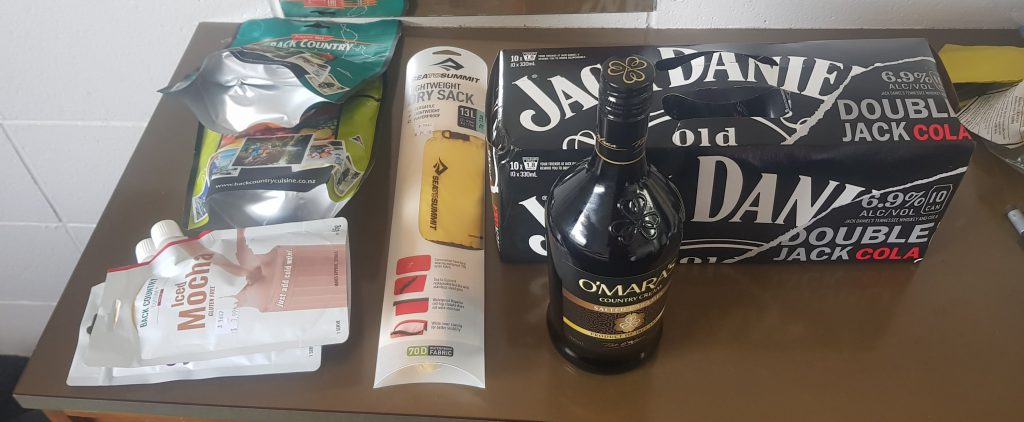 Secondly, a dry sack so that I can take a couple of things on the canoe without worrying they will get wet. And thirdly some freeze dried meals and smoothies.
And then here is all the food I'm taking on the river, plus a couple of other things I will buy from National Park, like cheese. I got my pie… I hope it survives the journey and doesn't get crushed!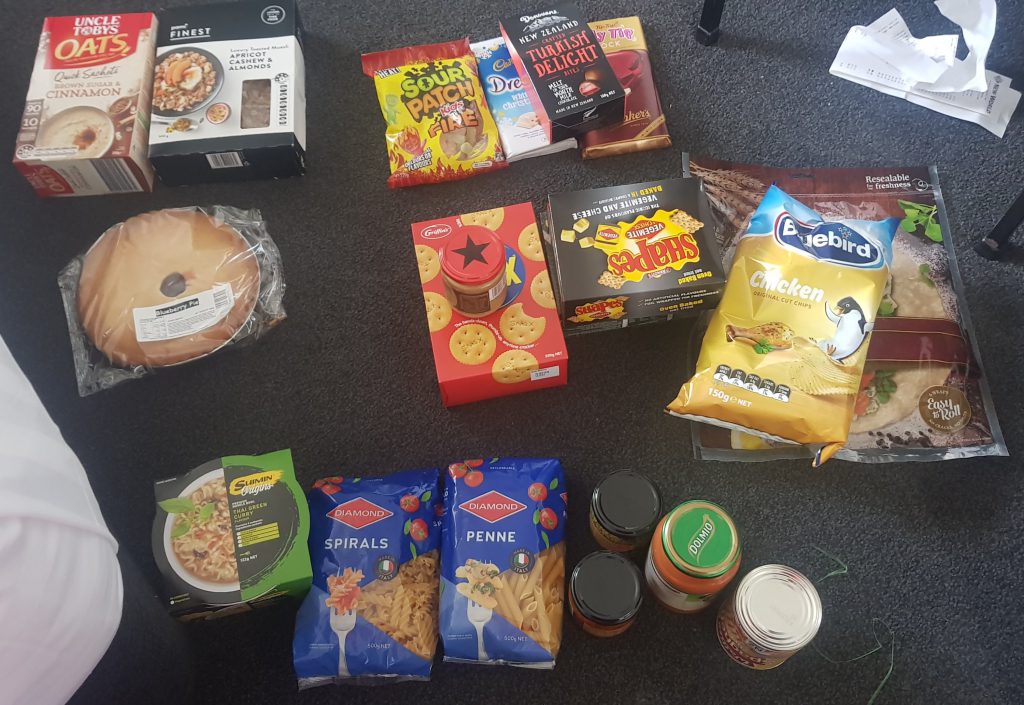 Saw Rhydian at New World. He said he is going to canoe from here in Taumarunui in a couple of days, and skip the Tongariro Crossing because he has already done it before. That might mean he is on the river with the rest of us once he reaches Whakahoro, which is where we are launching from.
Time to go to the canoe hire place. Here, we had to put all our food for the trip into waterproof barrels. It was a bit of a squeeze.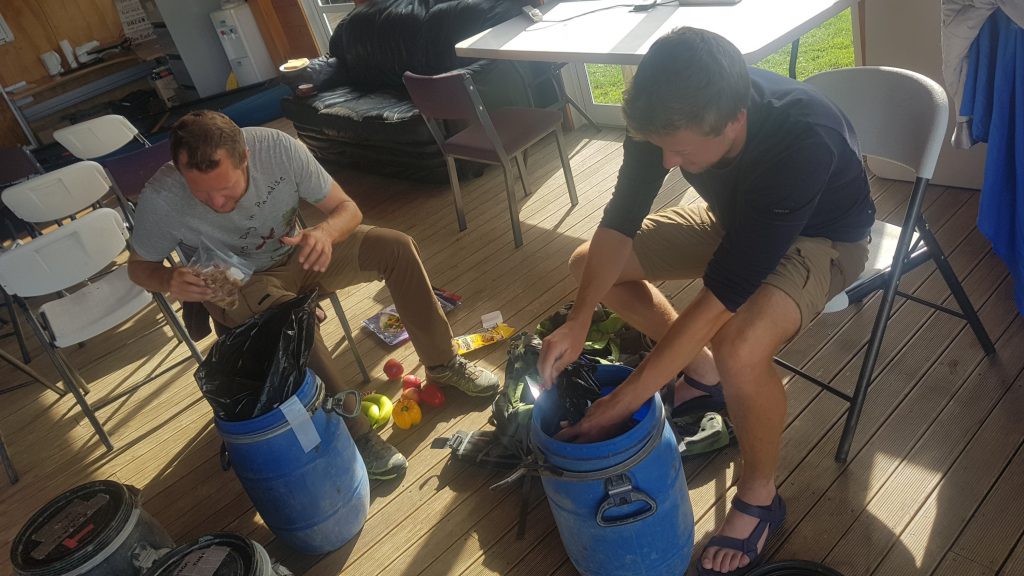 All ready to go for Tuesday.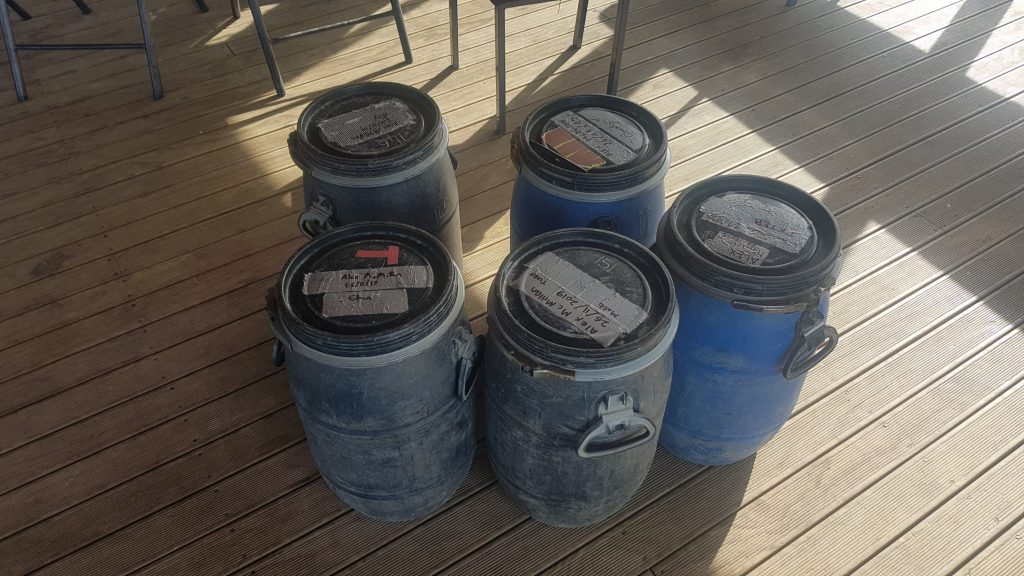 Next was the safety briefing. Here we learned about all sorts of things that were a bit scary for me… like don't lean away from obstacles if you're about to hit them in case the underside of the canoe hits them and breaks the canoe in half, and ensure you avoid the Eddy and hit the V. Whatever that means.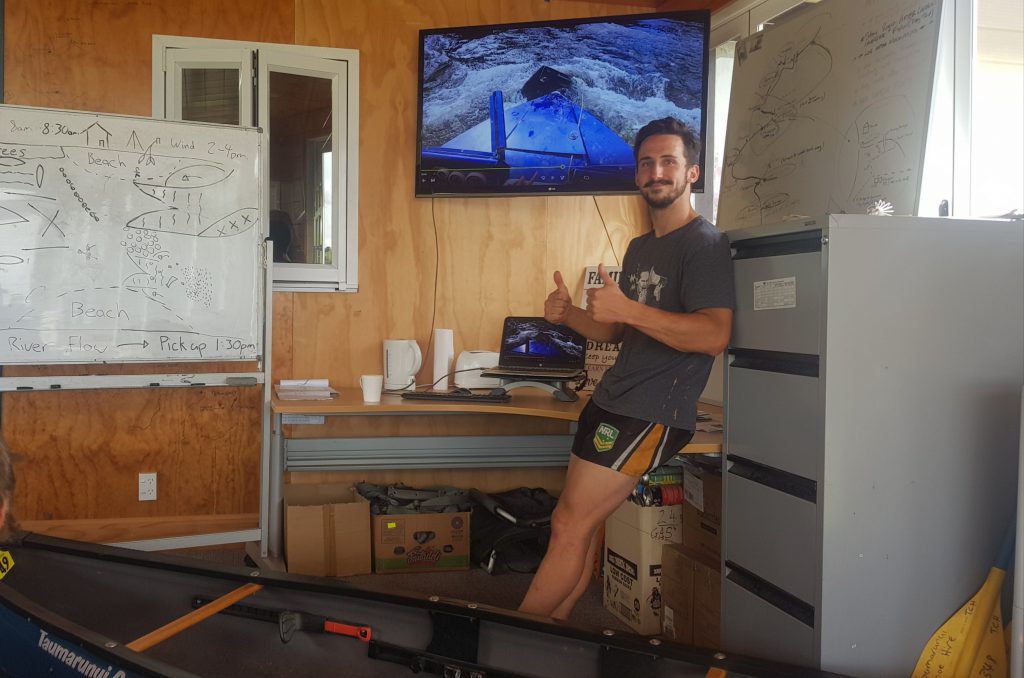 So this is apparently what we're doing, if this makes any sense.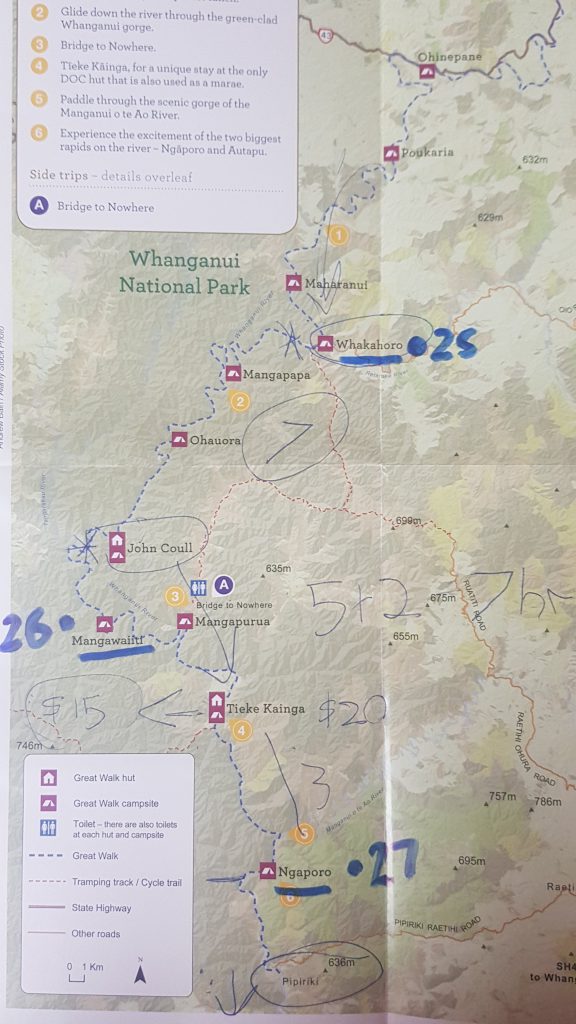 While we were sitting around waiting for our transport, we were playing with the dogs…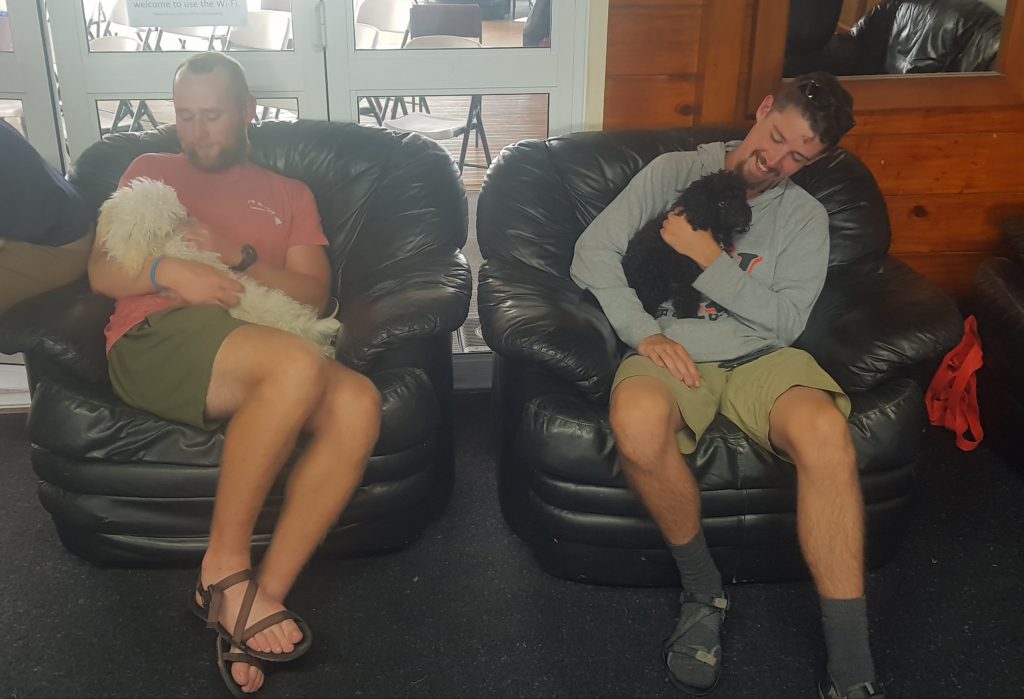 And Alex noticed this power outlet which we all thought was a bit, shall we say, "inconvenient".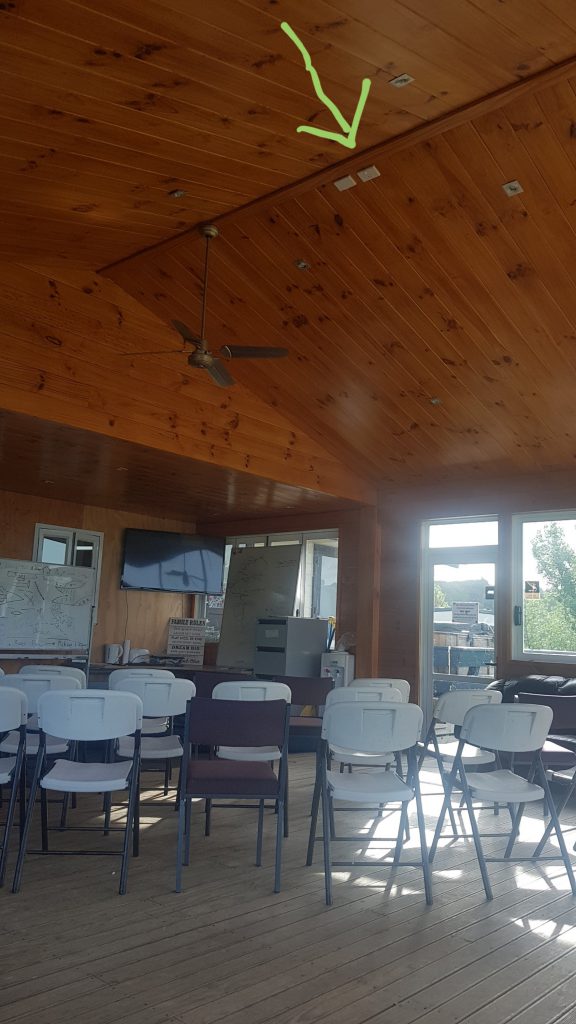 It's good to finally have a plan for the river section and to know that there's nothing more that needs to be planned. Now there is just the formality of actually doing it. That's the scary bit.
What it does mean is that we're going to be doing the Tongariro Crossing on a Saturday… so there will be a lot of crowds. And apparently tourists do the crossing northbound, whereas we're going southbound, so we're going against the tide. We're going to be starting early because of that, and also because of the big day planned for that day! Good news though is that it sounds like Henry will be doing the crossing on the same day.
I feel like now is a good time to do another "Wellington by Christmas" goal check. There are now 31 days until 21 December (day 87) and 661.9km to go. That means I need to do 21.4km per day. Ten days ago it was 22.5km per day so I'm ahead of schedule. And we have ten or so days coming up where every day is a fair bit longer than that.
If I can do 25.5km per day then I'll be there by 16th of December (day 82), and if I can do 30km per day I'll be there by 12th of December (day 78). What a difference a few extra km per day can make. Although there are the Tararua Ranges to contend with in a couple of weeks' time.
Tonight I had a quick dinner consisting of an entire Apricot Chicken pizza at the place in this photo, right beside where I'm staying. All five of us had pizza here – there were two "BBQ Hawaiian" pizzas, a "Chicken and Feta" pizza and a "Garlic and Cheese".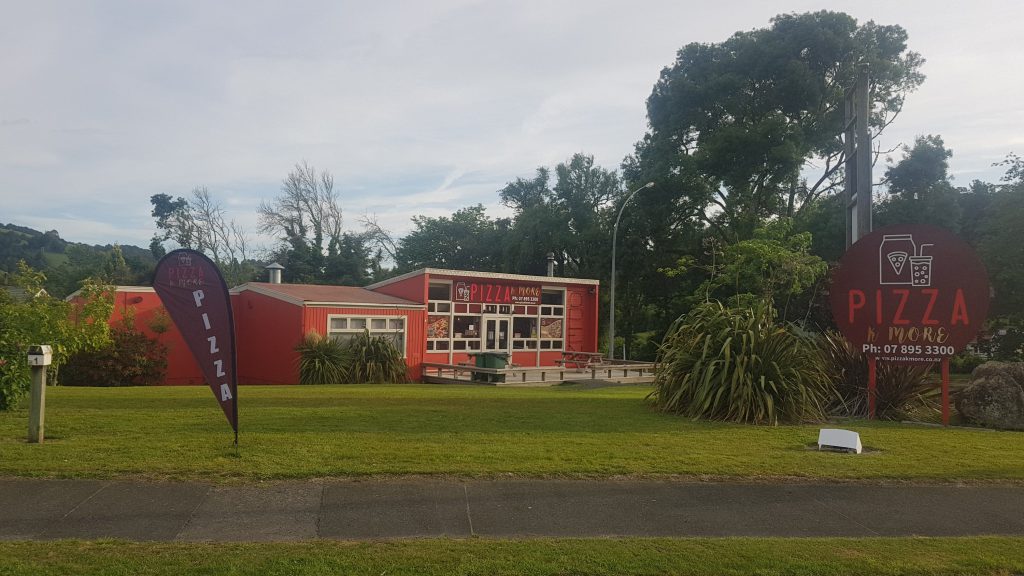 And this "supa sundae" from McDonald's for dessert.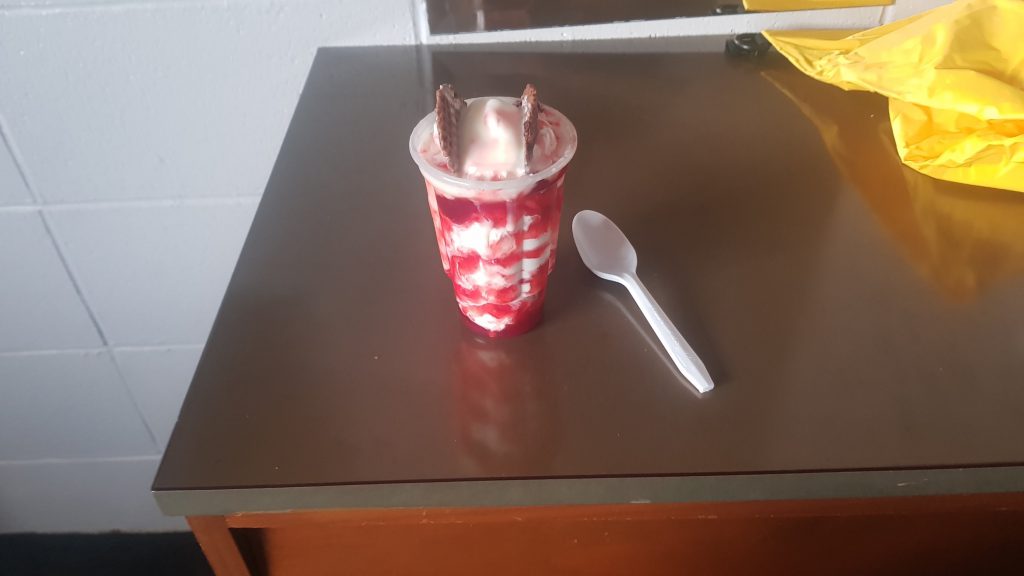 And now it's time to rest in preparation for walking again tomorrow. Gee, with all this talk of the river journey today, I almost forgot that walking is why we're all here. Tomorrow is not an early start because it is not a difficult day. It's off to the big metropolis of Owhango.