Date: 2 December
Trail covered: 41.6km (kms 1393.6 to 1435.2)
Weather: overcast
I slept well at the Koitiata campsite since I was alone, and nobody else was around all night.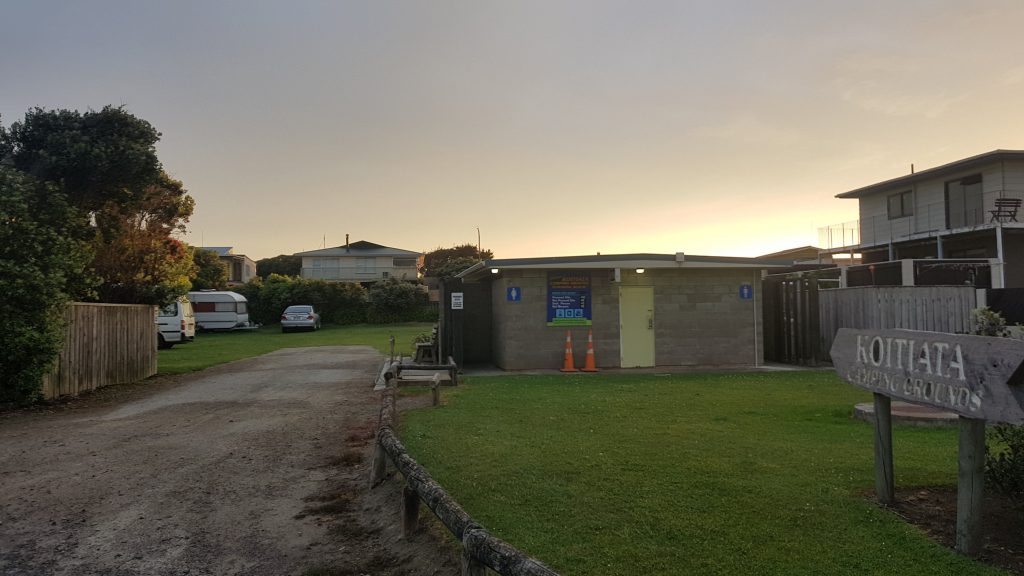 I enjoyed a bit of breakfast and then packed up and left relatively quickly.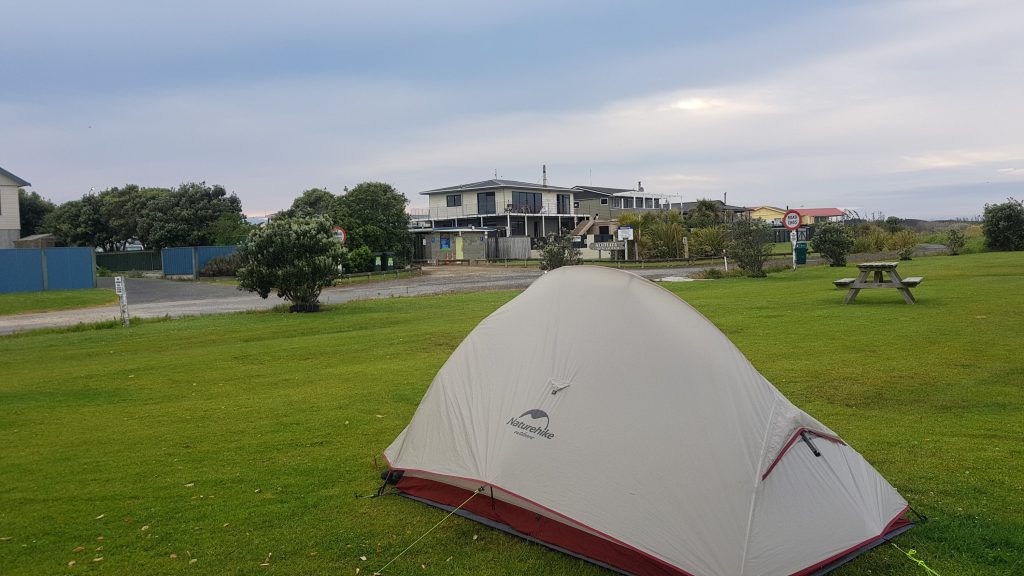 Time to go. Oops, 30 seconds in I realised I needed to put a plaster on the earwig bite or whatever it was that I got yesterday. I was wearing crocs on the beach yesterday so I forgot about it as it didn't irritate me. But I'll be wearing shoes for the beach today as there's 15km of beach walking today and no river crossing… at least none that I know of.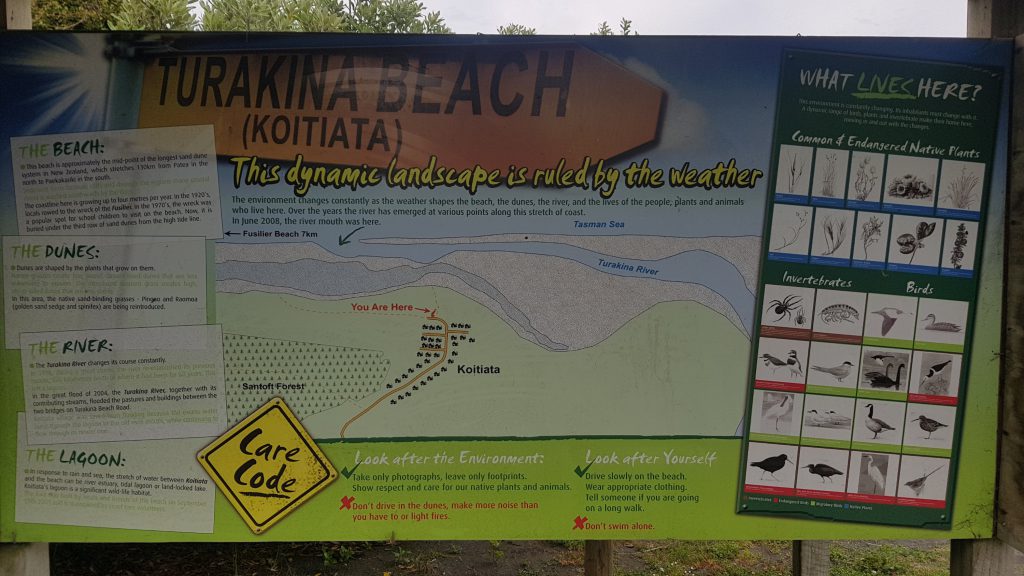 And there is no wind on the beach today. It is much more pleasant.
The crack I noticed yesterday in the back of my phone is bigger now. It has spread from one side to the other. Although it seems to be inside the glass outer shell, not the glass itself, so sand won't get in. Definitely need a new case though soon.
A 4WD drove past with a dog running behind. The good ol' kiwi way to give your dog some exercise.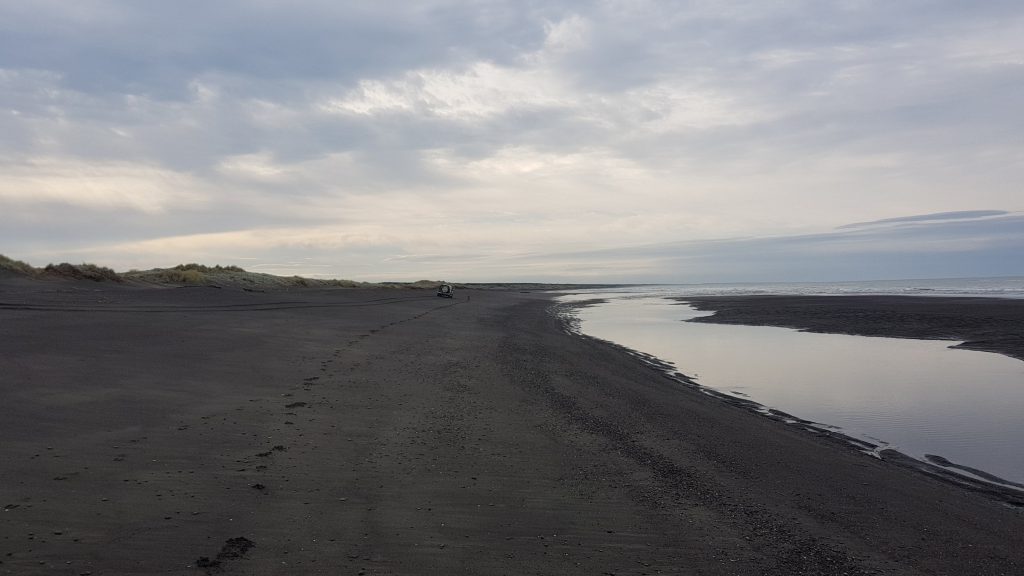 The 4WD returned after a short time. The driver stopped and chatted to me about Te Araroa. He obviously saw a lot of people walking this way and he knew the route well, as well as the changes made to the route this year. He said that yesterday's wind on the beach was very common and that the fact there was no wind today is unusual. He also said I might see seals further down the beach but it's probably the wrong time of year for them.
The guy's dog was huge and very friendly but it slobbered all over my shorts. I didn't mind, in fact it probably made me smell better.
The walk down the beach was fairly uneventful. It was helpful that it was low tide – it made the sand much easier to walk on. There were no real river crossings, just a few very small streams.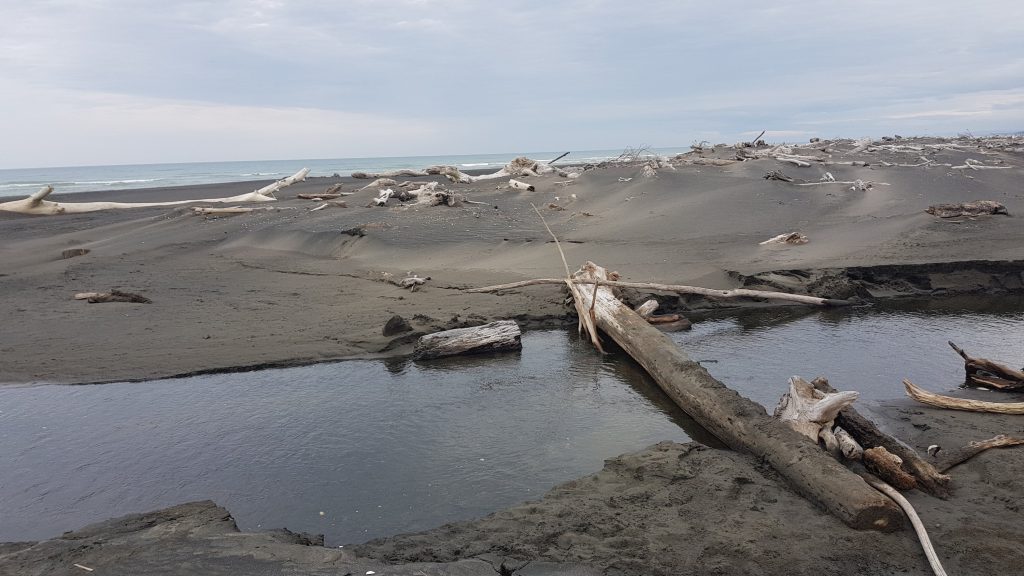 Other than a few birds, there were no signs of life on the beach. There were definitely no seals.
I listened to my music for the first hour until a voice in the earphones kept saying "battery low". Then a minute later "battery low". Then again "battery low". Grrr… just tell me once and let me continue listening until the battery dies!
When the earphones' battery did die, I stopped for some water and connected the earphones to the battery pack. I walked musicless down the rest of the beach.
I haven't marked a milestone since the 1000km mark, and I had the camera out and wasn't in a rush so I thought why not mark the 1400km mark!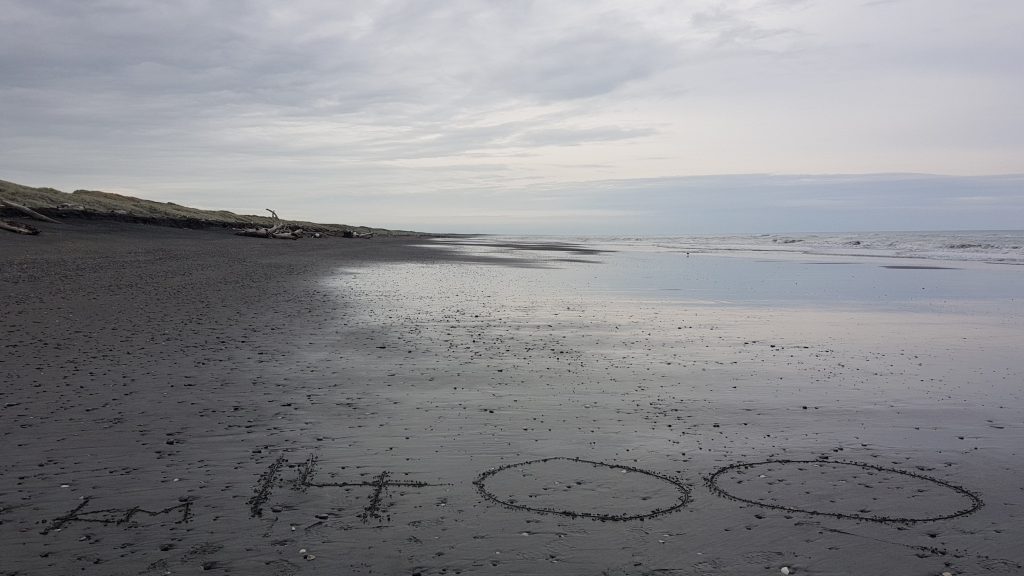 I noticed along here that so many of the Guthook waypoints are wrong. Some were blatantly wrong – saying "leave the beach" when the trail continues down the beach. I basically just ignore the waypoints now and follow the red line. At least the line seems to be correct.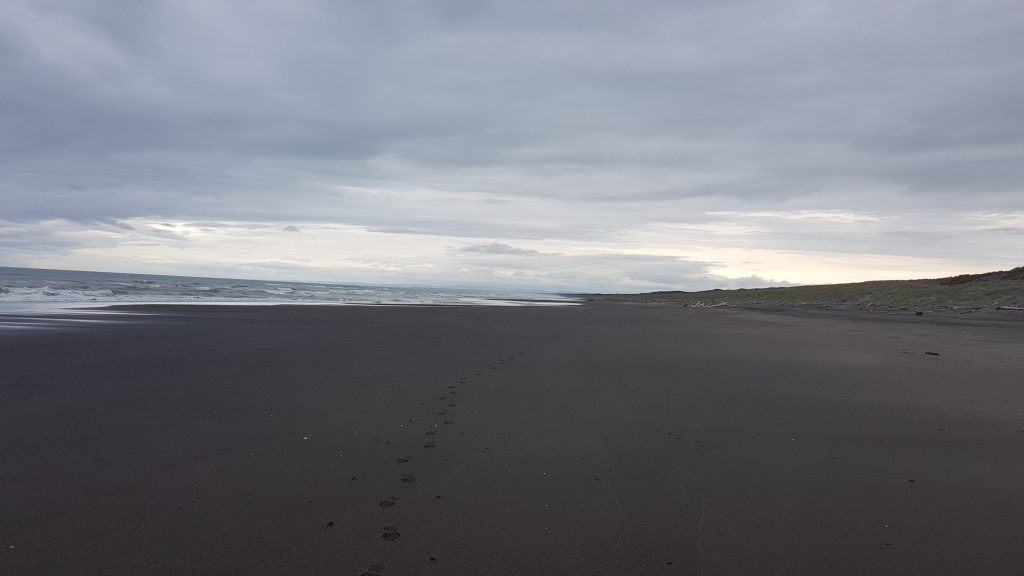 I saw this building from quite a long distance away and figured it was the end of the beach walk. It was hard to see what it was, it looked like a lighthouse. This was as close as I ended up getting to it though, as you turn off the beach before it – and from the topographic map it seems that it is a "fire lookout".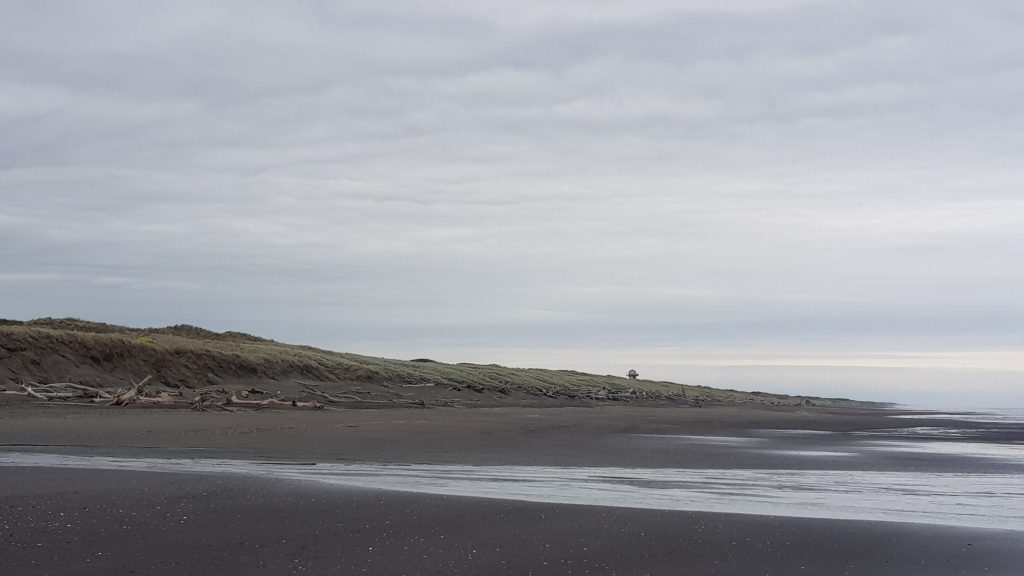 When it was time to actually leave the beach, you first need to cross one last little stream, using any number of available logs.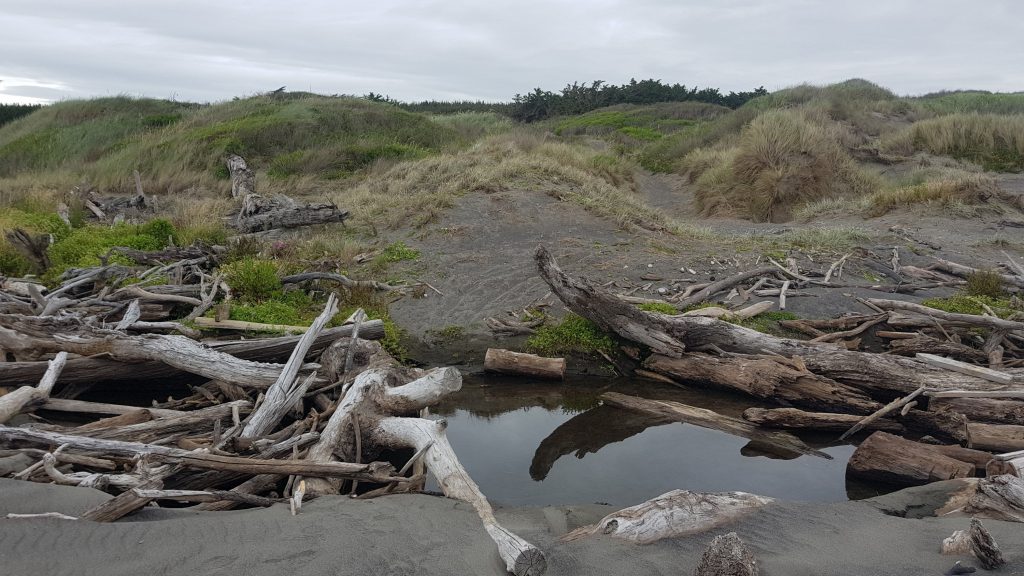 Then it was down this sort of path for a few kilometers.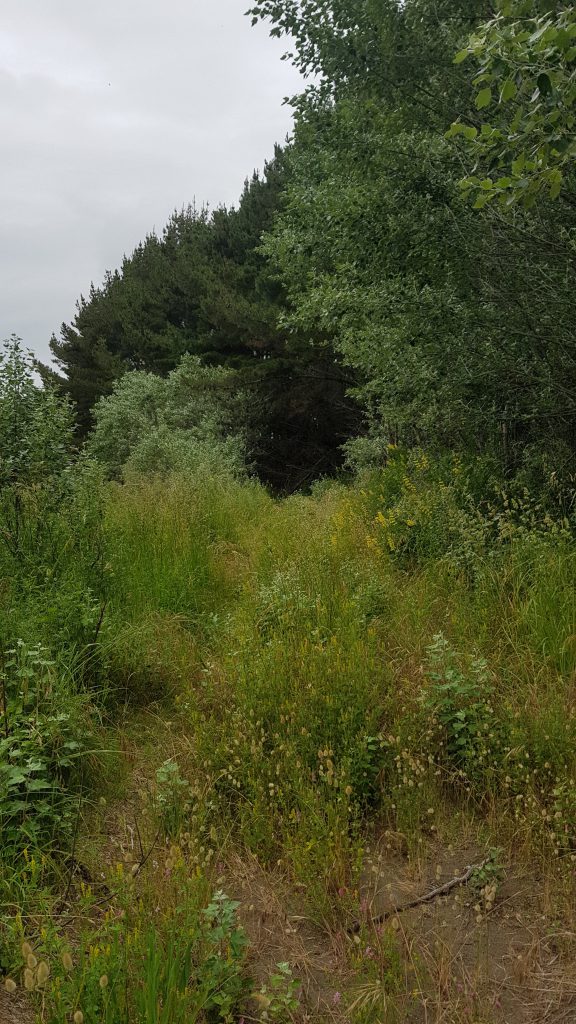 It was down a forestry road and then through a farm.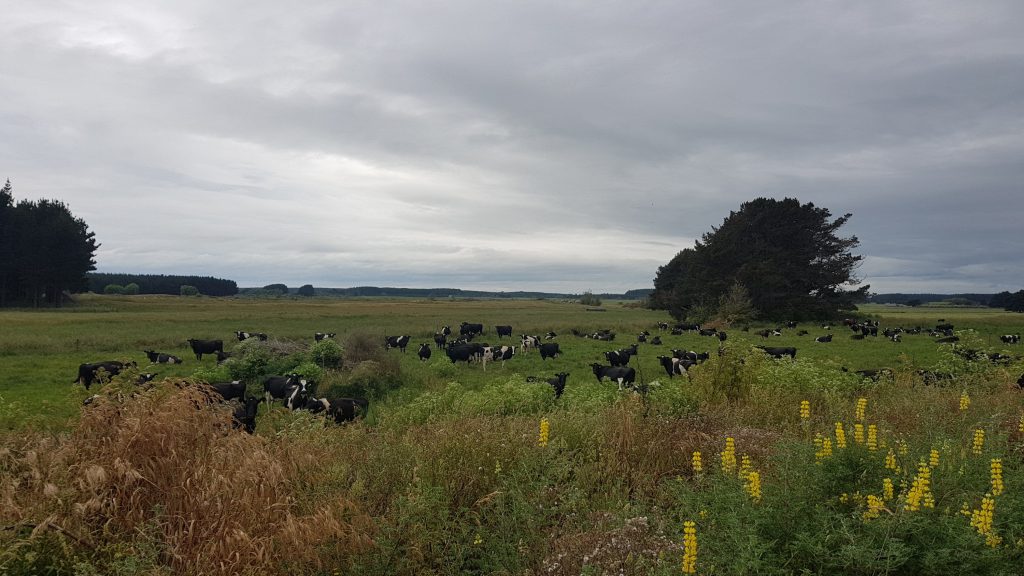 I don't know if I followed the right path through the farm – there are absolutely no markers of any kind around here.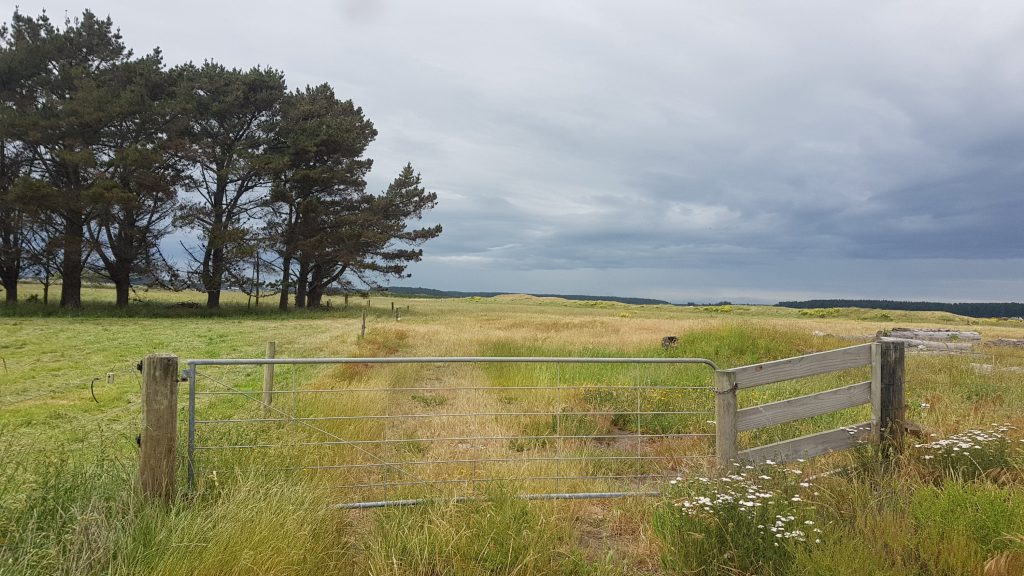 I ended up to the right of these tyres. Seemed correct.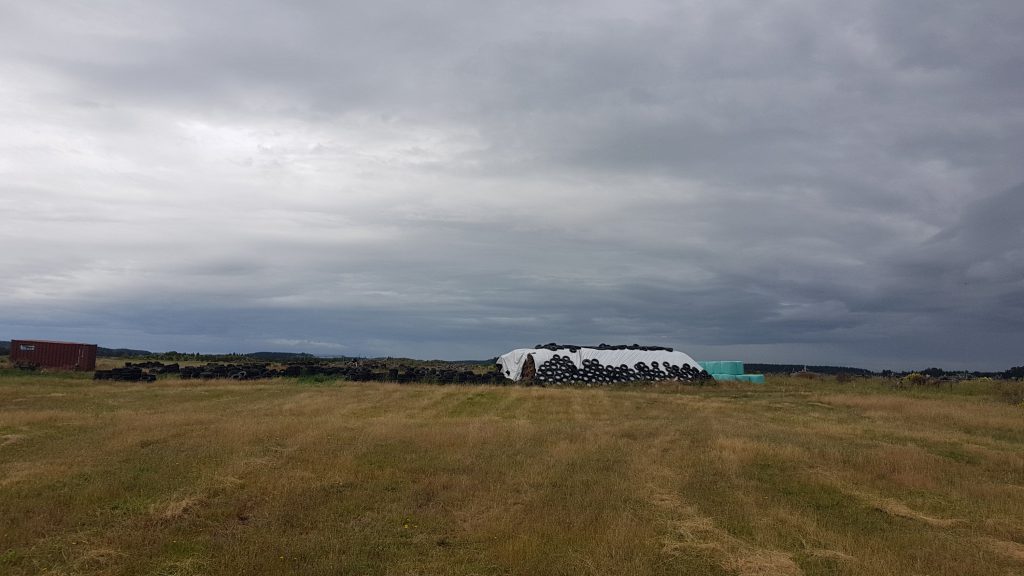 The actual gate that was right on the line on the map was locked. At least I knew that the path I did take was not a shortcut and so I don't feel like I cheated.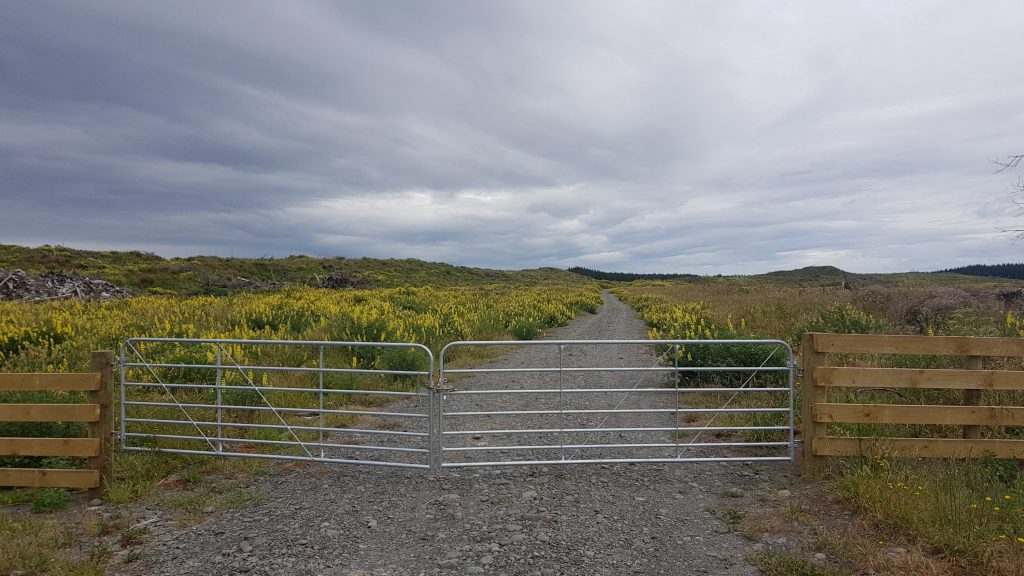 As I was leaving the farm, a bug flew right in my eye. I thought I'd stop at this point and have some lunch and try and get the bug out of my eye, but there were a lot of bugs around here and so I lived with it and just kept walking.
I started walking down the road and saw some guys from Downer who were doing some construction work who waved out. When they drove past me a few minutes later, they stopped and offered me a ride to Bulls. They seemed surprised that I was walking in this area.
It was 11am so I thought it was a good time to try for lunch again, since I was a bit further down the road now. There were still bugs around.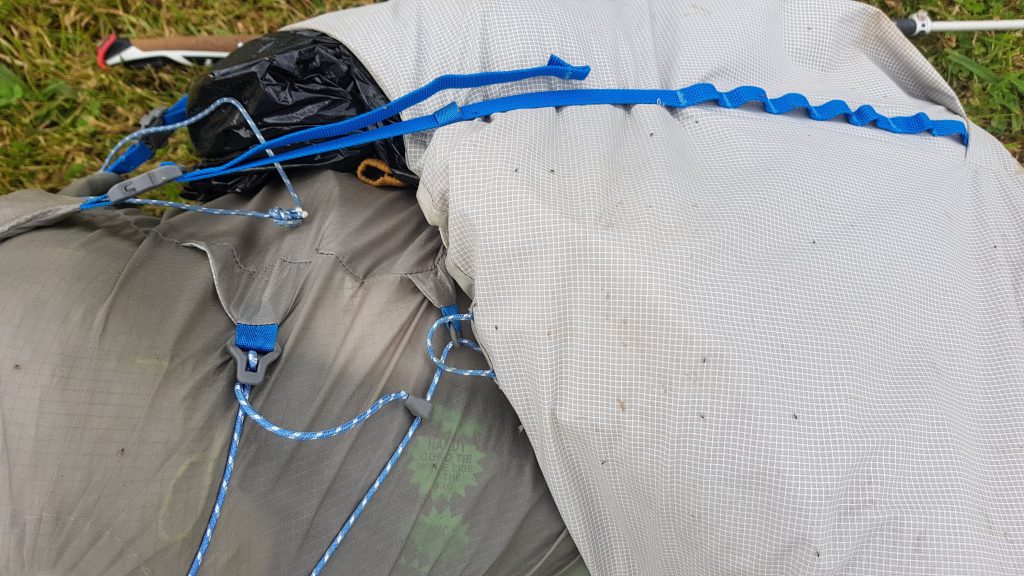 I decided I didn't care about the bugs and made myself a wrap. On the wrap was cashew butter and another unknown flavour of "Shapes". And also bugs. Once bugs landed on the cashew butter they couldn't get away and I had to keep picking them out.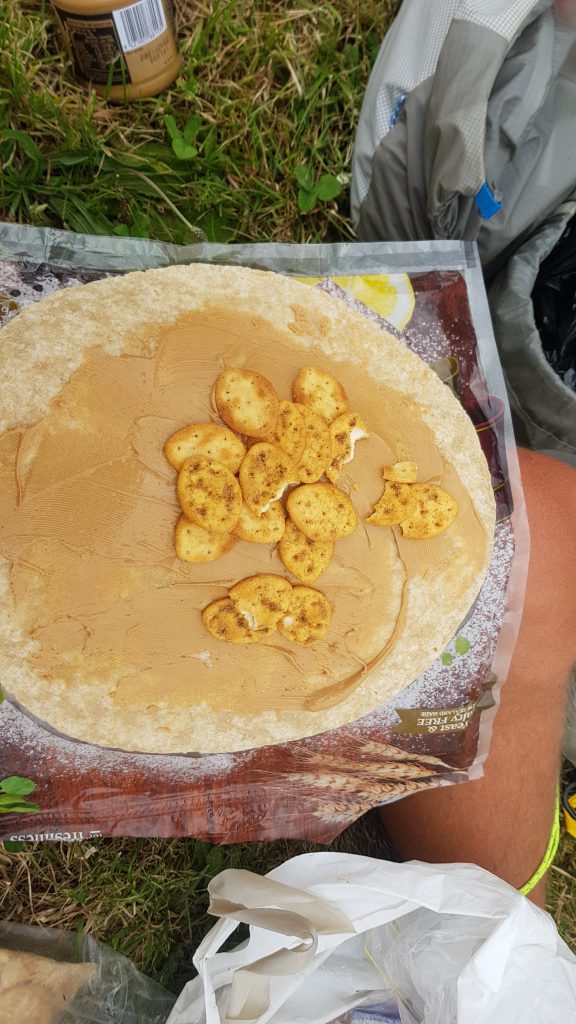 I also used this time to get sand and plant debris out of my boots again.
And then a bug flew right in ear. All I need now is one up my nose and I will have won the bug trifecta.
As I was finishing my lunch and was halfway through packing my stuff away, I turned to the side and saw all these cows walking towards me quickly. They were being herded down the road. I quickly grabbed the rest of my stuff and moved to the other side of the road, and took this photo.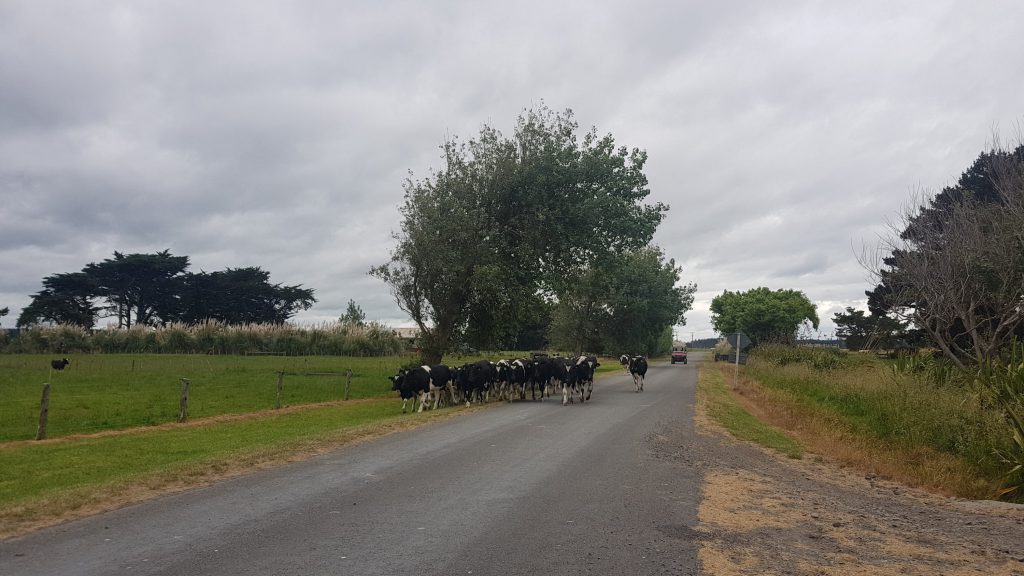 I talked to the farmer and laughed that "one second I was eating lunch and suddenly all these cows are coming at me". I thought it was funny at first, but the more I thought about it, the more angry I got. I know the farmer has a job to do and probably brings cows down this road every time. But it's a public road and I have a right to be here if I want. And if I hadn't moved, the cows would have probably run right through me. I could have been severely hurt. If it had've been 5 minutes earlier all my stuff would have been unpacked and it would have been trampled by the herd, as I wouldn't have had time to get it out of the way. I would not have been happy.
I'm interested to hear people's opinions on whether I had the right to be angry about this.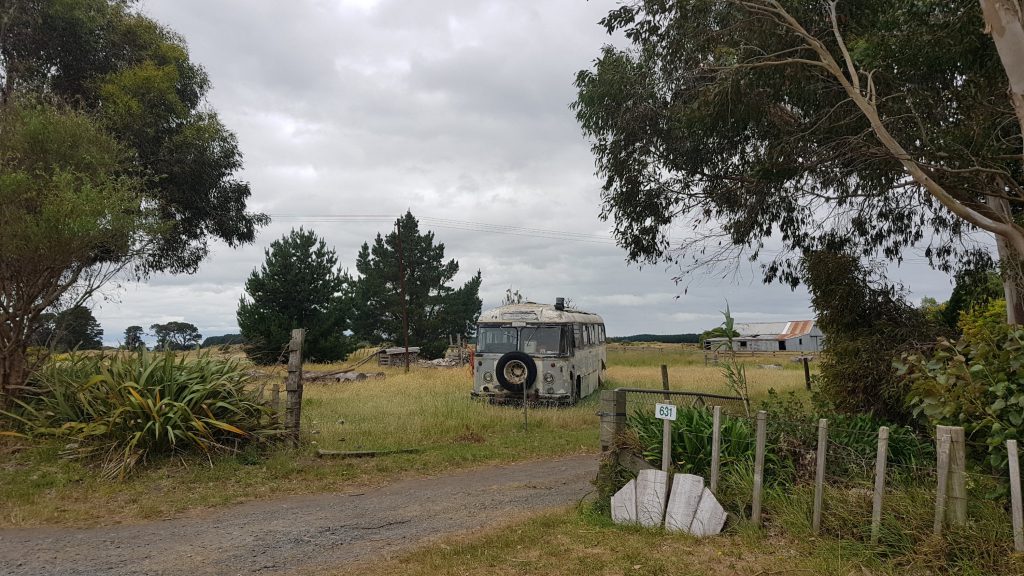 It did start to rain around 12;30pm. It was just a few rain spots. It was quite nice actually – we haven't had rain in so long. But it did increase the humidity a bit.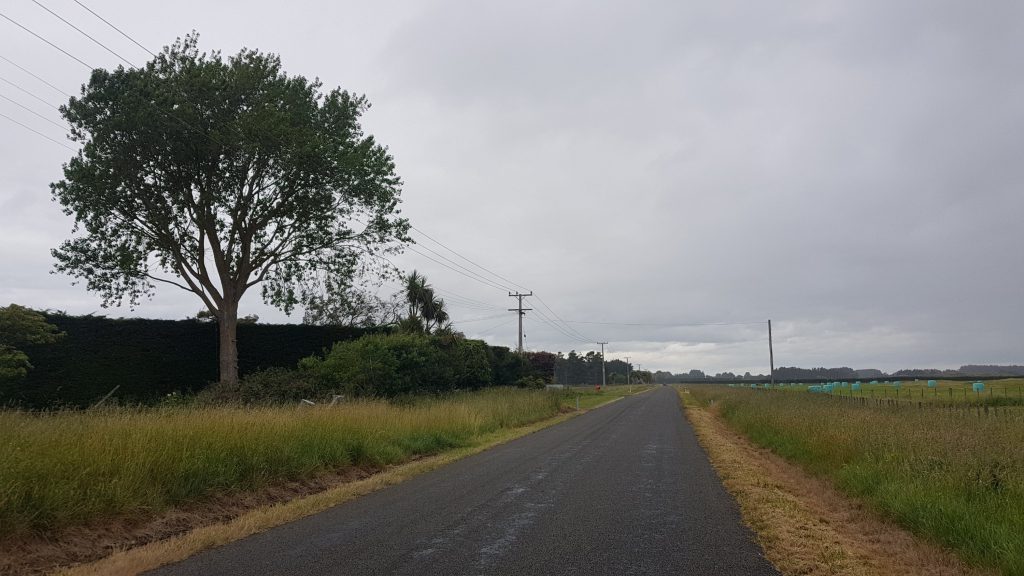 I was looking forward to McDonald's in Bulls. The road walking was getting tiring and the town didn't seem to be getting any closer.
As soon as I did eventually come into the town of Bulls, I started seeing bulls everywhere. Here was the first one, outside the fire station.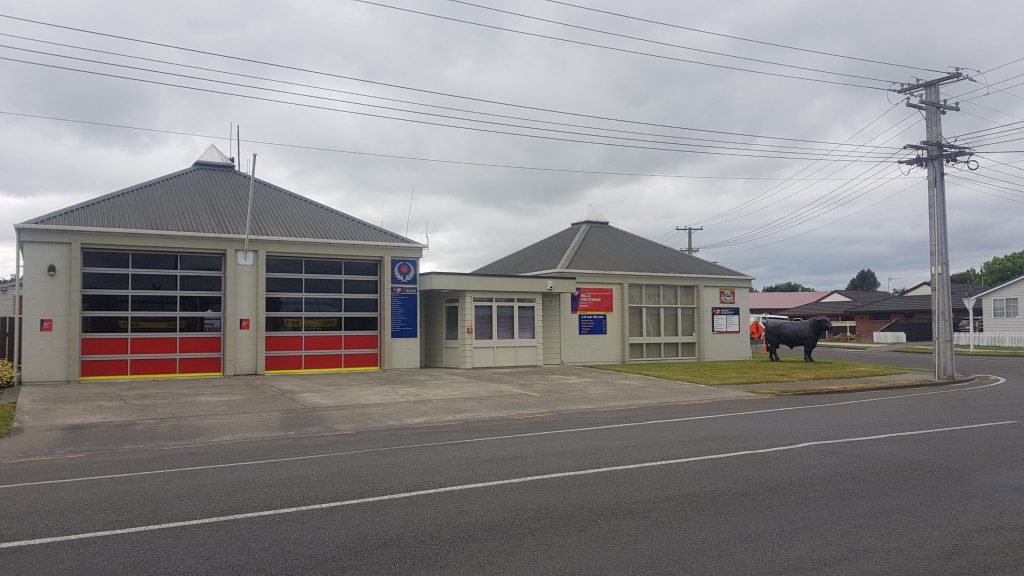 I knew the bull puns would be starting as well. I knew from a previous visit here that there are heaps of them here.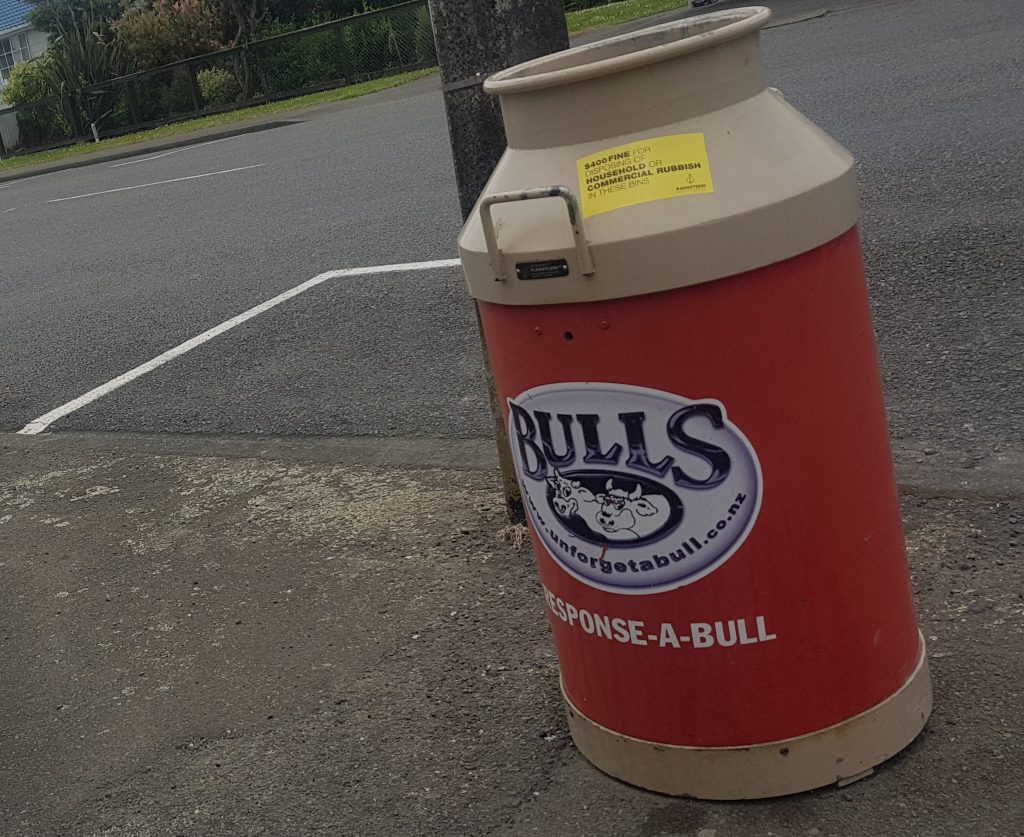 The bull puns are lazy. All you have to do is take any word that ends in "able", of which there are heaps, and replace it with "a-bull". Come on, get a bit more creative!
I liked the paintings though.

Here's another painting by the police station.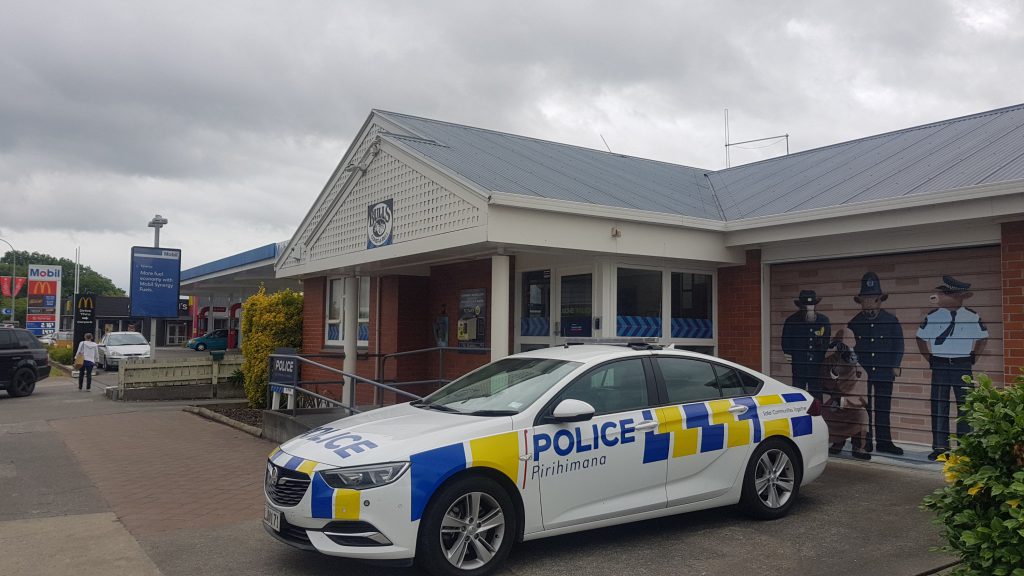 I got McDonald's…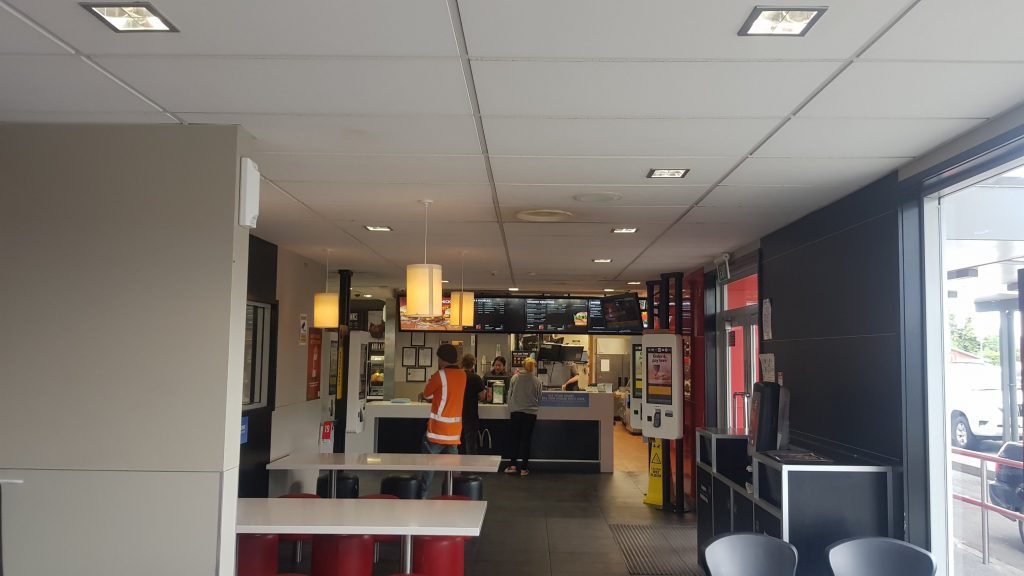 And then I went to the petrol station across the road. They were advertising something called a "fantasy frappe". Of course I had to get one.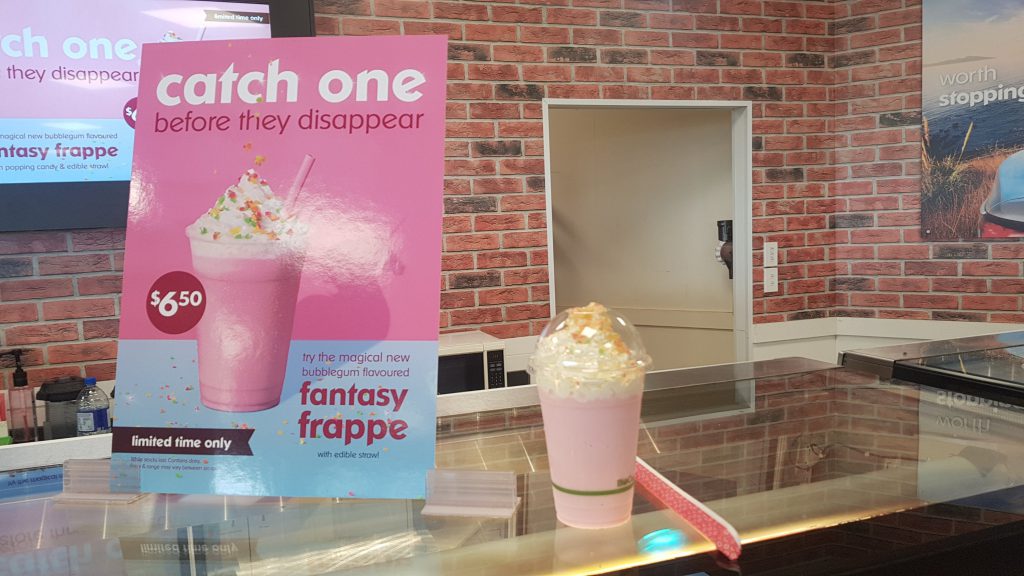 There was another one of the bulls outside the petrol station. It didn't seem to mind my presense, unlike Bully Joe Armstrong back in Rangiriri.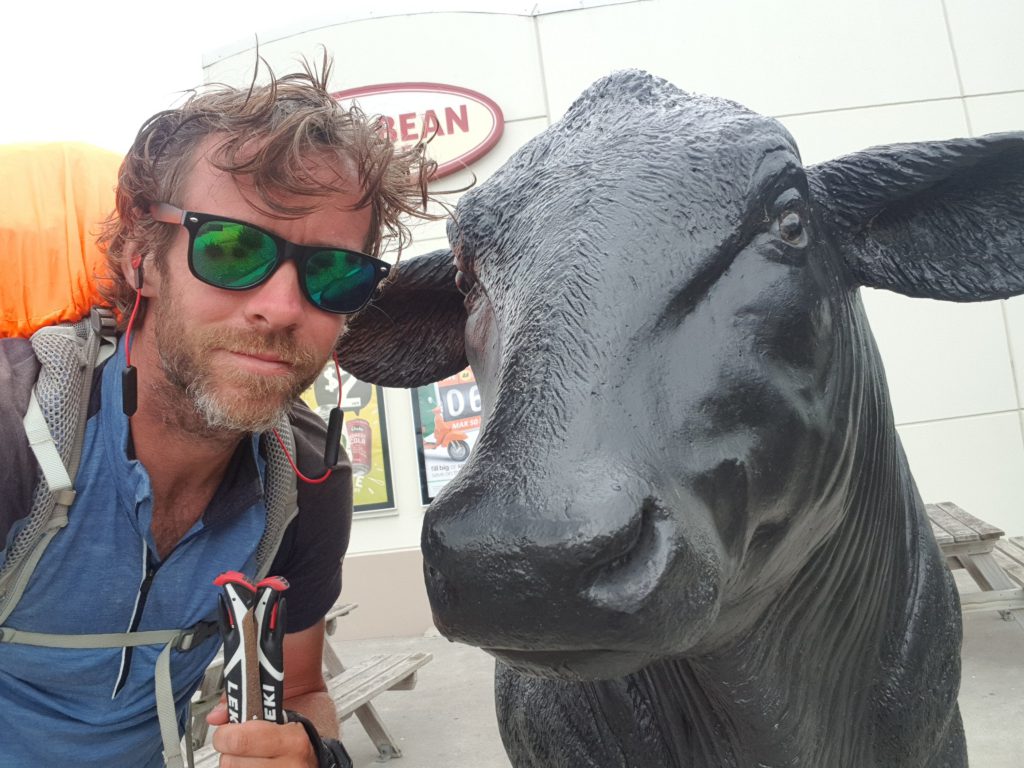 I also got some cash while I was in town, and continued walking. My destination was a place called Mt Lees Reserve, which apparently has a camping area. It is 10km out of Bulls.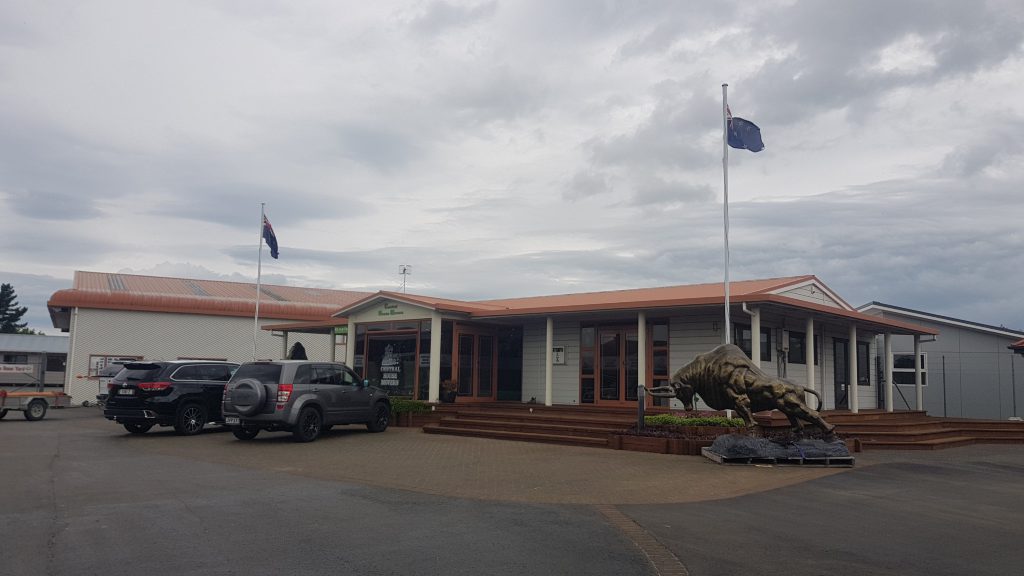 Wellington is mentioned on signs for the first time!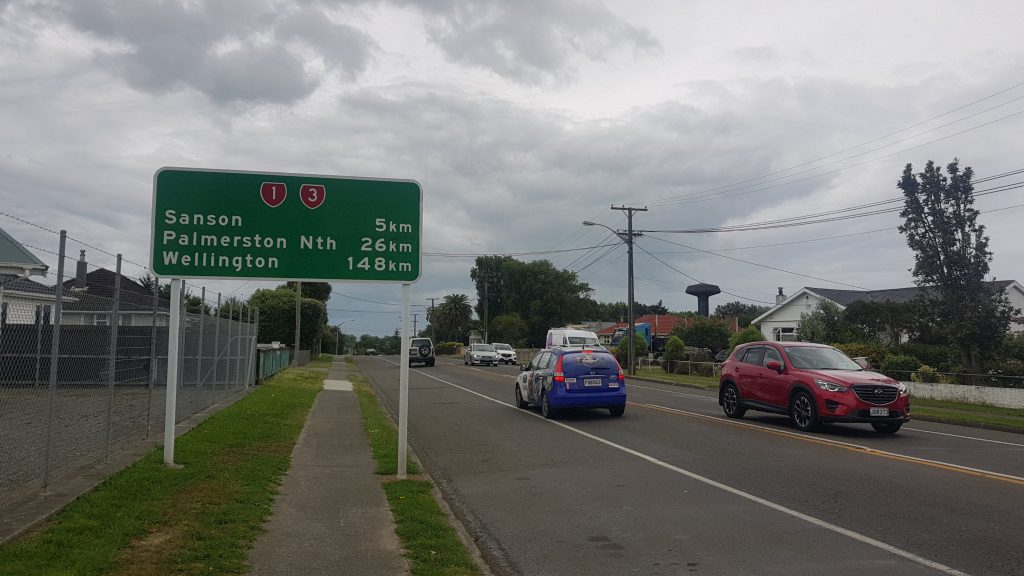 And you get to walk on two state highways at the same time again. Although it's not like earlier when you walk on the two minor highways SH23 to Raglan and SH39 to Pirongia at the same time. Nope – this was Highway 1 to Wellington and Highway 3 to Palmerston North. Two very busy highways, meaning that trucks were passing me constantly and it was so loud all the time that I couldn't even hear the voices in my head.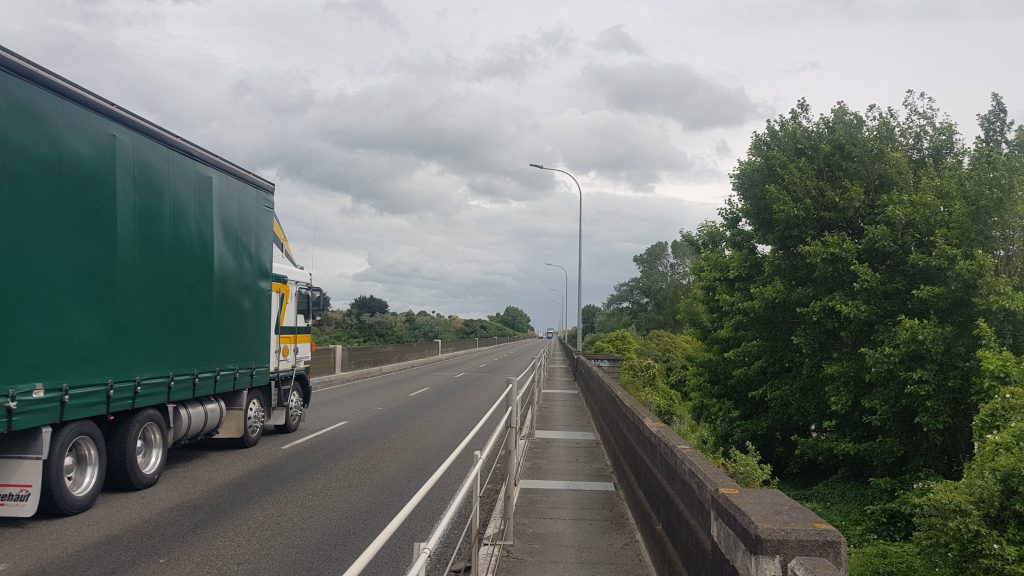 Make sure you follow the signs.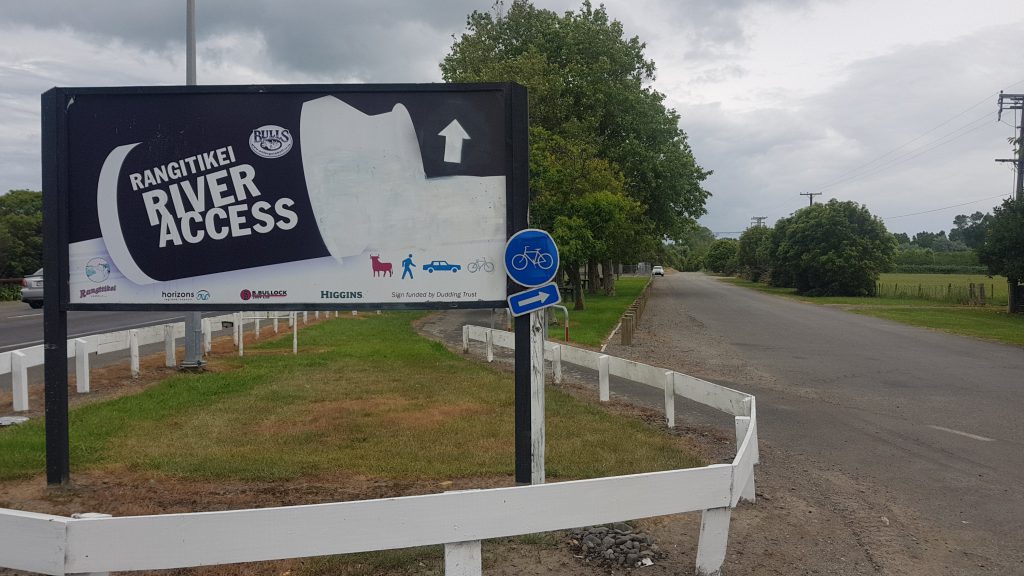 When you see this last bull, you're out of Bulls finally and it's onto back roads. The name of the area that Mt Lees Reserve is in is apparently called Halcombe.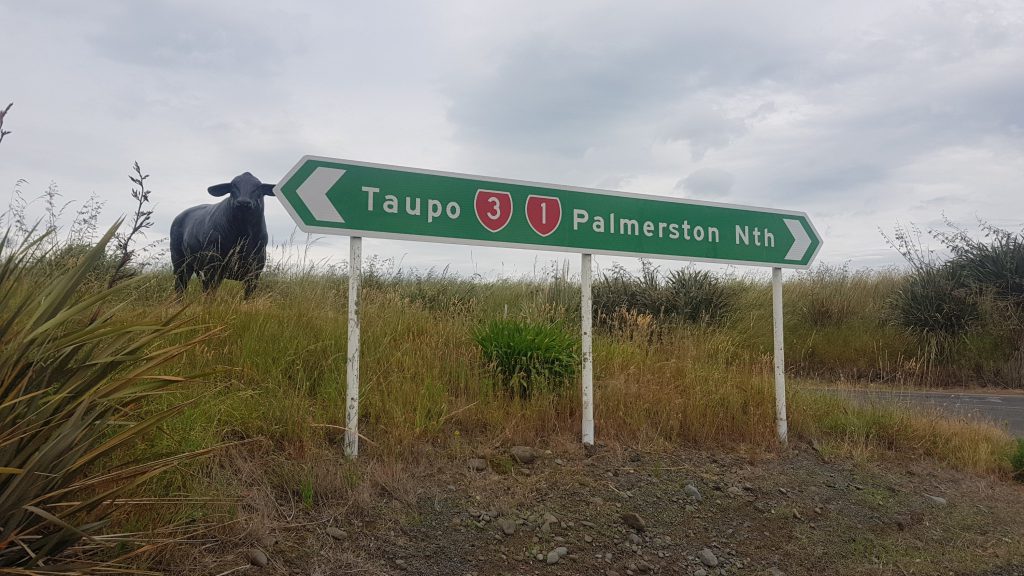 On the last bit of the road walk for today, even though it was overcast all day, I was really feeling hot and exhausted. I couldn't wait to sit down and relax in the campsite. I should get there at an earlier time today than my late arrival yesterday so there should be more time to relax.
There are a lot of defence buildings around this area. Here's one.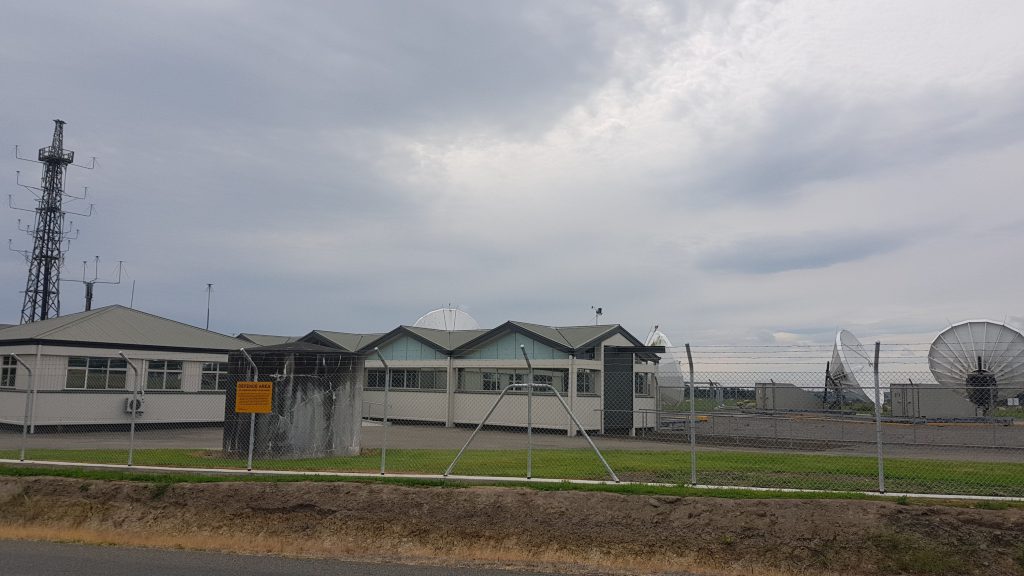 The road got less and less pleasant to walk down. Lots of blind corners and hill crests. And I was starting to get quite a bit of knee pain. I hope its okay. Maybe two 40km days in a row after not walking for five days wasn't a good idea.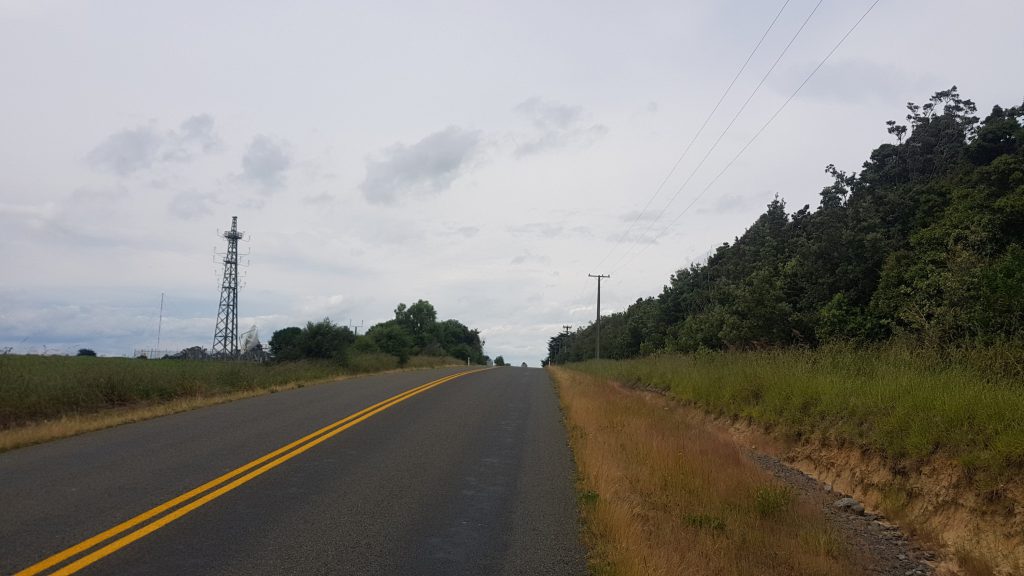 When I did get to Mt Lees Reserve, it was a nice spot with nicely landscaped grass and gardens. I set up my tent and talked to some of the people in campervans. Again I was the only tent there.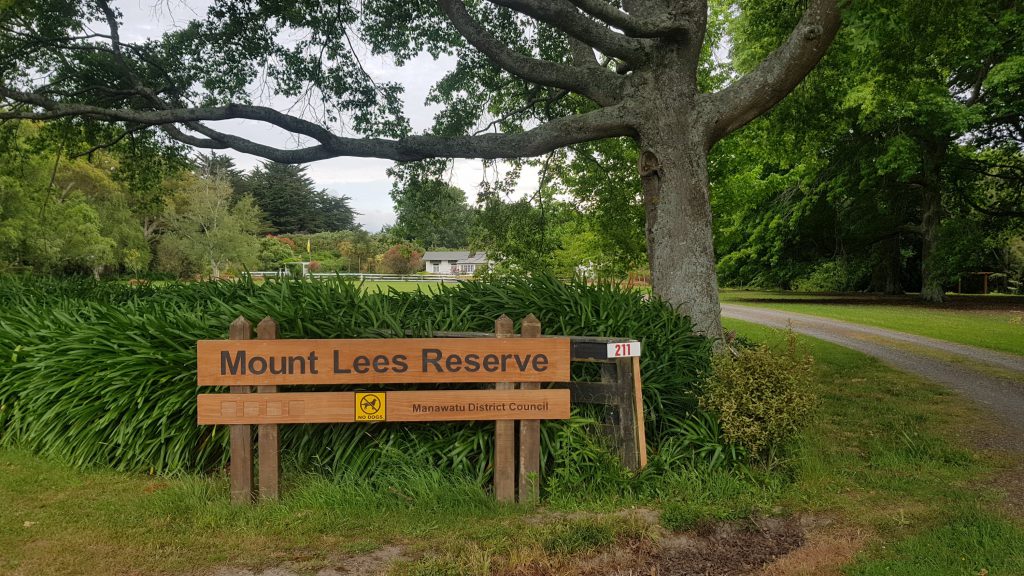 As I was sitting down at a picnic table catching up on blog posts, a guy came and talked to me. His name was Graham and he runs the B&B that is inside the reserve. He was really friendly and welcoming. He said that I was able to use the "summerhouse" which was a little sheltered area with tables and electricity and an electric jug, sink and microwave. That was excellent.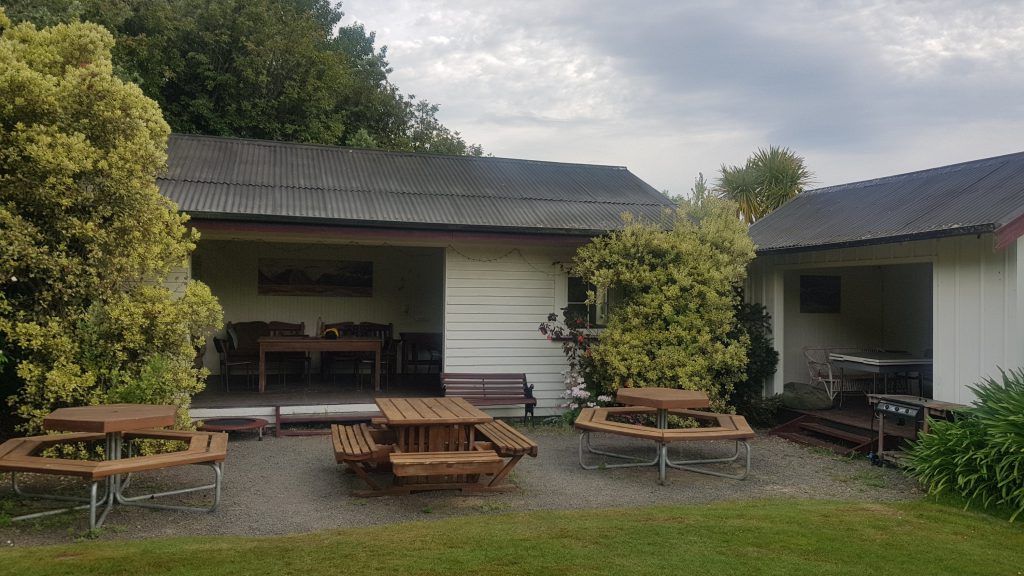 Graham is on a local "Te Araroa Group" for this area. He said that not all areas have such a group, for instance Auckland, and so Mark Weatherall (the chairman of the TA Trust) has to negotiate directly with landowners and councils in those areas.
I spent a lot of time in the Summerhouse catching up on blog posts, having dinner and just generally relaxing. A few other campers turned up but they arrived in cars – there were no other TA hikers. There was a visitors book in the summerhouse with entries that went back to 2006. It was nice to read the comments which were overwhelmingly positive. There was a donation box and a notice that said a donation for the use of the summerhouse was appreciated, so I left $5.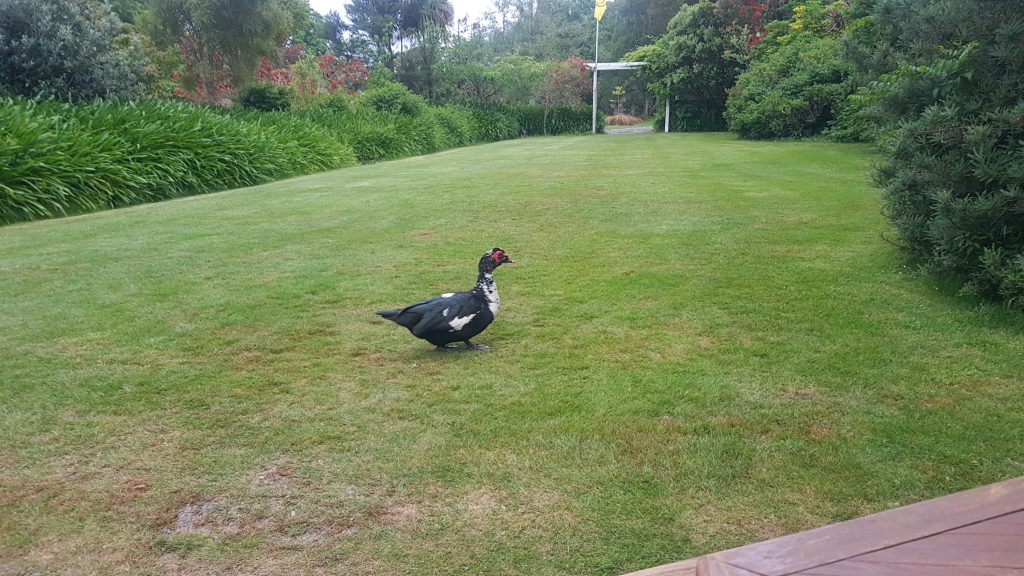 The notice also said to please vacate the summerhouse at 10:15pm so that's how late I stayed up. That was a good time – I want to get up early in the morning to get an early start. There is supposed to be heavy rain tomorrow from 2pm according to MetService so I want to get to Palmerston North before that happens.
There were a lot of loud animals around at night. Were they bulls? I'm not sure. One noise I'm hearing literally sounds like someone is being murdered. Don't animals need sleep too?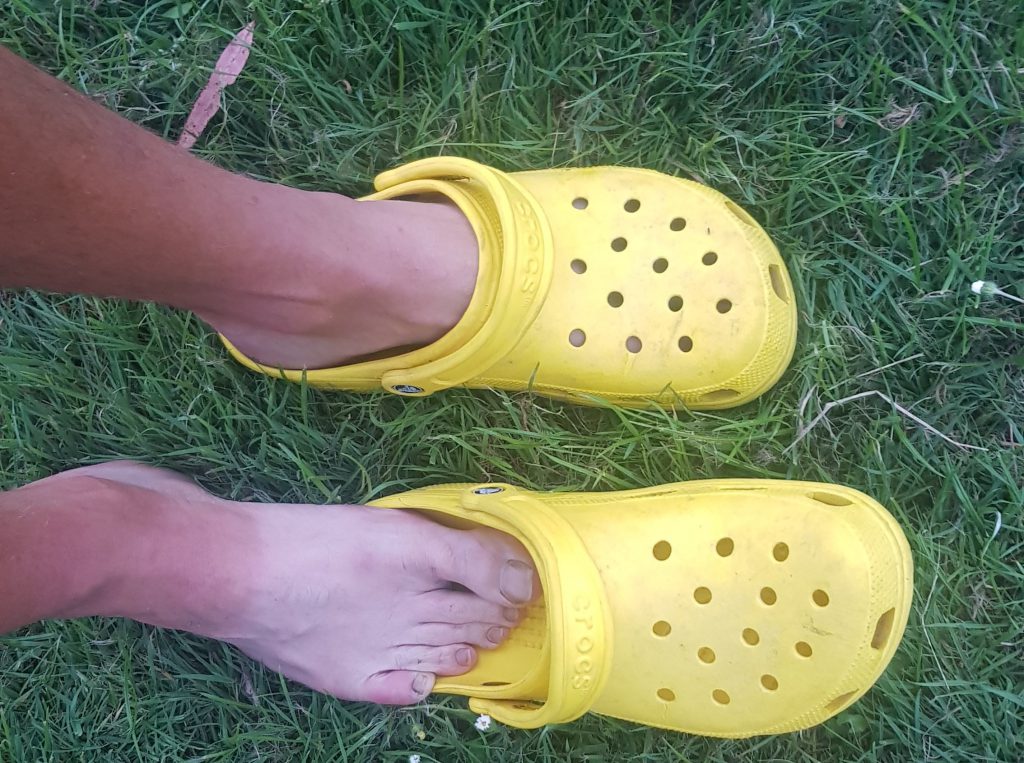 Today's walk on the map (blue = Te Araroa, red = today's walk):