Date: 3 December
Trail covered: 28.8km (kms 1435.2 to 1464.0)
Weather: overcast in the morning and wet in the afternoon
Like always I woke up at 5:45am, and I had everything packed up and was on the road by 6:20am – nice and early.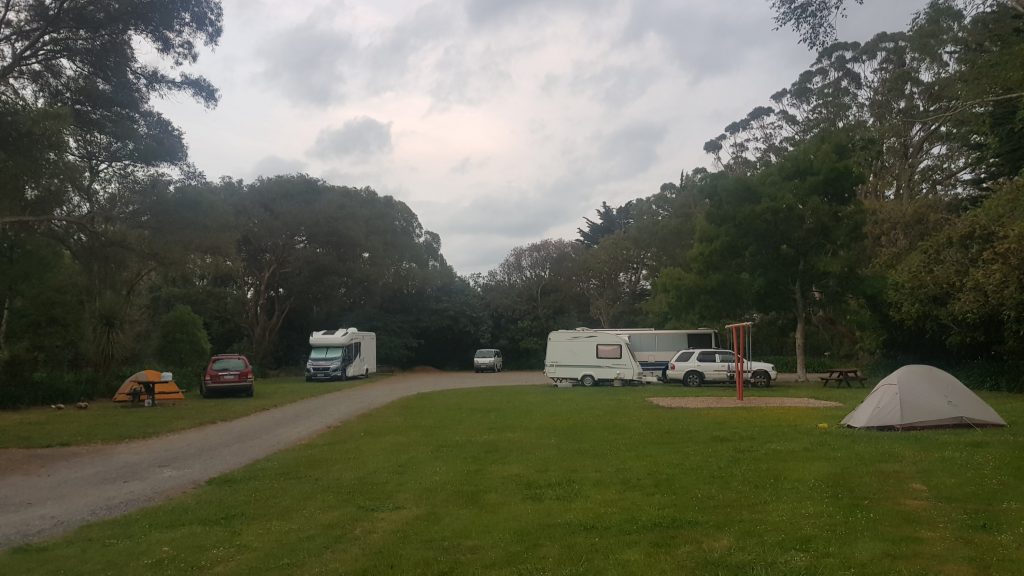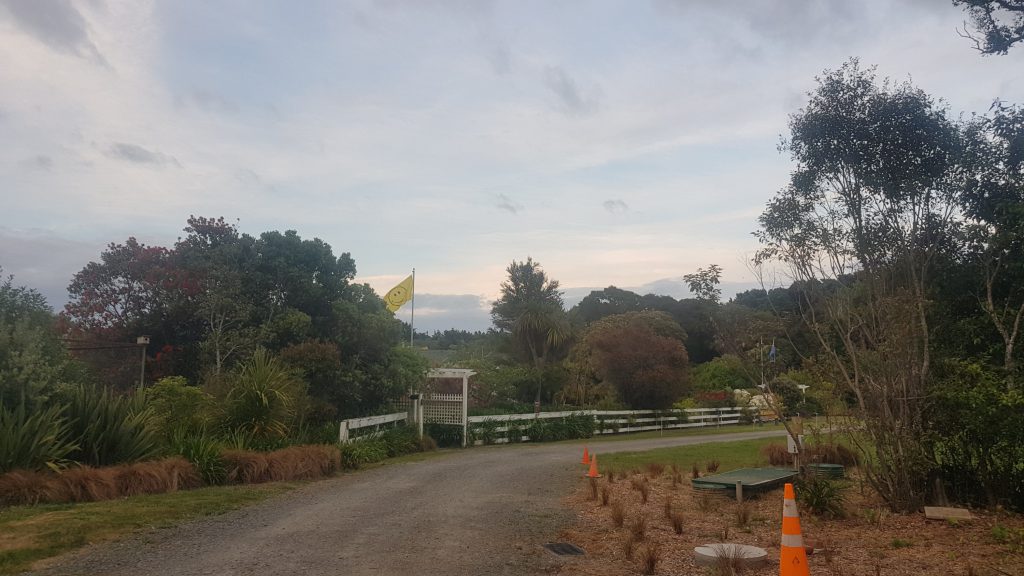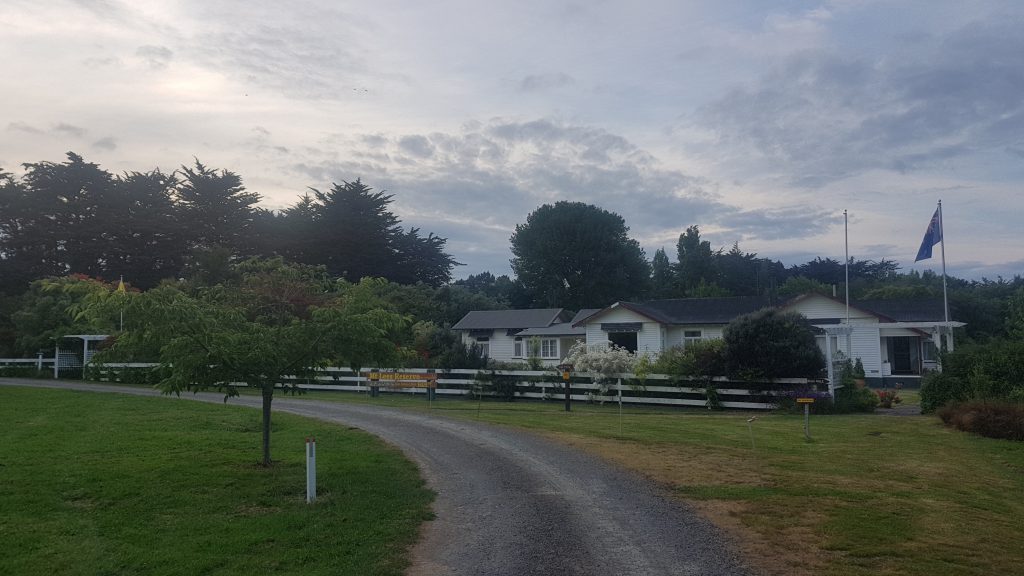 I should be on track to beat the heavy rain forecast for 2pm. Palmerston North is about 20km from here and then the track through the city is another 20km or so. And Palmerston North has Uber. My plan today is to walk as far as I can until the rain starts, and then get an Uber from wherever I am (which should be somewhere in the city) to the motel I'm staying at – the Broadway Motor Inn in Palmerston North CBD.
I have been looking forward to KFC in Feilding ever since I knew I was approaching the town a few days back.. but I'm going to be going through too early sadly. The national opening time for KFC in New Zealand seems to be 10am or 11am and I will be passing through around 8:30am. Oh well, it might have to be KFC in Palmy tonight.
The other hikers that are not locals keep referring to the city of Palmerston North as "Palmerston". When they say that I often have to stop and think where they mean. Maybe it's just me, but I've never heard anyone refer to Palmerston North as Palmerston before and it just sounds weird. It's always either its full name or "Palmy". Is it just me?
My knee was not hurting when I started out but by 2km I could already feel it hurting a bit. And my back started hurting early on too. Maybe I might stop today as soon as I get to the city boundary if things are still hurting.
And the forecast for next week shows atrocious weather all of next week. That's exactly when I'm going to be in the Tararua Ranges north of Wellington, which are known for being an unforgiving environment in bad weather. I'm starting to think my stay in Palmy might be an extended one.
The road coming into Feilding was really nasty. There was no shoulder at all, it was a busy road and that meant each time a car came, I had to stop, move over, wait, move myself back to the road and keep walking. Then repeat over and over and over again. It reminded me of the road to Kaitaia from Ahipara on Day 5.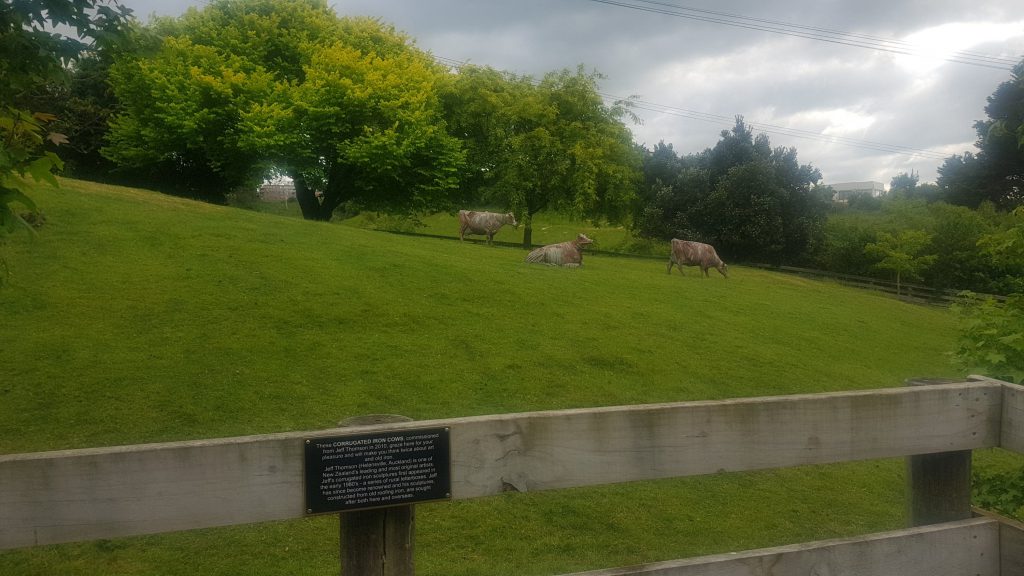 Coming into Feilding, I looked at Google and saw that most of the cafes open at 9am. It was 8:30am as predicted and it seemed weird that I had already been walking over two hours but I was still too early for a cafe breakfast. Never mind – there was a coffee cart coming up right on the trail which I'd go to. It meant I didn't need to detour into the town centre of Feilding – the trail goes around the edge.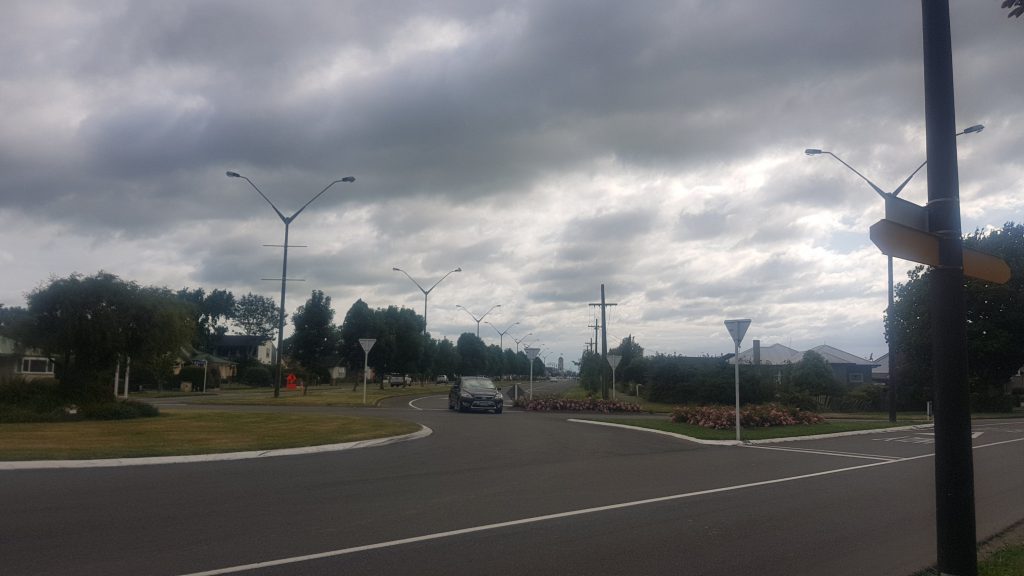 I got a coffee and croissant from the coffee cart. It was good.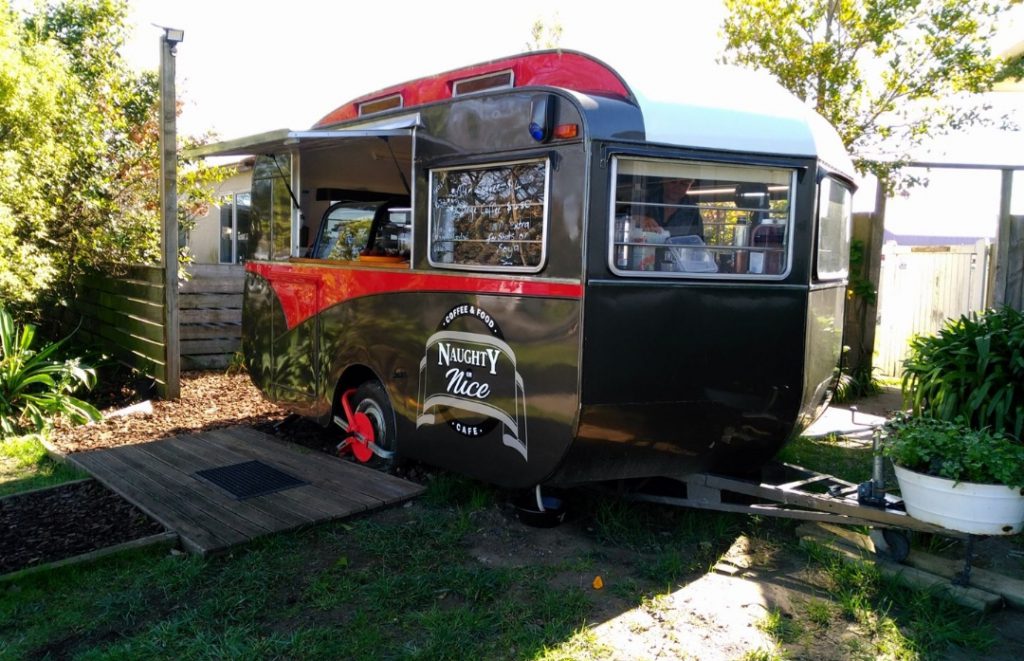 It got me wondering why Feilding is spelled with E-I instead of I-E. I looked it up and it's an interesting story. Apparently Mr. Field was filling out some government forms back in 1876 and he noticed that they had misspelt his name as Feild. He wanted them to correct it but his colleague said "just ignore it, Donut King closes in 10 minutes and I really want some donuts". And then Mr Field went on to establish the town, but because of the spelling mistake on the government form, the error persisted as Feilding and now it's 143 years later and the error remains. A lesson to always use correct spelling and grammar!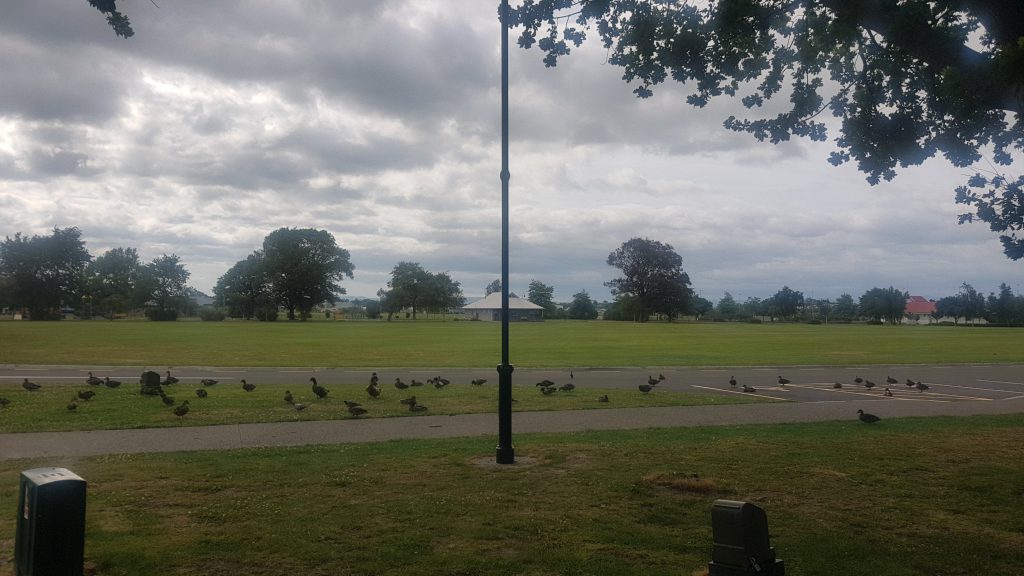 Okay, I may have made that entire story up. But doesn't it sound plausable?
Clearly someone likes living here… if you believe her bumper sticker.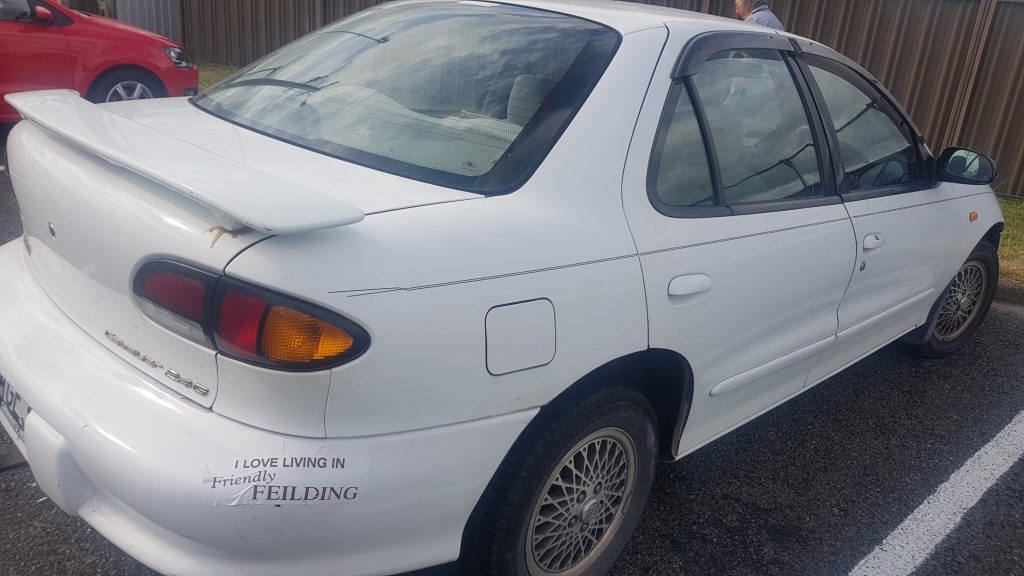 I also saw the first of the "5" state highways. Back in Taumarunui when I saw the first of the "4" state highways, I knew that when I saw the "5" highways I would be close to Palmerston North.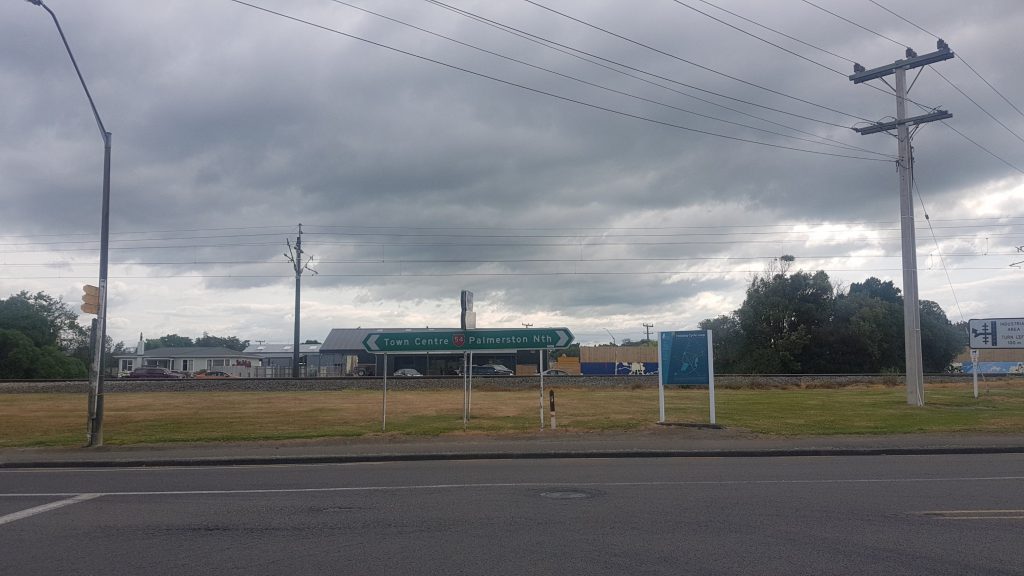 The road walking from here on didn't get a lot better, it was down dead straight roads with no shoulder but at least it was on a road that was parallel to the state highway so it wasn't as busy.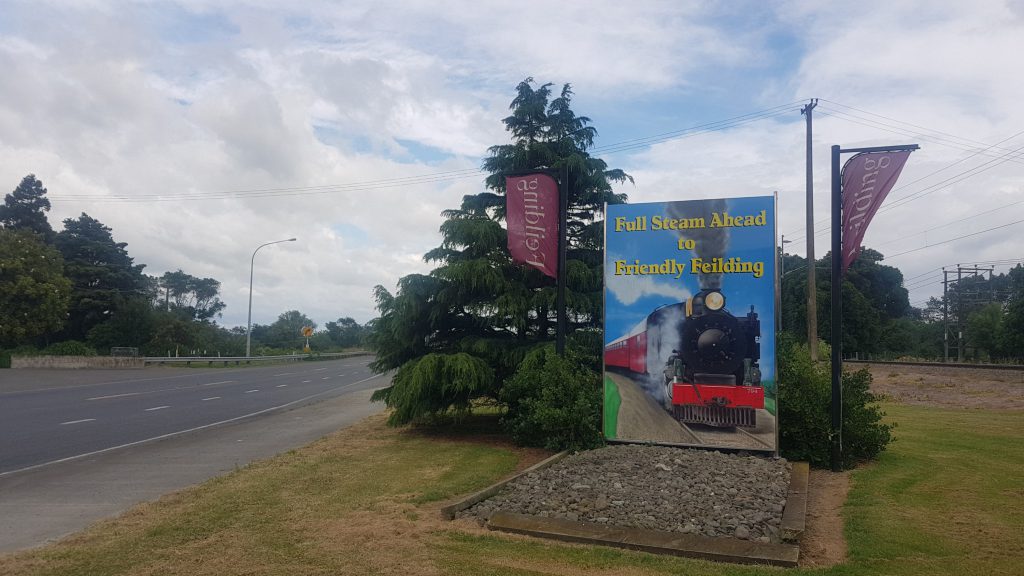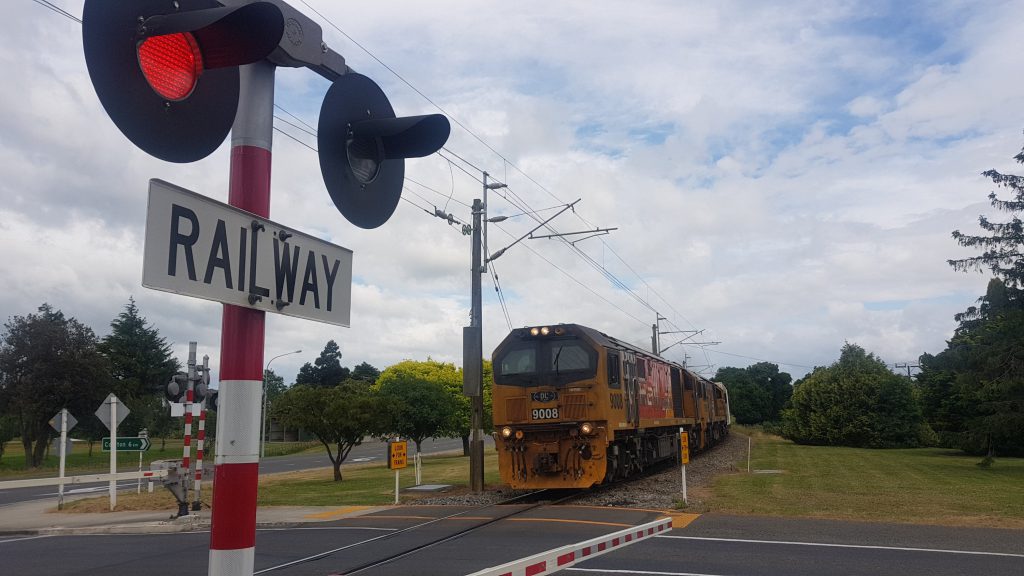 I saw wind turbines up on the hills in the distance, but they don't show up well in this photo. I've been right up to them before, when I was in a car. They're so loud when you stand right under their blades.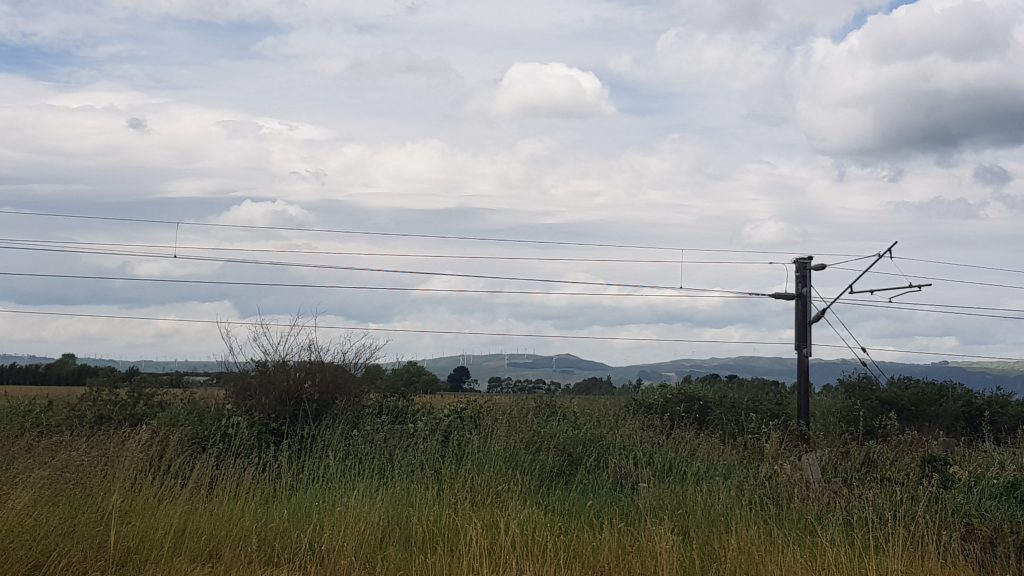 The small section of trail immediately before the town of Bunnythorpe is one of the few bits of non-road walking sections.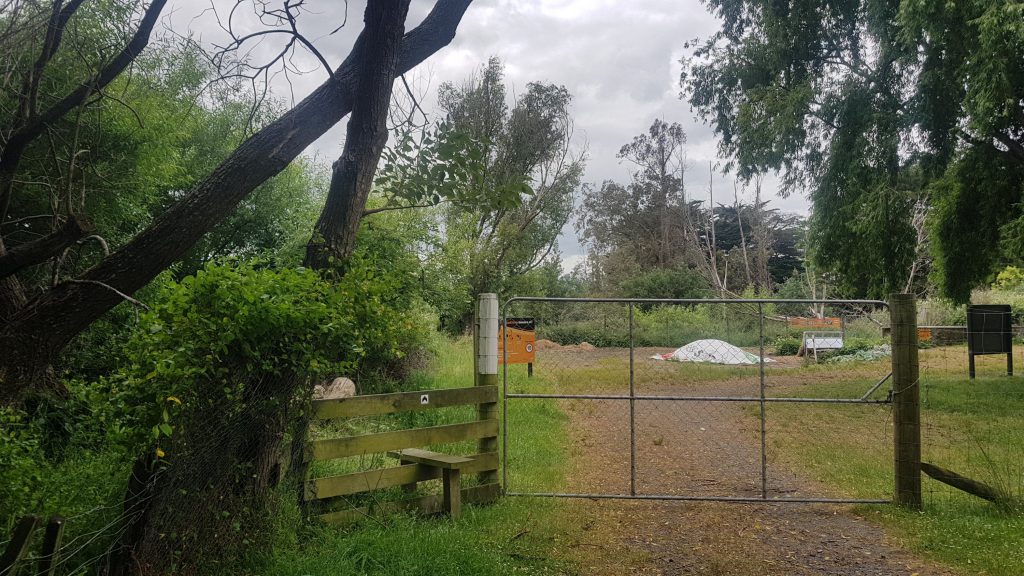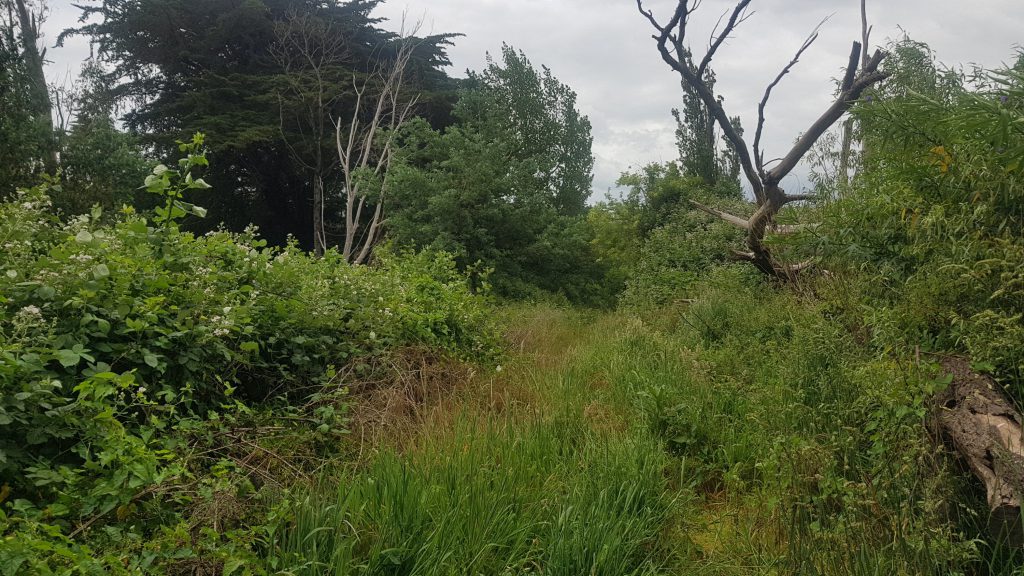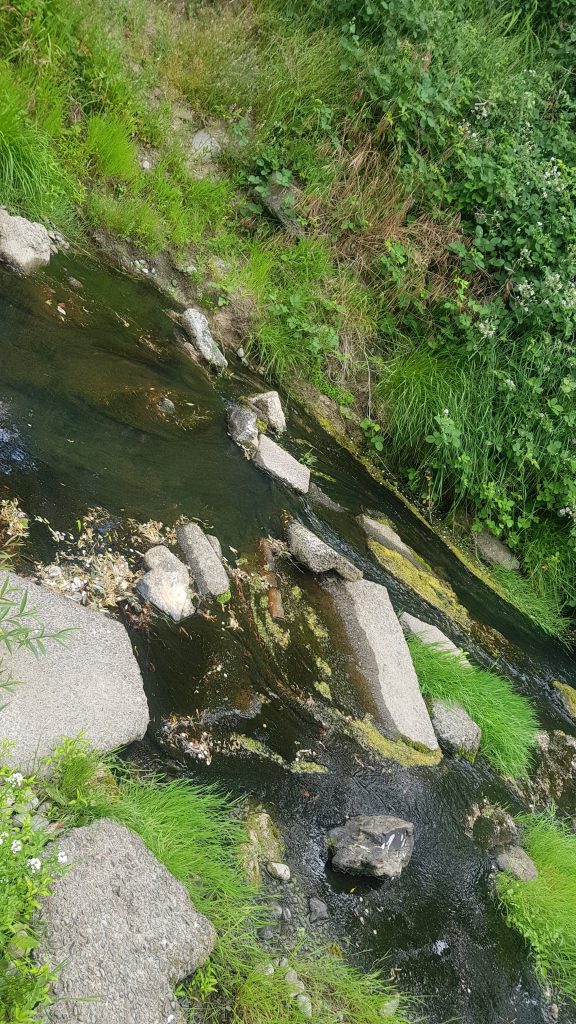 Once I got to Bunnythorpe, I discarded the glass jars I had been carrying since Whanganui, along with other rubbish. I had pesto and cashew butter and other things in glass jars because they didn't need to be carried on the river journey. But when the river bit was over I didn't want to throw them out without finishing their contents. That should make my pack a bit lighter now.
I saw this billboard at the entrance to the town. It scares me a bit, and I am struggling to work out its message. Is it "this guy got mangled in a car wreck but at least he didn't die because he was wearing his seat belt – he just got a horrible bruise from it"? I don't know.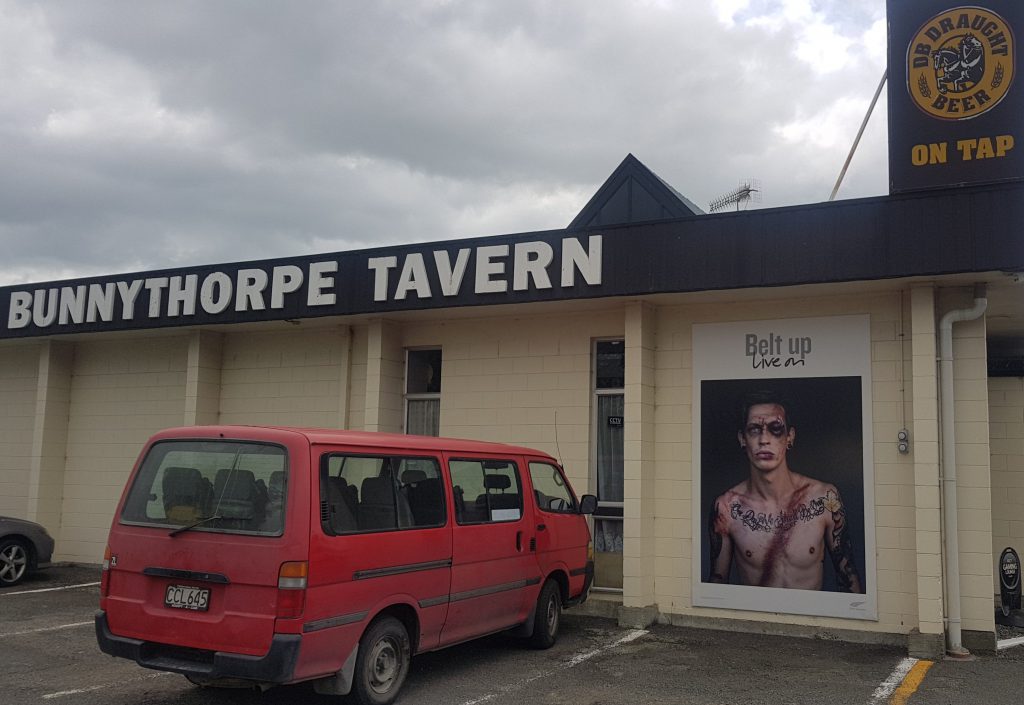 Bunnythorpe is a depressing little town. There's very little here, and the dairy was so empty it looked like it was shutting down.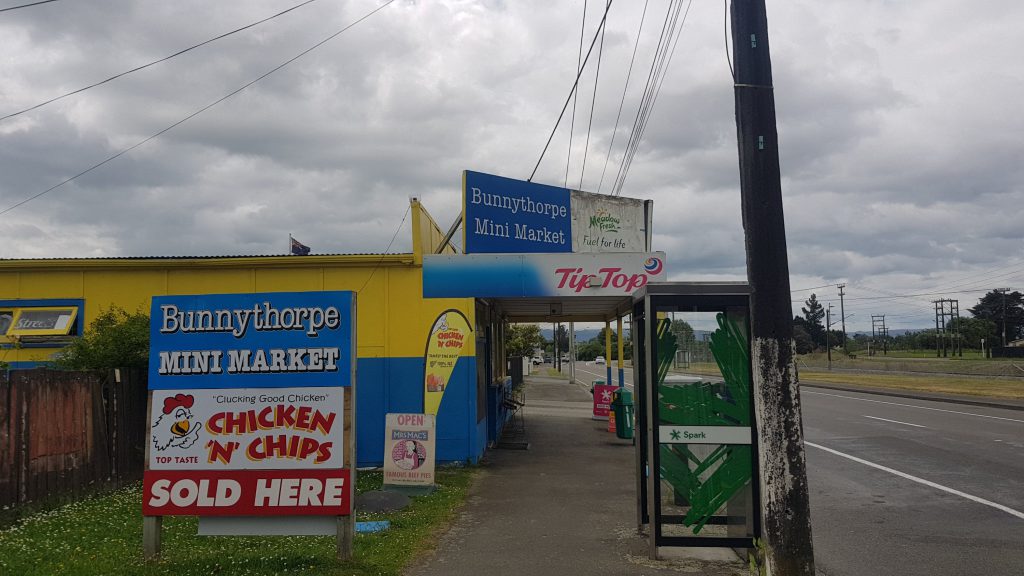 It's also "hory", apparently. Not a word I've heard for a while now.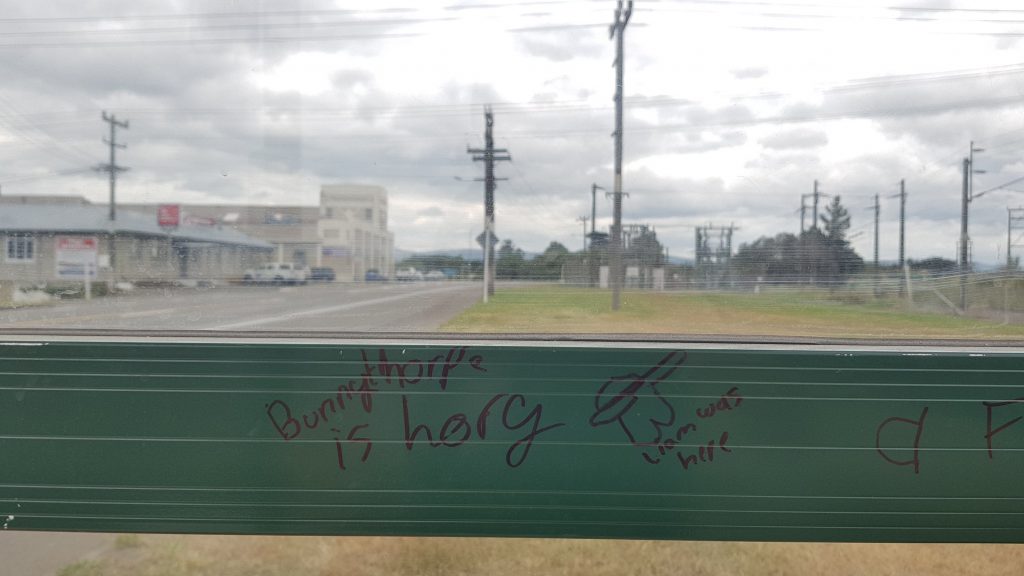 At least I did get an ice cream.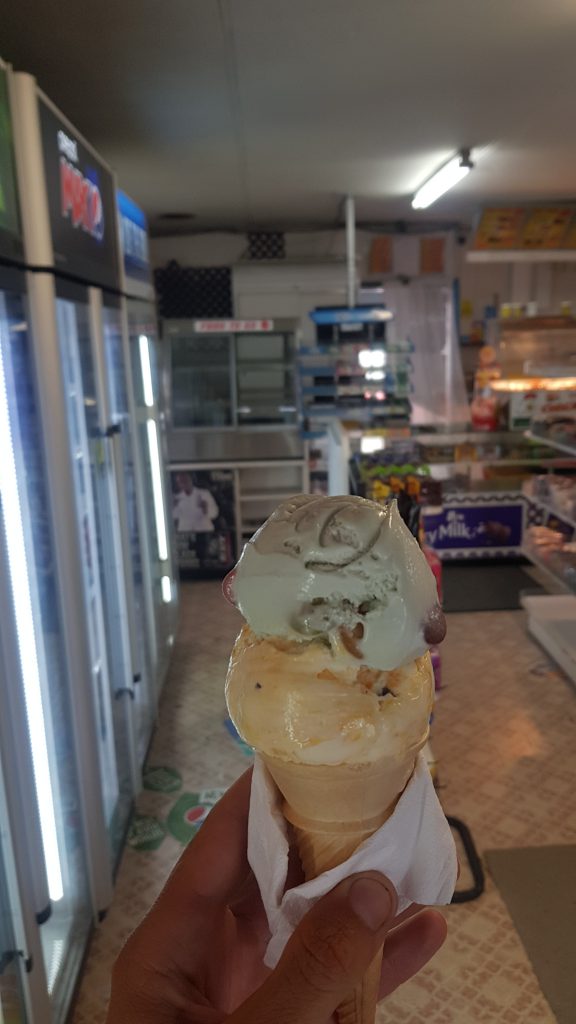 You soon pass this, which looks like you should go this way but a very very faded sign says not to.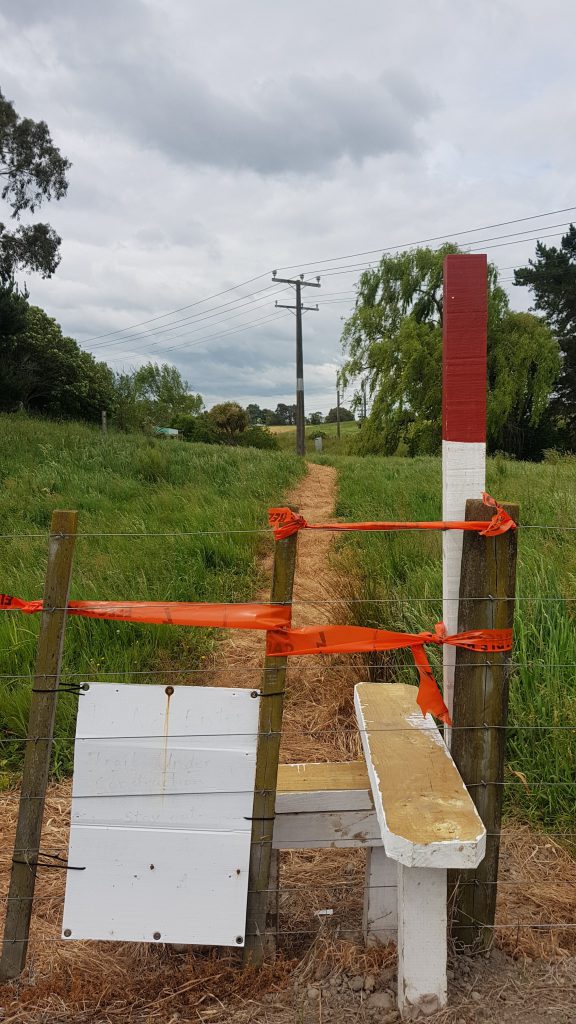 My 11am picture is of this guy who stopped me and asked me where I had walked from today, and liked to talk a lot about the trail and the other people he sees go past his house. He said he doesn't normally meet many kiwis doing it but recently he had seen a lot more of them.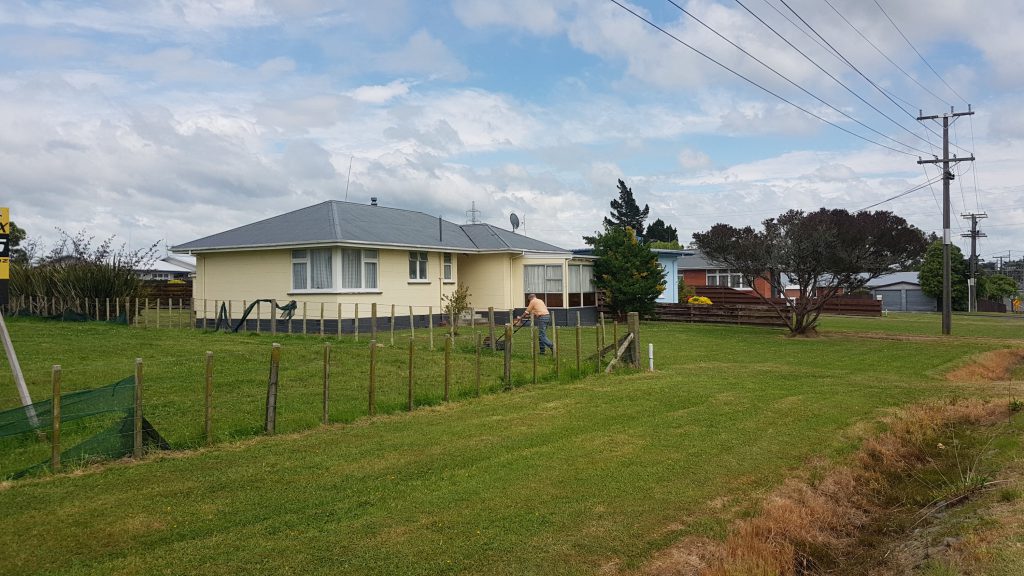 The trail switches to gravel road.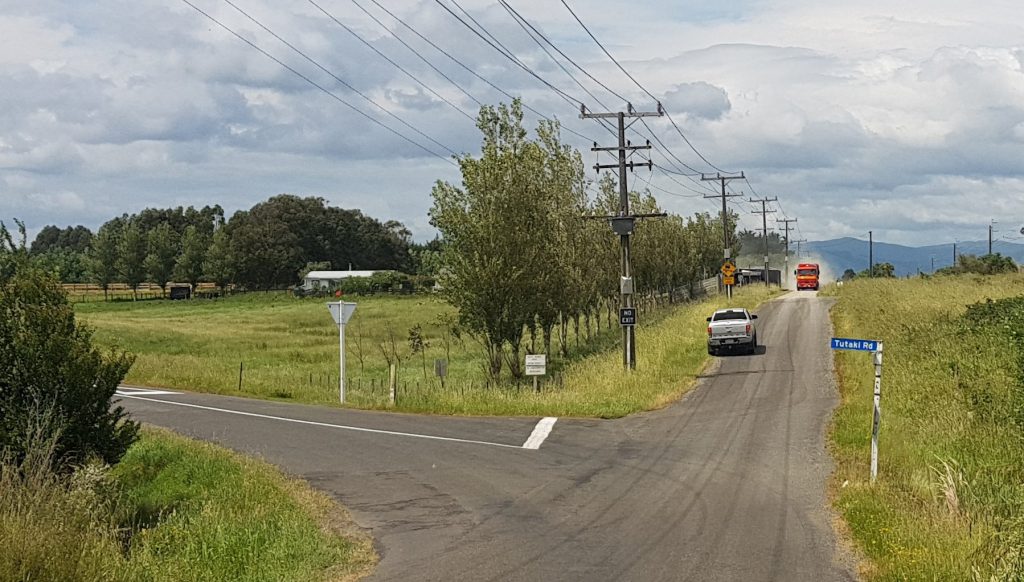 I passed this house which seems to love Christmas.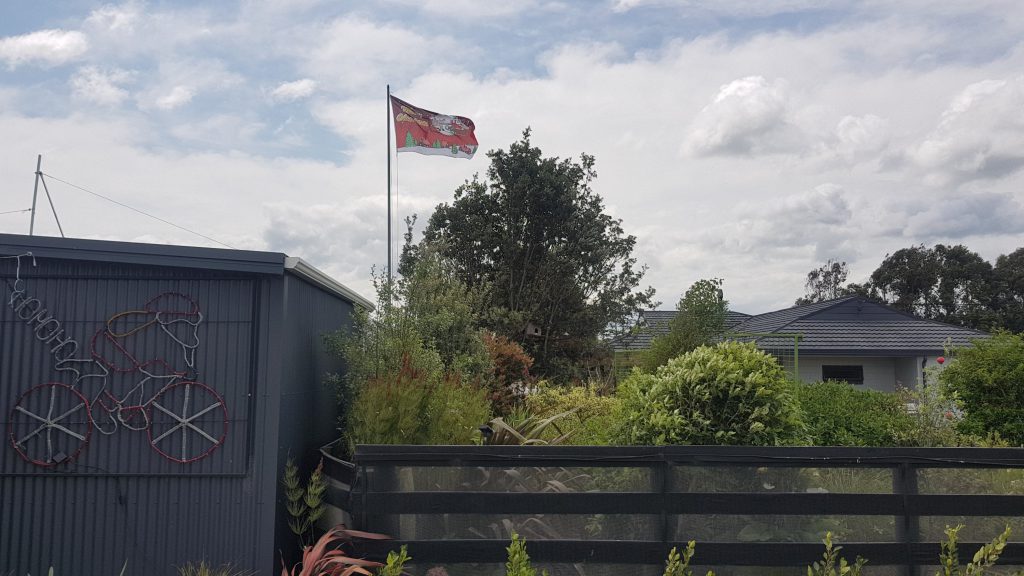 You then go across a farm. Nice to have something that is not road.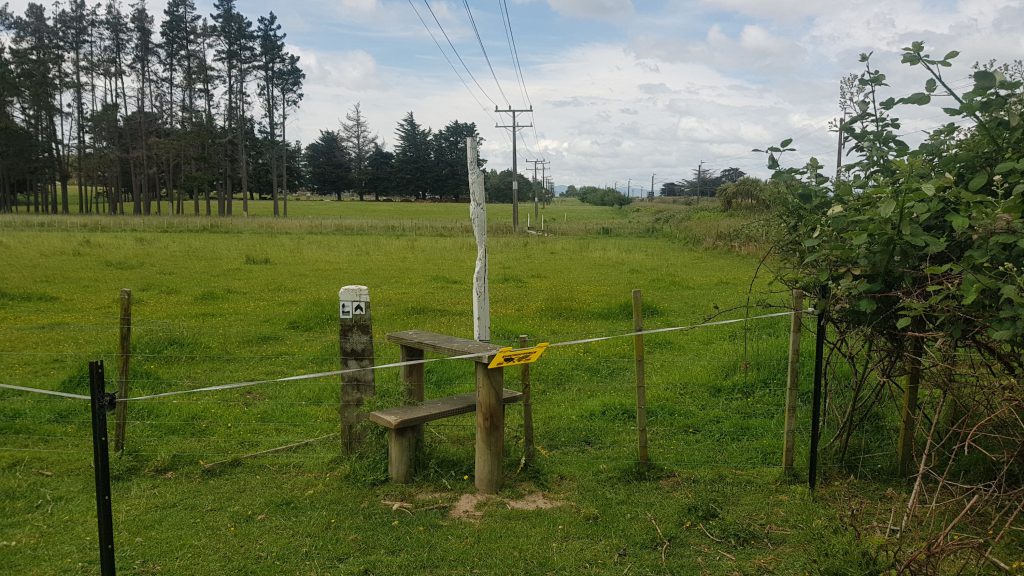 Not much further from here to Palmerston North. You first come in past the airport. Lots of little planes were coming in, and the wind was blowing hard which meant that the planes were all over the place.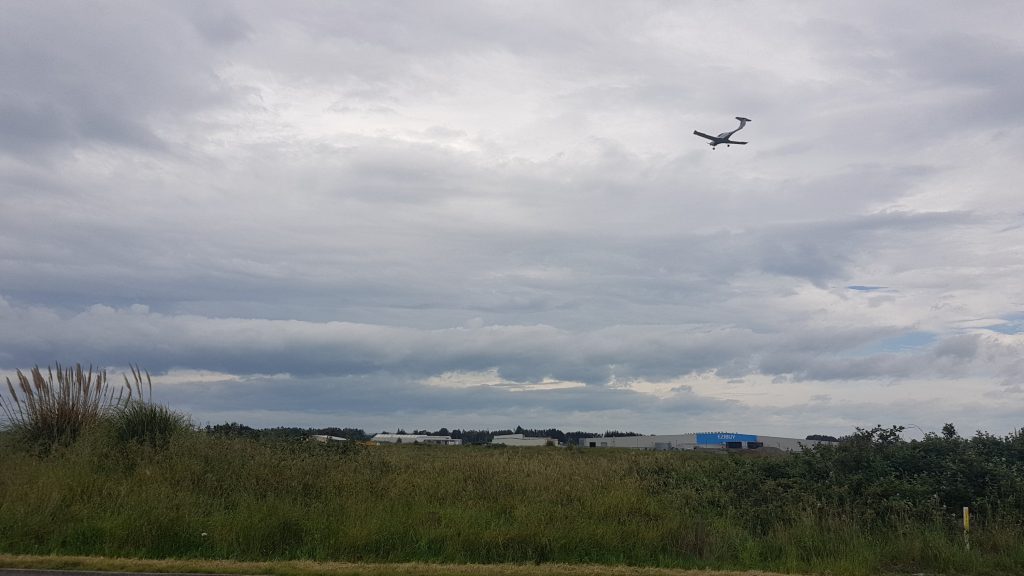 Everyone seemed to be staring at me from their cars as I walked through this part of town. I couldn't work out exactly why. Maybe they could smell me from their cars. It's been a while since I showered now – not since Whakapapa I think. Or maybe I just look that bedraggled.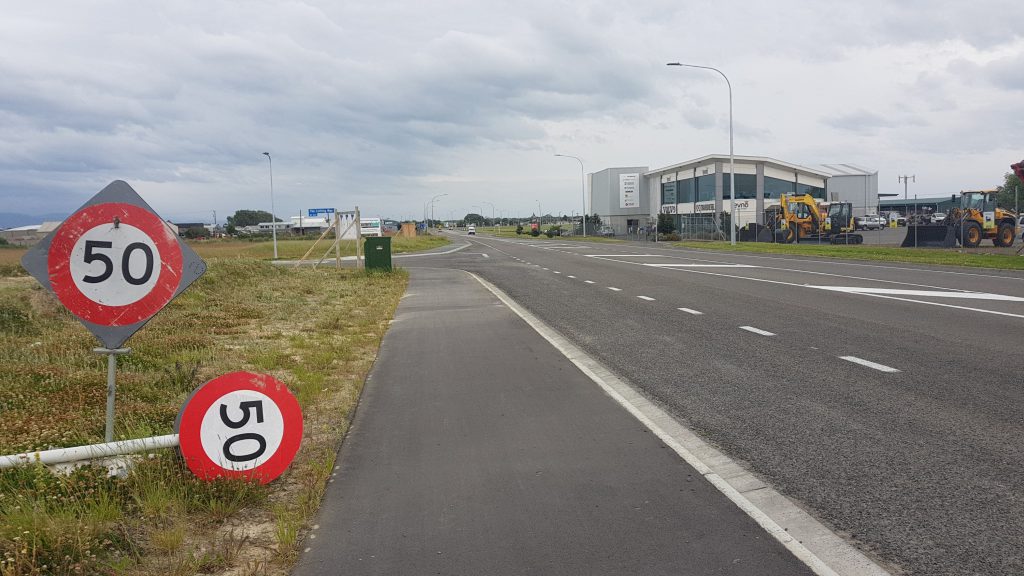 By now though, I felt fine. Nothing hurts. Weird. That often happens – things start hurting in the morning but after 10km or 15km, things stop hurting. I don't understand why but it happens a lot of days – most days in fact. I used the old theory "keep going if nothing hurts". Make hay while the sun shines, is what they say.
The road you come in on to Palmy is not a pleasant road. It's very busy, with lots of cars crossing the footpath and it doesn't look like a great neighbourhood.
Eventually you walk through a cemetery: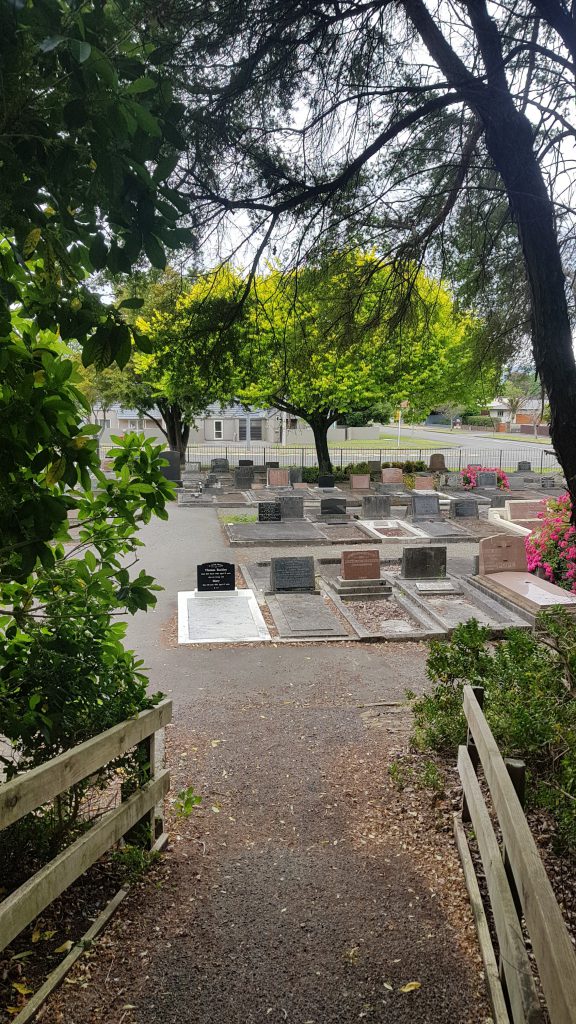 And you turn left and go past Cafe 116. I stopped here for lunch. Again I got asked by a lady where I had walked from today, and then asked about the trail.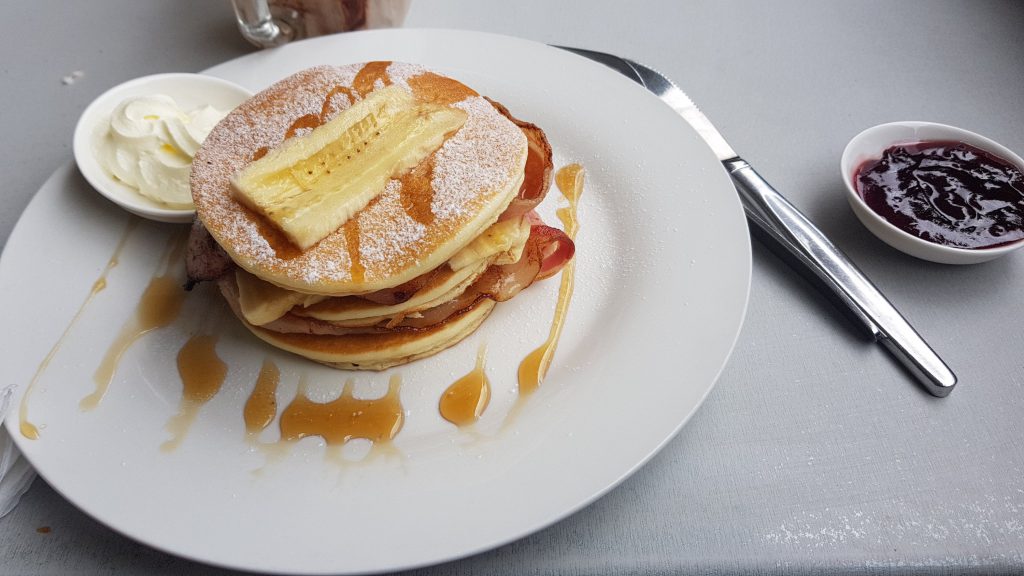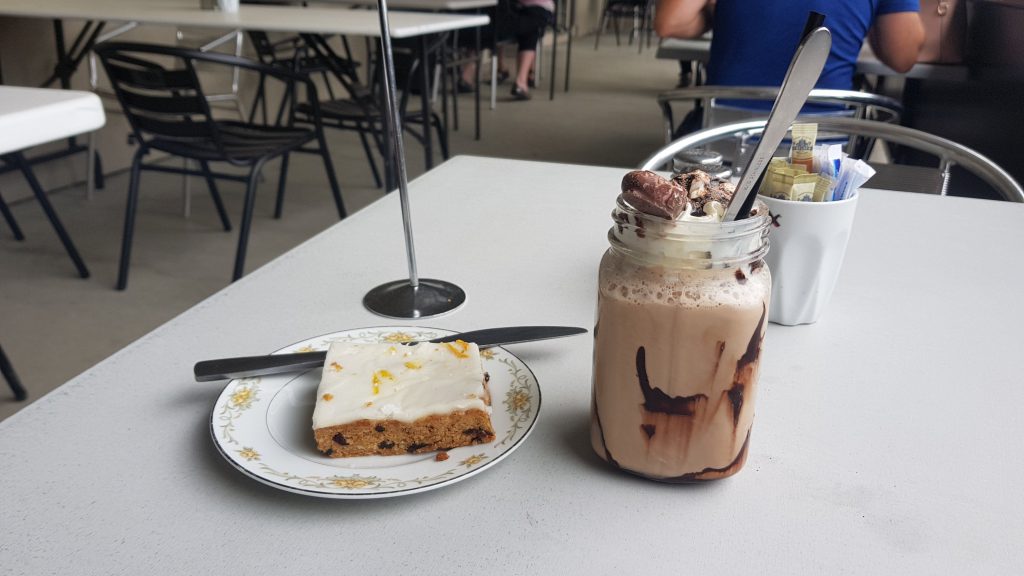 After I finished at the cafe I walked a short distance more to the start of the Manawatu River Trail, and that's where the rain started. The rain started early – it was only 1:15pm by this point and not yet 2pm when it was forecast. It's kind of lucky it started at this point though, because I could call an Uber from here. I looked at the map later and if I had've continued walking down the river path, it would have been a lot harder to call an Uber because there are very few places where you cross roads and so I would have got quite wet.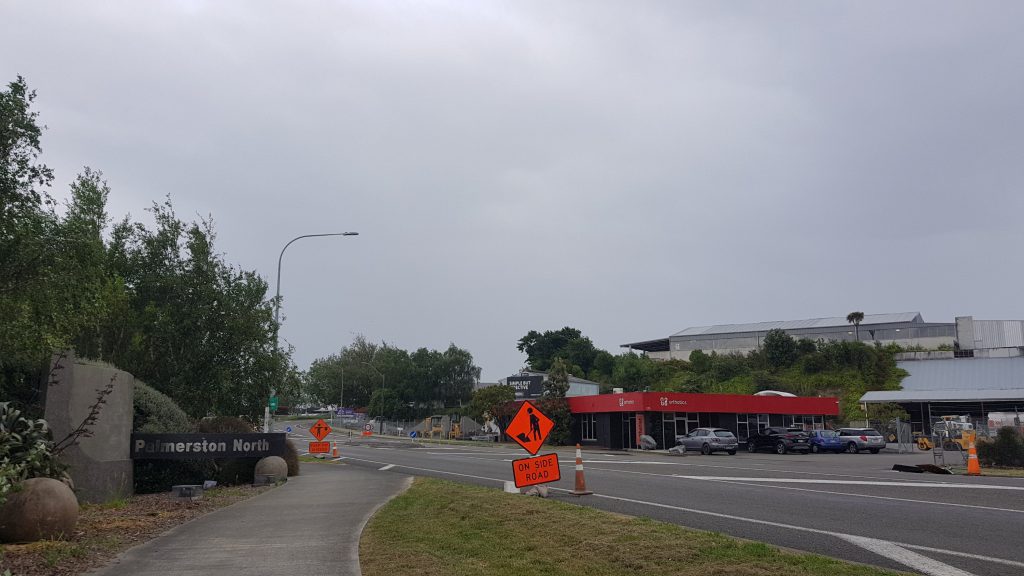 I wondered if there was only one Uber driver in this city. When I requested the ride, it said "connecting you to one nearby driver" which took a while, and then he had to come and get me from the far side of the CBD. Still, more convenient than calling a taxi or working out the buses.
As soon as I checked into the motel, I walked down to the nearest phone repair shop to try and get my backup phone fixed, which broke two or three weeks ago. The girl seemed to know her stuff and agreed with me that the power button of the phone seems to be stuck down internally. To fix that would require soldering which would mean the phone would need to be sent away, and I don't have time for that. I'm not sure I'll bother getting my backup phone fixed. So right now I have one dead phone, and one phone which has cracks on both the front and the back and has no case. I might have to buy myself a new phone for Christmas, I think.
When I stepped back into my motel room, the heavens really opened. I was very happy I wasn't outside caught up in this.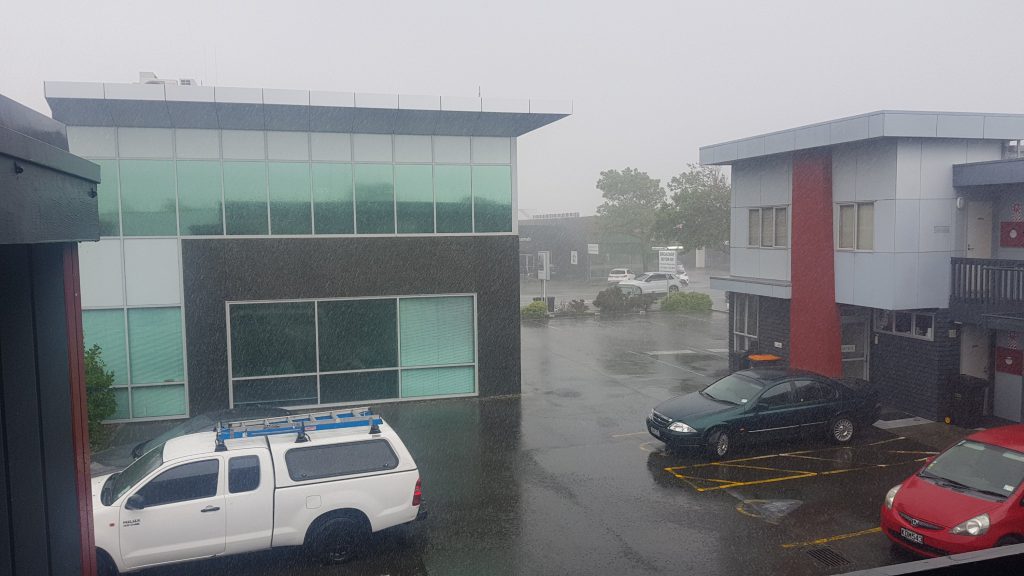 The forecast for next week still shows atrocious weather, but the next few days are supposed to be okay. I don't know what to do. Do I stay in this town for a few days or not? I'll decide tomorrow.
Abby and Jason are also here in Palmerston North but they are at the holiday park which is a bit out of town so I won't see them as I'm in the city centre.
When the rain cleared, I walked down to KFC like I knew all day that I would. It was good, except I asked for extra seasoning on the chips twice but there still was barely any seasoning. I love the chicken seasoning at KFC and I wish they would give it out in sachets or something like that so I can add heaps of it. One restaurant in Auckland Central used to have canisters of the seasoning on the tables, but they took them away fast, I can only assume it's because people were stealing them.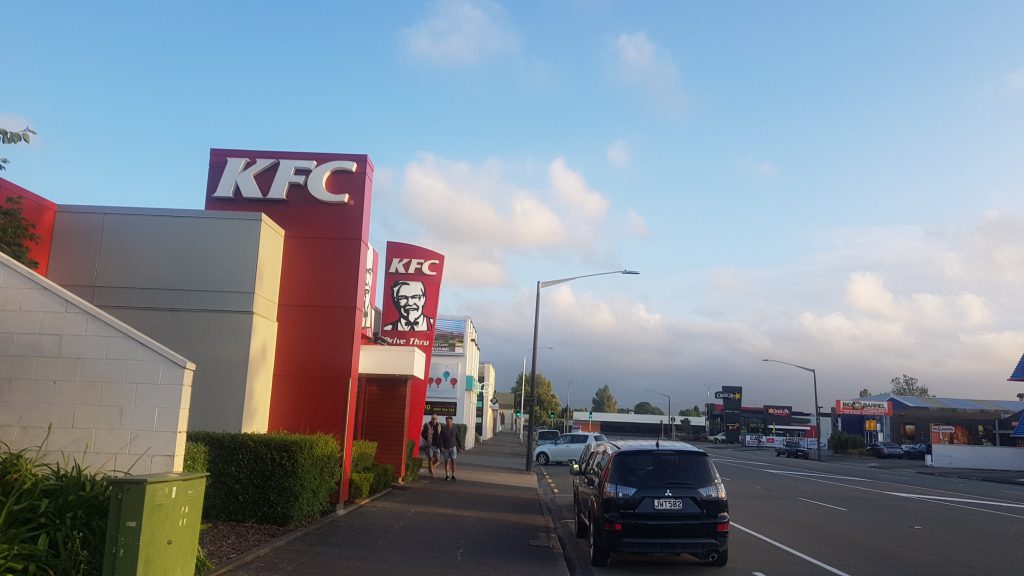 I have two nights booked in at this motel. I wonder if my internal alarm clock will finally disable and I can get some kind of sleep-in tomorrow?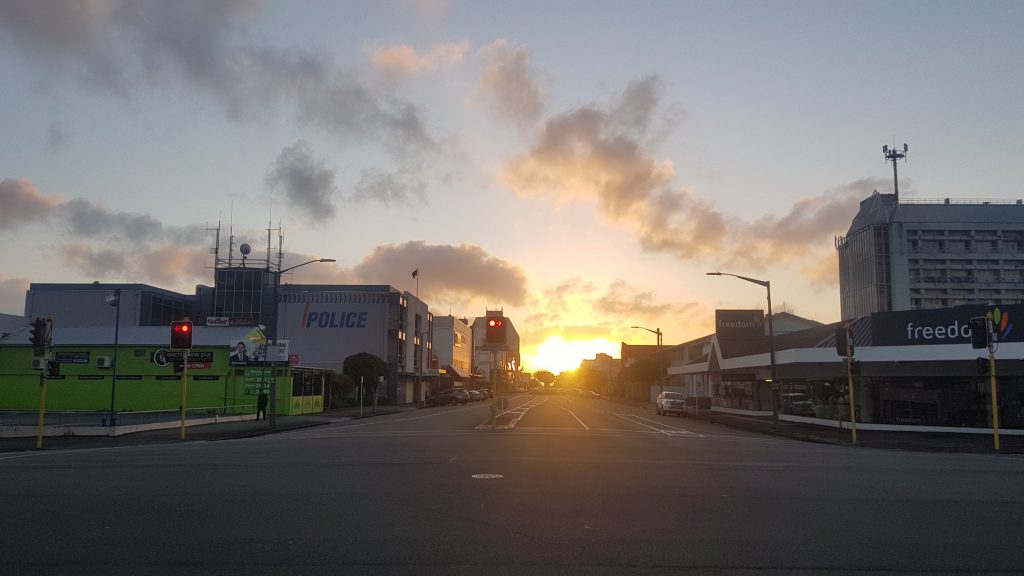 Today's walk on the map (blue = Te Araroa, red = today's walk):