Date: 14 December
Trail covered: 22.4km plus a fair amount of detouring (kms 1673.2 to 1695.6)
Weather: Nice but the usual windiness of Wellington was present
Well, today's the last day of the North Island. I can't believe it's finally here. I remember saying to myself at the start that the odds of even getting here would be about 75%. I haven't succumbed to a major injury, I haven't decided that it's too hard and given up, and it's honestly been a blast every single day so far. The time has just flown by.
Originally I thought I'd be emotional when I got to the North Island finish line but since I've already booked my ferry ticket for two days from now, it seems kind of like a regular day with just one rest day tomorrow. I wonder how Ethan is feeling, since he is not continuing with the South Island and is instead flying back to the USA on Monday. This really is the end for him.
I emptied out my pack and only brought along a few things today – namely my remaining food, a litre of water, my charging cable and power bank and my cash and credit card. It will be nice walking with a light pack today.
Once I'd left the house I had a quick look for the nearest geocache to where I was staying and it was up this great big set of stairs somewhere but I wasn't successful on this occasion, so I came down empty handed.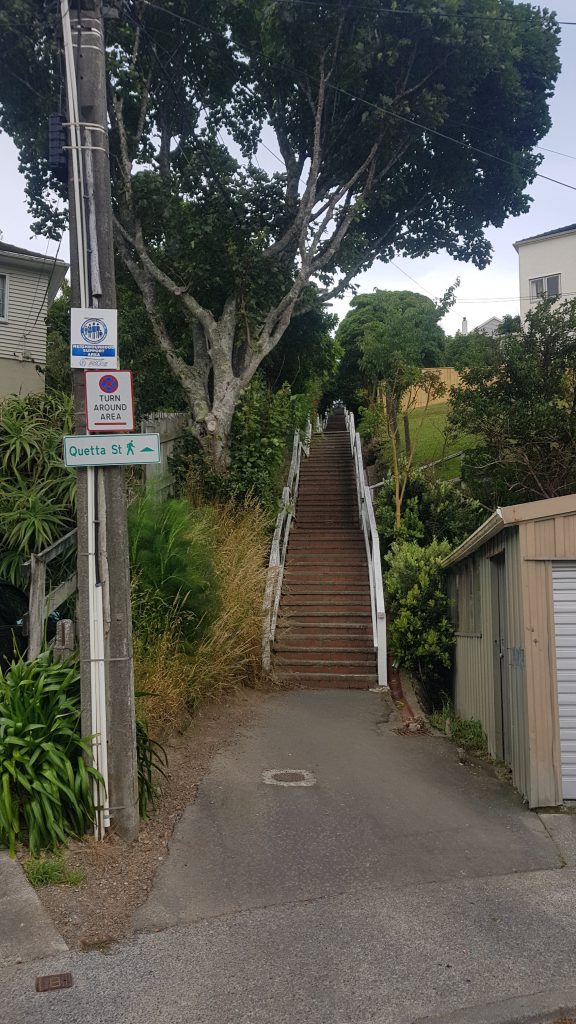 I walked down back towards the Ngaio shops and to where Alex and Ethan had spent the night apparently with their tents pitched in the back yard of somebody's house.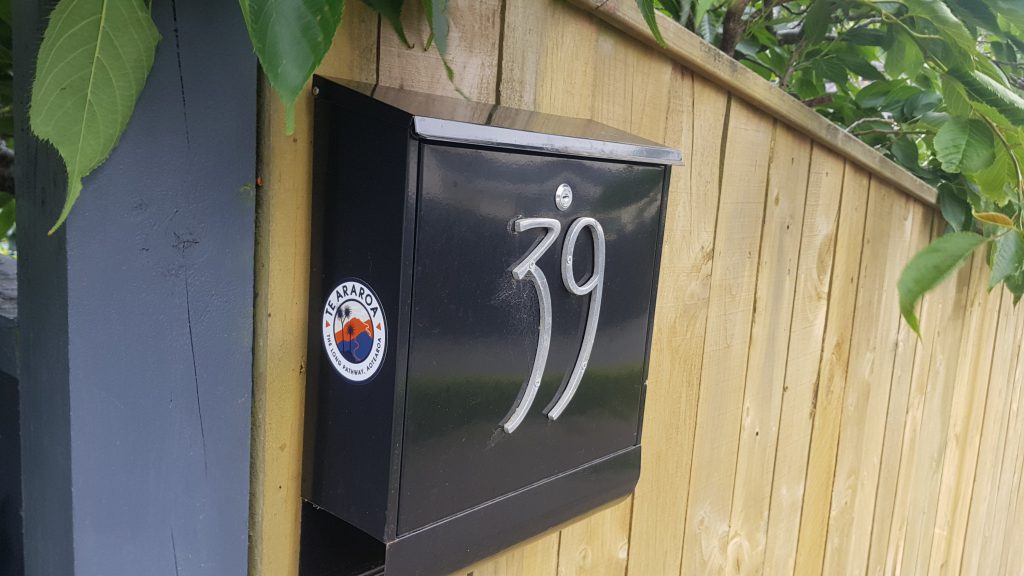 I knocked on the door and didn't get any answer so not wanting to disturb people I went down into the Ngaio shops and found a coffee in the GAS petrol station. It was very busy with people waiting for coffees because it seemed to be the only place around that sold coffee and was open.
Today I set the GPS watch to high accuracy for the first two thirds of the journey, because anyone who has spent time in Wellington knows that nowhere in this city goes in a straight line. When the battery on the watch started to get low, somewhere on Oriental Parade, I switched to low accuracy mode. You can definitely see the difference in the two on the map.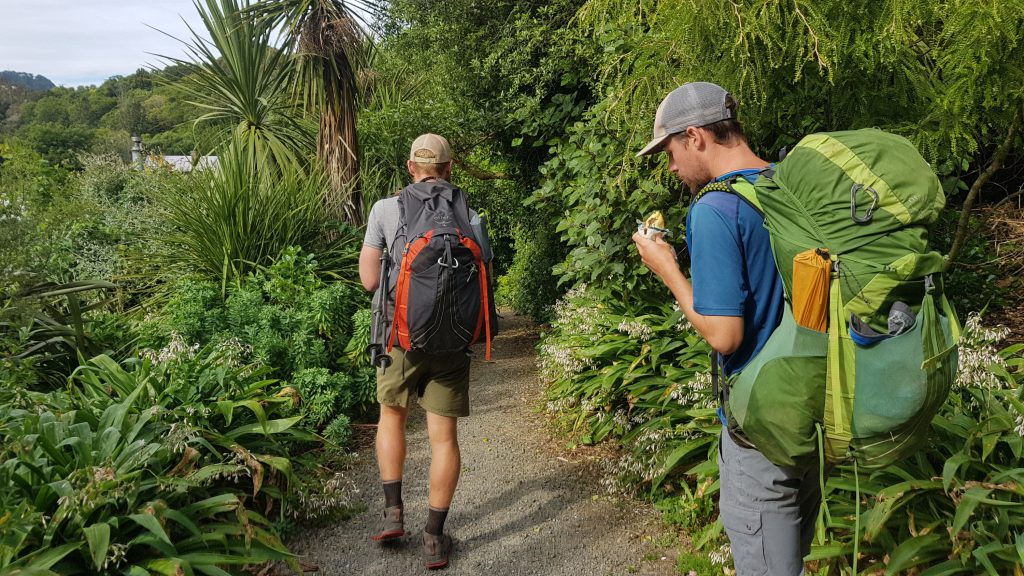 When the guys turned up we continued on the trail. It was straight onto the Northern Walkway and through Trelissick Park. We passed two other TA hikers but they were going quite slow and we were on a mission so I didn't get to talk for long or find out their names, sadly.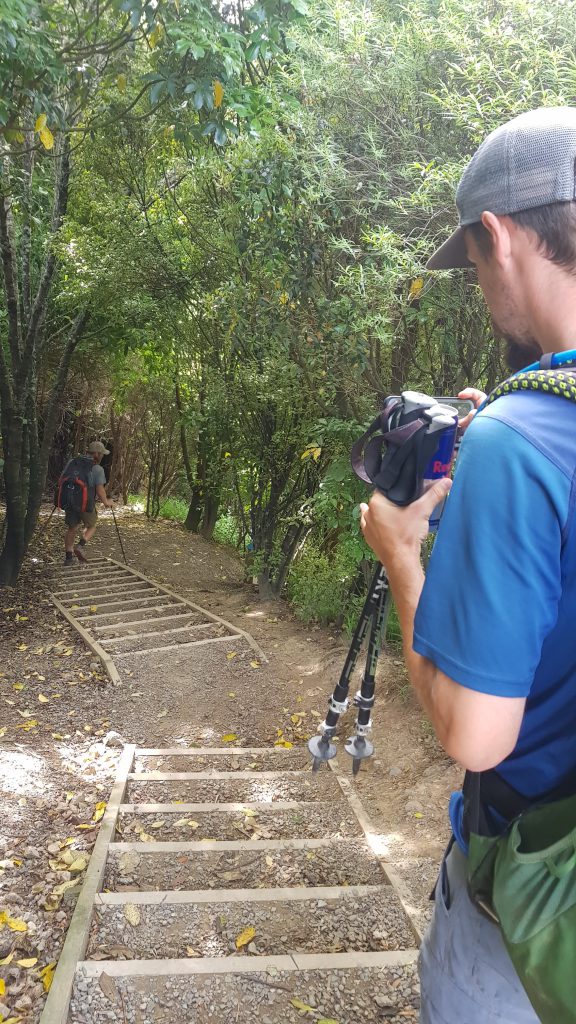 Having lived in Wellington for all of 2013 I knew this part of town. I knew that the path won't be as challenging as Colonial Knob or Mt. Kaukau from yesterday, but there were going to be a few ups and downs, and this was the first. Down through this park and then up and over Te Ahumairangi Hill.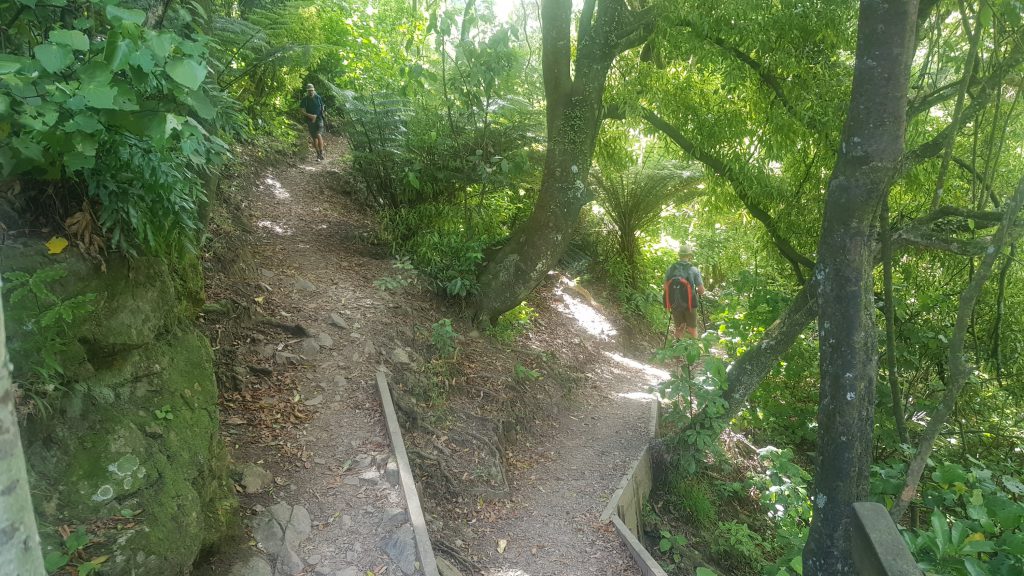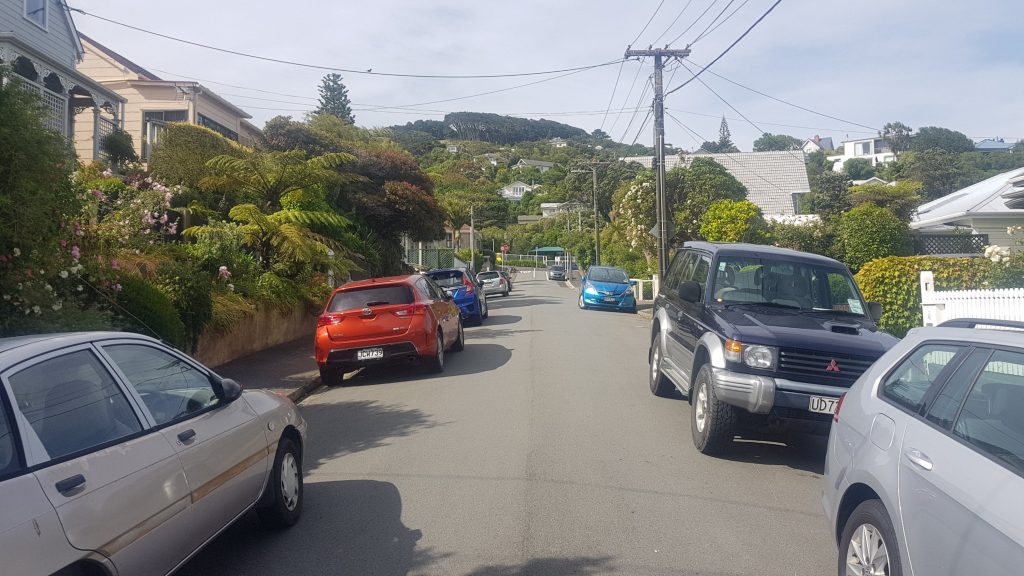 The walkway also takes you up Weld Street, which is reported to be the steepest street in Wellington City. I'm not sure if it is or not, but it's certainly pretty steep. Of course the photos never really show this. I used to drive up this street to get to a tree swing at the top of the hill which used to be a really good place to just sit and swing and look at the view of the city. I was sad to realise that the tree swing had since gone and so had the trees it was attached to.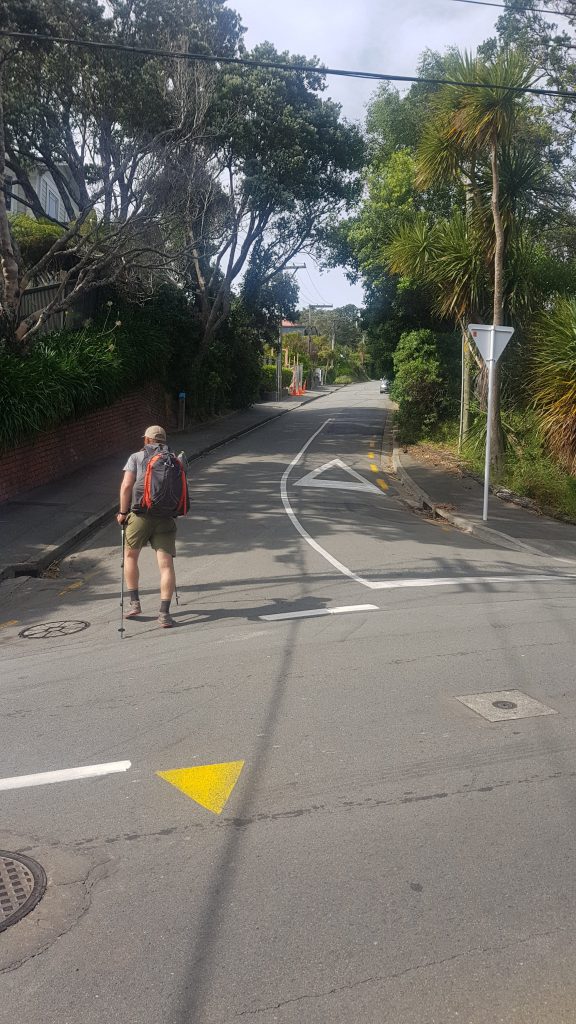 This section is Te Ahumairangi Hill, otherwise known as Tinakori Hill. You can see this hill from just about anywhere in the city.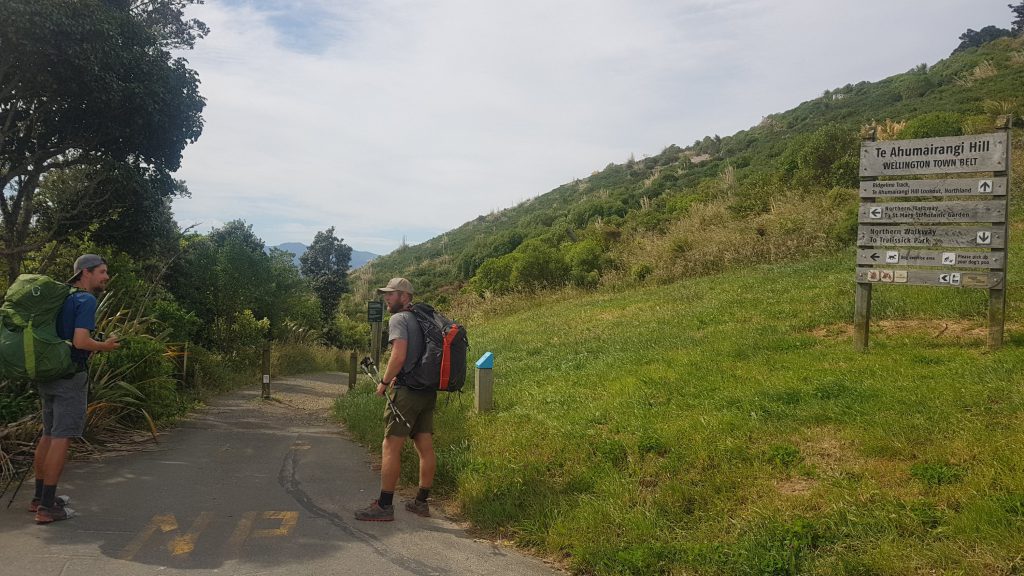 The city was getting closer and closer.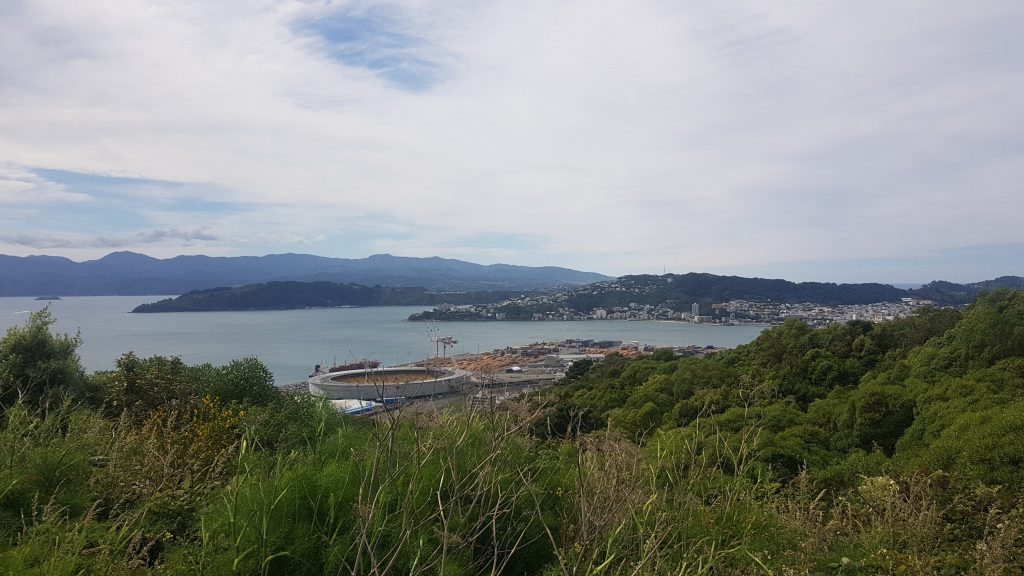 There was a bit of up and down but it was mostly a well formed path.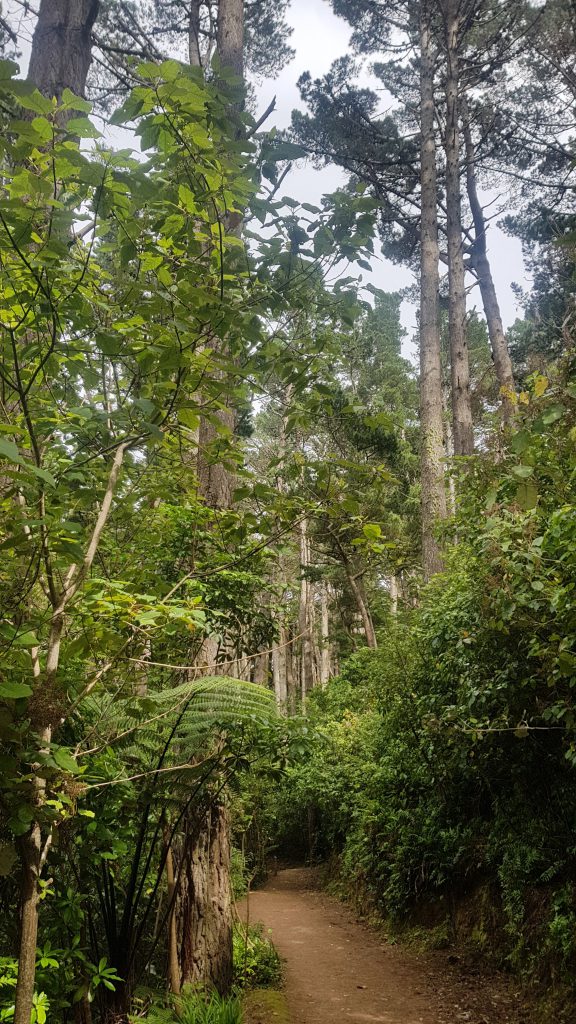 I kept on going on about how much I used to love living in Wellington and I kept pointing out all the different things around. I think the others were starting to get bored of me after a while.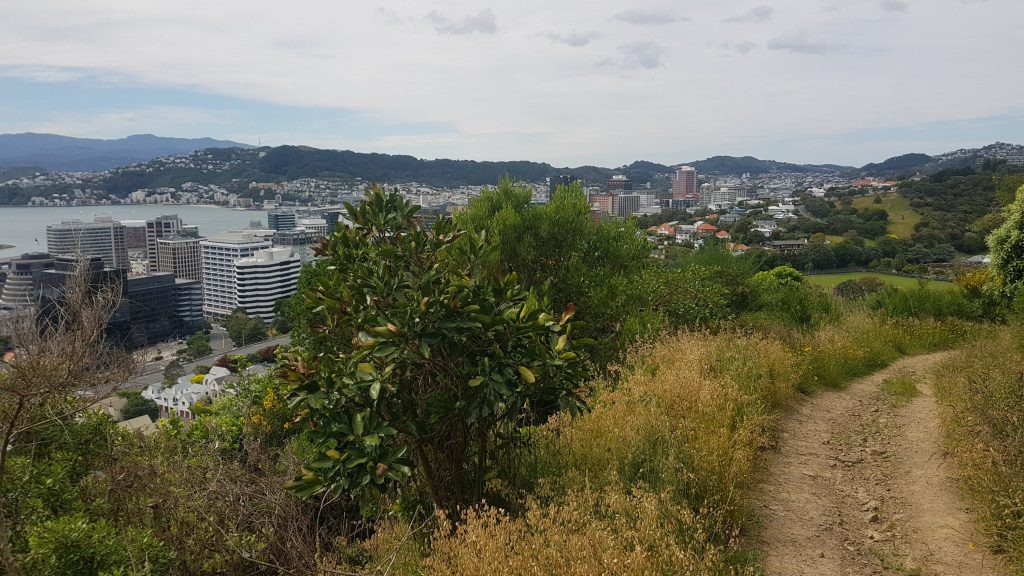 The walk then goes through the Botanic Gardens. It can be quite easy to get lost through here, I wish I'd read the trail notes before coming through here. But basically you first follow the signs up to the Cable Car and then you do almost a 180-degree turn and follow the Northern Walkway signs back down. It's a very "contrived" path.
During the walk through the gardens, I was telling Ethan about the Sour Patch Kids lollies I bought yesterday and how they weren't really that sour. Ethan is a big fan of sweet stuff and so he told me about all the ones that exist back in the United States. Warheads, Toxic Waste – they had all sorts of crazy names. I wish I could try them!
I didn't take a lot of photos in the gardens for some reason… but I did catch Ethan redoing the duct tape on his shoes.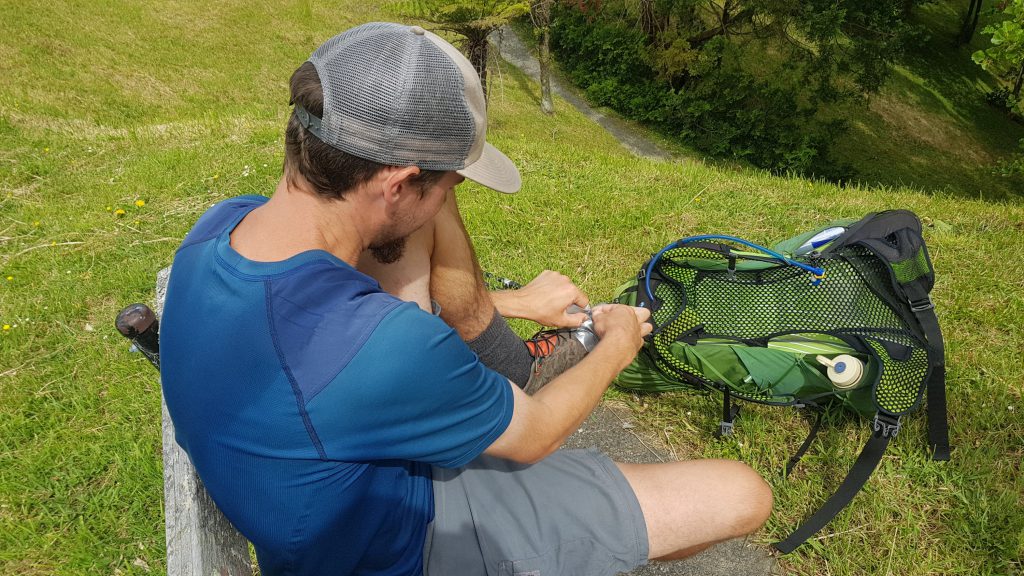 At 11am we were walking through Bolton Street Cemetery and we just happened to be in view of the apartment building where I used to live. That's it in the background – the yellow square building between the big glass building in the foreground and the building with the sloped red roof.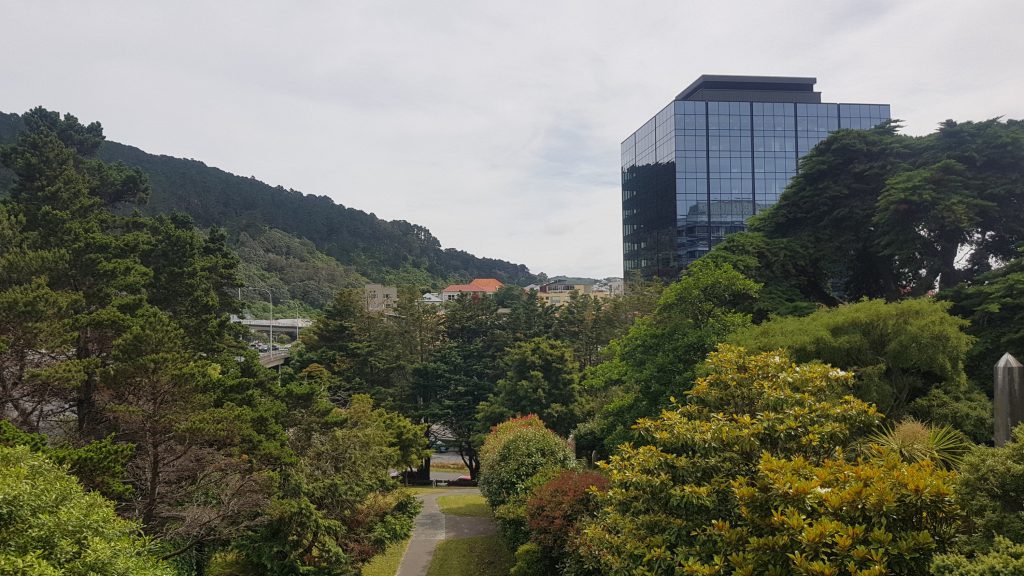 Apparently they had to relocate hundreds of graves to put the motorway through the cemetery back in the 60s or 70s.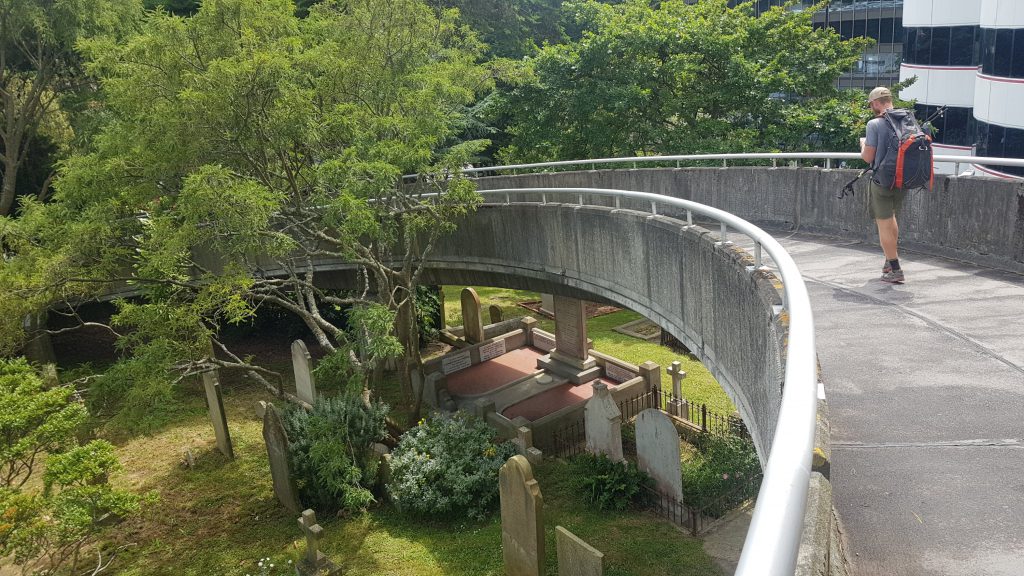 Going past the Beehive, we could see that the flags are at half mast to honour the memory of the people killed in the White Island eruption a few days ago.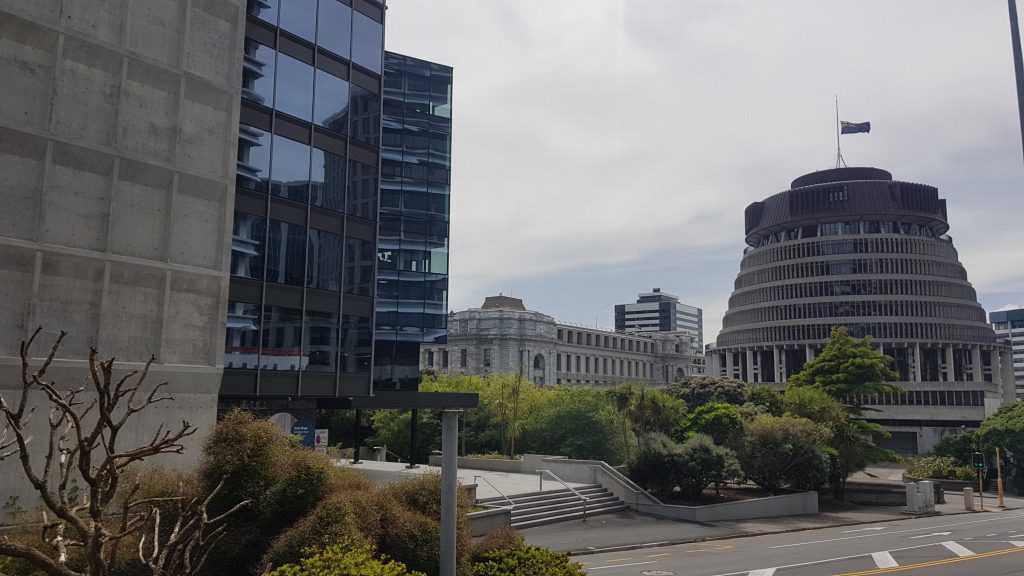 We ventured down Wellington's main street, Lambton Quay, where there are Te Araroa plaques as part of the footpath.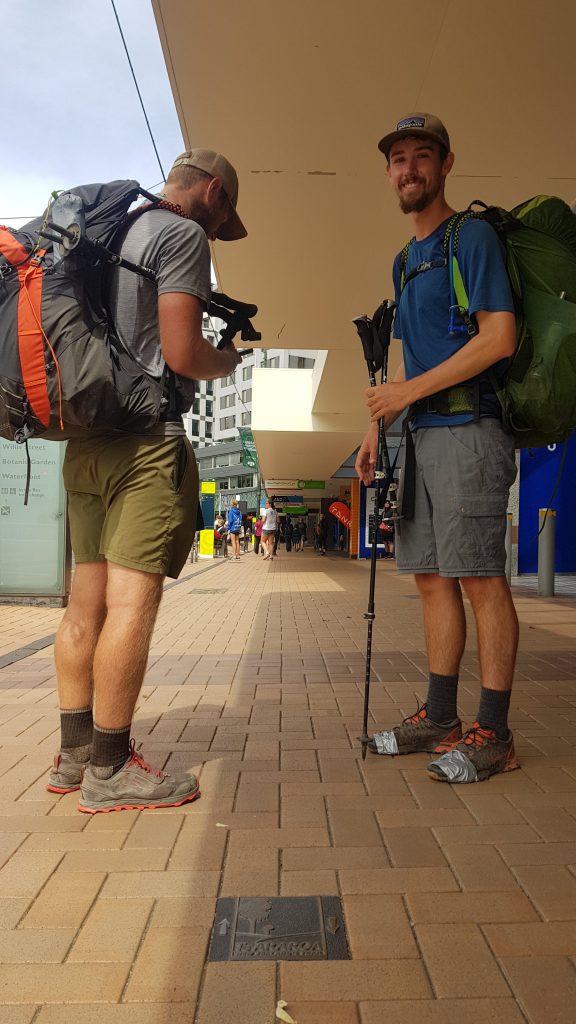 There has been a woman running the entire trail, whose name is Lucy. She was due to be finishing the North Island today also so we were looking out for her. But it was about this point where we felt like having lunch, so we went into a foodcourt around this point where I had Subway and the other two had sushi. While we were in there, I thought to myself "I bet knowing our luck Lucy will run past while we're having lunch". Alex wants to get his picture taken with her, and I would quite like that too.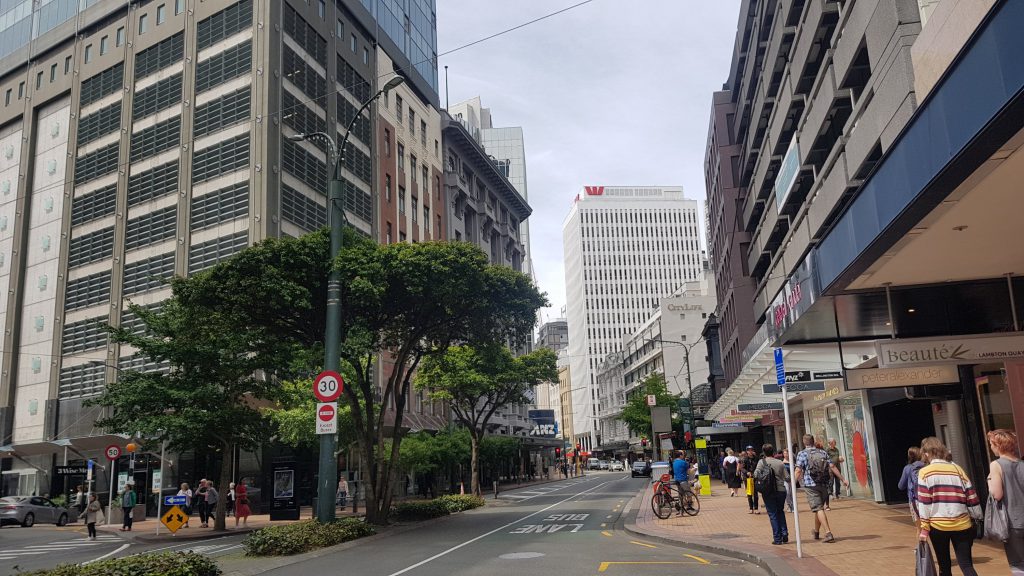 Next was a walk around the waterfront.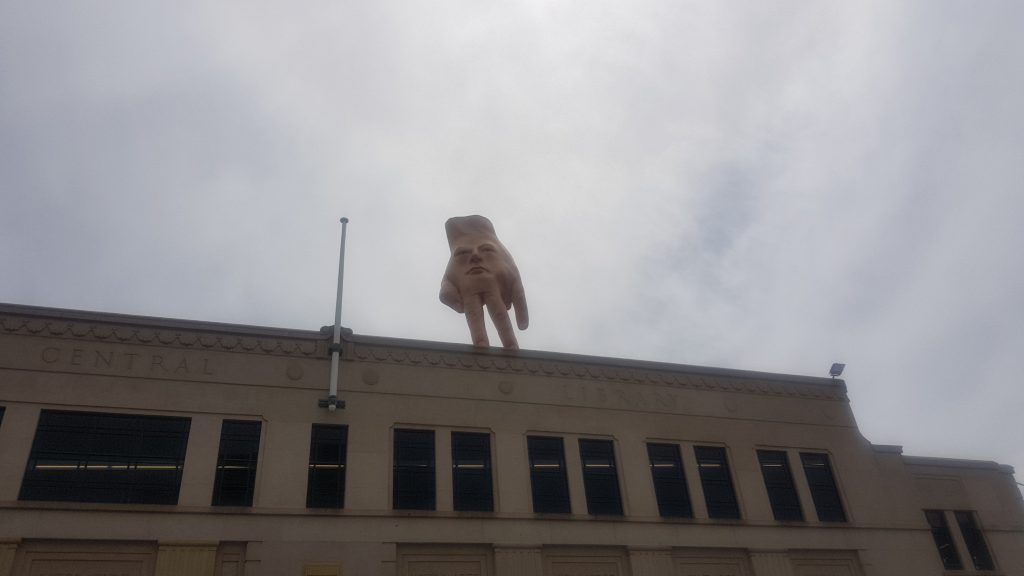 We took a detour at Taranaki Street and walked to The Marion hostel where Alex and Ethan were staying, as well as Peter and Charlie who were due to arrive into Wellington today. This hostel has a 4.9 star rating out of 5 on Google with just under 100 reviews, which is almost unheard of, so we knew it was going to be good.
On the way we passed a shop called KCT Streetwear, and a sign stated that they also sell American lollies. By amazing coincidence they had all the sour lollies that Ethan had been talking about just an hour or two before – incredible. We're definitely stopping in there on the way back. My wallet is about to get a lot lighter and my food bag a lot heavier.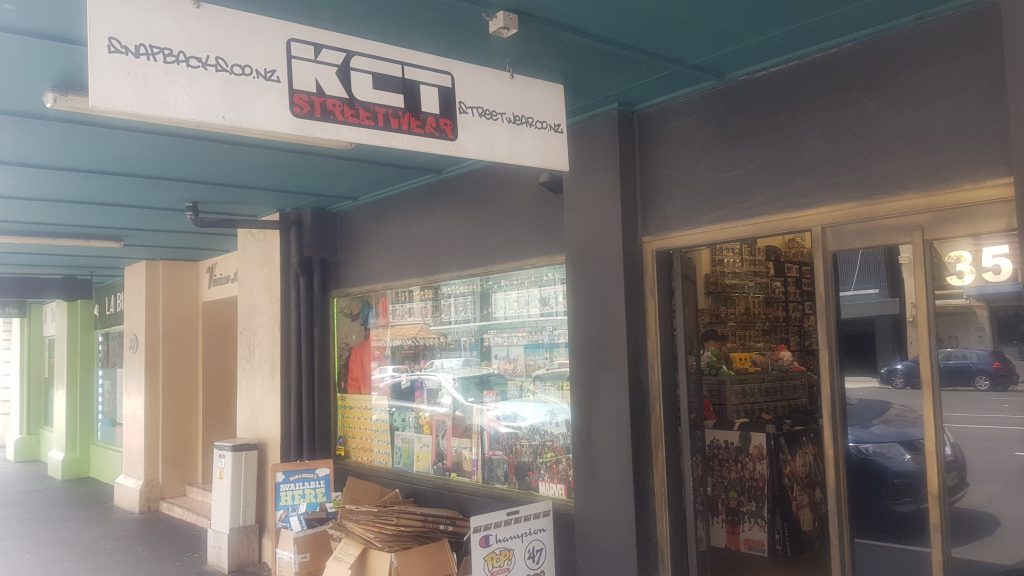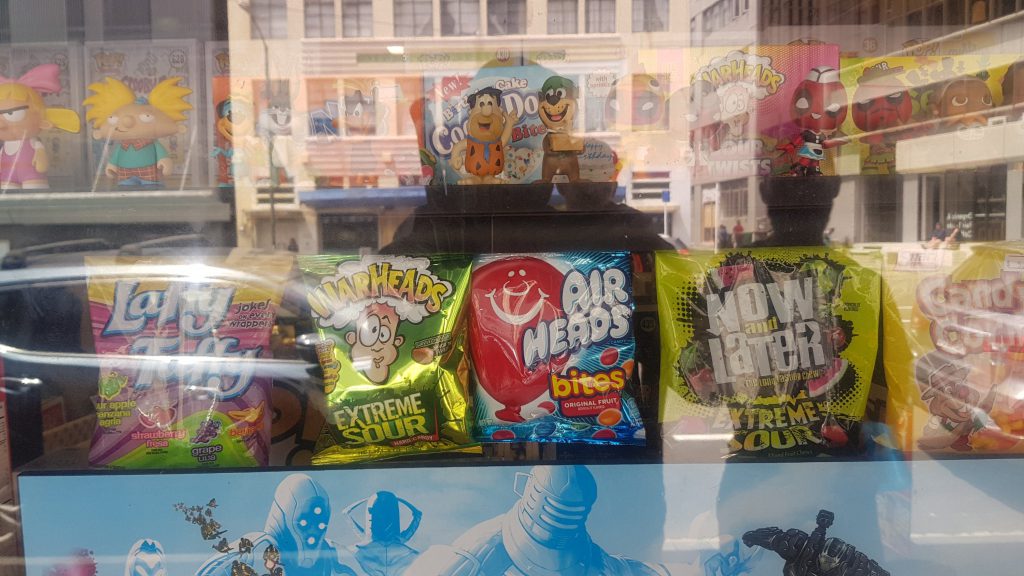 We found our way to The Marion and as expected, the guys couldn't check in yet but were able to leave their packs there while they walk the rest of the trail. While they were dropping off their packs I had a quick look around and it looks like a very nice, possibly even custom built building where each bunk bed has its own curtain, power outlet, light and USB charger. I stay at some motels that don't even have power outlets by beds and it drives me nuts, so I can see why this place is popular. They also have free skateboard hire. Only in Wellington!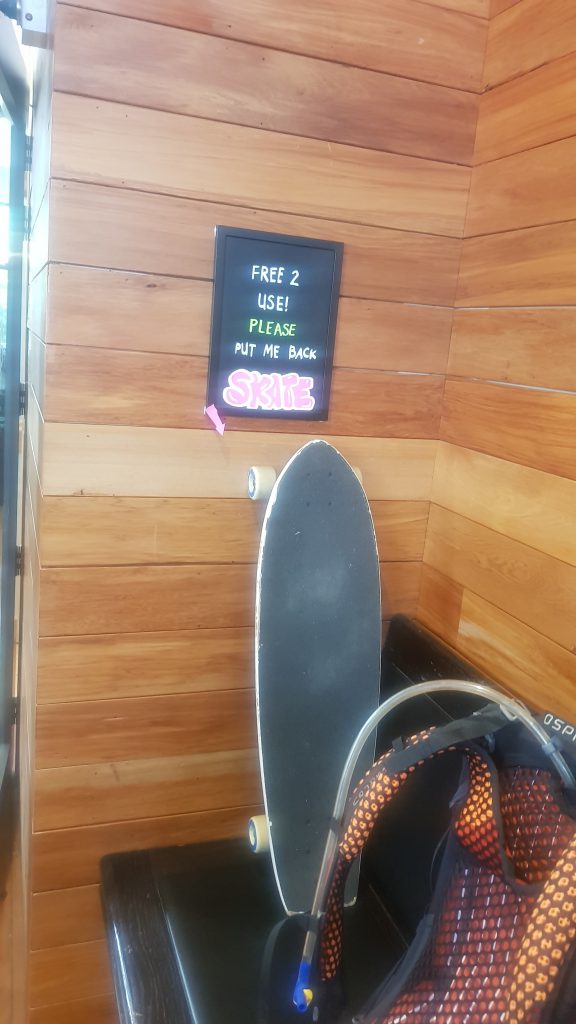 Back down Taranaki Street to rejoin the trail and into the USA Candy store. It was mostly a streetwear store but had a large section of American candy. I bought one of everything that had the word "sour" on it, plus a couple of other things. These were the sour ones: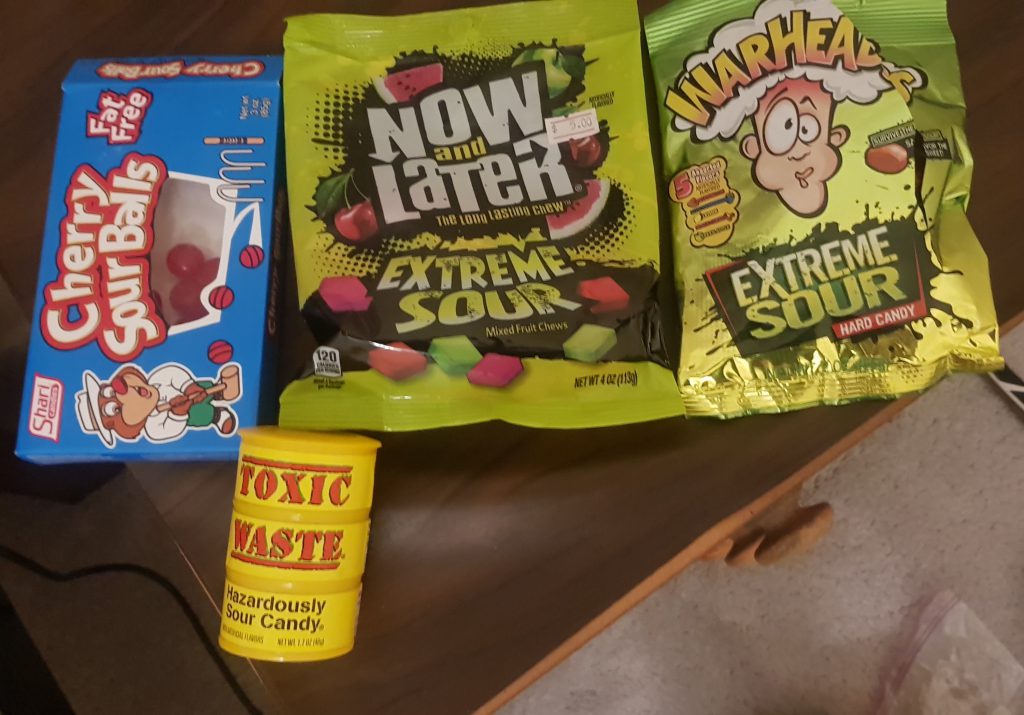 Along Oriental Parade we played the "guess how much this house is worth" game again. This time I wildly overestimated. This street is often in the news for having some of Wellington's most ridiculous house prices and is where some of the "bigwigs" of the business world live but I guess "ridiculous" by Wellington standards is different to "ridiculous" by Auckland standards. We picked a couple of the big stand-alone old houses along here which I guessed both at $4,000,000 but according to Trade Me Property Insights the value of each was only $2,850,000. A right bargain if you ask me. That wouldn't even buy you a dog kennel in the northern suburbs of Auckland.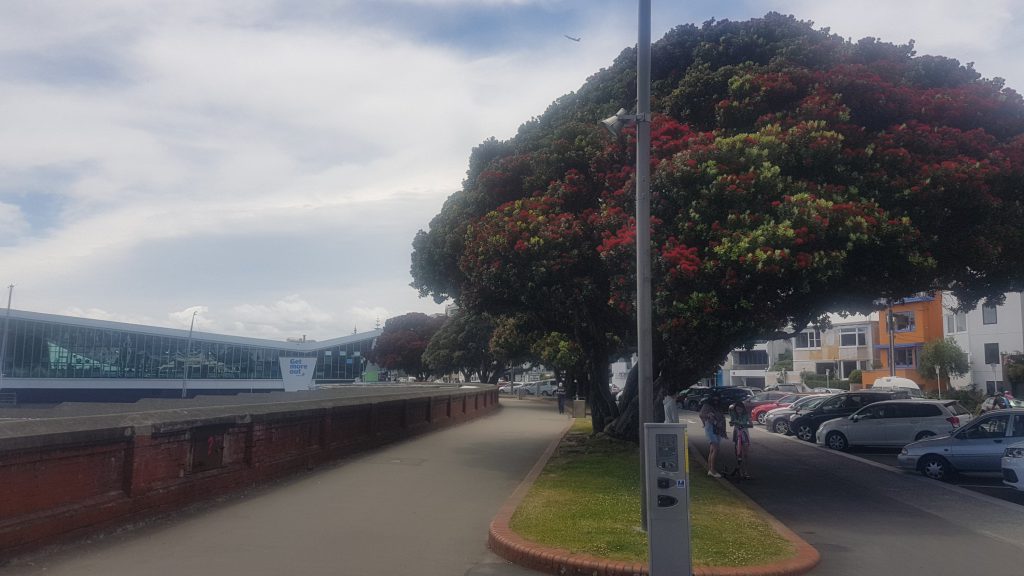 At the end of Oriental Parade is the start of the Southern Walkway and where the next two peaks of 200 or so metres of elevation begin. Despite having been raving about how much I love Wellington, because of the steepness of the paths in this area I suddenly proclaimed how much I hate this city.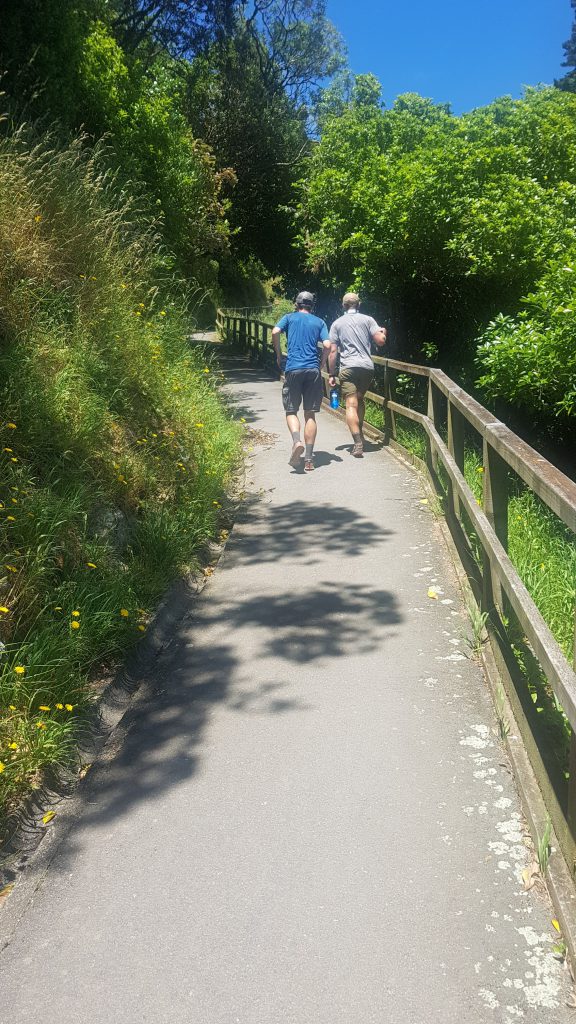 There's this point which is apparently an "alien abduction zone" if you believe the small sign on the post.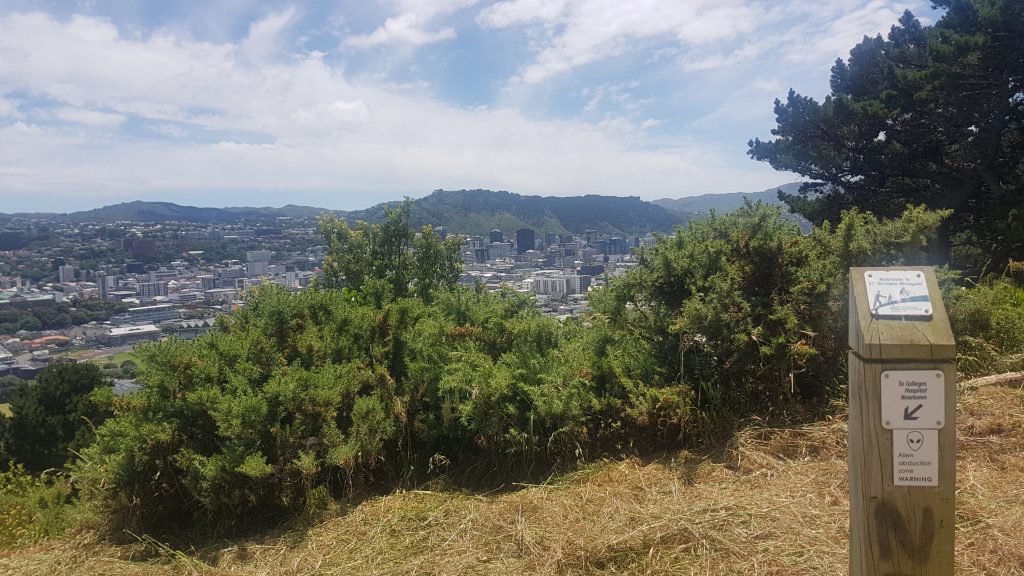 The aliens must have abducted the signs, because we got a bit lost here. When you see this post, you have to make a hard left so that you keep following the pink Southern Walkway signs.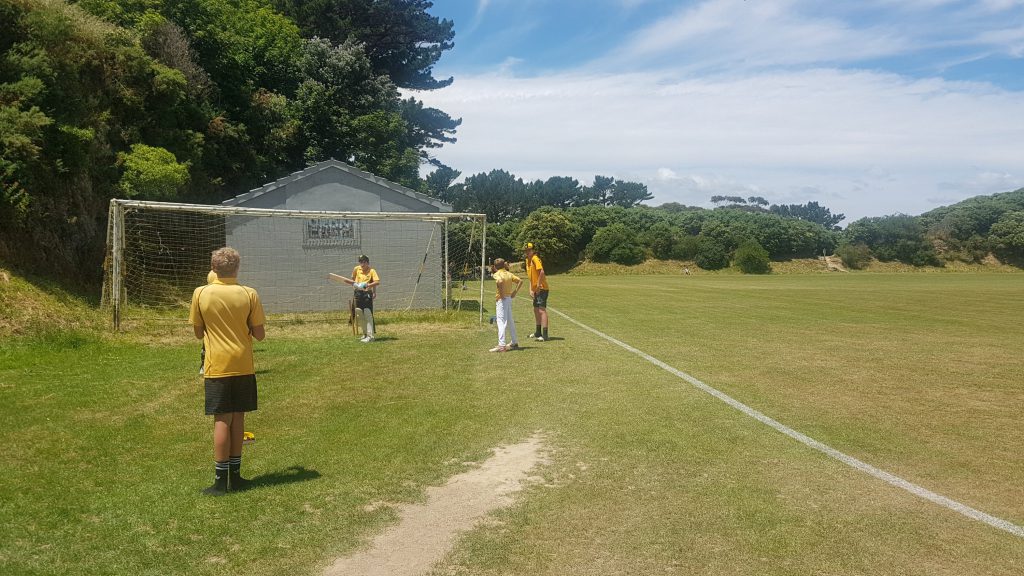 This point on was new to me. I had never really spent much time in the southern suburbs, despite living in Wellington for a year.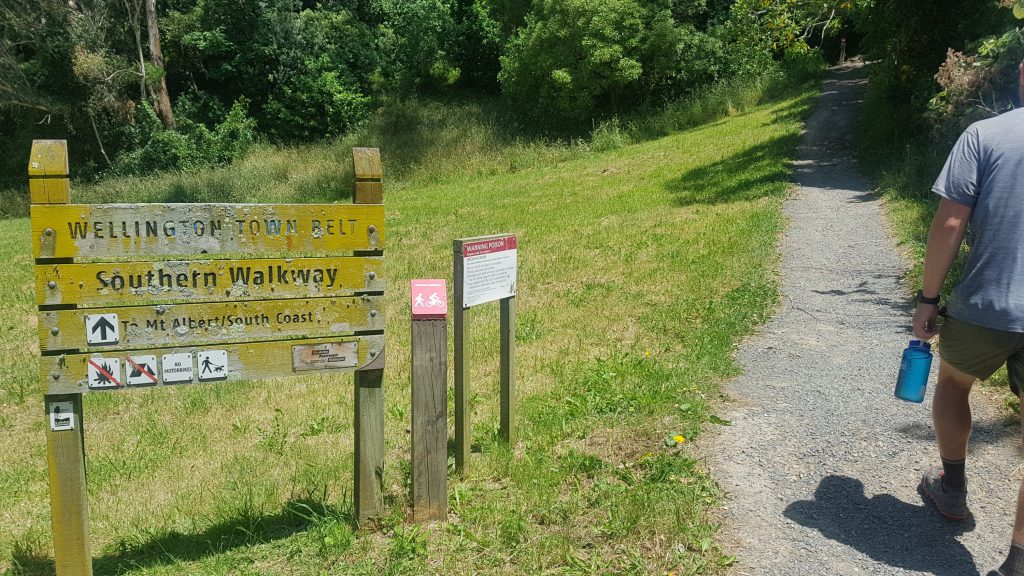 Another residential street…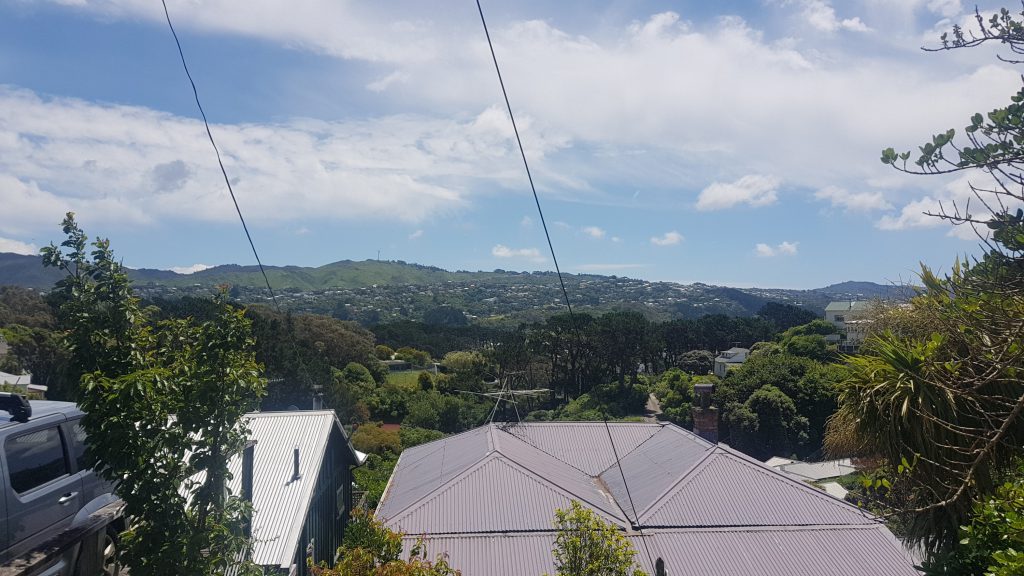 And another part of the trail through a sports field…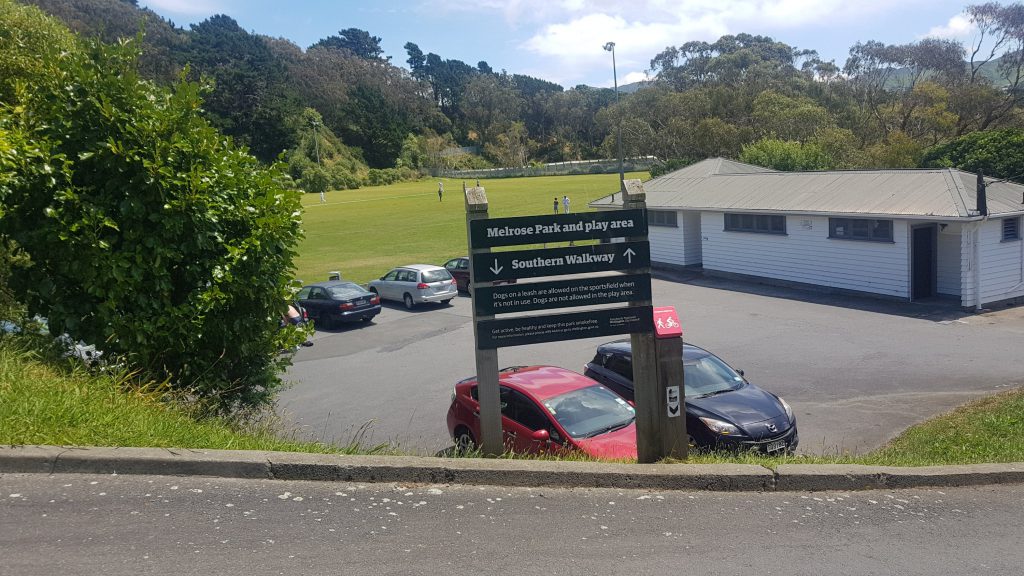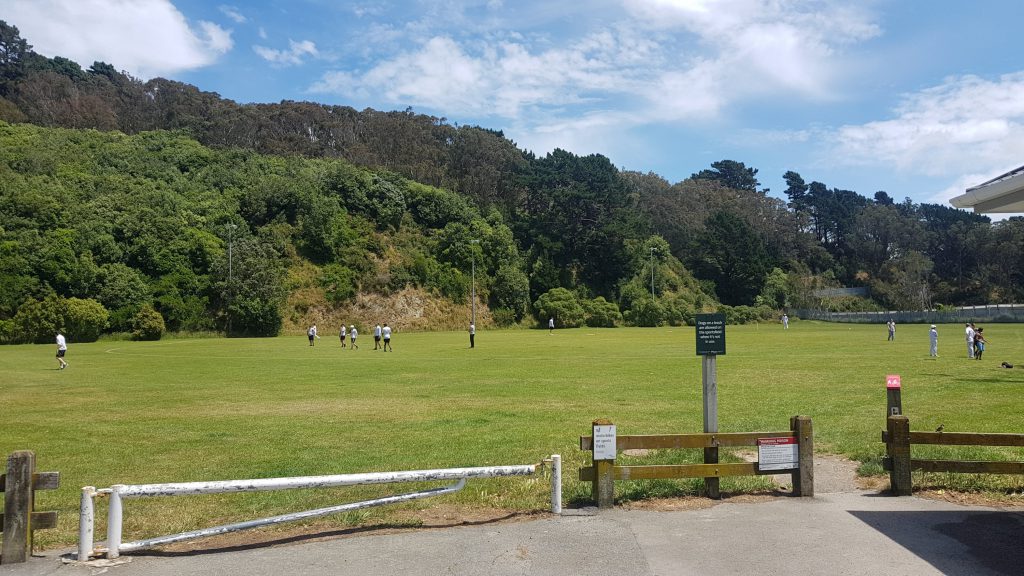 We got to the zoo, although we couldn't see any animals except a few goats.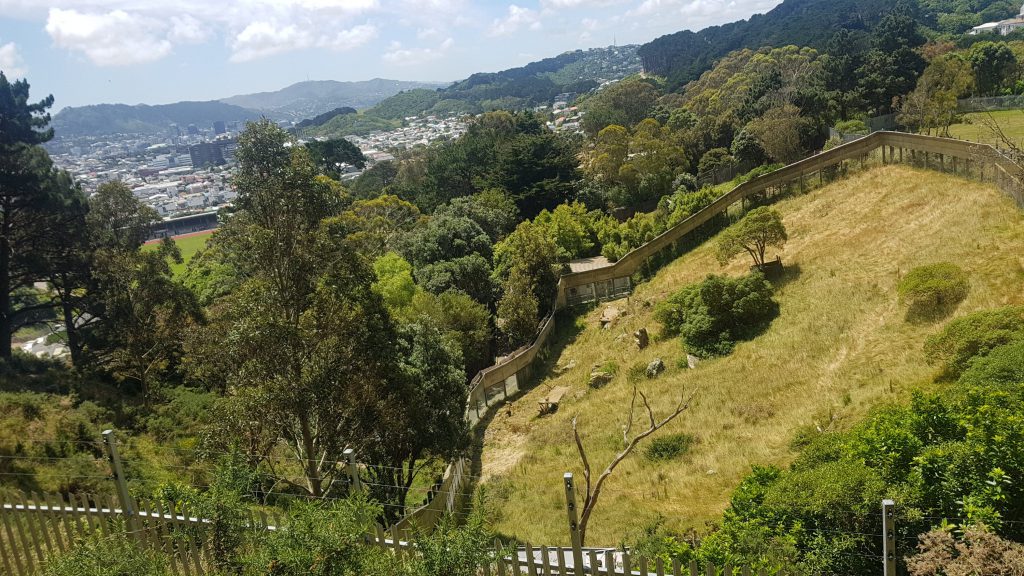 This is the last bit of hill before the south coast.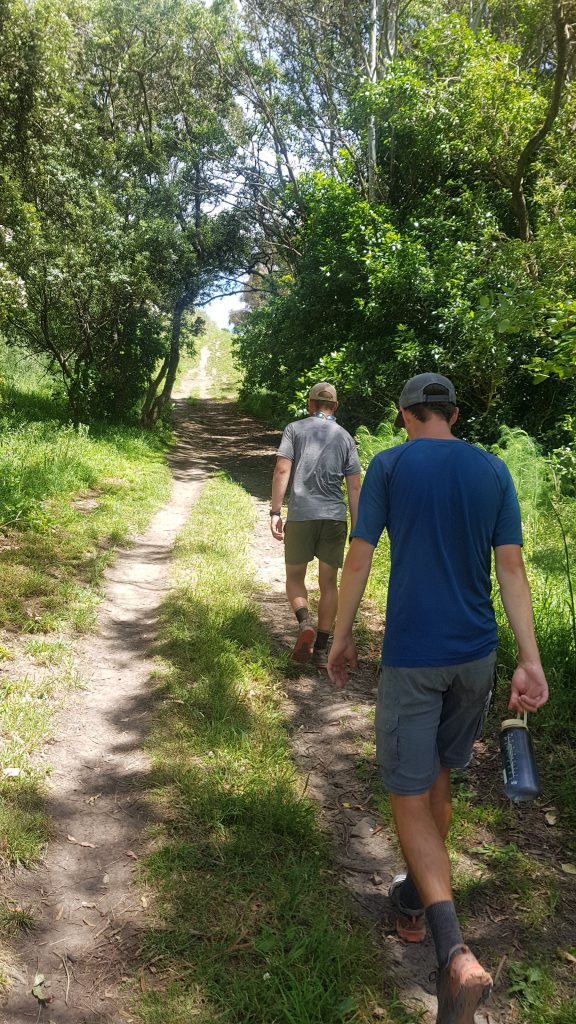 Then there was a view of the airport. The airport is so close to the neighbouring houses – the people that live there must really like watching the planes because otherwise being that close to the airport must be a pain in the backside.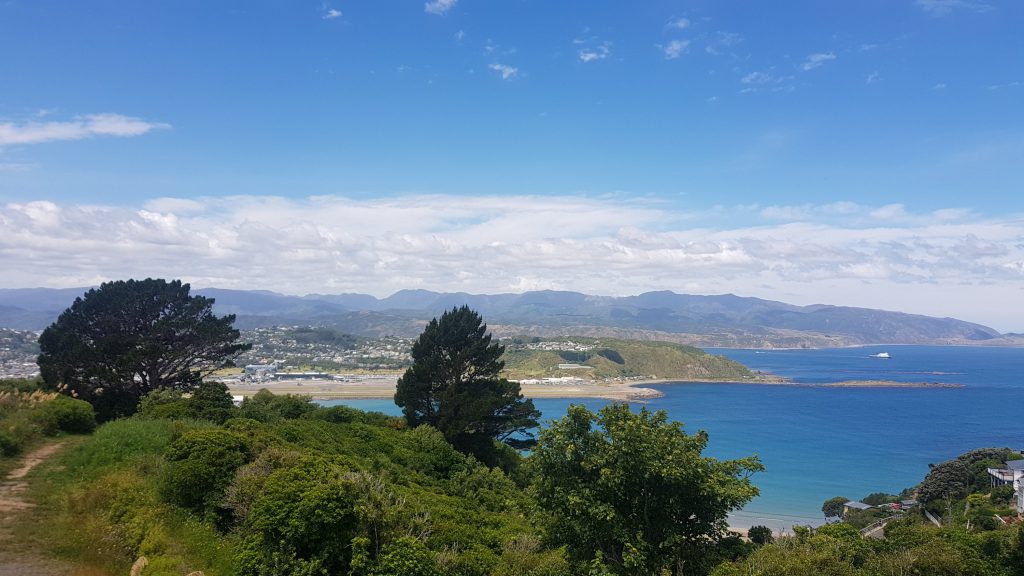 Yesterday I had pointed out a boat to Ethan, telling him it's the Interislander taking people to Picton from Wellington. He pointed out that I was an idiot and it was in fact a cruise ship. He was absolutely right of course. This ferry in the picture above definitely is either the Interislander or the Bluebridge ferry – both of which take people to Picton from Wellington!
One last look at the view: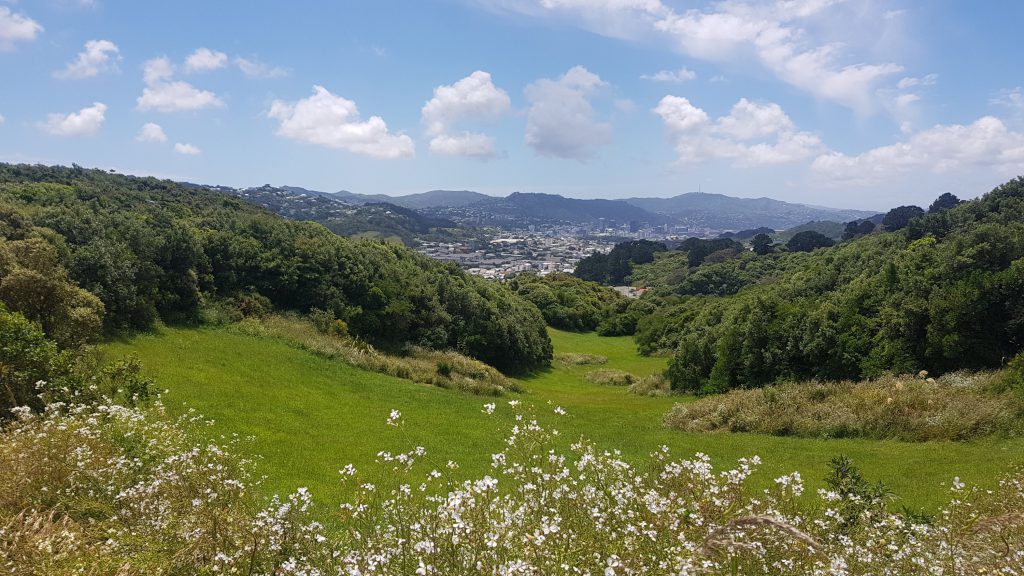 And one last look at the Guthook elevation profile, confirming that we had completed all the uphill: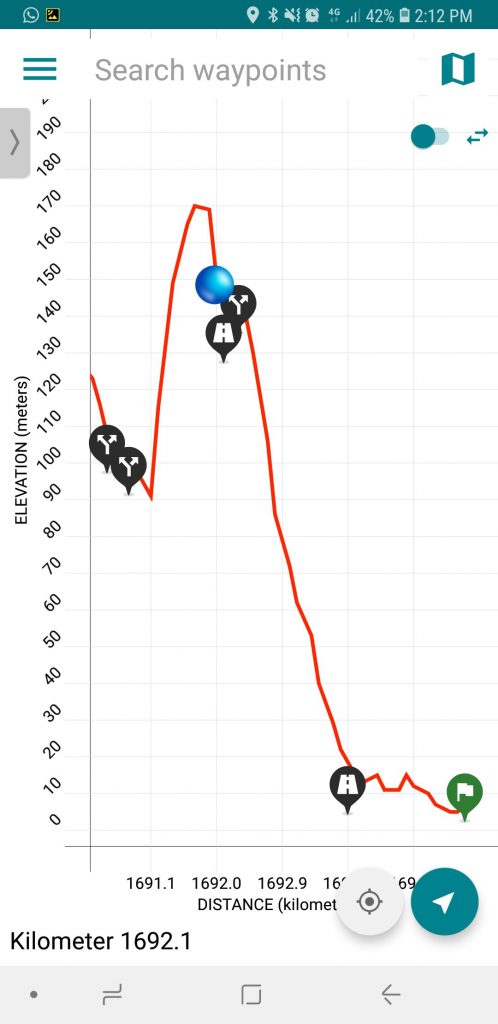 We were all smiles as we could smell the finish line.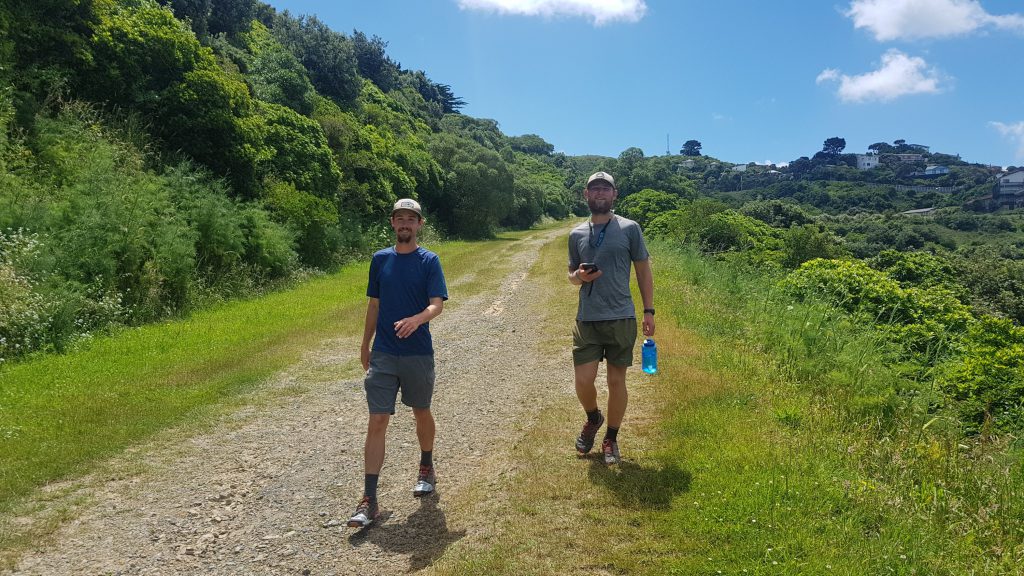 At the bottom of the hill you turn right and walk along the coast for the last kilometer and a half.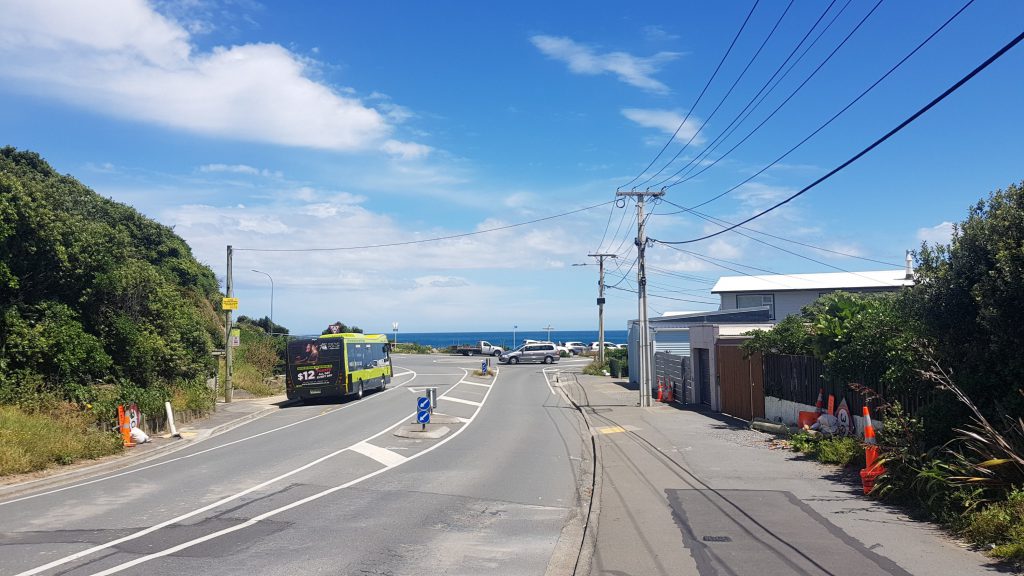 There are a few interesting houses along here. One, which is way up high and only seems accessable via a lift (fairly common in Wellington it seems) and which is right next to a castle (well, seems to just be the turret of a castle).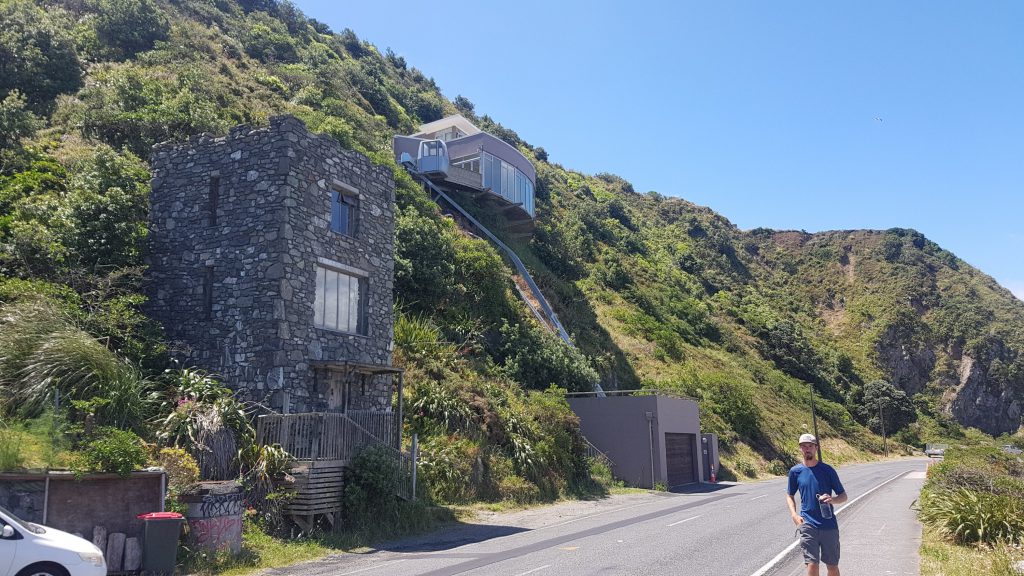 We're definitely almost there now.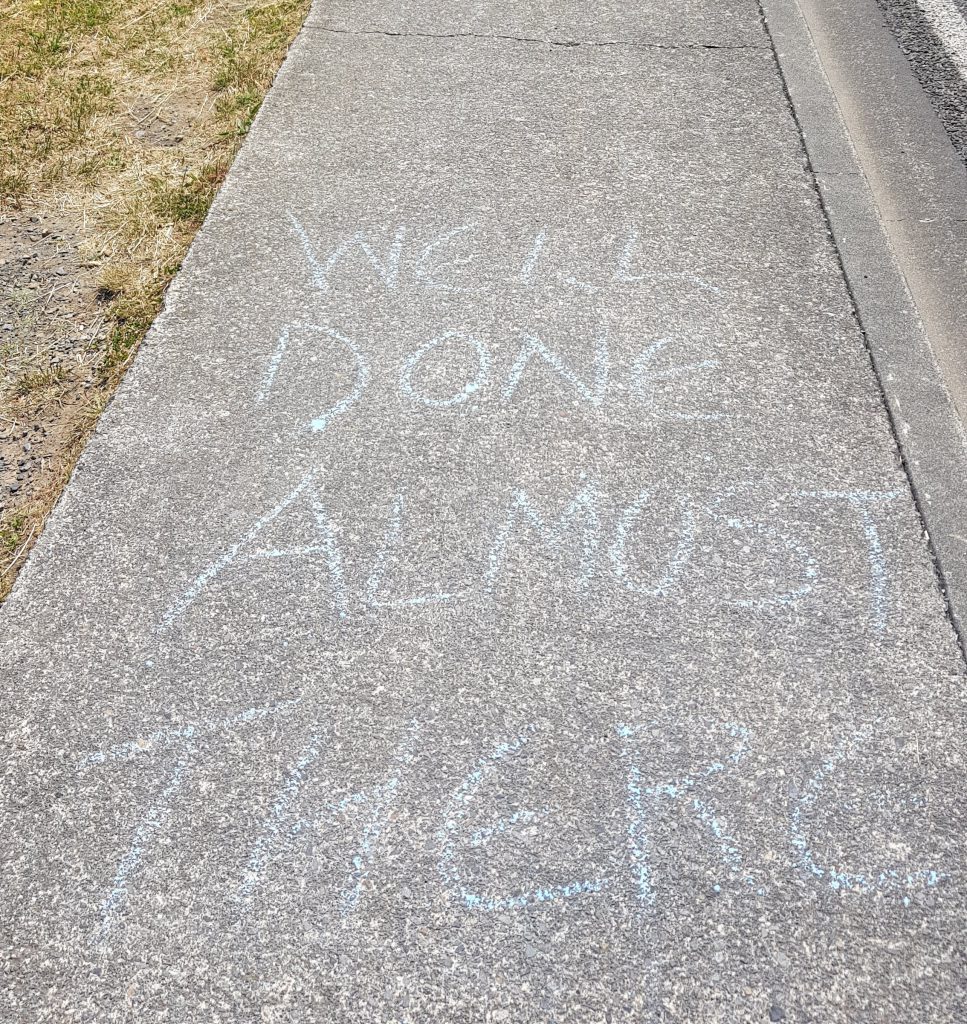 The finish line is there, across the water where the building in the centre with the round roof is.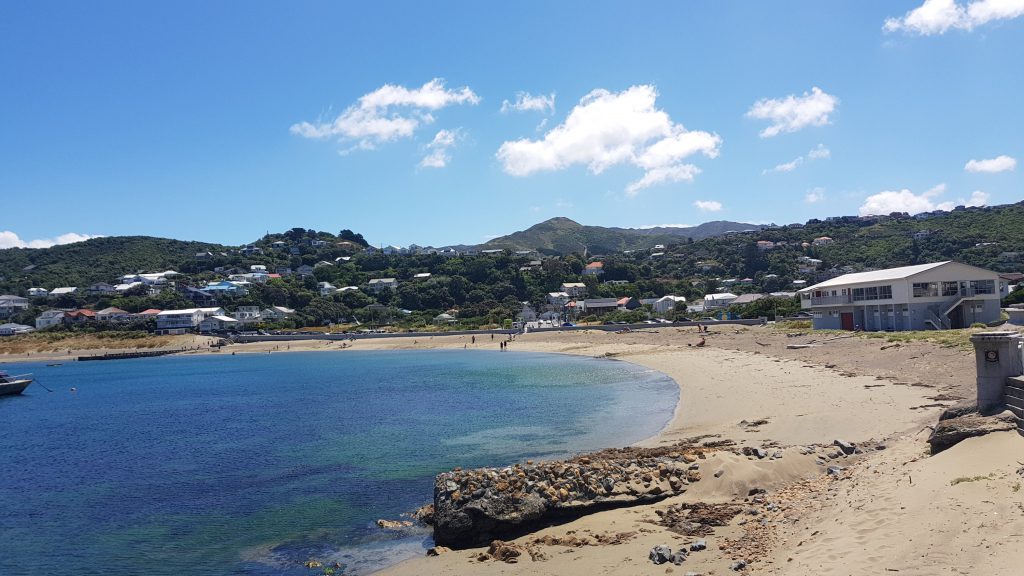 Turn right…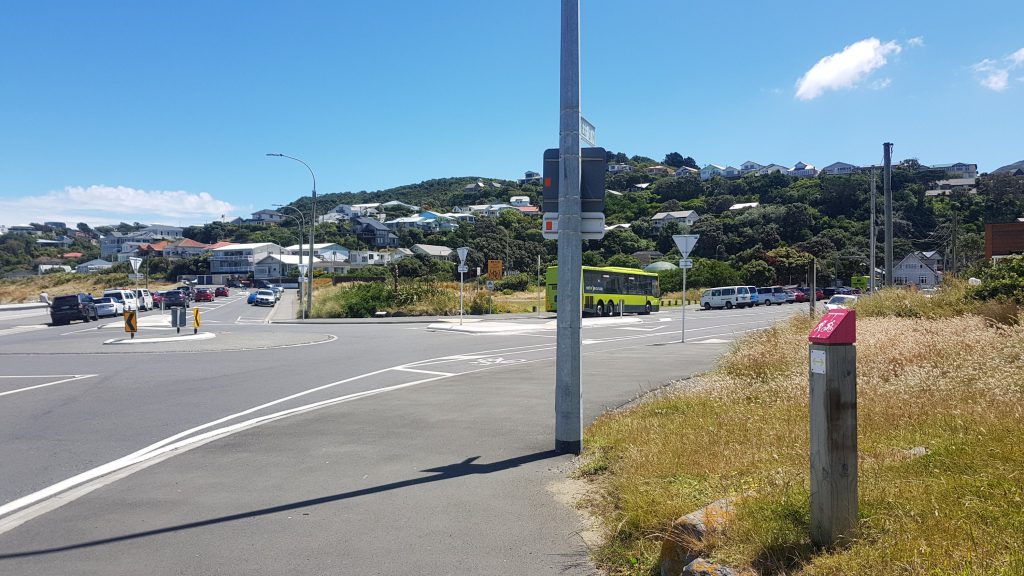 Enter Shorland Park…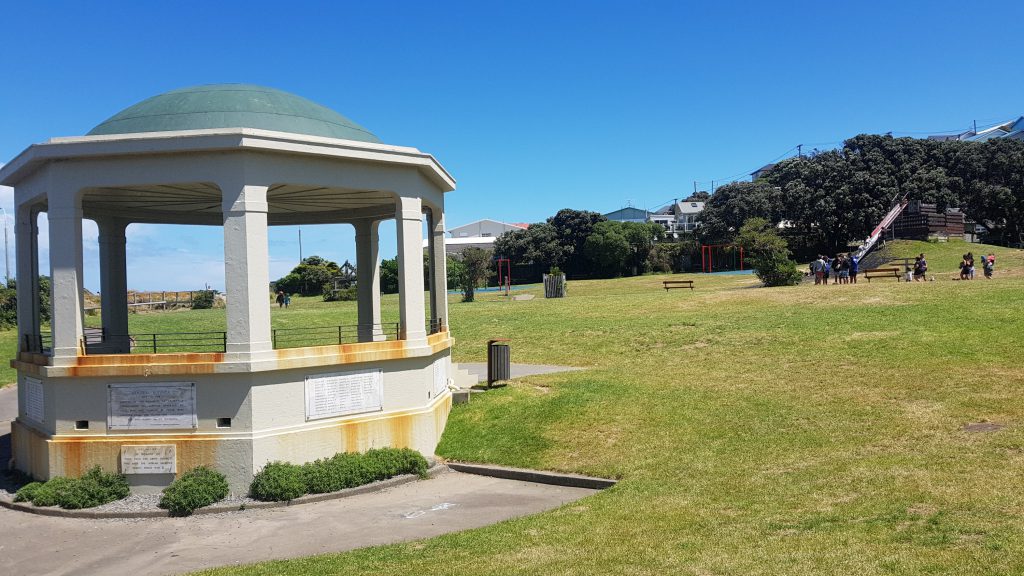 Go down the slide…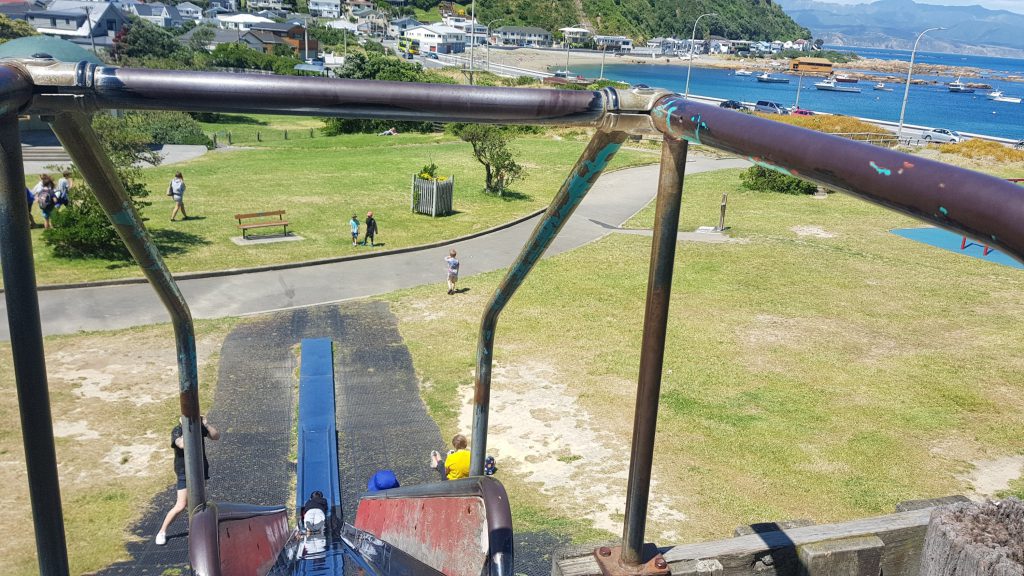 And there it is!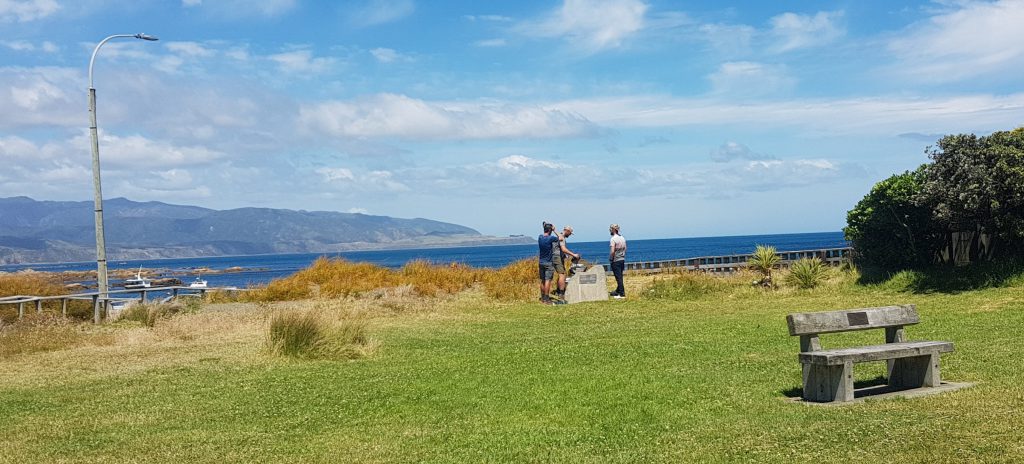 Here we met Ed – a very cool guy who helps out people where he can. He picked up Ethan's bounce box and also gave the three of us a ride back into town afterwards. Plus he had beer for us.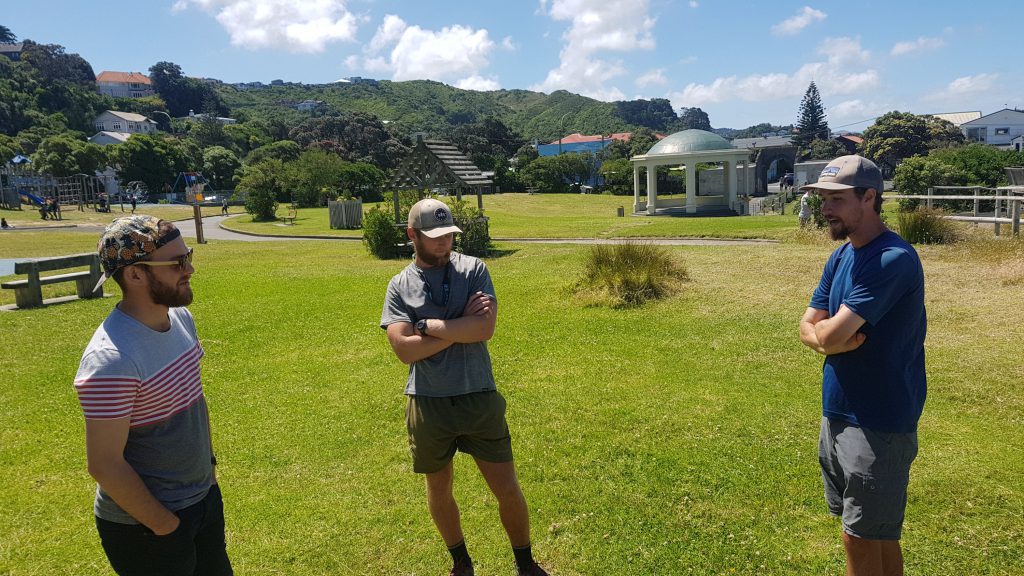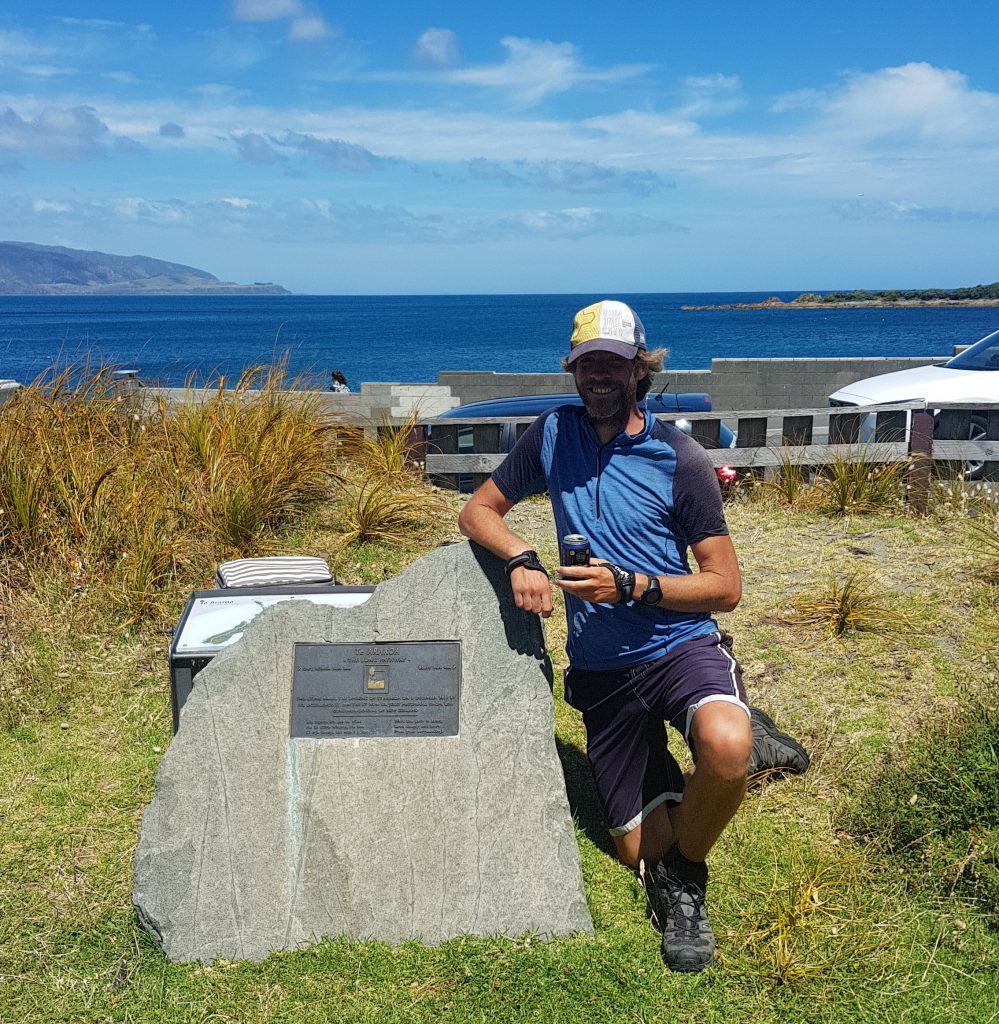 I'm here. Around the world in eighty days. Well not the world, just the North Island I guess. Around the North Island in eighty days. And yes it is "around" because the trail definitely does not go in a straight line in the North Island!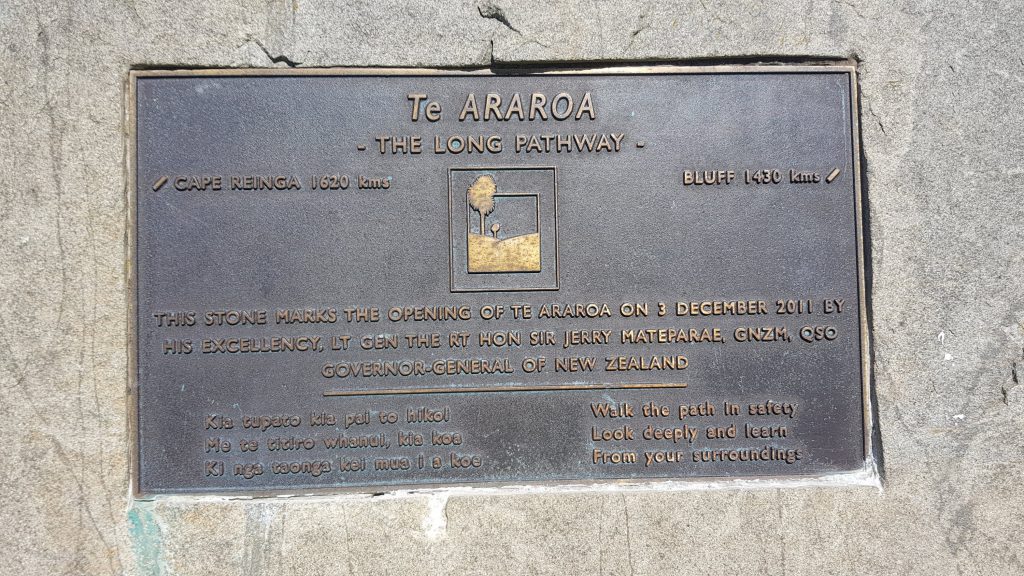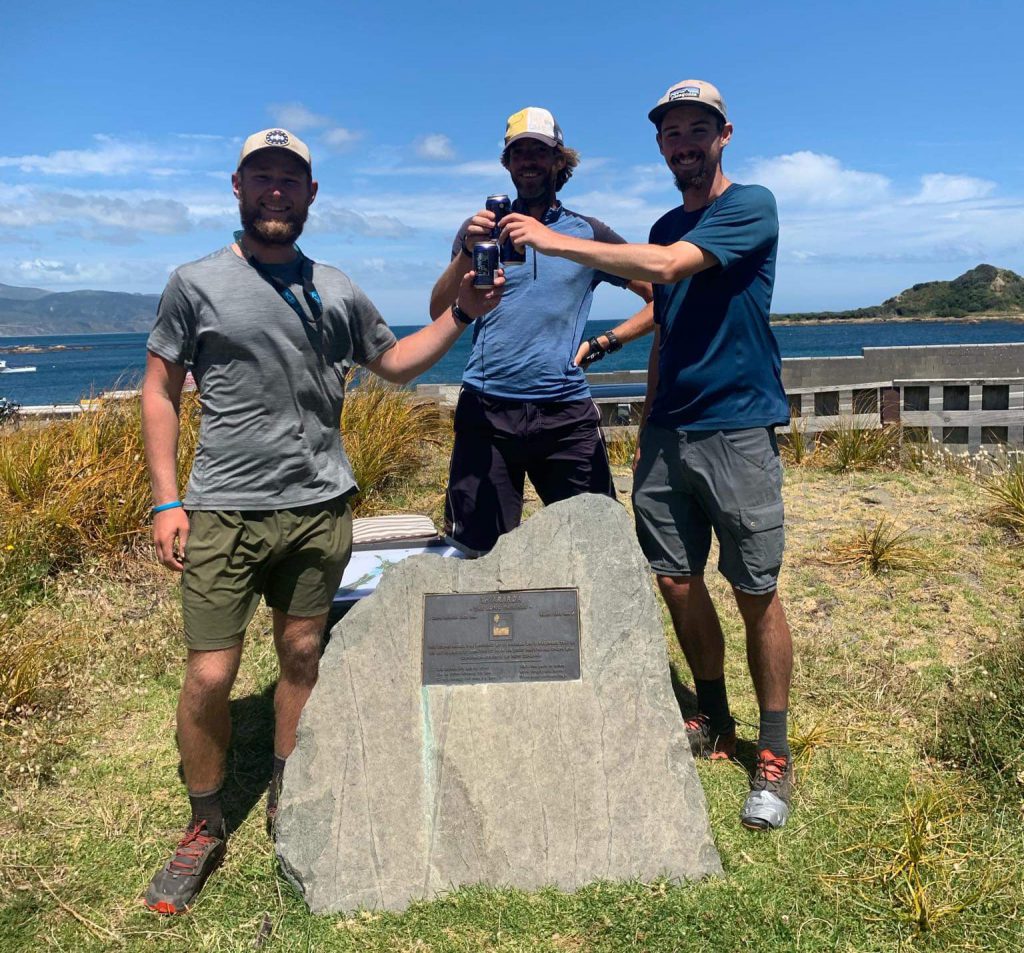 The lighting wasn't the best for our final photo… I suppose the creators of the plaque didn't consider that during its placement!
Ed reported that Lucy the runner arrived at this point about one hour before us. It seems my premonition from earlier about her passing us while we were having lunch was true after all!
I am also pleased to report that my toenail is still attached after banging it into the wall yesterday and walking a whole day with it. That's nice.
There wasn't time to be emotional or anything given that Ed was our ride back to the city centre. If I had've been on my own and I had a bit more time to sit around and contemplate the journey, things might have been different. I didn't even have time to find a geocache near the end! But I wasn't going to let a free ride go, and I really wanted to have a celebratory drink with the others.
Back in the city, Alex and Ethan checked into the Marion properly, and were shortly joined by Charlie and Peter who have walked as far as Ngaio, and will be finishing the final bit on Monday. We then all went for a drink at a place called Golding's Free Dive. There we met up with Ed and also a girl called Ada who has been a few days ahead of us for most of the trail and has been leaving very useful comments on the Guthook app. It was nice to meet her in person.
Only in Wellington are the beers on tap four craft beers that you've just never heard of. Makes a huge change to the "Irish" pub in Levin that only had the four cheapest beers that exist in this country available on tap.
I only had one cider with everyone and then I went to join Kathryn and my other friend Katrina for dinner and a drink at Mexico nearby. I just had a feeling that the others were going to get very drunk tonight… so I was secretly glad I didn't stick around too long!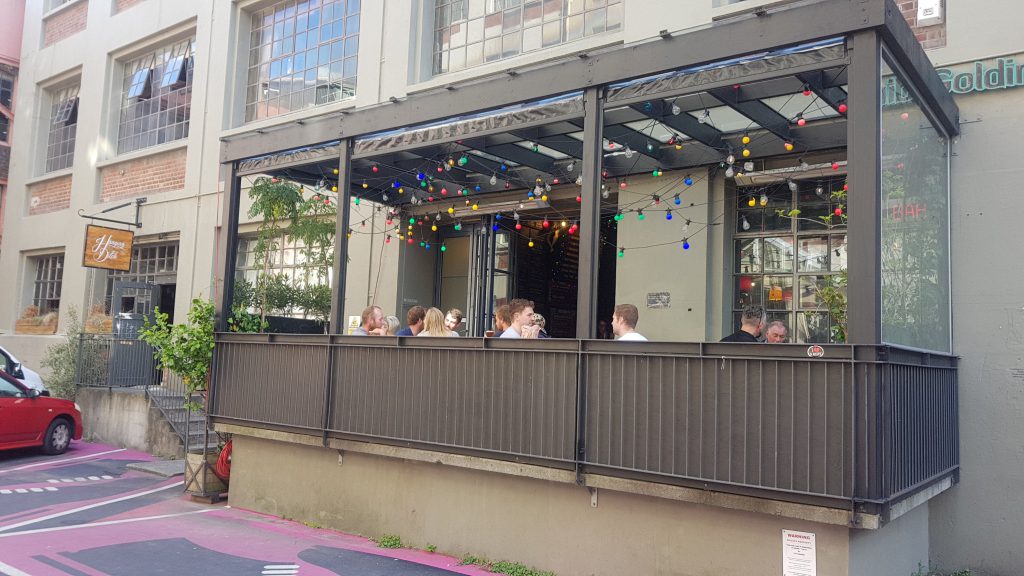 At Mexico we had margaritas and a variety of Mexican food. I didn't realise that the cauliflower florets I got had three little chilis beside them on the menu… and boy were they spicy.
We dropped in at Countdown to get some dessert on the way home. I was very excited because I always used to go running past this Countdown but never got the chance to go in before. I even remember when they were building it. Katrina was very excited for me.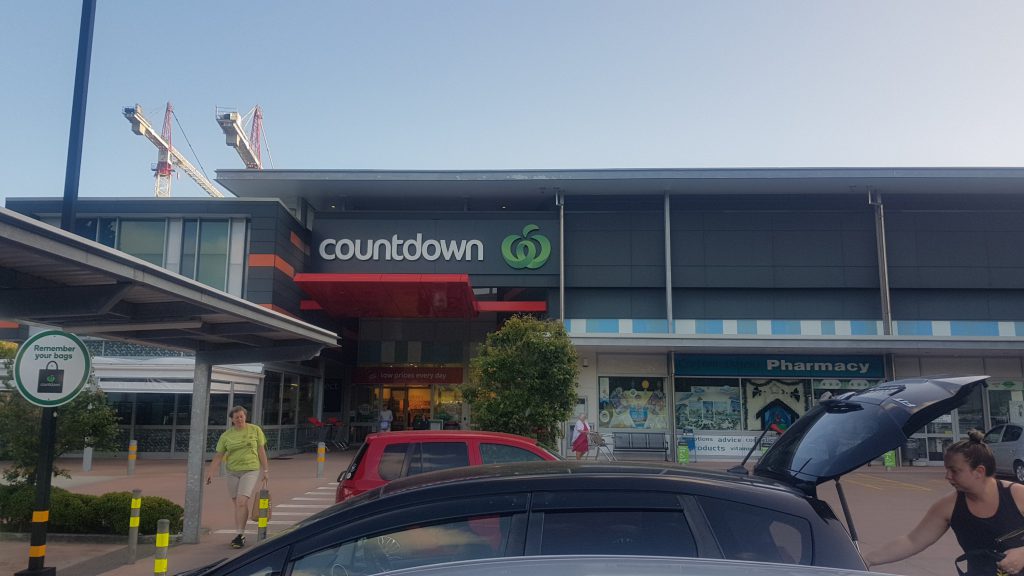 I also got to try all the sour lollies I bought earlier. They were more sour than the Sour Patch Kids you can buy in NZ, but the Toxic Waste lollies in particular promised a lot and didn't deliver. Kathryn and I agreed that they really weren't that sour, especially when the packaging suggested that if you can keep one lolly in your mouth for 60 seconds then you're a legend. They didn't even have 60 seconds worth of sourness to them. The Warheads were good, especially if you had two at once. The Now and Later were not sour at all (despite saying "Extreme Sour") and the Cherry Sour Balls were nice and chewy and had a nice flavour but were pretty tame.
So that's it for the North Island. After one rest day I'll be making my way to Ship Cove for the start of the South Island leg… getting as far as I can before heading home at Christmas for a two week break with family and friends. It will be weird not walking with Ethan any more and I might lose Alex, Charlie and Peter since they're heading to the South Island two days after me and I doubt they'll take two weeks off at Christmas.
It's going to be a very different experience down there. Not having a town every two or three days is going to be tough.
Today's walk on the map (blue = Te Araroa, red = today's walk):