Date: 18 December
Trail covered: 33.7km (kms 1710.9 to 1744.6) plus 600m off-trail to campsite
Weather: showers
I wake up, and oh wow… it's still raining. Who woulda thought.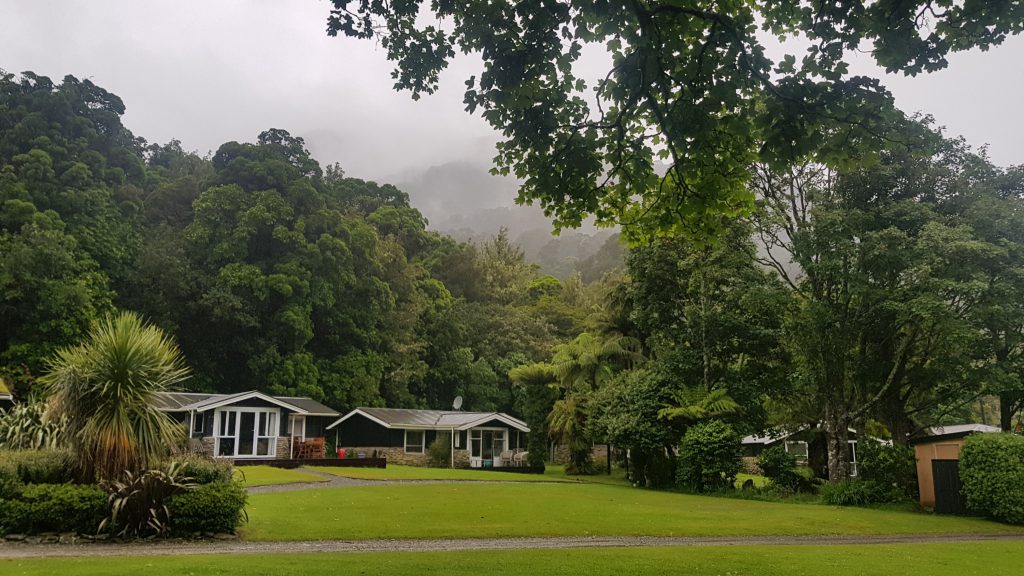 I know what will make me feel better… coffee and French toast.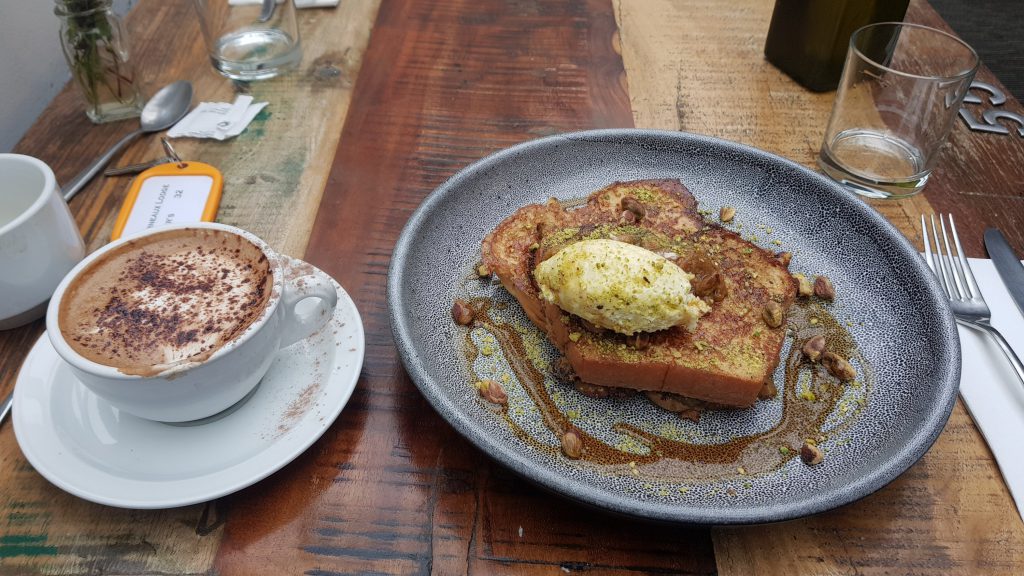 It had feijoa-flavoured jam on top, which had a strong feijoa taste. It's a shame that Ethan couldn't have tried it – in Wellington he asked me what a "fay-hwa" is and I didn't know what he meant. And when I worked out he meant a feijoa (fee-joer), I couldn't describe what it tastes like. Friends suggested that I should have said it's like a tangy pear.
I was the only one at breakfast for the first hour today, unlike yesterday when it was fairly full. I wonder where everybody is. Once I finished I sat around waiting out the rain, and one other group did turn up for breakfast then.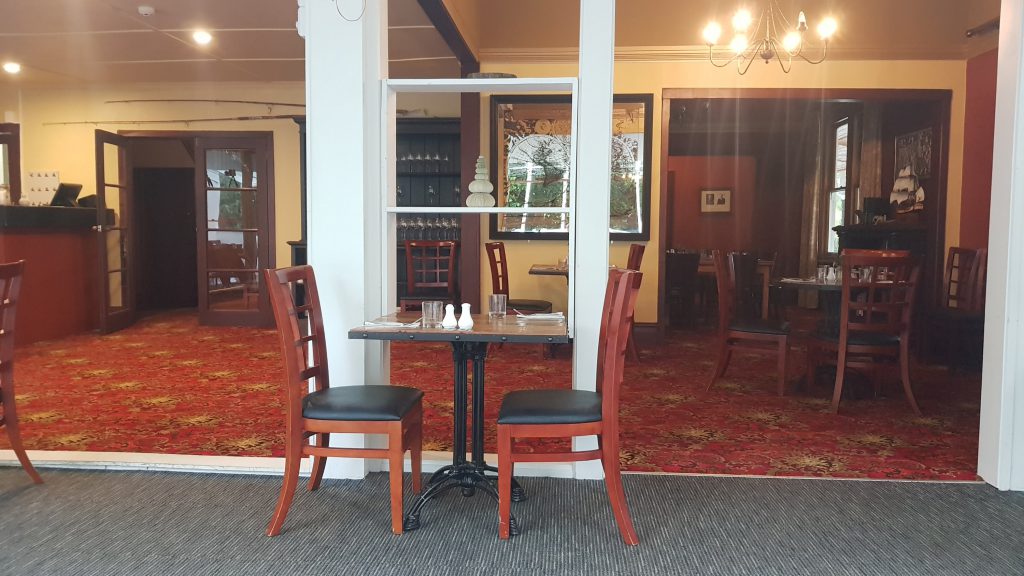 The rain still didn't really show any signs of stopping so I went back to my room to pack up at 10am, and brought my pack up to the bar and settled the bill.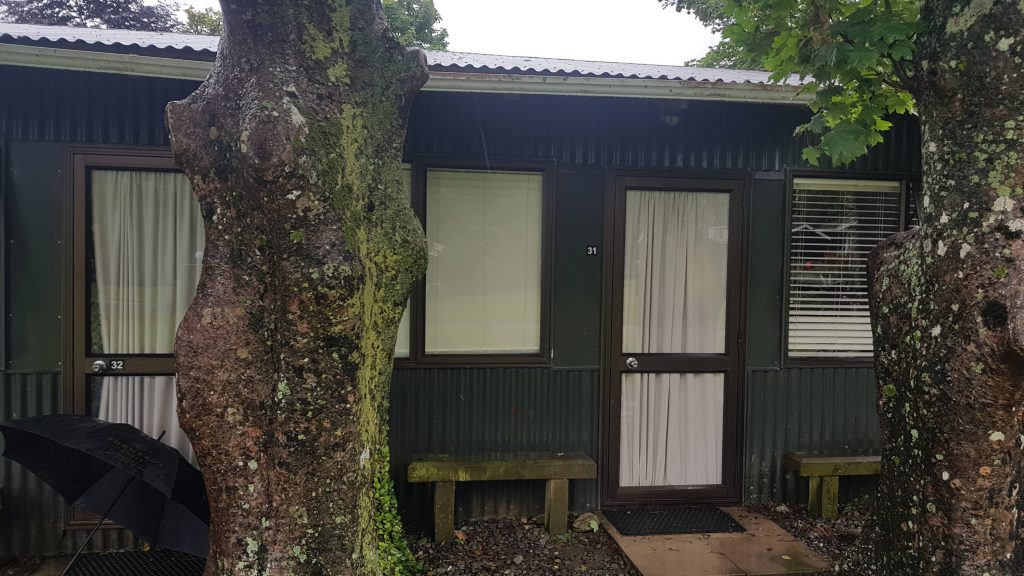 Then I caught up on the blog. I was determined not to leave until the rain stopped completely.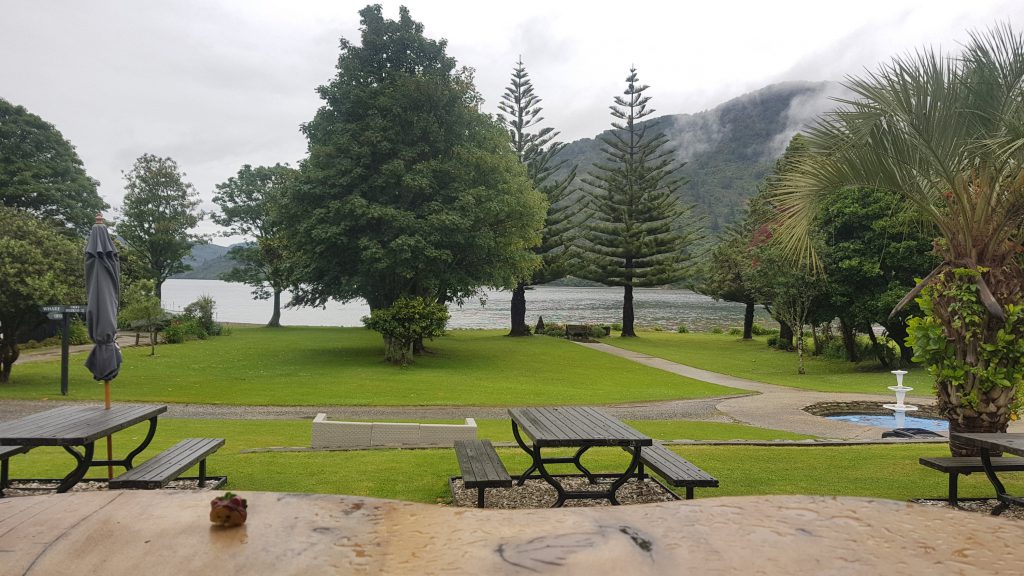 At 11am the rain finally seemed to have stopped. I took my 11am picture from inside the bar and I was off.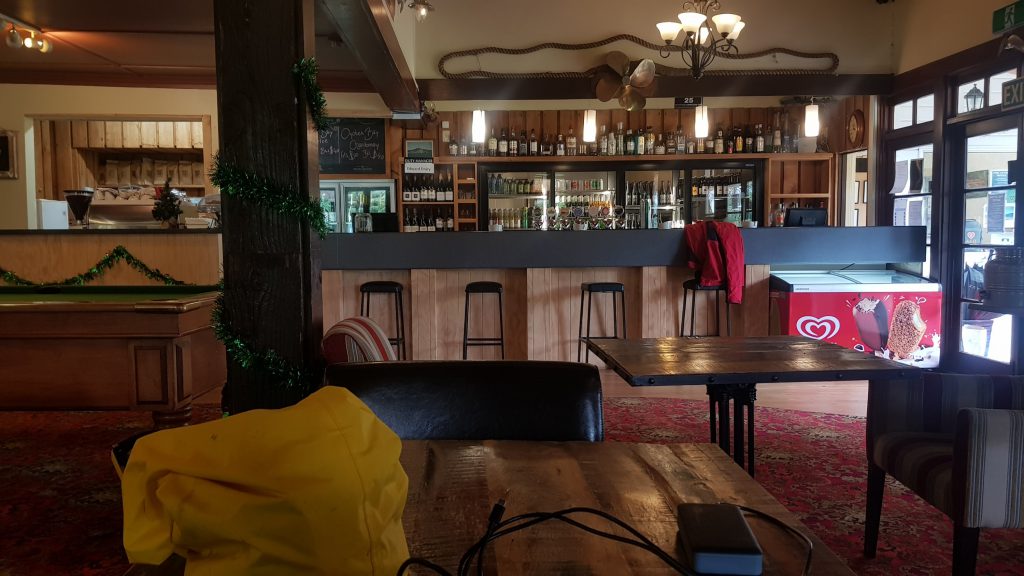 The first thing I noticed was that the trail had turned to rivers and lakes, after over 36 hours of relentless rain.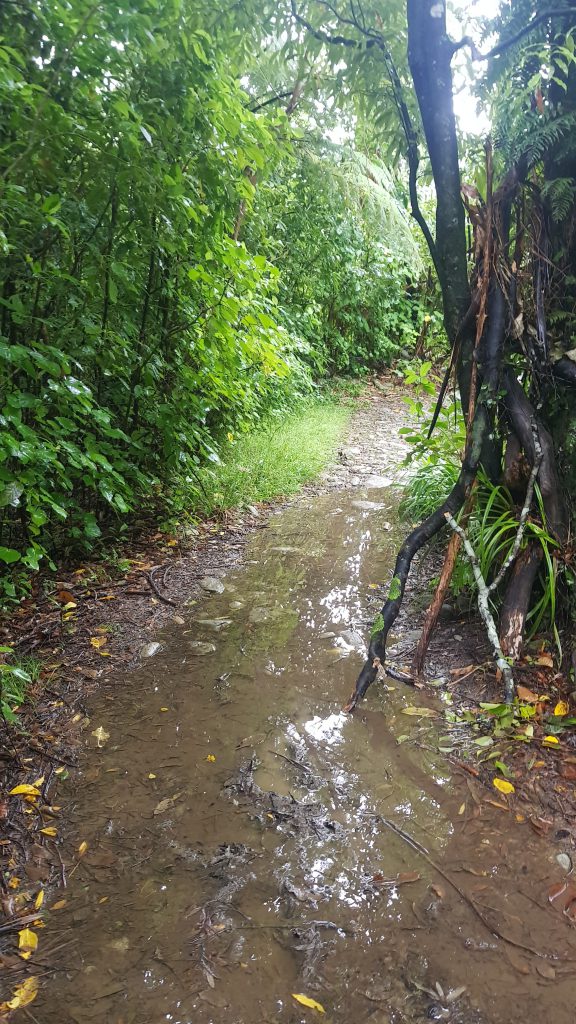 That made the waterfalls along the track cooler. These were better than the one I detoured to visit two days ago at Ship Cove.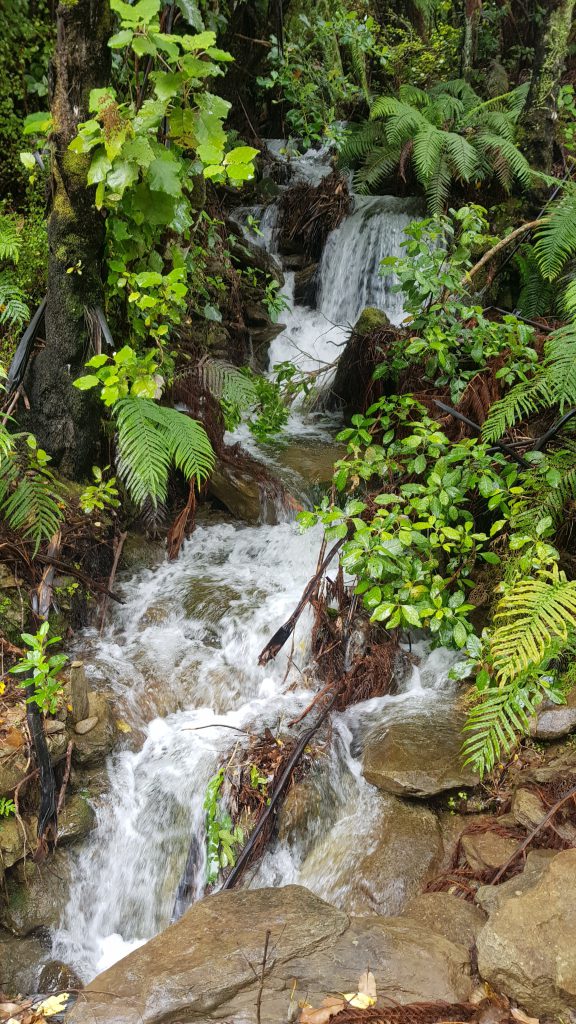 The ground was very slippery after all the rain. I didn't slip over like I have done on other parts of the trail, but many times when I took a step, my back foot slipped out from under me and gave me a bit of a fright. You really had to be careful where you stood – so that you didn't slip but also so that you didn't end up with mud up the side of your leg if you stood in a puddle.
I still had my rain jacket on because of the rain earlier on. This came off after 2km because it wasn't raining and it was getting hot and sticky. I would love to arrive wherever I end up tonight and not be soaking wet.
An early section of track today was across a small farm: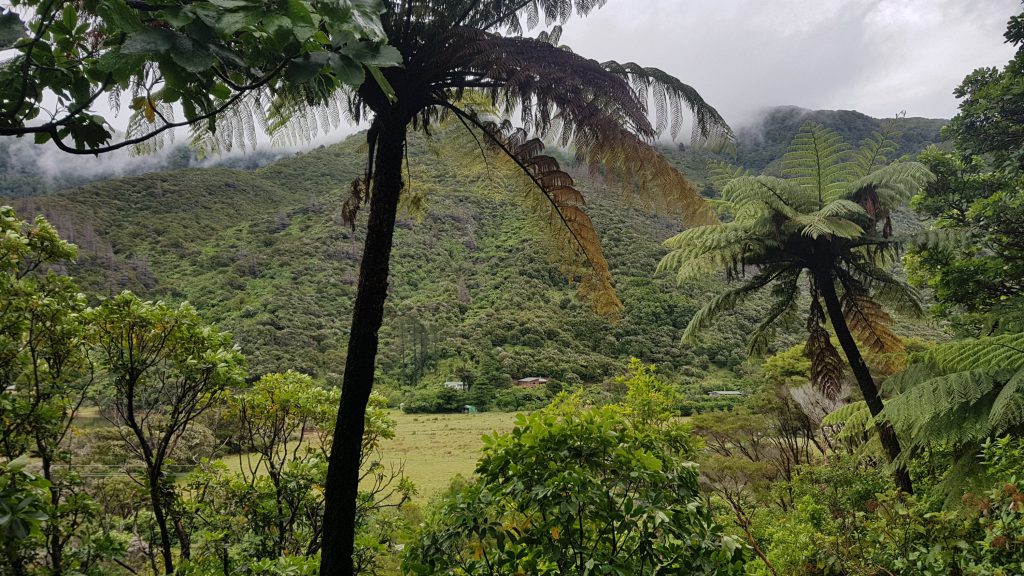 And across a small swingbridge: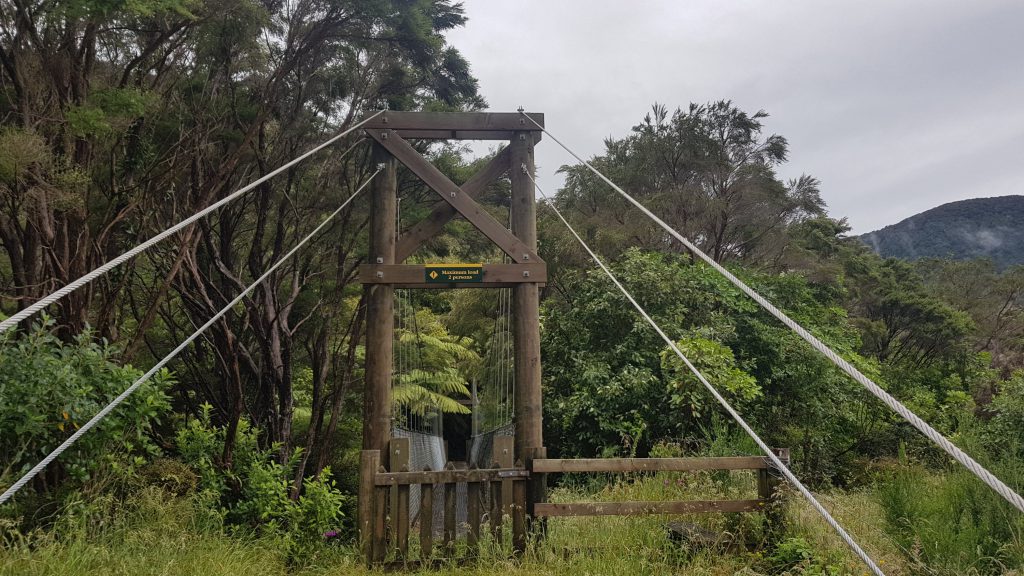 And through some more soaked ground.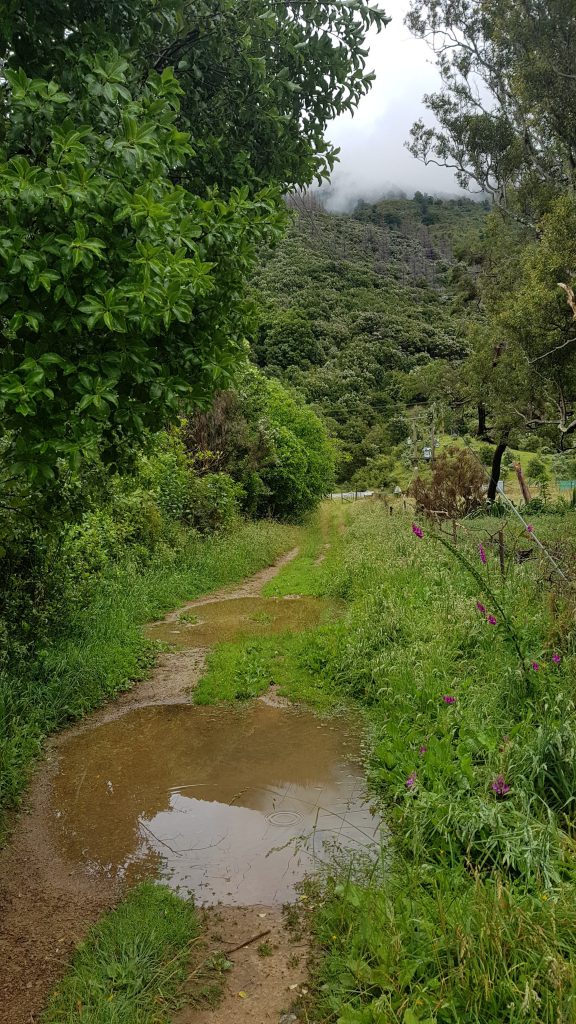 There was a campsite here – Miners campsite. It was privately run and you couldn't see much of it from the track.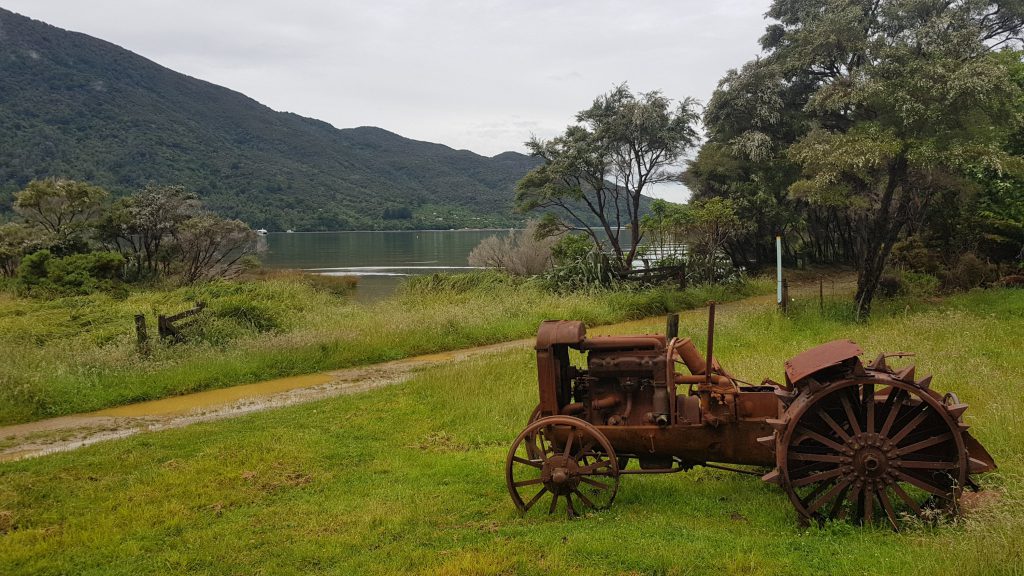 The mail boat came through at lunchtime. I was surprised as I thought it only did afternoon runs.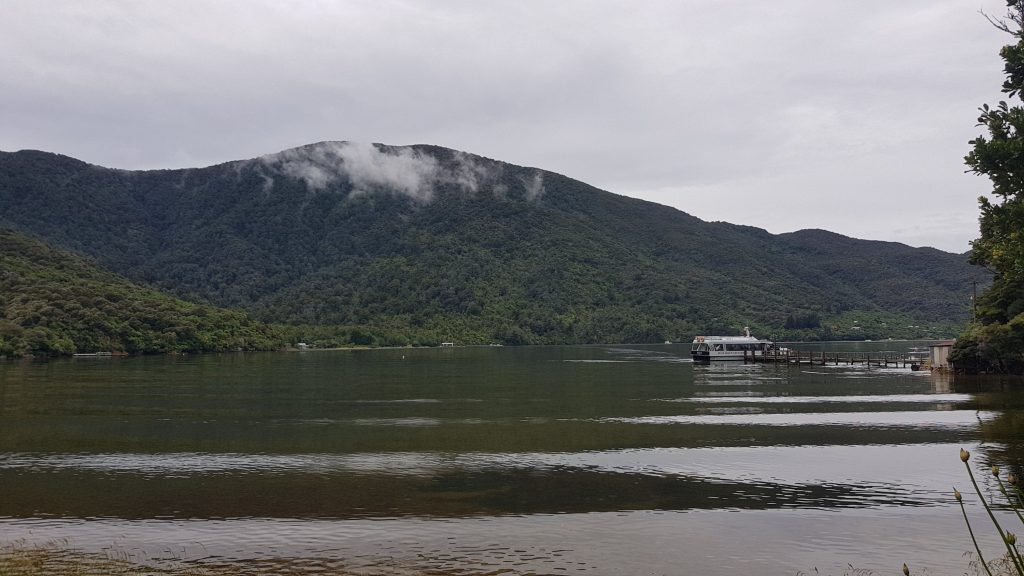 I also got to look back at Furneaux Lodge, as the track skirts around the edge of Endeavour Inlet – Endeavour being the name of the first ship Captain Cook sailed here on.
I also got to see just how many houses there are in Furneaux. It's a lot more than it looked from the track!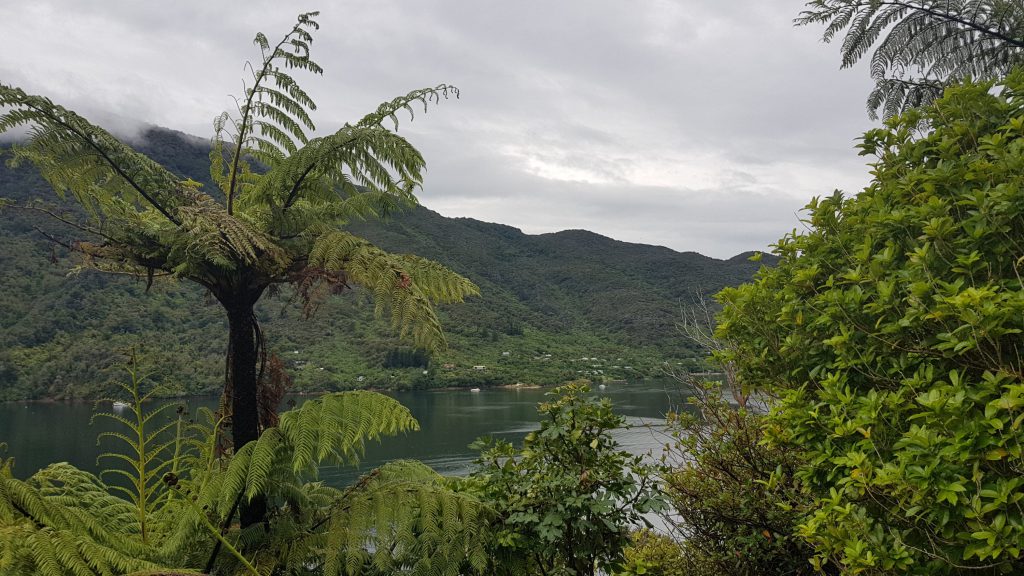 Most of the streams and rivers along the Queen Charlotte Track are bridged. When I walked it in February, I didn't remember there being any point where there was any water to walk through at all – but back then, it had been a hot dry summer. I remember that between 26 December last year and when we walked the trail in February, this area received no rain at all. In fact, there was a fire near Nelson and the smoke from that drifted all the way here – we could see it from the Bay of Many Coves Resort.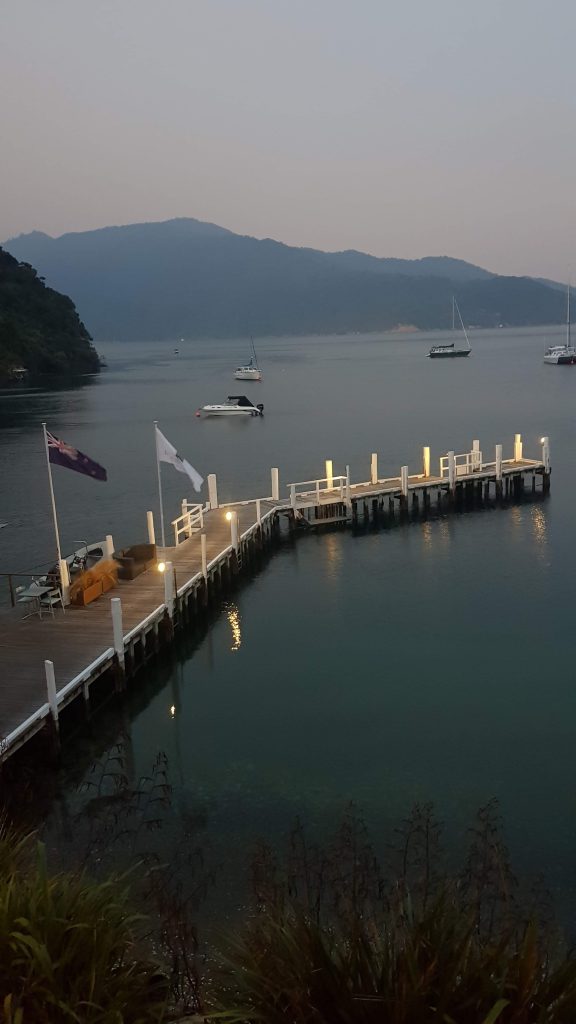 Today though, with all the rain, I had to cross this.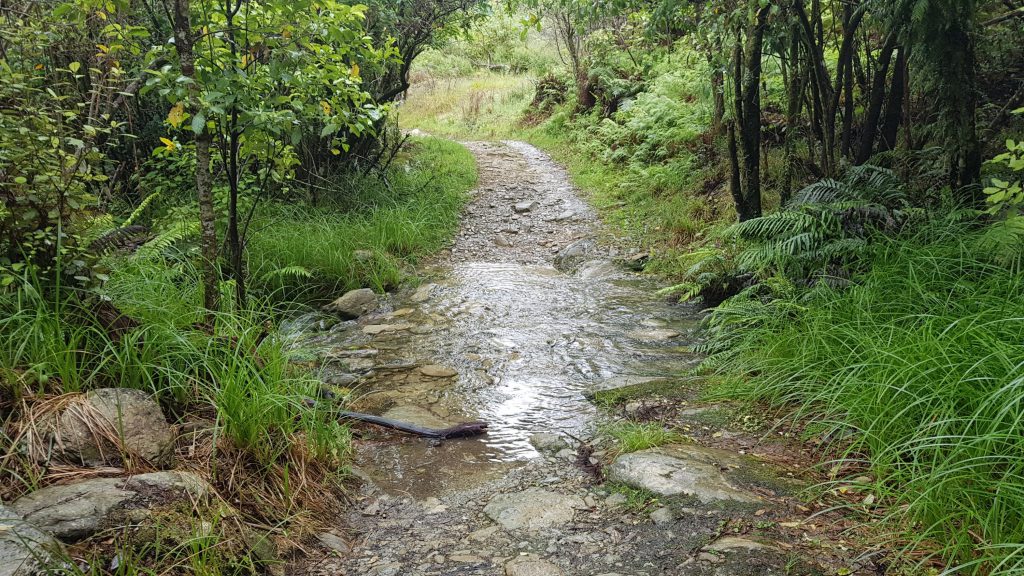 Luckily I didn't quite get my feet wet. This was the worst of it – the other streams along here are bridged like this: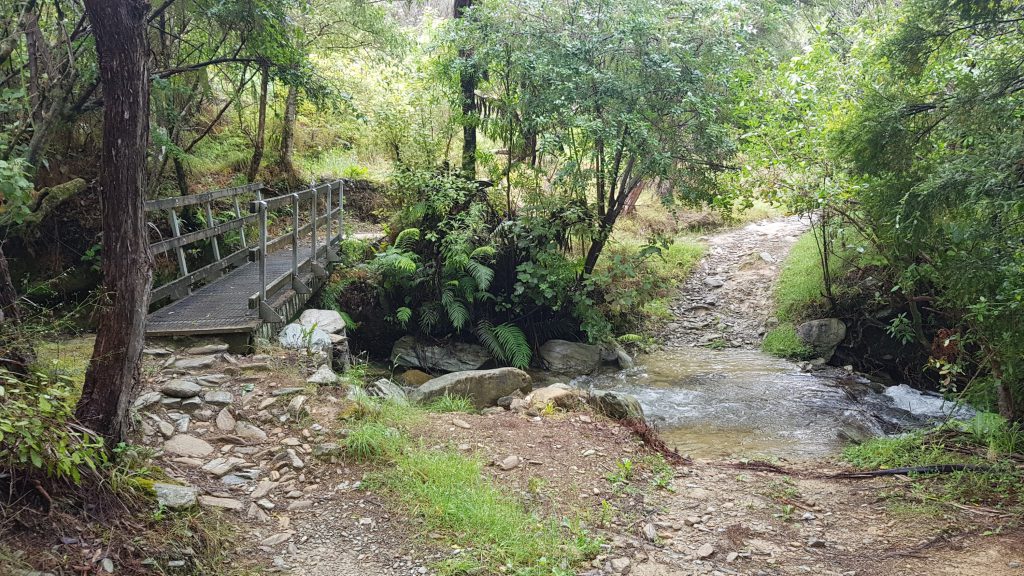 They always have one track that goes through the stream and one bridge. Perhaps that's for 4WDs, I'm not sure. Can't 4WDs go over the bridge though? Maybe the track through the stream is just the "original" track.
There was one gated area, and there were a few sheep. These sheep were not at all interested in what I was doing.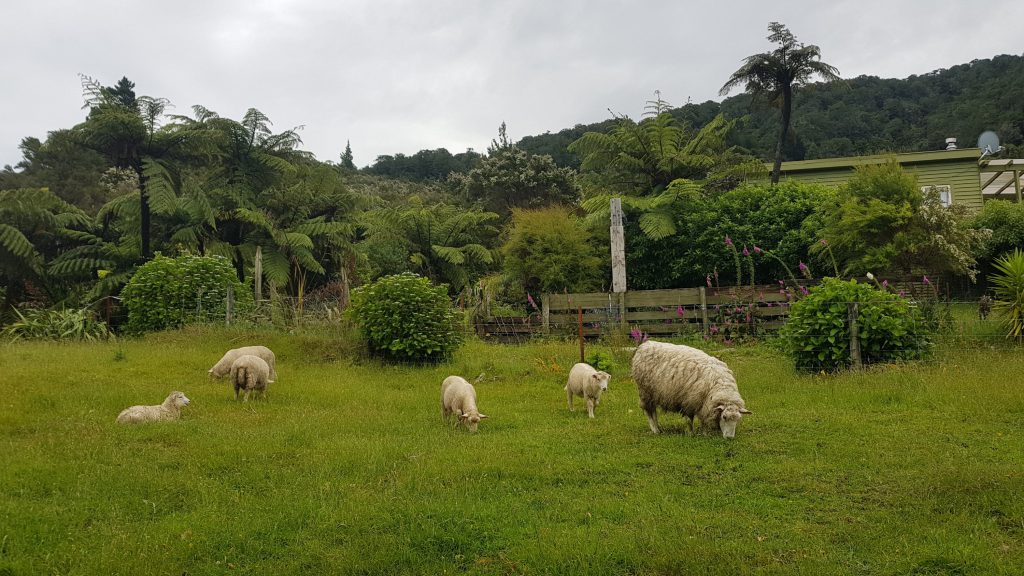 There was the odd boat bringing people into the area. The boats also stop at the various lodges and resorts and transport people's luggage between places if you pay for that option, like we did in February.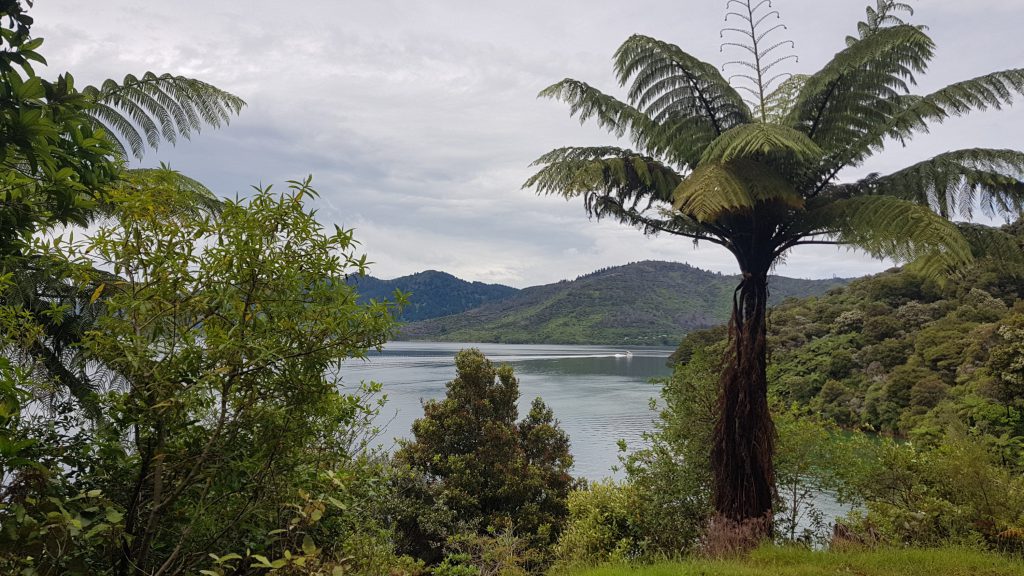 Another thing I don't remember from February was any obstacles to avoid, but there were a few of them today.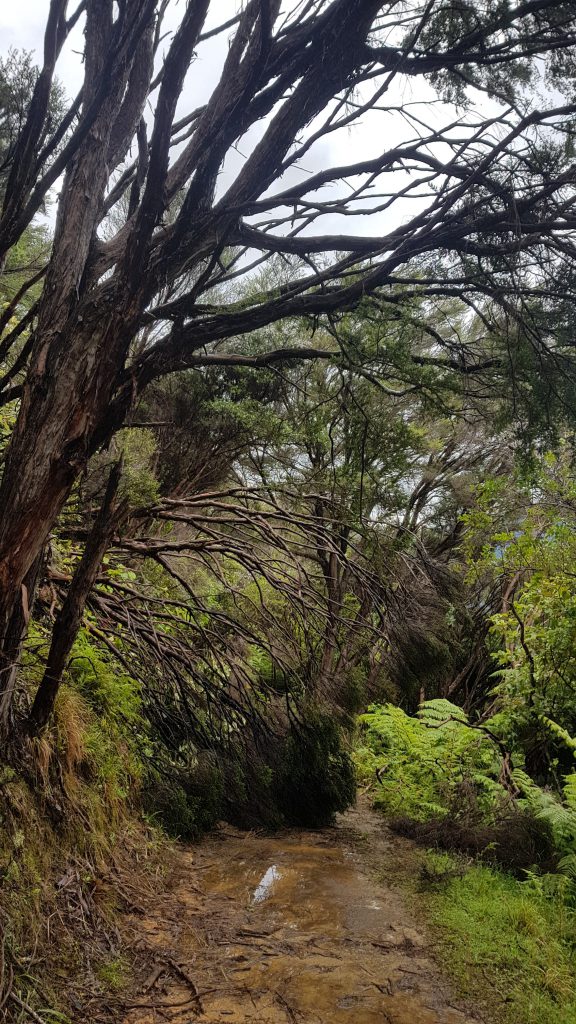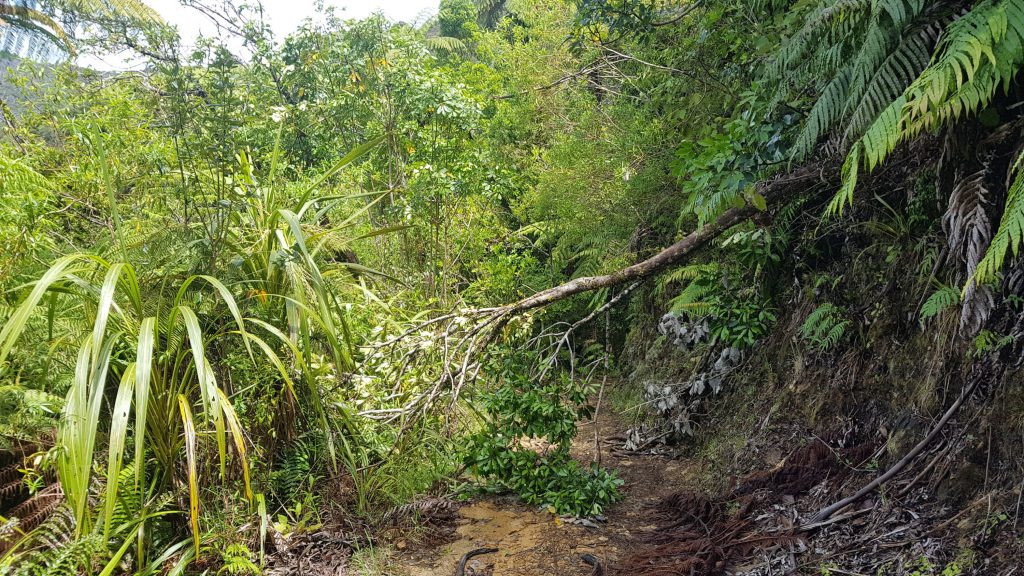 There are lots of picnic tables along here, almost always with nice views. I recognized most of them from February because back then we stopped at almost every single one. This time though, I skipped right past most of them.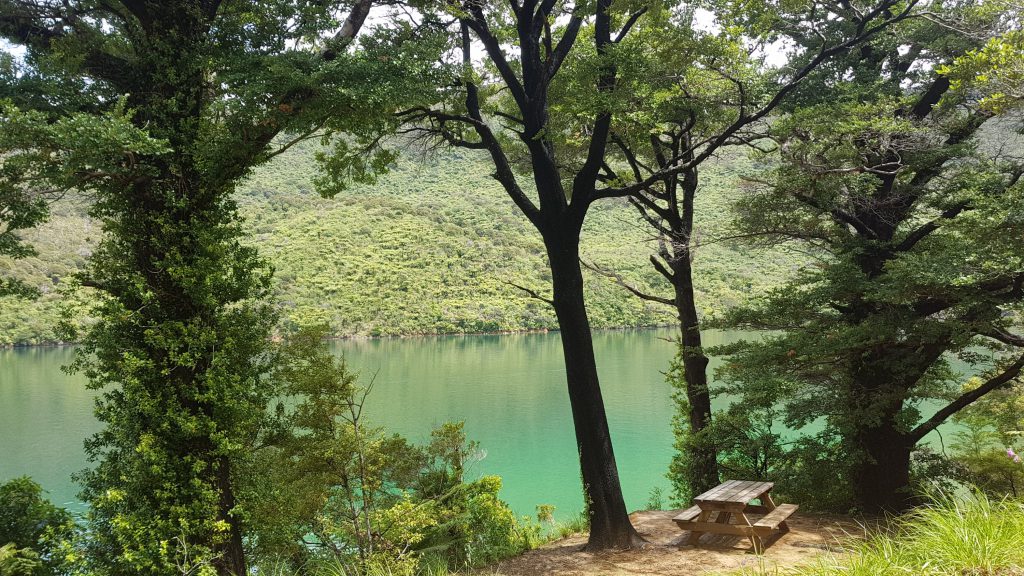 Once you get to the Punga Cove turnoff, you can go this way: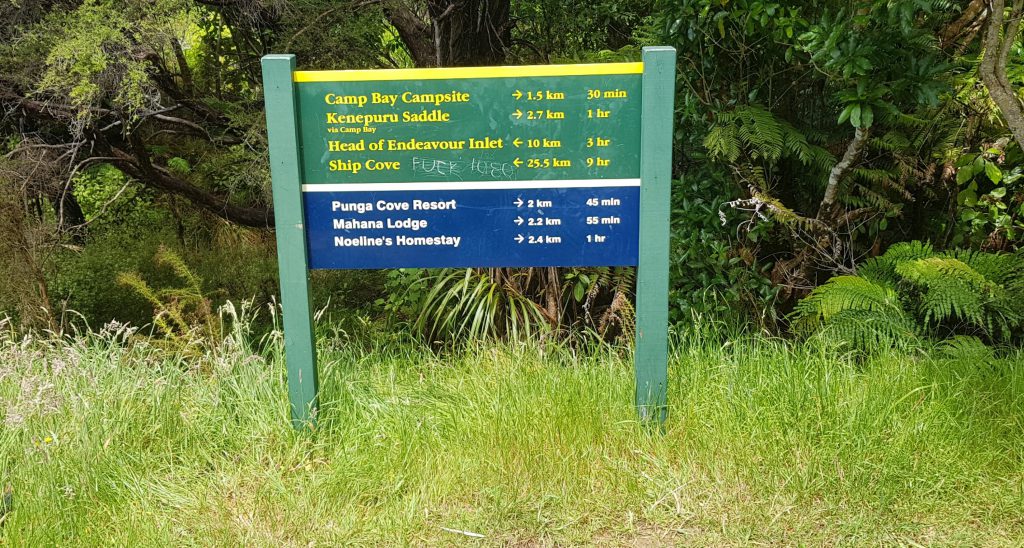 Or this way, which is the actual Te Araroa: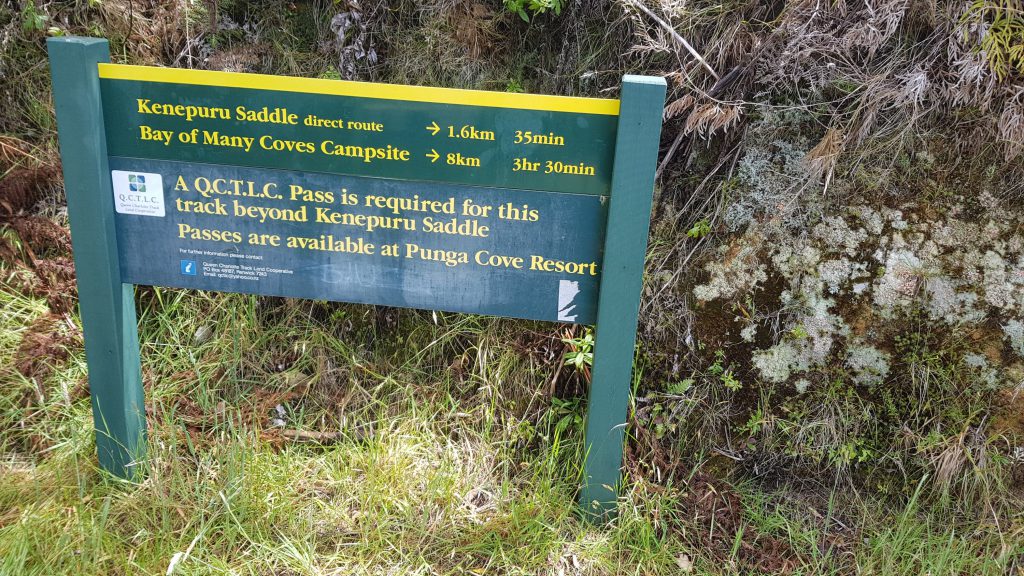 In February we detoured to Punga Cove and stayed there for a night, and then rejoined the trail further up. However if I did that here, I would be skipping part of the trail and we can't have that.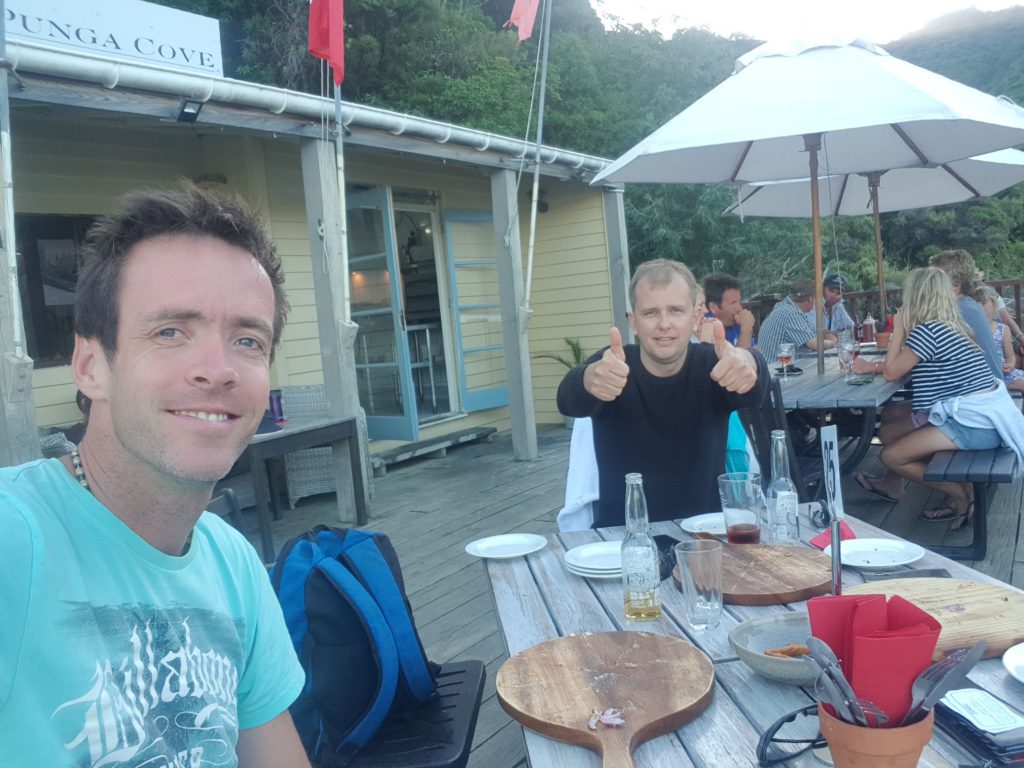 Punga Cove apparently do free fries for TA walkers but to get them I'd have to detour 45 minutes each way to avoid skipping any of the trail. I decided I would pass on the fries and kept on the trail.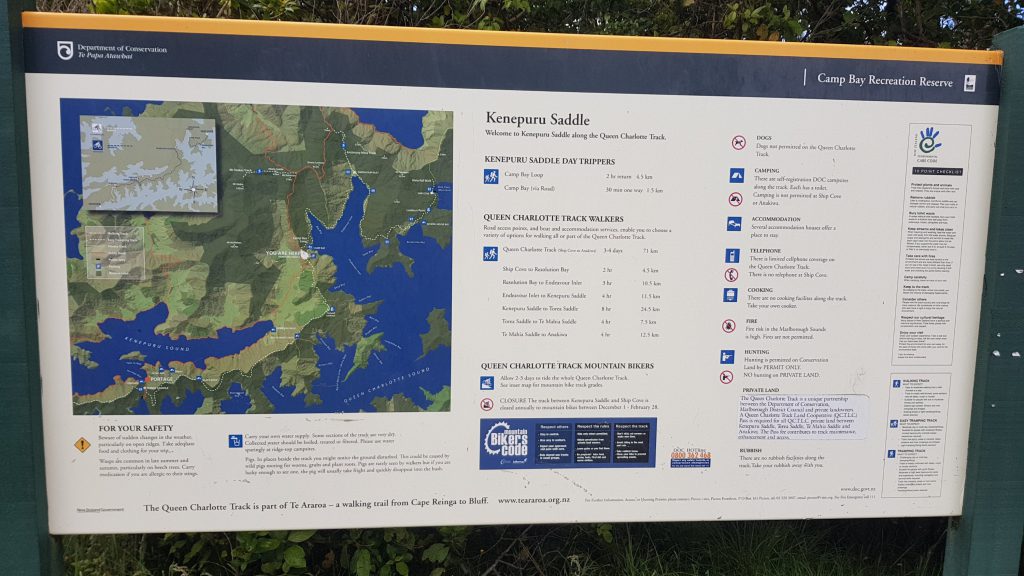 The trail goes up a hill, and then not long after you cross a road you find this shelter: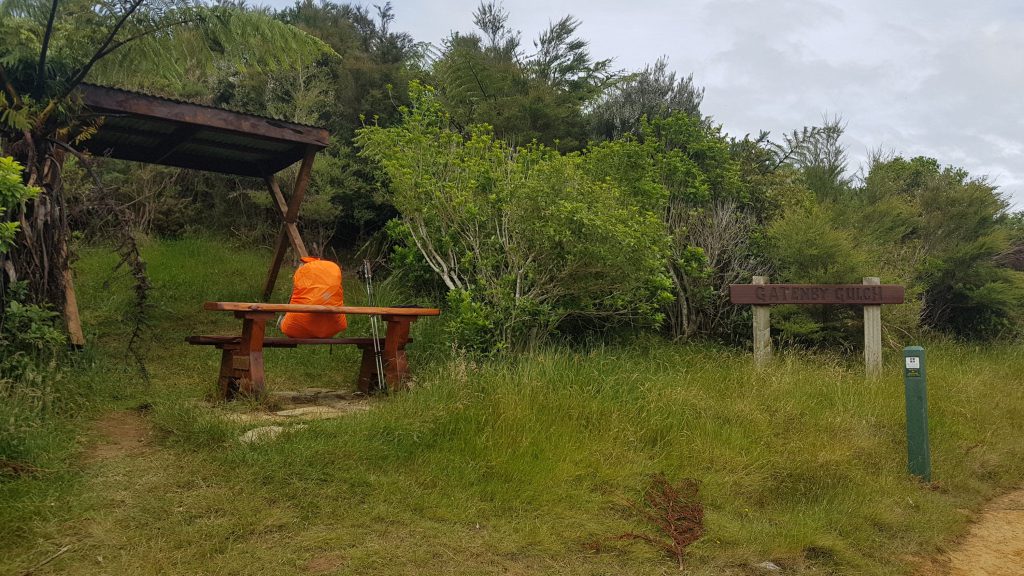 With this view: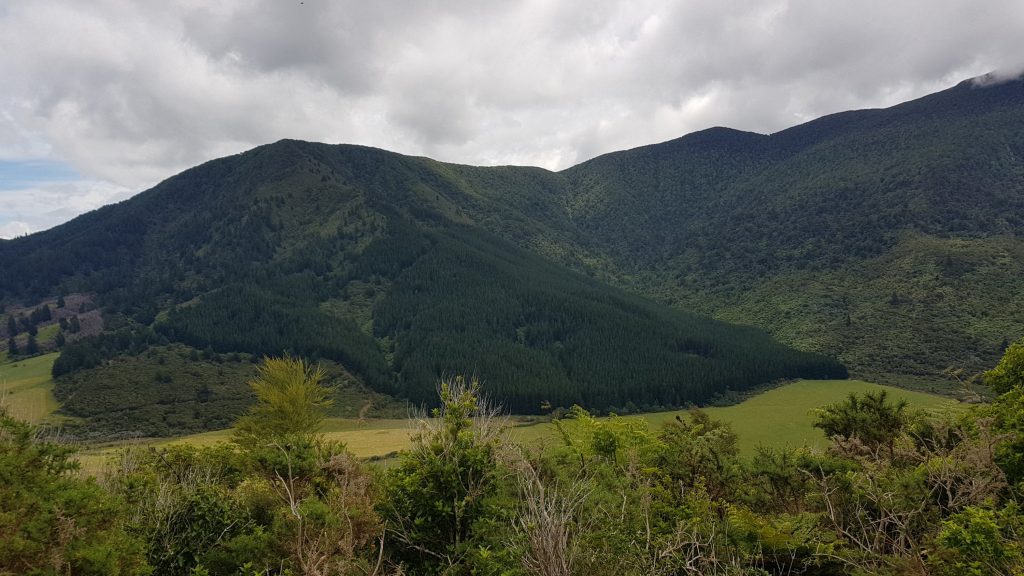 In February this table was crawling with weka, all wanting a bit of food. Today there were none, just a solitary black fly that wouldn't leave me alone, and a bee that flew right into my food bag. I'm glad I saw it fly in so I could coax it out again, and I didn't end up packing it away into my pack.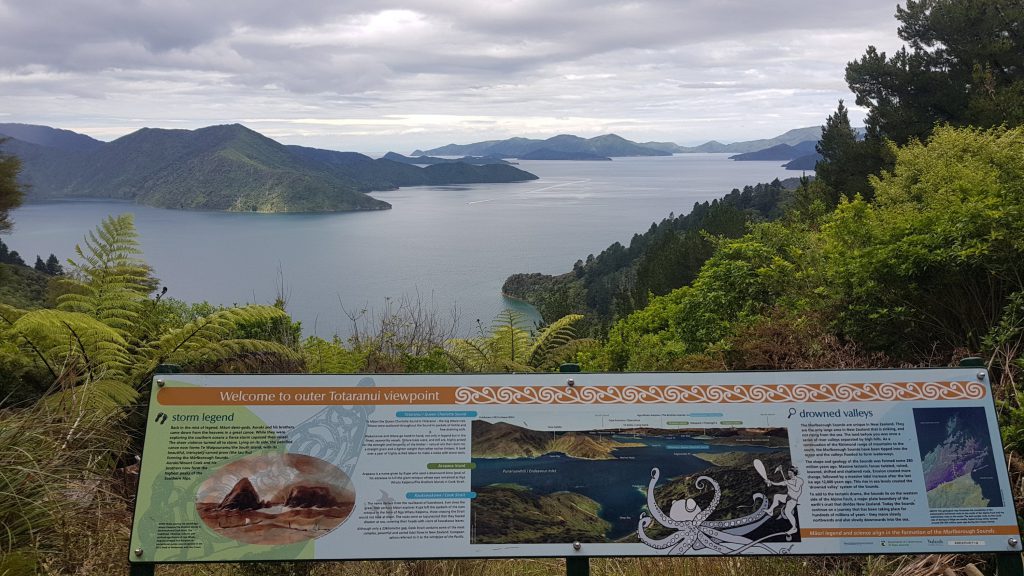 From this point on you have to have the QCTLC (Queen Charlotte Track Land Cooperative) pass, because it's private land. Most people would get the 5 day pass because the only other option would be to get the 1 day pass and from here to Anakiwa in 1 day is a big ask unless you're on a bike. It costs $25 and you buy it from Beachcomber when you buy your boat ticket. It's the only part of the whole TA that isn't free to walk down.
At least all the homemade signs seem to suggest that the private landowners welcome us here. Well they would, wouldn't they, if everyone that comes through pays them $25.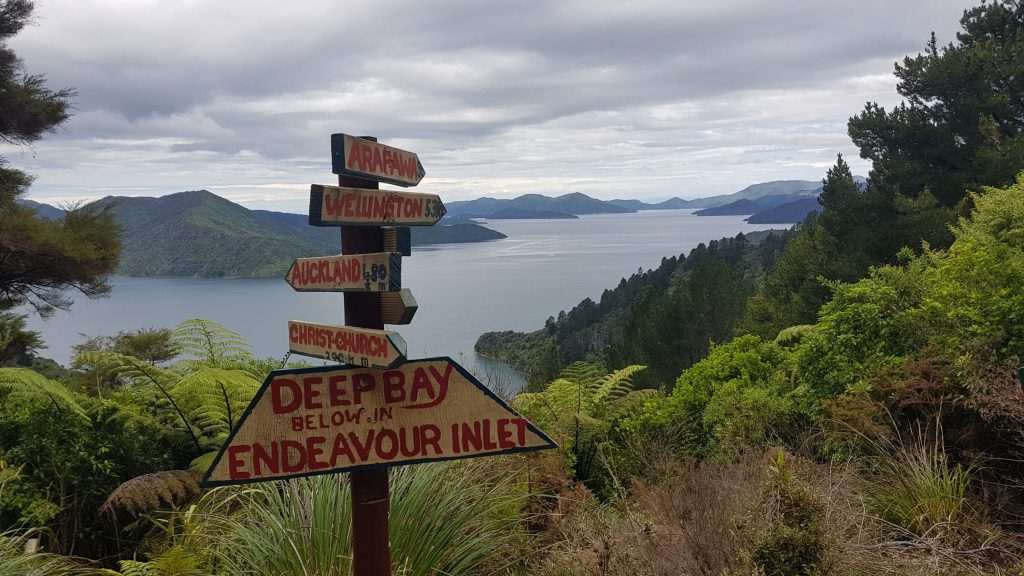 The last half of the walk was along a ridgeline instead of along the coast. That meant you could see the Kenepuru Sound to the right.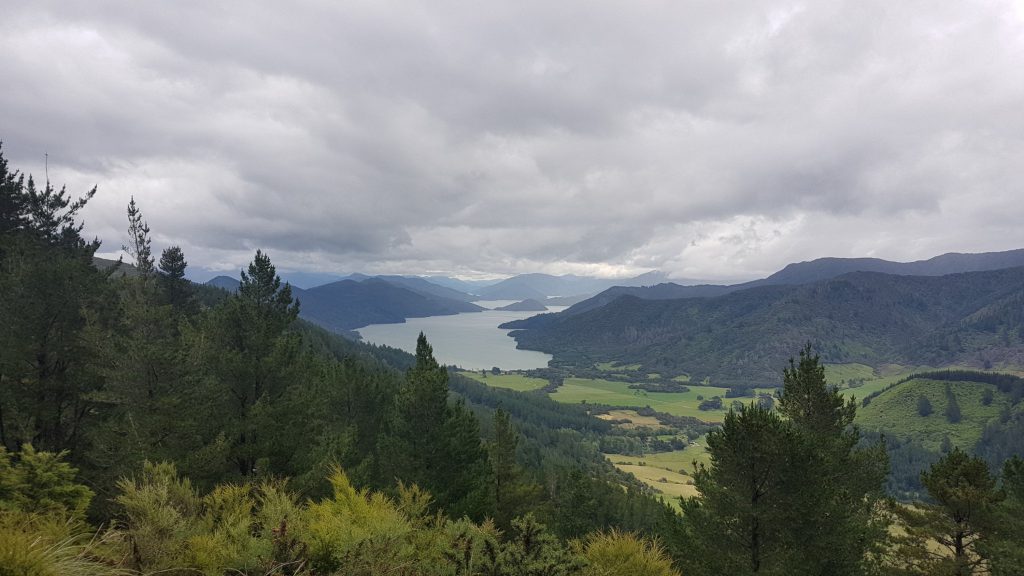 To get right up high you can take the detour to Eatwell's Lookout. I didn't do that today, as I already did it in February.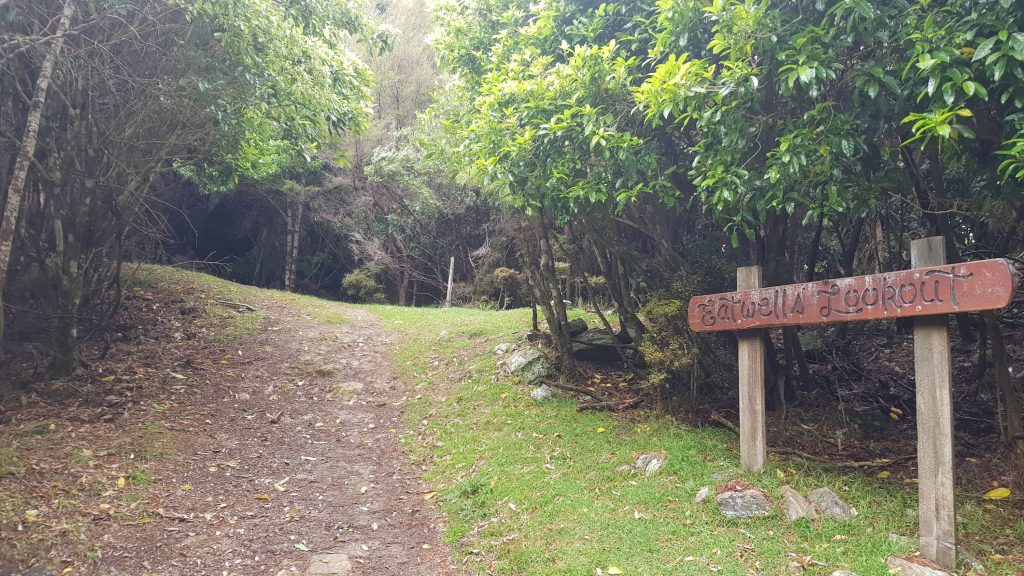 Here's a photo that was taken then…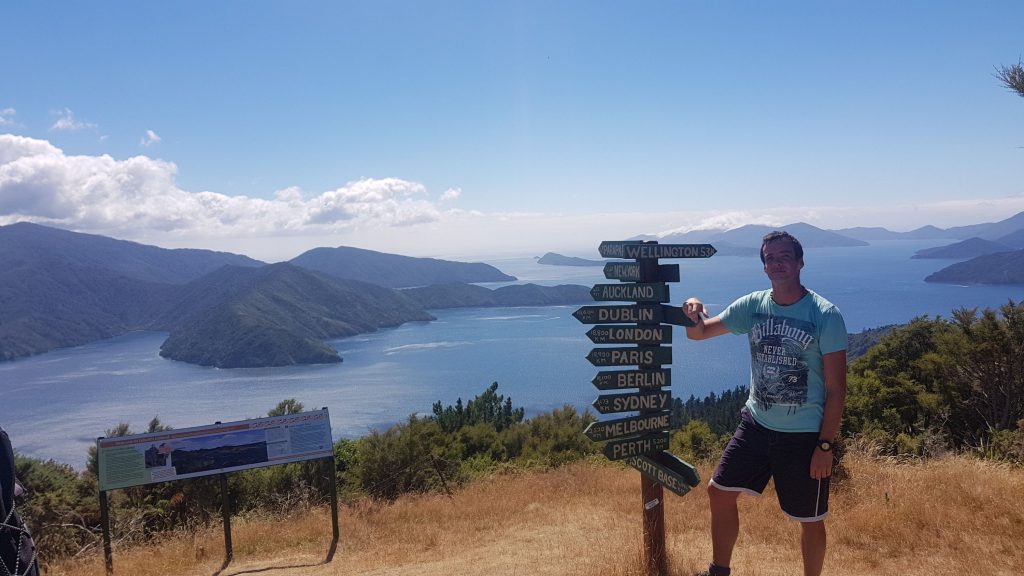 It started to rain again about 15km in. At first I didn't really notice because I was walking through pine forest.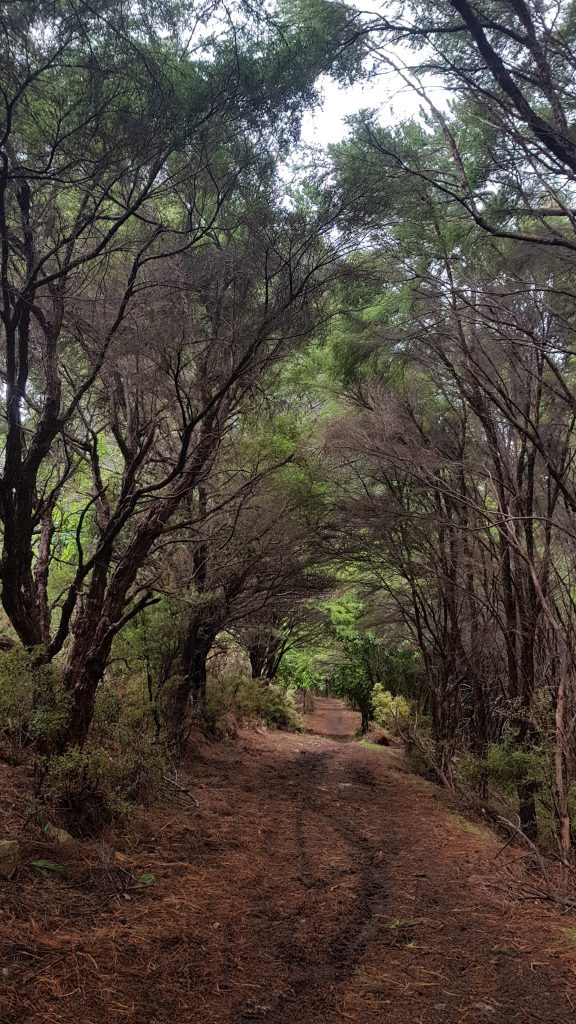 But once I was out in the clearing I had to put the rain jacket back on. And of course the rain has to start at the bottom of a big uphill section. Looks like I'm going to arrive at camp drenched and sweaty again!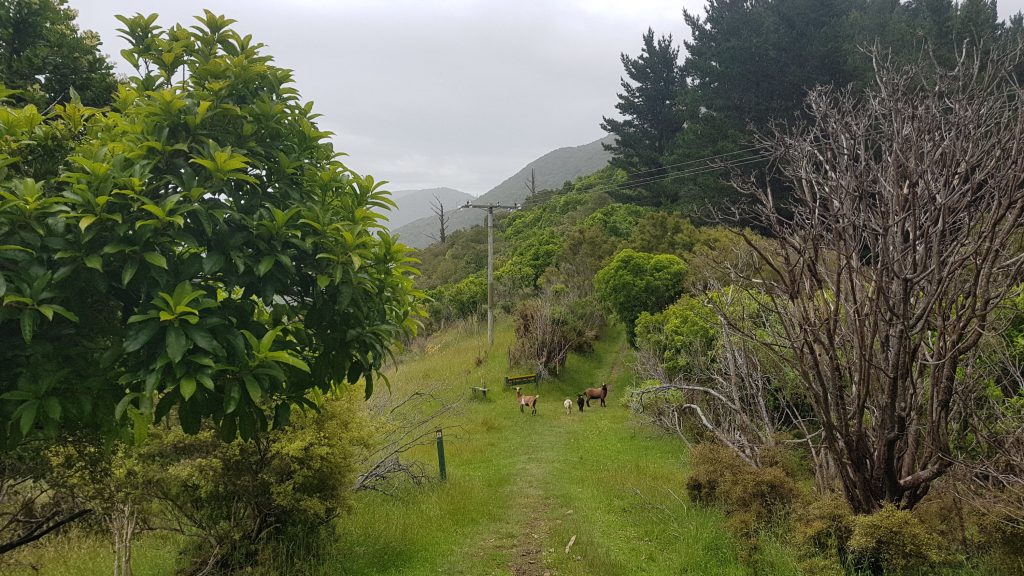 Here's the Bay of Many Coves campsite – very different to the resort. There were both weka and goats here.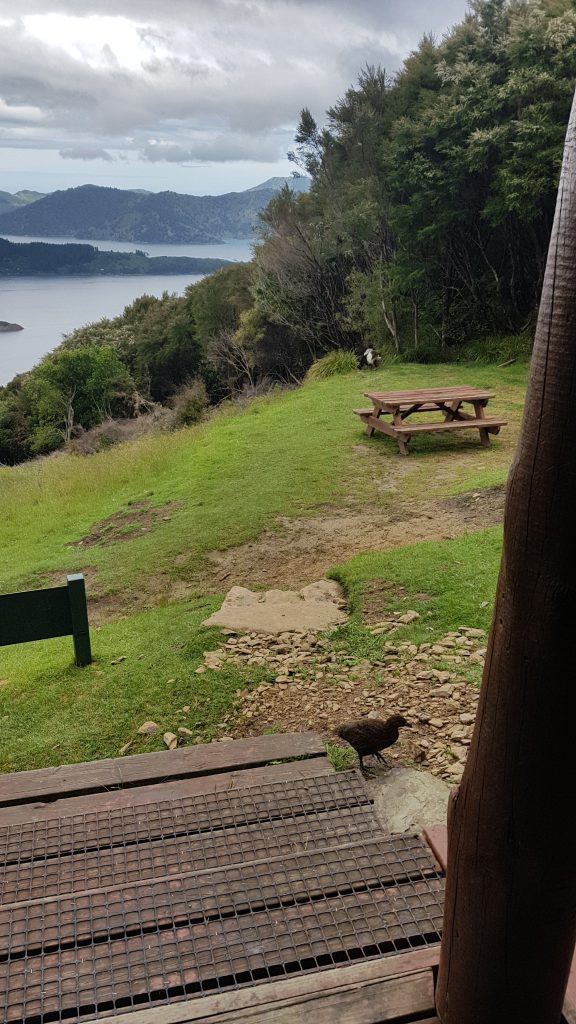 There was an intentions book here but very few people had written in it. I think that's for two reasons – 1. there was no pen and 2. the North Island campsites don't have intentions books so people don't expect them.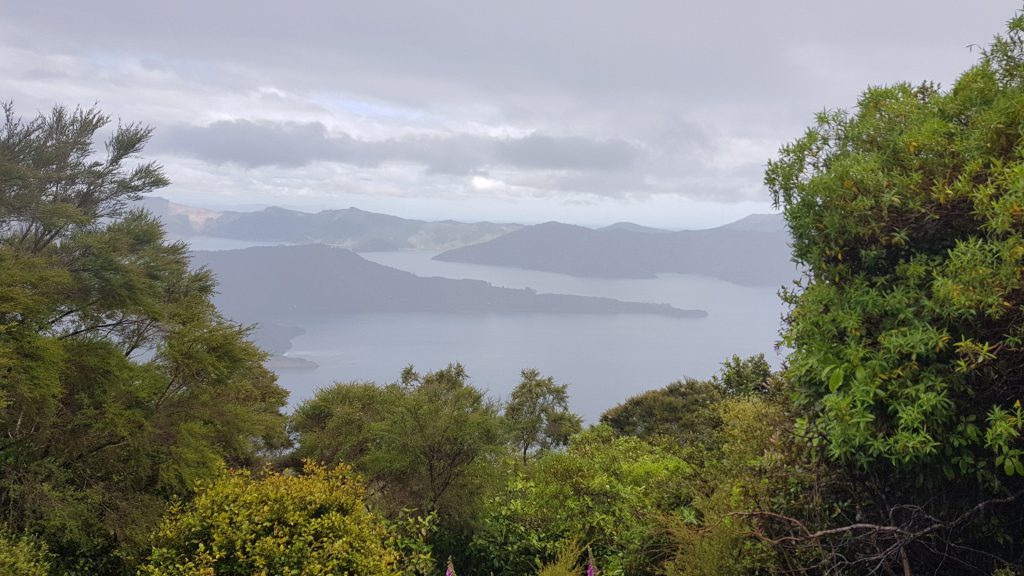 Just after the campsite is the highest point on the entire Queen Charlotte Track, at 465m. I don't think it had a name or any point marking it or anything – this was just according to Guthook. Although there is the path you can take to the Bay of Many Coves resort.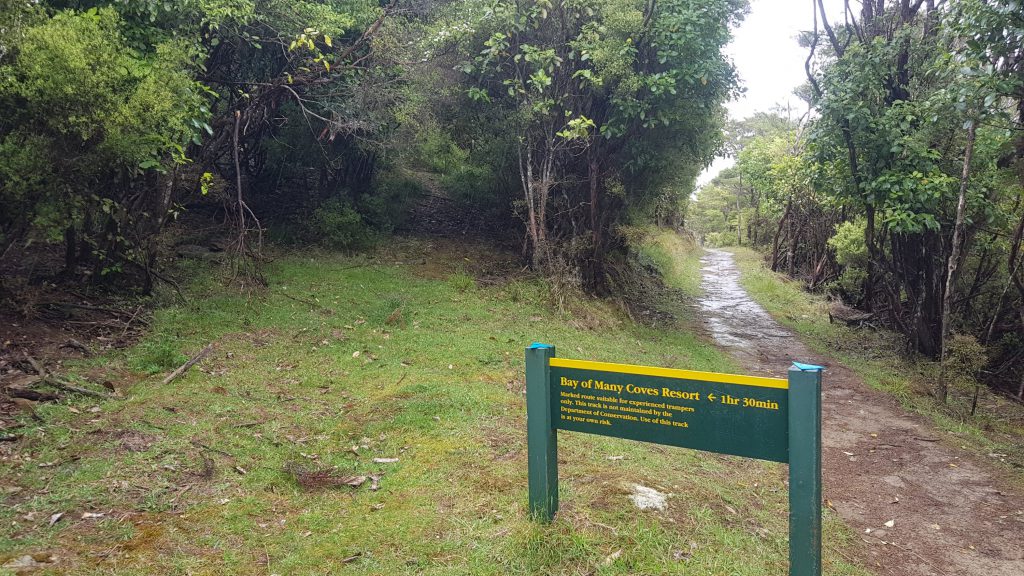 It's quite a challenging track for tourists – I'd say a moderate track for TA walkers. But if you're not staying at the resort then there's no reason to venture down there.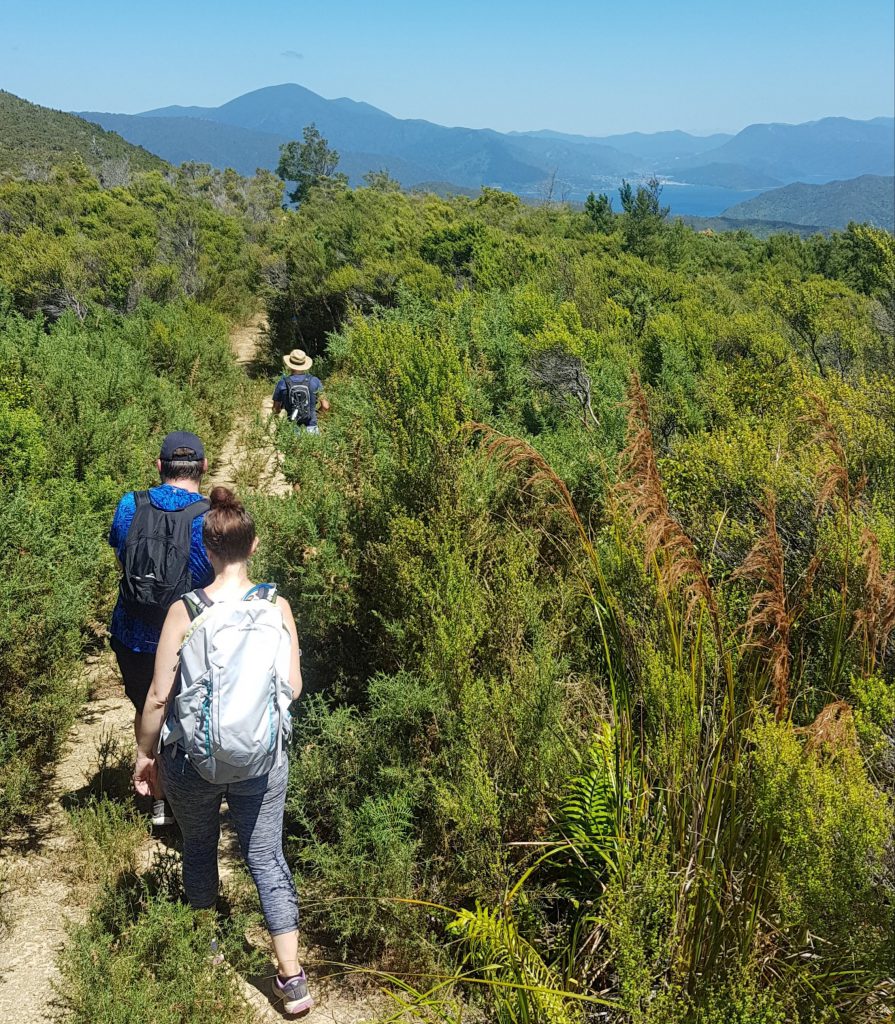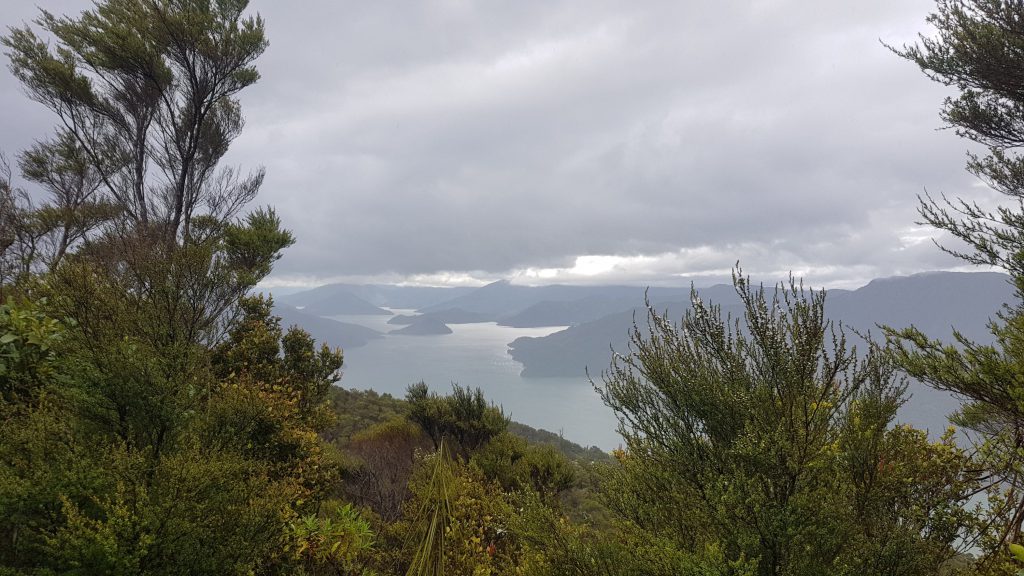 Another little settlement…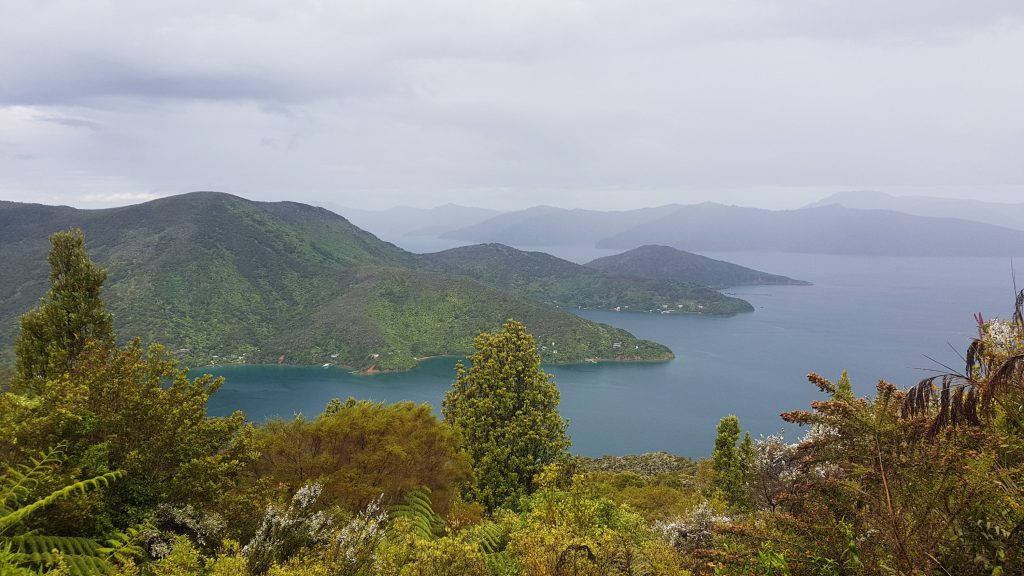 And at the 22km mark you could see Picton.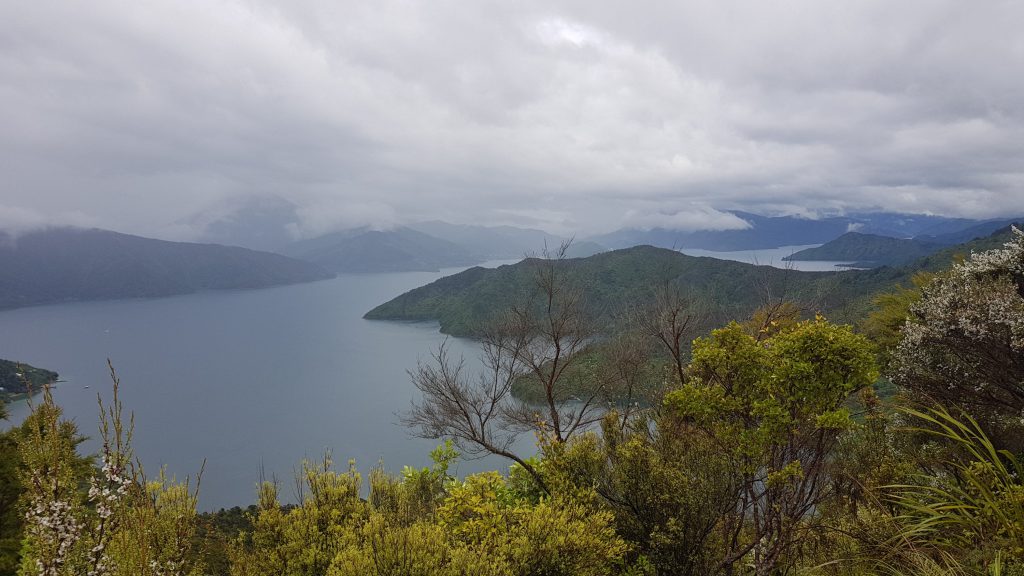 This bench is at Blackrock Station. This spot holds particular sentimental value to me because it is the bench where our group in February talked to Miguel who was the first person we had talked to doing the TA, who was with a couple of others. I remember it specifically because I wanted to talk to them about the TA more but there was a girl at the bench smoking and I didn't want to hang around the smoke, so I retreated and had my lunch roughly where I took this photo from.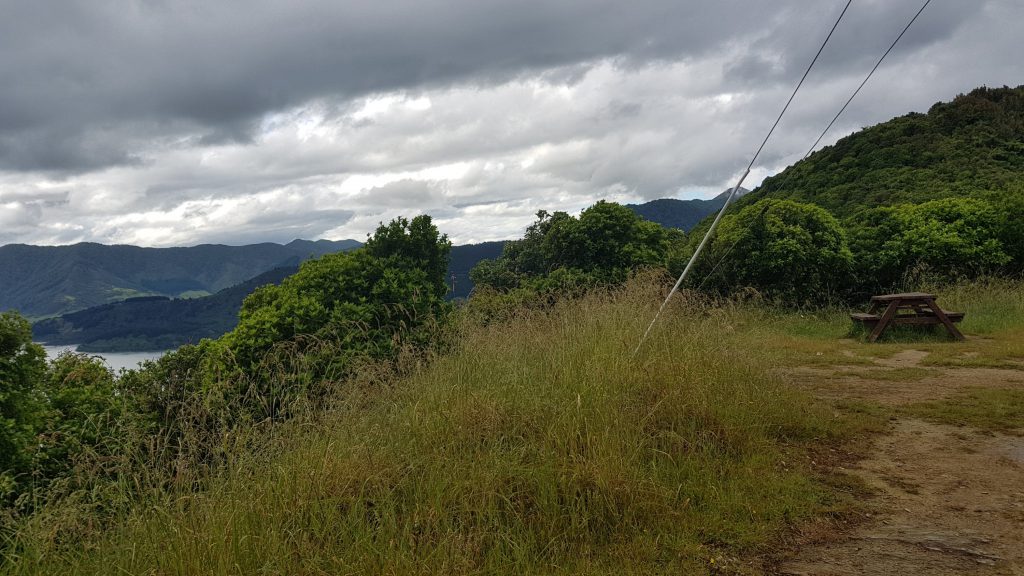 I saw the Howick College guys at the Blackrock campsite at 27km. I had a chat to them, they're a cool bunch of kids. But they took up most of the space there so I kept on going. And just as I left them it started to rain… again not too hard.
A couple of the girls seemed convinced that the town we could see here from the track was Wellington – it was Picton as in the picture above.
Early in the day I wondered if I could make it from Furneaux to Davies Bay campsite, however that's 50km and would have required an early start. Since I was waiting out the rain early this morning there was no chance of making that. I wasn't going to stay at Blackrock campsite with all the schoolkids so I kept on walking. The only other choices are Cowshed Bay campsite at Portage or Mistletoe campsite which is a private campsite and might not appreciate me arriving late. The good thing about going to Cowshed Bay is that next to it is the Portage Resort where I could get a nice dinner.
Just before the road to Portage I passed a big group of kids just hanging out on the track in the rain. I asked what they were doing and they said they just stopped for a break. They're hoping to get to Anakiwa tonight. Given that it was 7:15pm and Anakiwa is 23km away, good luck with that! Although they were from the Outward Bound centre and I think they have a base in Anakiwa, so perhaps they're planning on walking through the night. It's the sort of track where you could if you wanted to.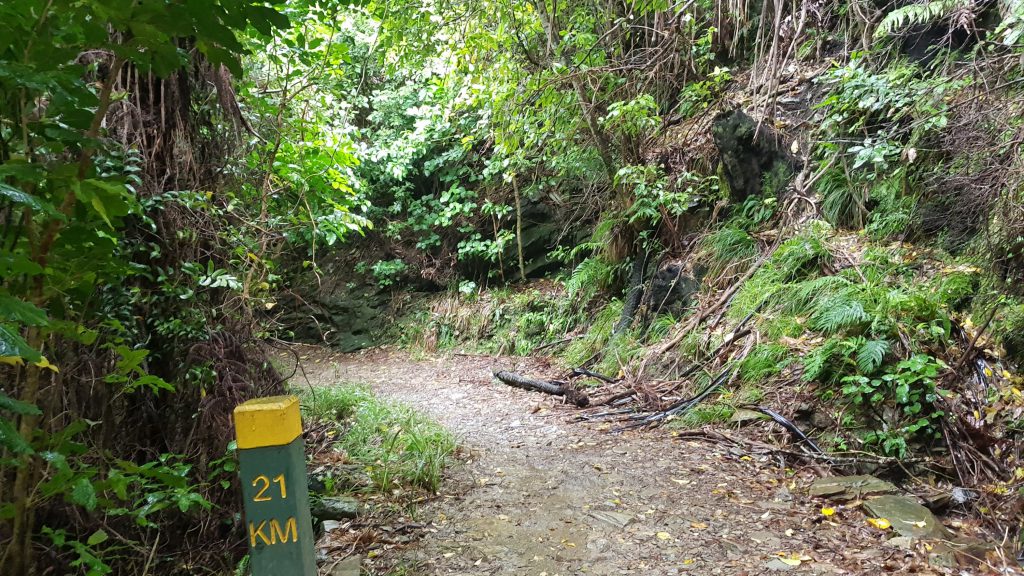 At the road to Portage, I got ready to walk down the road to the Cowshed Bay Campsite but then I saw it has its own dedicated walkway. Luxurious!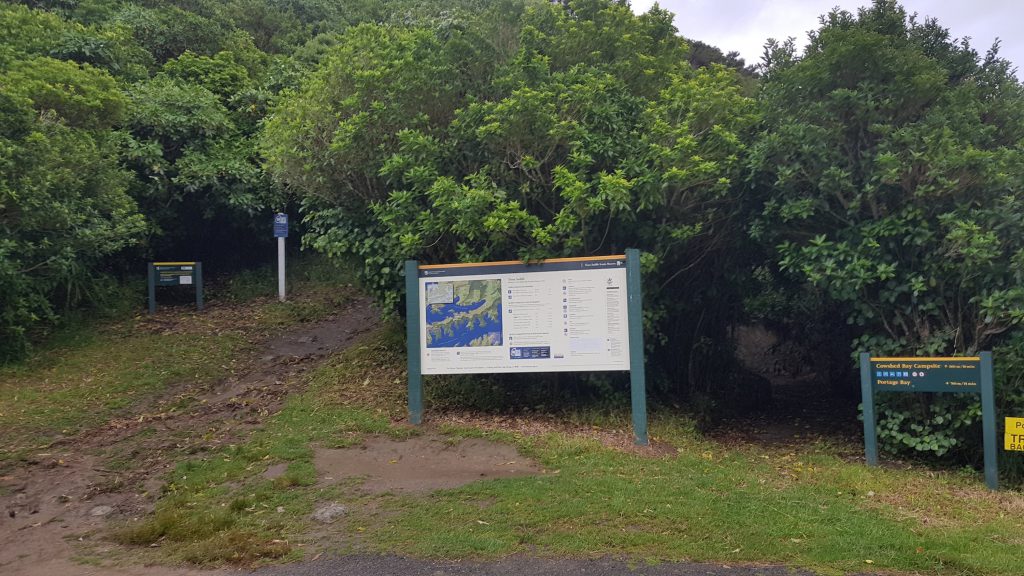 It was the same as others, clay and slippery and downhill, but it lead directly into the campsite, which was nice.
I decided not to go to the Portage Resort to try and get dinner because it was still raining and I would need to set up my tent quickly during the first break in the rain. So I found the campsite's shelter and in there were two new people – they were Eric from the USA and Rowan from Waiheke Island. Eric is doing different popular walks around NZ and Rowan is a TA hiker who is only doing the South Island, so he's only just started. I was surprised he was a TA hiker – he has some interesting luxuries with him like a small chess set and a ukelele, as well as a Hawaiian shirt. Although he did play us a song and then make us some tea. He seems like a cool guy.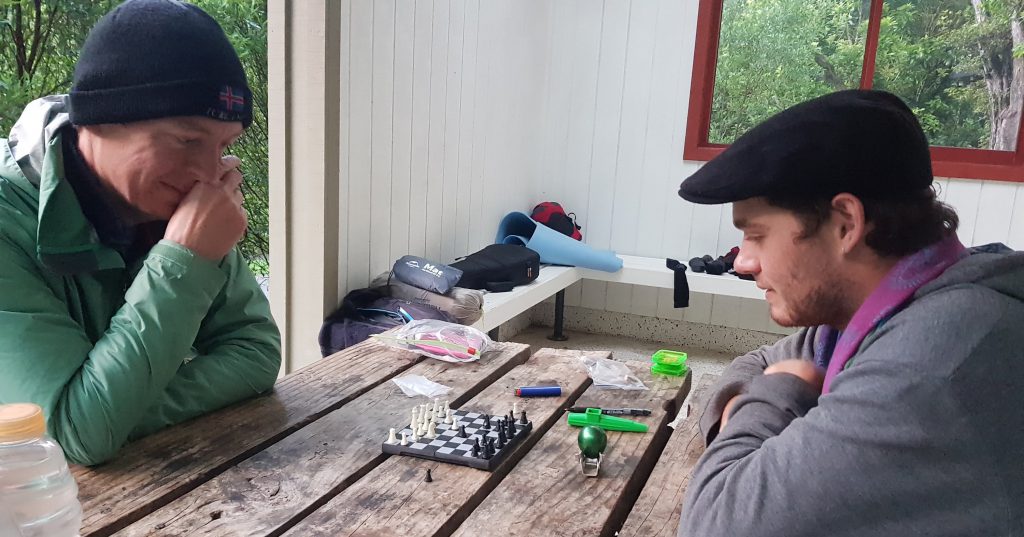 The rain stopped finally about 8:45pm so I quickly went over and found the least wet part of grass to set up the tent on (which was still pretty wet). By the time I got it set up it was dark and the other two had gone to bed. I wonder if they're early risers.
There are weka around here too so I hope they don't try and get into the tent looking for food. Eric said that further south when you start seeing Kea that these birds will rip holes in your tent.
Tomorrow the camping options are Anakiwa which is 21km from here, Linkwater at 25km, Havelock at 37km and then nothing until Pelorus Bridge at 61km. I don't want to try and predict which will be the winner but I have a pretty good idea.
Lying in my bed tonight it feels cold and wet. Hopefully it is actually just cold. Surely the water from the saturated ground can't get through the groundsheet, and the base of the tent, and the airbed, and the sleeping bag, and the silk liner. It'll be interesting to see what it all looks like in the morning when I pack up. I'm surrounded by hills and trees so there won't be any sun in the morning.
Today's walk on the map (blue = Te Araroa, red = today's walk):