Date: 20 December
Trail covered: 20.9km (kms 1782.6 to 1803.5)
Weather: wonderful once the overnight rain eventually stopped
After all the rain and wind overnight, I think I actually did manage to get one hour of sleep… although if I'm honest I'm not actually sure. I think from about 5:30am to 6:30am. I definitely had that dazed and confused feeling that you get when you only get a couple of hours sleep.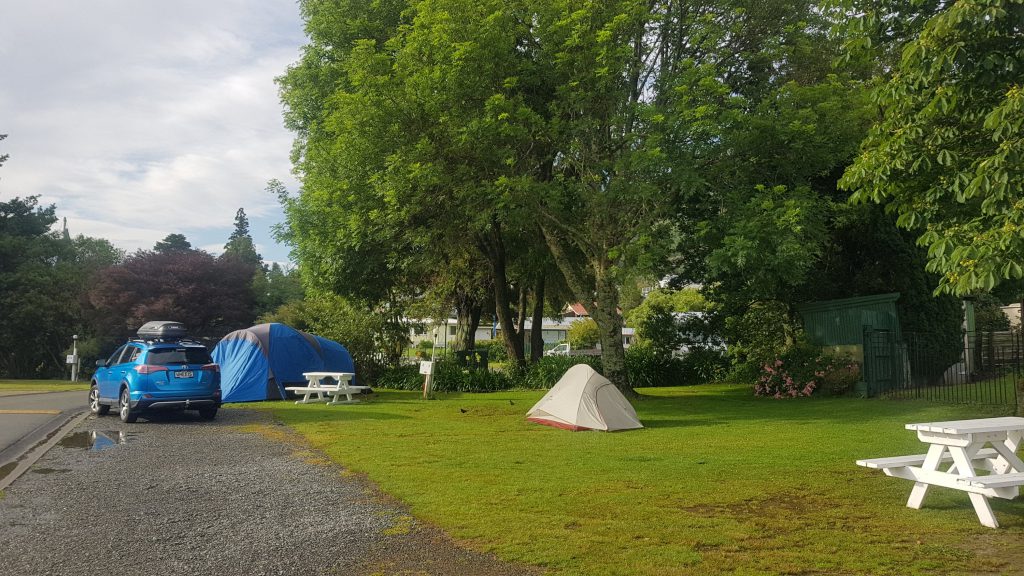 The tent was still standing. The ground all around and under the tent was very wet but other than some dampness that had come up through the floor of the tent, there was no water inside the tent at all and it was exactly how I set it up. That definitely scores NatureHike some brownie points. If I do a full on gear review at the end of this walk then this has definitely added a point or two to the rating for this tent.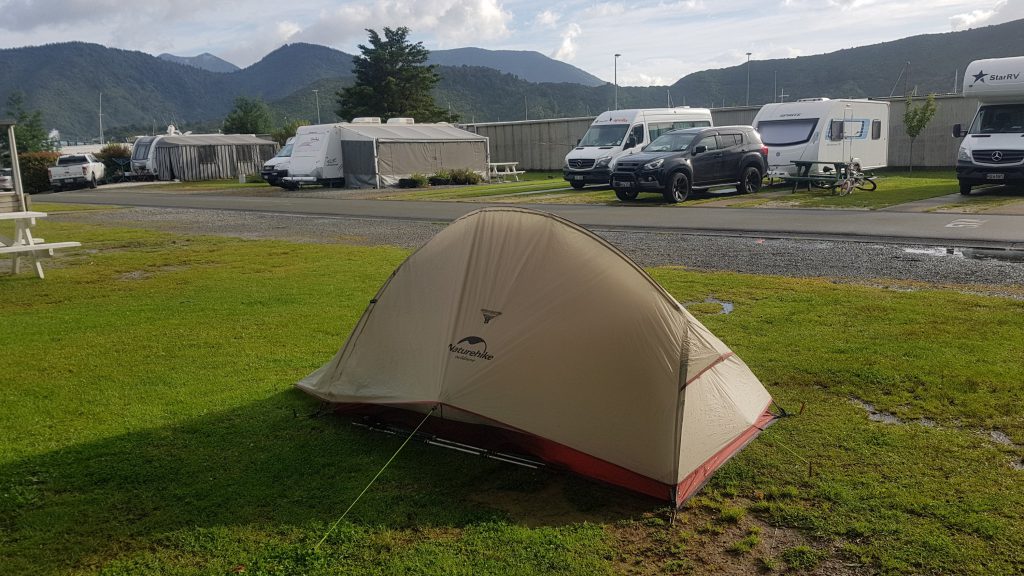 I remembered in my dazed and confused state that I'd bought a bus ticket from Pelorus Bridge to Blenheim and a flight from Blenheim to Auckland overnight. So my only job today is to make the 21km from here in Havelock to Pelorus Bridge by 3pm. Given that it is 14km of road walking and 7km of easy farm walk, it should be no problem at all. Great, that means I can take my time today.
First, coffee. I went to The Sneaky Beach and got coffee and a bacon buttie. The food was quite disappointing – the bacon was under-cooked and the toast was a bit soggy but the coffee was fantastic and that was mainly what I cared about. Despite getting only one hour of sleep, I felt surprisingly good after that coffee. Maybe I shouldn't have been so hasty to change my plans overnight.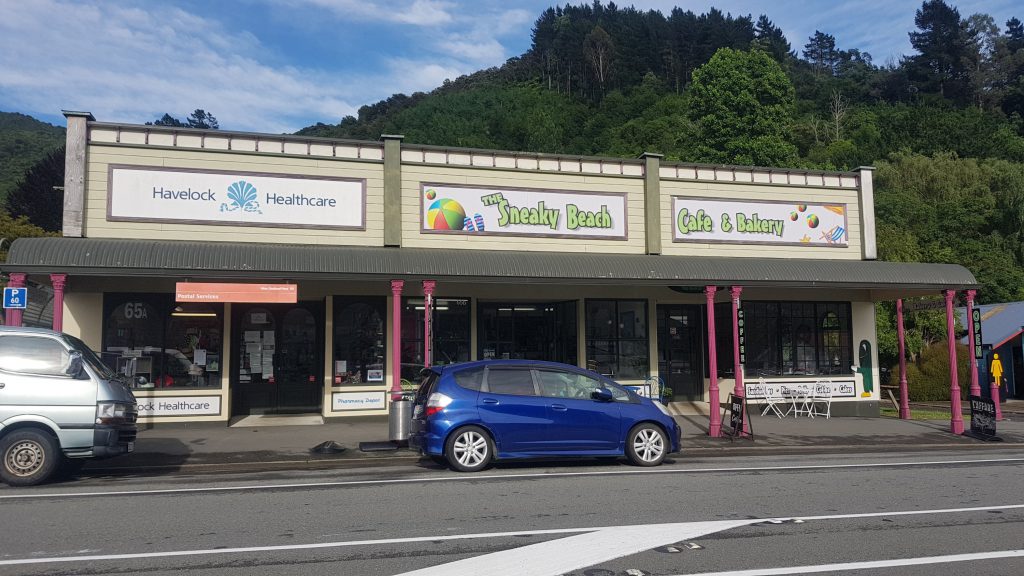 Talking to the waitress, she seemed shocked that I was walking anywhere today. "Don't you know there are thunderstorms and hail tonight?" she asked me. If I had any doubts about last night's decision to end the trail today, those doubts had all gone now.
It was about 9am when I left the cafe. And what followed next was precisely 14km of road walking.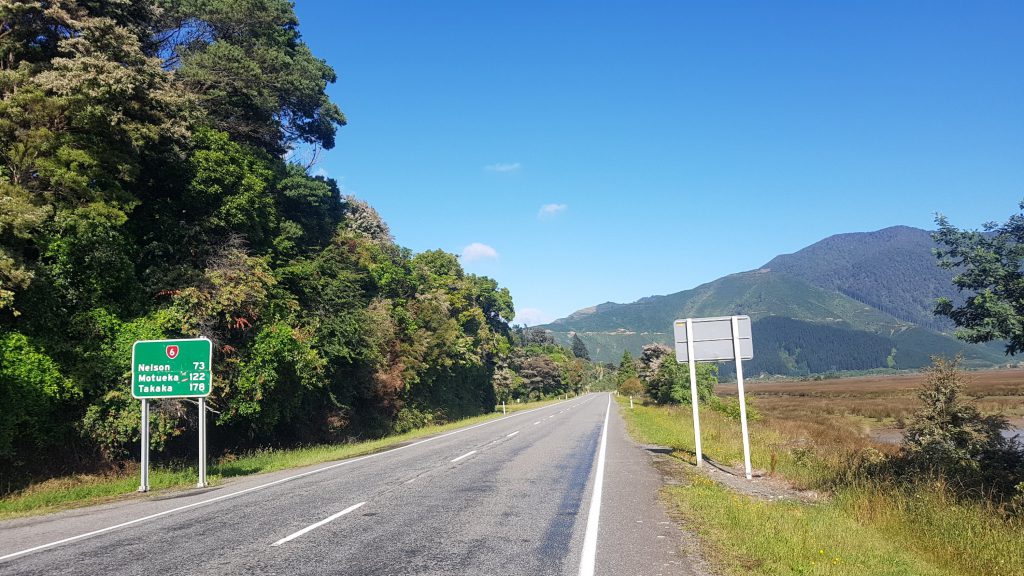 The first bit was walking down State Highway 6, but only for a few kilometers.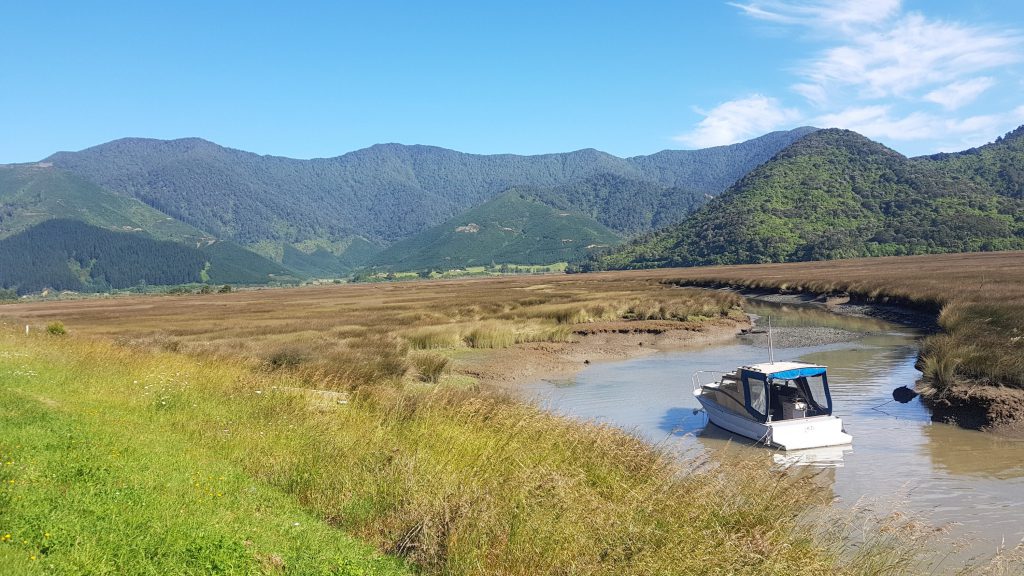 Then the rest of it was down this gravel road, heading towards the hills and then alongside them.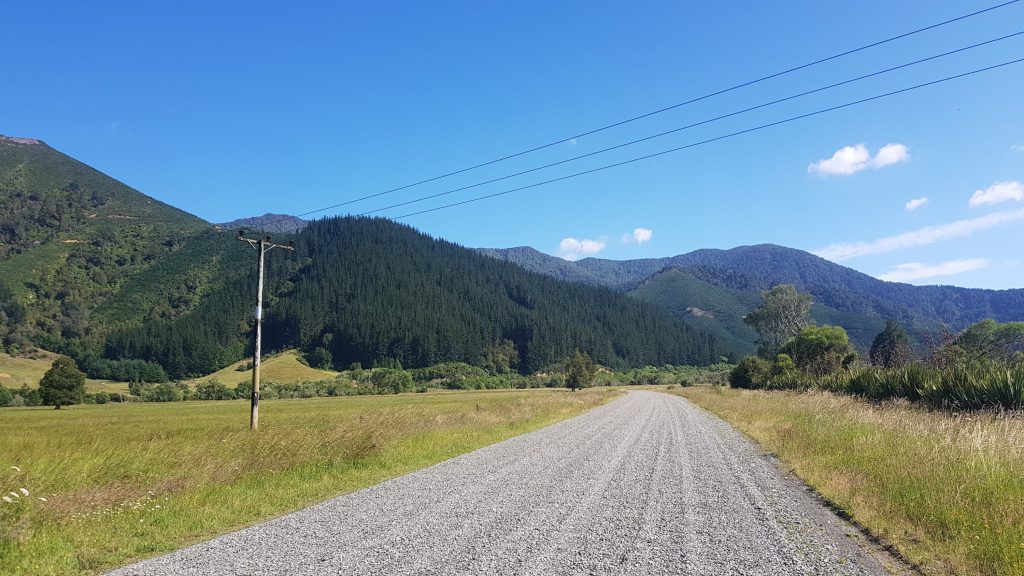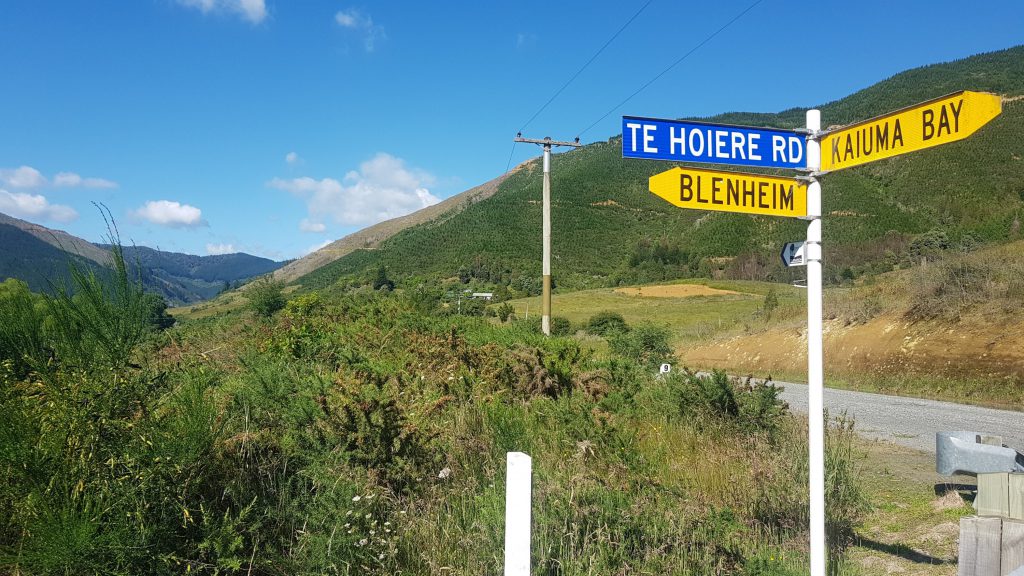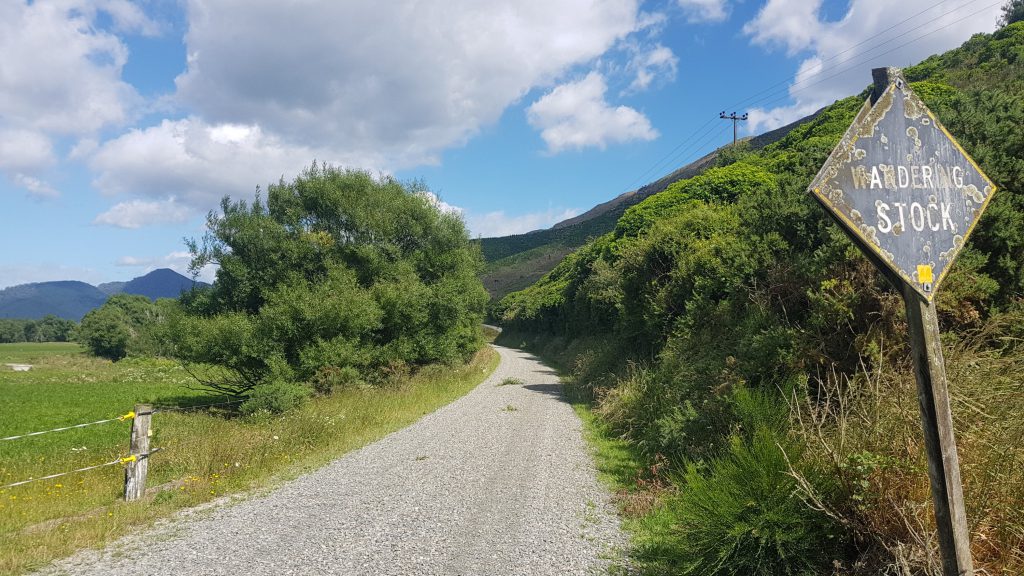 The rivers were flowing quite fast after all the rain.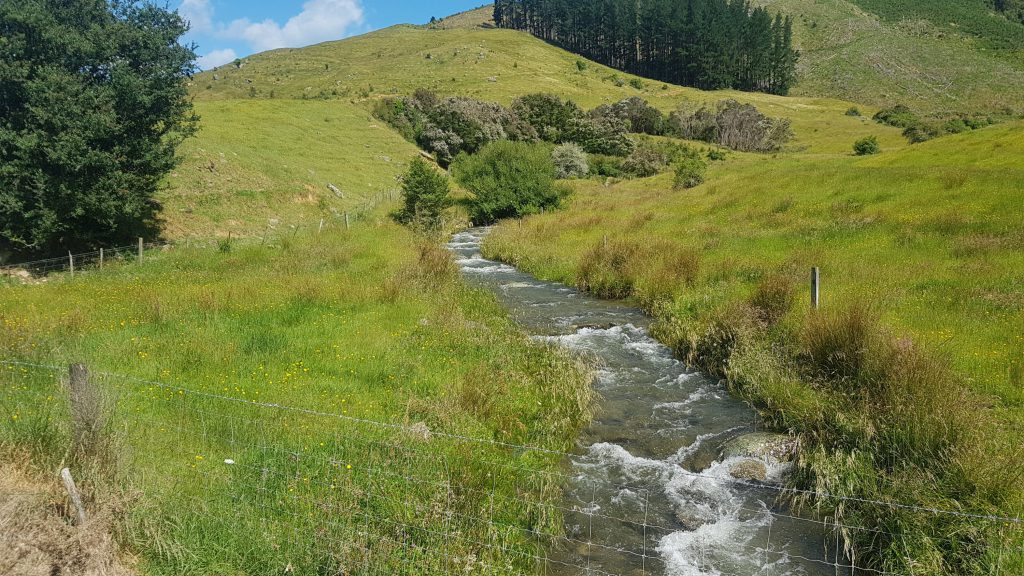 Here's my 11am picture – a not particularly interesting bridge.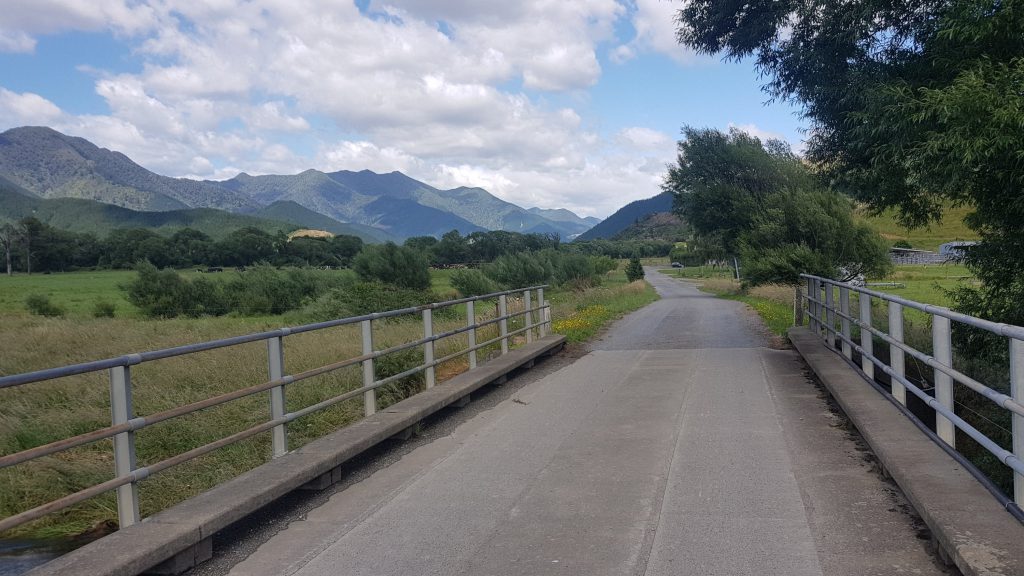 The rest of the track to Pelorus Bridge is across somebody's farm. It's got the type of sign that indicates it is set up specifically for Te Araroa.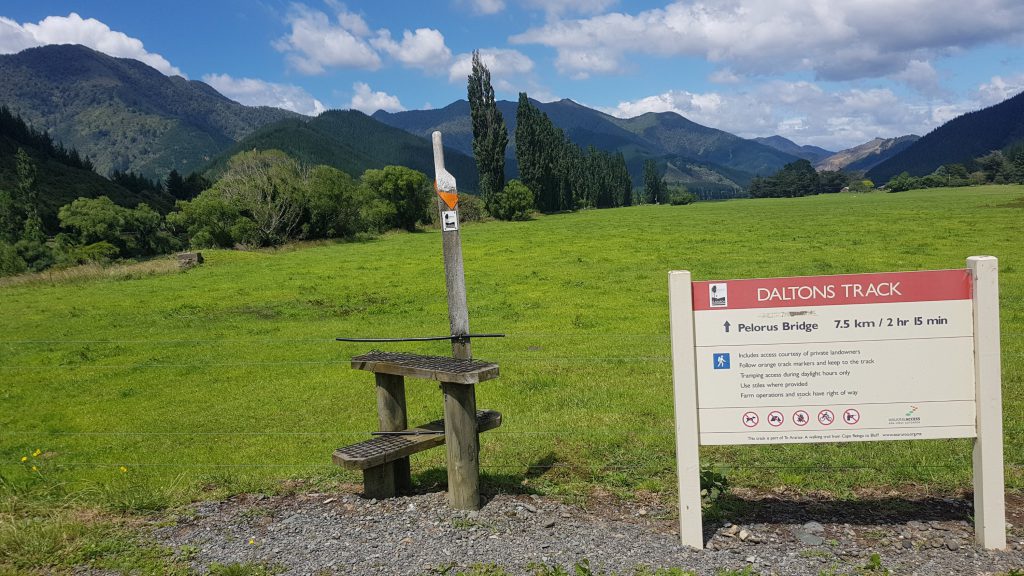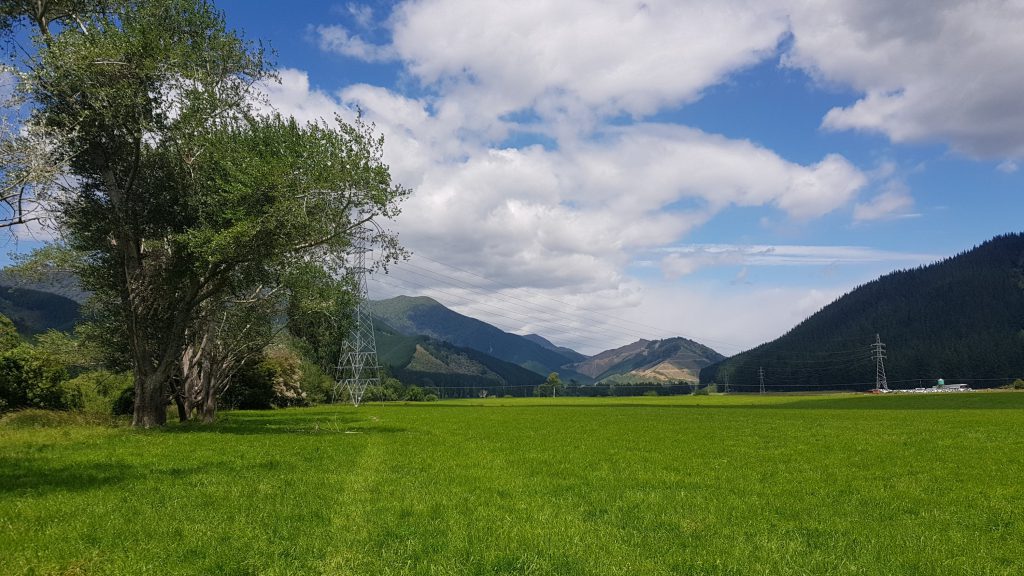 The most fun part of this section was getting across this stream by climbing across this log.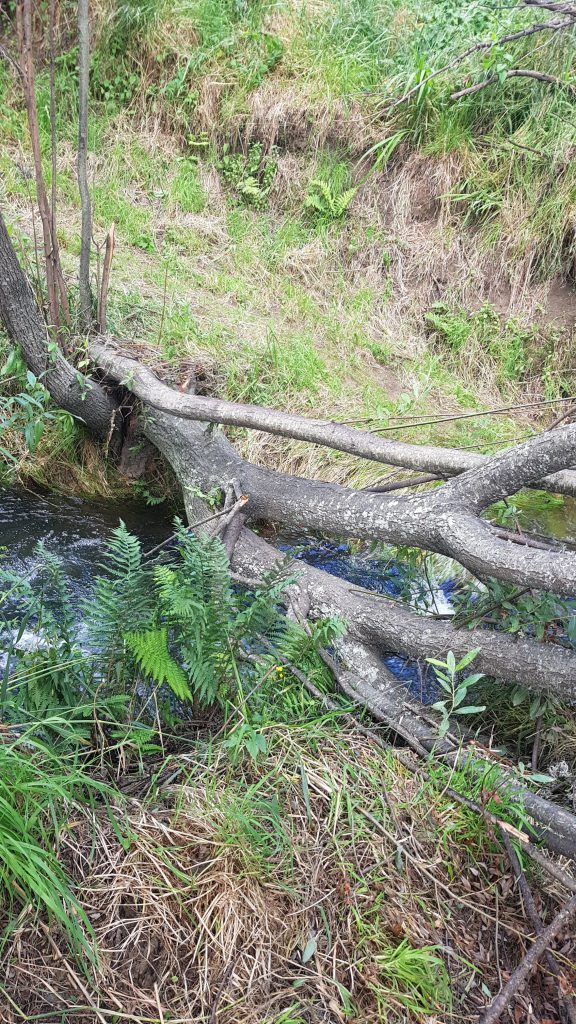 There were a few cows – I wonder if cows in the South Island are different to cows in the North Island? Seems not, they looked at me but didn't even move.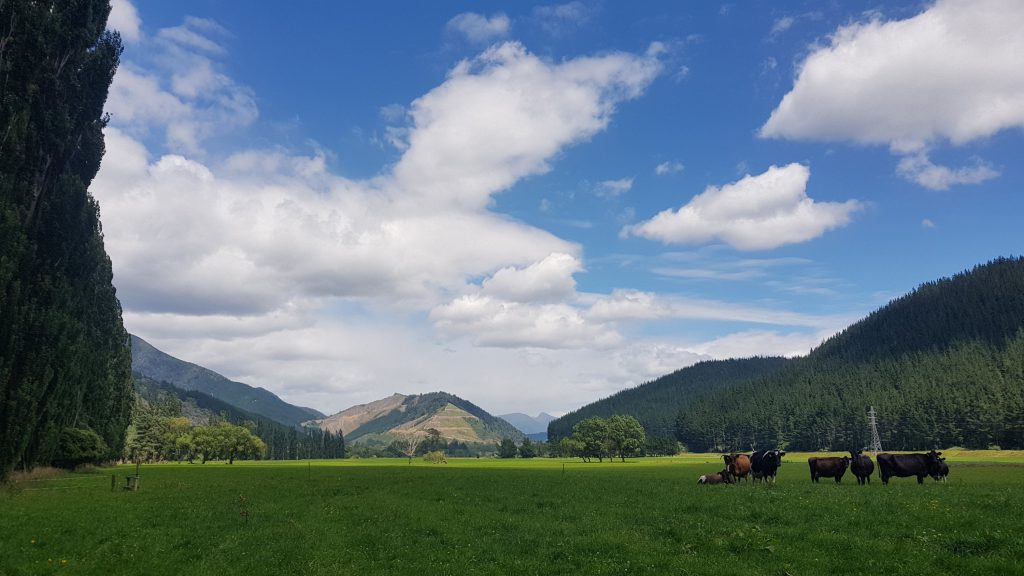 While walking the farm track, someone yelled out to me and I stopped and talked to them. It turned out to be Eric and Zoe that I met on the Hakarimatas just before Ngaruawahia, but I didn't recognise them at first. I felt bad – I guess that's what getting no sleep overnight does to you. Eric didn't recognise me either at first, I was clean shaven when we first met.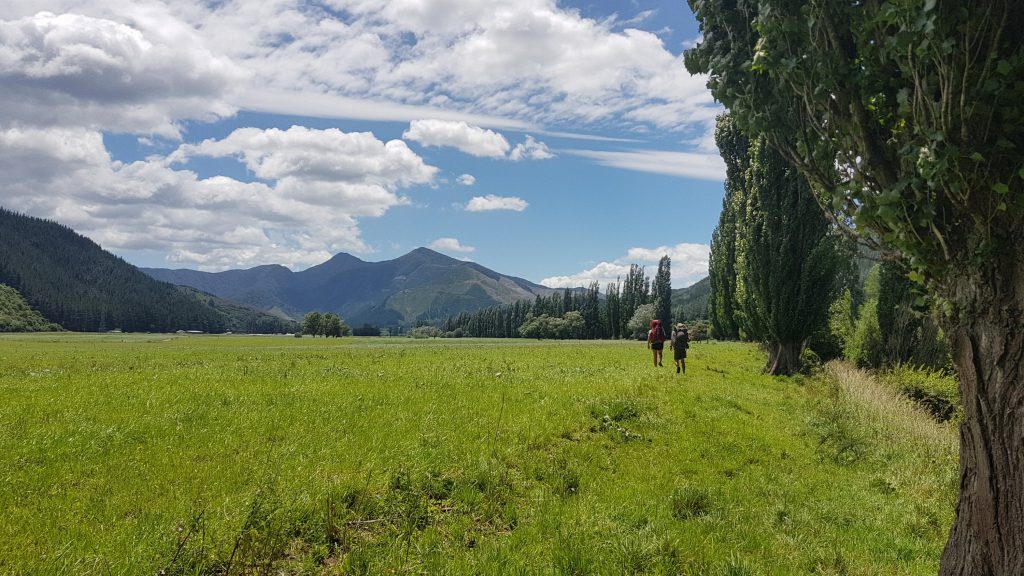 This stile comes into view after a while.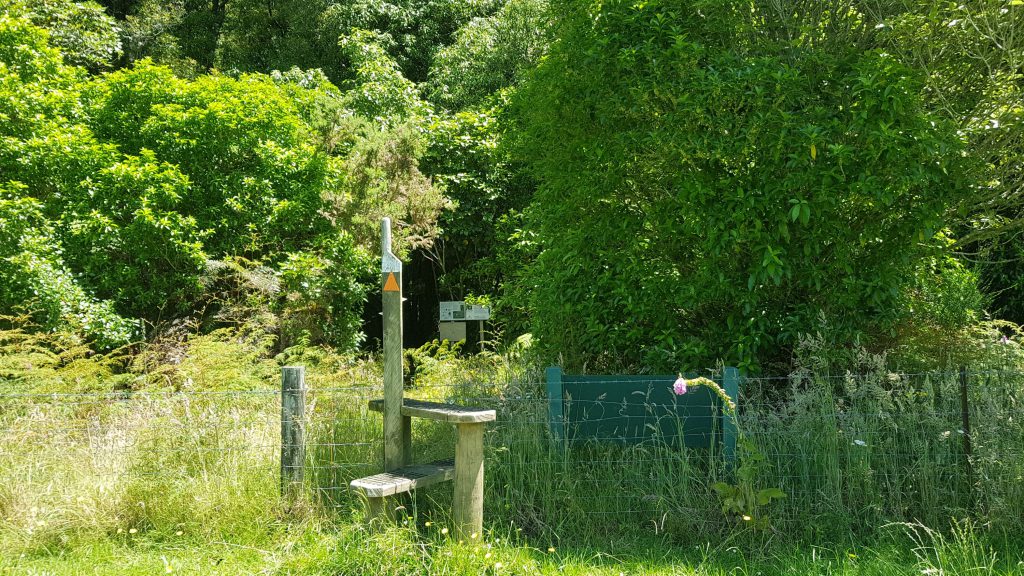 Once through here it's a nice easy little walk through a forest. It's a circular track, so make sure you follow the line to ensure you don't end up going around in circles!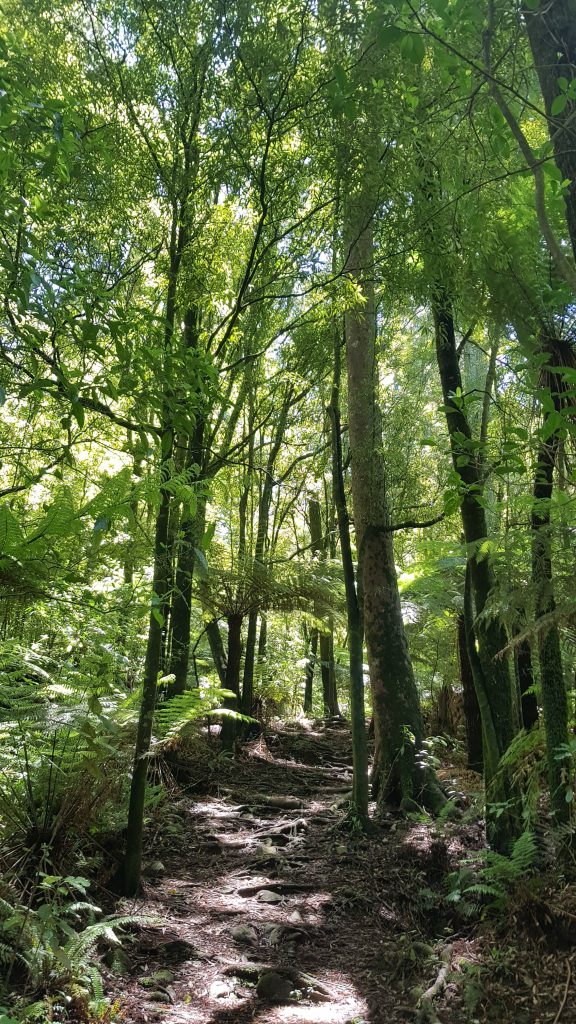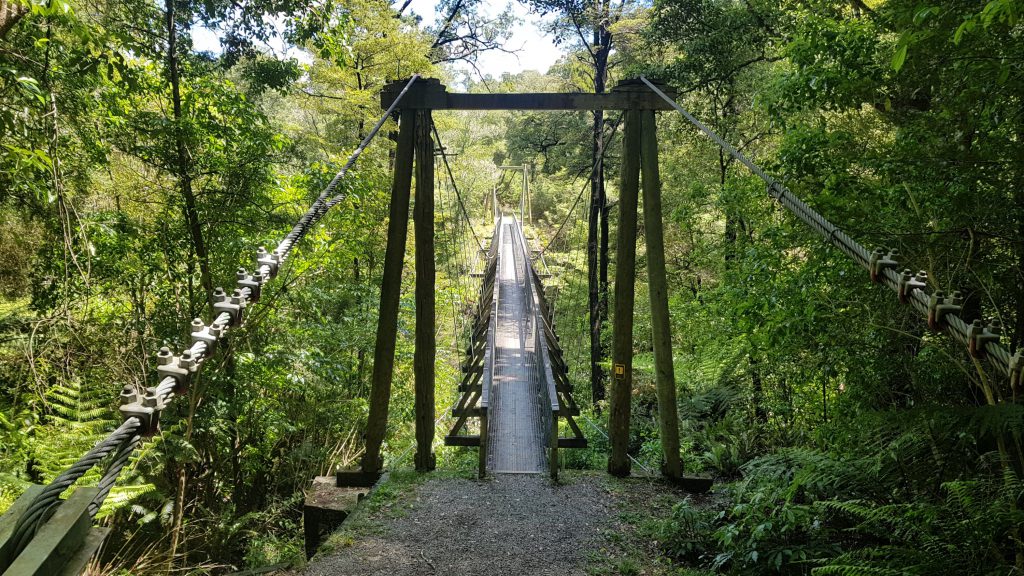 After here, you reach Pelorus Bridge. I can only assume this is the "bridge" part of it: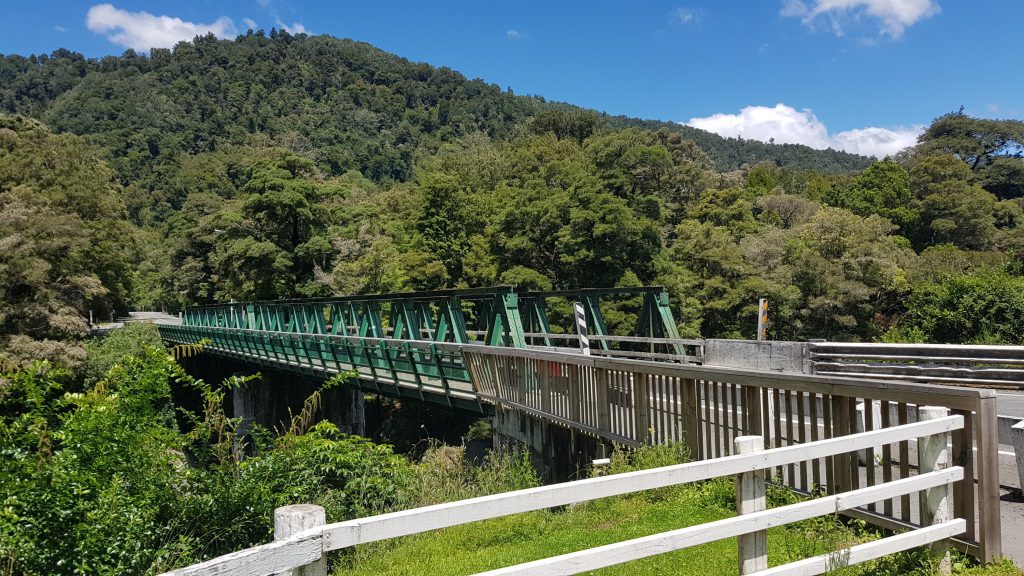 The only thing here is a campground and a cafe – both in the same place.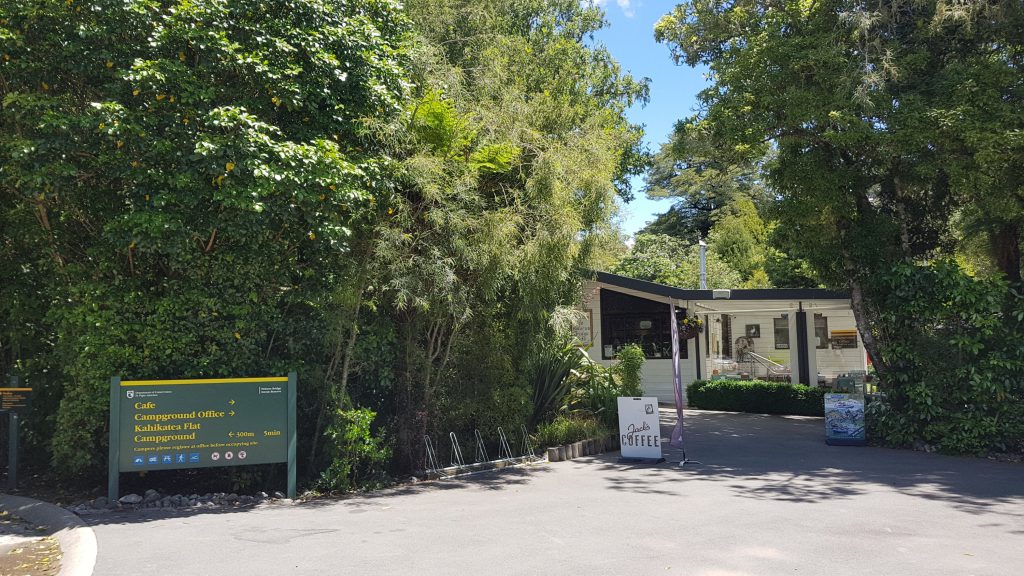 I couldn't quite work out what the deal was with this campground. It seemed that there was a "nice" campground on this side of the road and a "basic" campground on the other side, but yet it was all the same campground and you had to register for both at the same office prior to setting up.
I met Rowan here while I was having food at the cafe. He said that he saw me in Havelock but that he left after me because he went to Four Square. He was with a girl called Megan. She said that she walked the North Island in 46 days. When I said that I recently met Nick who had done the same thing, she said they had walked together across almost the entire North Island. Small world!
Rowan and Megan checked in at the campsite. The guy doing the bookings said that the forecast tonight was perfect. When I look at the forecast, it still says possible thunderstorms and hail. I wonder which will turn out to be correct? I guess I'll never know!
I was here two hours before the Intercity bus was due to turn up to take me to Blenheim Airport. While I was waiting for the bus eating my food, I was feeling sad. Not because I felt I'd made the wrong decision, but just because I was leaving the trail. I was always going to leave the trail for Christmas so I was surprised at how I felt.
When you're on the trail it just becomes your life. To suddenly and unexpectedly be leaving it and be heading back to the "real world" for a while is quite emotionally jarring. I think that's what is making me feel sad.
At least Pelorus Bridge is easy to get to when restarting. Hackett Hut or Rocks Hut would take hours to reach from Nelson Airport. And like I mentioned yesterday, Nelson airport doesn't have any bus service at all, whereas Blenheim has Intercity right outside. If I had continued on for two more days, any upcoming river crossings might be too high anyway, given all the recent rain. I felt that I had to convince myself yet again that I'd made the right decision to leave the trail today, but again I feel like I have.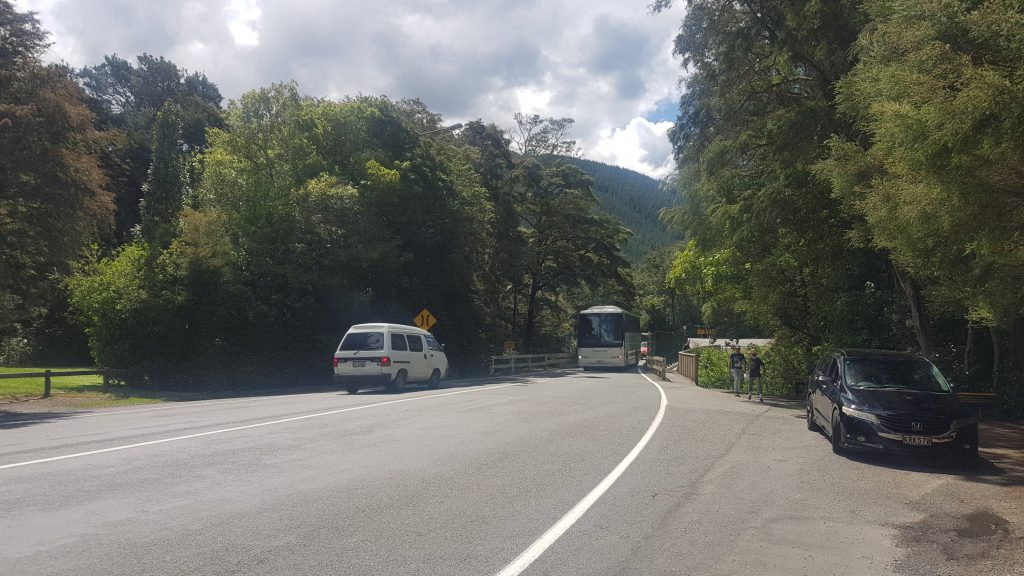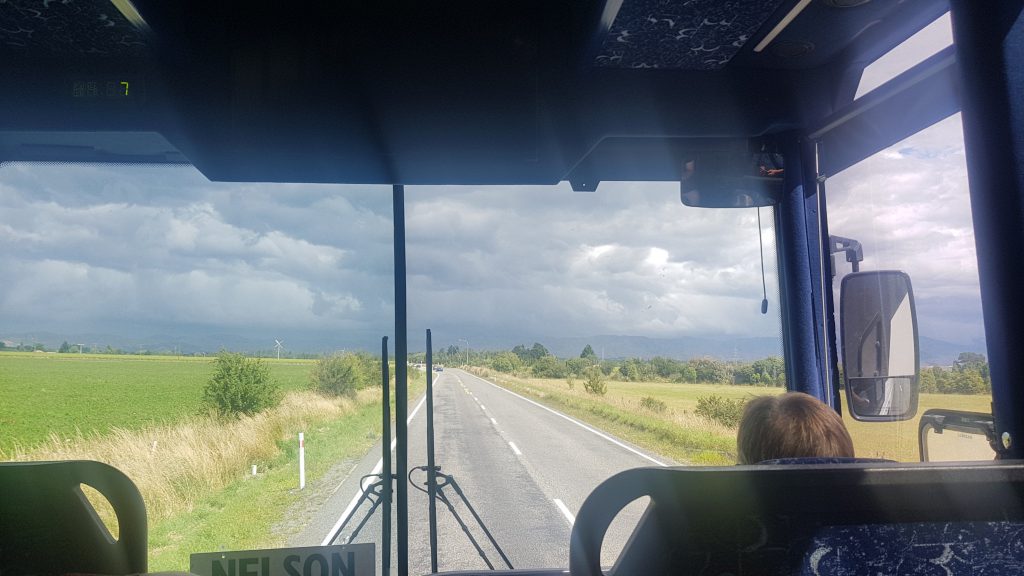 The bus arrived on time, early in fact, and took me to Blenheim Airport – also known as Marlborough Airport – also known as Woodbourne Airport (very confusing!).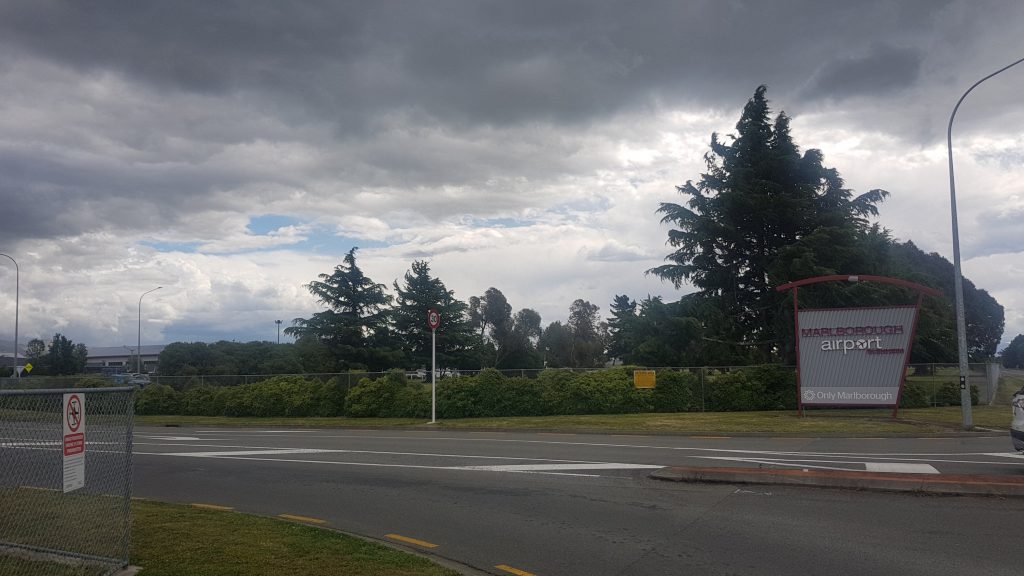 The bus driver said that this is also an air force base, and it's the only active air force base in the South Island.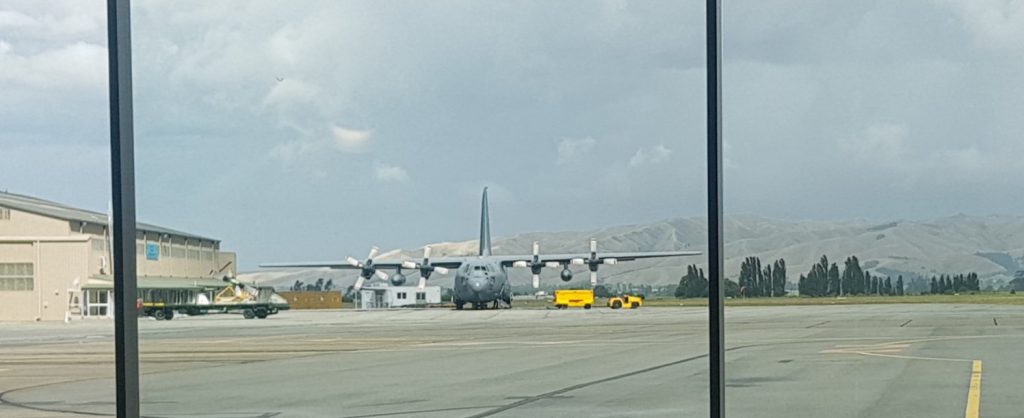 This big advertisement caught my attention: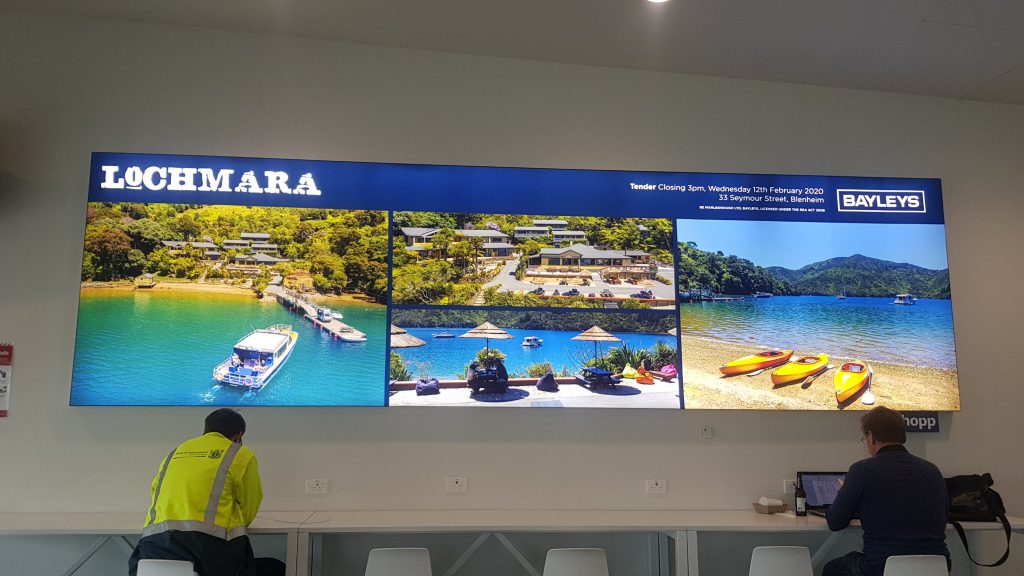 The flight was delayed by over an hour but was otherwise uneventful. I arrived back in Auckland at 8:20pm. That's the end of the trail for me for now. After a week or two with my family and friends for Christmas, I'll be restarting the trail from Pelorus Bridge sometime in early January. See you all then. Thanks for reading!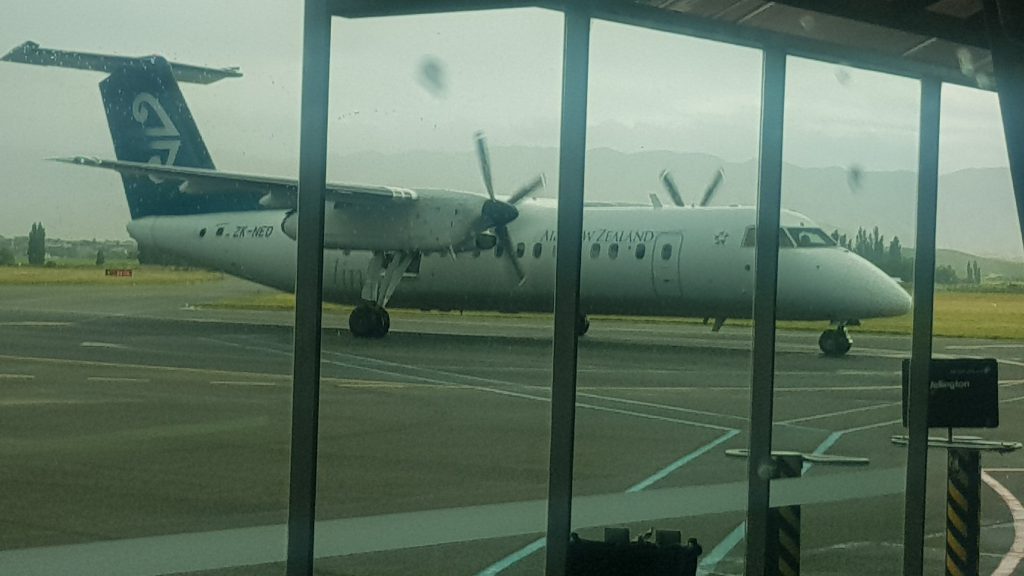 Today's walk on the map (blue = Te Araroa, red = today's walk):