Date: 10 January
Trail covered: 19.7km (kms 1835.3 to 1855.0)
Weather: fantastic
I woke up early in Rocks Hut since somebody had their alarm set for 6am. Given how long it took whoever it was to silence the alarm, I think it may not have been intentional.
I like sleeping in my tent usually but sleeping in the huts means I don't sleep in too long, which is probably a good thing.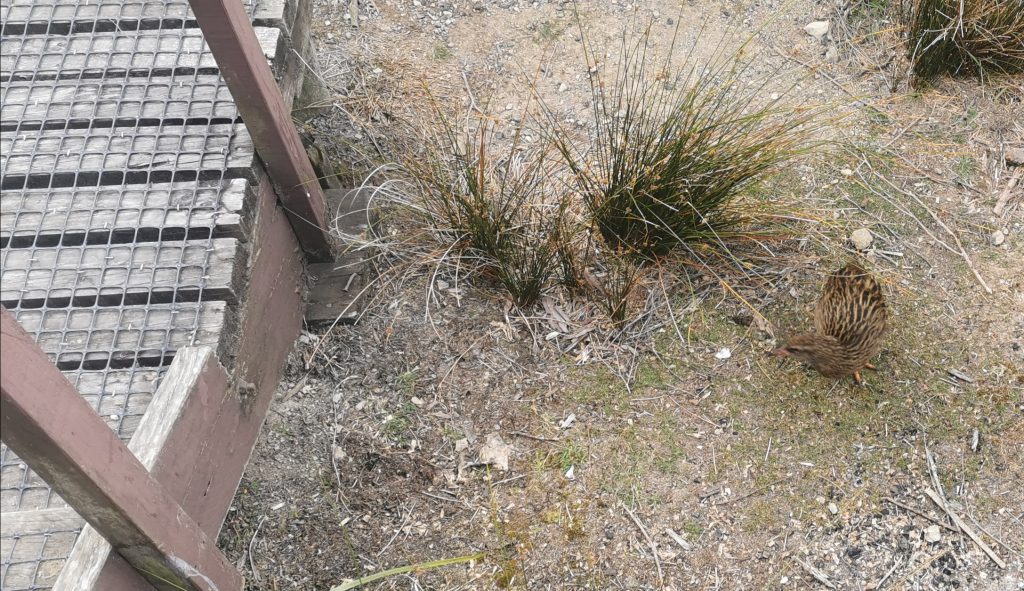 It was quite cold this morning and so I made porridge and a mocha (instant coffee and instant hot chocolate with hot water). I admired the view from the hut while I was having breakfast.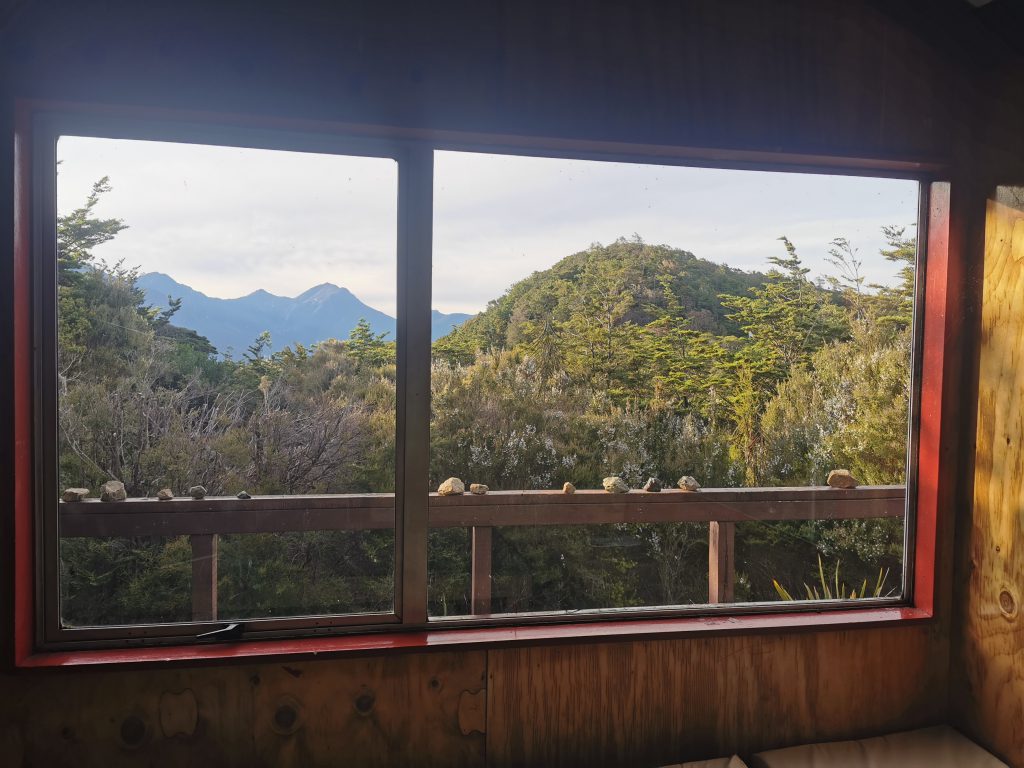 I left the hut at 7:35am which was about 15 minutes after Ben from America and Susan from Austria. The aim today is Starveall Hut, which is about 20km or so away, but if things still feel hard or exhausting there are two other huts along the way I can stay at instead. Ben and Susan had the same plan.
The track out of Rocks Hut is relatively easy.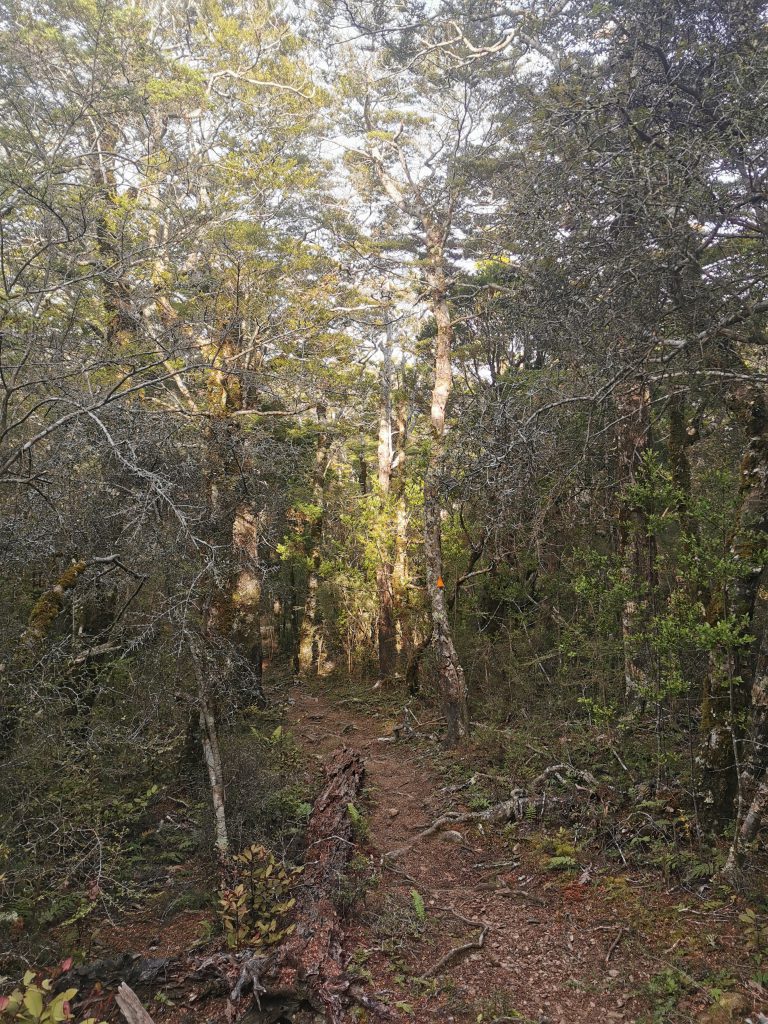 Around here there were a few of these big sections of roots and dirt pulled out of the ground when a large tree fell over. It must take some force to pull that out of the ground.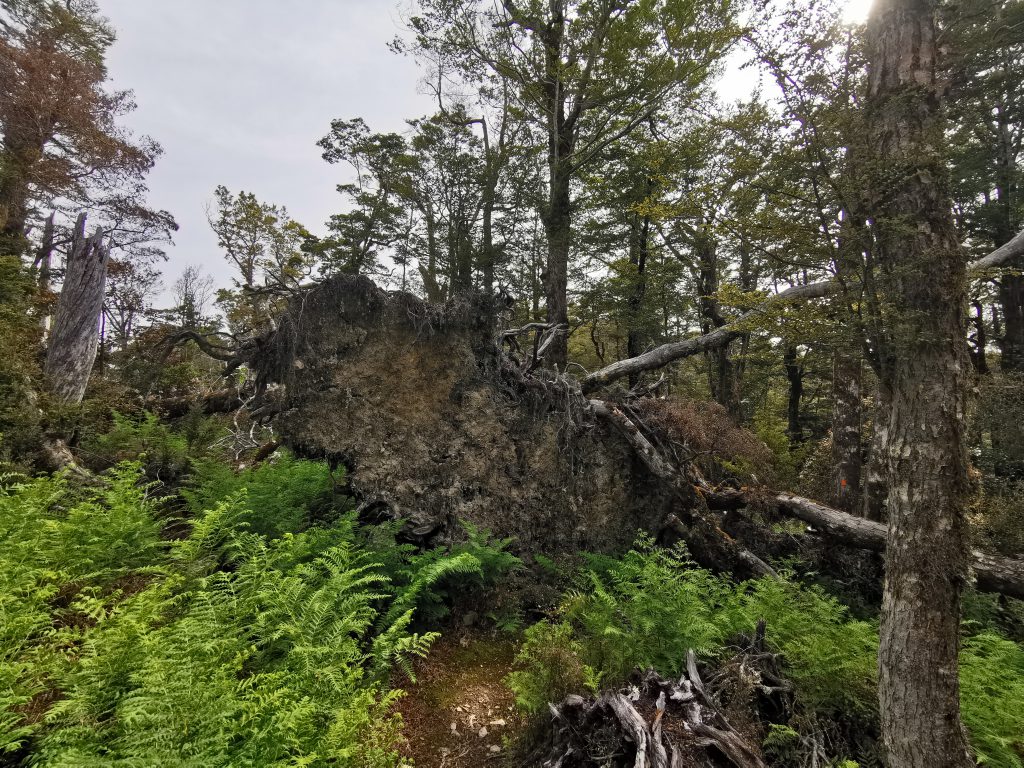 I passed Ben and Susan quite early on. The speed they were going at wasn't too bad but they stopped for a break quite early on and I didn't want to so I continued on by myself.
There hadn't been a lot of views up until now but they came soon.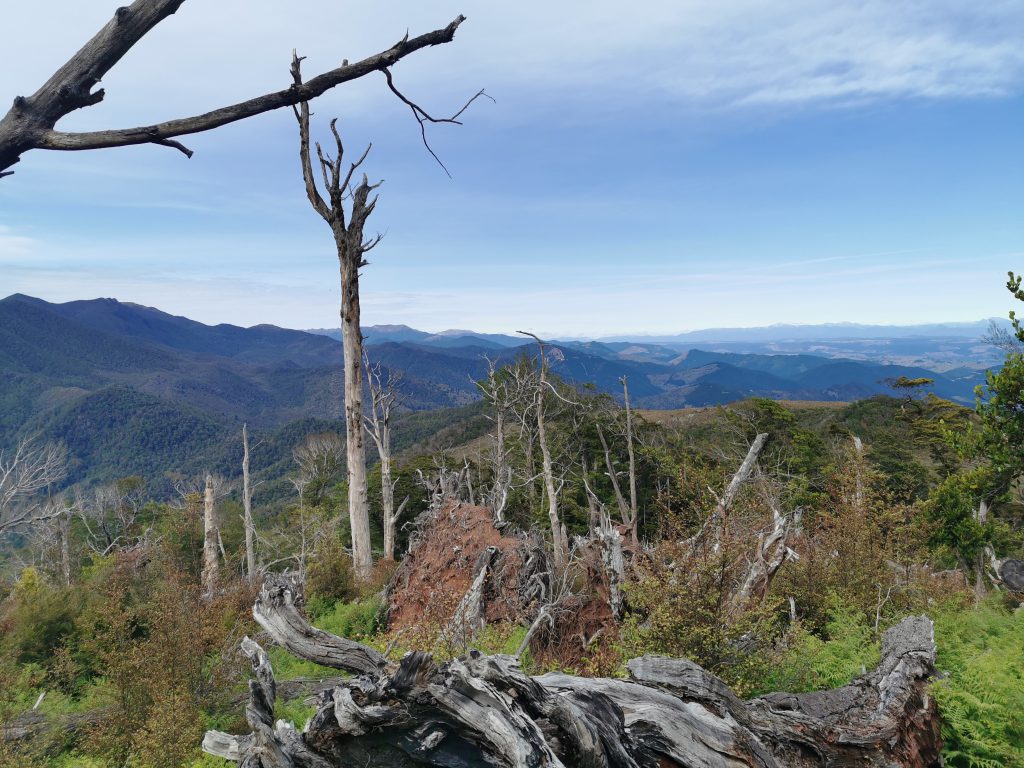 You could see the water and also a bit of civilization. I think this might be Mapua, just northwest of Nelson.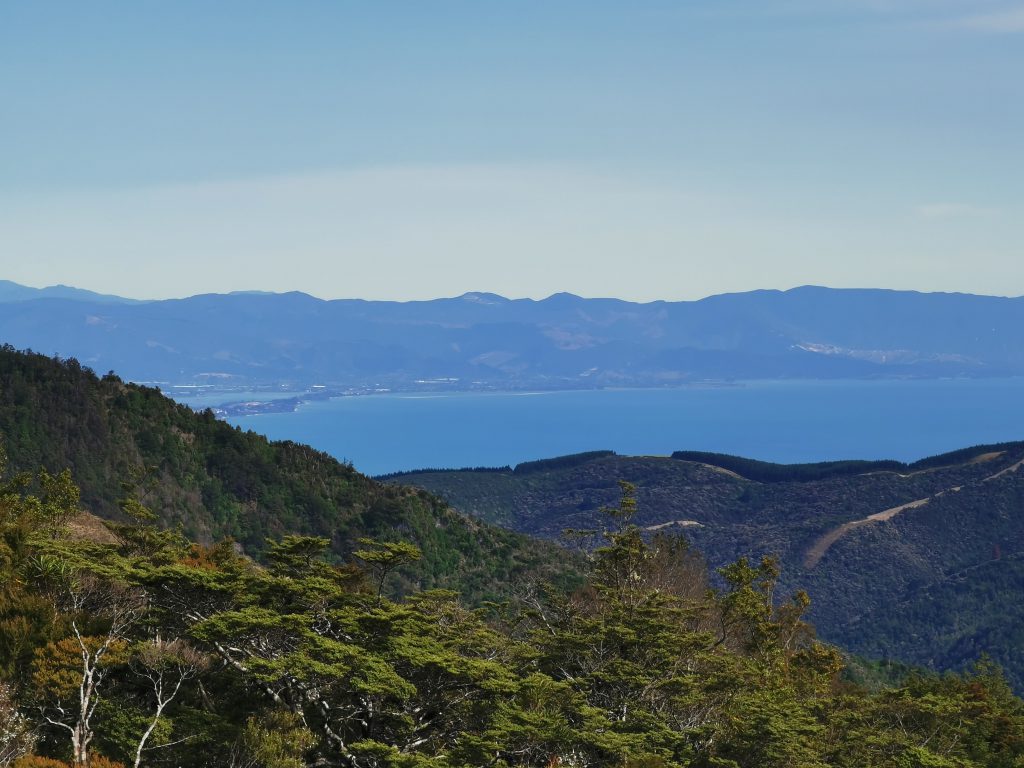 The landscape changed at this point for a short time before reverting back to bush.

I passed a few people going in the opposite direction and they asked me how busy Rocks Hut was. They also told me that Browning Hut (the next hut I'll come to) was very crowded last night and there were lots of people camping.
I soon reached this sign and it proves that the TA definitely used to go via Roebuck Hut and not Rocks Hut. The TA symbol had been half scratched off.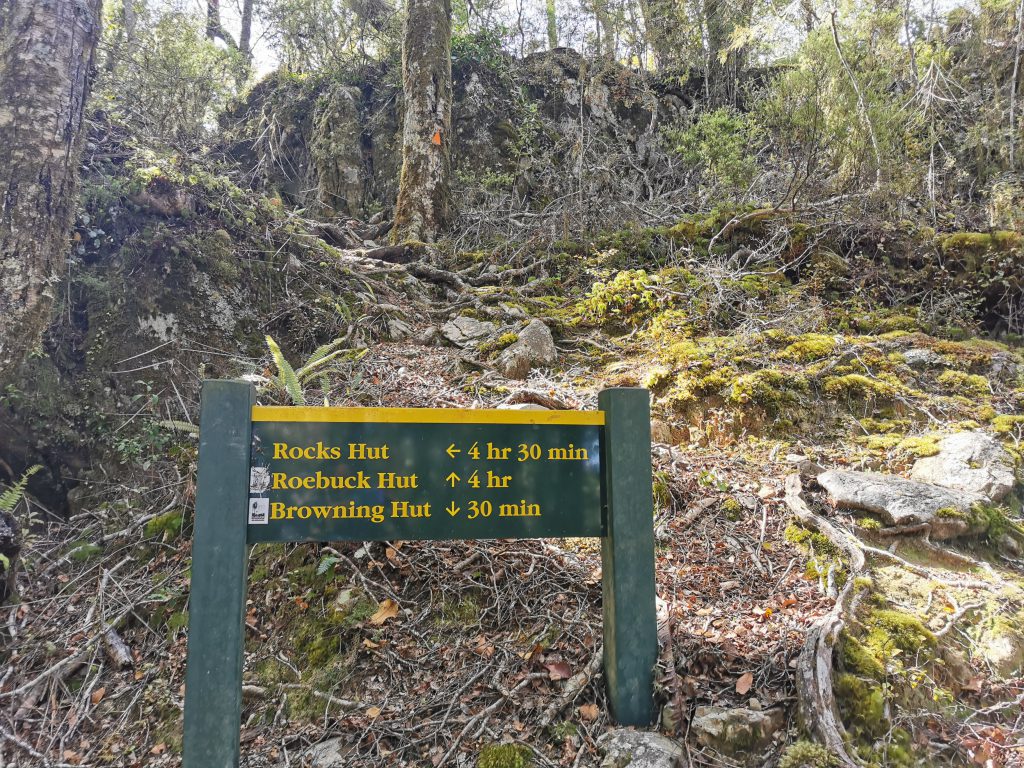 Also from here I had read that it is quite steep down to Browning Hut, but it turned out to be not too bad.
I reached Browning Hut right on 11am.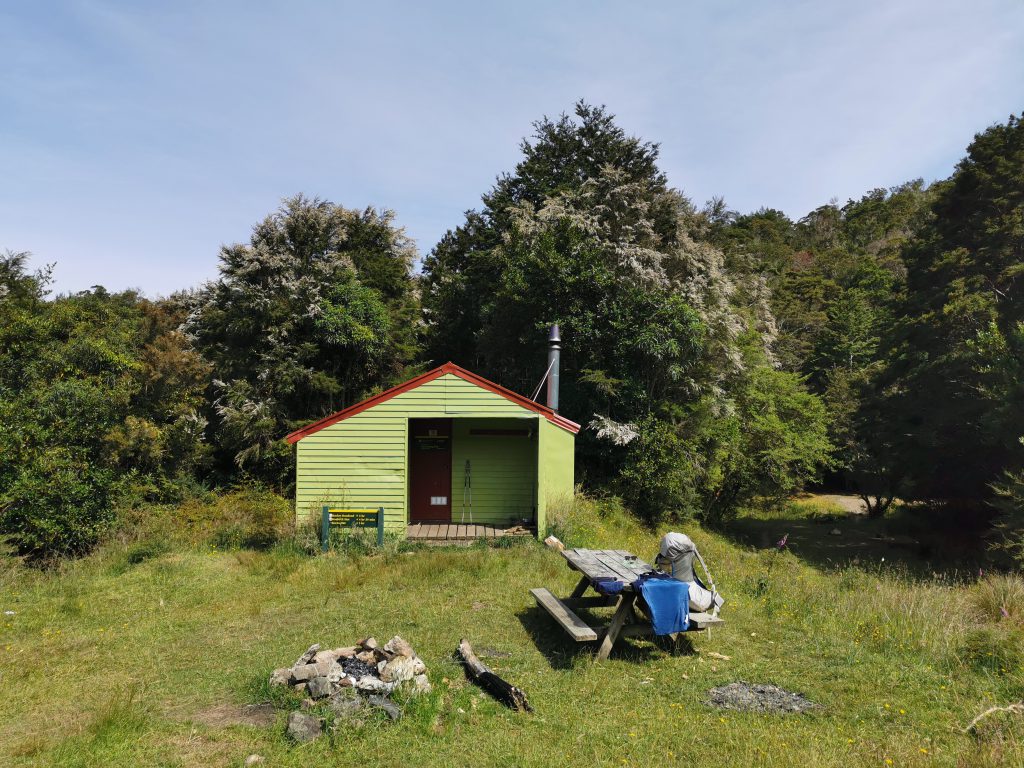 It also has a little shelter and some dog kennels.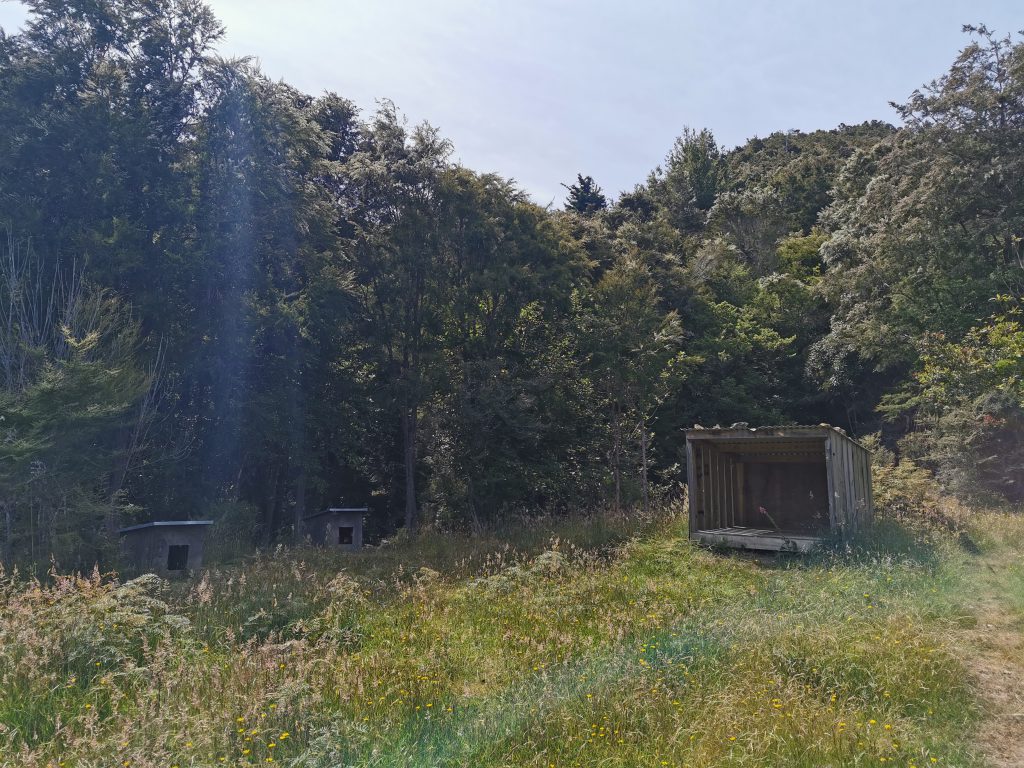 My new phone has a "wide" mode, which enables me to take a good photo inside the hut that takes in most of the hut itself. I'm really happy with this wide mode, it does a good job.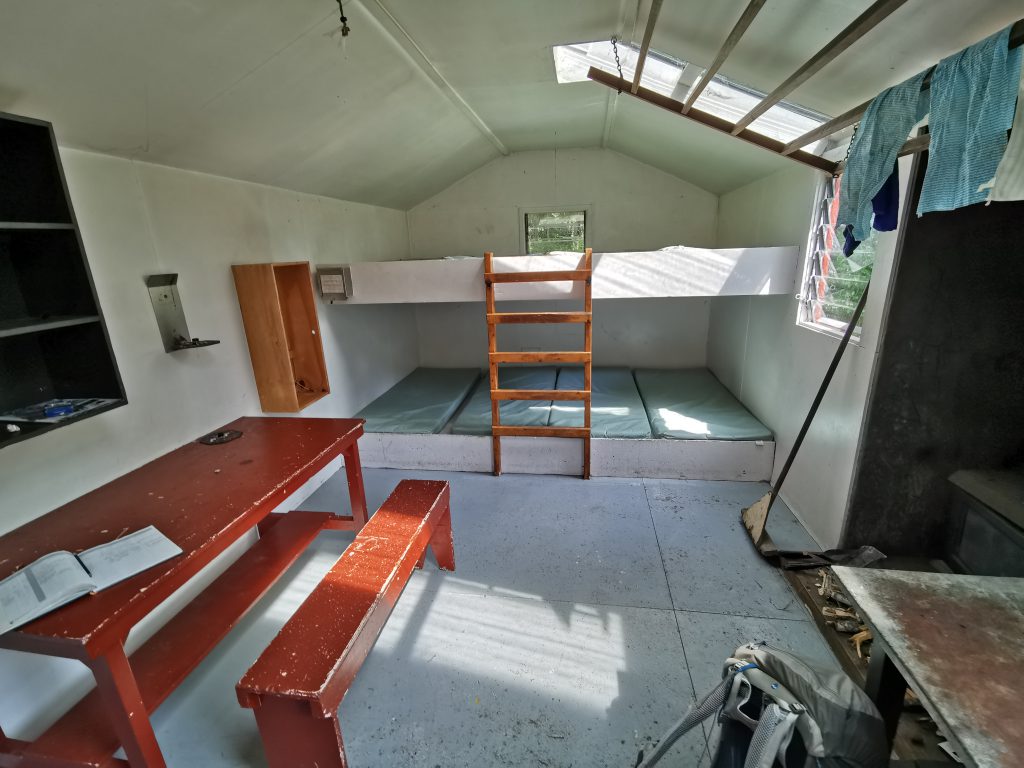 There was nobody else here so I just had some cheese and crackers and I was on my way again. Just as I was leaving, Ben and Susan turned up and so I said a quick hi.
It was nice being at the hut alone for my lunch break. It's often nice to have people around in the evening but at lunchtime it's often nice to have a rest. I like being first out in the morning too – nicer temperature, if I were to get hurt people are behind me and will discover me, and hopefully I'll get the first choice of beds at the huts… hopefully.
I did notice from the Browning Hut intentions book that Rhydian is now 5 days ahead. He's moving faster than me! Although that's no surprise given that yesterday was only a 10km day.
I also noticed in the intentions book that it was indeed packed, but just three nights ago there's an entry that says two people had the hut to themselves. It really is hard to predict how full the huts will be!
The next hut is Hackett Hut. As well as Rocks Hut, this is another spot where you can make a side trip to Nelson, and was another finishing option for me last year at Christmas before I decided to stop at Pelorus Bridge.
The path to Hackett Hut is pretty easy.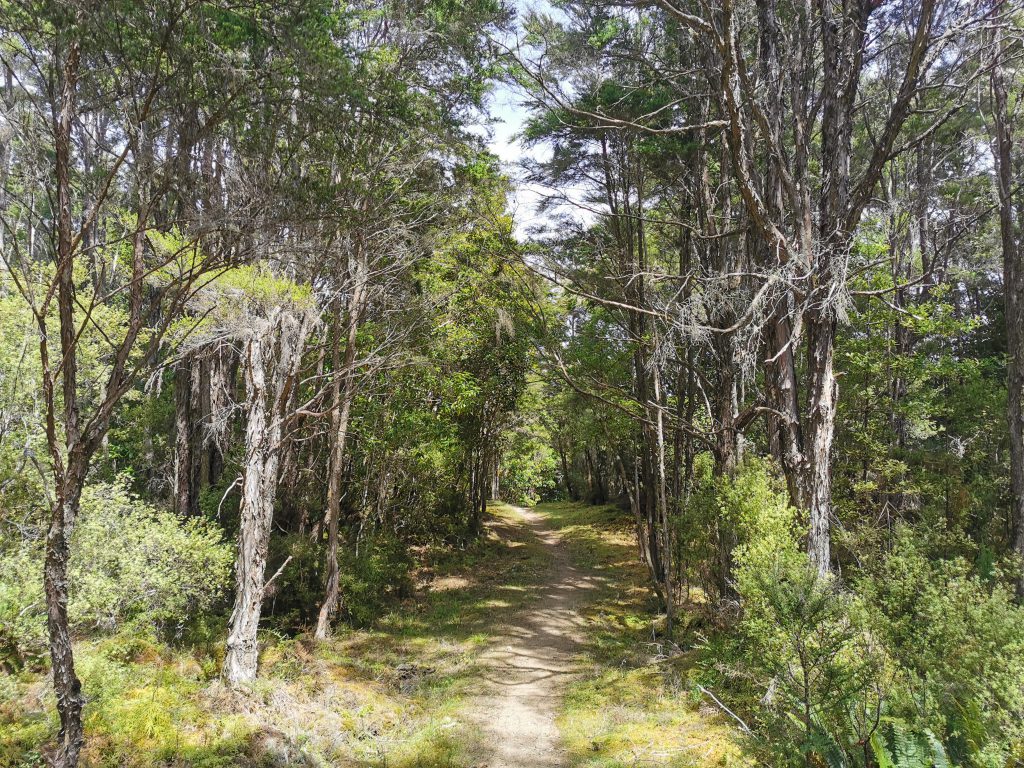 The only interesting bit is a "washout" sign which says to use the river route if the river is low and the "all-weather" route if the river is high. I decided to take the river route because the river was low, but that did leave me wondering what the higher route was like. I assume it must be a big detour because otherwise surely it would just be "the way".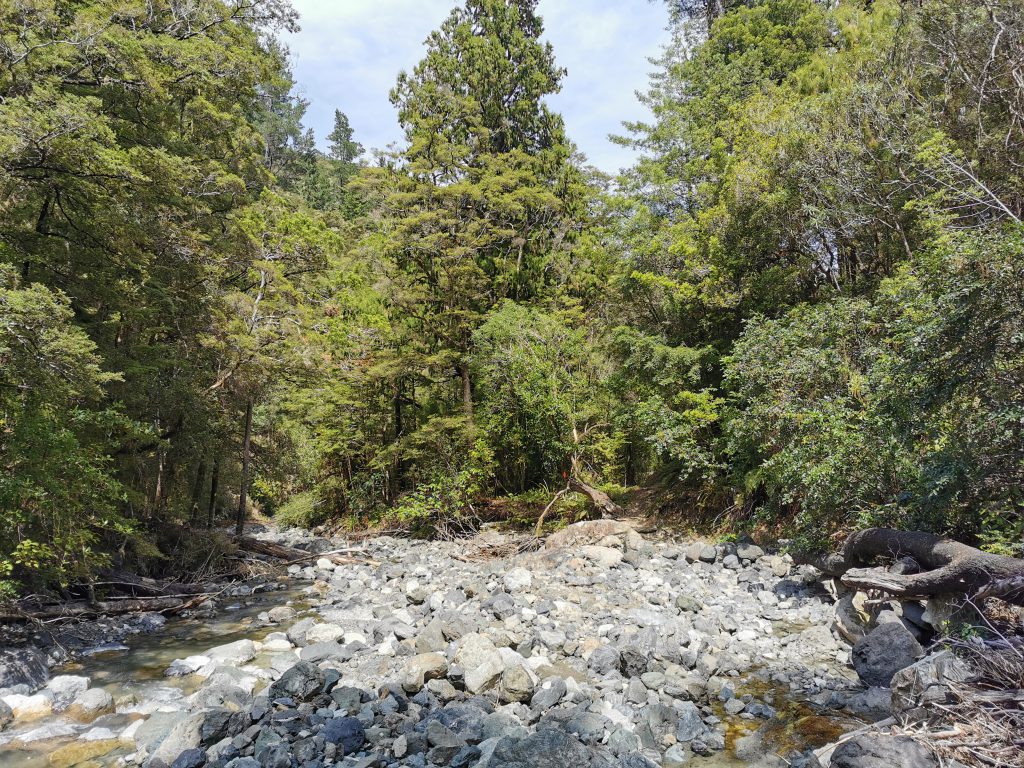 The river route was kinda fun, and I managed to not get my boots wet.
If the river was higher, I can see why this way might not be a good option.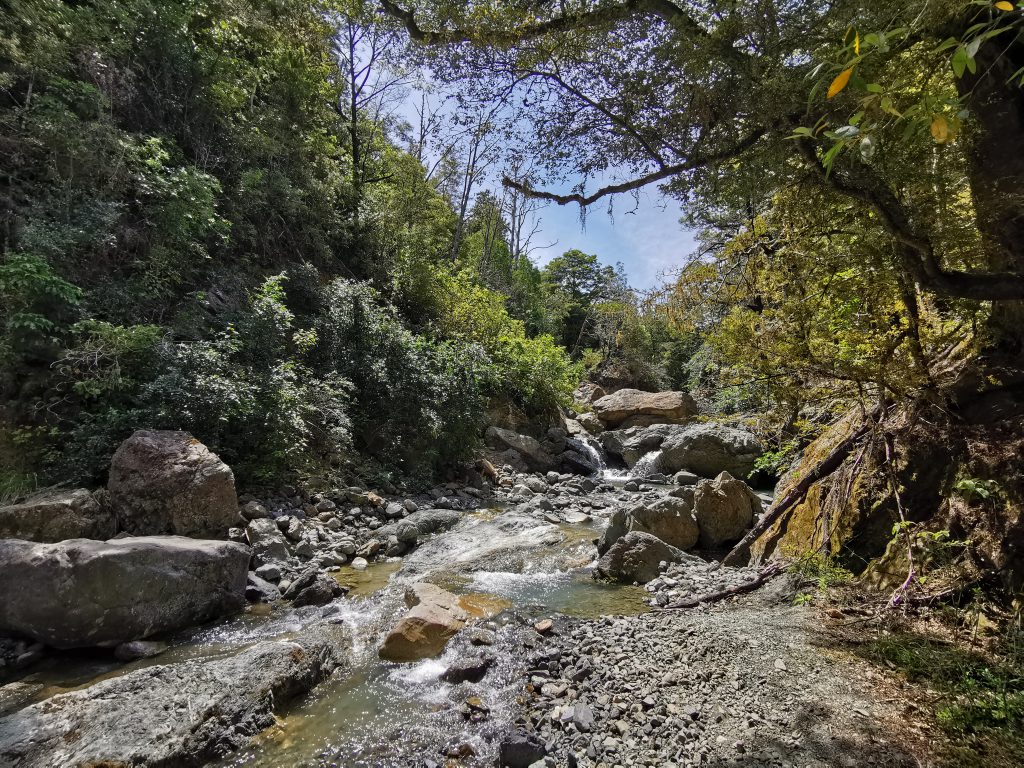 Here's the junction you can take to get to Nelson.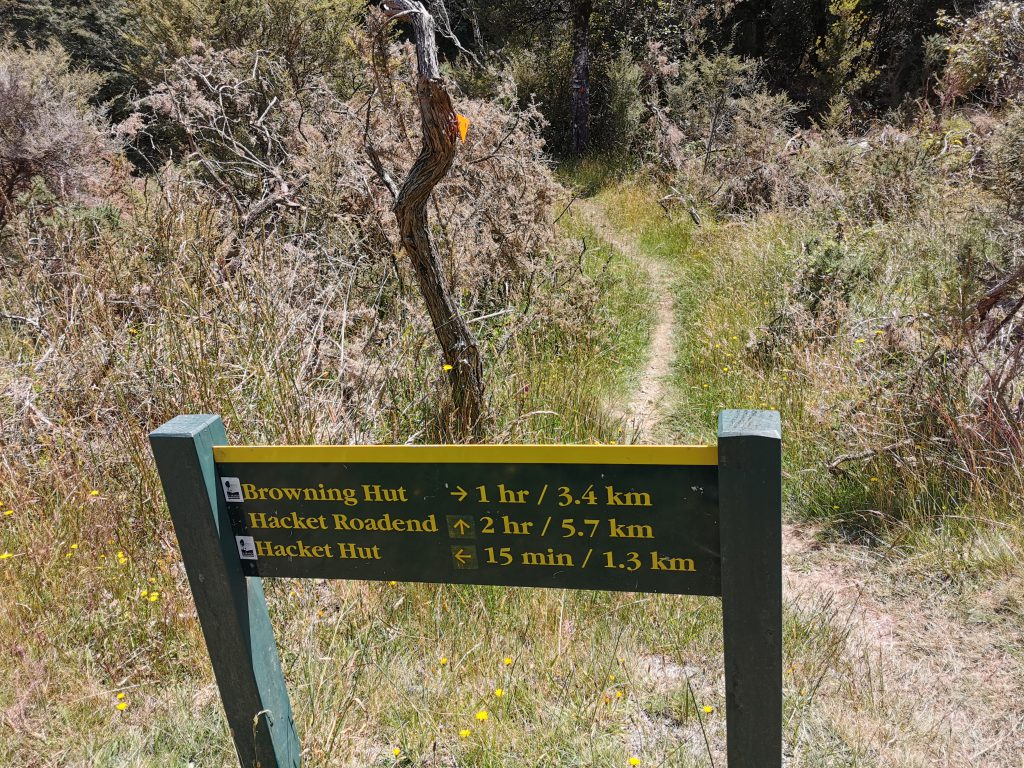 What's interesting is that it definitely was not 3.4km from Browning Hut to here, I'm sure it was less than 2km. Maybe that answers my question about the "all-weather" route described on the sign – it must be a fair bit longer.
Here is Hackett Hut.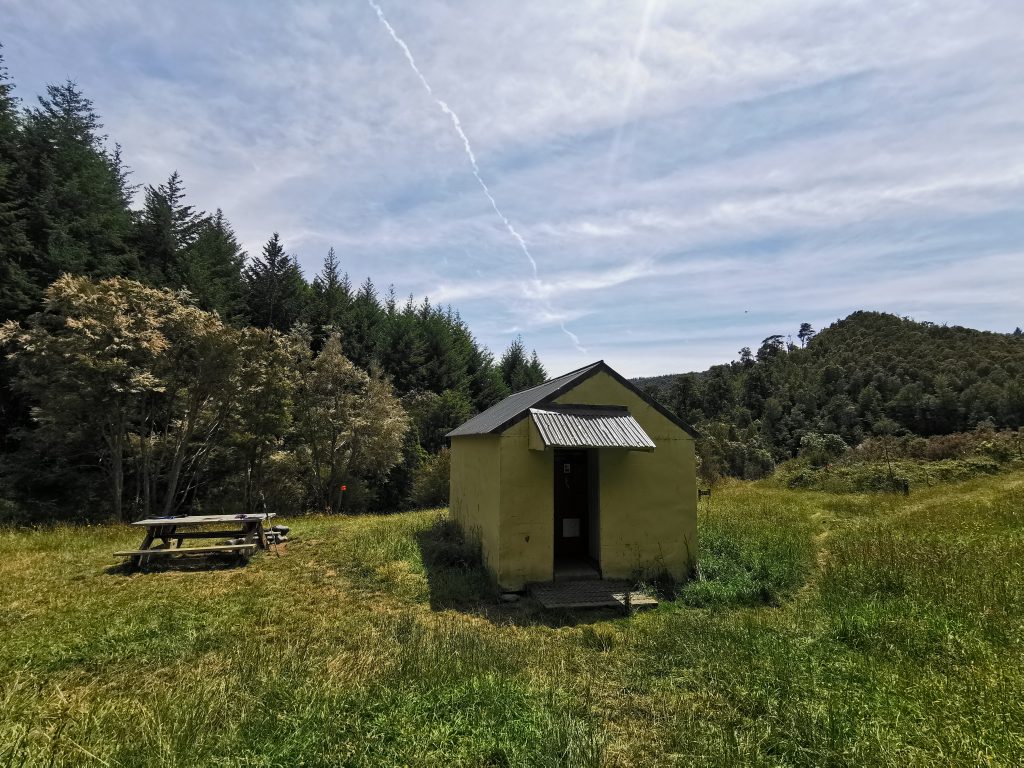 There is nowhere to sit here. It's weird.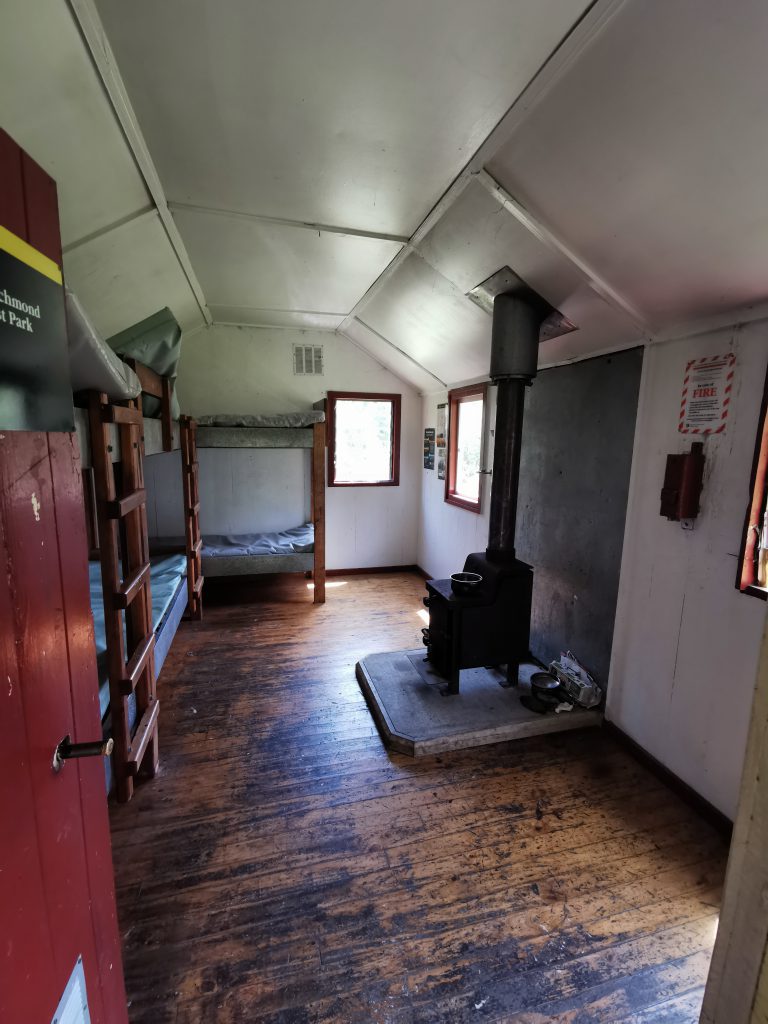 Also the intentions book in this hut was full. Partly because people take up entire pages in the books with their artwork and doodles which I wish they wouldn't do. The intentions books are important and now I have no idea who is going to be at Starveall Hut (the next hut).
This is where the Richmond Alpine Track officially starts. I'm glad the weather forecast is excellent. From here it is supposed to be similar to the Tararua Ranges but longer, and has some of the best views on the TA, from what I understand.
I had a second lunch here even though it was close to the first lunch at Browning Hut. I couldn't resist having a little bit of chocolate, even though at this rate my chocolate will only last a few days and I won't have any left for the last bit of the track to the next town which is St Arnaud, which is still 4 or 5 days away.
I think I might've worked out the mystery of why my pack was so light and was able to close easily two days ago despite having nine days of food. I have discovered I didn't really bring any snacks. I brought chocolate which I would never forget, but I totally forgot muesli bars and nuts which is what I typically would snack on while walking. How could I forget those??
Just as I finished second lunch, two teenage boys turned up who were on a day trip – they had just walked from the car park at the road end. As I was leaving I also saw four "oldies" (their words not mine) and a family. This is obviously a popular local spot.
While I was in the hut I looked at the trail notes and it turns out that there is a daily shuttle from Boyle Village to Christchurch. Good, that means I don't need the day's leeway that I planned in case hitchhiking to Christchurch doesn't work out. Now I don't have to be in Boyle Village until the 23rd instead of the 22nd.
The notes also tell me that from here, the trail goes up 900 metres in 4 kilometers. Gee, that's quite a gradient. Here goes!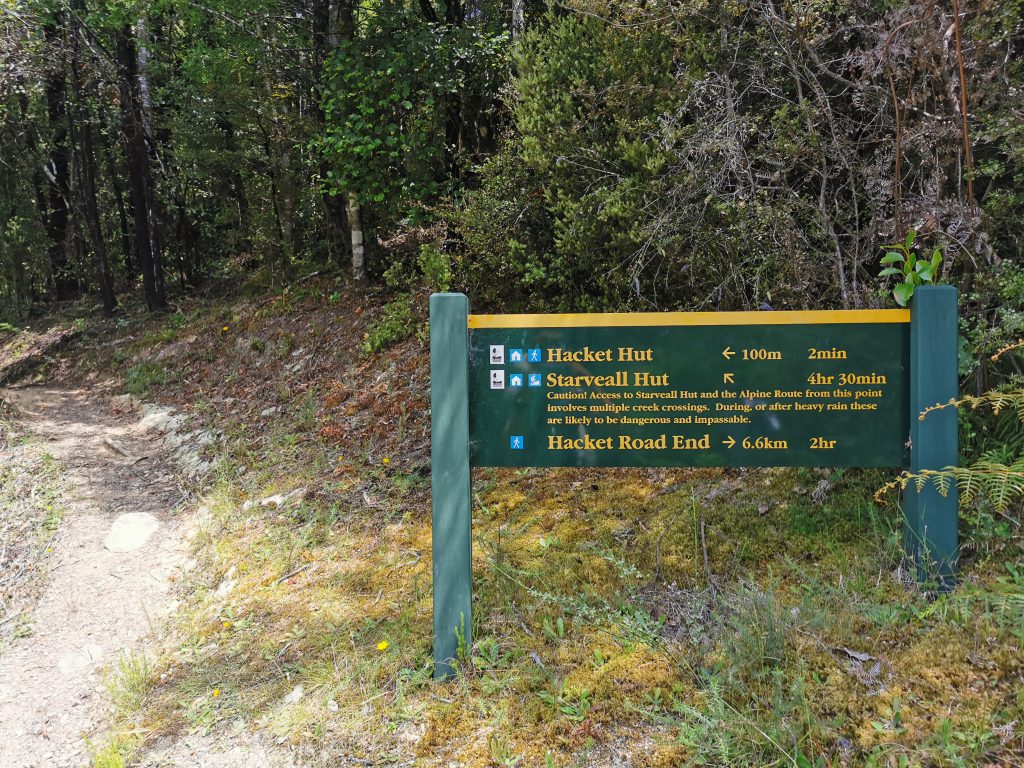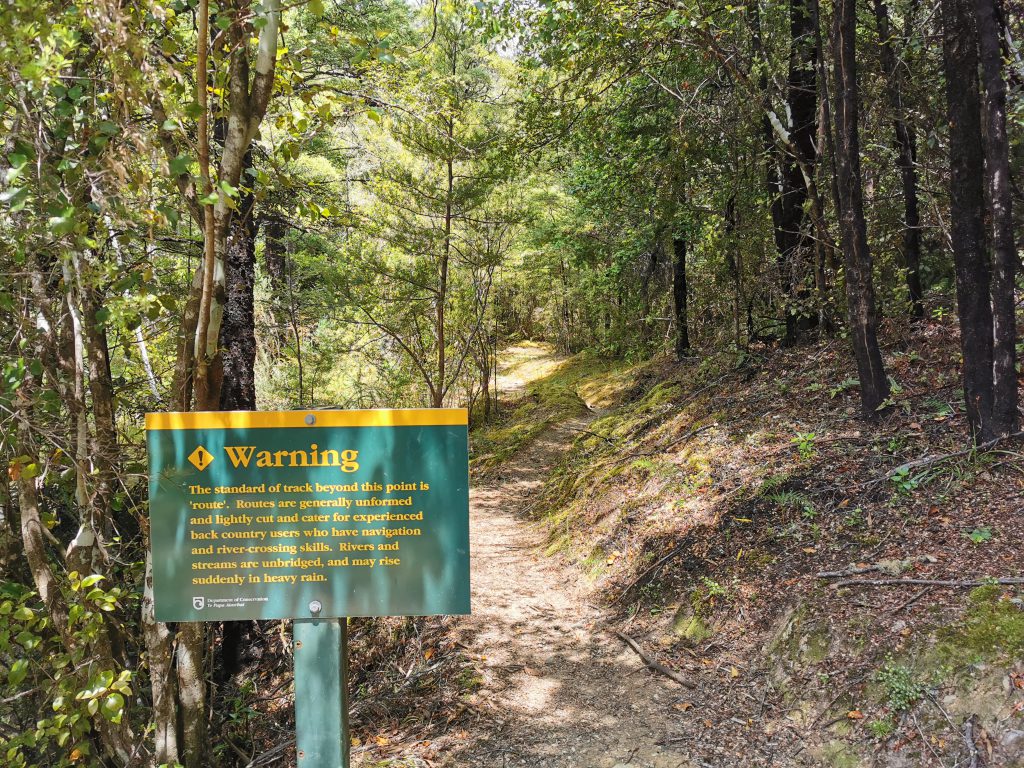 First though is a walk up Hackett Creek. Lucky the river is low, and it shouldn't be too hard!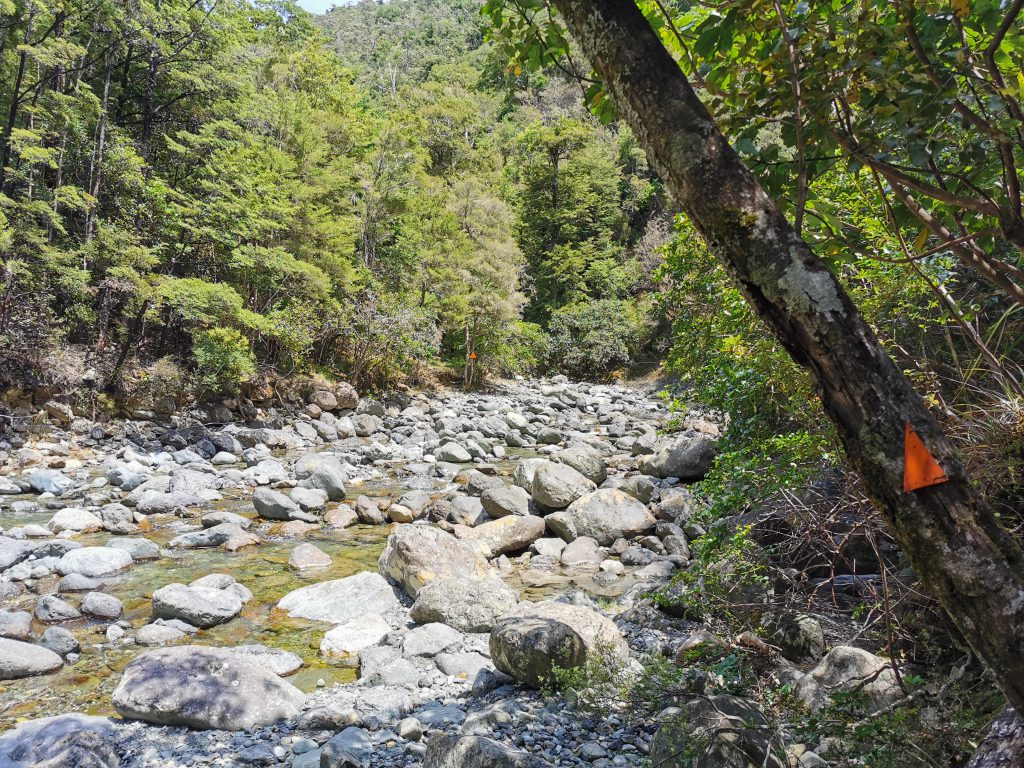 Time to change into crocs.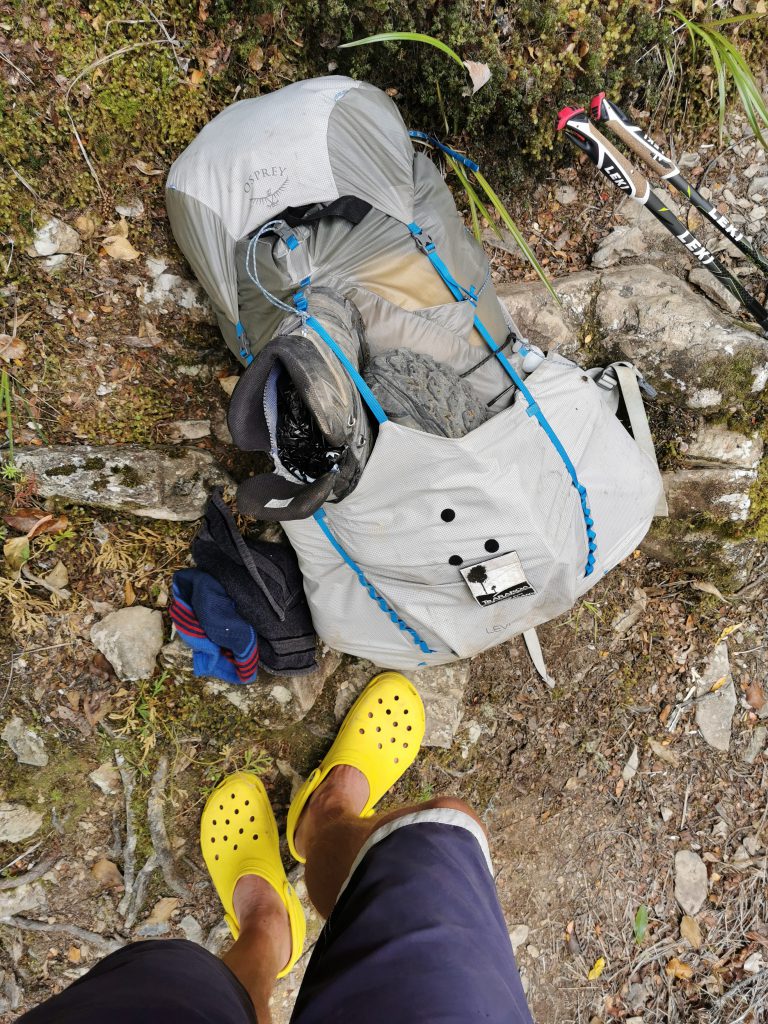 You cross the river multiple times.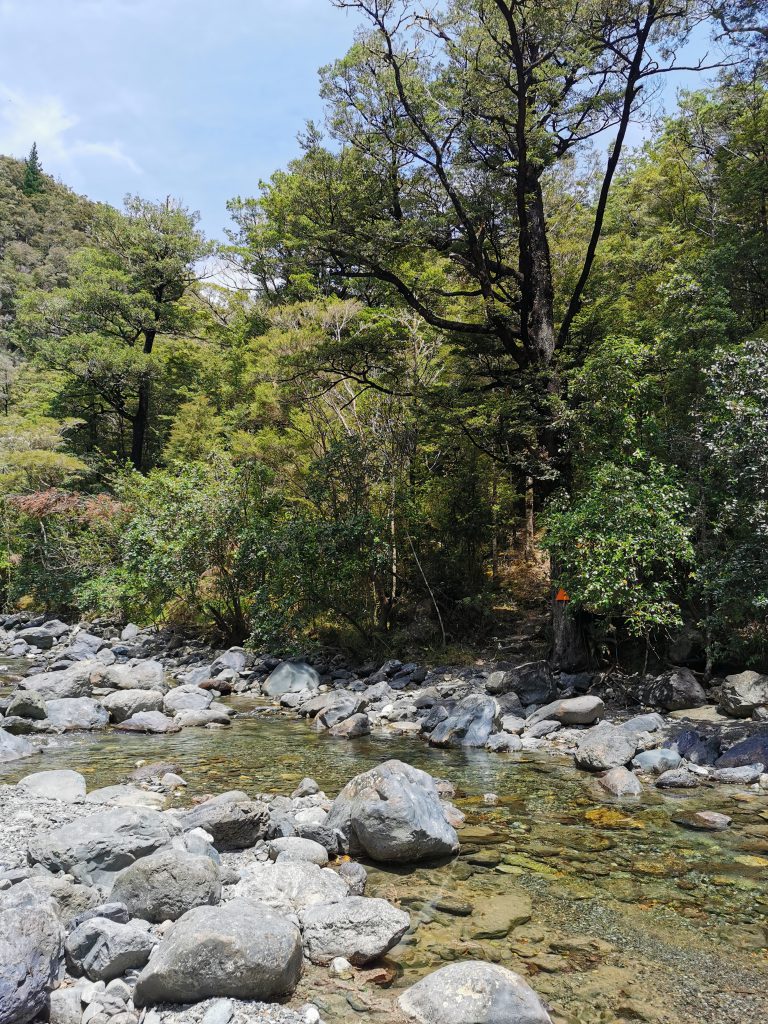 The water was so clear that if you wait long enough for the ripples to disappear, it looks like you're not even standing in water at all.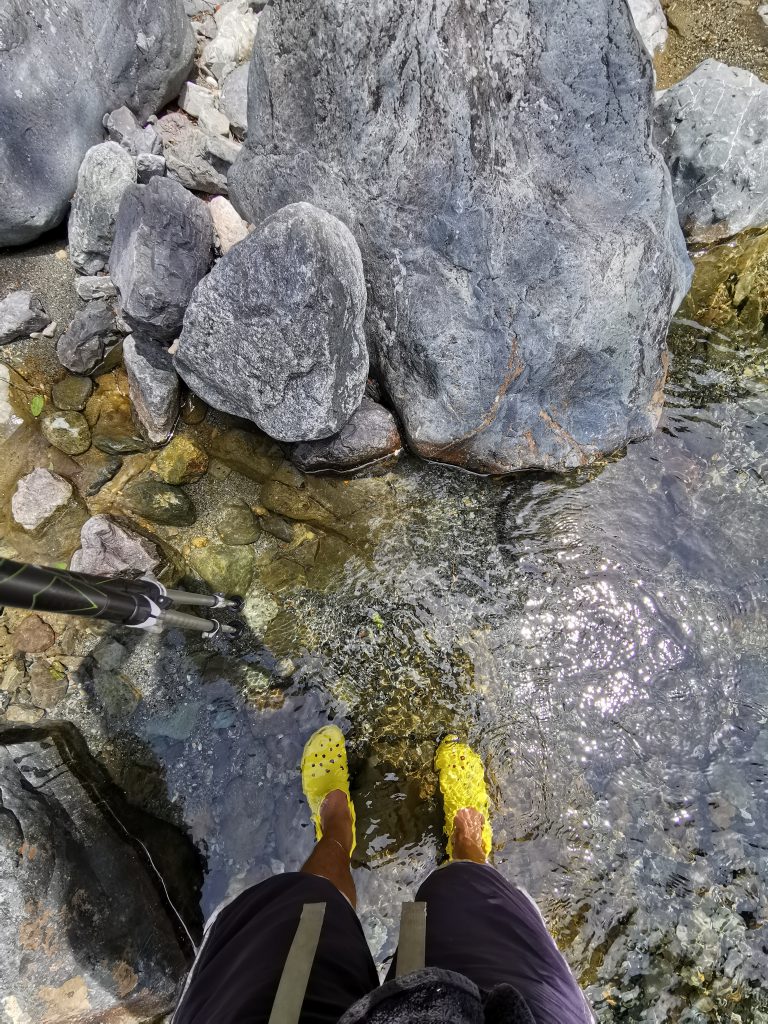 While I was walking the river, an Aussie couple came the other way. "Wow, sweet kicks!" he said to me as I approached. Obviously talking about the crocs!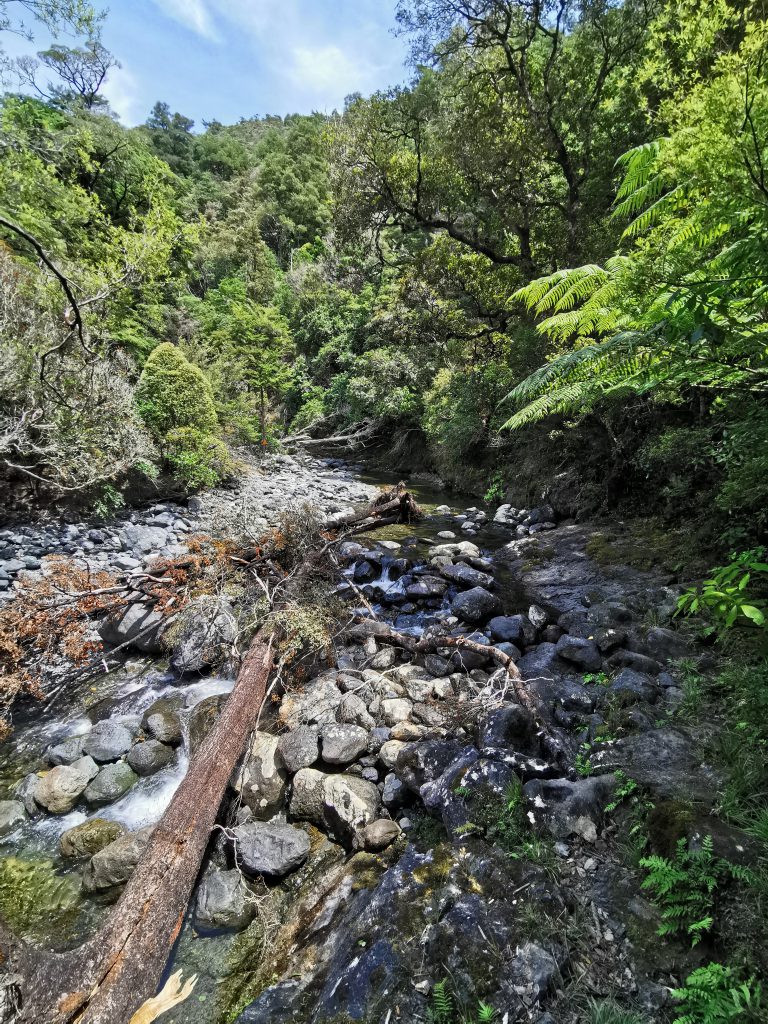 I was glad to be in the crocs. It made it so easy to criss-cross the river and my boots stayed dry. Although on the third crossing of the river, a big orange triangle appears to lead you up a massive steep path. Don't go that way, it's wrong! It's actually written on the triangle – "follow the river bed". I'm clearly not the first to make that mistake.
When I was certain I was at the end of the river walk, I dried my feet and changed back into my boots. I also filtered three litres of water. In the 10 or so minutes that took I got mobbed by sandflies. They don't usually bother me at campsites much but here they got me good.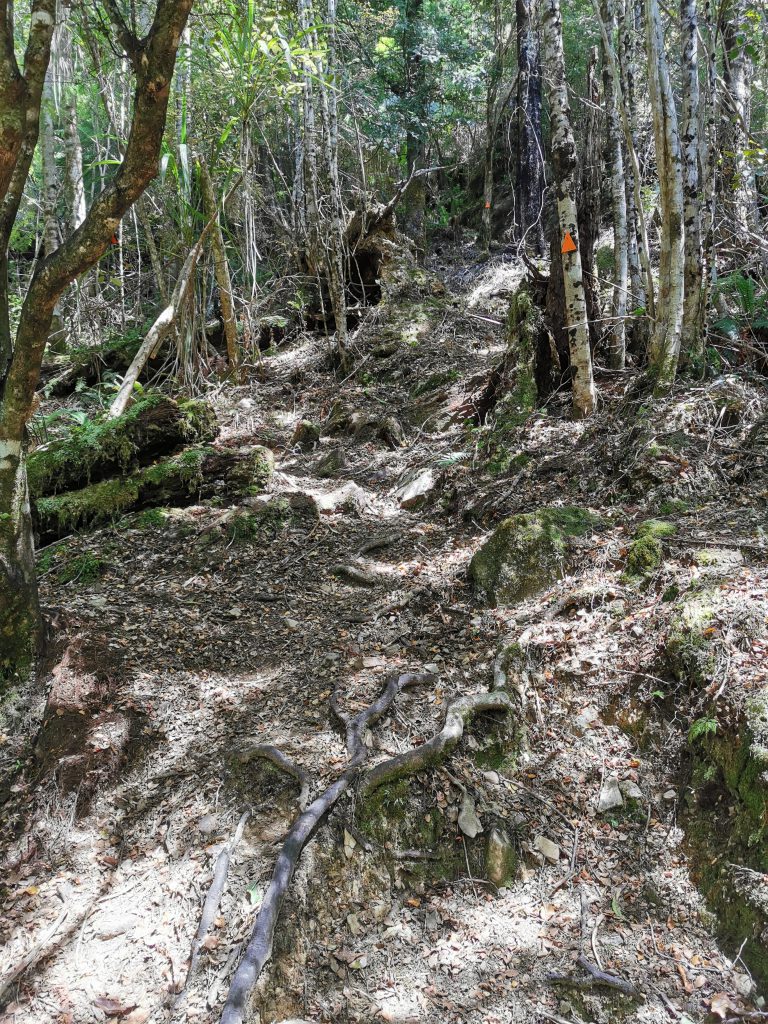 From here up to Starveall Hut was indeed up and up and up. It was absolutely unrelenting. Here is the Guthook elevation profile: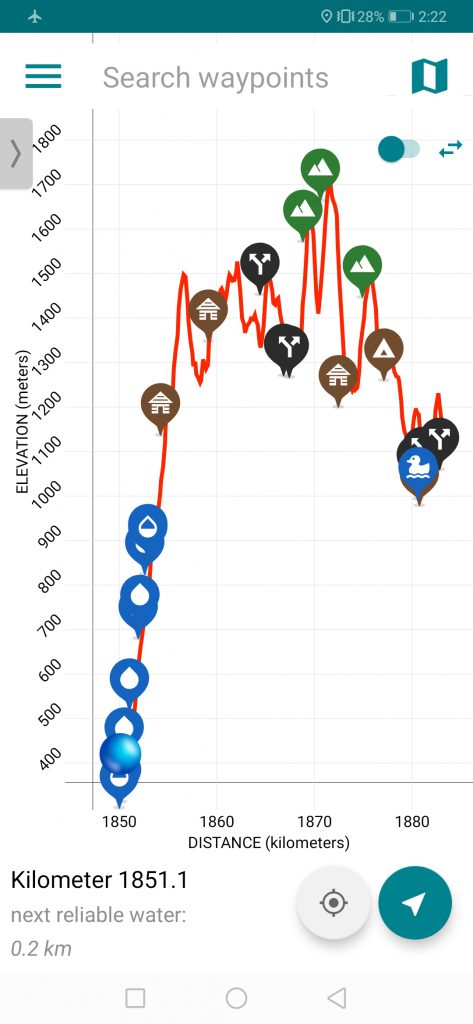 I'm the blue dot at the bottom and Starveall Hut is the first hut at around 1200m up. You can see that the next couple of days are going to be equally painful.
In all this uphill there wasn't a lot to see other than bush, although at one point there was a clearing where you could see some peaks above the treeline. I wonder if that's where I'm going tomorrow?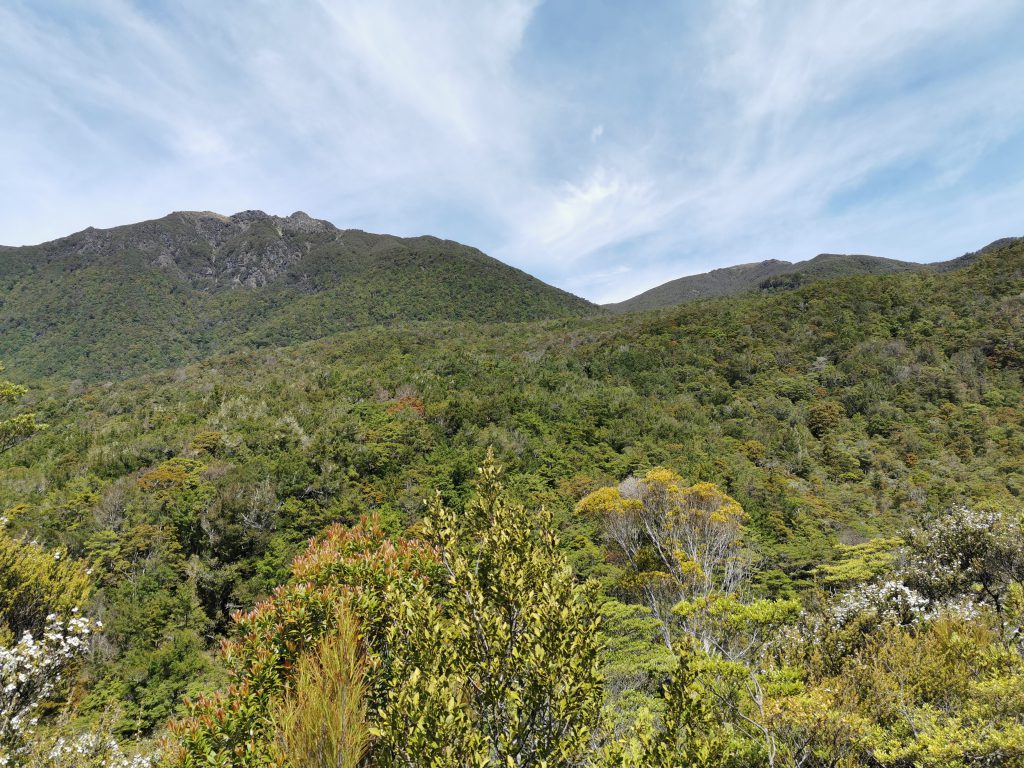 After all this climbing it got to the point where I thought surely the hut is around the next corner. Oh no it isn't. Surely it's around the next one. Nope. Grrrrr. I knew the hut was just above the treeline, but the trees showed no sign of stopping.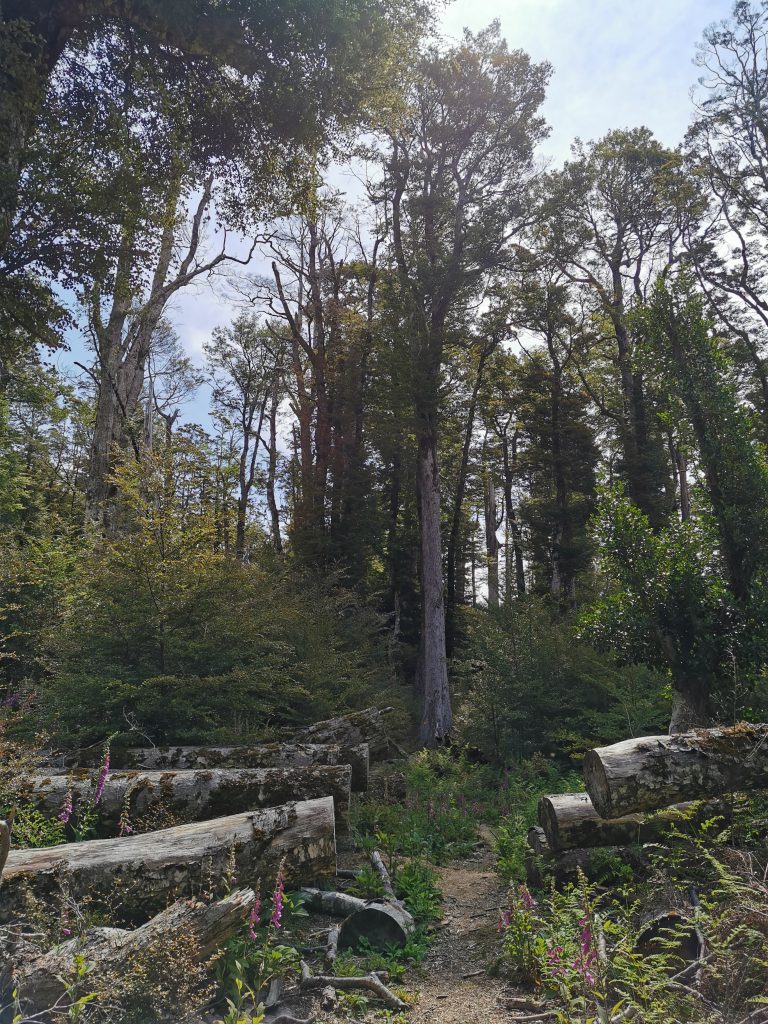 Between Hackett Hut and Starveall Hut was less than 5 kilometers. The hard part of the climb was about 3 kilometers. Km 1 took me 36 minutes, km 2 took me 31 minutes and km 3 took me 30 minutes. For the first time since I restarted walking, I felt the familiar twinge in the upper left of my back that was really giving me problems in the Tararua Ranges. Darn, I was hoping that taking two and a half weeks off would stop that. It's only really slight though, so hopefully it won't cause me problems. The more severe back pain I had on the plane two days ago and the couple of days before that hasn't reappeared though.
Eventually, there was the hut poking through the trees.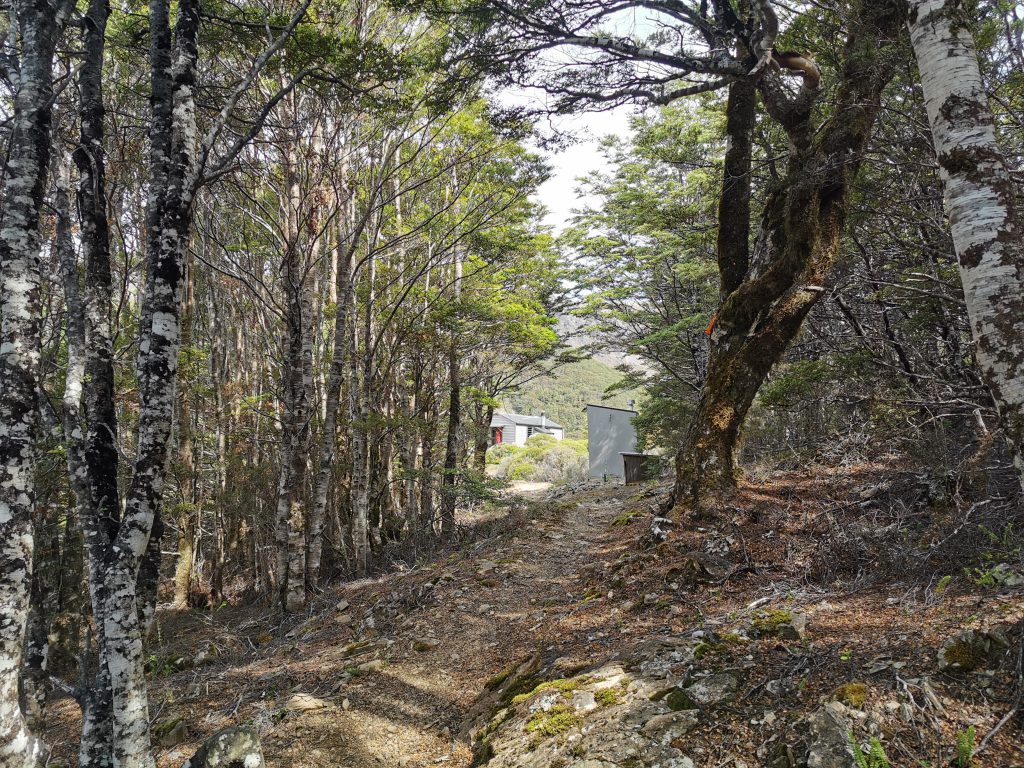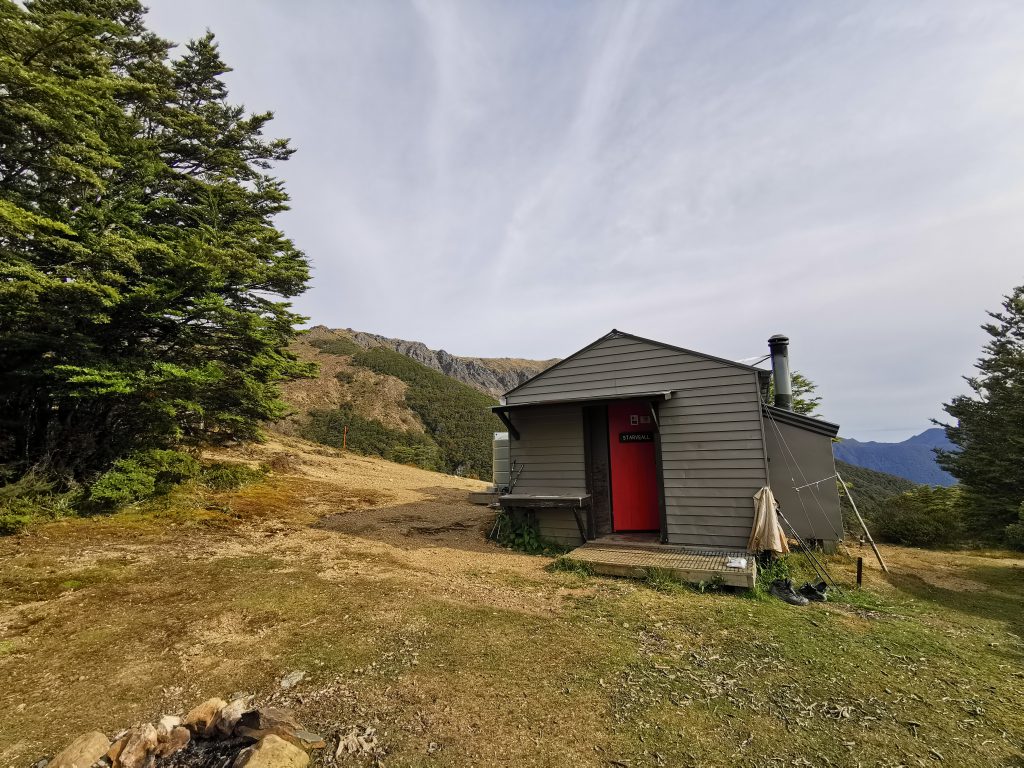 I tried to find out the origin of the name Starveall Hut. Did people starve here for some reason? The name of the next peak is Mt Starveall but that doesn't help.
The landscape definitely changes here. Tomorrow is going to be a completely different type of walk.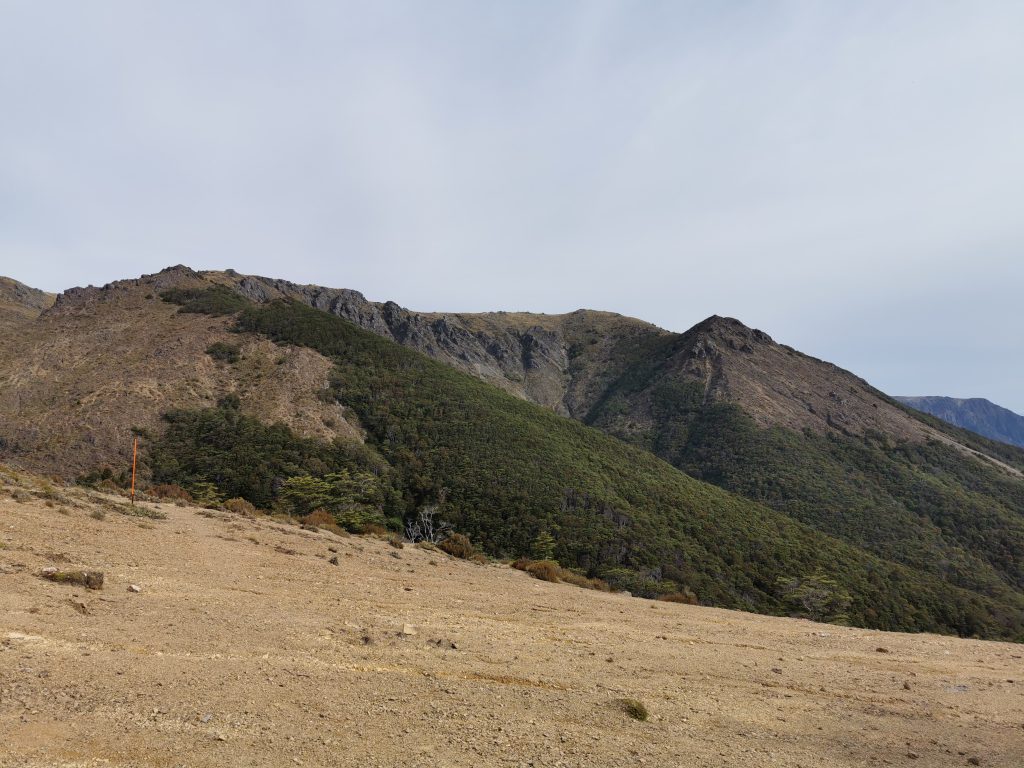 This is a six bedroom hut and there were six people here already… But I did get a bunk because two of the people are in a tent. Hooray! It is a top bunk though, and the hut has a very low roof.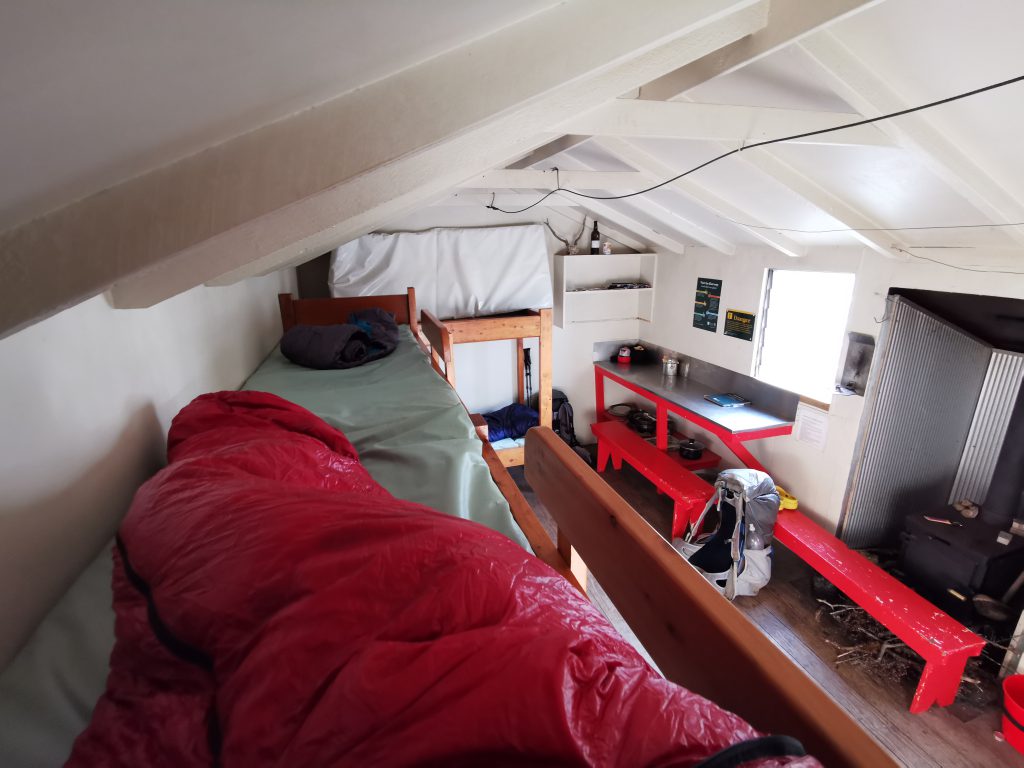 I asked one of the girls who also had crocs if she changed into them to do the river crossings earlier. She said she didn't have time for that.
There was 4G phone coverage and so I turned my phone on while I was here. To my surprise there was a voicemail from AA Insurance asking me to call them about my car insurance claim for my stolen car over Christmas. This stressed me out a bit because that was supposed to be all sorted. Of course when I did call the woman handling my claim was gone for the day and since it's Friday I'm now going to have to wait until Monday to find out what they want… or probably even later, as I don't know if there will be phone coverage on Monday. This is going to be playing on my mind until then!
It was cold here once the sun started going down. I guess we are 1200m up here. And Ben and Susan never showed up, I guess they must've stayed at Hackett.
We did get a couple of people turn up on a day trip from Hackett Junction. The lady was relieved that there was a spare bunk as she didn't bring a tent. It's brave not bringing a tent if you ask me! They even brought their dog up that massive hill. The dog did not like me at all. I got all the growling when I went to pat it. I think it thought I wanted to steal its food.
Most of us were in our sleeping bags by 7:20pm. I think the big hill took it out of most people. Now I get to catch up on my blog. There is a small amount of phone coverage here but not enough to upload all the blog pictures so I can write the blog entry but not publish it.
One bad thing about being on the top bunk is that if you accidentally knock something off onto the ground it might break, or at the very least you might have to get out of your sleeping bag and climb down to get it. That's exactly what happened with my inflatable pillow, I bumped it as I was turning over and it flew off the bed onto the floor. I could have waited for somebody to come into the hut and ask them to give it to me but knowing my luck they wouldn't see it there and they'd stand on it and burst it. So I had to go down to get it. I hope I don't drop the phone from the top bunk onto the floor!
There were two birds making a loud noise outside the hut straight after I lay down in bed. They weren't kiwi I was pretty sure, but I couldn't work out what they were.
And then something else that kept us awake… something I haven't encountered before, despite seeing numerous mentions of it. Mice! We started trying to spot the mice and we couldn't, so we just put our packs up out of reach as best we could. After we did that we could hear a mouse running around the edge of the hut. At least that meant that it wasn't inside one of our packs. Thank god for that.
Today's walk on the map (blue = Te Araroa, red = today's walk):