Date: 11 January
Trail covered: 18.2km (kms 1855.0 to 1873.2)
Weather: nice and warm but windy on the summits
The noise of the mice in the hut resurfaced at about 4am but we still didn't know exactly where they were. Someone thought he heard them running across the mattresses. Suddenly I'm glad I have a top bunk… I assume they are more likely to stick to the ground?
This morning once I woke up I managed to search the Internet and find out why the mountain is called Mt Starveall. According to the Nelson Trails site: "Mt Starveall is named after the experience of a stockman, who in the mid 1800s was searching the Richmond Ranges for a suitable route to drive sheep from Nelson to Wairau Valley. After leading his stock to the summit of Mt Starveall he found that they were unable to consume any of the alpine vegetation, and declared that the mountain would 'starve all' of his flock". There you go.
This morning we had a discussion about who was planning to get to where today. I said I wanted to get to Rintoul Hut, three huts away. Others thought that was quite ambitious. One girl said "we have a name for people like you… fast fuckers".
But it is hard to find people going the same speed. Everyone from the previous couple of huts has gone slower than me. I guess it makes sense when you think about it – you'll never see people going the same speed as you because they're either ahead of you or behind you and since you go at the same speed you never end up at the same place. You tend to only meet people going the same speed if you have a rest day or have a short day for some reason.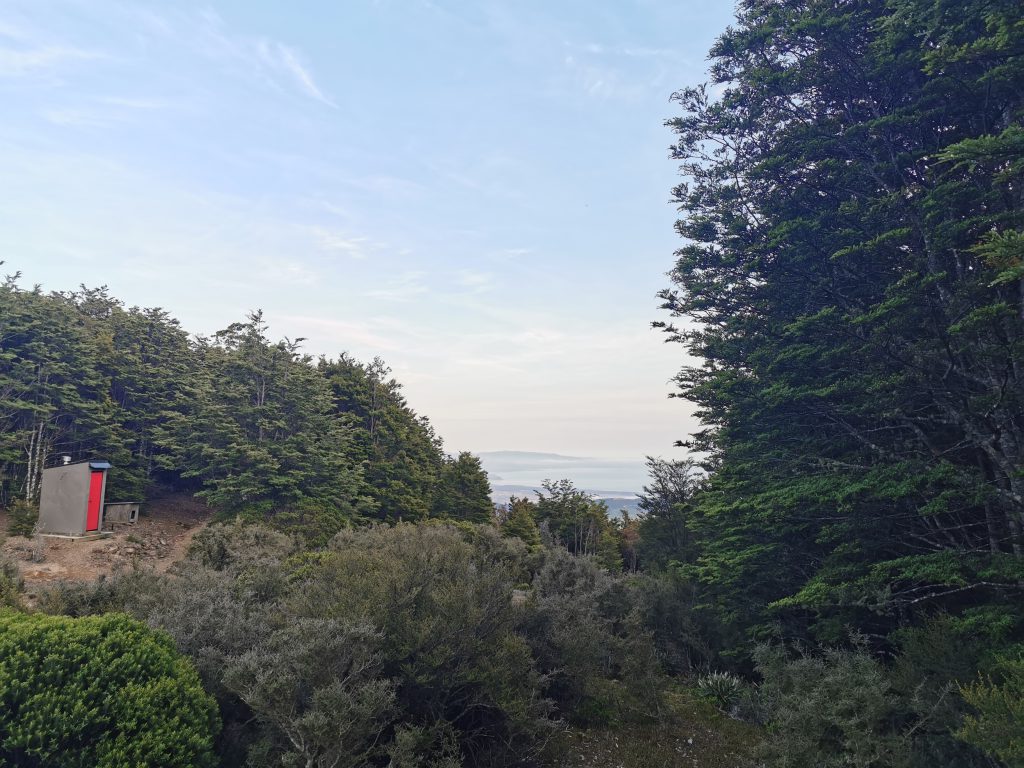 I had my jacket and gloves on this morning, and left for the hike at 7:45am still wearing them. No doubt though they'll come off after 1km like most other days.
I chose Mt Rintoul Hut as my destination today because Mt Rintoul which is just before the hut is the most difficult section of the Richmond Ranges if you believe the trail notes. And the weather tomorrow is potentially not the best so I'd like to get the summit out of the way today, which has a much better forecast.
The first part of today's walk was continuing the climb from yesterday, to the top of Mt. Starveall. The very first bit was "sidling" along these interesting brown rocks.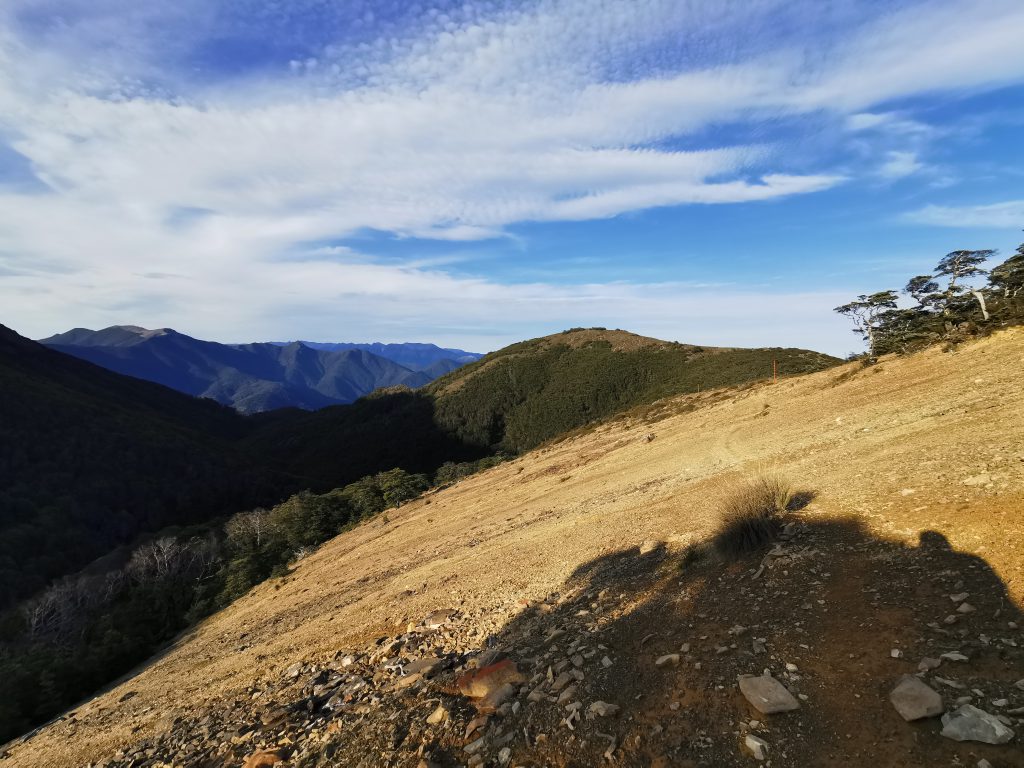 The view was pretty good pretty fast.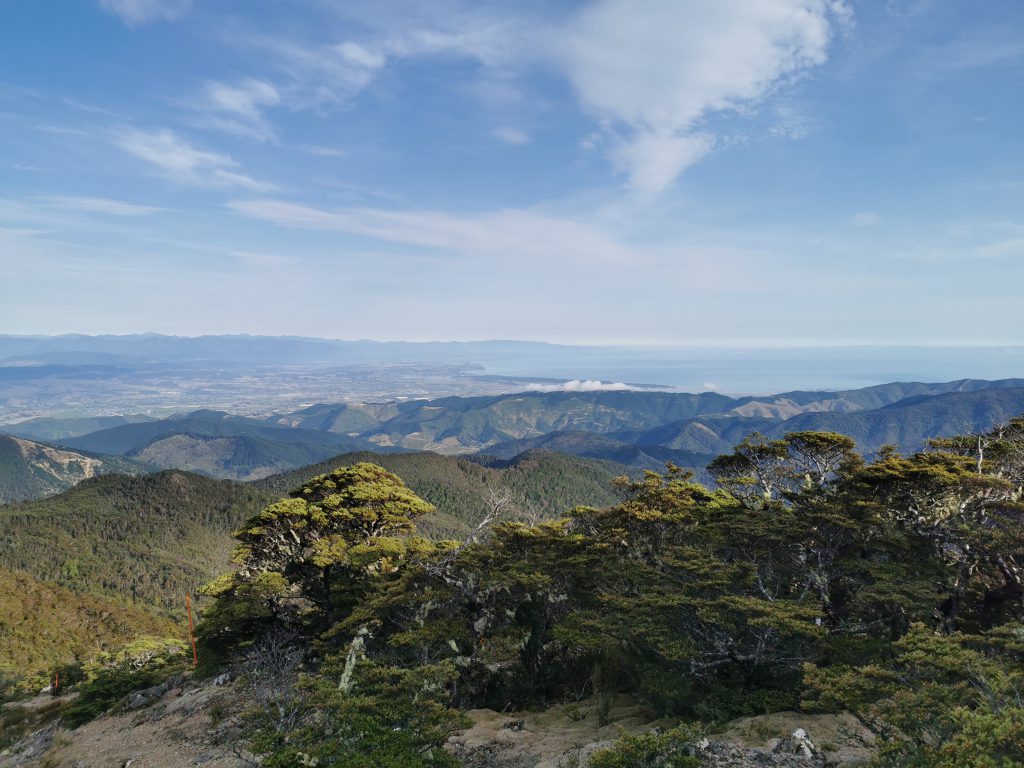 This was the sort of path for most of the rest of this part. Well formed and easy to follow.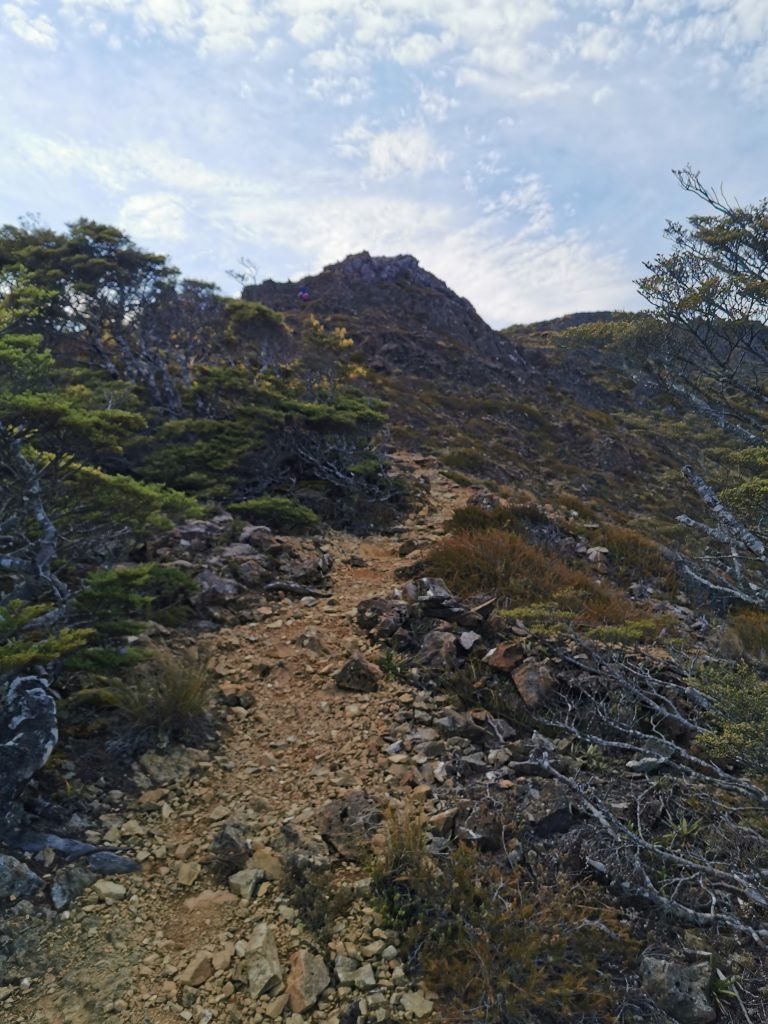 It was windy up there though. The jacket and gloves stayed on longer than I expected.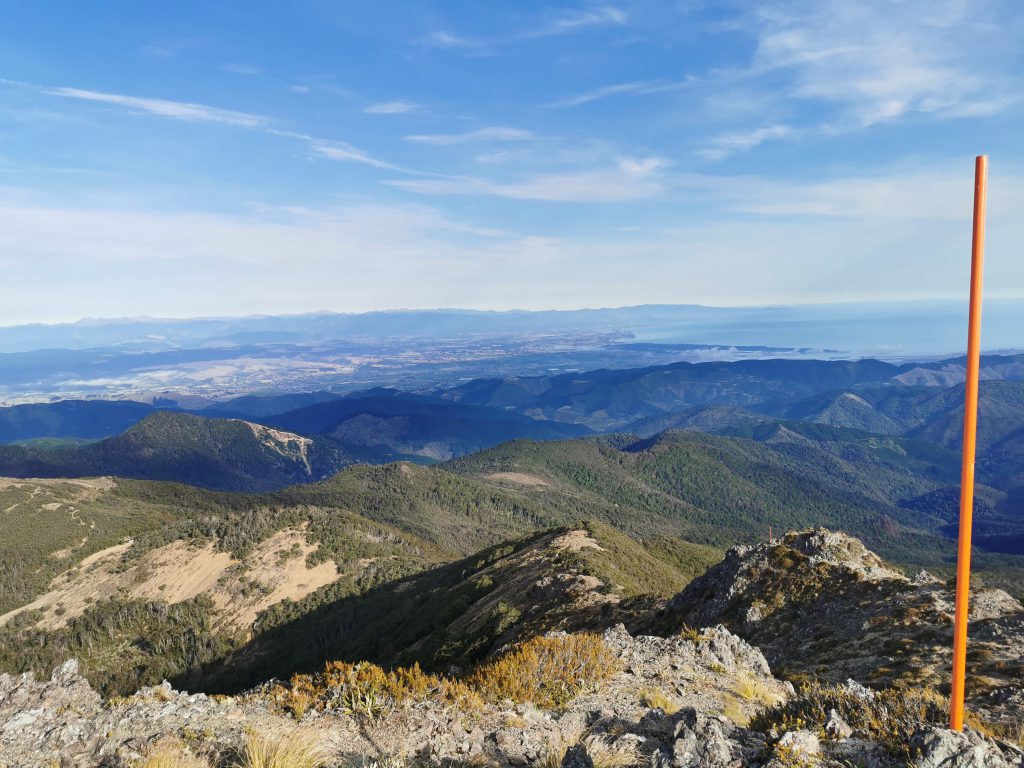 I thought I was first to leave this morning but the couple with the dog were ahead of me. I remembered them saying that they are just going to the top of Mt. Starveall but then coming back down.
Id keep thinking I was at the top of the first peak when I saw the couple on top of a hill resting, but no, there always seemed to be a bit more to go.
I saw the dog make a mad dash after a couple of mountain goats at one point. The dog had no problem at all with the mountainous terrain, it seemed.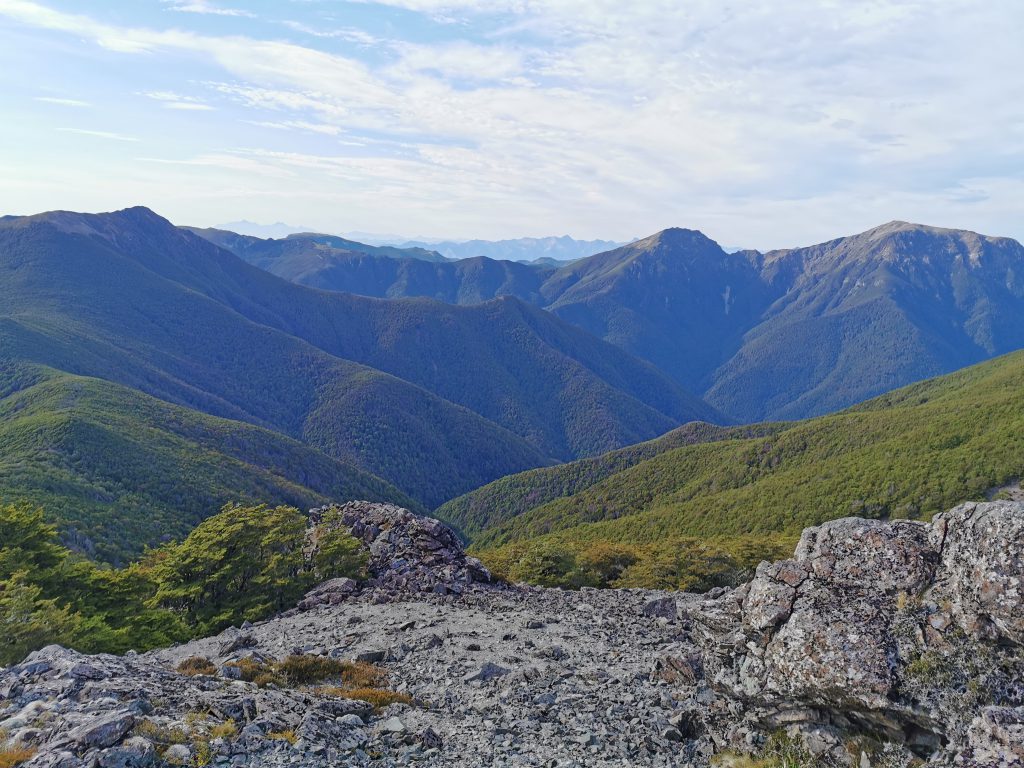 Once over the first peak, the wind stopped and the trail went back into trees. That's when I took off the jacket and gloves. From here it was a nice walk to Slaty Hut but I had the car insurance call on my mind from yesterday. What did they want? Have they decided not to pay out now? Do they need me to give them something, like the registration papers or something like that? I hope not. I wish I could just switch my brain off since I know I can't deal with it till at least Monday anyway.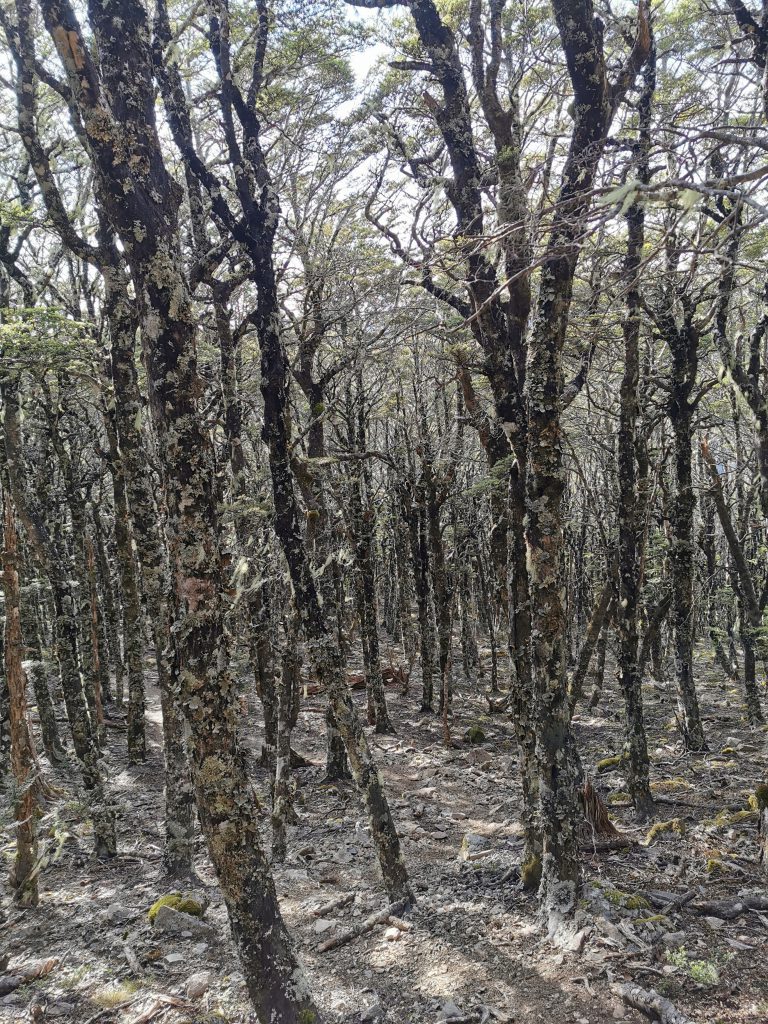 This got me thinking of the Alanis Morissette song, the first one on her famous album, which ended up stuck in my head. The one where she sings "Why are you so petrified of silence? Here, can you handle this? Did you think about your bills, your ex, your deadlines? Or when you think you're gonna die? Or did you long for the next distraction?" Some topics for me to think about next time my brain won't shut off.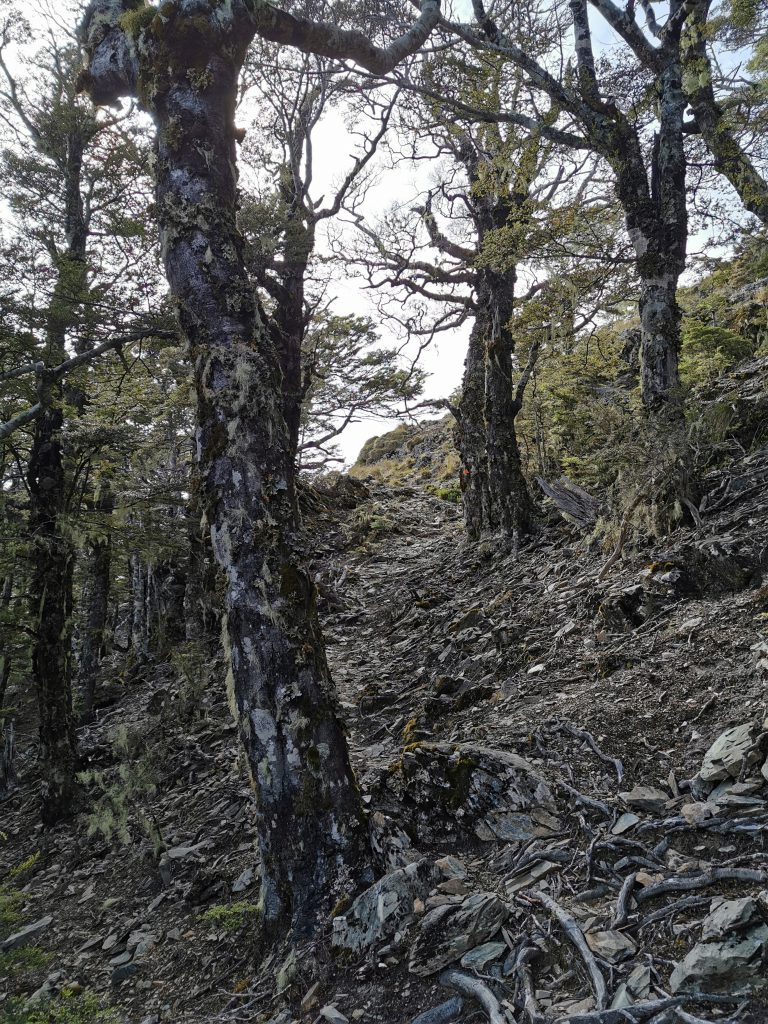 I didn't have any music on at first, and I kept thinking that I heard voices. Twice I stopped to listen to what it was but heard nothing. I think it was either squeaking of my pack straps or goats. So to silence these "voices" and to try and get the song and other things out of my head I put on my iPod.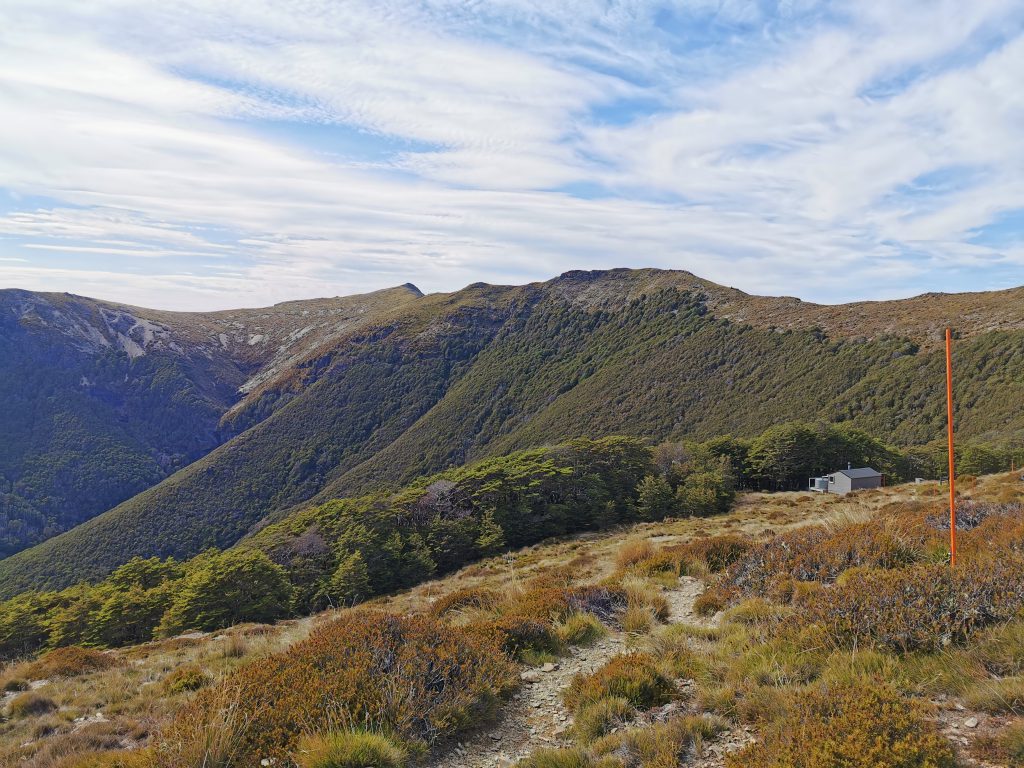 I got to Slaty Hut at 9:40am – just under two hours after leaving. I looked at the intentions book. Only Matt & Tina were here last night – that means that Rintoul Hut might be quiet, but there is still Old Man Hut between here and there. I also saw that Rhydian stayed here on the 6th – gee that means he is now 5 days ahead of me.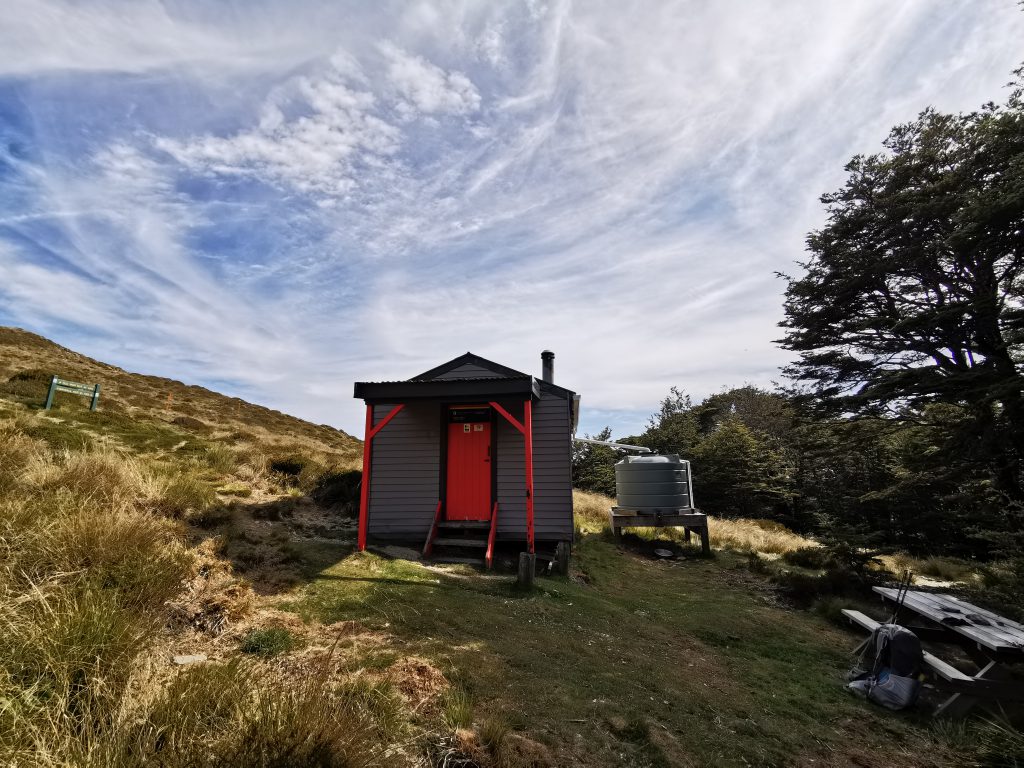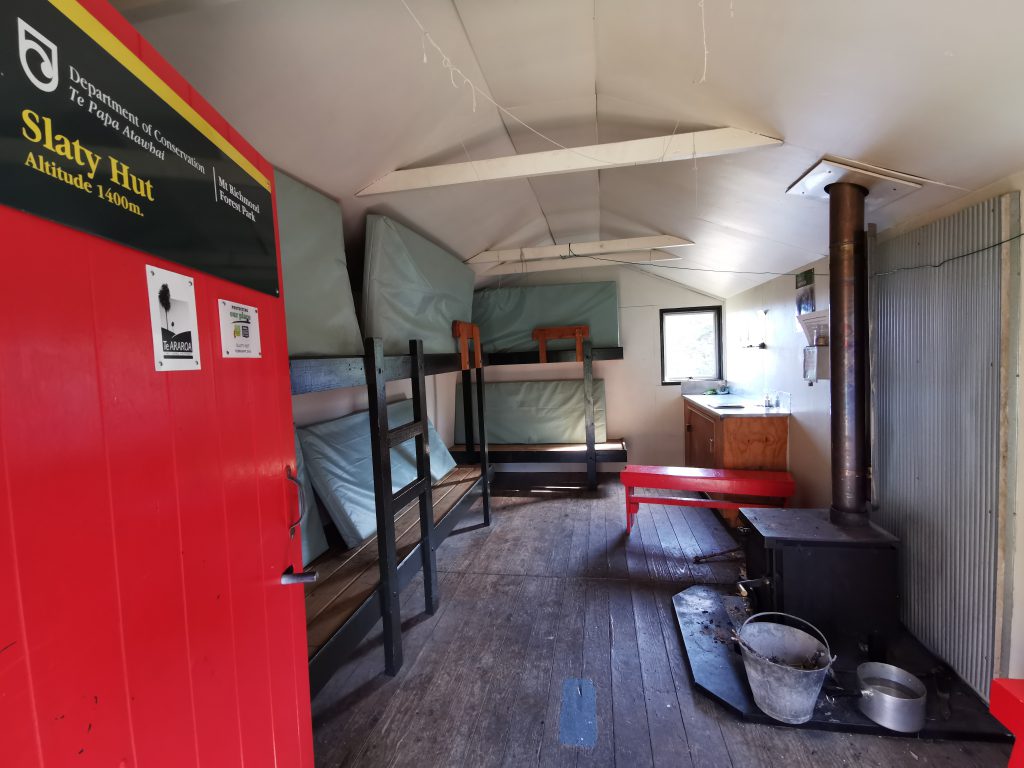 I had read reports that Rintoul Hut has no water, although they could be old reports. To be safe I filled up both my plastic bottles and also my 64oz Sawyer Squeeze filter container. That's almost five litres of water – I definitely noticed the extra weight on my pack.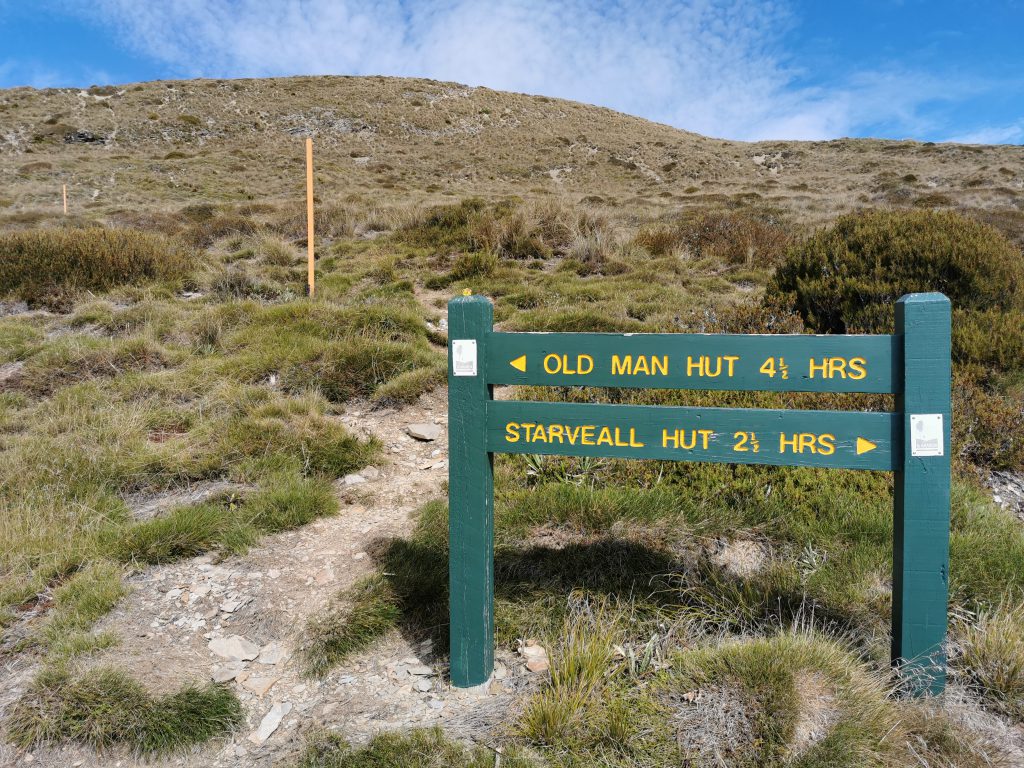 There's a bit of a hill coming out of Slaty Hut. I really noticed my sore legs going up the hill. I'm not entirely surprised given the big hill from yesterday but there are more big hills today going up Mt Rintoul and so I bet my legs will be killing me tomorrow.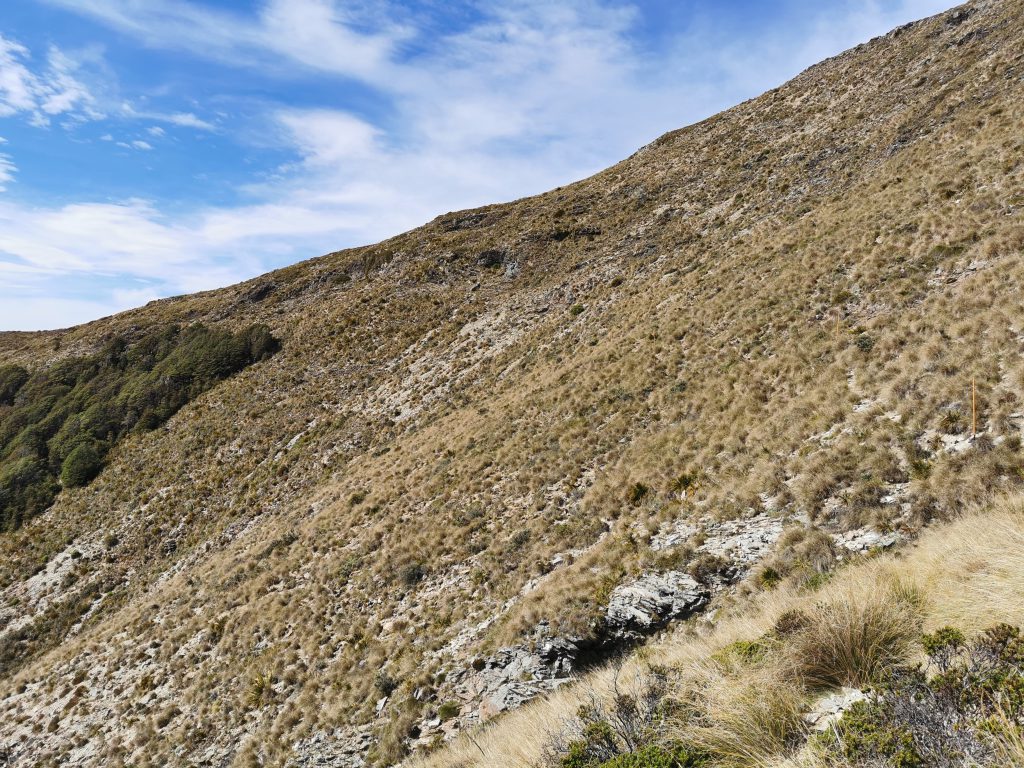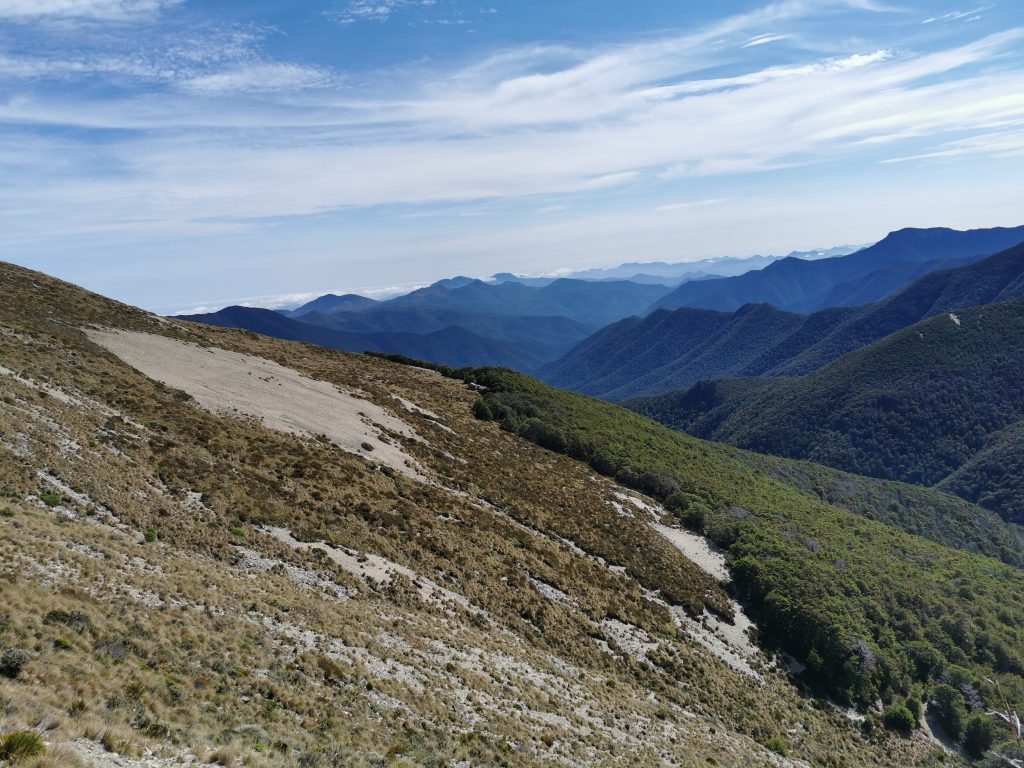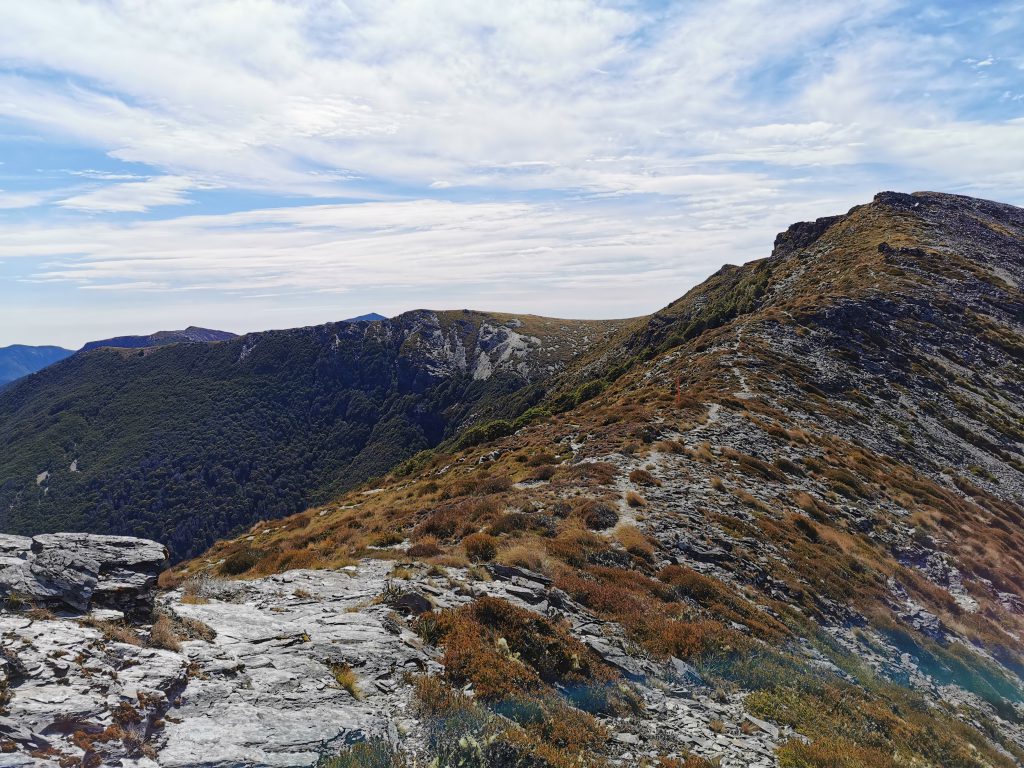 There are a few more ups and downs between Slaty Hut and the next hut which is Old Man Hut. I saw this view from one place, with a bit of water in the distance: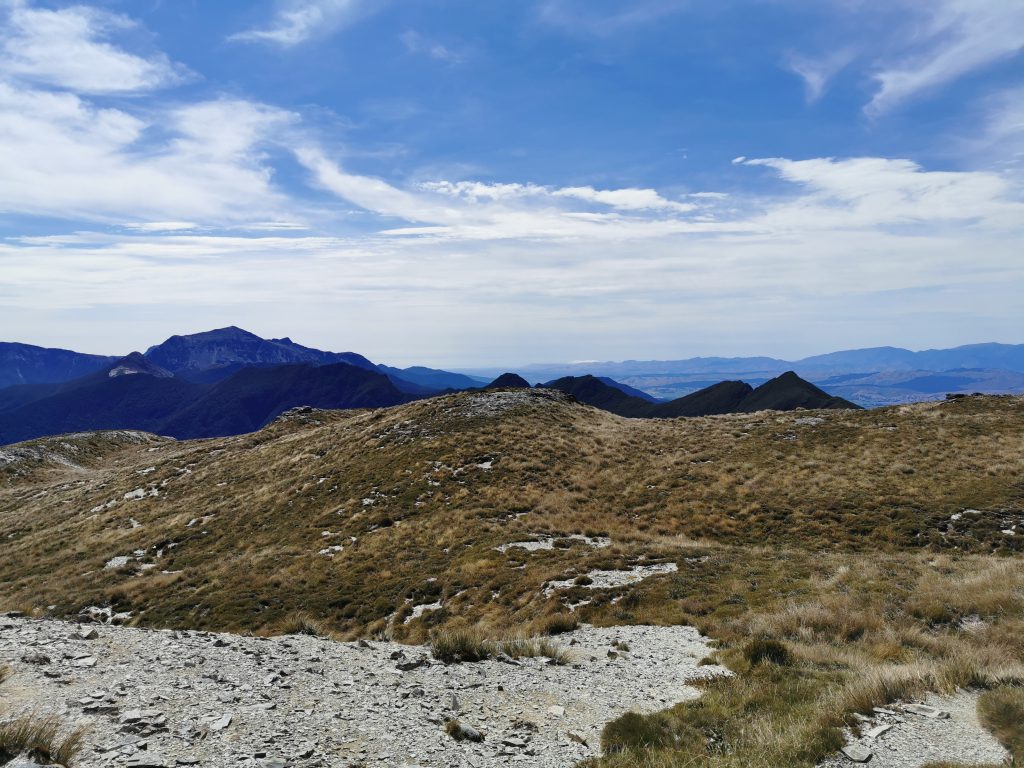 I tried to work out what I was looking at and based on the map and the direction I figured it had to be the East Coast, back out past Blenheim or somewhere like that. If that's correct, we must be up really high to see that far.
This was the view I had today for my 11am picture, a bit further on: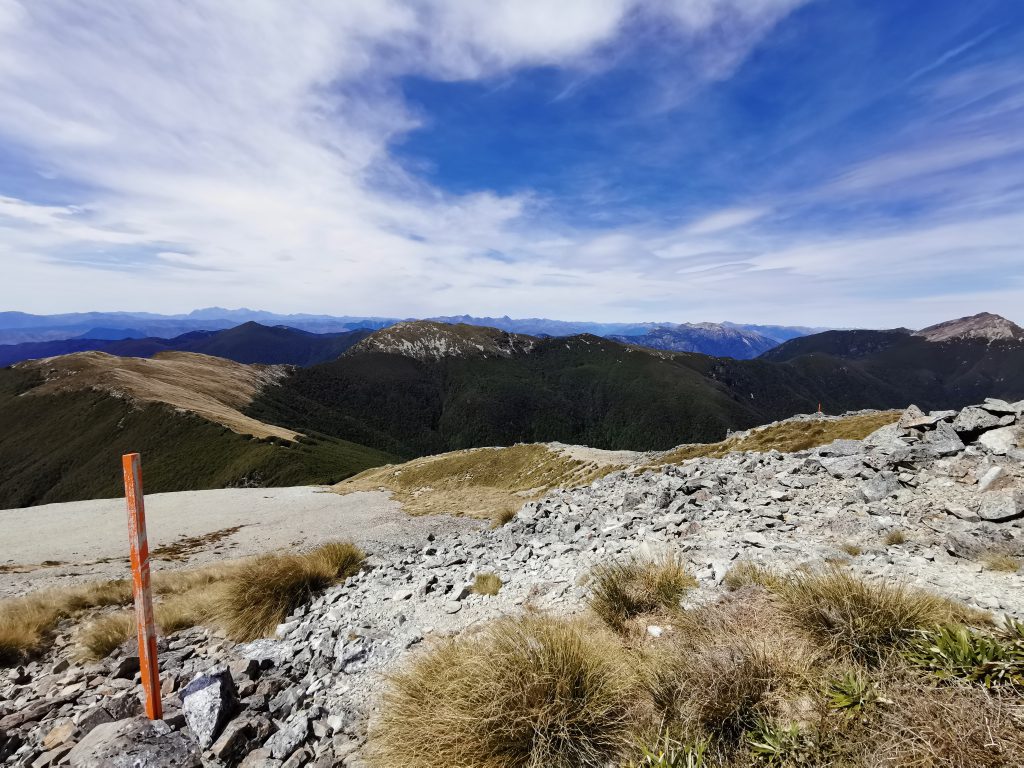 The path went in and out of the trees as well. This photo makes that really obvious: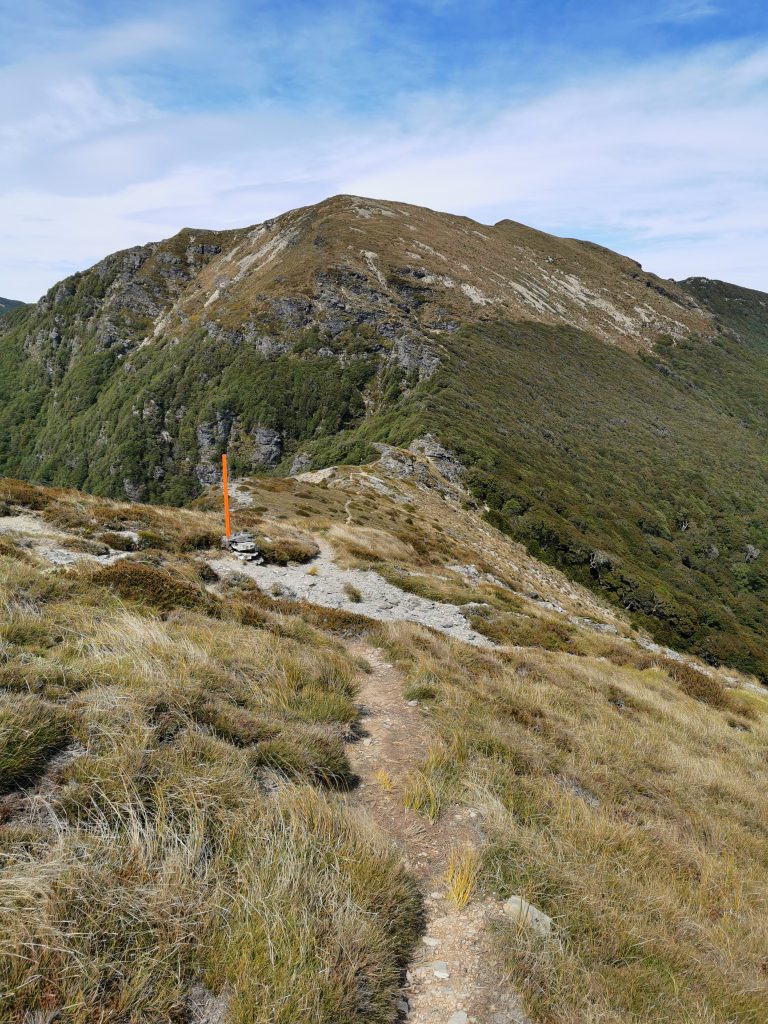 I stopped for a snack between the two huts as I was getting kind of hungry. I have no snack foods like I determined yesterday. So I worked out roughly how much food I need between here and St Arnaud, and ate a bit of the rest. That included peanut butter straight out of the jar.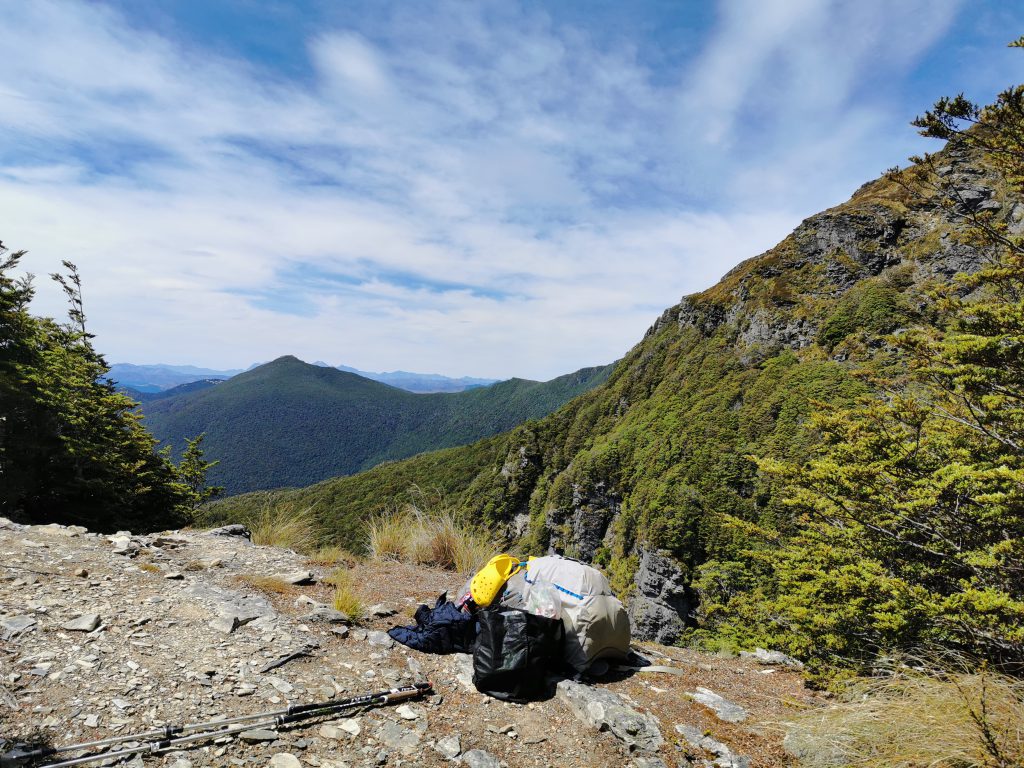 I then saw this view, which is another peak in the area.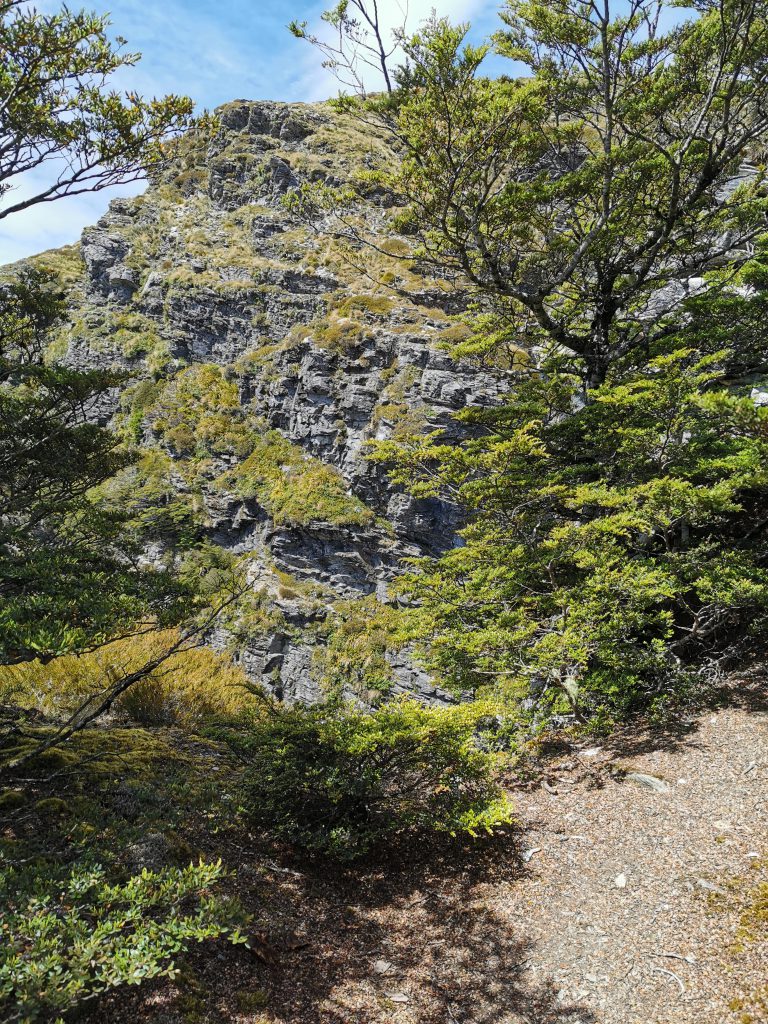 The hut that is not far from here is called Old Man Hut so I figure this must be Old Man Peak or Mt Old Man but it turned out when I looked at the map to just be called Old Man. Another place with a fascinating story, no doubt, if only I knew what it was. Anyway, I now have to climb it. Fortunately not straight up the side of the rocks, but around to the side.
At this junction I saw a similar view to before, although this had a very familiar-looking river in the background.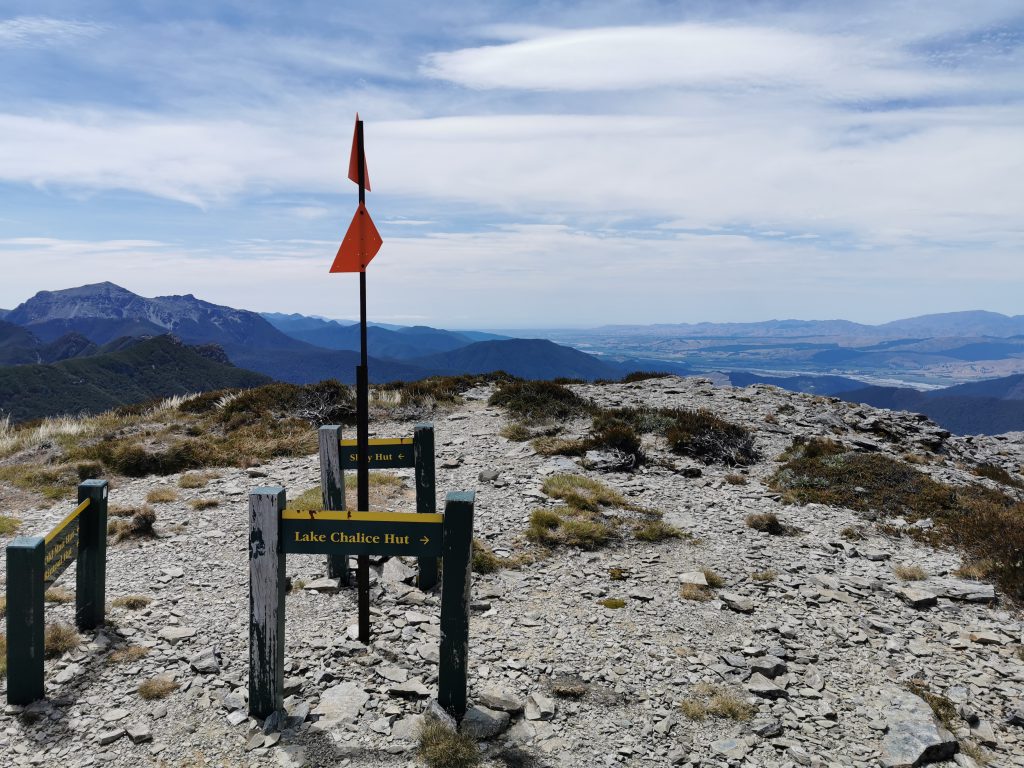 I recognised this river from maps as the Wairau River between Blenheim and St Arnaud, so I must've been right in my guess as to what I was looking at. Although of course I could still be totally wrong.
From here, the track gets a little, shall we say, "hairy".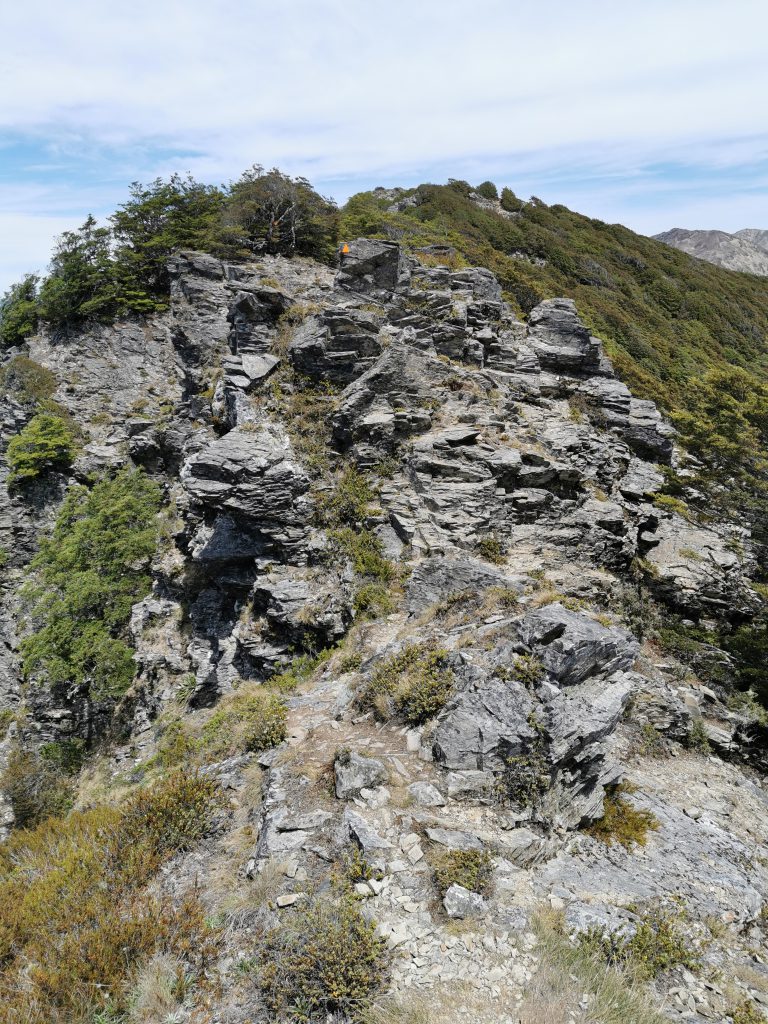 Yep that's one pile of rocks that I did have to climb. And once over that, I soon got a glimpse of what I'd be climbing next.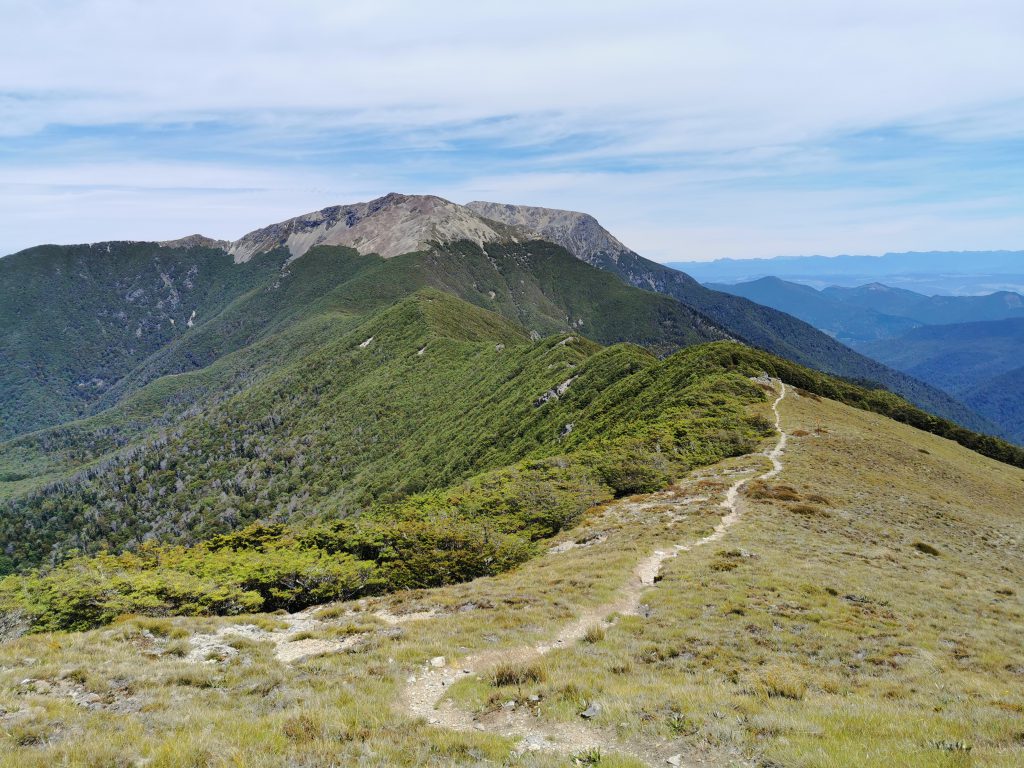 That there is Little Rintoul, a not insignificant peak immediately before Mt Rintoul which you go up to the top of and then descend a fair bit before starting up the next peak. The bit above the treeline looked just like dirt. That should be fun!
First though, another series of rocks to clamber over.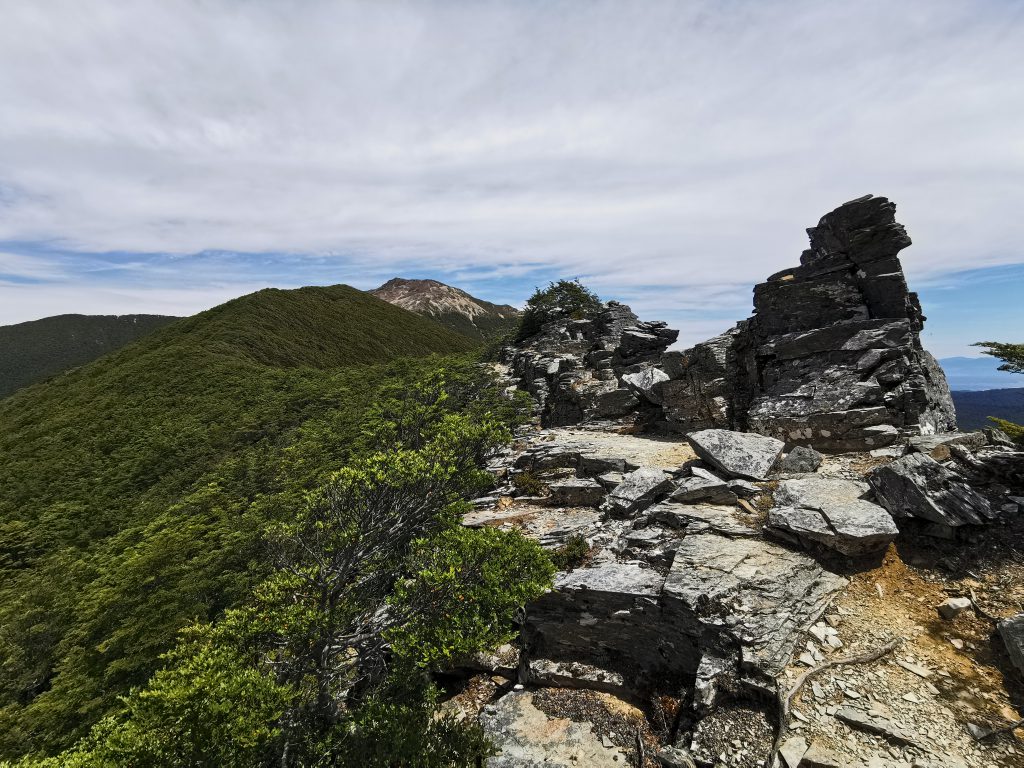 Old Man Hut is just after these rocks and after a bit more of a walk through the bush. Thing is, it's a bit of a detour to get to it, and not an easy detour either, in fact it's quite a steep 200m descent from what I hear. So I didn't go and see the hut. I just had lunch #2 at the junction to it.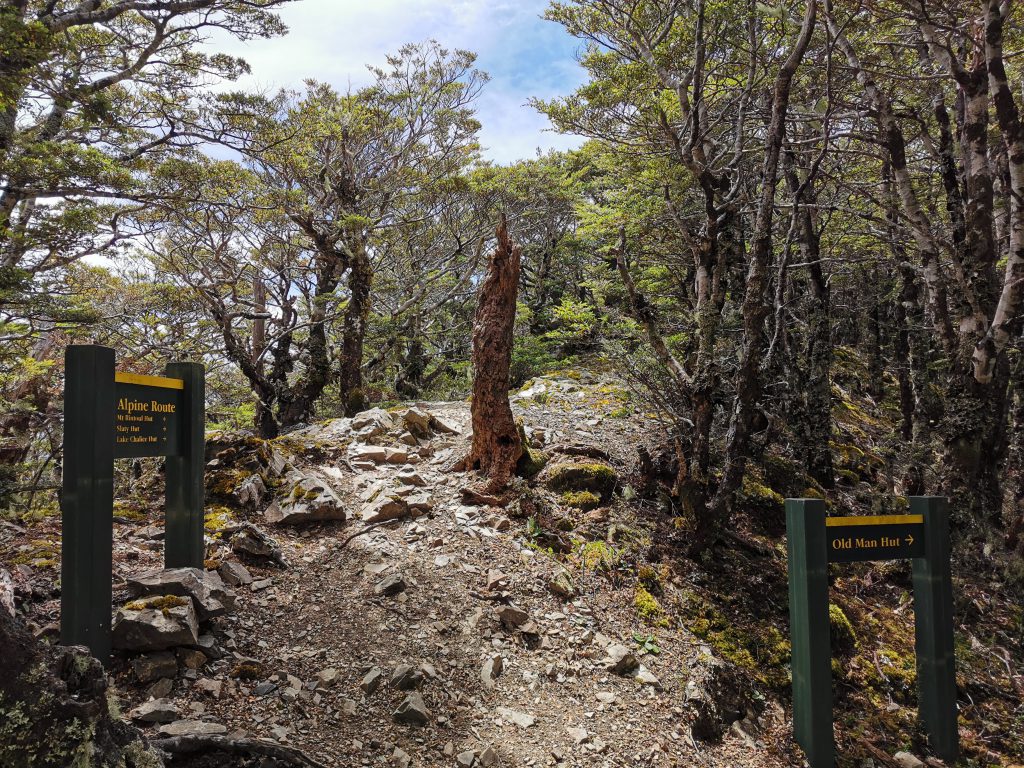 I think now is a good time to show the Guthook elevation profile for the upcoming bit.
The way I've got it zoomed makes it look steep but it's actually only two peaks of approximately 300 metres each over the space of four and a half kilometers. That's not too bad – it's apparently the terrain that makes it hard work. The first bit was fine – a well formed path through a bunch of rocks.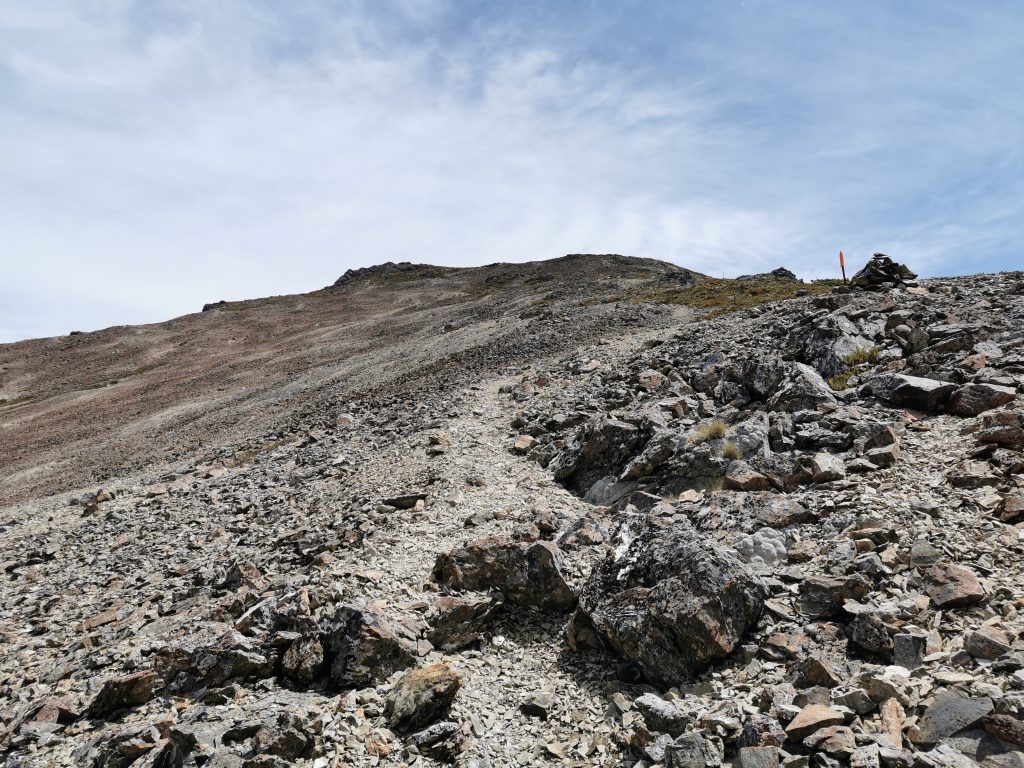 You could even see Old Man Hut in the distance.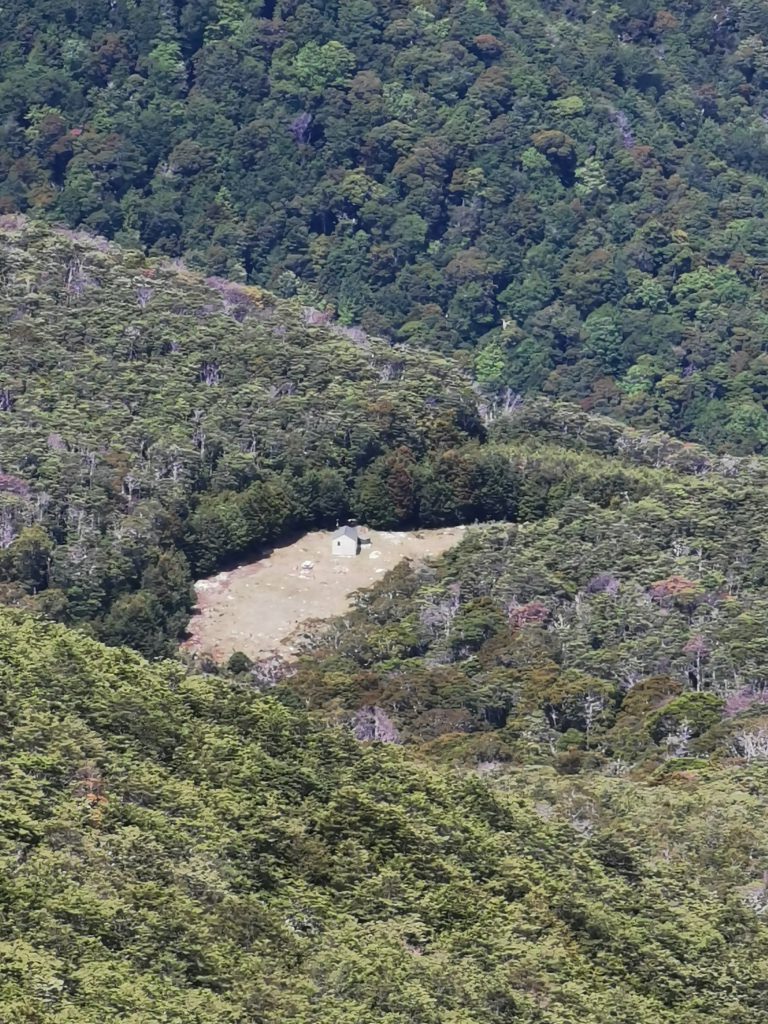 The top of Little Rintoul was just a lot of loose rocks. You had to make your way across them – luckily they seemed mostly wedged in place and none of them gave way when you stood on them.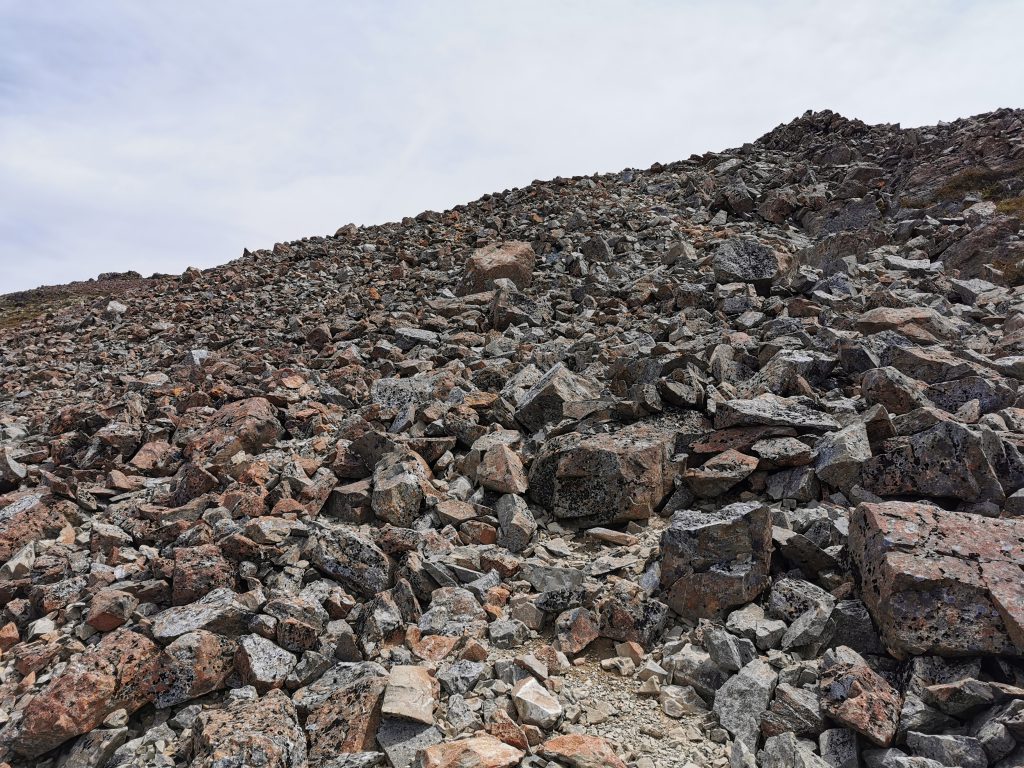 The view from the top was pretty good.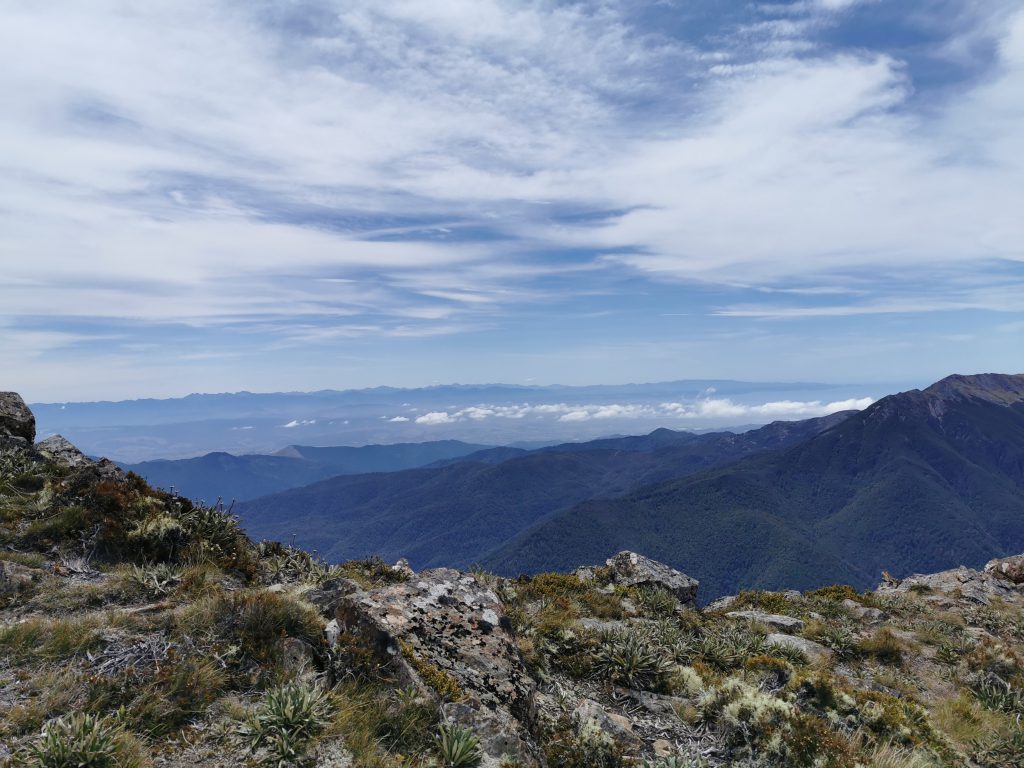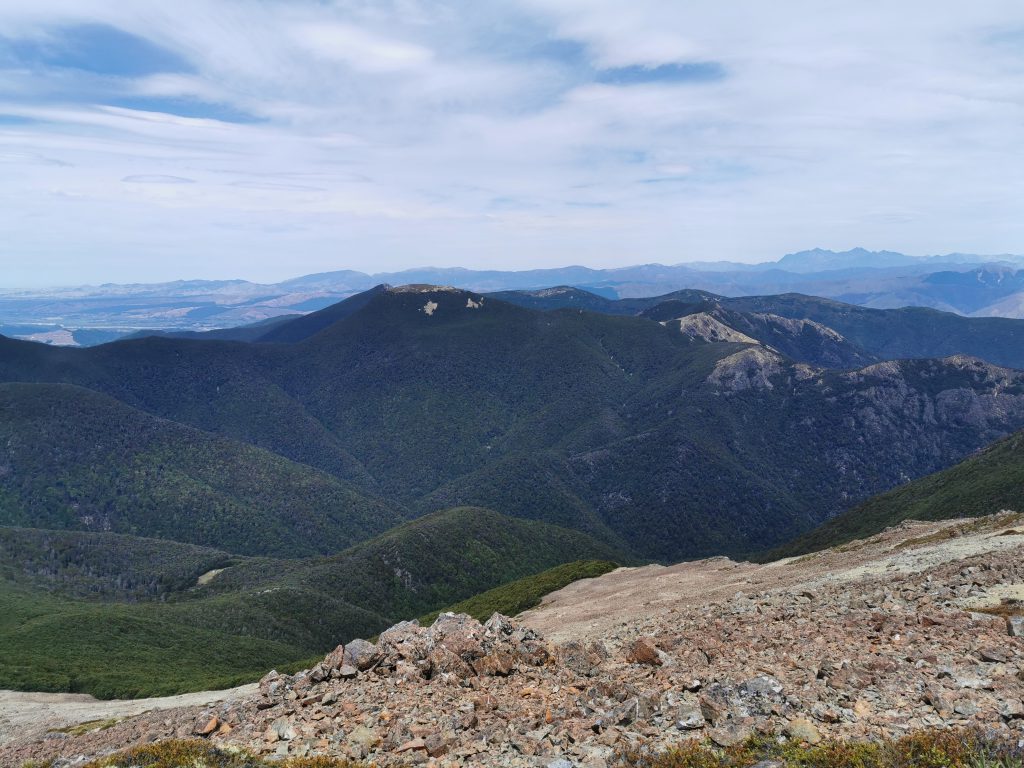 It was then clear where I had to go next. But how on earth do I get there?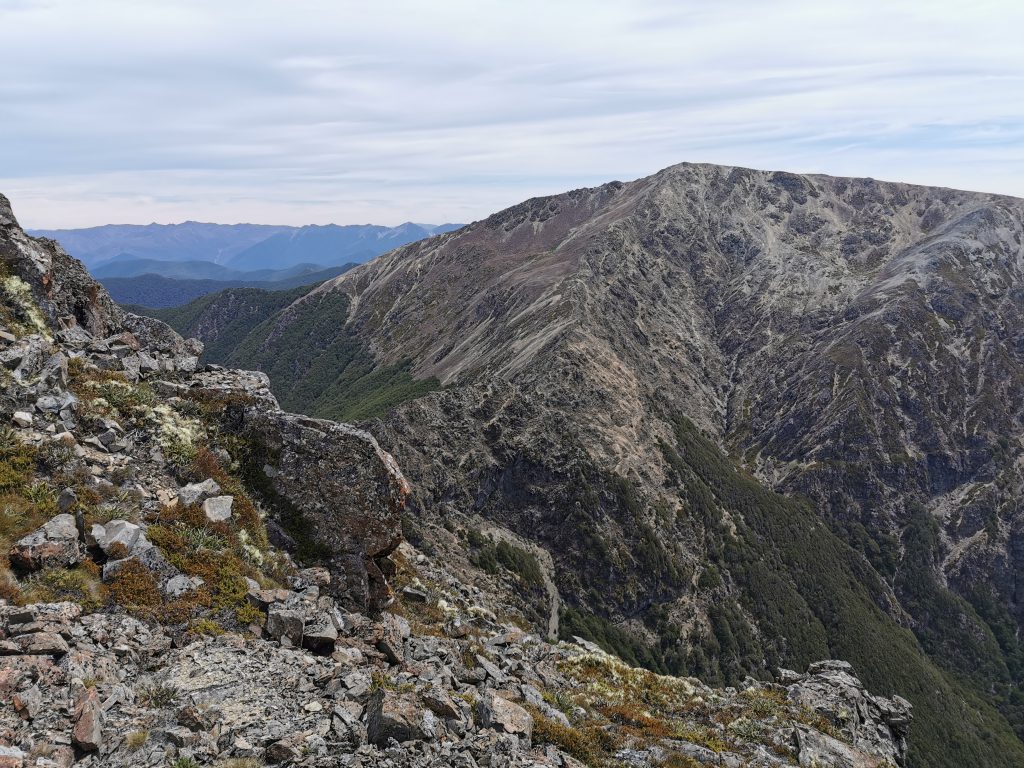 Before going down here I found a spot out of the wind and used the excellent 4G phone coverage up here to upload a bunch of photos for the blog. I didn't mind waiting for them to upload. This was the great view I had while I was waiting: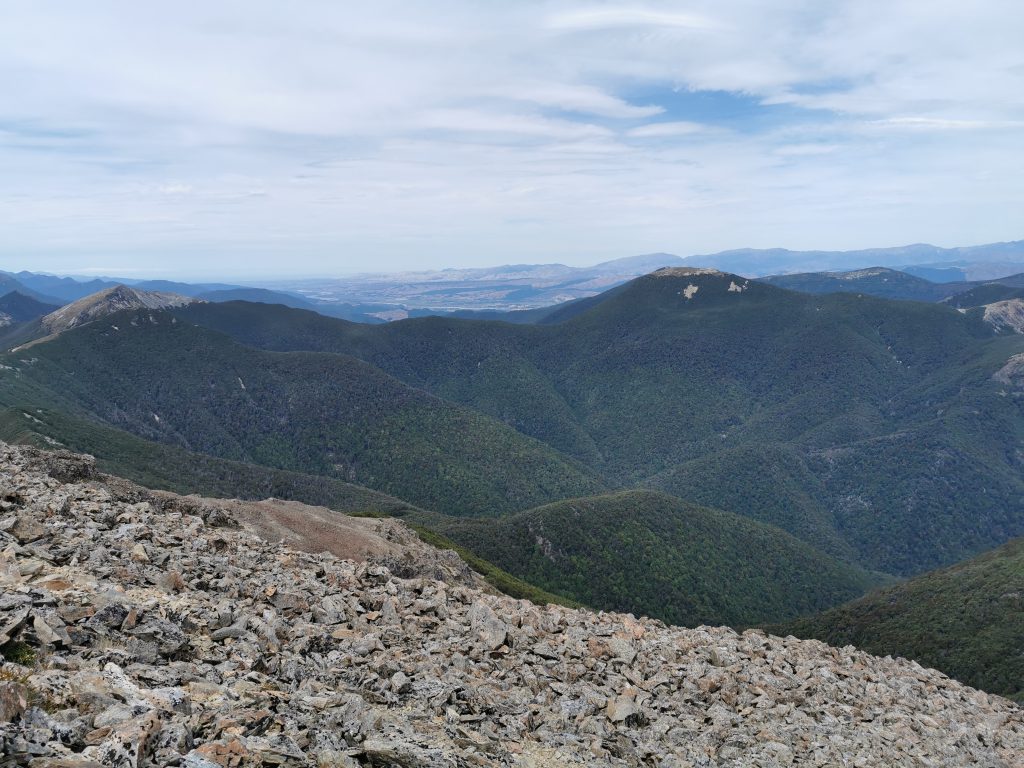 After this I continued on a bit and it was obvious where I had to go next.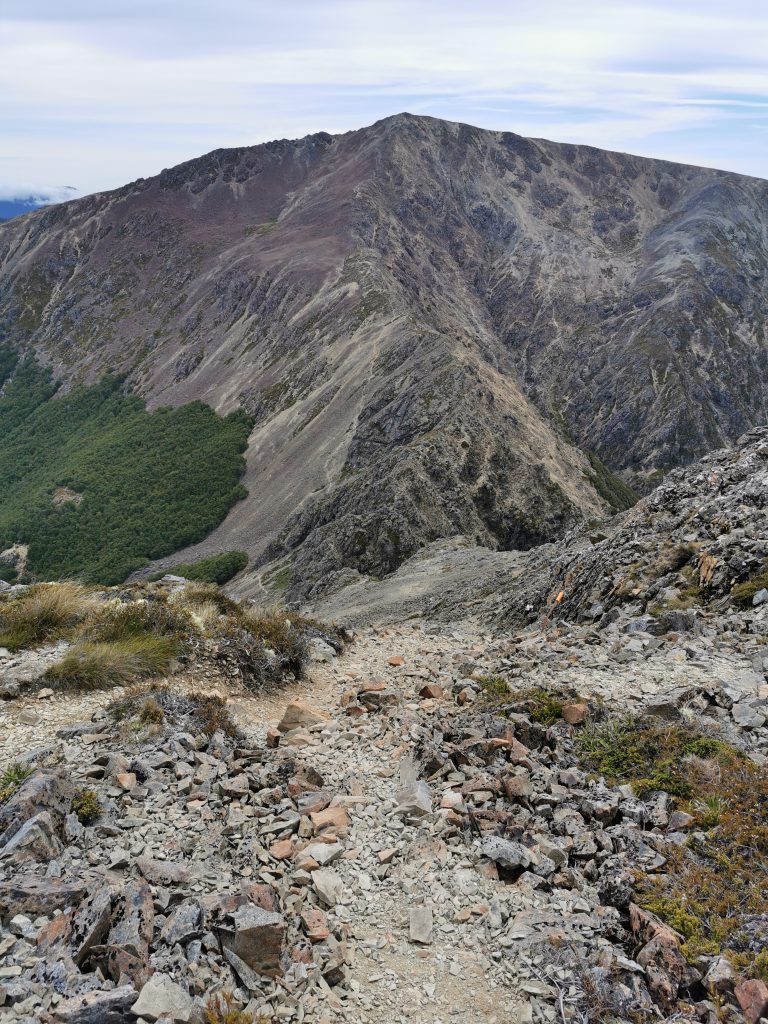 Going down here was interesting. The rock was a lot smaller and looser here – "scree" I believe it's called. With each step lots of rocks tumbled down the hill. I had to be careful that I didn't go with them, although when that happened it did make the descent faster!
There were a few spots where overhanging big rocks meant you had to manoeuvre yourself around them, and a lot of times there wasn't a lot of space. There were a few quite dangerous spots.
Once the descent was over, it was time to start up Mt Rintoul. It actually wasn't too hard, mainly along a path like this: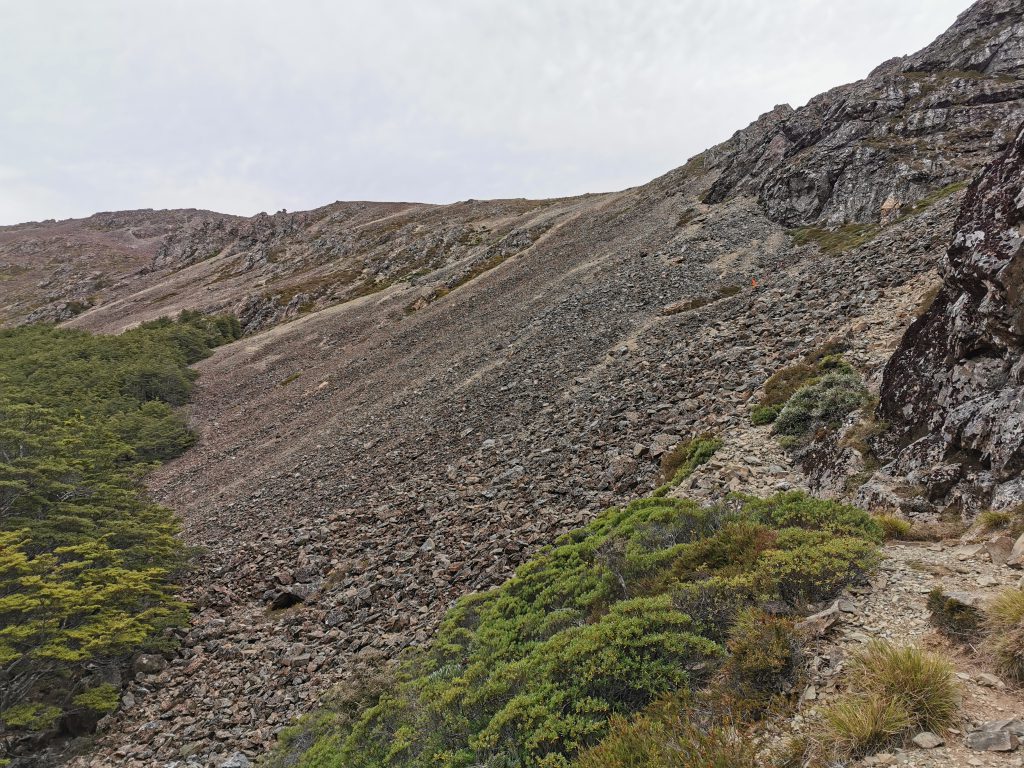 In some places the rocks were looser than others, but generally there was nothing too challenging, you just had to be careful and patient.
I saw Matthew and Tina on the ascent of Mt Rintoul. I managed to catch them when they stopped for a break out of the wind near the summit. The wind was a problem at times but at other times it wasn't, it just depended on which side rocks were shielding me. Well I say a problem, it was just cold more than anything.
The view was good from the top.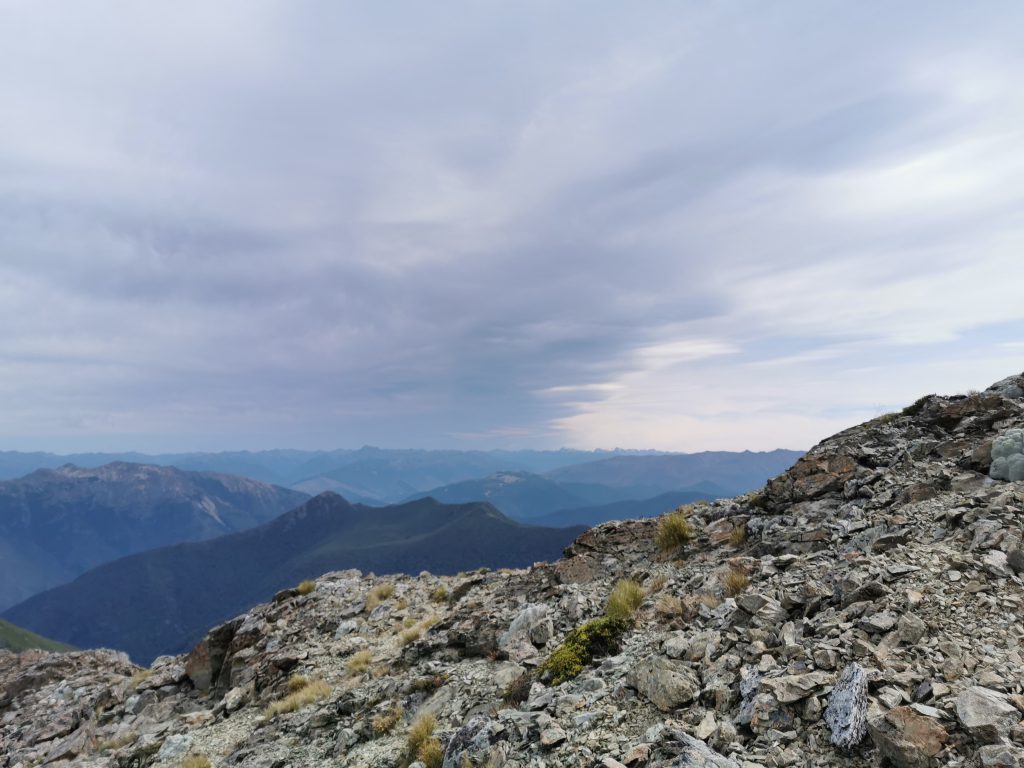 Those peaks look like they have snow on them. Apparently my new phone camera has a really good zoom. Let's try it out right now.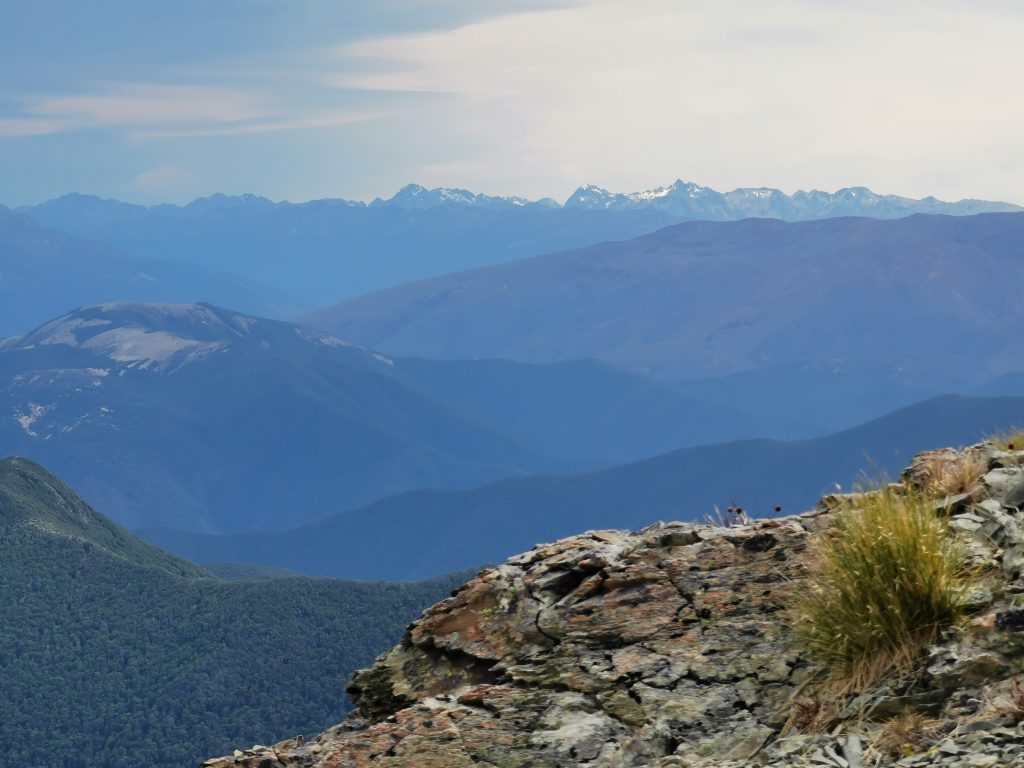 I'm glad I didn't leave it much later to get up here. The cloud followed me up: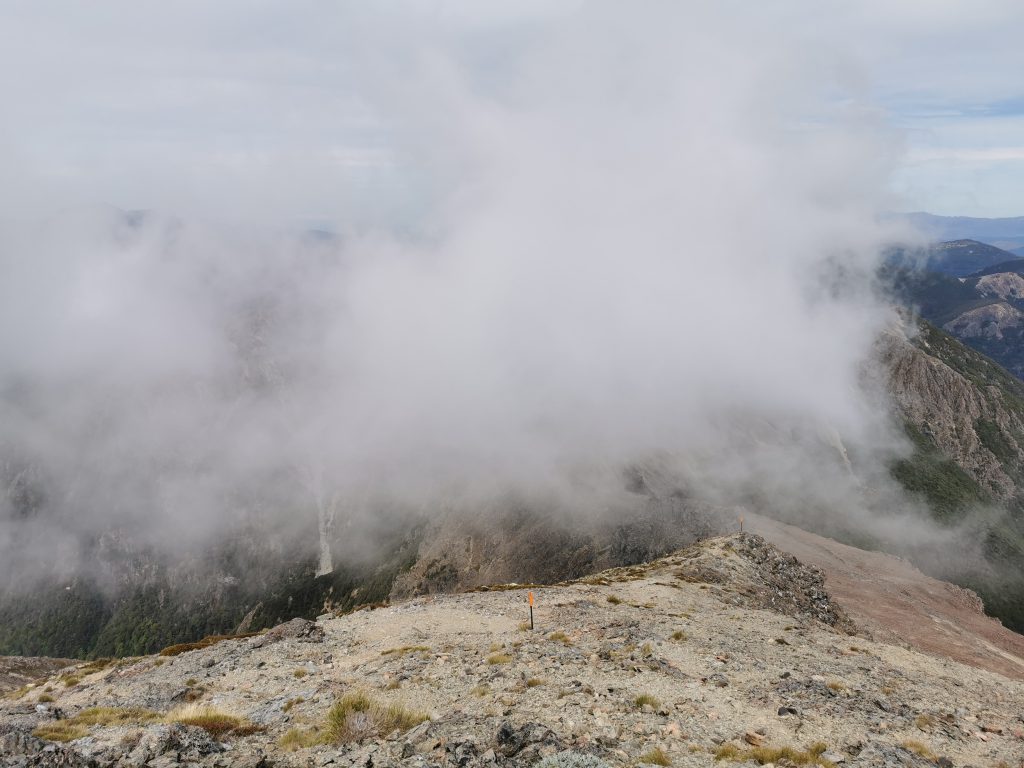 Here's the view from the actual summit: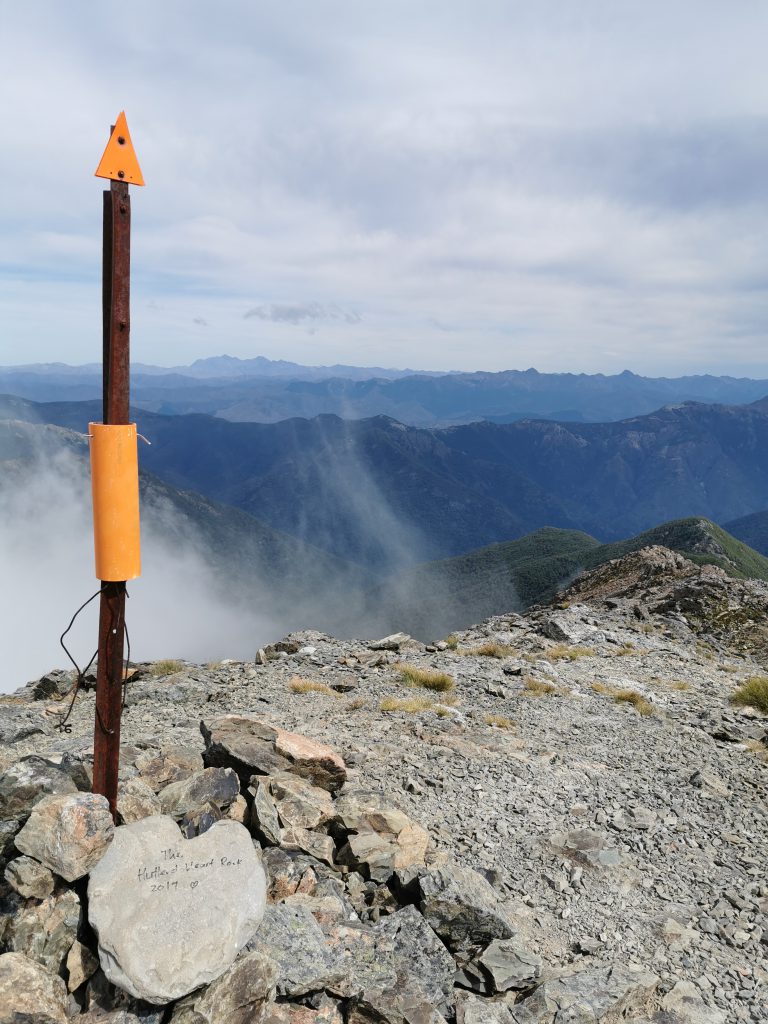 And here's a close-up of the heart-shaped rock, just in case you're interested!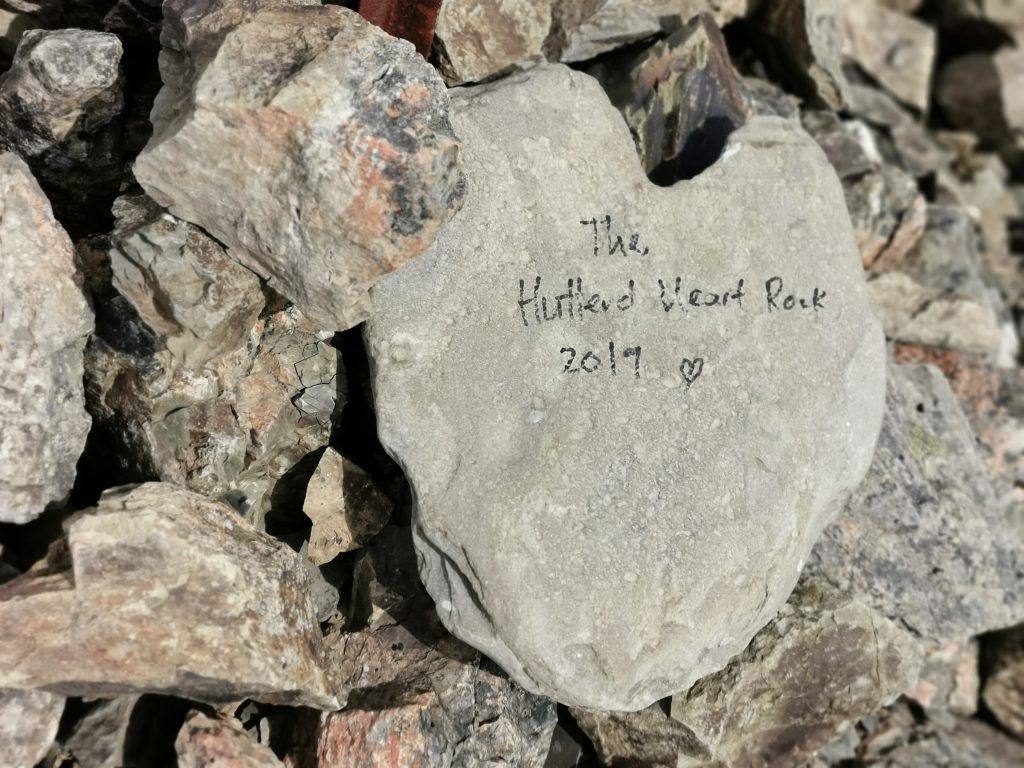 After the summit there is quite an easy walk down for the first bit.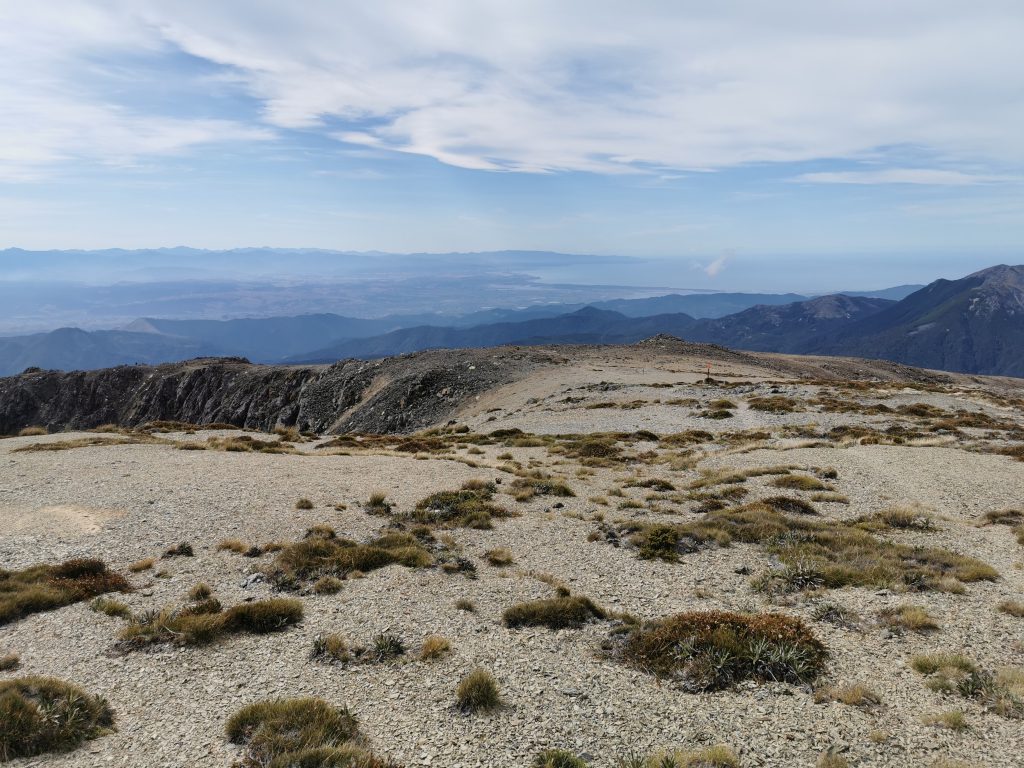 And it didn't matter that I had no snacks – there were plenty of space cauliflower up here to munch on.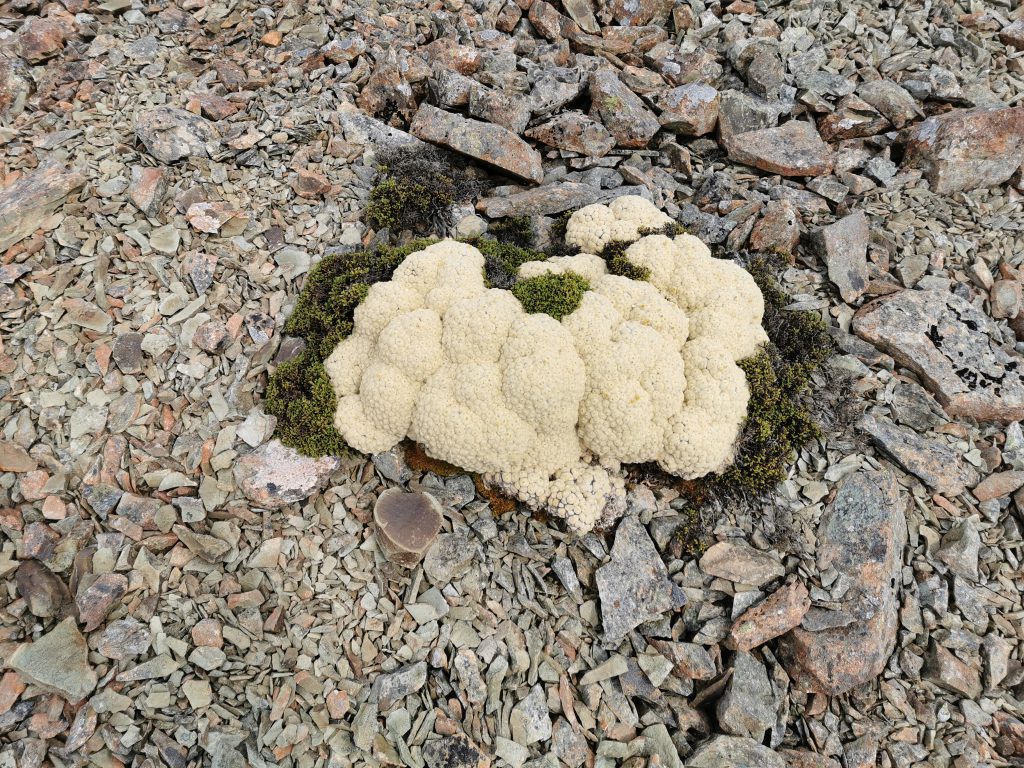 I had been doing a bit of calculation in my head as to exactly when I could get to St Arnaud, so I could check out accommodation there. Three days would be tough, they would be three big days, so four days was more realistic. Besides, if I'm gonna book somewhere nice I want to have the whole day to relax there and enjoy it. So while I was at the summit I booked the Alpine Lodge for Wednesday the 15th – four days from now. It is quite pricey, $195 for one night, but I couldn't see any other options except for campsites. I want to do laundry and have a nice meal so I'll pay it. I mean, it's so far between towns here that it's not like I'll be spending that amount often. And it's free cancellation if I change my mind.
I was really starting to notice my smell. I smell like an infected wound. I remember making that same observation about a month ago – day 54 in fact – where I noticed that the tent had the same smell. I can't quite work out what causes that smell.
Just one final descent down some more scree and down past the treeline to the hut. Matthew and Tina got away from me before but I caught up to them again.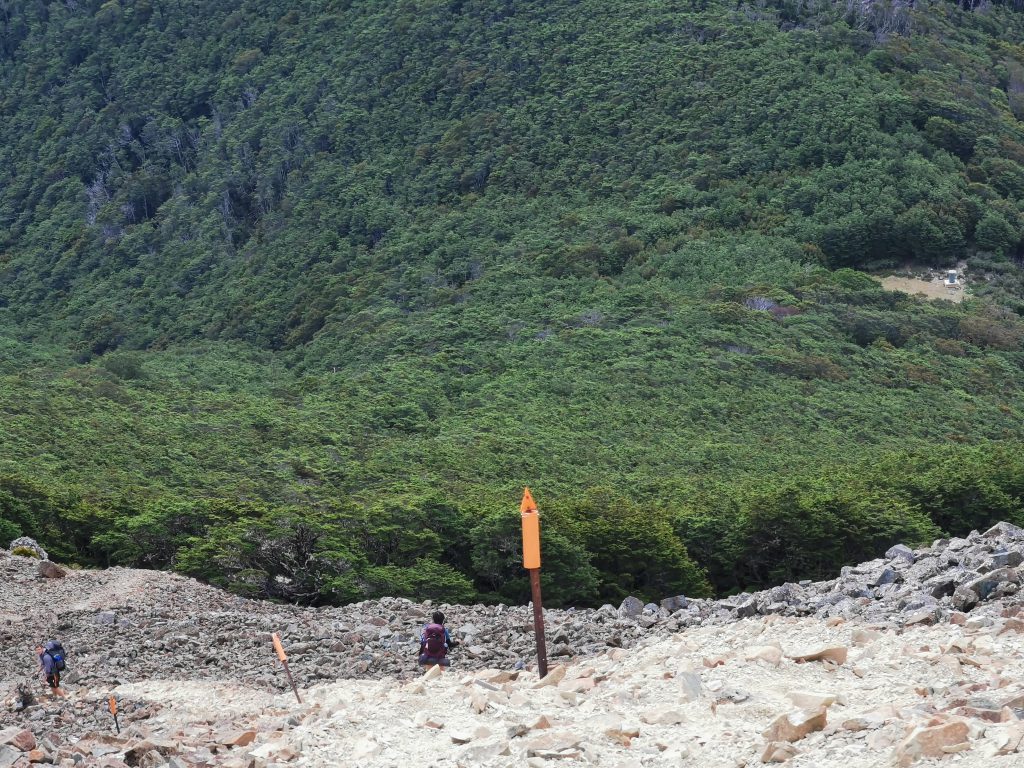 The last bit was a standard walk through trees…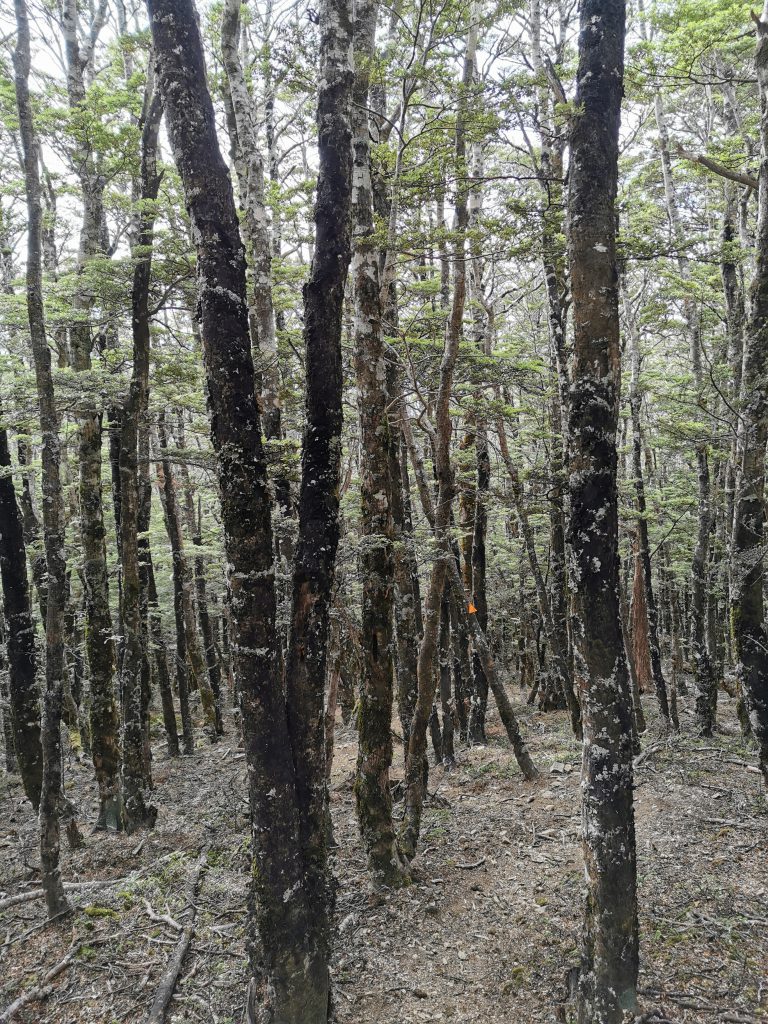 And there's the hut!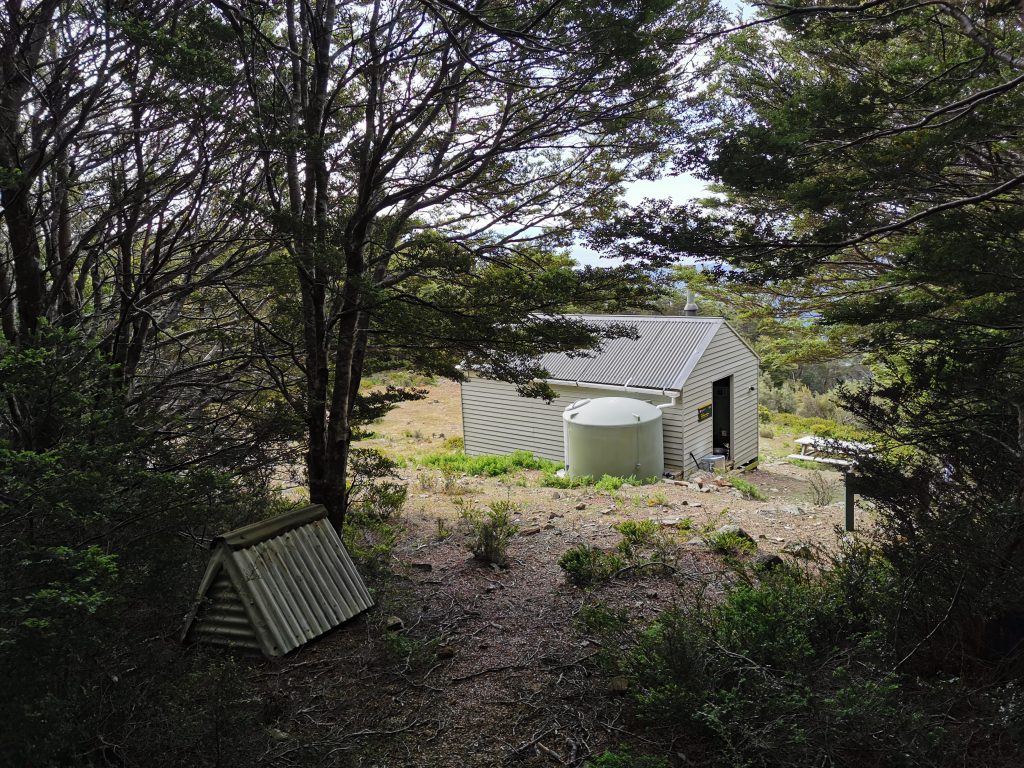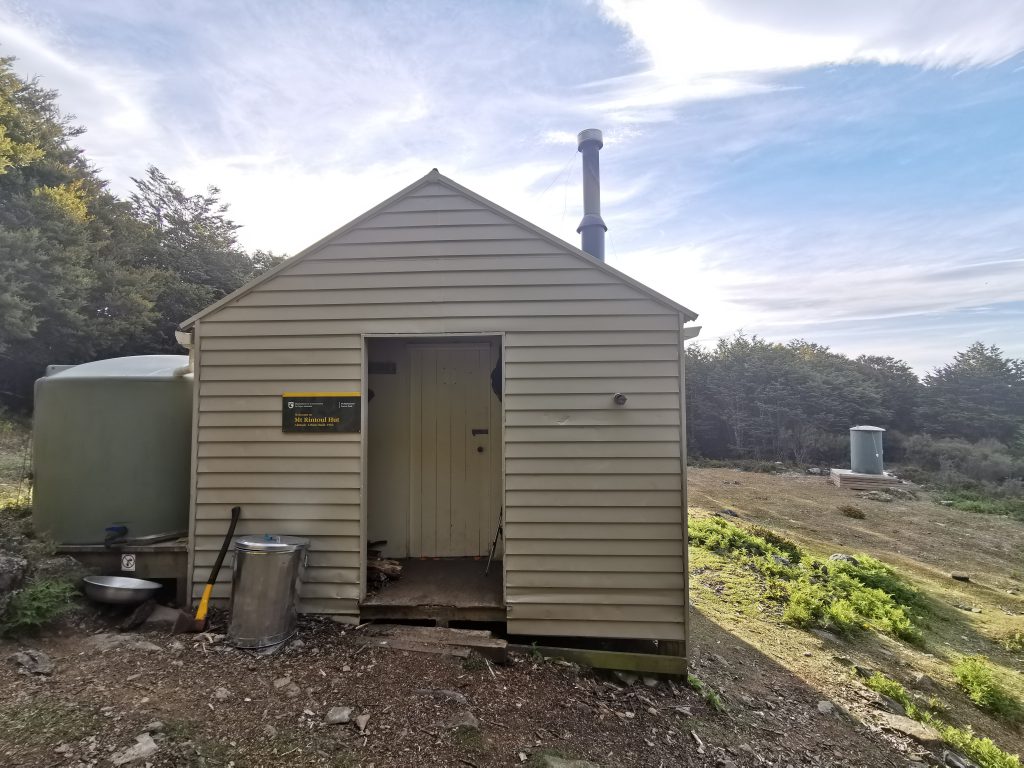 Two women were there already – Astrid and Barbara. I'd seen their names in the intentions book at the previous huts. They were currently the only two here so there was room for Matthew and Tina and me, which left one bunk behind, although I wasn't expecting anyone else. Nobody else from Starveall Hut said they were aiming to get this far.
Matthew and Tina turned up a short time after me. I saw Matthew taking his shoes off and his feet were wrinkly and white. I asked Tina if they considered taking their shoes off to cross the river and change into crocs and she too said no. In fact she seemed to think the very idea was crazy.
There is 4G at the hut too. I used the time to upload some blog posts and also do a bit more research into the Alpine Lodge. Turns out they also have backpacker accommodation – it just doesn't show on booking.com that I booked through. So I cancelled my $195 "queen room" that I booked earlier and rebooked into a $75 "private room with shared bathroom". Much better.
After the sun beating down on me all day I was feeling very hot. The hut was like a sauna so I had dinner outside. There were quite a few weka hanging around here.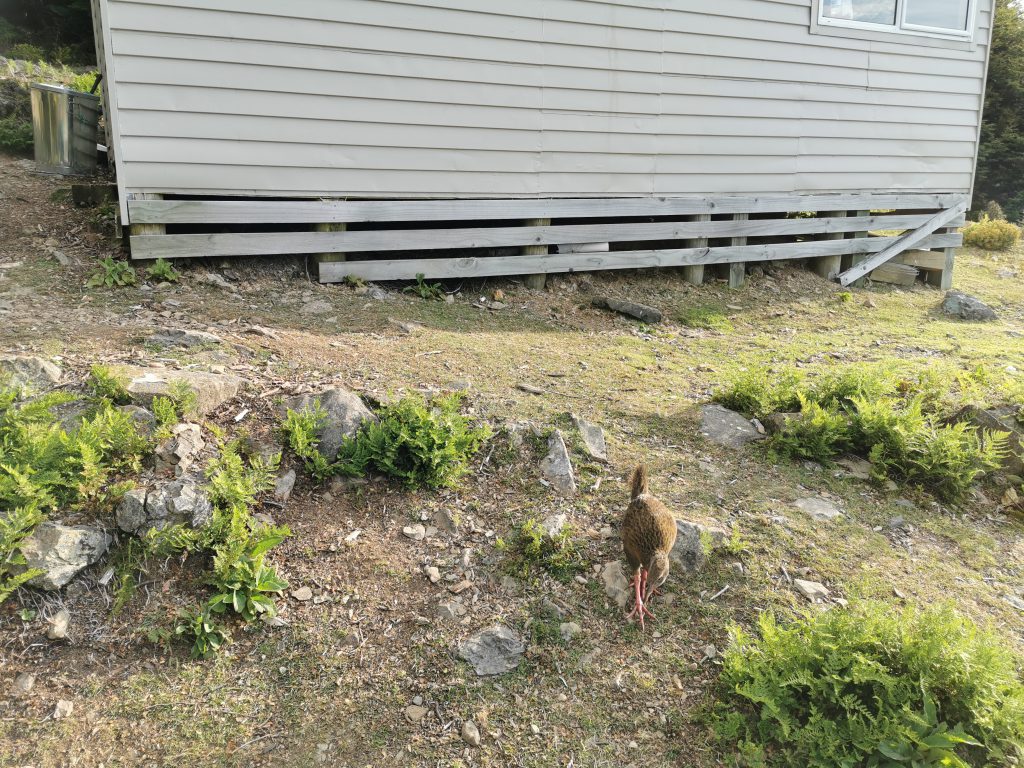 Man I love the zoom on this camera.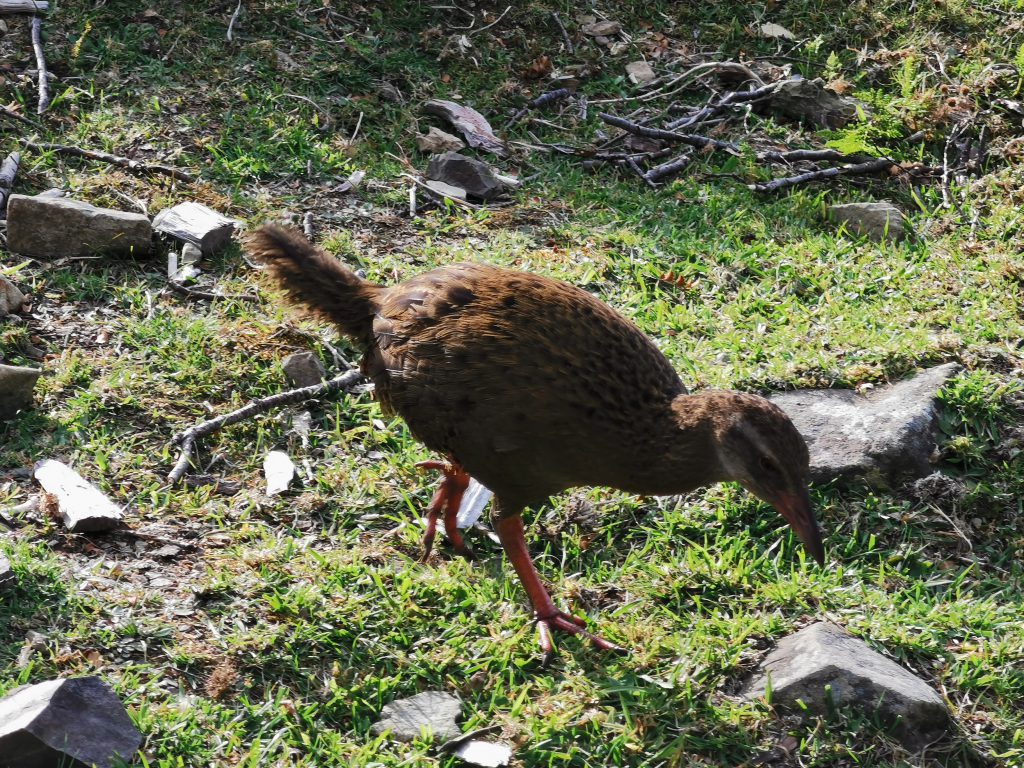 I read Alex's blog for this section tonight. I'm surprised to see how he thought it was the "scariest" day so far. Sure it was challenging, but I thought the Tararua Ranges were harder and scarier. His blog post on this section is worth a read too, for a different perspective.
We all had a relatively early night. Although just as I'm trying to go to sleep… someone is snoring incredibly loud. I wonder who it is. There has been snoring at every single hut so far in 2020, but this is by far the loudest. I miss my tent! Luckily, the snorer seems to have woken themselves up with the snoring and that's made it stop.
Today's walk on the map (blue = Te Araroa, red = today's walk):