Date: 28 January
Trail covered: 10.9km plus 2km off trail (kms 2059.4 to 2070.3)
Weather: nice but hot well into the evening
So this is day 100. The Big Kahuna. The Hundy. The Benjamin. The Business. Whatever you call it, it feels like quite a milestone. It also feels like I'm going quite slowly, although the distances I'm covering have clearly been increasing since the early days. If I'm still walking on day 150 I'll be very surprised.
Last week when I was in Christchurch I chose my motel based on how close it was to the exciting things in the city centre. This time I chose a motel based on how close it was to both the airport bus and a supermarket, hence I ended up in Riccarton.
Like last time I bought a lot of food, I struggled to fit it all in the pack.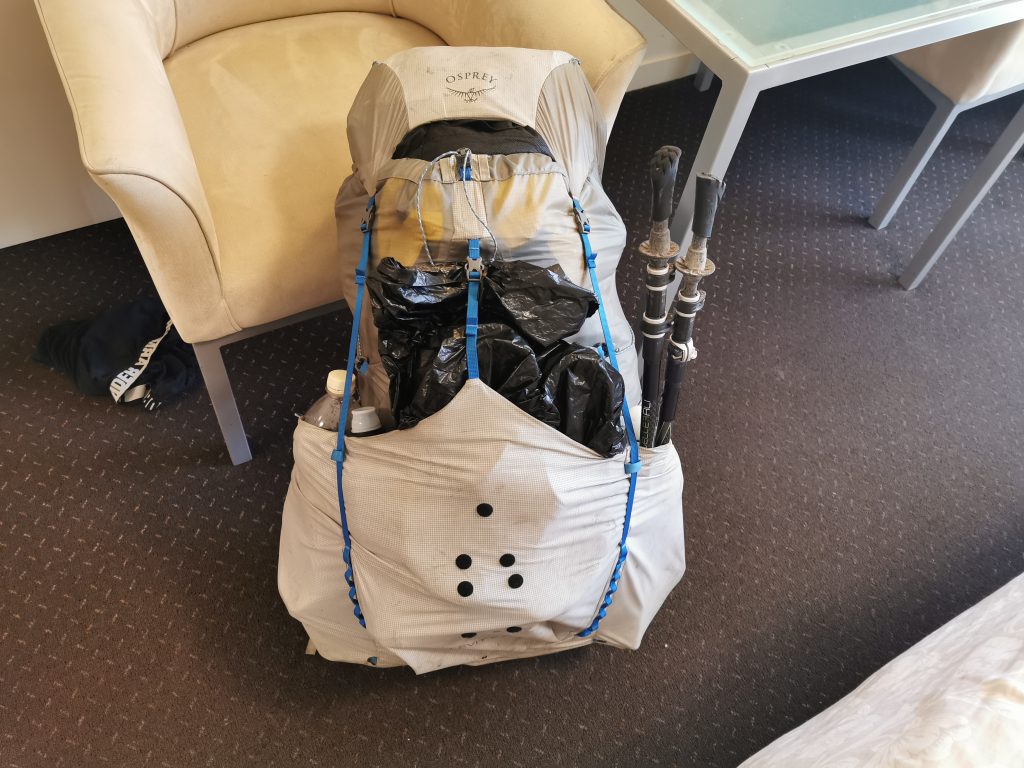 I had to walk across Hagley Park to get to the Christchurch CBD and my shuttle this morning. My 11am picture is at the north-western end of the park.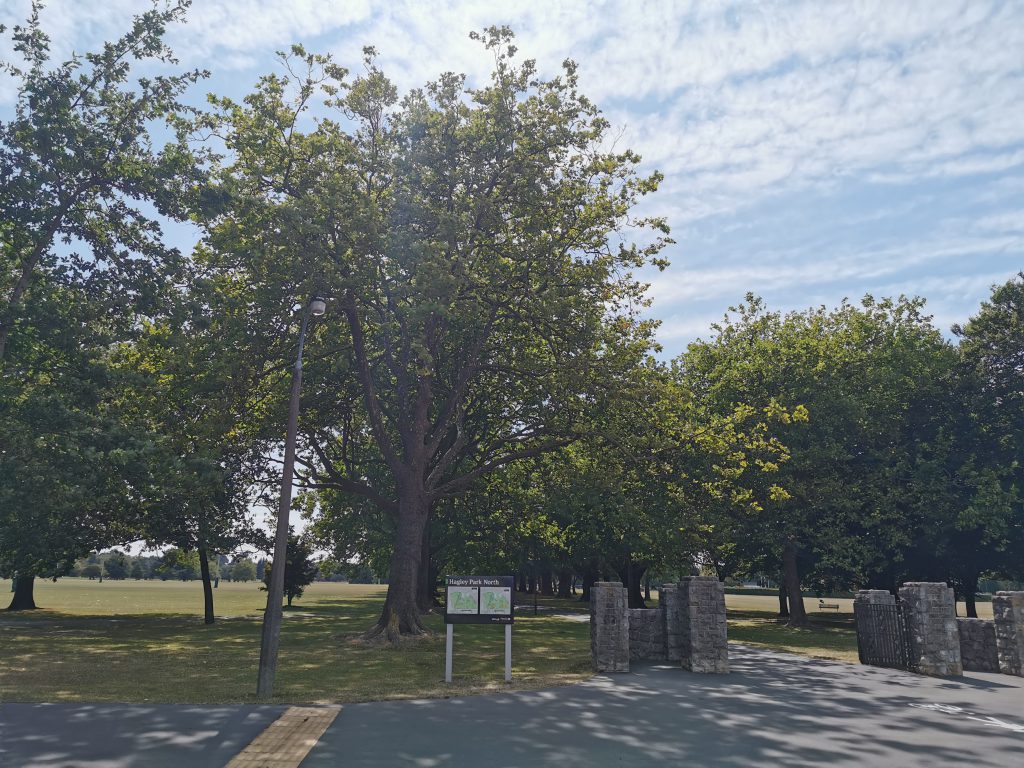 I mentioned yesterday that the Coast to Coast might be a problem this weekend – I had read it on Facebook. Turns out that it is not a problem, because it is actually the weekend after – 7 and 8 February.
Curse the ambiguous meaning of "next weekend" which is the wording the post on Facebook used. The Coast to Coast is "next weekend". I never understood why "next weekend" means two weekends from now to most people. If I said "race you to the next marker", I would expect you to know that I meant the marker that is one ahead, not the marker that is two ahead. If the Google Maps lady says "take the next left" she means the street coming up next, not the one that's two away!
Once in the shuttle back to Boyle Village, it was pointed out that two women were getting off at a place called Windy Point, which was apparently 12km or so South of Boyle Village on State Highway 7. The trail ran within 1km of this point. I didn't realise that I could have got the shuttle from Windy Point last week instead of Boyle Village, if I'd've known I could have saved myself a few hours today. Oh well, never mind!
I knew that this afternoon's walk crossed the Boyle River and then followed the far side of the river from the highway. I tried to take a photo of it from the shuttle.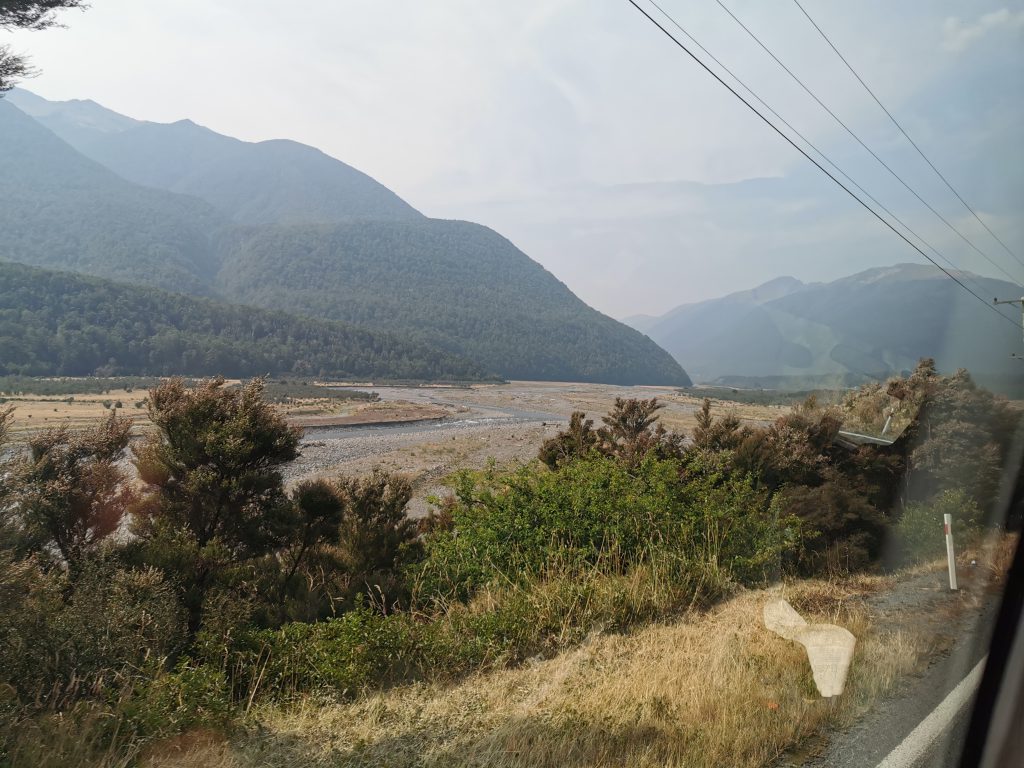 I got dropped off at Boyle Village along with a girl from France whose name was Foure. She's staying at the outdoor centre and isn't walking today though. After a quick walk to the car park to get a bit of water and check the weather forecast (it's mixed), I was off down the Tui Track.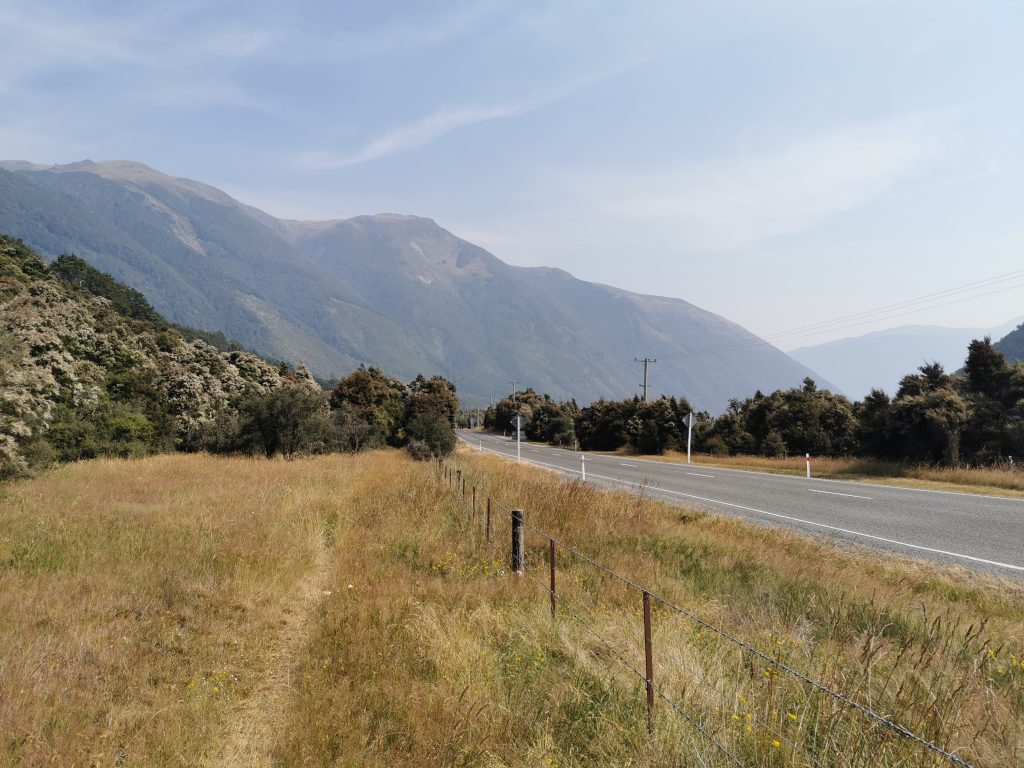 It did indeed lead almost directly to the Boyle River.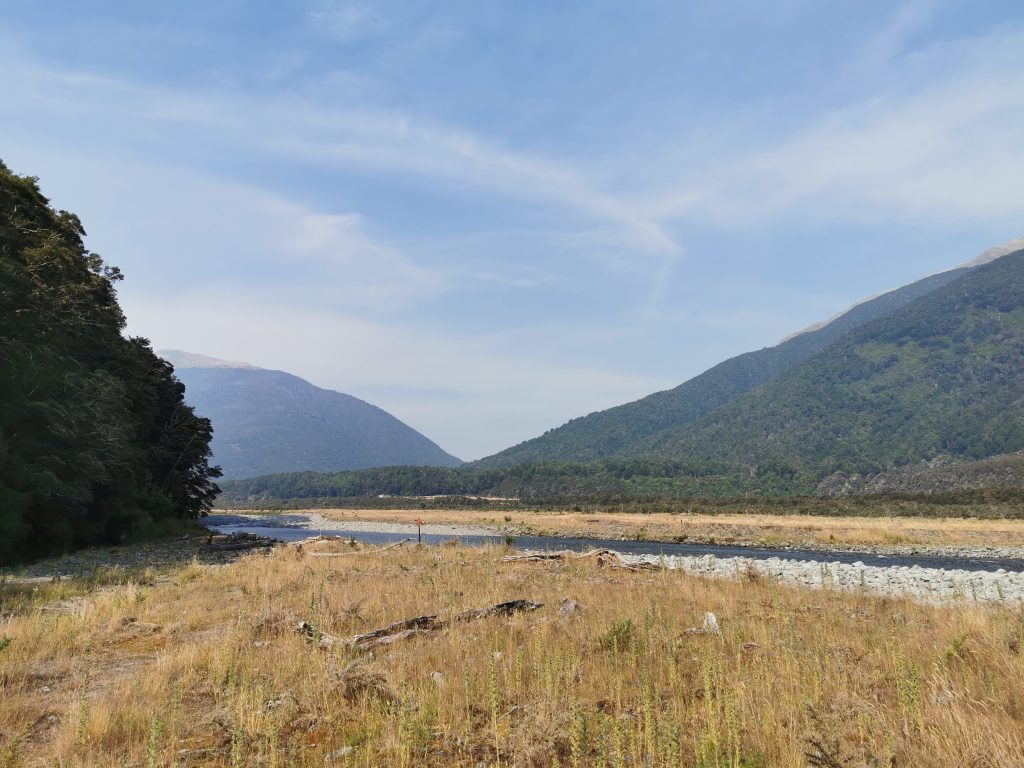 Today I wasn't sure how far I could get. It was almost 5pm by the time I left Boyle Village and the first hut is 18km away – the Hope Halfway Hut. However doing 18km in less than 4 hours would mean the terrain would need to be easy. It did look it from the map and from the shuttle though. Let's see what happens.
I'm clearly out of touch with walking after taking a week off. I rolled my foot twice and tripped on a rock just within the first 3km. Plus the pack was really heavy. Maybe I should start to put some thought into buying light food instead of whatever food I want. Nah.
Boyle River was a little scary to cross. It was not deep but it was quite fast flowing. The walking poles were shuddering in the current. Still, I changed into crocs and managed to make it across.
The Tui Track is not well marked at first, just like the notes say.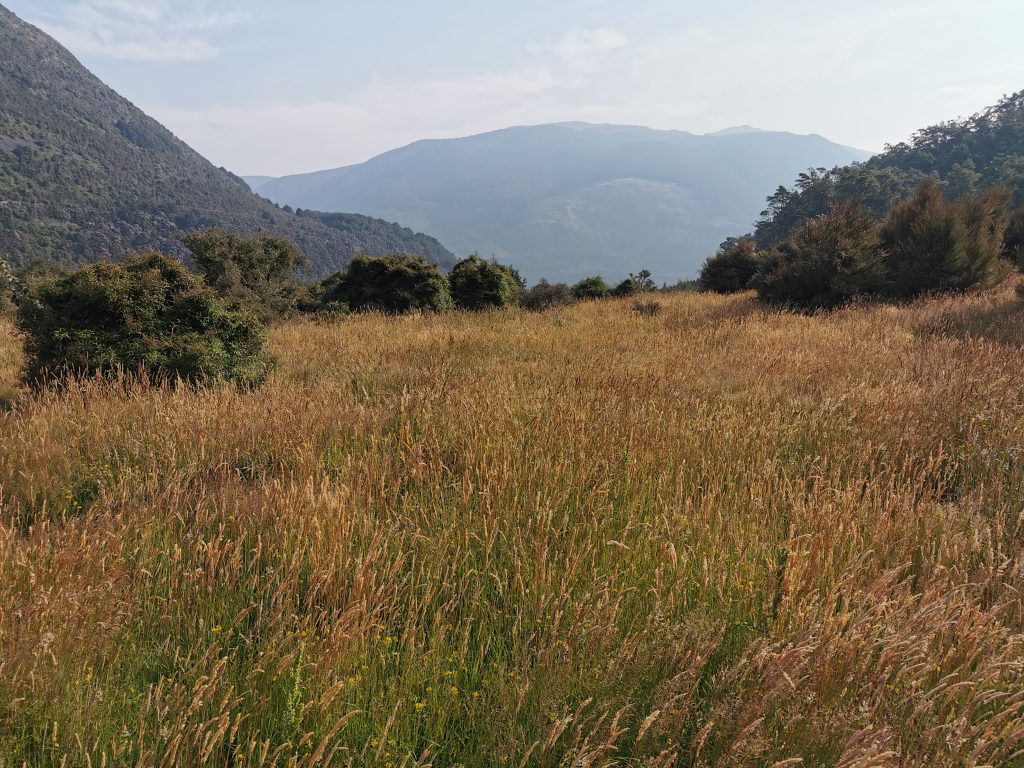 What the notes don't say is that it leads you right down the middle of a swamp.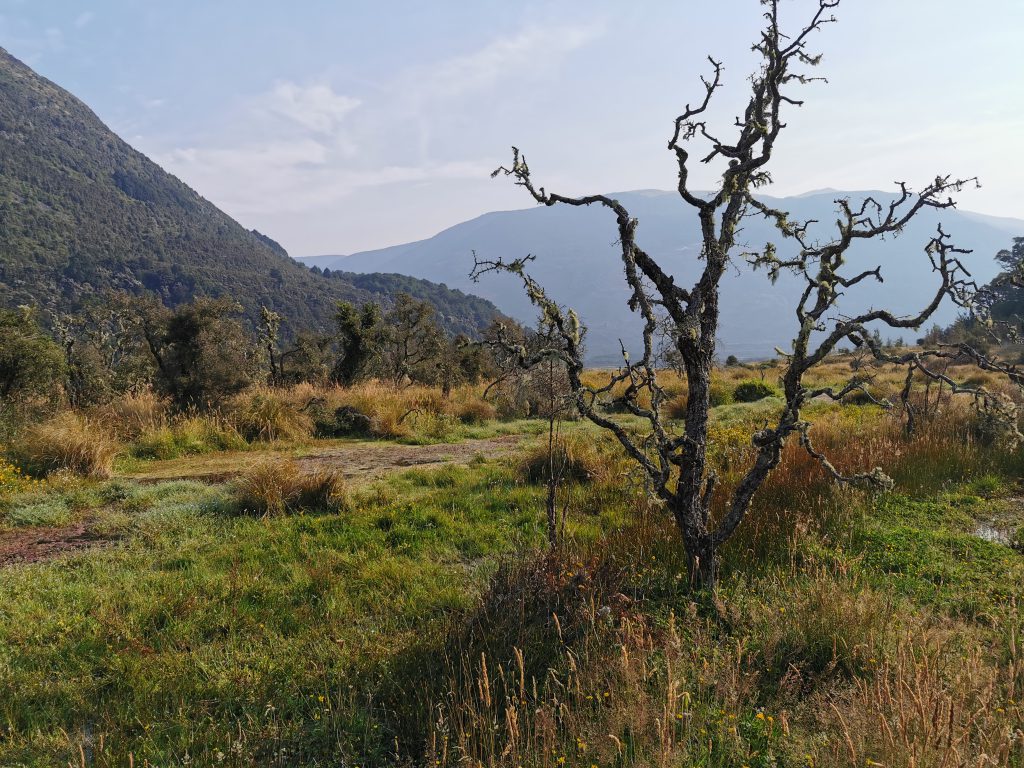 Every step through here was awful and disgusting. Rancid water entered my crocs with every step and was often up to my knees. I was worried I was going to sink into the swampwater and not be able to get out, because it wasn't possible to see how deep it was. I had to use my poles to test the depth every step.
I really questioned if I was going the right way. I was right on the red Guthook line, but that doesn't always mean much. This marker in the middle of the swamp seemed to confirm it, though.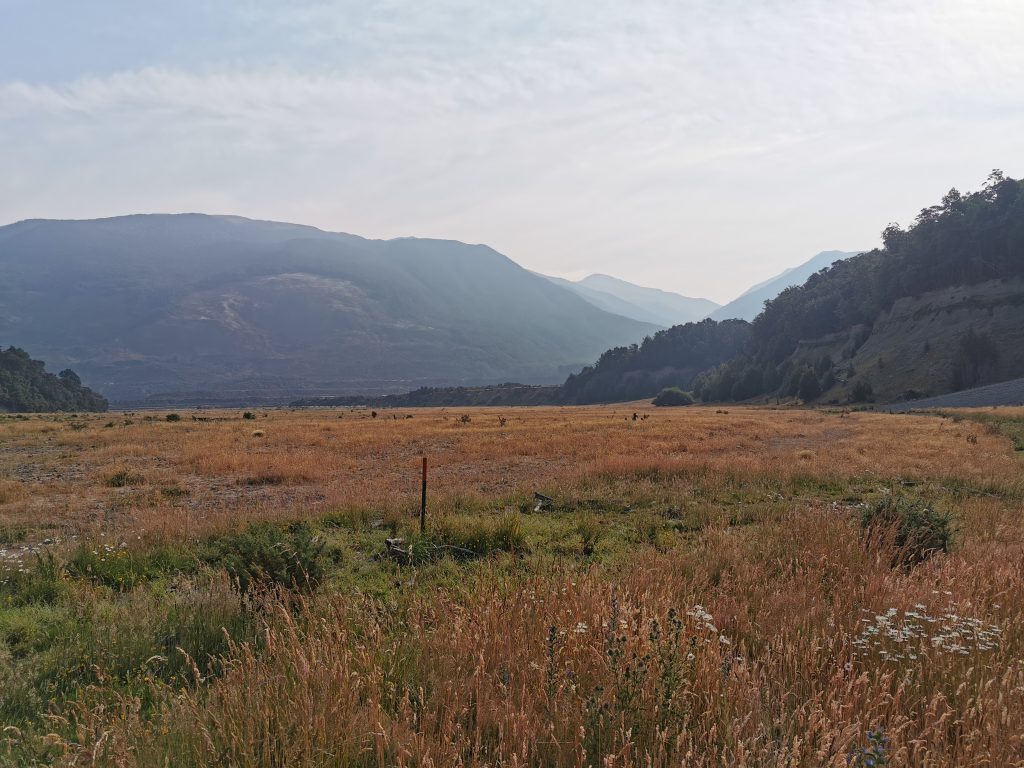 And the same deal with markers either side of this bit.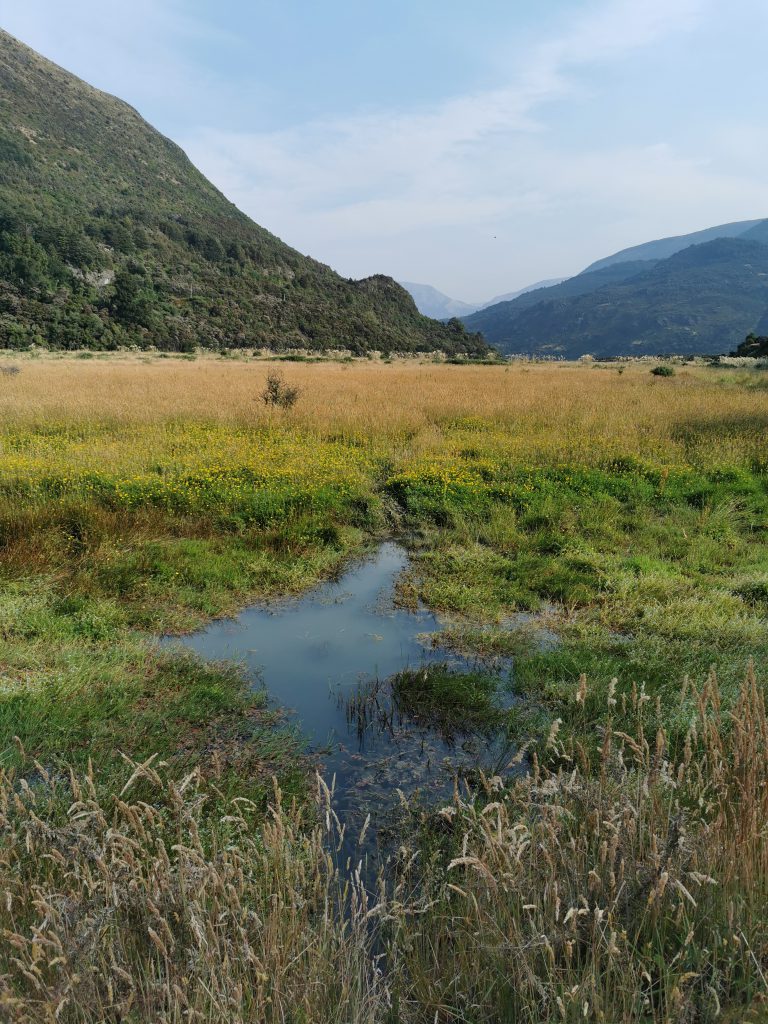 Needless to say I kept my crocs on for all this bit. At least they rinse clean afterwards. Although even the streams were green and slimy.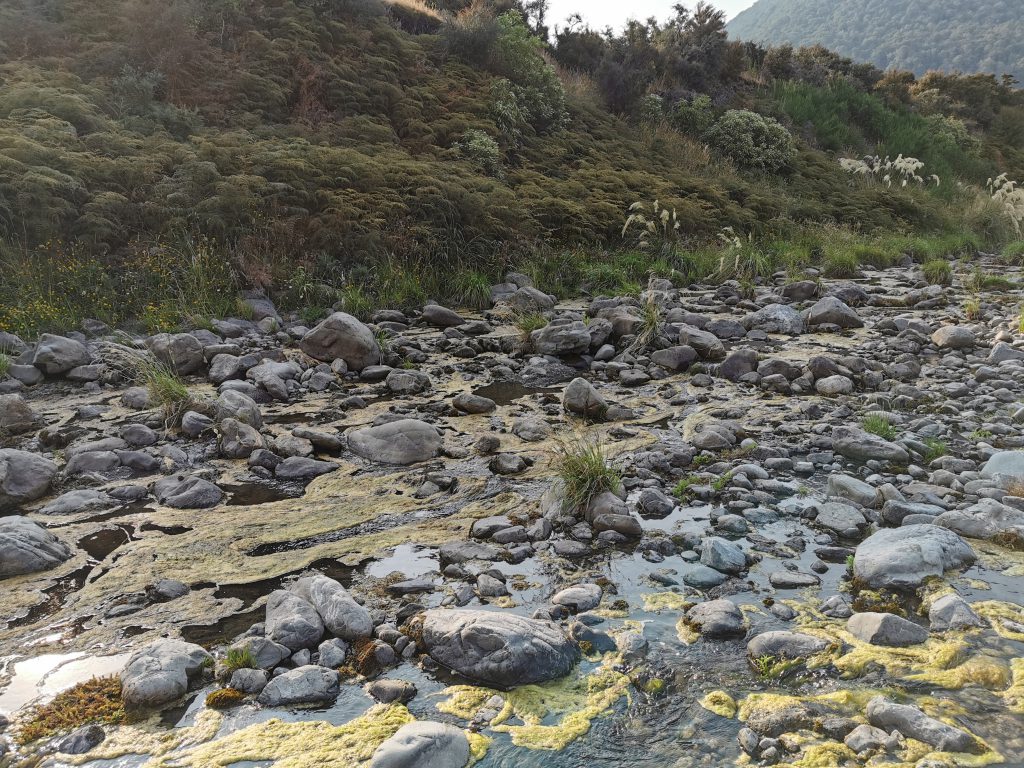 I think this could be my least favourite section of path on the entire trail so far. It's definitely in the bottom three.
The other river to cross today was the Doubtful River. This was easier and felt safer to cross than the Boyle River.
At this signpost, there was an interesting sign… and a pair of abandoned shoes.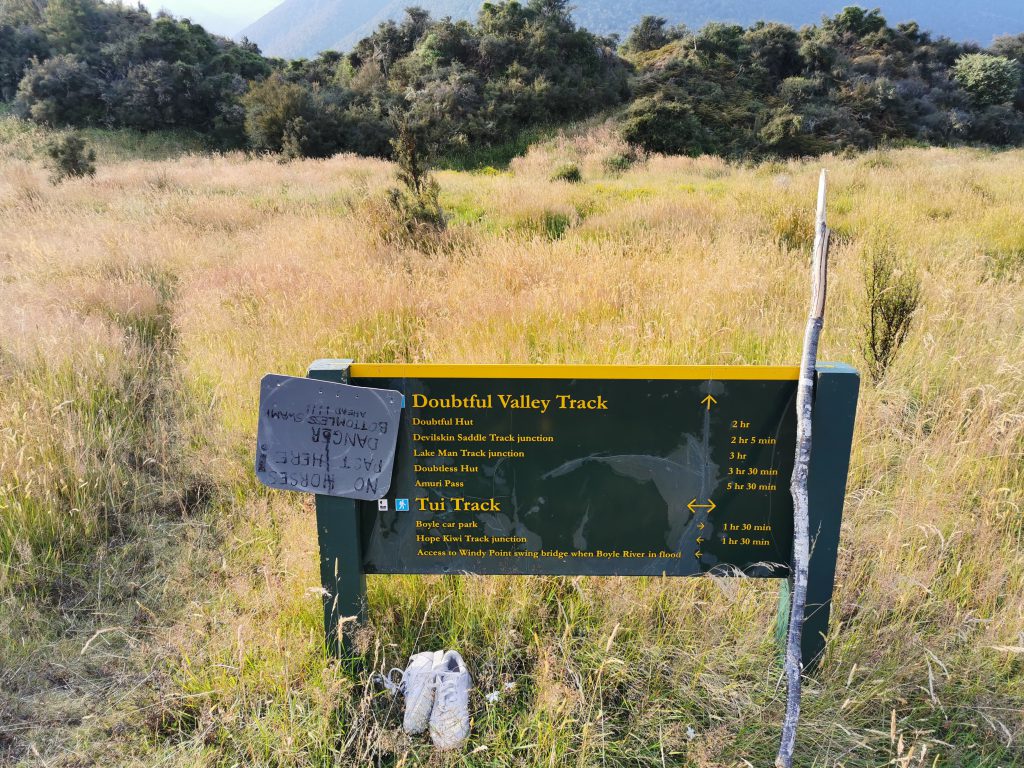 But at least the path got a fair bit better from here.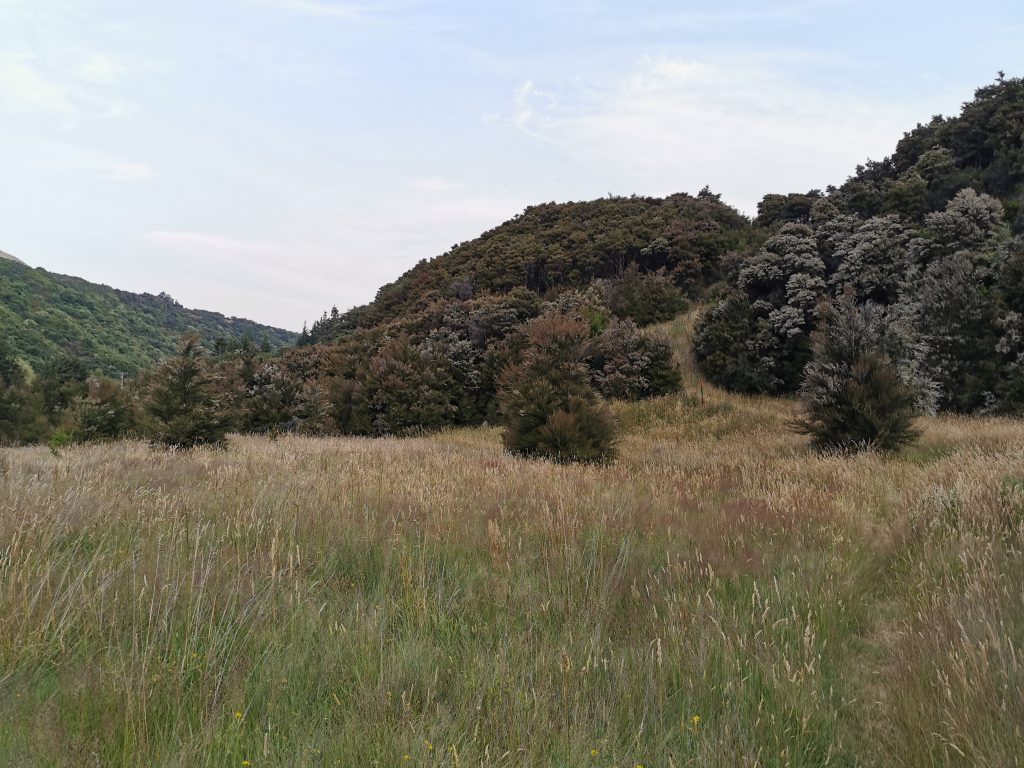 I could see and hear Highway 7 for most of the time. I didn't feel like I was in the middle of nowhere, like the last two big sections of track.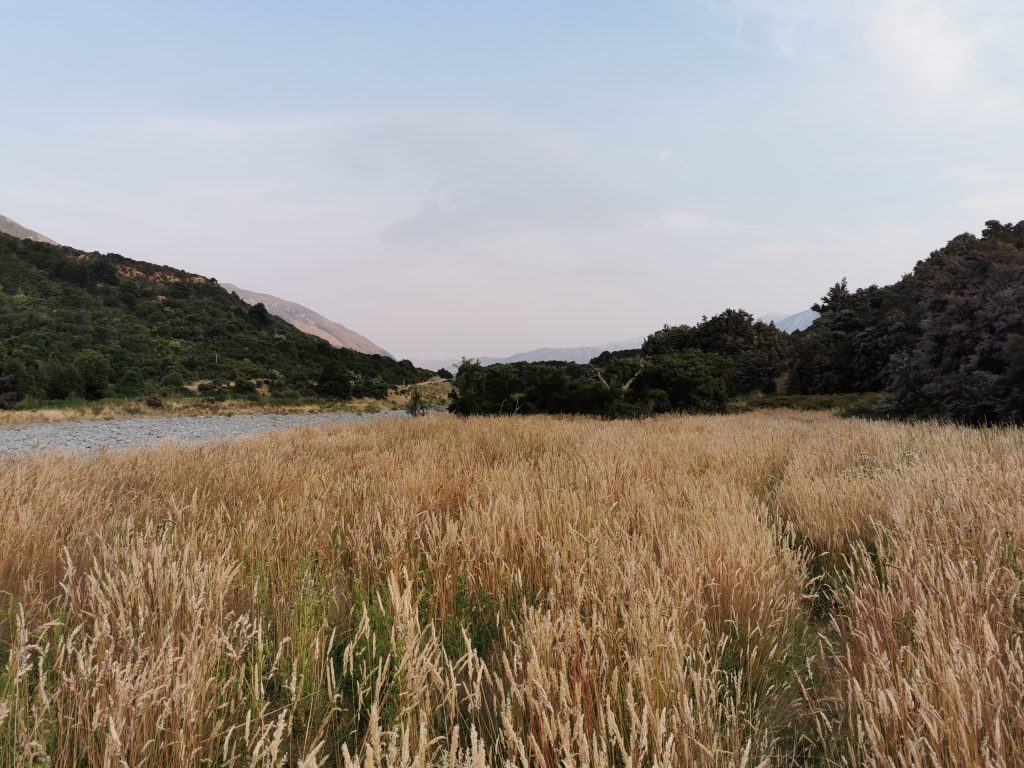 It was taking a lot longer to get through here than I thought. There's no chance of making the hut with any daylight left, so I figured I could make it as far as Windy Point. I looked on the topographic map and there was a "shelter" marked there. I knew there was a car park too. Toilets or anything else? Not sure about that.
It's actually about a 1km detour off the trail to make it to the shelter, but that's not too much.
There was a lot of following a fenceline.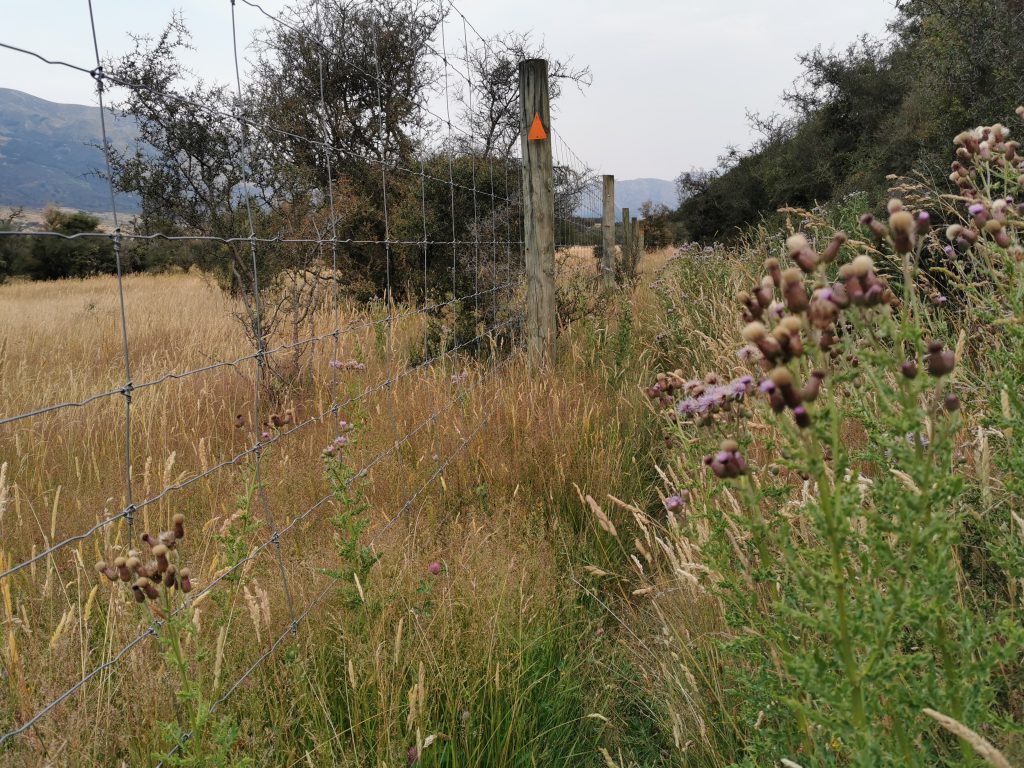 It was a high quality, well constructed fence, but it was hard to know what it was there for. A park of some sort? Somebody's land, most likely?
After the fence I saw a guy setting up camp on the side of the trail. He said he was too tired to go on. We had a quick chat and I determined his name is Chris, he is also a TA walker and he's from Christchurch. But with daylight fading I kept moving.
I then saw a hunter and his dog going the other way. The dog was a super friendly Spaniel and it was very cool. Her name was Mia. But the hunter seemed bothered when I told him there is somebody camped just a bit up the trail, because that's where he wanted to go hunting. I'm kinda glad I did tell him that Chris was there. I assume that hunters are able to fire their guns and not hit people or tents or anything they shouldn't, but who knows.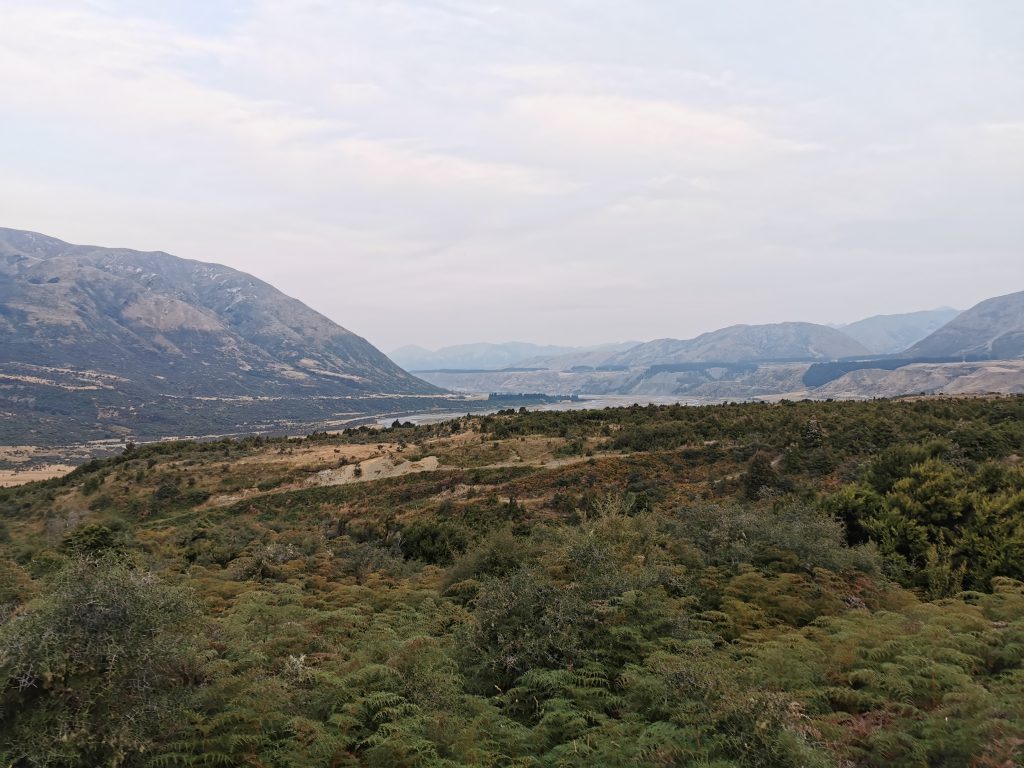 I was surprised how much I was hurting after only 11km. Walking uphill felt really hard and I was out of breath quickly. I suppose that's what seven days off trail and three days of drinking does to you.
I reached the junction where the TA goes right and Windy Point is left. I turned left off the trail and headed towards the car park.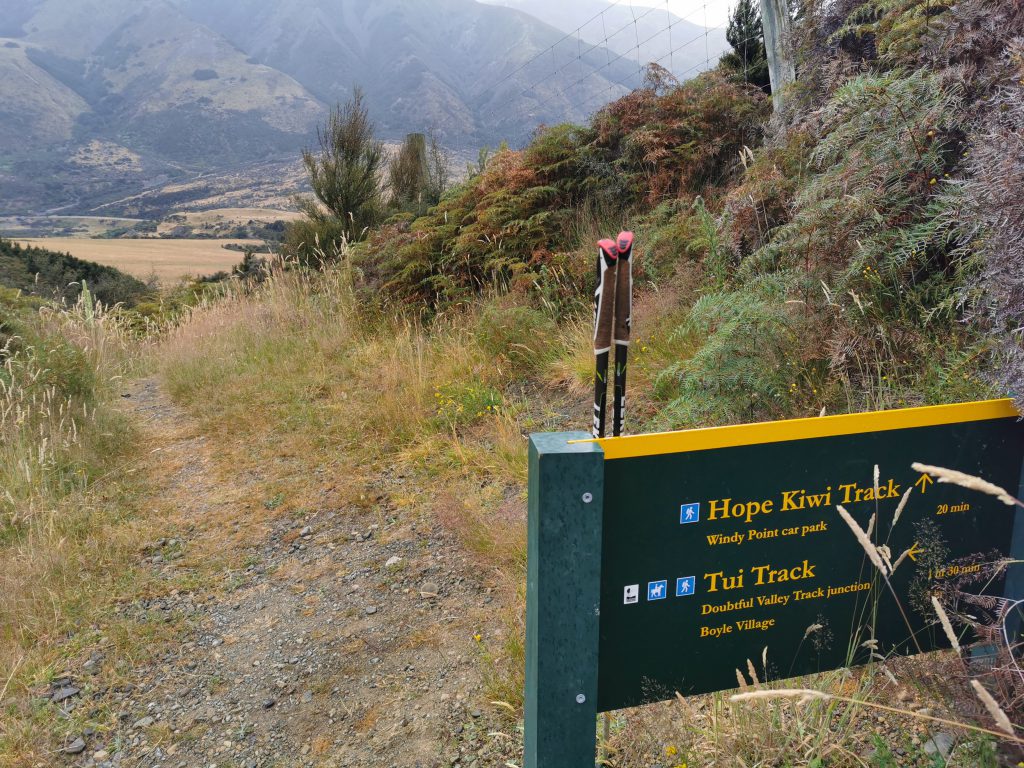 One thing I encountered was this weird "dog door" – although it wasn't for dogs.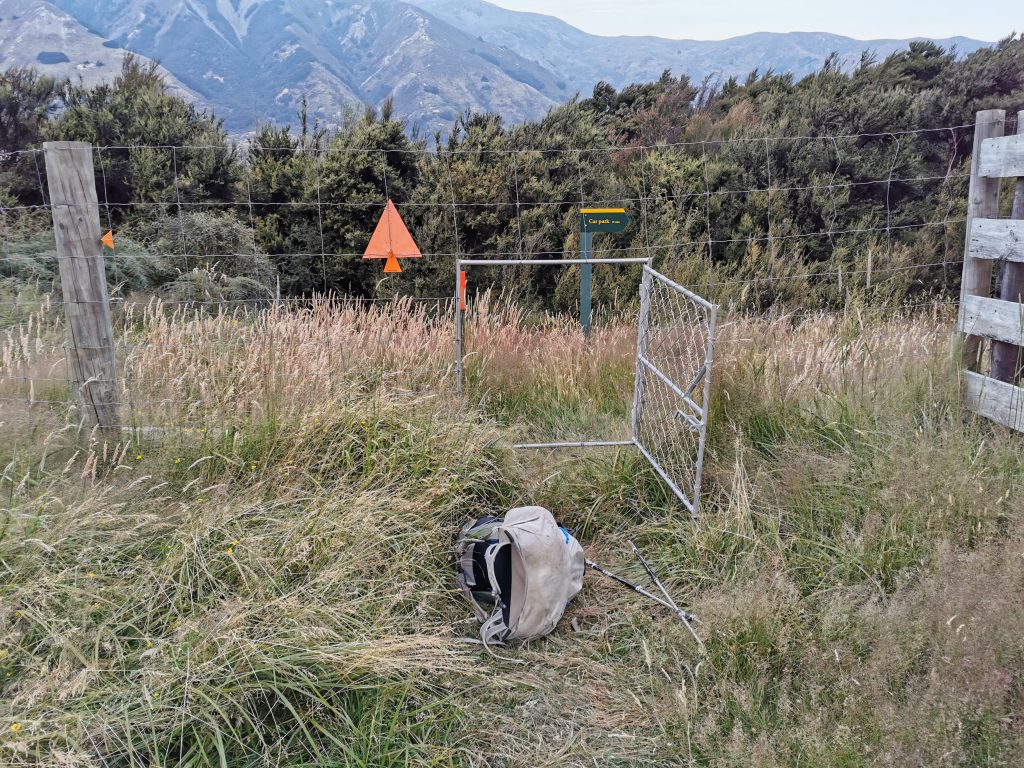 I couldn't fit through it with my pack on so I had to clamber through without my pack and then pull it through afterwards. I wonder why they couldn't have a regular gate.
I passed this building – it is both Amuri Area School and also an Outdoor Education Centre.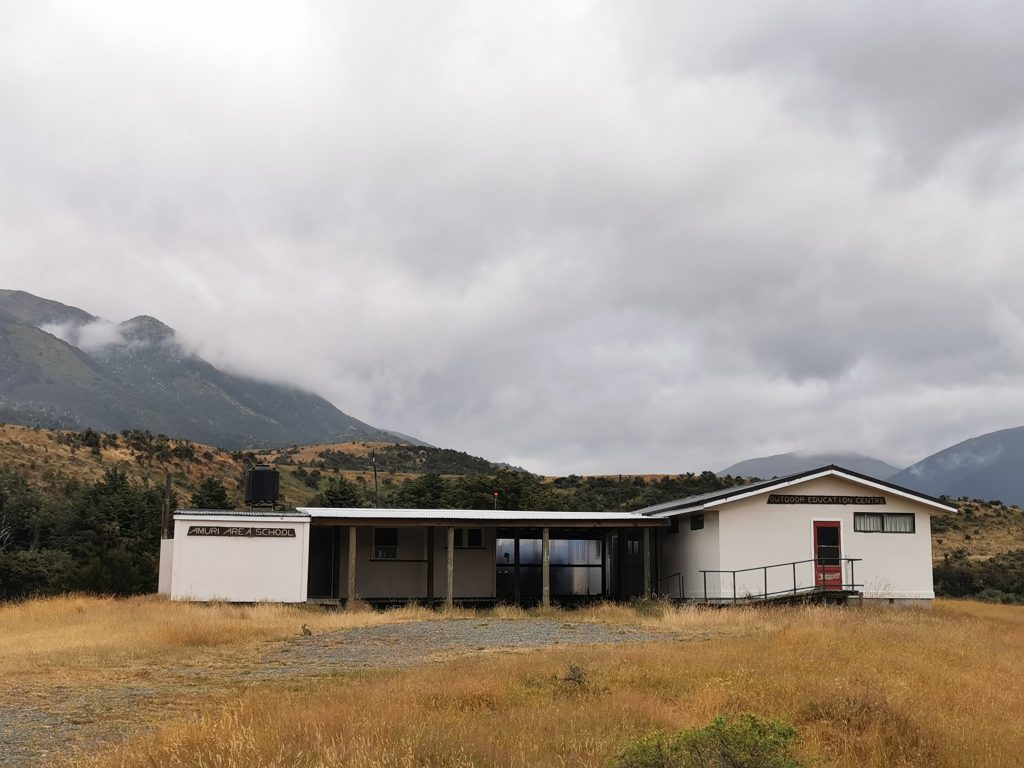 It was about 10 or 12 minutes walk off-trail to this shelter.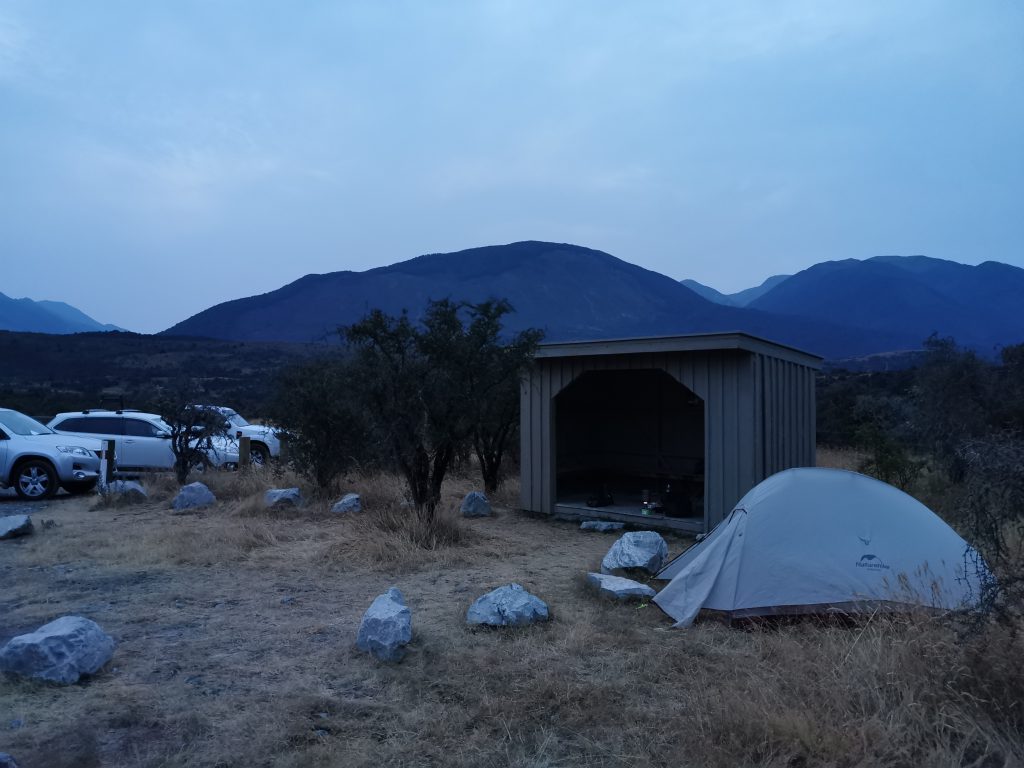 It was indeed just a shelter with no toilets or anything, but there weren't many sandflies and it was a nice place to have dinner and set up camp. Although by the time I finished eating the daylight had completely gone and I was eating by the light of my headlamp.
It occurred to me after arriving that it took less than 10 minutes to drive from here to Boyle Village earlier but over 4 hours to walk it. Maybe I ought to just drive to Bluff, it would save lots of time.
There were three cars in the carpark and none of them moved all night. One must have been the hunter's. I wonder whose the other two were.
Over the last week I put a bandage around my loose toenail to keep it in place. It worked well while I wasn't walking but now that I'm out on trail again it's really starting to hurt. I took some ibuprofen and left the bandage on tonight but I'm going to have to take it off tomorrow before I start walking. I hope there's not something gross under there.
Day 100 is now over. It wasn't quite as nice as I hoped my first day back would be, but things can only get better! And I've now completed 69% of the trail! Although I didn't make any effort to mark the achievement at the time…
Today's walk on the map (blue = Te Araroa, red = today's walk):