Date: 14 March
Trail covered: 22.4km (kms 2419.6 to 2442.0)
Weather: cloud cover that lifted
Where did I leave off with the night walk… Oh yes, I was having a quick nap on the side of the road facing Lake Pukaki. I ended up lying there for about two and a half hours, from 2:30am until nearly 5am. I didn't use the sleeping bag as I was worried about damaging it lying directly on the grass. But I was wearing all my clothes so I didn't get too cold. Once I started to get cold before 5am, that's when I started to walk again.
I checked Metservice for the day for the sunrise time, when I might get to see Mt. Cook, and apparently it's at 7:30am today – good timing. I noticed that as well as the sunrise times listed, the moonrise and moonset times are also listed. How have I not ever noticed them before.
I continued walking down the road that runs beside Lake Pukaki (Hayman Road). I could smell the smell of Pine trees. They were everywhere. No wonder the upcoming campground is called The Pines. And remember that anyone camping anywhere along here has to have a self-contained vehicle. So this guy is being naughty naughty with his tent (but check out the view).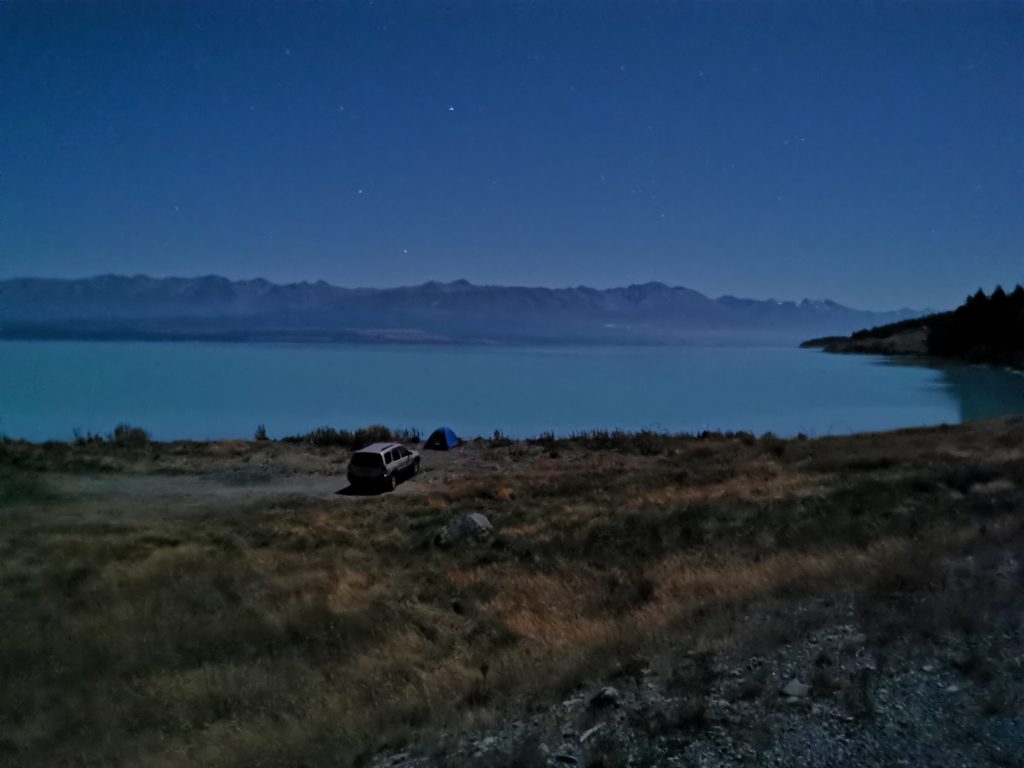 The trail went off-road after a while, following the Alps 2 Ocean bike path (no relation to Wayne's shuttle service). I nearly missed the turn at that point and nearly continued down the road. It's clearly signposted but because it was so dark I didn't see it. By pure chance I happened to open Guthook just ten seconds or so before I needed the turn. So look out for it! If you end up walking on State Highway 8 then you've missed the turn.
Still taking my time, there was a geocache on the south side of Lake Pukaki which I took my time to find. It was very close to sunrise now and I thought I could see the outline of Mt. Cook in the background from the geocache spot. Also I looked on Google Maps and the upcoming town of Pukaki has nothing there – no coffee, no breakfast. So I had some food now too, consisting of everything I had left over that I bought yesterday evening. Of course I'll have a big proper breakfast in Twizel, hopefully 3 hours from now.
Finally the sunrise. It looks amazing, again much better in real life than photos.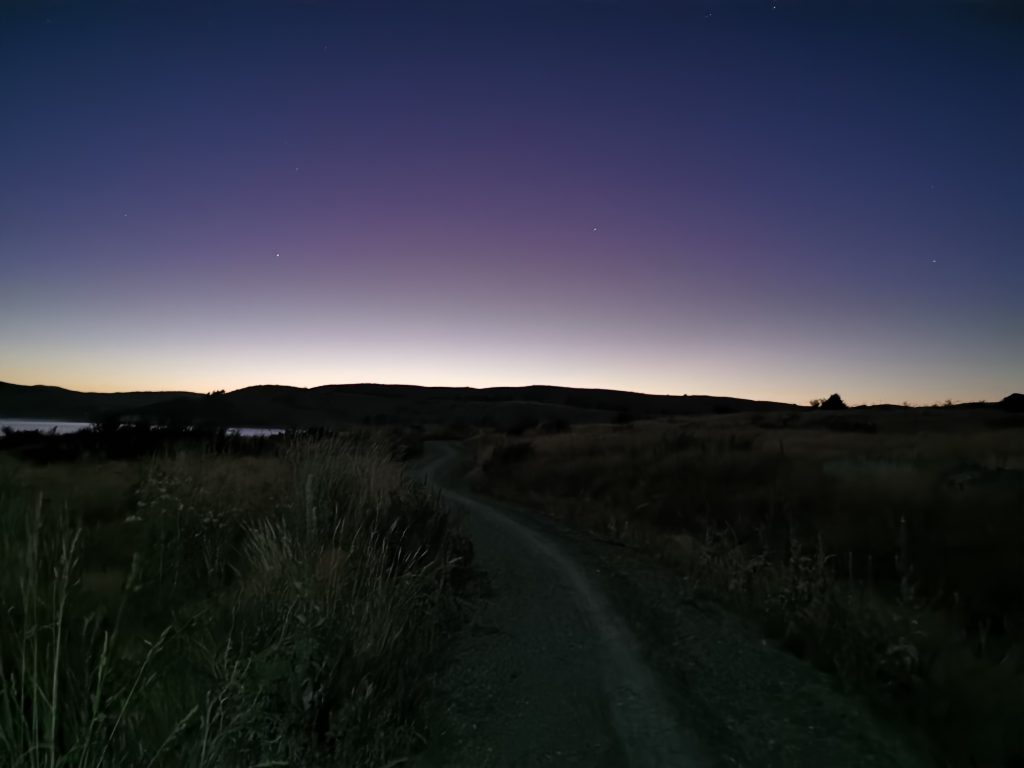 And Mt. Cook peeks through, but only just (on the left in the next photo).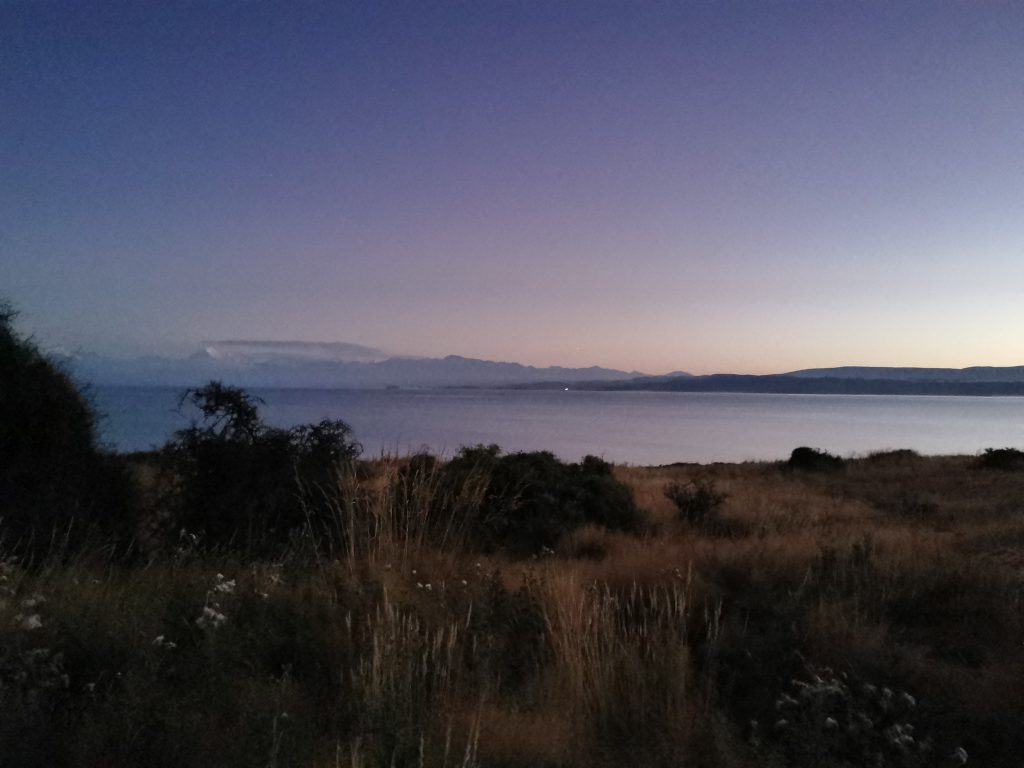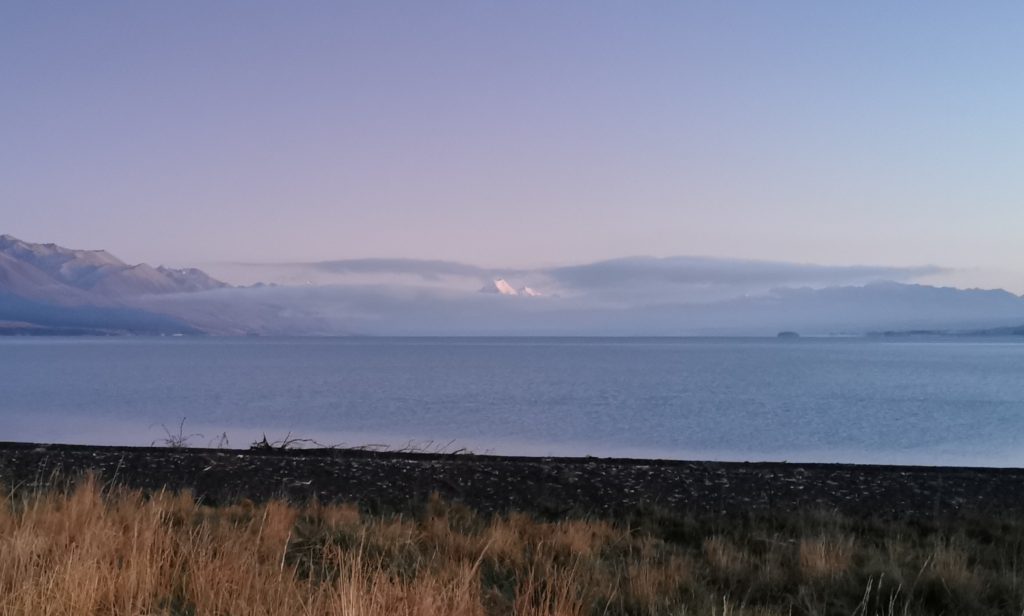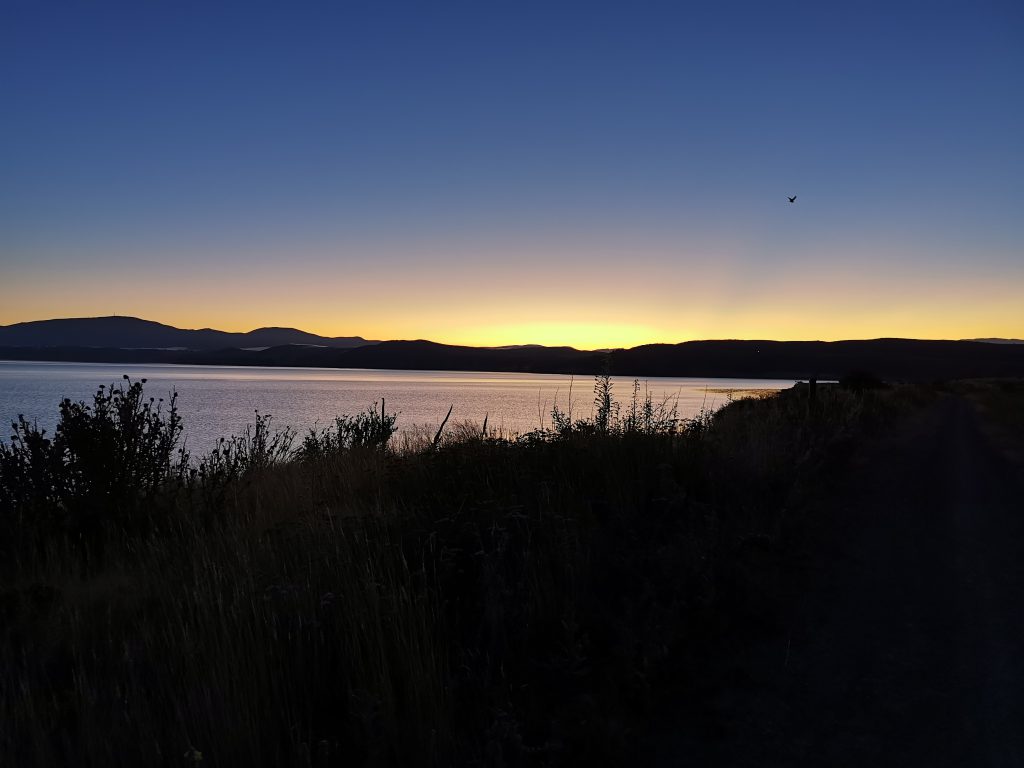 It's probably worth mentioning that Mt. Cook's actual official name has been "Aoraki/Mt. Cook" since 1998 – backslash and everything – with Aoraki being the Maori name for the mountain. New Zealand has been doing that with some place names in the last decade or two, the other main one that springs to mind is "Stewart Island/Rakiura".
The whole morning has been the nice dedicated Alps 2 Ocean cycleway. It runs from Mt. Cook to Oamaru I think – 300km. Or possibly Tekapo to Oamaru, although that might be the "alternate" course. There are some road sections though, like the one I walked down earlier.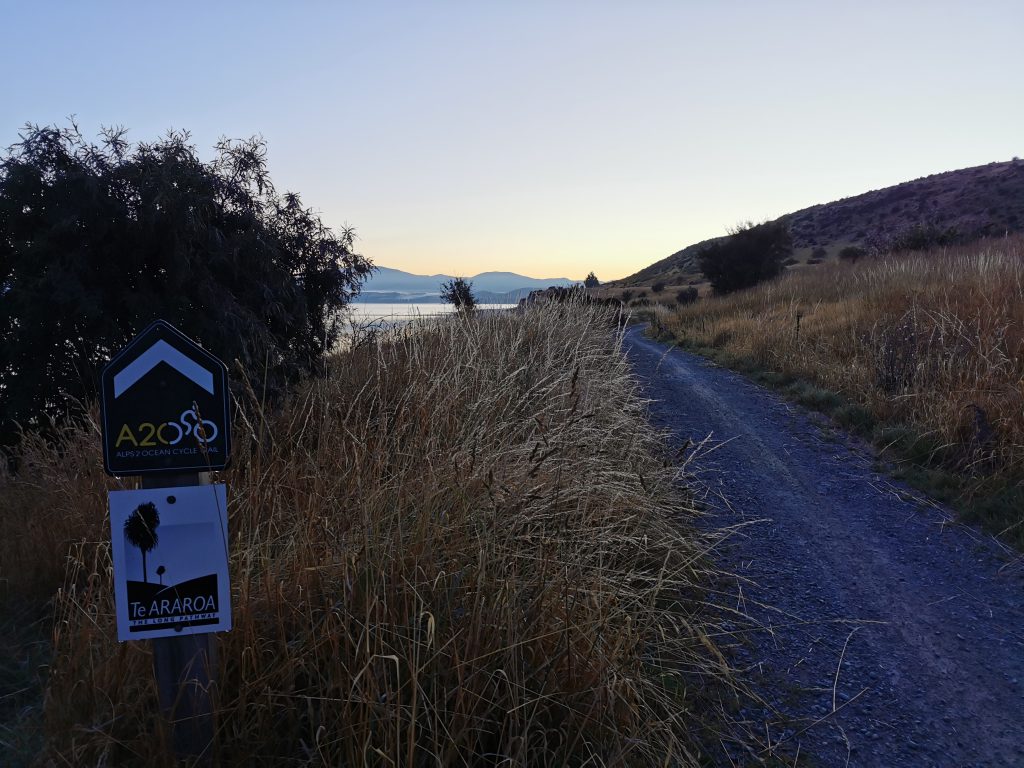 Sometimes it gets close to the road, but you are still separated from the cars.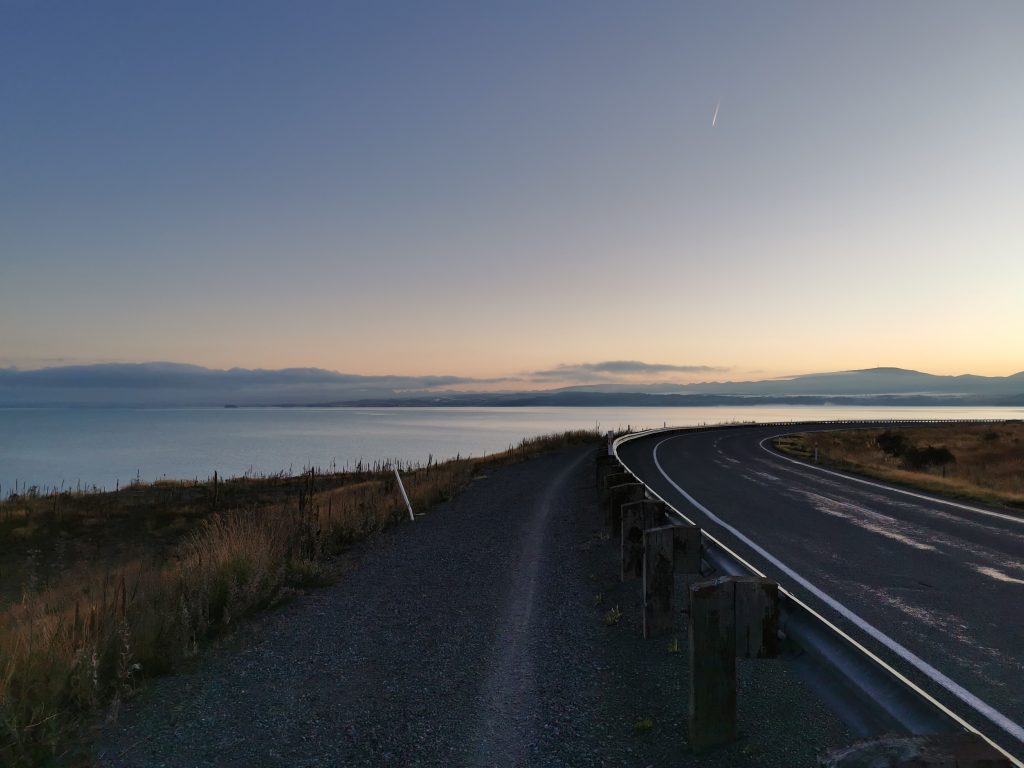 Now that the sun is well and truly up, I can see the view.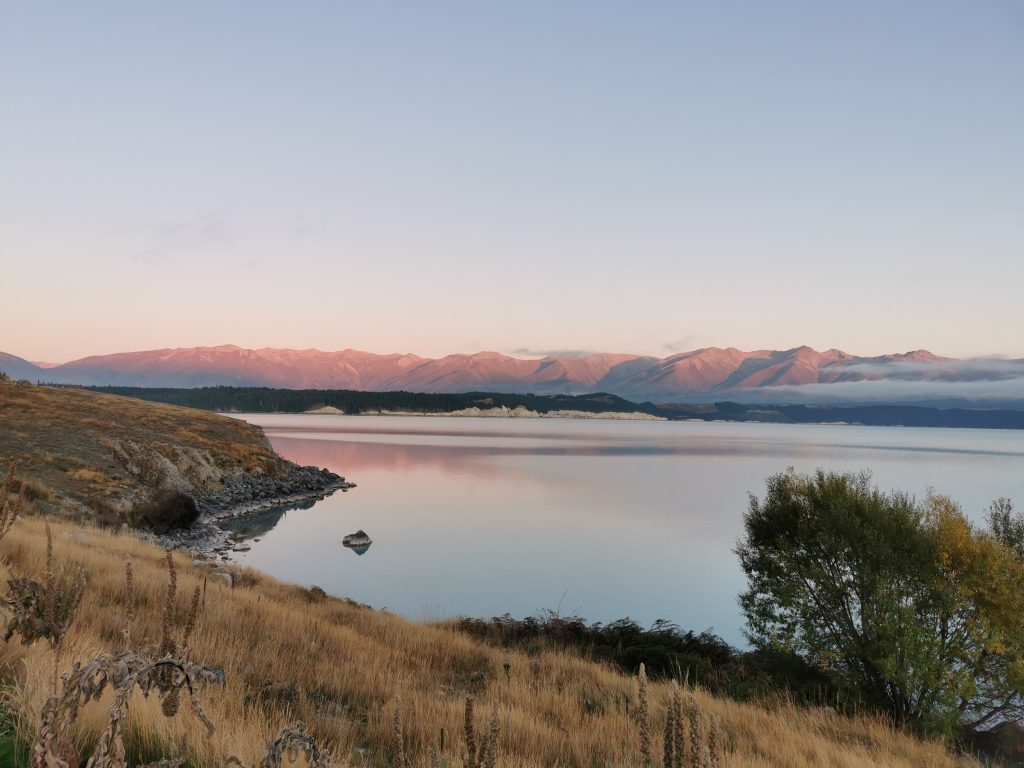 I walked past this thing. What in the world is it? And surely it's not self-contained?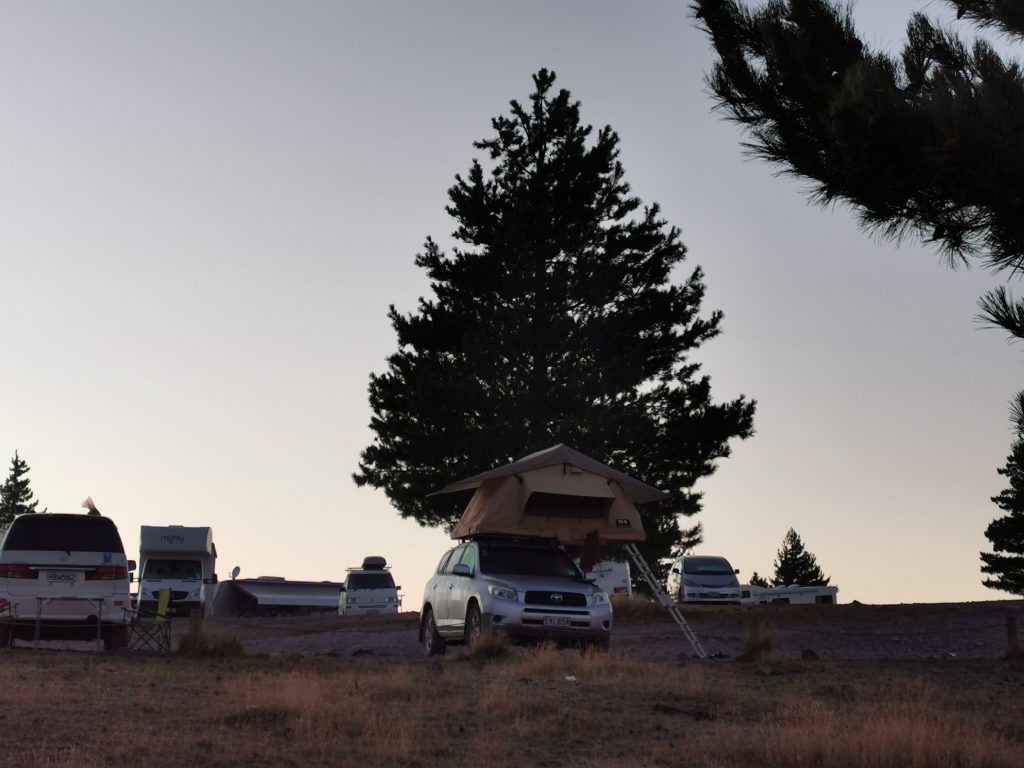 Walk along State Highway 8 to the visitor's centre, and that's when you turn left down the road.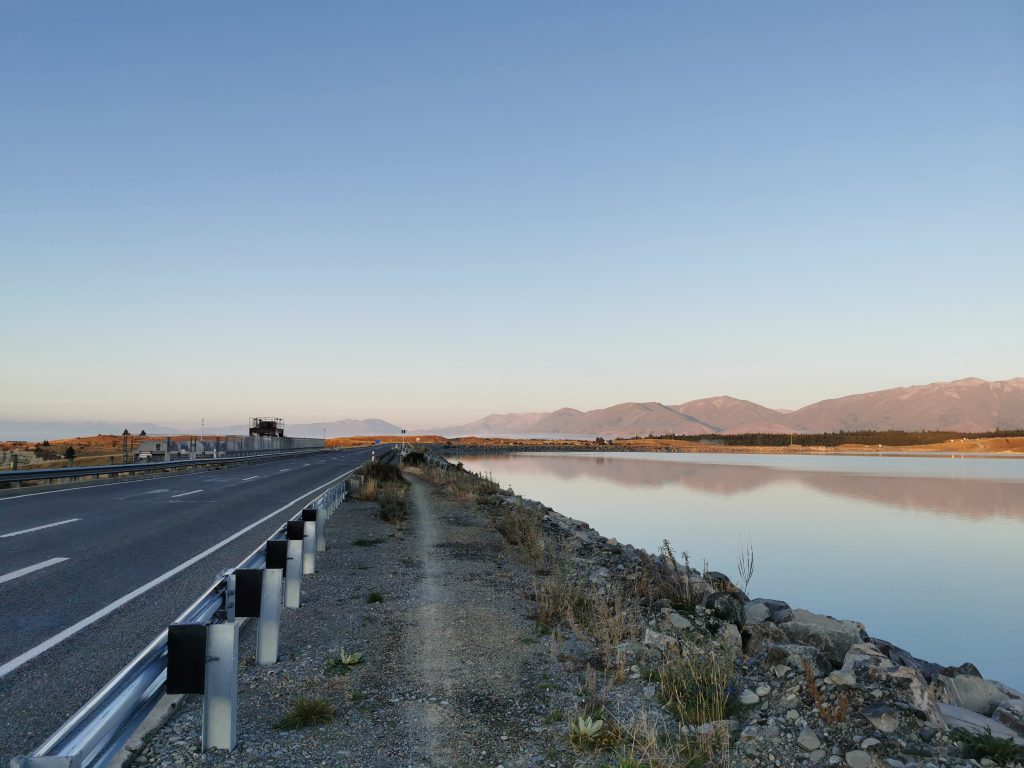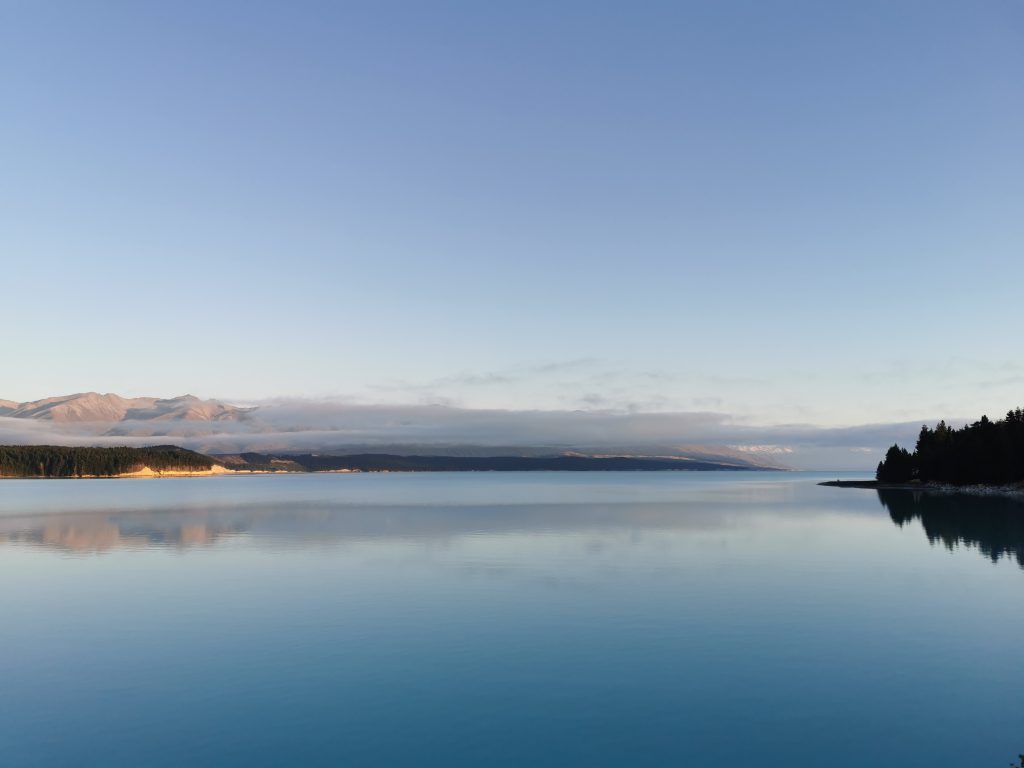 It gets slightly less beautiful from here on, now that the lake is out of view.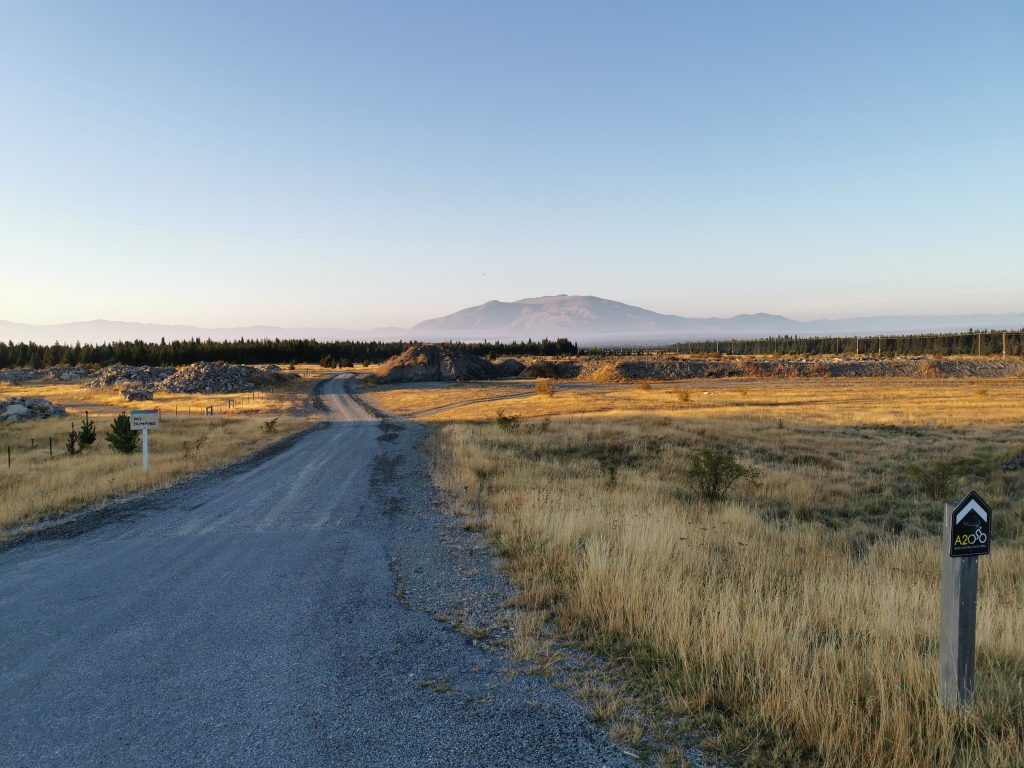 There are a lot of pine trees again.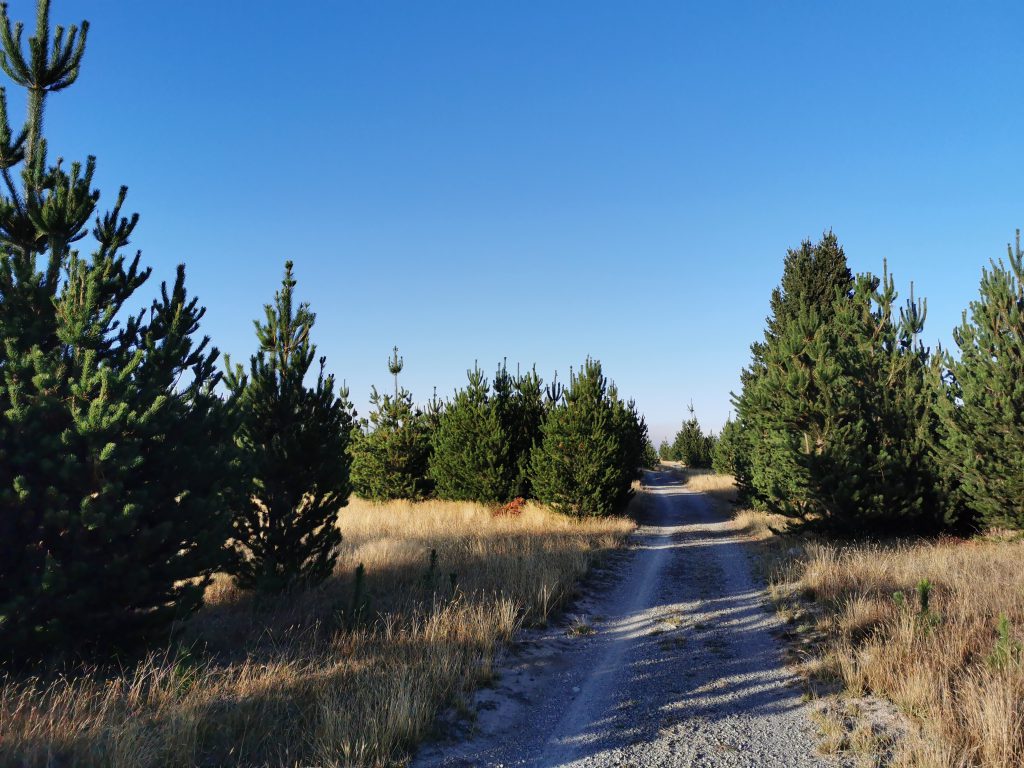 I swear this one in the middle is giving me the finger, with its outstretched arm.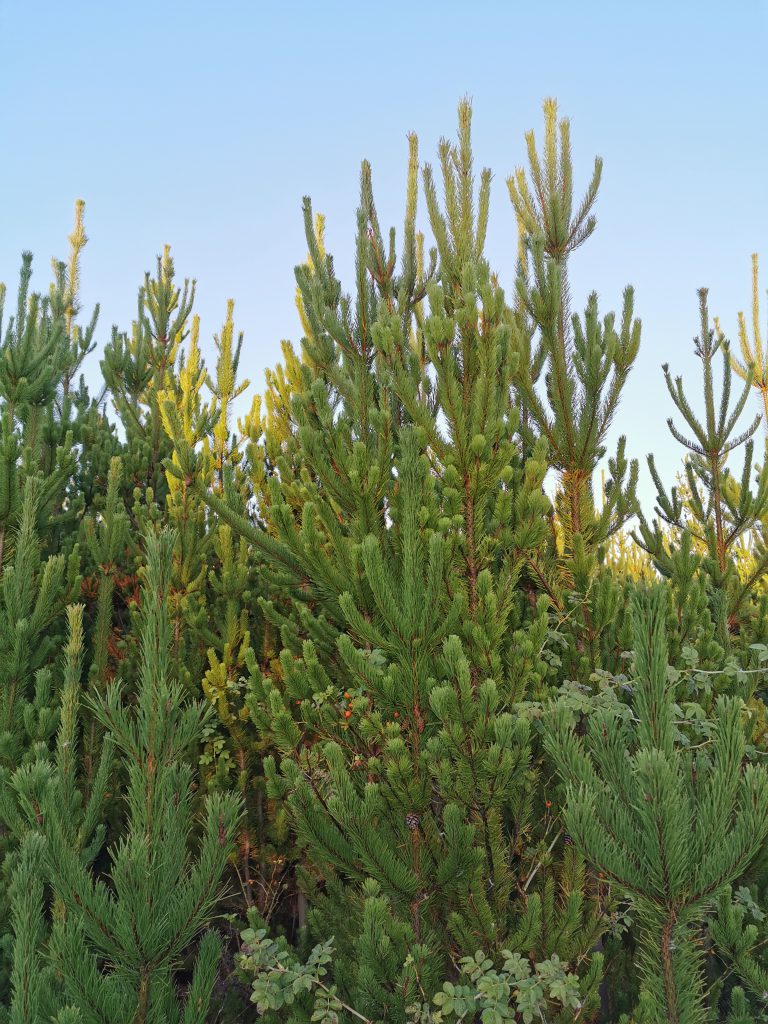 I'm not really sure what came after here. The visibility was good at first, but it all turned to custard.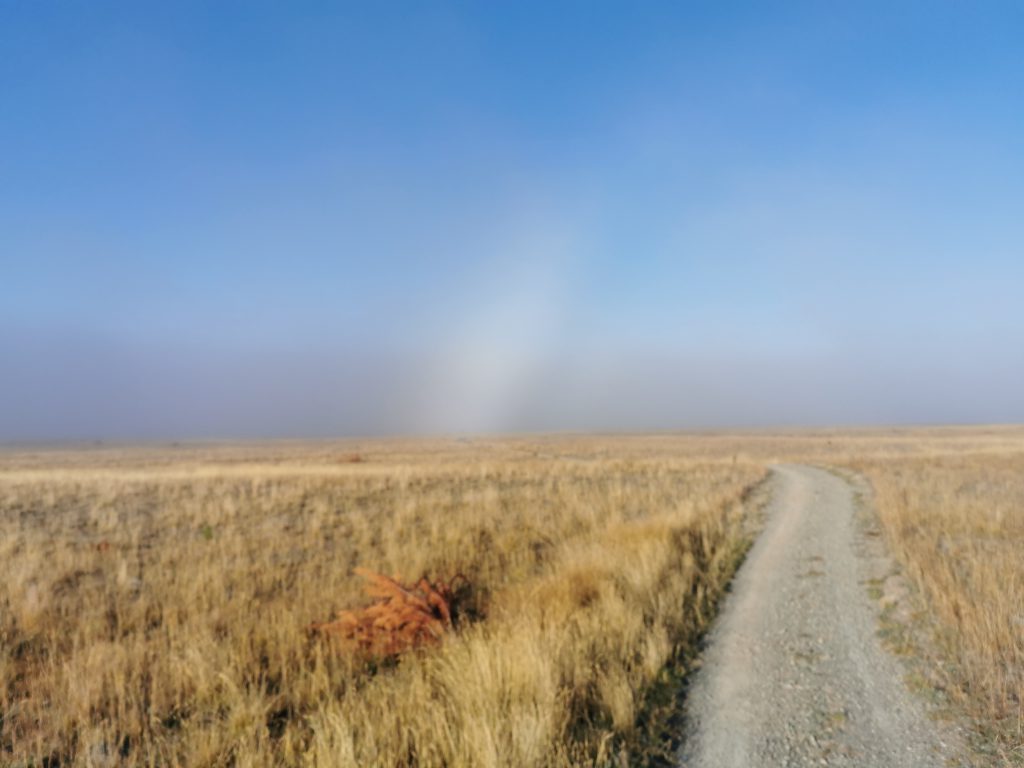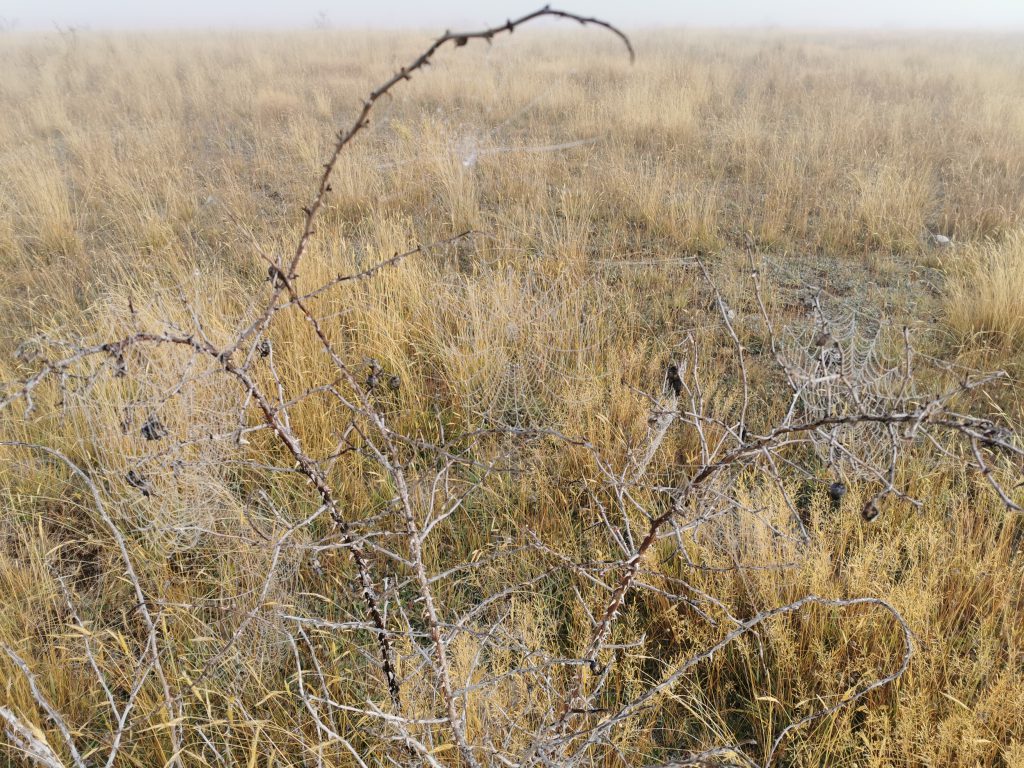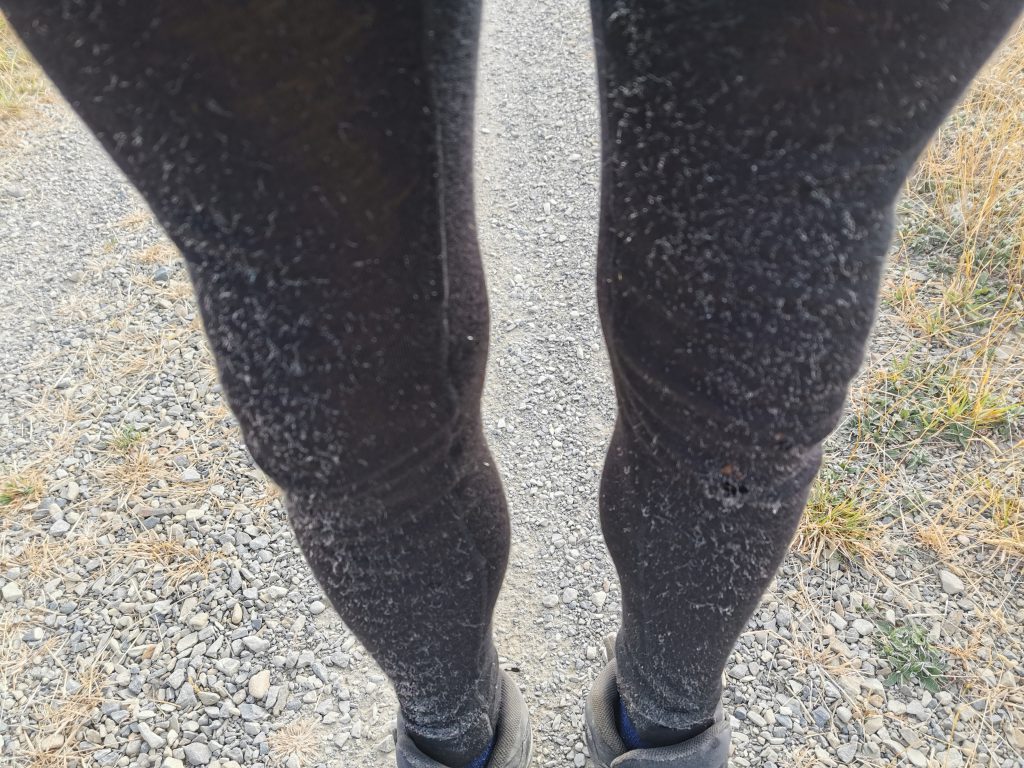 I didn't see much on this section, although I did see two cyclists and a runner pass me at 9am, and the runner ran back past at 9:40am.
It was about 10km of this, until you come out suddenly to the driveway in the next photo leading onto the highway. About 800m from the driveway I heard loud cars so that's how you can tell when you're close. My feet were really starting to hurt now so I was glad to nearly be there. Not reminiscent of the pain I just recovered from a week ago, this was just painful feet I think from walking on the road all this time.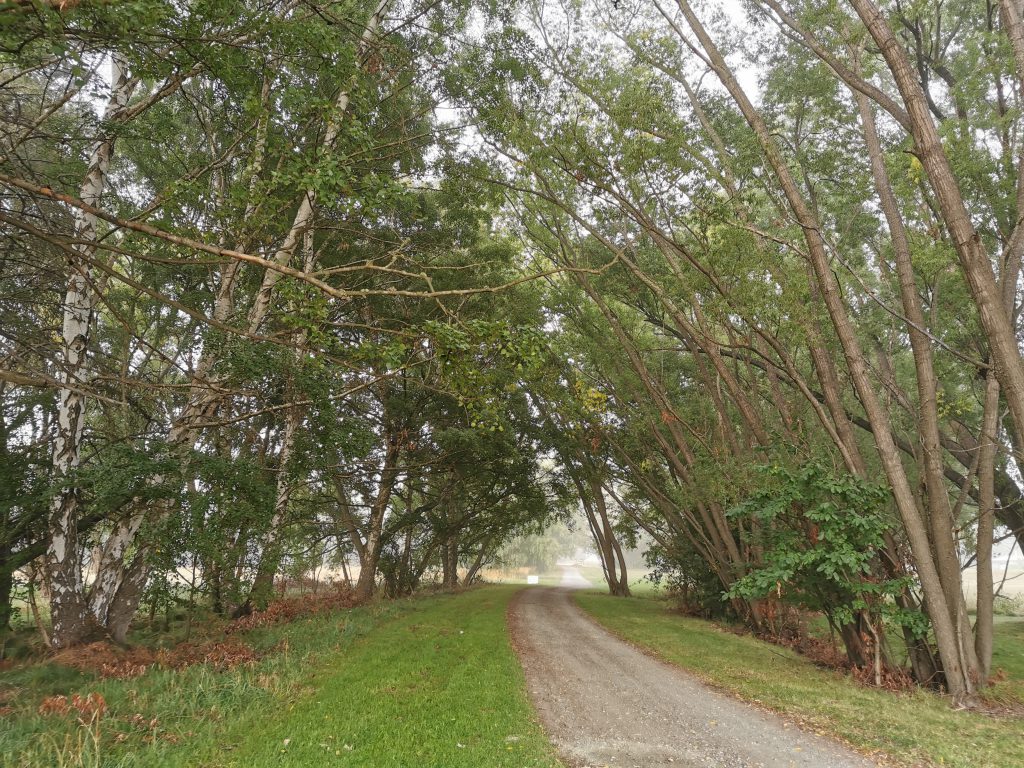 Here the trail does go down Highway 8 a bit. I was reminded of how far I'd just walked.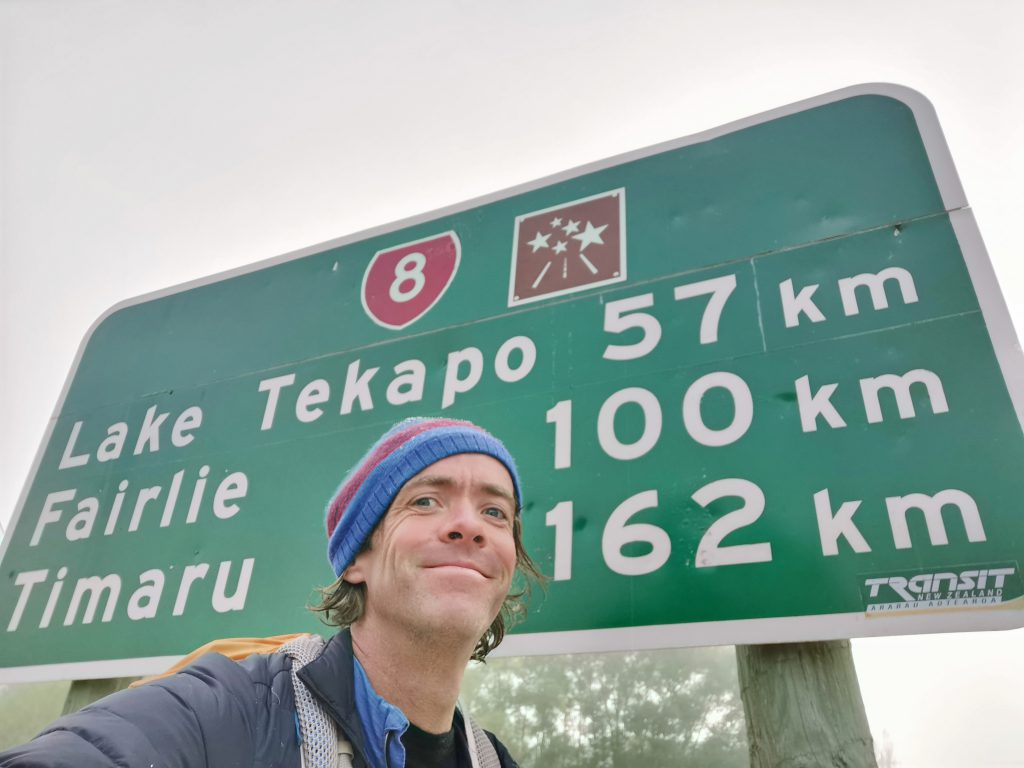 I don't know what the other symbol next to the State Highway shield is though. Some kind of star-gazing route? This area is supposed to have some of the clearest skies anywhere.
Not far from here into the town.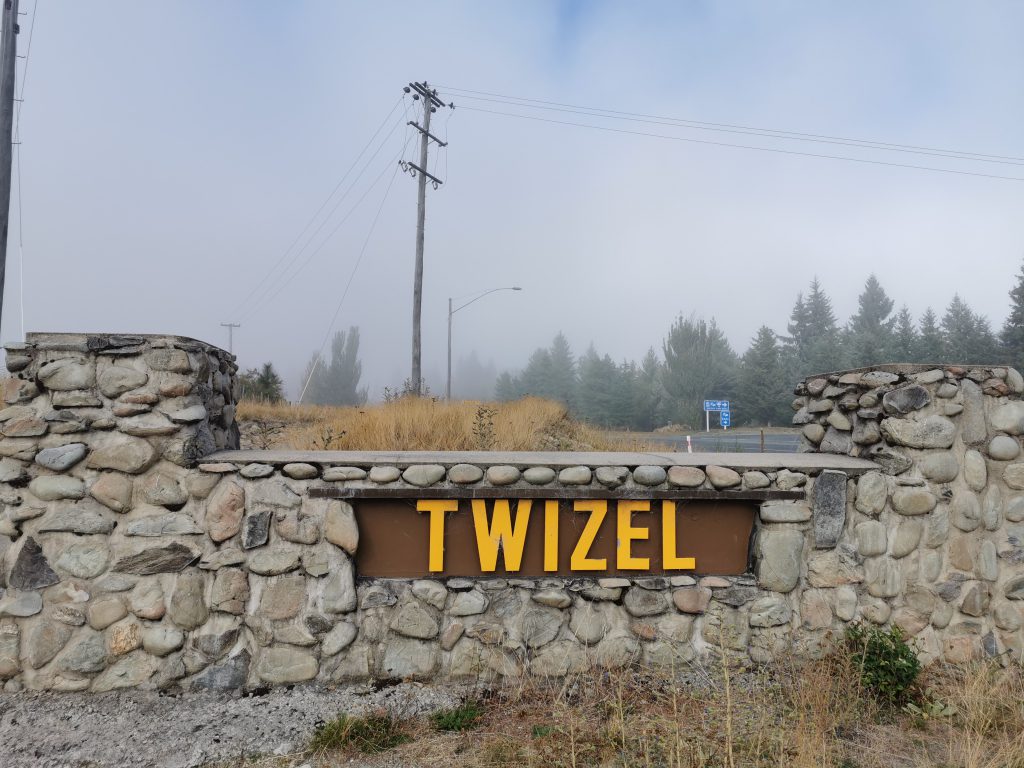 I really had felt like an omelette for at least a couple of hours, probably since the sunrise. I wondered if Facebook will have the menus for the cafés of such a tiny town, so I can work out which would sell me an omelette. When I looked, I was pleasantly surprised that it does. And the best news is that Musters Hut Café is the first café you come to in the town and they had an omelette on the menu.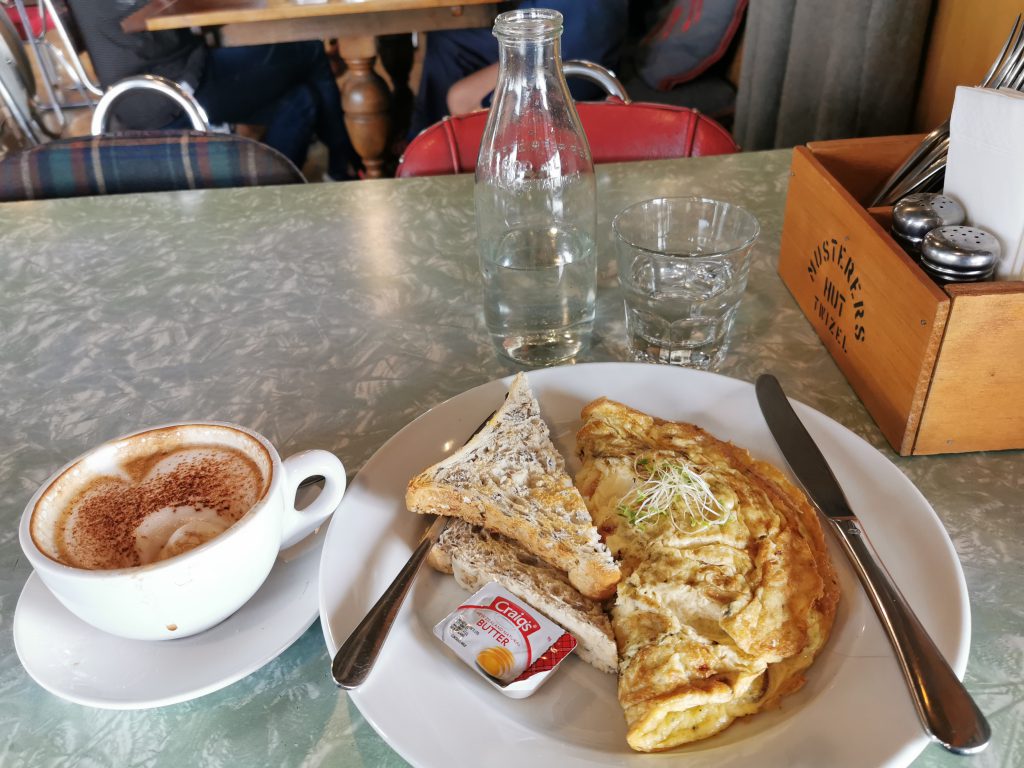 They were really nice and let me charge my phone. More places should let you charge devices. It meant I ended up staying there two hours and ordering more food.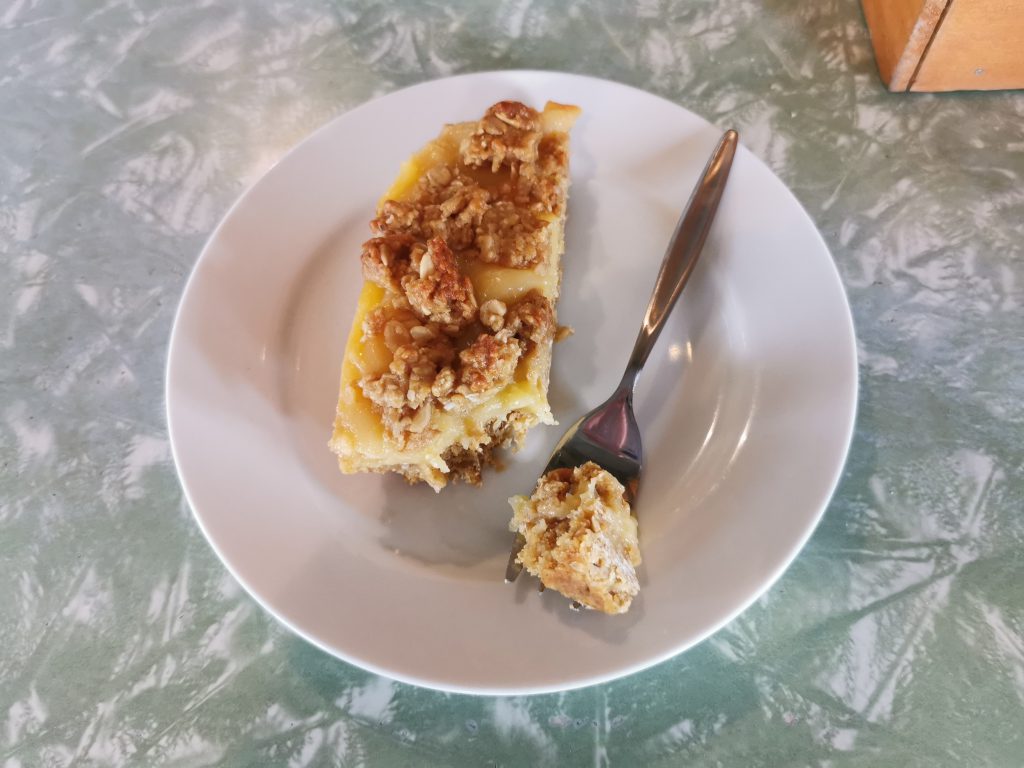 I arrived at 10am-ish to the town. This is only second time ever I've finished walking before 11am, the other time being coming into St. Arnaud.
Here's my 11am picture, still sitting at the café. It was a lot busier when I arrived.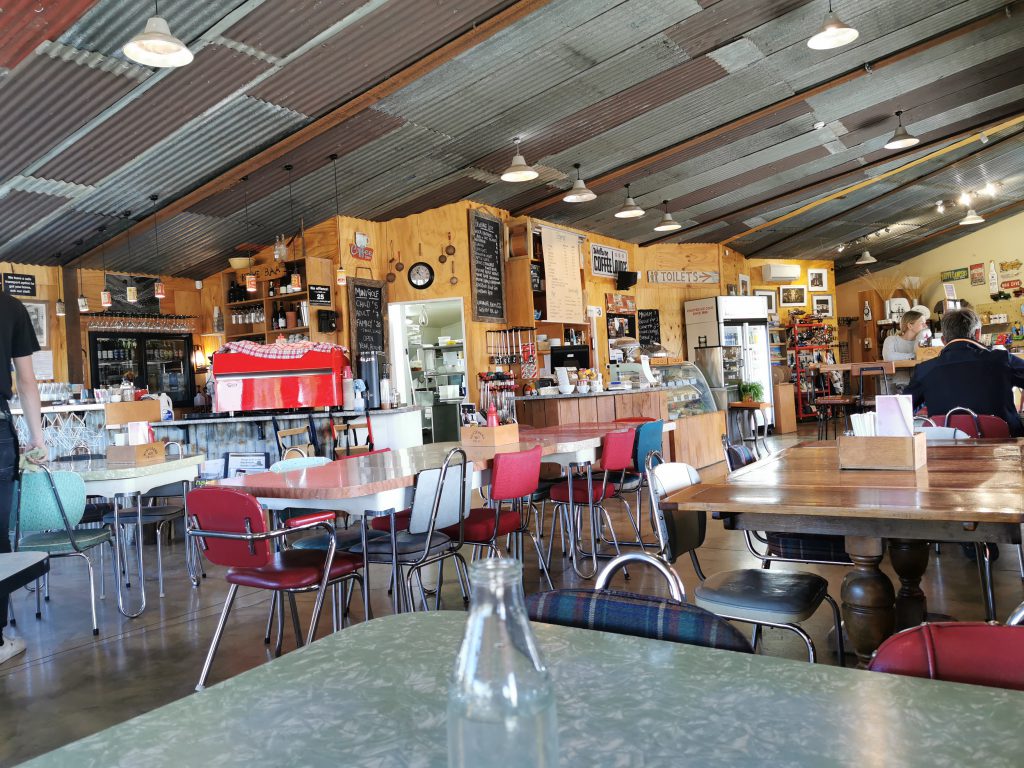 Reception at the Twizel Holiday Park doesn't open until 1pm so I used the time to do some stuff. Although first I was thinking. The town is really quiet. Is there really a rowing regatta this weekend? Google shows one in two weeks time – the Aon Maadi on 30 March, which is apparently really big. Nothing this weekend. I don't see any guys or girls around that look like rowers.
I really don't think there's a regatta on this weekend. I wish I had've looked at other accommodation options in Twizel rather than just booking a tent site without looking first. I would have really loved a bed tonight given how tired I will be later.
I tried to buy a replacement knife for the lightweight one I left behind before Stag Saddle. Sadly, the shop here sells the same knife but only if you buy it together with the spork… and I still have that. I think I can probably go without the knife for now – it's not essential.
One thing I did buy is a Lotto Powerball ticket. Earlier on in the trail I was discussing with someone, I can't remember who, about being single. I said at the time that it would be funny if I happened to meet someone in some small out of the way hick town like Twizel. And then the day after I said that, somebody in Twizel won $17million on Powerball. After that I said I really hope I do meet this person when I get to Twizel. I haven't met whoever it is yet, but there's still time!
So I really wanted to buy a Powerball ticket from the same "lucky" place that sold the jackpot winner, and I did. Let's see if it wins the jackpot for me tonight. The jackpot is only $7 million this time, but I'd cope with that amount I think.
I saw Chris in town. As expected he skipped the section I just did, and is skipping the section from here to Lake Ohau. I wonder if I'll catch him again – seems unlikely since he has a tight deadline of 1 April for his flight. He told me I was mad for walking the last section. "A hiker, walking?" I thought. Pure madness! Look up mad in the dictionary and there'll be a picture of me.
It occurred to me also that I haven't seen Daniel since two days ago. I wonder if he did the night walk.
Okay it's now time to go and set up my tent at the holiday park.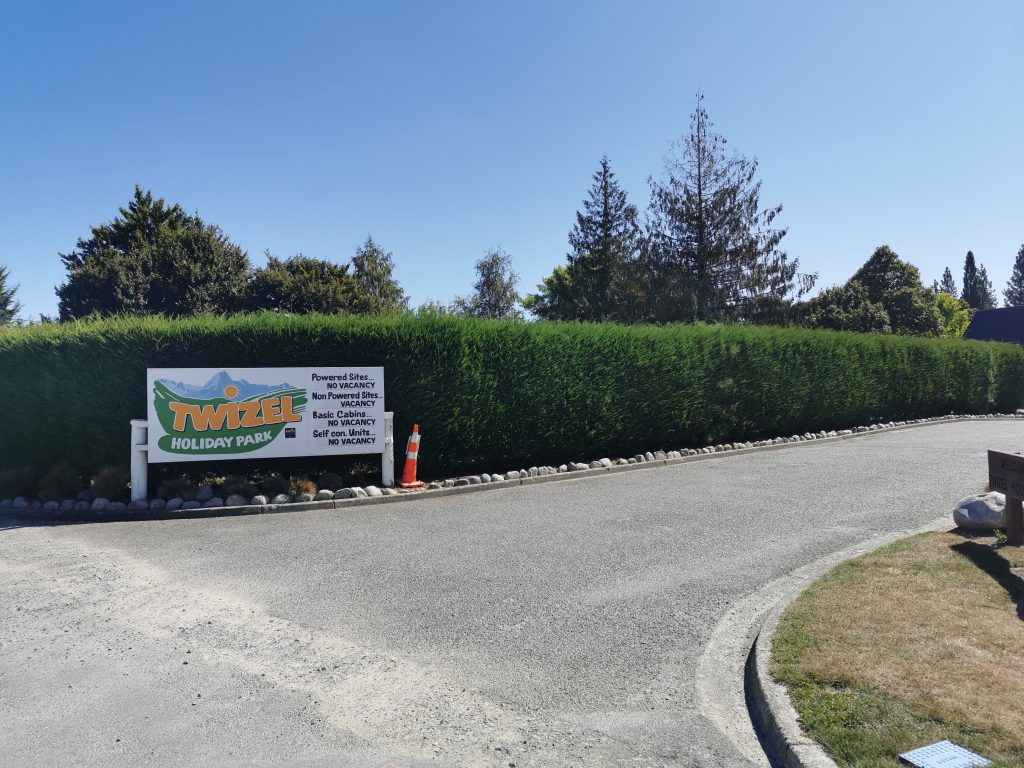 Interesting that the holiday park seems to be busy. I guess that doesn't necessarily mean the regatta is actually on, I mean it's a Saturday and it's an absolutely stunning day. All the cloud and mist from this morning cleared by lunchtime.
Speaking of the weather, wow it's hot this afternoon. I'm so glad I'm not walking in this heat. The night walk was nice, a tad too long possibly, but so much better than 54km of scorching hot sun.
This afternoon I wasn't feeling sleepy, just a bit out of it. The nap during the night definitely was a good idea. Hopefully I sleep well tonight. There aren't too many other tents around, although in the late afternoon a campervan pulled up right next to me and the occupants have set up a little table and chairs and have started smoking. Gutted.
I also fit a resupply in from Four Square for the next five days which should get me to round about Wanaka. Did you know this town of barely 1,200 people has two Four Squares? They're almost across the road from each other. What's up with that? Despite that, the one I went to (being the Mackenzie one, the closest one to the campground) was still busy.
And there was just enough time to have a beer and a bowl of fries with Christie who turned up along with her TA hiker friend Taia. One beer though made me so sleepy I had to return to the holiday park and go to sleep at 8pm.
And having just got into my sleeping bag now, I've noticed this stain on my sleeping mat. That wasn't there yesterday I'm sure. Where on earth did that come from?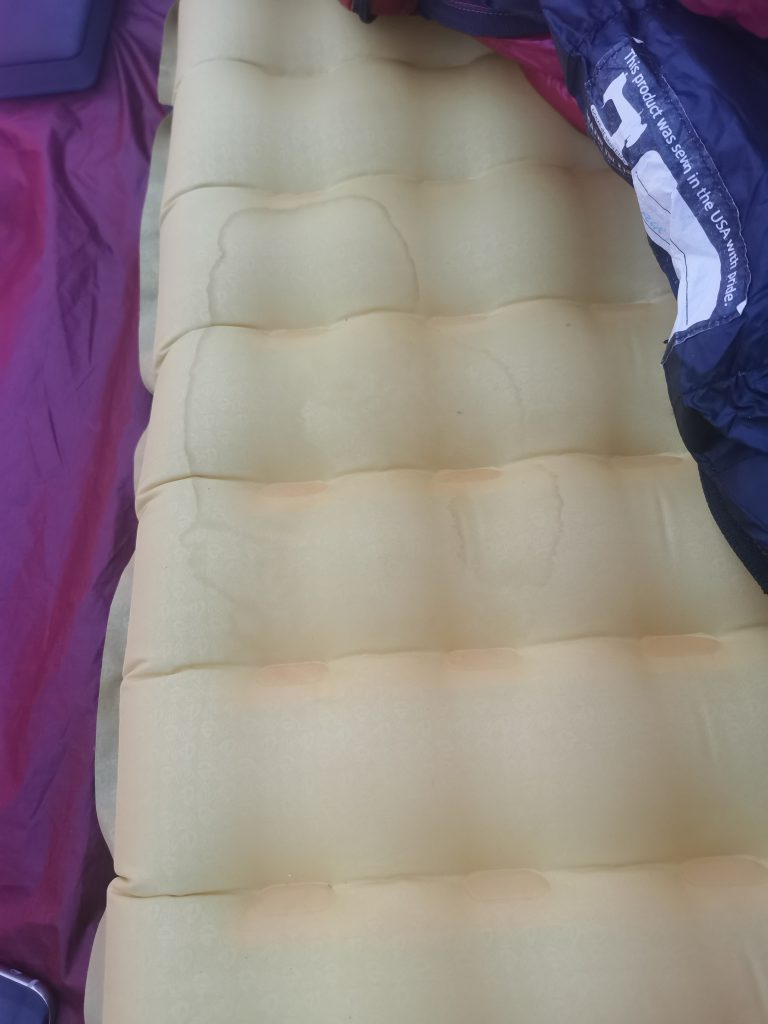 Today's walk on the map (blue = Te Araroa, red = today's walk):