Date: 15 March
Trail covered: 29.2km (kms 2442.0 to 2471.2)
Weather: gloomy
My 11am picture is leaving the town of Twizel, less than 1km from where I slept.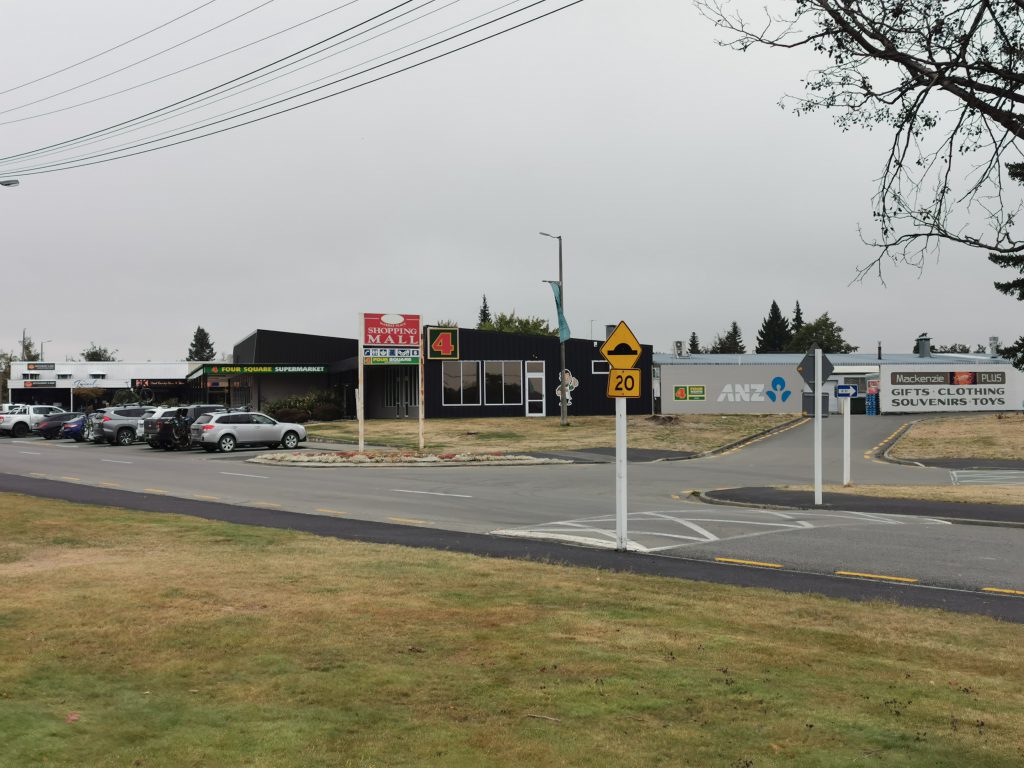 Yes, that's how long it took me to drag myself out of my tent this morning, get packed up and leave. I got nearly 11 hours of sleep after the night walk and I felt great in the morning. I was in no rush since I knew today was another almost completely flat trip of about 30km alongside rivers and canals and lakes.
I had breakfast with Kristy – not Christie as I've been spelling it. I'll go back and correct it, I promise! She showed me some Facebook posts that Michael had posted. He said he loved the last few days from the Rangitata River to Tekapo. He also saw my blog and something I said made him think that I thought he was the snorer. No way, I never said that. I always knew Kristy was the snorer!
Kristy also said the rowing event today is not the big rowing regatta but some South Island thing. That's not exactly what she said but since I hadn't had my coffee by that point I can't remember what the event was.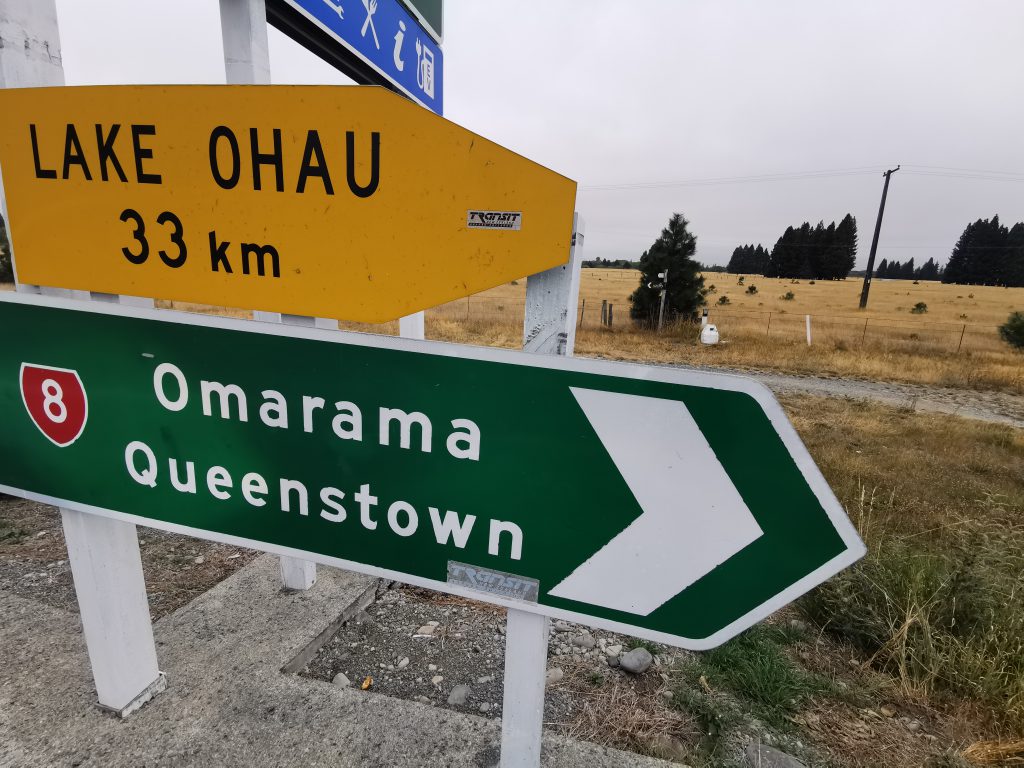 Kristy decided on having a rest day in Twizel today so I set off alone. It was a gloomy day to start with.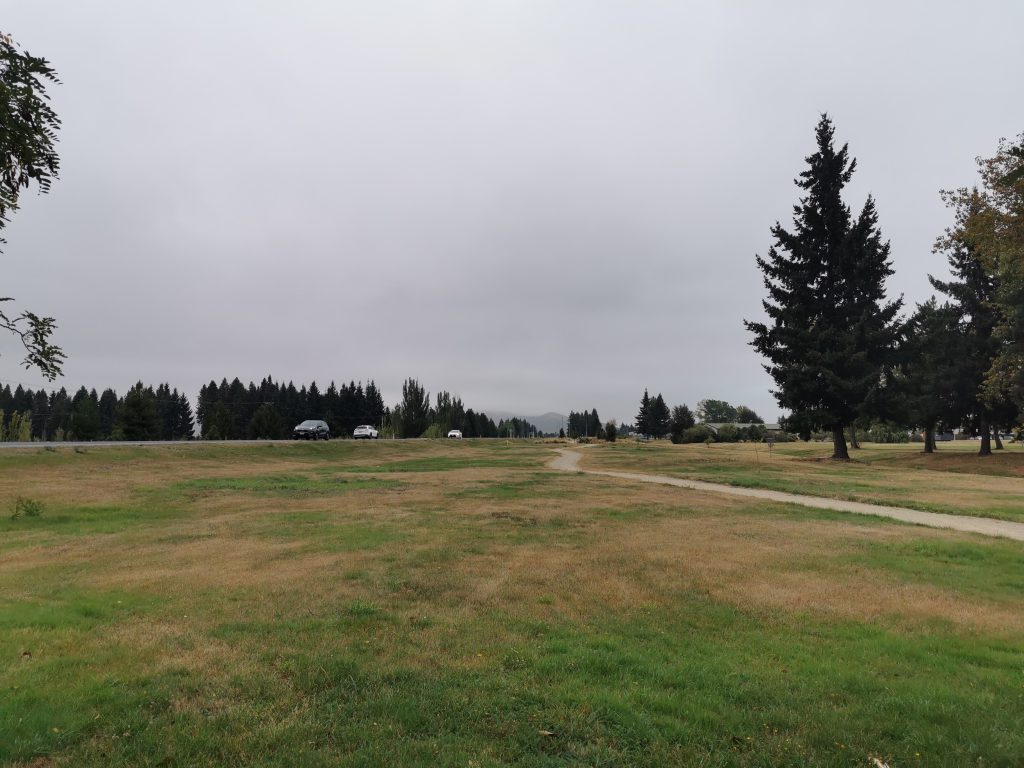 I didn't win Powerball with my ticket that I bought yesterday. Somebody did though because I noticed the jackpot has gone back down to $4 million which is what it always gets reset to when somebody wins it.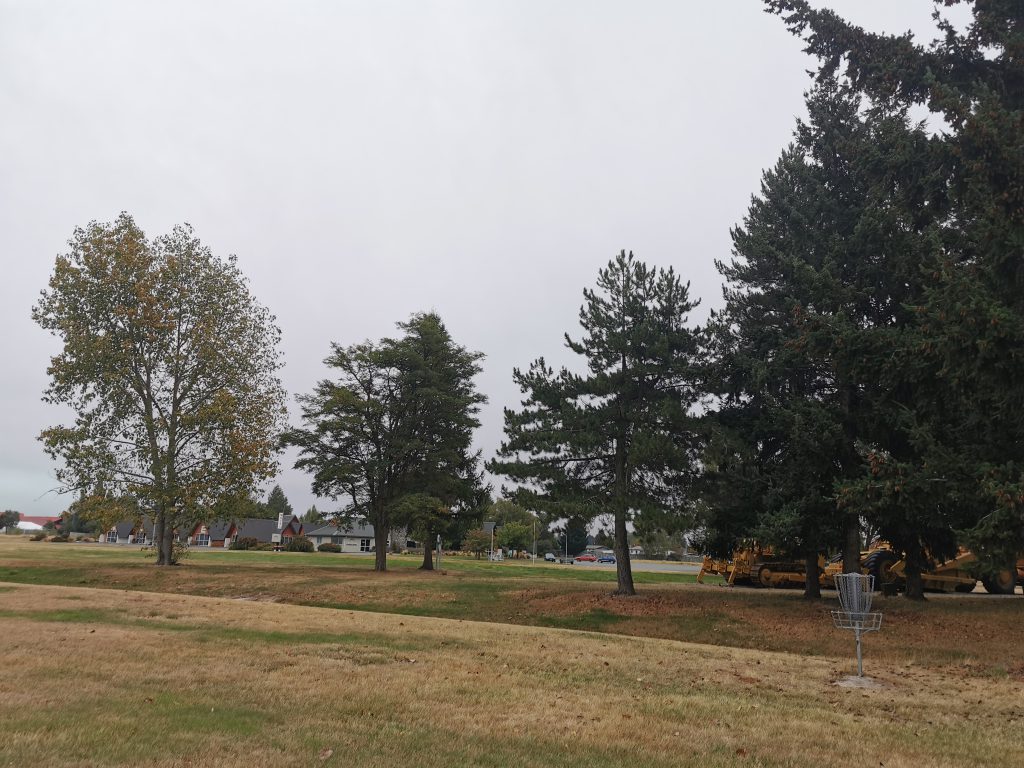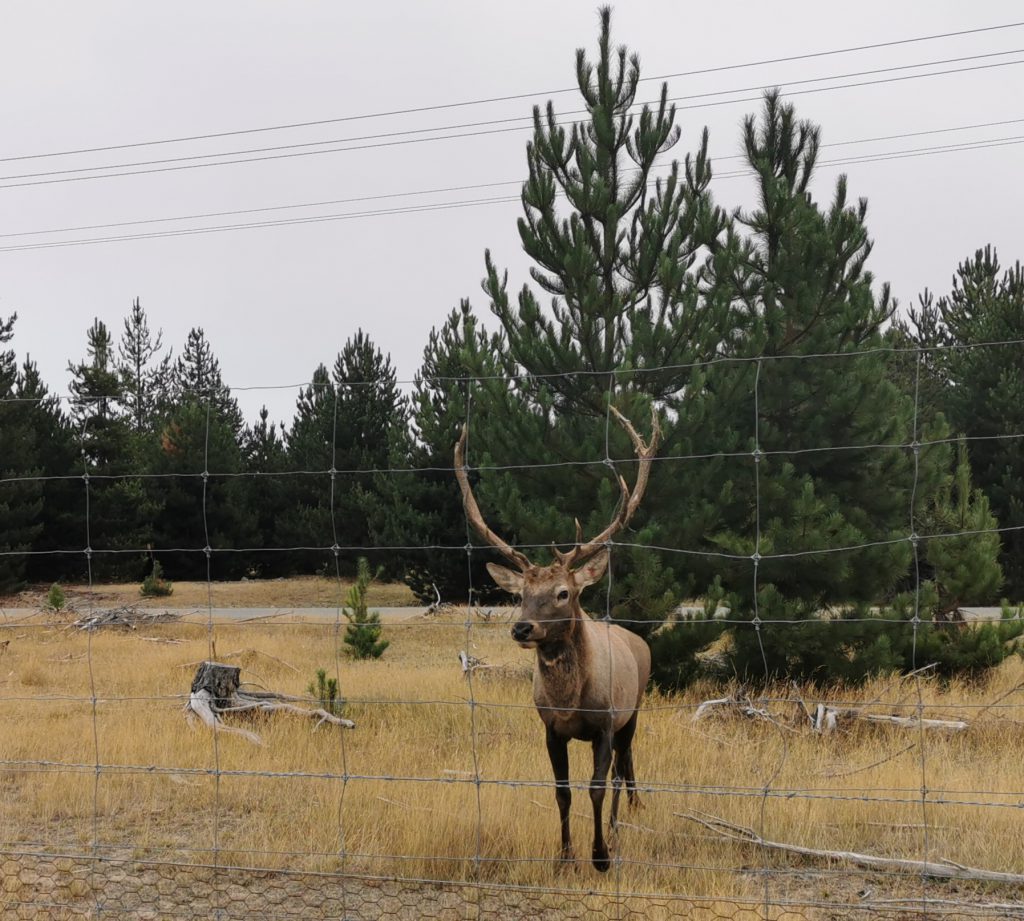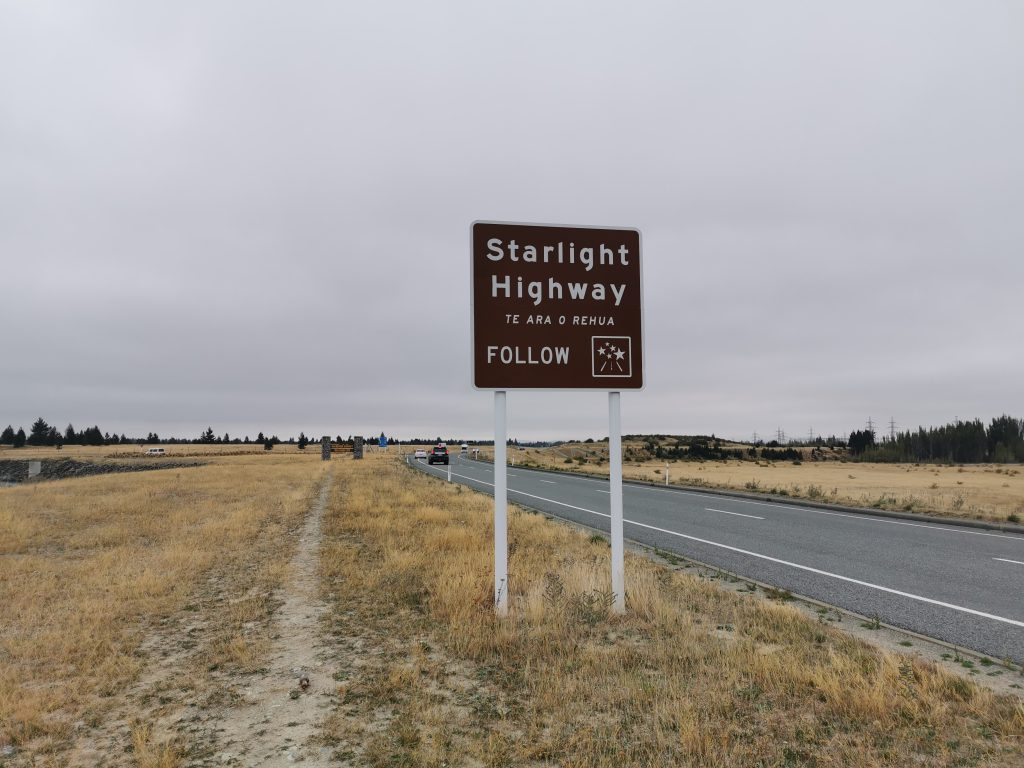 The trail goes beside Lake Ruataniwha, and over a dam. Its quite high!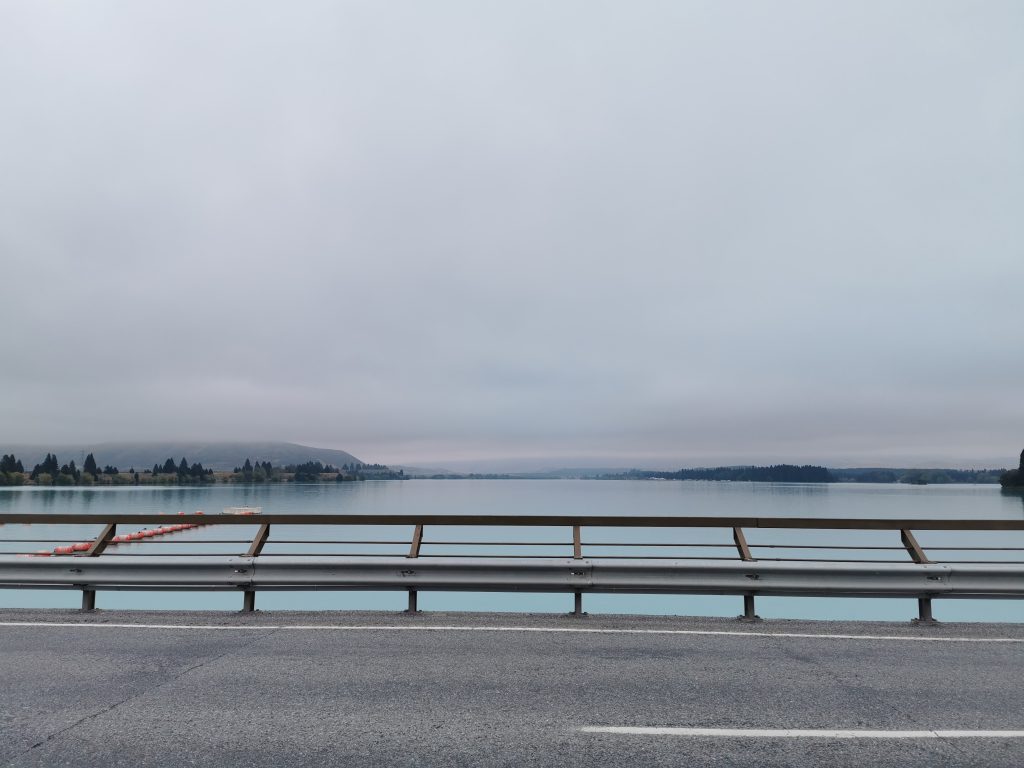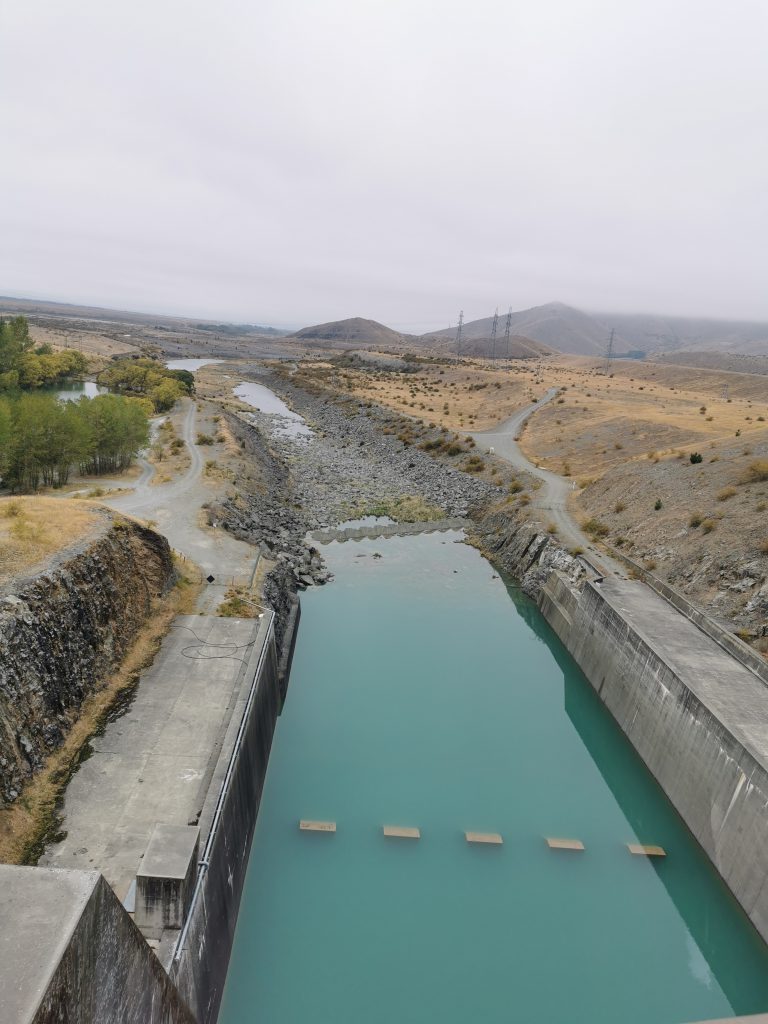 Then I knew that the trail went to the right, so I turned right straight after the dam. But that was wrong – it wasn't long before I saw a dead end and turned back.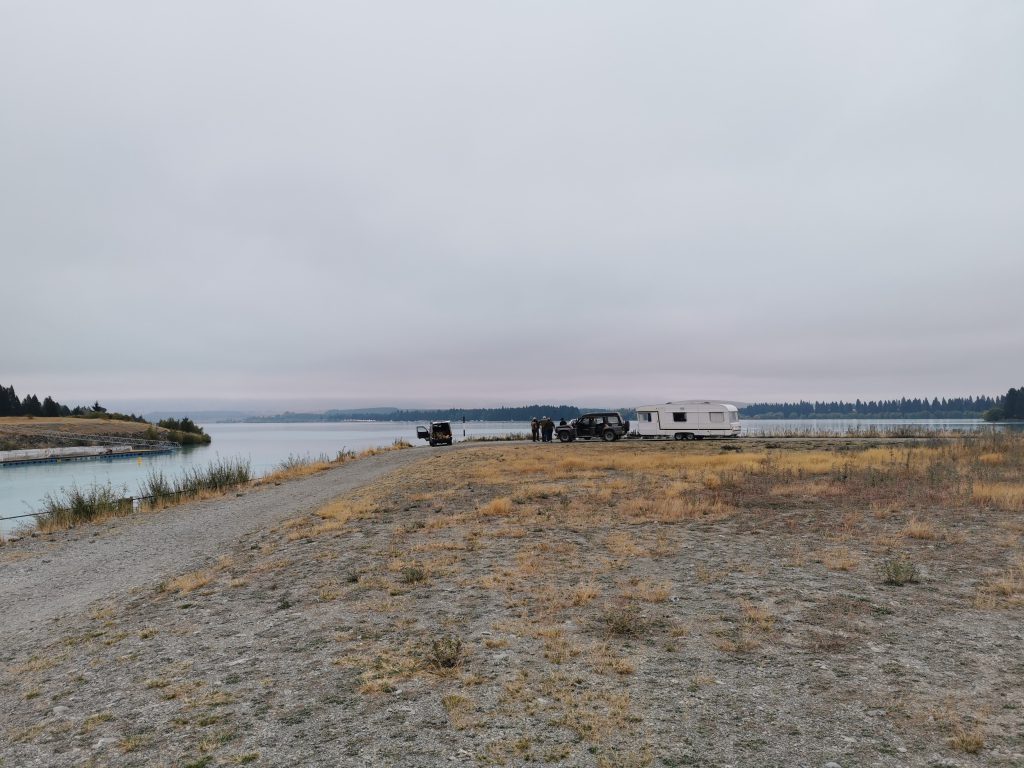 But I did get to see the salmon farm scarecrow. Hilarious.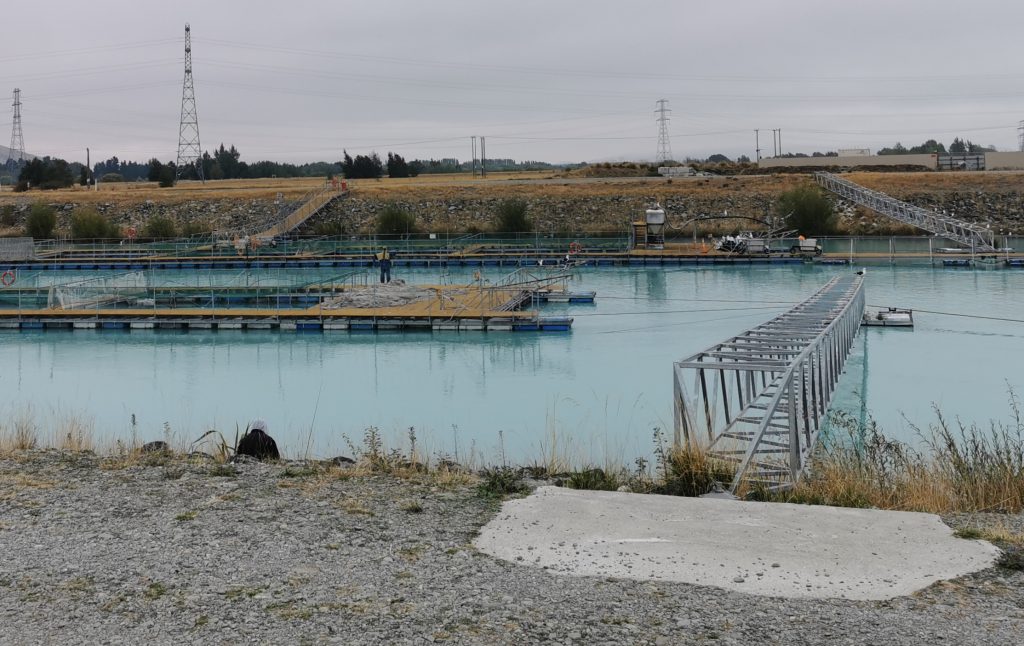 You're supposed to go a bit further down the highway before turning right – across one more bridge.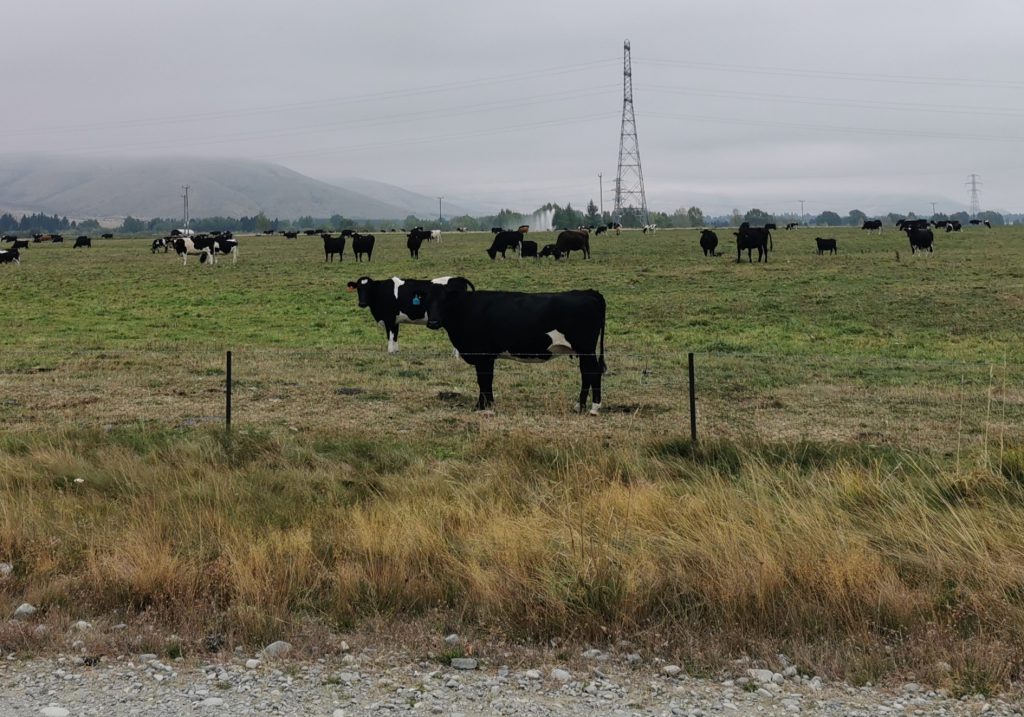 From the opposite side of the lake I could see rowing happening. Well actually I heard it first. People were yelling and screaming so I went to the shore to see what was going on. I could see the rowers but they were a bit far away to get a photo.
The path was a gravel road for almost the entire day, but it had a good view a lot of the time.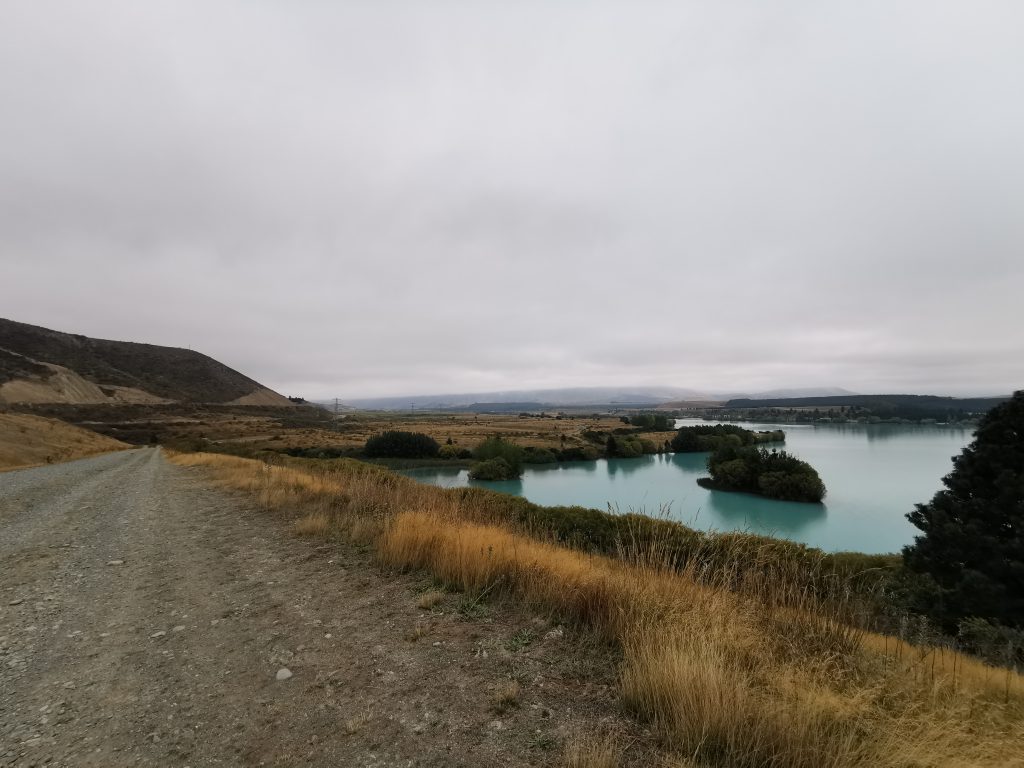 It's been a while since I had to carry five days worth of food. It's noticeably heavier but I will survive. I do wish that just for a few days I could try a different pack with more shoulder padding.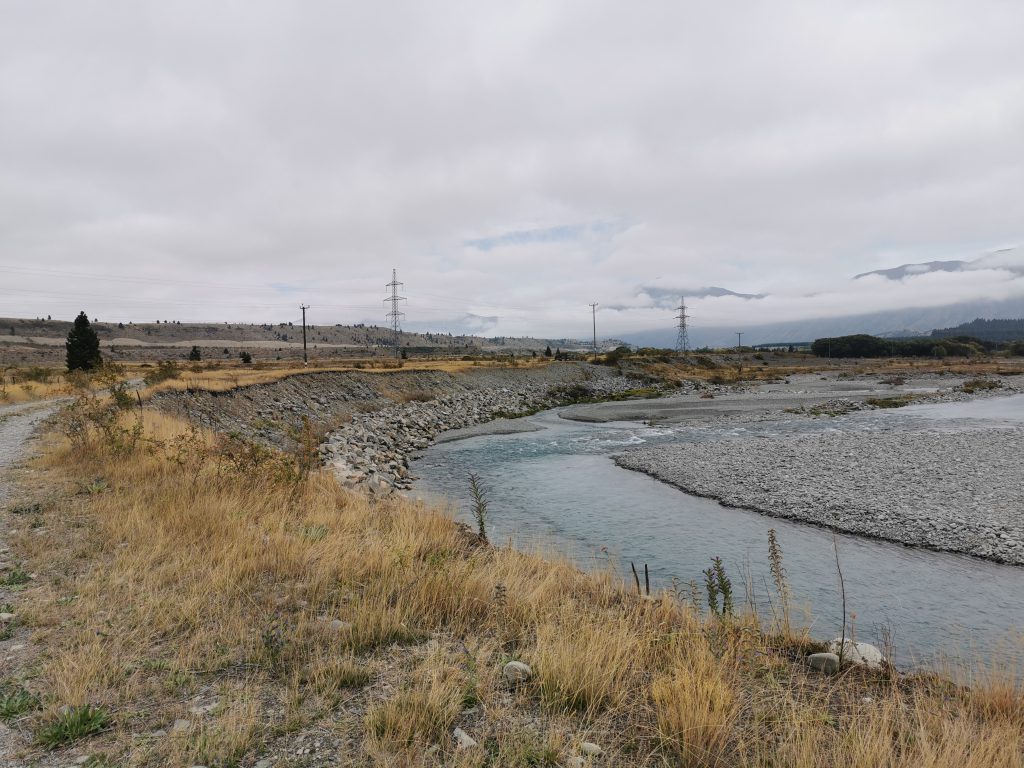 At the point above in the photo there's a pathway down to the river to get water. I took it, and also used the time to have lunch. This was the first time I got water since two days ago when I was determining if 600ml was enough for the canal walk or not. Turns out it easily was.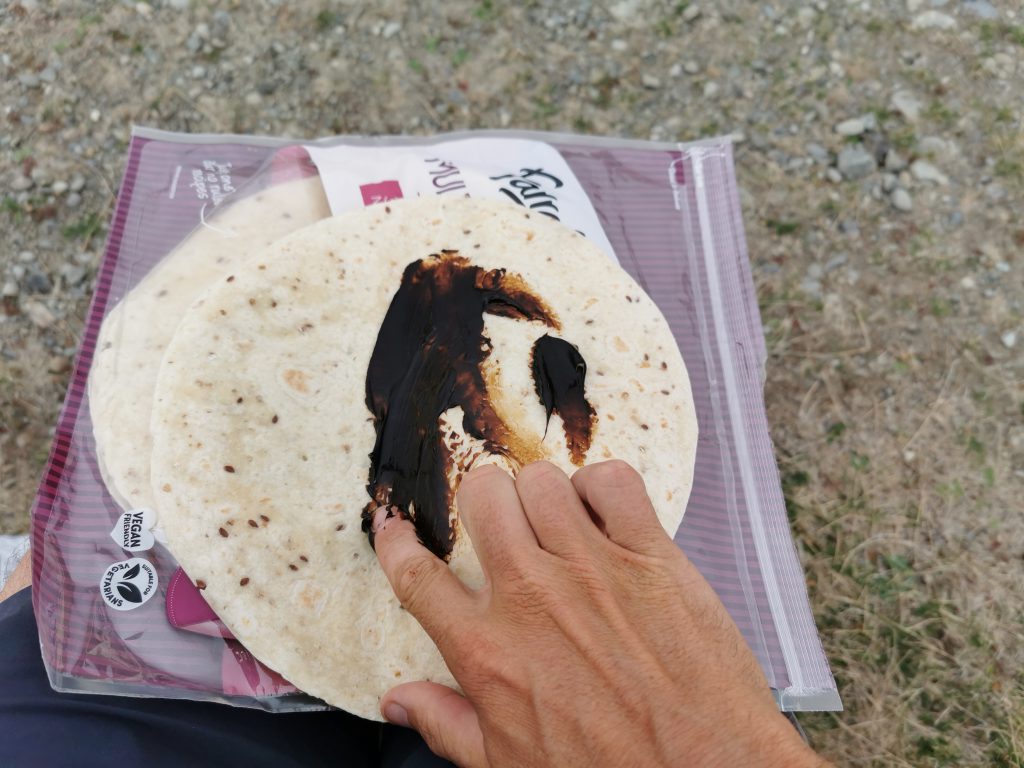 There were not many people using this road. One car did come past as I was having lunch but came back the other way a minute or two later.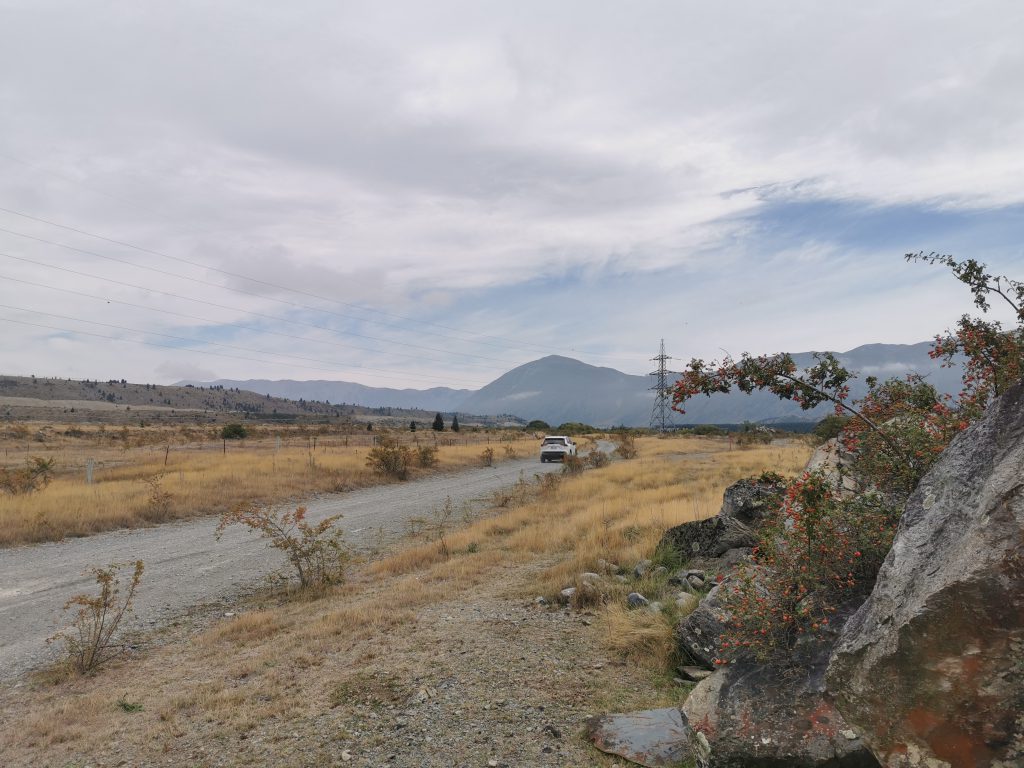 And not long after, Taia came past on her hired bike. She said she didn't like the gravel road on a bike. She also noticed that we had the same pack. She'd just passed another person, who she said appeared to be jogging. We looked behind us and could see someone coming up behind us in the distance. I wondered who it was – everyone else I knew or talked to at the campground was taking a rest day today.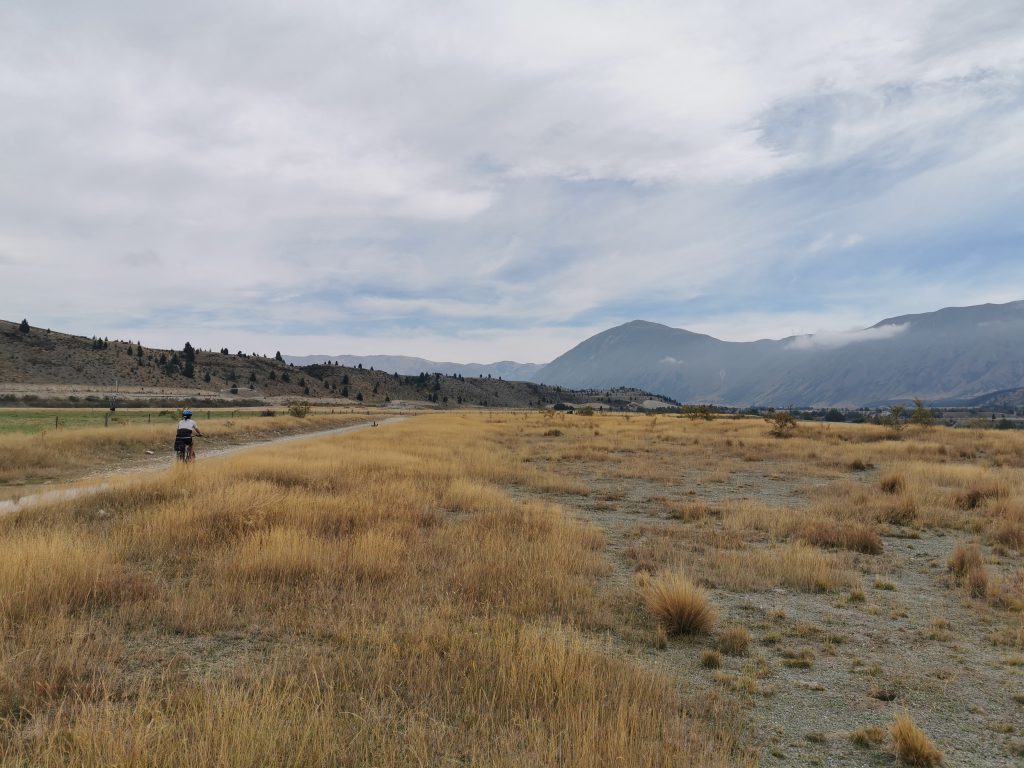 I saw one motorbike too, and further on when the path becomes the Alps 2 Ocean cycleway again, I saw a few cyclists. I got in the way when they came up behind me because I had my music on today. "Yoohoo!" I'd hear them yell behind me and I'd jump out of the way.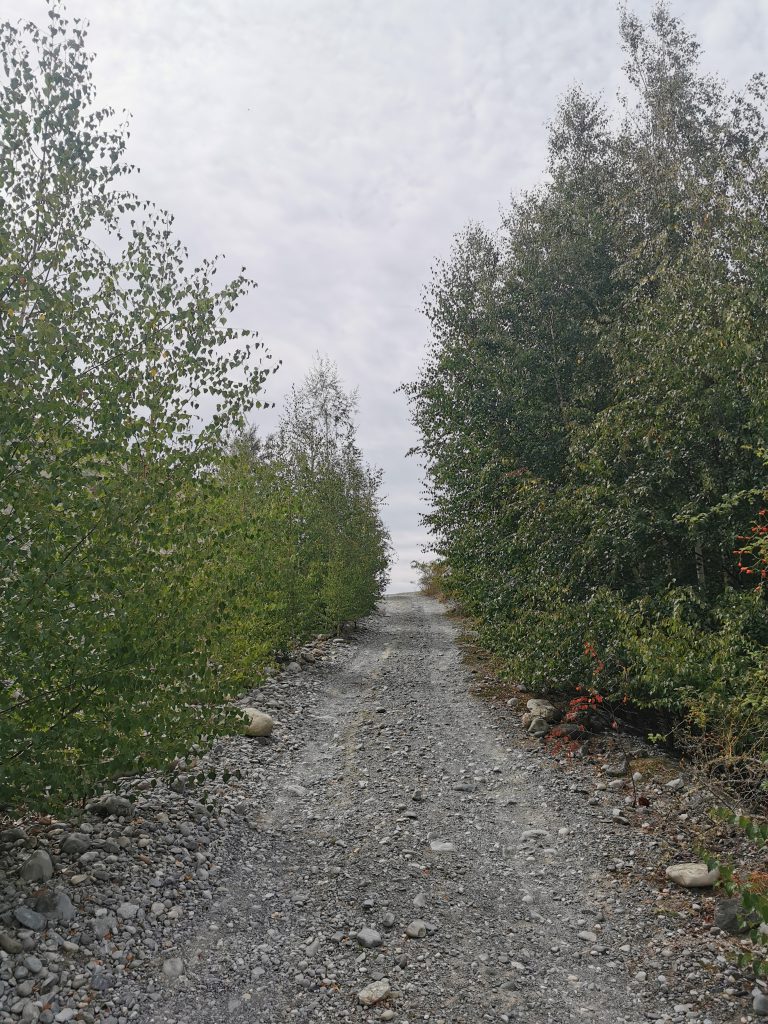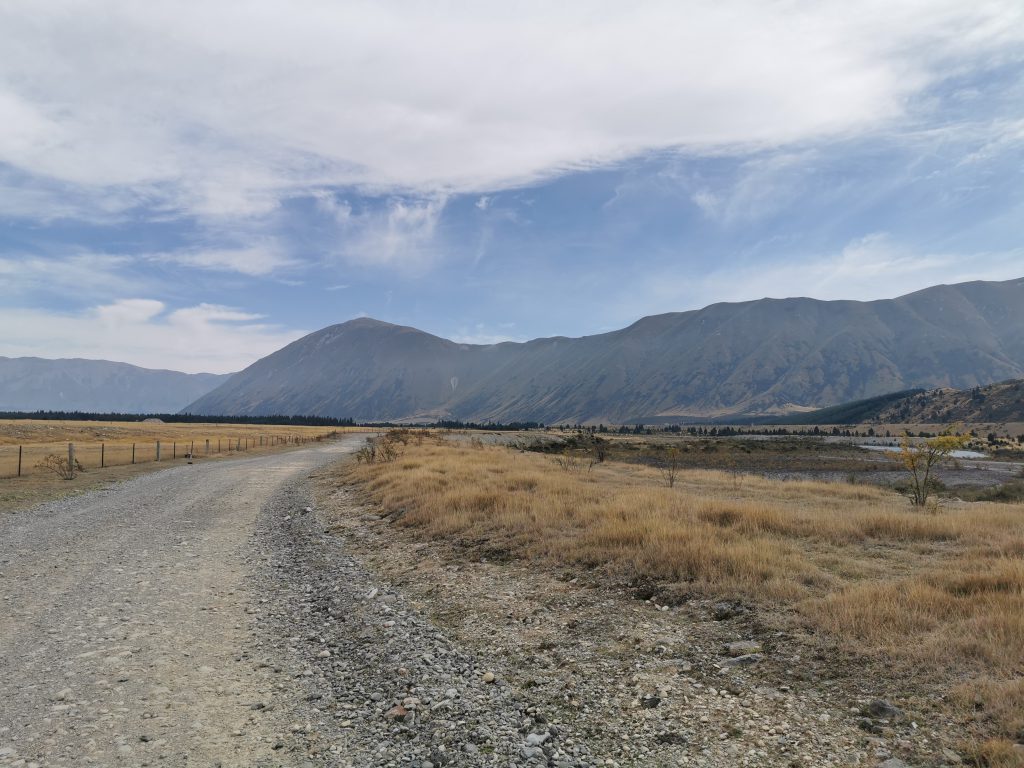 The hill above which was always in the distance is apparently called Ben Ohau if you believe the topographic map. The tiny village of Ohau is at the bottom of it, across the lake. That's roughly where I'll be staying tonight.
The walk today was almost entirely flat, the only hill of note was this one.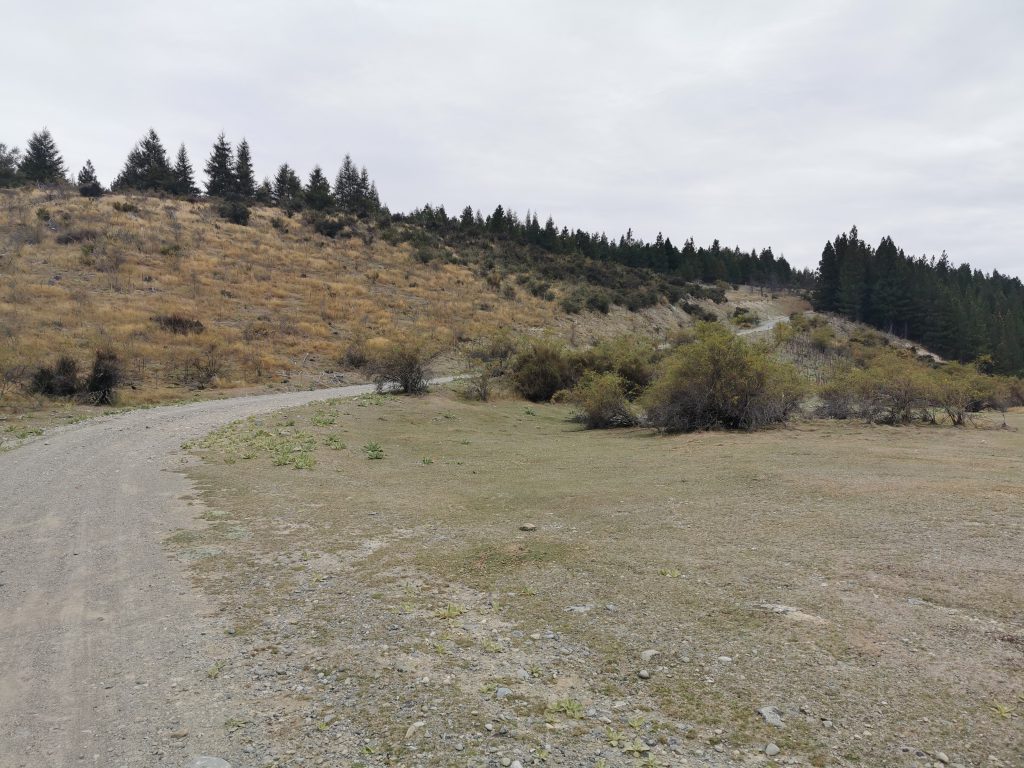 It was a shock going uphill after two and a half days of completely flat terrain!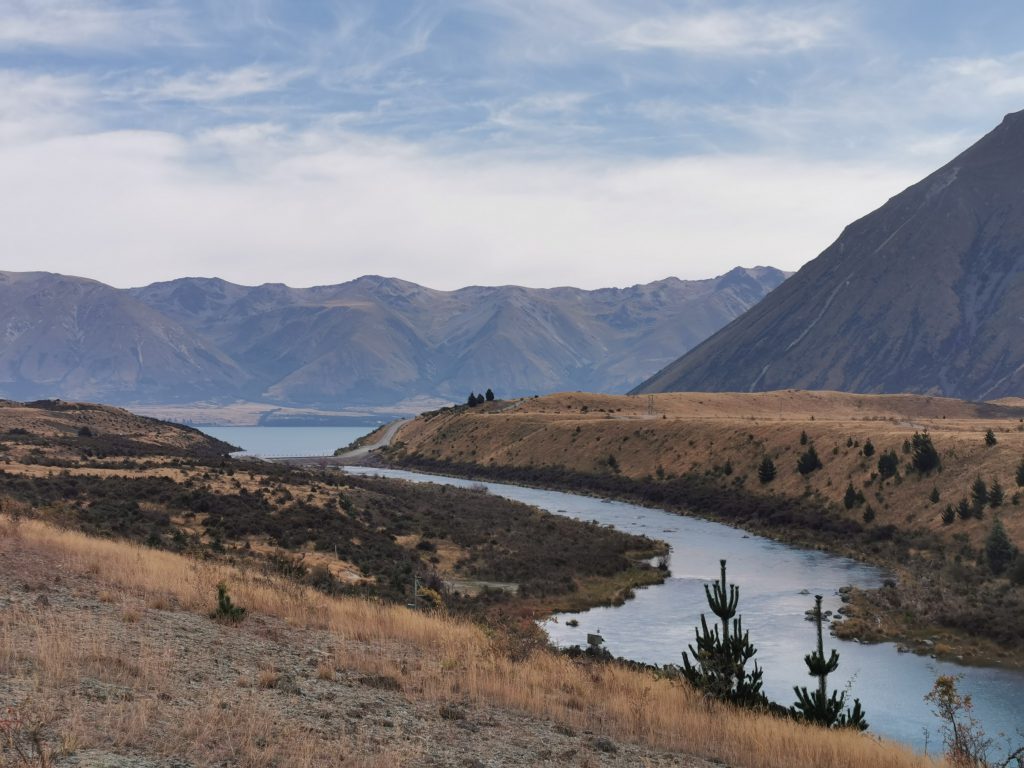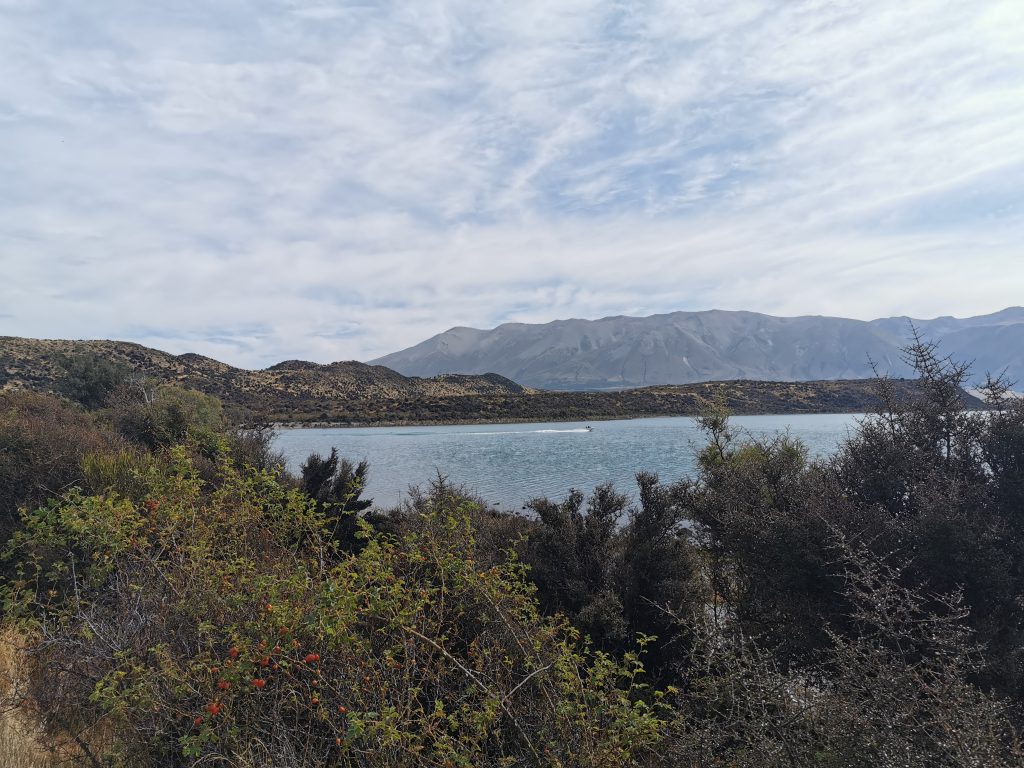 There was one hut on the way, but it must have been private. It was locked, had no visible name and I was too short to see in the window.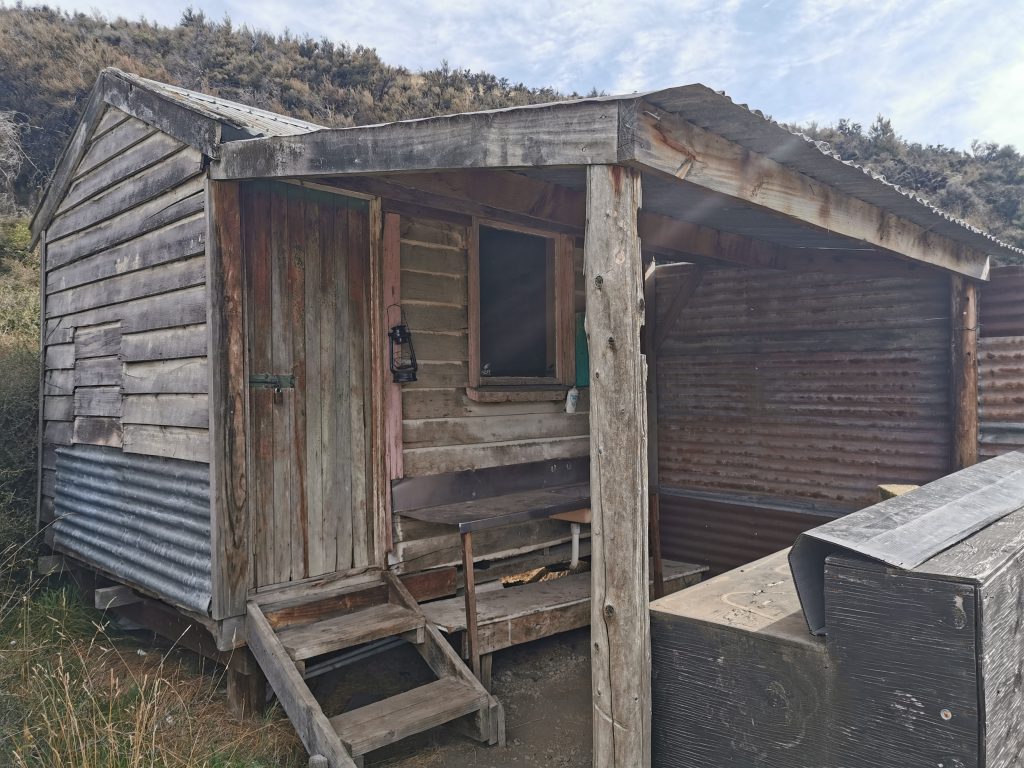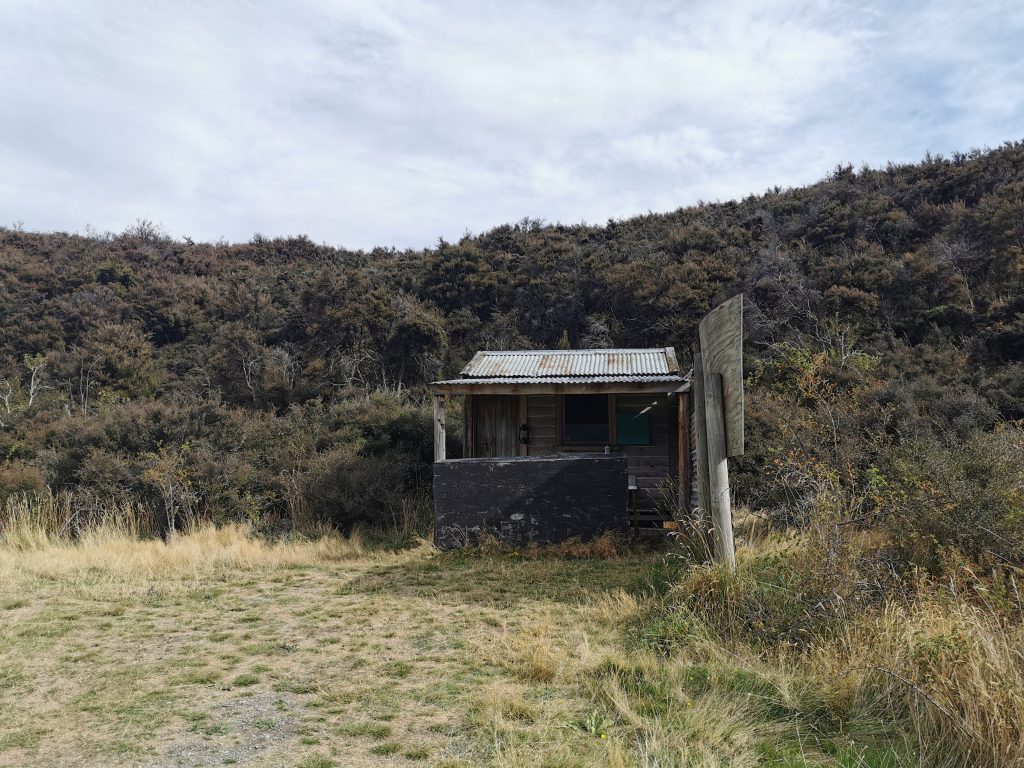 Once you leave the river trail and start on the Ohau Lake trail, the views get really good again.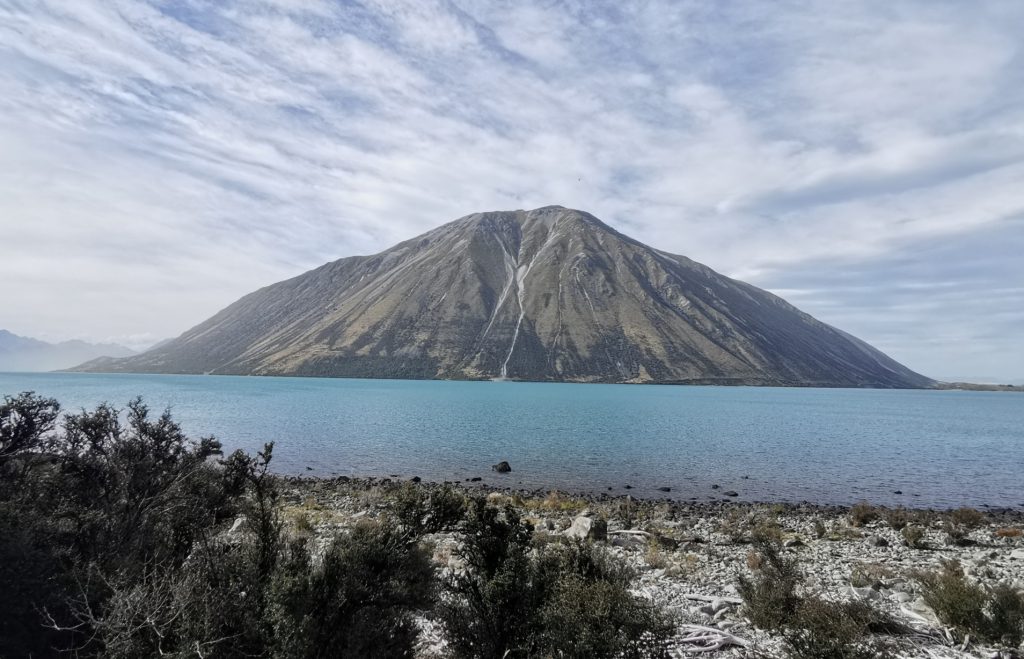 And I was across from the bottom of Ben Ohau so I knew I was almost there.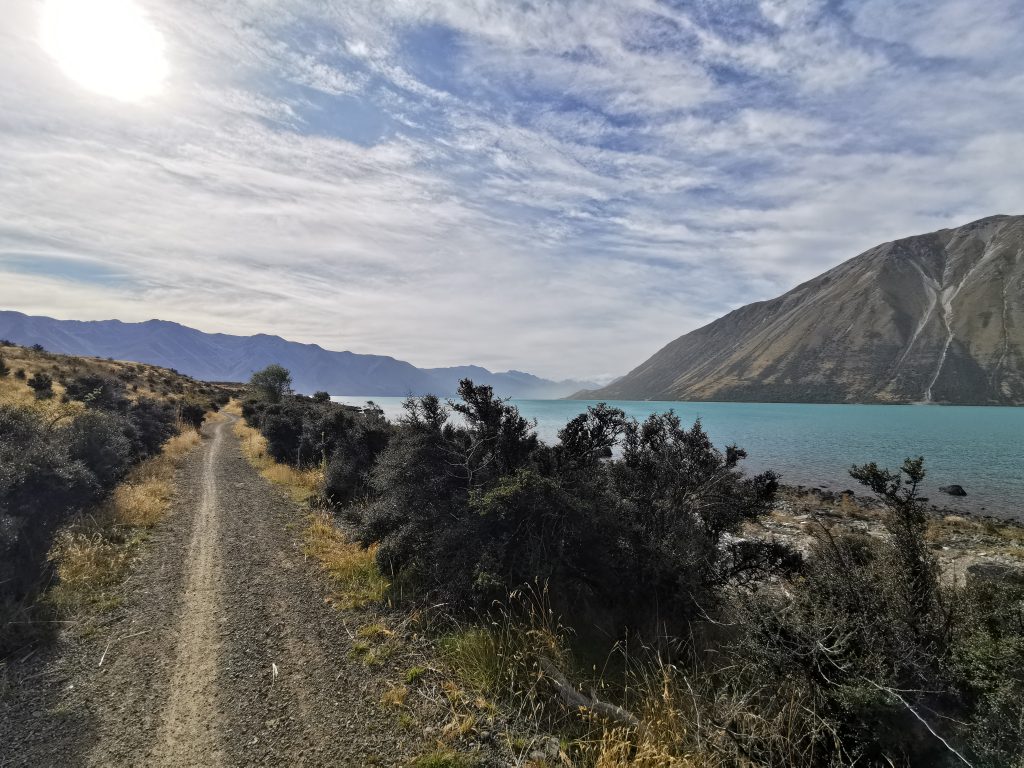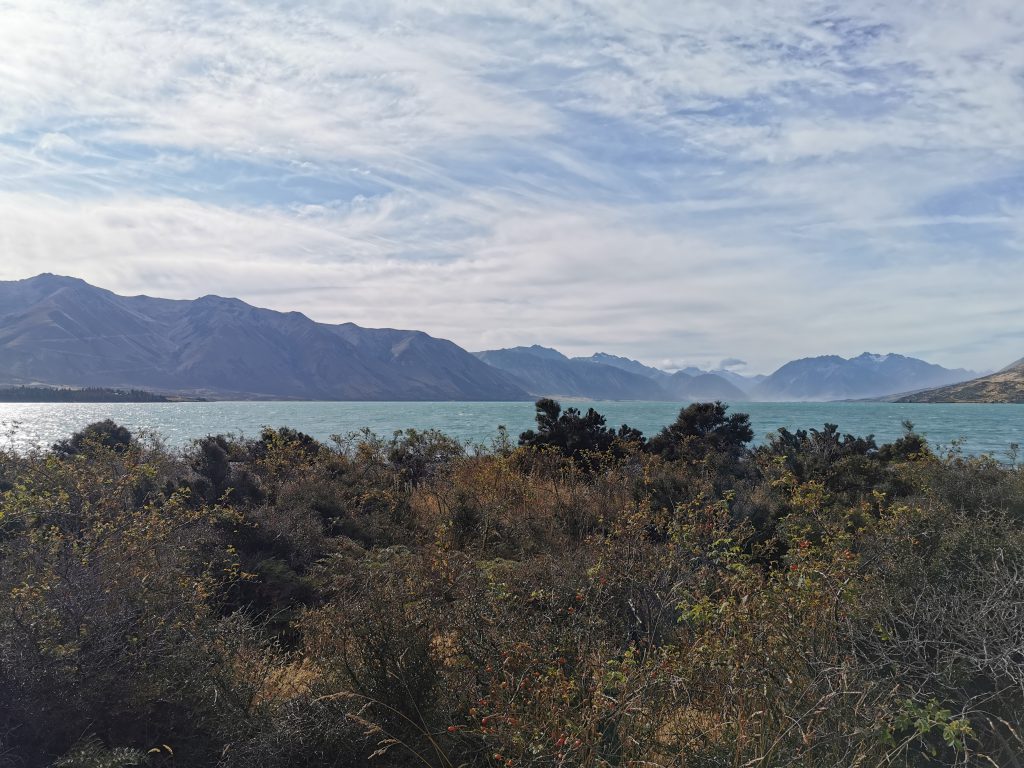 At the campground this morning I spilled something on my sleeping bag liner, and so I had to go rinse it. There wasn't enough time in the morning to dry it because of the gloomy start to the day, and it went in my pack wet. Since the sun came out at about 4:30pm I decided to dry the liner while I was walking. I held my poles in the air and hung the liner from them. The wind was blowing quite hard so I knew it would dry fast. It looked like I was walking along flying a huge burgundy-coloured flag!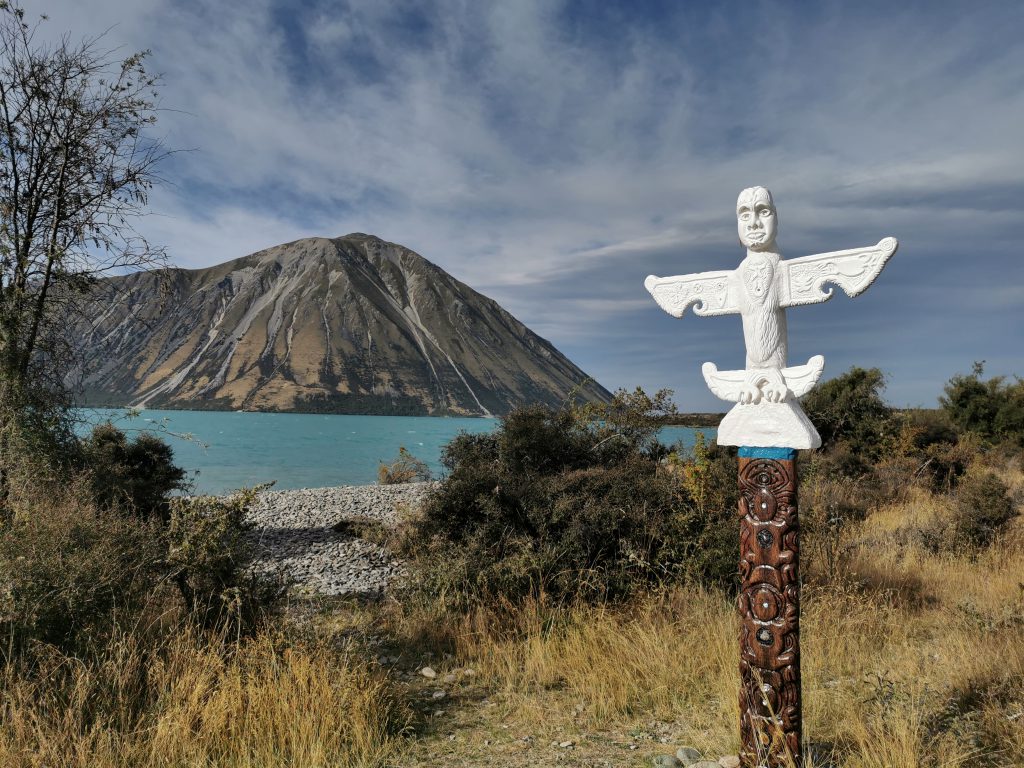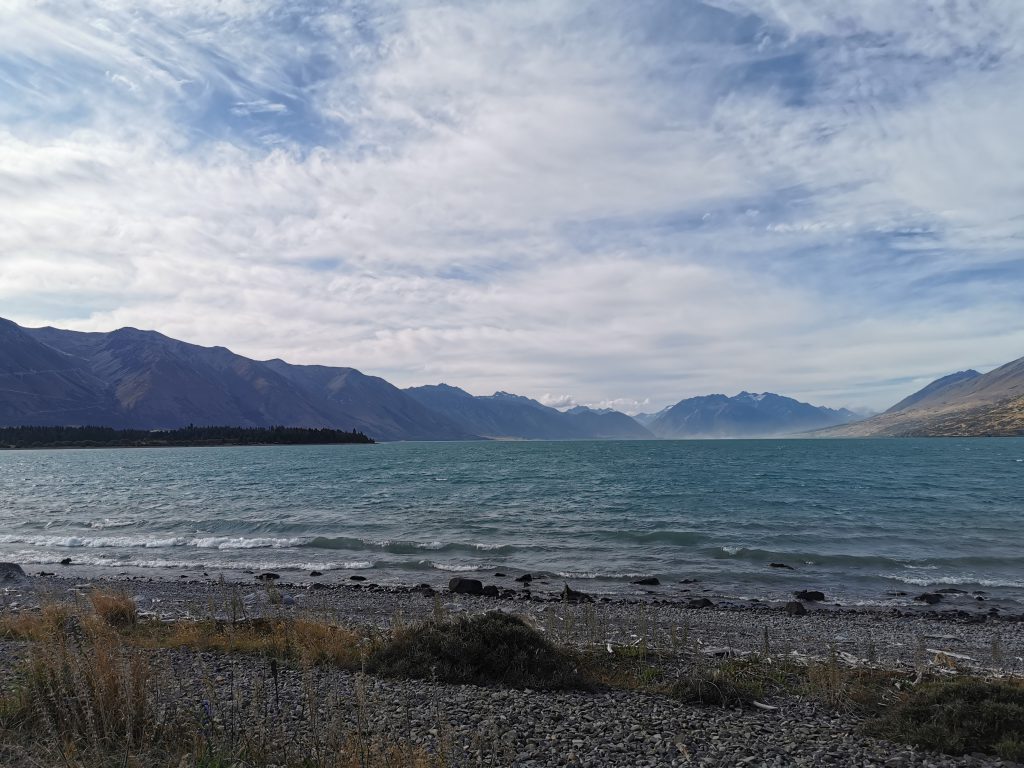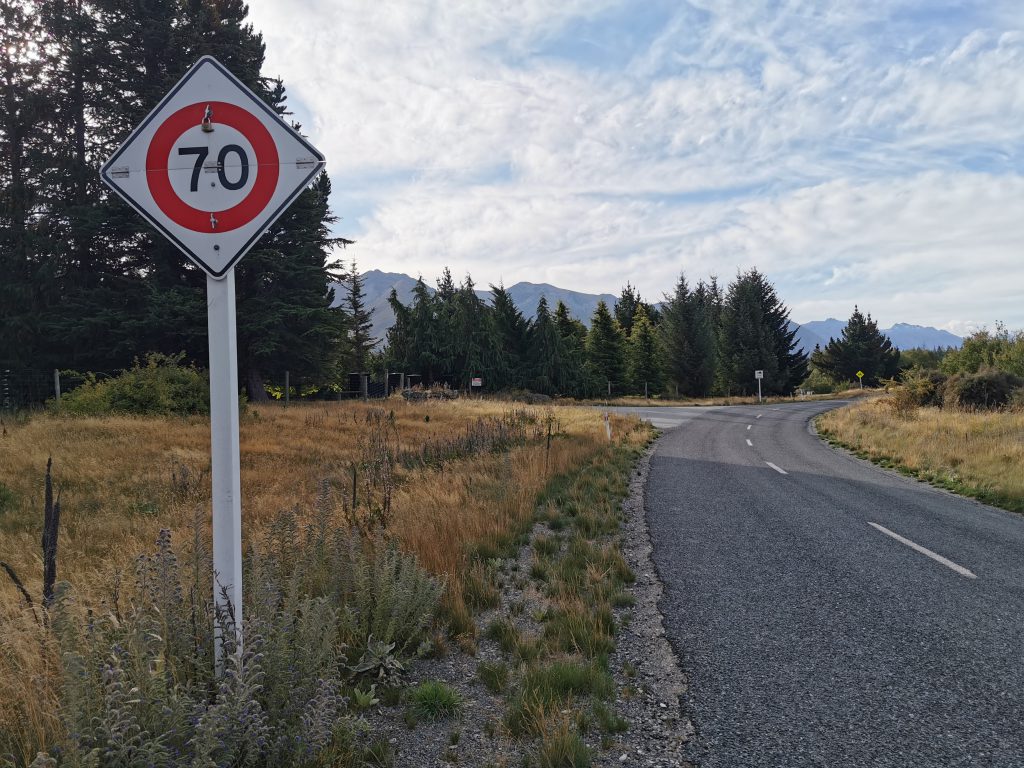 Lake Middleton was the most likely spot to camp tonight. Its a DOC campsite that costs $8 and is just before the village of Ohau (which I was told has absolutely nothing). An alternative was to camp at the start of the next part of the trail 6 or 7km on, but I didn't feel like walking that far. So Lake Middleton it was.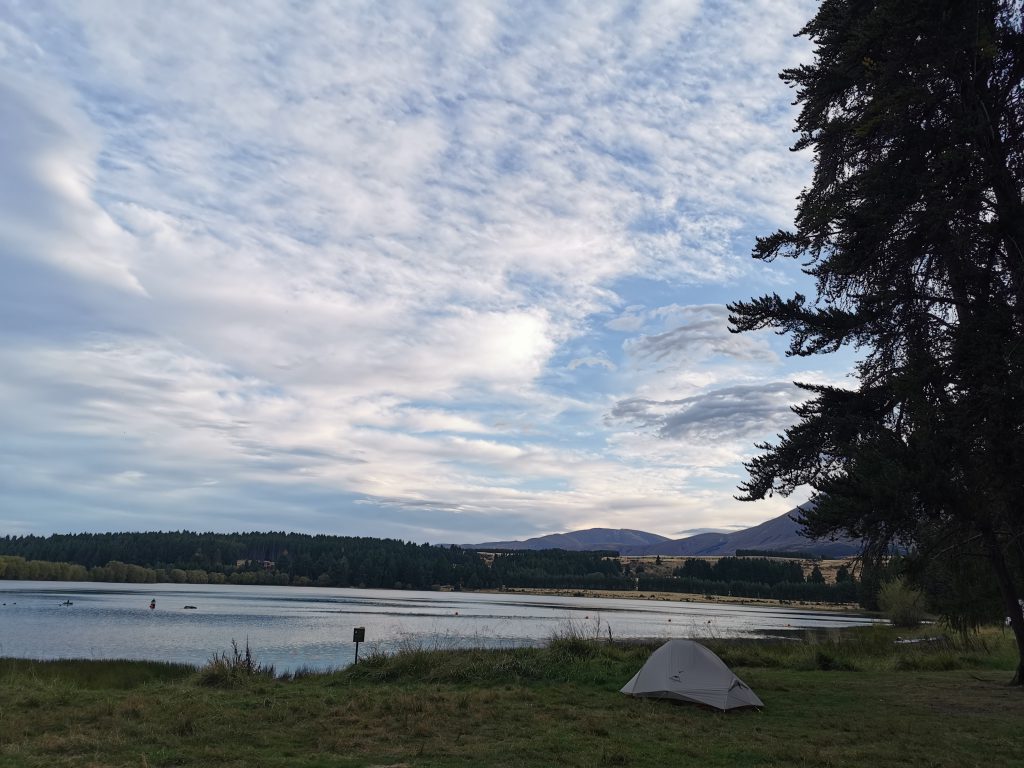 It's a nice spot here. There were no sandflies, the sun was out, it was out of the wind, and there was even a flush toilet!
Tomorrow I want to make it to the Ahuriri River. It seems to be one of the most dangerous rivers on the trail that requires crossing. So my plan is to get there tomorrow and see how it looks. If I can't cross it safely tomorrow, I'll camp nearby and try the next day. There hasn't been much rain recently so hopefully I can cross it first time.
If I still can't cross it safely the next day, there's a 10km detour to get around it. The river is 28km away so that should be a perfect distance to walk tomorrow.
And I never saw the jogging guy again which I found strange. I guess I'll never know who it was.
Today's walk on the map (blue = Te Araroa, red = today's walk):