Date: 28 February 2021
Trail covered: 23.5km (kms 2681.5 to 2705.0)
Weather: mixed
I woke up at 7am today all set to head out to the wilderness. I left before reception at Melbourne Lodge was even open. Hope they don't mind.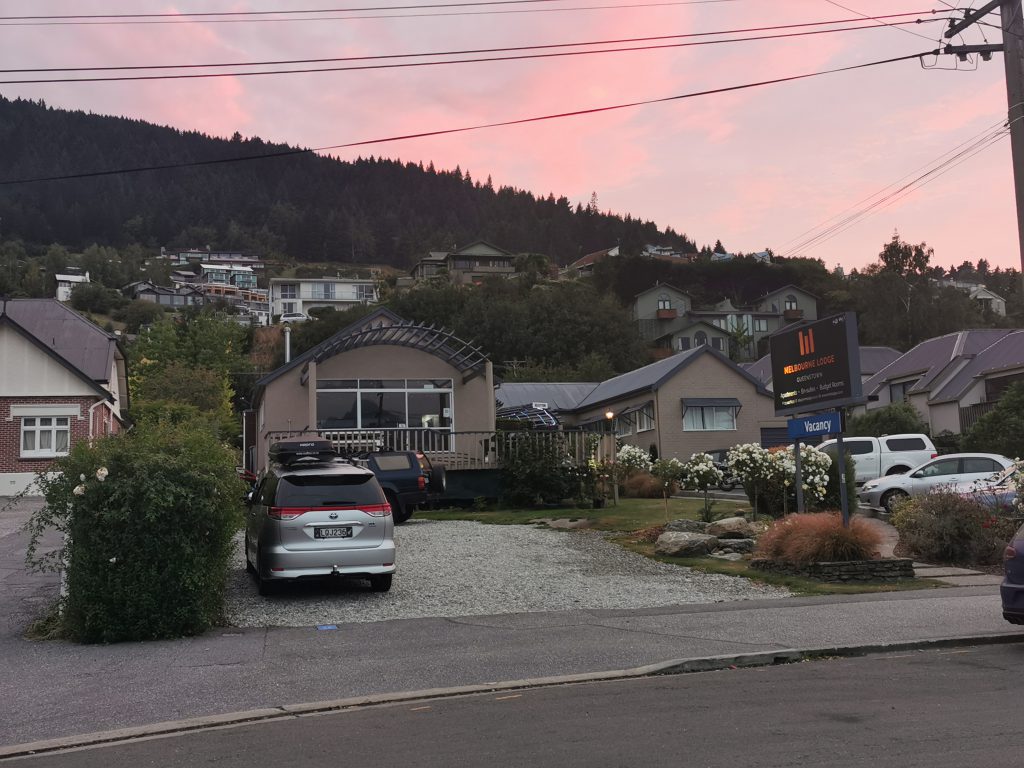 The shuttle was leaving at 8, but I had to get one last decent breakfast first. Unfortunately I hadn't counted on the fact that nothing seemed to be open. The lights of Starbucks were big and bright though…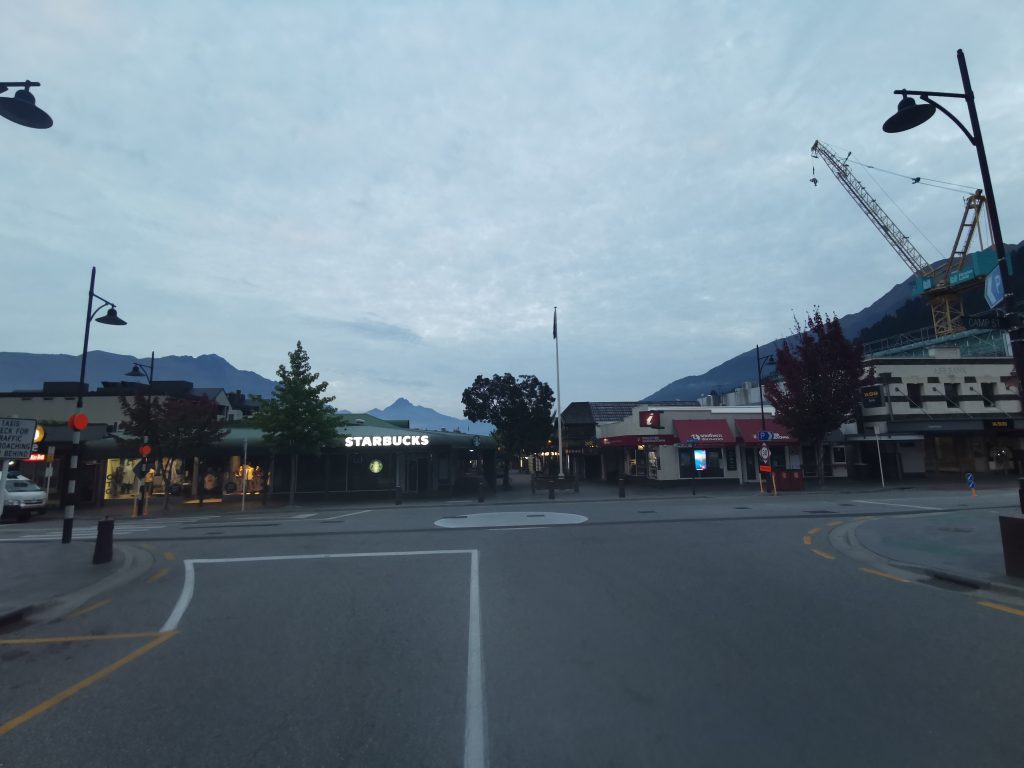 I got there at 7:20am and had to wait until they opened at 7:30am but they let me sit inside. They were setting up which included taping off every second table and chairs because of Alert Level 2.
After a large coffee and a chicken and cheese toastie I headed around the corner to Info & Track. I was happy to see a few people there. Maybe I would have company while walking.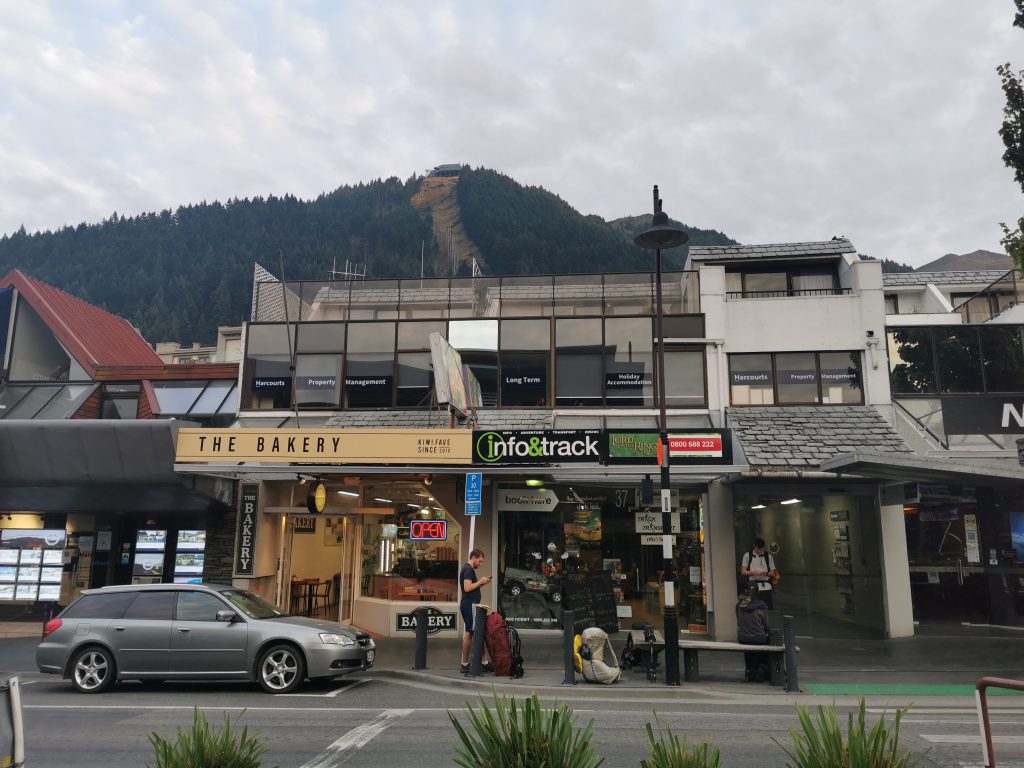 I could see the gondola going up behind the building and it made me wish I had time to go up there while I was in Queenstown. I'll have to come back another time and do the touristy things that are here.
Sadly though nobody else was going my way, they were all going to the more popular Routeburn track, which is a "Great Walk" and has to be booked. Looks like I'll be walking alone! I talked to the girl inside the shop and she said she was dealing with a large number of cancellations from people from Auckland, which was to be expected I guess since Auckland went into lockdown last night.
There was actually a bakery right next to Info & Track so I snuck in there and picked up a Belgian Slice. I didn't eat it right away, it went in my pack. But I guarantee it will be gone by the end of today.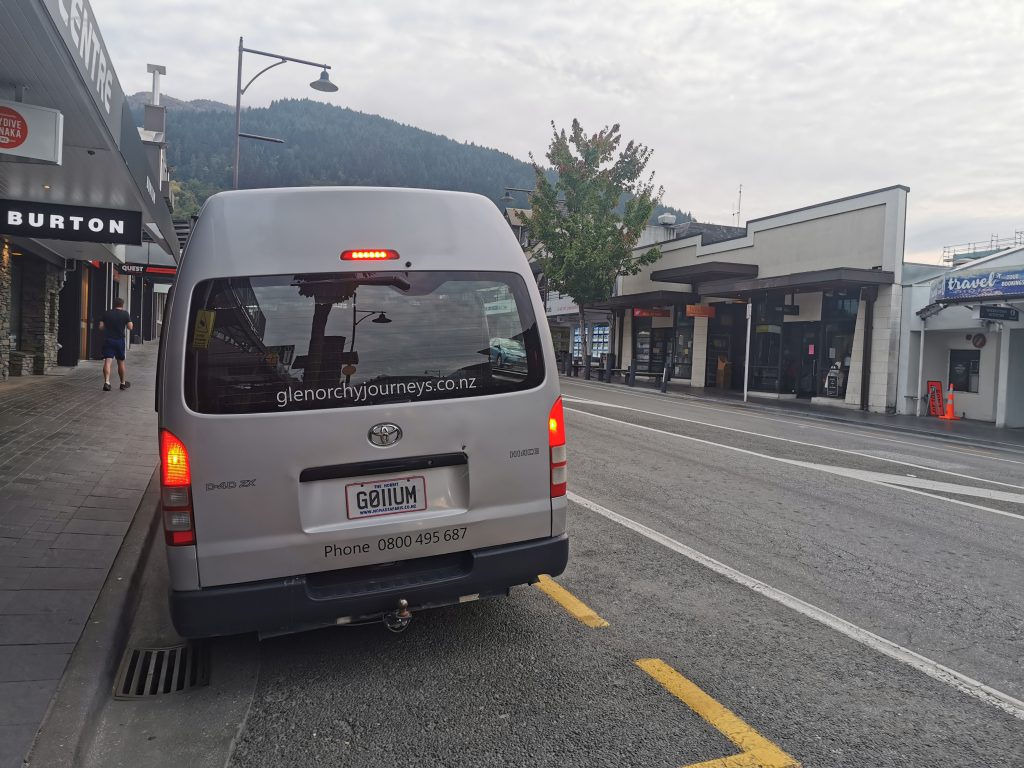 The first part of the journey was completely silent. Nobody said anything, even the driver didn't say anything once we were underway other than stop at a popular viewing spot, where I took this photo.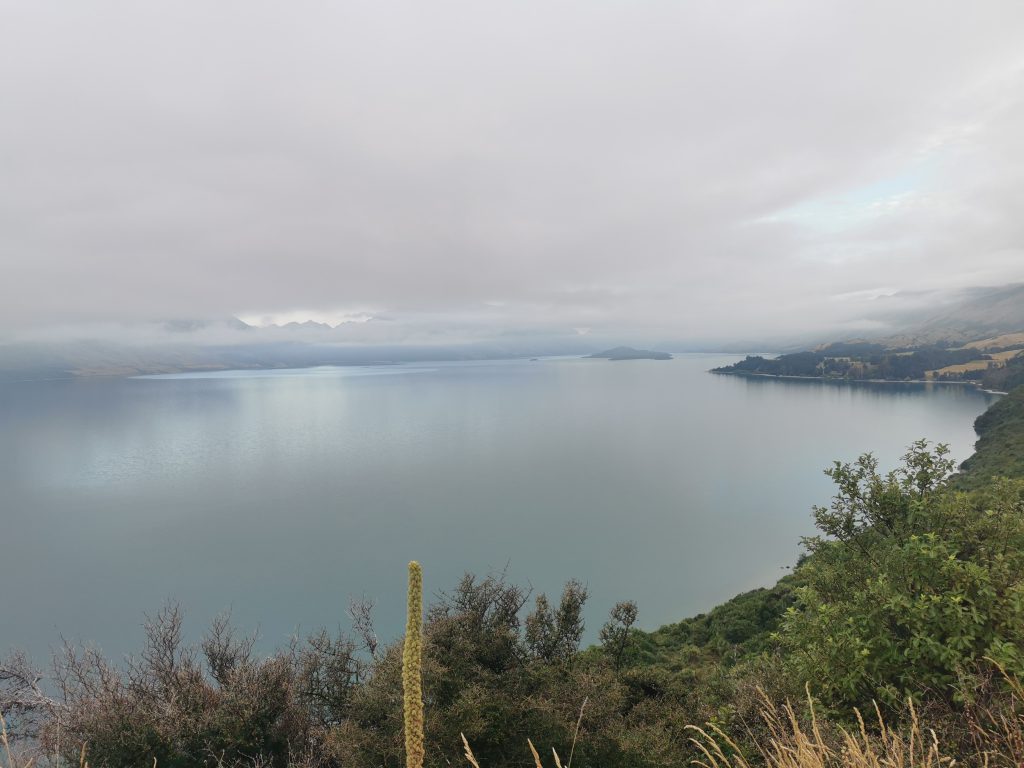 Looking at the map, I could see the valley I would be walking up on the other side of the lake.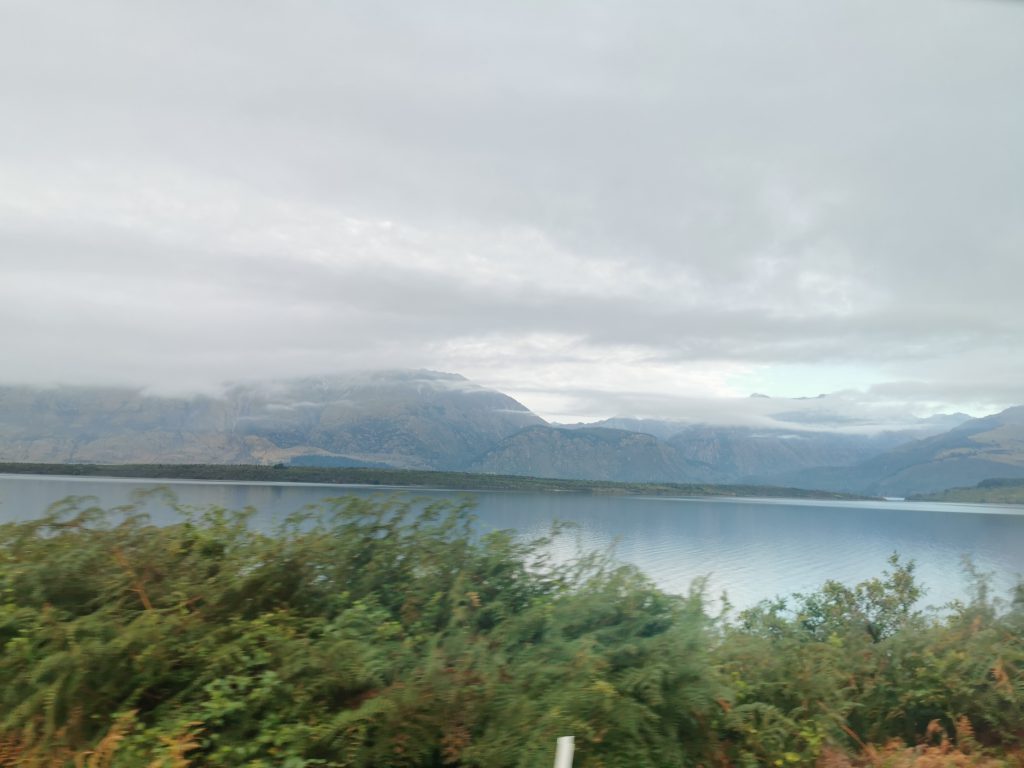 I transferred to a different shuttle at Glenorchy. My driver for this section was Peter and he was much more talkative.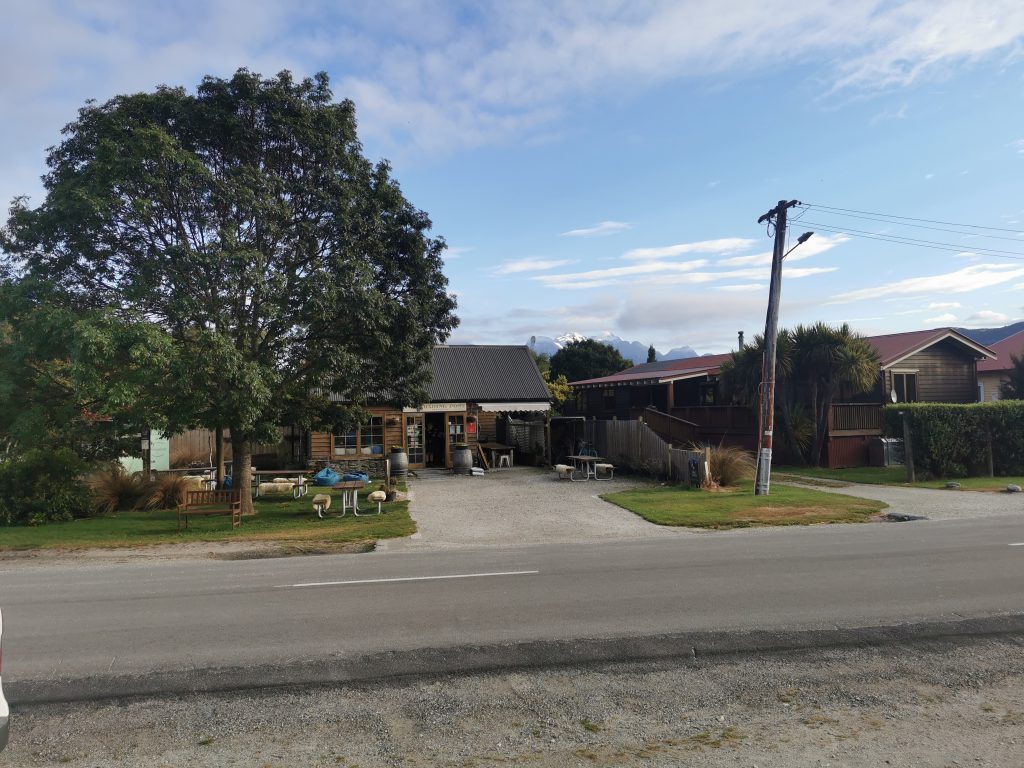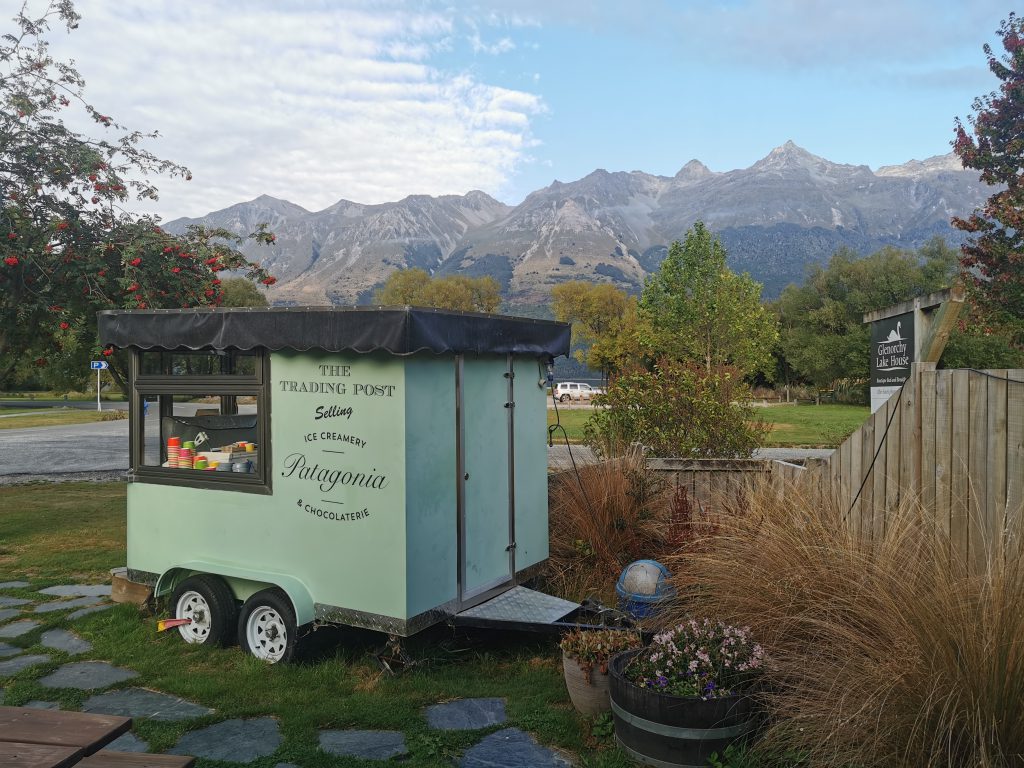 He told me all about the history of everywhere we went and what rivers come from where and go where. We had a little tour of Glenorchy first and we stopped in various places for lots of photos.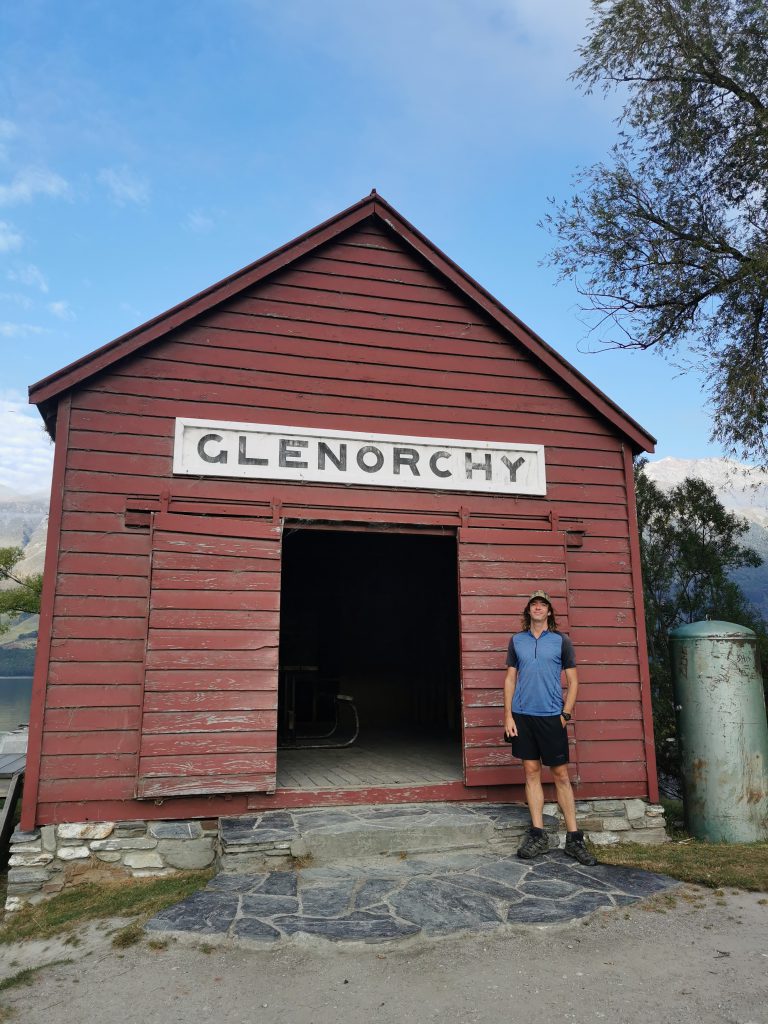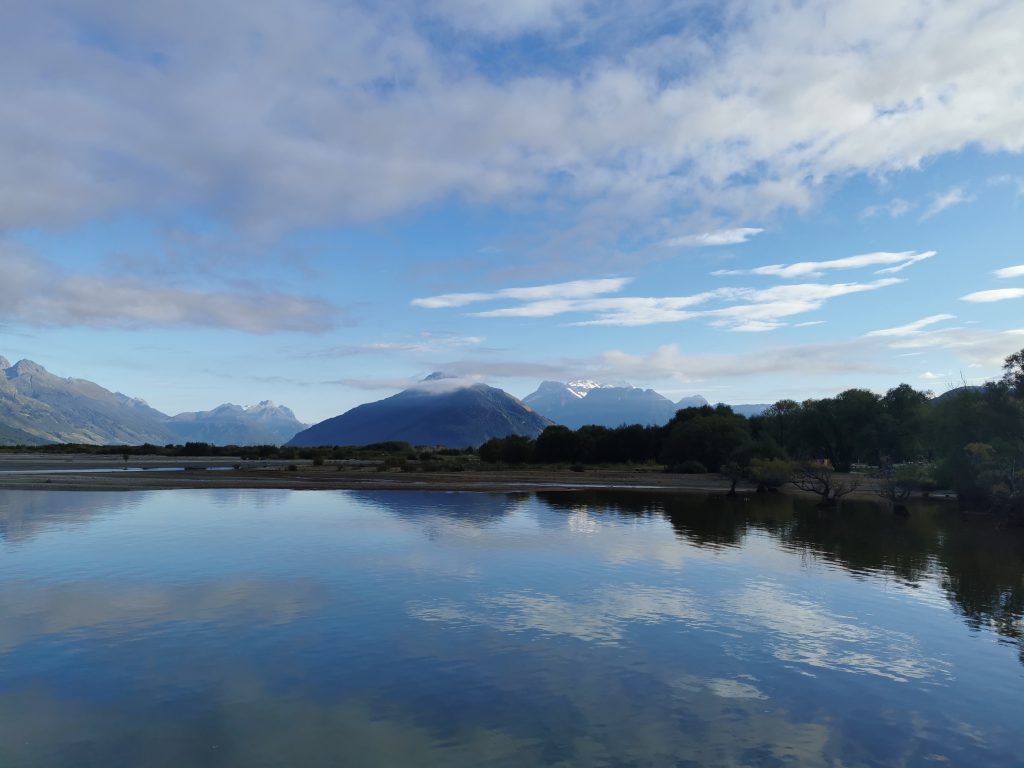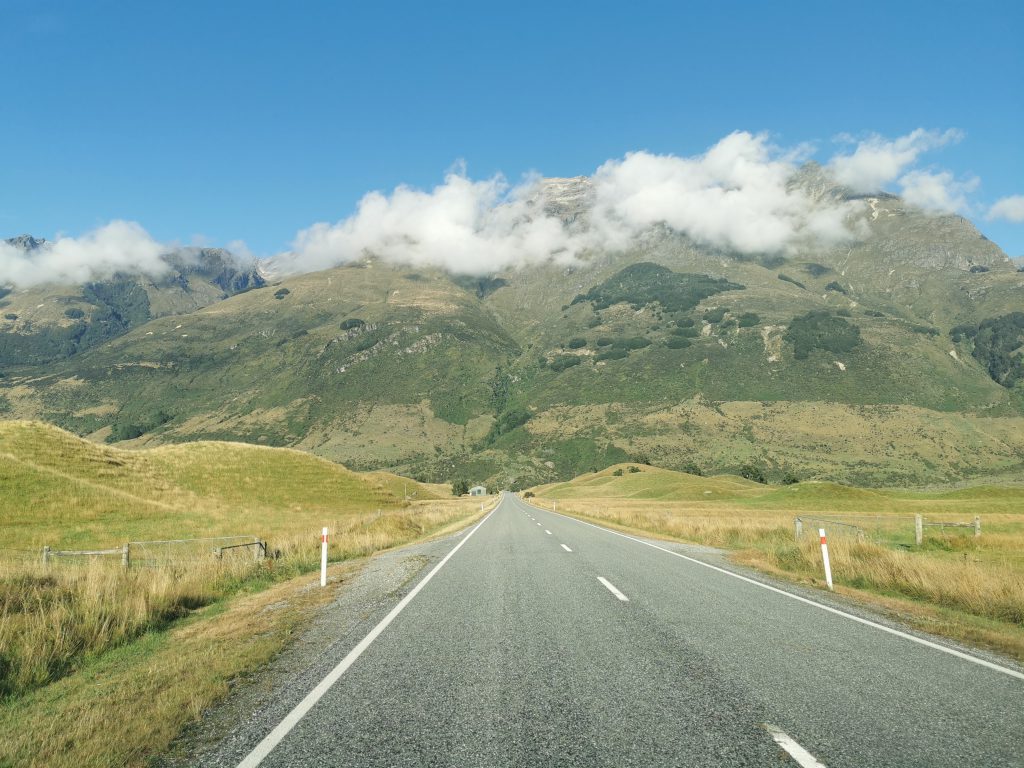 He asked if I had ever seen a murder-mystery series on TV called "One Lane Bridge". Well apparently this bridge here that crosses the Dart River is the one the title refers to, and they were doing filming here last week. I must check it out.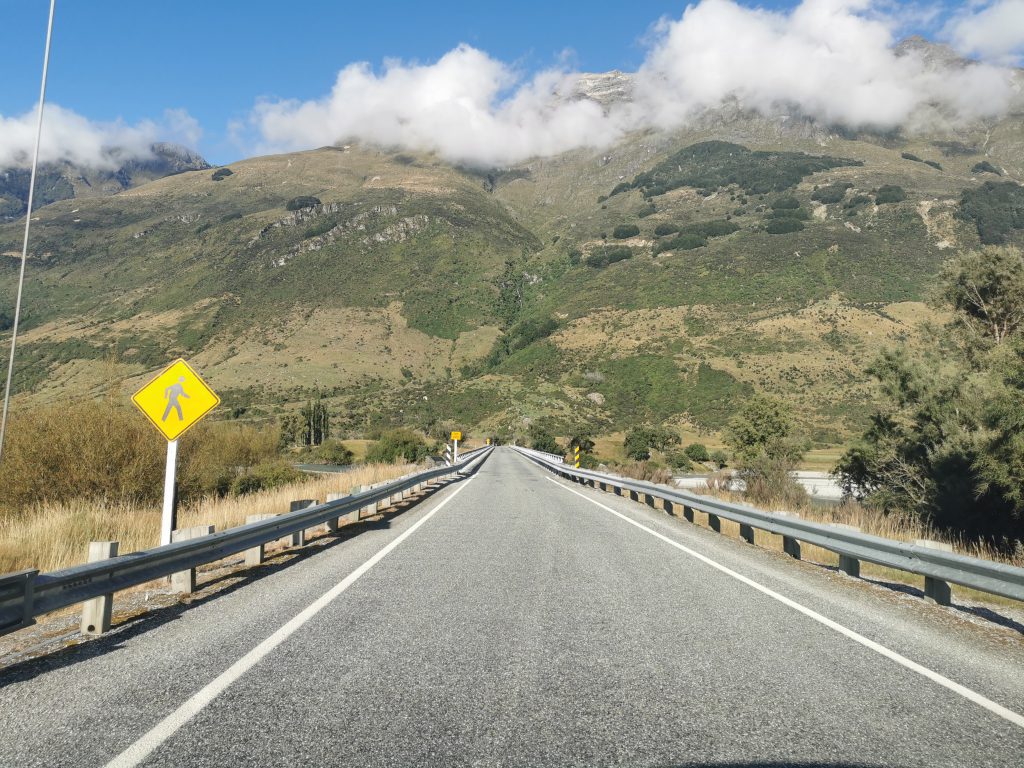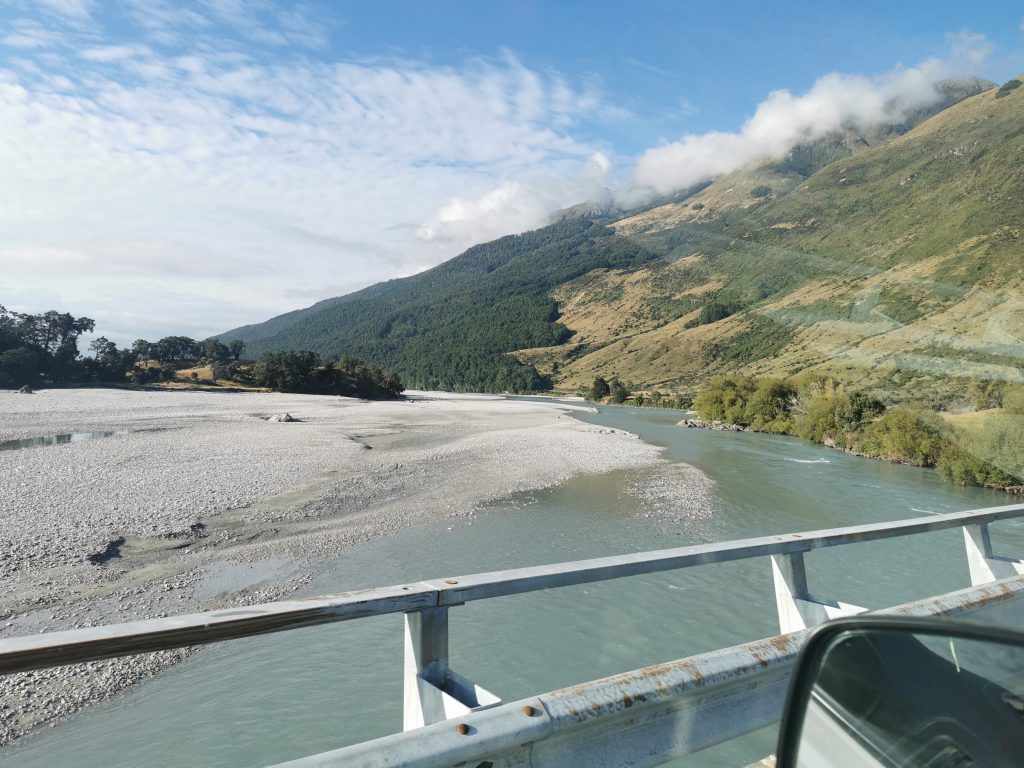 We drove through a place called Kinloch which had a lot of people camping by the lake.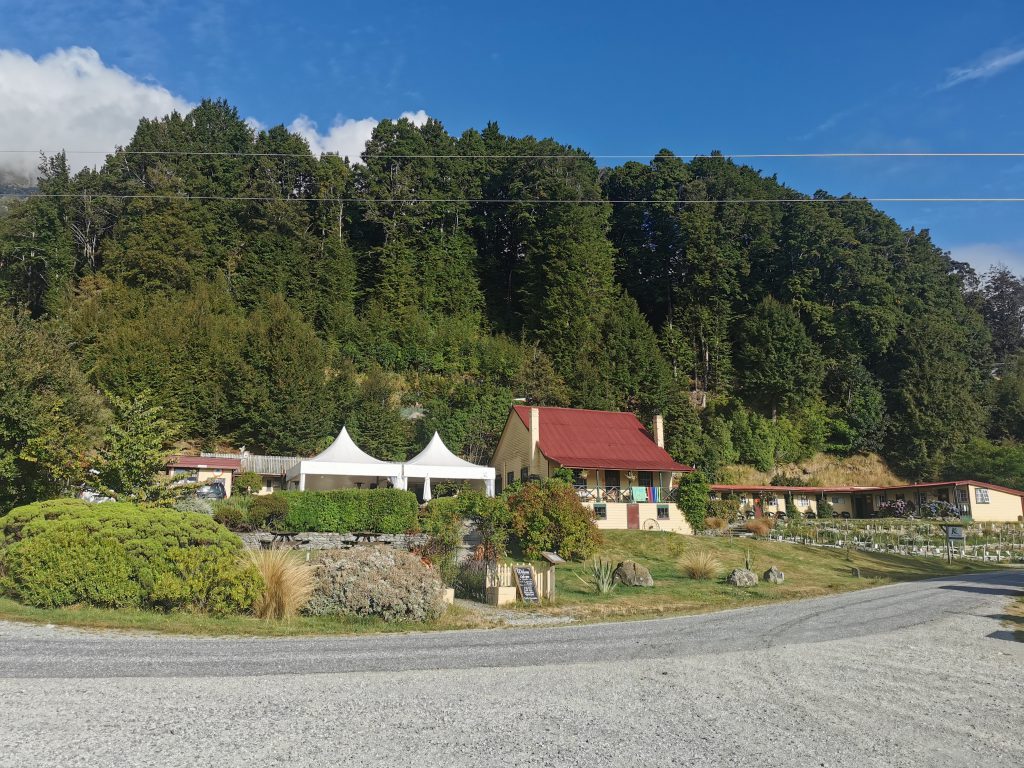 While we were driving I said I hoped I would meet others while I was walking. Peter said "well you're alone in this van, what does that tell you". Good point!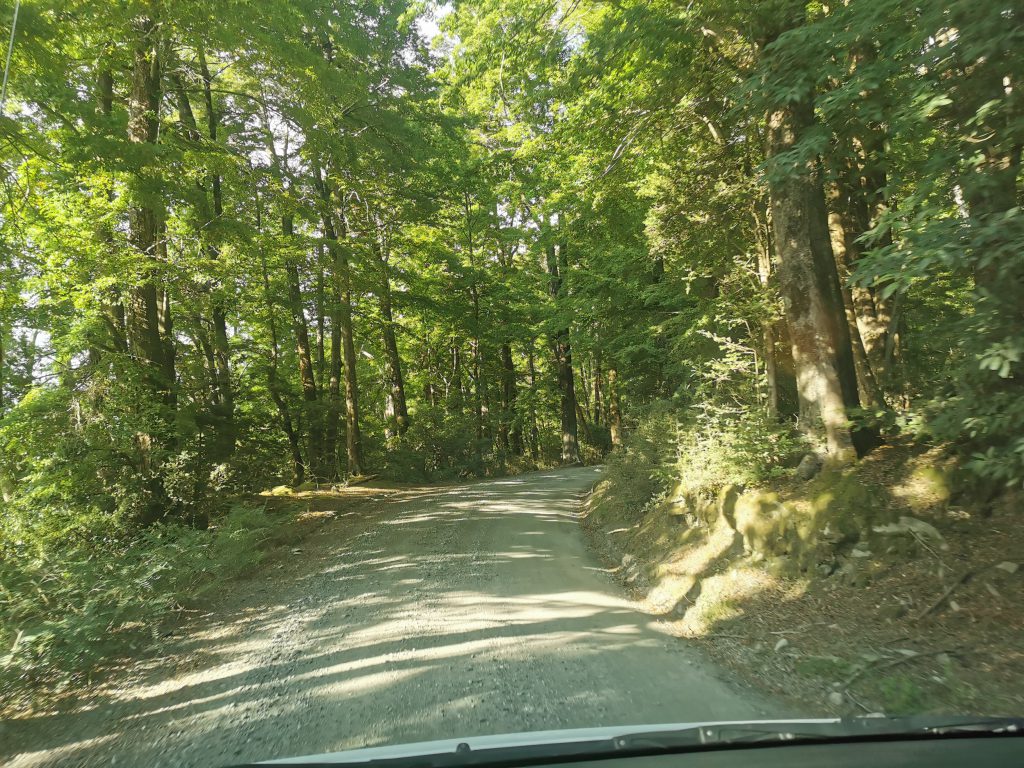 But shortly after that we saw a guy hitchhiking. Peter asked if it was okay to give him a lift and I said sure. He looked like a TA hiker and it turns out he was. His name was Shay and he's from Essex in the UK but lives now in Mt. Maunganui.
I was happy that I'd have somebody to walk with. But as we were talking he said he is trying to get to Bluff in 6 days, by doing five 50k days and then a 100k day at the end. I didn't believe him at first. But he says he is running parts of it. He said he did the Richmond Ranges from Hackett Hut to Red Hills Hut in 2 days. Incredible.
We passed a lot of tents but Peter didn't know what they were for.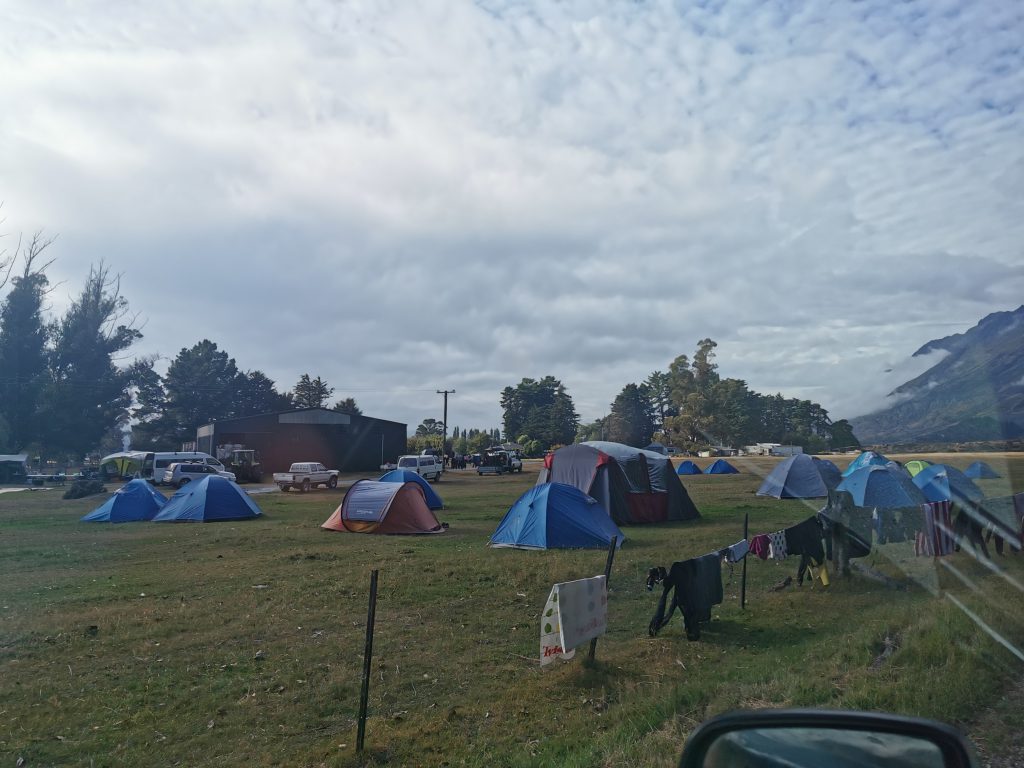 We were dropped off at the end of the road at the car park. There were quite a few cars there, which usually means that the path is well-formed and a bit touristy.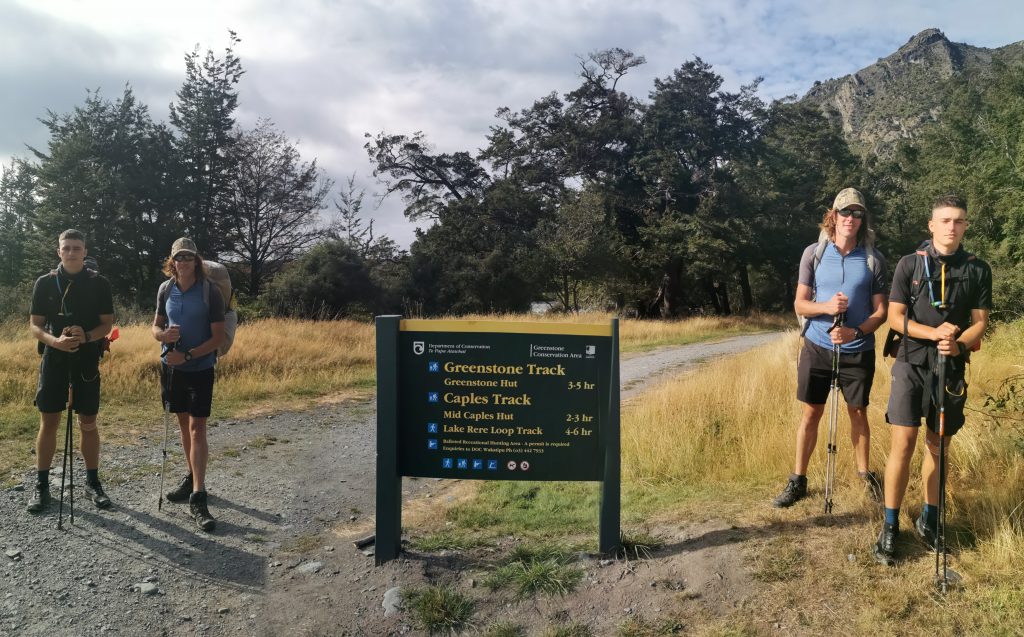 Ok it's time to do some actual walking! I wanted to stick with Shay as long as I could. True to his word he was walking really fast. About as fast as Alex and Peter walked when I spent 30 days with them. It was hard to keep up with him. Remember of course I've just had almost a year off.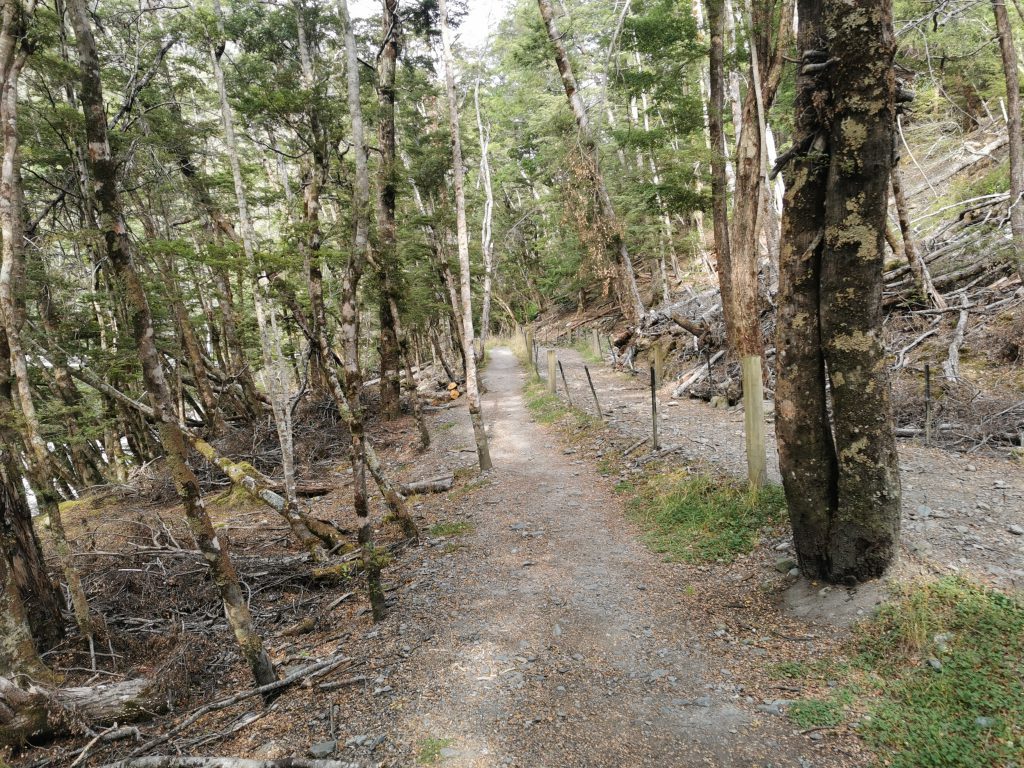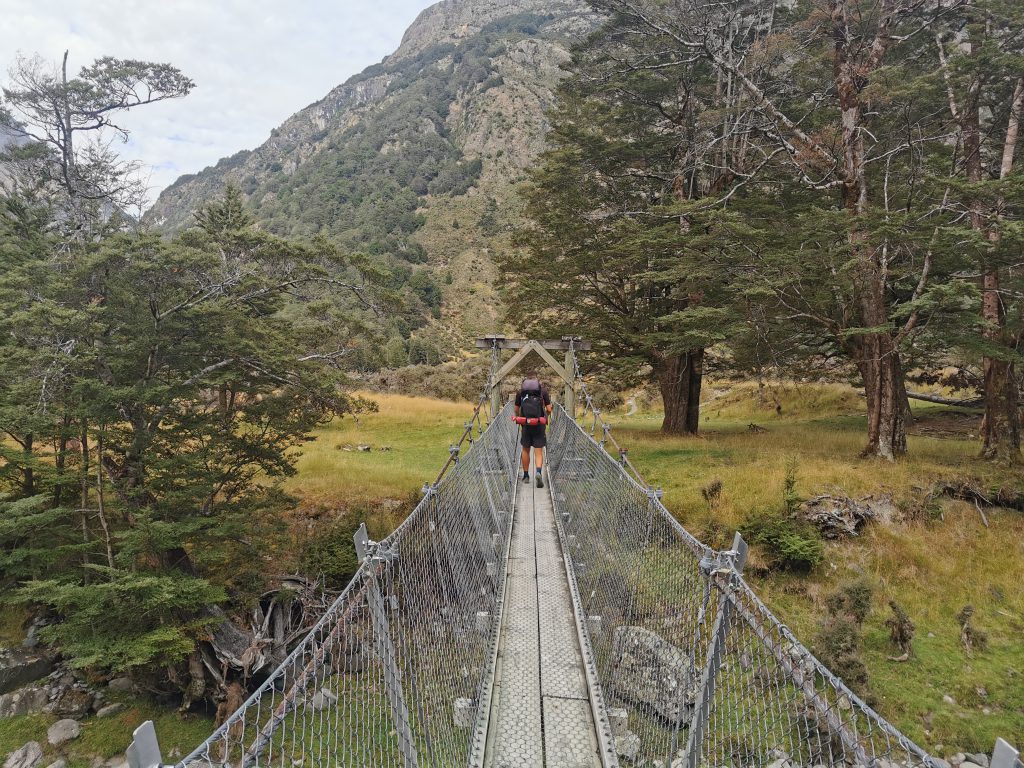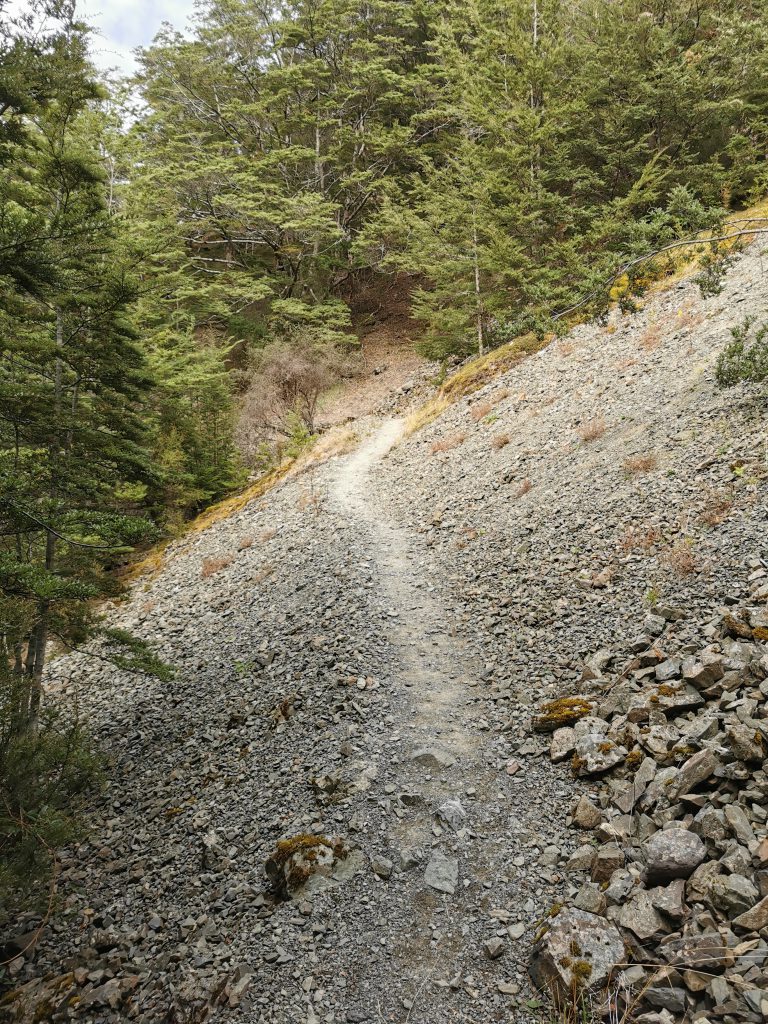 At one point we passed a group of people, and they stopped him and said they'd seen him running somewhere. He's obviously quite recognisable. It felt a bit like when I used to get recognised because of this blog.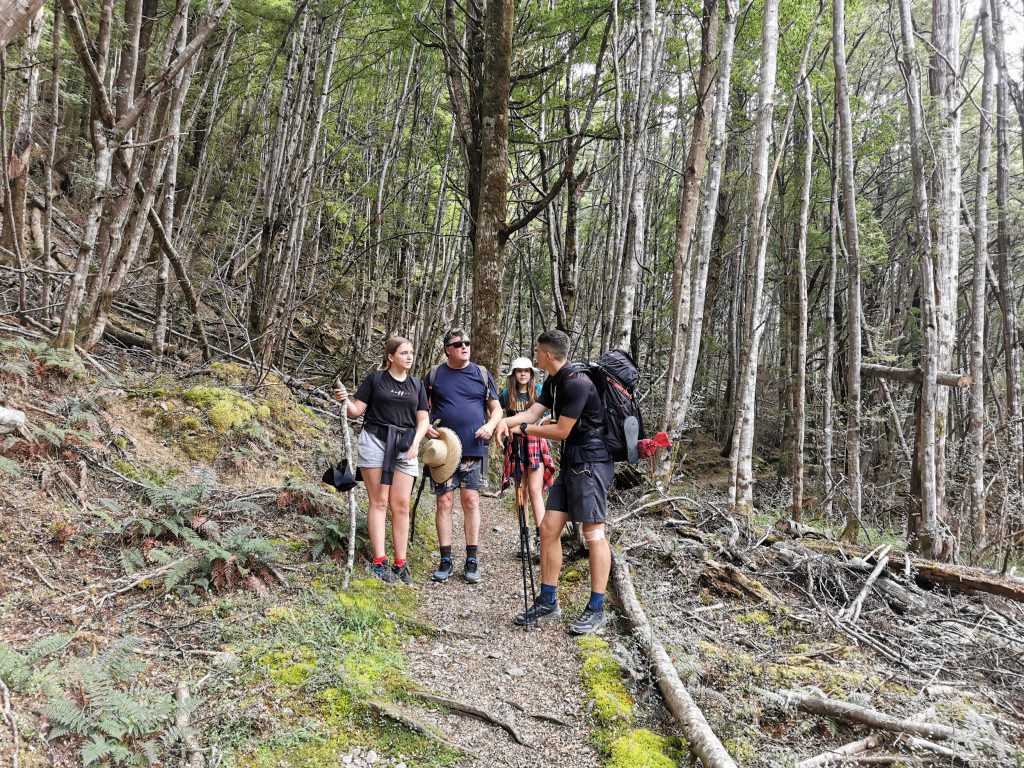 We talked about different things in between me gasping for breath. He has an Instagram (shayrunsnz2) and he is fundraising for assistance for refugees. When he lived in London he lived in Bethnal Green and I lived for a long time in Whitechapel, which is right next door. And he also has family from Aria in the Waikato, and so do I. That's quite amazing because Aria has a population of somewhere between -1 and 6 people. Small world.
He wanted to do the whole TA in 100 days but he hurt his knee at one point and had to take 2 weeks off. I know that feeling.
He had also read Brad's blog BikeHikeSafari and I told him I got the idea for my daily 11am picture from that blog. Here is today's one…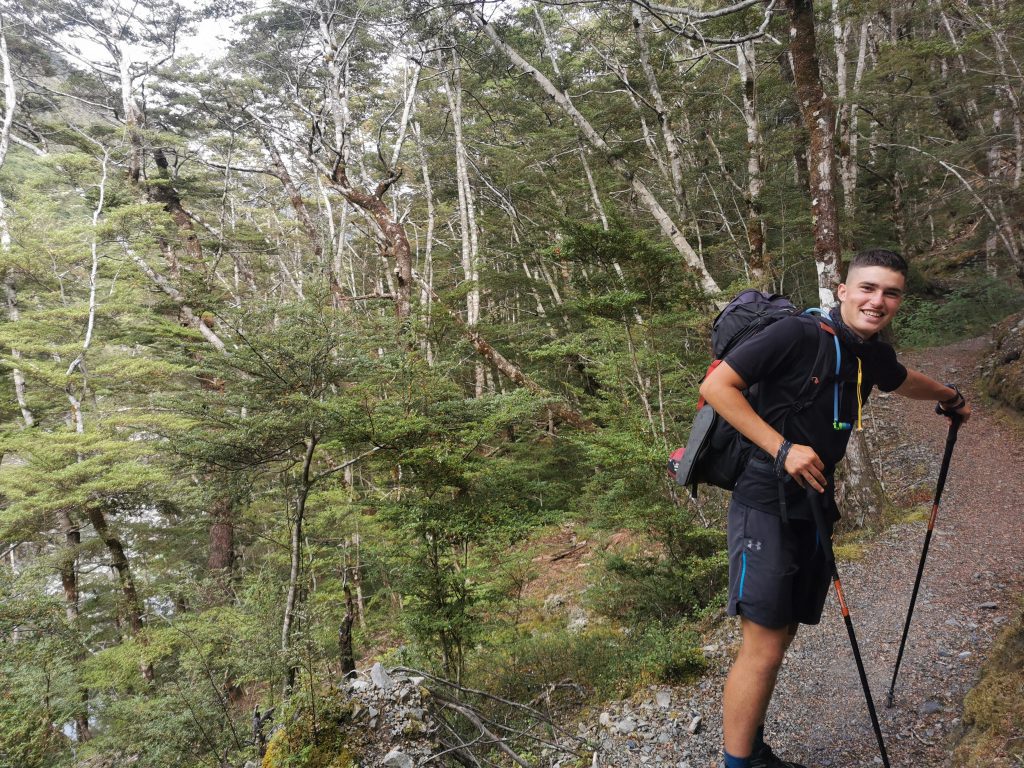 I stuck with him for 6km but then I had to let him go as I didn't want to run out of energy too soon but also I wasn't taking in any of the scenery or anything and I wanted to do that. So I stopped for a snack and he promptly started running. What a legend.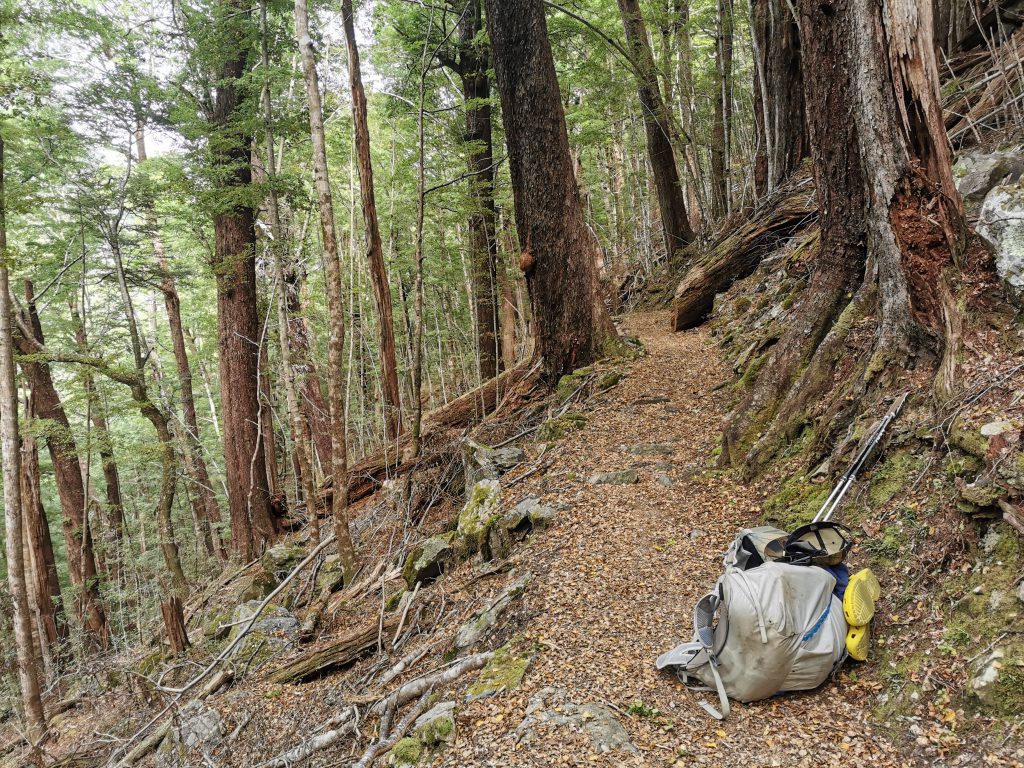 The Belgian Slice was consumed here. That didn't last long!
At this point I consulted the Guthook elevation profile. It looks different to how it used to look last year. I don't like it now. And it works differently too, you used to be able to zoom in and out with one hand, and now you need two. Since one hand is holding my hiking poles, that's quite a major annoyance.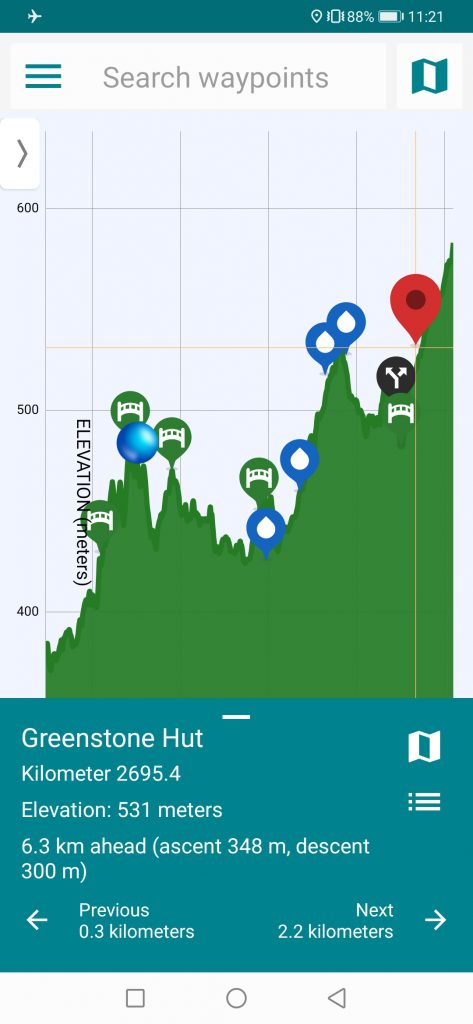 However it does now tell you the total ascent and descent to the place you have selected. That's useful. According to that map though, Greenstone Hut has 348m ascent and 300m descent between here and there. That sounds like a lot but the map doesn't make it look like a lot.
Just as I finished my snack this group of schoolkids came up behind me and I talked to the teacher for a few minutes. It was the Wakatipu High School camp. They do hiking, kayaking and some other stuff, and it was their big group of tents earlier that I saw from the shuttle. One of the girls said she liked my crocs. She could see them hanging off the back of my pack.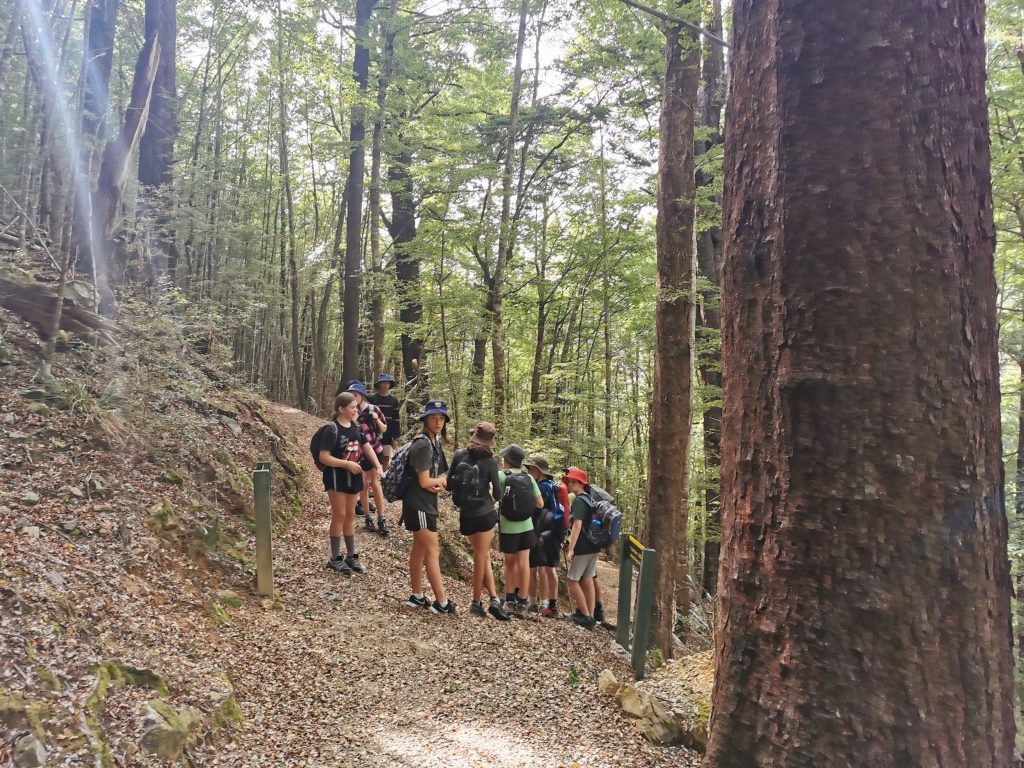 I didn't stick with them for long though, only 1km, as they took a side path. So from the 7k mark I was alone.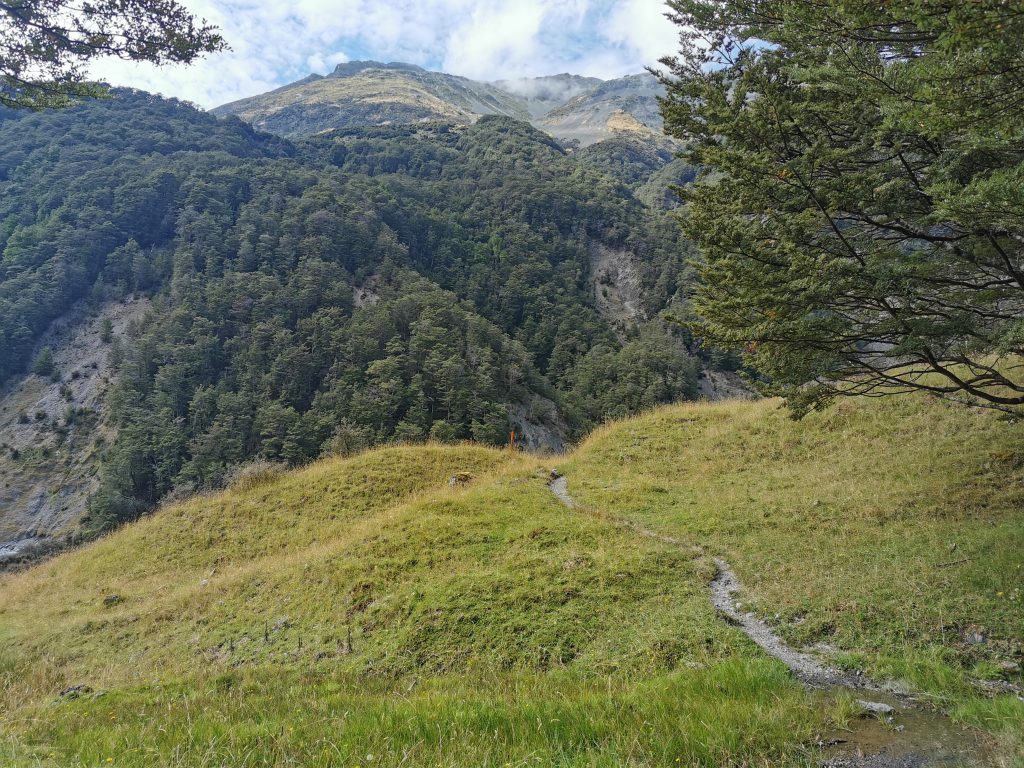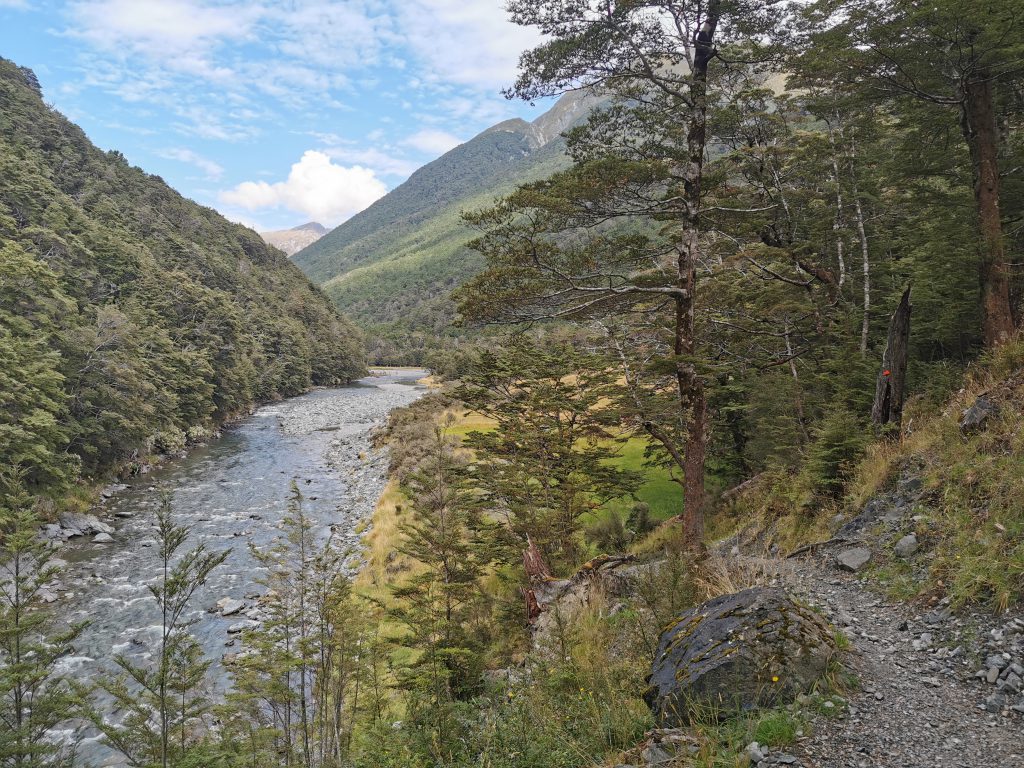 It was much easier to take in the scenery walking at my own pace.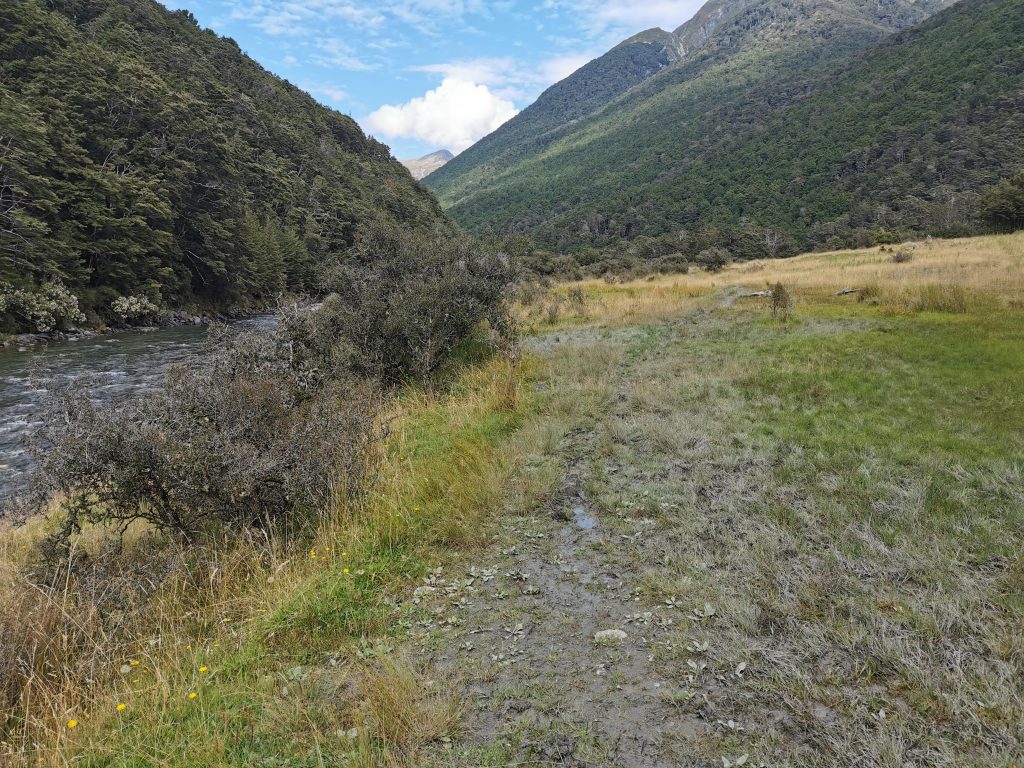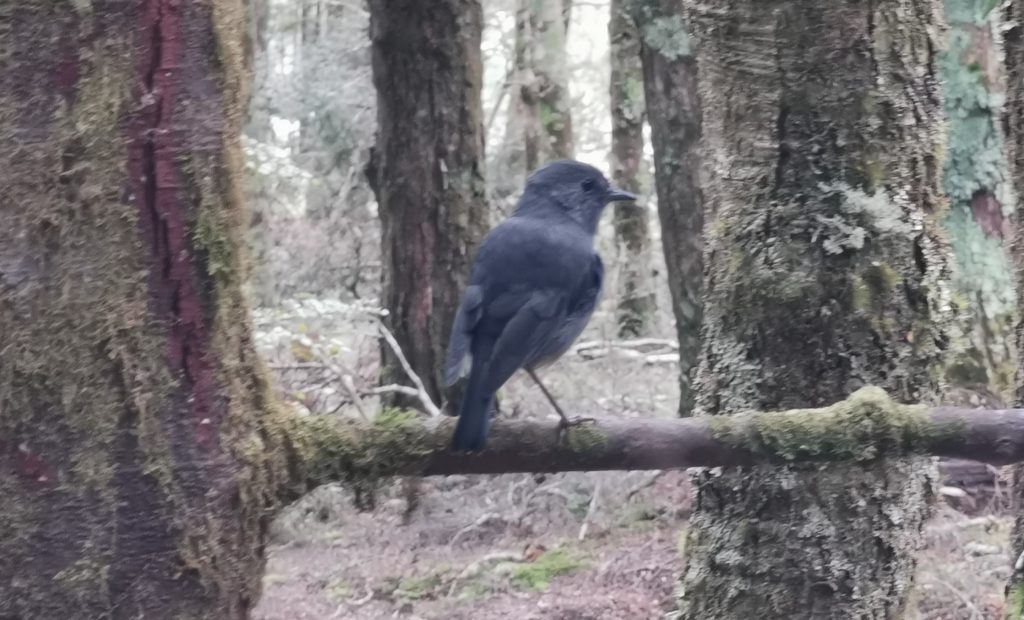 At one point I saw some signs. I am still beating the times on the signs by 20% or so. That's good!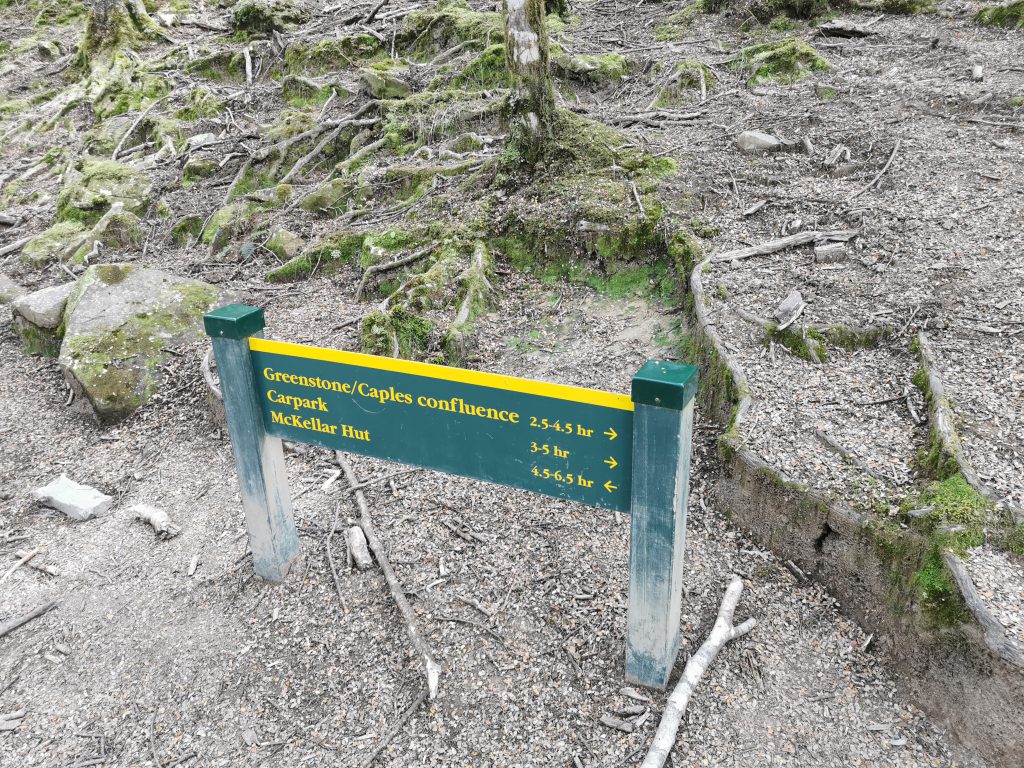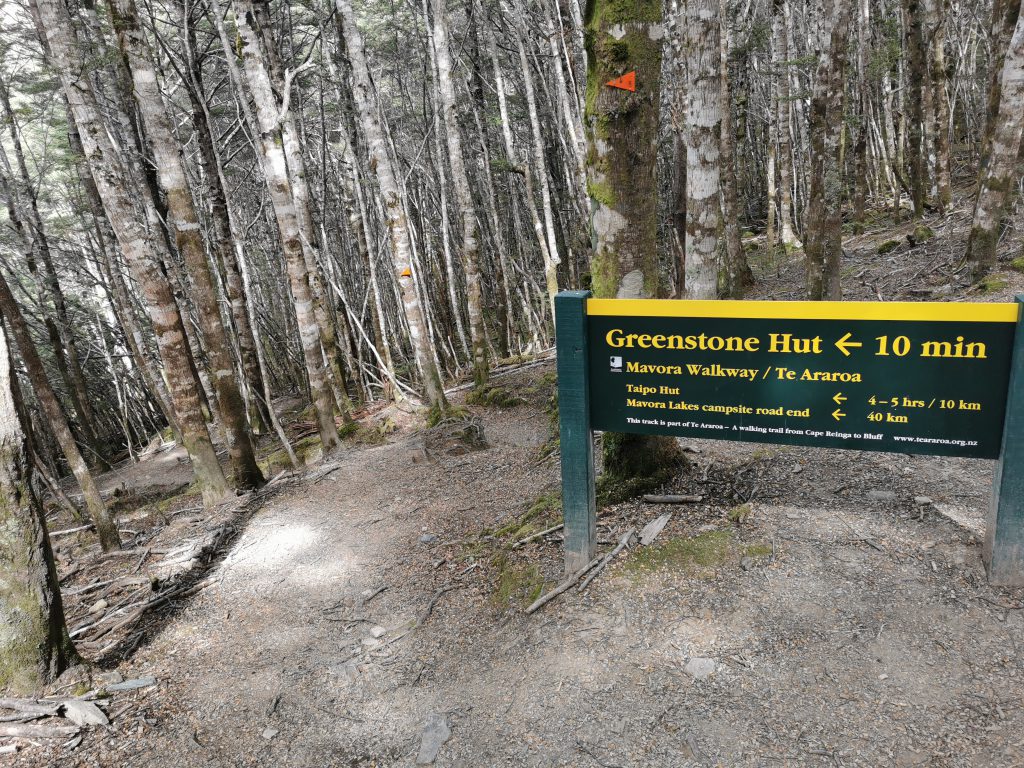 I guess I'm not too out of shape then. But it's quite humid and there's no wind at all so I got very very sweaty. Well, no doubt its a combination of the humidity, my heavy pack and my lack of fitness.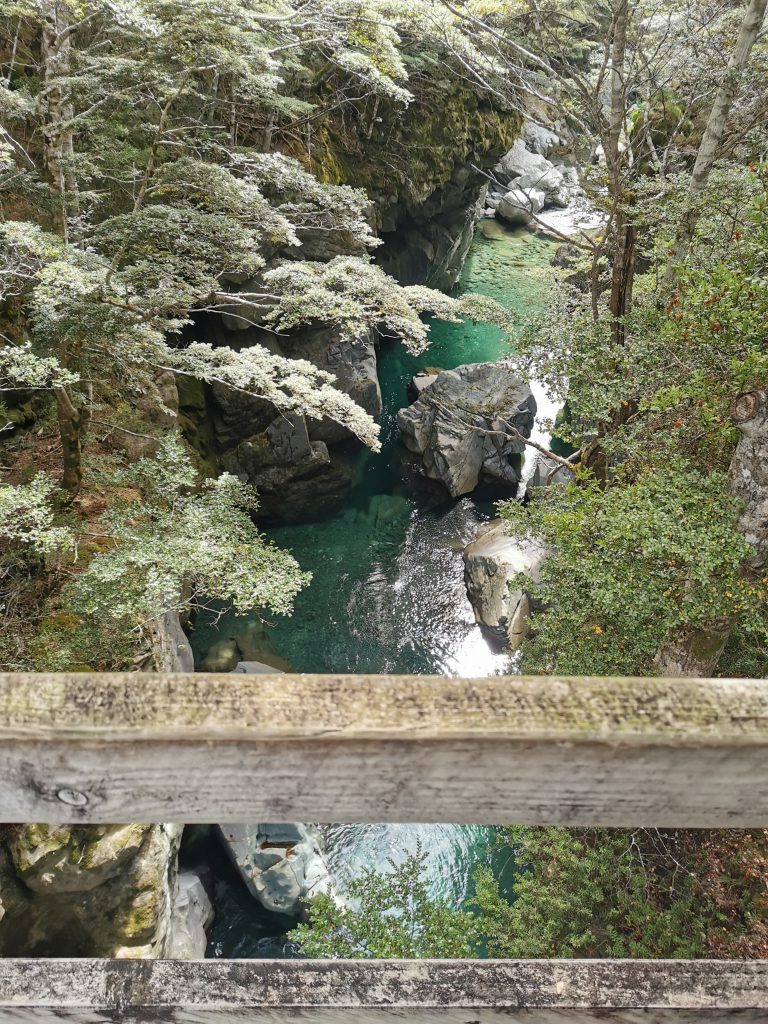 I reached Greenstone Hut, the first hut of the day. It's a big one, 20 bunks, and it has running water. It's a serviced hut, which means it's $15 a night to stay there. Lucky I'm just having lunch.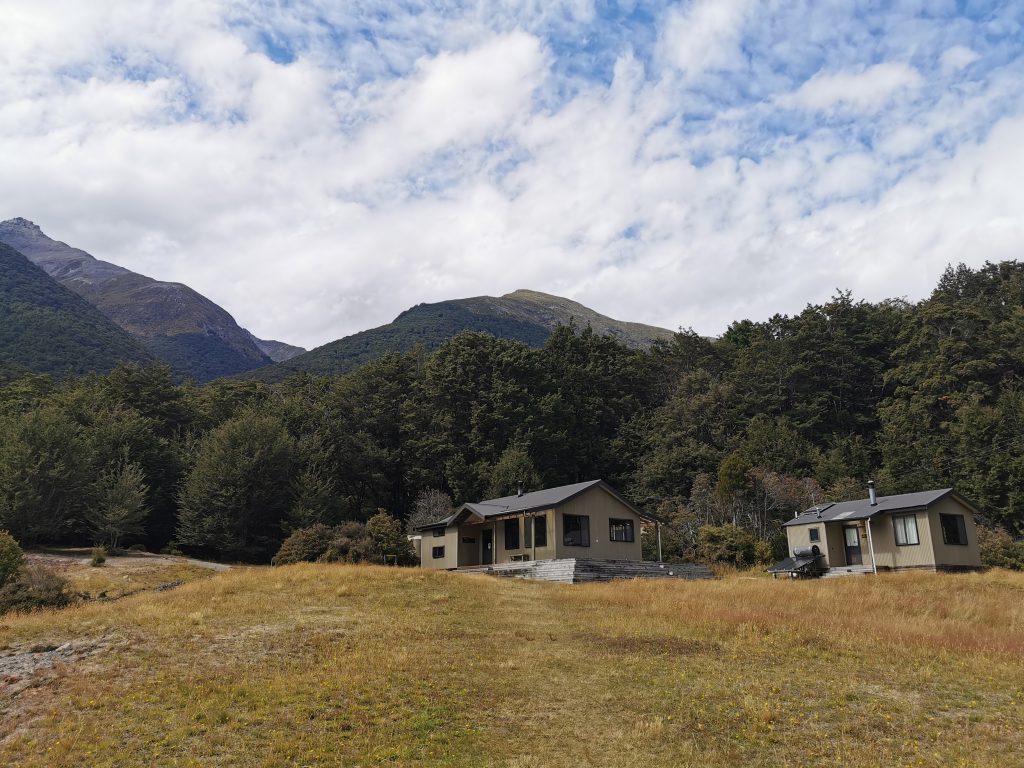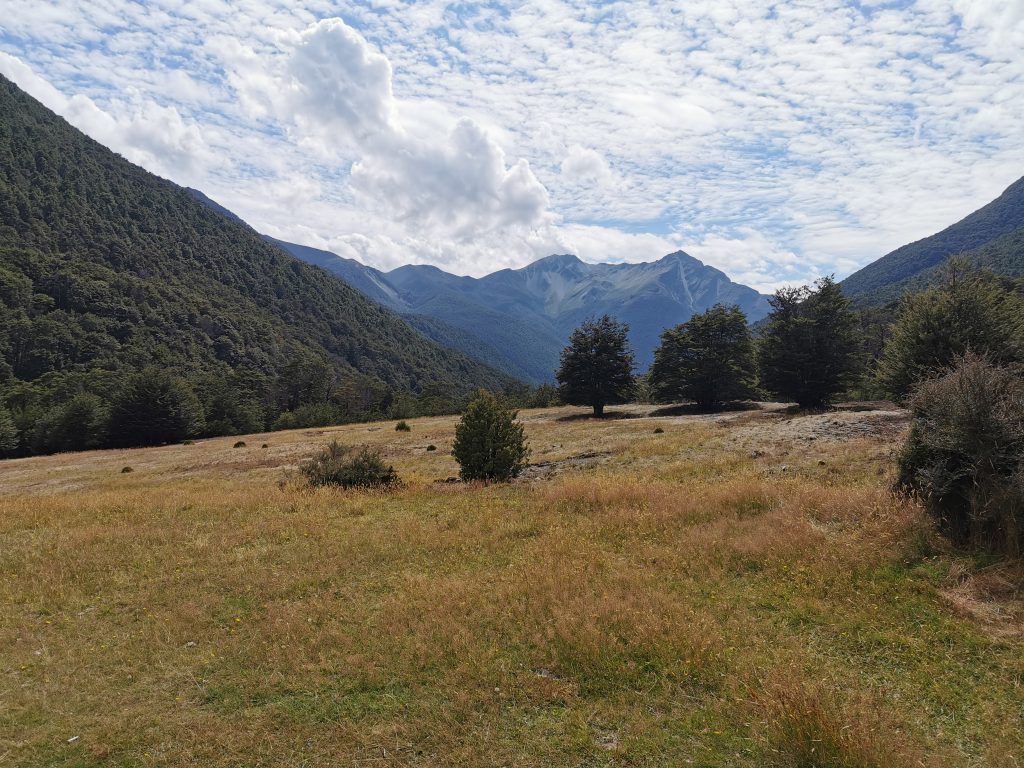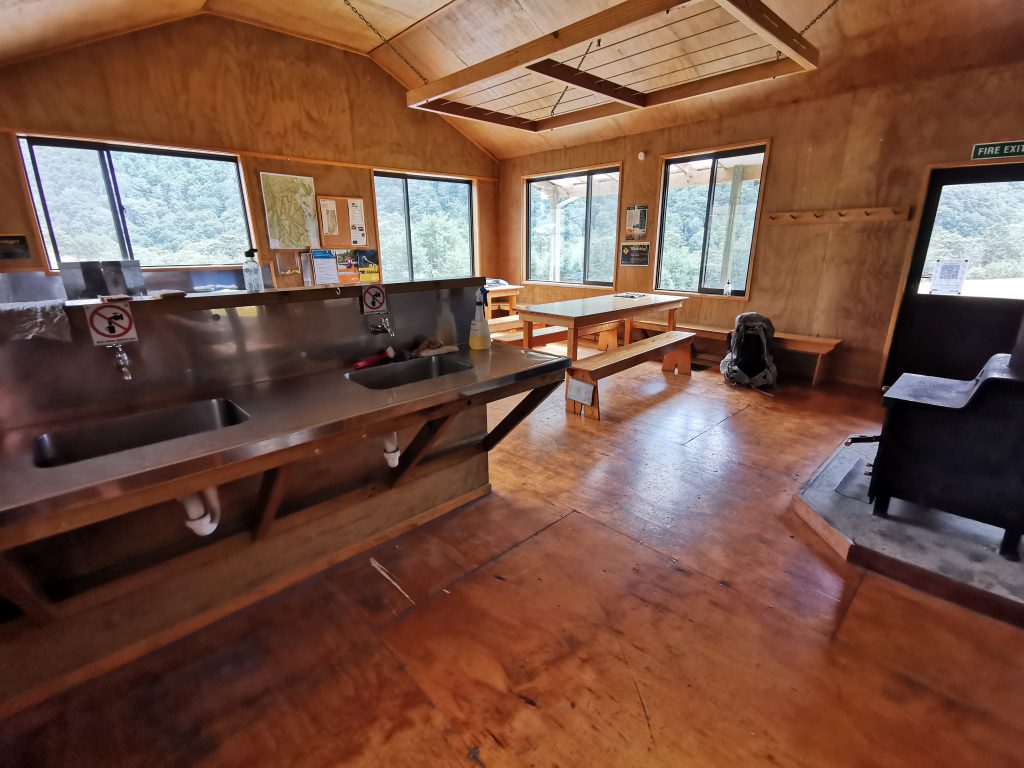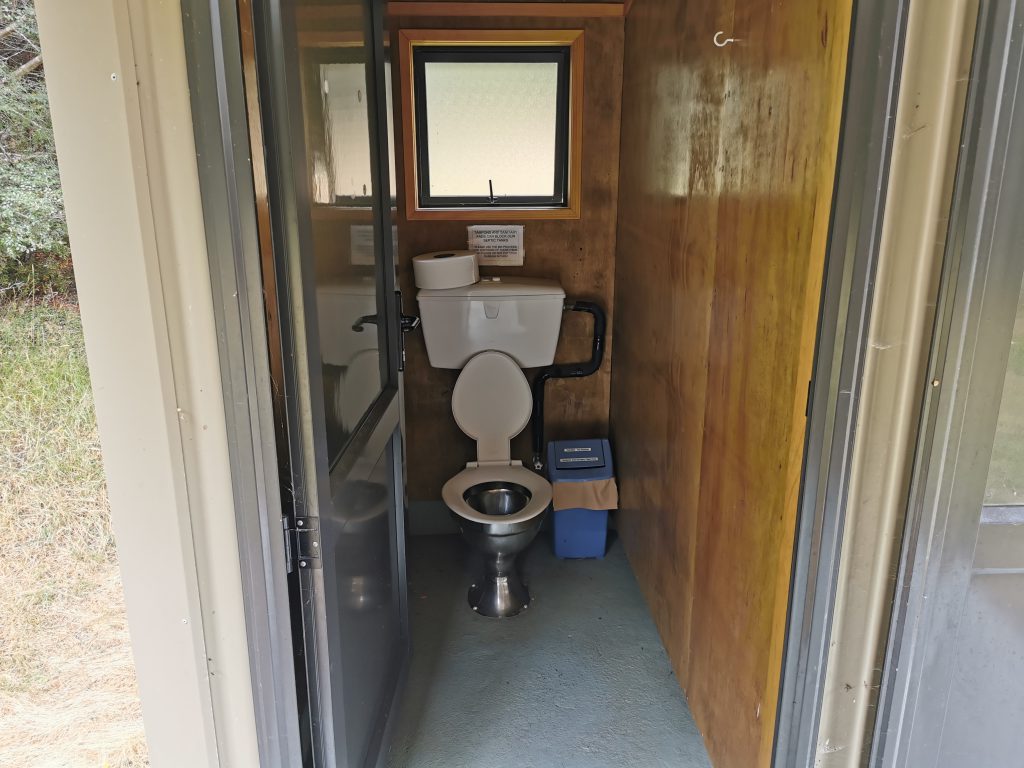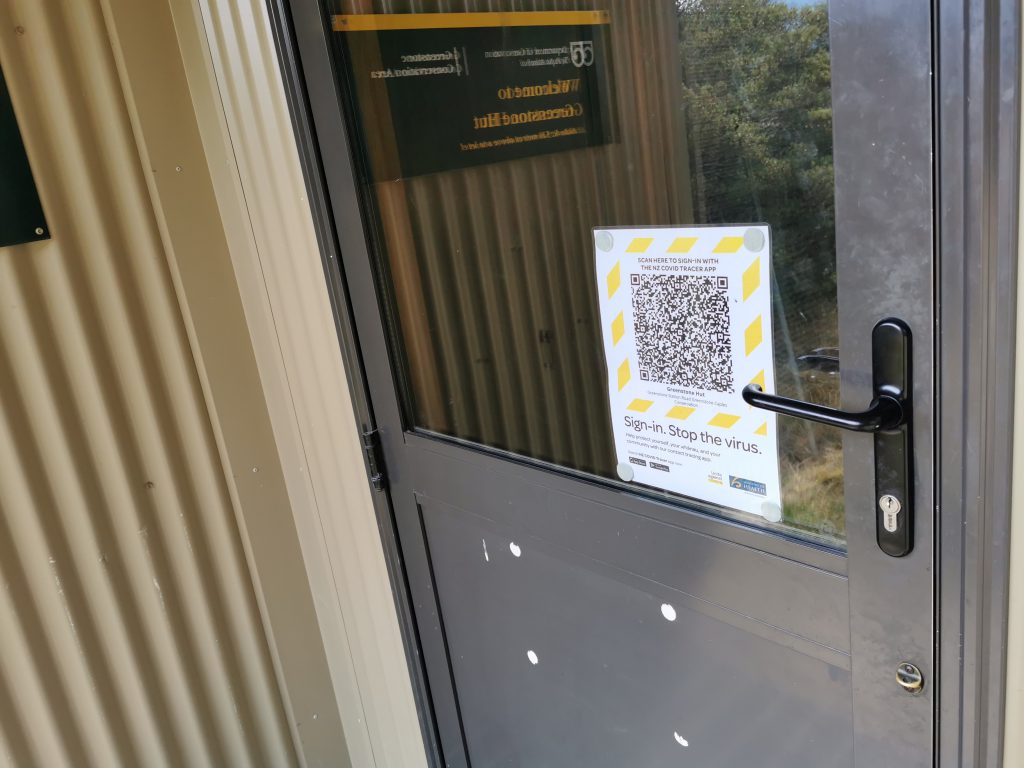 Nobody is here… it's just me. Shay was the only person here before me today. He wrote that he's going to Mavora Campsite which, if true, means he is doing a 51km day.
A few people stayed here yesterday. Mostly day trippers. The two most recent people who wrote TA SOBO (Te Araroa Southbound) are people called John and Nicola, who are a day ahead. The last ones who wrote that before yesterday were through four days ago. A few people have written TA NOBO, which surprised me. I wonder if they are just doing sections since it's so late in the season for them to be going northbound.
I had some lunch. I really missed this simple meal of Marmite, cheese and pretzels on a wrap. I bet I won't still be saying that by the time I reach Colac Bay.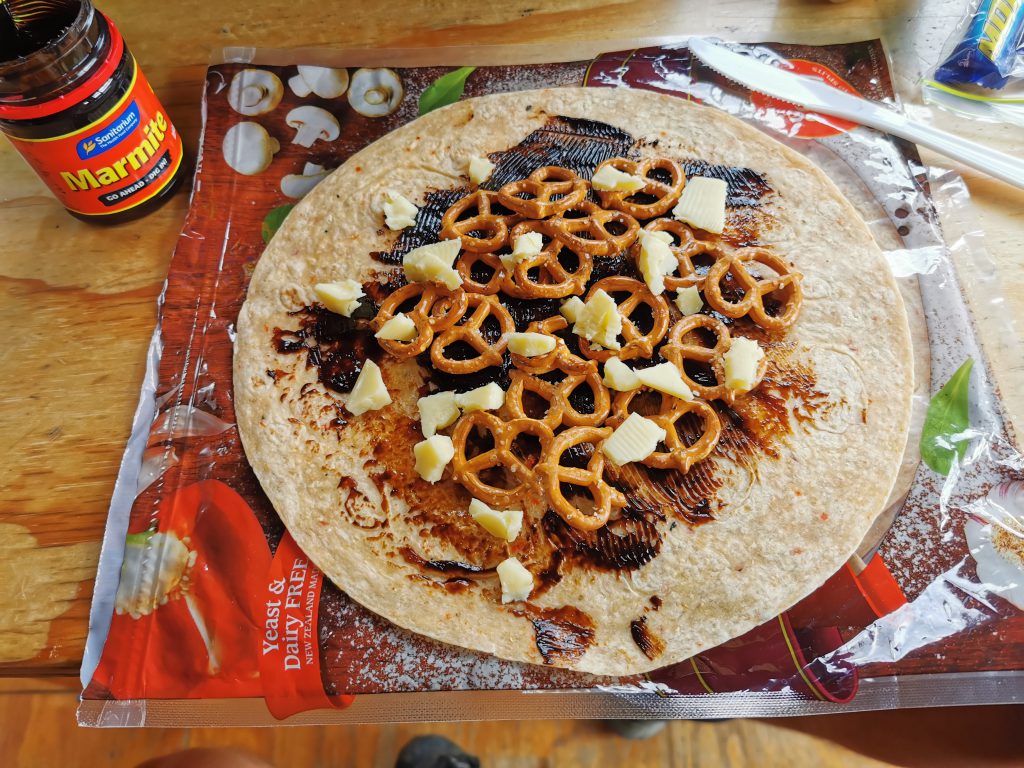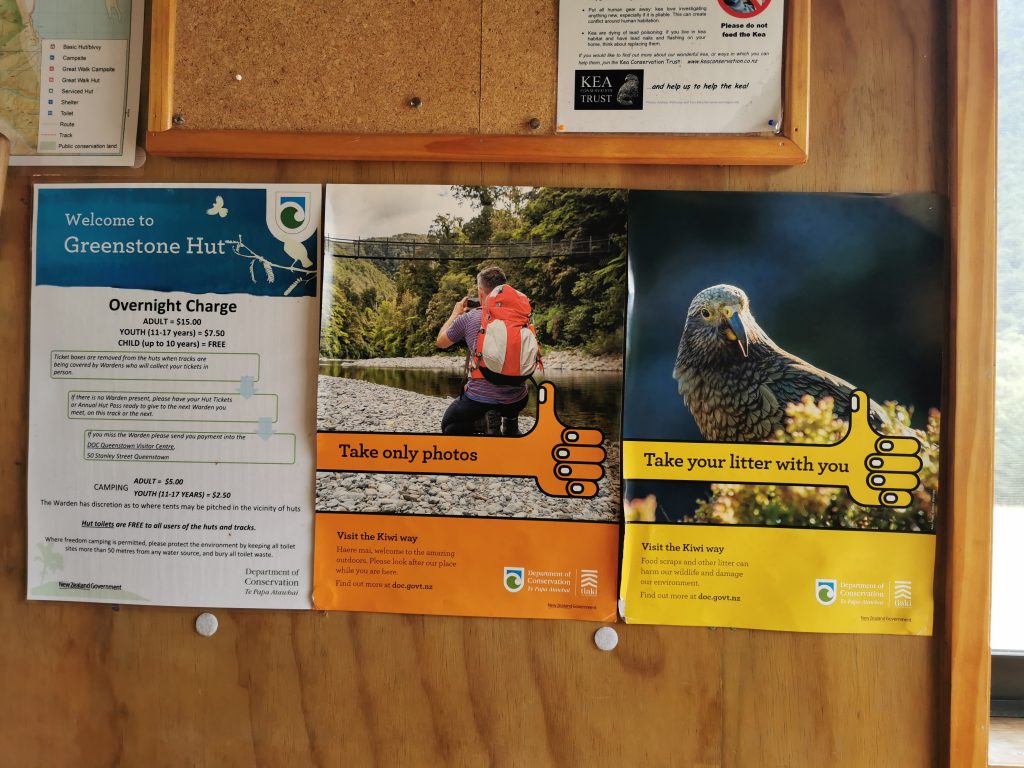 This poster hints that there might be keas around. I still haven't seen one anywhere! Other posters say that they're commonly seen on the Routeburn Track. While I was having lunch I kept hearing and seeing things, and wondered if they might be keas. Well at least I thought I did… but nothing was ever there!
Time to push on to the next hut, called Taipo Hut. There are only 4 beds there, but from what I'm reading in the book here it's unlikely there are going to be 4 other people there. So I'm not going to rush. In saying that though, last week according to the book there were a group of 33 kids from Fiordland High School in Te Anau staying here. That would have been loud!
Time to go. It got a bit steeper now. There were more roots to trip over and get poles stuck in. Ah, I remember all these very minor annoyances from last year.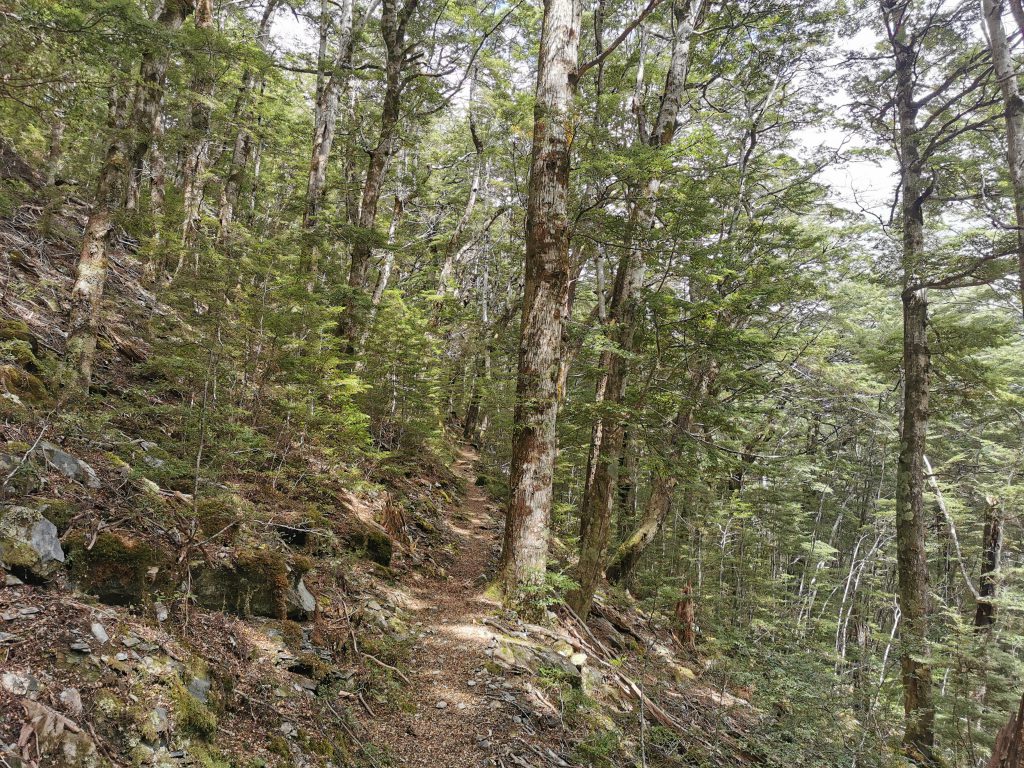 Although I don't ever remember such a lack of wind. Every time the slightest bit of wind comes through, it feels like ecstacy. On the plus side, I'm so sweaty from the lack of wind that at least if I run out of water, there will be enough water stored in my hair alone to survive for a while.
It was mostly trees at first but with the odd little clearing like this.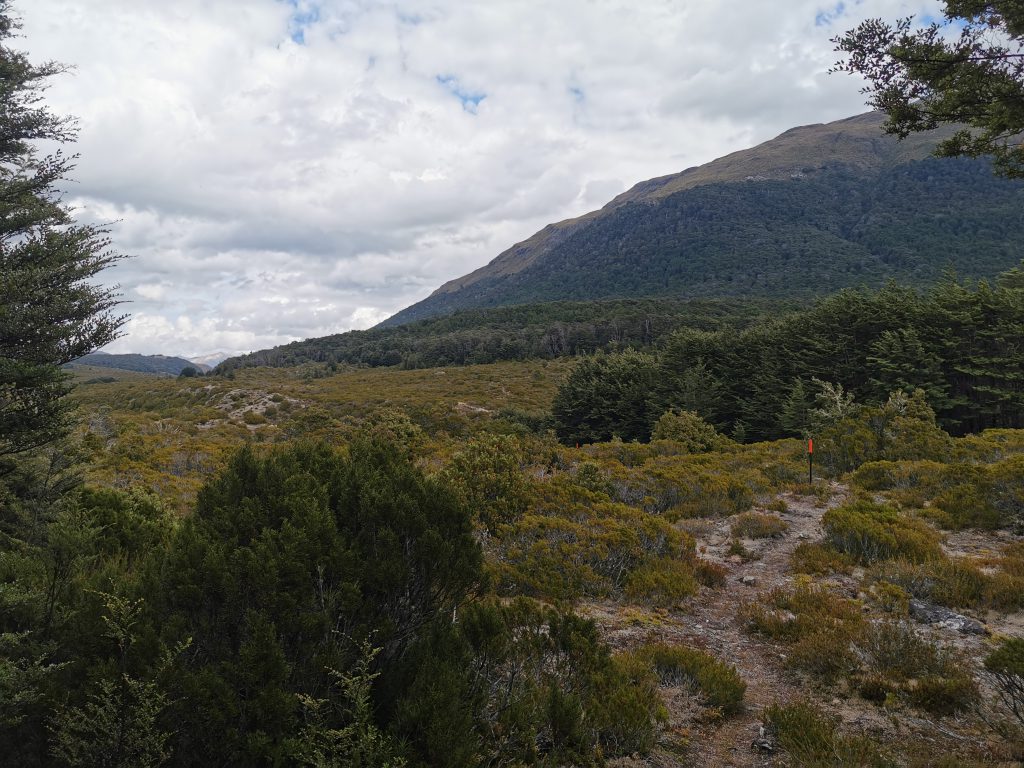 And it was at the first river crossing where I realised just how beat up and full of holes my hiking boots are. Any water or mud gets near those holes and my socks get wet.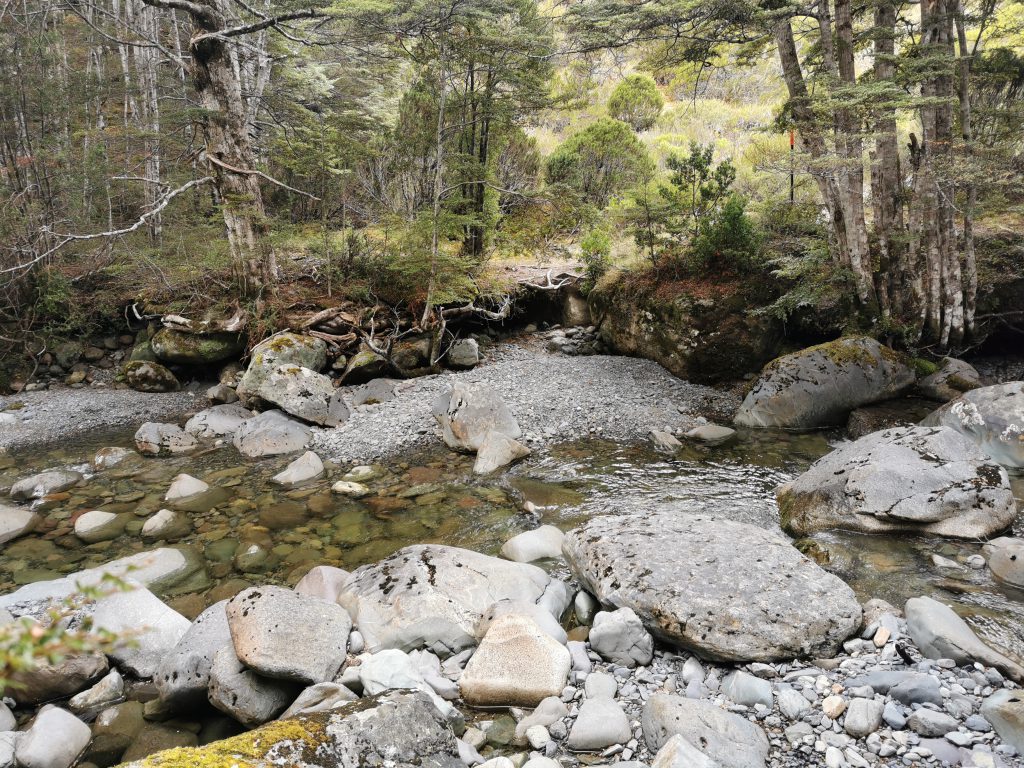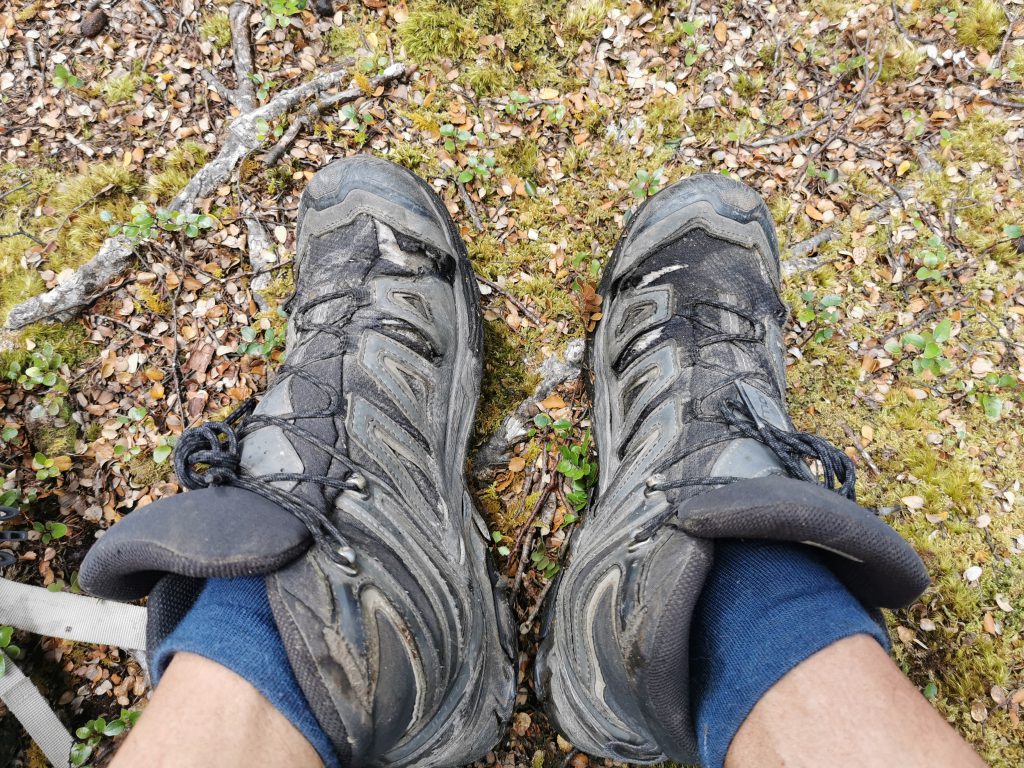 And there was quite a bit of mud too. It was manageable, there always seemed to be conveniently placed bits of wood to help.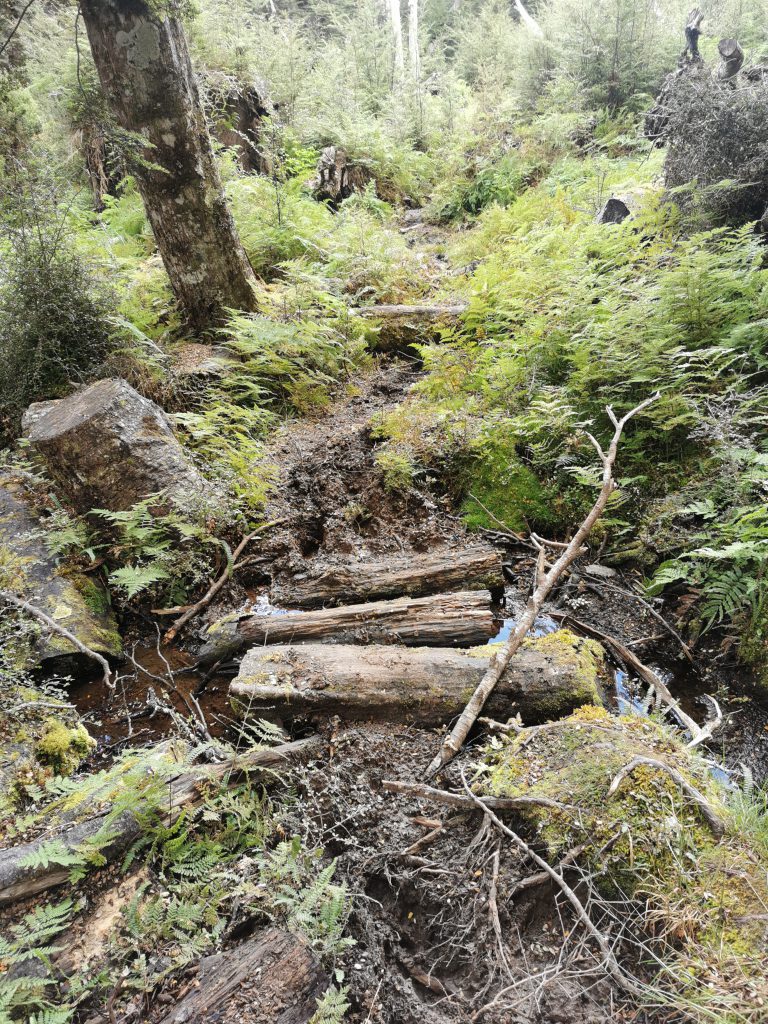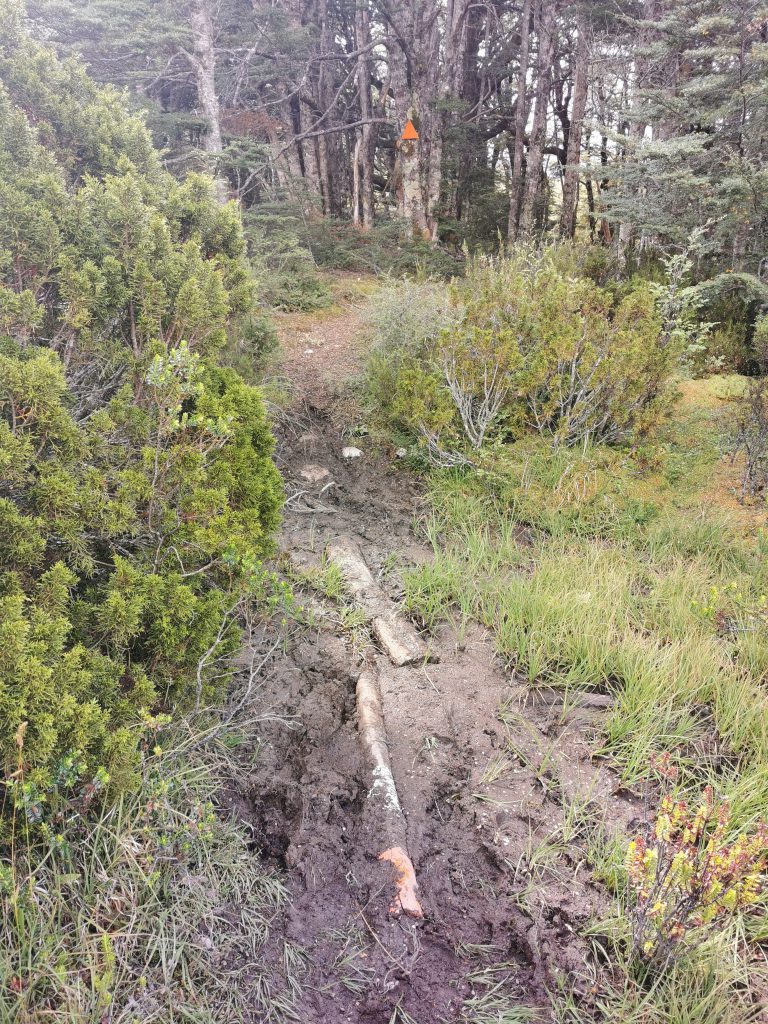 It was a little steeper than earlier but nothing taxing.
With 3km before the hut, the trail emerged from the trees and you walk across this kind of landscape.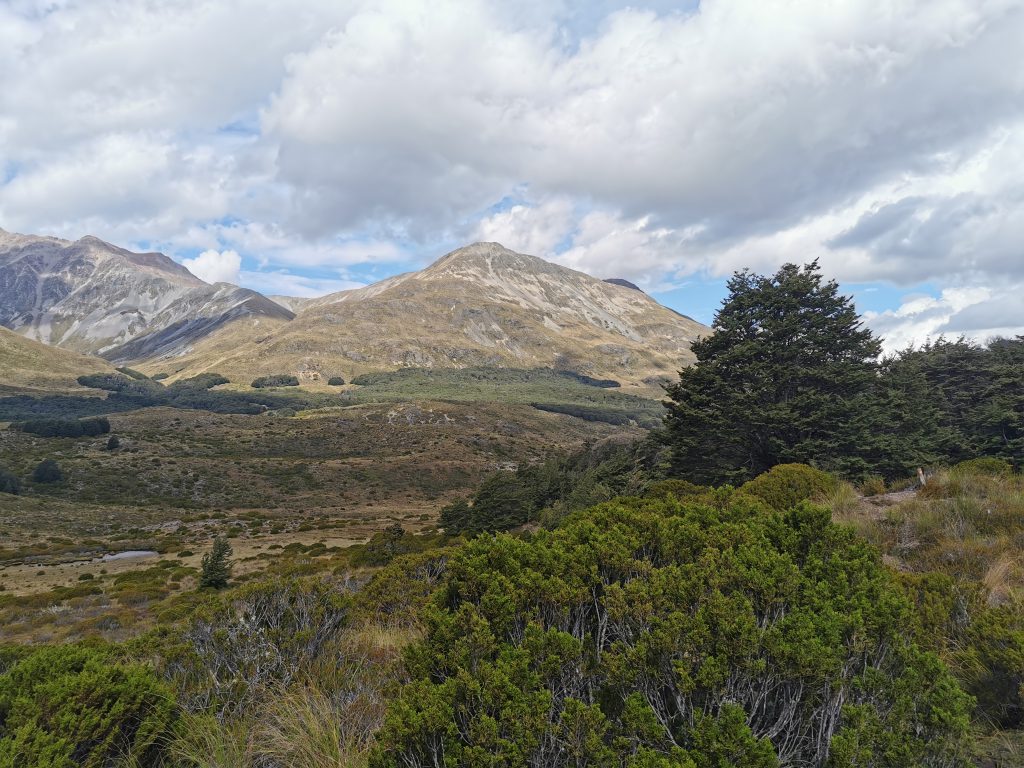 I remember seeing these sorts of scenes in lots of the South Island sections and it brought back memories. And there was a little bit of wind too. Well I say a little bit – a tiny bit. Like a fly breathed on me.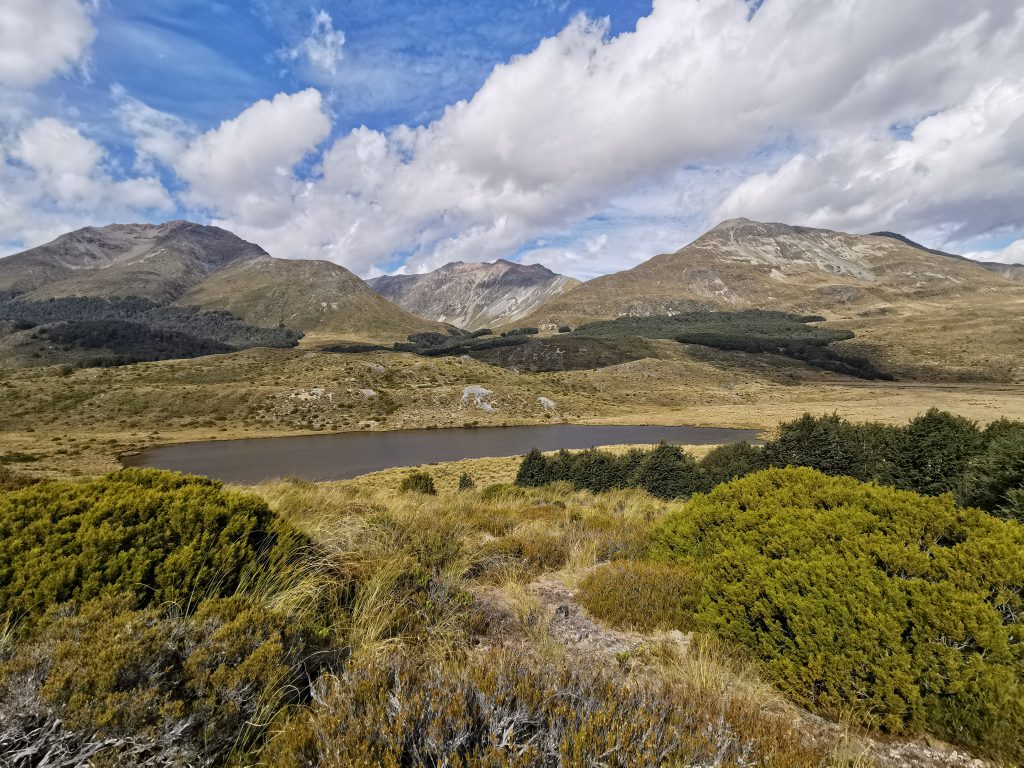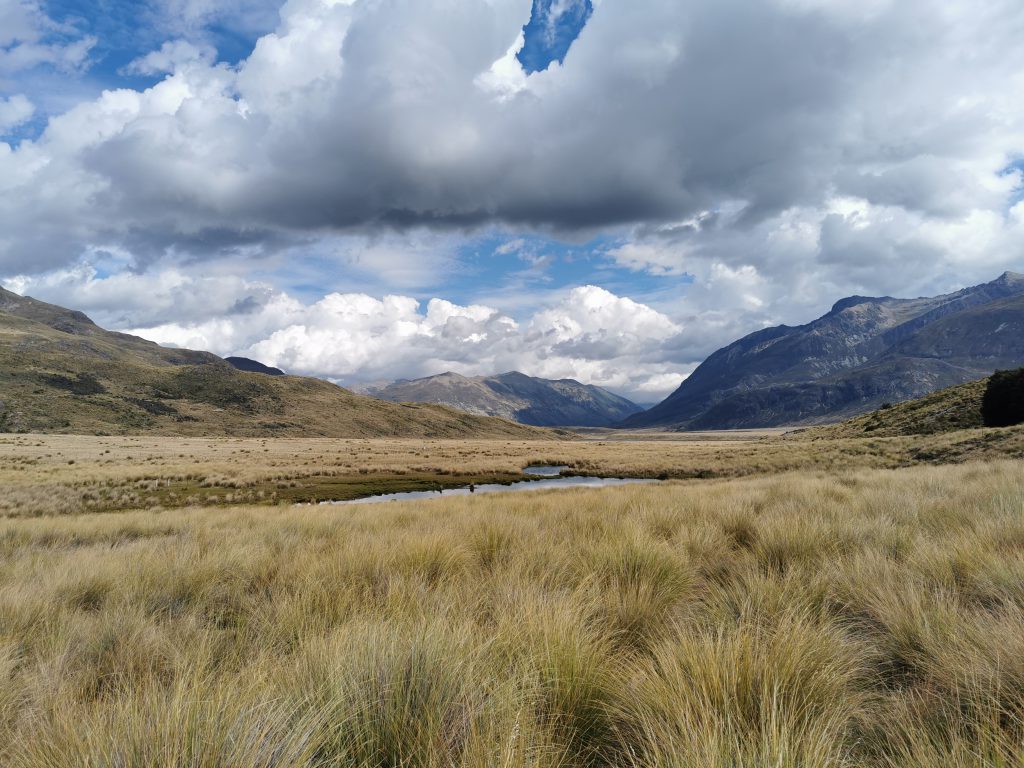 I thought I might be able to see the hut in the distance early on but it was clearly hiding. I did see cows though, and at least one of them saw me.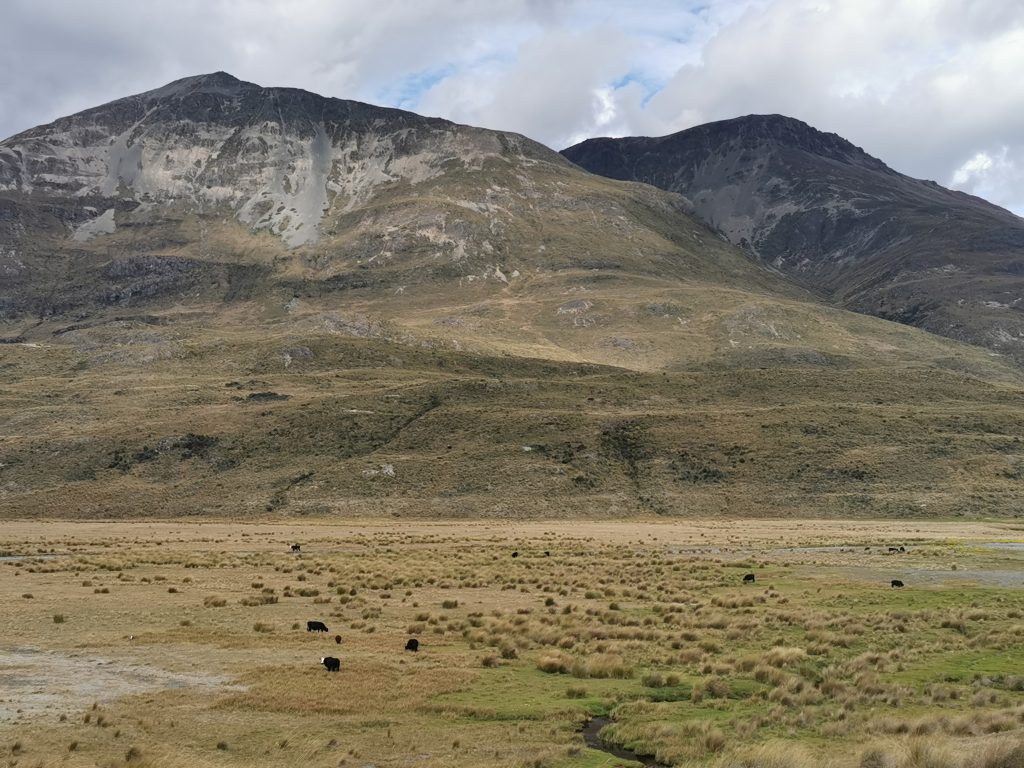 The mud got worse as I got closer to the hut. I had to play the "jump between big pieces of tussock" game.
I didn't see the roof of Taipo Hut until I was only 250m away from it.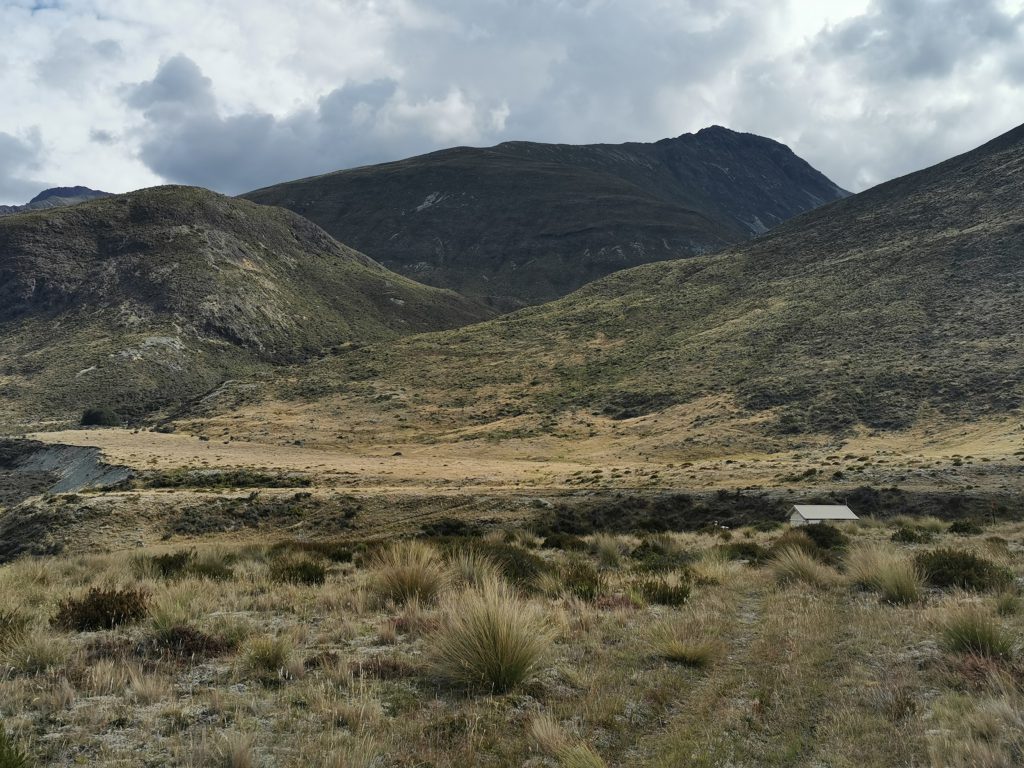 It's cute!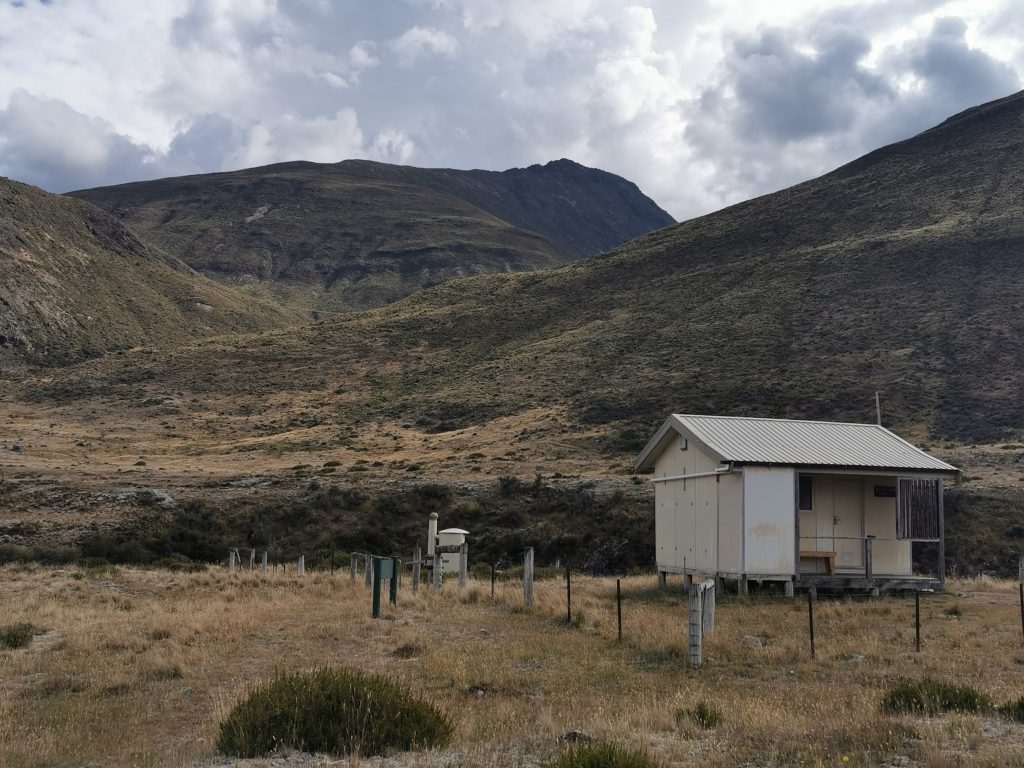 And has a great view.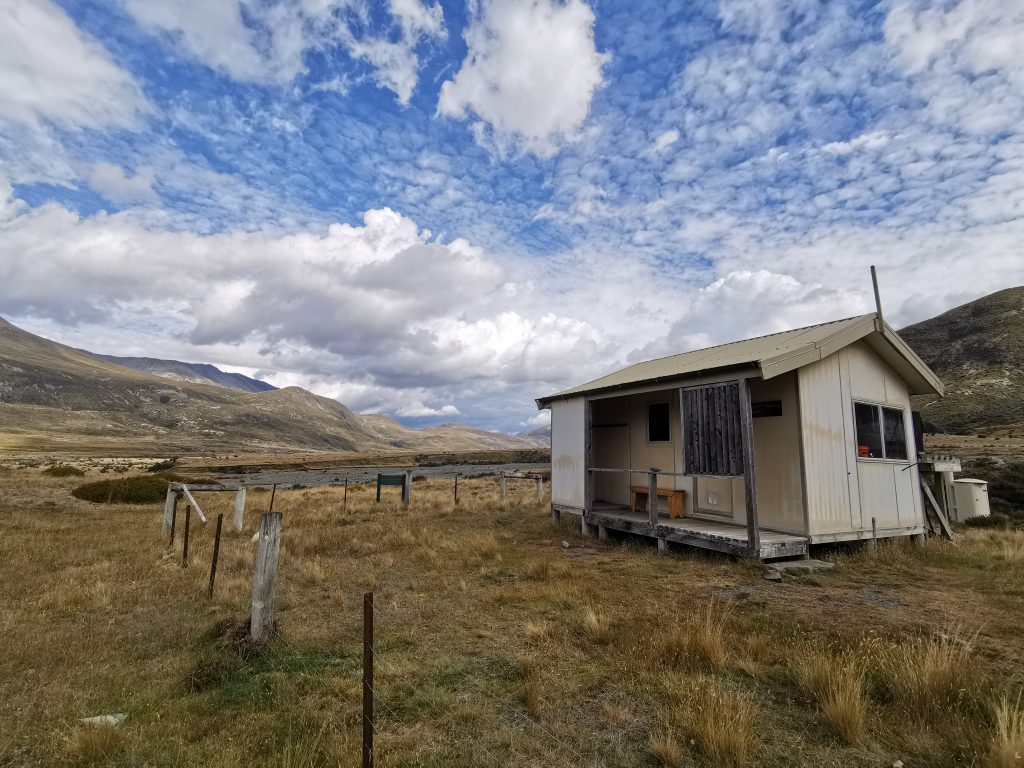 And a turnstile VIP entrance.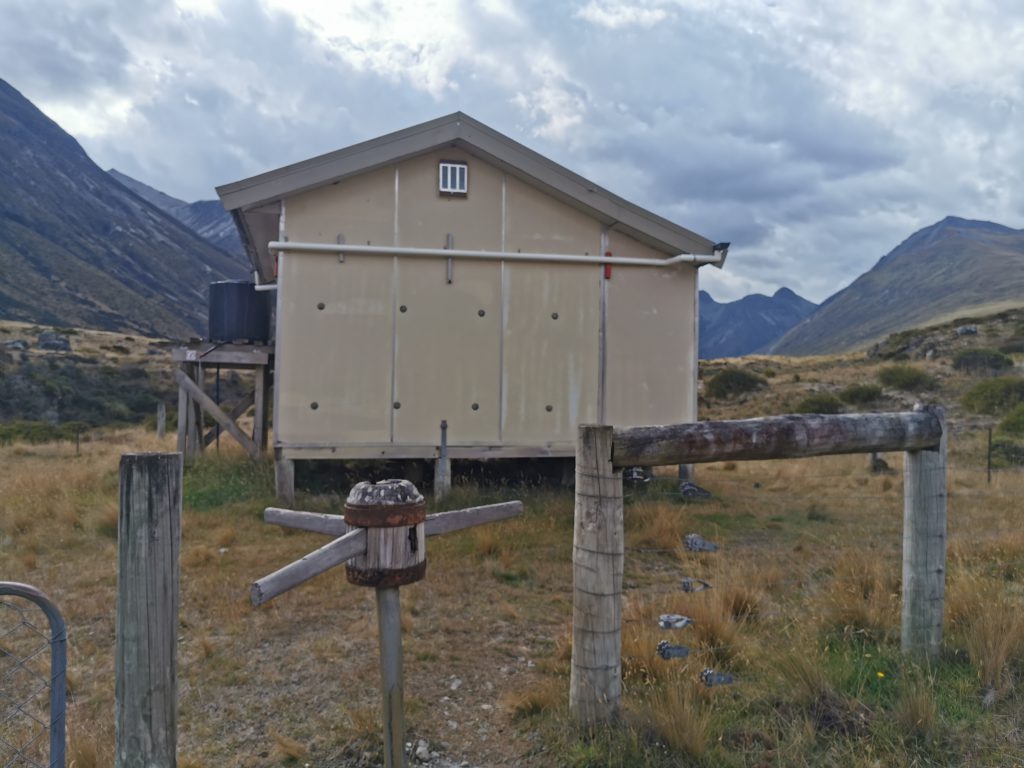 Four beds…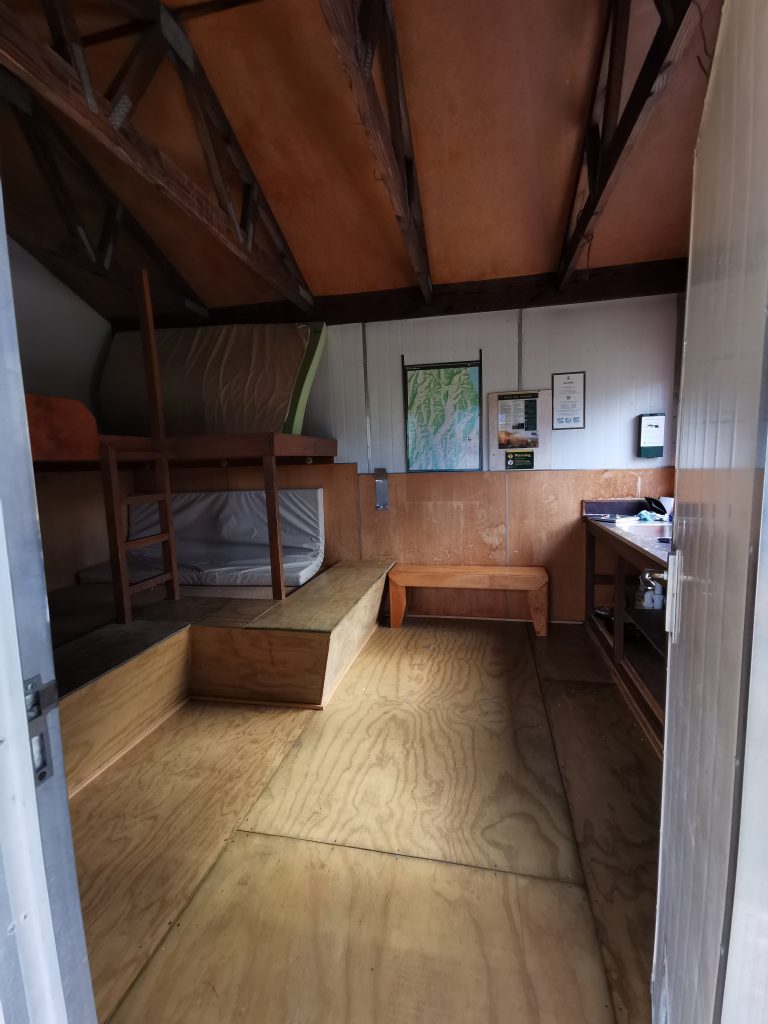 Each of which are very wide!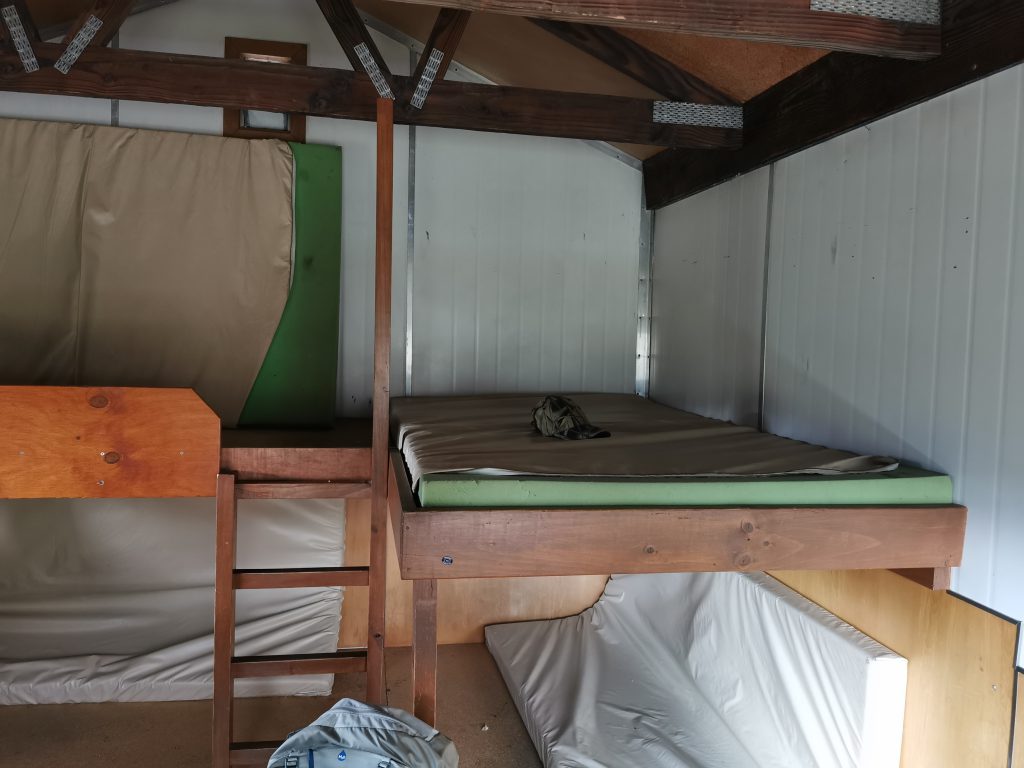 There was no Covid-19 QR code on this hut though. I guess the virus can't get way out here. At least I hope not.
I arrived at 5.15 which meant it took 3 hours from Greenstone Hut – better than the 4-5hr estimate on the signs. Nobody else was there. It meant I had time to just sit and admire the view and enjoy the peace and serenity which was nice after a night in Queenstown. I also got to write my blog entry and didn't have to rush it.
And the sun was out, meaning my sweaty clothes could dry out. Hooray! The sun disappeared behind the hills quite early though so it got quite dark in the hut.
I noticed the tan line I'm already getting on my feet.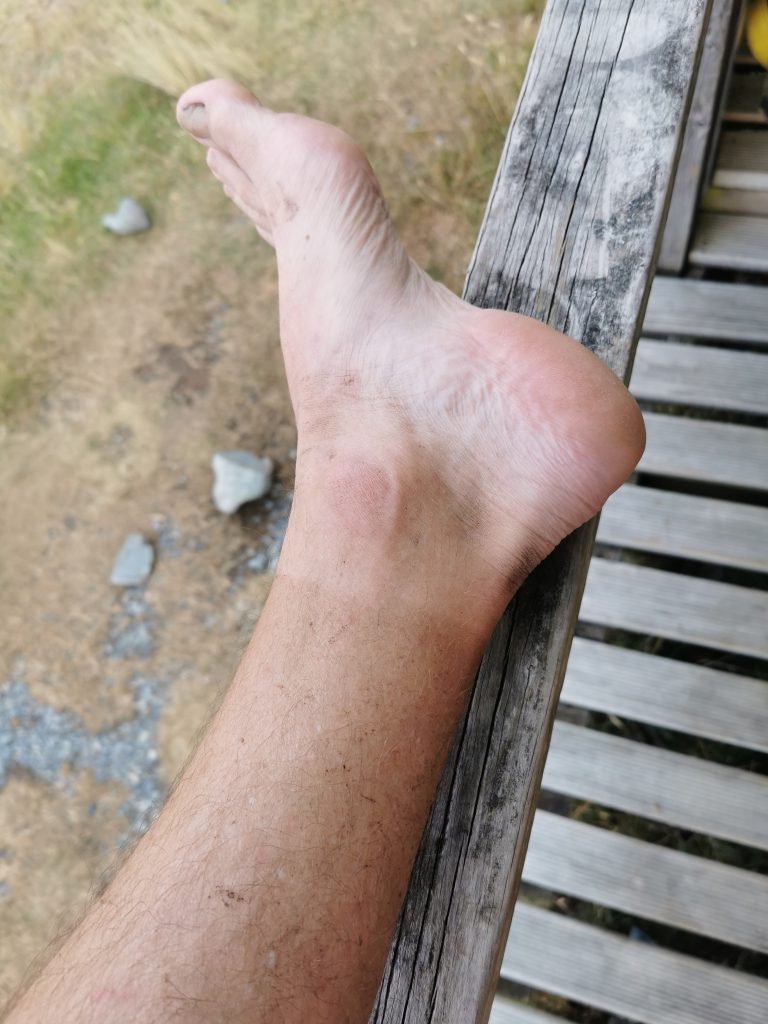 I feel aching in my shoulders and back though. I can't wait for my pack to get lighter as I progress and eat the large amount of food I have. My eyes are also sore. I don't know if that's from the sun or from the sweat constantly pouring into my eyes from my forehead.
Nobody else showed up. This is my first night alone in a "proper" hut. The only other times I slept alone in a hut were the ramshackle Camerons Hut and the derelict Mt. Soho hut.
The only mention of mice at this hut was a Guthook comment from 3 years ago… but I'm still going to hang my food up on the hooks. Can't hurt can it!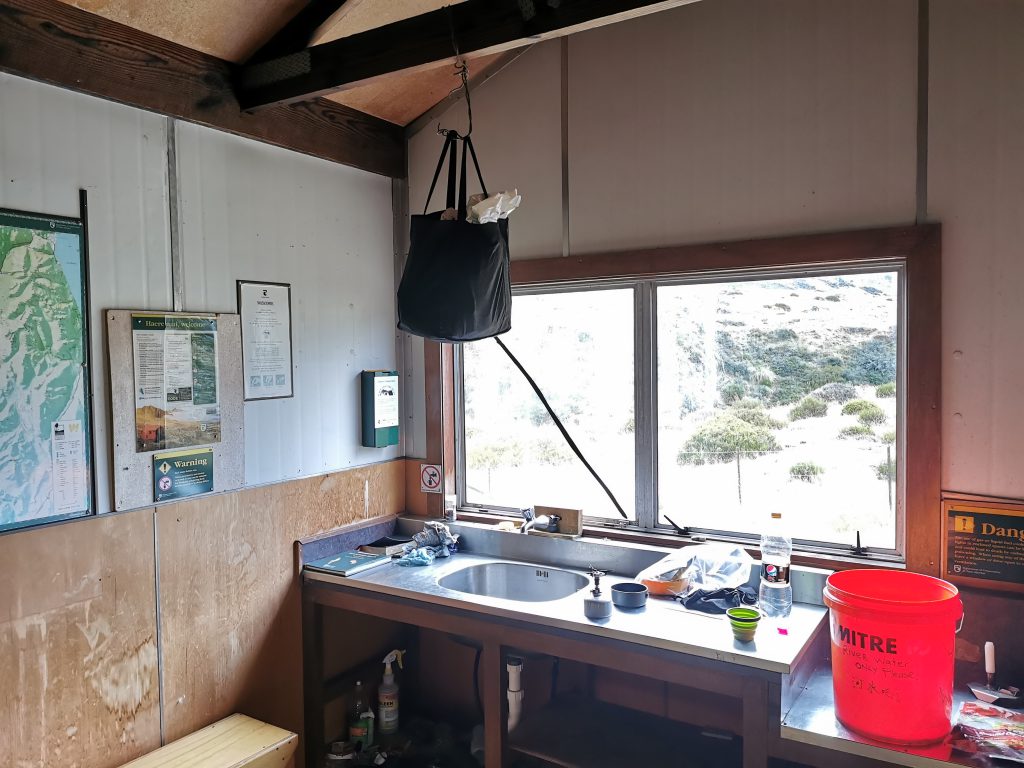 I finished the day with a nice round number of steps.

And I was surprised at how ridiculous my hair looks.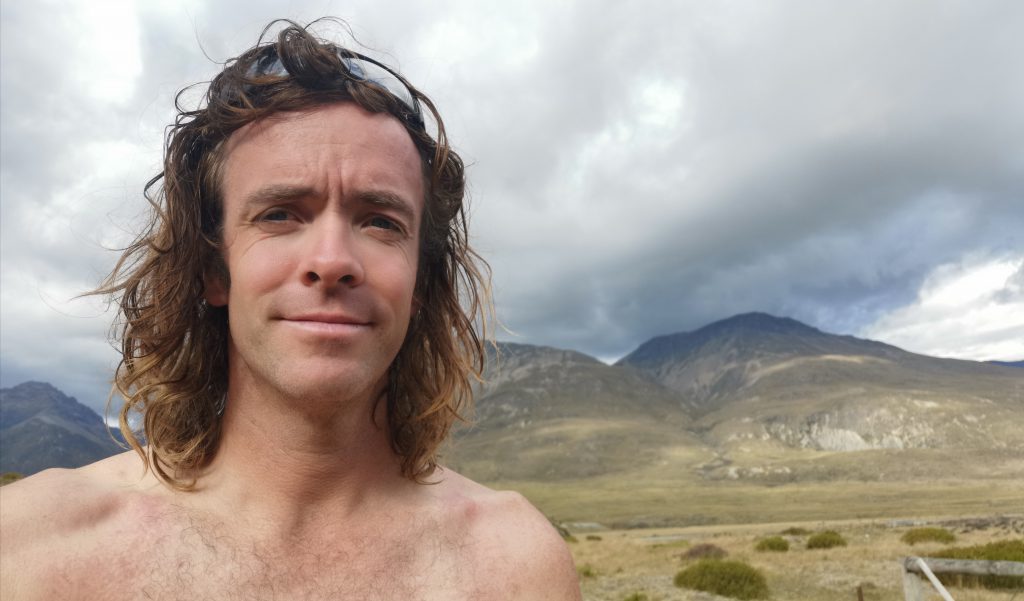 Just before the sun went fully down, the rain started. I didn't expect that… I hope all the rain happens now while I'm sleeping.
Today was a nice first day back walking properly. A good distance and a good reintroduction to trail life. And nothing hurts… not too much anyway. If I was still "trail-fit", I might have pushed on to the next hut 2 or 3 hours away, but today I'm glad I didn't. And not just because I would've got rained on.
Today's walk on the map (blue = Te Araroa, red = today's walk):