Date: 27 February 2021
Trail covered: 7.8km (kms 2673.7 to 2681.5) plus at least that much again exploring Queenstown
Weather: fantastic
After waking up at 7am and milling around the house a bit, I thought to myself "oh wow this is actually happening now". It's all become real, and a little bit scary. When you're on the trail full time you have the routine and it all becomes quite easy, but when you've been off it for a year, not so much.
Even within the first 10 minutes of being awake I had already encountered the concept that I have to pull apart my entire pack to find any one thing I might need, as I can't remember for the life of me where I packed any particular thing. Hopefully while walking I'll get back into my routine.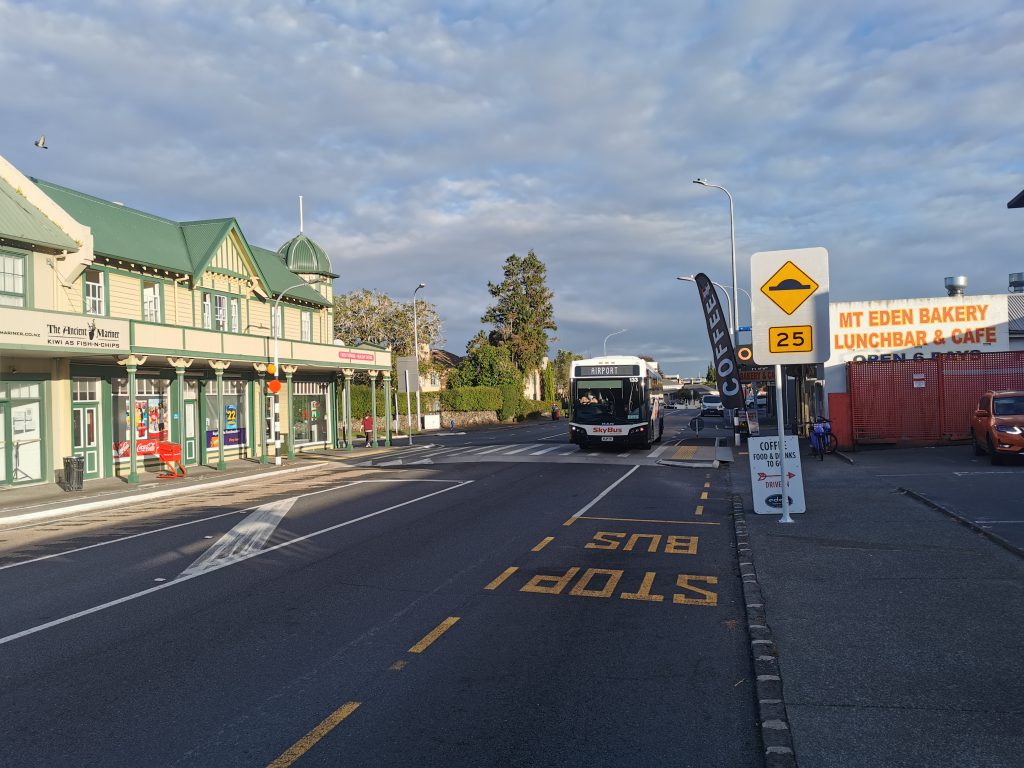 I took the bus to the airport, it passed the Jet Park facility where all New Zealand's known positive cases of COVID-19 get transferred to to spend their time in quarantine. It reminded me how lucky I am to be able to live in a country where by and large we are free of the virus but also that we still need to be careful because it is still here and around us.
I arrived at the airport at 8:30am and it was surprisingly busy. I had it in my head it would be some kind of ghost town. I guess the International Terminal probably is.
The first thing I had to do while I was at the airport was take the 11am picture that I forgot to take on day 87 which has been the only day I have forgotten so far. Here it is!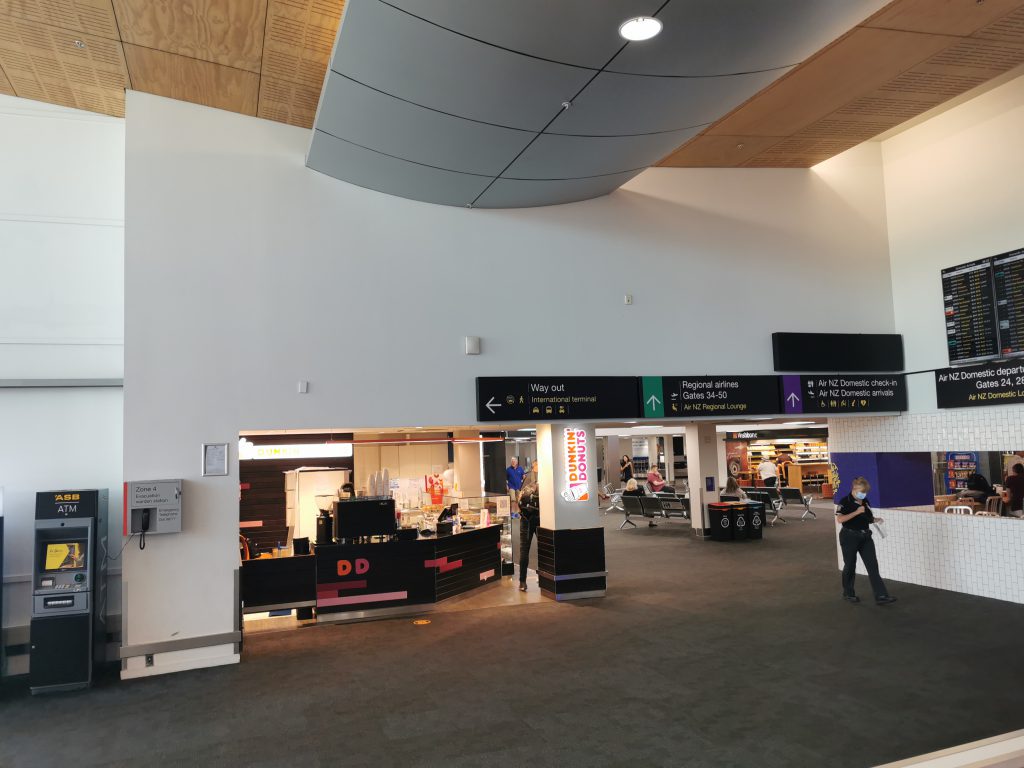 That's the exact spot where I was sitting on that day at 11am waiting for my flight and I dropped my credit card (one of two places on the trail where I dropped my credit card and nearly lost it – the other being Kerikeri). Let's hope for no more accidents like that. The new shorts I'm wearing have zip up pockets… which hopefully will prevent that kind of thing from now on.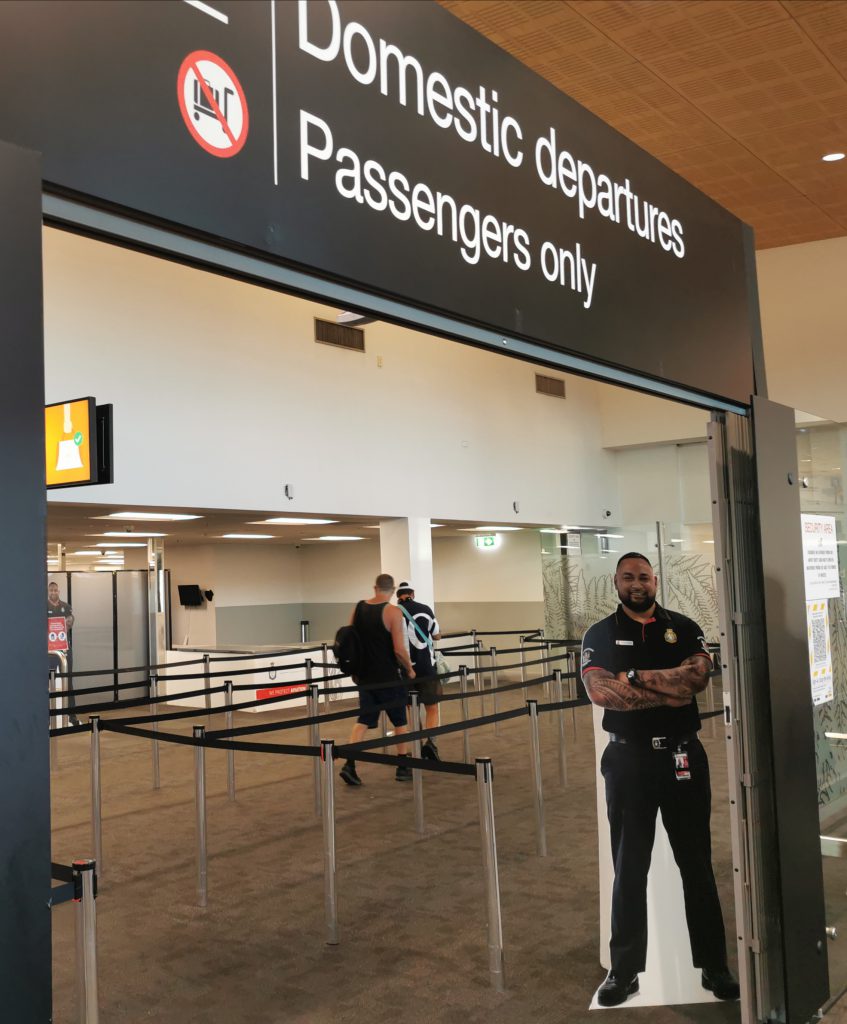 On the plane everyone was required to wear a mask, but despite that people seemed relaxed. It makes a change from the last flight I took, which was the flight back home from Queenstown this time last year on the day lockdown was announced where I didn't want to touch absolutely anything and it was the scariest most turbulent flight of my entire life.
People on the flight today were generally well behaved, although at one point somebody got something out of the overhead locker in front of me and somebody's walking crutches fell out and hit the person in front of me in the aisle seat. Coincidentally (or perhaps not coincidentally) this same person and the people he was travelling with were told off by the cabin crew multiple times during the flight for removing their masks.
I wish I picked a window seat instead of an aisle seat, and not just because I don't want to get hit by falling debris from above. It didn't even occur to me when checking in that I might want to see the view once the flight nears the South Island.
There was no drink service due to Covid-19 (despite the AirNZ app saying there would be), so the only thing to keep me occupied was my iPod, and the Air New Zealand quiz. Here's the question that was at 11am: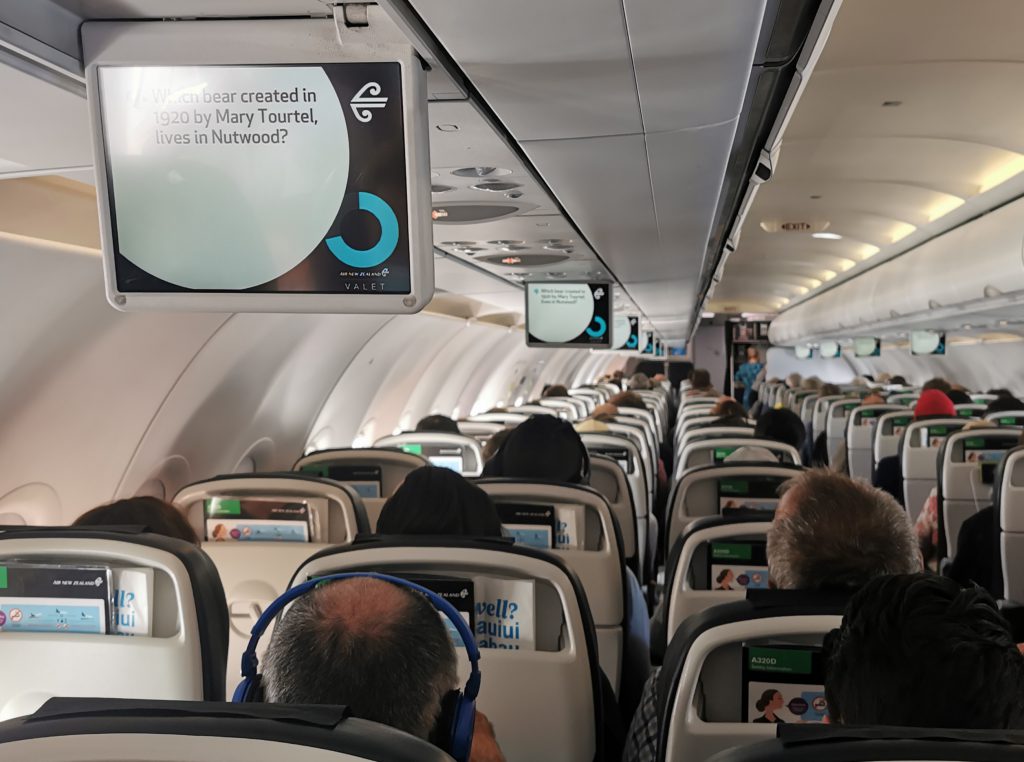 I didn't know the answer to that question, but I did know the answers to "what is the main ingredient of sambal" and "which 1993 movie's main character had the first name Euphegenia". Answers on a postcard please*.
Yum, now I'm hungry. I wonder if I can find sambal for dinner in Queenstown. I'll probably skip Fergburger, the place in Queenstown that everyone in the world seems to have heard of and apparently has a queue each day out the door from the second it opens until the second it closes.
When I arrived at Queenstown Airport I didn't recognise it at first without the huge security and police presence that was there last time, and the chaos from the looming lockdown. This time there were no panicked people… although there were lots of screaming kids. Also there were lots of hiking bags.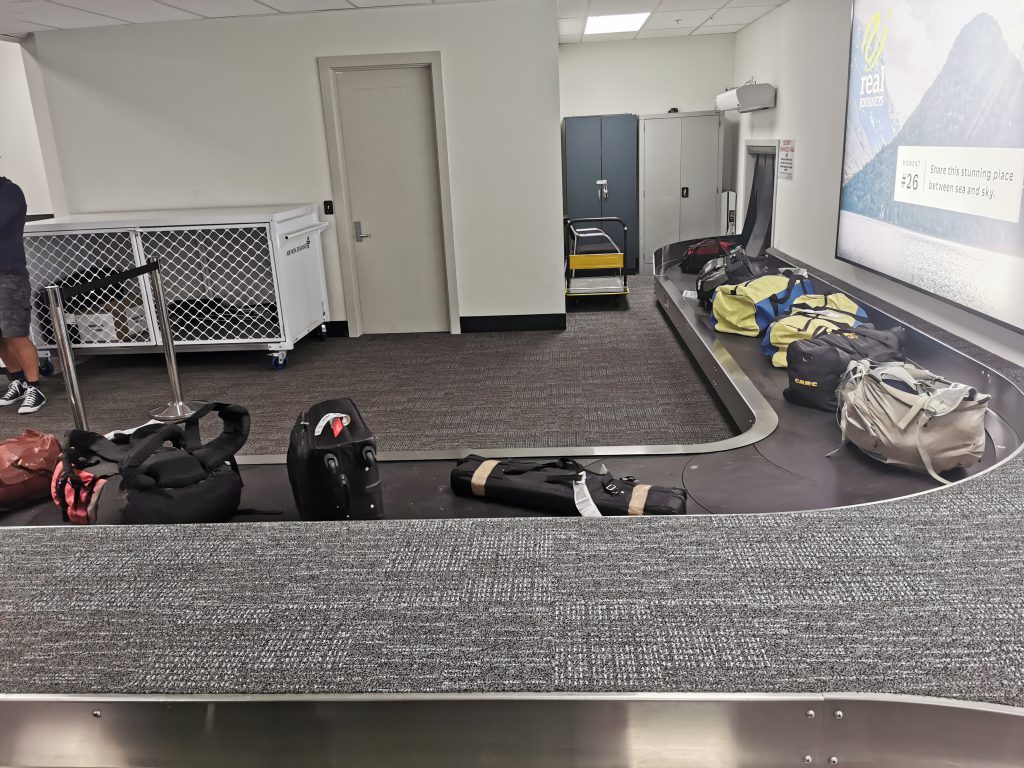 I went and re-packed my stuff in the check-in area. Everything fits in my bag with just my crocs hanging on the outside. That's pretty good.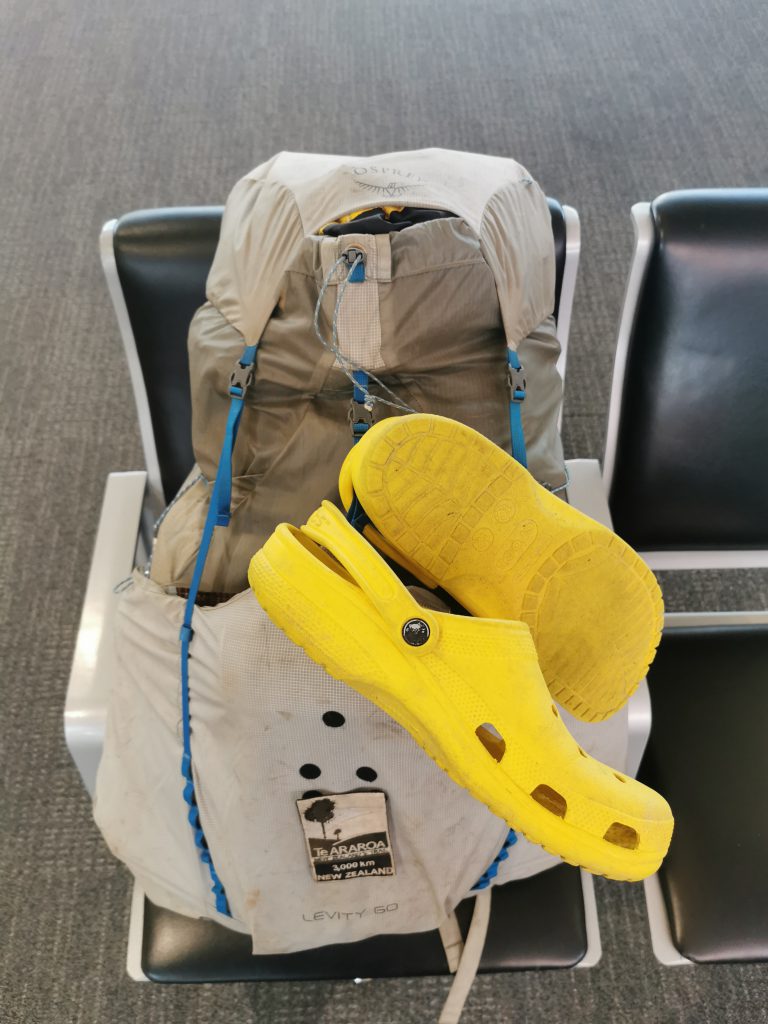 It's been a while since I've seen the stunning scenery of the South Island. Right from the minute you step outside, you are treated to great views.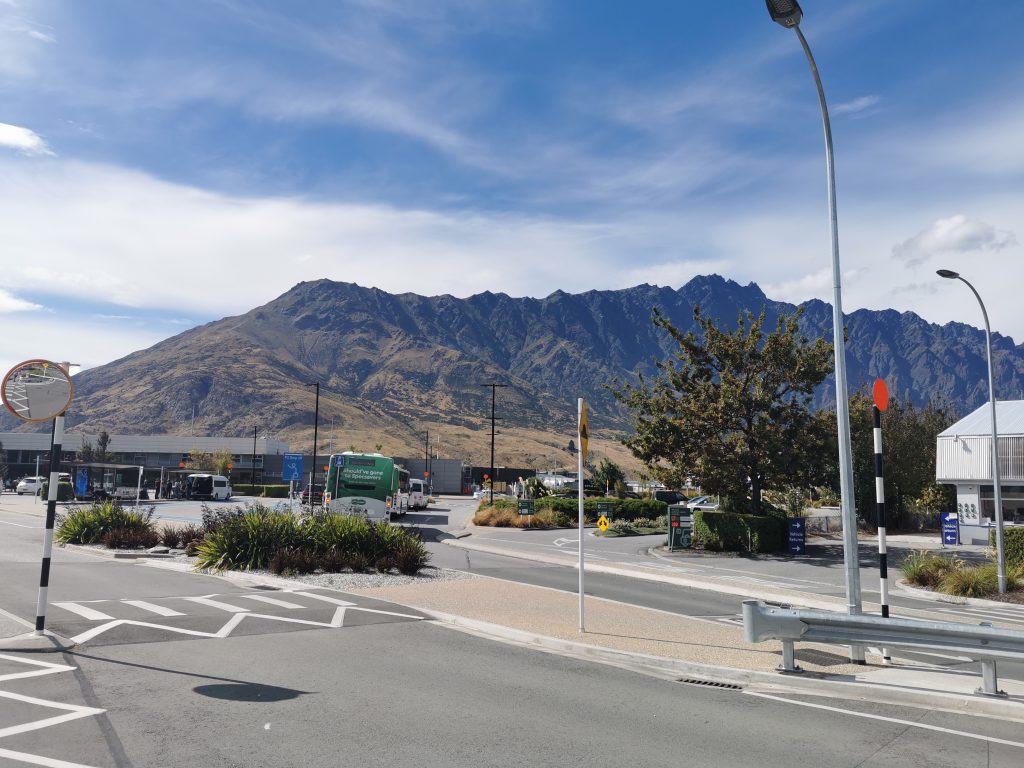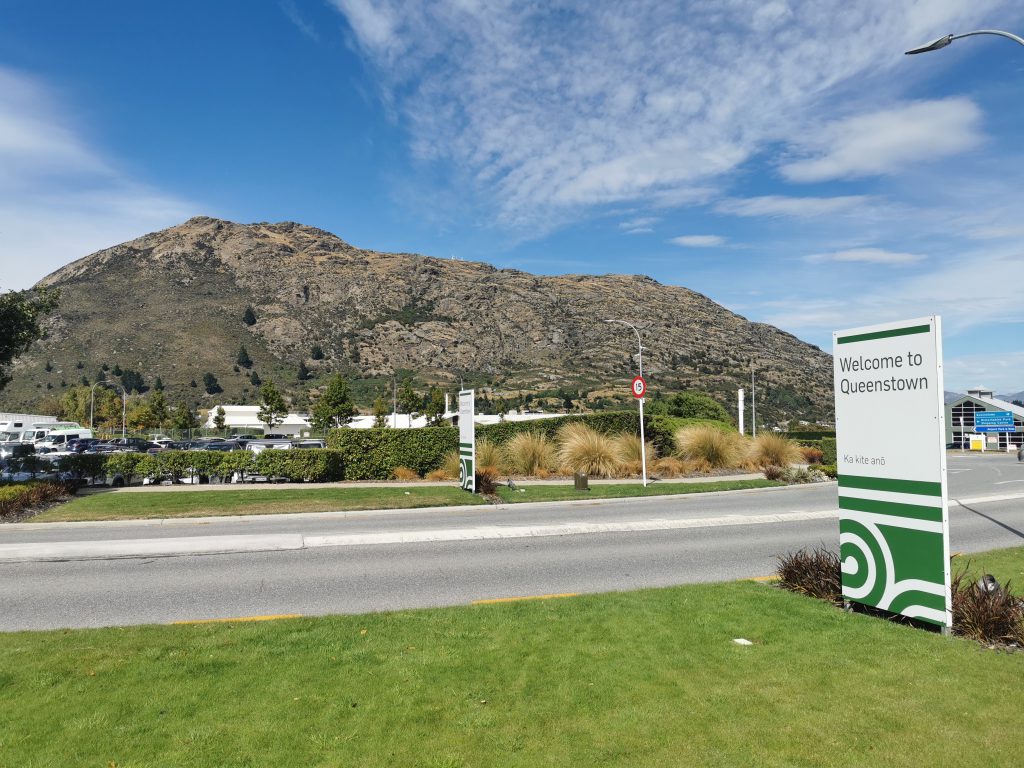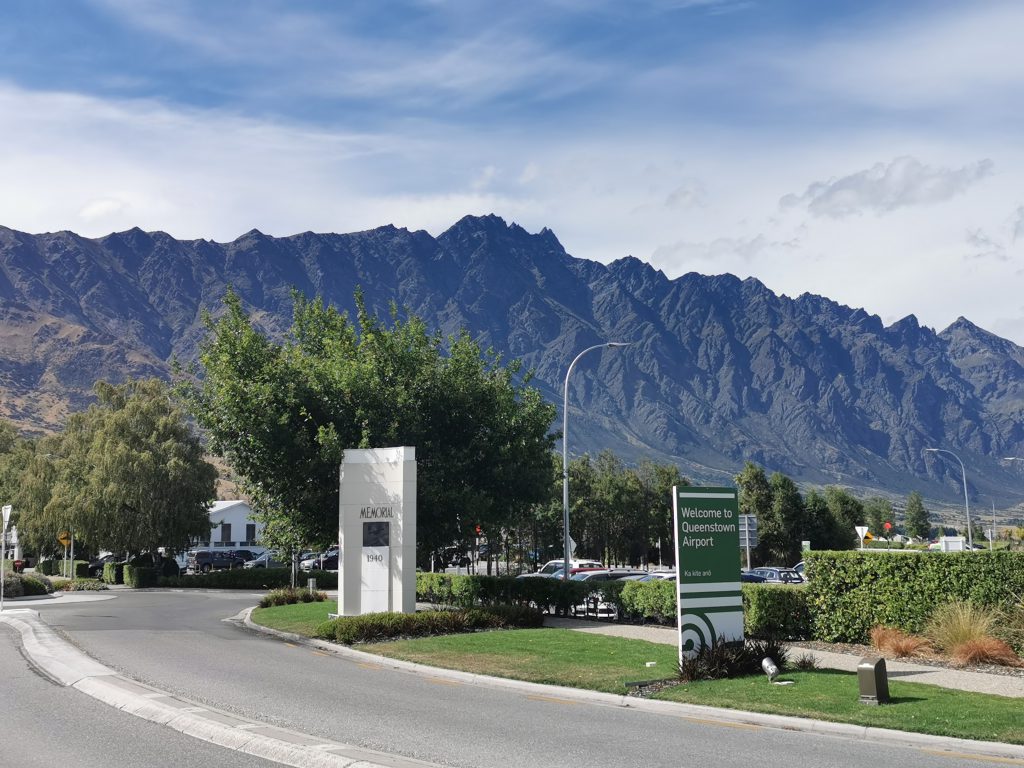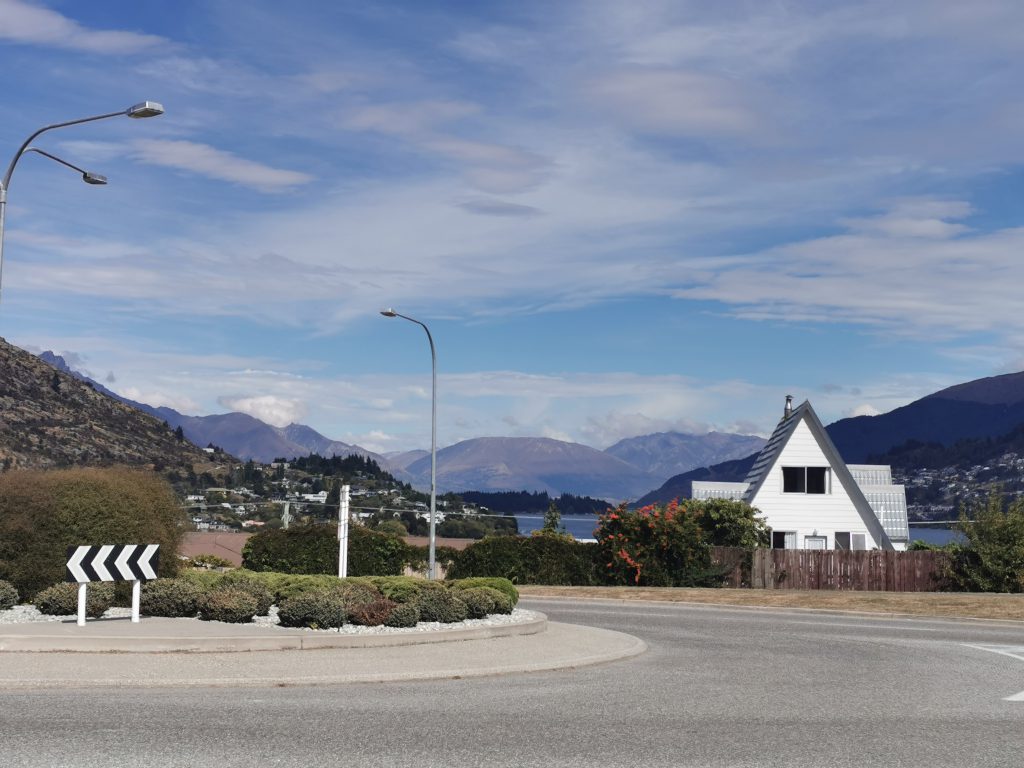 As I stepped out of the airport I realised that the point where I've rejoined the trail is km2673.7 this year, whereas last year it was km2667.8. I guess the trail must have changed a bit this season – I have been given just under 6km for free! I guess I feel okay about that… but I might have to go for a walk around Queenstown once I get there to explore and make up for it. You would remember if you were reading last year about how strict I was about following the actual trail and not deviating from it unless there was no other option. I think last year the trail was roughly 3,006km and this year it is exactly 3,000km. So I have 326.3km to walk to reach Bluff.
Also as I left the boundary of the airport I saw this sign. I remembered this sign very specifically from last year as the first time I saw any sign pointing to Invercargill, and knowing this was as close as I would get to Invercargill was quite heartbreaking at the time.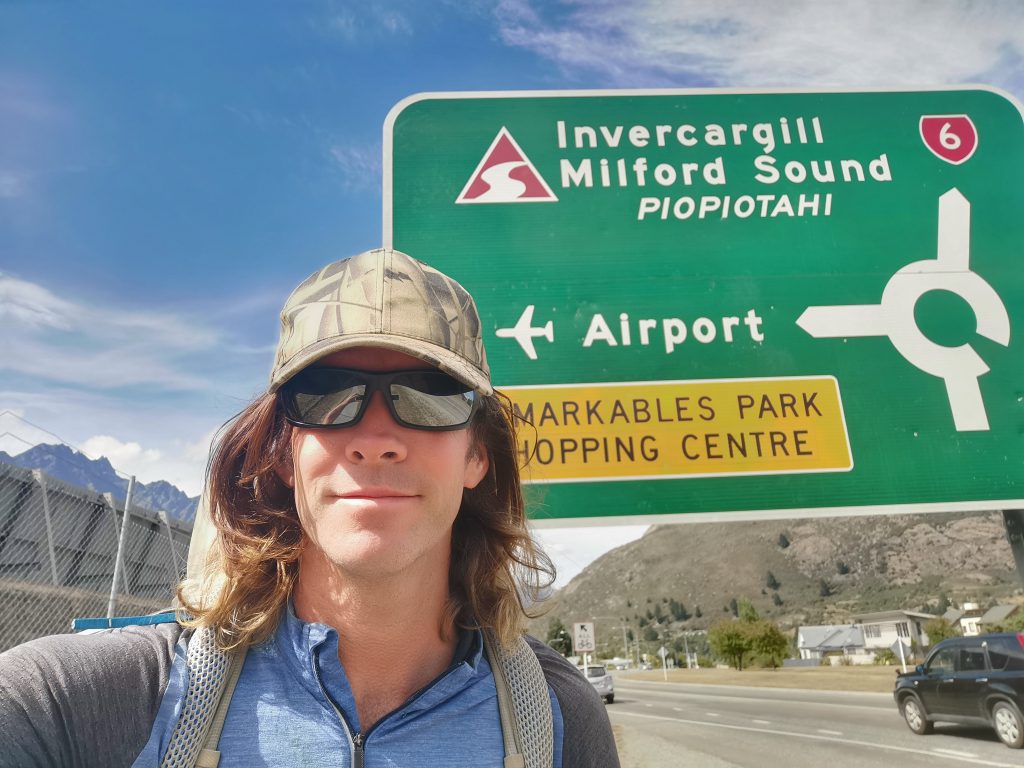 Just being here brings all the memories of last year and the sudden lockdown flooding back.
Today there is no rush to get to Queenstown as the shuttle to Greenstone doesn't leave until the morning. So that gives me a chance to look around and reminisce about last year, and to see if I'm comfortable with the weight of my bag. I could get some more snacks if I feel like my bag isn't too heavy. That was part of the reason for buying my food in Auckland in case you were wondering – to test out the weight of my bag before heading into the wilderness. That and I'd rather spend my time in Queenstown sightseeing instead of shopping.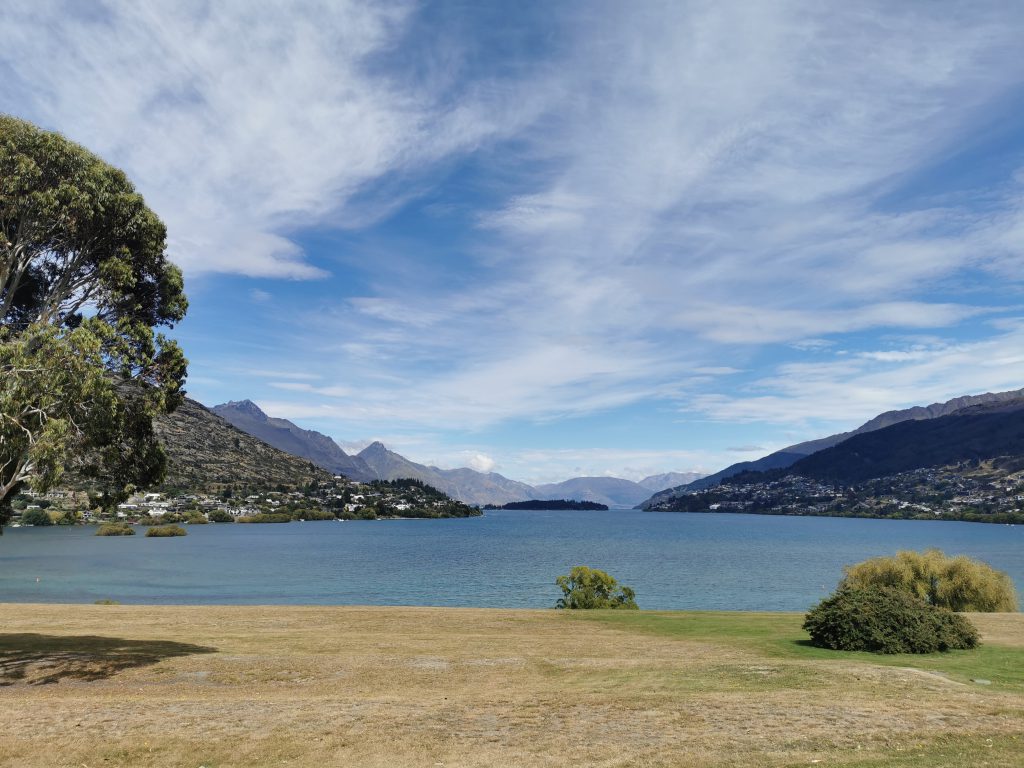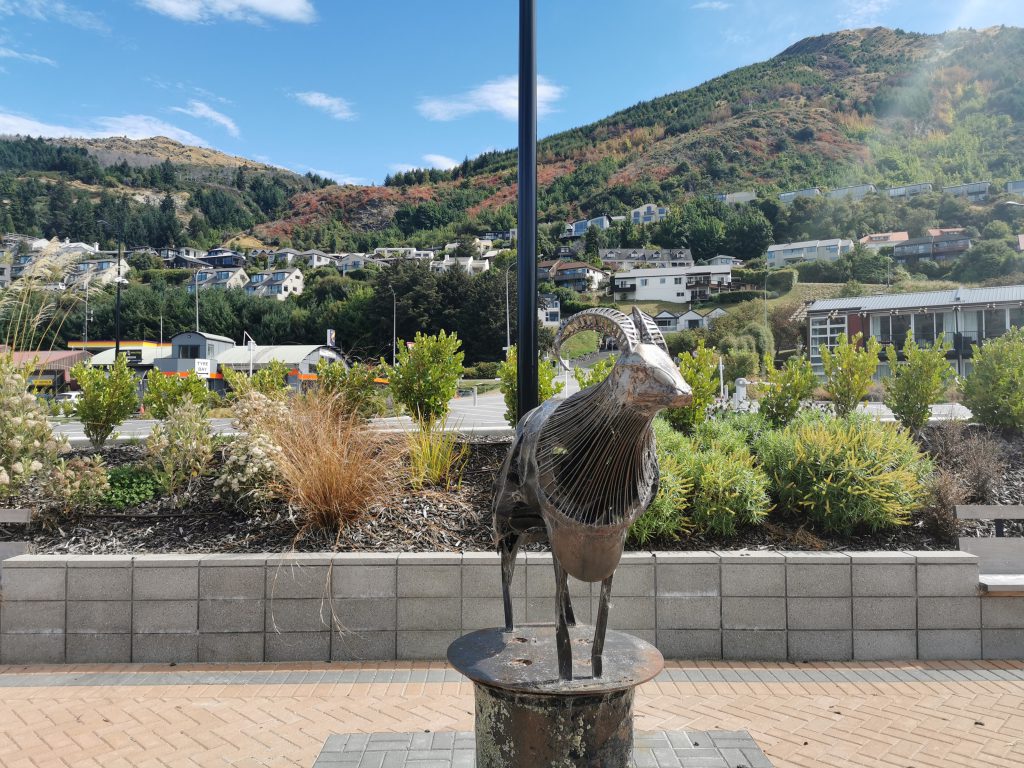 As I started walking today, my pack felt lighter than expected. I remember thinking the same thing after stopping for Christmas and restarting at the Richmond Ranges. I also feel like I must have forgotten something… I had that feeling back then too. At least I don't feel like I'm struggling to carry it and I feel like it won't be a problem.
I'm not sure if I'll be doing any geocaching this time, I fell out of love with geocaching once covid-19 became a thing and touching things went out of fashion. There is something similar called Munzee which I started doing. You don't find hidden boxes, instead you find QR codes and scan them with the Munzee app.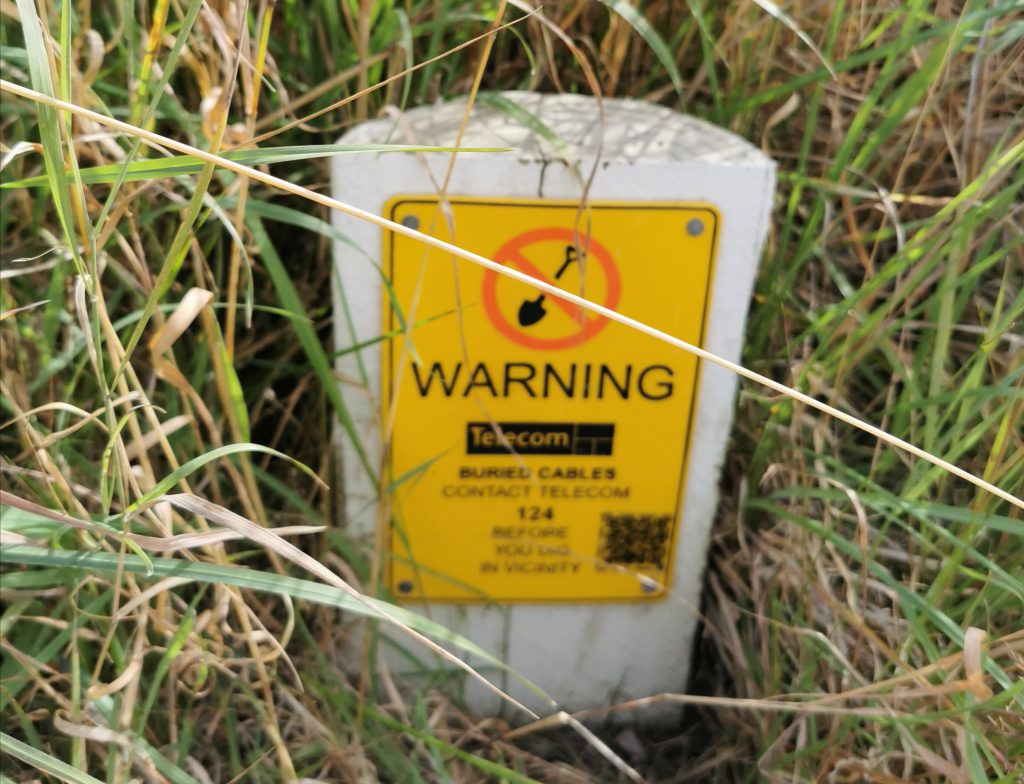 It's not quite as satisfying as geocaching but it's something I can do as I'm walking that doesn't slow me down too much.
The path from the airport to Queenstown was the Frankton Path. It went alongside the lake for the whole time.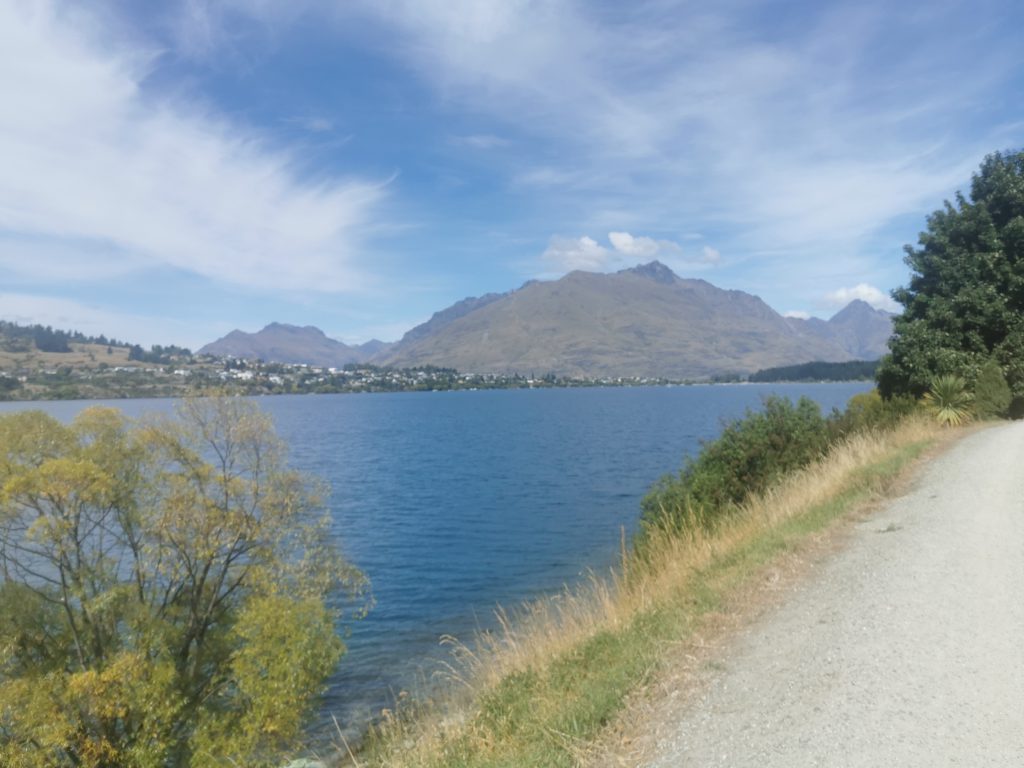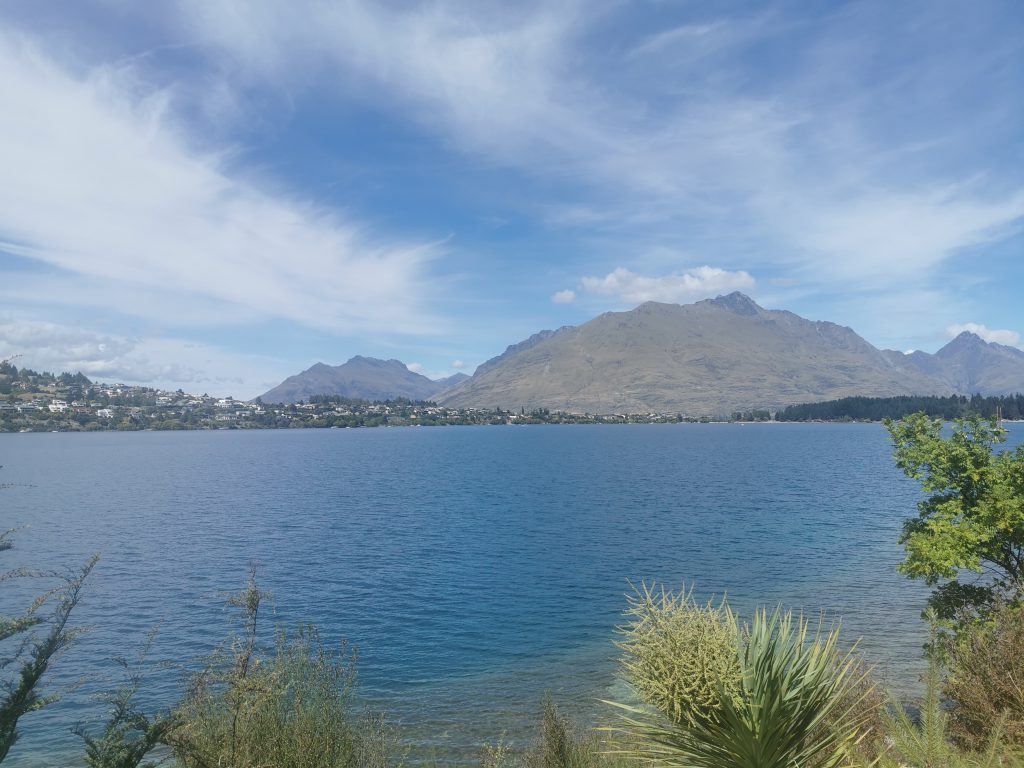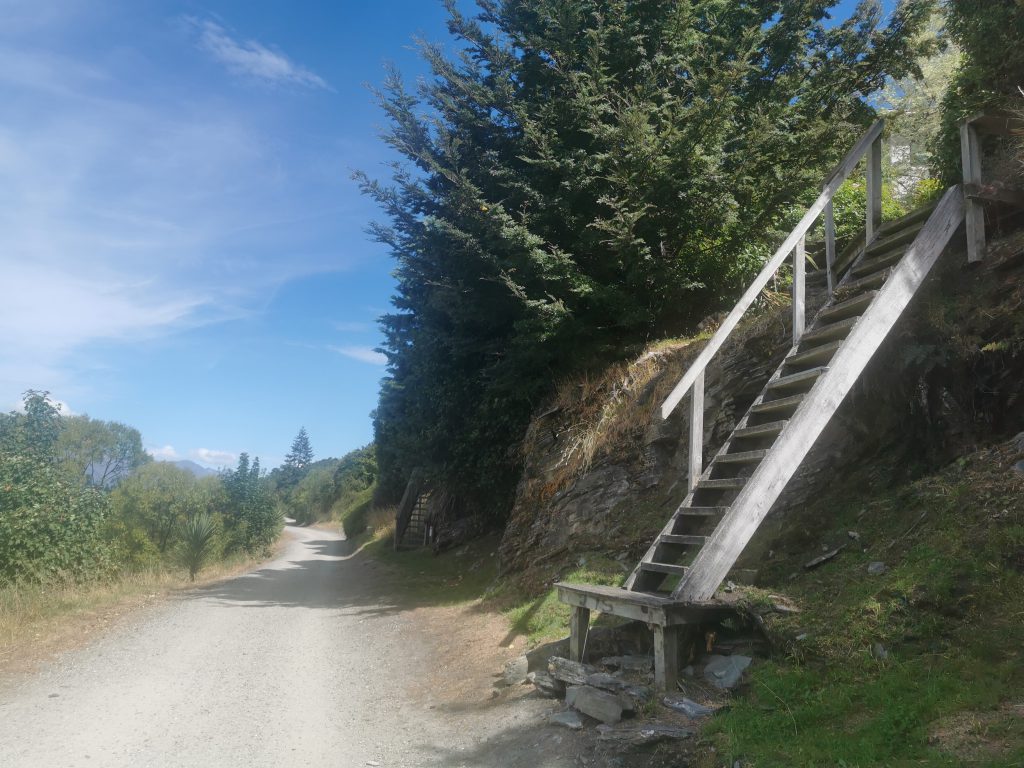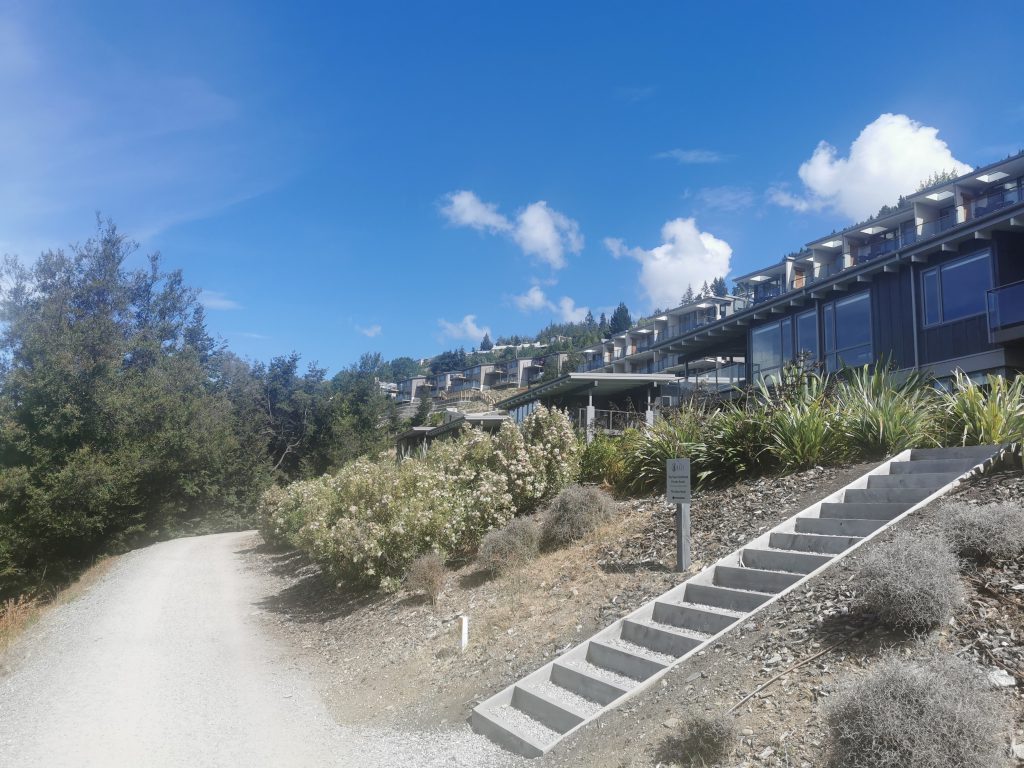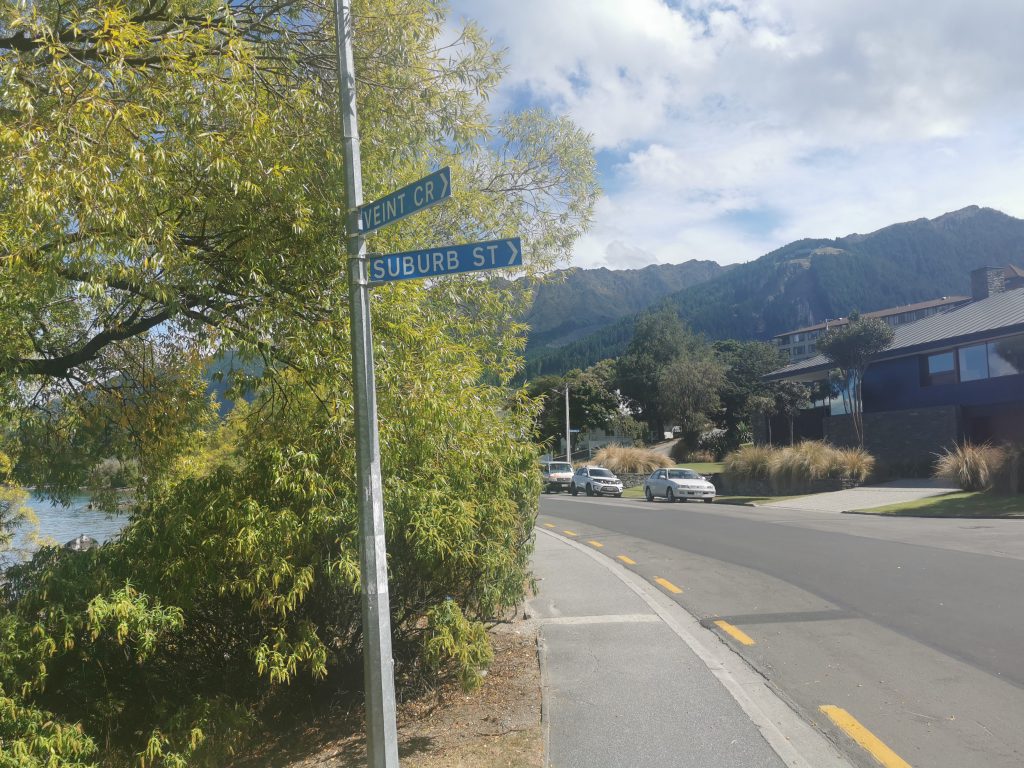 People were generally nice, a lot of people just ignored me like they would in Auckland, but one guy stopped and asked me all sorts of questions specifically about my walking poles. I think he was considering getting some for an upcoming hike.
After a short section through the Queenstown gardens…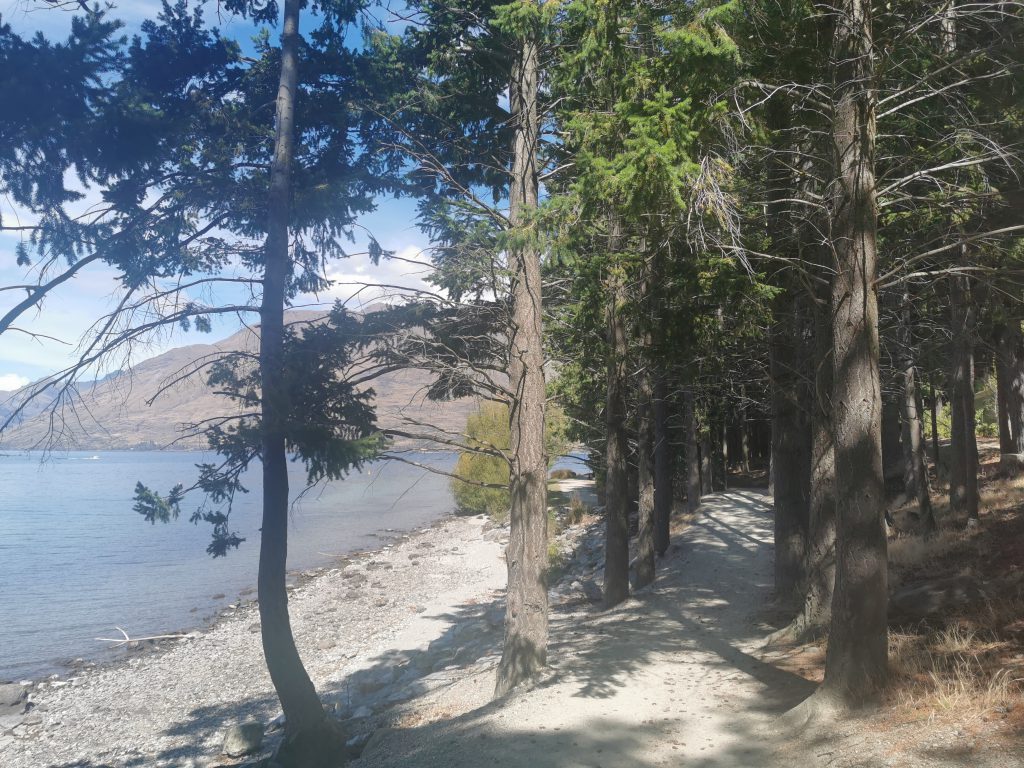 There's Queenstown!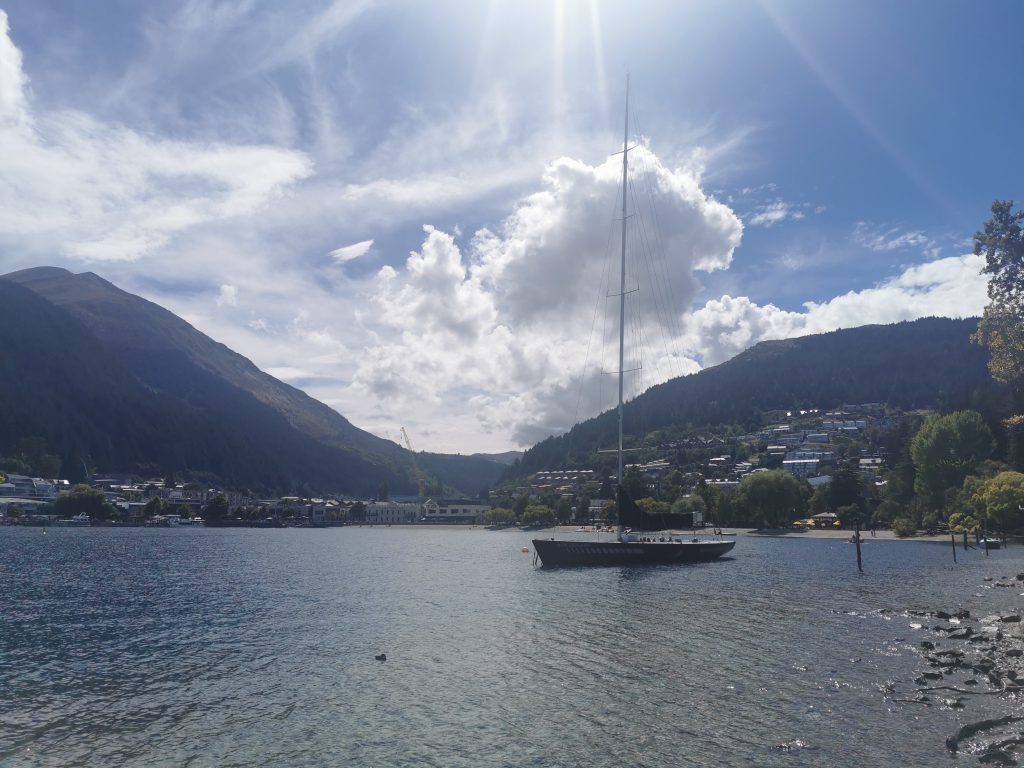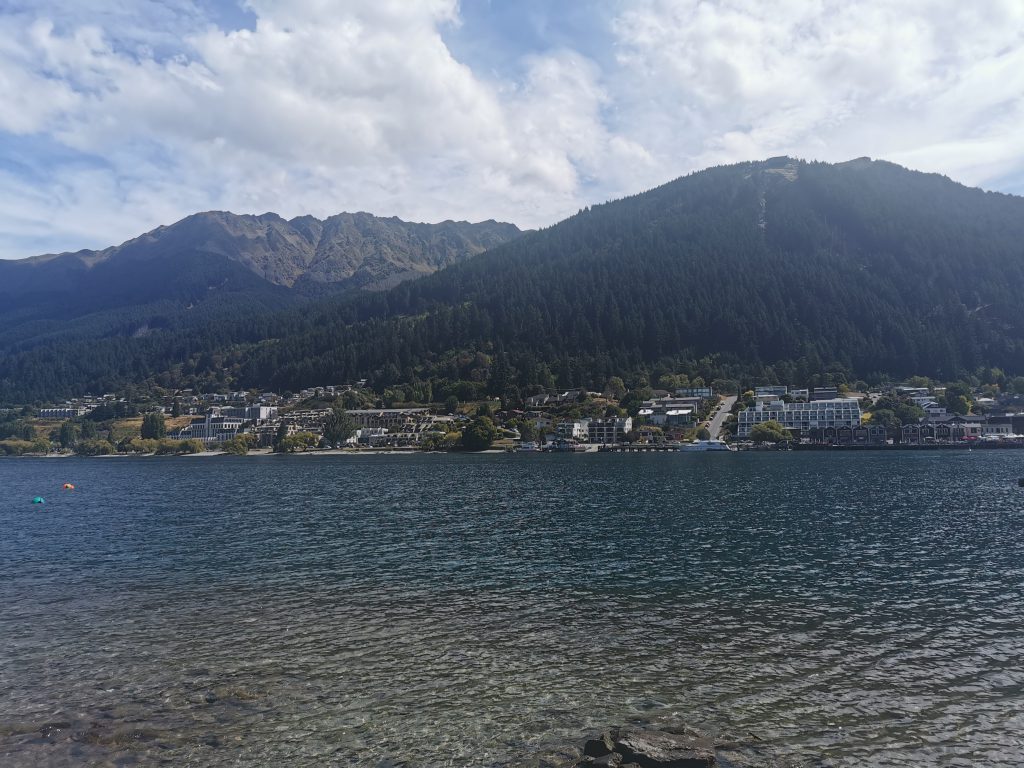 The trail on this side of the lake ends at the "Queenstown Fallen Soldiers Memorial".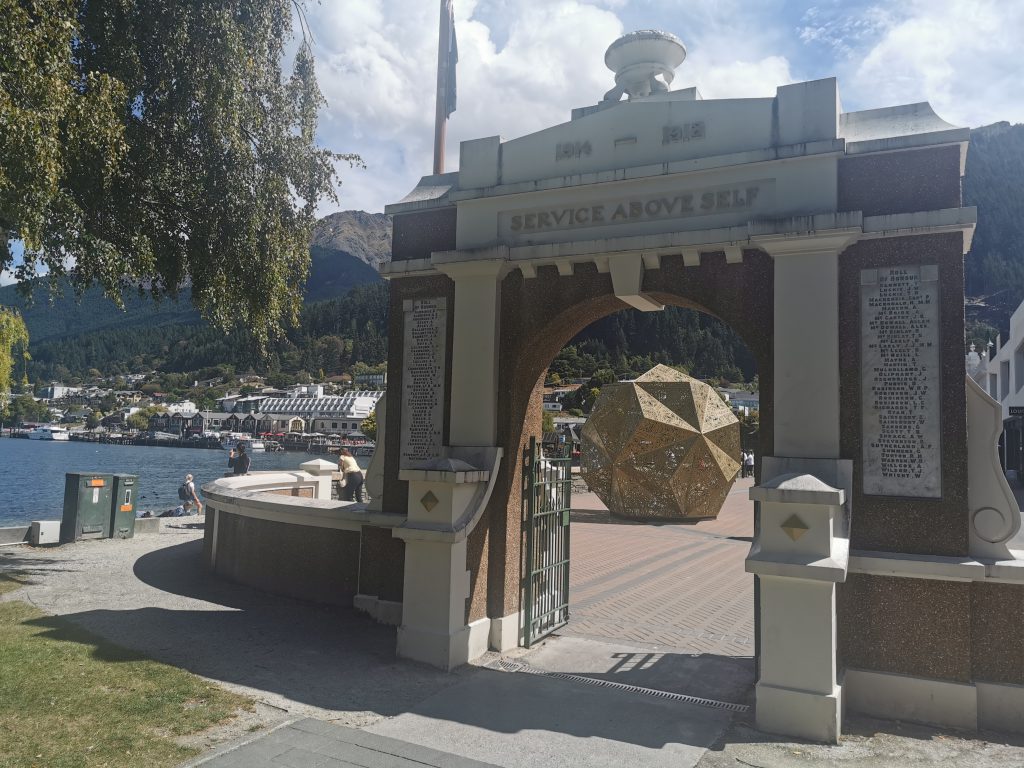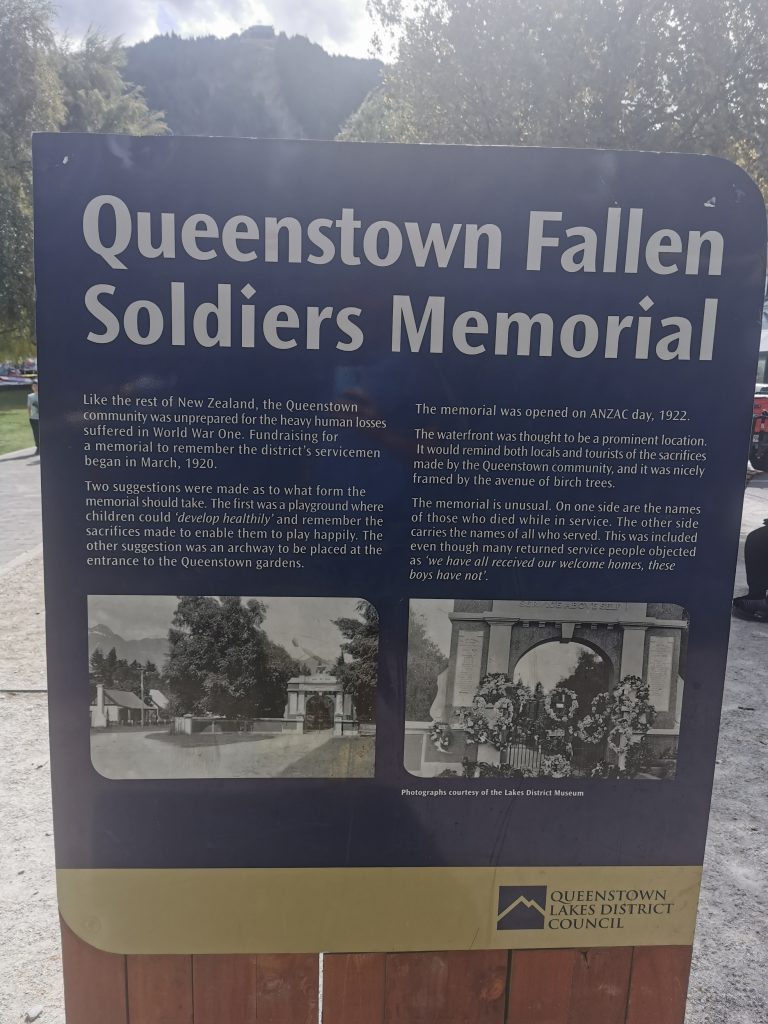 From here it was a walk up quite a hill to get to Melbourne Lodge, where I stayed tonight.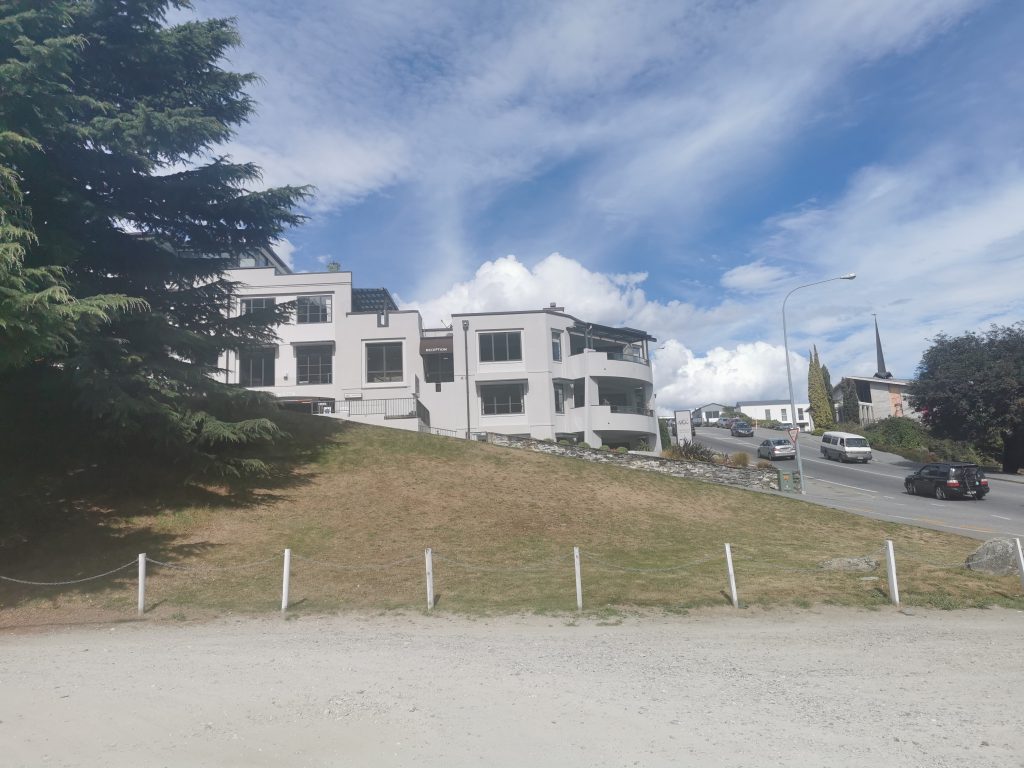 But that meant there was a nice view from the deck.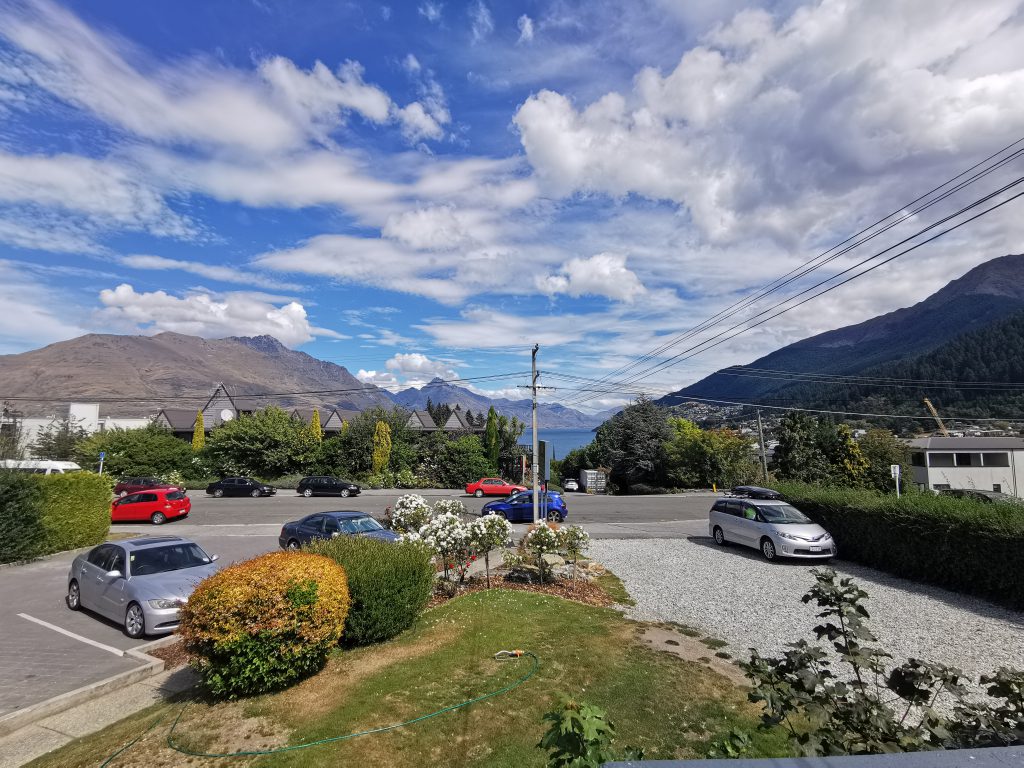 It also meant I arrived very hot and sweaty. The weather was great today. I was going to have a rest but I ended up going straight back out for food and a look around as I was really hungry.
The queues around town were quite big and there were a lot of people around, and everything was quite loud. I can only imagine how busy this place used to be before we closed our borders to tourists.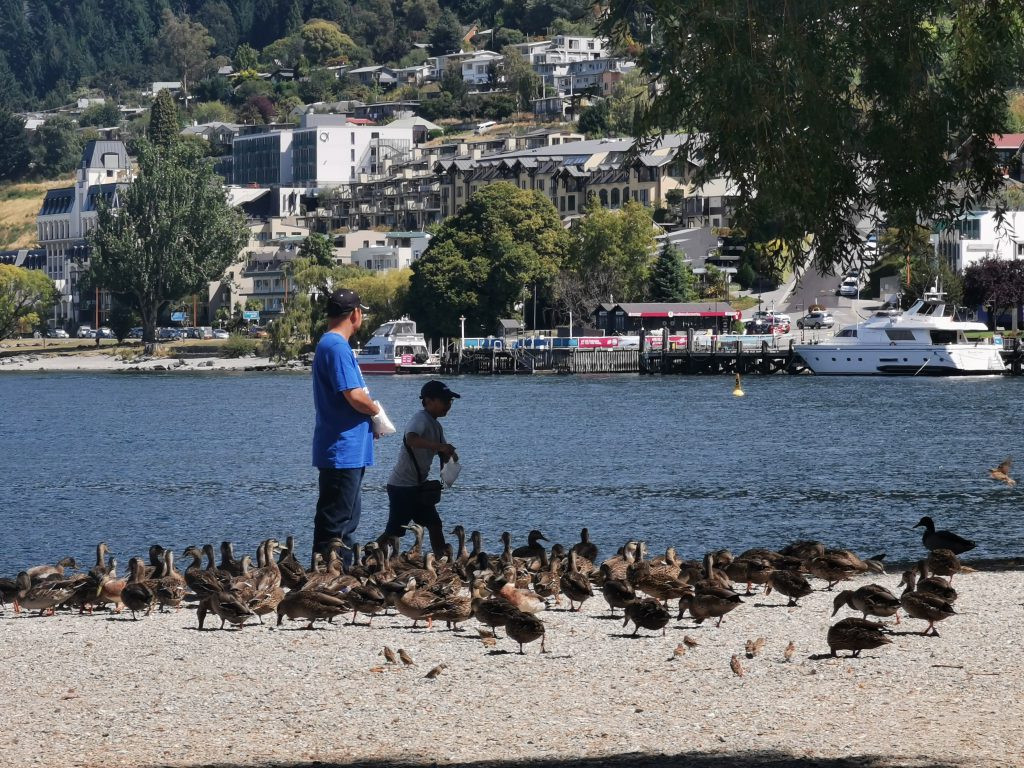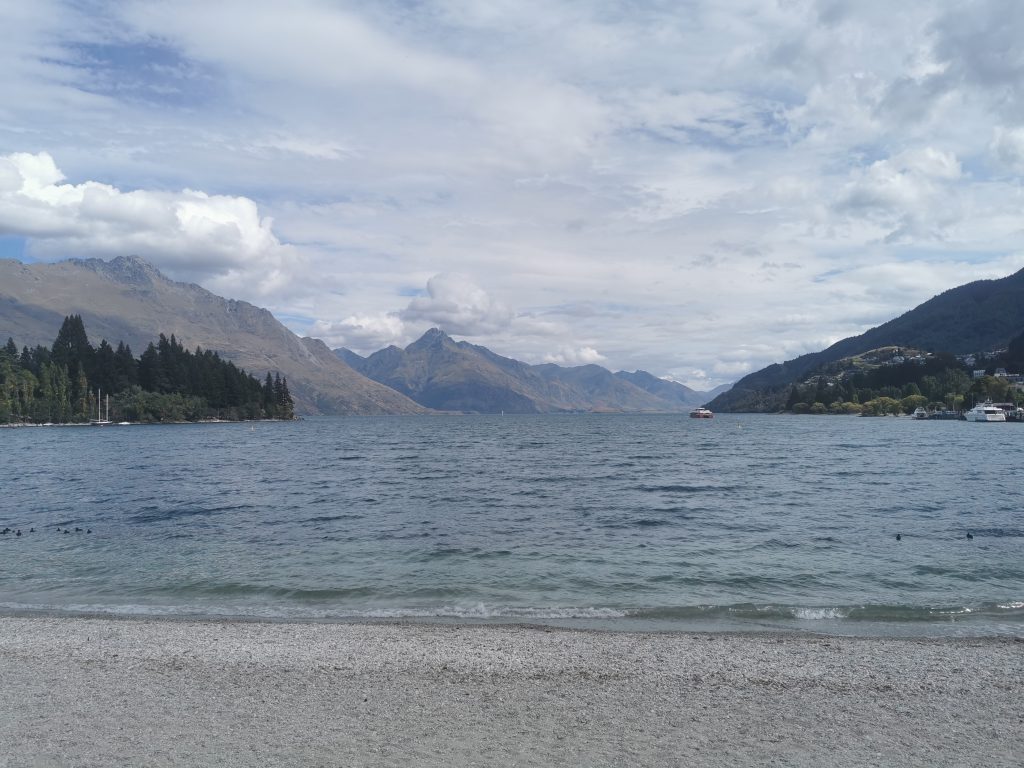 I found my sambal!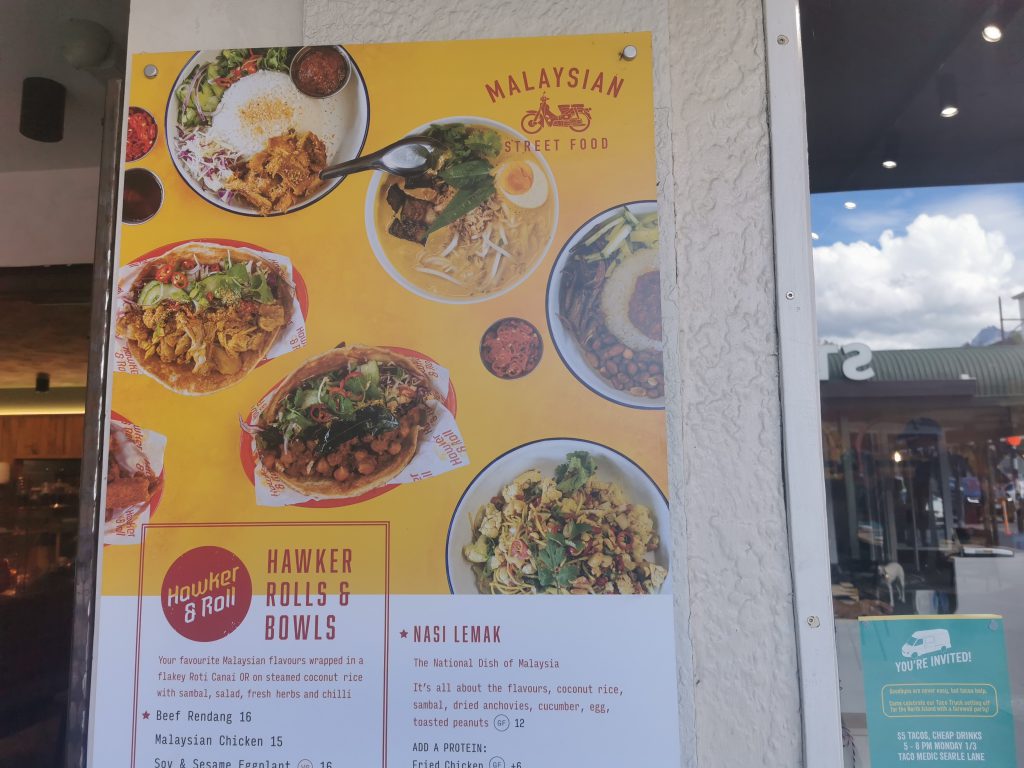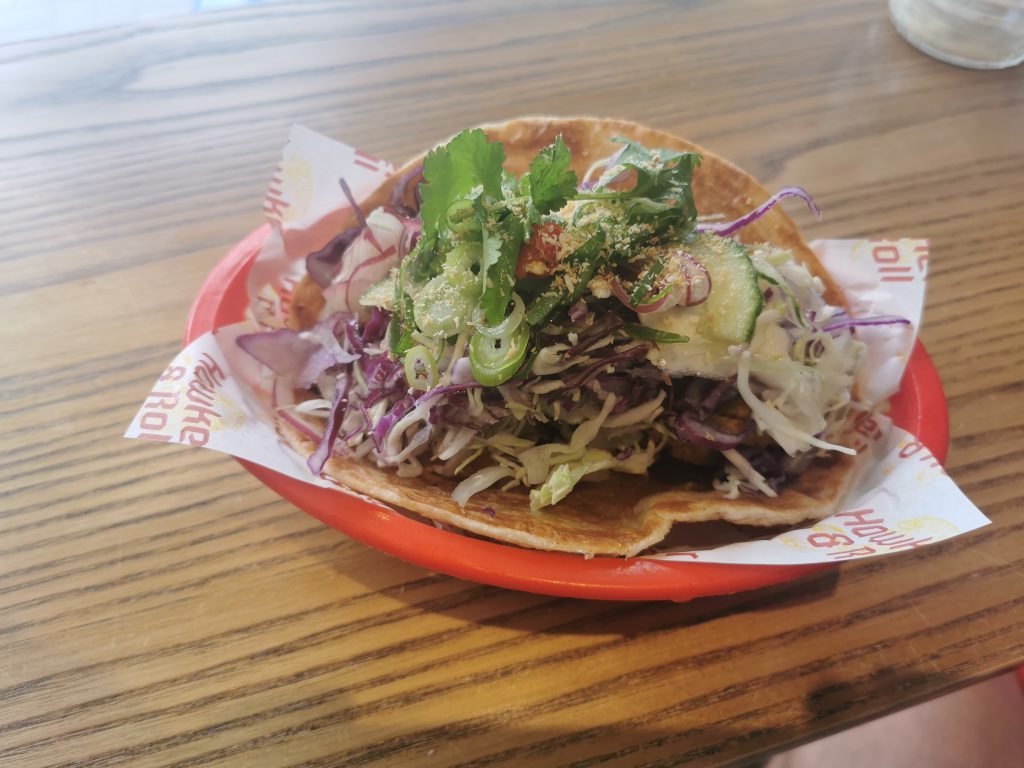 And this… I had no idea when I asked for two scoops that I would get such a monstrosity.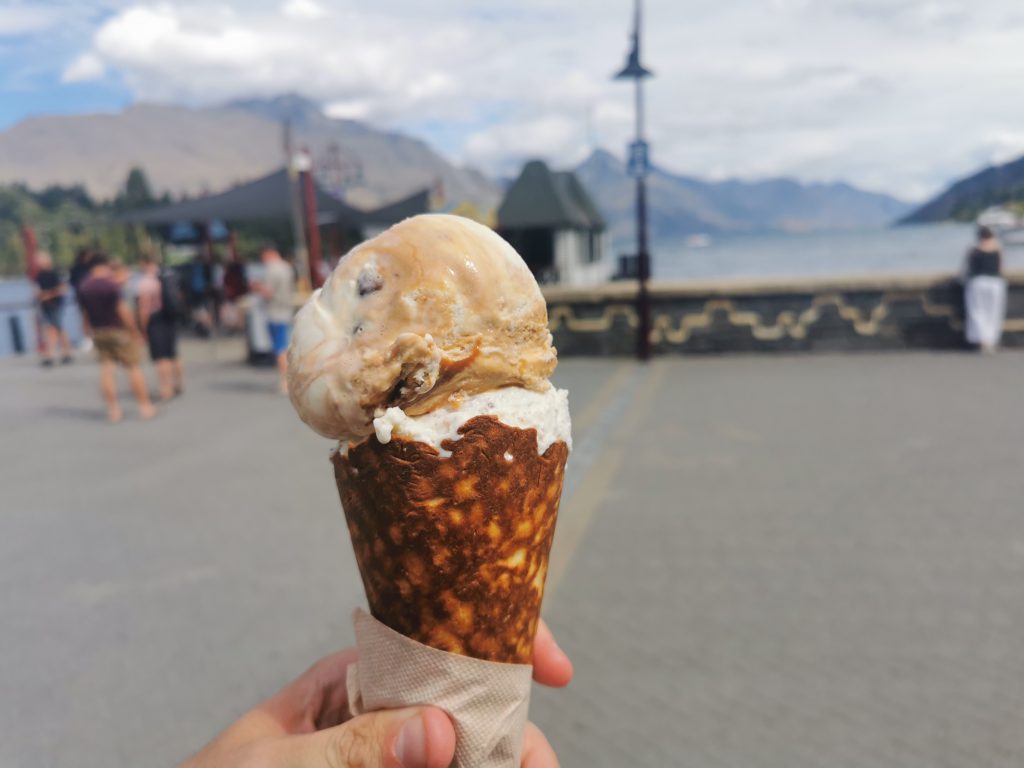 In the evening… I went out again and got pizza. I saw from Instagram that a friend of mine was in Queenstown so I went and got dessert with him. We watched a drummer who was really good busking for money. Sadly I didn't have any coins with me. I wish now I'd given him $5.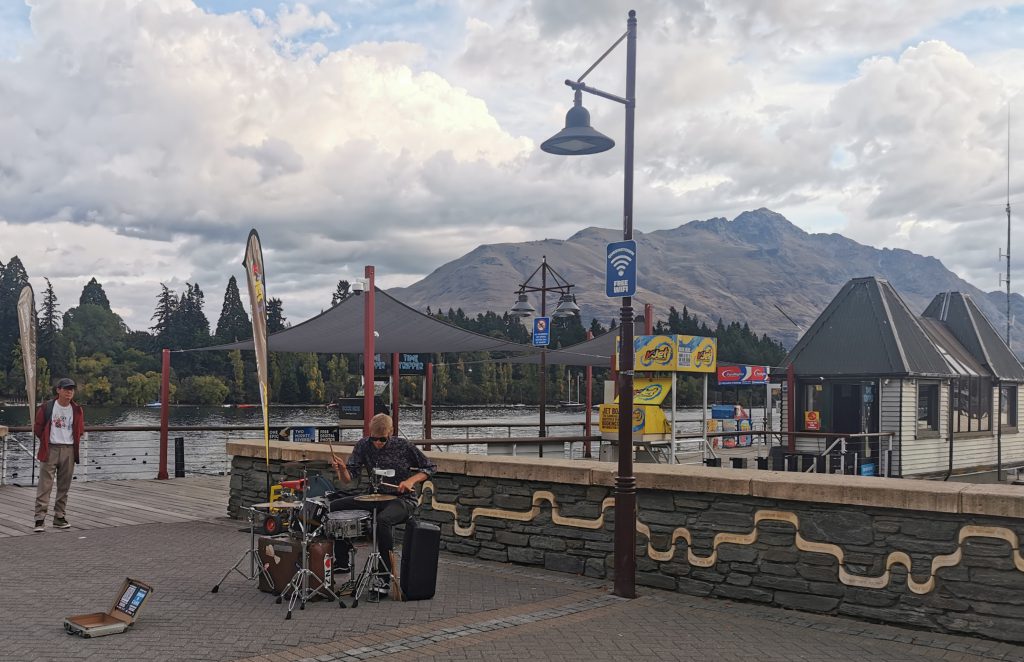 While I was out I debated buying some more food to take but ultimately decided not to, my pack was not too heavy today but that was in part due to walking with no water and I earlier bought 700g of cheese so I decided what I have is enough.
Before I left him, my friend mentioned he is due to go back to Auckland tomorrow. It was shortly after I left him and went back to Melbourne Lodge that my phone started buzzing with people saying that Jacinda Ardern is due to speak on the TV soon… and we all here know what that means.
Sure enough, lockdown was shortly after announced for tomorrow at 6am for a week, for Auckland only. Luckily I escaped in time, and I didn't go anywhere near any of the "places of interest", although I dont know what my friend is going to do – in theory Aucklanders are still allowed to travel home, but will there be any flights I wonder? This lockdown was apparently caused by people who were supposed to be self-isolating but weren't, and instead decided to go to supermarkets and gyms.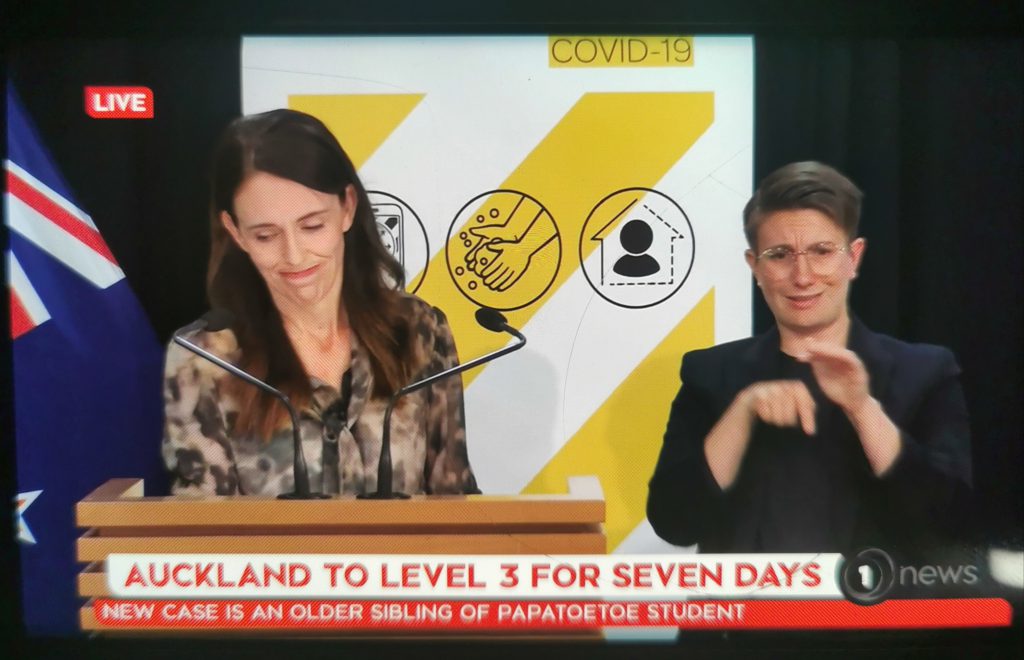 We here in NZ are used to seeing Jacinda in this setting, in front of these flags speaking about Covid-19. I first saw it on the news when I was back in Wanaka and they closed the borders.
So the lockdown doesn't affect me, at least right now anyway. And so that's it for my first blog post back on the walk!
Previously on the blog I used to have a page that tracked my live location. I won't enable that because I need to conserve battery and also I doubt there is much phone coverage between here and Colac Bay. For the same reason, you might not get another blog post for a while, possibly not until I reach Bluff. Don't worry, I'll still be writing them, I just can't publish them right away! I even brought pen and paper just in case. Also, if you're a new commenter and you leave a comment, I can't approve it straight away either.
I wish I printed out the trail notes in case I do run out of battery. Instead I drew up this quick map just now of the last section, using the Guthook app for guidance. It makes sense to me! Now I won't get lost should my battery go flat.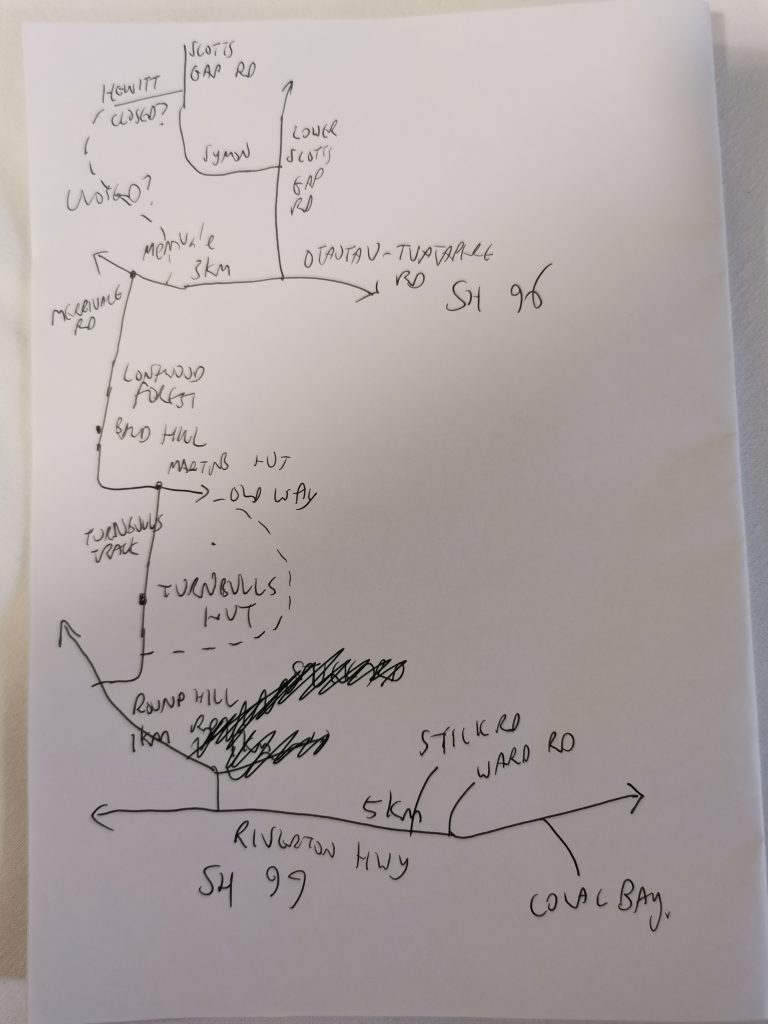 And I definitely made up that 6km walking around Queenstown getting lunch and dinner.
---
*Did anybody else watch the TV show Takeshi's Castle back in the day? I loved that show and especially the narrator.
*The answers to the questions were Rupert Bear, chilli peppers and Mrs. Doubtfire.
Today's walk on the map (blue = Te Araroa, red = today's walk):